Tatertots and Jello: My Top Posts of 2021. DIY ideas, Seasonal Decor and Recipes are some of my top posts from 2021.
Tatertots and Jello: My Top Posts of 2021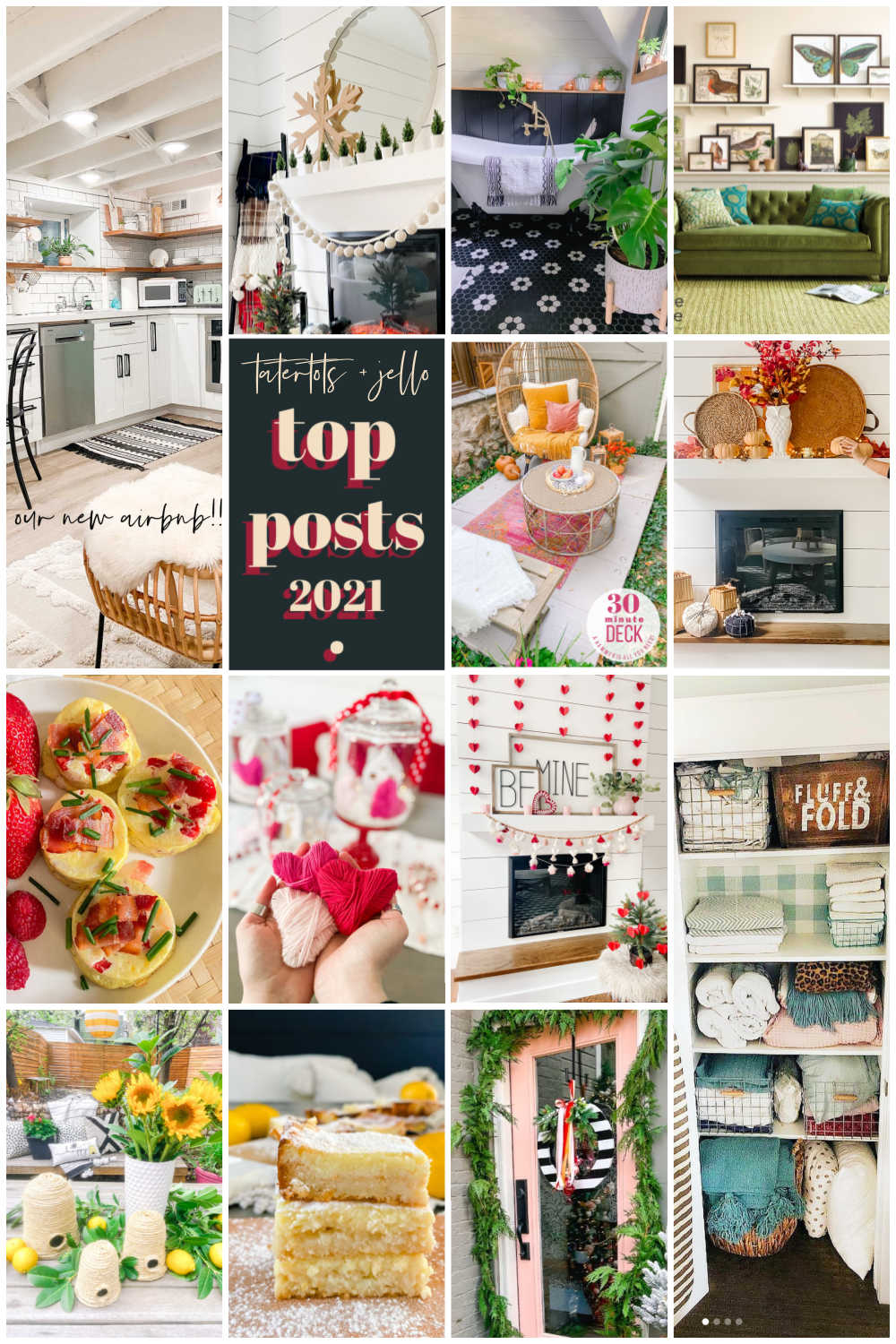 Hi, friends! Can you believe that 2021 is almost over? This year has flown by as we were in the middle of huge remodeling projects most of the year. I also went back to school, started a side business with our newly listed airbnb basement apartment, one daughter moved down the street, my son moved to Portland and we just tried to enjoy every moment that we could together as a family! In between I created some of my favorite projects on the site. It's always so fun to go back and see all of the posts! In 2021 I posted over 100 projects as well as over 200 Instagram posts and reels PLUS I started a new Tik Tok channel which has been super fun!
Top 20 Posts of 2021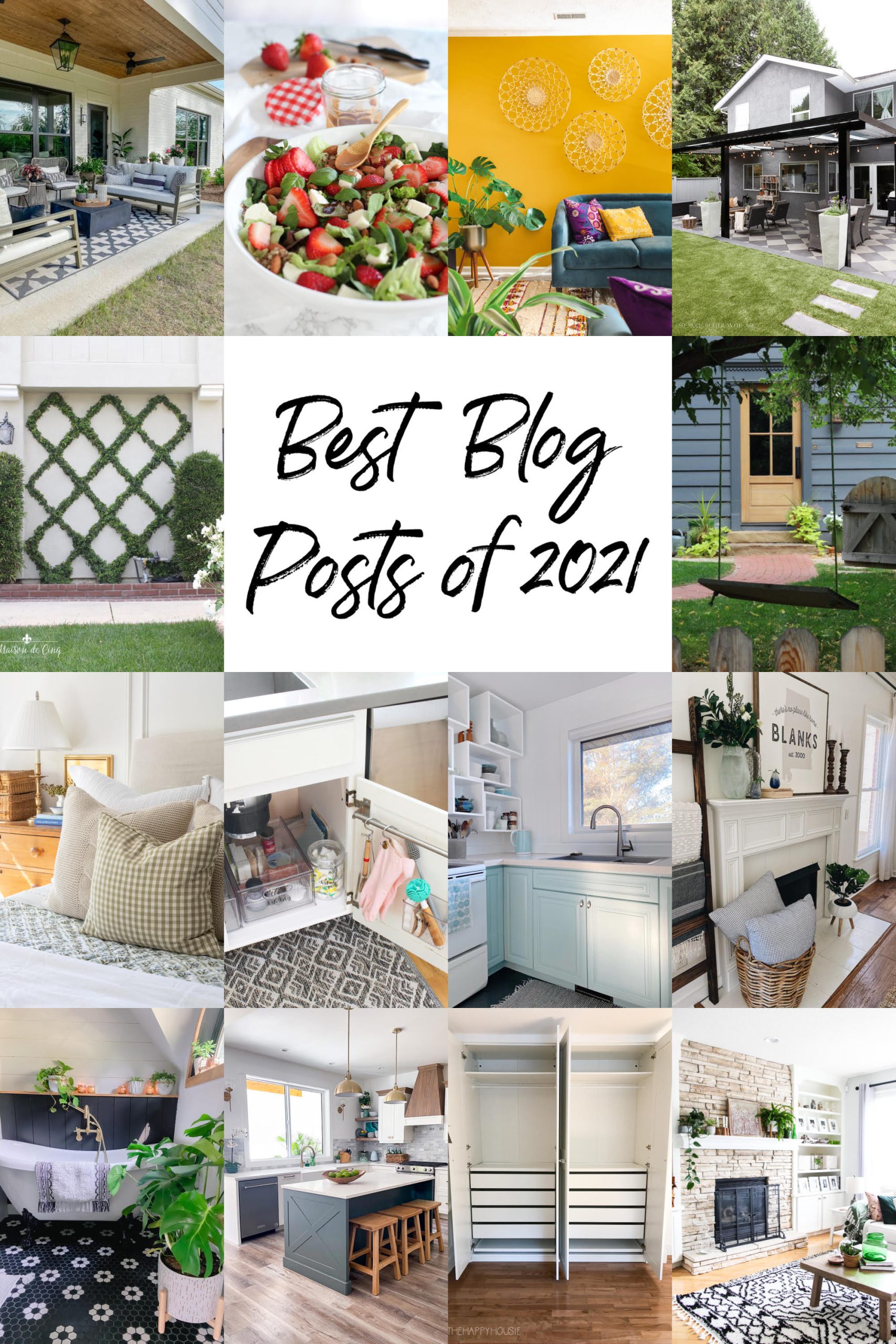 I originally was only going to feature my top 10 projects of the year, but as I was going through the posts, with over 100, I couldn't narrow it down to only 10 so I whittled it down to my favorite 18. If you are here from Clean and Scentsible, welcome!! Aren't Jenn's projects so inspiring? I just love Jenn! Be sure to follow the links to each site to see some amazing DIY ideas you can make in 2022!!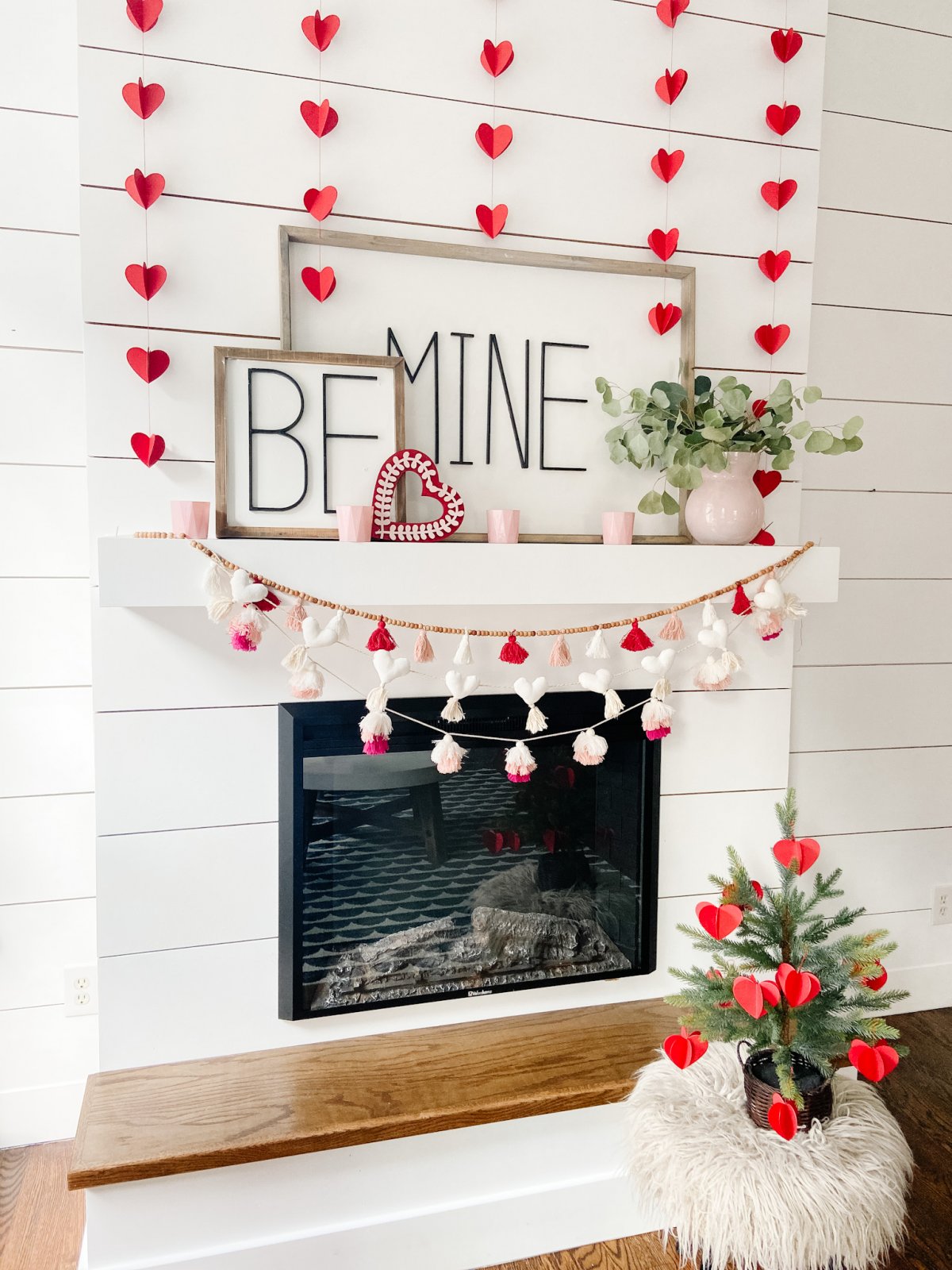 This Valentin's Day mantel was my top post of 2021. It also went viral on Tik Tok before I understood what a great channel that is! Seriously, if you are on Tik Tok, let's connect! And if you think Tik Tok is just for your 13 year old child, think again! There are some amazing DIY and recipe creators on there!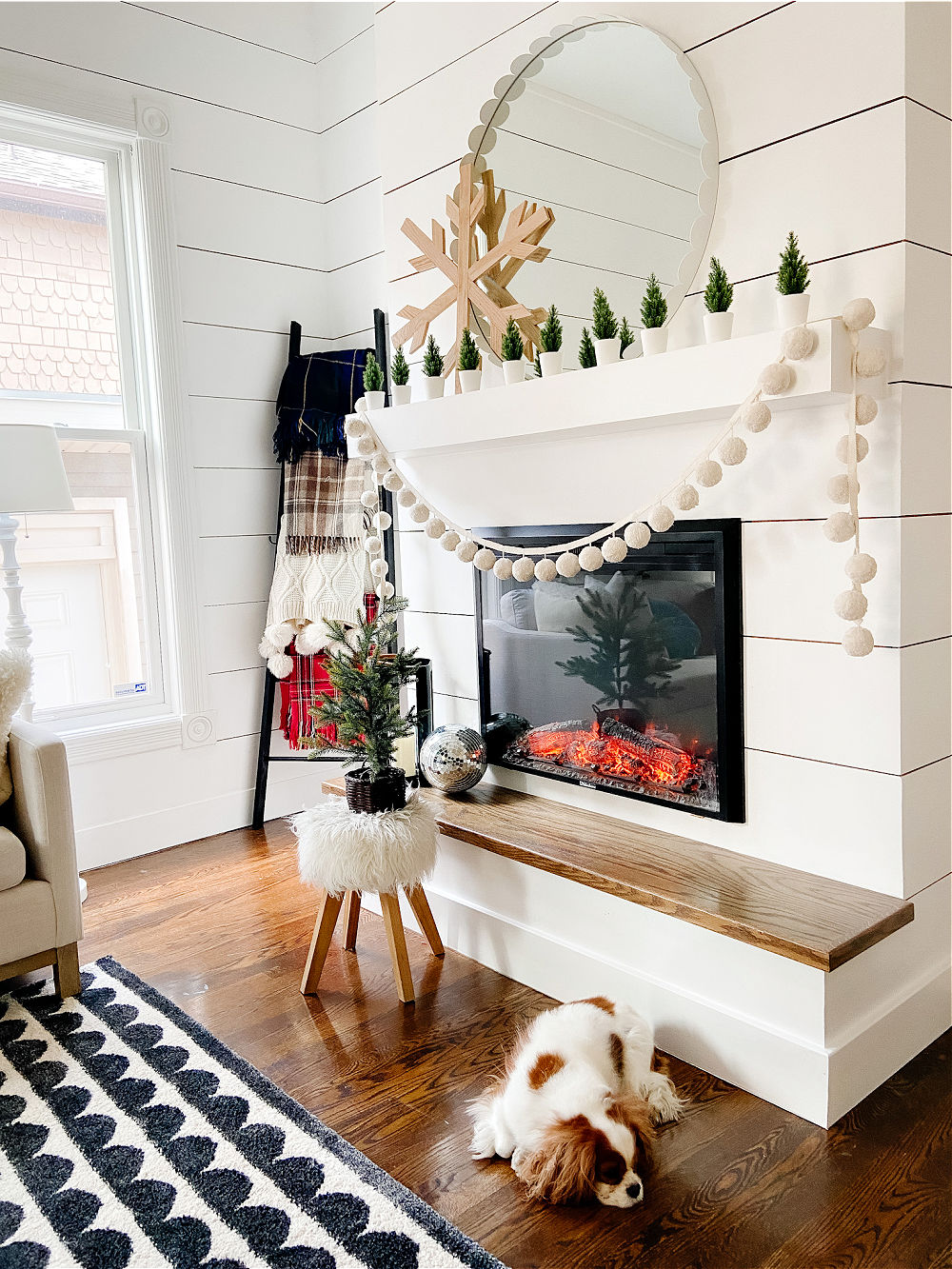 Making wood snowflakes is so fun. I created a giant snowflake for my winter mantel. I also have a tutorial on the cutest DIY Snowflake Wreath, including the cut measurements and angles!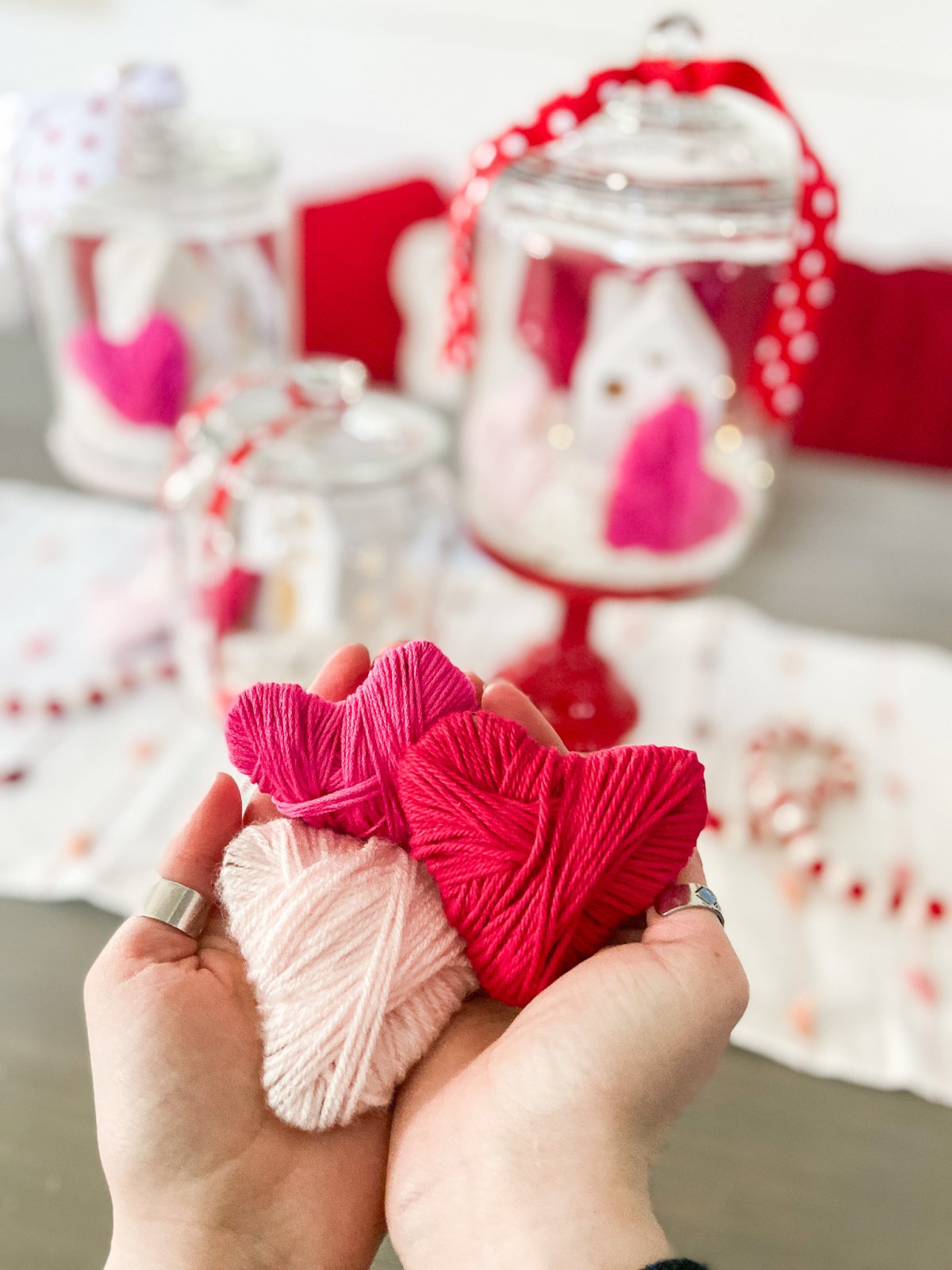 These yarn-wrapped hearts are super easy to make and you can use them in so many different ways! I put them in jars as a centerpiece but you can also string them together as a garland!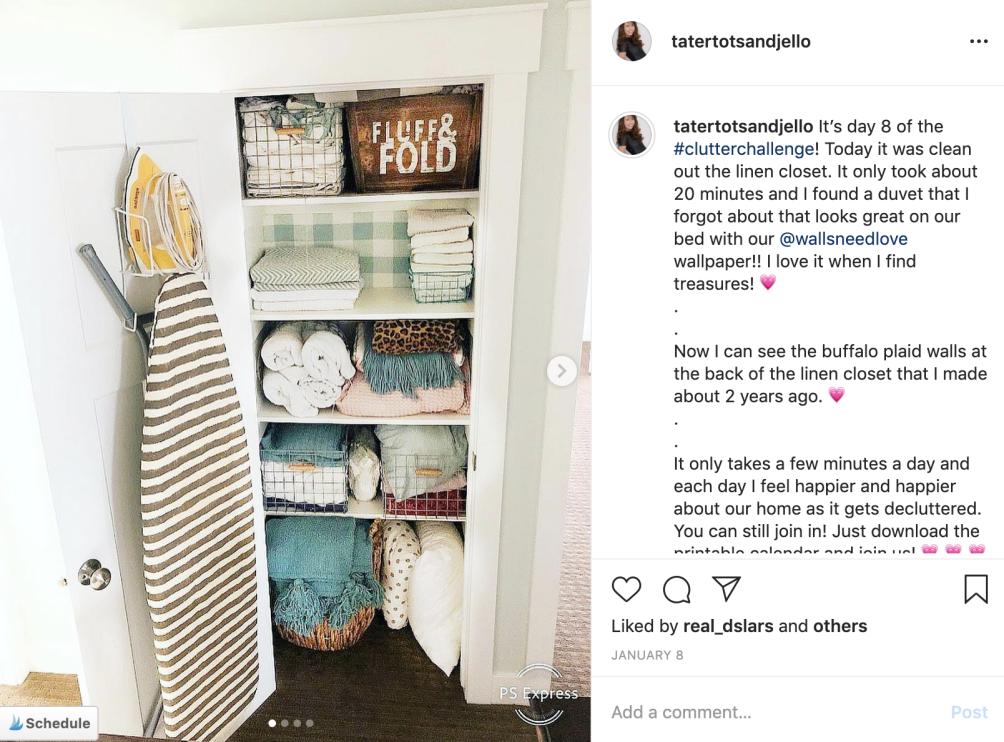 January is my favorite because I do an annual clutter challenge where we clean our whole homes by tackling ONE area each day. By the end of the month you have a fully clean and organized home! My new challenge starts on January 1st – I hope you will join us this year!
One of my favorite remodel projects this year was our master bedroom and bathroom remodel. We spent two years living in our attic while we remodeled the rest of our home. So it was such a joy to have a normal bedroom again! Our master bedroom is very large which I love, but the adjoining bathroom is super small and there was no way to make it bigger. So I took what I had and added as much space as I could by carving out shelves between the studs in our wall as well as adding a super huge medicine chest in the wall.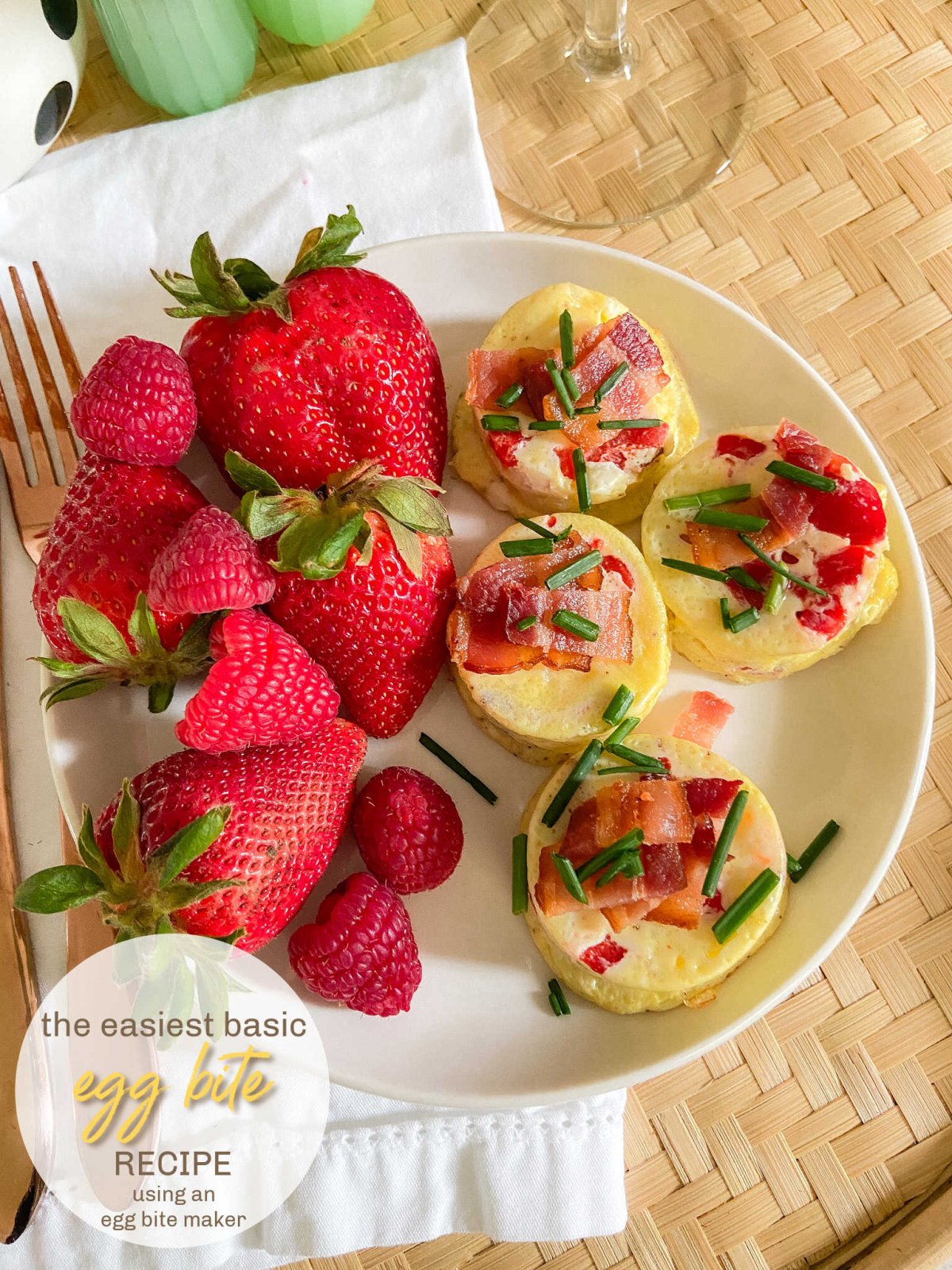 Something that I did during the covid lockdowns was adopt a keto lifestyle. I continued keto in 2021 and shared more keto recipes. Making egg bites is my favorite!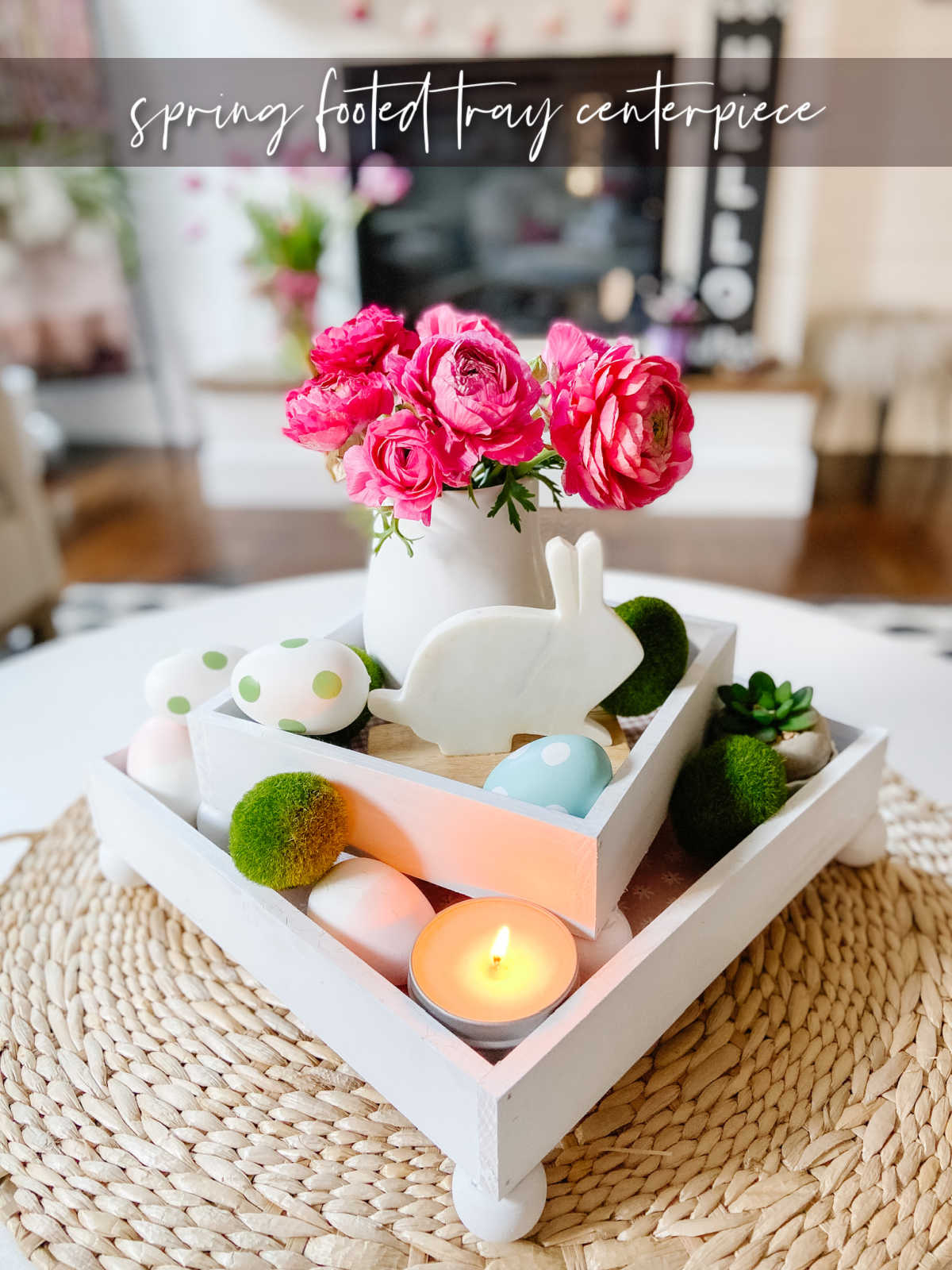 In the Spring I shared a simple footed centerpiece idea. I used paper from my American Crafts line and I love the fresh feeling it brought to our family room.
DIY Beehives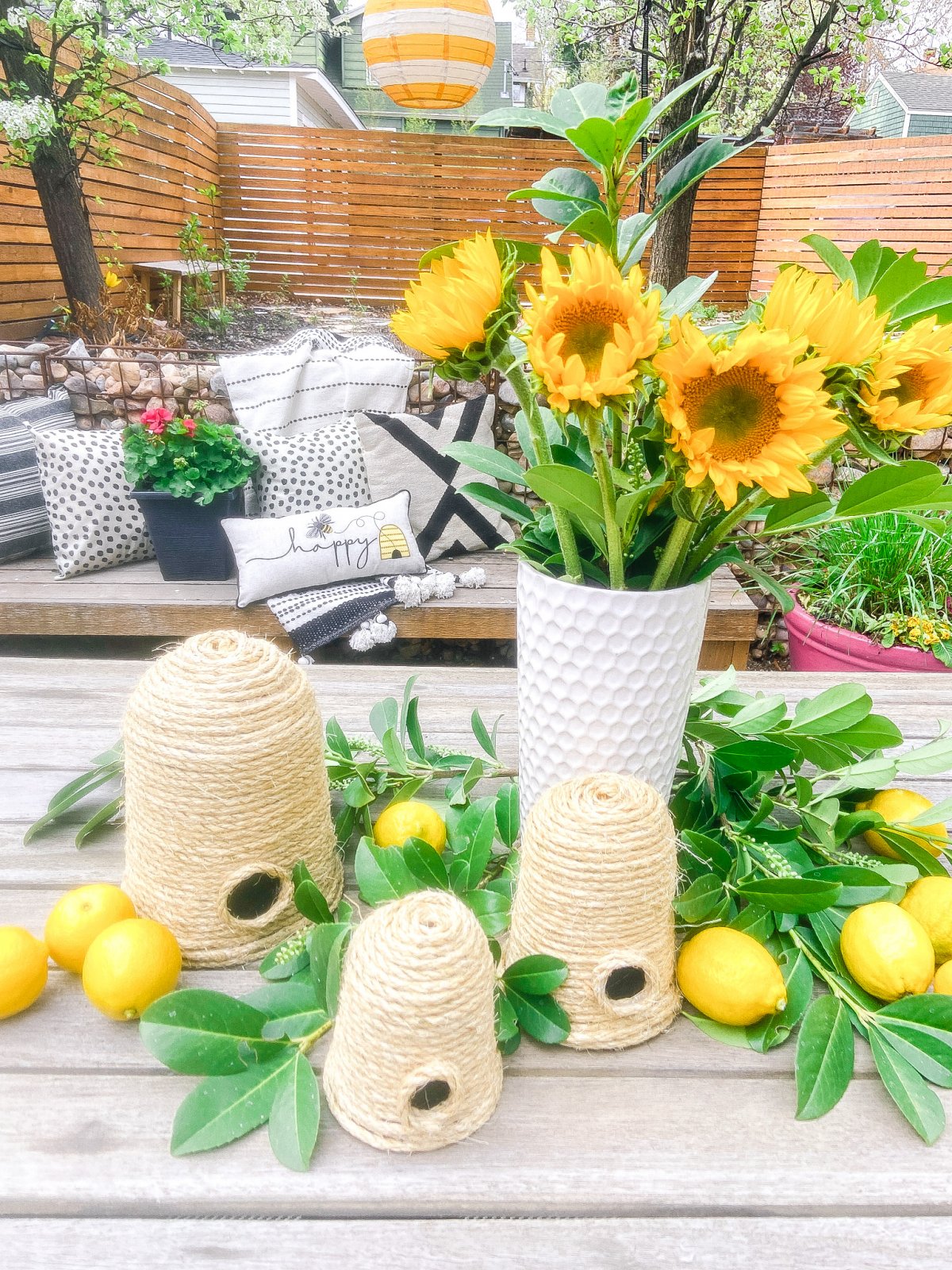 Over the summer I became obsessed with making rope beehives. They are so easy to make and you can make them in any size. I used those disposable containers that garden plants come in as the base.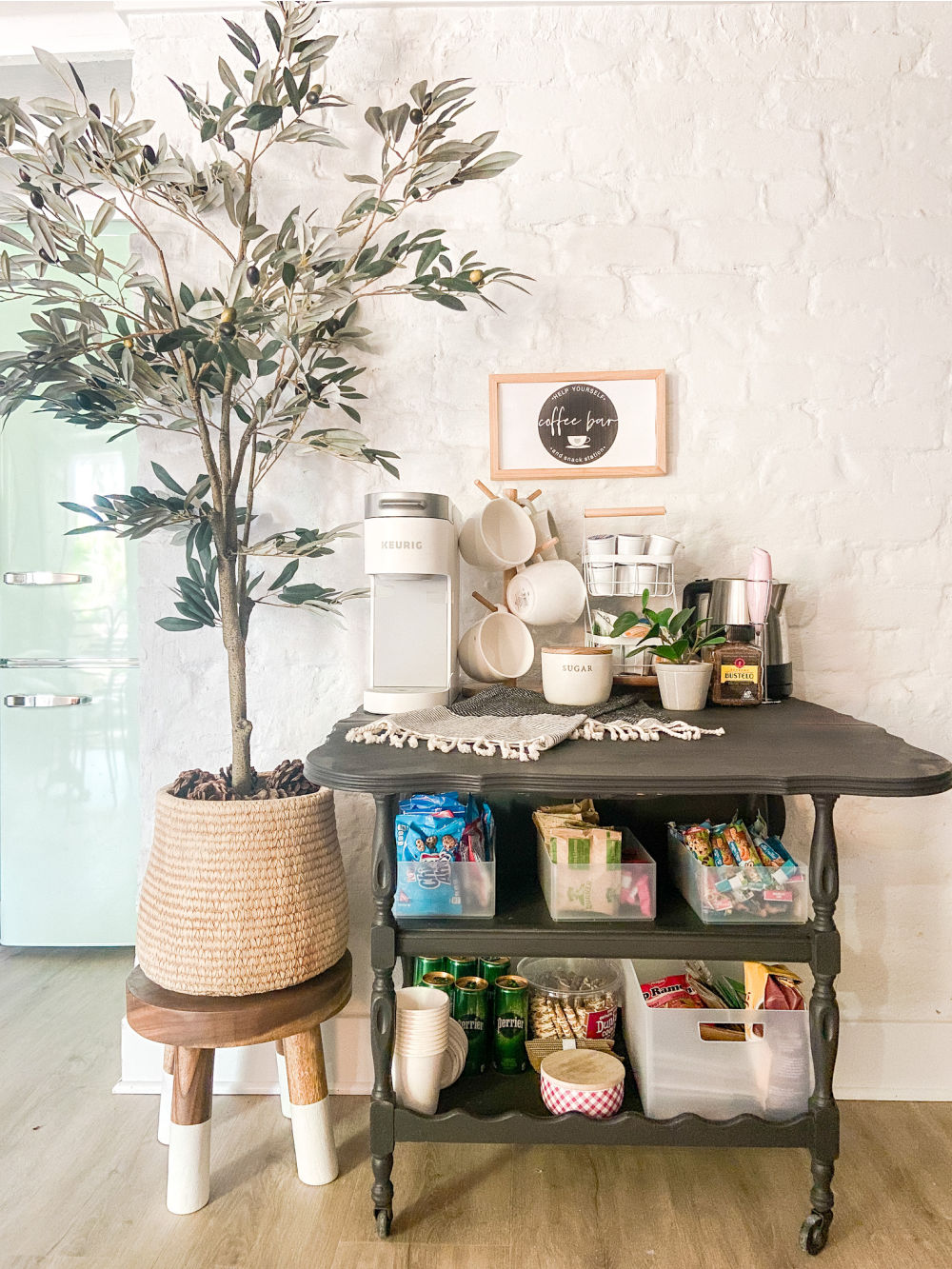 As our airbnb apartment came close to completion I upcycled a little cart I found at an estate sale into a coffee bar for the apartment and created a free printable coffee bar sign. Our airbnb space was so fun to design and now that little side business is fun to run and gives me additional income to keep remodeling the upstairs of our home! We are almost all the way booked out through May and I love meeting people from all over the world! We had a guest and his daughter stay over Christmas that traveled from Italy!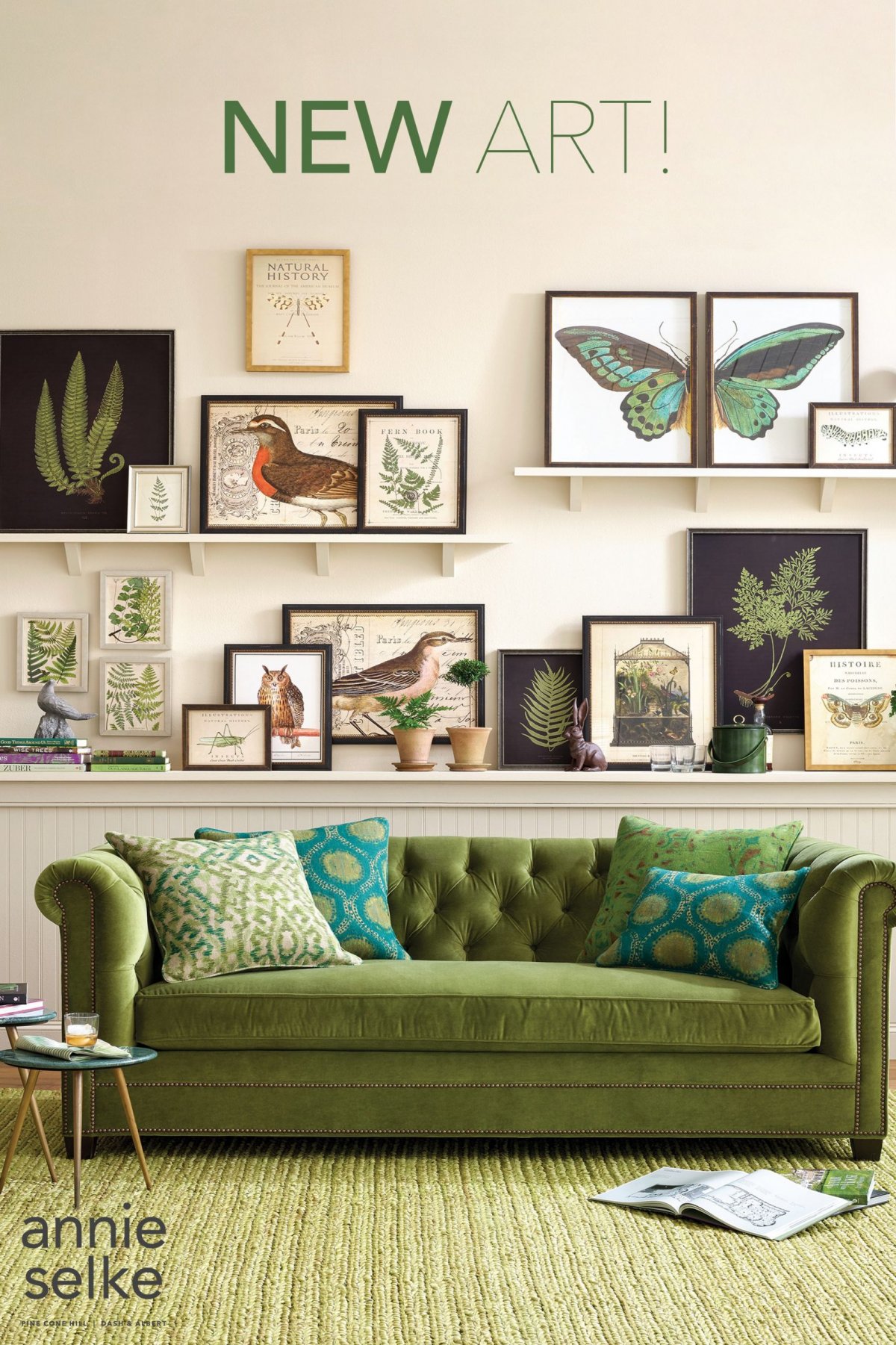 In the Spring I became obsessed with a botanical wall from Annie Selke. Of course if I had bought the prints from that site it would have cost me several thousand dollars to recreate the botanical wall. So I found open-source botanical watercolors and cleaned them up to create my version! I have the 6 prints on my site for free if you want to make your own botanical wall!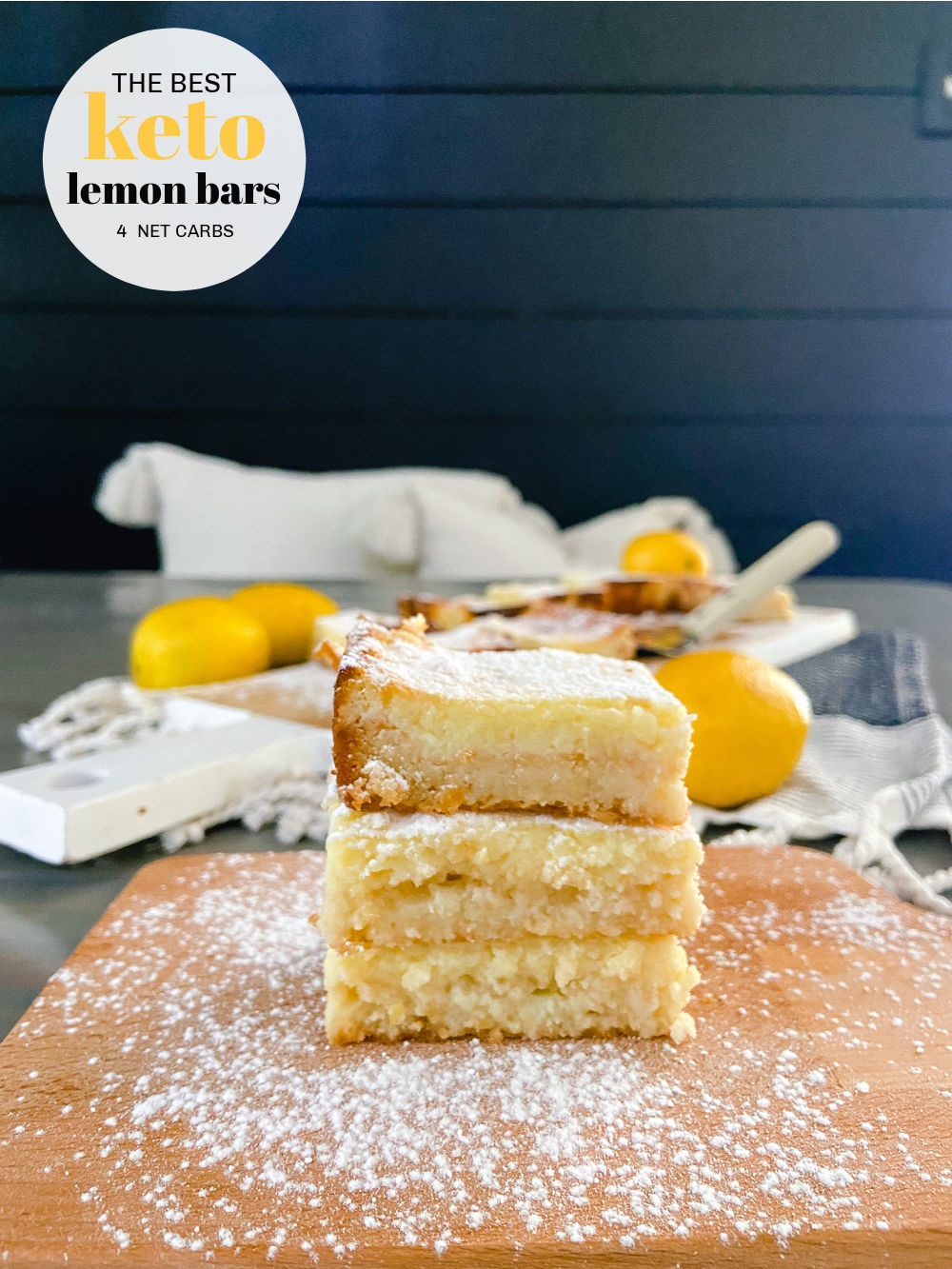 I recreated my childhood lemon bars in a keto-friendly recipe which takes the carbs from 26 per bar down to four net carbs!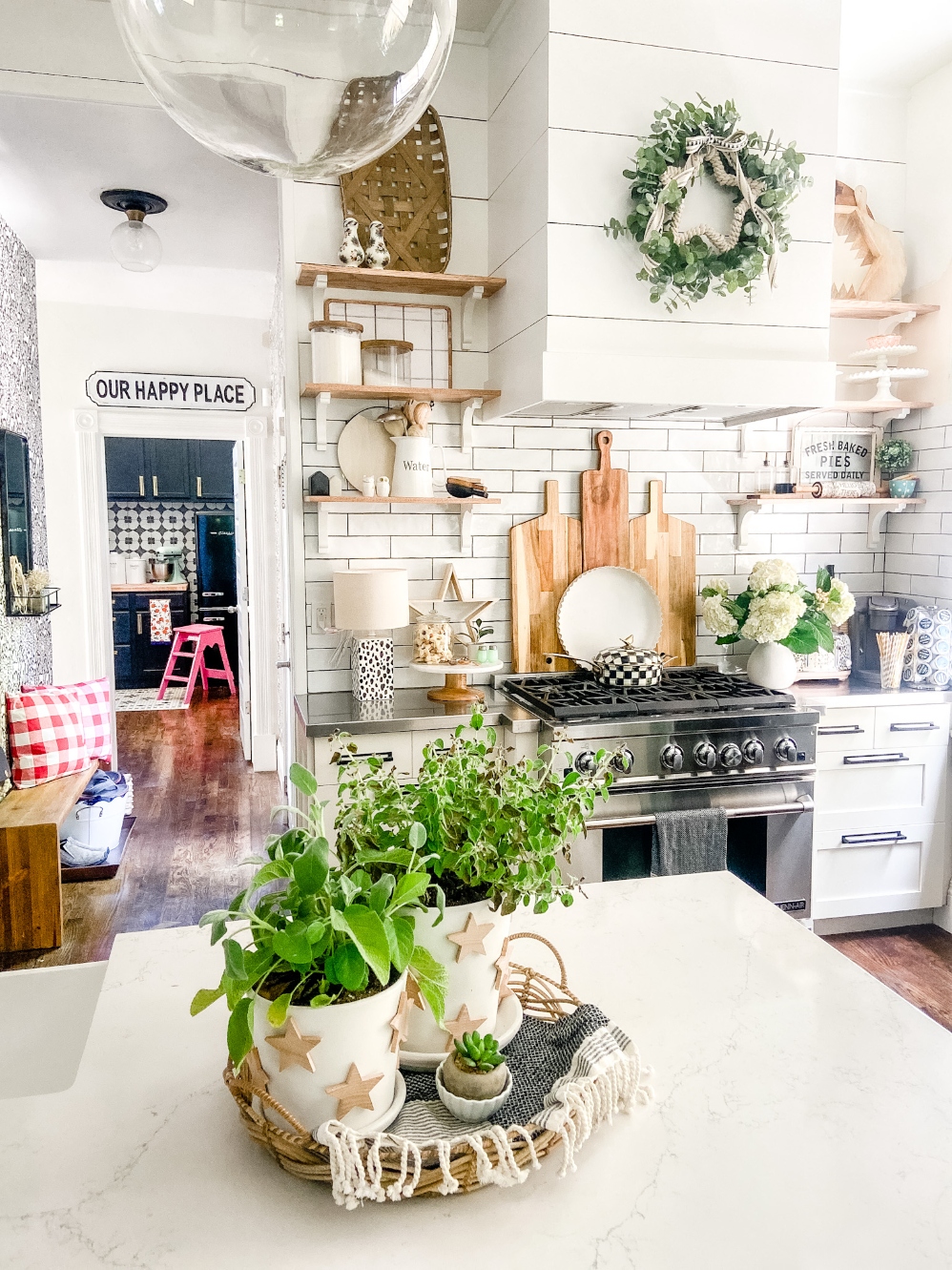 As the biggest remodeling projects came to a close, I rediscovered my love of color and how to use it in our 1891 home. My spring cottage tour is full of color and whimsical ways to use it for spring and summer!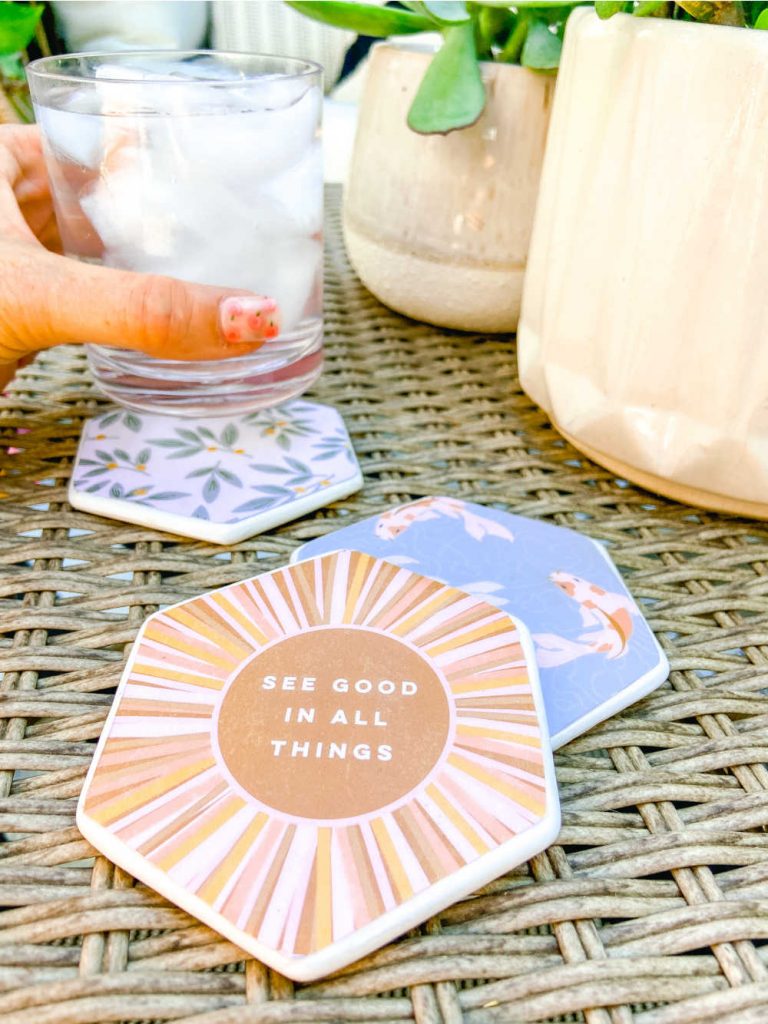 I needed some coasters for our airbnb, so I decoupaged some paper from my American crafts line for easy coasters!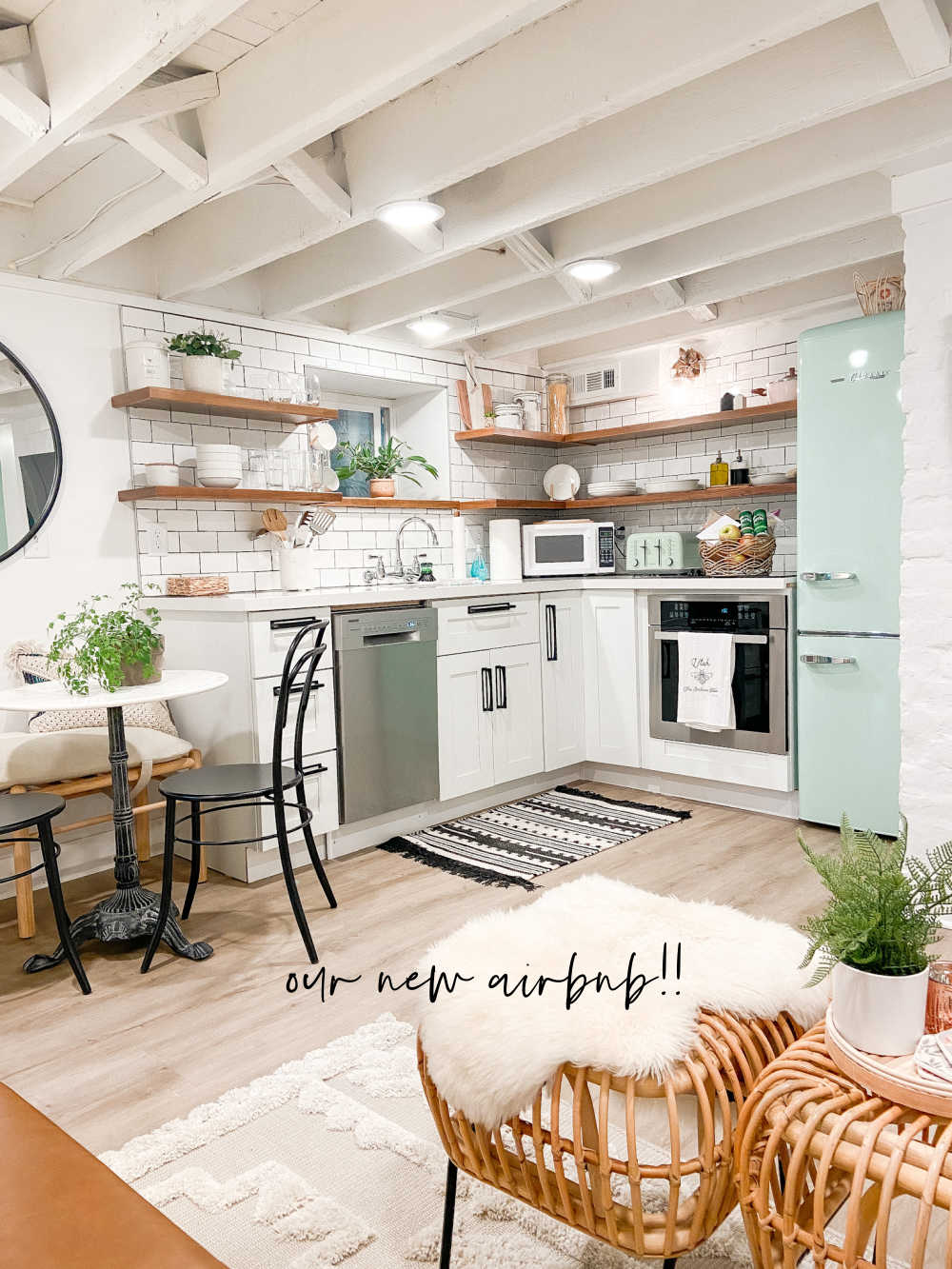 We listed our airbnb in September and we've been almost completely booked ever since! I am so happy with how it turned out! You can tour the whole space on this post!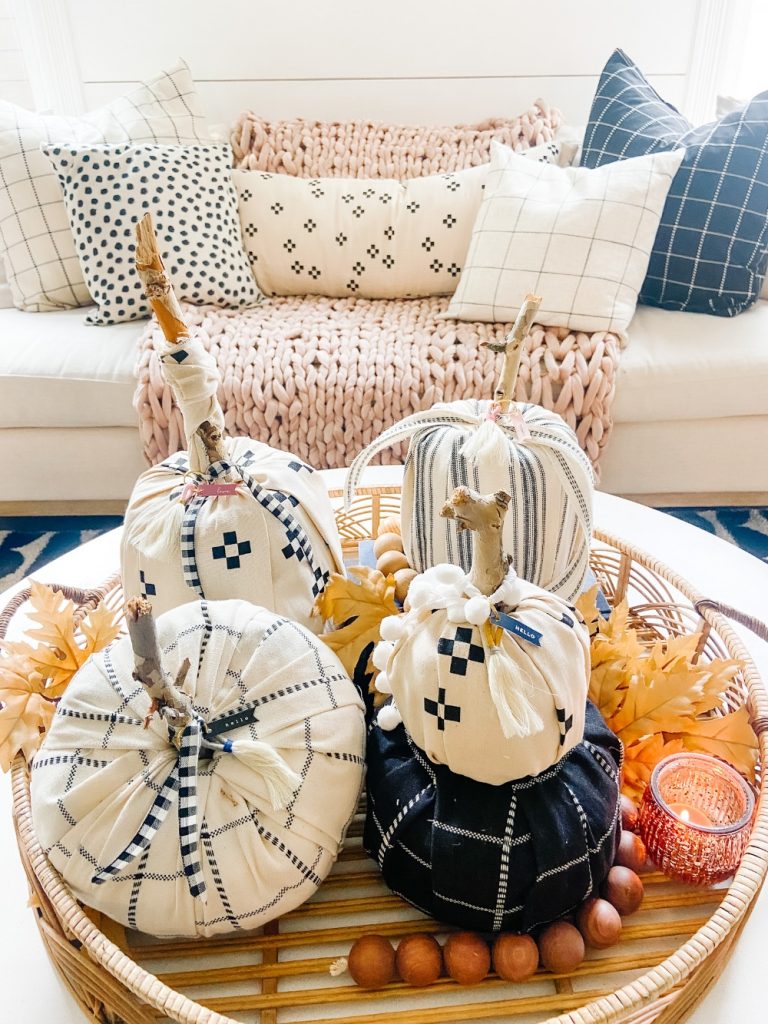 In the fall I made toilet paper pumpkins. I elevated the shape by adding old towels around the centers. They are so fun to make. I made some in so many different sizes and added fabric that matched my DIY fall pillow covers!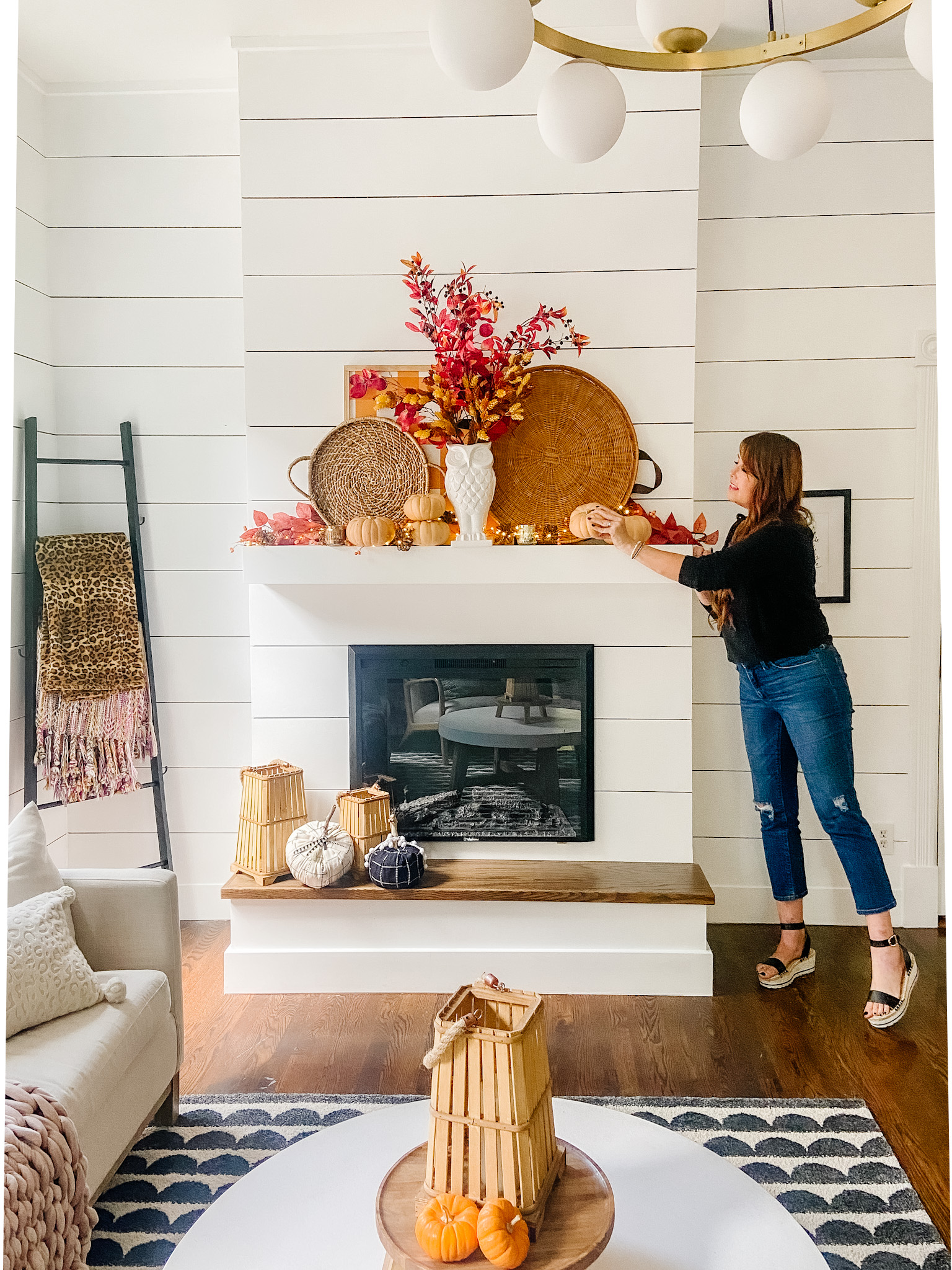 One of my favorite ways to decorate for seasons is our new fireplace! For fall in 2021 I added some warm and cozy elements!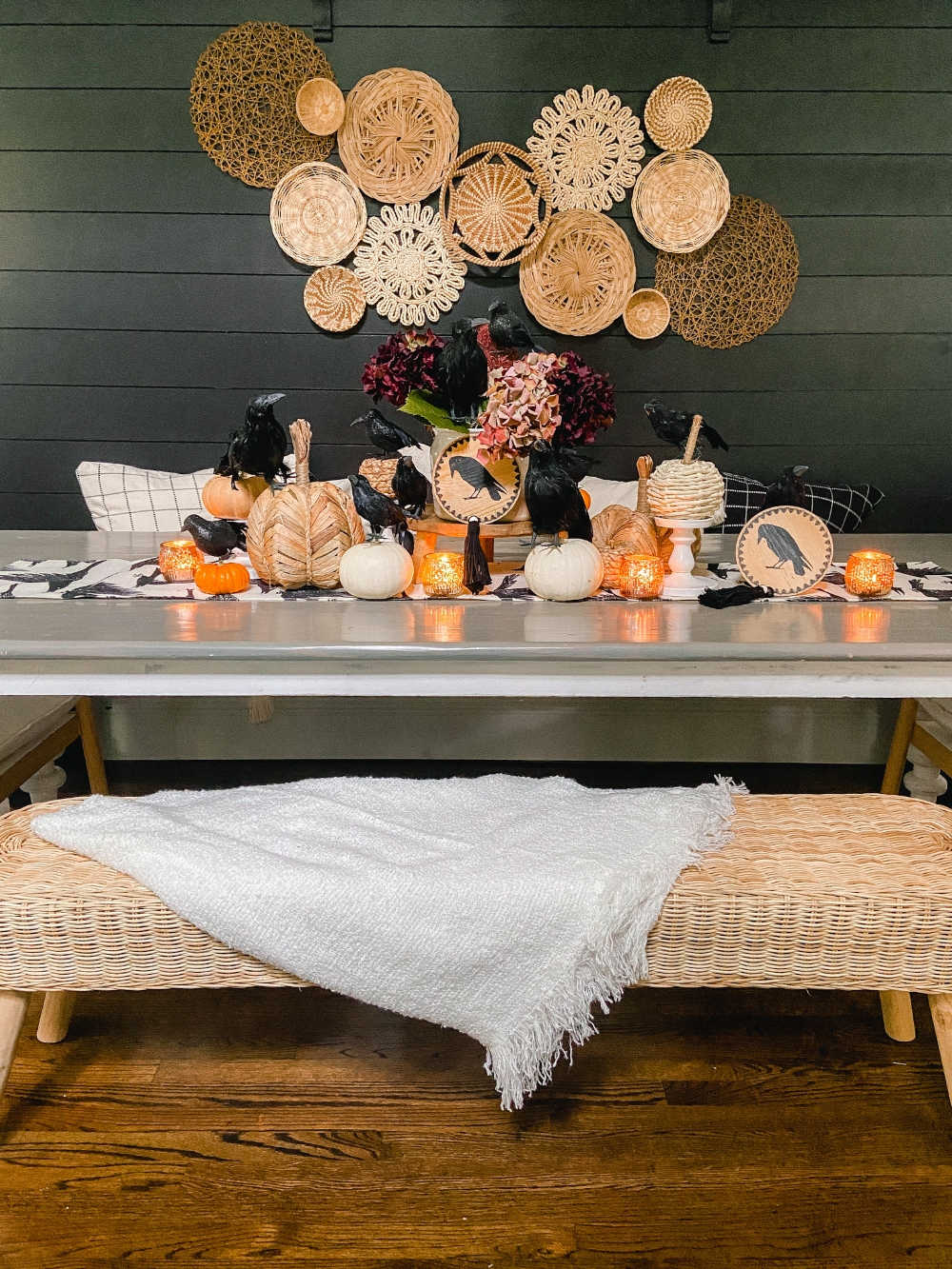 I love upcycling items from years past into new projects. In 2020 I created a "haunted forest" porch with lots of crows. In 2021 I took those crows and created a Halloween tablescape! I love how spooky it looked!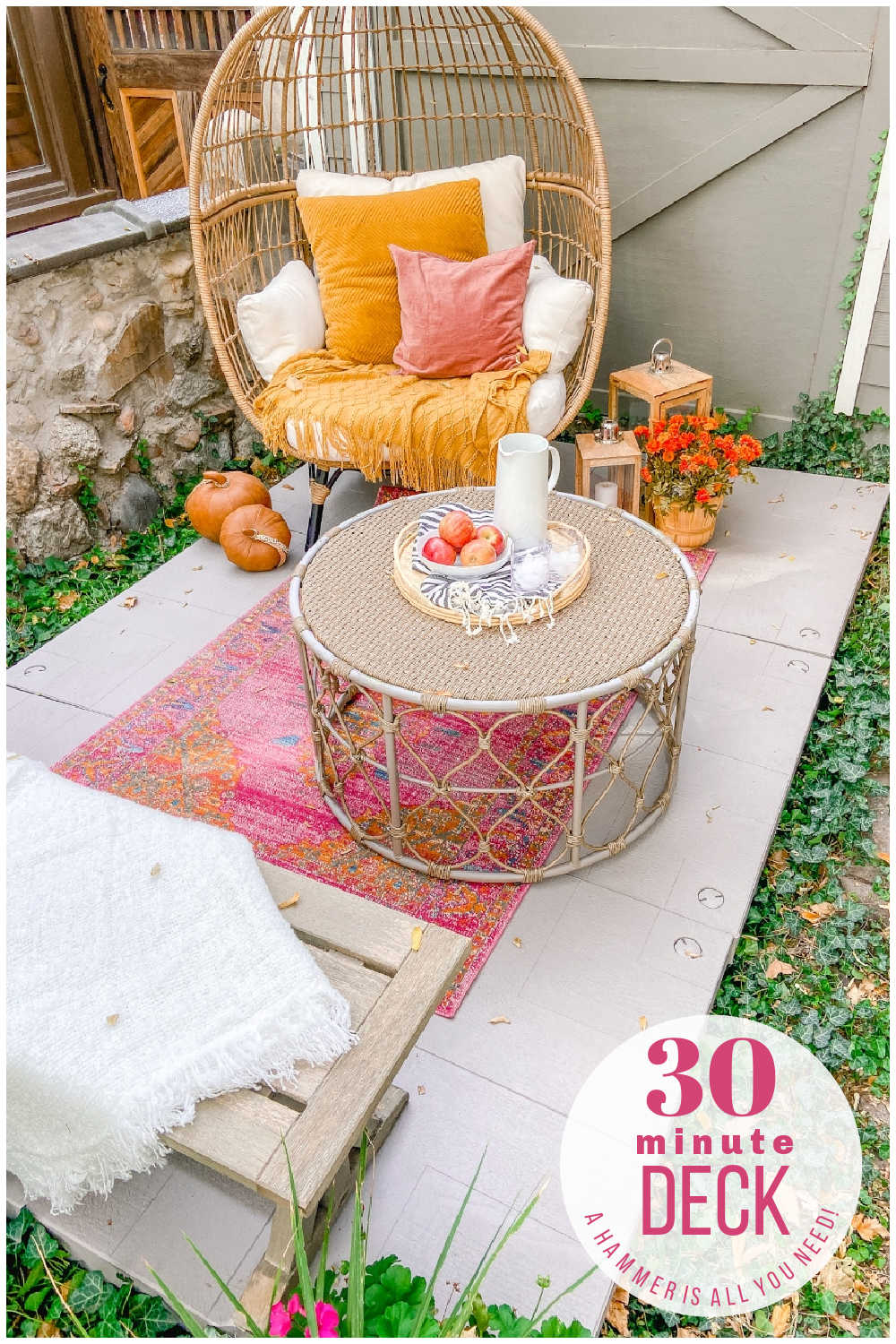 Another thing I love doing is partnering with innovative small businesses! I knew I wanted to create a deck to the side of the airbnb entrance. As I was researching decks that withstand snow and rain I stumbled upon UDecx. It's a decking system that fits together with no tools required. It's easy to assemble and it's portable too! We built our deck in under 30 minutes!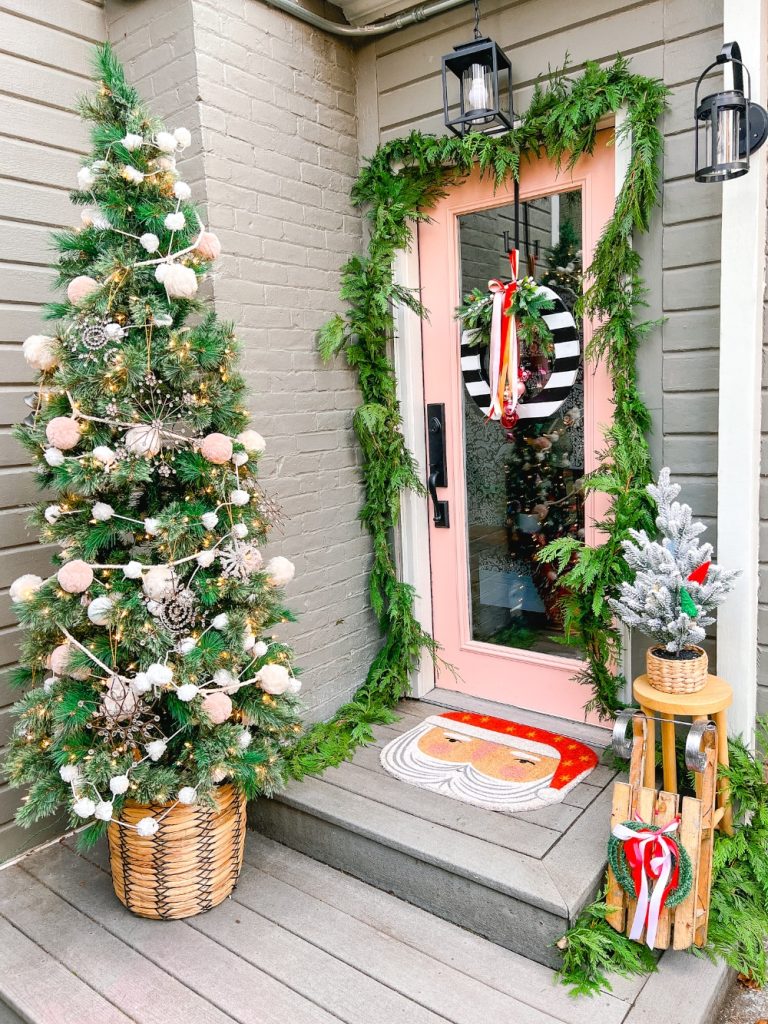 The last post is our whimscal cottage holiday tour. I ordered dozens of honeycomb paper balls and used them to decorate our tree, on our staircase banisters and in my new office makeover!
Next Top Posts Stop
Thanks for checking out my top posts of 2021! Next on the tour is Shauna at Satori for Living. Head over to see Shauna's top posts!
The Top Posts of 2021
This week is my friends and I are sharing our Top Posts of 2021! You can visit their articles and see the year's most popular content by using the links below the images.
Let's Connect!
I've been blogging for almost 14 years and my favorite thing during all of those years has been connecting with people from all over the world! I love seeing YOUR ideas! Let's connect and get creative together! I share behind-the-scenes ideas, giveaways and inspiring projects on my Instagram channel at @tatertotsandjello! And be sure to check out Tik Tok for amazing recipe and DIY videos! I'm @tatertotsandjello on Tik Tok!
More of My Top Posts
Here are the top posts from other years too if you want to check them out!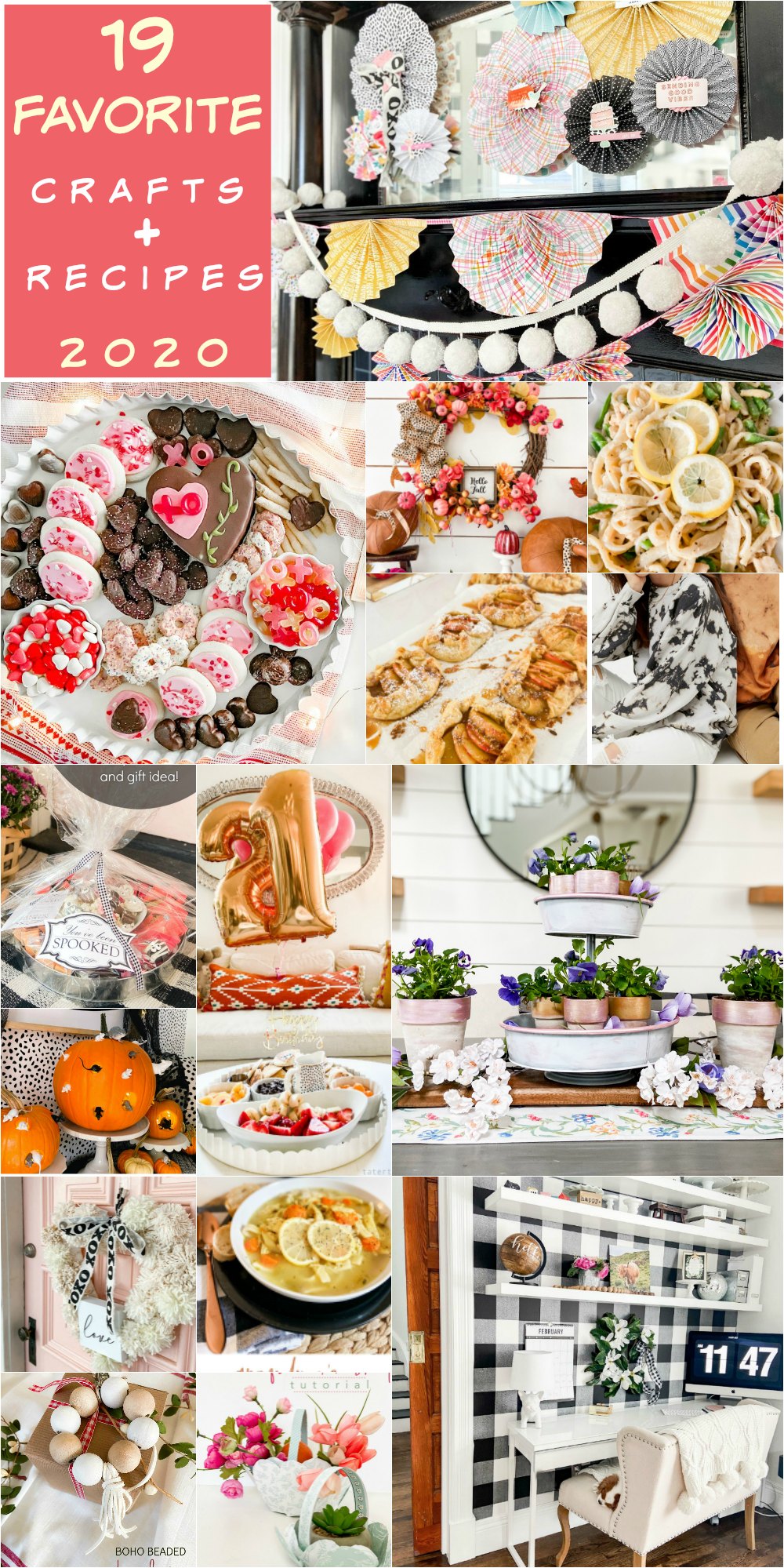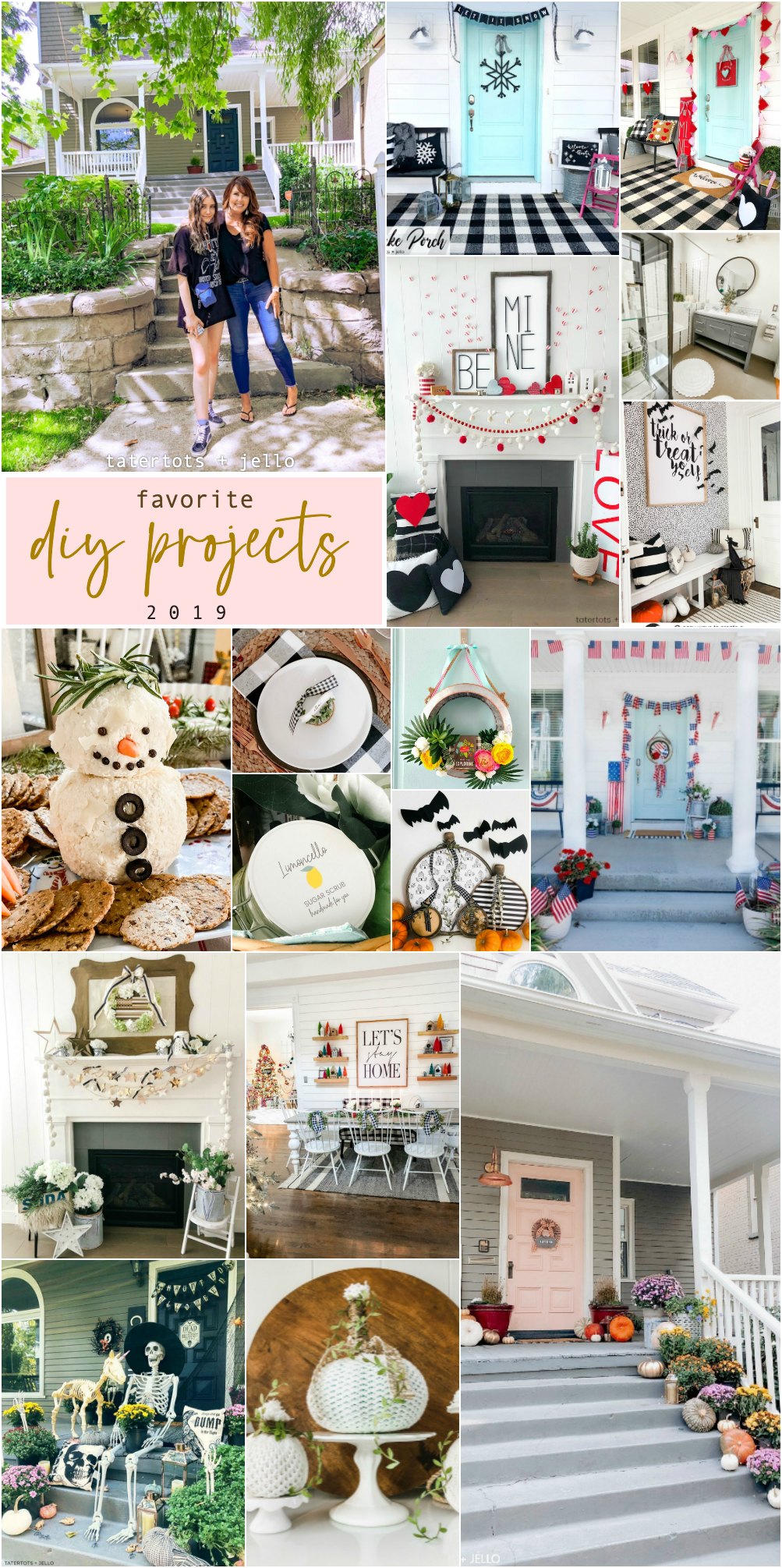 Have a Creative Day!
xoxo