Elevated Fabric Toilet Paper Pumpkins. Transform toilet paper into the cutest pumpkins for fall in FOUR different shapes and customize them for YOUR decor!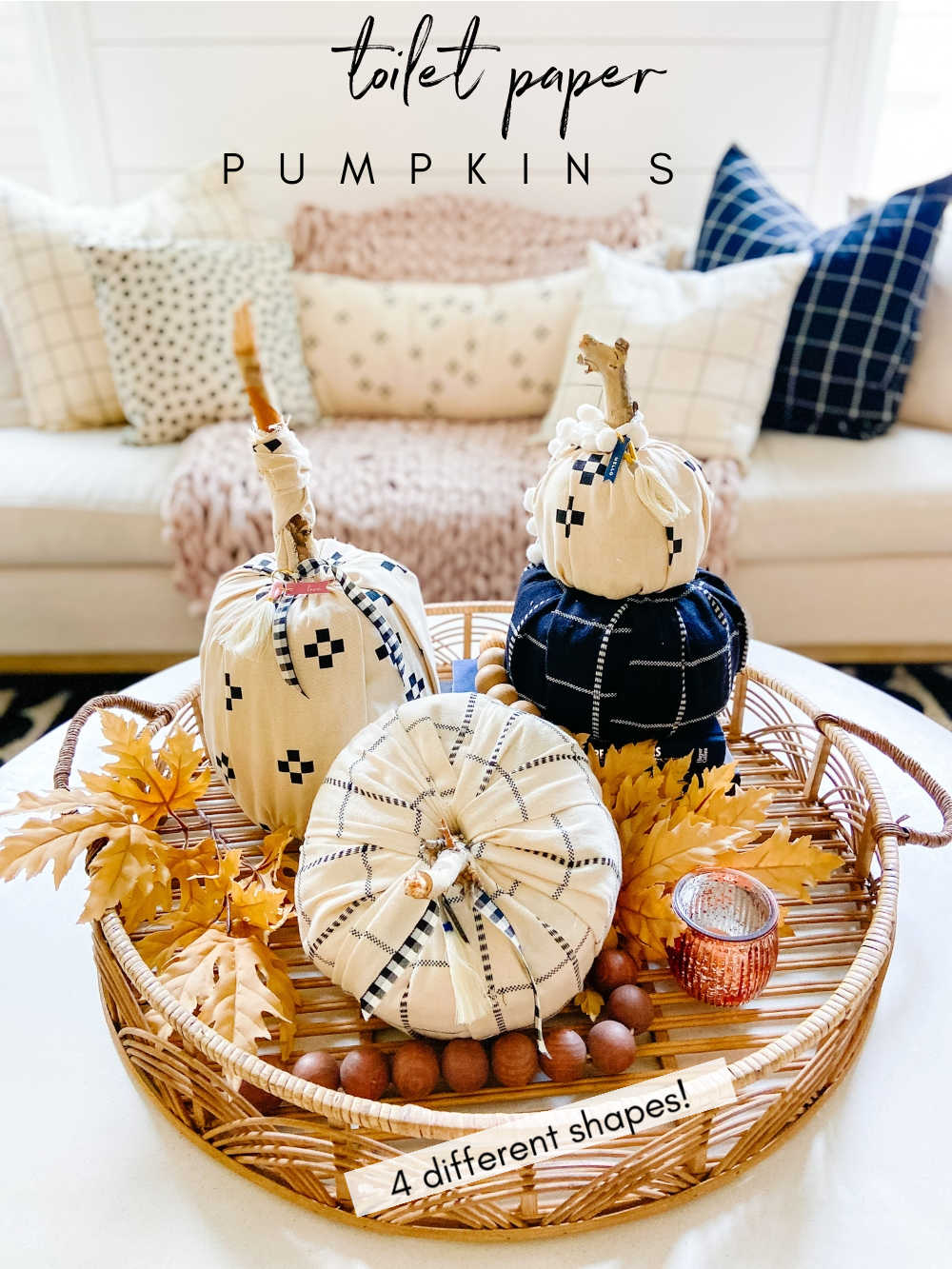 Elevated Fabric Toilet Paper Pumpkins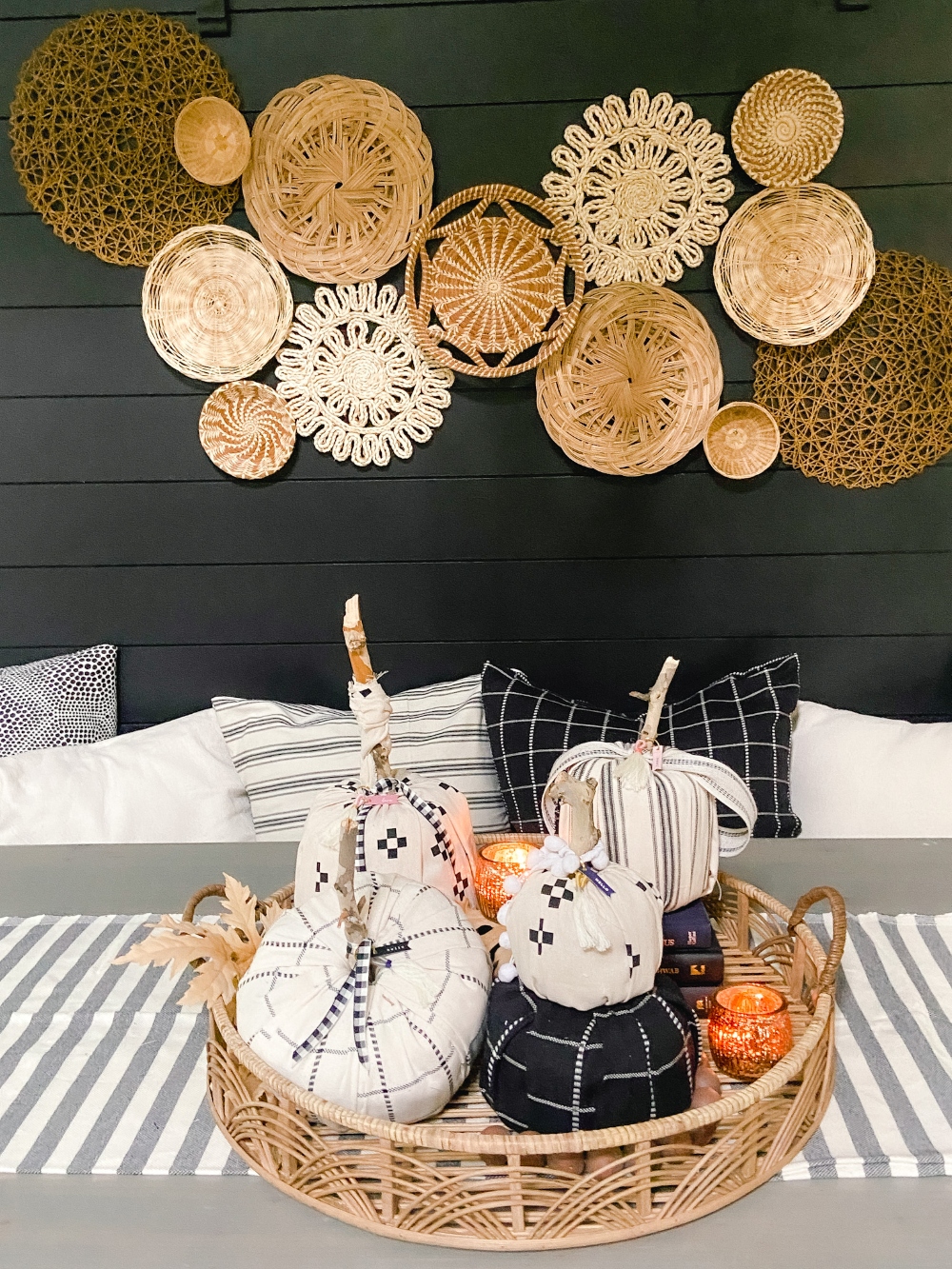 Have you ever seen the toilet paper pumpkin craft that has been circulating around the internet for the past few years? I's always thought the idea was brilliant but I always thought the design was a little clunky and you could spot right away that the pumpkins were really toilet paper rolls.
16 Fall DIY Craft Ideas
I so THRILLED to join in the start of Krista's @HappyHappyHousie's #SeasonalSimplicity fall event! This week we are sharing DIY Fall Crafts. Be sure to scroll down and see all the festive fall ideas!!
FOUR Different Toilet Paper Pumpkin Shapes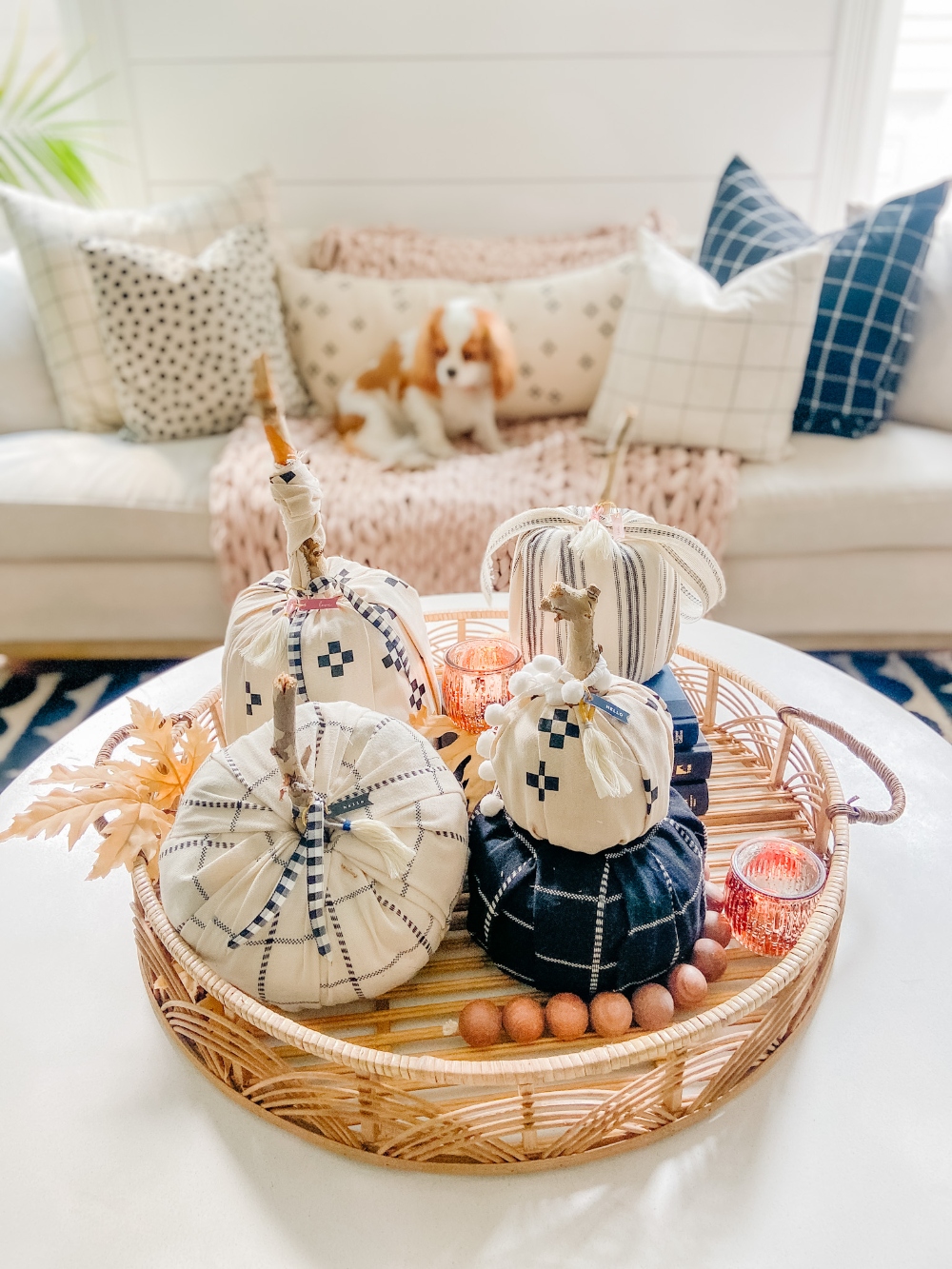 I came across XX's toilet apper roll tutorial and I loved that you couldn't tell the shape of the pumpkins looked like toilet paper rolls! She uses scarves to wrap her toilet paper rolls but I decided to use a couple of old towels. I also came up with another shape and I will tell you how I created that!
A Free Fall Craft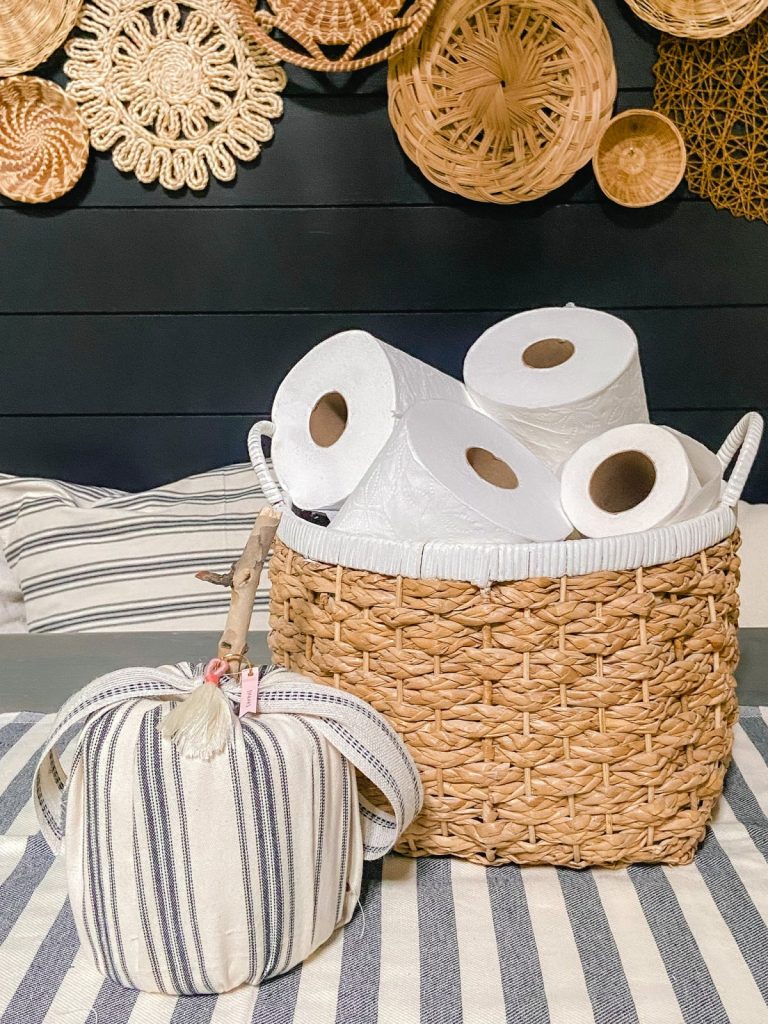 The best part of this fall craft is it is FREE! So grab your toilet paper rolls, some leftover fabric, some twigs and join me in making this craft.
5-Minute Toilet Paper Pumpkins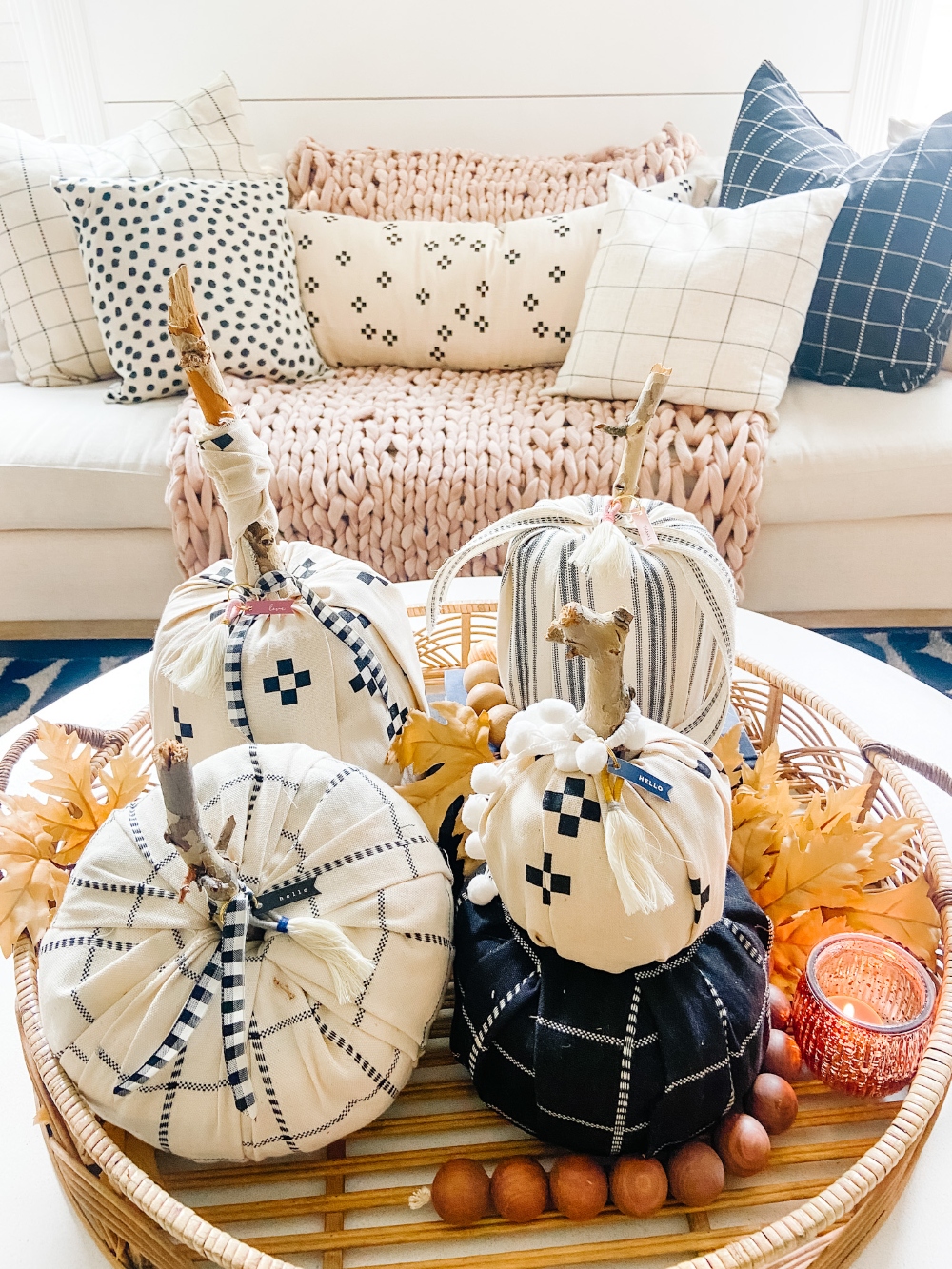 This craft seriously takes less than 5 minutes to make! I had leftover fabric from making new fall pillows and I decided to use the scraps to make these adorable pumpkins. I love how they coordinate with my new pillows I made last night! Have you ever made pillow covers? Pillow covers are my favorite way to decorate for new holidays and seasons. I have a 10-minute Pillow Cover Tutorial if you want to make some too!
Fabric Toilet Paper Pumpkin Supplies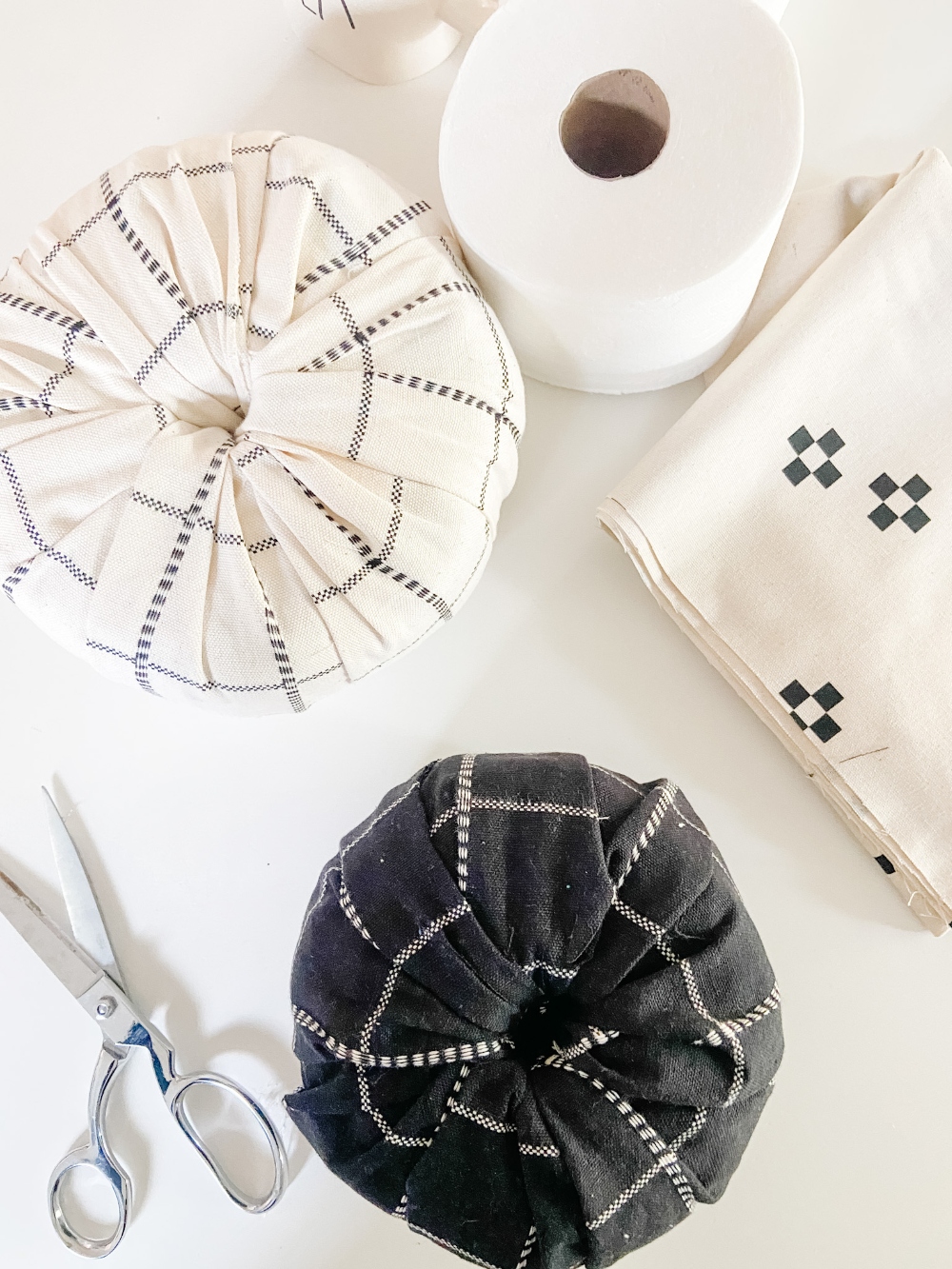 This craft is so easy! Here are the supplies to make it:
Toilet paper rolls
Fabric — 2 strips of fabric 4 inches wide by 1.5 yards long for the regular size toilet paper pumpkin.
Twigs for the stem
Ribbon
How to Make Elevated Fabric Toilet Paper Pumpkins
Decide What Shape You Want Your Pumpkin to be
1. Regular Toilet Paper Pumpkin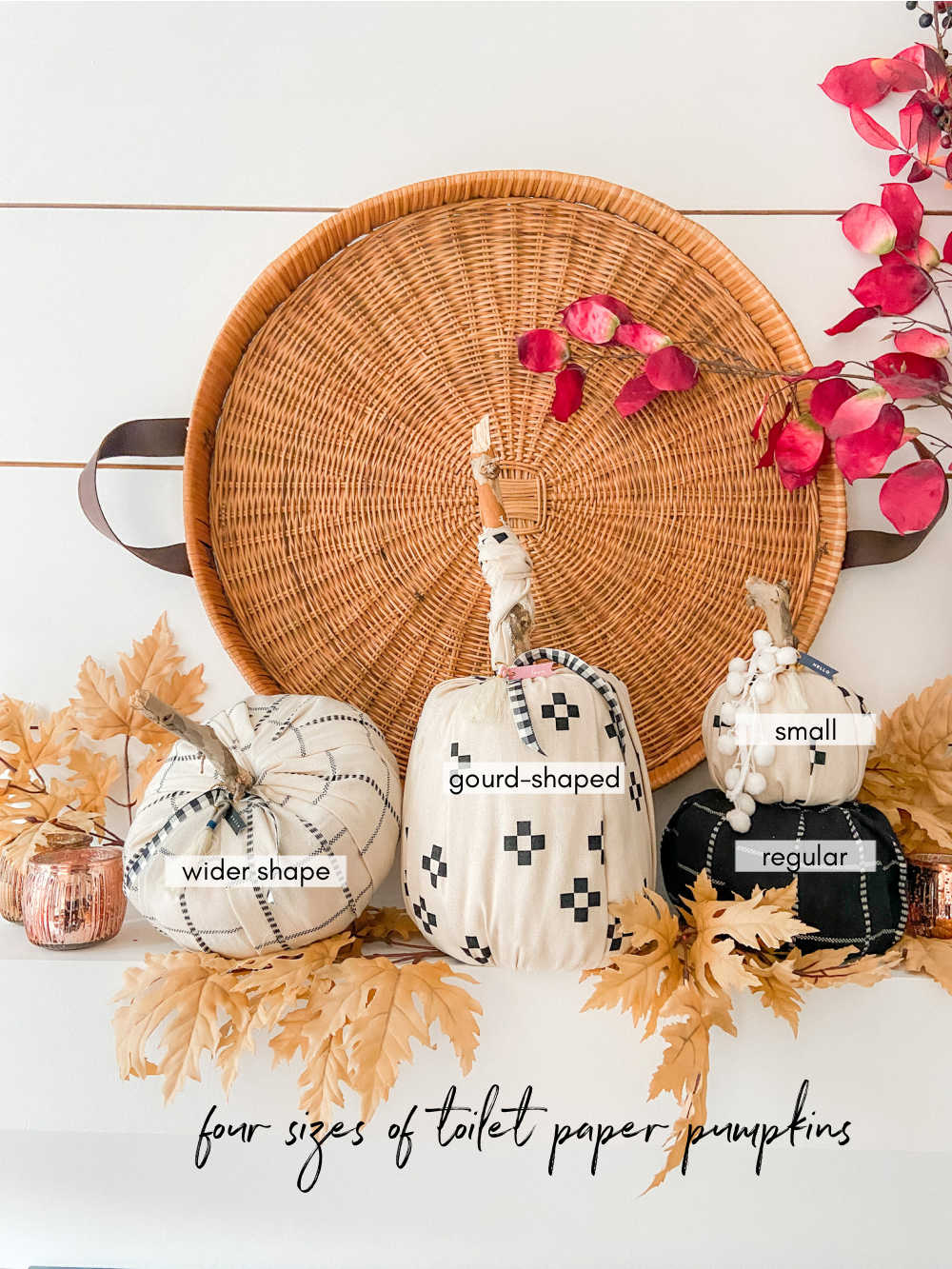 Take an old Towel and Cut it to the width of the toilet paper roll.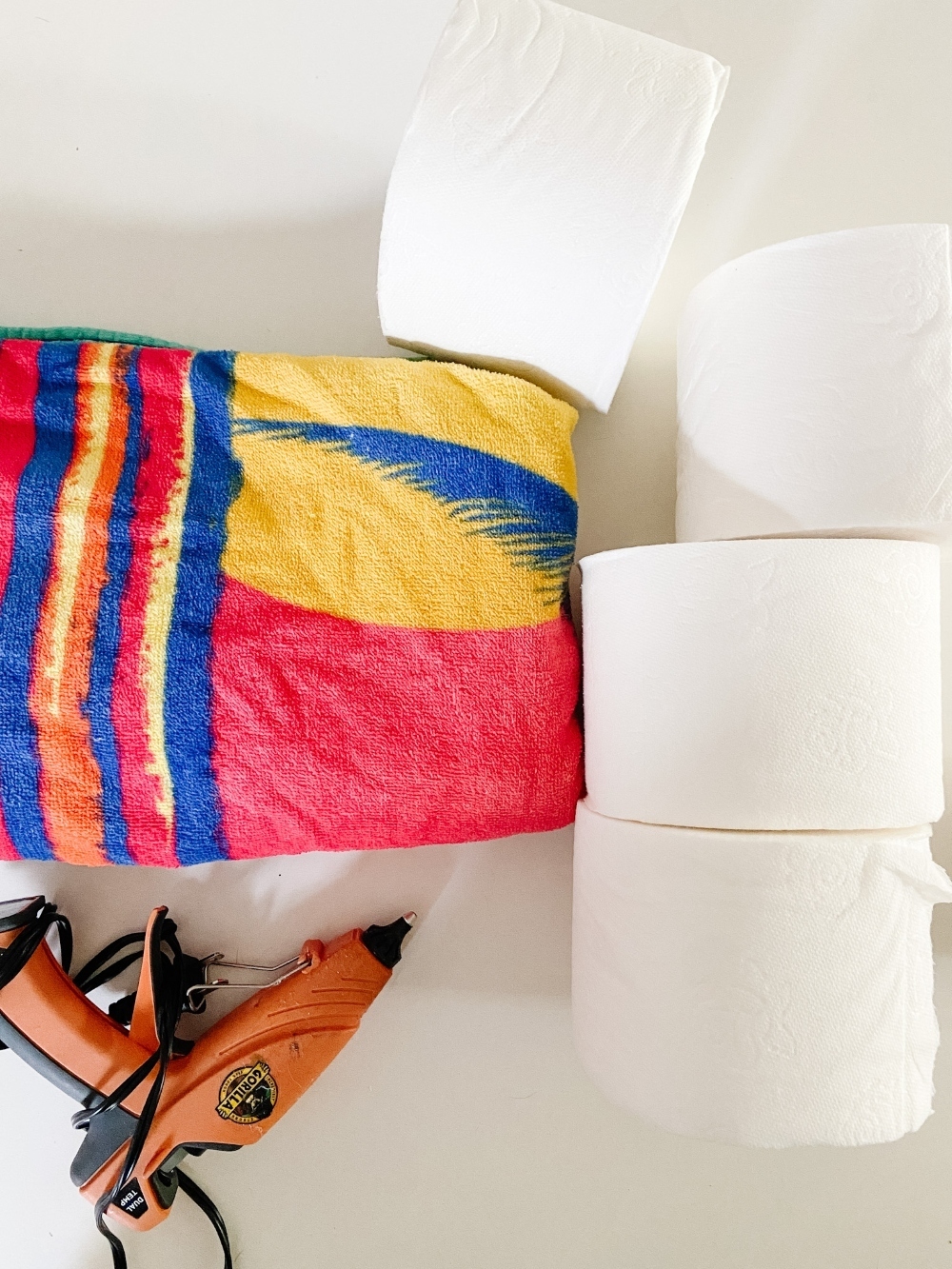 Wrap the paper towel with the towel. I used extra-wide toilet paper rolls for mine so I wrapped the roll about three times. But if you are using a regular size toilet paper roll you might beed to wrap the toilet paper roll with twice as much towels.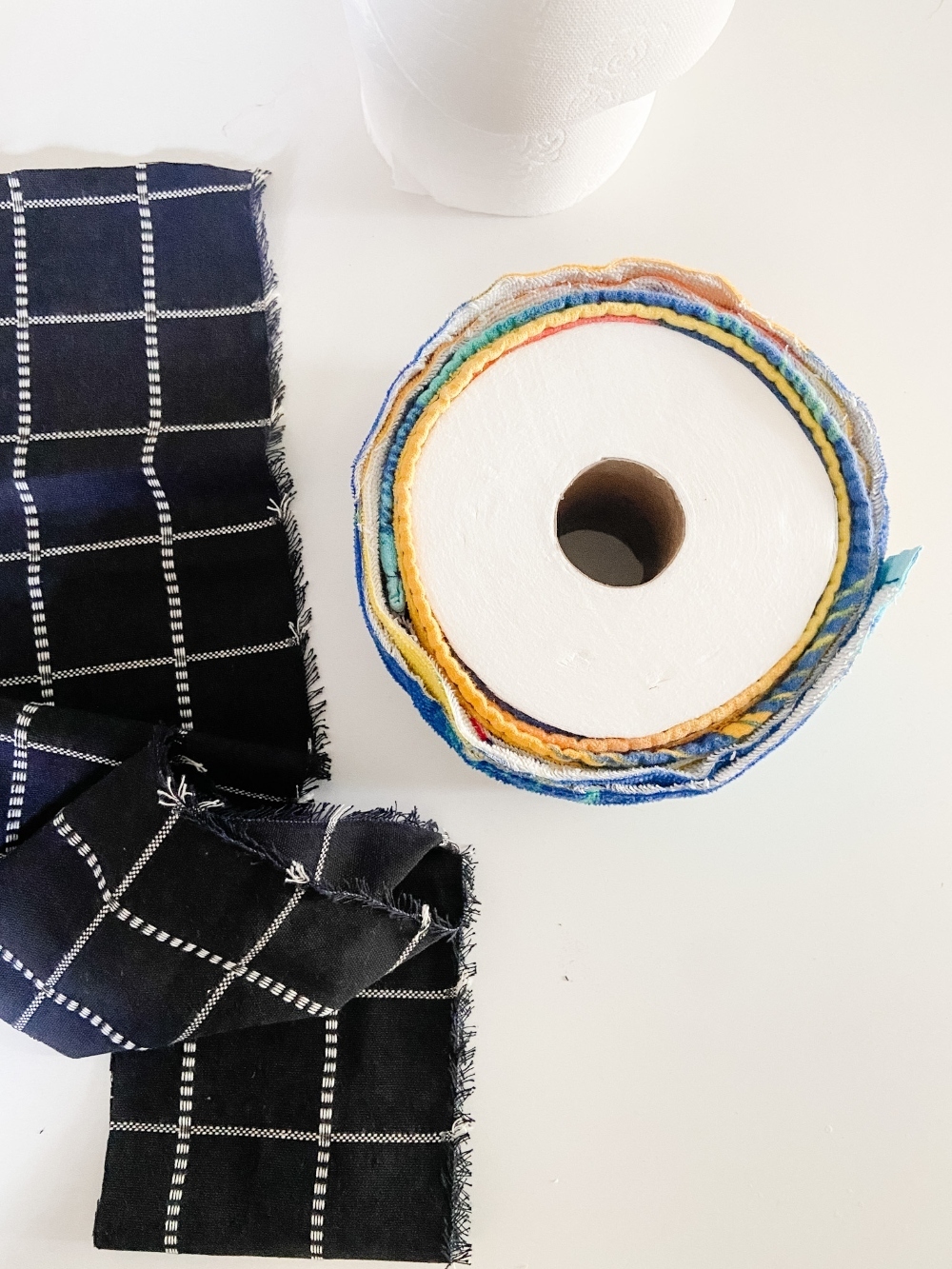 Wrap the strips around the roll.
Layer the strips on top of each other until the whole roll is wrapped.
Tuck the unfinished fabric edge under so no fabric frays are visible.
You can use a pair of scissors to push the strips up through the toilet paper hole to the top.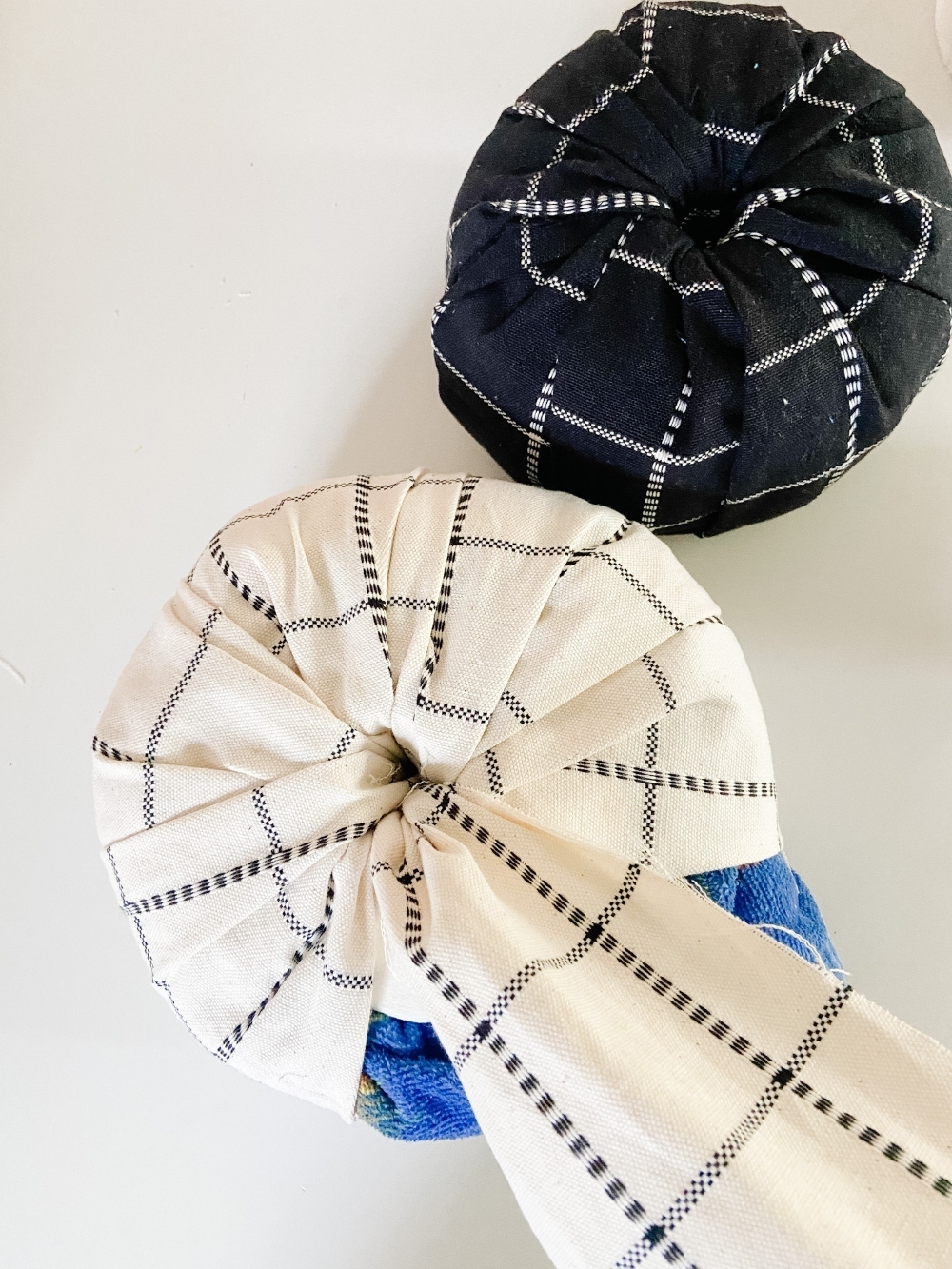 If you have leftover fabric, tuck it into the hole.
Add a stick for the pumpkin stem
Tie ribbon around the stick.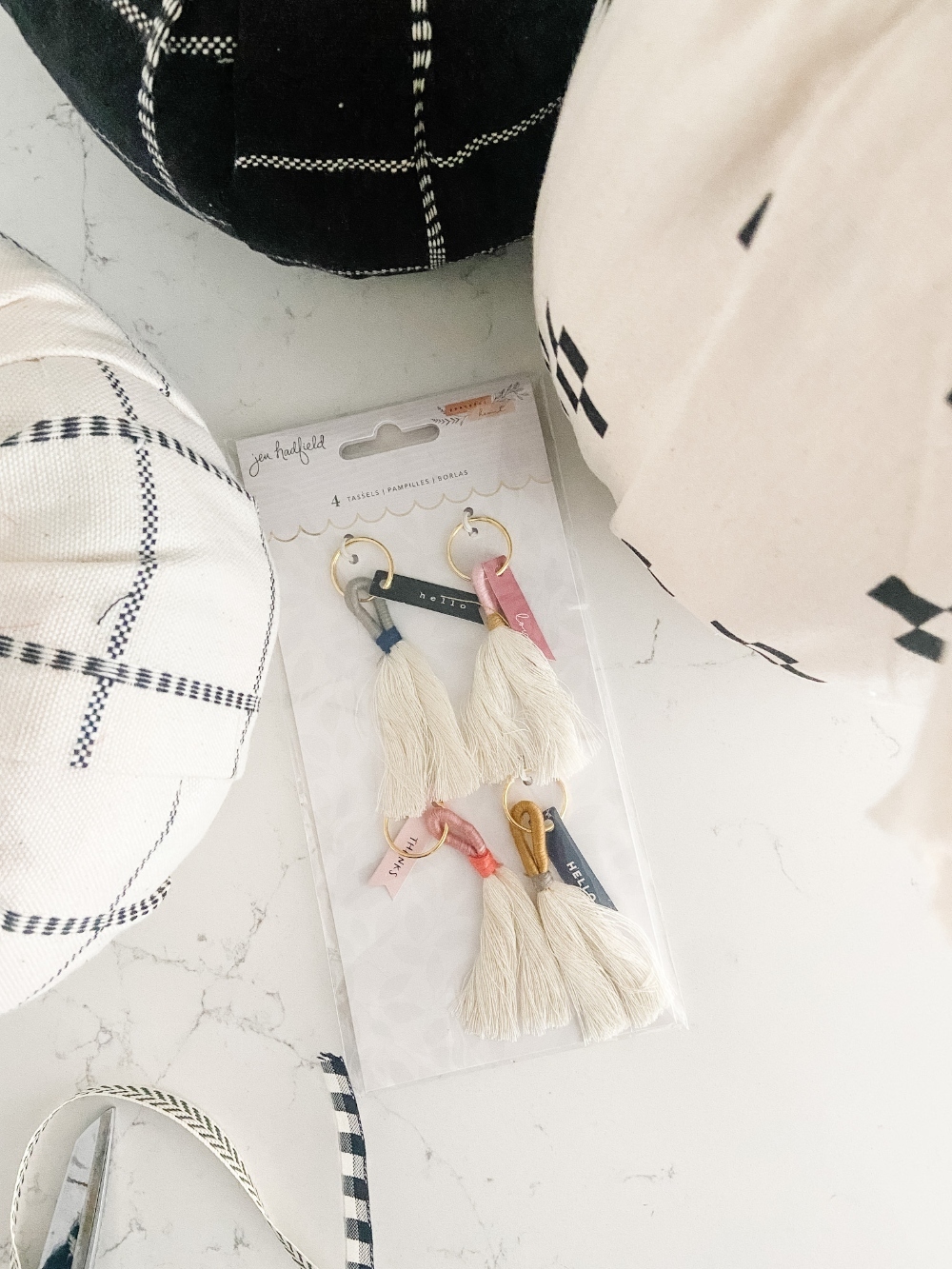 I also used tassels from my new Pebbles Inc. Peaceful Heart line. Aren't they pretty??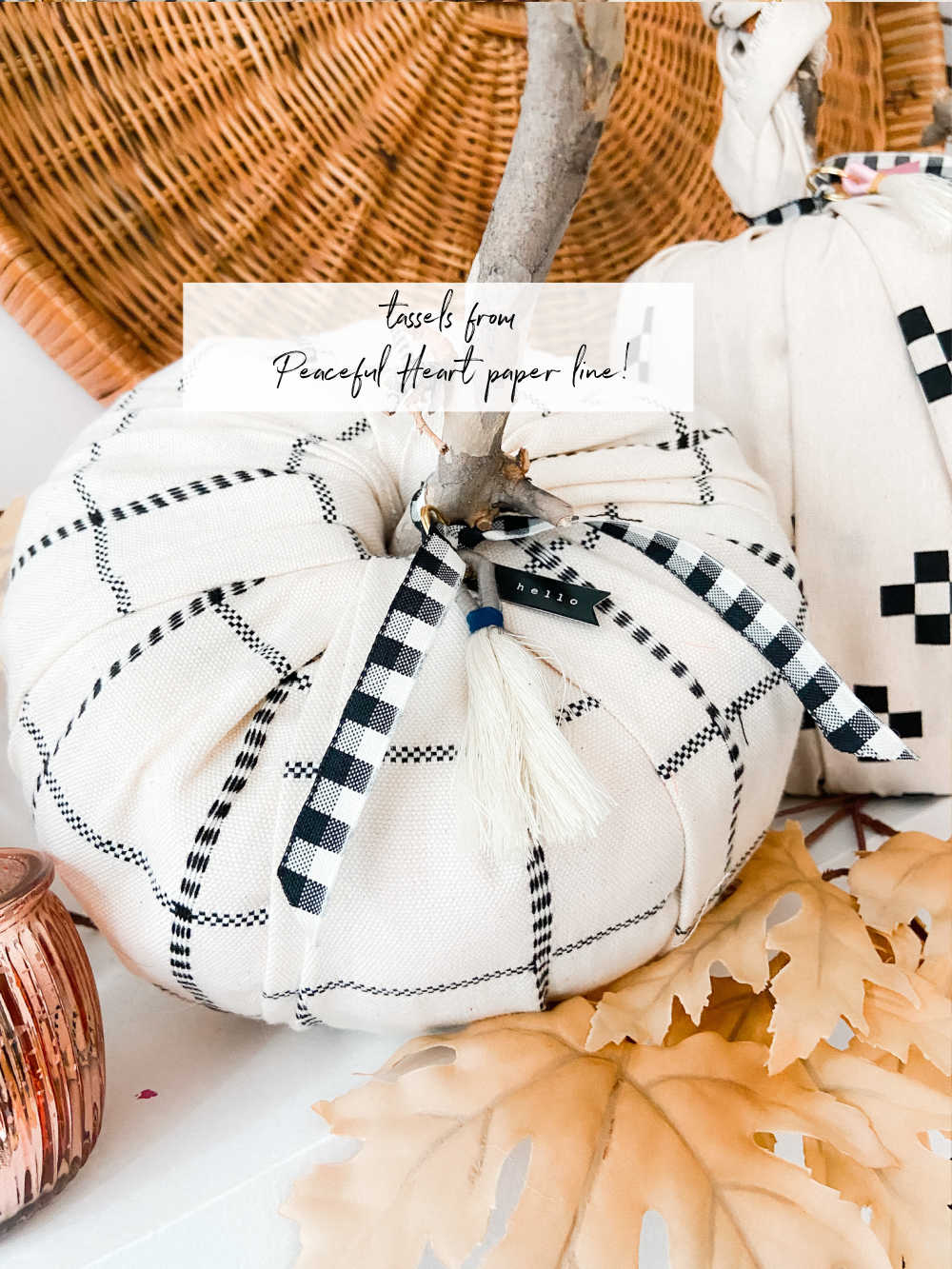 2. Wider Toilet Paper Pumpkin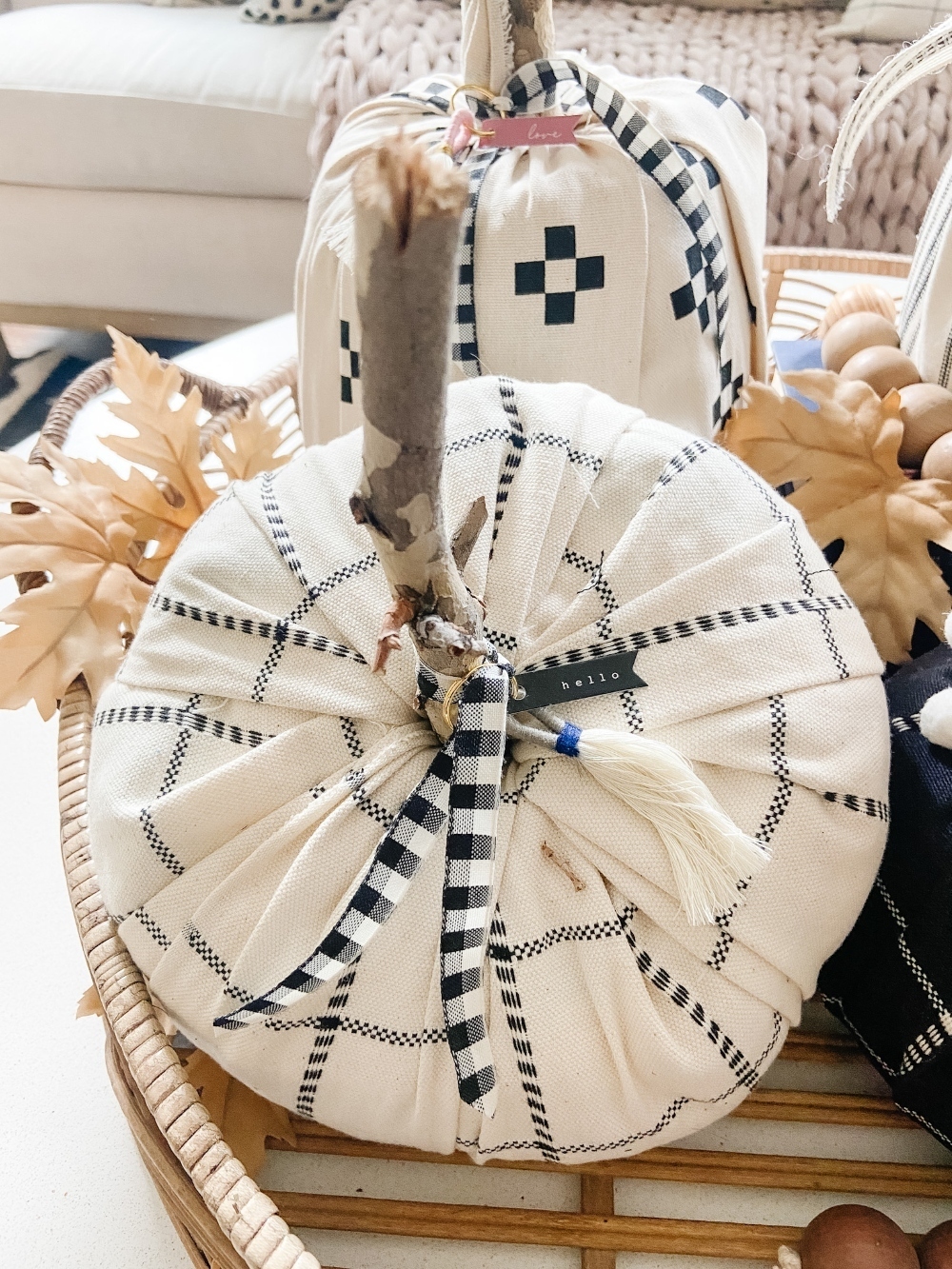 To make a wide toilet paper roll, add more towel strips around the toilet paper roll. until it is the thickness you want it to be.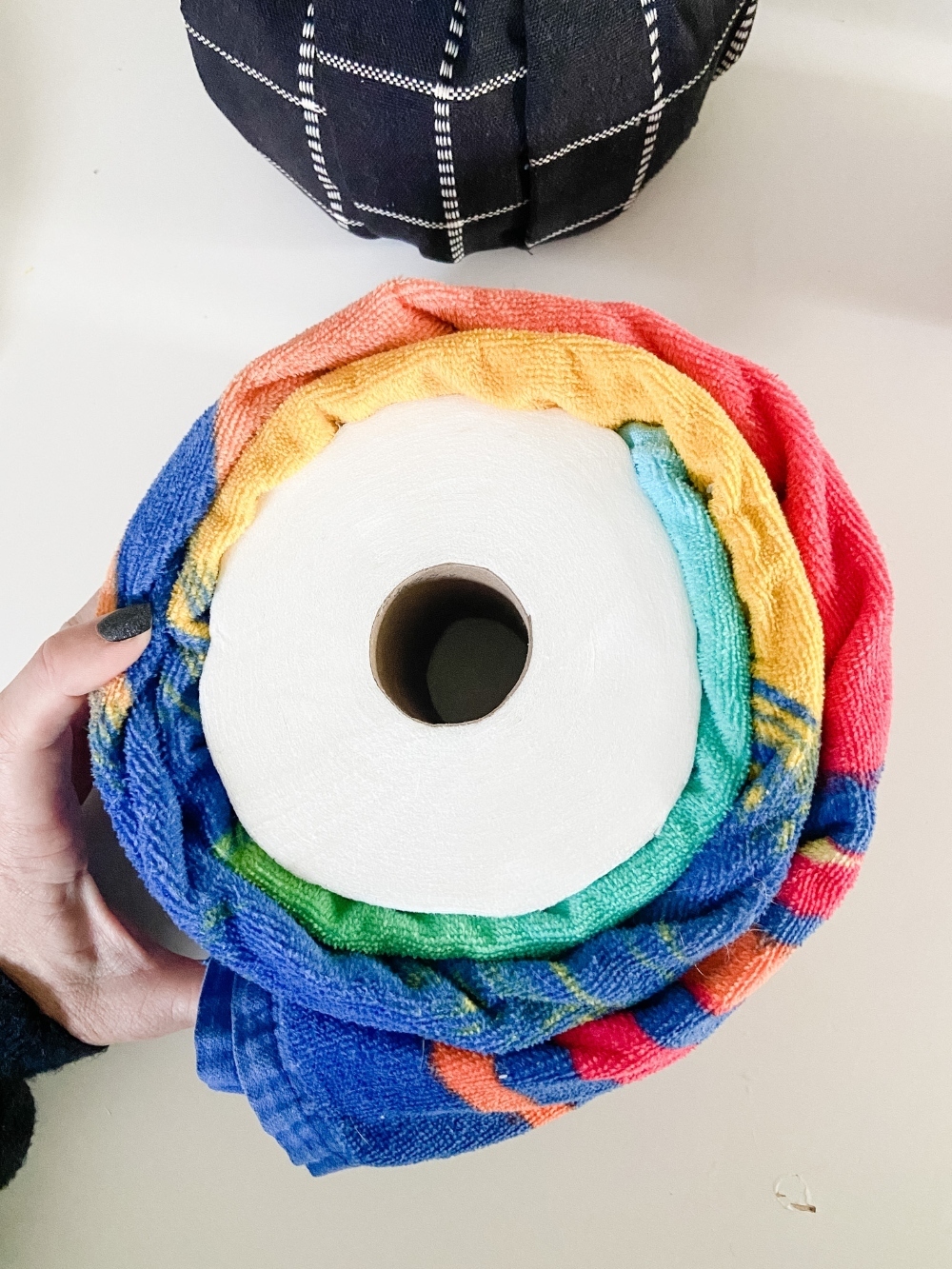 Then follow the regular instructions, wrapping fabric strips around the toilet paper roll.
3. Gourd-Shaped Pumpkin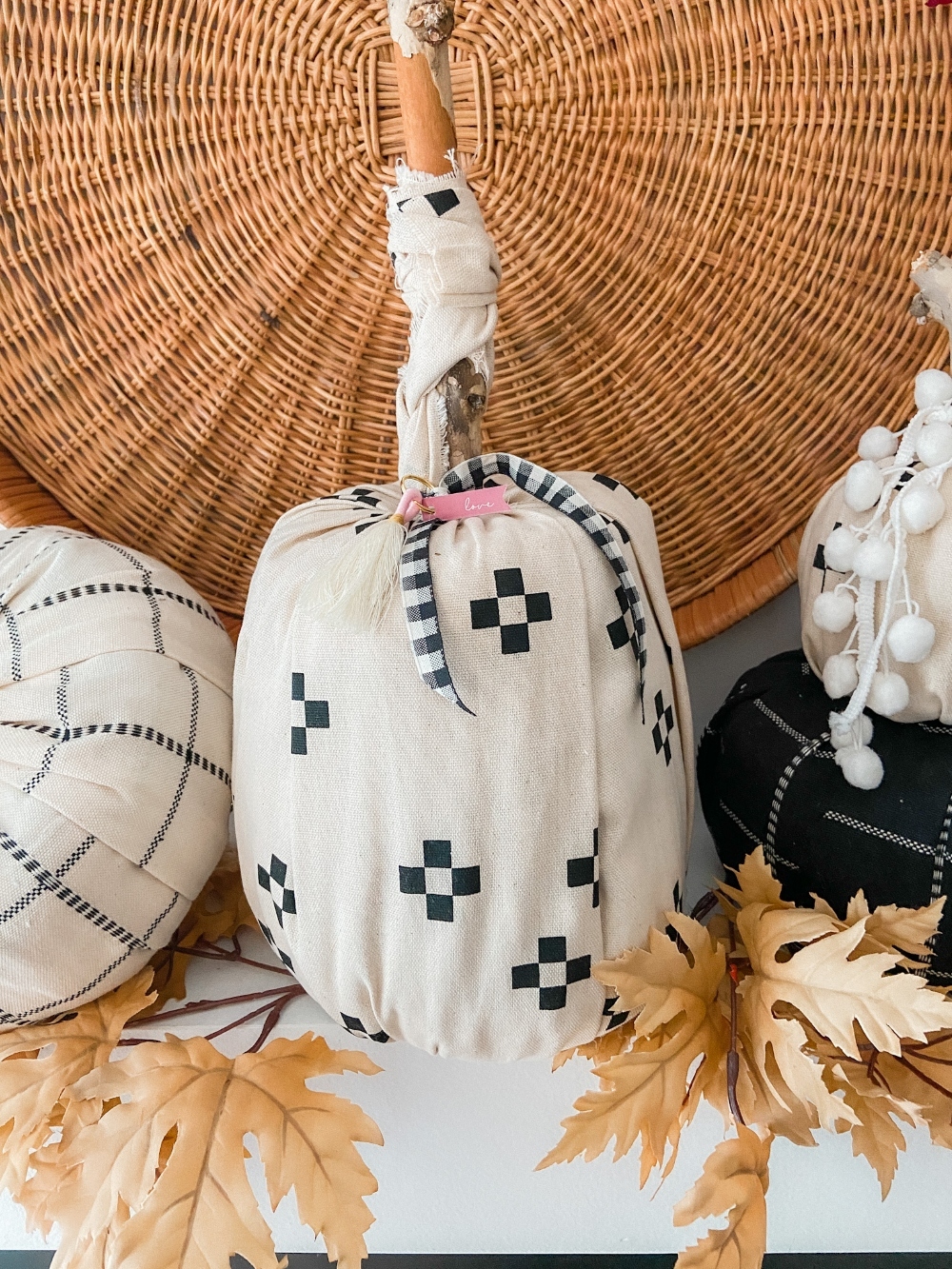 To make a gourd-shaped pumpkin, stack TWO toilet paper rolls and wrap them in towels the same width as the roll.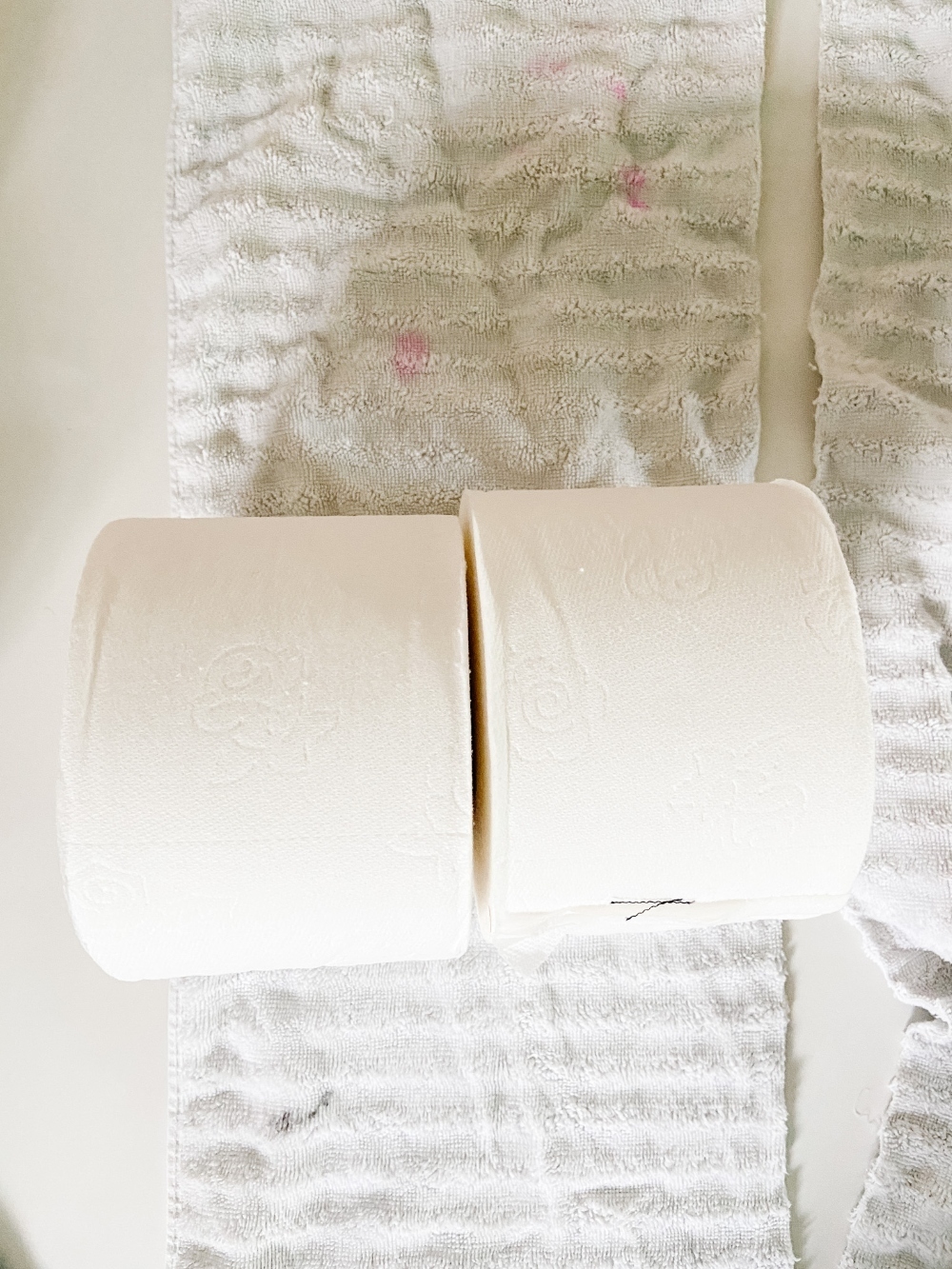 Then cut a strip of towels that is half the width and wrap those in the middle of the toilet paper roll.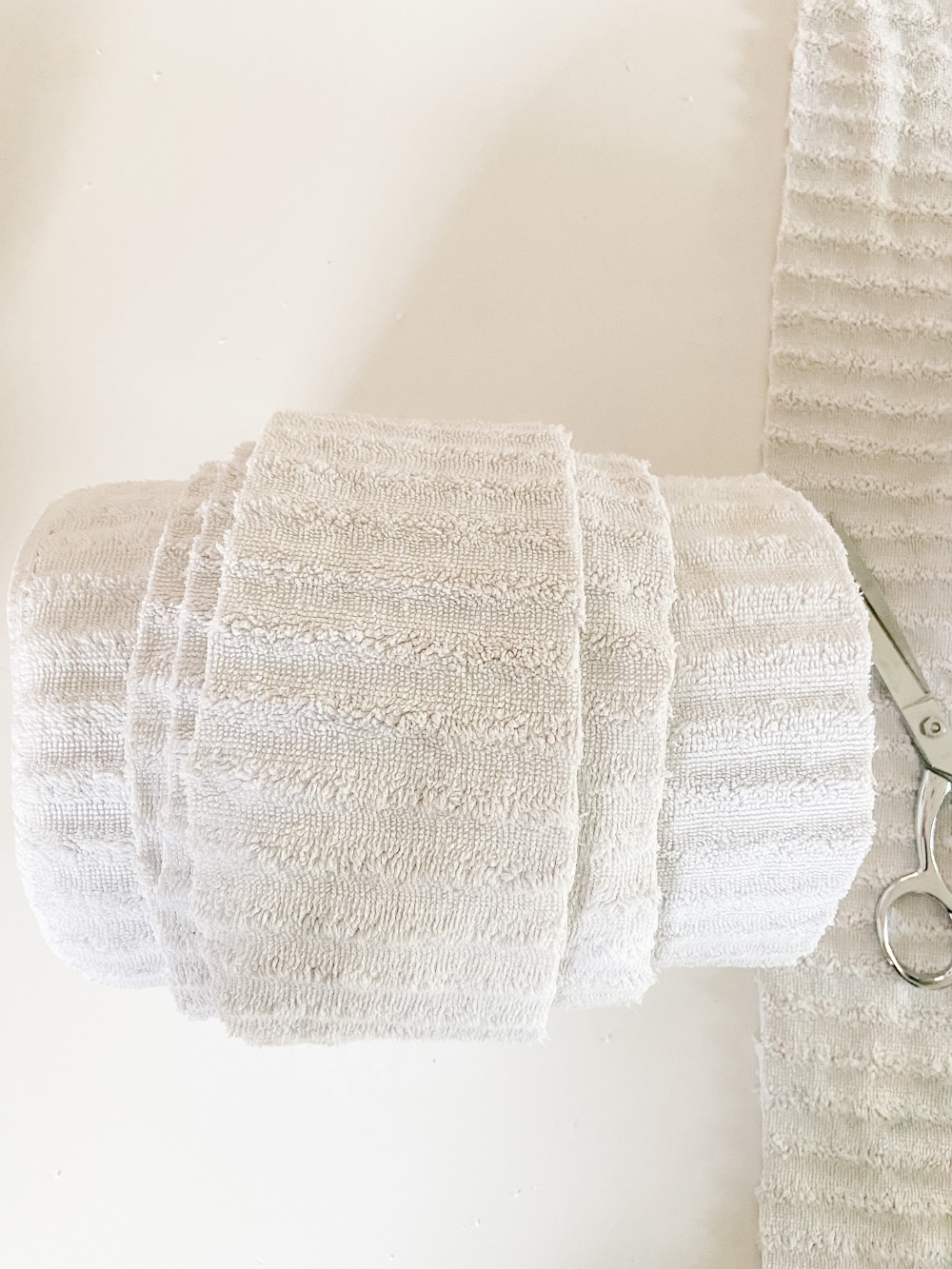 This creates a gourd shape. Wrap the pumpkin with the instructions above.
4. Smaller Toilet Paper Pumpkin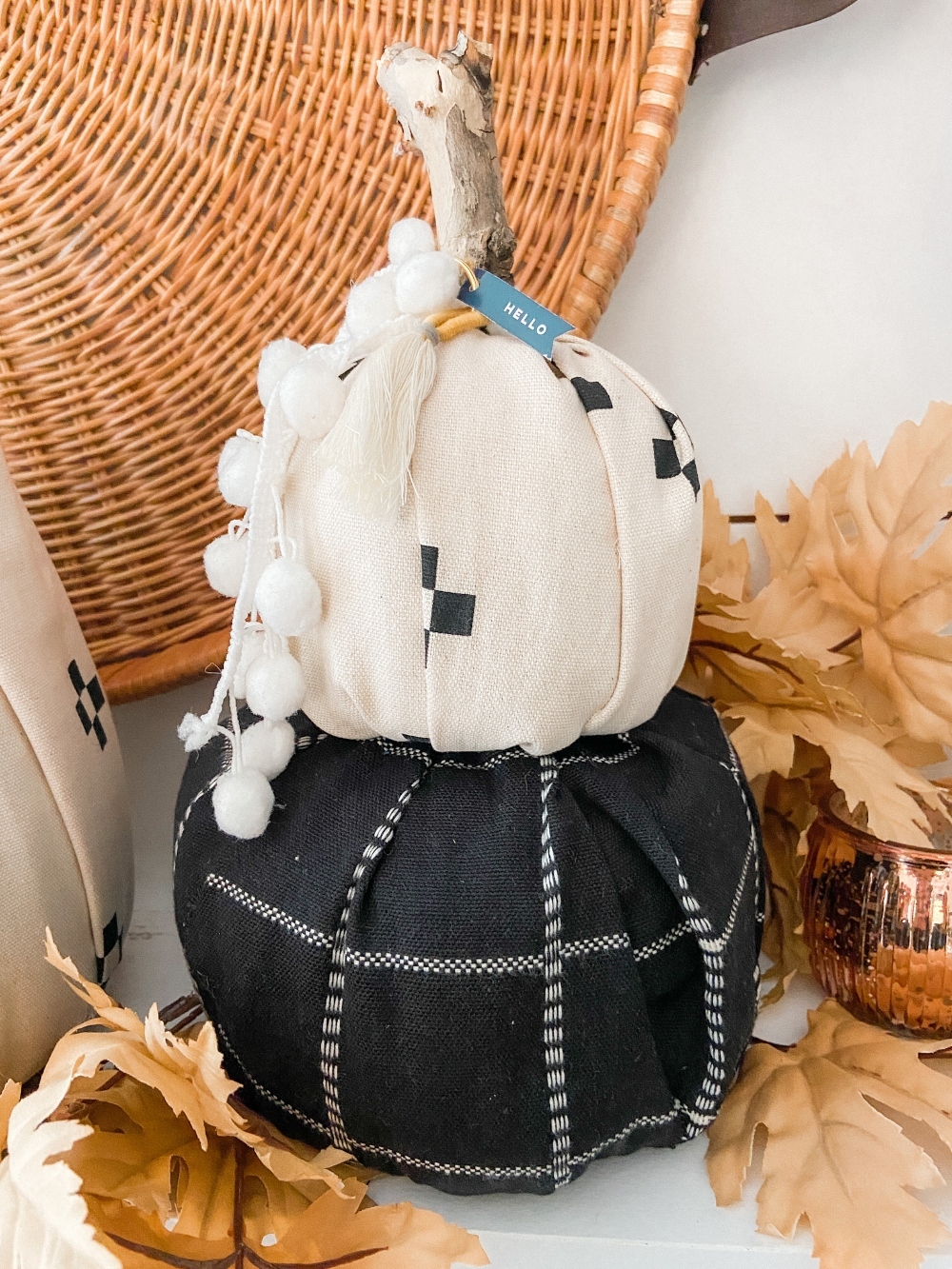 I created a pumpkin topiary with three different size pumpkins. For the bottom pumpkin I created a really wide pumpkin using the instructions above. The second pumpkin was created with the regular pumpkin instructions. For the top I wanted a smaller pumpkin. I took a half-used toilet paper roll. Then I cut it in half and wrapped that small toilet paper roll with fabric and it is so small and cute!
Stack Pumpkins to Create a Topiary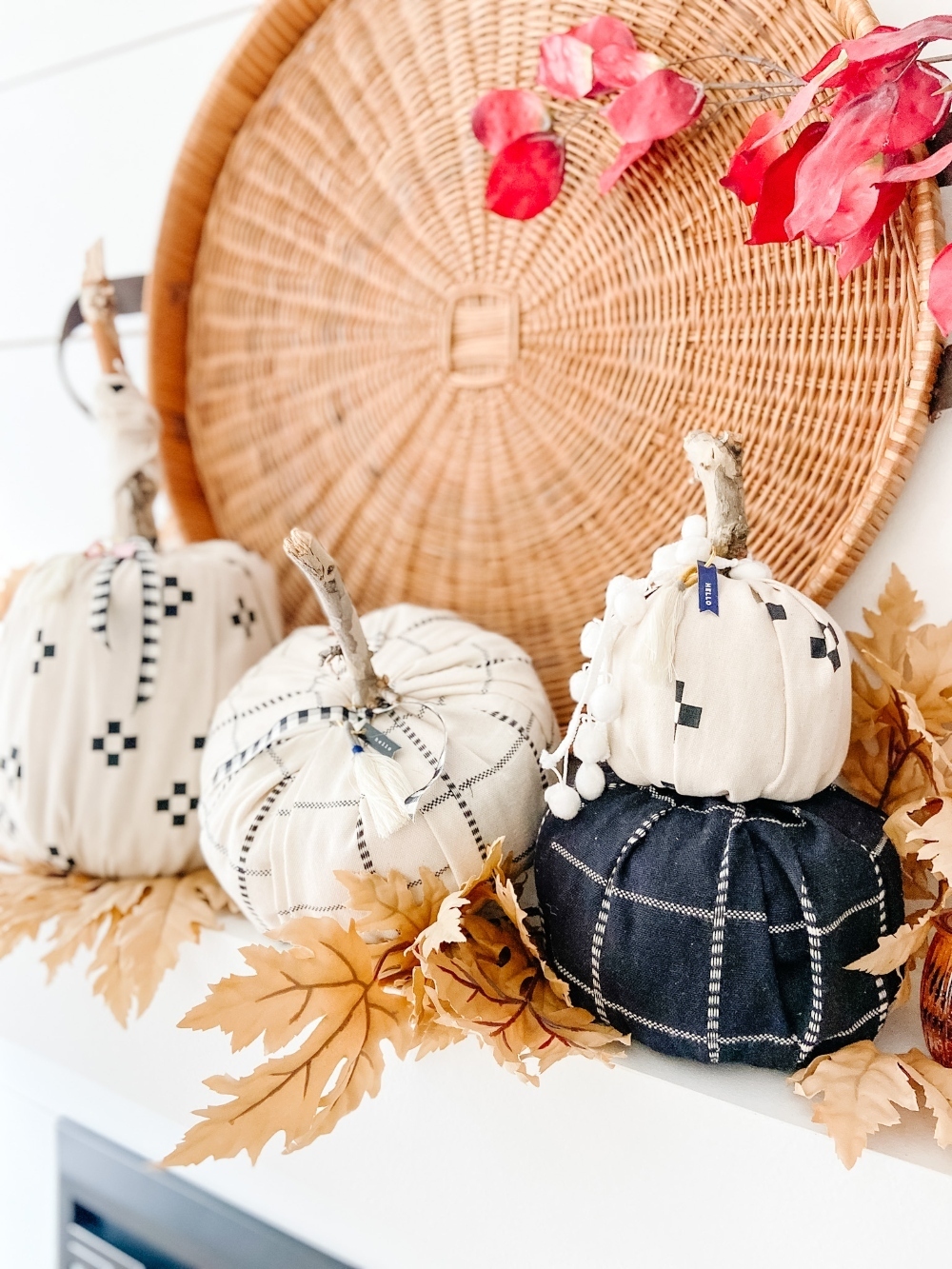 You can make three different sized pumpkins and stack them on top of each other with one stem at the top. This would be so cute on a shelf or on a fireplace mantel or hearth!
More Fall DIY Ideas

This week I'm joining some of my talented blogging friends for the Fall Seasonal Simplicity Series. Today we are sharing our Fall DIY and Craft ideas with you! Be sure to check out all of the beautiful inspiration by visiting the links under the images below.
DIY Textured Vase at The Happy Housie
DIY Fall Frame Wreath at Confessions of a Serial DIYer
Dried Floral Cloche at Deeply Southern Home
Fall Wreath How-to at Hallstrom Home
Fall Dried Flower Arrangement at Modern Glam
Elevated Toilet Paper Pumpkins Free Craft at Tatertots and Jello
DIY Inexpensive Fall Wreath at The Happy Happy Nester
How to Make a Fall Wreath at A Pretty Life
Air Dry Clay Leaf Twinkle Lights at Clean & Scentsible
Embroidery Insects at Life is a Party
Dried Florals for Fall at Lemon Thistle
DIY Feather Wreath at Dans le Lakehouse
DIY Fall Wreath Tutorial at She Gave it a Go
How to Make a Succulent Table Runner at My Sweet Savannah
DIY Fall Harvest Nut Wreath at Sincerely, Marie Designs
DIY Fall Cutting Board with a Cricut at The DIY Mommy
More DIY Pumpkin Ideas
I LOVE creating new pumpkins! Here are a few different pumpkins you can make to decorate for fall!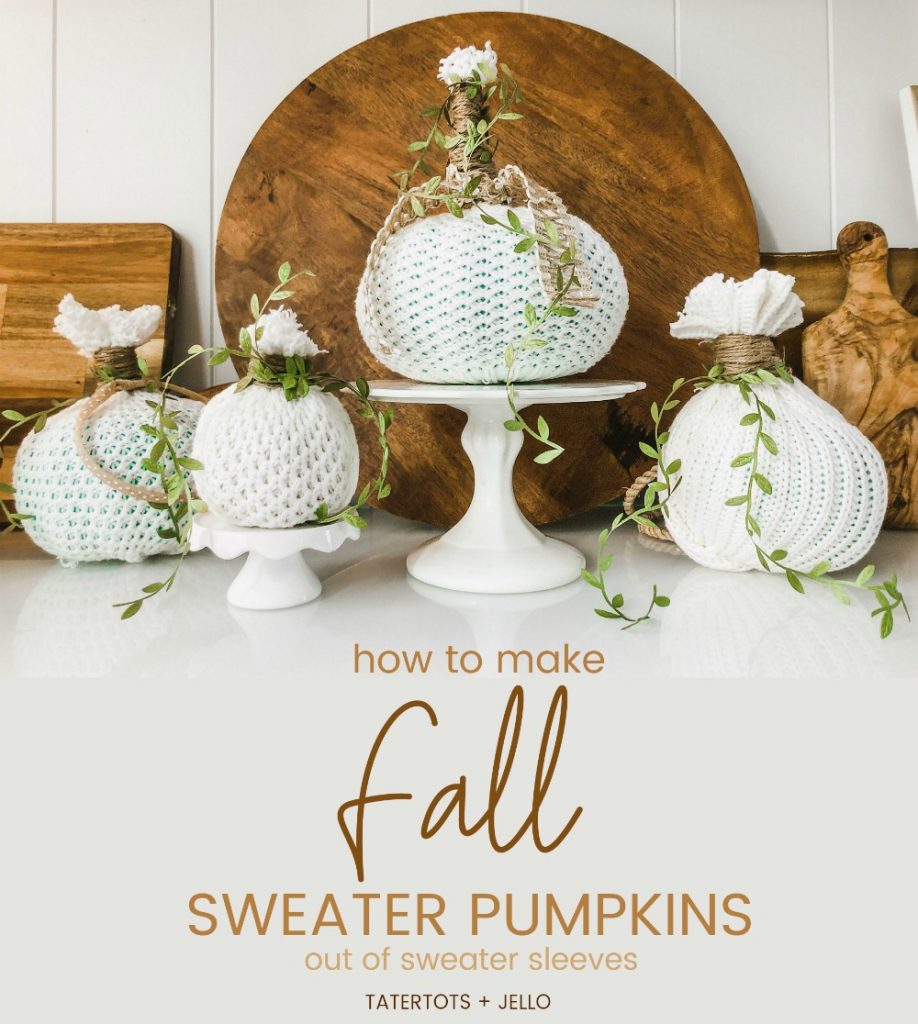 Turn old sweaters into the cutest pumpkins!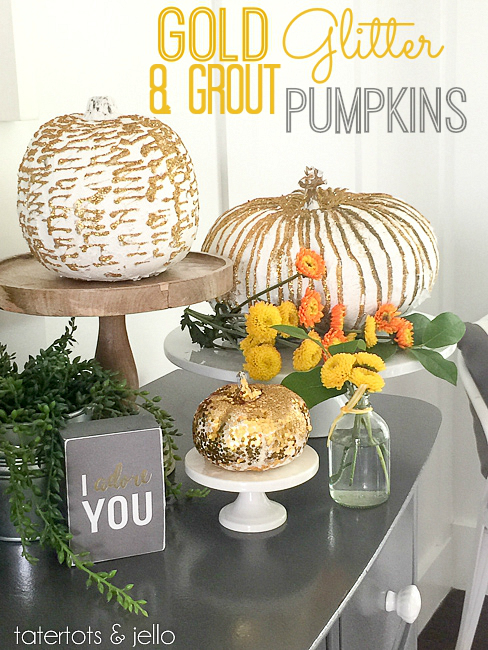 Add grout for a concrete and glitter pumpkin!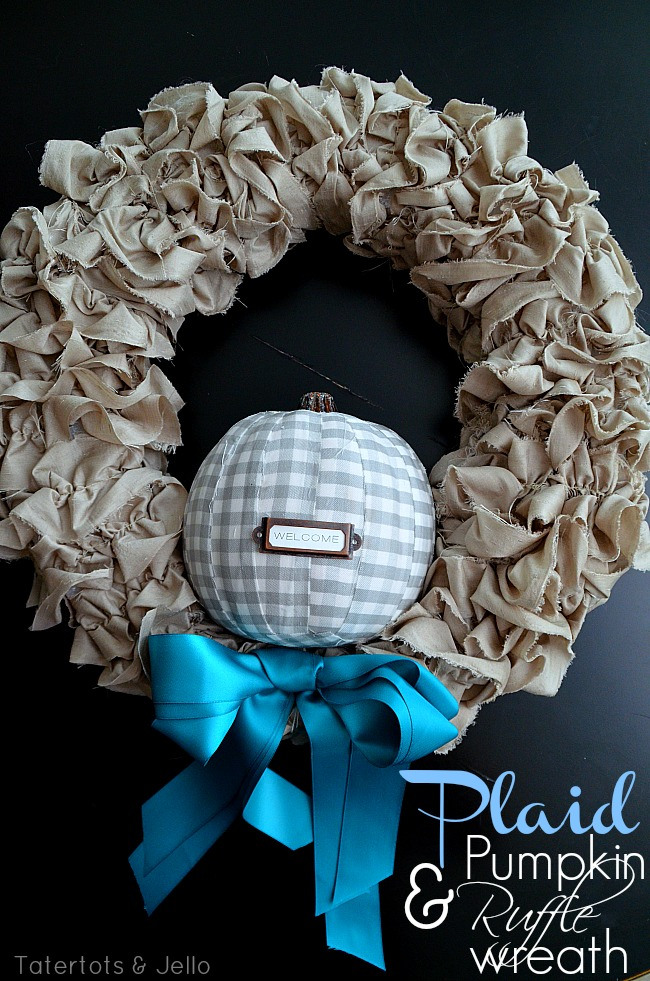 This is one of my favorite wreaths! I think I am going to recreate it this year!
What projects are YOU making for Fall?
Share them with us in the comments!!
xoxo