How to make easy fall sweater pumpkins. Use inexpensive dollar store pumpkins and transform them into beautiful decor with thrifted sweaters!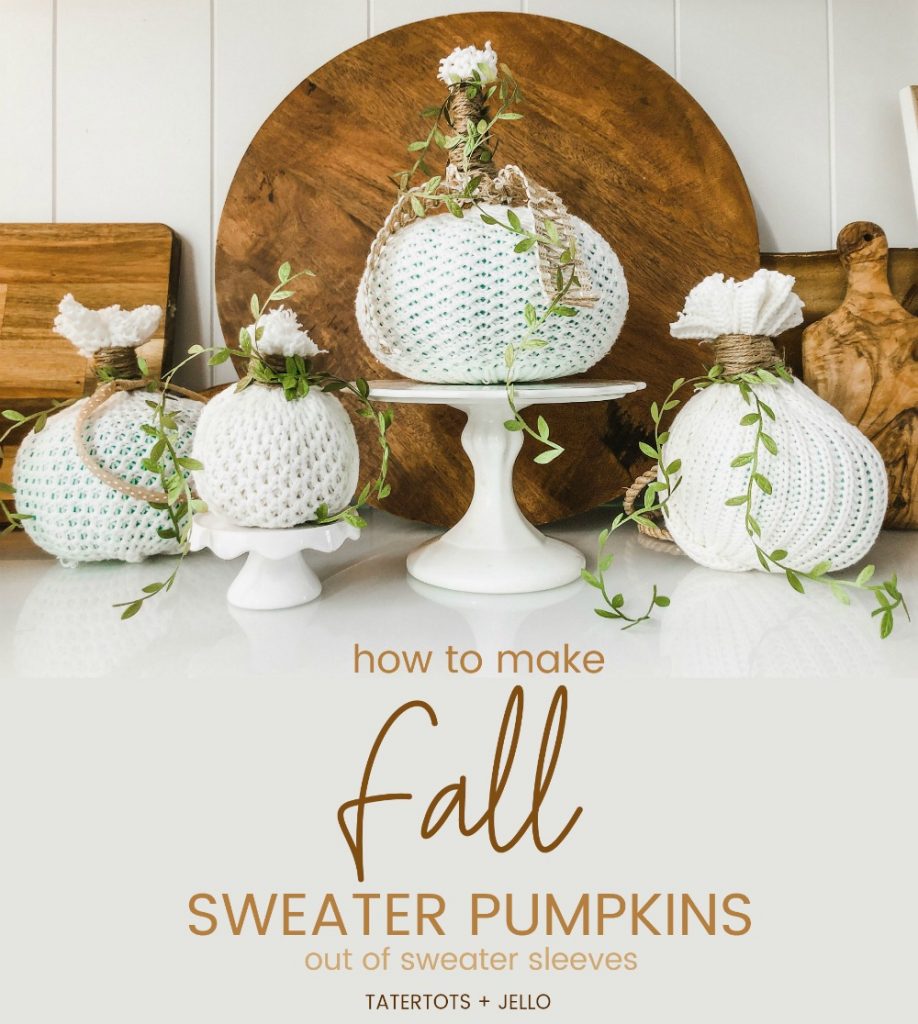 Can you have too many pumpkins? I think not!! I love pumpkins in ALL different hues and textures. A couple of years ago I bought DOZENS of dollar store foam pumpkins and transformed them into a colorful fall pumpkin vine and used them on my colorful fall mantel.
25+ Amazing Fall DIY Ideas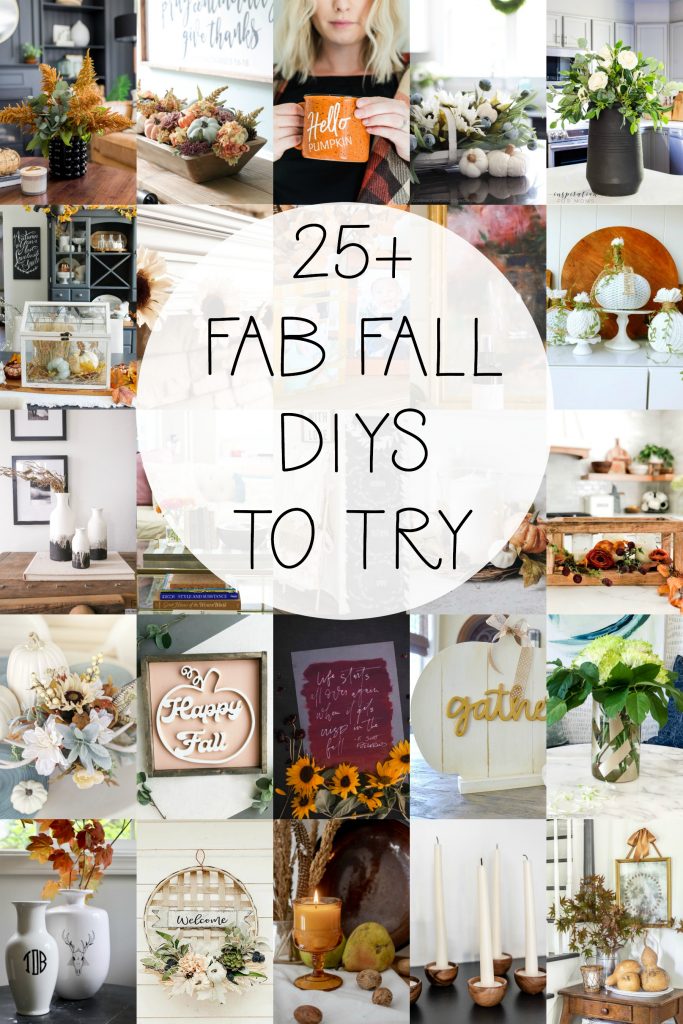 Be sure to visit these amazing Fall DIY projects that are linked up this week to the #SeasonalSimplicity series, hosted by my super talented friend Krista @thehappyhousie!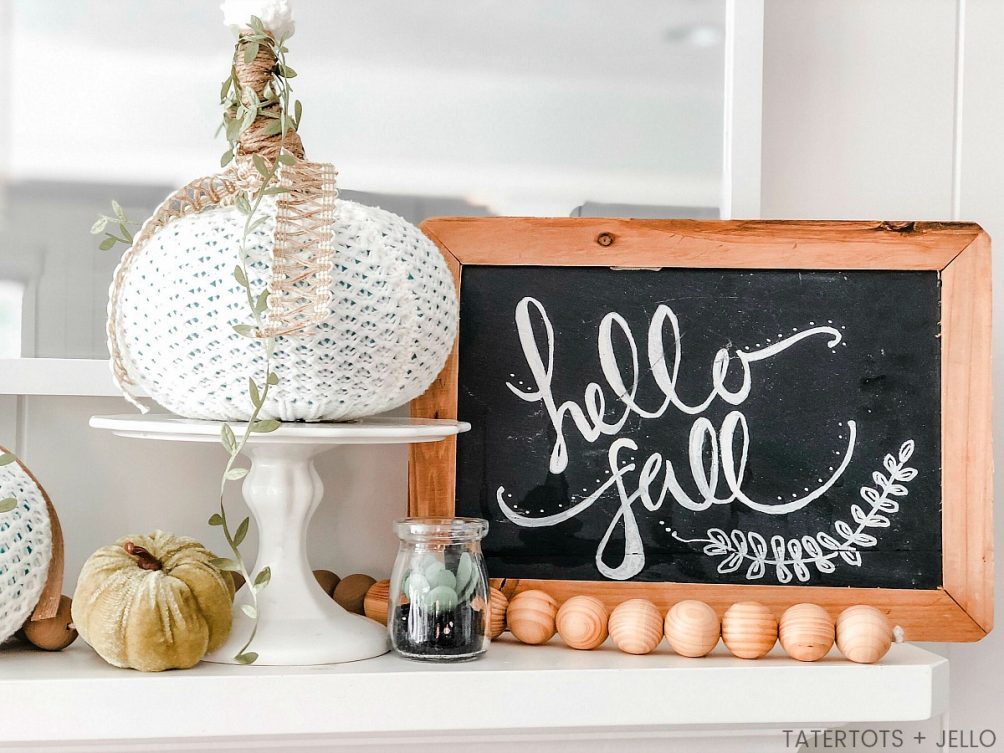 Neutral Sweater Pumpkins are Perfect for ANY Decor
One of my first projects I made when we moved into our historic 1891 cottage were these neutral pumpkins with lots of fabric. While we were moving we got rid of so much stuff. I went through my daughters' donation bag and found some white sweaters that had a great texture. They were snagged in the middle, but the sleeves were perfect for this project! I had seen a sweater pumpkin made out of sweater sleeves from DIY Beautify but I thought it might be easier to cover foam pumpkins instead of filling the sleeves with beans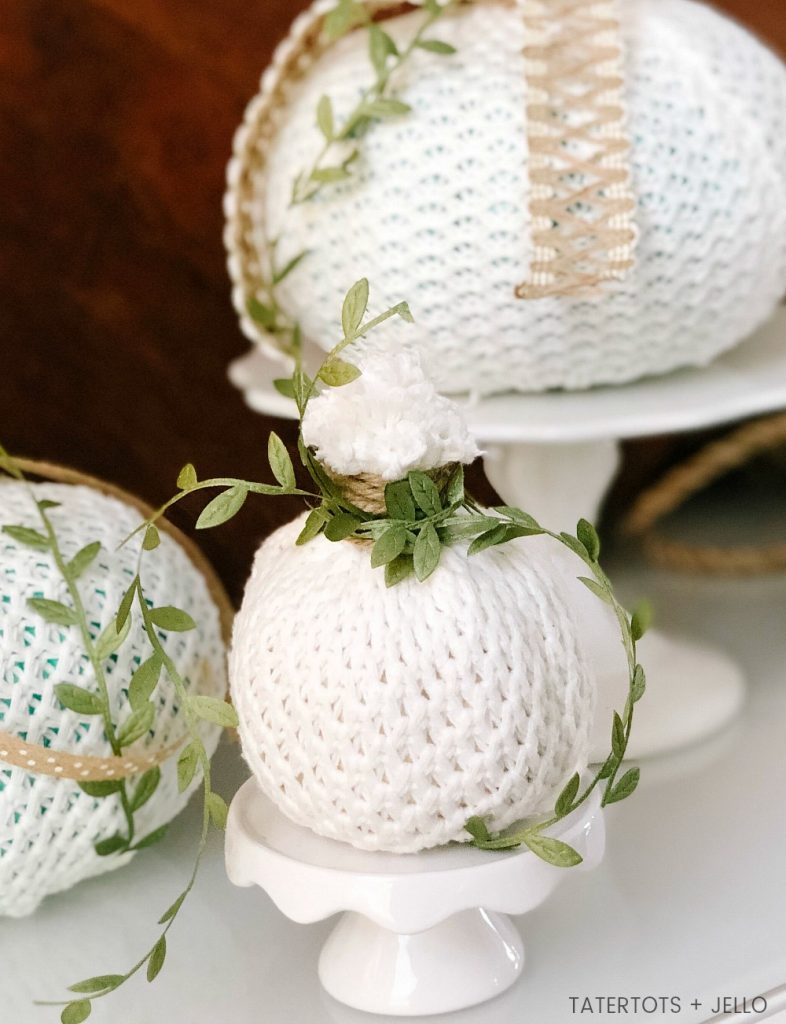 Use Dollar Store Foam Pumpkins to Make Fall Sweater Pumpkins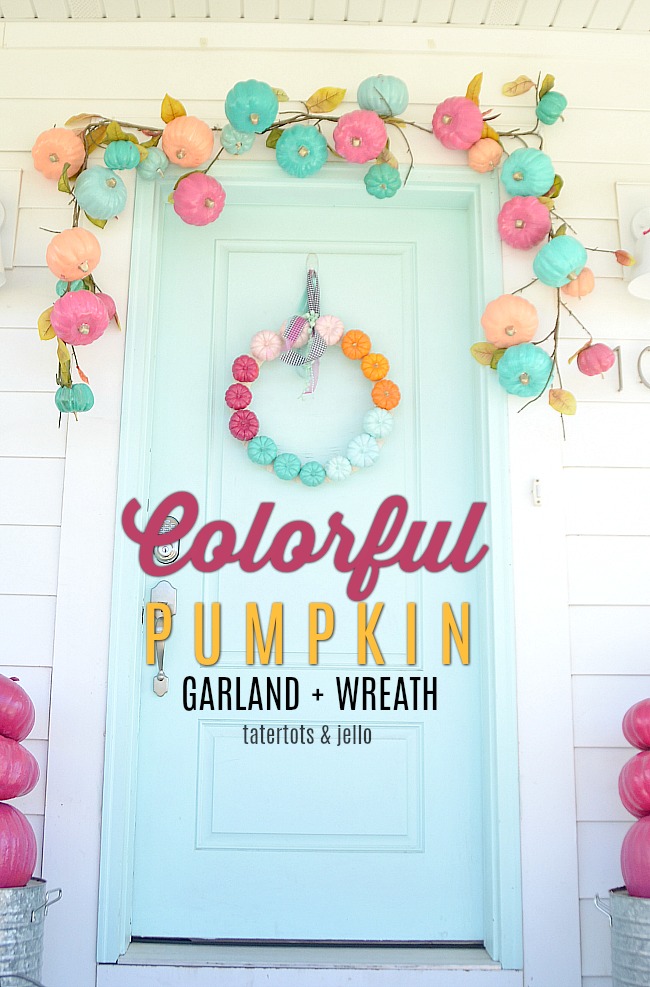 I love using Dollar Store pumpkins for fall. A couple of years ago I painted Dollar Store Pumpkins all kinds of bright colors to create a really bright and happy fall porch. I also created a bright and colorful fall mantel. This year I thought it would be fun to create a neutral, more textured pumpkin display.
Upcycle Items You Already Have Into New Fall Decor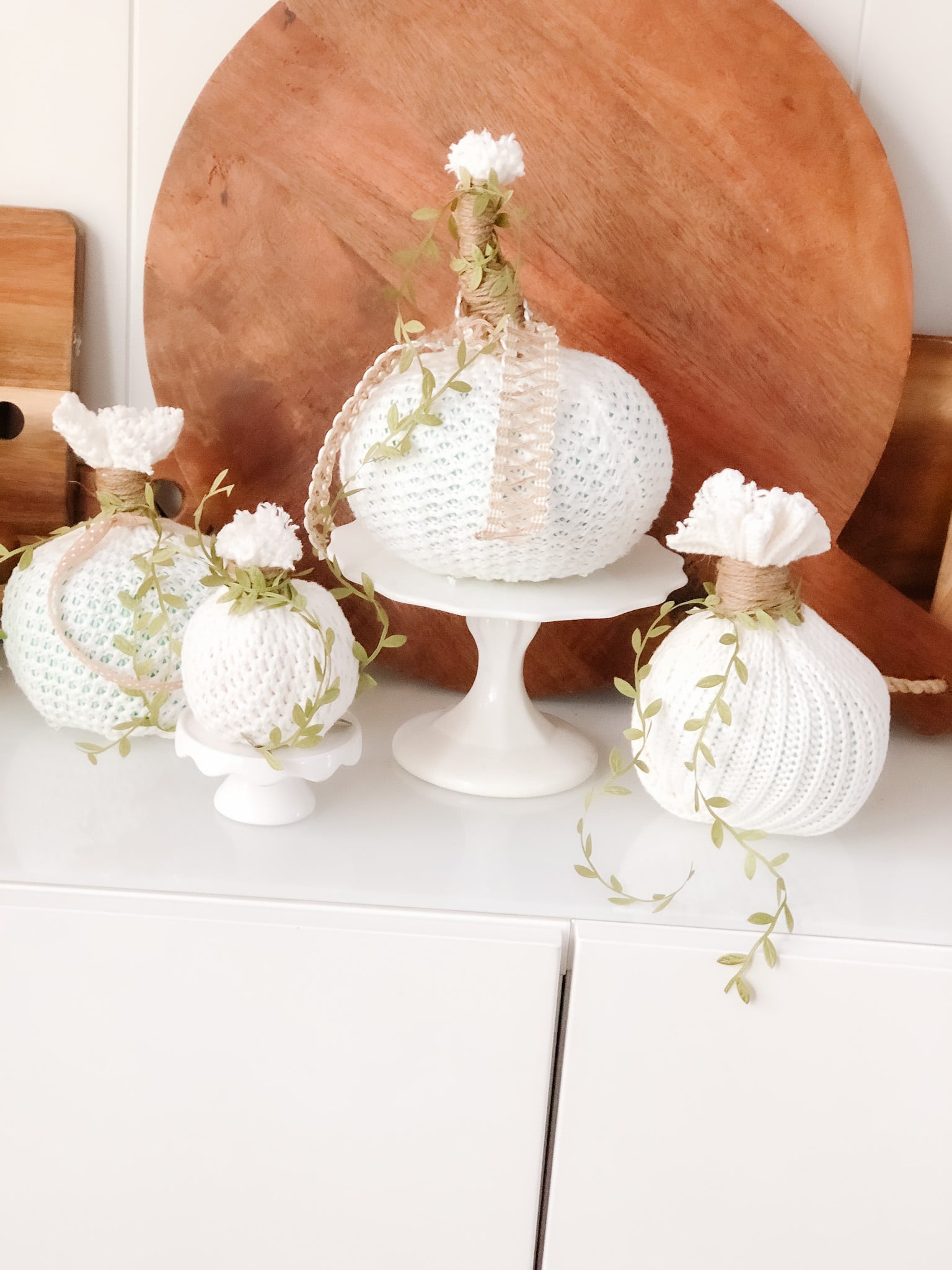 I loved that I was able to use materials I already owned to create this project. I love upcycling supplies and turning them into something new. You can use items you already have and create something new! This project just takes a few supplies!
What Supplies Do You Need to Make Dollar Store Sweater Pumpkins?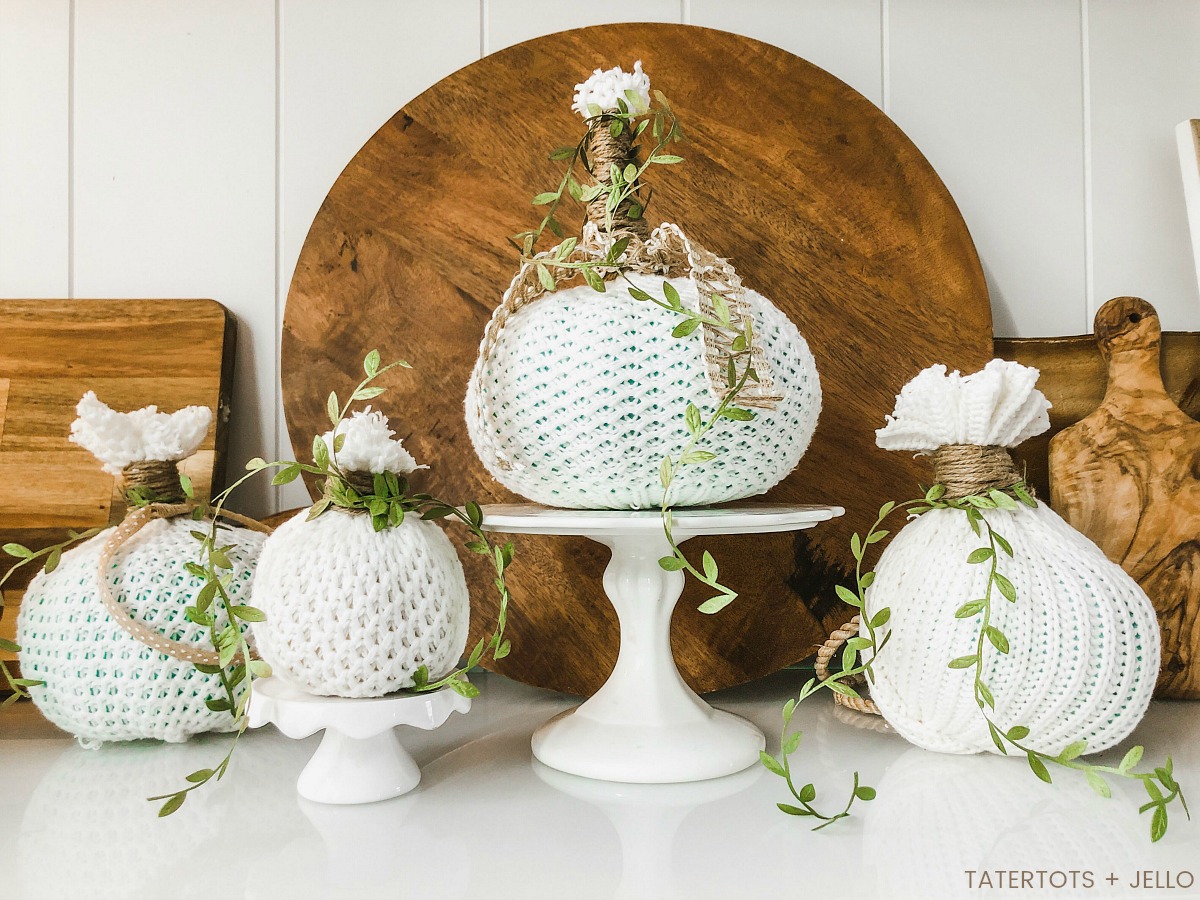 The supplies you need to create Dollar Store Sweater Pumpkins:
Sweater Sleeves (I used thrifted sweaters)
2 Small Rubber Bands per Pumpkin
How Do You Make Fall Sweater Pumpkins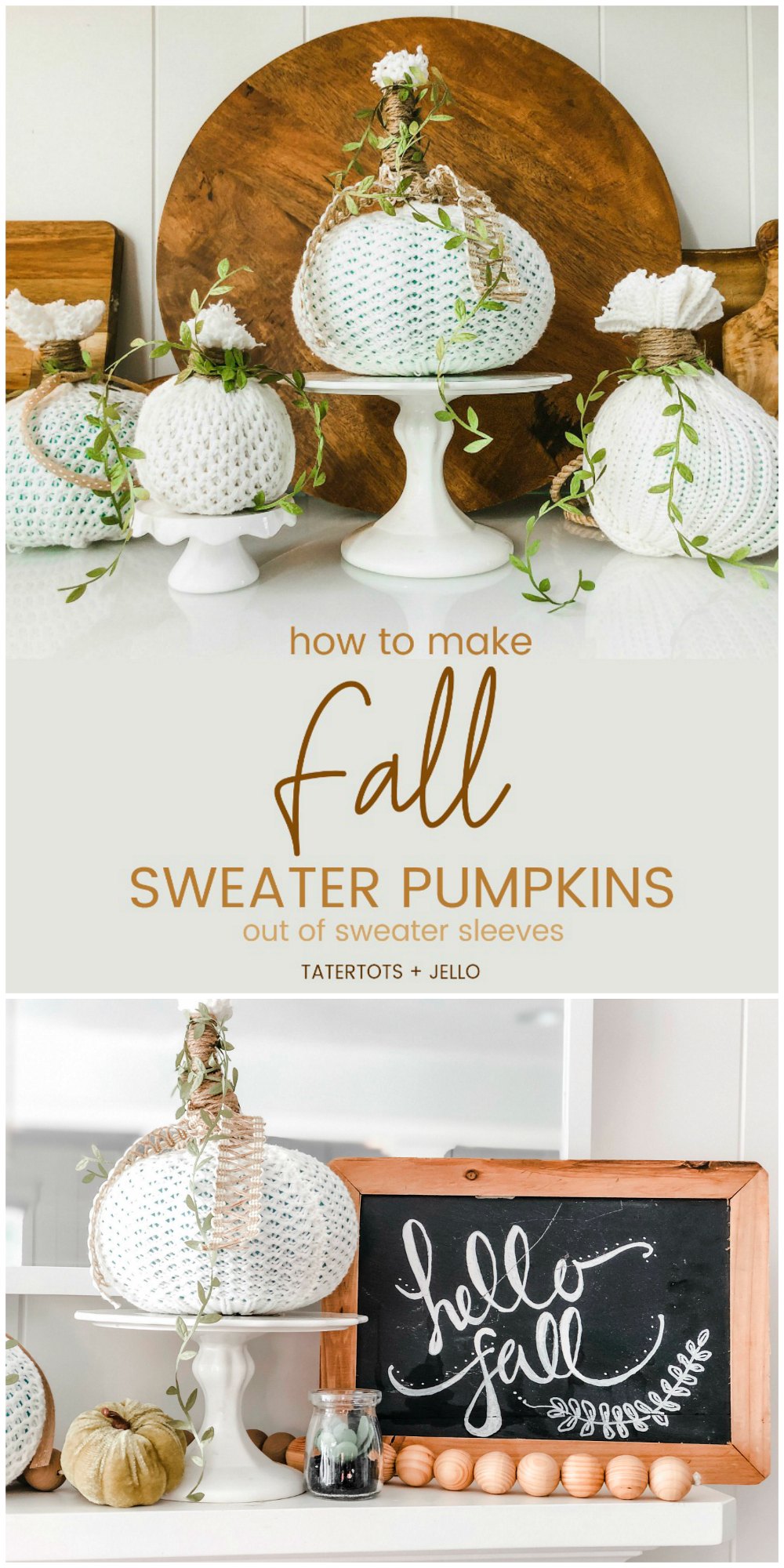 It only takes a few minutes to create Fall Sweater Pumpkins!
Use scissors to cut a hole in the bottom of your foam pumpkins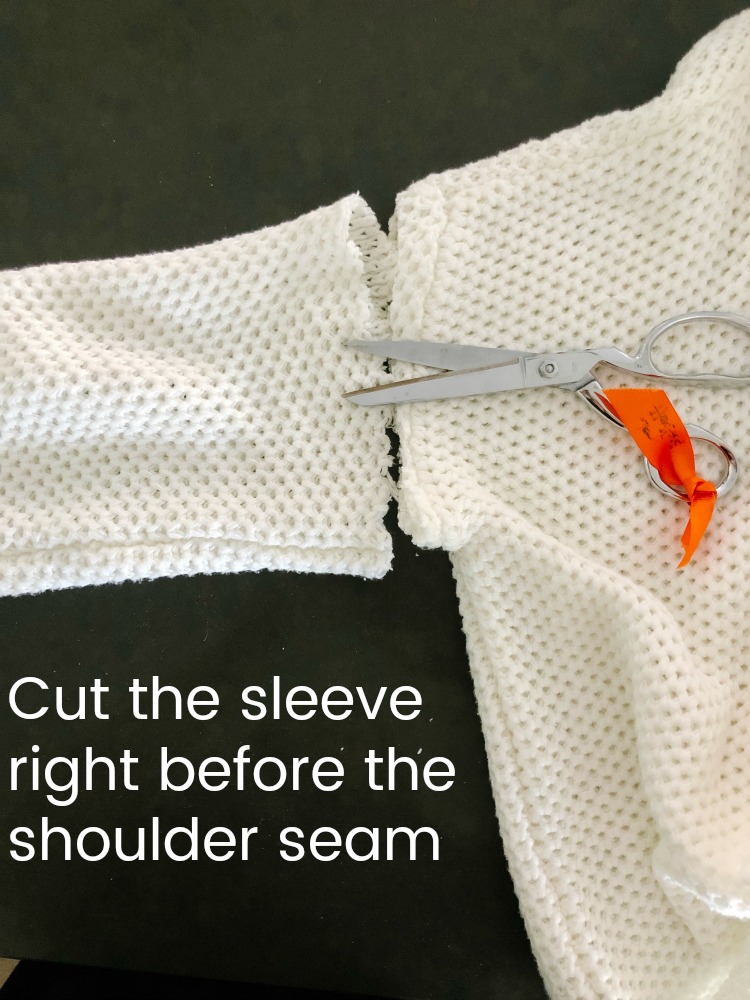 Cut Sweater Sleeve
Cut the sleeve of your sweater. Determine how wide you need the sleeve to be to fit your pumpkin. You can put the pumpkin inside of the sleeve and cut the other end, leaving an extra 4 inches on the top of the pumpkin and an extra 2 inches on the bottom of the pumpkin.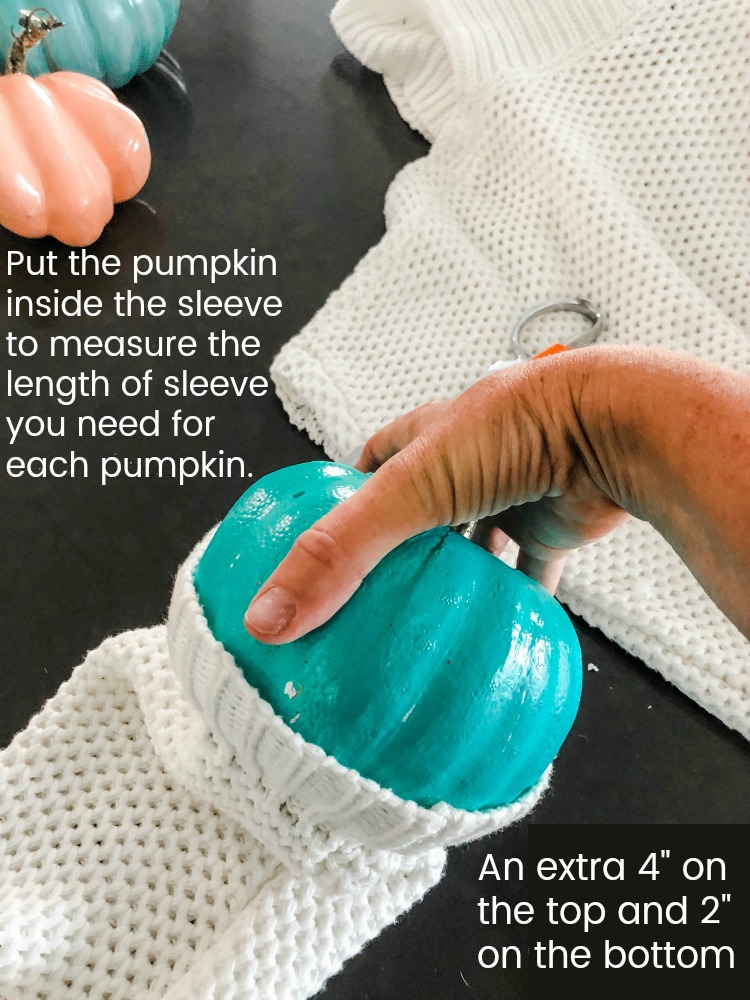 Turn Sweater Sleeve Inside Out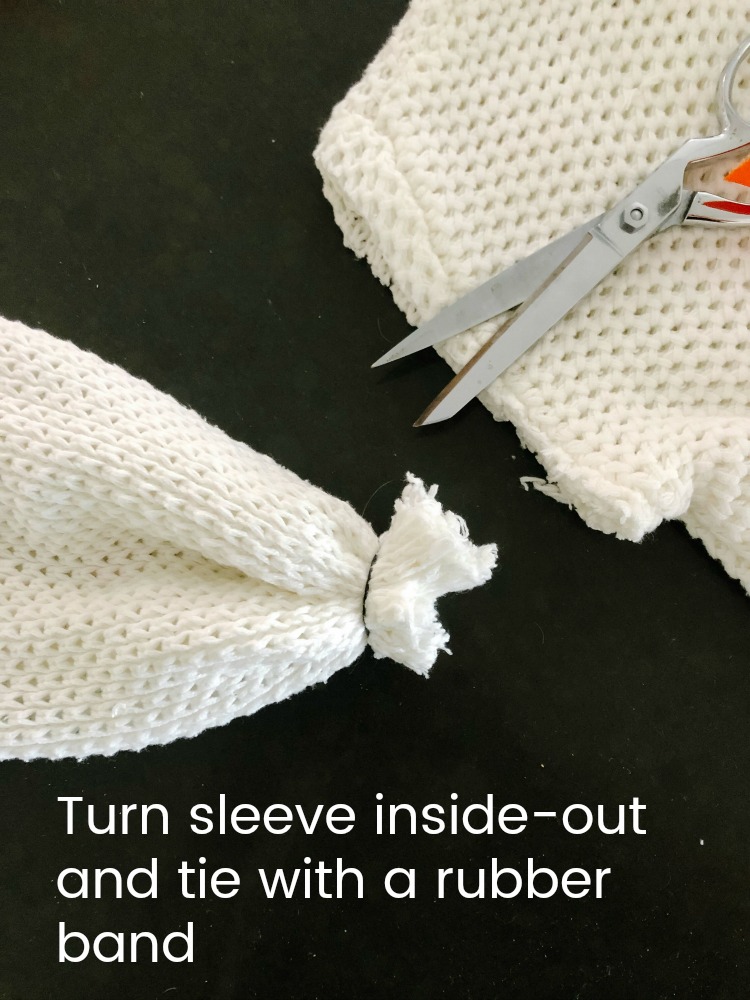 Turn the sleeve inside out. You want to do this so that the seamed side will be inside the pumpkin, not visible.
Add a rubber band to one end of the sweater sleeve.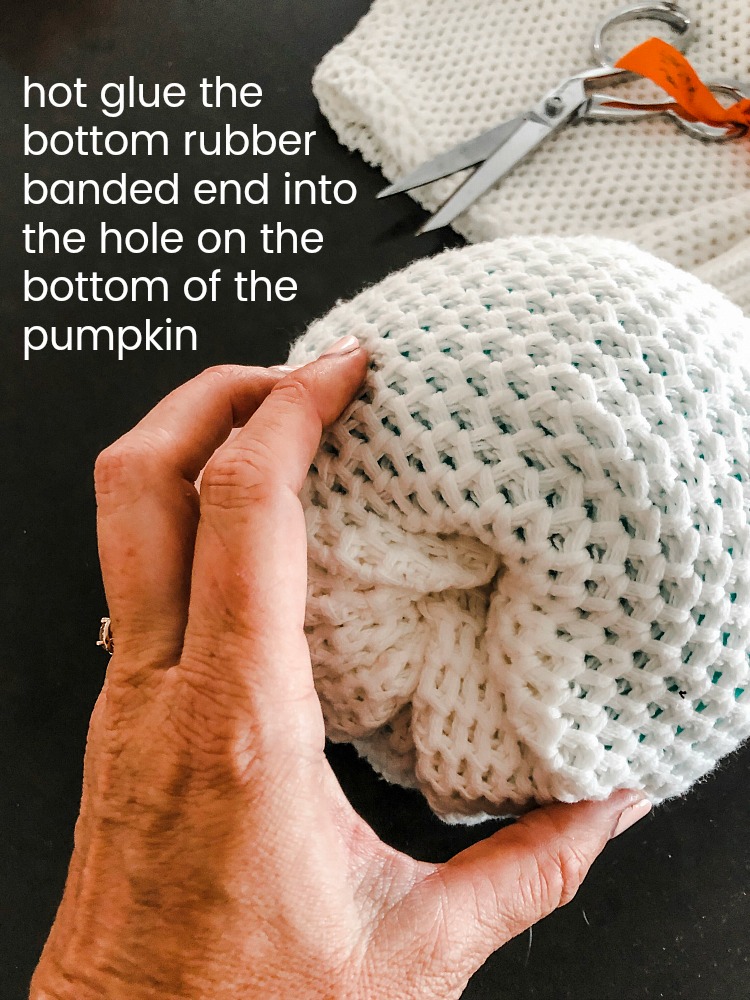 Hot Glue One End of the Sweater Sleeve
Put a good amount of hot glue inside the hole at the bottom of your pumpkin. Immediately push the end of the sweater sleeve with the rubber band into the opening and hold until the glue cools. I used the end of a pencil to do this so I didn't burn my fingers.
Pull the Sweater Sleeve Over the Pumpkin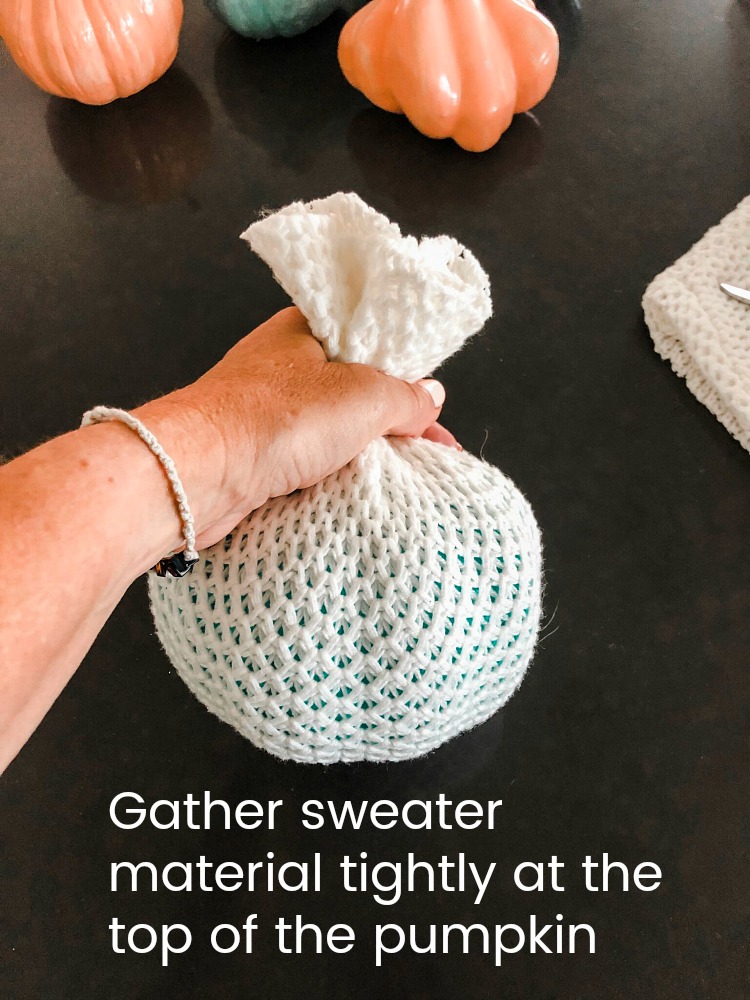 Gather the sweater material at the top of the pumpkin. Pull it very taut with your hand.
Tie the Other End of the Sweater Sleeve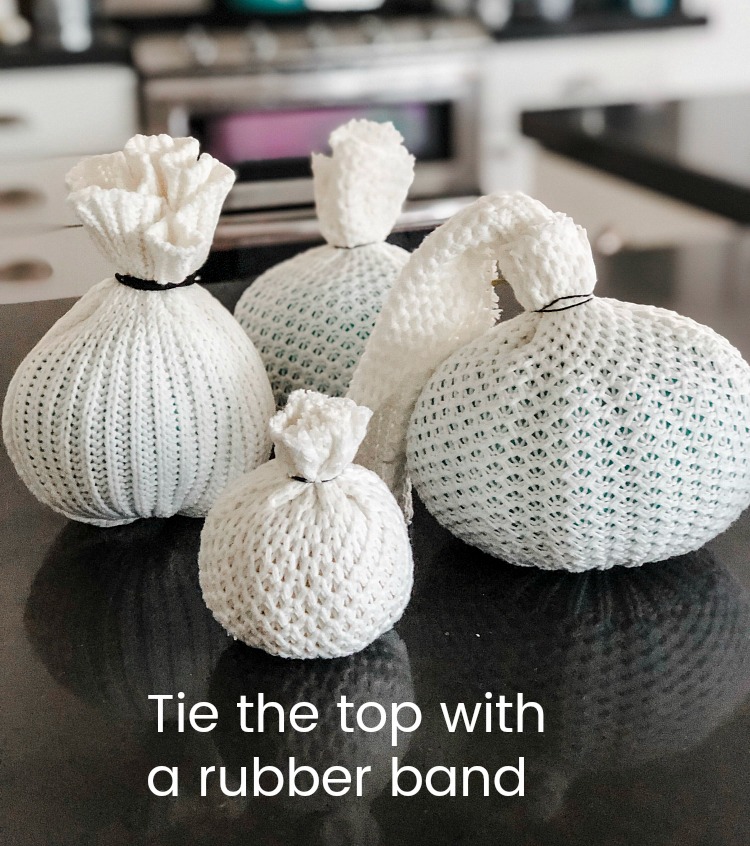 Use the other rubber band and tie it to the top of the pumpkin, pulling the sweater material very tight as you wrap the rubber band around the top of the pumpkin
Wrap The Pumpkin Stem
Use the rest of the sweater sleeve material to create a stem. You can make your stem as long as you want. Wrap the twin or ribbon around the material. Start at the base of the pumpkin where the rubber band is. Tie an initial loop in a knot and then wrap the twine around the rubber band, covering it and continue up the rest of the material. Tie off the twine at the top.
Trim Left Over Sweater Material
Once you have the stem the length you want, use scissors to cut remaining sweater material.
What if You Want a Really Long Pumpkin Stem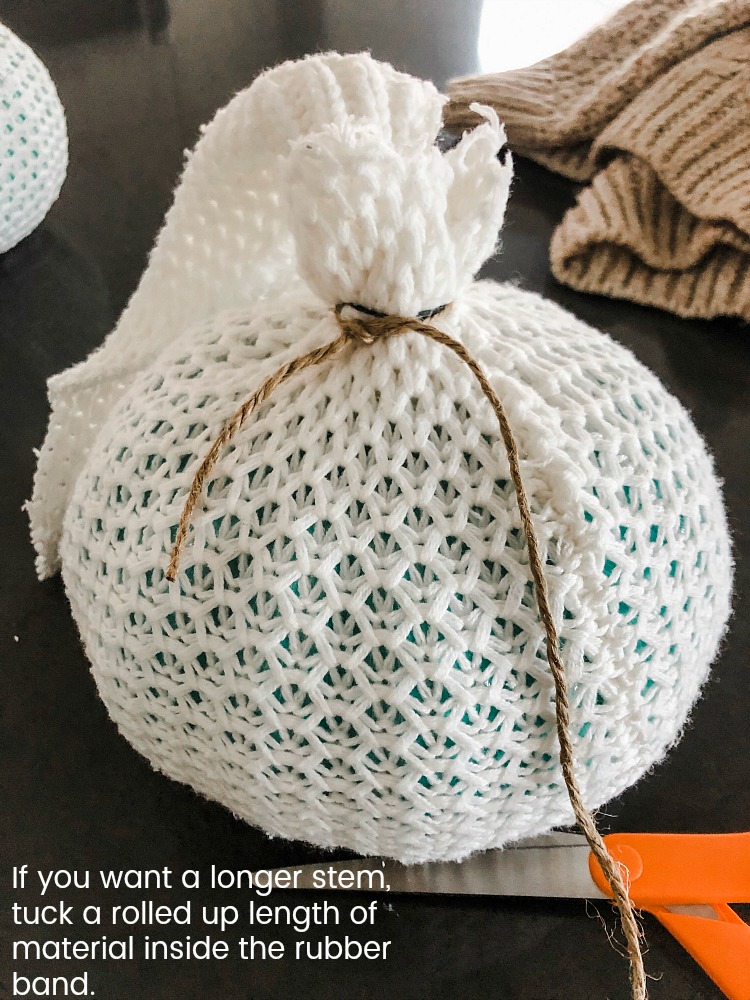 On one of my pumpkins I created a long stem that kind of falls to the side. I created this look by taking a little extra sweater material and I rolled it into a cylinder shape. I tucked it into the middle of the fabric that was gathered at the top of the pumpkin. Then when I wrapped the twine around the pumpkin, I wrapped it around the remaining material as I did with the other pumpkins, but at the center was the rolled material. Then once I got past the remaining sweater material, I continued wrapping it just around the rolled sweater material. The stem gets skinnier as you wrap but I love the way it mirrors the way actual pumpkin stems get skinnier as they get past the stem and transition to a vine.
Add Ribbon to the Stem
This is optional. I found some ribbon that looks like leaves and wrapped it around some of the pumpkins. I love the way it looks like green leaves that grow with pumpkins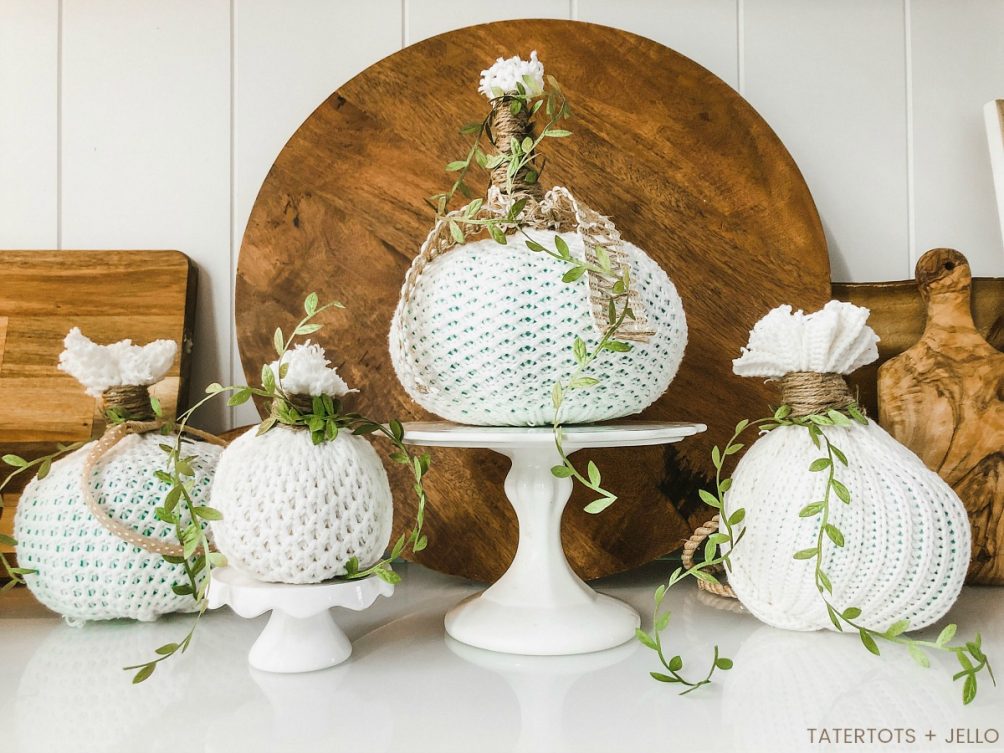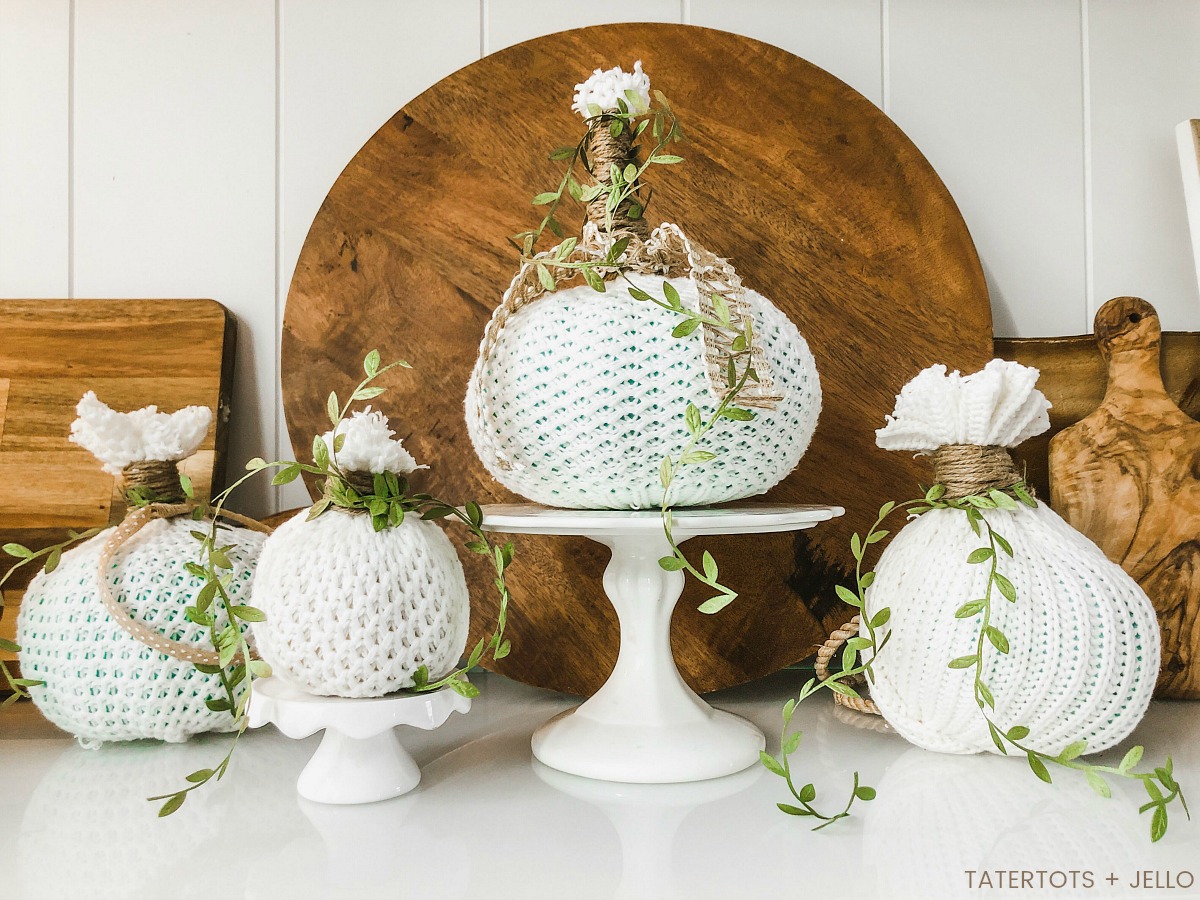 Enjoy Your Fall Sweater Pumpkins
These pumpkins are wonderful for all kinds of decorating! I put them on a shelf in our kitchen but they would also be so cute on a mantel or shelf!
25+ Gorgeous Fall Projects
And today I've been joined by some of my blogging friends who are also sharing their Fall DIY projects! Just click on the links below the images to see their project ideas…
Modern Geometric Painted Vases at The Happy Housie
How to Make Easy Fall Sweater Pumpkins at Tatertots and Jello
Room Spray for Fall at Modern Glam
Fall Candle Rings at She Gave it a Go
How to Build a Tray at The Handmade Home
Textured Vase at Craftberry Bush
Farmhouse Slat Pumpkin at My Uncommon Slice of Suburbia
Pumpkin & Dough Bowl Fall Centerpiece at The Turquoise Home
Happy Fall Sign at Lolly Jane
Personalized Fall Mug at Jenna Kate at Home
Fall Terrarium Centerpiece at Clean and Scentsible
Black & White Modern Ceramic Vases at Taryn Whiteaker Designs
Fall Chalkboard Art at Happy Happy Nester
Fall Faux Centrepiece at Inspiration of Moms
Monogrammed Vase at My Sweet Savannah
Tobacco Basket Wall Hanging with Flowers at Hallstrom Home
10 Minute $10 Sunflower Garland at a Pretty Life in the Suburbs
Small Wood Projects to Use as Decor at Grace in My Space
Fall Inspired Wood Photo Holders at In My Own Style
Neutral Fall Floral Arrangement at All Things With Purpose
Vintage Amber Glass Candle at Seeking Lavender Lane
Vintage Wreath Mirror at Sincerely, Marie Designs
Fall Acrylic Sign at Lemon Thistle
Wooden Bowl Candle Holder at Cherished Bliss
Blanket Ladder from Copper Pipe Dowels at The DIY Mommy
Thrift Store Basket Turned Fall Arrangement at Confessions of a Serial DIYer
And if you are looking for more pumpkin decorating ideas, be sure to check these out!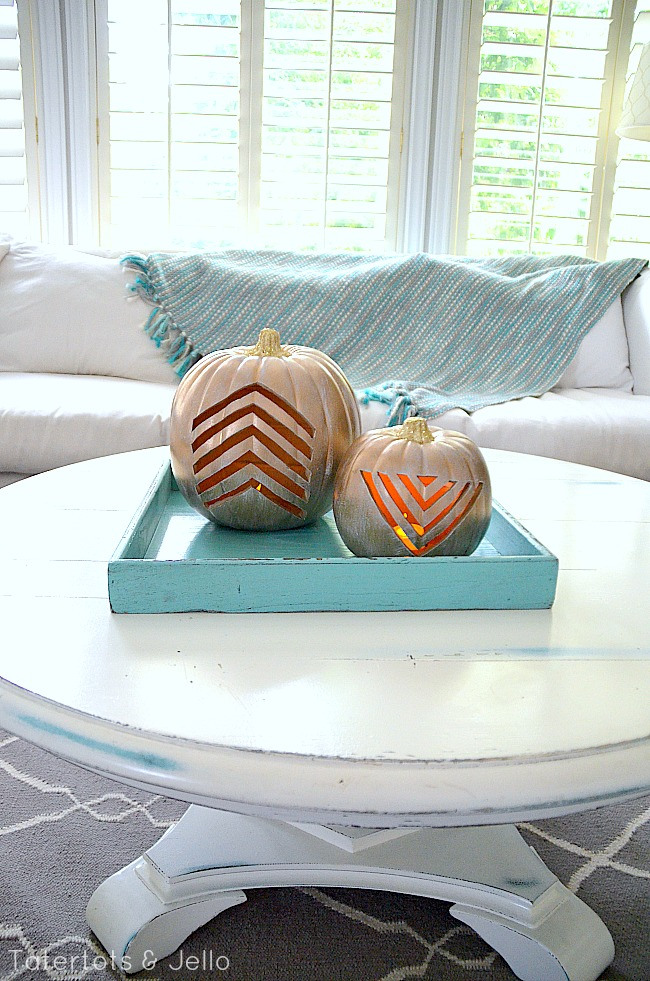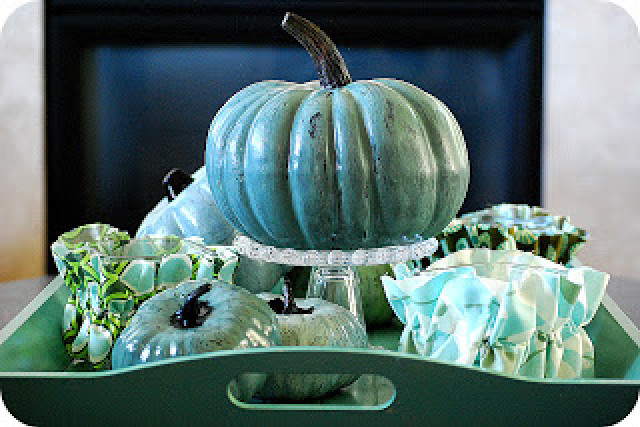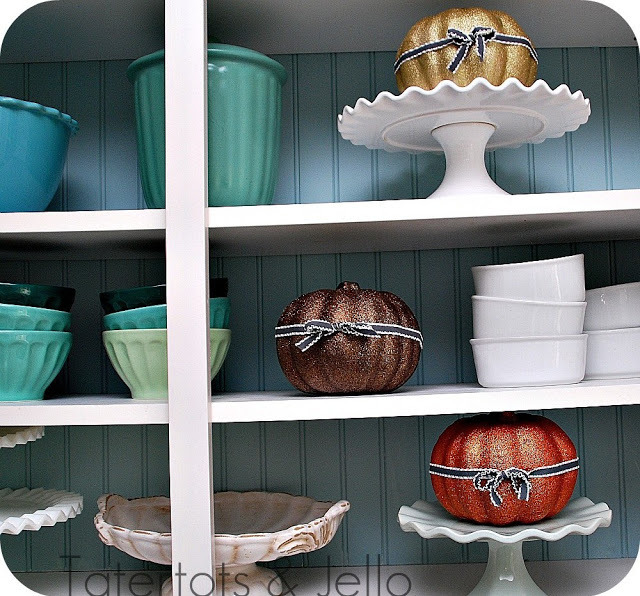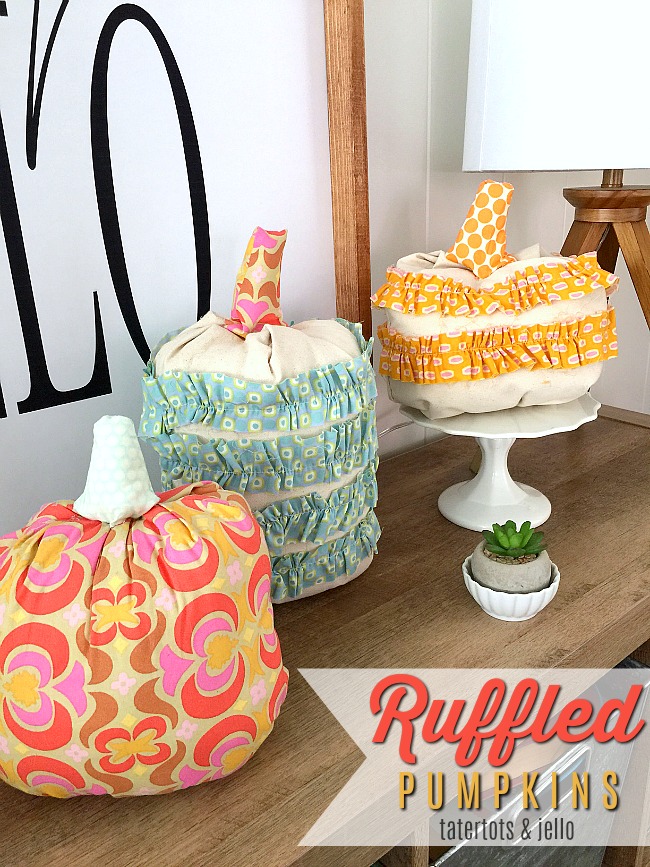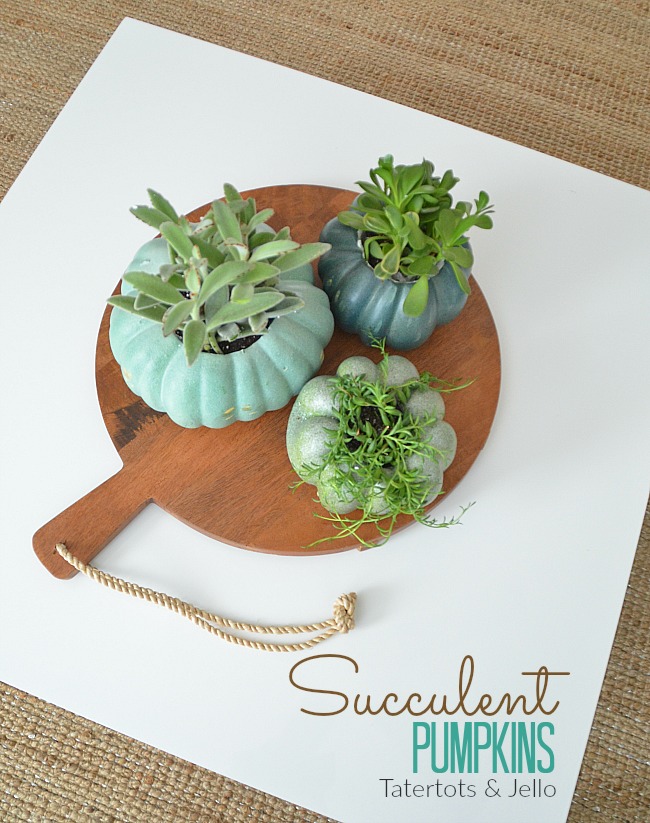 What Fall Projects are YOU working on?
Have a Beautiful Day!
xoxo