Pottery Barn Inspired Amber Pumpkin Cloches. Turn inexpensive glass pumpkin containers into high end looking cloches by painting and adding glitter!
Pottery Barn Inspired Amber Pumpkin Cloches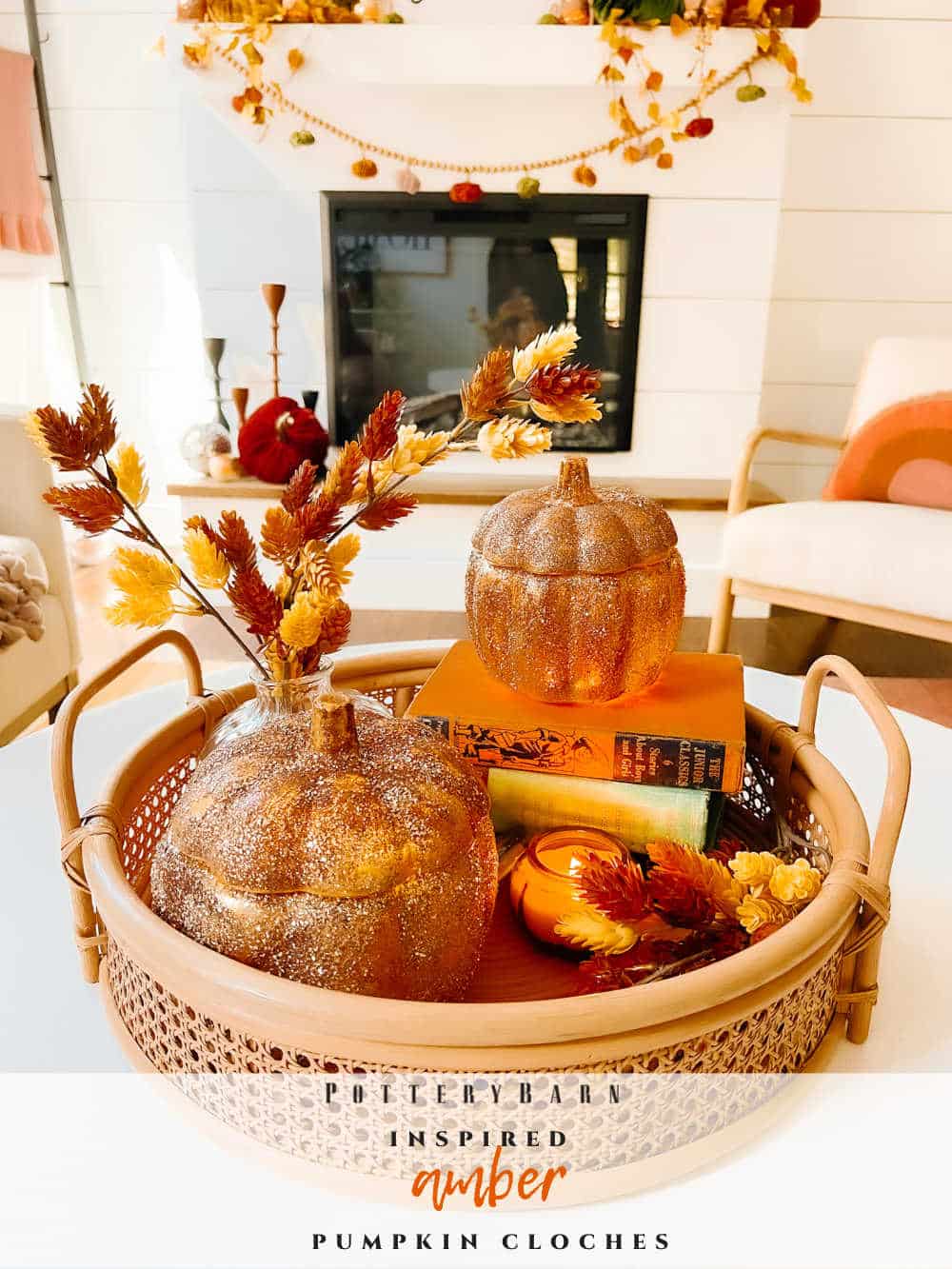 Hi friends! It's my favorite time of the year – FALL!! And now that it's September, I feel like I can officially start sharing some pumpkin projects! One of my favorite home decor stores is Pottery Barn, unfortunately it is often out of my budget. So over the years I've shared a few different PB inspired projects for fall and the holidays to get the look for less! One of my favorite Pottery Barn items this year are the beautiful Amber Pumpkin Cloches.
DIY Fall Pumpkin Projects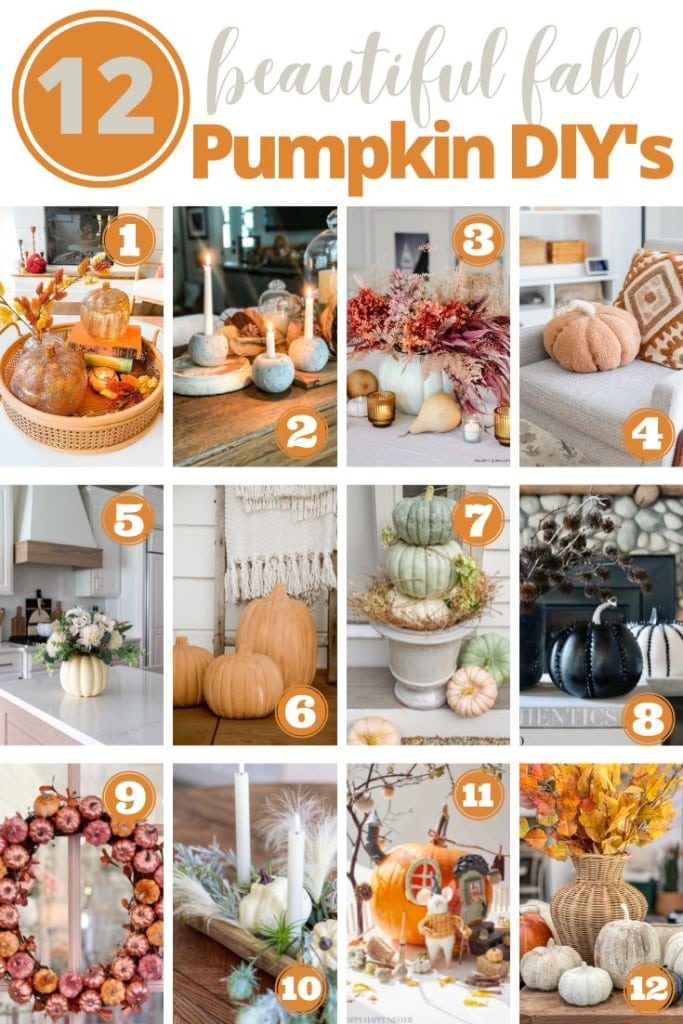 Today I am joining some talented friends who are also sharing DIY pumpkin ideas! Be sure to scroll down to see the ideas and pop over to grab the easy tutorials!
Amber Pumpkin Cloches for 95% less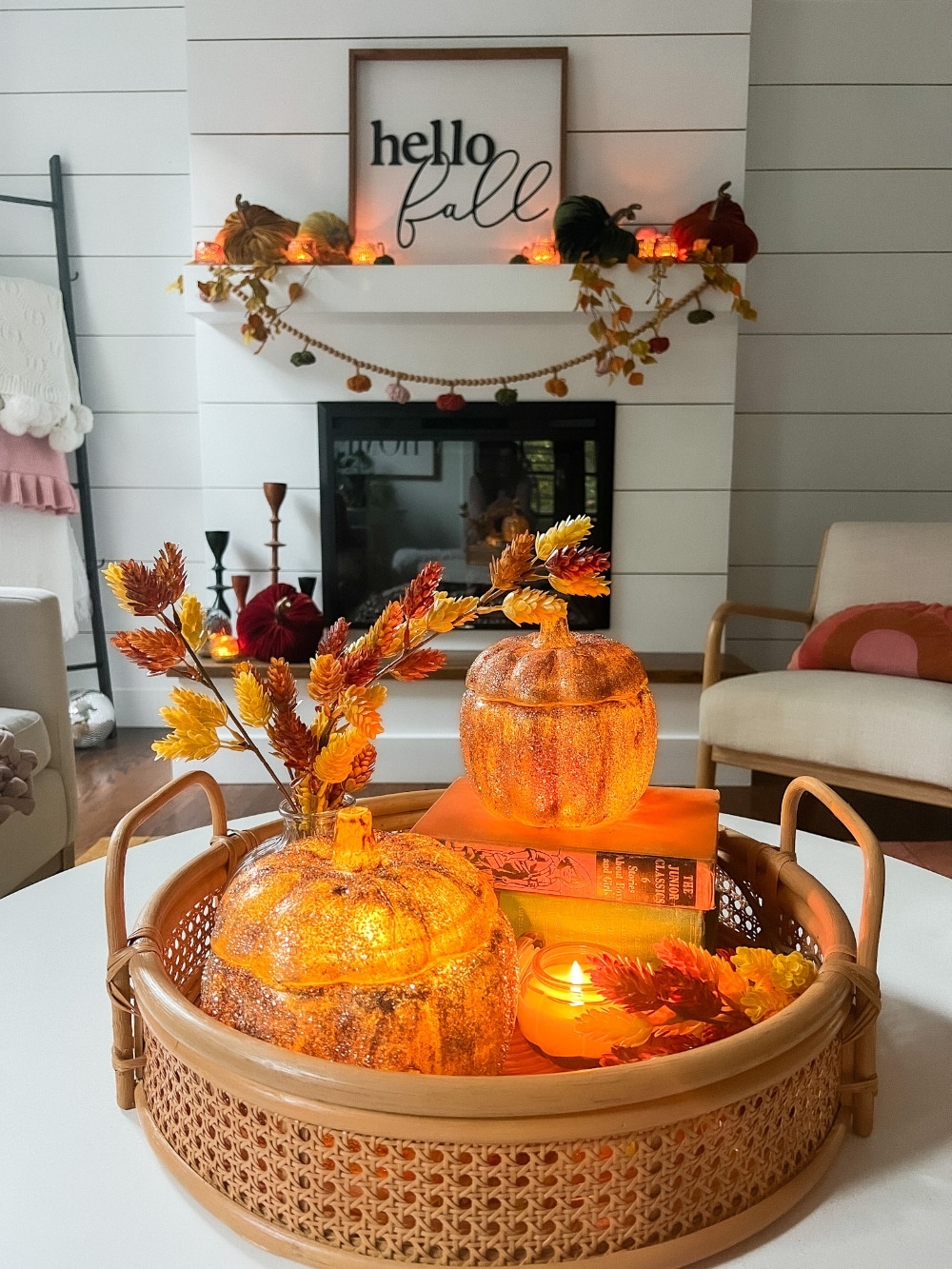 I created this dupe that takes grocery store glass pumpkins and creates the same warm feeling pumpkin cloches for $10 instead of $195!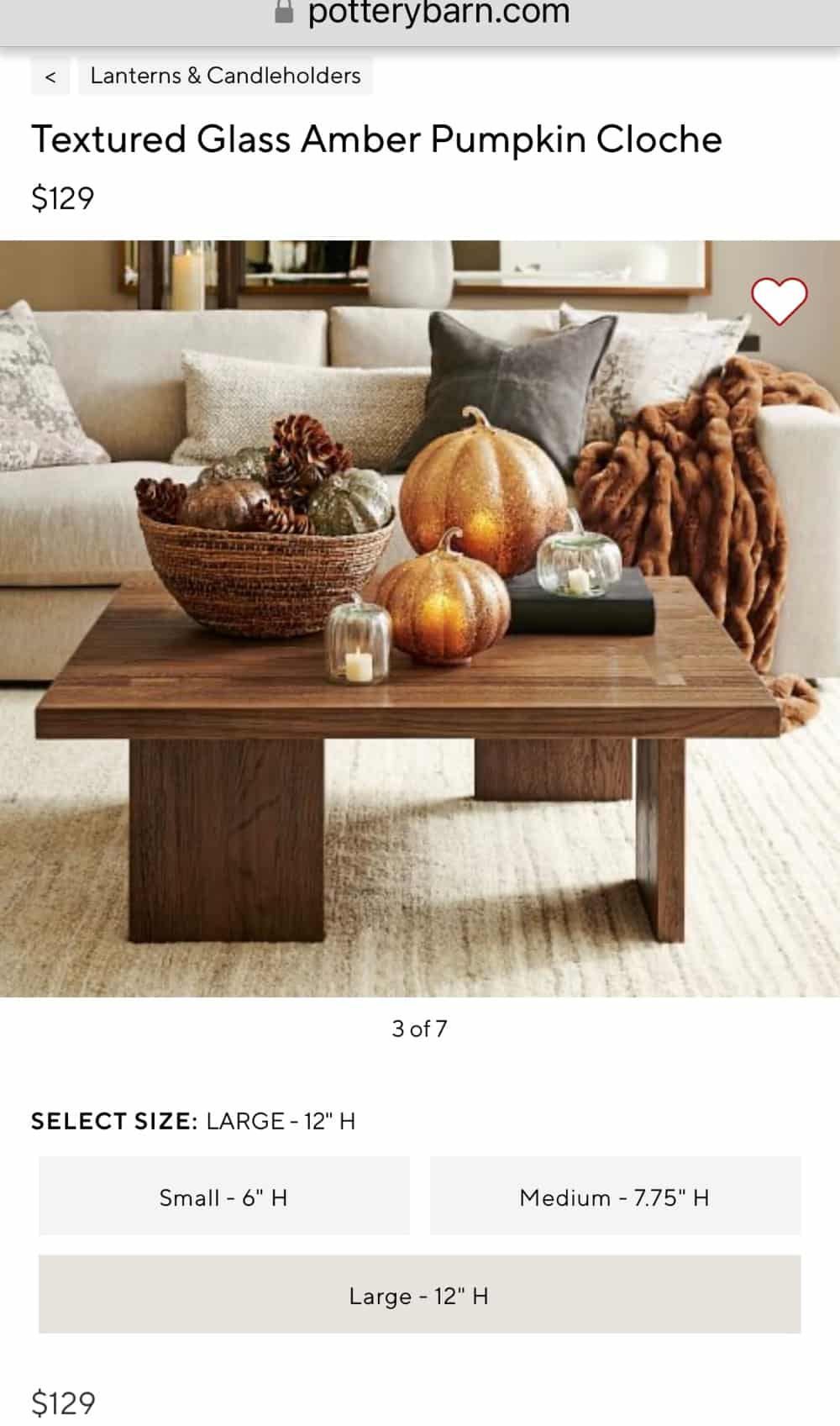 Only a Few Supplies to Create Amber Pumpkin Cloches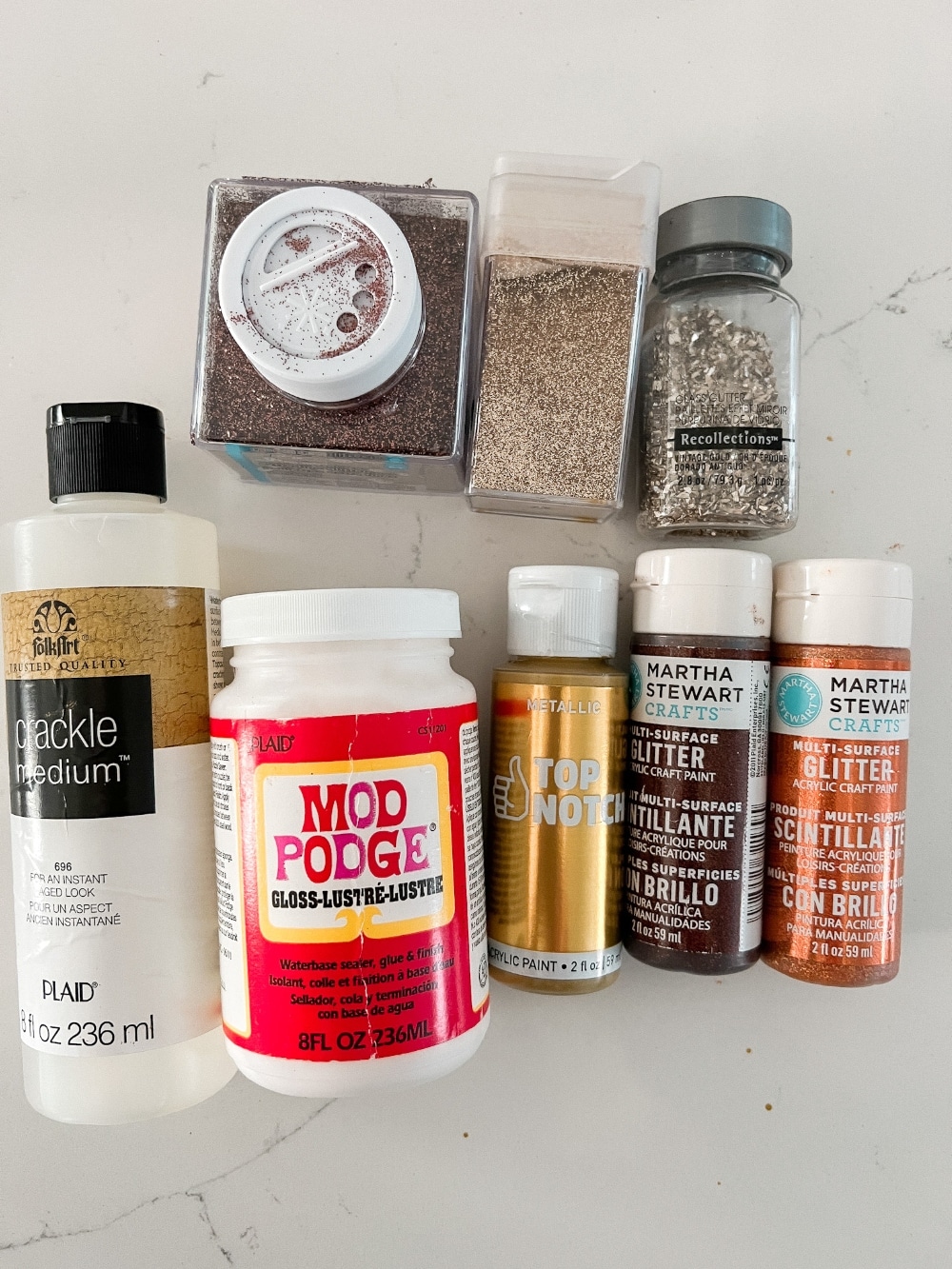 You only need a few supplies to create this PB fall dupe! I used a lot of my supplies from my craft stache. Here's what I used!
Pottery Barn Inspired Amber Pumpkin Cloche Supplies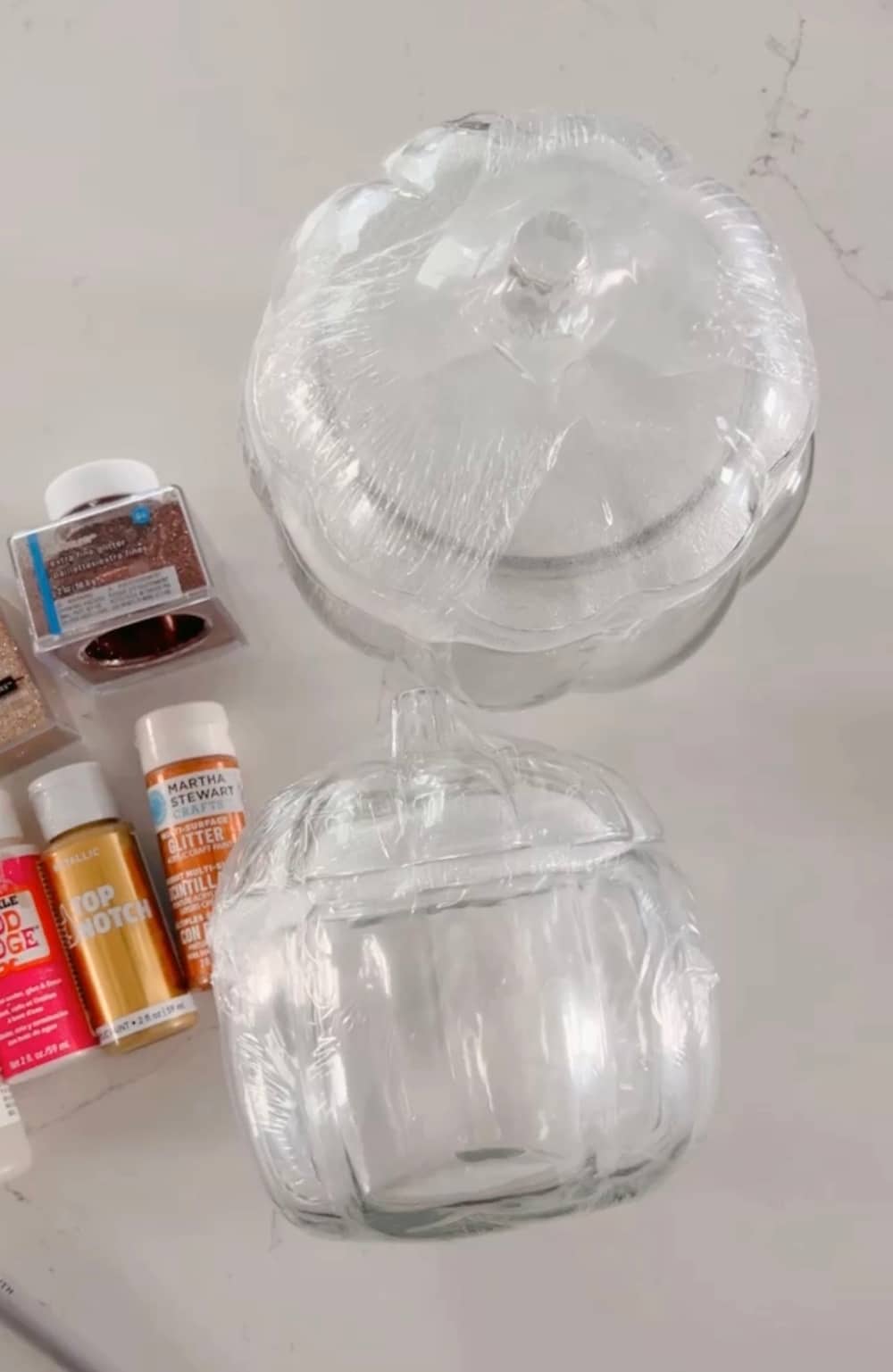 Glass Pumpkins – I used to different sizes. One larger which I found at my Kroger grocery aisle for $5 and a medium sized glass pumpkin I found in Target's dollar spot for $5.
Gold paint – Here is the one I used.
Crackle Medium – honestly the crackle medium didn't work that well on the glass and it gets covered up by the glitter so I would skip this step.
Three different glitters – I used a chunky glitter to look like crackled glass and two fine glitters, a gold one and a copper one.
Mod Podge – use this to apply the glitter.
Battery Operated Candles – don't use real candles. When you put the lid on the pumpkins the lack of oxygen will make the real candles extinguish.
How to Make Pottery Barn Inspired Amber Pumpkin Cloches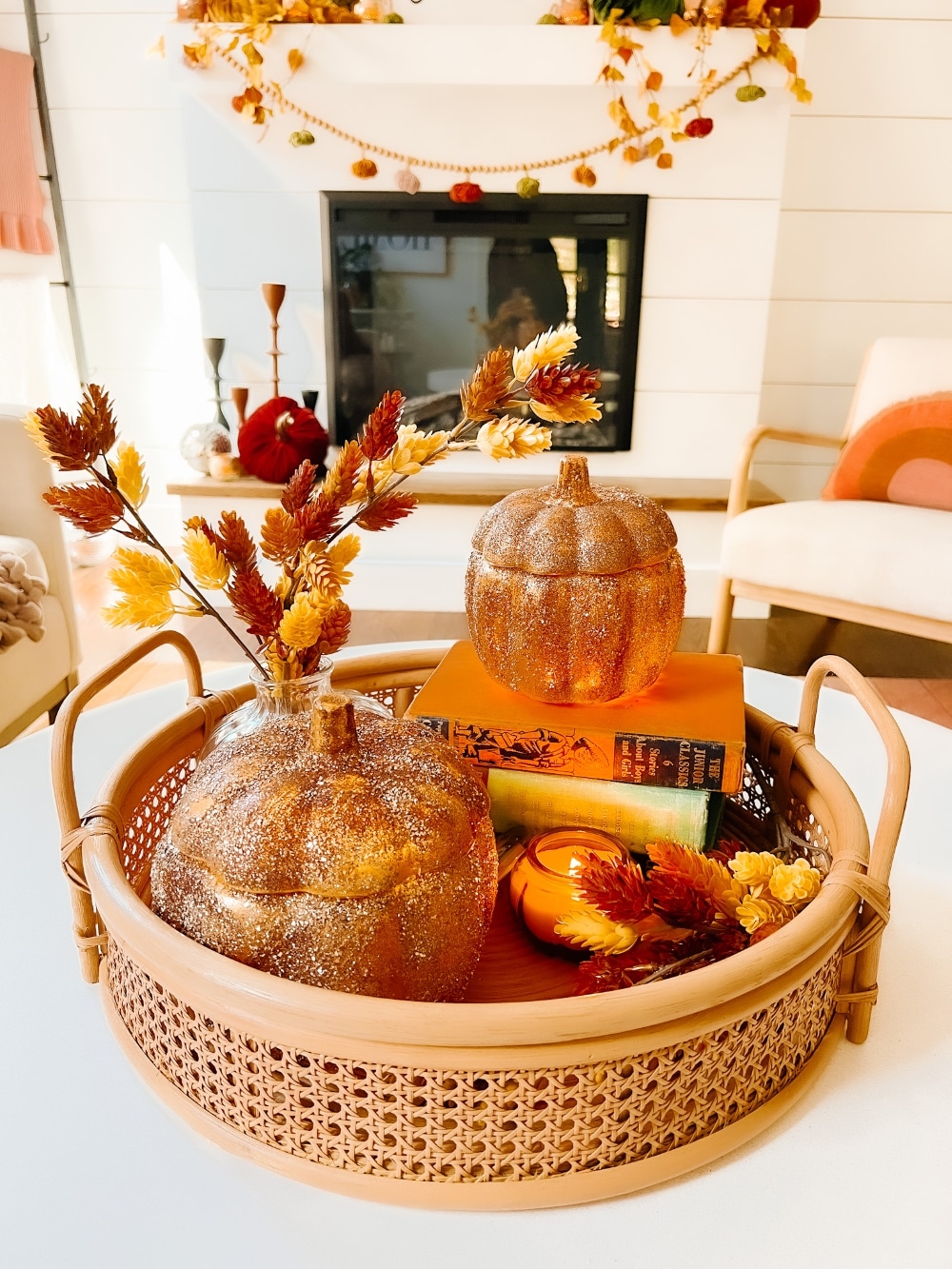 That's it! You only need 5 supplies to create these PB pumpkin dupes. And they look so pretty glowing in the fall nighttime light! Here are the steps to creating these pumpkins. You can also check out my Instagram Reel where I have a video showing the steps to make these!
Paint Your Pumpkins
Use a craft brush or flat paint brush to apply a light coat of gold paint to the bottom of each pumpkin and the lid. Let dry at least 1 hour.
Add a Second Coat of Paint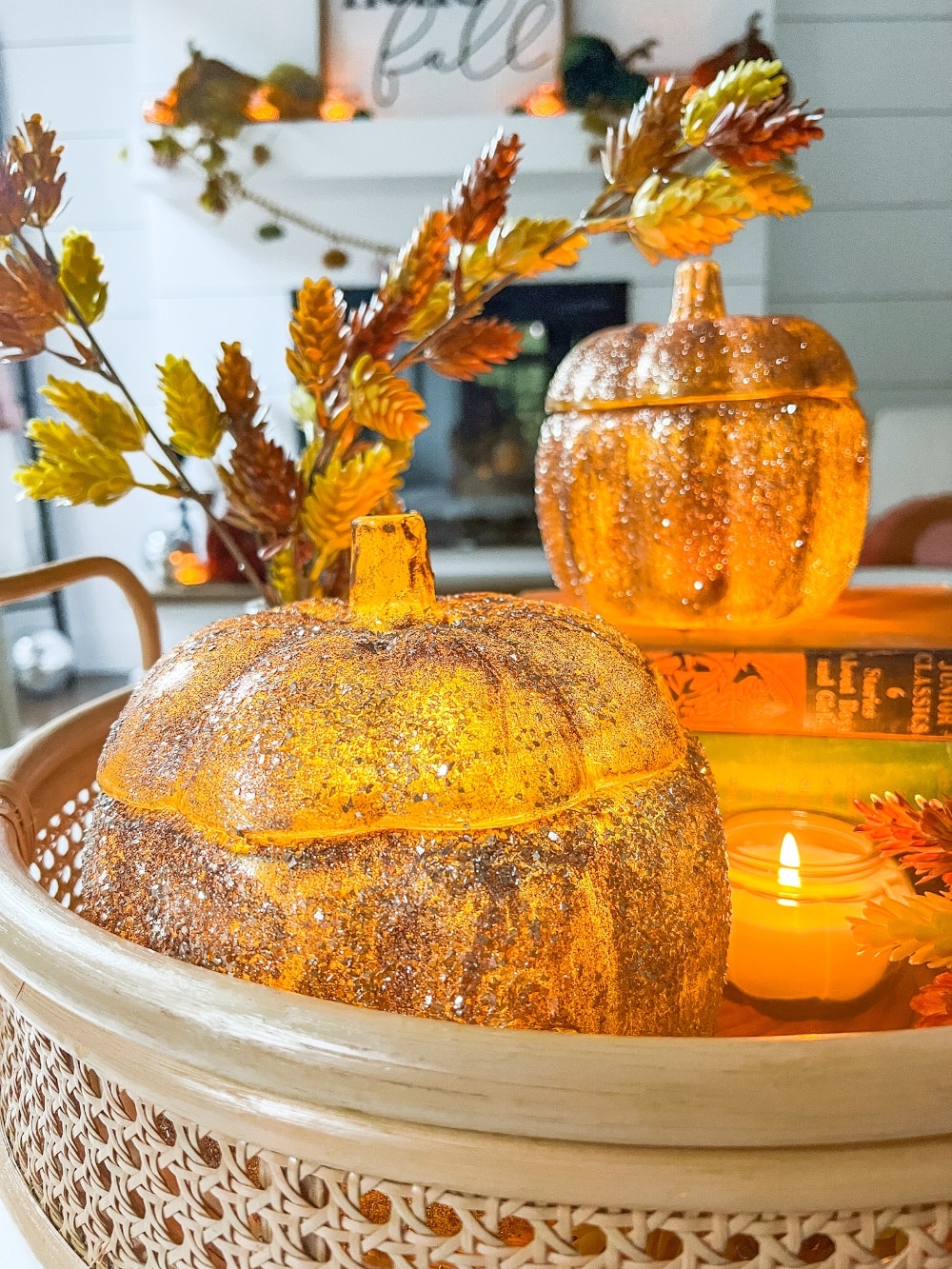 Once the first coat of paint is dry, add a second coat. Let it dry completely, at least an hour.
Add a Layer of Mod Podge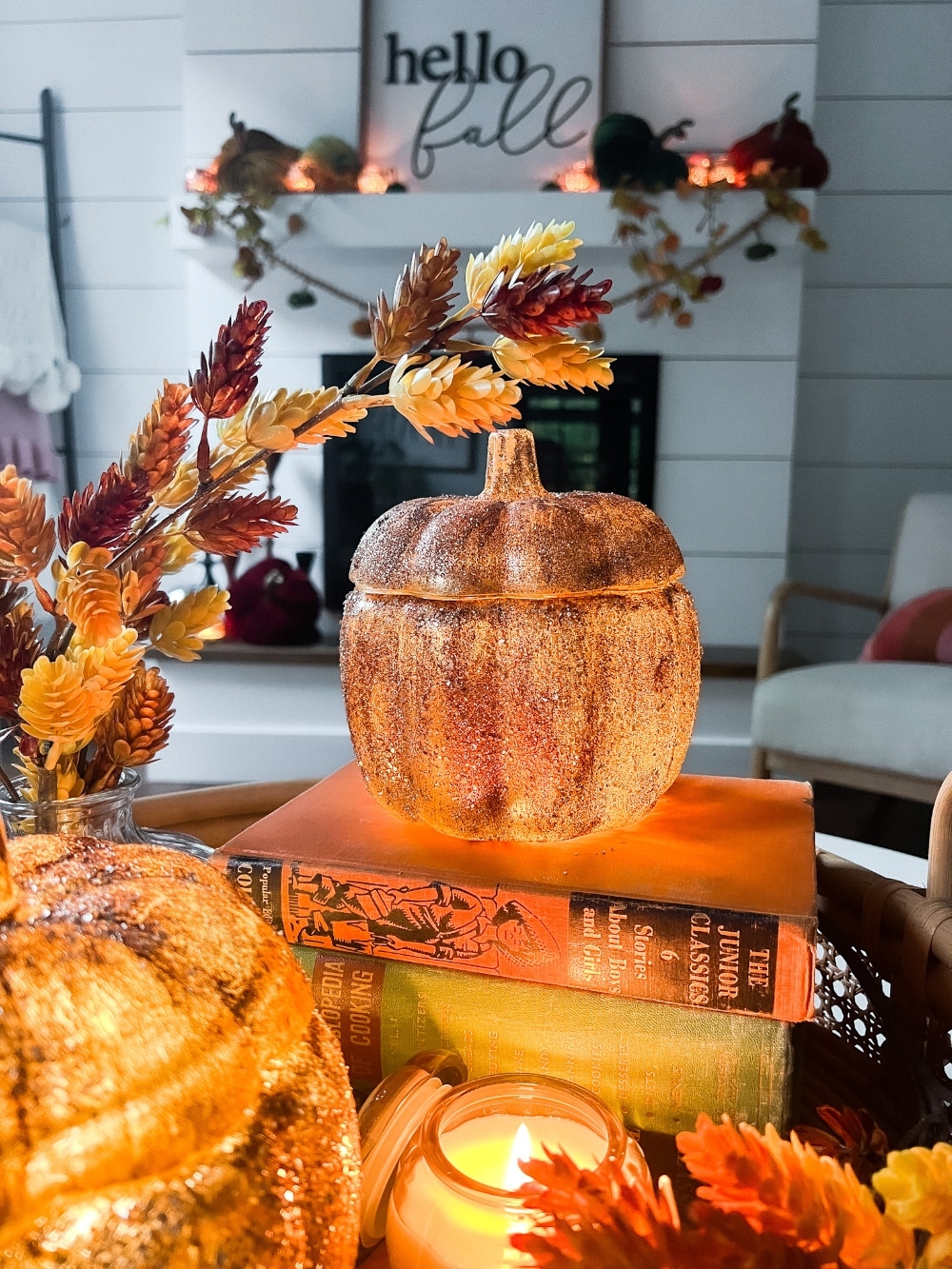 Now you will add a coat of mod podge to the pumpkins. Do this in sections so the mod podge doesn't dry.
Sprinkle Glitter on the Pumpkins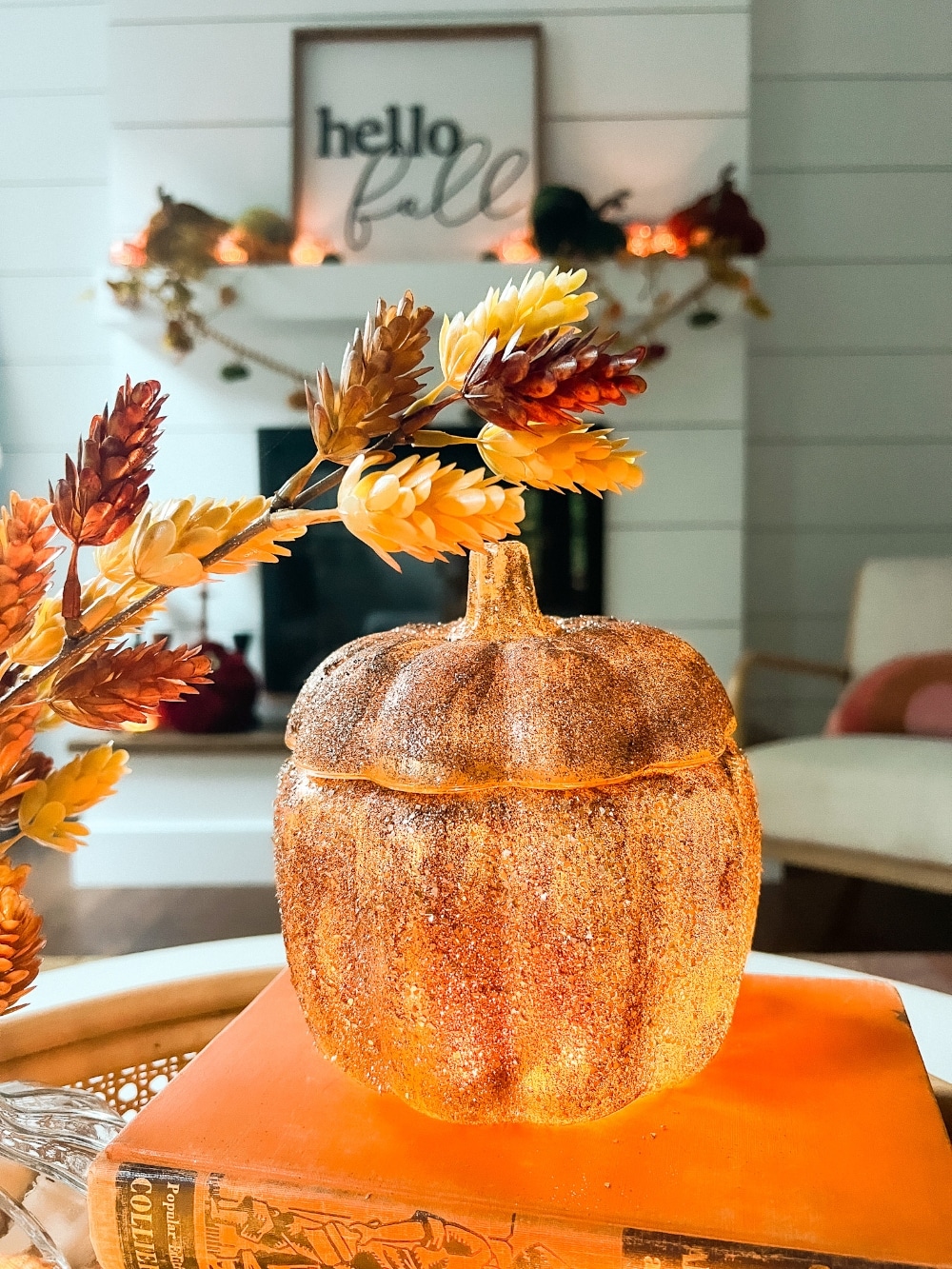 While the mod podge is still wet, add your glitter. I added the chunky glitter first and then filled in the rest with the finer glitter. It took some practice but I found that adding the chunky glitter evenly looked best. You can kind of see on the bigger pumpkin how it looks a little patchy compared to the smaller one. The smaller pumpkin has glitter that is more evenly distributed. Learn by my mistakes!
Glitter Tips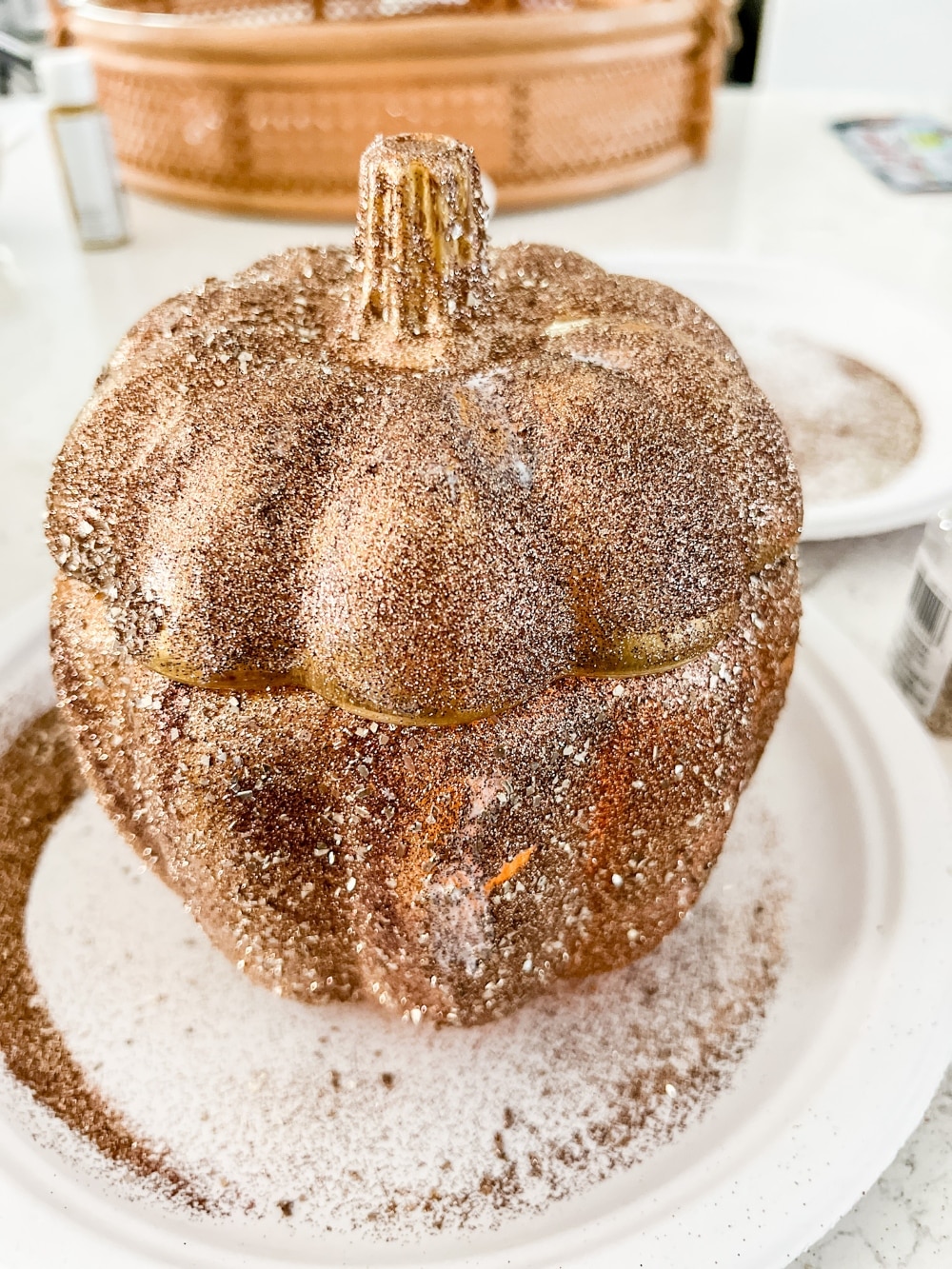 Put a large paper plate under each pumpkin as you are adding glitter. This corrales the glitter to the plate and makes clean up much easier. You can use the excess glitter on the second pumpkin you create. When You've finished the first pumpkin, put it on another paper plate and take the plate with the excess glitter and pour it over the next pumpkin. This creates much less waste.
Brush Off Excess Glitter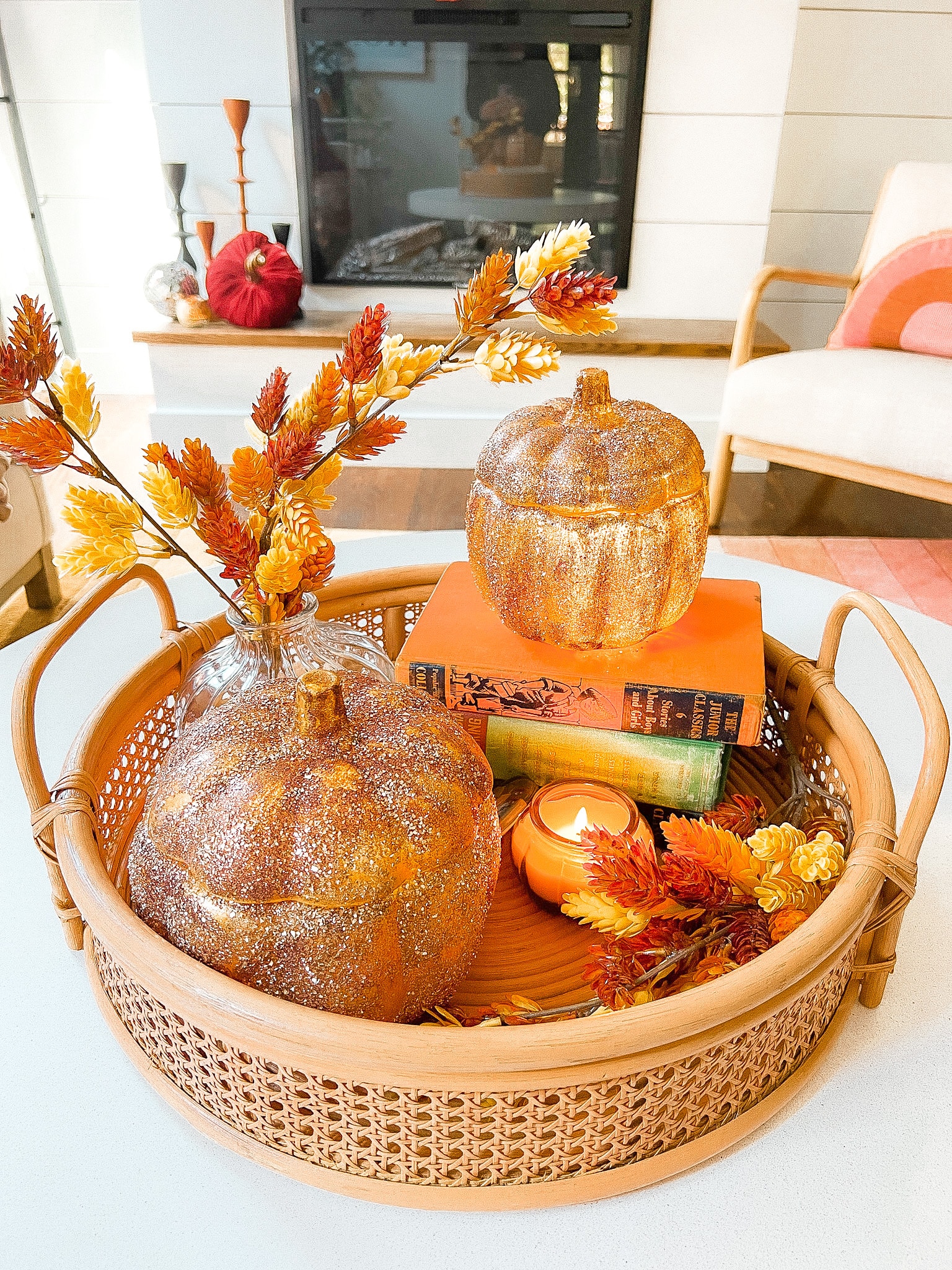 Once both pumpkins are done, use your hands to brush excess glitter off the pumpkins and onto the paper plates. That way you don't have glitter flying off everywhere when you place them to display. If you are worried about glitter getting all over, you can also spray a layer of clear polyurethane spray paint over the whole pumpkin. I found that after I brushed the pumpkins off, there was very little glitter on my surfaces. You can also take your pumpkins outside and brush them off.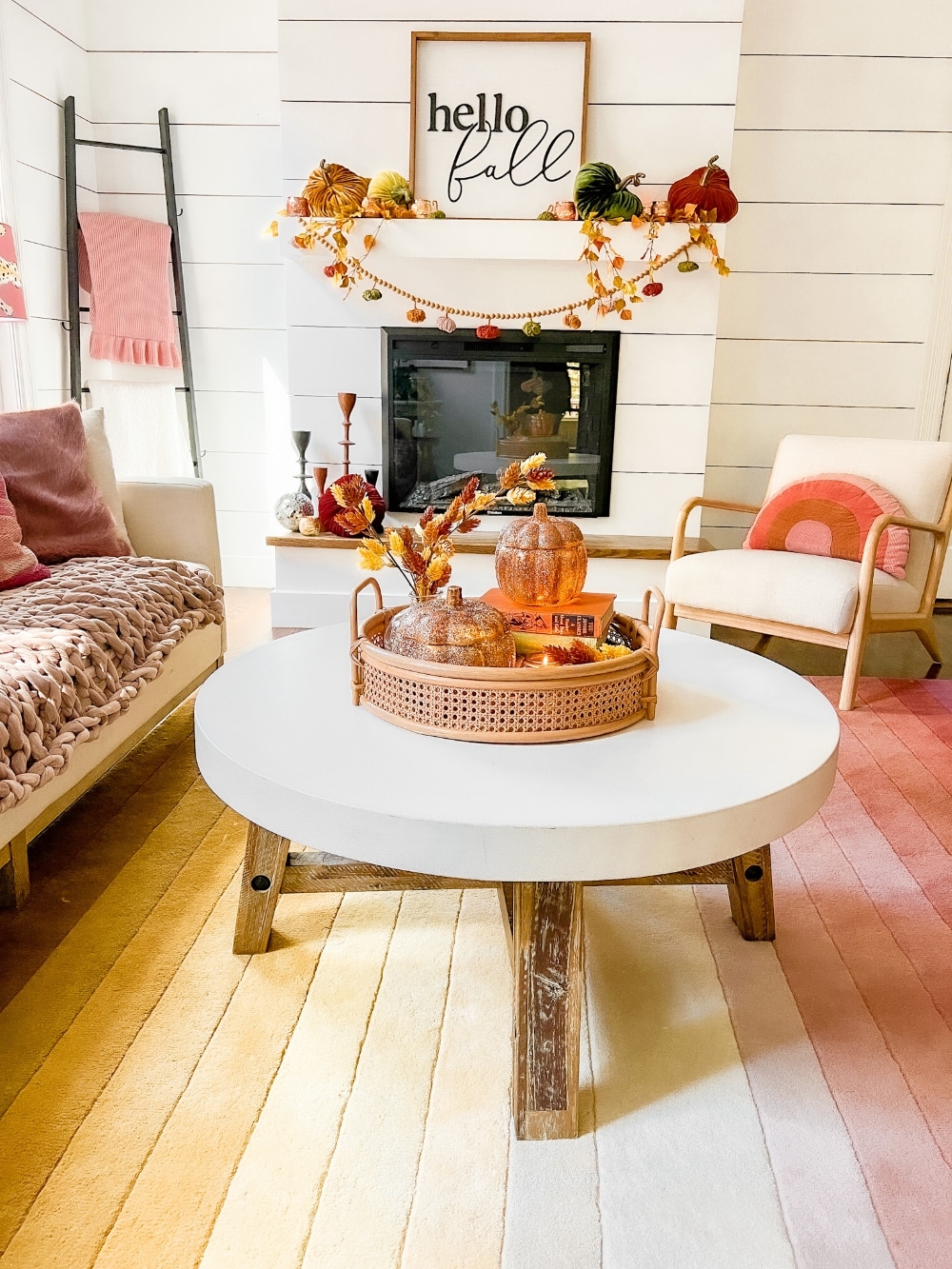 Blogger's Best Series – Fall Pumpkin DIYs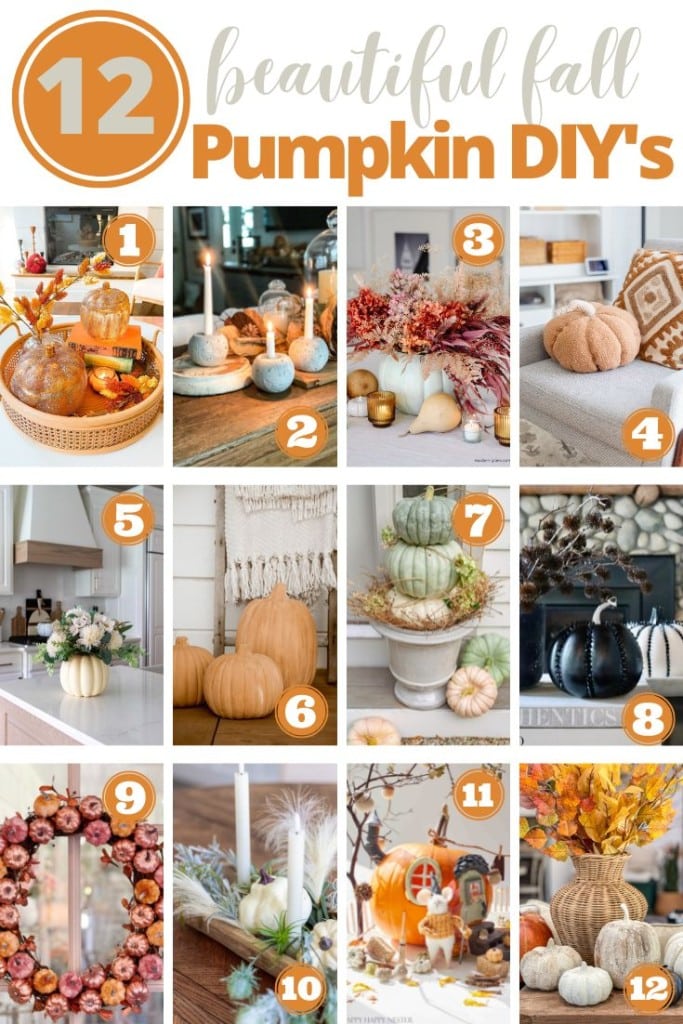 More DIY Pumpkin Tutorials
Here are a few other pumpkin tutorials I've made over the years!
Which Pumpkin Project do YOU want to make first?
Let us know in the comments!
xoxo