Easy Black and White Stacked Halloween Topiary! Spray paint foam jack-o-lanterns and stack them and add lights to create a Halloween Topiary to welcome visitors to your home!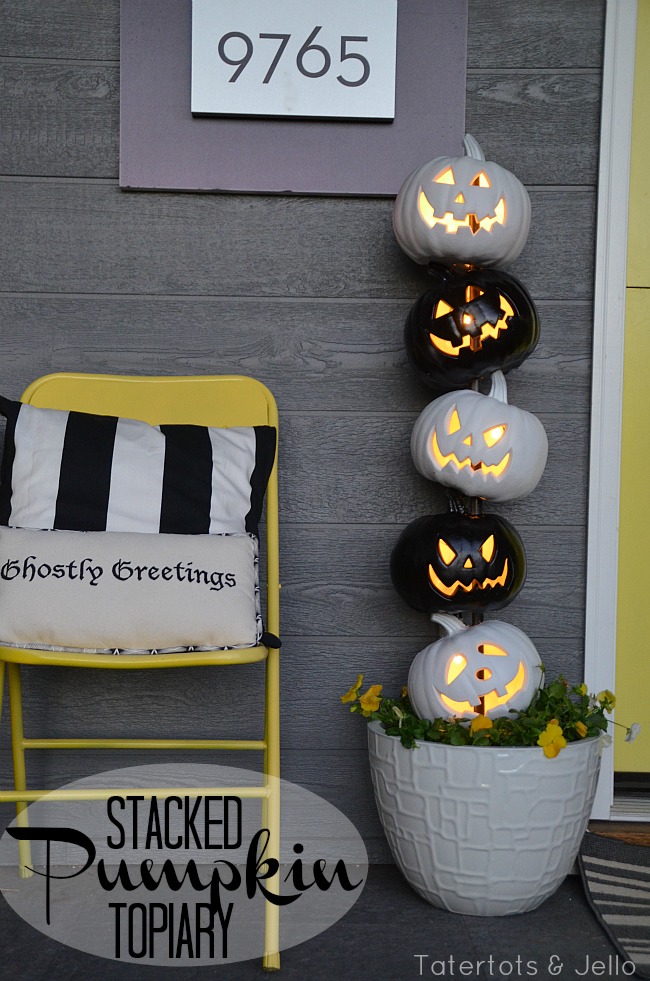 ---
Stacked Pumpkin Topiary DIY
---
This is one of my all-time favorite Halloween projects so I thought I would share it again. I am excited to put this up at our new home. You might know that I simply adore Halloween decor. So when one of the challenges this month from Lowes was Curb Appeal. I thought it would be SO fun to make something Halloween-ish for the front porch at the #1905Cottage. And since the decor over there is mostly yellow, I thought keeping the Halloween theme to basically black and white would be perfect.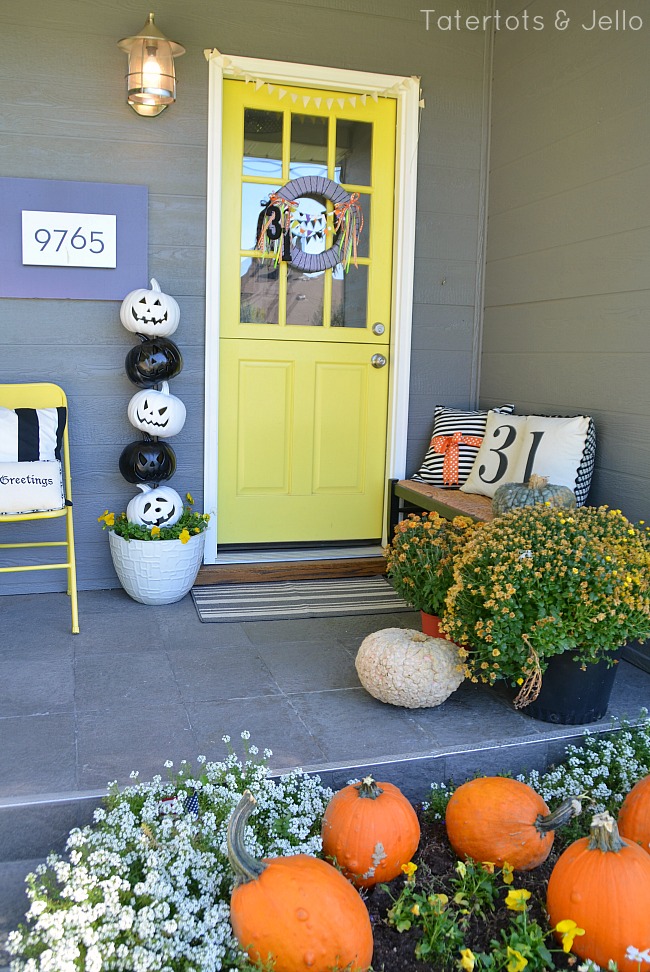 So I headed over to Lowes. And I found their Halloween section. They had a HUGE bin of lighted pumpkins with different scary faces, and it made me think of making a Halloween topiary.
You see, I made another Halloween topiary a few years ago and it got damaged in my backyard shed, so I have been meaning to make another for quite some time.
Here's how I made this easy Halloween project:
DIY Jack-o-Lantern Topiary: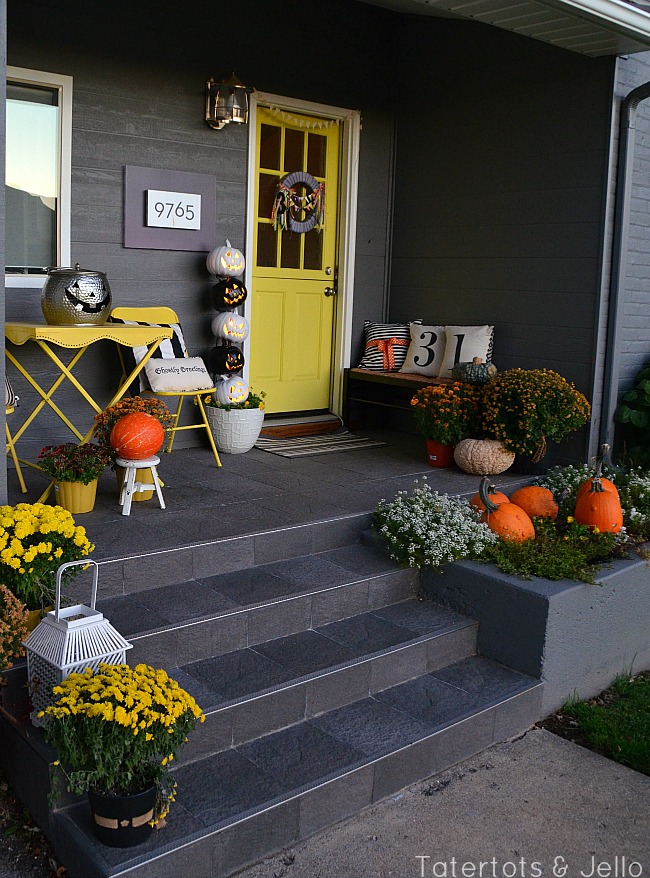 ---
Stacked Pumpkin Topiary DIY
---
Supplies:
Halloween lighted pumpkins. I used 5.
A 1″ in circumference wood dowel
A pot
Flowers
Spray Paint (I used black and white)
Primer
Extension Cord
Directions:
I spray painted three of the pumpkins white and the other two black. But first I PRIMED them.
I also spray painted the dowel black
Then I drilled 1″ holes in the pumpkins. I wanted each one to be tilted to each side, alternating. So I marked the spot with an sharpie and drilled.
Then I planted soil and flowers in the pot and put the dowel in the middle.
I alternated the pumpkins, white, black, white, black, white black. On the last pumpkin I didn't put the second hold through the top, so the dowel rests against the inside of the top pumpkins. I hope that makes sense lol.
Then I threaded the lights down through the back of the pumpkins and plugged them into the extension cord. I taped the cords together with electrical tape so they wouldn's show as much.
Light it up at night
And here is the Black and White Pumpkin Topiary at night. I just love it!!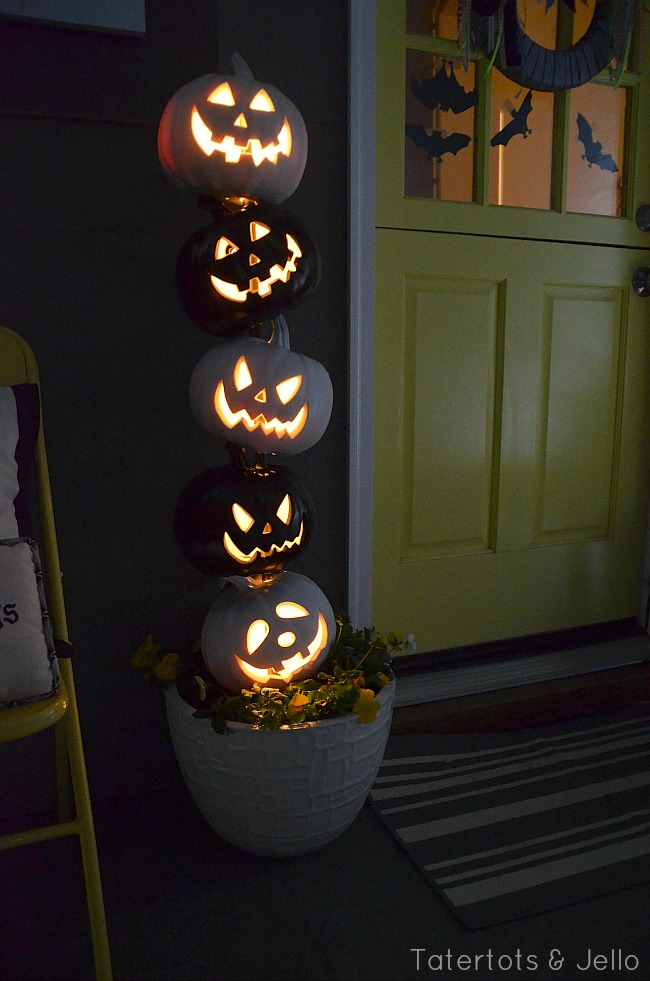 Materials for this post were provided by Lowe's; however, the project and content are all mine. See my disclosures.

More Halloween Ideas!
Here are some other Halloween themed porch ideas that I have created over the past few years. I hope you enjoy these simple ideas!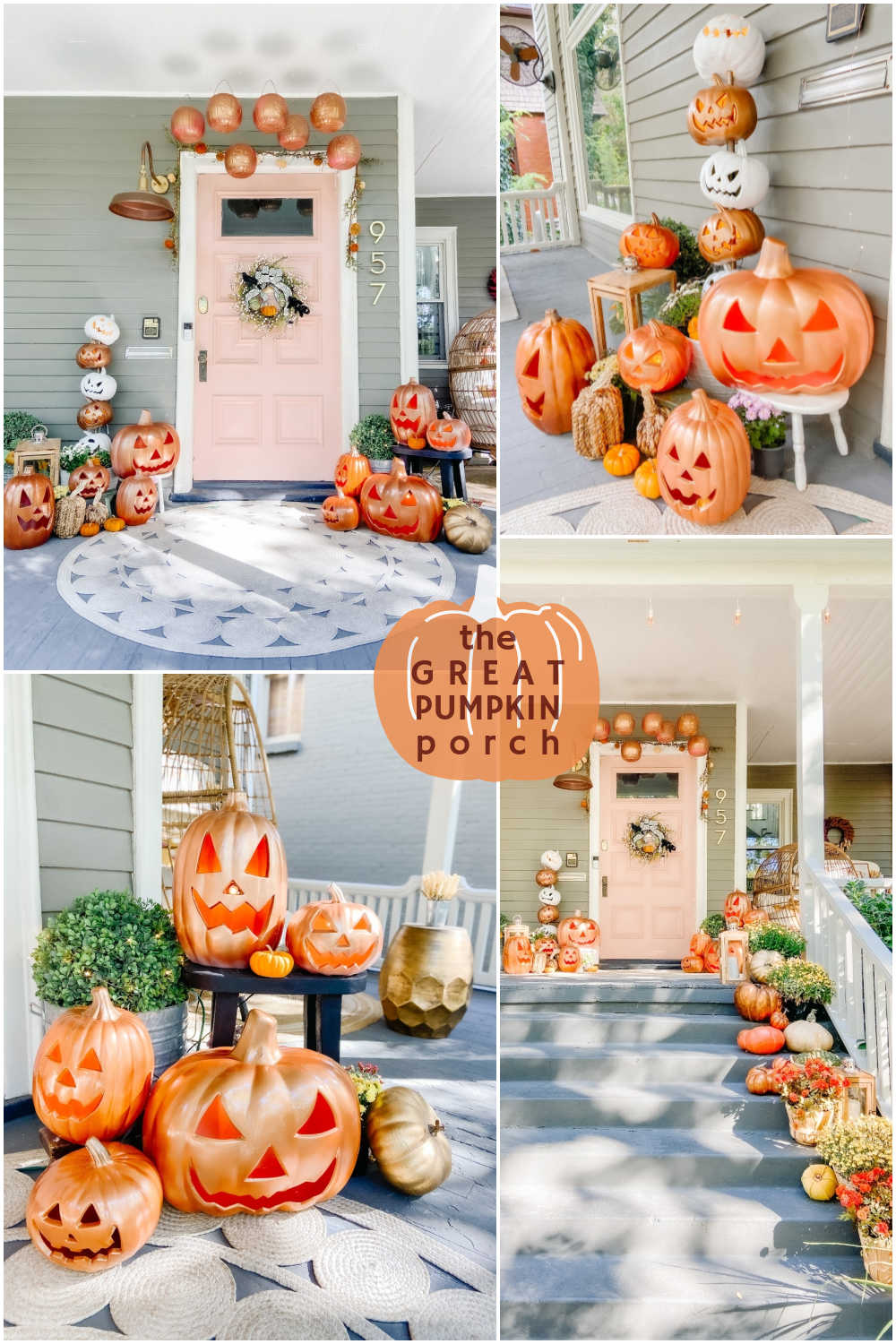 The Great Pumpkin Halloween Porch! Spray paint inexpensive jack-o-lanterns, pumpkin pails and make a jack-o-lantern topiary for a festive pumpkin porch!

7 Easy Ways to Create a Spooky Skeleton Halloween Porch! Add fresh flowers, lanterns, signs, banners and wreaths to create the perfect spooky Halloween porch!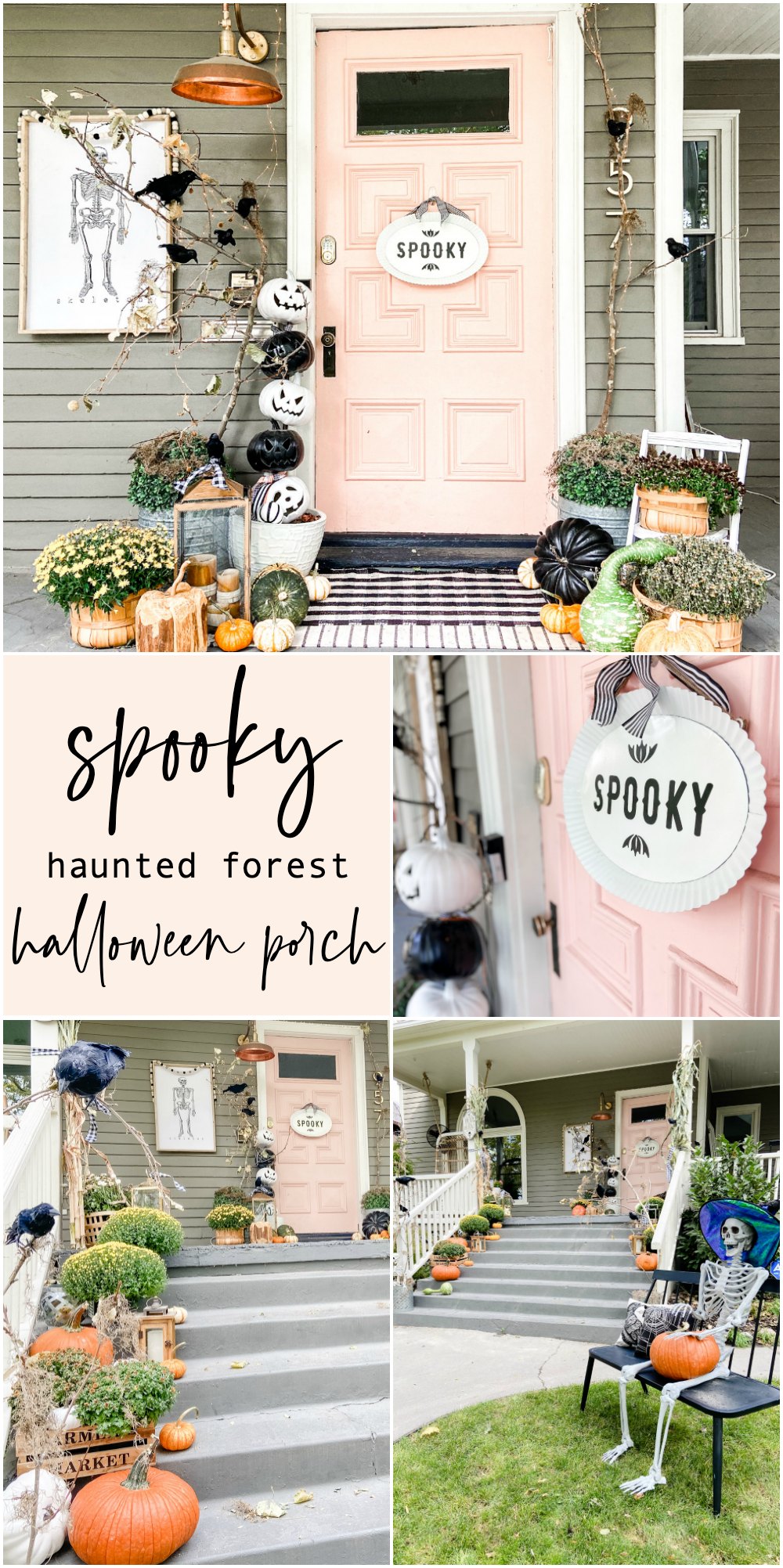 Halloween DIY Spooky Forest Porch. Add some branches, crows and moss to create an easy "spooky" forest for Halloween!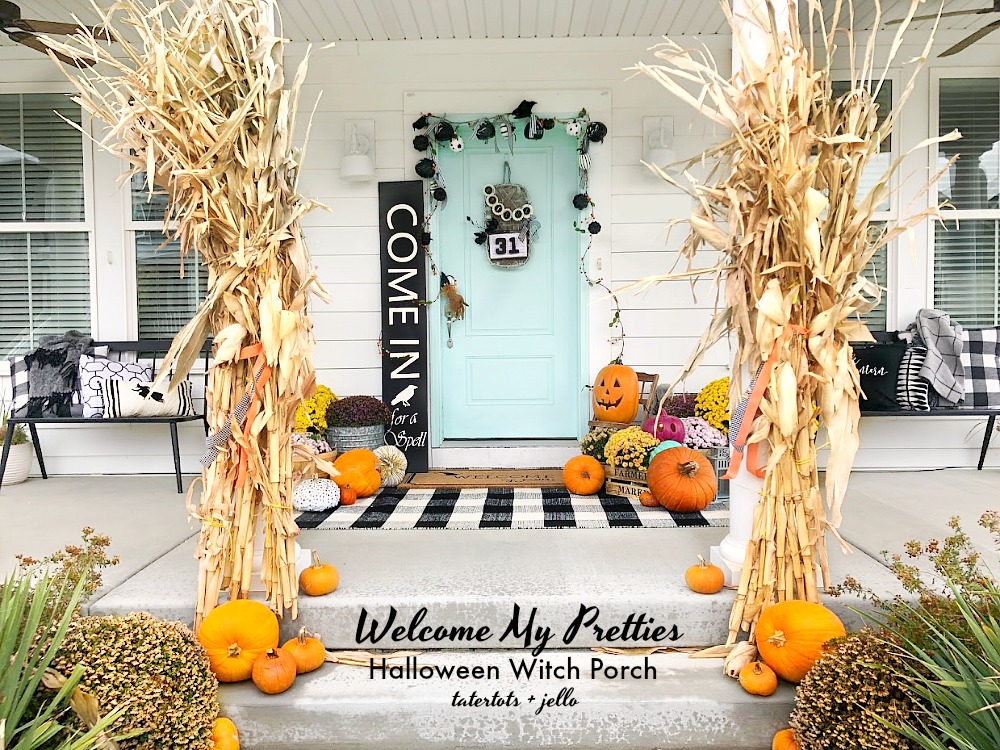 Welcome My Pretties – how to create a Halloween Theme Porch with easy DIY projects. Wow your guests with a Halloween theme porch this year!
Which Porch Theme is YOUR Favorite?
xoxo