Welcome My Pretties – how to create a Halloween Theme Porch with easy DIY projects. Wow your guests with a Halloween theme porch this year!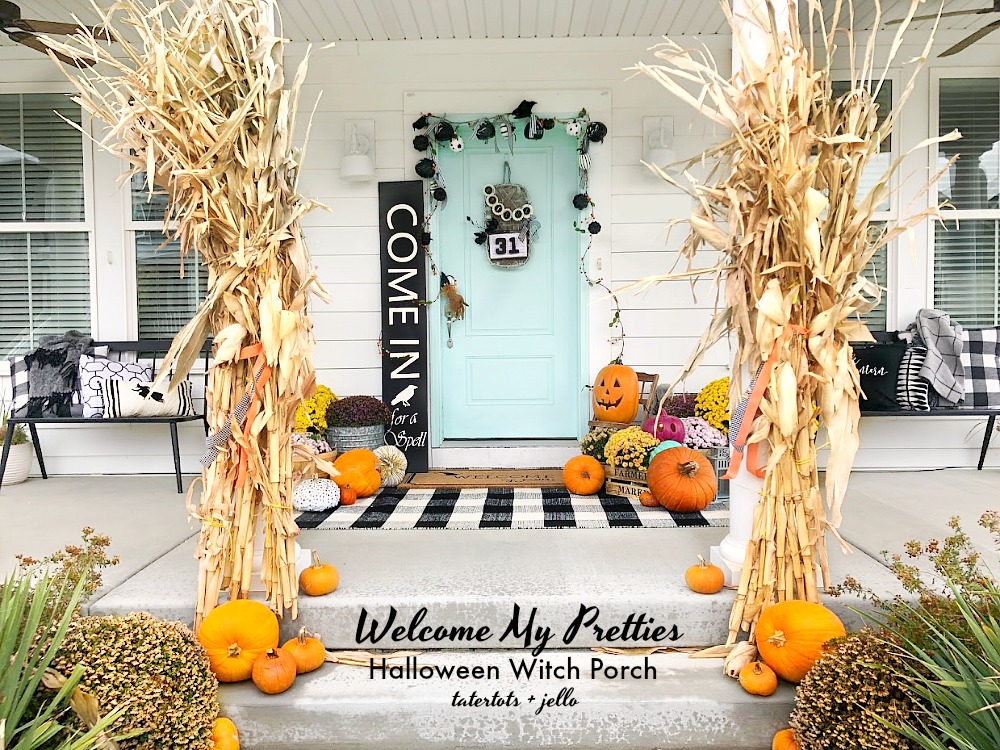 Creating a Welcome My Pretties Halloween Theme Porch
I love decorating m porch for Halloween! My favorite is a themed porch! Last year the theme was a Colorful Pumpkin Porch. A few years ago at my cottage I created a Bat Halloween Porch and a couple of years ago it was a Witching Hour Porch. I decided to go back to a witch porch, but with a twist. This porch is inspired by the Wizard of Oz and the wicked witch. I'm calling it my Welcome My Pretties Porch.

Welcome My Pretties Welcome Mat
I started off with a Welcome My Pretties Welcome mat. I stenciled part of it which made it really easy. I will do a Little tutorial on that in the next couple of days.

Come In For A Spell Sign
I also created a welcome sign — Come in and sit for a SPELL. Get it? Witches LOL! You can find out how to make it at my How to Make a GIANT Sign Tutorial.

SPELL Basket Wreath
I went with a non-traditional wreath for the door. In the fall I used tobacco baskets on my mantel. So I thought it would be fun to create a little wreath with one! I will write up the tutorial for that as well and post it. At the top of the wreath I hung a banner that says SPELLS. See, witches!

DIY Light Up Pumpkin Garland
I created a little garland to go over the door. I was trying to find a way to incorporate witches in that. Maybe little witch hats?? Let me know if you have an idea!! I ended up stringing some .88 striped and polka dotted black and white pumpkins and glued them onto a Target Dollar Spot garland. I added some light up pumpkins too so it glows at night!!
I might hang a few witches hats like I did on my Witching Hour porch. That might be cute!

Light Up Pumpkin on a Tiny Chair
I put a foam light-up pumpkin on this little chair that I found at the thrift store. I think it's adorable! I also added some pillows to my benches outside. Here are the tutorials for the plaid buffalo check pillow covers and the trick-or-treat Halloween pillow covers with free cut files so you can make them so easily!!
Now I just need to wait for some trick-or-treaters to come calling!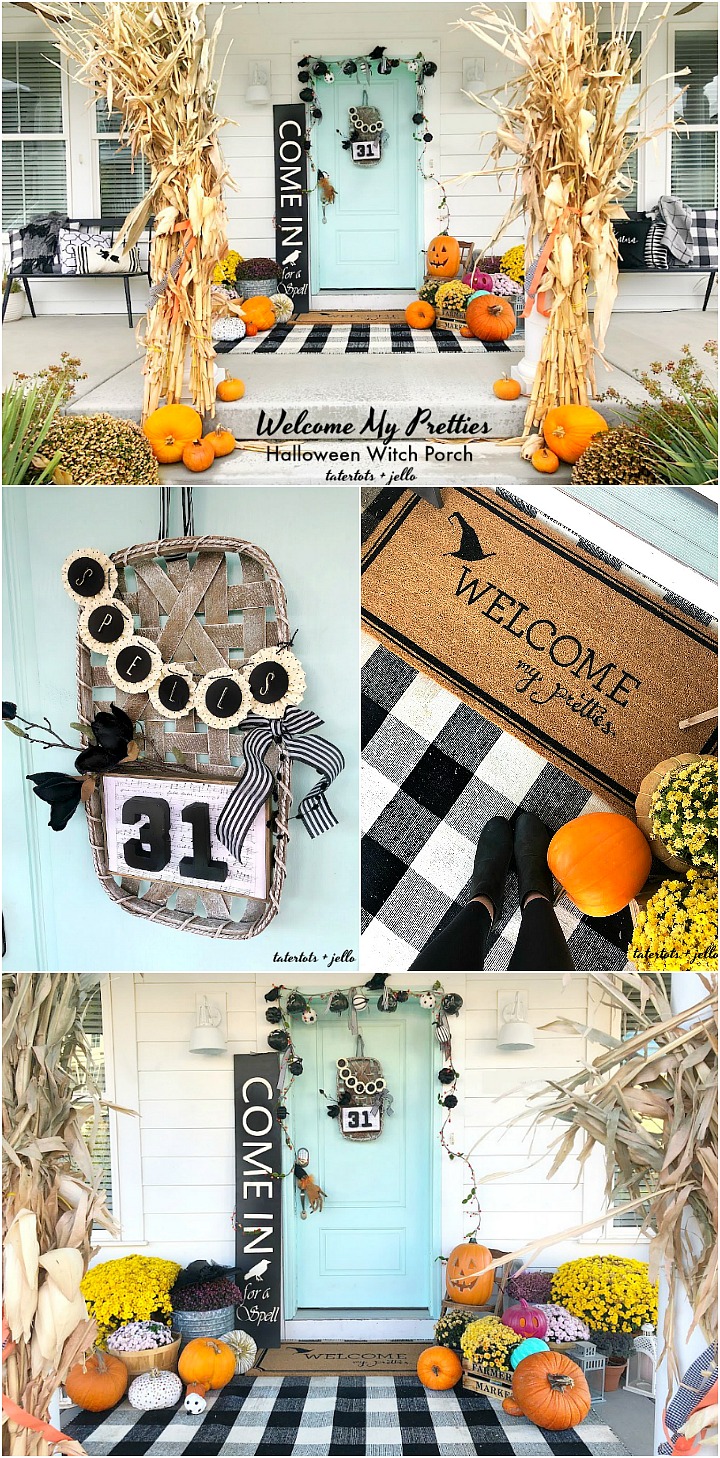 What are YOU working on for Halloween?
Or are you skipping straight to Christmas?? LOL!
xoxo