7 Easy Ways to Create a Spooky Skeleton Halloween Porch! Add fresh flowers, lanterns, signs, banners and wreaths to create the perfect spooky Halloween porch!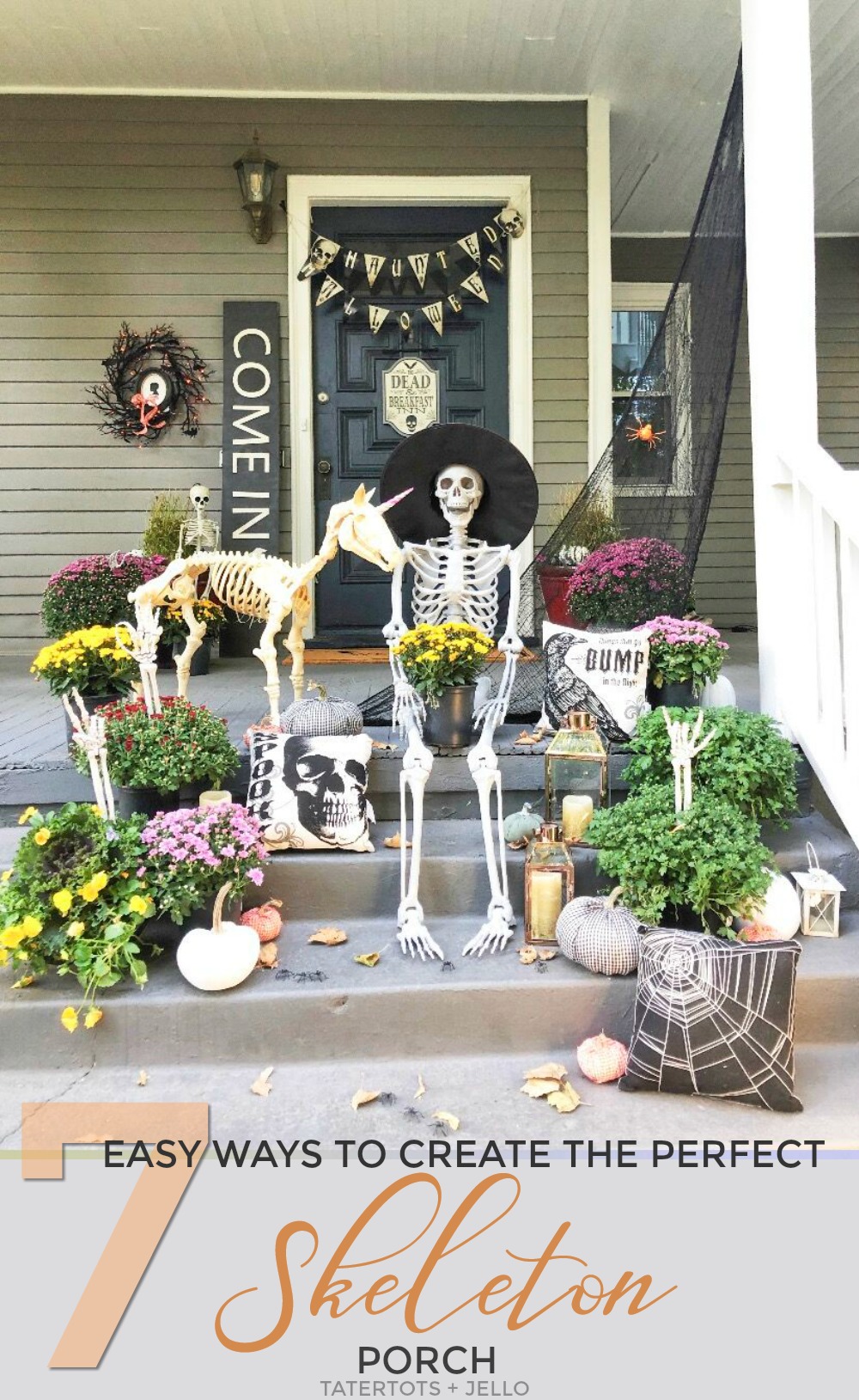 This post contains affiliate links. Affiliate links cost you nothing and allow tatertots and jello to bring you free daily content.
Skeleton Full Moon Porch
I was recently challenged by Oriental Trading to create something with their new unicorn skeleton. Isn't it cute?? We had a full moon coming up so I thought it would be fun to create a spooky full moon and flowers unicorn porch.
We named our skeleton Alice and our unicorn Esmerelda. They love gardening and making our porch beautiful. They added mums to our steps and helped us decorate our porch.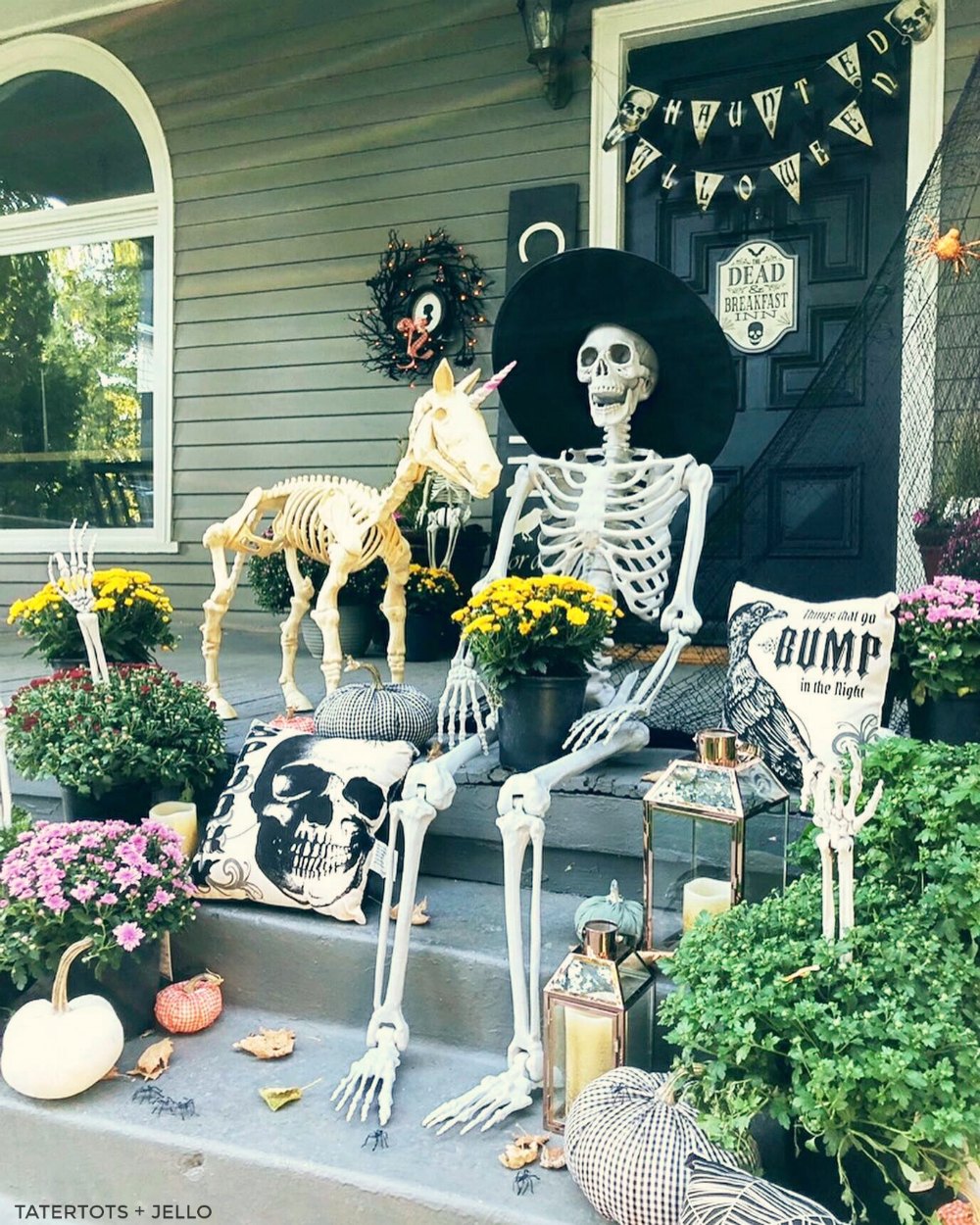 Create Elements That Work Together
The key a beautiful seasonal porch is different elements that work together. This concept is true with a Halloween porch. We combined different elements that all work together to tell as story.
Skeleton Halloween Porch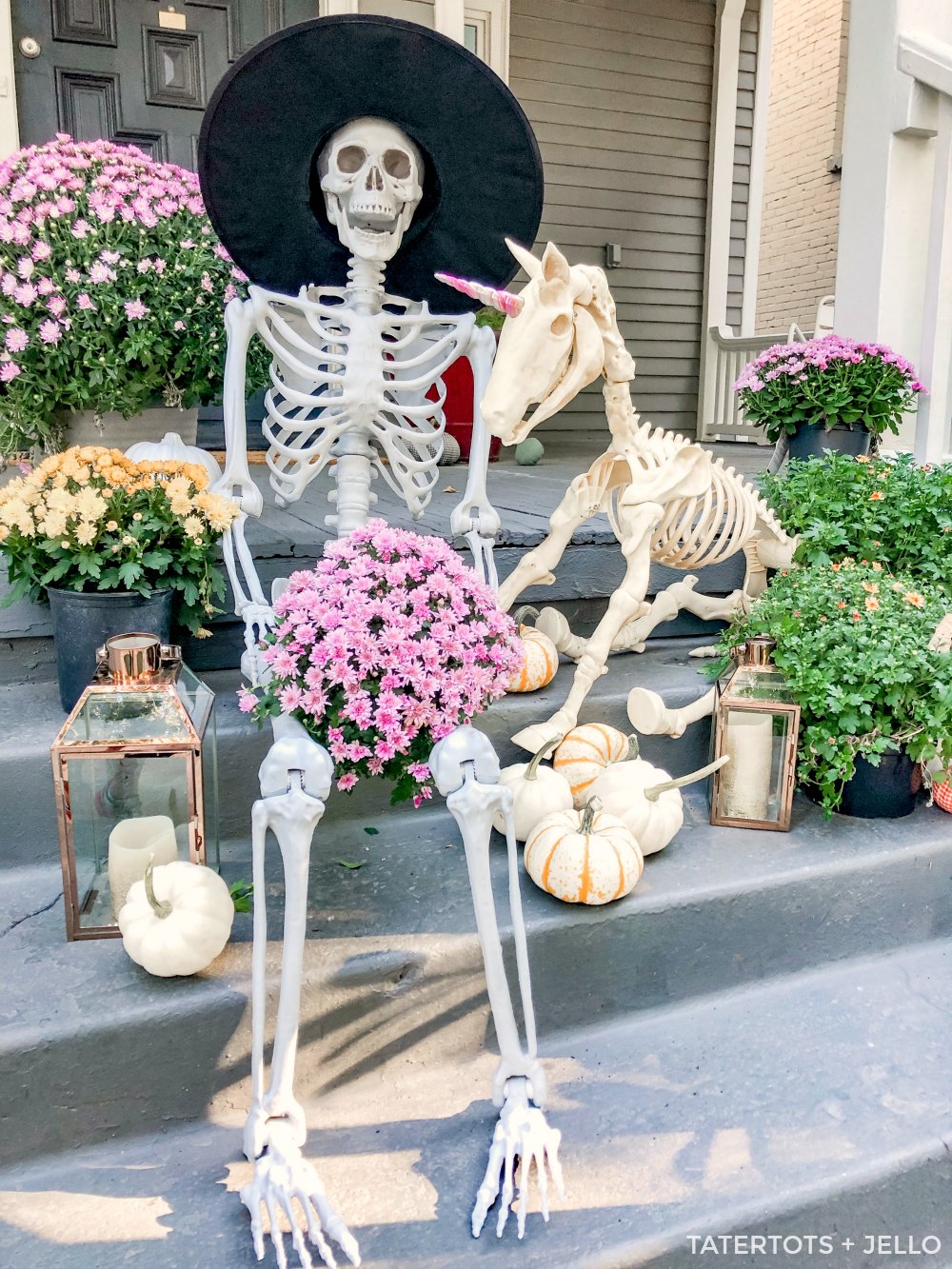 The main element in our Halloween porch is of course our skeletons. Oriental Trading skeletons are made out of very high-quality materials so they will last for years. One of my favorite parts of their skeletons are their adjustable joints. You can pose them in every way. We sat our witch Alice on the top step of our porch, holding a potted mum. Then we posed our unicorn Esmerelda next to her, sniffing the flowers.
Fall Flowers Bring Color to a Halloween Porch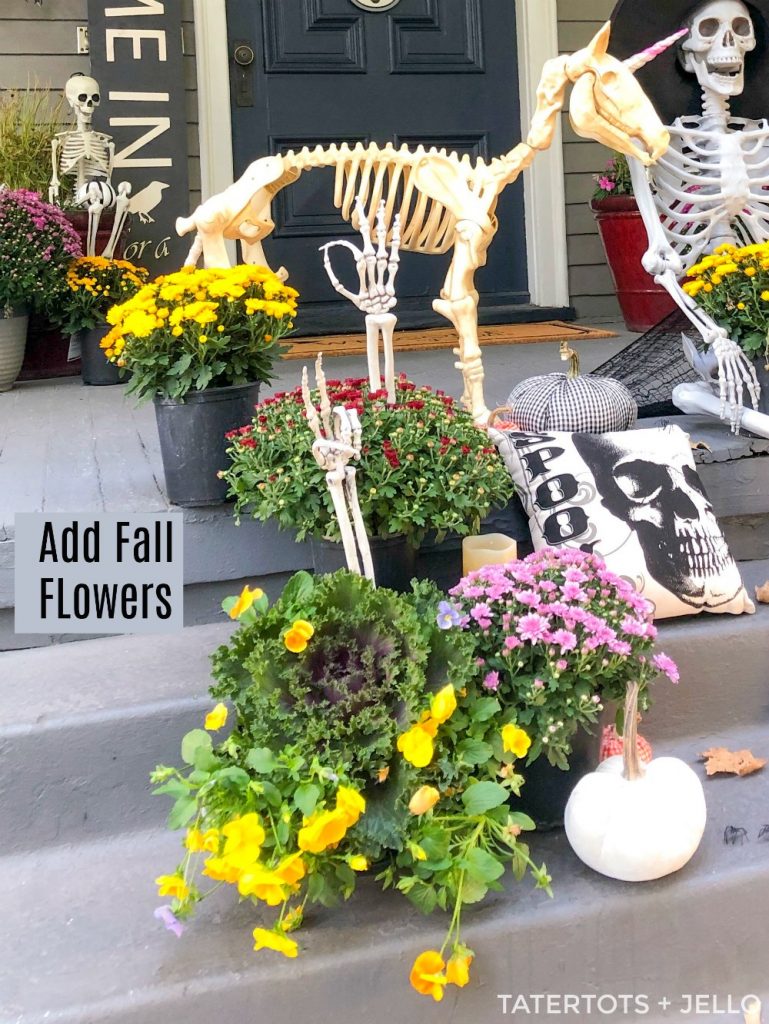 I love using natural elements inside and outside. Fall is especially beautiful with the flowers and leaves turning. We arranged some colorful mums on the front steps and in front of our door in our skeleton Halloween porch.
Add a Giant Sign to a Halloween Porch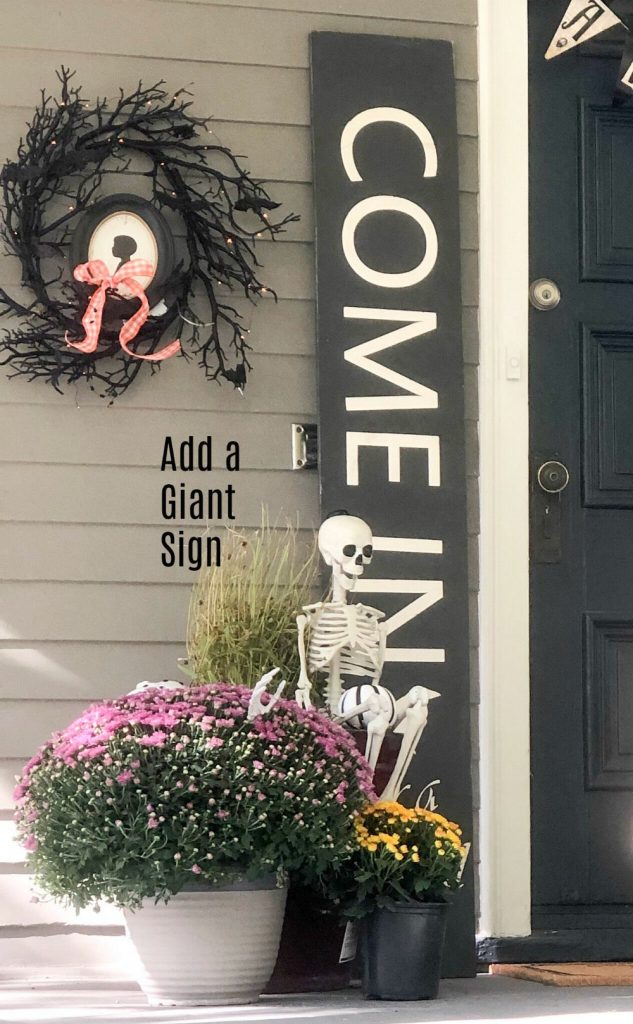 I love making giant signs for every holiday. I added a giant sign that I made last year with a witch theme. It adds height to the porch and is easy and welcoming to see from the road.
Halloween Banners are an Easy Way to Decorate a Halloween Porch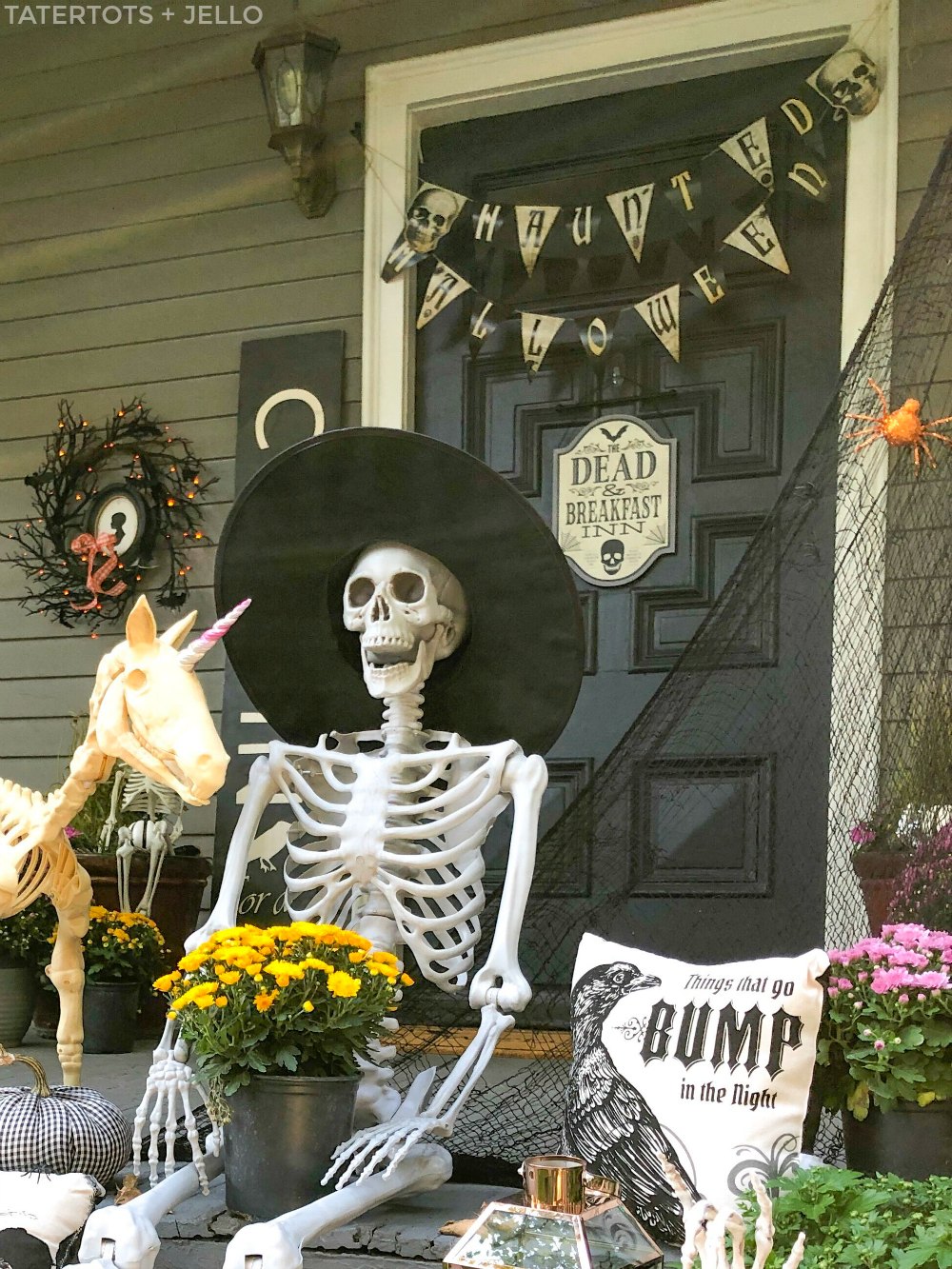 I also love banners. These two Haunted Halloween banners are also from Oriental Trading and they come with the string and everything you need to hang them right up. They would be so cute on a food table of a Halloween party too! I hung them at the top of the door.
Metallic Lanterns Bring Sparkle and Light to a Halloween Porch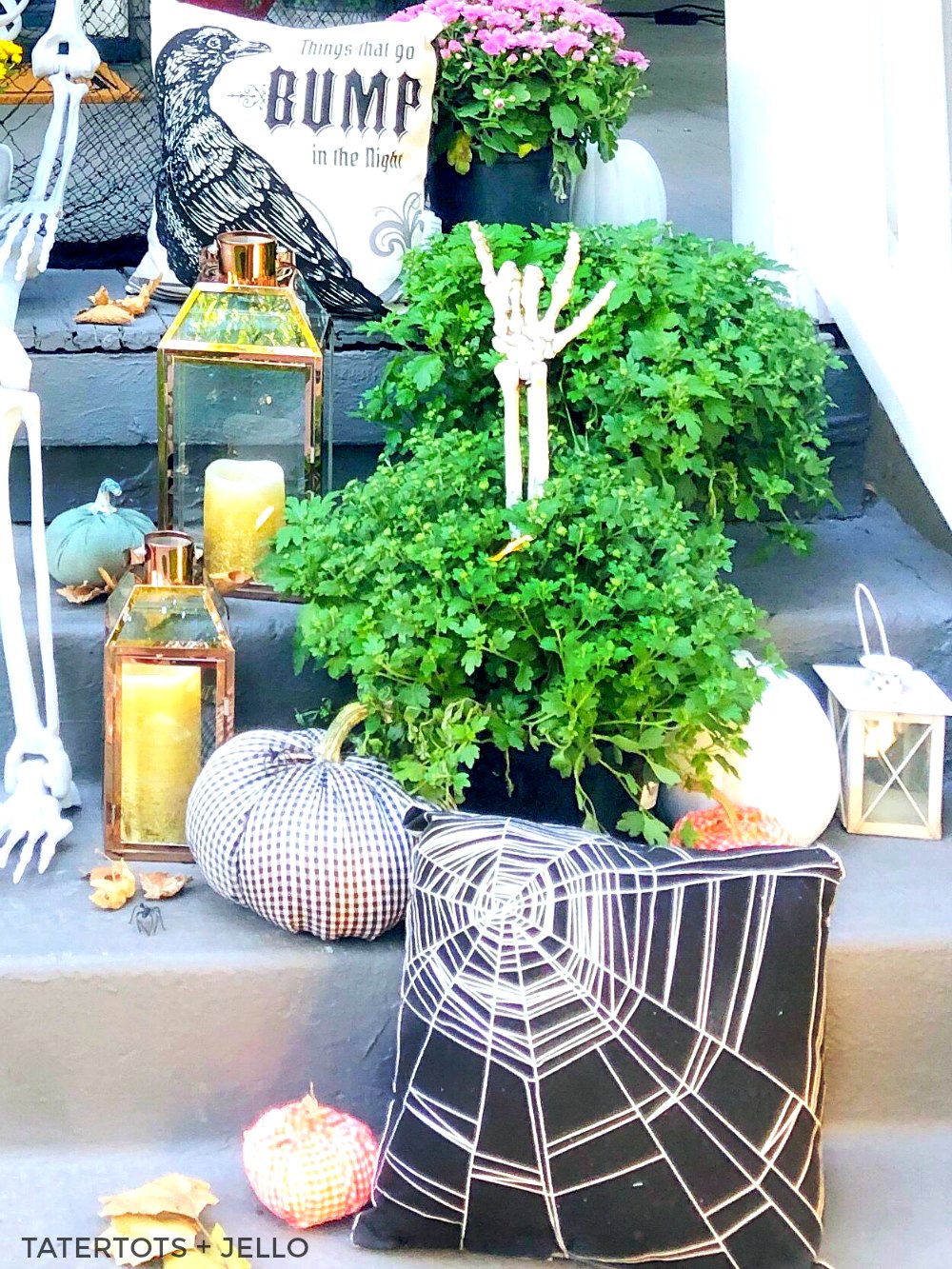 I love these rose gold lanterns!! They are such a gorgeous color and you can order them in two different sizes. They look so good paired together. I think lanterns coming down steps on a porch is so inviting as they caste a welcoming glow up to our home. I also love that I can use these lanterns throughout the year!
Halloween Pillows are an Easy Way to Decorate for Halloween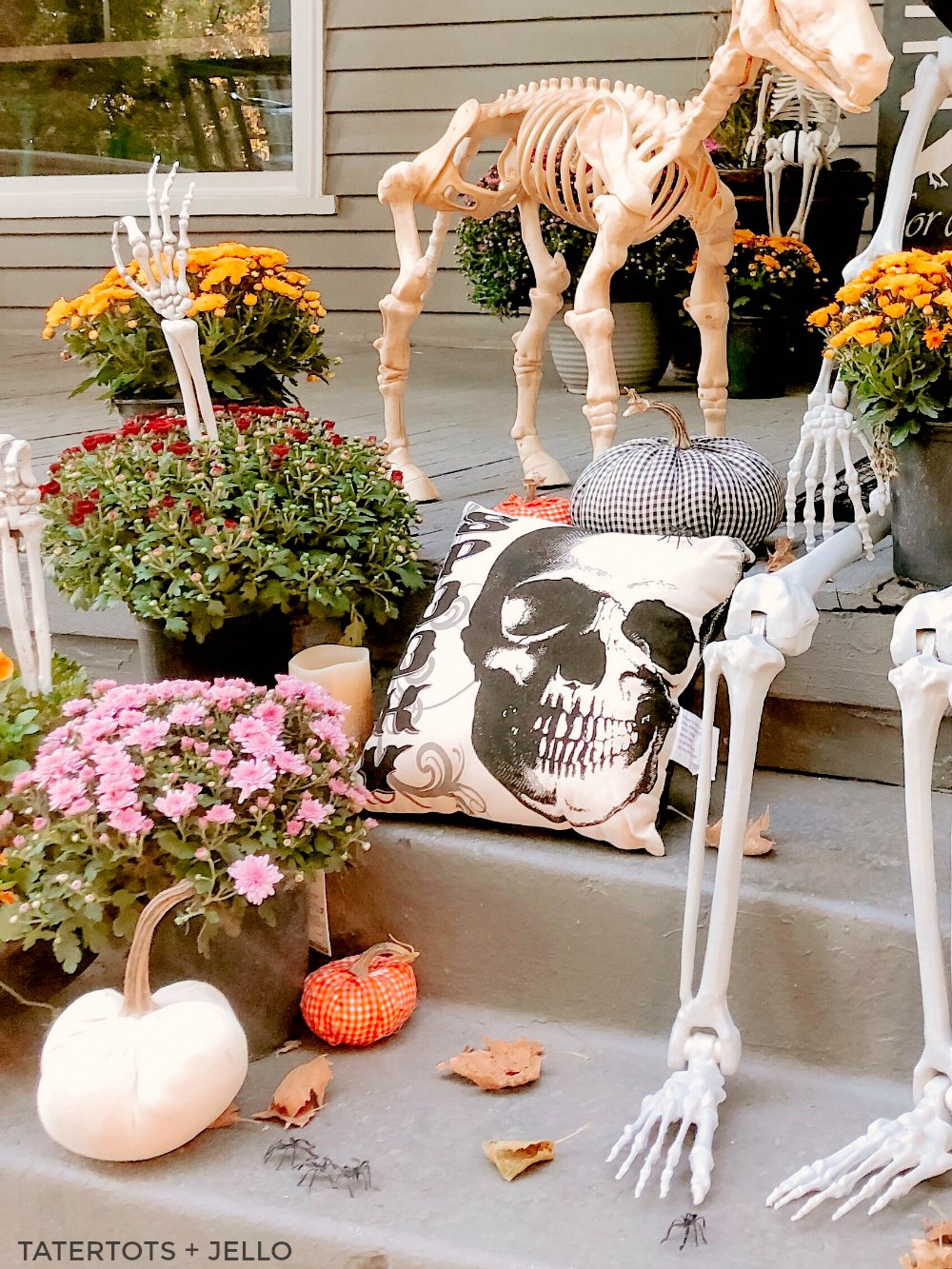 Another element that I love about our Skeleton Halloween Porch are these Halloween pillows. They come in a set of three for $19.99 which I think is an amazing deal. They look great together and they are an easy way to decorate your porch or home. We have a hanging swing on one side of our porch where these pillows will be displayed. But they are soft and comfy and perfect for inside too! You can add them to a chair or couch and voila! You are decorated for the holiday.
Skeleton Stakes Add a Spooky Element to Your Planters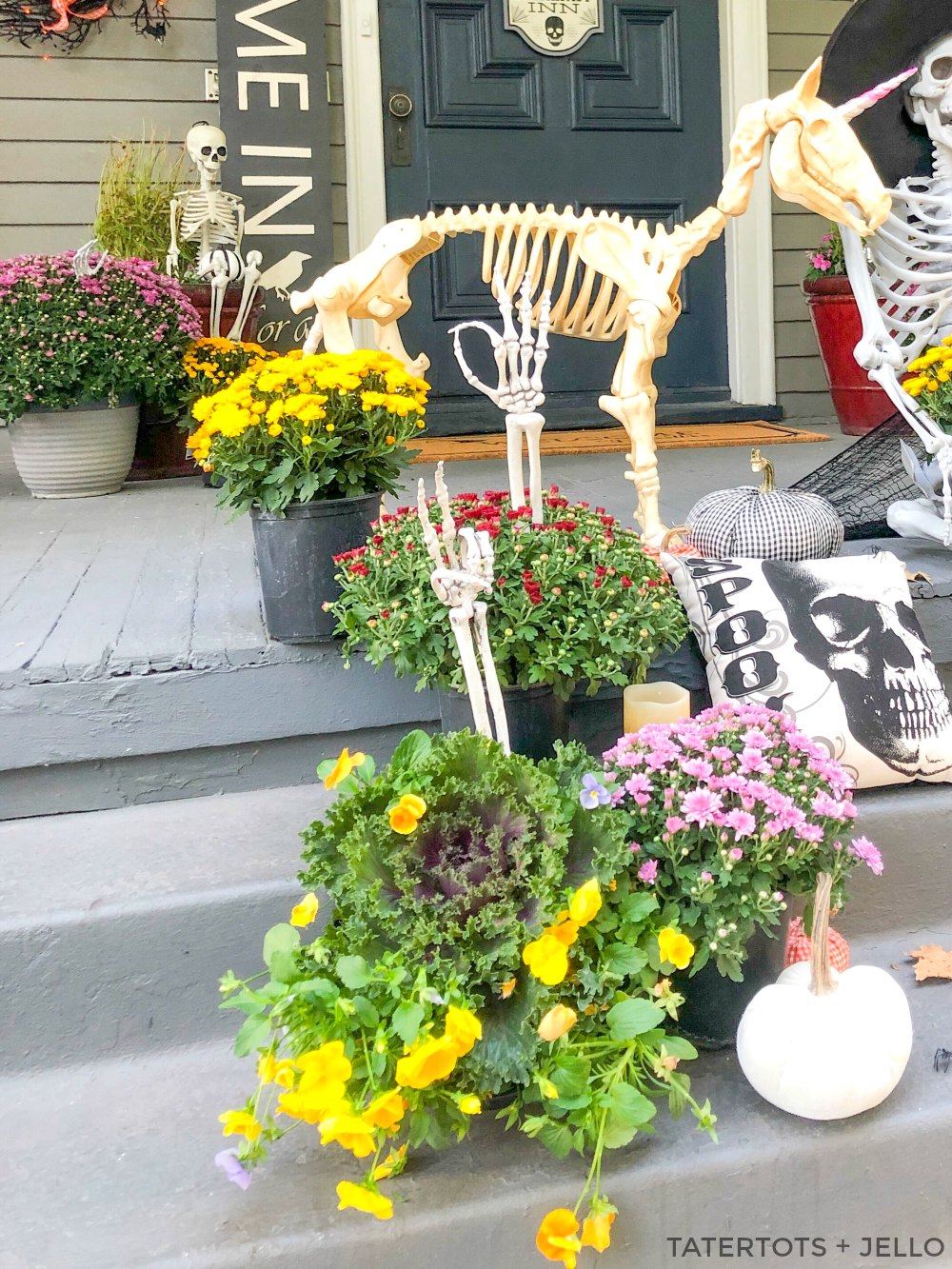 The skeleton stakes are probably my kids' favorite element of our skeleton Halloween porch. We arranged them sticking out of a few of the pots. I also love that the skeleton hands are making a peace sign and hang ten sign with their fingers. So cute.
A Spooky Wreath is an Easy Way to Decorate a Skeleton Halloween Porch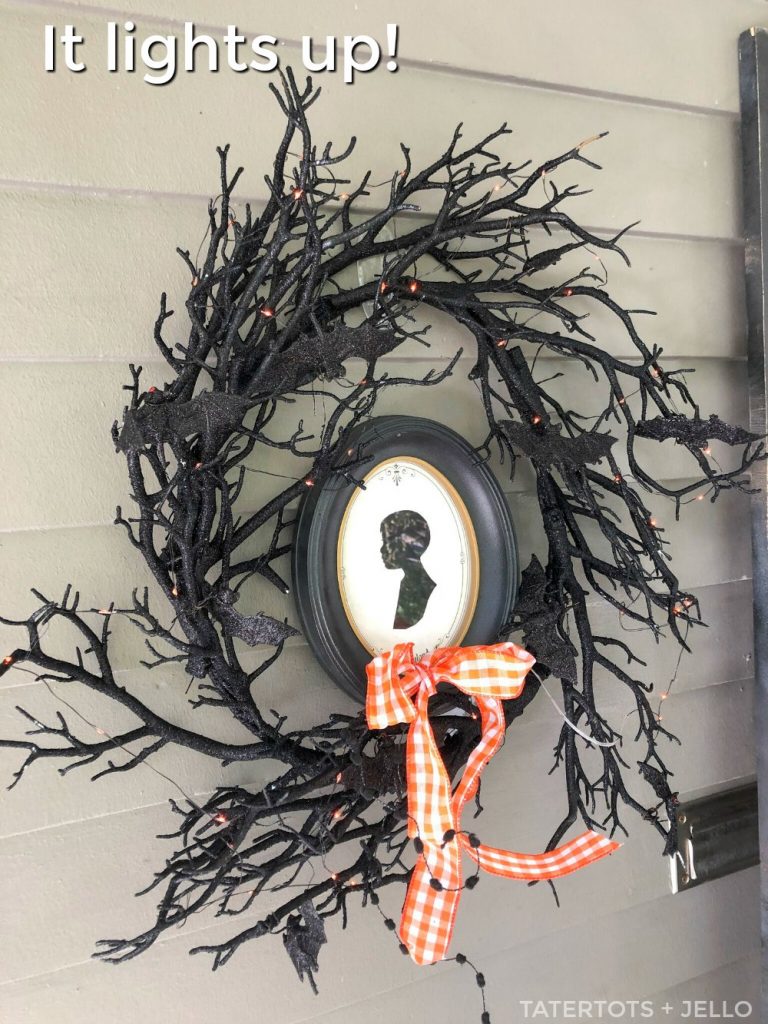 Of course we had to have a spooky wreath to top off our Spooky Skeleton Porch. In fact, we decided that we needed 2 wreaths to complete our design. The Dead and Breakfast sign is perfect on a door or hanging on the porch. We thought it looked perfect in the center of our door. To the side we hung a very spooky black branch wreath. My favorite element of this wreath is that it lights up with little red lights that look like bat eyes. I added a silhouette picture to the center to give it an even eerier vibe.


You Can Use One or All of These Spooky Elements to Create the Perfect Halloween Porch for YOU!
There you are! We LOVE our spooky skeleton Halloween porch! I also love that I can use items I ordered from Oriental Trading over and over in new ways year after year! Use one or all of the spooky elements to create a Halloween porch that is perfect for YOU and YOUR home.
Spooky Skeleton Halloween Porch Resource List:
Have a Creative Day!
xoxo