15 Spooky Halloween Sweets! Here are some sweet spooky Halloween treats to make with the kids this week!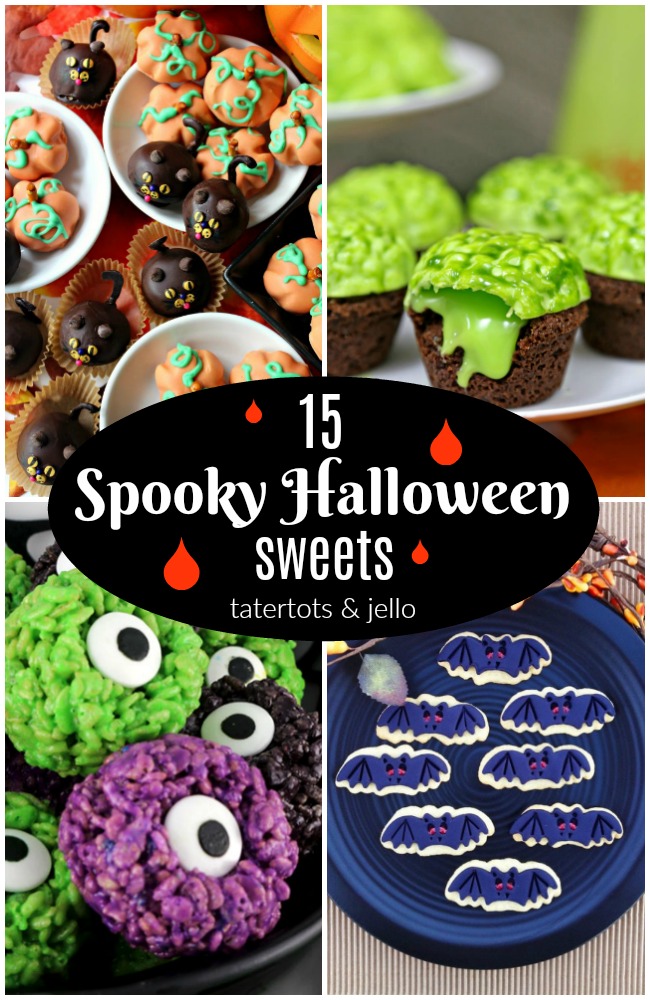 15 Spooky Halloween Sweets!
***
How adorable are these peanut butter balls? Your kids will love making these cute cats and pumpkins!
What's spookier than zombie brains? The perfect dessert for Halloween night.
Whoopie pies are one of our favorite desserts and this one is so festive with an orange filling.
Cutting out sugar cookies is so fun. Make some bats to share.
Turn rice krispie treats into giant eyeballs with this fun and quick idea!
Transform brownie pieces into graveyard plots by adding cookies and pumpkins!
I love the color of these candied apples. Such a spooky dessert to make!
Add some red frosting to oreos for a quick spooky treat!
This might be the spookiest treat of all. I want to bite in and see what's inside!
The classic cookie! You can add different color M & M's for Halloween!
Chocolate bark is so easy to make and adding the candy eyeballs let's your kids make faces!
Add some fake bood and these sweet wafer cookies turn into bloody band-aids!
Candy corn jello is such a fun dessert idea. I am going to make some to go with our Halloween chili!
Another great idea to use with wafer cookies. Kids of any age will love dipping them in chocolate and adding faces or sprinkles!
These little cauldrons are the perfect cupcake containers! You can buy them by the dozen from amazon!
***
Here are some more spooky Halloween sweets!
You can buy butterfinger skulls and cut out gingerbread men shaped cookies and turn them into skeletons!
Turn Halloween candy into spooky pumpkin patch candy bark!
Show me some of your favorite Halloween sweets!
Share them with us!
xoxo