Host the Perfect Thanksgiving Dinner! Hosting Thanksgiving this year? Here are some ways to make it the easy so you can enjoy the holiday with your family!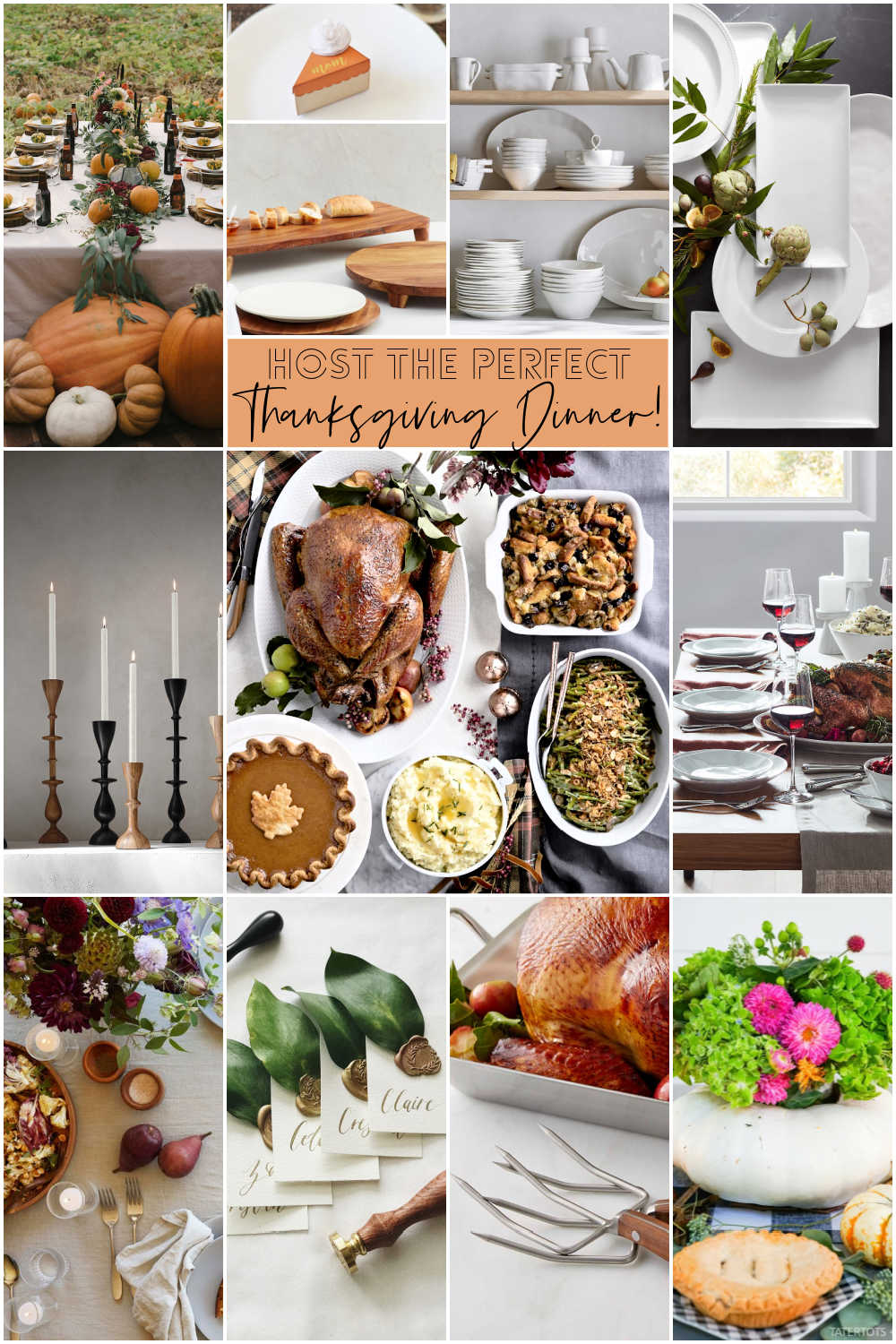 Thanksgiving is a time to relax with family and friends and appreciate all of the things we are thankful for! When you're hosting sometimes it can be a little frantic. I am hosting this year and I am sharing easy ways I am saving time and stress so I can enjoy the holiday with my family and guests!!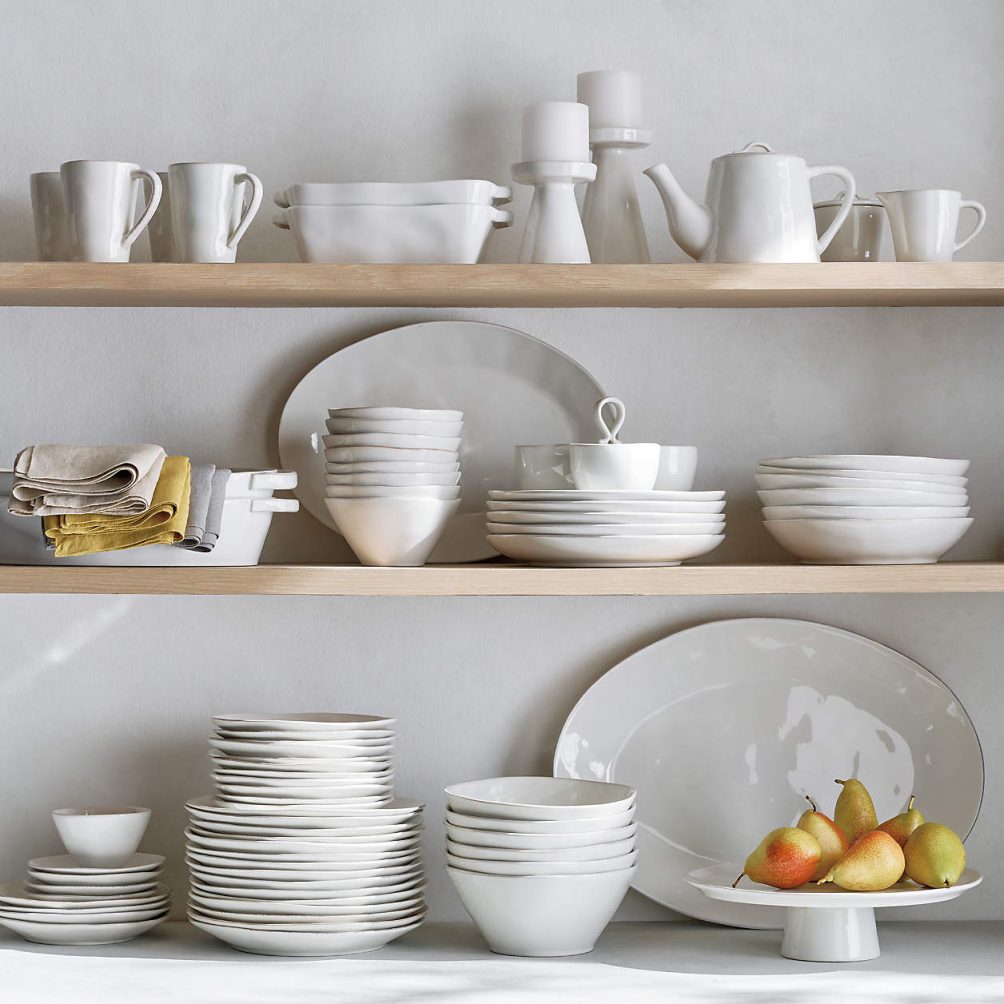 Artisanal ceramic shapes are glazed a soft white with subtle hand-antiquing on the freeform rims. These dishes are on sale right now.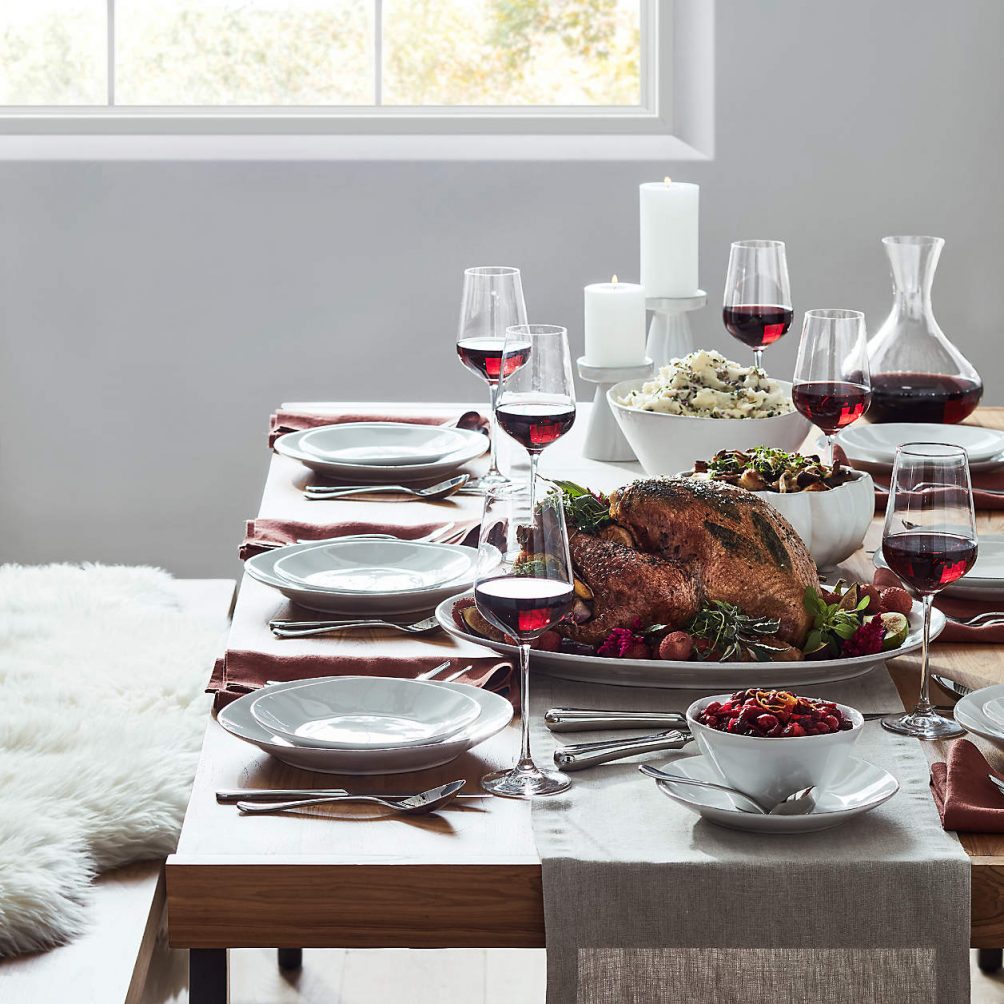 Not too heavy and not too fragile, moderate stem height and excellent balance. These wine glasses are Dishwasher­ safe, scratch-­resistant quality that will last for years. Of course you don't have to serve wine, these glasses will elevate your ice water or non-alcoholic drinks too!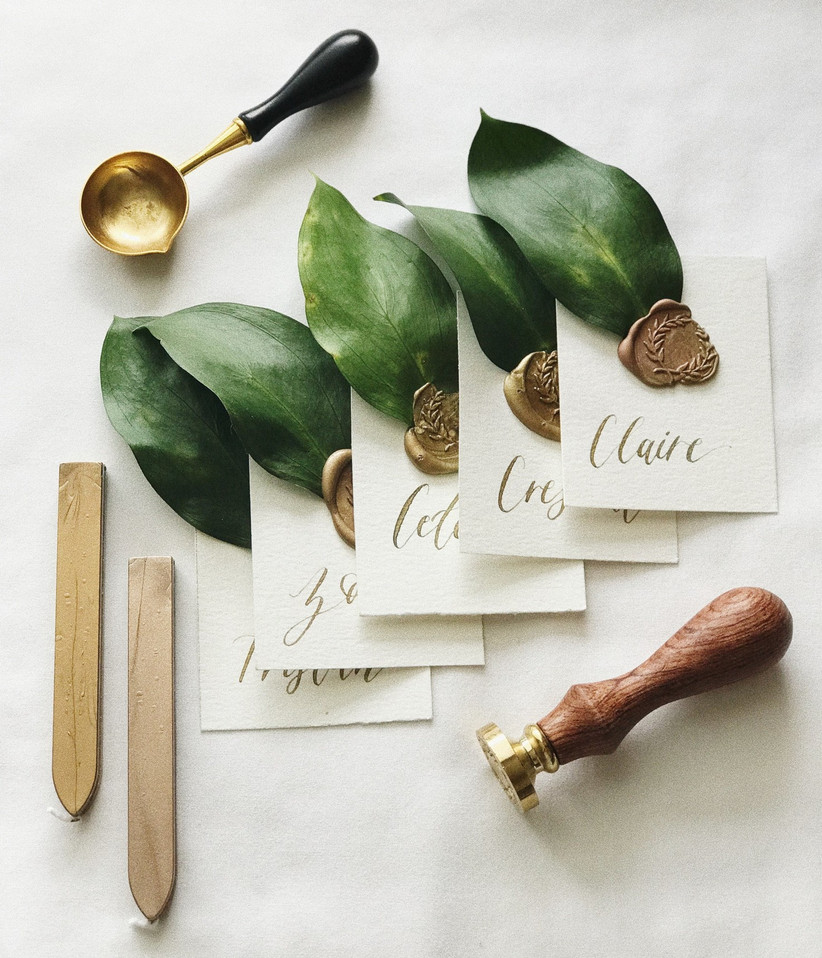 Amplify a plain place card with a bit of calligraphy, a gold wax seal and a leaf. So cute and simple!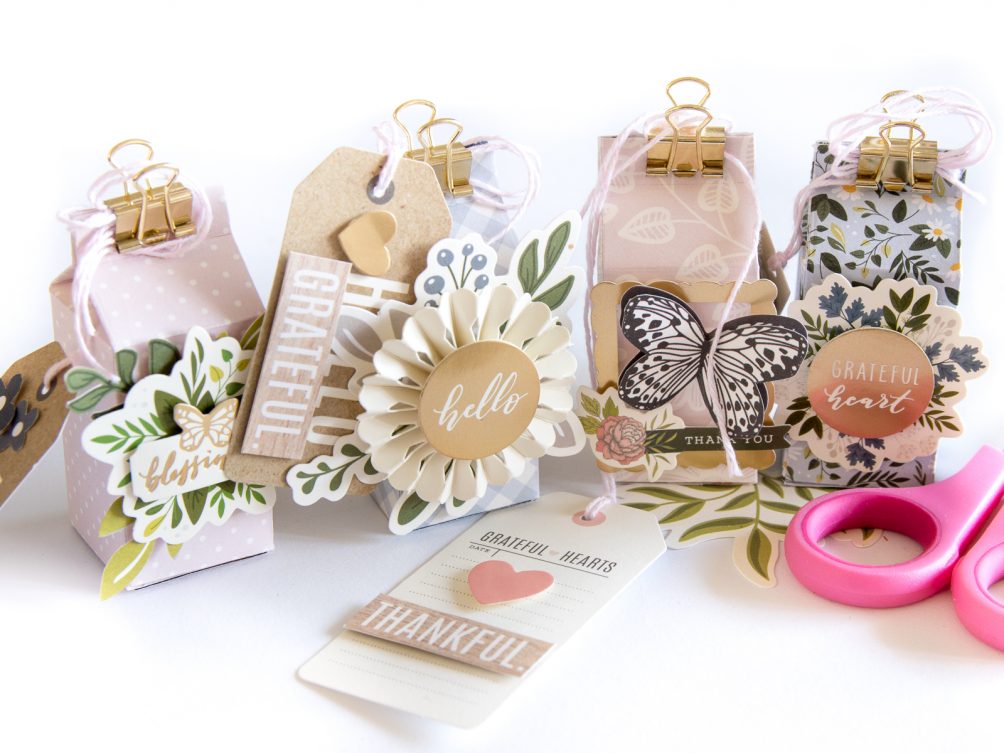 Turn paper into beautiful Thanksgiving place cards or gifts with this easy DIY idea!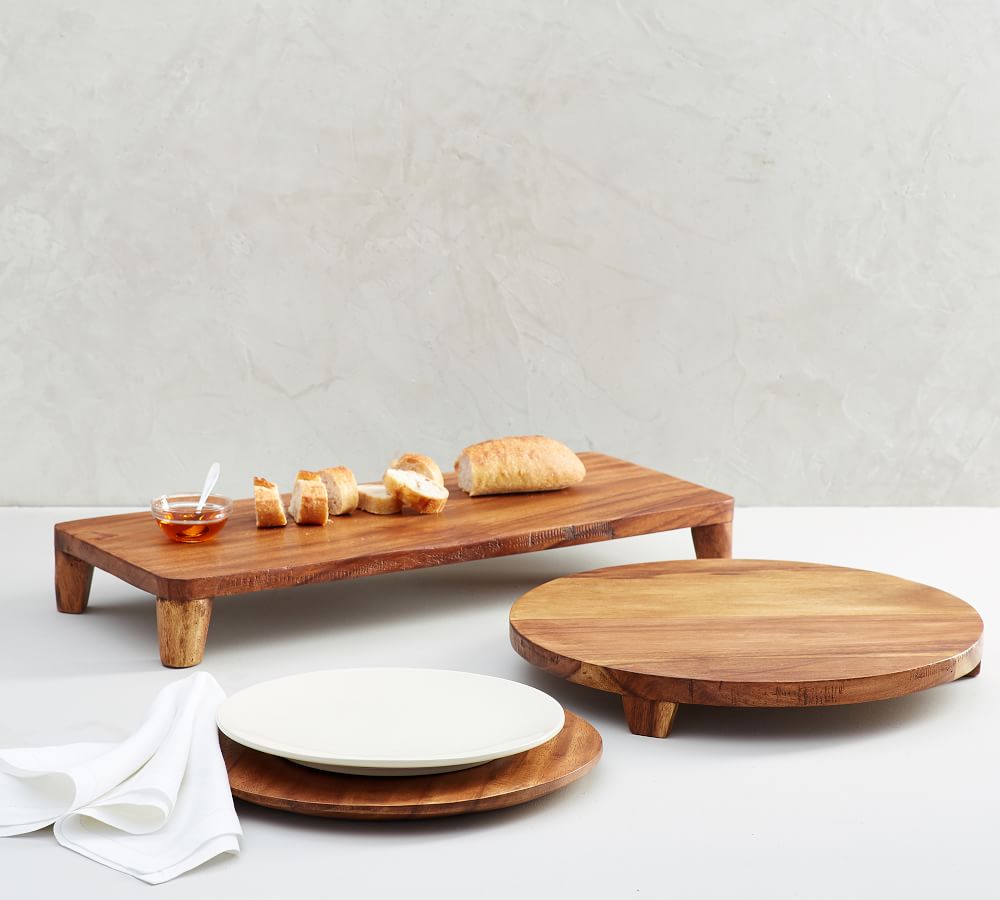 Incorporate a natural element into layered place settings with a beautiful Wood Charger. Highlighting its one-of-a-kind beauty, the rich grain and mix of tones give it depth and character.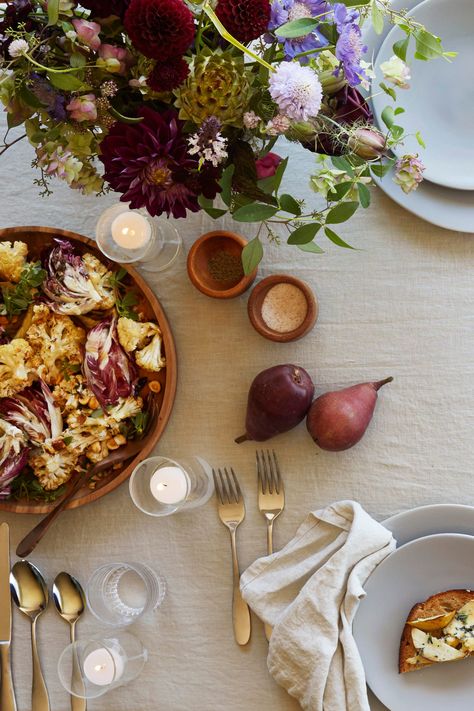 Classic Hemstitch Tablecloth Made of 100% Pure Handwoven Linen With an Intricate Hemstitched Border in a Weight and Texture. This one is available in a variety of different colors and sizes.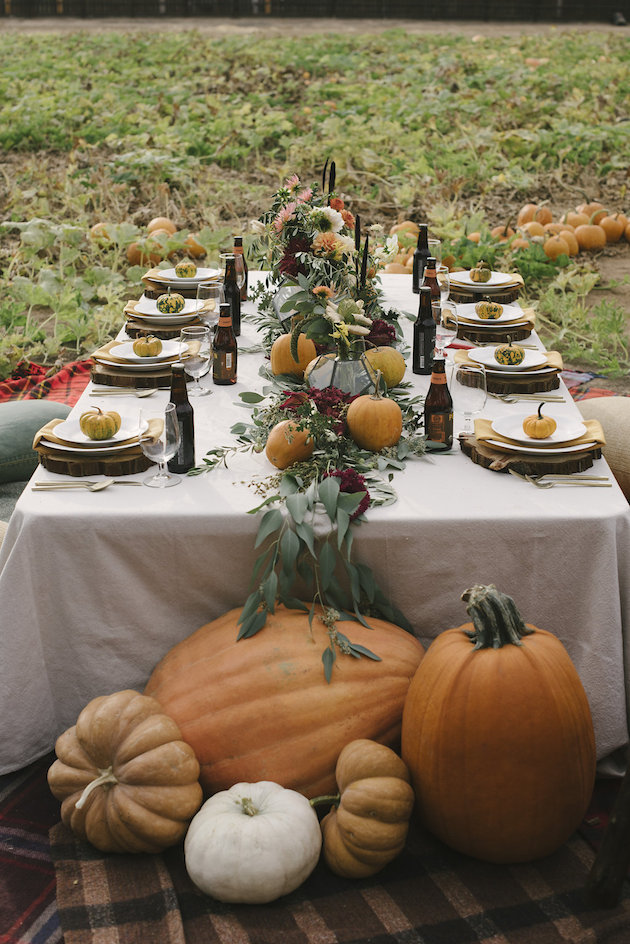 Just add some fresh flowers and little pumpkins to this pretty garland and your Thanksgiving table centerpiece is done!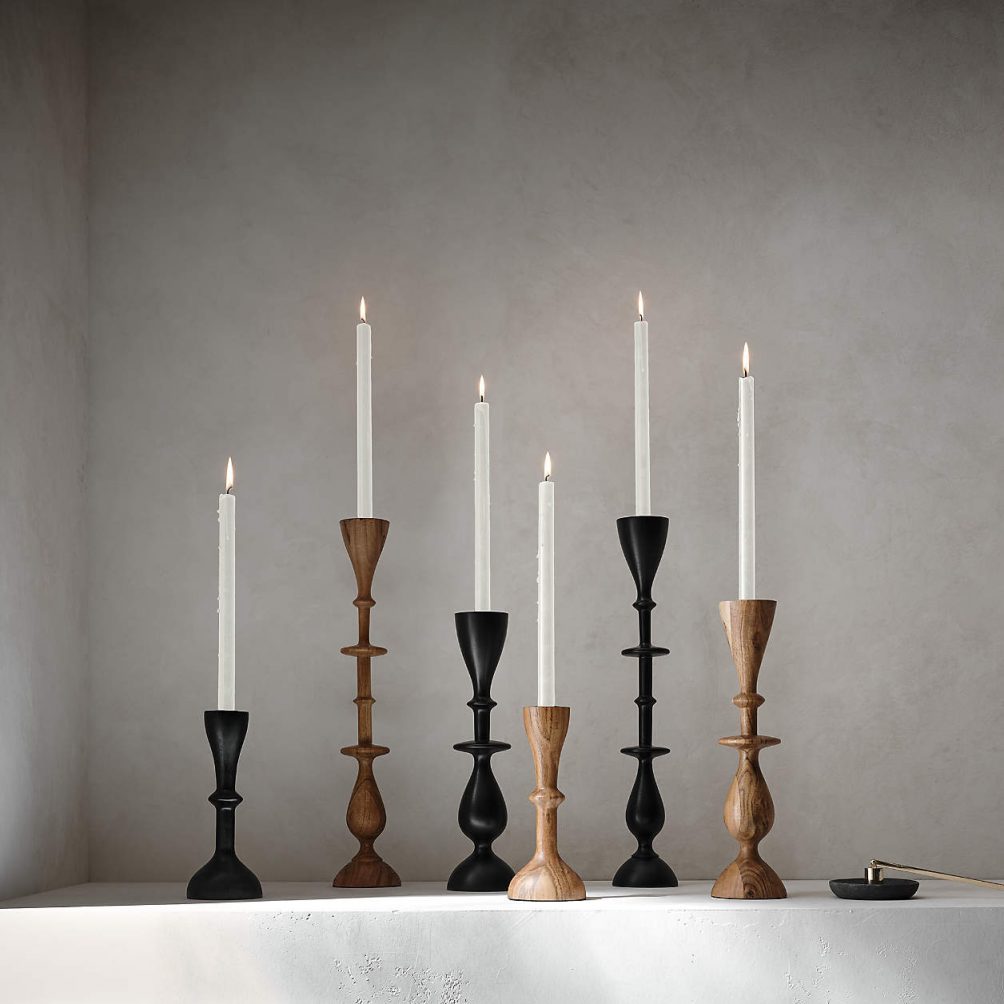 Natural mango wood turns shapely and striking taper candle holders, beautiful with wax taper candles or on their own as mantel sculptures. These candles would look so great with the greenery and flowers on your Thanksgiving table.
Have you ever used a living pumpkin as a vase for a centerpiece? It's so easy and so pretty on your table!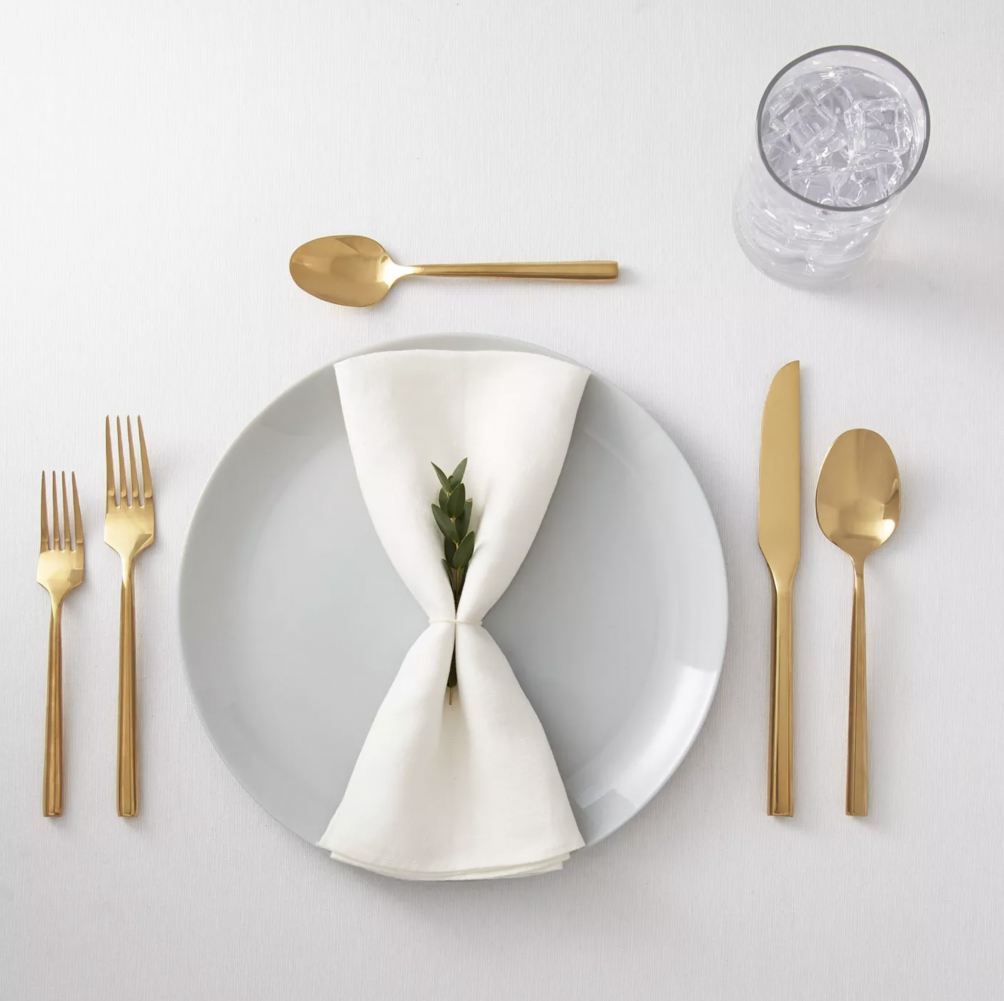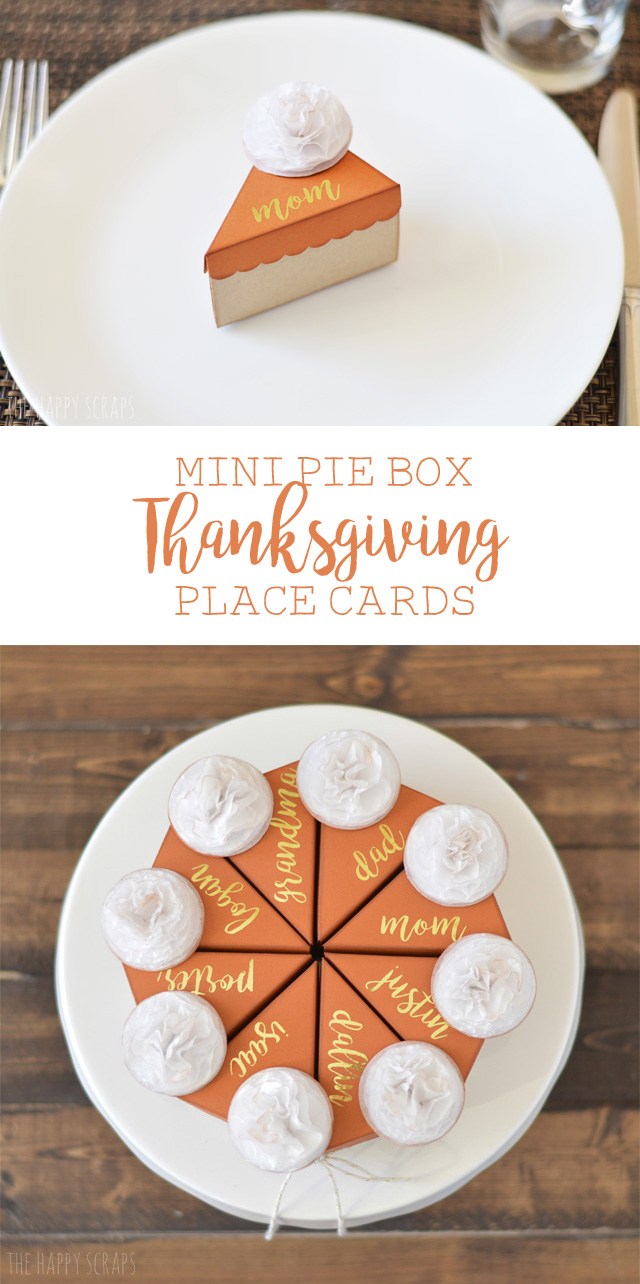 Welcome guests to the table with these DIY paper pies that can also be used as favors!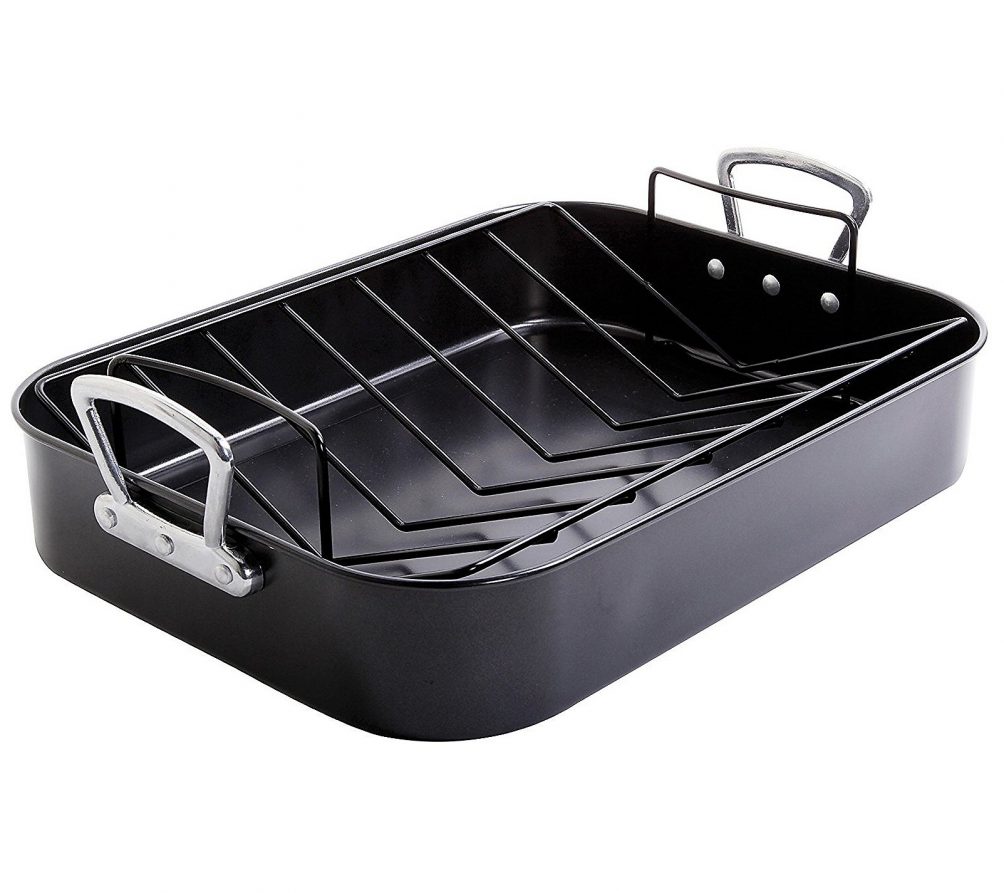 Pitch those cheap aluminum, fall-apart turkey roasters! This quality roaster with a metal rack features an easy-clean Xylan nonstick interior. The elegant French handles make you feel like a professional chef, and the carbon steel construction makes for a strong, durable roaster.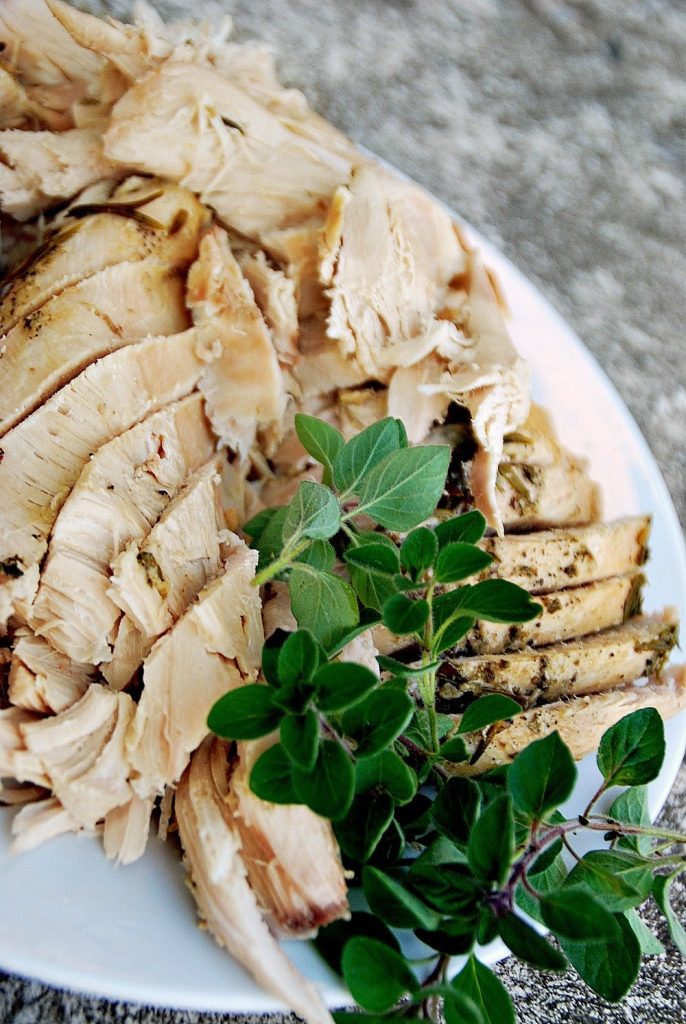 This is our favorite turkey recipe. Oil rubbed with seasoned herbs. So good!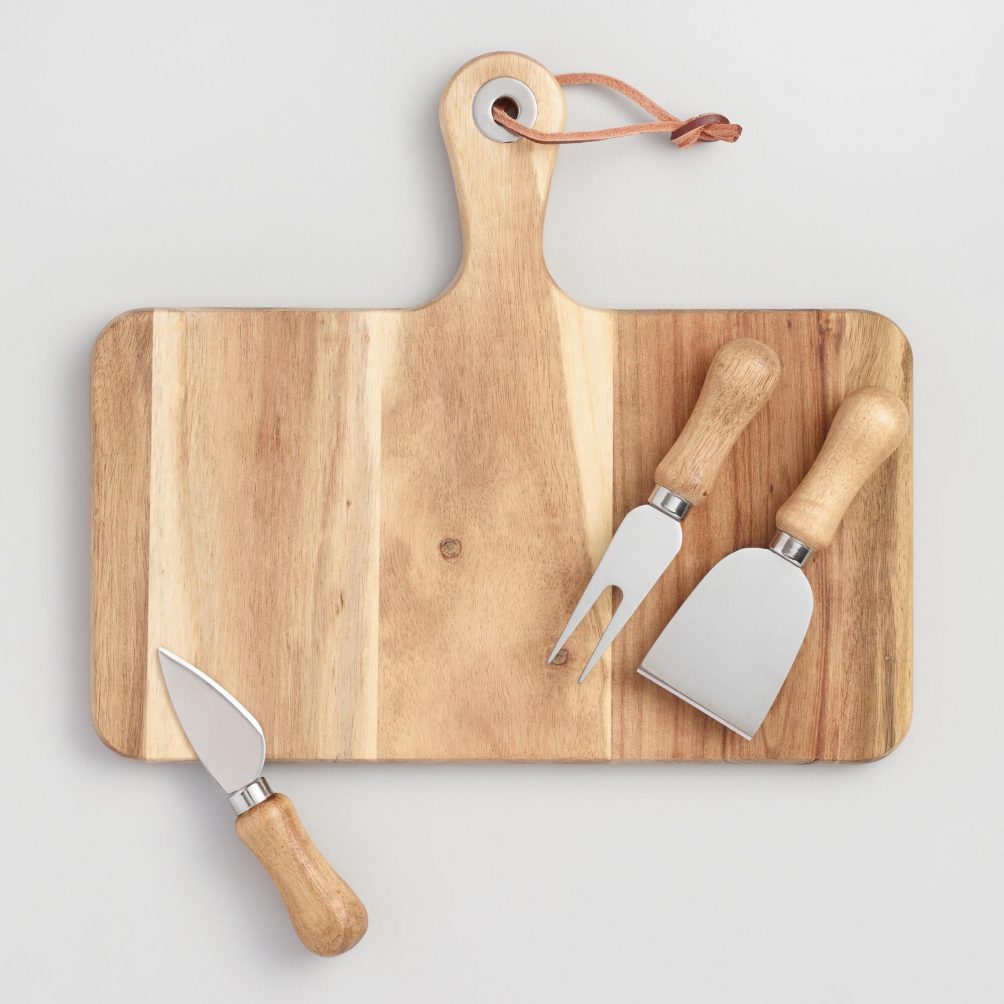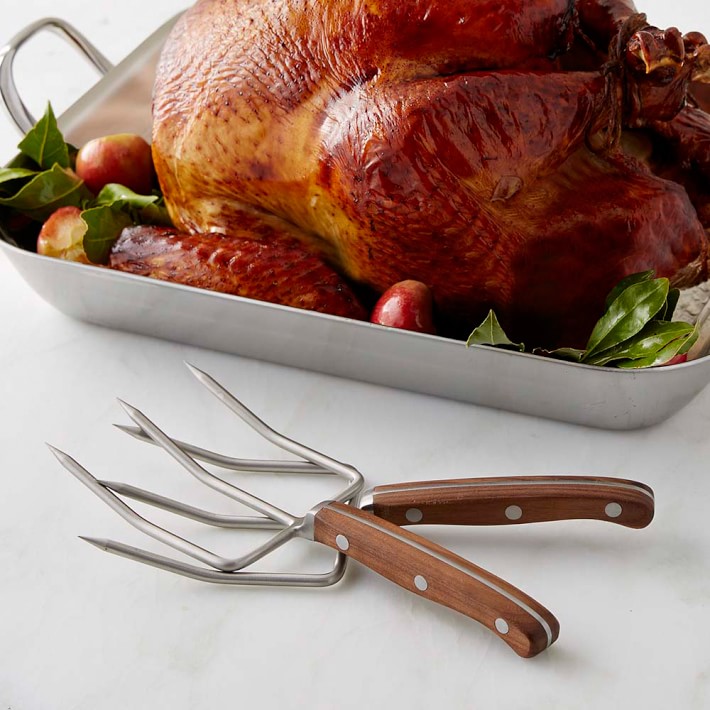 After you've roasted the perfect holiday turkey, make sure it's transferred from the roaster to the carving board with ease. Our lifters have the heft and strength to hold even the largest birds or cuts of meat. Smooth walnut handles offer a comfortable grip.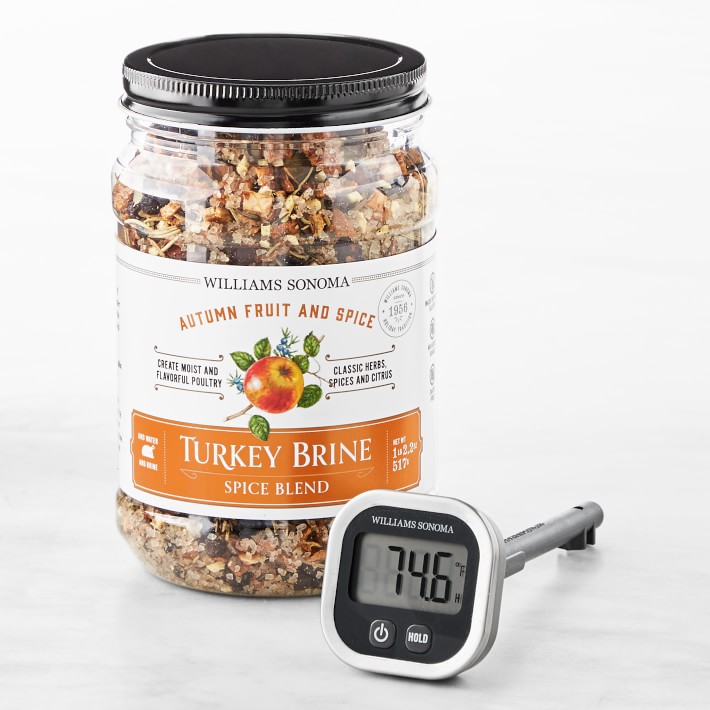 Brine your turkey, then keep track of the cooking progress easily. Our brining blend infuses your bird with the succulent flavors of sea salt, peppercorns, apples, juniper berries, lemon peel and rosemary. The precision thermometer ensures pork and poultry are cooked to a safe internal temperature and the desired doneness.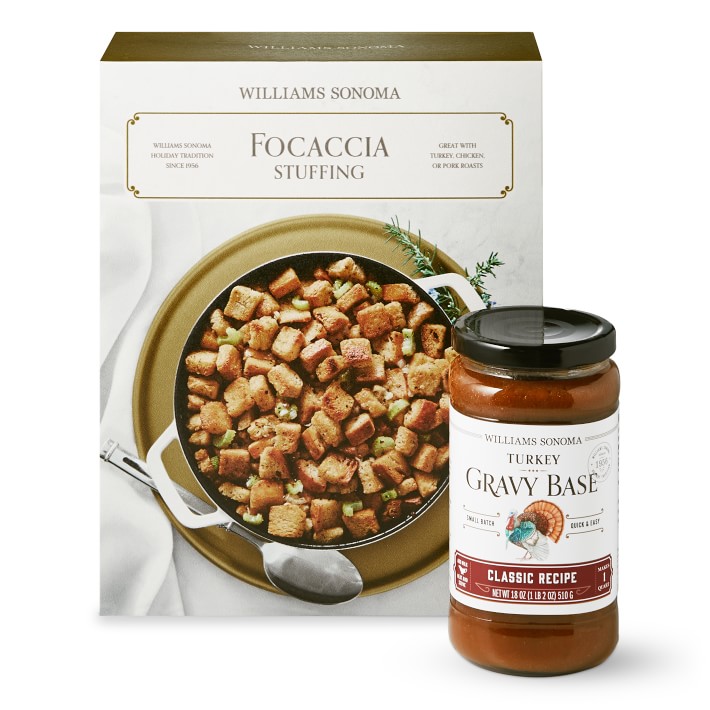 Celebrate the flavors of Thanksgiving with two of our signature sides – Turkey Gravy and Focaccia Stuffing. Each one is crafted with premium, natural ingredients for fresh, homemade flavor. Easy to prepare, they enhance your favorite homemade dishes and help you create a memorable holiday meal.
Turkey Gravy: Rich, flavorful gravy base made with real turkey. Simply add milk, simmer and serve.
Focaccia Stuffing: Italian-inspired stuffing crafted with hearth-baked loaves of focaccia, seasoned with aromatic herbs.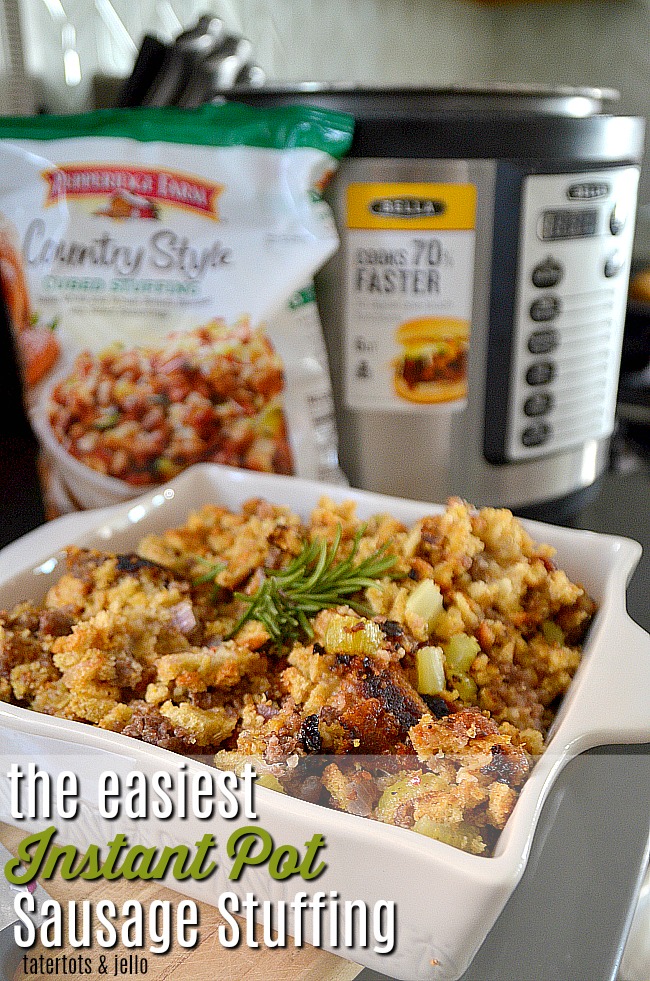 Have you ever made stuffing in your instant pot? It can be a blessing at Thanksgiving when the traditional oven is taken with your turkey and side dishes!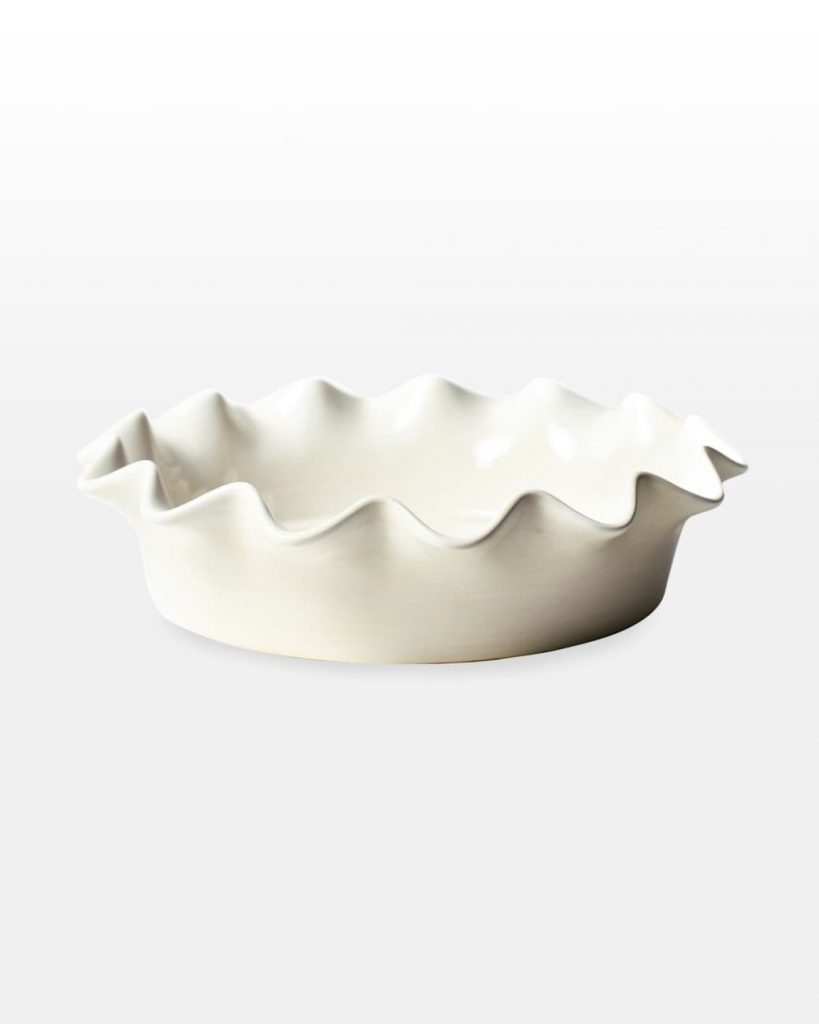 Handcrafted pie dish with ruffle accents. I love the pretty ruffle details.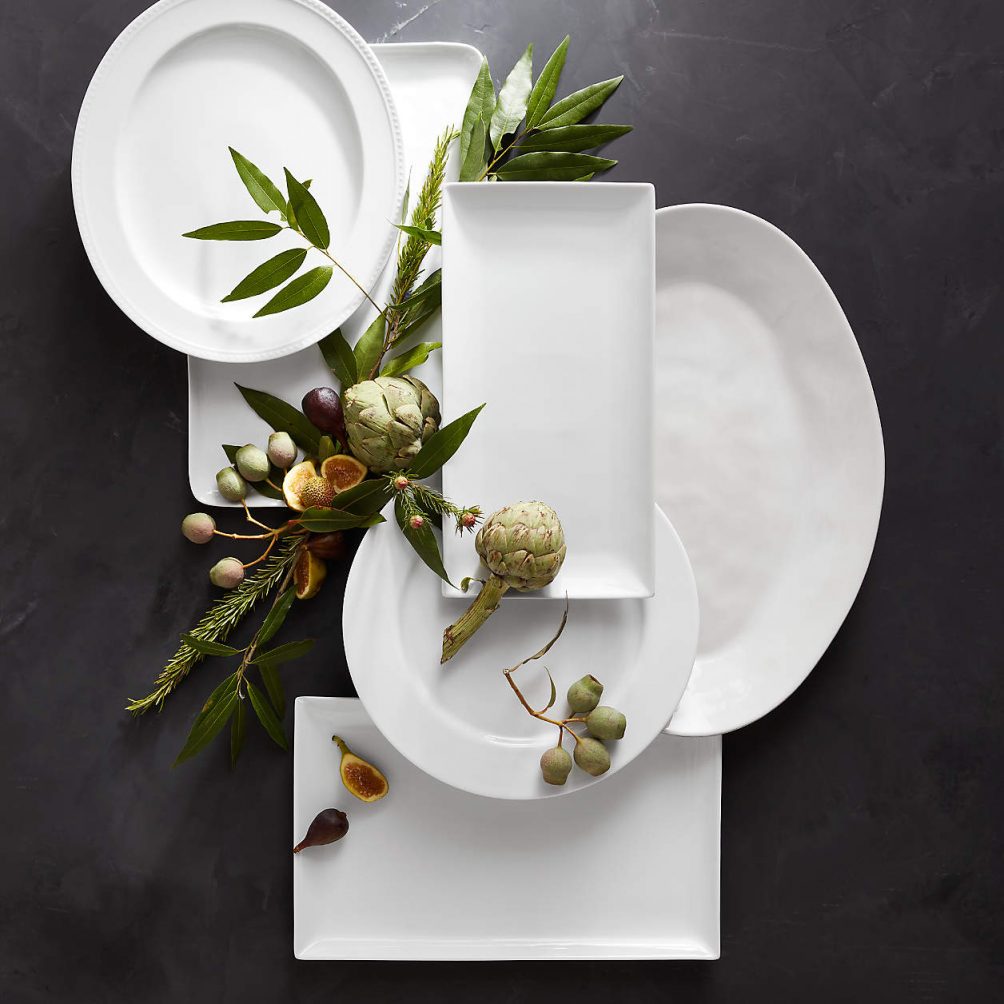 I love the serving pieces that coordinate with the Marin plates I shared above. They have so many coordinating pieces!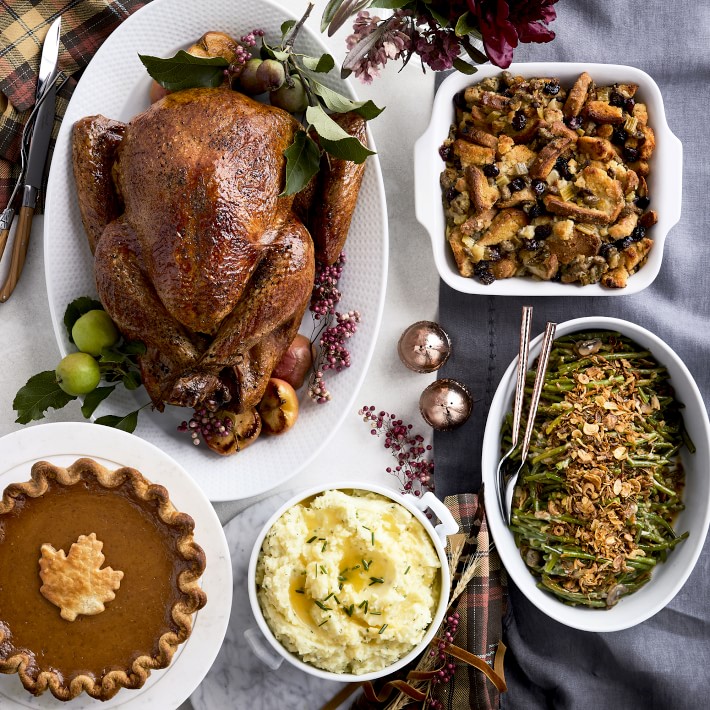 Complete Thanksgiving Dinner Delivered to You
Did you know you can order the entire dinner from Williams Sonoma – from their famous Willie Bird turkey and decadent home-style sides to a homemade pie finale. The feast for 12 includes:
Willie Bird Turkey: Choose from Free-Range, Organic, Pre-brined or Pre-Brined or Organic – all ready to roast from birds humanely raised on a healthy natural diet for extraordinarily juicy, flavorful results (see More Info tab for details).
Willie Bird Fresh Pre-Roasted Turkey: Extraordinarily juicy, flavorful and fully roasted.
Sausage Apple Cranberry Stuffing: Toasted French bread cubes mixed with chunks of Italian sausage, sautéed Fuji apples, dried cranberries and sweet caramelized onions.
Traditional Green Bean Casserole: Fresh green beans nestled in creamy Gruyère cheese sauce and topped with crisp, golden sautéed shallots.
Butter Chive Mashed Potatoes: Creamy mashed Yukon Gold potatoes folded in rich butter and fresh chives.
Pumpkin Pie: A buttery, flaky homemade pastry crust with a creamy spiced pumpkin custard filling, topped with a decorative pastry leaf.
More Thanksgiving Ideas
Here are some more easy ways to make this Thanksgiving one that everyone will remember!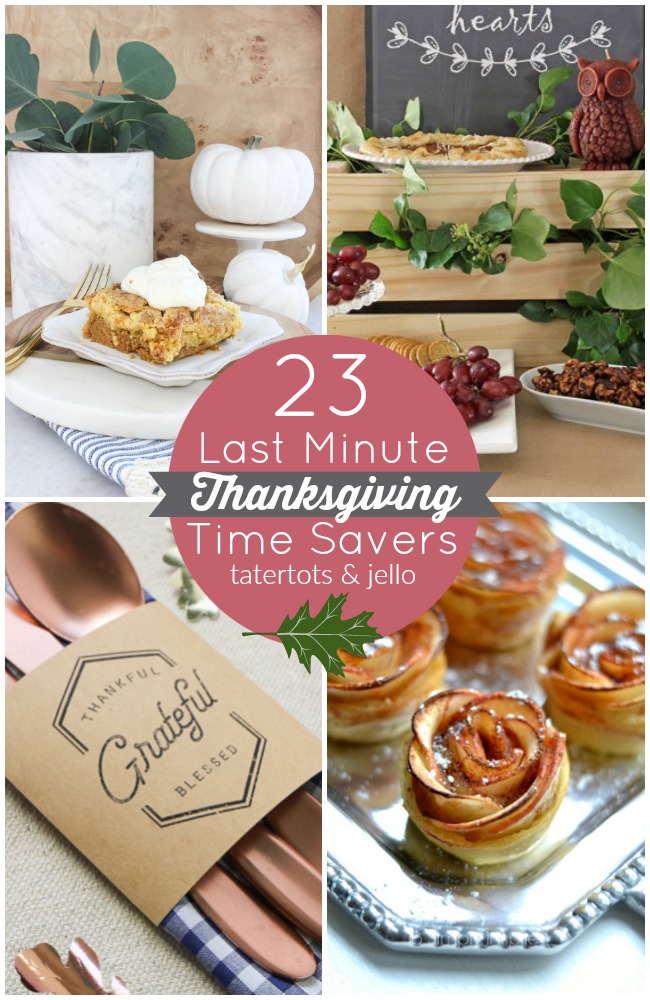 Don't stress about the holiday, grab these easy ideas for the best THanksgiving ever!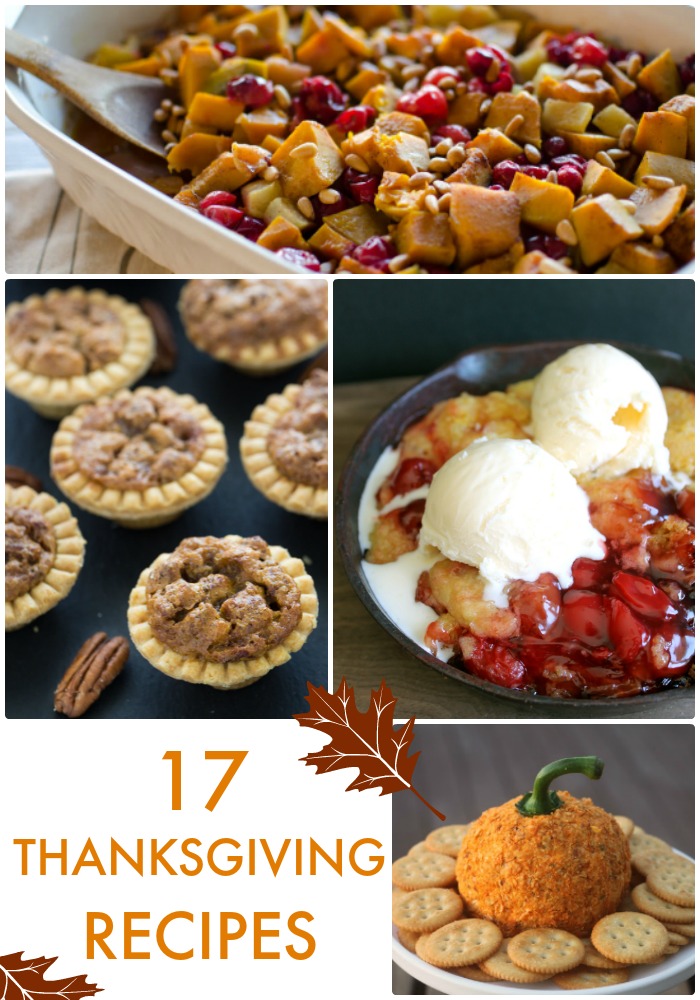 So many amazing and easy recipe Ideas. Check them out!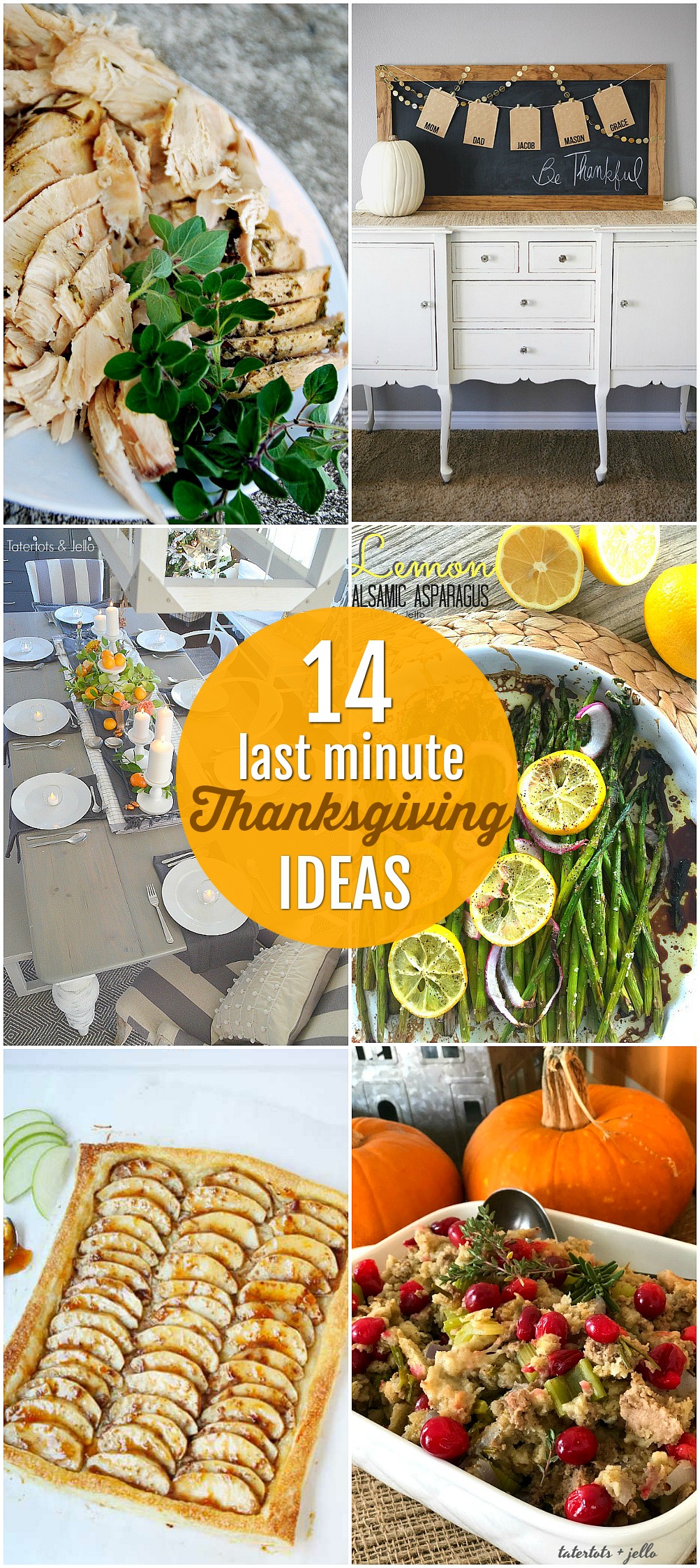 There are so many great ideas to make your Thanksgiving even more special. Recipes, thankful family ideas and more!
Which Ideas is YOUR favorite?
Let me know in the comments!
xoxo