How to make a live pumpkin floral centerpiece. Create a gorgeous natural fall tablescape with a live pumpkin and fresh flowers.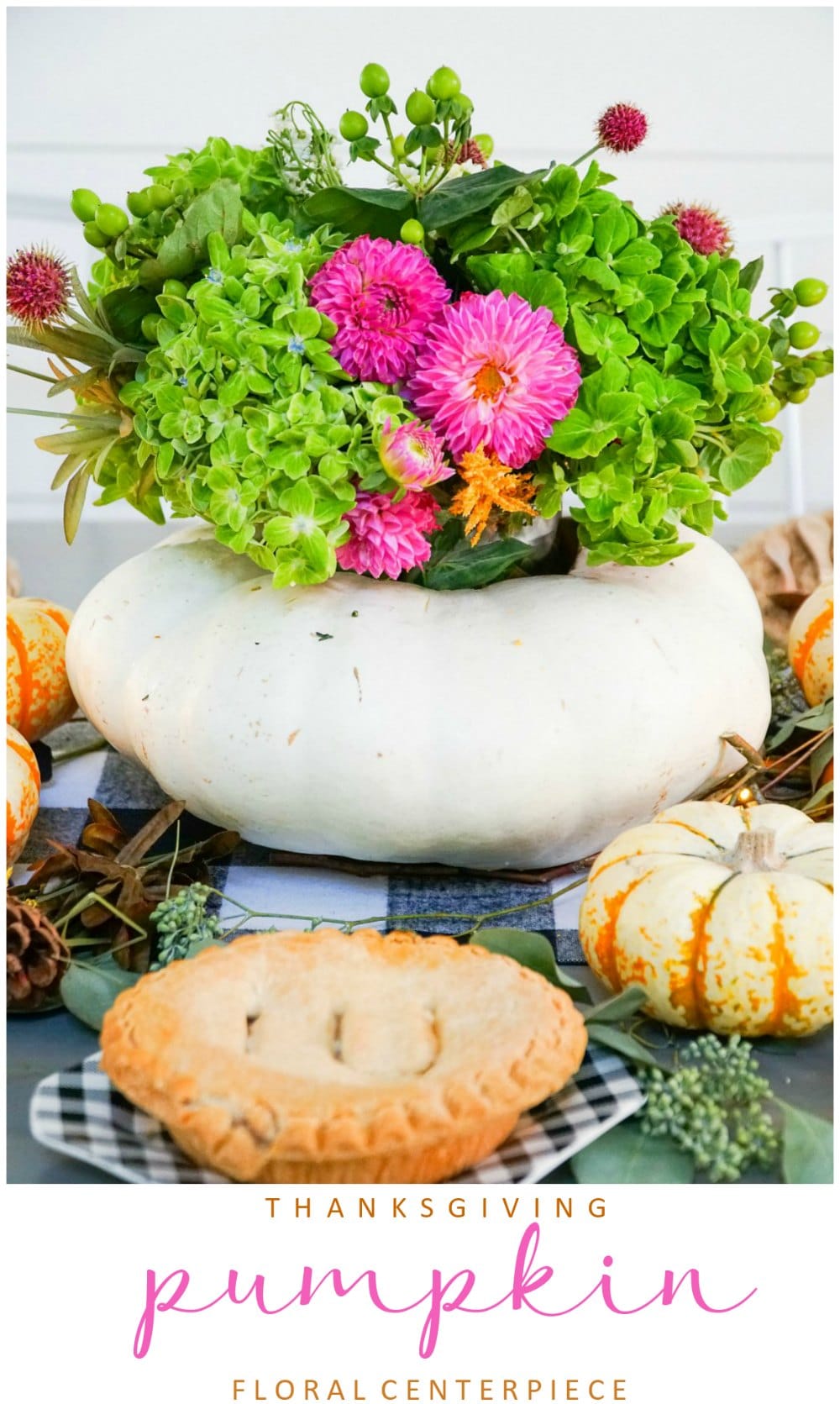 Thanksgiving Live Pumpkin Floral Centerpiece
It's our first Thanksgiving in our new home and I am so excited! I've been planning the menu for weeks and planning out the table. One thing I really want to create is a gorgeous Thanksgiving table.
20 Thanksgiving Table Ideas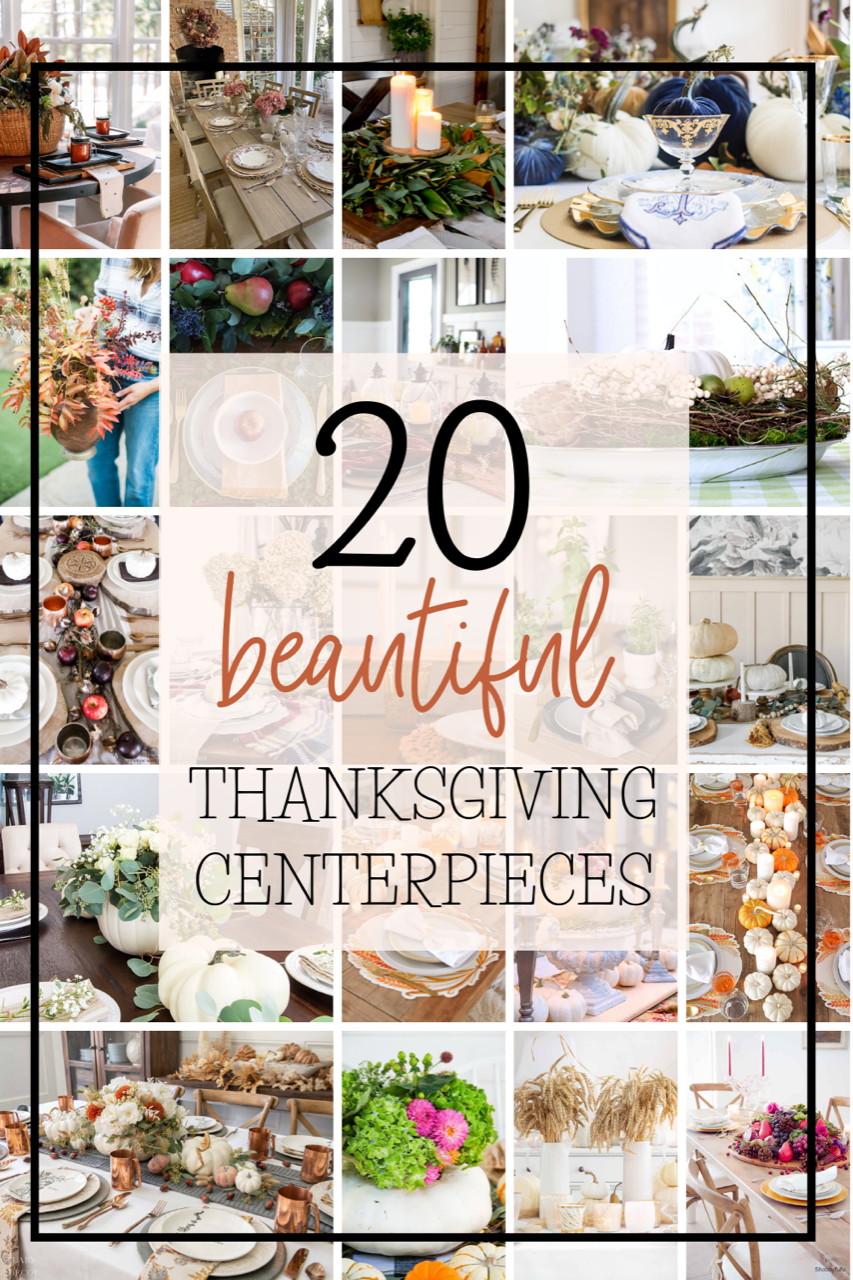 I'm joining some creative friends who are all sharing beautiful Thanksgiving table ideas! Be sure to scroll down and be inspired for YOUR Thanksgiving celebration.
Natural Elements Make Beautiful Centerpieces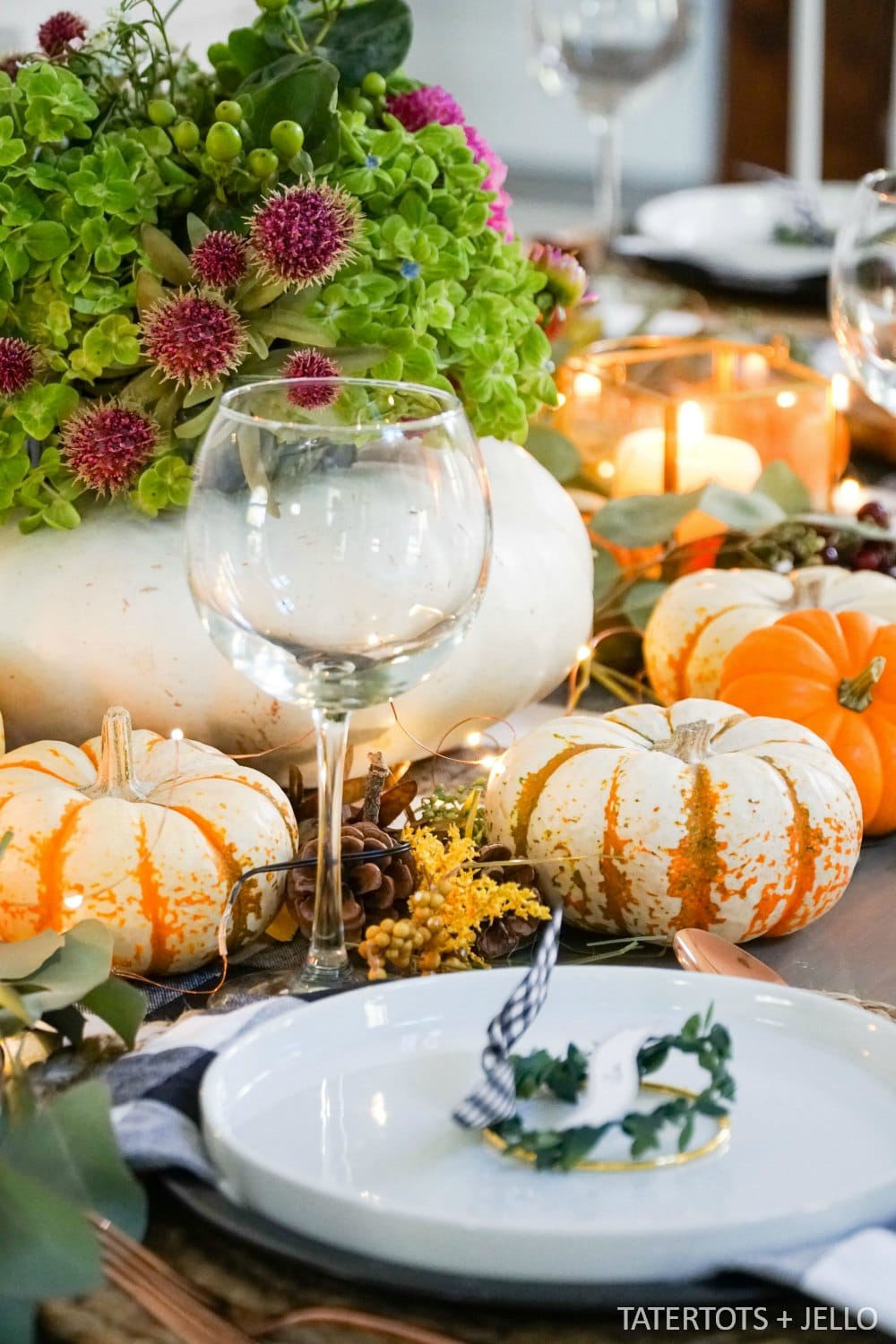 I love using natural elements and pumpkins are so pretty to use in fall centerpieces. A couple of years ago I potted succulents in faux pumpkins and they were so cute. So this year I thought it would be fun to use a live pumpkin for our centerpiece and have fresh flowers coming out, along with twinkling lights and greenery!
I filmed how quick and easy it was to make this centerpiece. Check out my little video:
Pick a Large Pumpkin
The pumpkin I chose was large and flat so it was really easy to carve and the perfect size for the short glass vase I used.
Trace Around Your Vase
Put the vase on top of the center of the pumpkin and use a pen to trace the vase.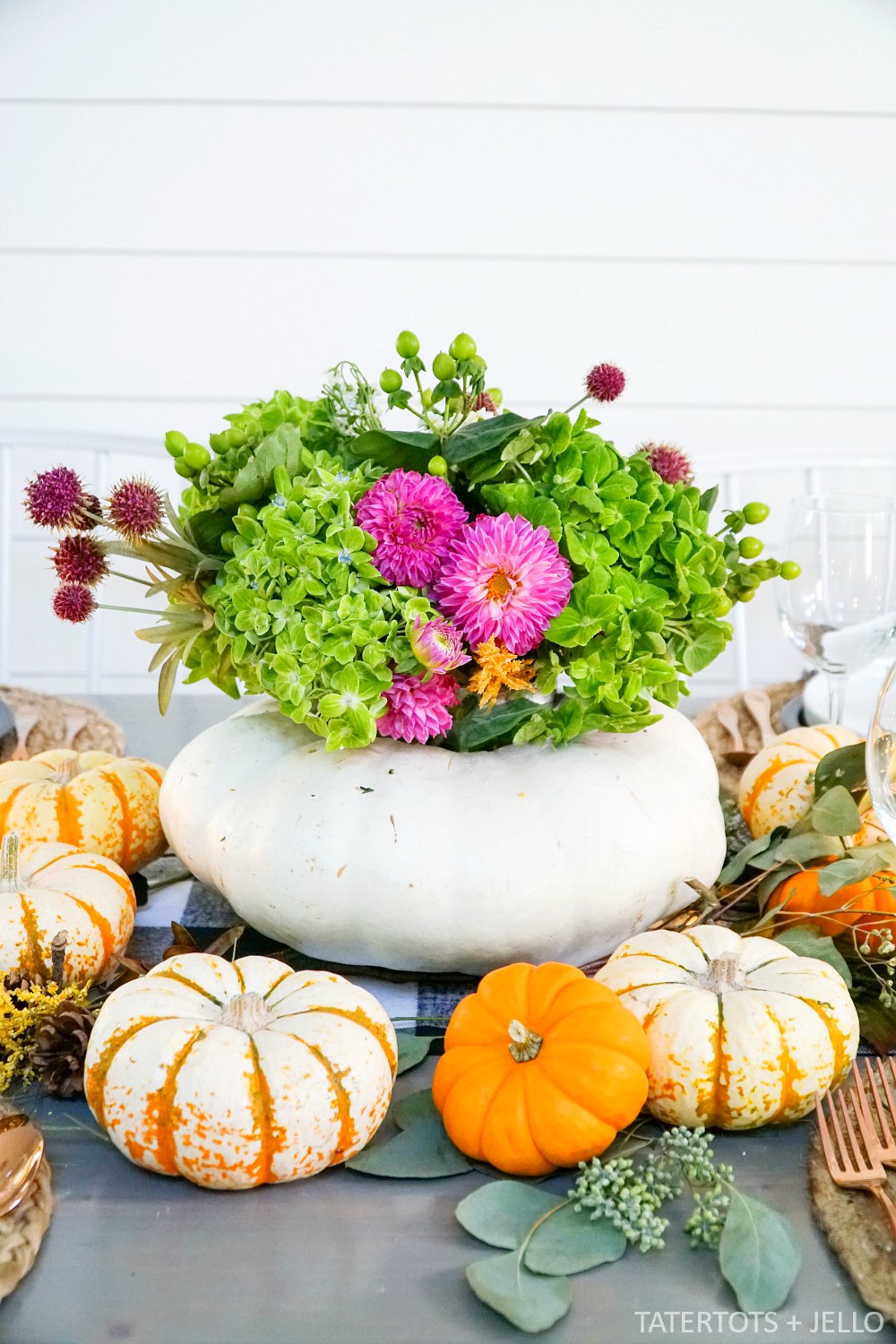 Cut the Top Off Your Pumpkin
Use the pen marks as a guide and cut a hole around the stem of the pumpkin and take the top off.
Scoop Out the Pumpkin Seeds
Use a spoon and scoop out the area where your vase will sit. You might have to dig into the flesh at the bottom of the pumpkin to create a flat surface for the vase.
Insert the Vase
Fill your vase with water and put it inside the cavity you created in your pumpkin.
Cut the Floral Stems
Measure how deep your vase is and trim your flowers to the right length.
Arrange the Florals
Start with the biggest flowers and put them inside the vase. Then fill in the gaps with the rest of the flowers. Make sure to distribute all of the flowers evenly so the arrangement looks good from all side.
Pumpkin Floral Centerpiece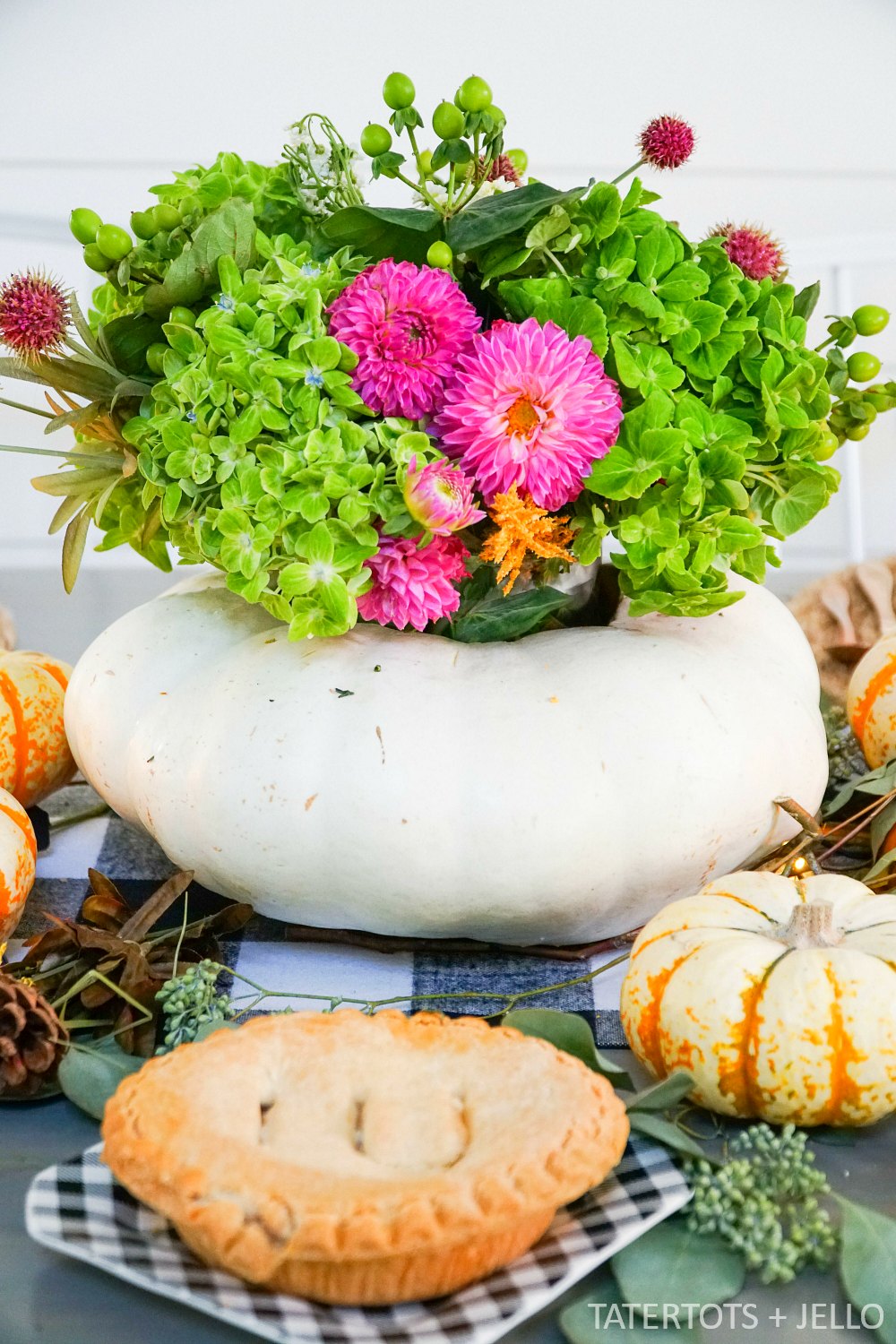 I put my pumpkin centerpiece in the middle of our table. I used a black and white buffalo check runner underneath. Then I spread a layer of greenery around the pumpkin, followed by flowers, smaller pumpkins and fairy lights. I love the way it looks!
20 Thanksgiving Table Ideas





Pin It For Later!

Tag me on Instagram at @tatertotsandjello if you end up making a pumpkin – I would love to see YOUR creation! Happy Thanksgiving!!
Have a Creative Day!
xxox