This post brought to you by Carapelli Olive Oil. All opinions are 100% mine.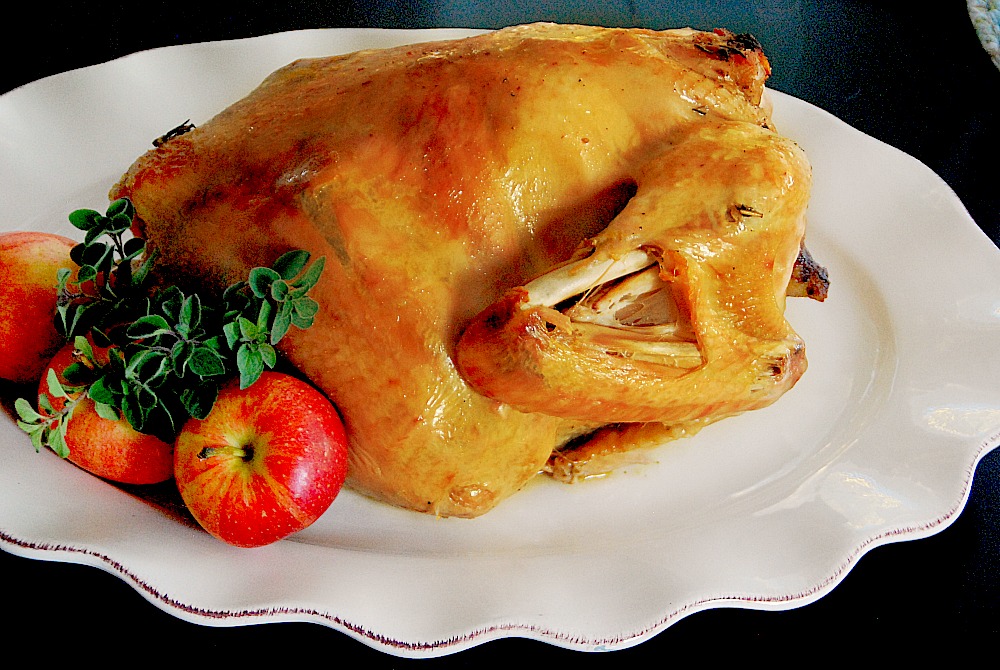 The easiest most flavorful herb-roasted thanksgiving turkey recipe
When you think of olive oil you think of fields in Italy, right? At least I do. So it makes sense that great olive oil comes from Italy.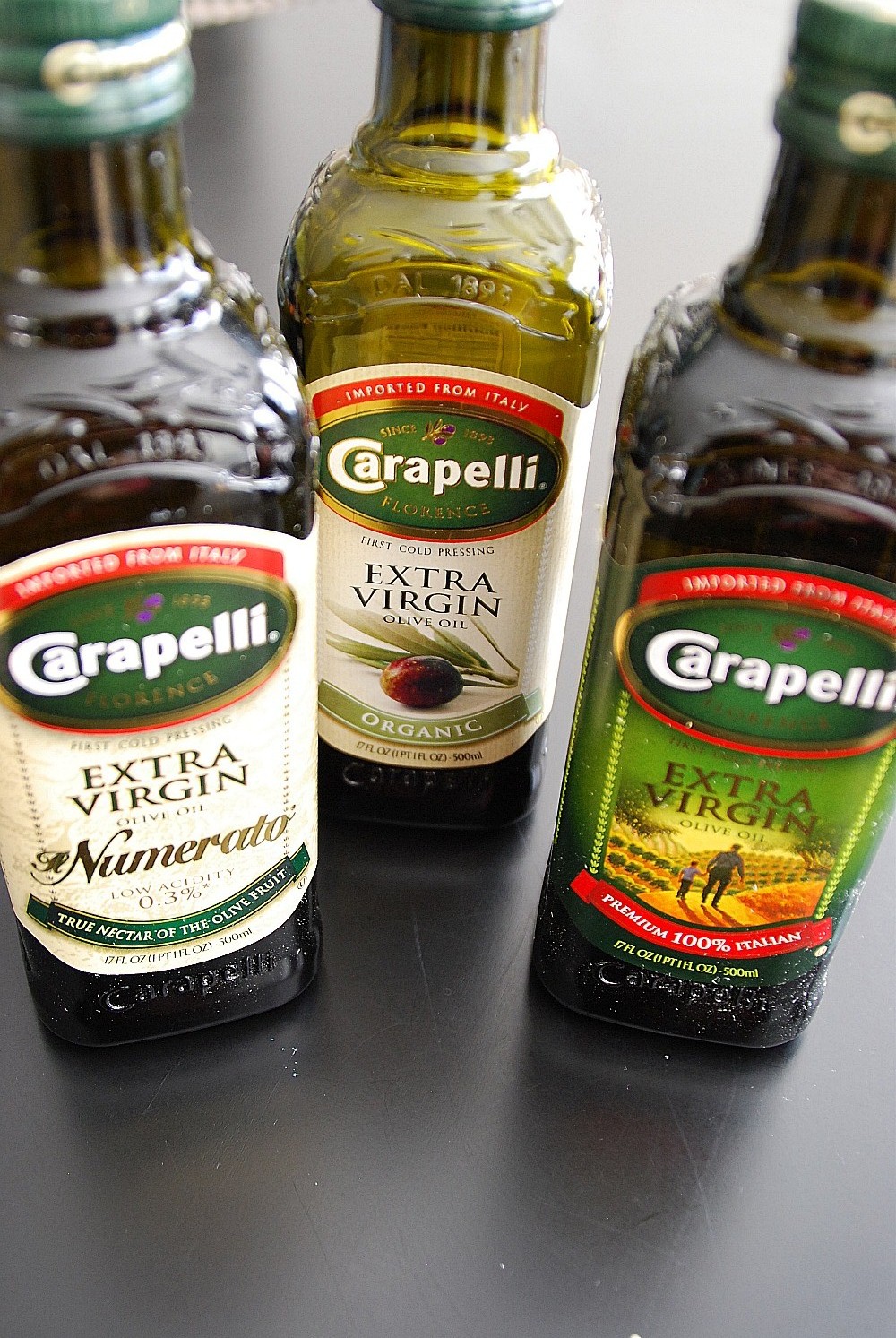 So I was so excited when Carapelli sent me three bottles of olive oil to sample. Carapelli Olive Oil has been making their olive oil since 1893 and they are Italy's number one extra virgin olive oil. I found out that olive oil sampling is a lot like wine sampling, who knew?? Here's how you can sample different olive oils and find the one that YOU prefer:
First you need a rounded, colored glass to use. The reason it's colored is that it conceals the color of the oil so you can't judge it based on look. Plus, the cupped shape fits right into the palm of your hand. And your hand warms the glass which warms the oil and brings out the flavor and smell!
I also discovered that there are 4 S's in the art of olive oil tasting — swirl, sniff, slurp, swallow:
Swirl — this releases the esters in the oil which are the molecules that contain the aroma.
Sniff –– Inhale deeply. Is it intense or more subtle? The aroma is the key to the fruitiness of the oil!
Slurp — Sip it — different oils can have different taste, just like wine. From fruity to peppery to smooth.
Swallow — After swallowing you shouldn't have any after-taste.
I discovered that I enjoyed the Carapelli Extra Organic Virgin Olive Oil the most – it had a clean taste.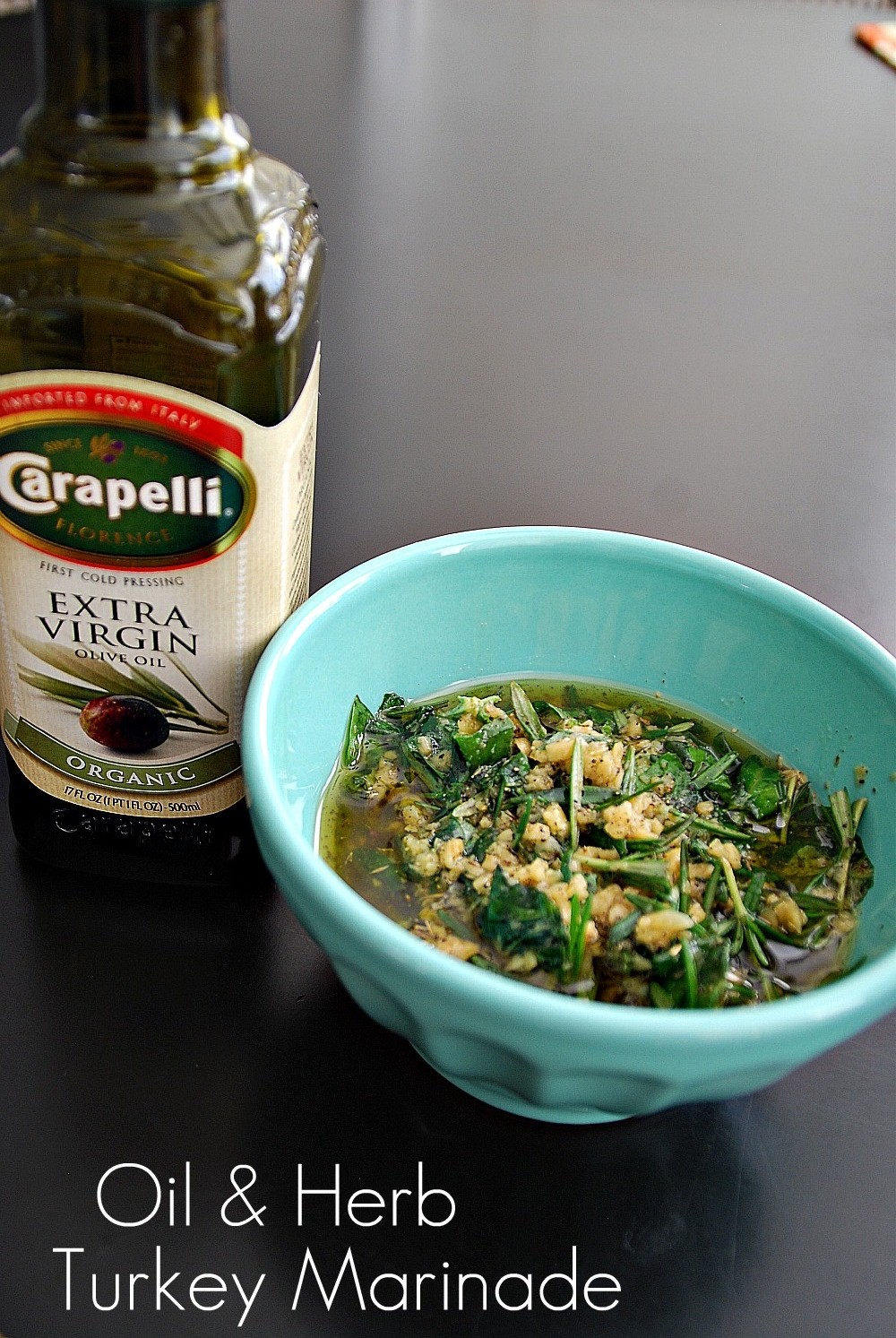 Wow – I learned so much. I put it to the test with my cheap-o store-bought brand and I couldn't believe the difference. I wondered how it would taste in a recipe. And since Thanksgiving is coming up, I made a turkey and used the Carapelli olive oil — it was beyond fabulous!! I mixed it with fresh herbs into a marinade, then let it marinate overnight The turkey came out crisp on the outside, moist on the inside and the flavors of the herbs were beautiful!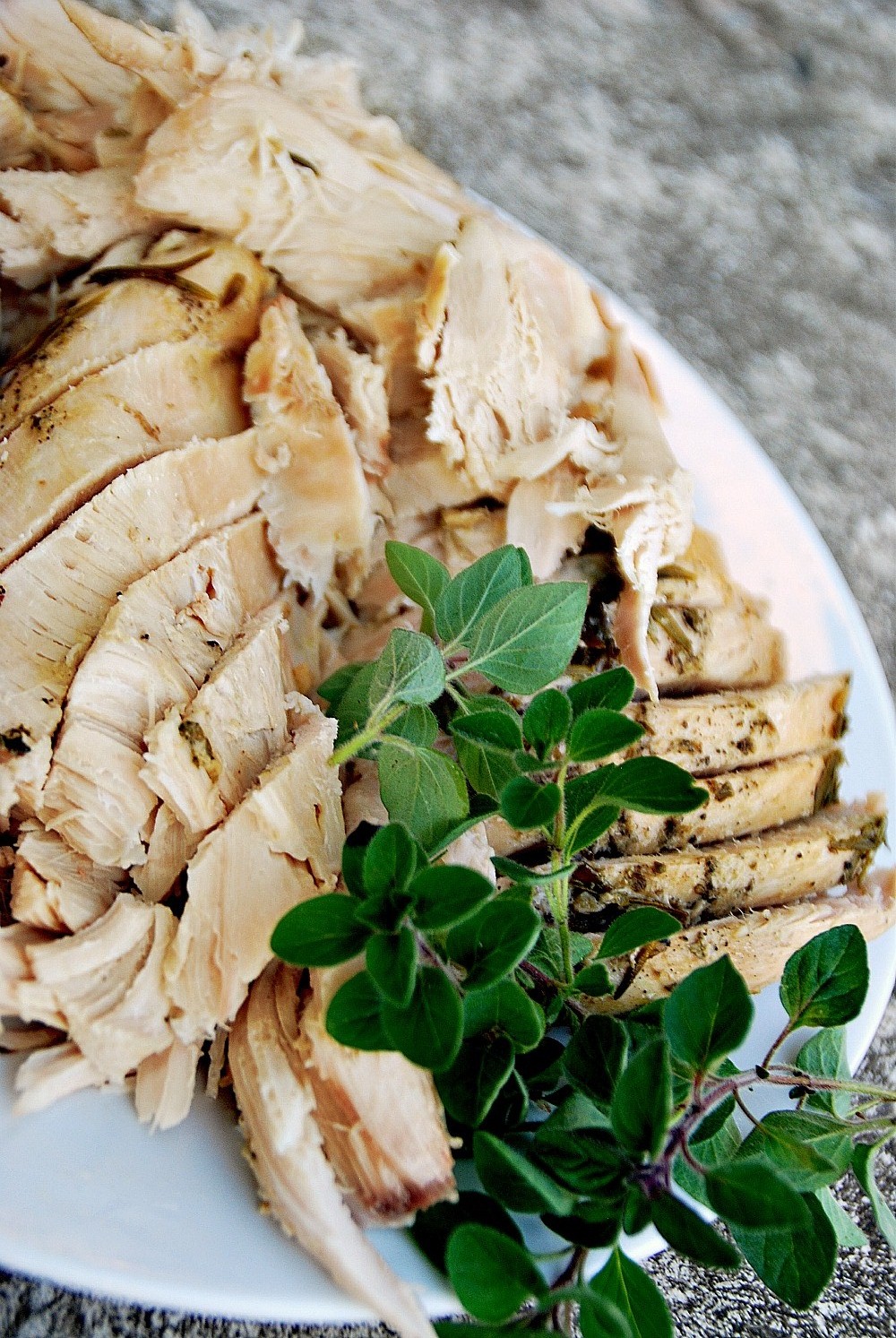 The easiest most flavorful herb-roasted thanksgiving turkey recipe
Herb-Roasted Thanksgiving Turkey
3/4 cup olive oil
3 tablespoons minced garlic
2 tablespoons chopped fresh rosemary
1 tablespoon chopped fresh basil
1 tablespoon Italian seasoning
1 teaspoon ground black pepper
salt to taste
1 (12 pound) whole turkey

Put all herbs and olive oil in a bowl. Let marinade overnight. Then prepare the turkey, peel back the skin and put the marinade under the breast, thighs and legs. mixture inside the skin. Fold skin back over and hold in place with toothpicks. Rub the remaining mixture on the outside of the breast. Put the turkey in a roasting pan with 1/4 inch of water at the bottom. Tent the top with tin foil. Put in a 325-degree over and cook until done, cooking time depends on how many pounds the turkey is. Usually 3-4 hours.
And I also made some Oil and Vinegar Dipping Sauce that was wonderful with crusty bread!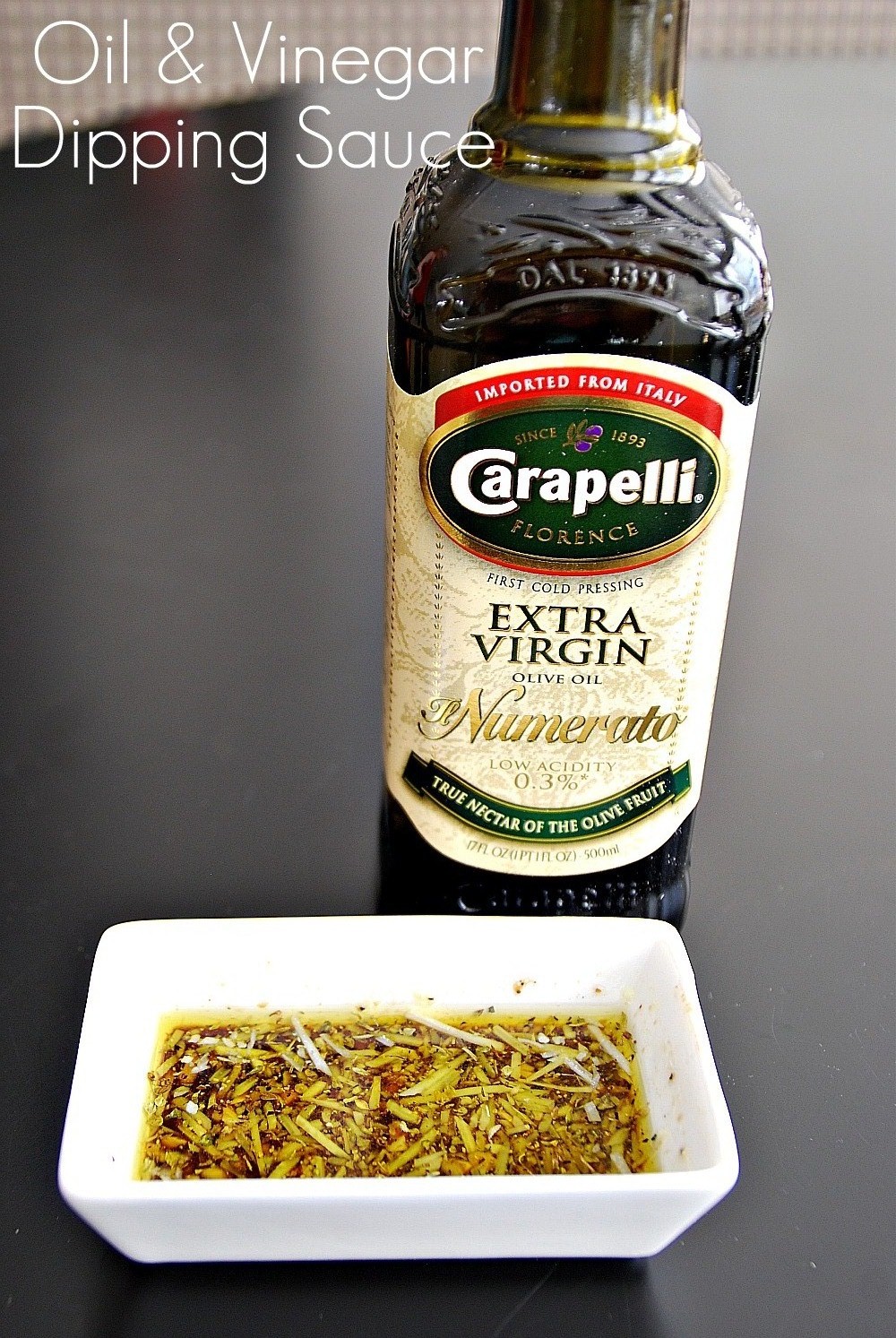 Olive Oil and Vinegar Dipping Sauce:
3 large cloves garlic, minced
2 tablespoons balsamic vinegar
5 tablespoons extra-virgin olive oil
1/2 teaspoon crushed red pepper flakes
1 teaspoon fresh rosemary, chopped
1 pinch salt and black pepper
Take all of the ingredients, mix them up and enjoy!!
And Carapelli's is offering a $1 off coupon, so you can experience their new line of olive oils – you can get it at www.carapelliUSA.com
$1.00 OFF coupon at www.CarapelliUSA.com
Are you looking forward to the turkey most or the side dishes??
I am SO excited for Turkey and Mashed Potatoes!!
Happy Thanksgiving!!
xoxo


PS — Be sure to check out Oh My Crafts' 12 Days of Christmas — tons of great Holiday gift and packaging tutorials 🙂