Hobby Lobby
. All opinions are 100% mine.
Cozy Fall
Mantel and DIY Yarn Pumpkin Garland. Create a cozy layered mantel with a beautiful fall sign, foliage, vibrant fall pumpkins and A matching DIY yarn pumpkin garland!
Cozy Fall Mantel and DIY Yarn Pumpkin Garland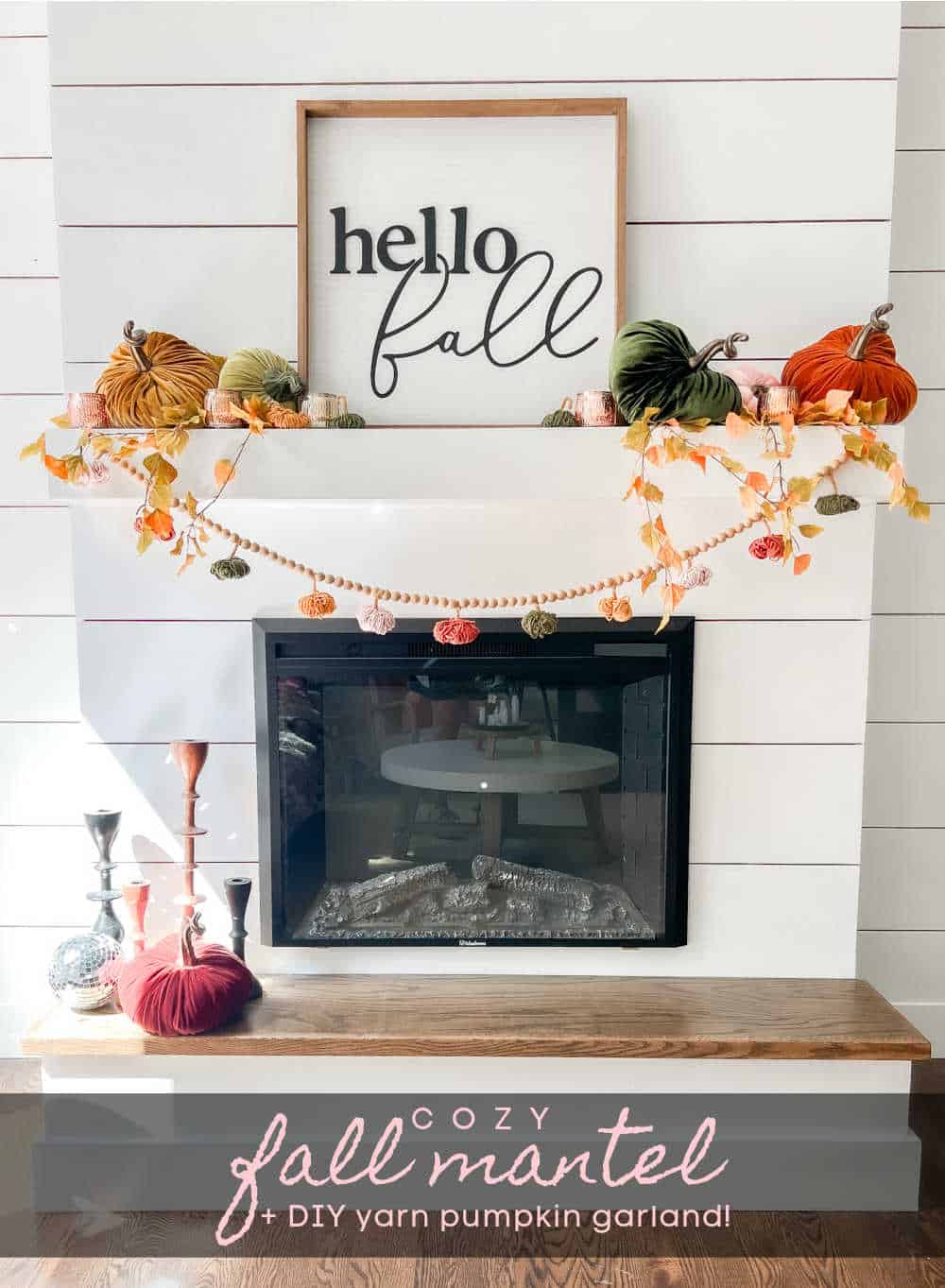 Raise your hand if you are excited for fall and cooler weather! Fall is my favorite time of year in Utah. The weather cools down and our gorgeous mountains are awash in the warm colors of fall! The textures of fall are warm, vibrant and cozy. I had so much fun teaming up with
Hobby Lobby
to bring the warm feeling of
Fall
into our home with this autumn mantel.
Easy Ways to Create a Warm and Vibrant Fall Mantel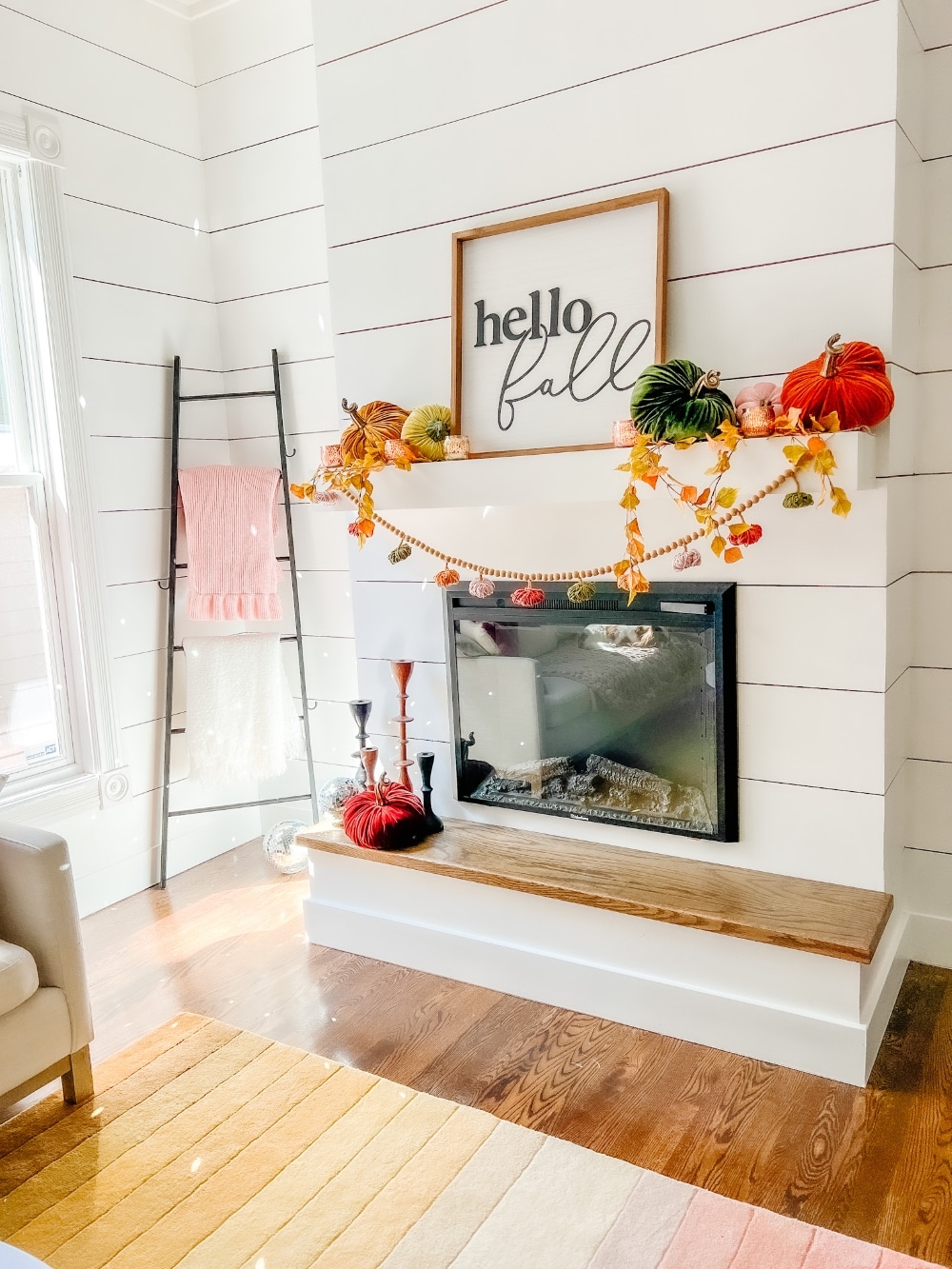 I headed over to Hobby Lobby and their
" target="_blank" rel="noreferrer noopener nofollow">Fall Department.
And guys, this week, all items in their Fall Department are 50% off! There were so many beautiful fall items! I thought I would share some easy ways to create a warm and vibrant fall mantel!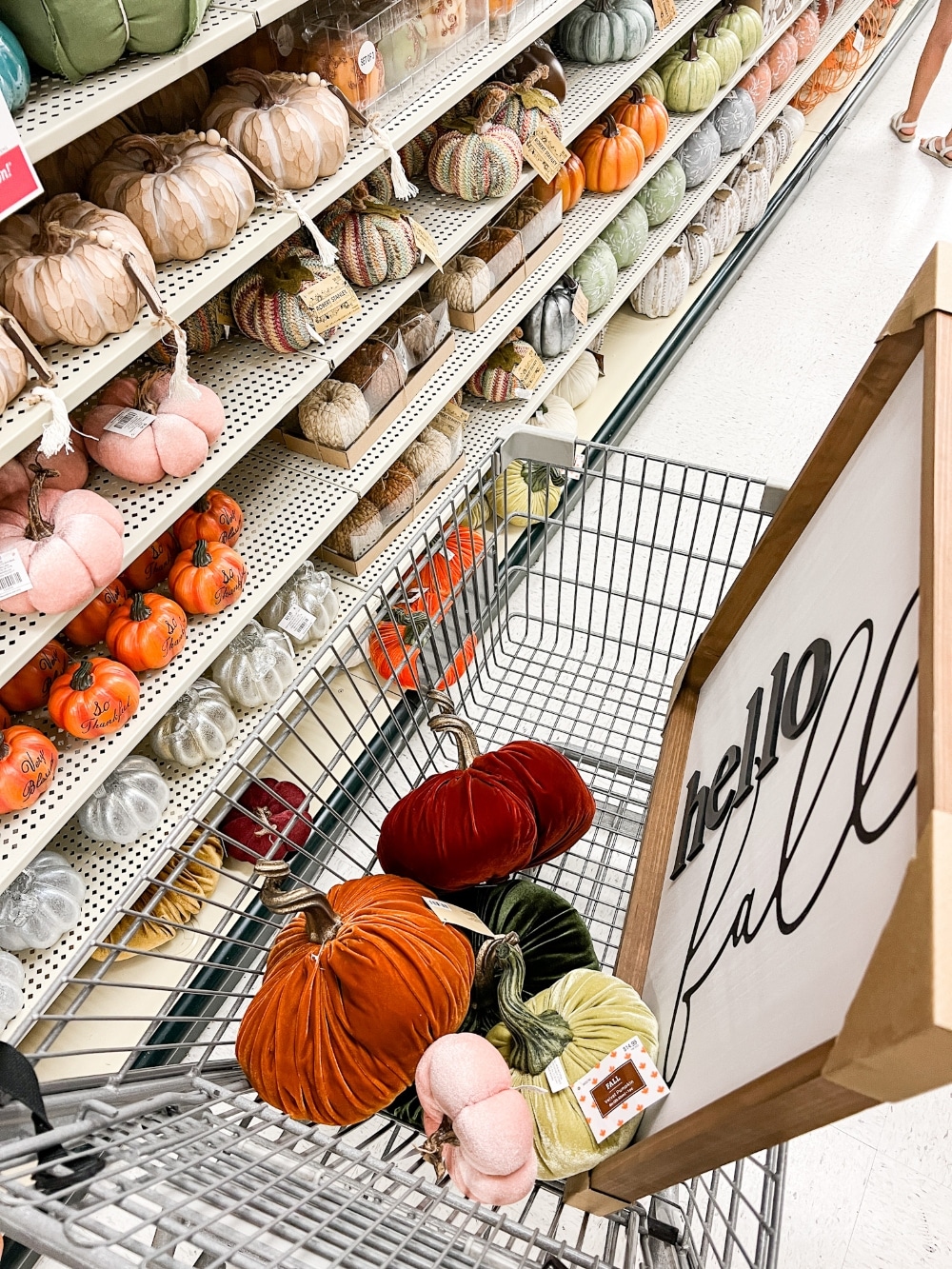 Choose A Focal Point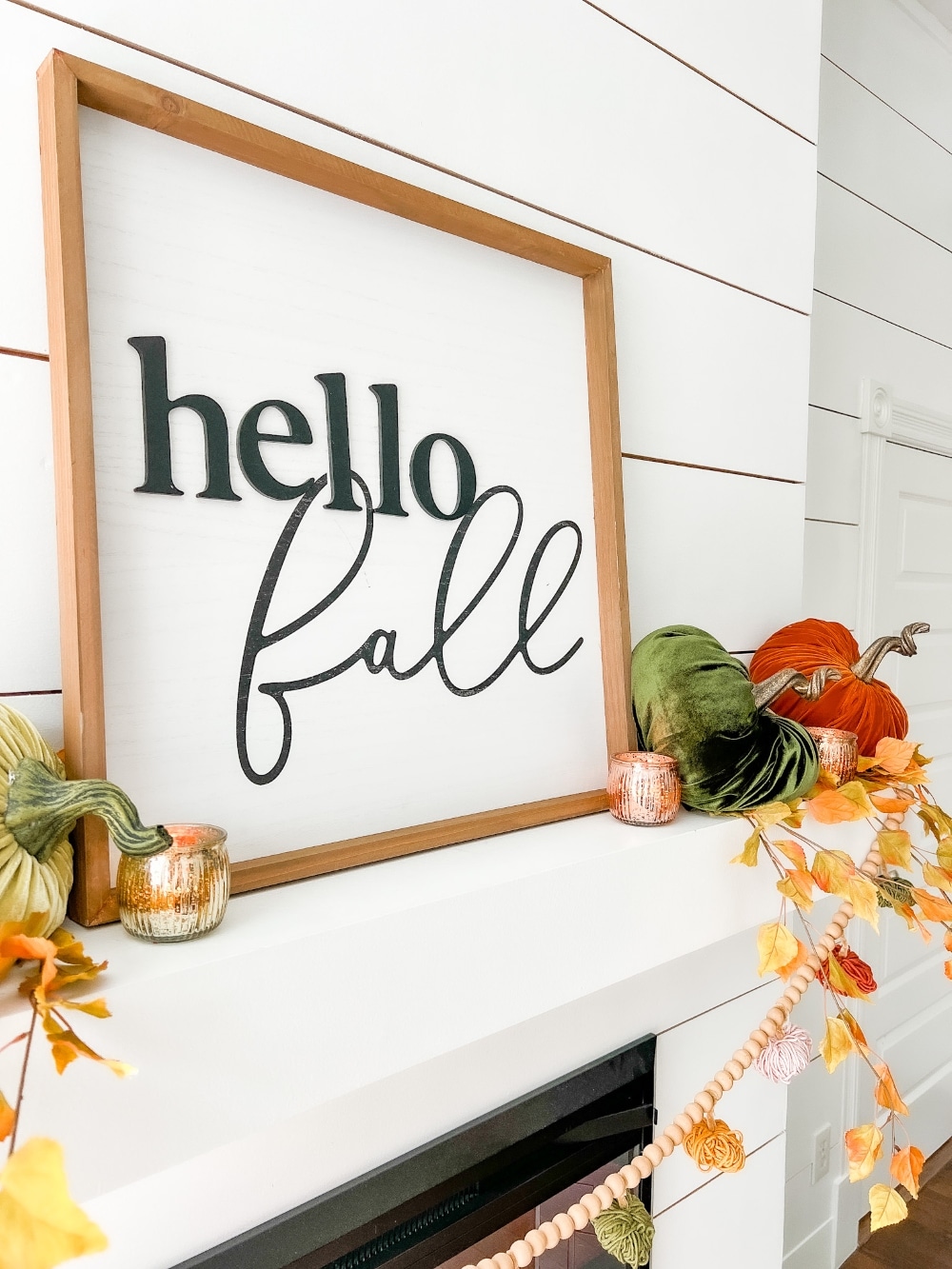 I found this beautiful
Hello Fall sign.
The style is beautiful and simple and I love that simplicity of the sign can be used in so many different styles. It's perfect for our simple cottage style.
Add Fall Color and Texture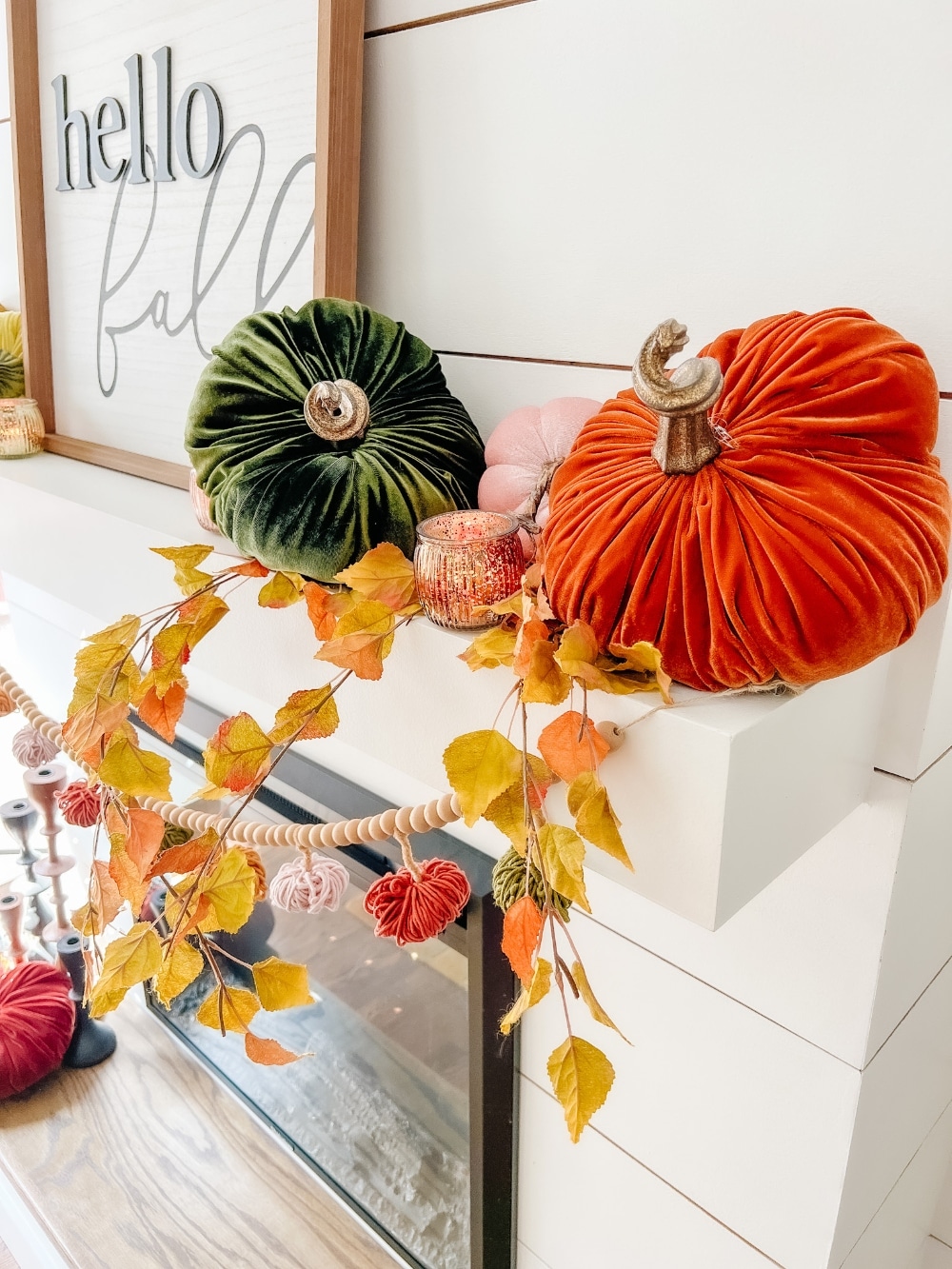 When I was looking through the fall pumpkin selection, I fell in love with these cozy, plush,
velvet pumpkins
! They come in a few different sizes. The bright jewel tones are so beautiful for fall! Look at the shades of yellow, greens, oranges, reds and pinks. So pretty!
Incorporate Natural Elements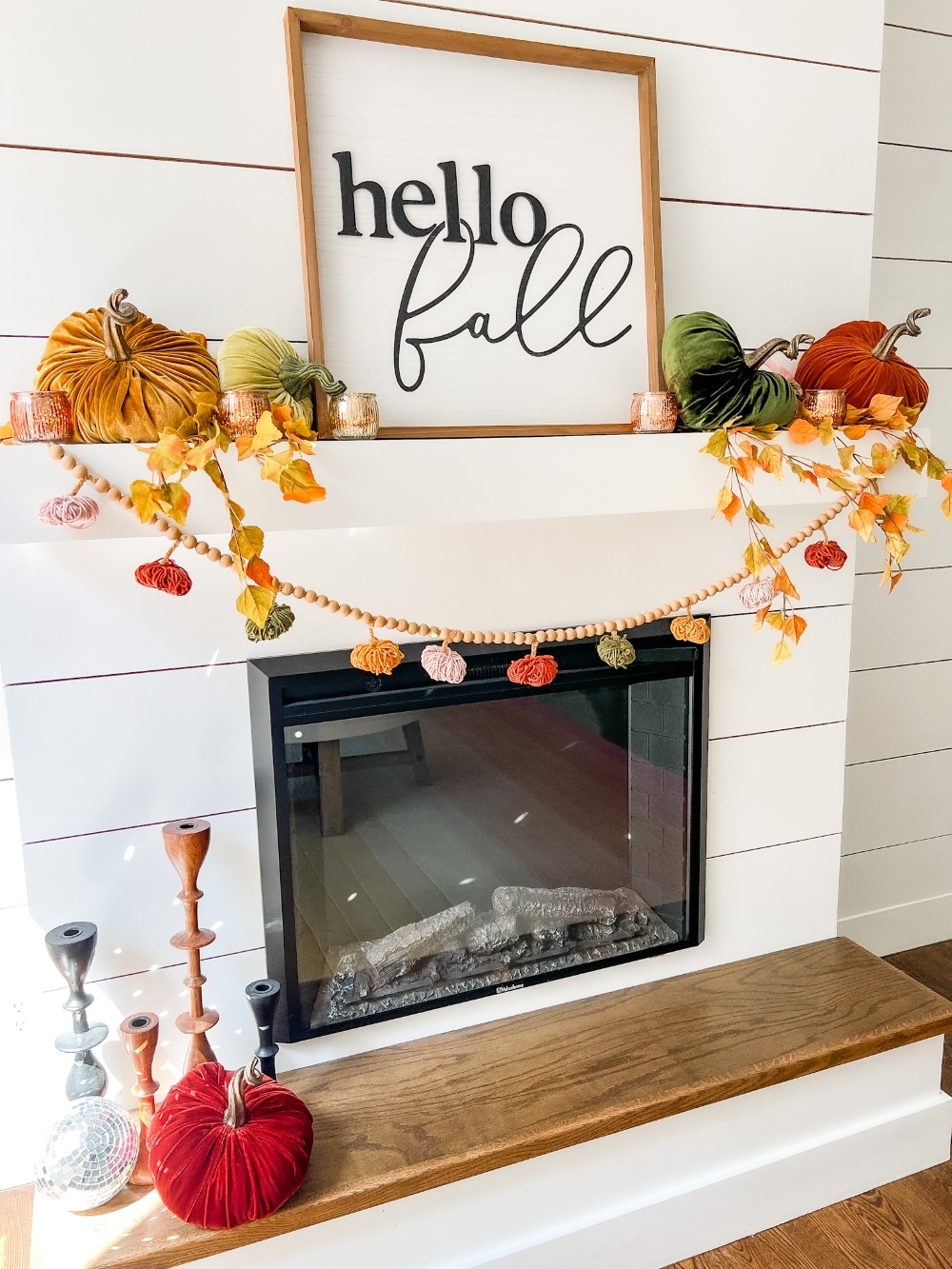 When I think about fall colors, I think of the leaves changes. I found these
amazing tree branches
in the fall floral section. I love the way they look draped along the mantel.
Add a Fall Garland
Echo the colors in the mantel by adding a coordinating garland. I decided to make a yarn pumpkin garland using yarn that I matched to the velvet pumpkins. The full tutorial for the yarn pumpkin garland is below.
Add Candlelight for Warmth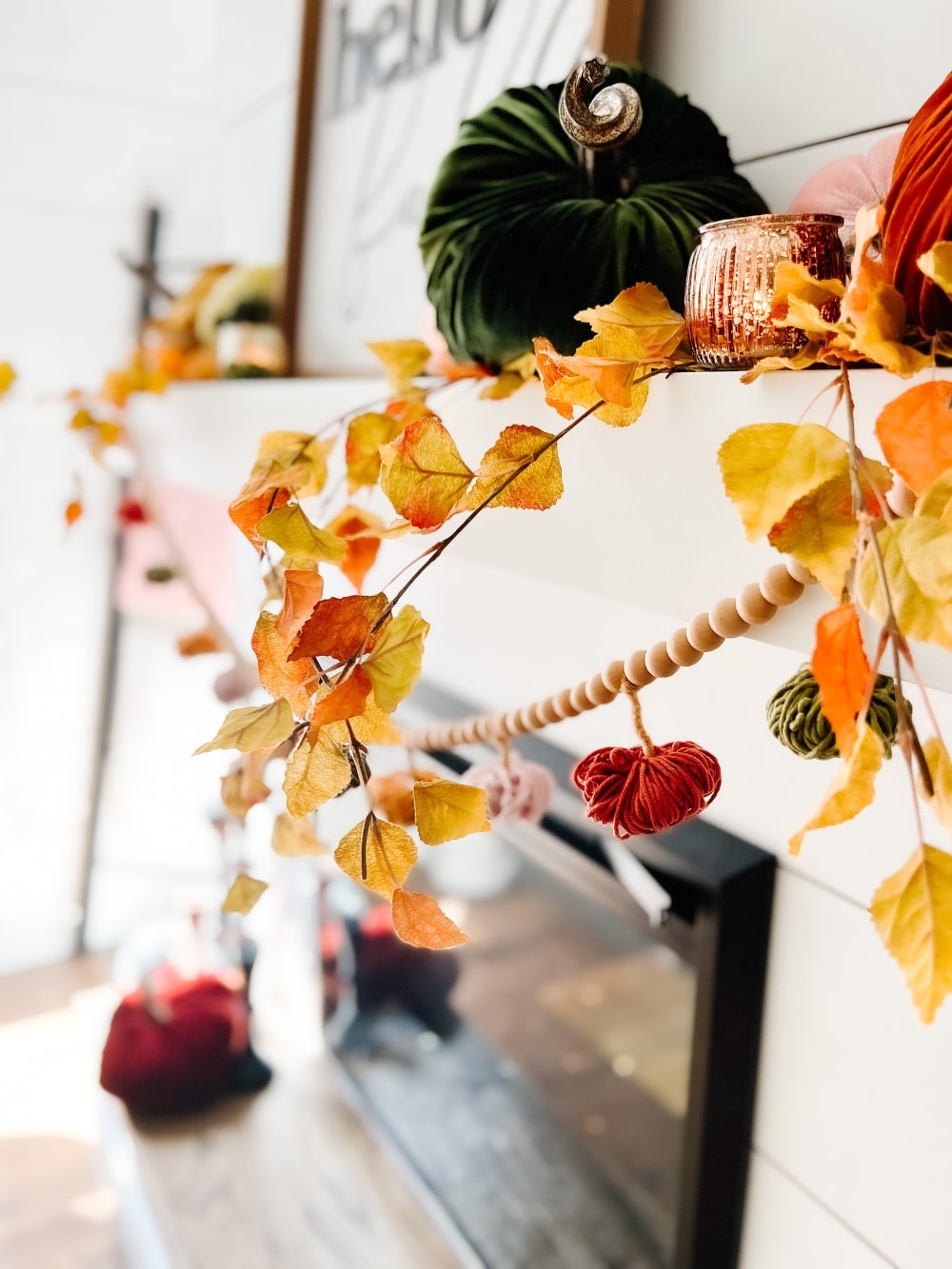 I love candles, especially in the fall. I found these
mercury glass votives
last year at Hobby Lobby. There is a great selection of votives in the fall shop that you can choose from. There is something so warm and cozy about candles in the fall.
How to Make a DIY Yarn Pumpkin Garland
Here's how to make this easy fall garland!
DIY Yarn Pumpkin Garland Supplies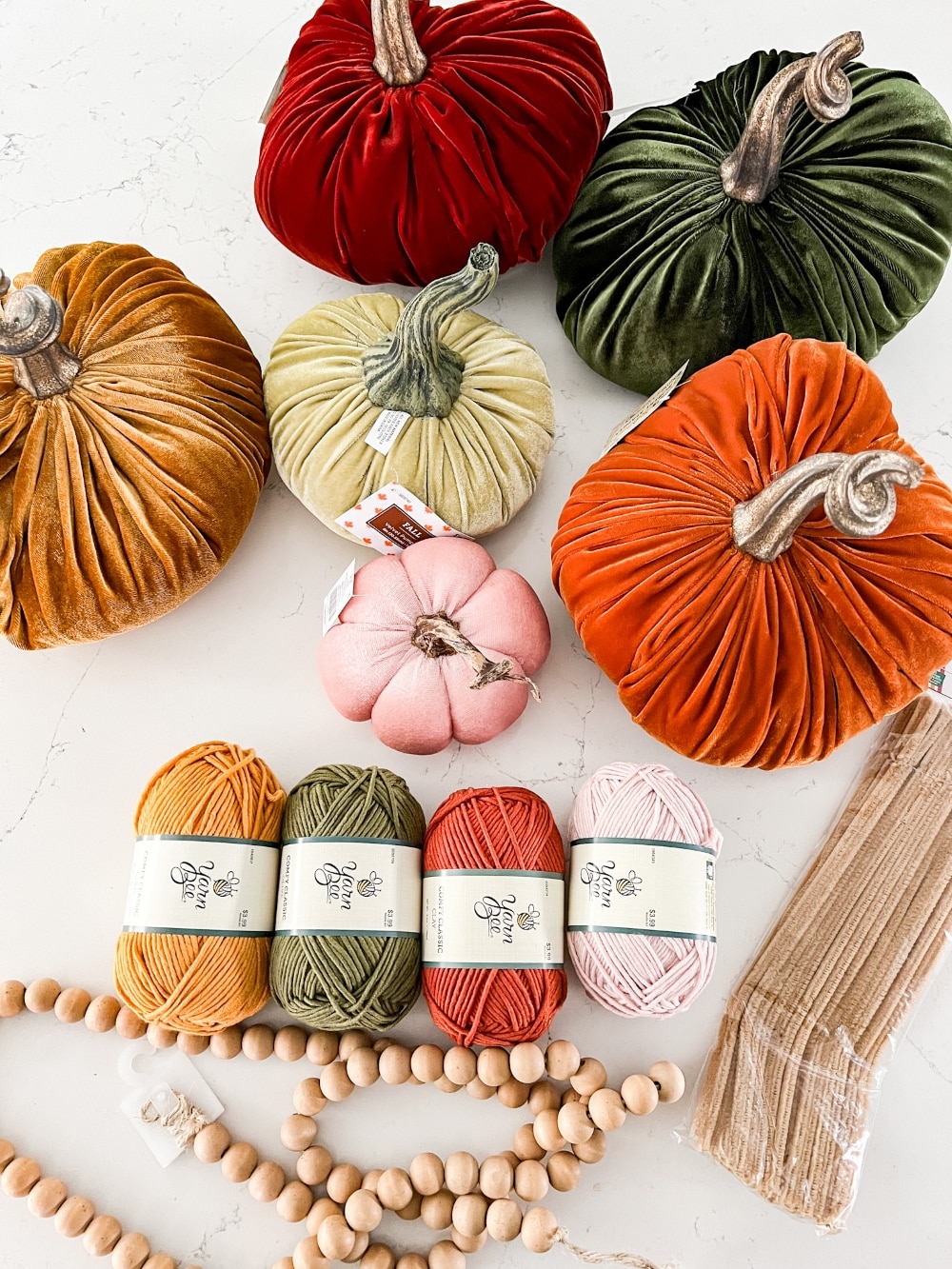 Here what you need to make this easy yarn garland
Choose Your Yarn
I matched the yarn to coordinate with the gorgeous velvet pumpkins. You can use any color yarn you want that goes with your home decor.
How to Create the Yarn Pumpkins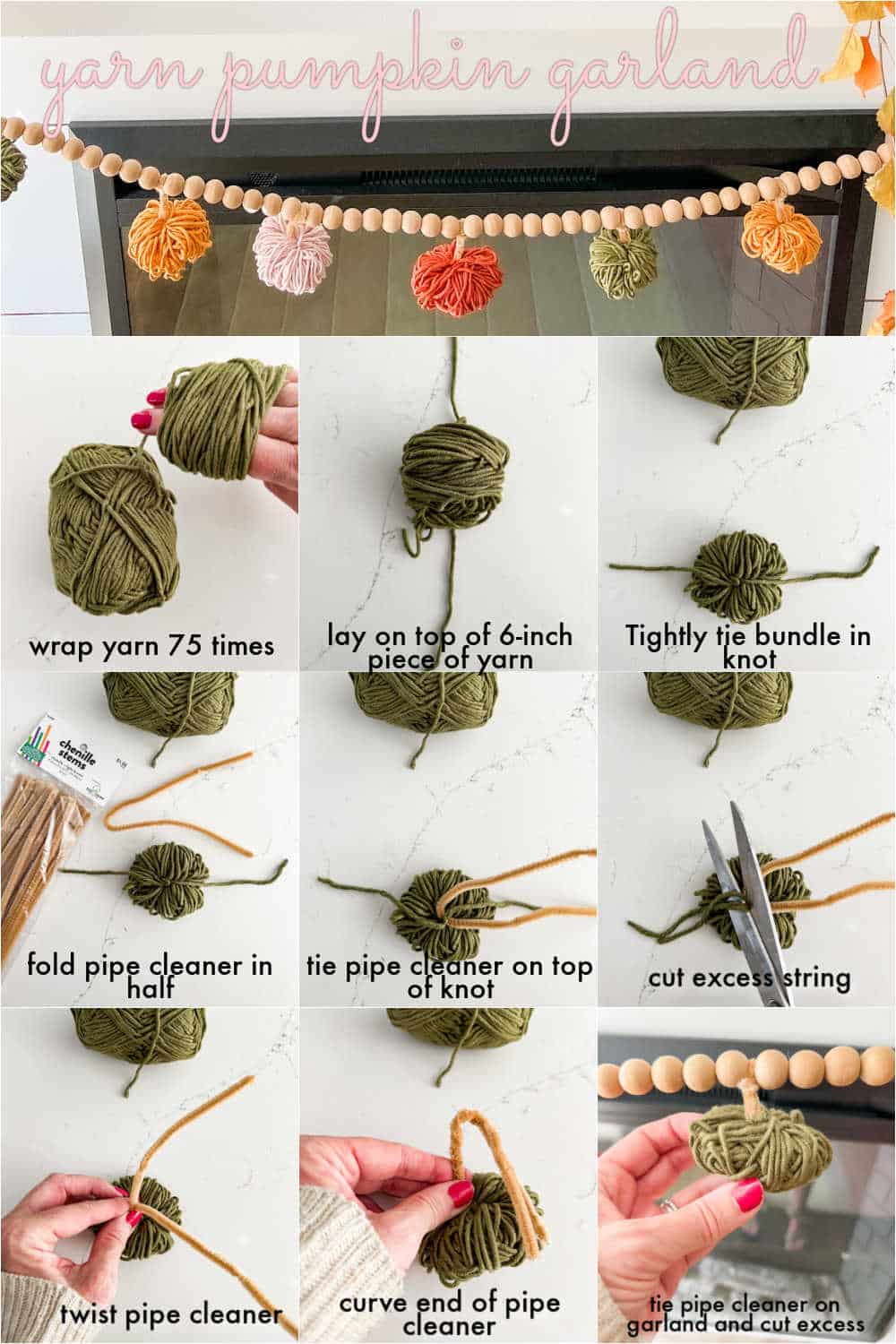 Wrap yarn around your four fingers 75 times.
Gently take your fingers out and lay the wrapped yarn on your work surface.
Cut the Yarn that connects to the large yarn ball.
Cut a 6-inch section of yard.
Lay the yarn ball on top of the 6-inch piece of yarn, with the yarn laying under the two openings in the yarn ball.
Tie the 6-inch section of yarn around the yarn ball in a knot. Make sure to tie it tightly, that makes the yarn contract, forming a ball shape.
Take one pipe cleaner, fold it in half. Lay the folded "v" over the knot on the yarn ball. Tie the pipe cleaner onto the yarn ball and make a knot.
Trim the excess yarn from the knot.
Twist the pipe cleaner and make a curve at the top about 2 inches on top of the yarn ball.
Create as many pumpkins as you need for your garland. I created three pumpkins per color for 12 pumpkins total.
Tie Pumpkins Onto Twine or Bead Garland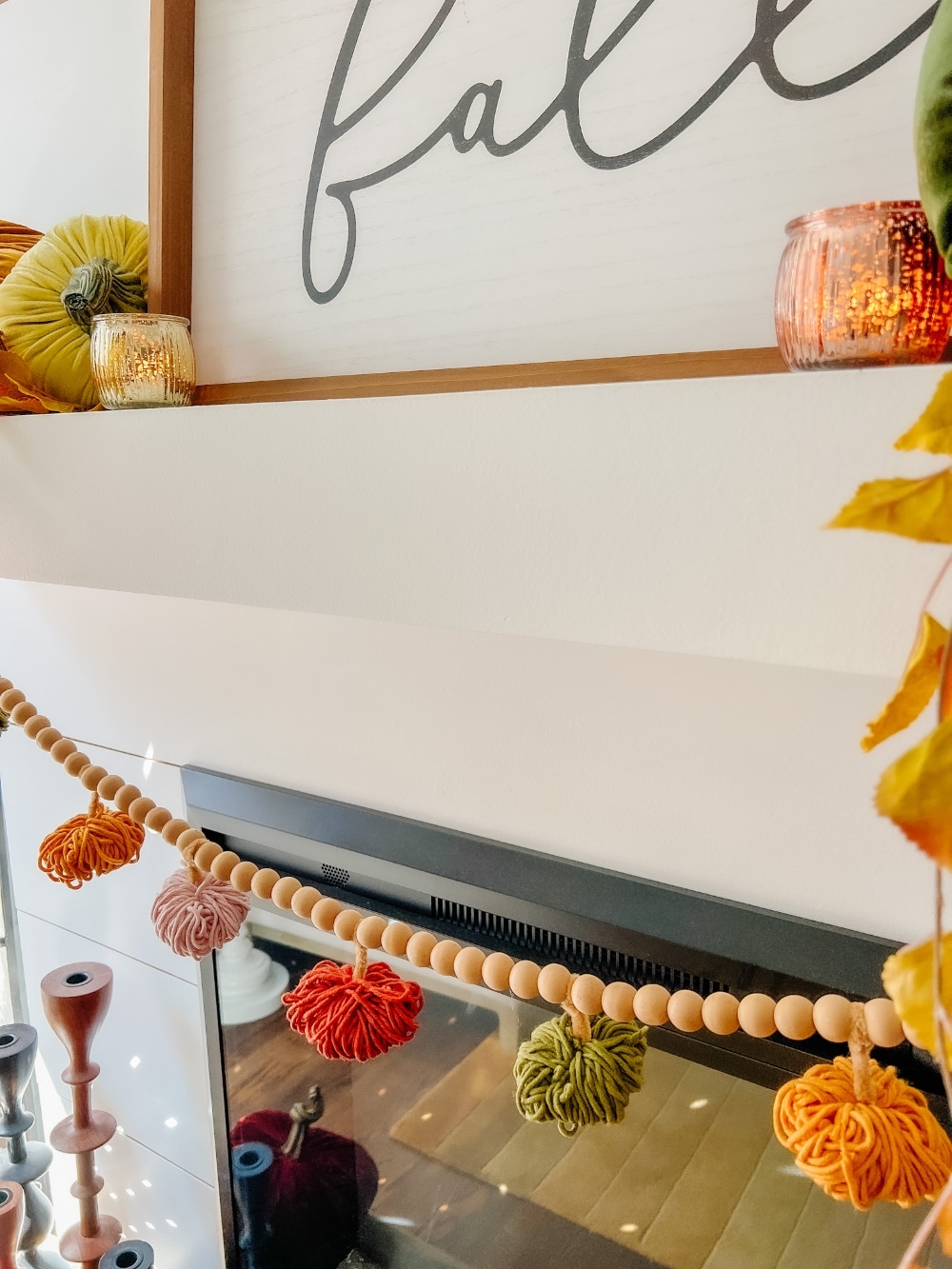 Now you will tie the pumpkins onto the twine or bead garand. I measured my garland and attached each pumpkin about 3 inches apart from each other.
How to Attach Pumpkins onto Garland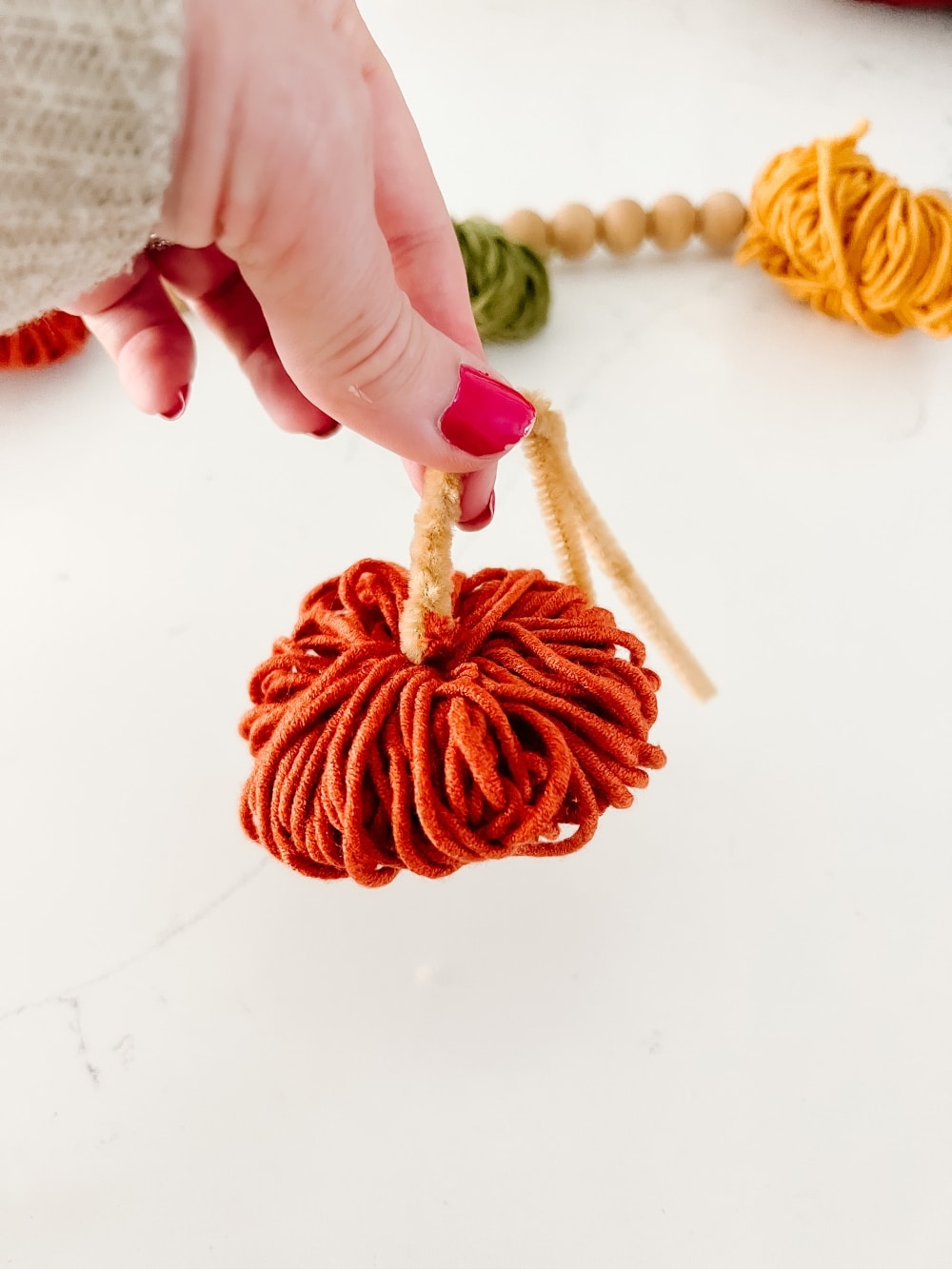 Measure where each pumpkin will attach and wrap the pumpkin onto the twine or bead garland by wrapping the top of the pipe cleaner onto the twine or bead garland about twice and then cut the excess pipe cleaner. Twist the cut edges at the top to hide the edges.
Hang Up Your Beautiful Yarn Pumpkin Garland
Where Can You Hang a Yarn Pumpkin Garland?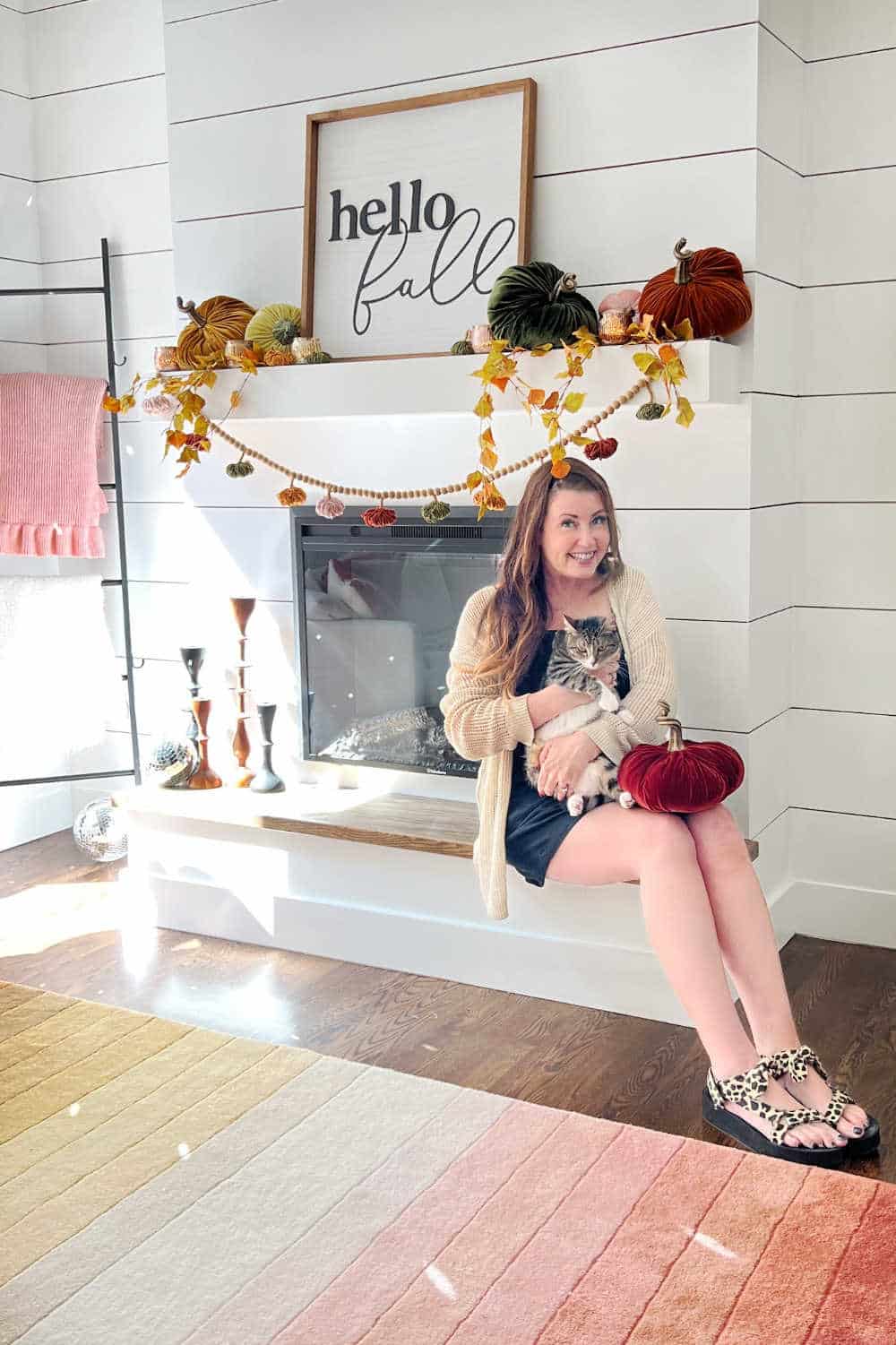 If you don't have a mantel, don't worry! These mantel tips are just as cute on a shelf or bookshelf! You can also make a yarn pumpkin garland to go around a doorway or your front door!
Favorite Fall Pumpkins
Here are a few of my favorite pumpkins that are in Hobby Lobby's Fall Shop right now!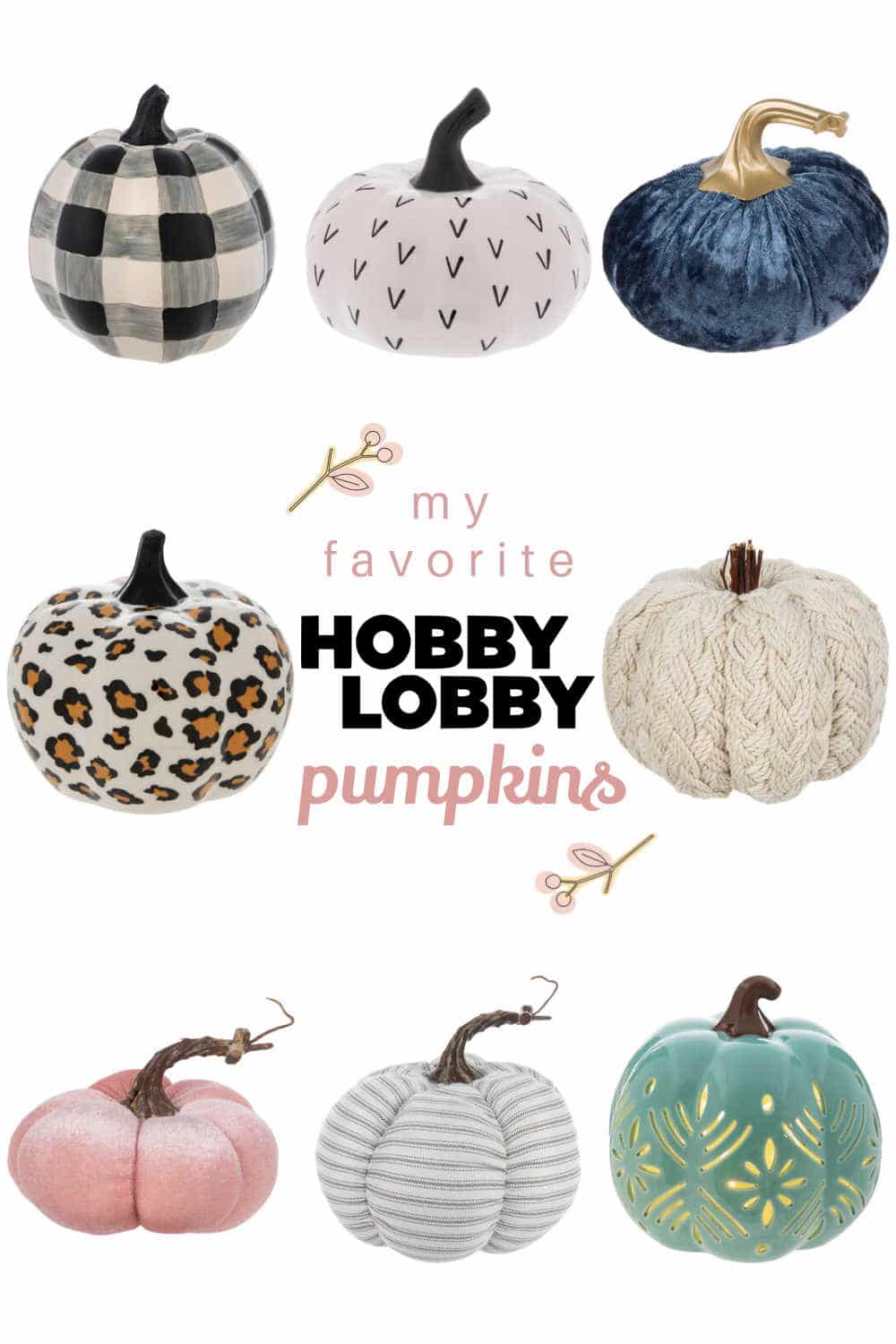 Buffalo Check Pumpkin | Geometric Black and White Pumpkin | Blue Velvet Pumpkin |
Leopard Print Pumpkin | Cream Knit Pumpkin |
Pink Velvet Pumpkin | Ticking Stripe Pumpkin | Turquoise Light Up Cutout Pumpkin
Pin This Idea for Later!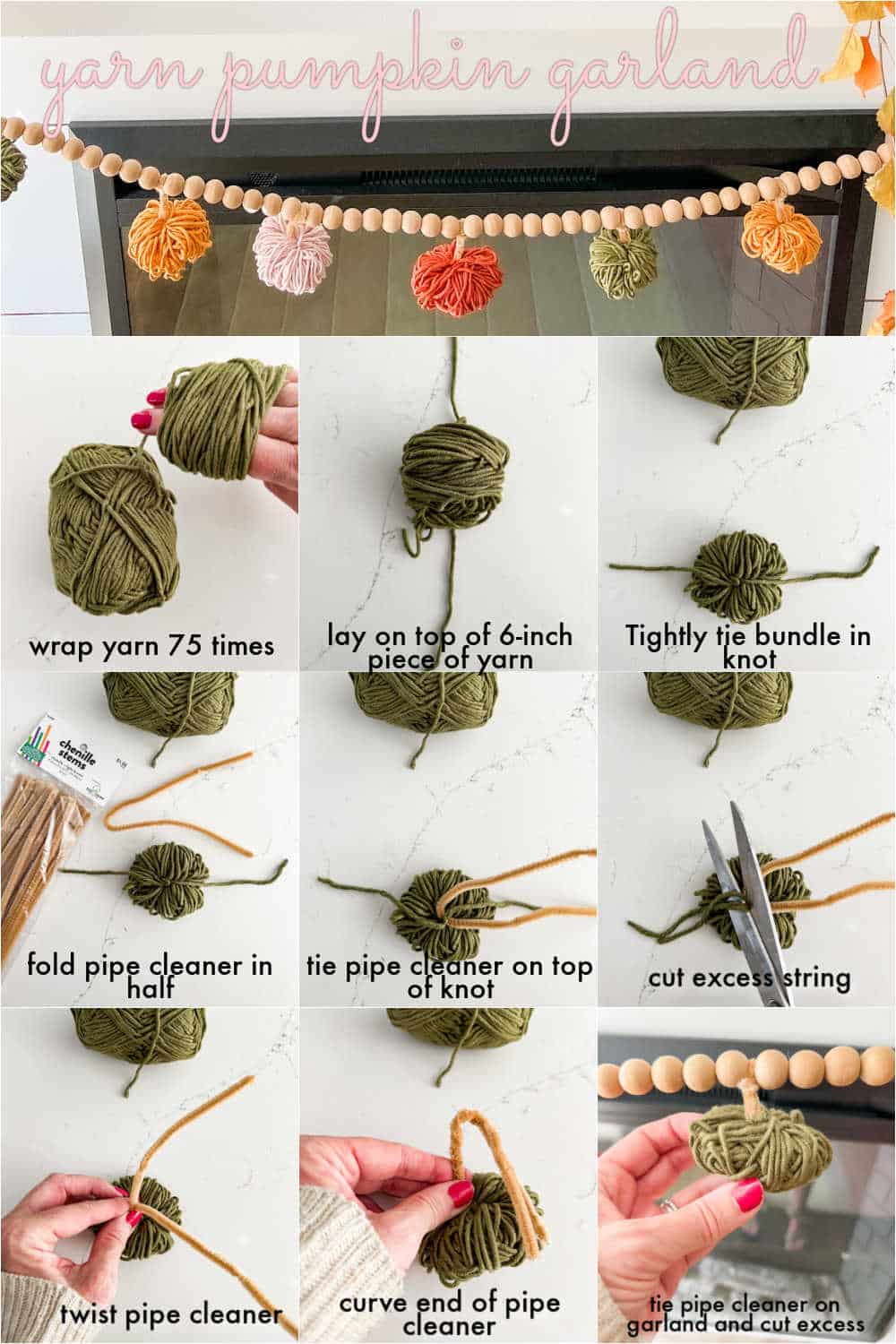 Follow Hobby Lobby to see what's new and all kinds of project inspiration!
Have a creative day!
xoxo