Fall Dollar Store Pumpkin Wreath. A fall wreath doesn't have to cost a lot or take tons of time to make. Grab some dollar store pumpkins, blooms and get started!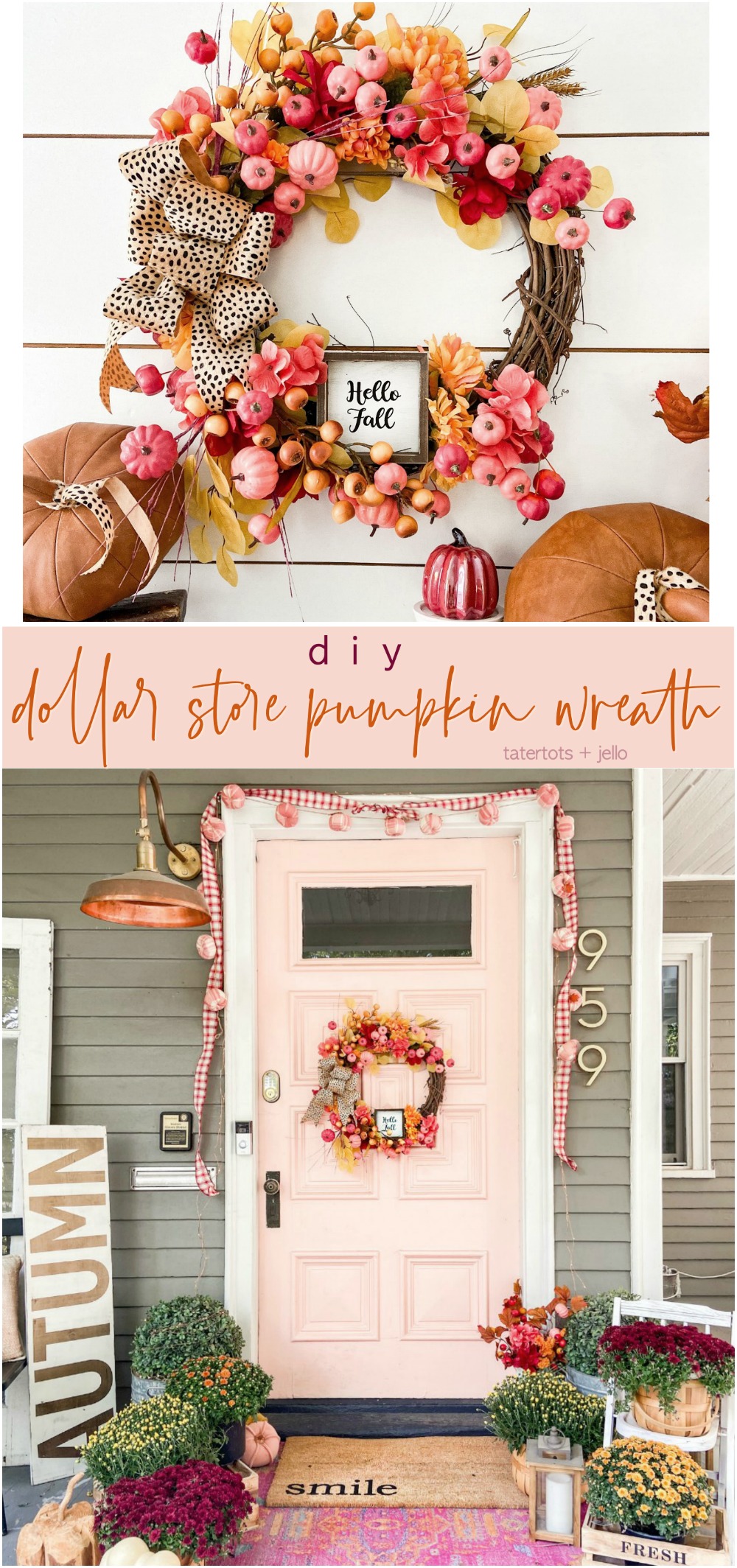 Fall Dollar Store Pumpkin Wreath
I've been blogging for 12 years and over that time one of my favorite things to do has been taking dollar store items and transforming them into seasonal decor in our home. It's so fun!
16 Fabulous Fall Wreaths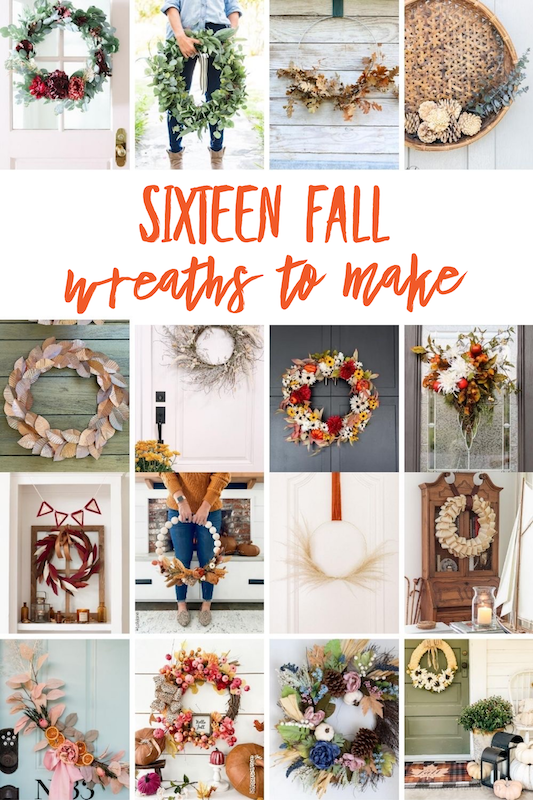 I am so excited to be joining some friends who are also sharing fall wreath ideas today!! Scroll down to the bottom of the post and hop over to grab their tutorials. Make sure to pin them for later too so you can find them when you want to get creative!
Painted Dollar Store Pumpkins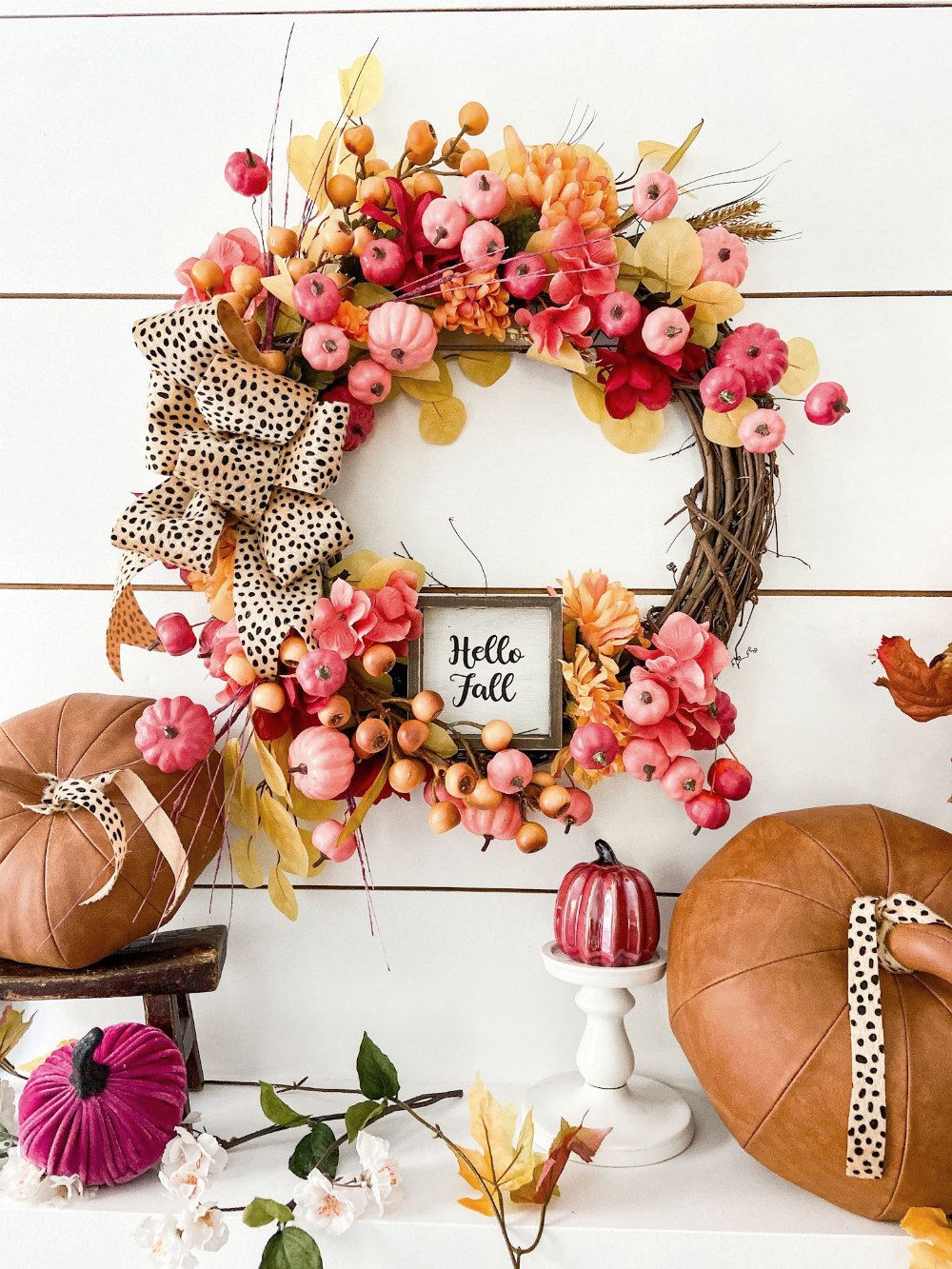 This year the dollar store (Dollar Tree) has a few new pumpkins! There are two different size of mini pumpkins. You can find them in the front of the store with the fall and Halloween items. I used the two different sizes in this wreath.
Dollar Store Stems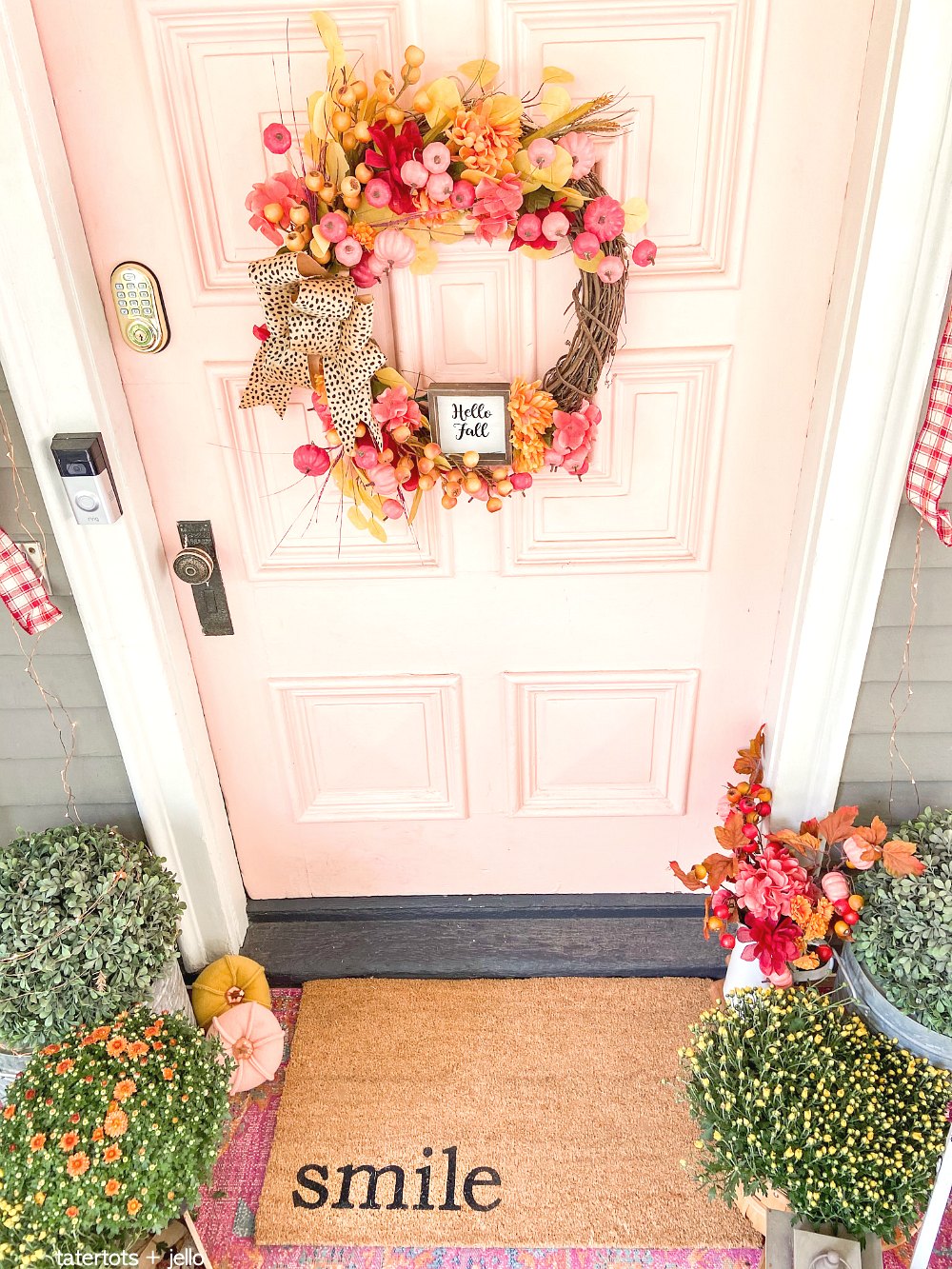 Another item I love to use in my seasonal decor are dollar store (Dollar Tree) blooms. They are SO much less expensive than artificial flowers at the craft store. I used a few different dollar store stems in this wreath. I also used a few stems from Hobby Lobby to fill the wreath in.
Animal Print Bow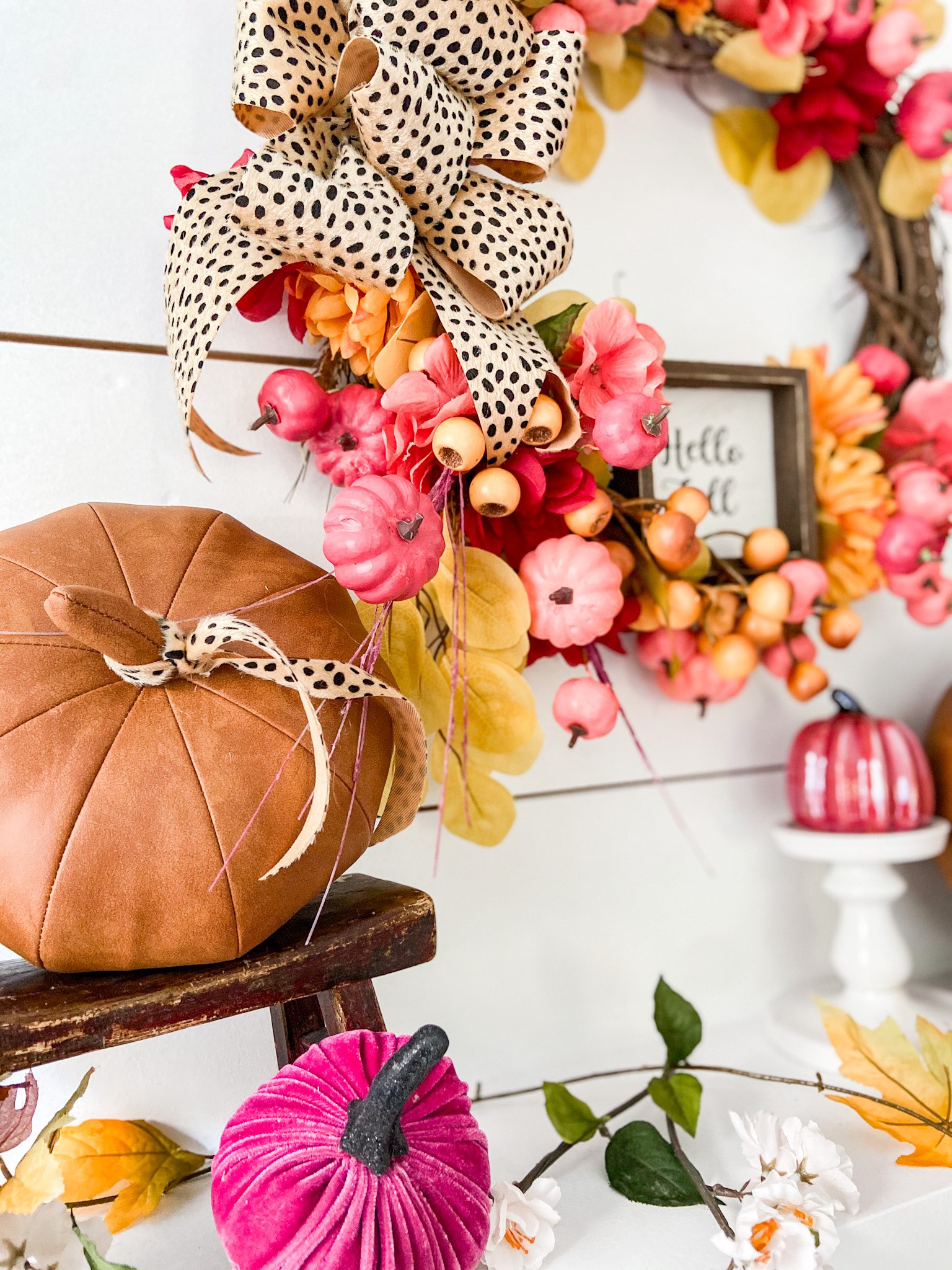 I think animal print is going to be a big trend this fall. Plus, I just love it! So when I spotted a roll of cheetah ribbon at Hobby Lobby I grabbed it for this wreath. The ribbon was really wide so I cut it into four smaller strips to make this bow.
How to Make a Dollar Store Pumpkin Wreath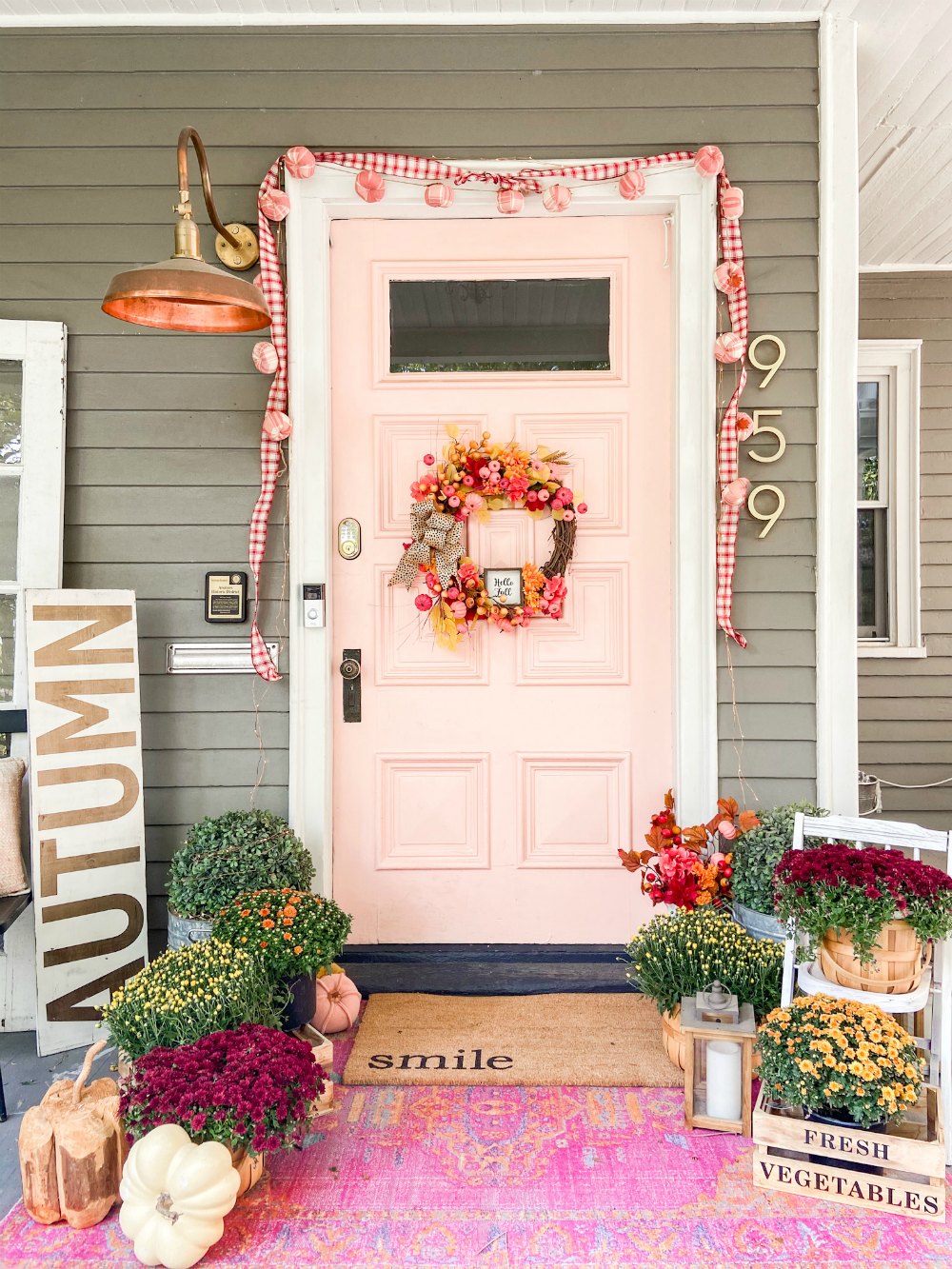 Here are the supplies and directions to make your own Fall Dollar Store Pumpkin Wreath!
Fall Pumpkin Wreath Supplies
Wreath Form
Pumpkins (I used two different sized pumpkins from Dollar Tree)
Paint — you can use any color paint you want! I used pinks to match our front door.
Florals and Stems
Hot Glue Gun
Ribbon
Saying Plaque (optional)
Fall Pumpkin Wreath Directions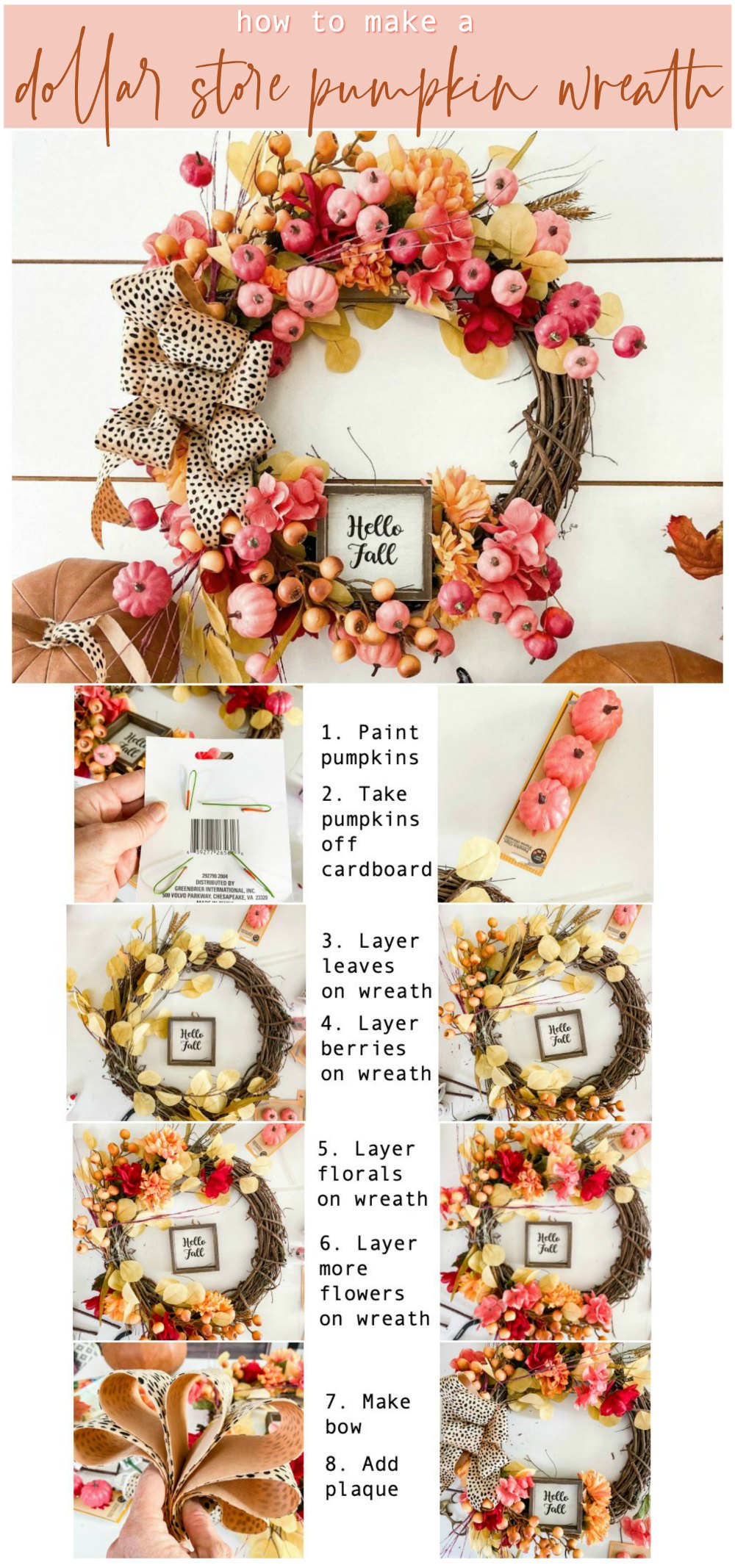 Paint pumpkins and let dry
Layer stems. I started with leaves, then berries and then flowers. I had the stems go out from one side of the wreath, going up and then down. I covered the middle of the stems with the bow.
Add smaller pumpkins. The smaller pumpkins from Dollar Tree are on wires so you can hot glue them on the wreath form and they can stick out so they are 3 dimensional!
Hot glue bigger pumpkins on.
Make your bow. I looped 6 sections of ribbon, used wire to tie it together, then fanned it out into a bow shape.
Hot glue the bow over where the ends of the stems meet.
Hot glue the plaque on (optional)
Hang up your new wreath!
Where Can I Hang My Fall Pumpkin Wreath?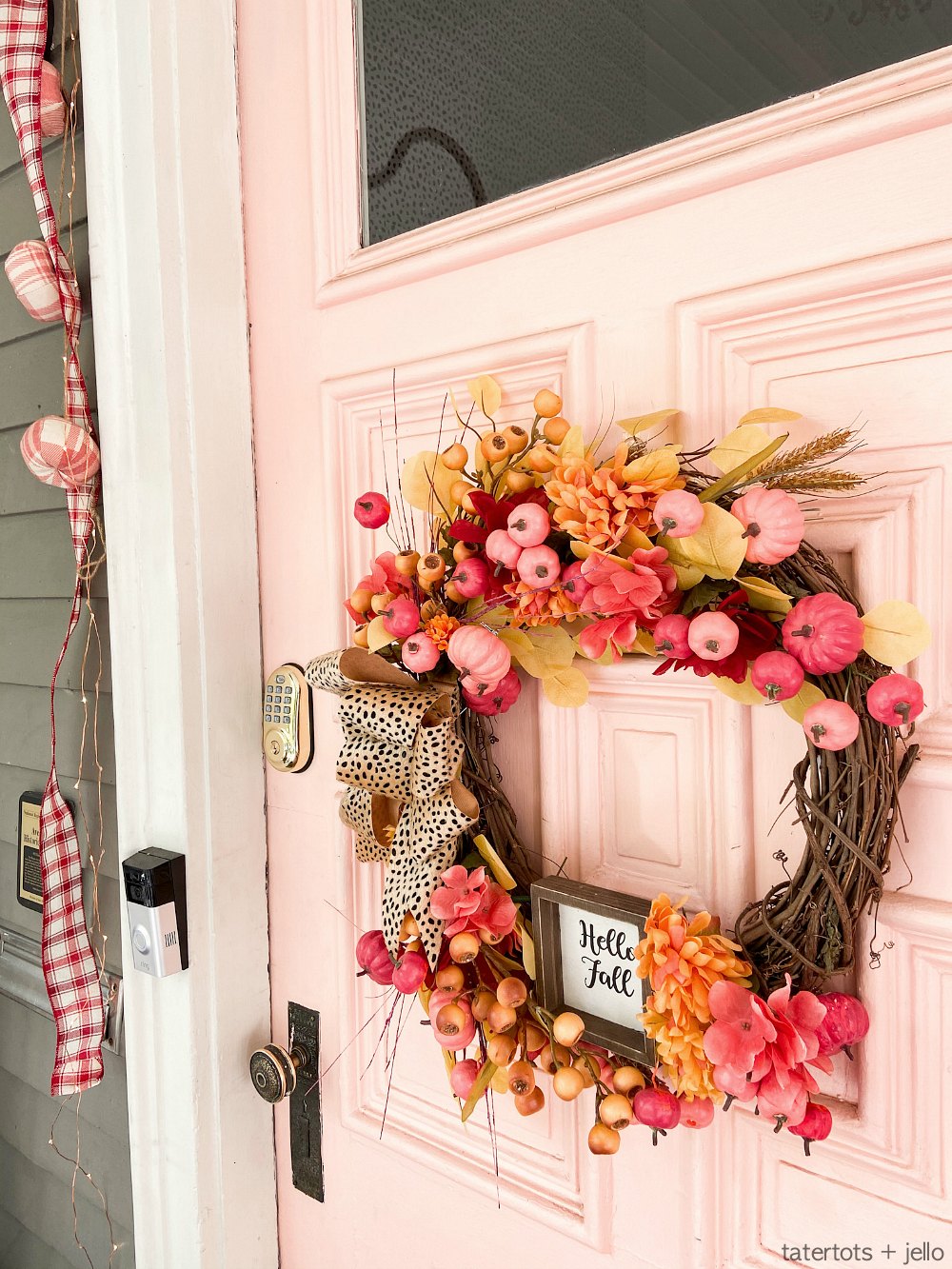 You can hang your wreath on your front door or over a mantel. You can also hang your wreath on a wall or over a shelf. Get creative!
How Do I Store My Wreaths When I am Not Using Them?
I hang my wreaths inside of a closet by hanging them on nails on one wall. That way the wreaths don't get smashed as they would if they are kept in bins.
Use Extra Pumpkins and Stems as a Fall Centerpiece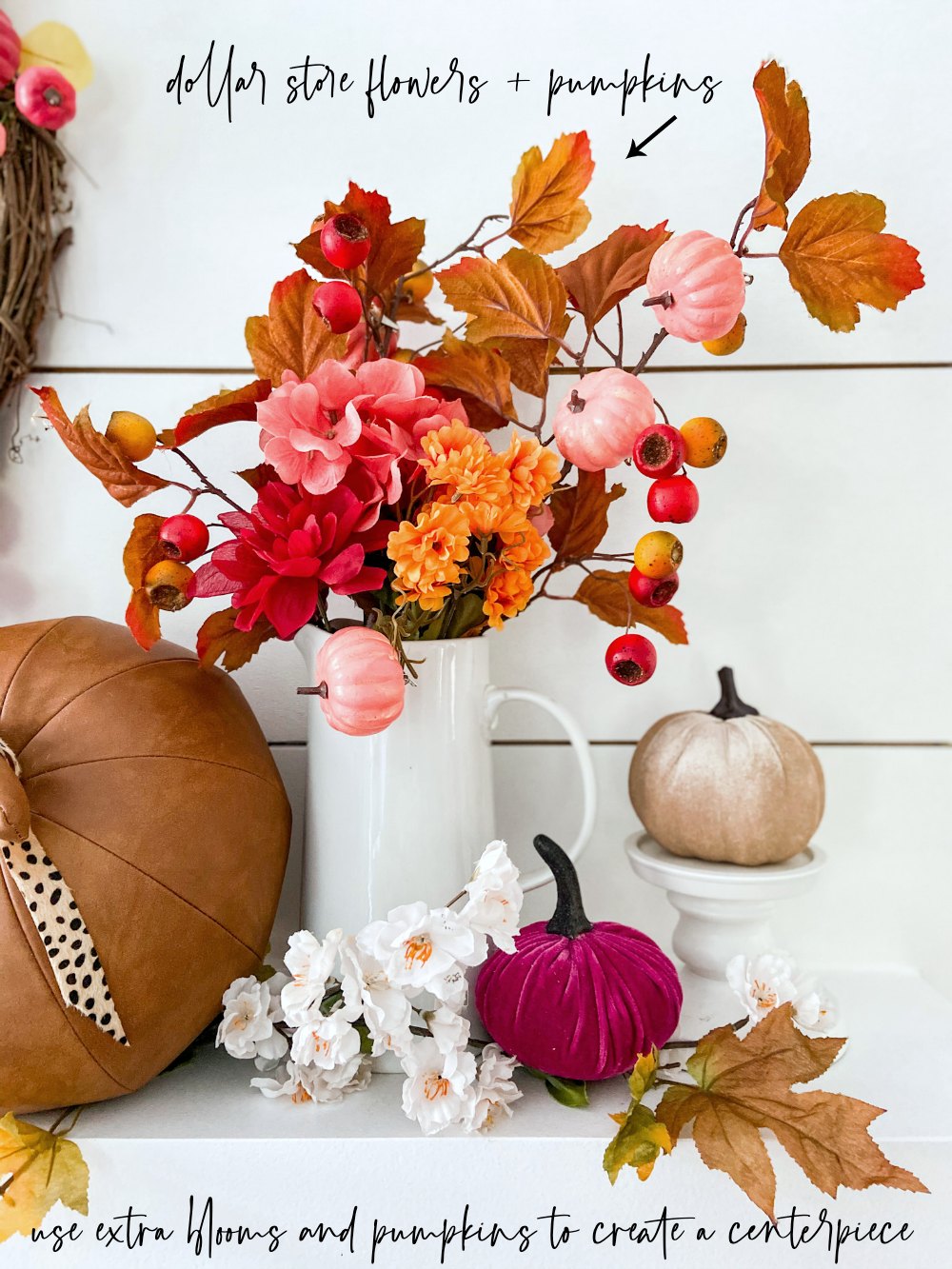 Make a centerpiece with matching pumpkins and stems so I made a little centerpiece and it's so cute on my countertop! I also used it on my fall porch. I love using ceramic pitchers as vases.
16 Fabulous Fall Wreaths

 Now check out these other beautiful and creative fall wreath ideas. Click the link below the images to visit the posts and see more.     
More DIY Fall Wreaths
Here are a few other DIY wreaths you can make: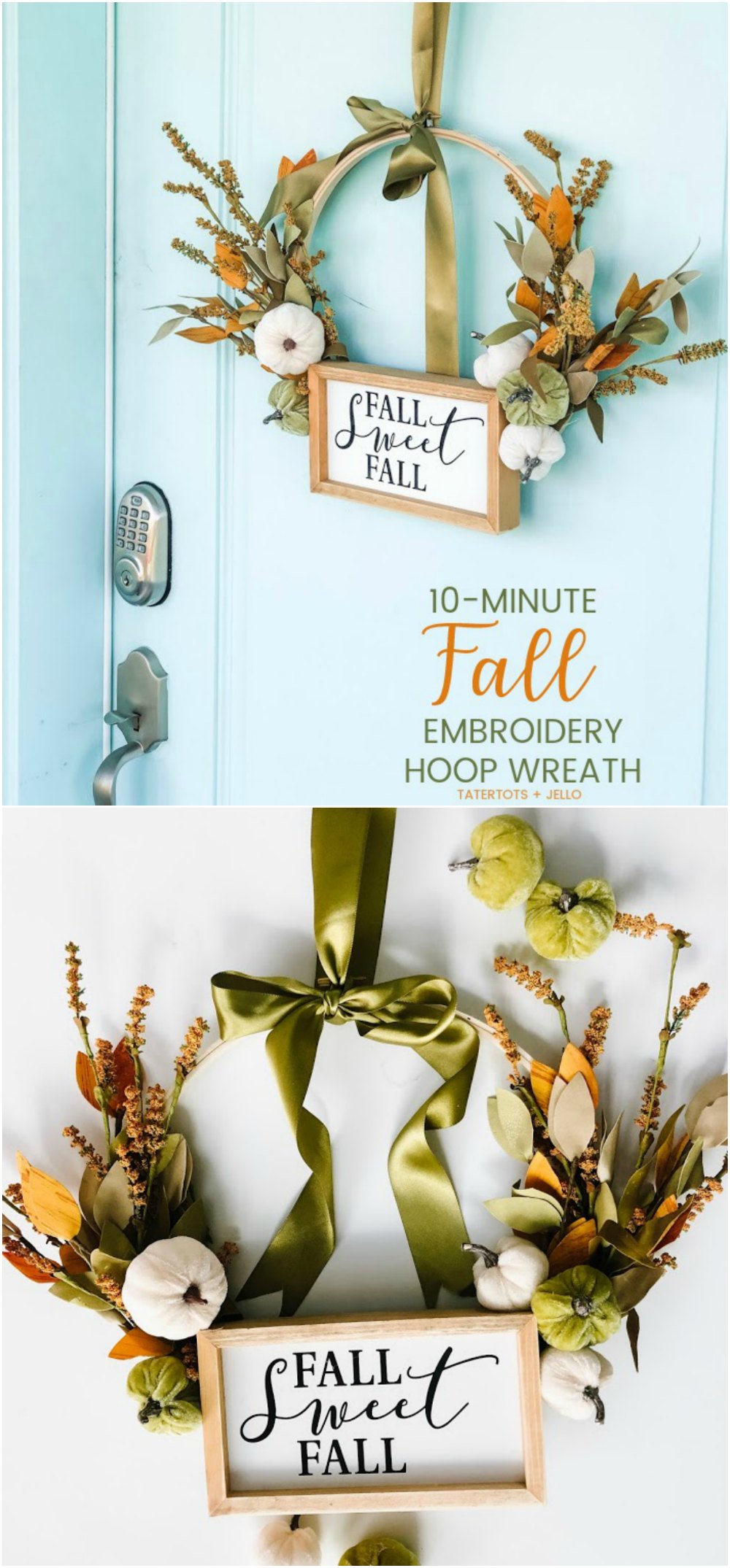 This is seriously the easiest wreath to make. In 10 minutes you are done!!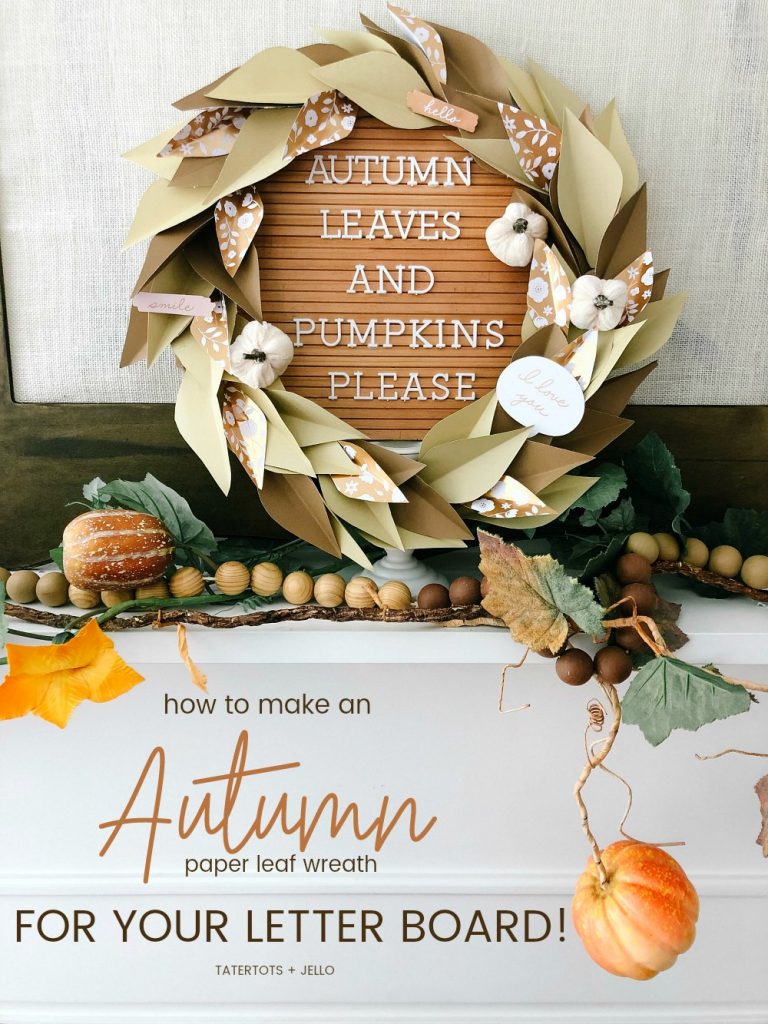 Make a Paper Wreath for Your Letter Board
I love letter boards. This is an easy way to decorate your board for Fall!
Pin Fall Pumpkin Wreath for Later!
Pin this idea so you can find it later!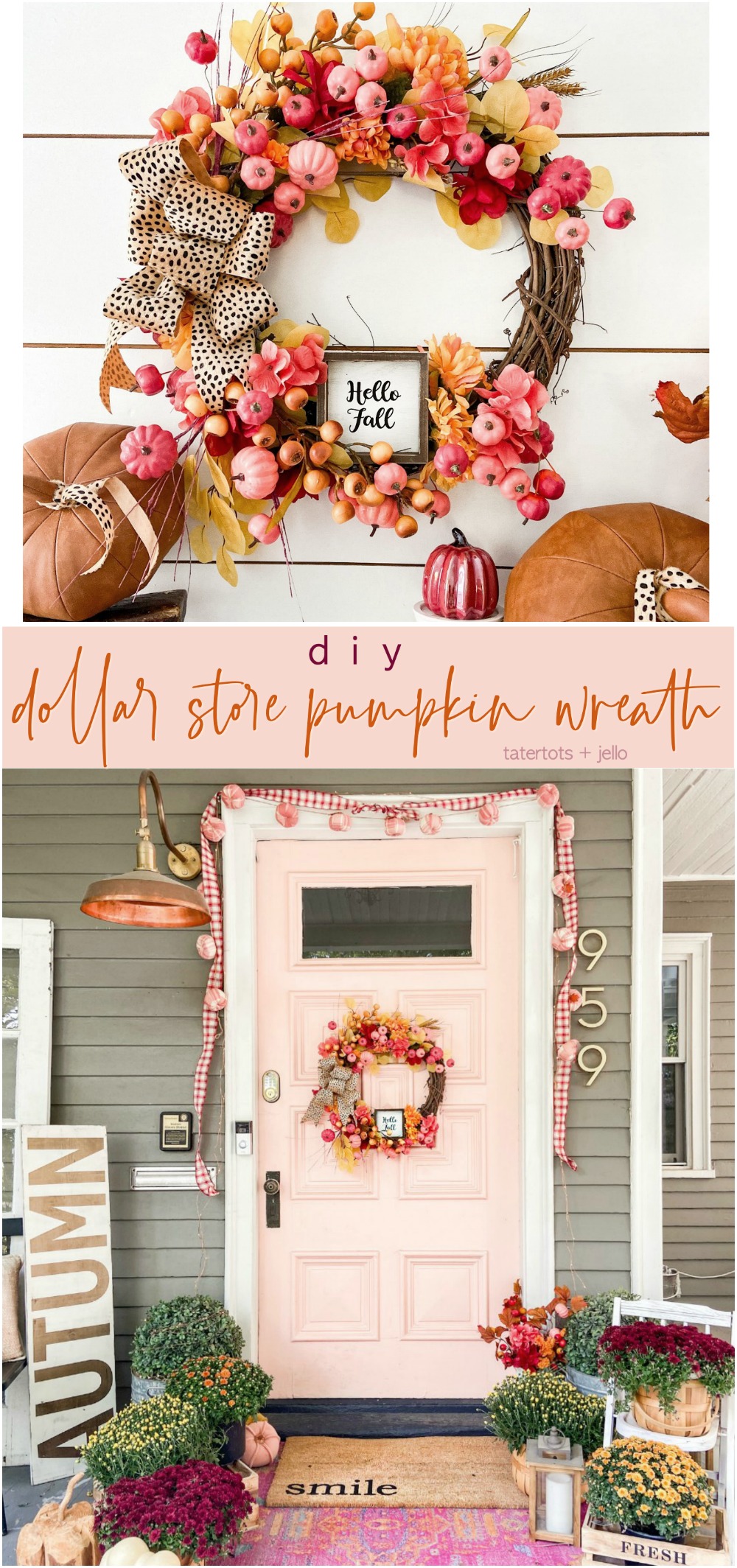 Have a Creative Day!
xoxo