Gorgeous Thanksgiving Fresh Flower Pumpkin Centerpiece with No Carving. Discover the effortless elegance of a live pumpkin no-carve floral centerpiece in this quick and easy tutorial, perfect for elevating your Thanksgiving table.
Thanksgiving Fresh Flower Pumpkin Centerpiece with No Carving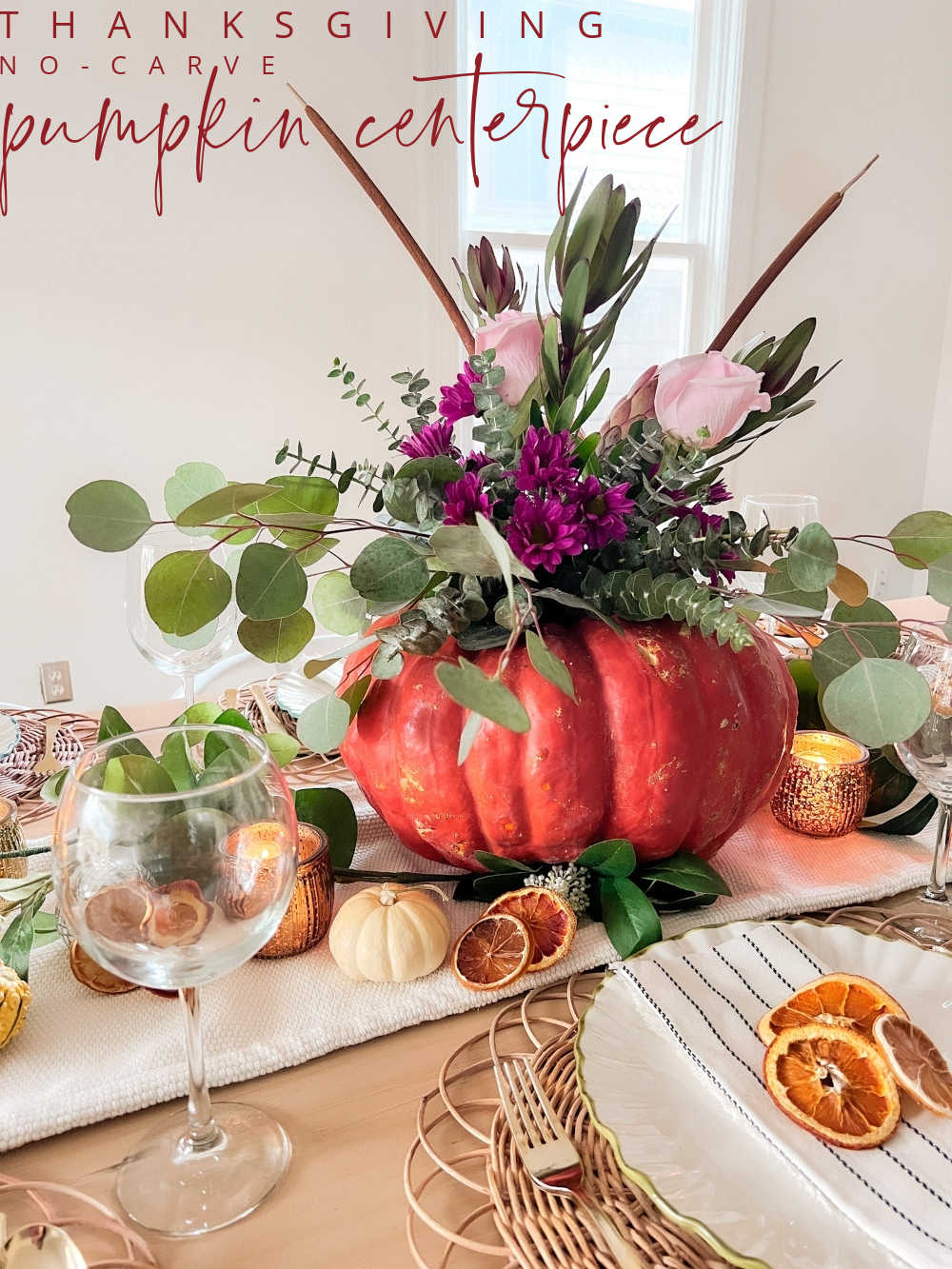 As Thanksgiving approaches, the anticipation of a delicious feast and a beautifully set table fills the air. Hosting a memorable Thanksgiving gathering doesn't have to be stressful, especially when it comes to creating a stunning centerpiece. Join me and 14 friends as we share inspiring Thanksgiving table ideas, and discover an easy yet breathtaking centerpiece idea that will elevate your hosting game.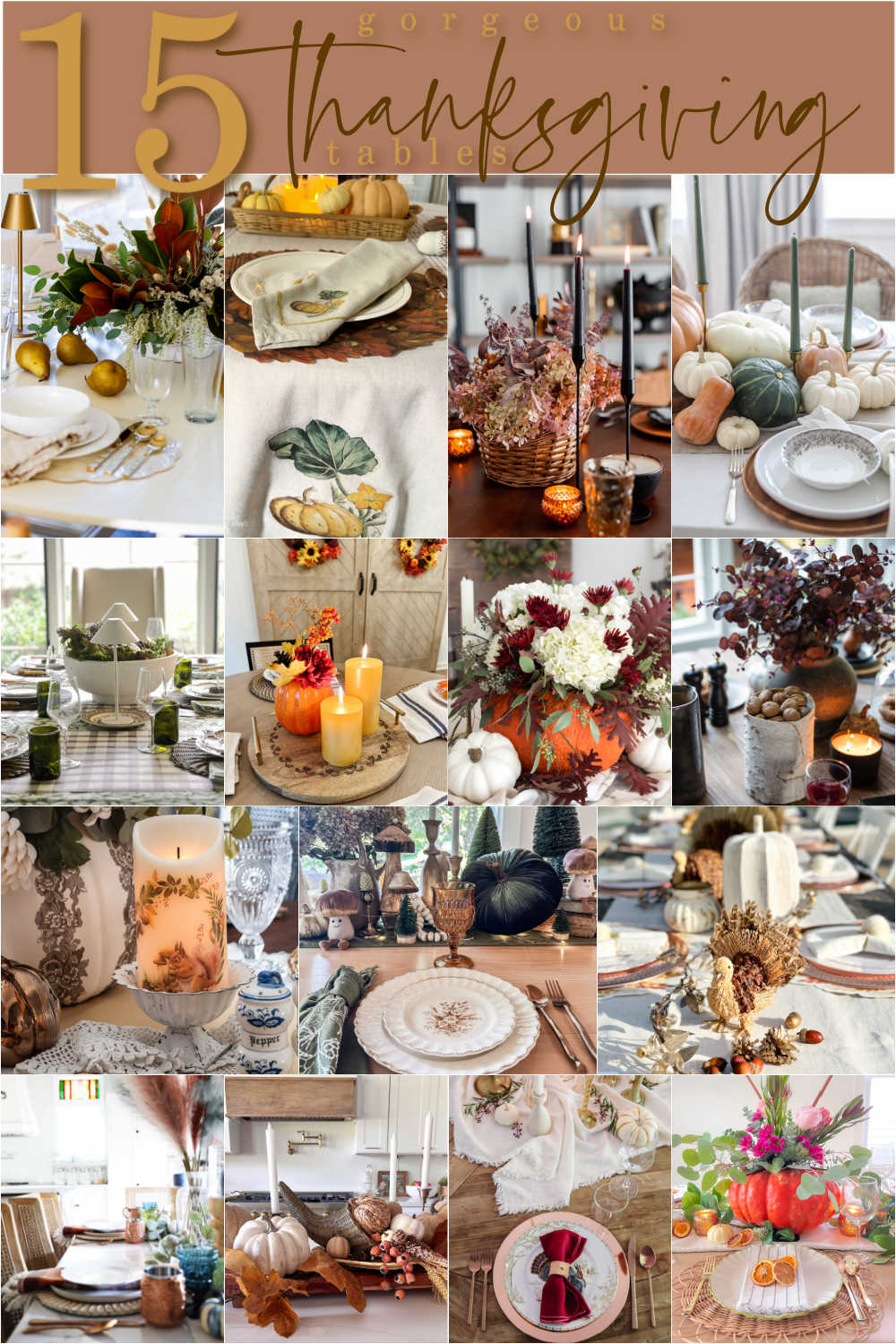 Live Pumpkin No-Carve Floral Centerpiece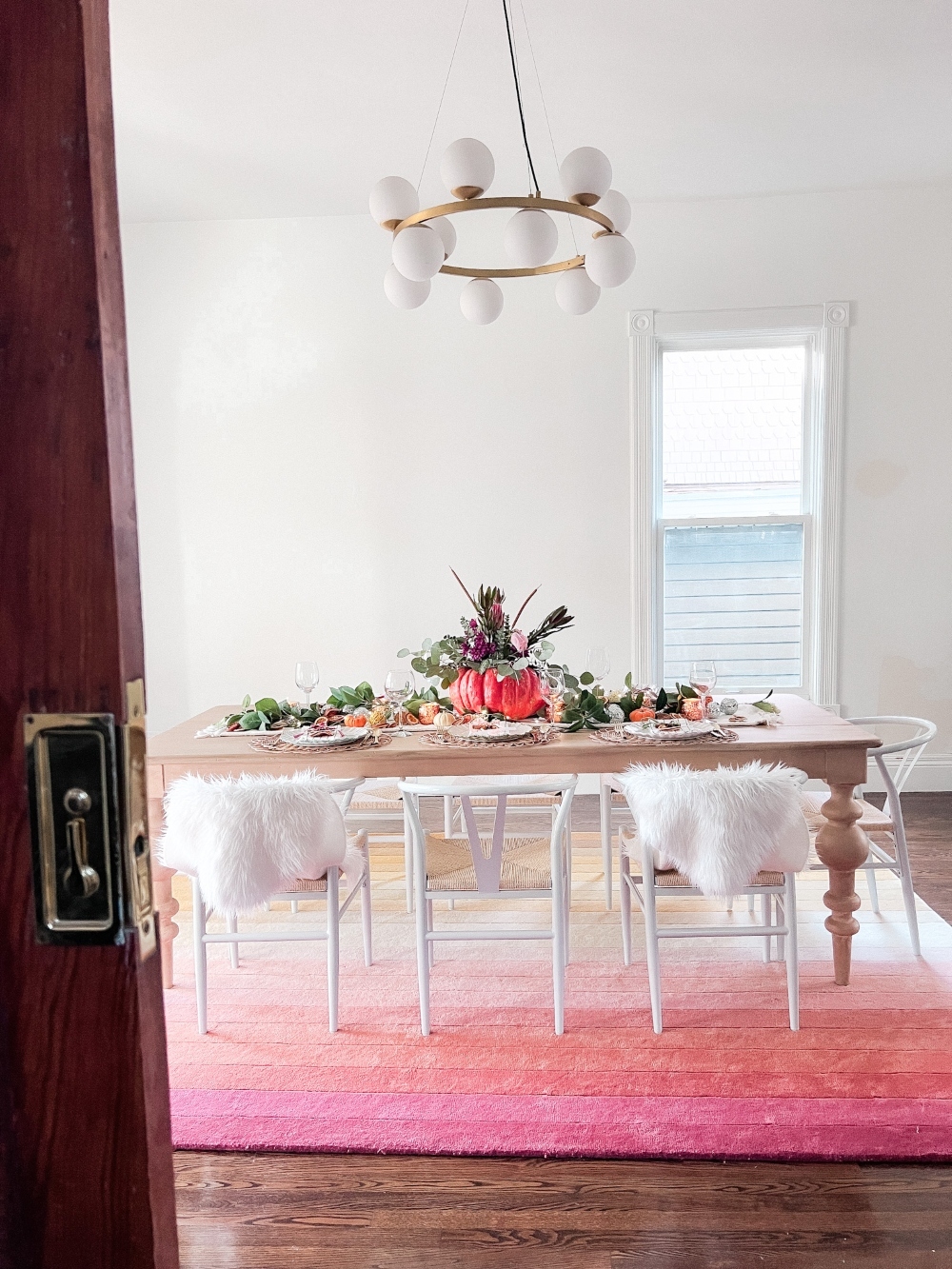 Imagine a gorgeous fall centerpiece that not only captures the essence of the season but is also a breeze to put together. Enter the live pumpkin no-carve floral centerpiece—an updated and simplified version of the traditional pumpkin vase. With this technique, you can craft a centerpiece in less than 10 minutes that will leave your guests in awe. A few years ago I shared a Live Pumpkin Flower Centerpiece with a hollowed out pumpkin and vase inside for the flowers. It was beautiful, but this idea is so much easier to make because there is no carving involved!
Supplies You'll Need: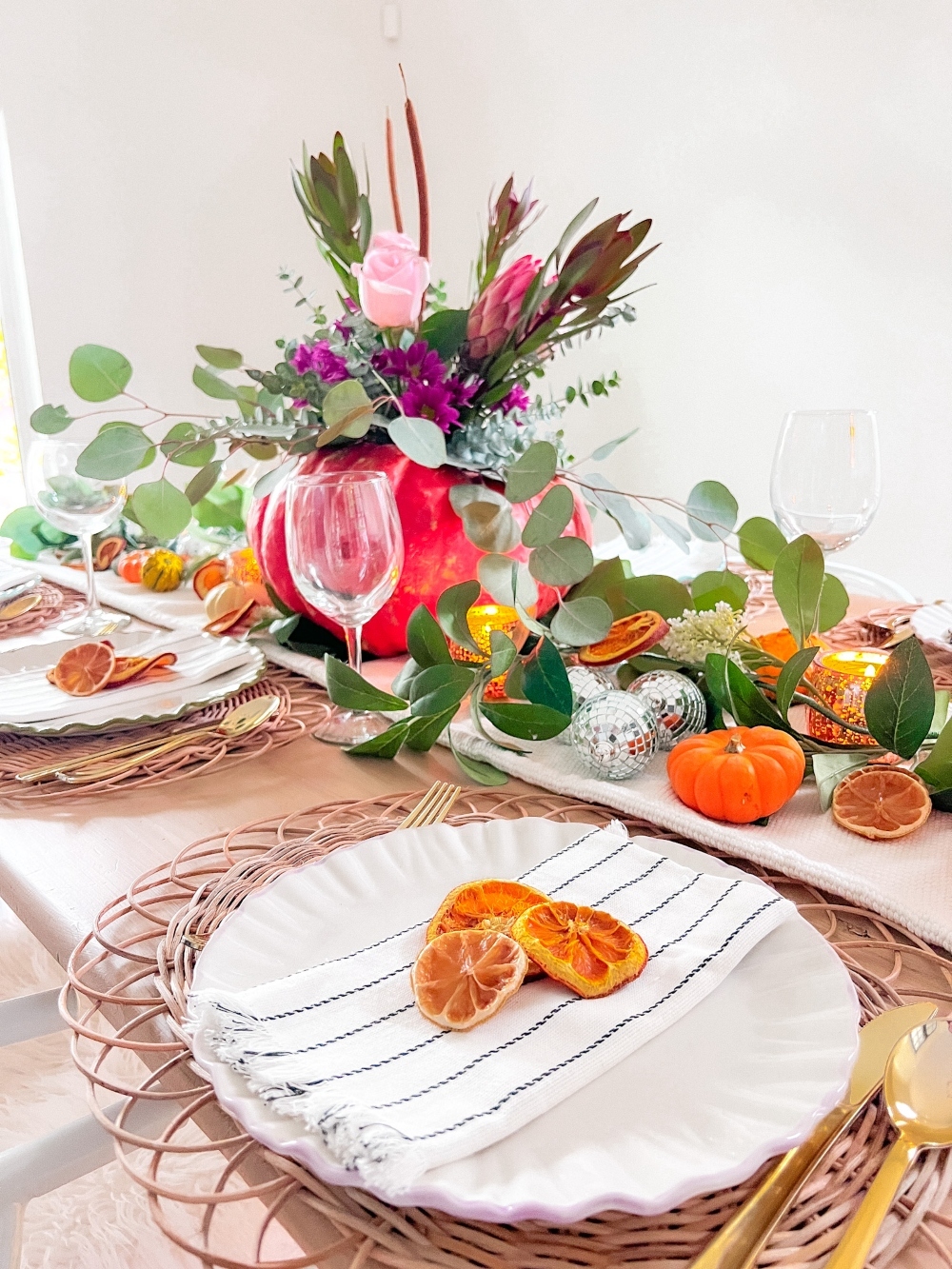 A live pumpkin (choose any size that suits your preference)
Flowers (opt for a variety; I used affordable and beautiful blooms from Trader Joe's)
Floral foam (available [here](insert link))
Hot glue gun (optional, in case your pumpkin has a small or no stem)
Directions:
Prepare the Base: Place the floral foam on top of the pumpkin. If your pumpkin has a small stem or none at all, use a hot glue gun to secure the foam. Avoid wetting the floral foam until the arrangement is complete to prevent it from becoming too soft and breaking.
Create the Arrangement: Begin by adding draping foliage at the base of the floral foam, allowing it to cascade down the sides of the pumpkin. Then, position the main flower in the center at the top. Arrange larger flowers, such as roses, and matching blooms symmetrically around the main flower. As you proceed, fill in the remaining space with smaller flowers and greenery until the floral foam is no longer visible.
Mist with Water: Once the arrangement is set, mist the floral foam with water until it's saturated. This step is crucial for maintaining the freshness of your centerpiece, as the flowers will continue to absorb water through the floral foam. While it's best to create the centerpiece on the day of use, misting the foam a couple of times a day will help preserve the arrangement for a few days.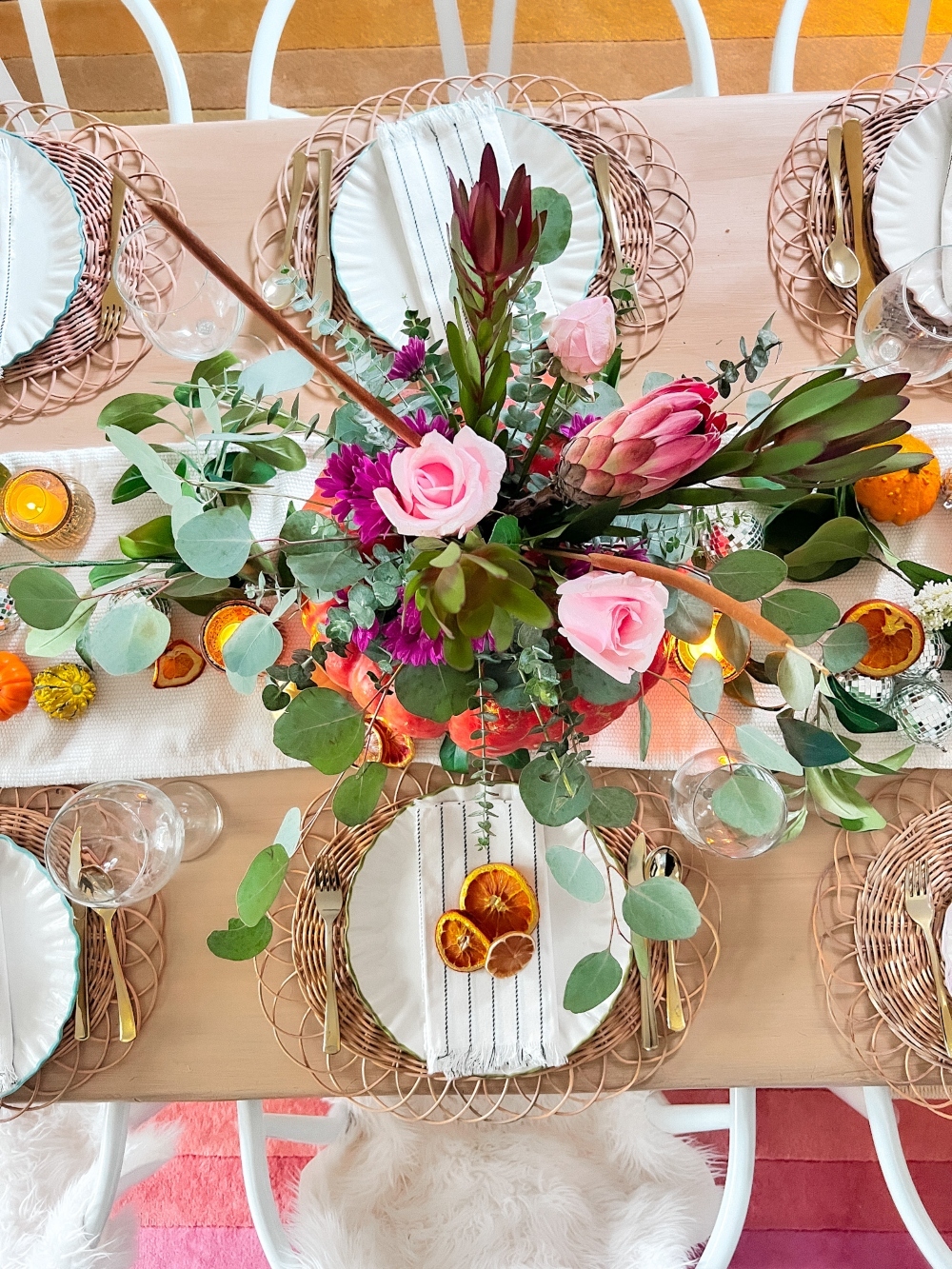 Tips for Success:
Choose Your Pumpkin: Select a pumpkin that complements your table decor. Feel free to experiment with different sizes and shapes for a dynamic effect.
Grocery Store Flowers: You don't need to splurge on expensive flowers. Grocery store blooms, when arranged thoughtfully, can create an impressive centerpiece that rivals high-end florals.
Keep It Fresh: Misting the floral foam regularly will prolong the life of your centerpiece. Ensure the foam stays moist to help the flowers stay vibrant and lively.
Shop My Boho Thanksgiving Table
Recreate my light and colorful boho Thanksgiving table!
Easy Ways to Elevate Your Thanksgiving Table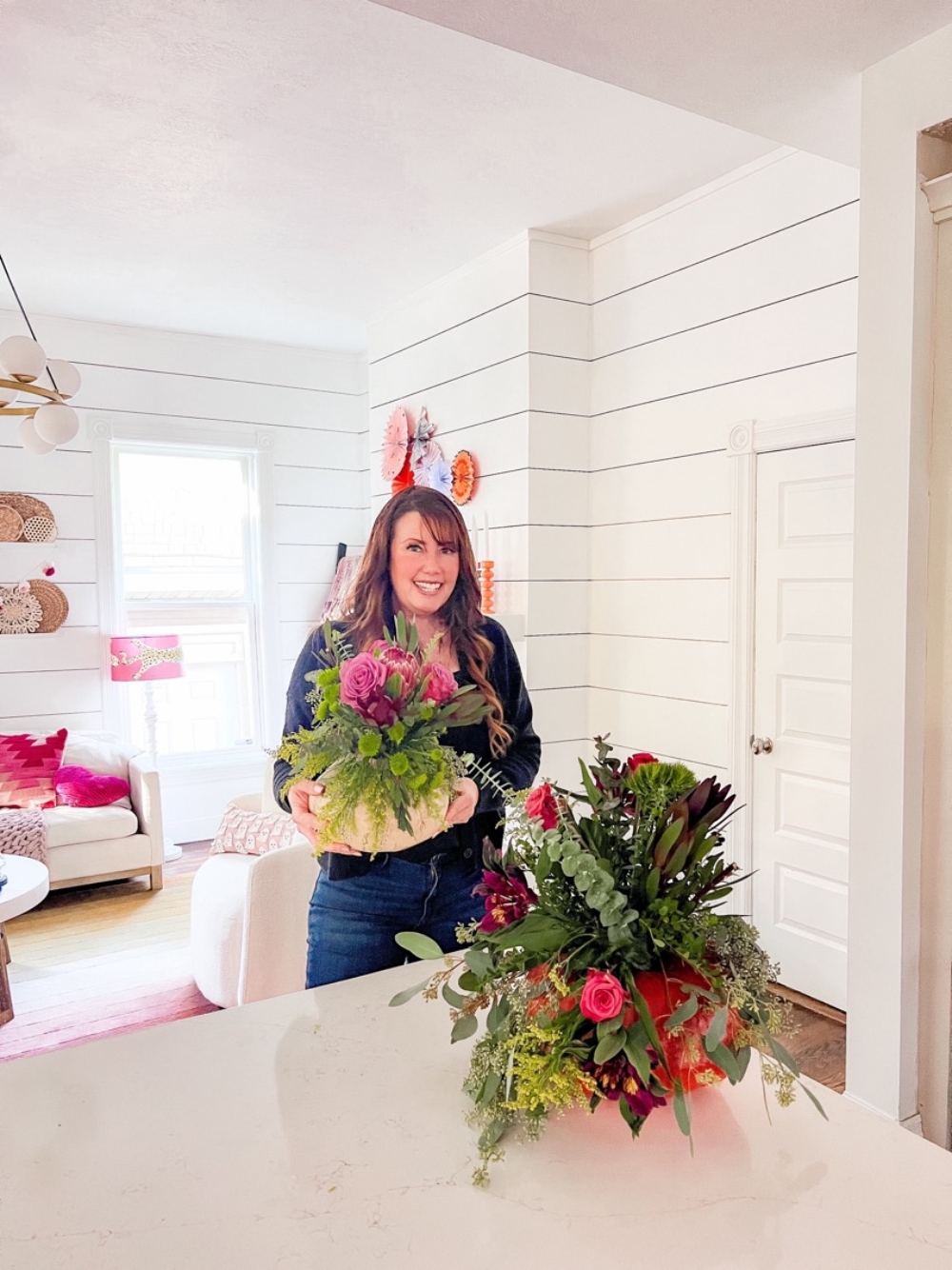 With this live pumpkin no-carve floral centerpiece, you can effortlessly add a touch of elegance to your Thanksgiving table. The simplicity of the process, combined with the affordability of grocery store flowers, makes this idea accessible to everyone. Take a moment to enjoy the creative process and watch as your guests marvel at the beauty you've brought to the table. Scroll down to explore more Thanksgiving tablescape ideas from my friends, and get ready to make this Thanksgiving a truly memorable one.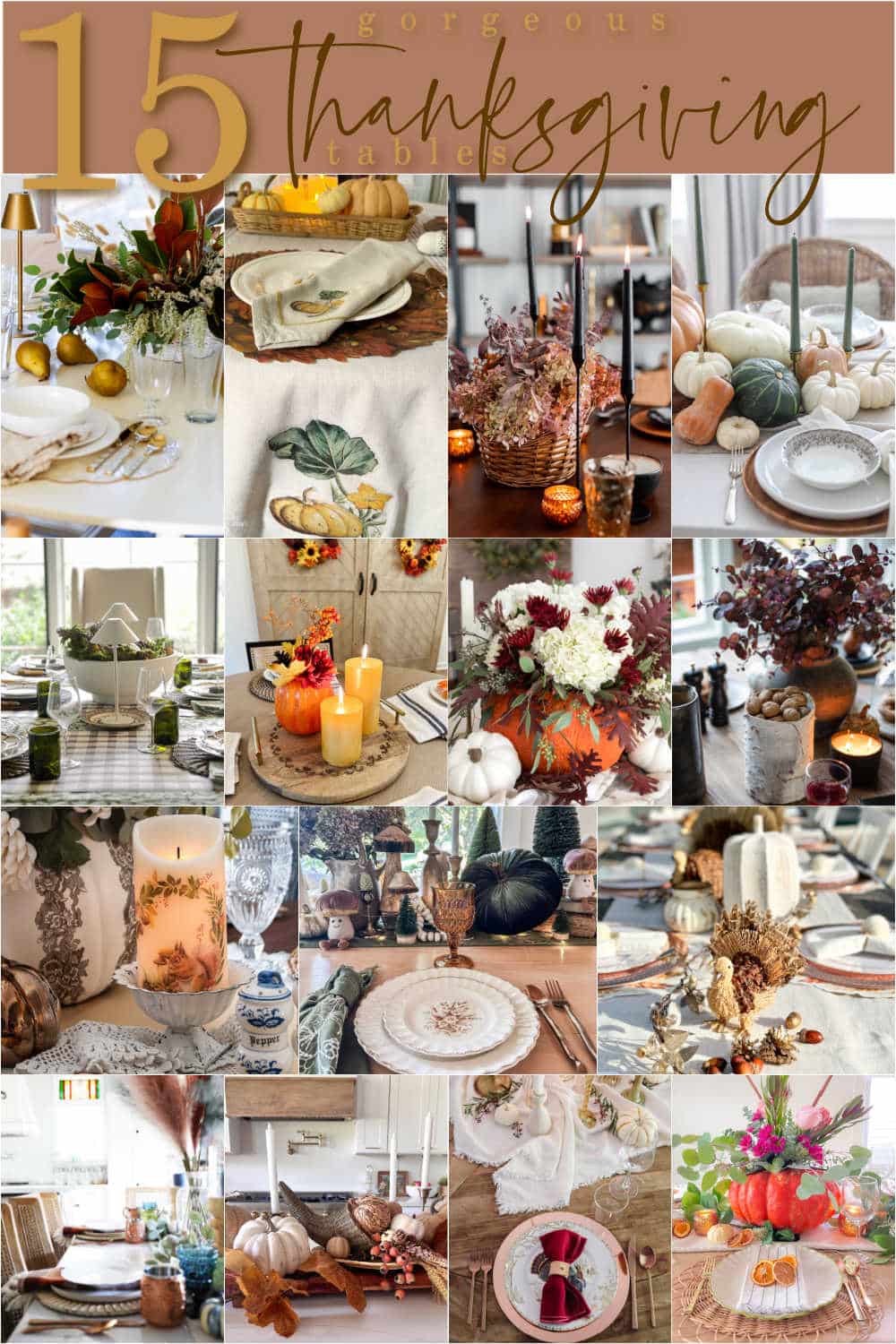 Thanksgiving Table Setting With Magnolia Leaf Centerpiece | Zevy Joy
Fall DIY Decor Project Ideas | Today's Creative Life
Late Fall Moody Tablescape | Craftberry Bush
Thanksgiving Tablescape 2023 | Rooms For Rent
How to Style and Set a Thanksgiving Table | The Tattered Pew
Effortless Thanksgiving Table Setting: Quick Tips for Last-Minute Hosts | She Gave It A Go
How to Make a Simple Pumpkin Floral Arrangement for Thanksgiving | Midwest Life and Style
How to create an organic modern Thanksgiving table setting | My Sweet Savannah
Thanksgiving Table with Mismatched Dishes | DIY Beautify
Fall Thanksgiving Table | Hallstrom Home
How to Decorate a Thanksgiving Table for a Crowd | Pasha is Home
Tips for an Easy Thanksgiving Tablescape | The Handmade Home
How to Create a Thanksgiving Centerpiece with Thrifted Finds | Lolly Jane
How to Decorate a Round Table for Thanksgiving | Modern Glam Home
Thanksgiving No-Carve Floral Pumpkin Centerpiece | Tatertots and Jello
More Thanksgiving Ideas
Here are a few other simple ideas to make this Thanksgiving the best one yet!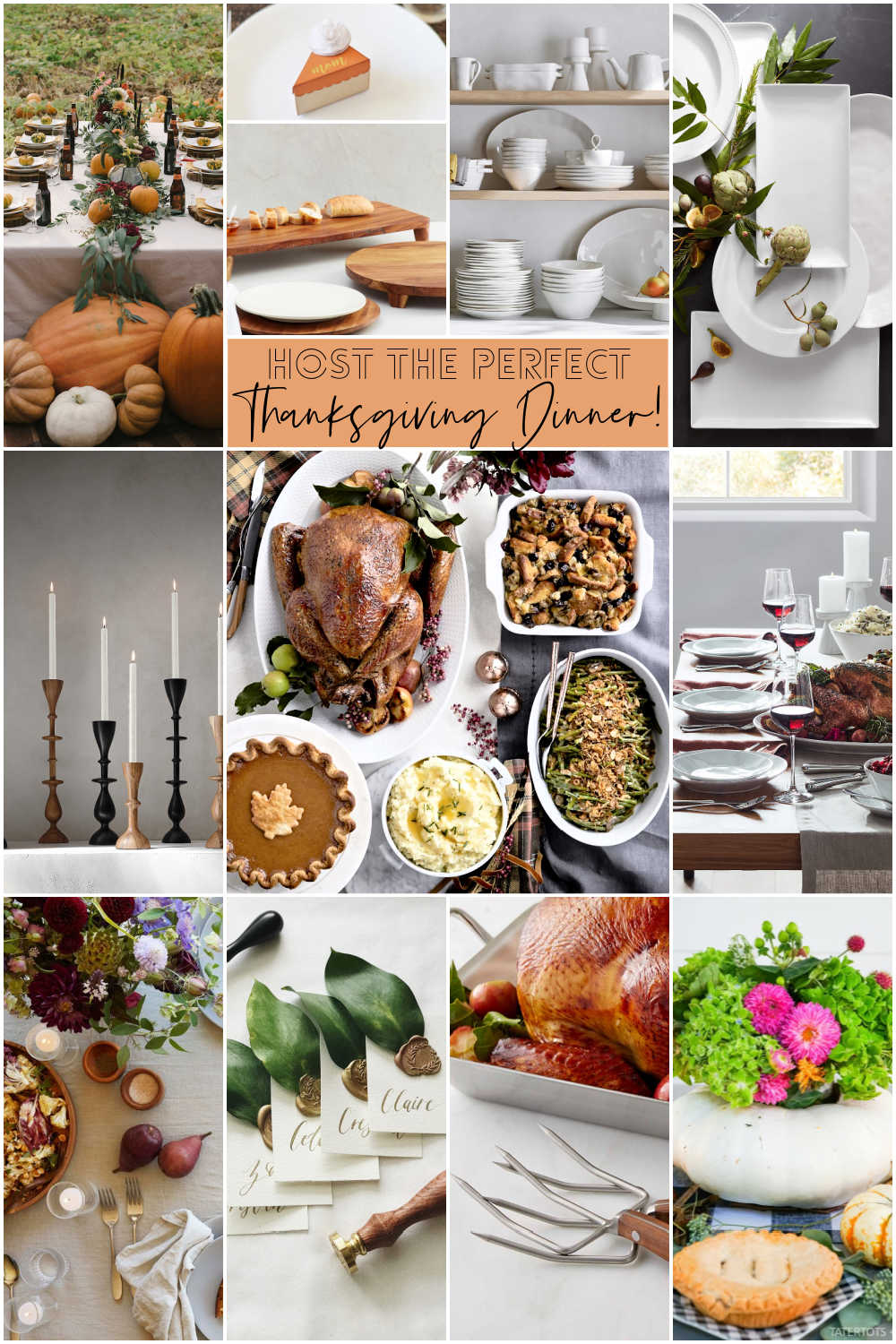 Hosting Thanksgiving this year? Here are some ways to make it the easy so you can enjoy the holiday with your family!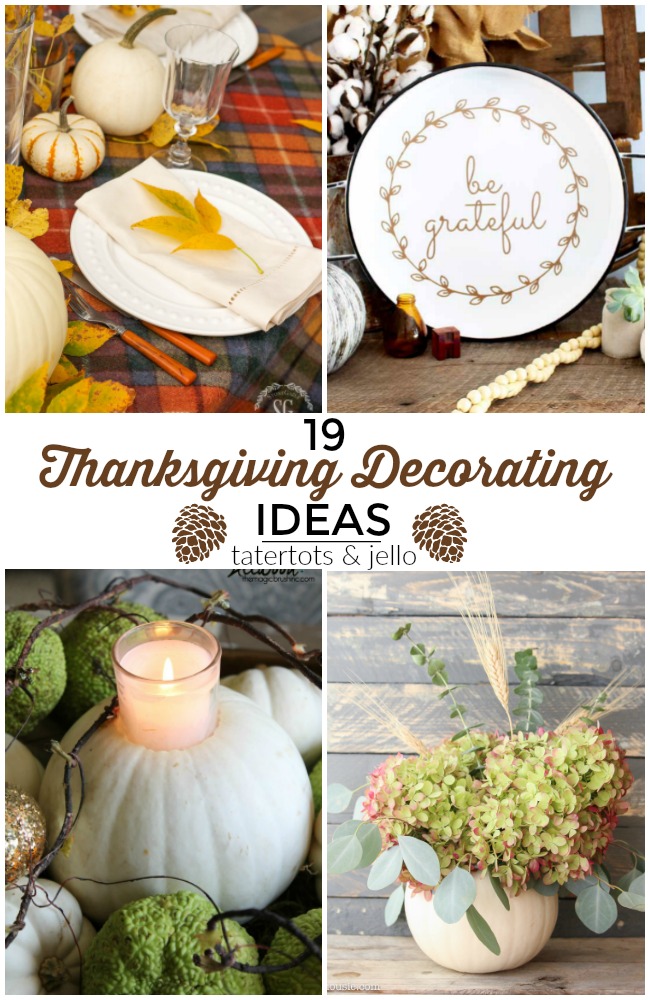 Easy ways to bring the spirit of Thanksgiving to your home!
Thanks for stopping by!
Have a Beautiful day!
xoxo