How to Make a T-Shirt Quilt. Take treasured t-shirts and supplement them with thrifted shirts with meaningful places, logos or sayings for a quilt that will be treasured always. It is a fun craft to make with a teen or tween or give as a gift!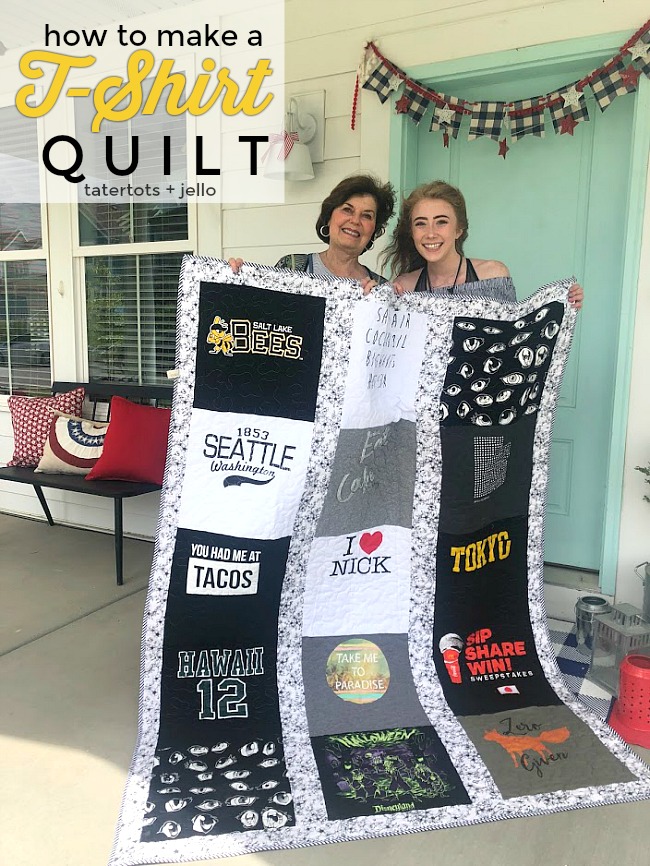 A T-Shirt Quilt is the perfect gift or project to make for a teen or tween
Do you have a teen or tween? If you do, chances are they have some special t-shirts they have saved over the years. My daughter graduated recently and I helped my mom make her a t-shirt quilt, filled with special t-shirts. We also found some t-shirts at Savers with special teams, places or saying that are special to her. It is a quilt that she take with her to college and remember all of the special events and places we visited together from her childhood!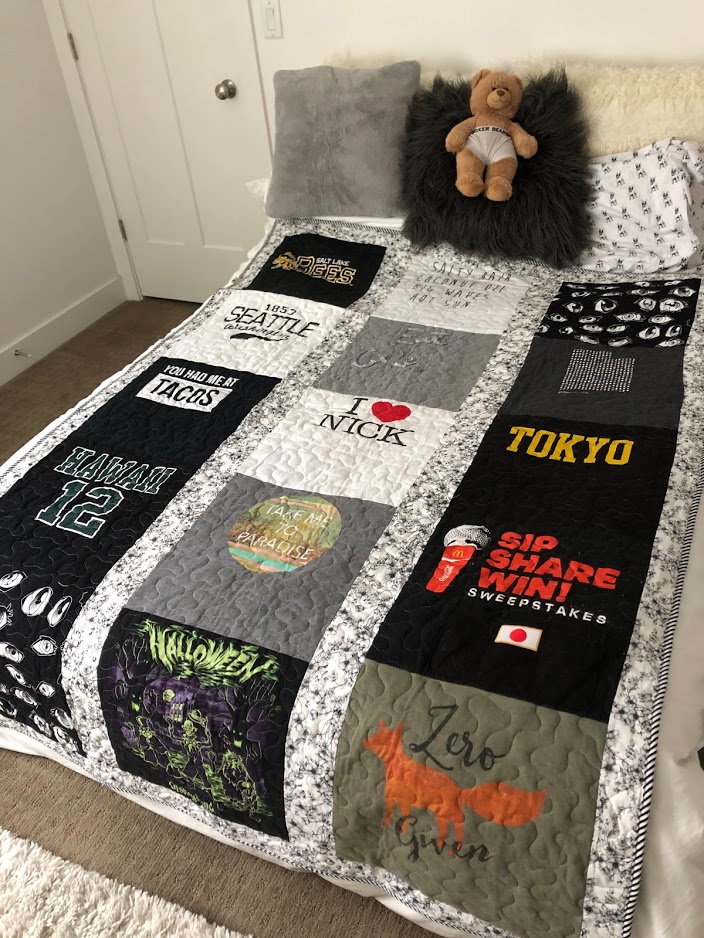 My mom made one for my older daughter and it is one of her most treasured possessions!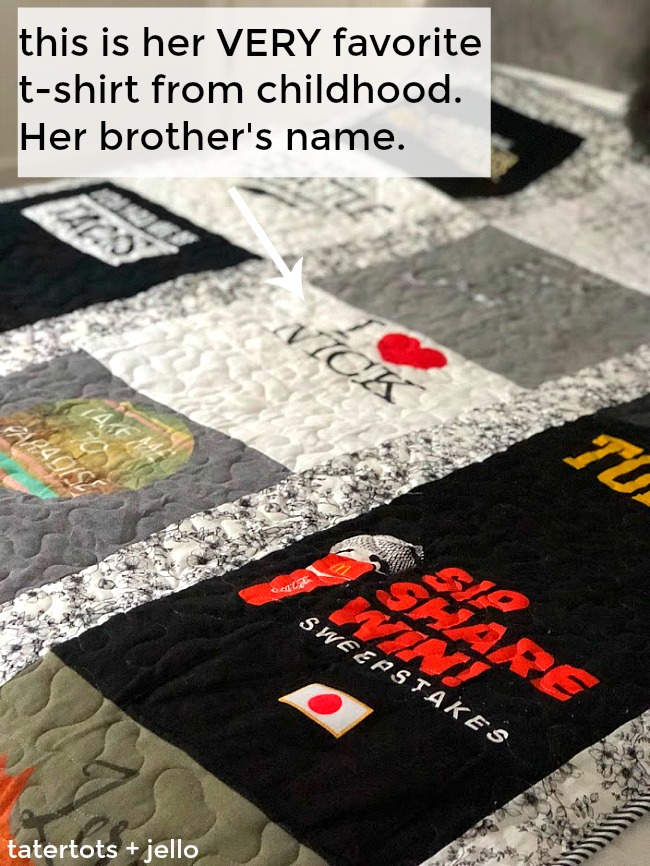 Gather those shirts and turn them into a special gift!
Just for reference, this is approximately how many t-shirts you need for different sized quilts:
12 shirts will make a throw-size quilt, approx. 48″ x 64″ – 3 across x 4 down. 20 shirts will make a twin size quilt, approx. 64″ x 82″ – 4 across x 5 down 30 shirts will make a full size quilt, approx. 82″ x 96″ – 5 across x 6 down. 36 shirts will make a queen size quilt, approx. 96″ x 96″ – 6 across x 6 down. 42 shirts will make a king size quilt, approx 110″ x 96″ – 7 across x 6 down.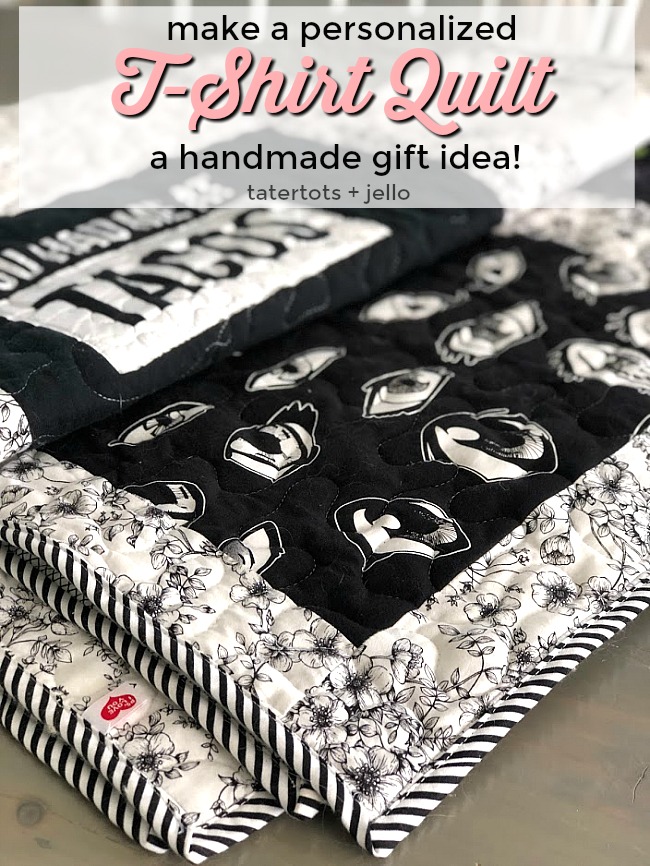 How to make a T-Shirt Quilt
Gather the t-shirts
See how many shirts you have and how many you would need
Head to a Thrift Store to get more shirts
My daughter had about 12 special shirts but we needed about 30 shirts. So we headed to
Savers
. There are so many shirts to choose from! We found some shirts to add to the quilt that had special locations like Seattle (we went on a family trip there one summer), a fox (her favorite animal), a cake saying (she works in a bakery) and other shirts to make her quilt even more special.
Find the smallest shirt
Take the smallest shirt and see how big it is. You need at least 12 inches square to make a good sized quilt square. 14 inches in width and height is ideal. If you have a shirt that is considerably smaller than 12 inches, you can take fabric from the back and add panels to the sides and top and bottom to make it larger. Once you know the size of the smallest shirt, you can make a template.
Make a Template
You want a template that is as big as the smallest shirt. So if you smallest shirt is 12 inches square, make your template 12 inches. You can cut your template out of cardboard OR you can get a plastic template. That's what I did since I want to make a few of these t-shirt quilts.
Plastic T-Shirt Template.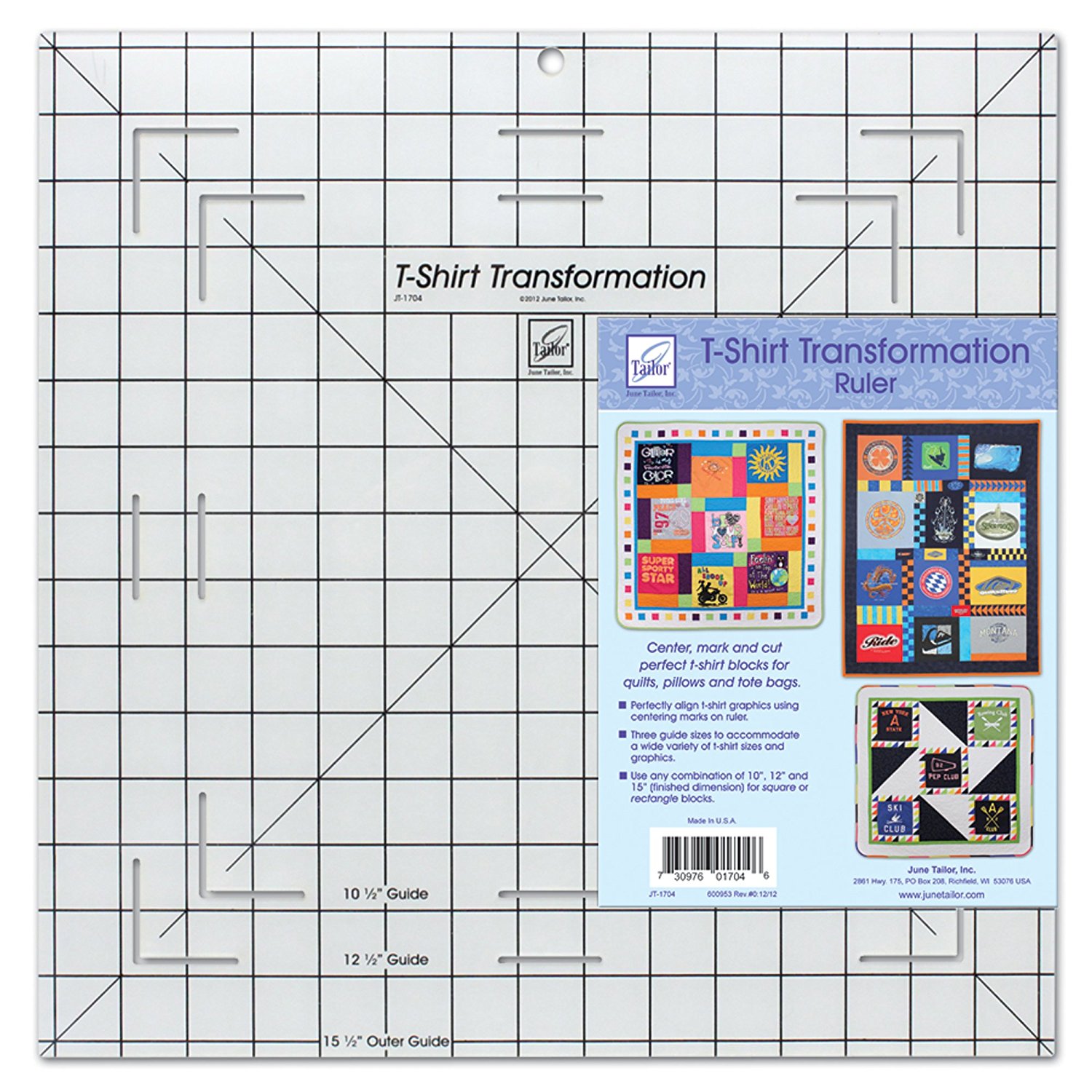 Cut your shirts
Cut along the seams of your shirts, so that the front of the shirt is exposed, remove the knitted cuffs and neck bands so that you can lay the front of the shirt FLAT. Then center the template on top of the design and cut the t-shirt around the template. Do this to all of the shirts.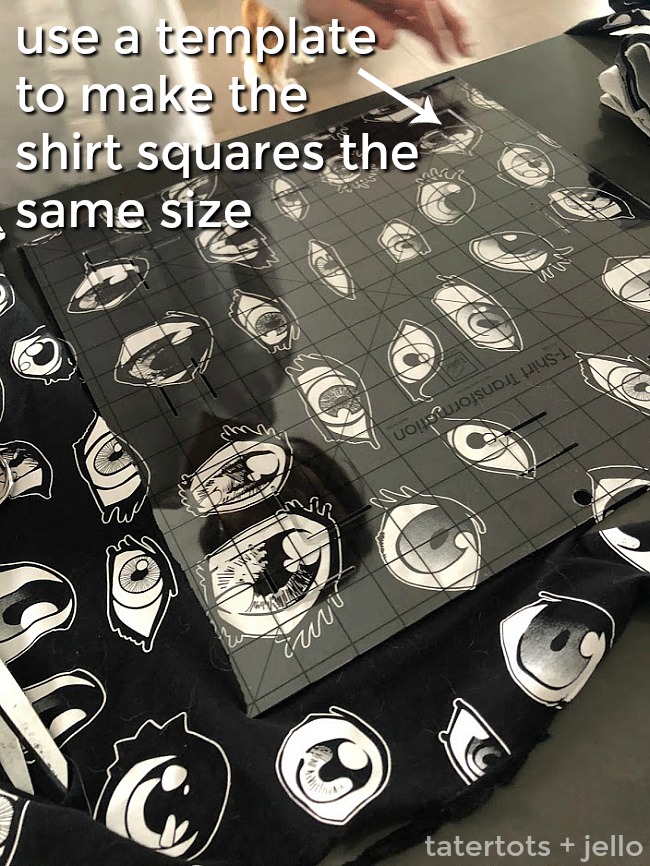 Lay your shirts out to measure the size
Lay the shirts out and see how big your quilt looks. This is when you decide if you want to have sashing in between the shirts.
How to Make a T-Shirt Quilt
Sashing
Sashing is the material that runs between the t-shirts. It also makes the quilt bigger. If you don't have many shirts, you can add sashing and you won't need as many. If you have TONS or you just like the idea of the quilt being only t-shirt, you don't need sashing in between the shirts. You will need material for the edges of the quilt and the back of the quilt. You can also find fabric at Savers too! Measure the places you will add sashing. A note – most t-shirt quilts that use sashing cut the material 2 inches wide, once it is sewn into the shirts the sashing will be 1.5 inches wide. You also need to measure sashing for the edges of the t-shirt quilt.

Fabric and Batting
Add up the sashing fabric total. You also need a back for your quilt. Factor in how big your quilt is and get enough fabric for the back of the t-shirt quilt too. Take the total you need for the back of your quilt and get enough batting to go inside the quilt.
Add Interfacing
T-shirts are so stretchy they are hard to sew. Adding interfacing will make them sturdier and easier to quilt. You can buy iron-on interfacing. Then just iron on the interfacing to the back of your t-shirts.

Lay the T-shirts out
Lay the t-shirts out in the order you want to make them for the t-shirt quilt.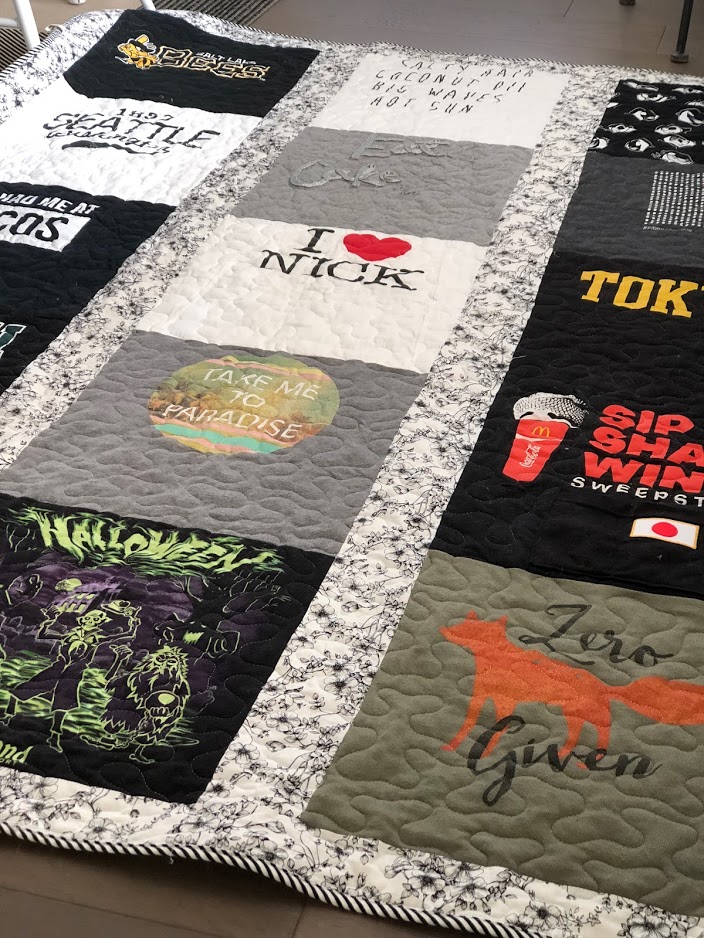 Sew the t-shirts together
Then sew them by rows onto the sashing. If you aren't using sashing you can sew the t-shirts directly together. We only used sashing vertically between the t-shirt rows. So we took the first row of t-shirt and sewed them together until they were all in a row, then sewed that row of t-shirts onto the sashing. Then we did the same thing with the next row until all of the t-shirts were sewn together with sashing in rows between the t-shirts. Then we attached the edging fabric onto all of the edges.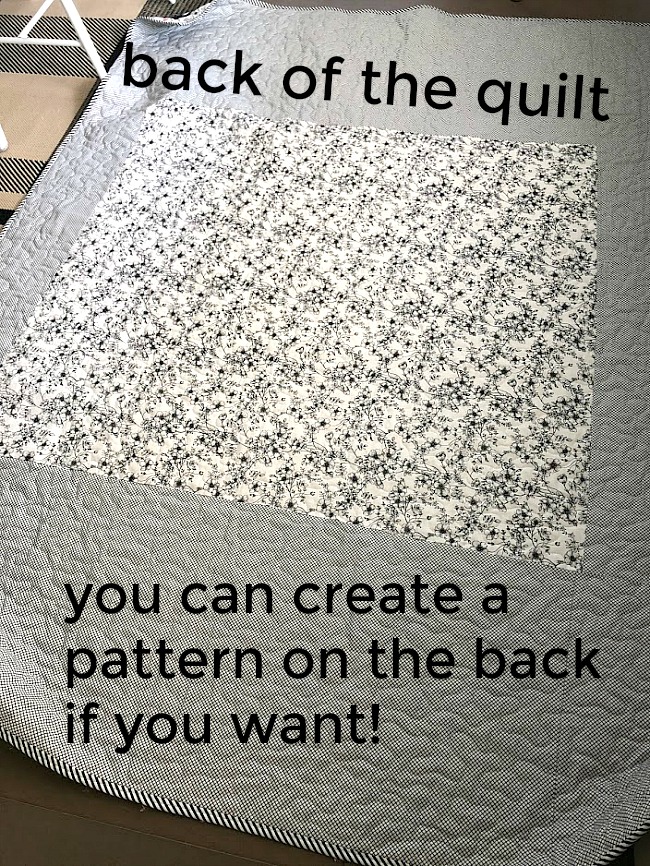 Sew the back of the quilt
Sew the material together for the back of the quilt.
Add batting and back of quilt
Flip your quilt over and add the batting and the quilt back. Safety pin it all together.

Add binding
3 inch strip of bias fabric material until it is long enough to go all the way around the quilt. See this
tutorial on Craftsy
on how to bind a quilt.

Quilt the top
Machine quilt the top. You can sew along the outlines of the t-shirts to quilt the top of your quilt. It is hard to do with a regular sewing machine. Some other ideas on finishing the quilting is to take the quilt to a machine quilter who has a long-armed machine that is made for quilting. Or you can also tie the top of your quilt with embroidery floss.
Add a personal touch
You can add a iron-on label with a hand-written note too!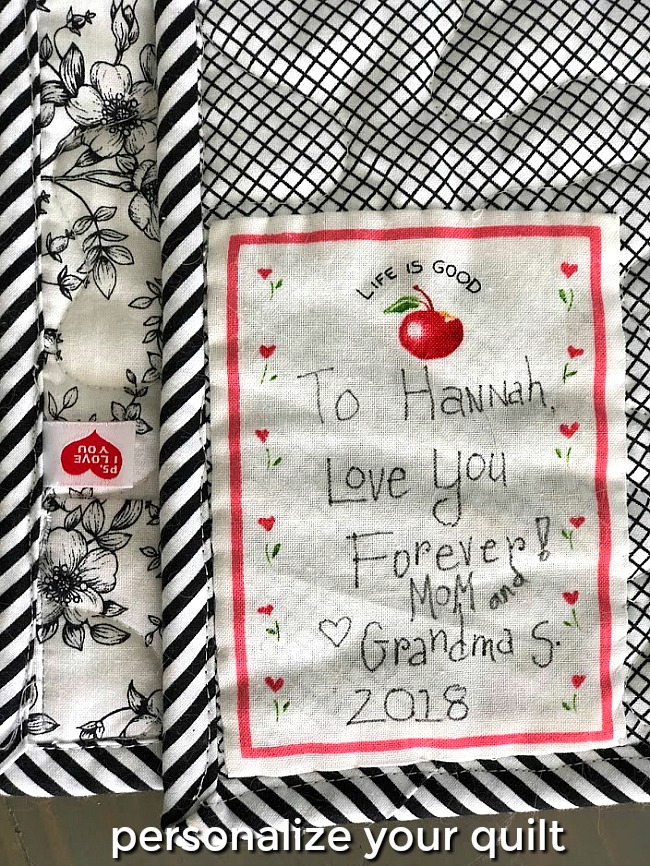 Make a T-Shirt quilt for someone special in YOUR life!
Savers
is also amazing for getting quality, on-trend clothes. I shop there with my girls all of the time!! Here are a couple new outfits I bought last week: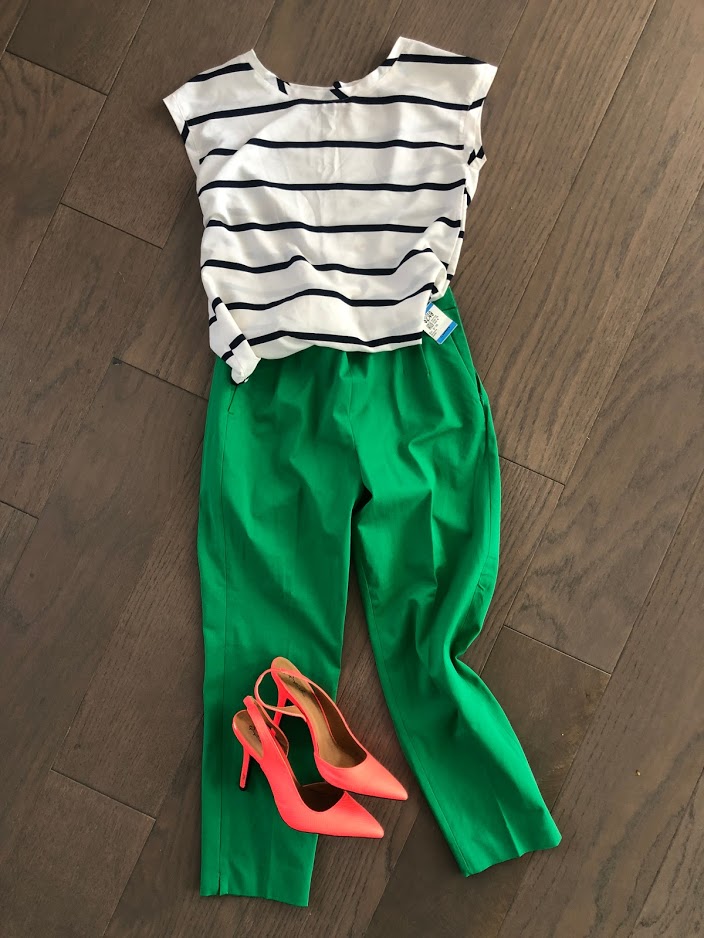 These JCrew pants are BRAND NEW and have never been worn. $2.50!!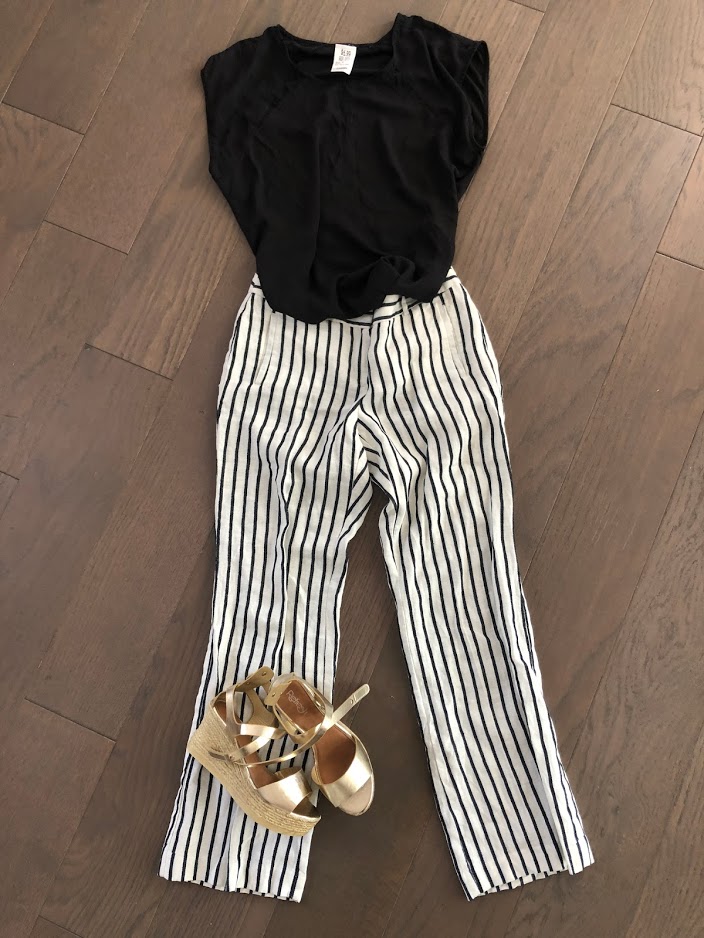 I love these wide-legged linen pants. Perfect for Summer date night! This outfit cost $10 total!
Pin This Idea to Find Later!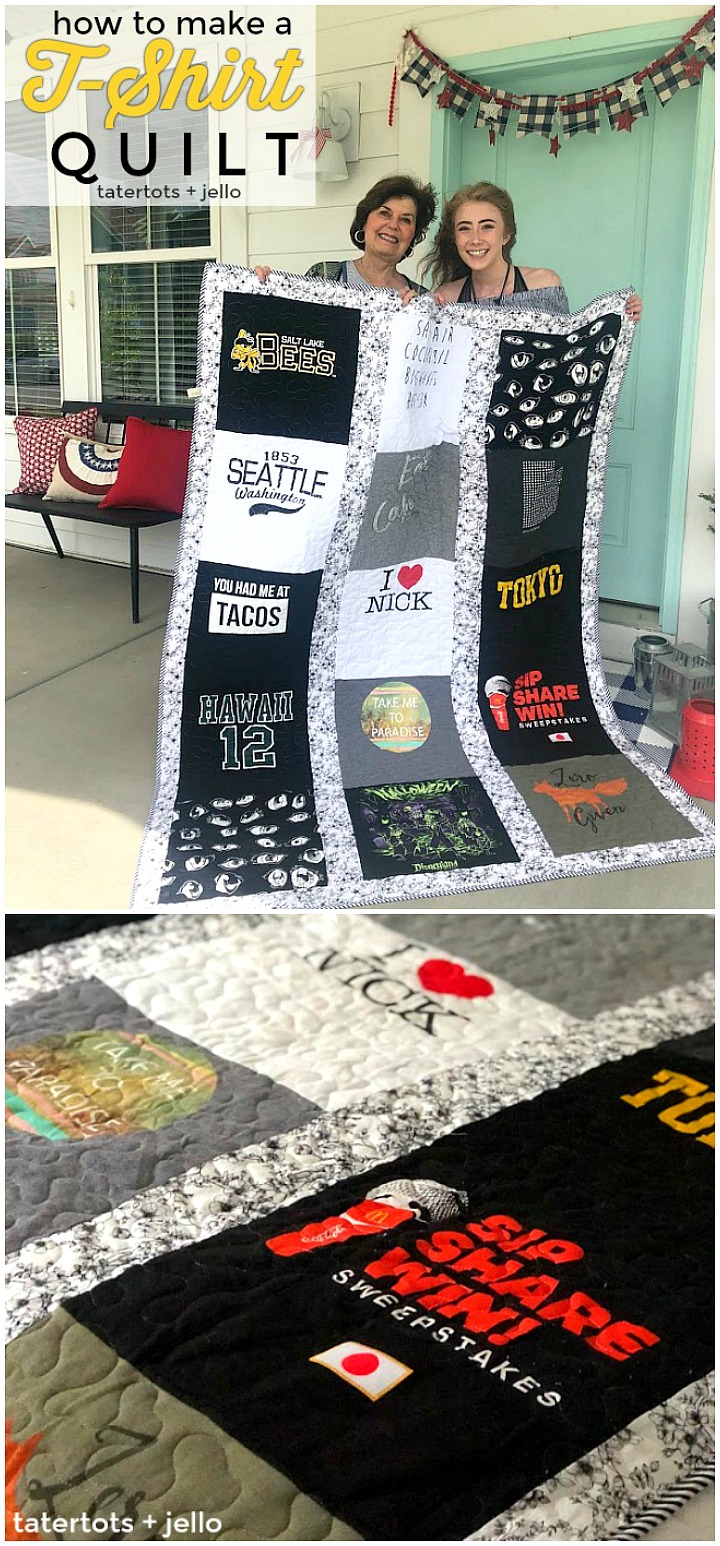 And tag me on Instagram at @tatertotsandjello if you make a t-shirt quilt. I would love to share yours!
More Graduation Ideas:

Make a Graduation Money Lei Necklace. Instead of giving money in an envelope for graduation, get creative and make a graduation lei necklace with MONEY leafs! After graduation the graduate can take the paper elements off and still have a cute wood necklace to wear and remember their special day!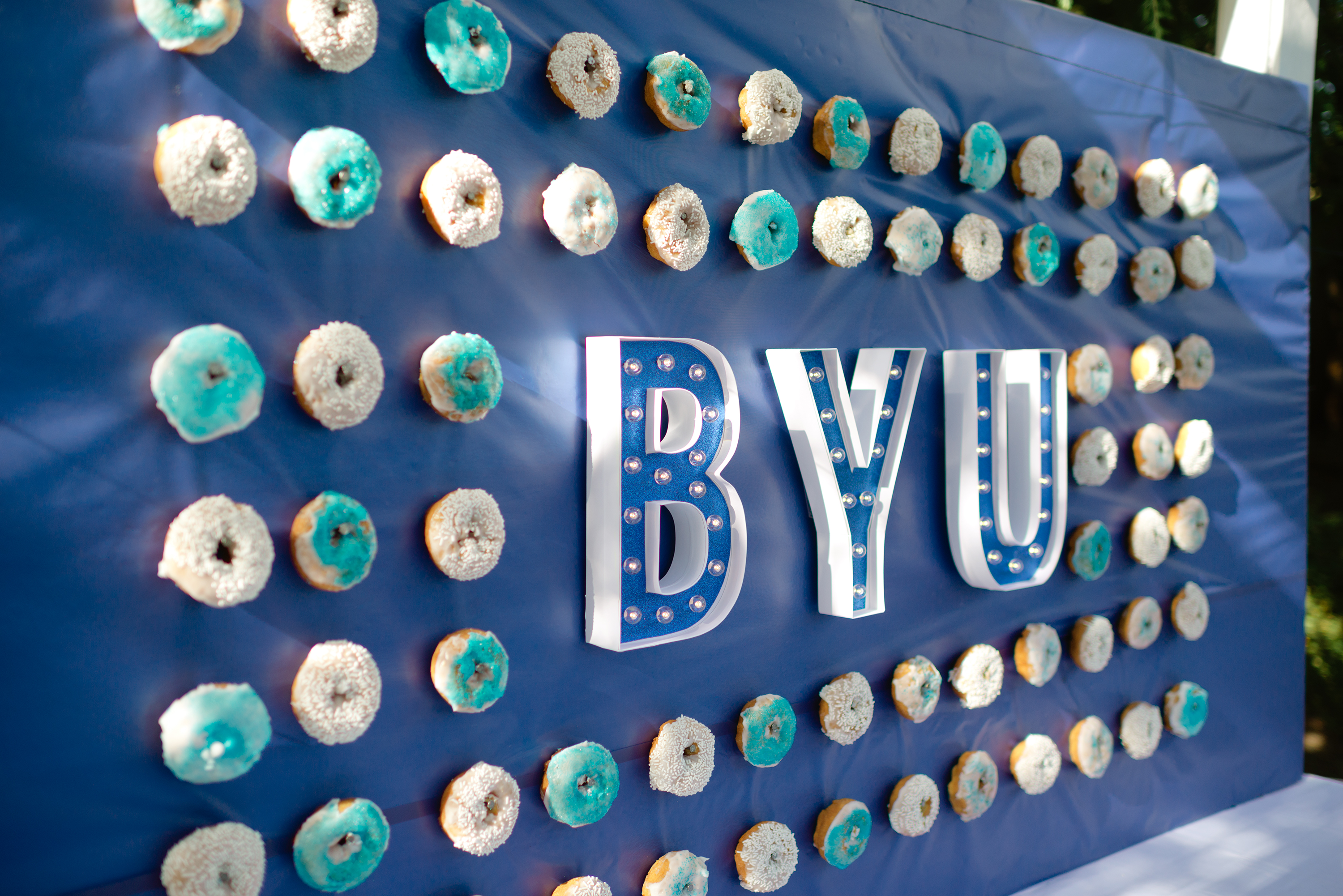 graduation donut backdrop. Make this donut backdrop for any type of party or event. It's a decoration, a photo backdrop AND dessert!
Have a HAPPY day!
xoxo