I've partnered with Hobby Lobby to create these warm and cozy Christmas Hygge gift boxes. All opinions are my own.
Warm and Cozy Hygge Christmas Gift Boxes. Gift your friends and neighbors with gift boxes full of warm and cozy items they can use this Christmas season!
Warm and Cozy Hygge Gift Boxes
The holiday season is upon us, and this year, I've decided to ditch the last-minute hustle and embrace the art of hygge with the perfect gift—Hygge Holiday Gift Boxes with Christmas items from Hobby Lobby. So, what exactly is hygge, and why is it the ideal embodiment of the holiday spirit?
What is Hygge?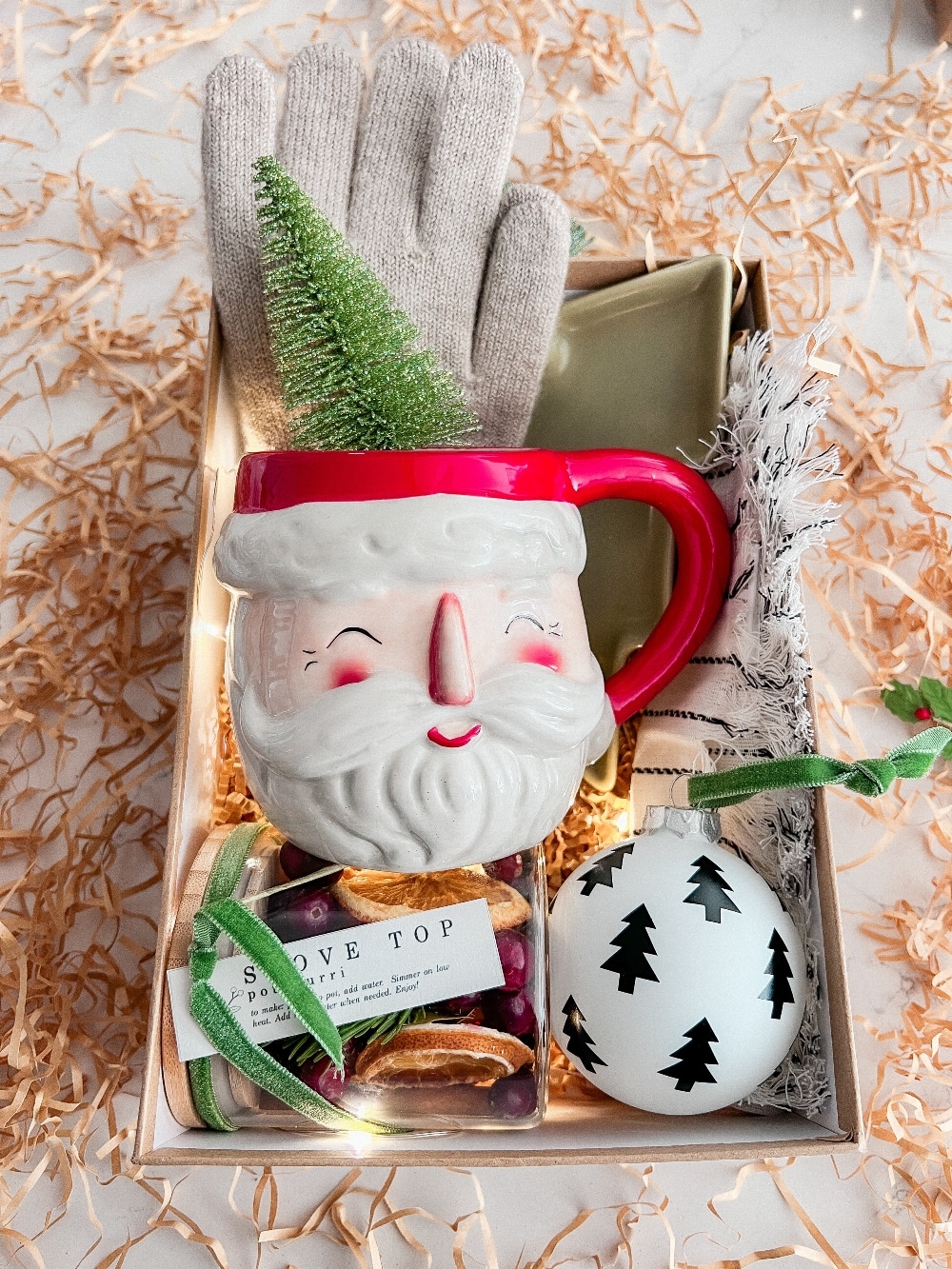 Hygge (pronounced hoo-ga) is a Danish concept that encompasses a feeling of coziness, contentment, and well-being. It's about creating a warm atmosphere and enjoying the simple pleasures of life. This year, I've curated Hygge Holiday Gift Boxes for my friends, neighbors, and even my adult kids to spread the spirit of hygge. On december 1st I'll be delivering hygee boxes to my friends and neighbor so they can enjoy them all month long!
Unveiling the Hygge Magic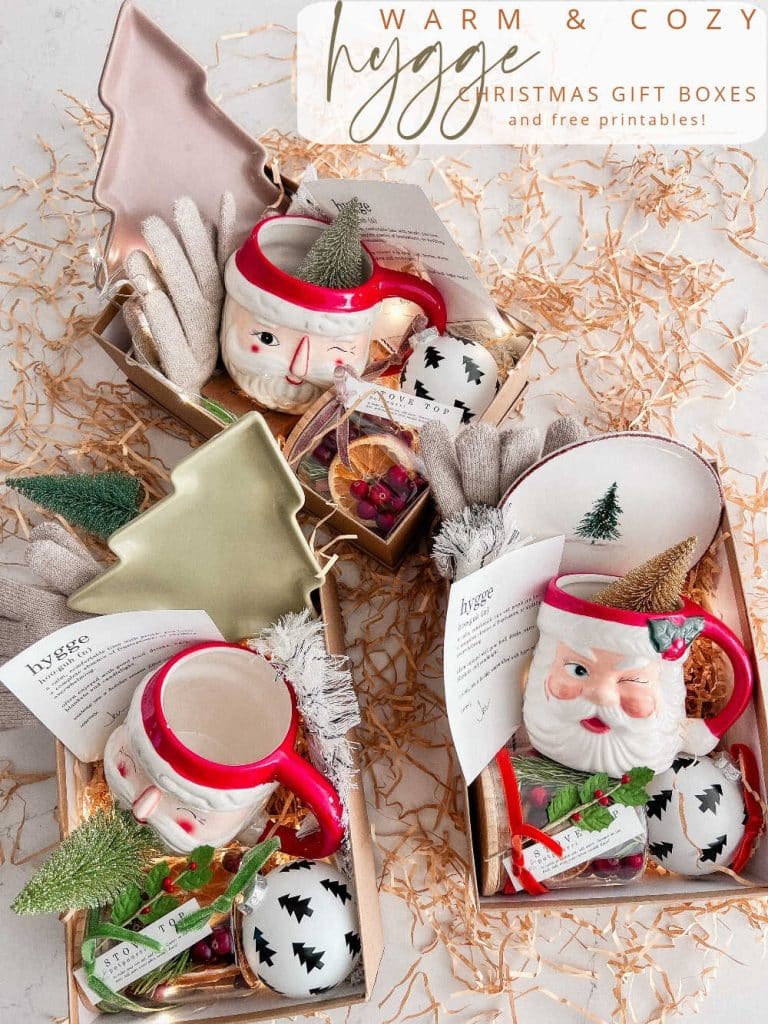 Inside each carefully crafted box are elements that promise to envelop your loved ones in the comforting embrace of hygge:
1. Festive Twinkle Lights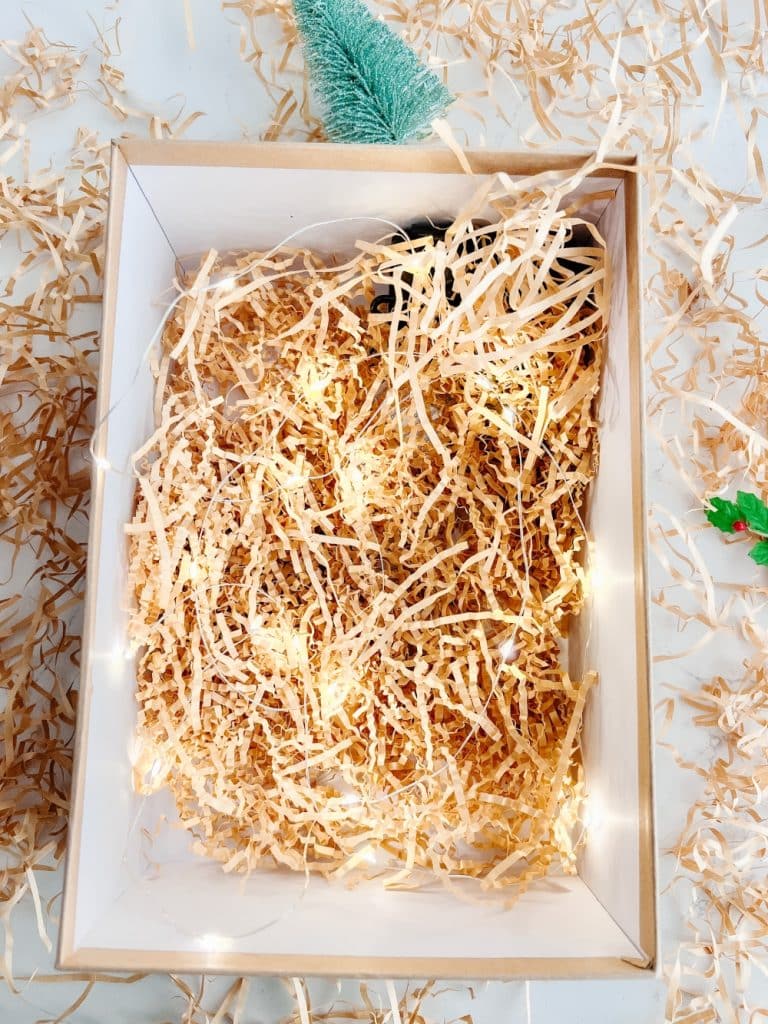 Illuminate their homes with the warm glow of festive Micro Dot LED twinkle lights. These lights are not just decorations; they are an invitation to create a cozy ambiance, turning any space into a haven of comfort.
2. Fringed Dish Towel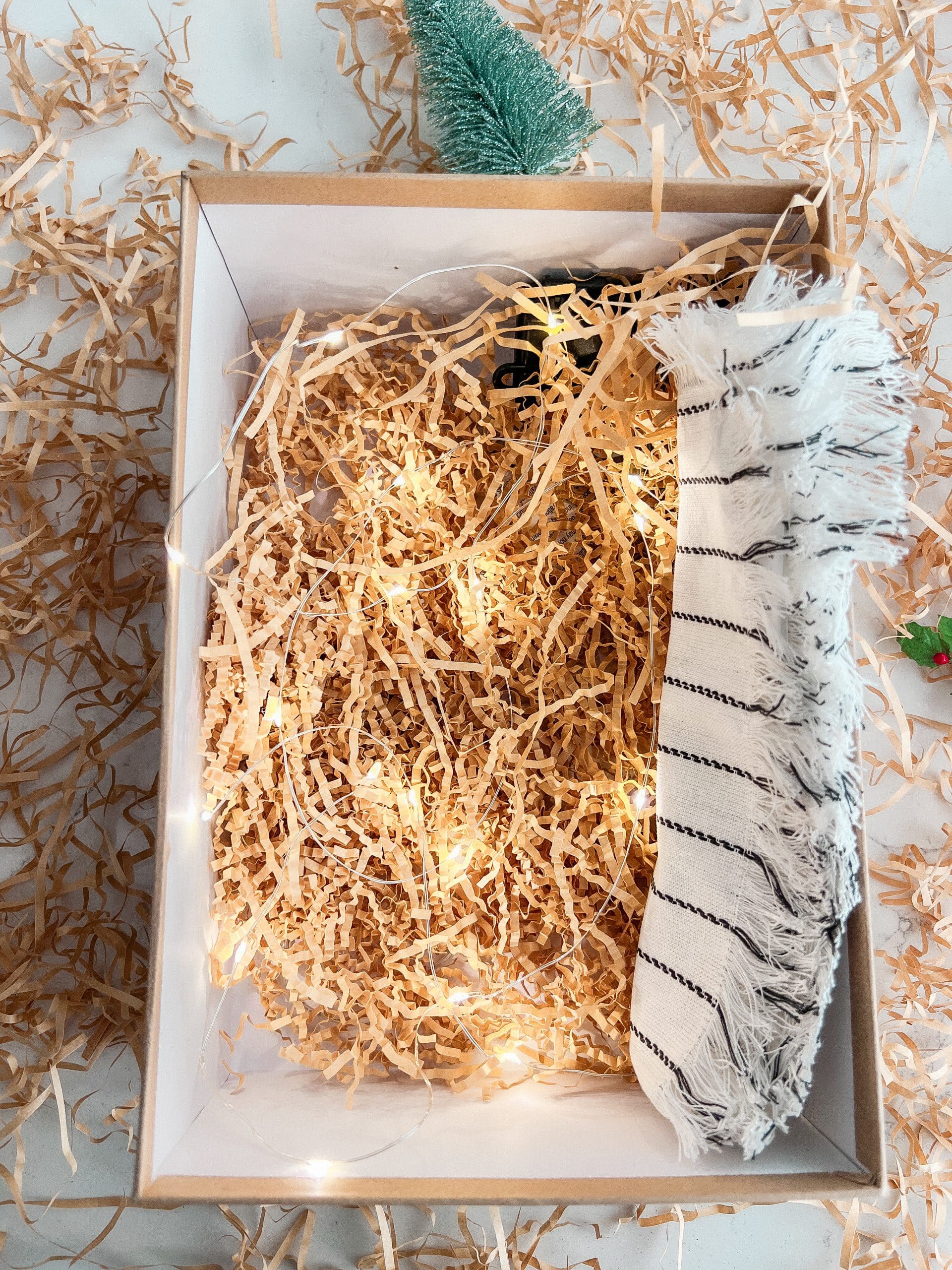 Every home needs a touch of hygge in the kitchen. The fringed dish towel is actually a holiday fringed napkin, but they can be used as a dish towel. The napkins come in a set of 4, and the fringed edges adds a cozy element.
7. Christmas Tree Plate
What's a holiday without delicious treats? The Christmas tree plate provides the perfect canvas for fresh Christmas cookies, inviting everyone to indulge in the sweet moments of the season.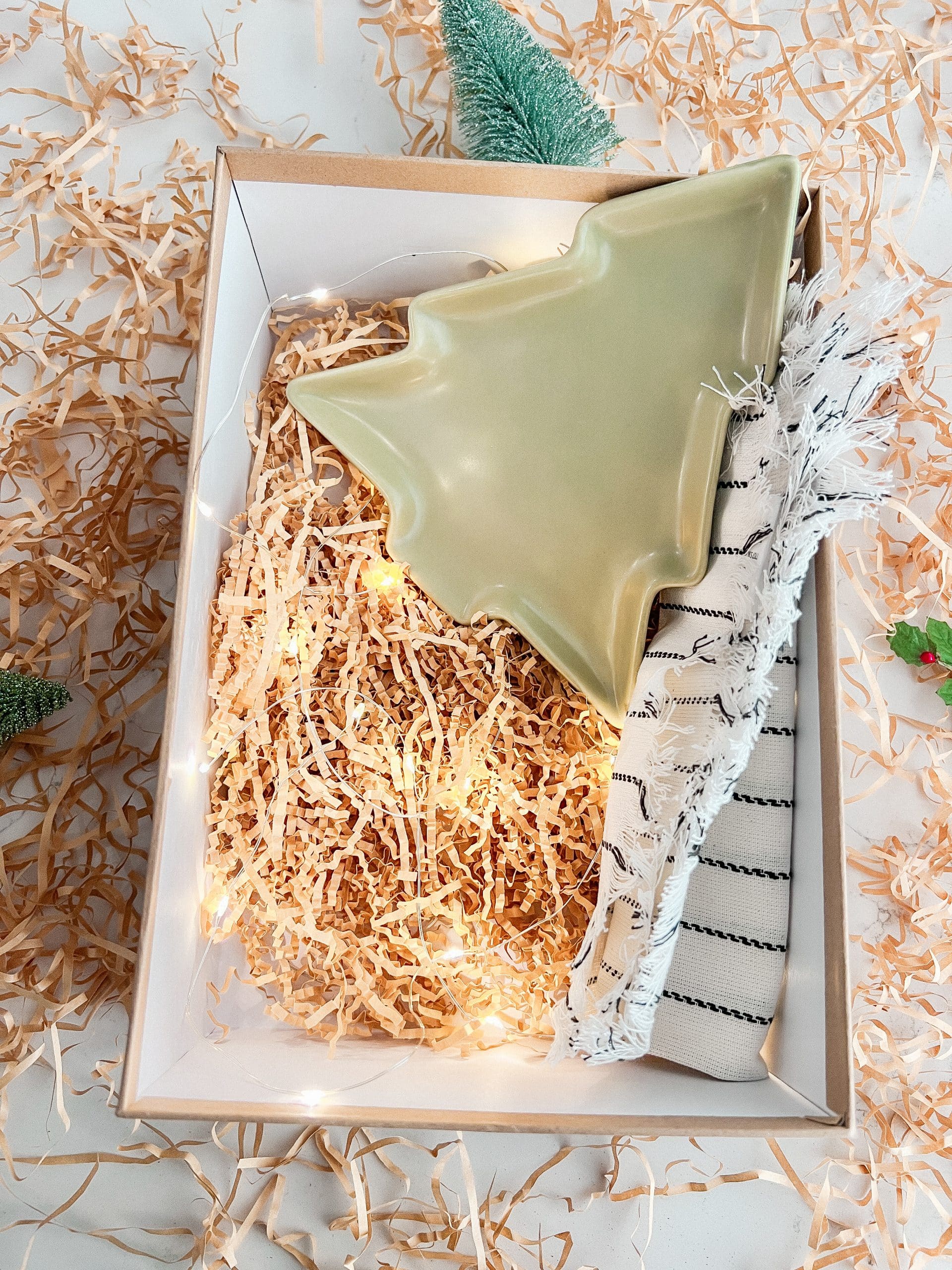 3. Beautiful Santa Mug
Warm drinks become a delight in a beautiful Santa mug. Whether it's hot cocoa, spiced tea, or a comforting cup of coffee, sipping from this festive mug adds a touch of holiday cheer to every sip.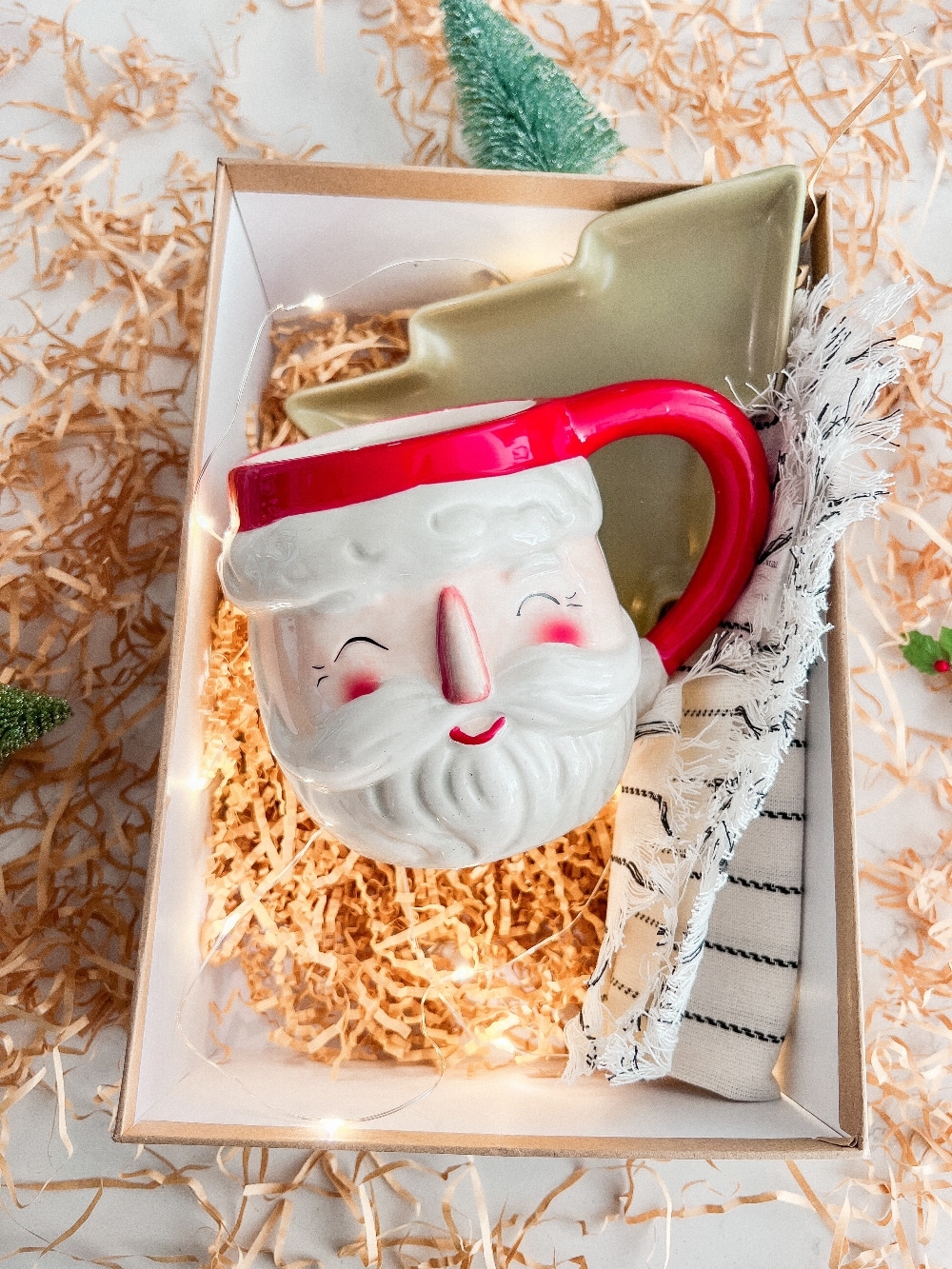 4. Gorgeous Hygge Ornament
Adorn their holiday tree with a gorgeous hygge black and white tree ornament, a symbol of the season's spirit. This ornament is not just a decoration; it's a reminder to appreciate the beauty in simplicity.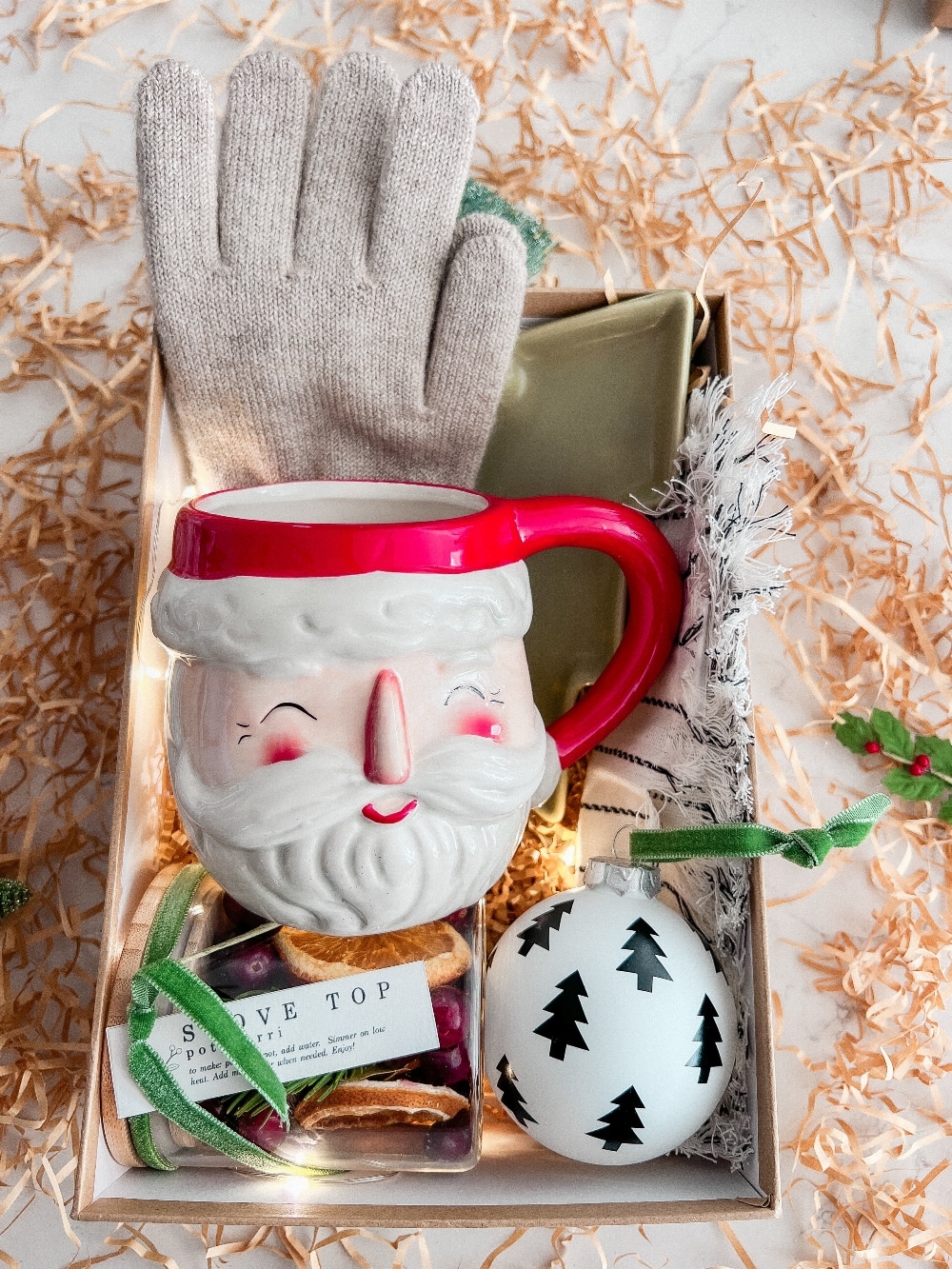 I added some gorgeous velvet ribbon to the top of the ornament and around the potpourri jar. Hobby Lobby is my favorite place to buy ribbon – and it goes on SALE every other week!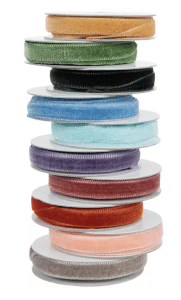 5. Soft Pair of Gloves
Winter is the season for warmth and comfort. A soft pair of soft knitted gloves ensures that your loved ones stay cozy as they embrace the chilly weather, adding an extra layer of comfort to their hygge experience.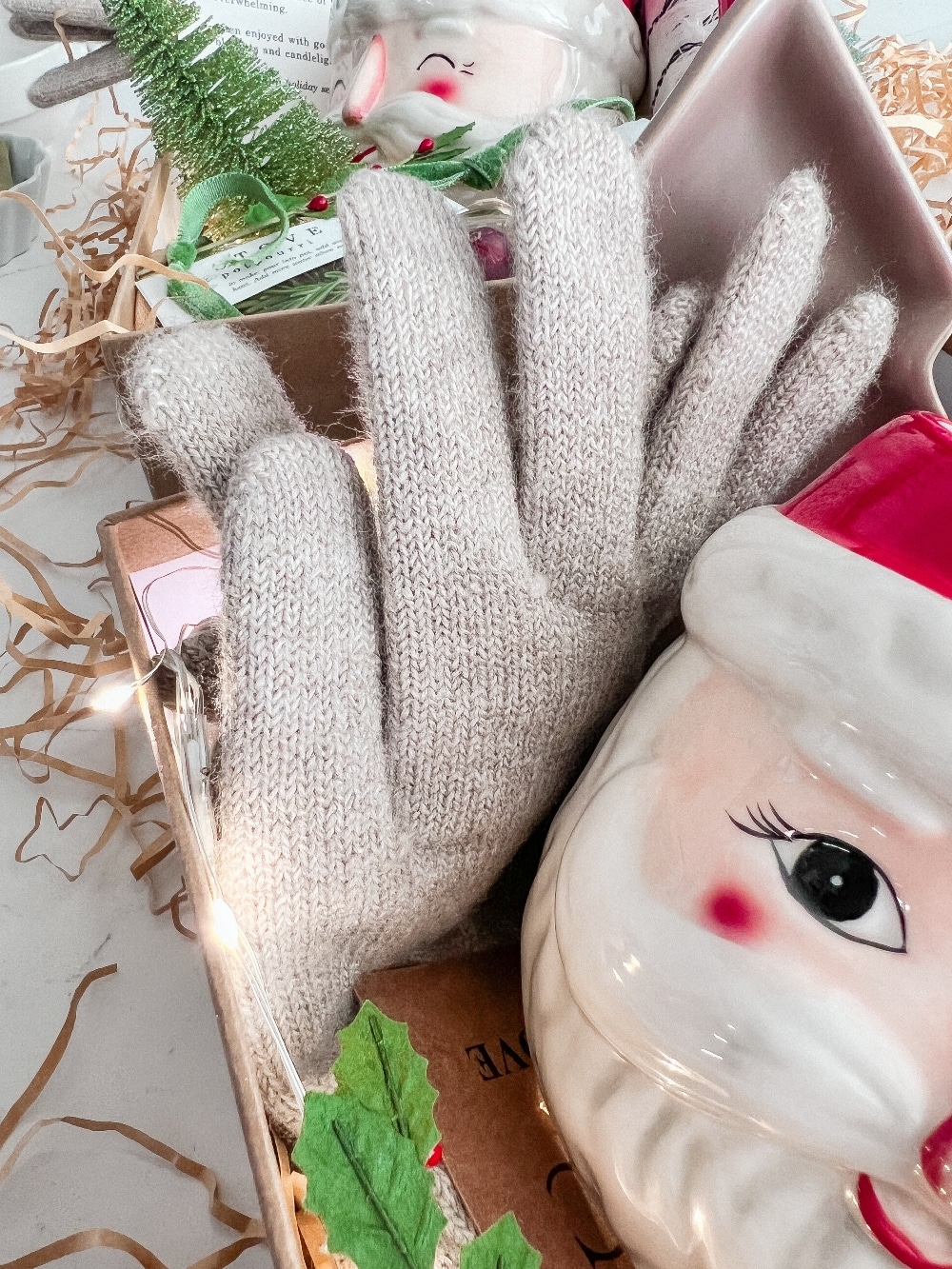 6. Beautiful Glitter Christmas Tree
Bring a touch of sparkle to their holiday decor with a beautiful glitter Christmas tree. This small yet eye-catching piece adds a festive and magical element to any room. These trees come in a pack of four!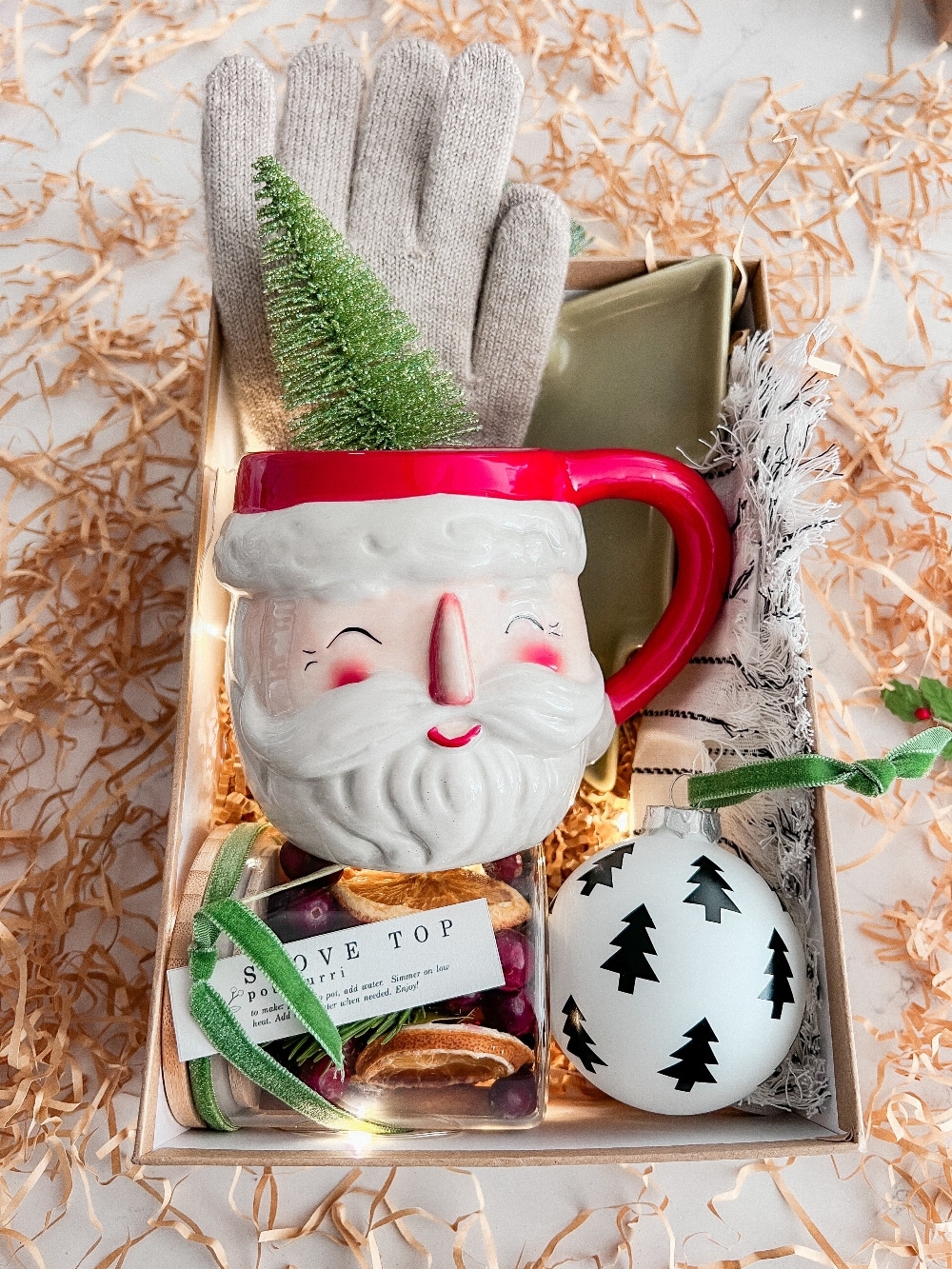 8. Homemade Simmer Pot Potpourri
Transform their homes into a fragrant haven with a beautiful jar with bamboo lid filled with homemade simmer pot potpourri. Just pour the delightful mix of dried oranges, lemons, cranberries, star of anise, cloves, cinnamon sticks, rosemary, and bay leaves into a pot, add water, and let the inviting aroma of the holidays fill the air. I tied the free printable tag onto the jar with velvet ribbon that I linked above and a mistletoe pick. I love the way they look!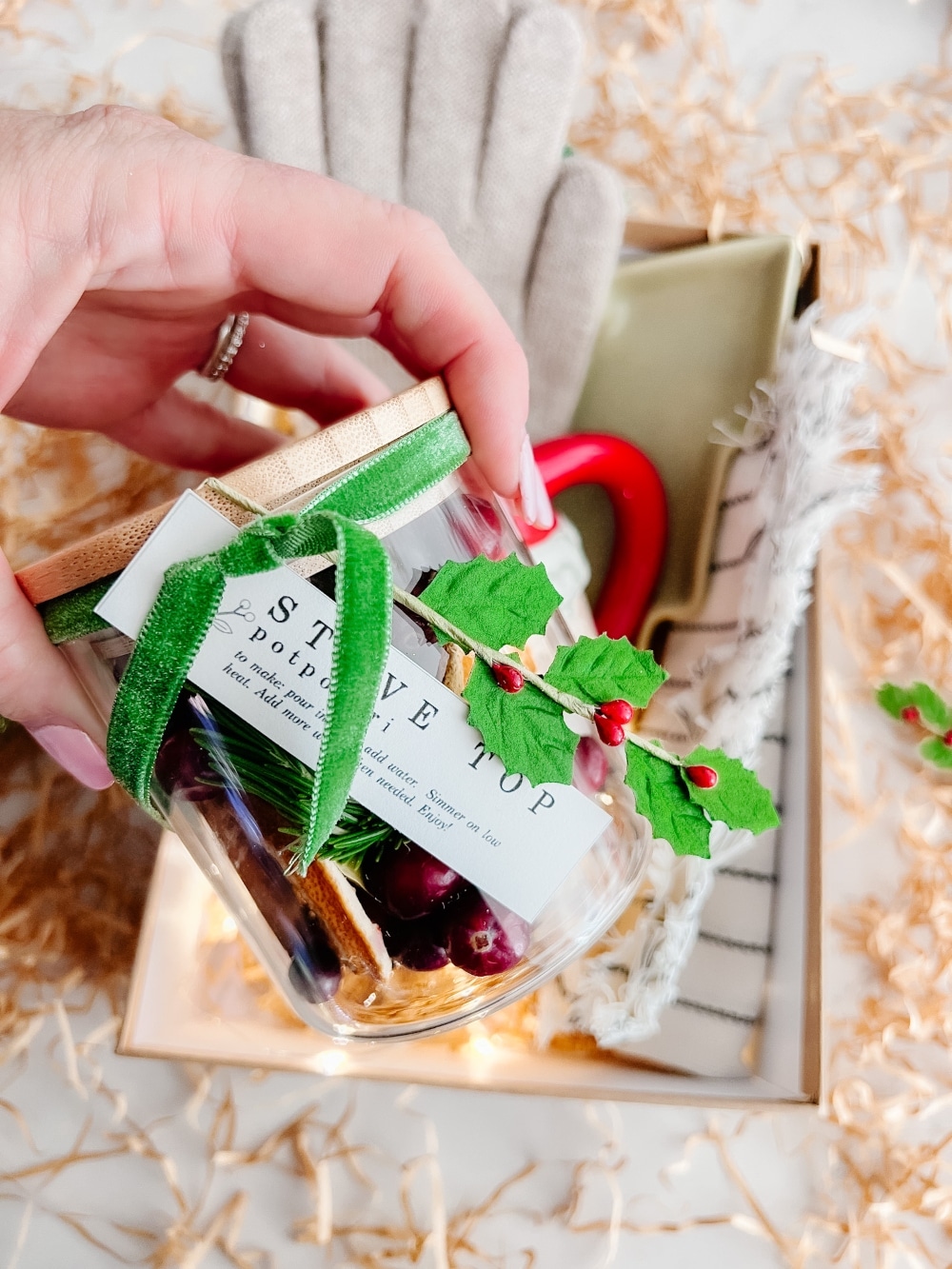 Free Hygee Printables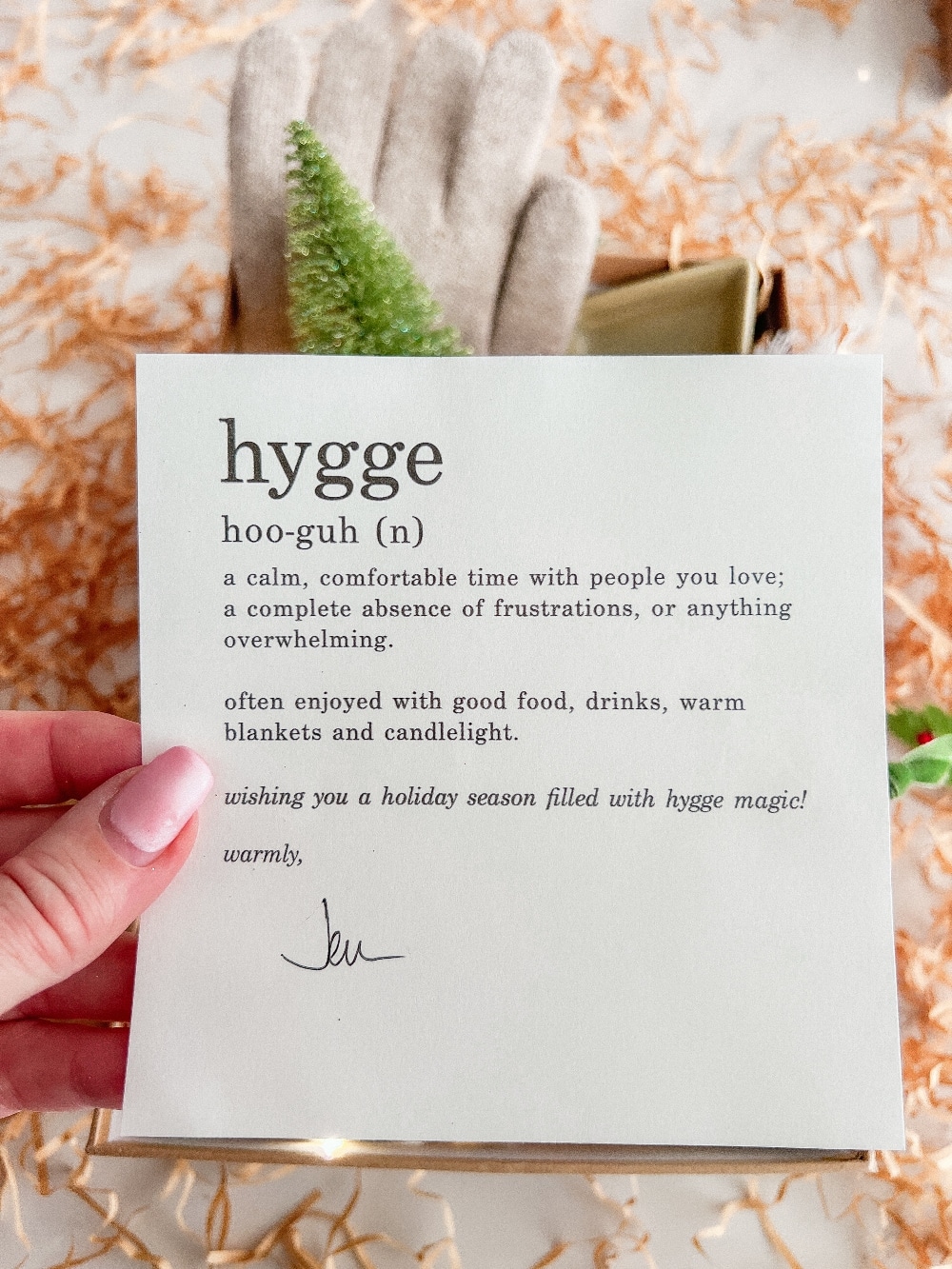 And here's an extra touch to make your Hygge Holiday Gift Boxes truly special—I've created free printables that you can download and use to add a personalized touch to your gifts. Included in the printables are tags for the homemade simmerpot potpourri, complete with easy-to-follow directions for creating the fragrant blend. Additionally, there's a charming Hygge card that not only explains the essence of hygge but also extends warm wishes for the holiday season. These printables add an extra layer of thoughtfulness to your gift-giving, allowing you to share not just the physical elements of hygge but also the heartfelt sentiment behind it.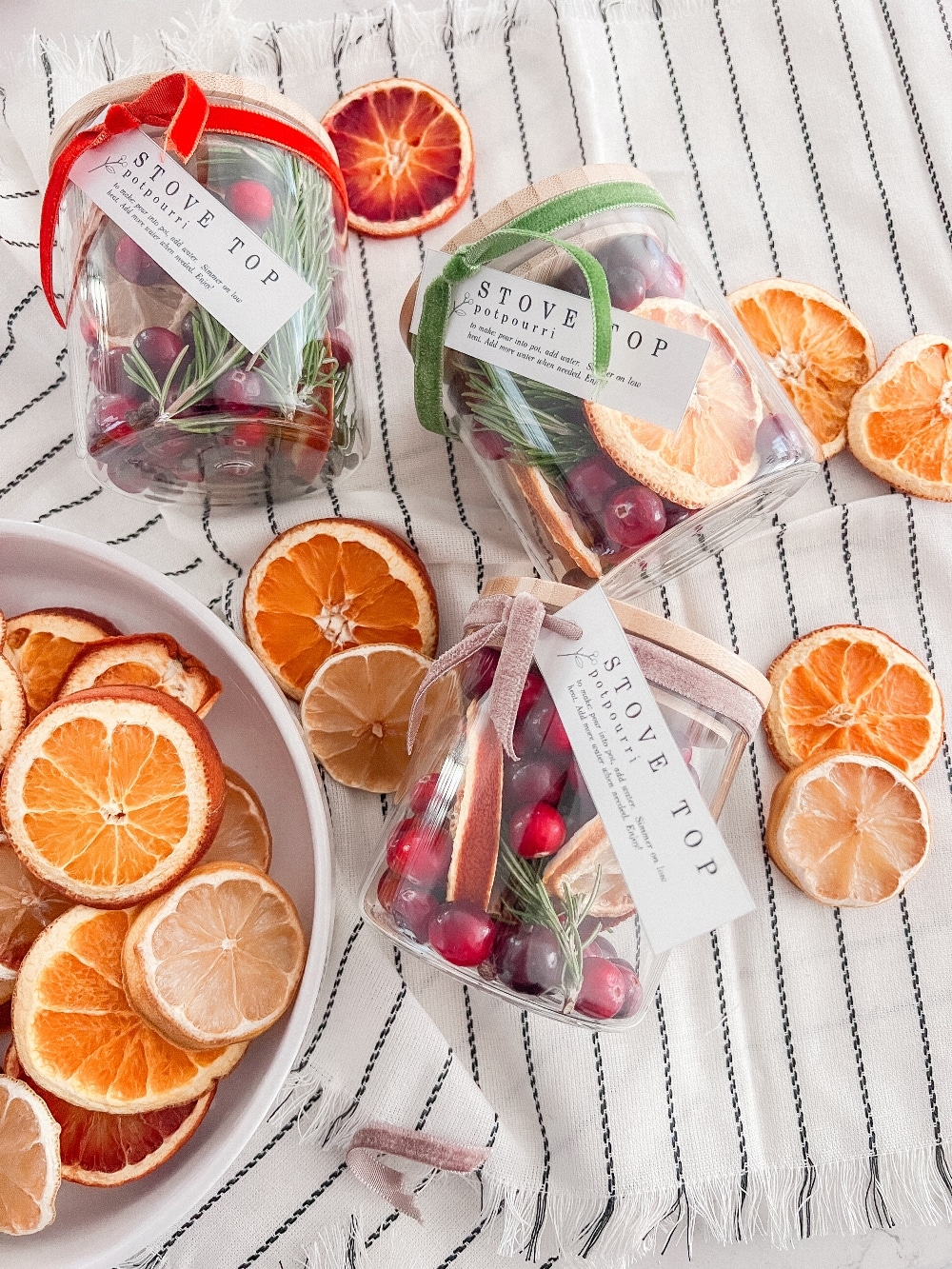 Feel free to download the printables here, and for more details on how to use them, check out my separate post on incorporating these free printables into your Hygge Holiday Gift Boxes here. Let's spread the joy of hygge and make this holiday season a truly heartwarming experience for everyone!
The Hobby Lobby Advantage
What makes this gift-giving experience even more delightful is that I found all these carefully curated items, plus the boxes, conveniently at Hobby Lobby. From twinkling lights to festive mugs and everything in between, Hobby Lobby is a one-stop-shop for creating a hygge-inspired holiday. You can follow Hobby Lobby for great party ideas, decorating and gift inspiration! Be sure to head over to Hobby Lobby because everything in[poiuty78dsze56dsa their Christmas Shoppe is on sale right now! You can follow Hobby Lobby on their Instagram, Facebook and TikTok pages for inspiration.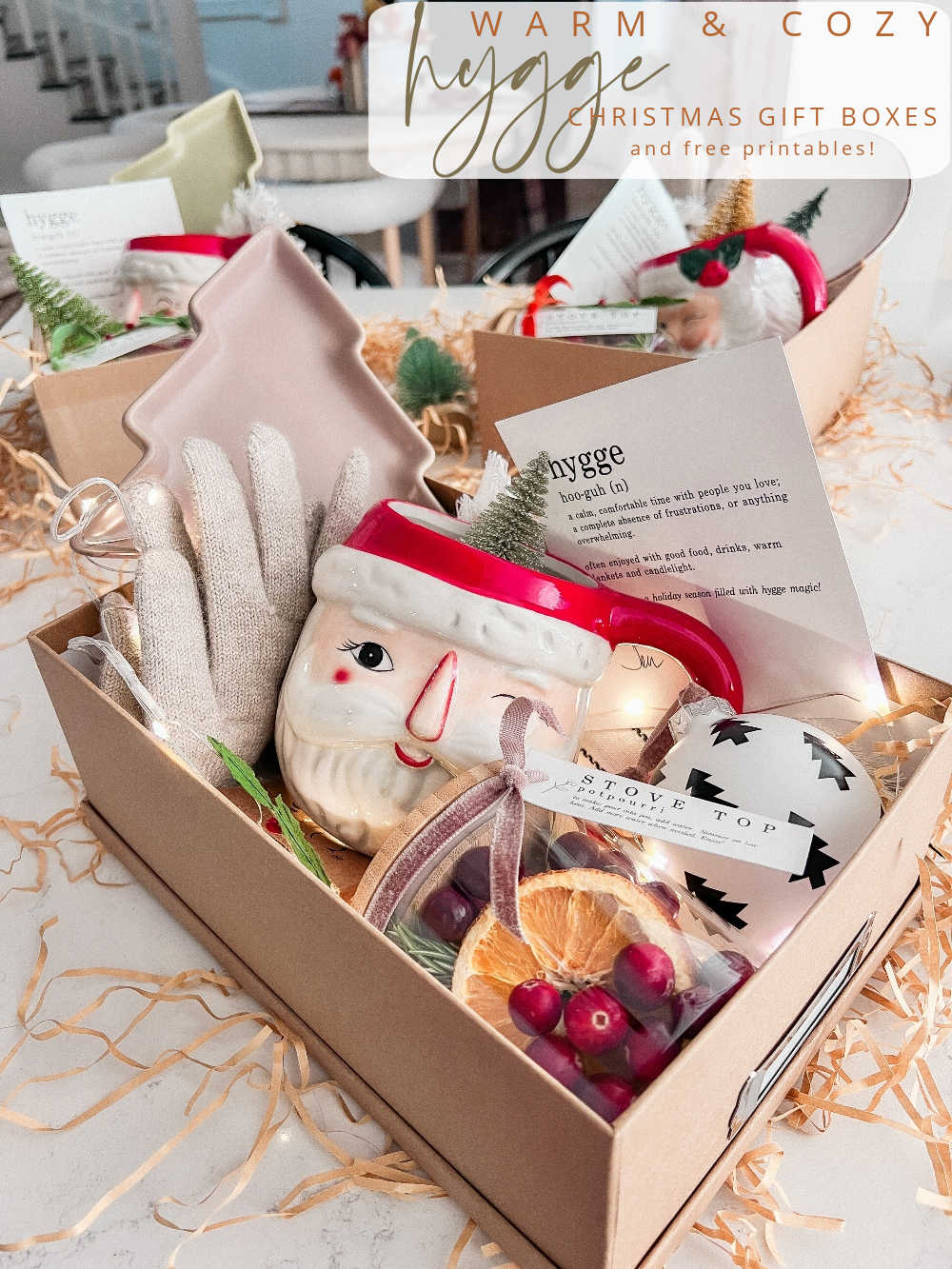 So, this December 1st, I'll be delivering these Hygge Holiday Gift Boxes to my friends and neighbors, spreading the warmth and joy of the season. And for my adult kids, who may be miles away, they too will receive a piece of hygge to make their holiday season extra special.
This year, let's make the holidays not just about gifts but about creating moments of warmth and togetherness. Embrace the hygge spirit with Hobby Lobby, and make this holiday season truly unforgettable for your loved ones. And tag me on Instagram at @tatertotsandjello if you make your own hygge boxes!
Have a Creative Day!
xoxo