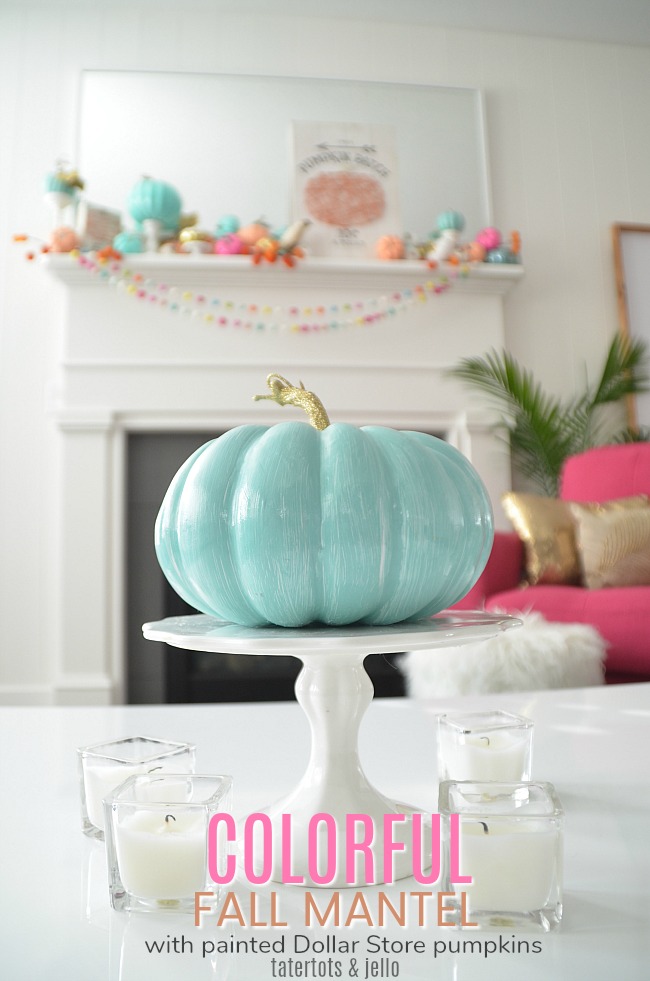 Colorful Fall mantel with Painted Pumpkins
Ever since I started blogging I have loved scouring the Dollar Tree for fall finds. Usually they have foam pumpkins for $1 – which is a GREAT price! I headed over to Dollar Tree last week and although they didn't have the larger foam pumpkins out yet, they had smaller ones. Luckily I had a few older Dollar Tree pumpkins stashed away that I could use too, and a few foam pumpkins from Hobby Lobby.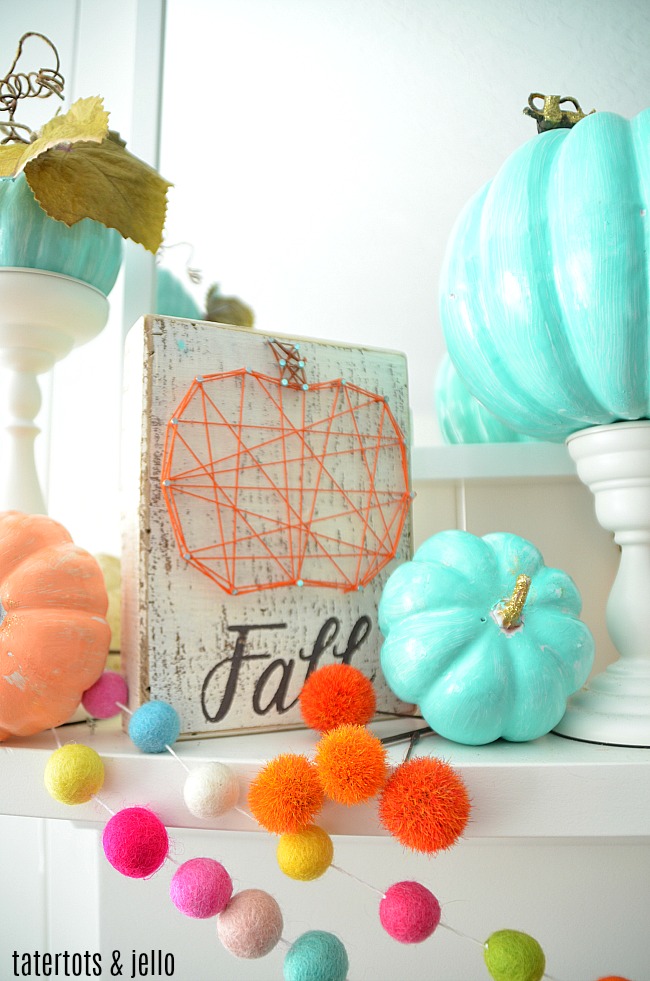 I love non-traditional colors for Fall and Christmas. I think the bright, unexpected colors lend a whimsical feel and I like that. I also have a teal couch and a HOT pink chair in my family room and I wanted to incorporate those colors in my mantel. If you have some plain, orange pumpkins laying around, grab some craft paint and paint them an unexpected color!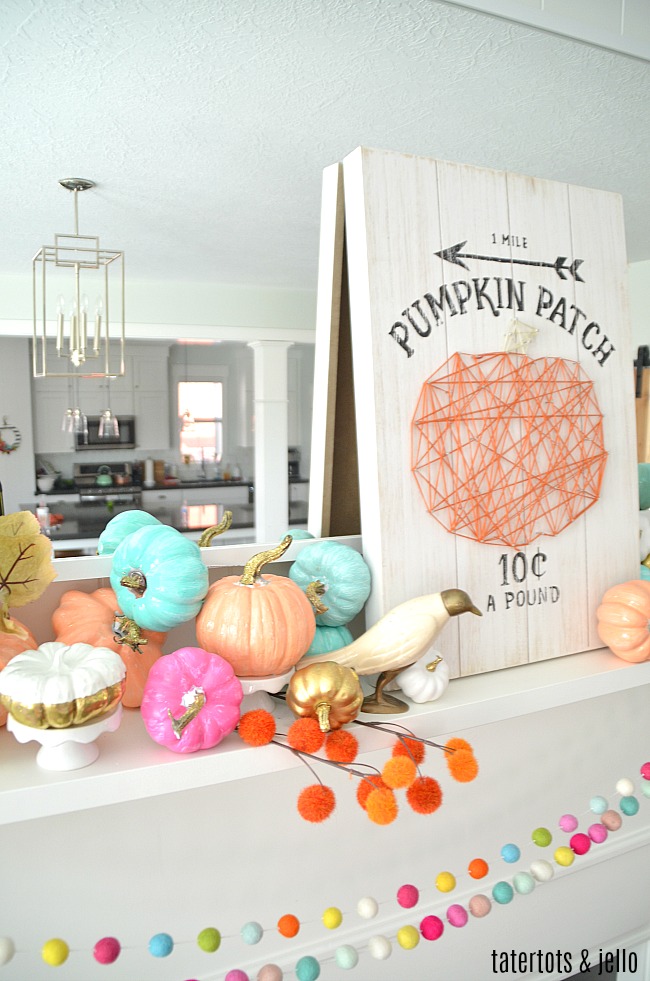 Colorful Fall mantel with Painted Pumpkins
Here's how to paint foam pumpkins:
Supplies:
(I included affiliate links, in case you want to order the supplies to come directly to your home. Affiliate links help fund more projects on tatertots & jello)
Mod Podge (for stems – optional)
Glitter (for stems – optional)

Directions:
Use tin foil to wrap around stems so they won't be painted.
Lay pumpkins on a tarp and spray paint them white.
Once dry, paint pumpkins with craft paint.
Once dry, paint stems with mod podge and glitter gold (optional)
Spray pumpkins with gloss polyurethane for shine.
Then layer the pumpkins on the mantel.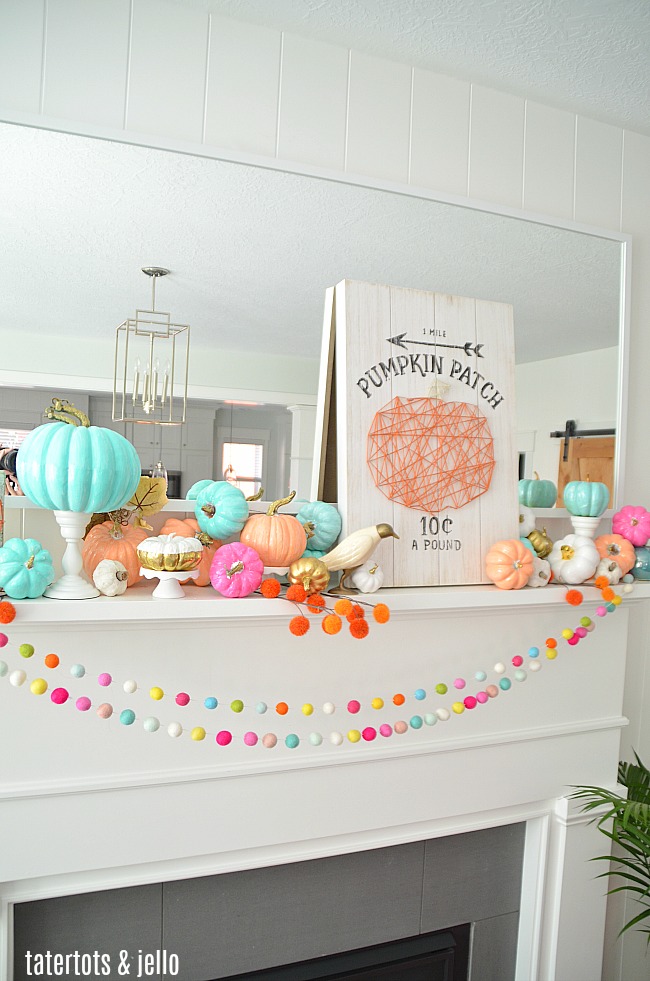 Colorful Fall mantel with Painted Pumpkins
I also found two pumpkin string art pieces that go together and tie my pumpkin theme together.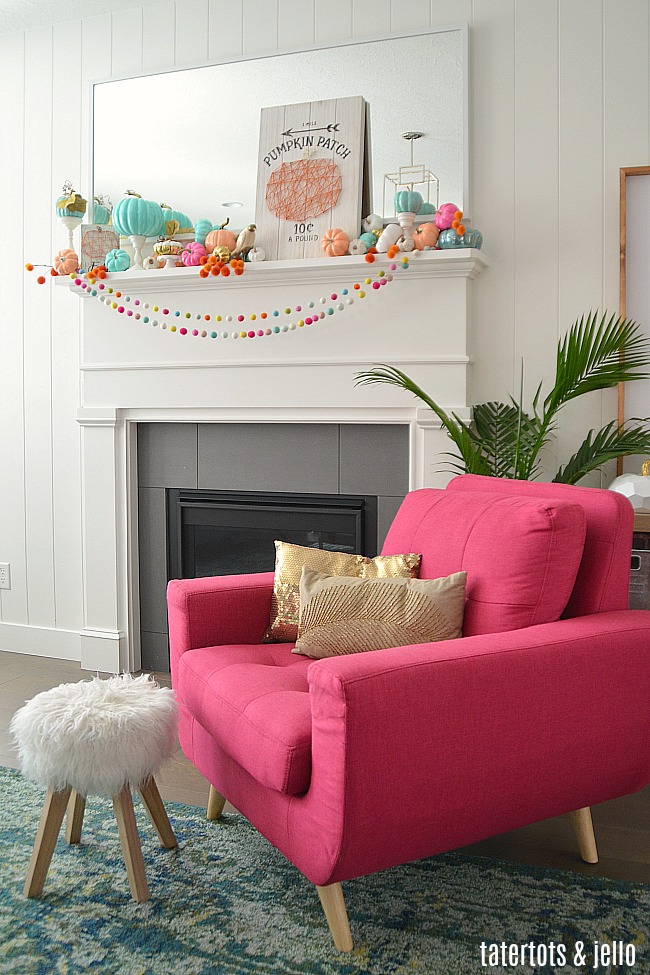 I love that now I have some orange pumpkins, but I also have some pumpkins that tie in my couch and chair colors.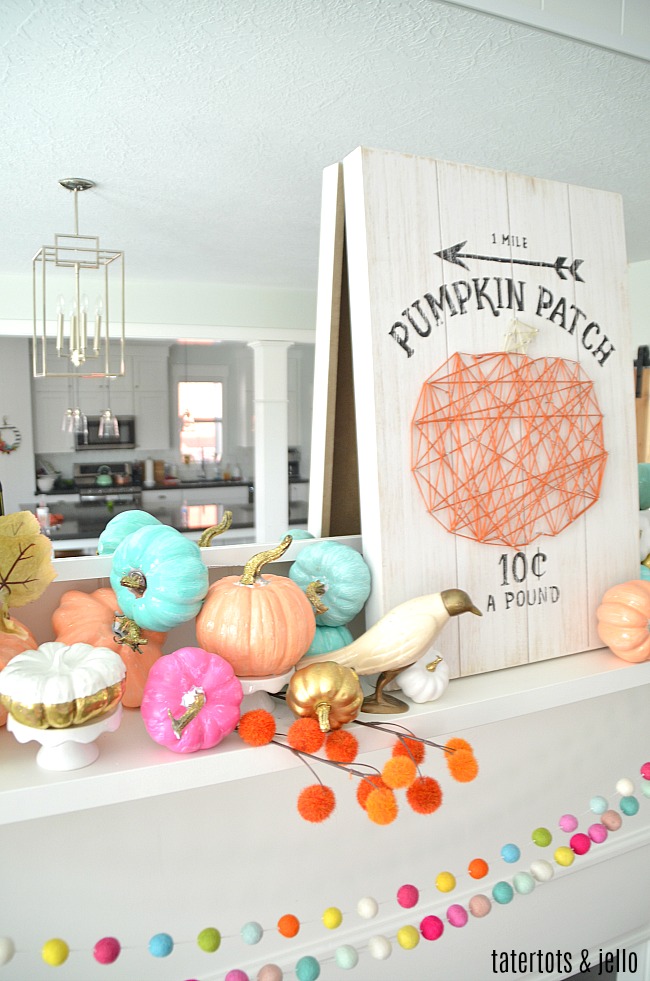 Colorful Fall mantel with Painted Pumpkins
I added a COLORFUL felt ball garland to the front of the mantel.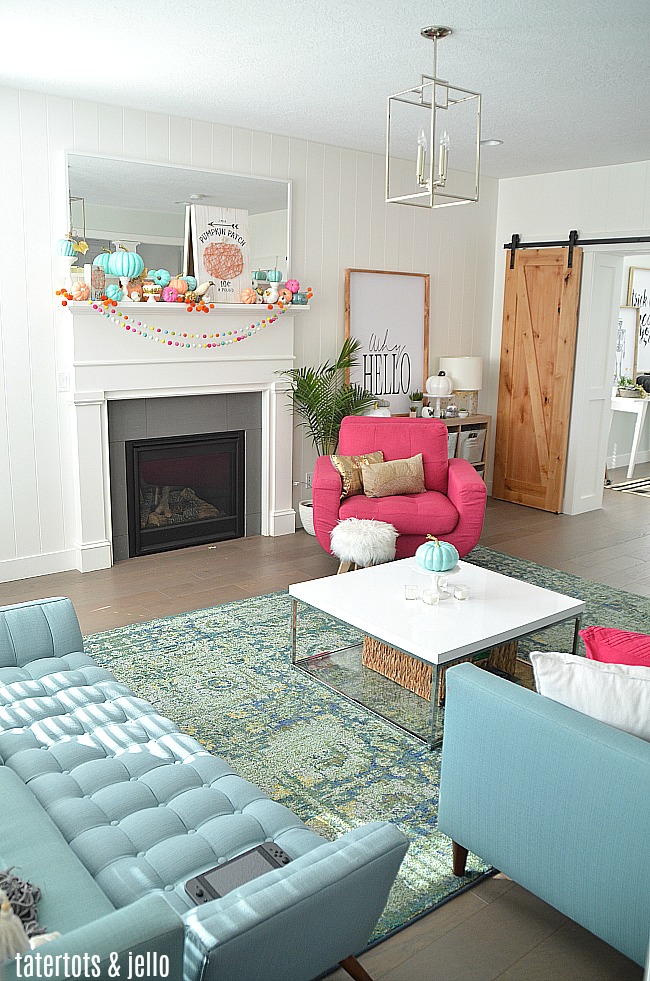 Seeing my HAPPY pumpkin mantel is a joy and fits our #ColorfulHappyHome chapter to a tee!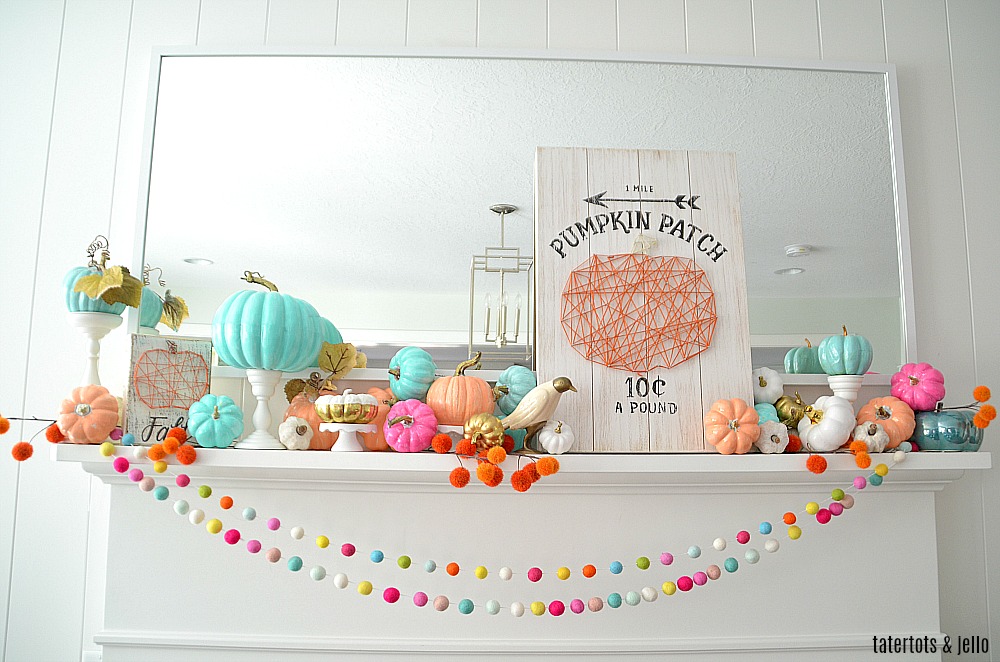 Here are a few other COLORFUL pumpkin tutorials I have made over the past few years: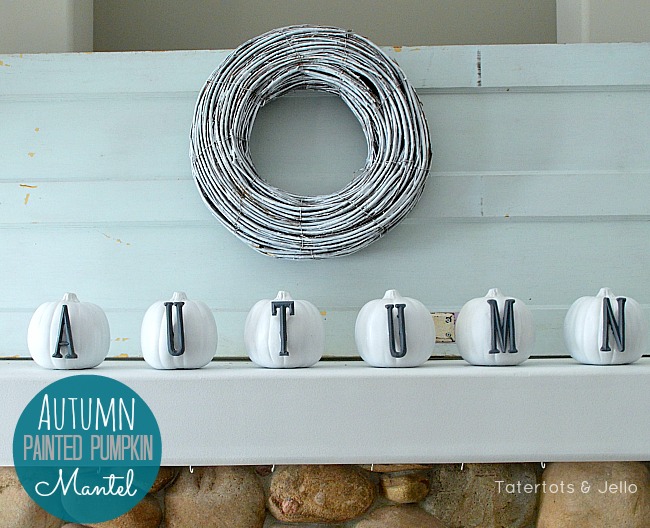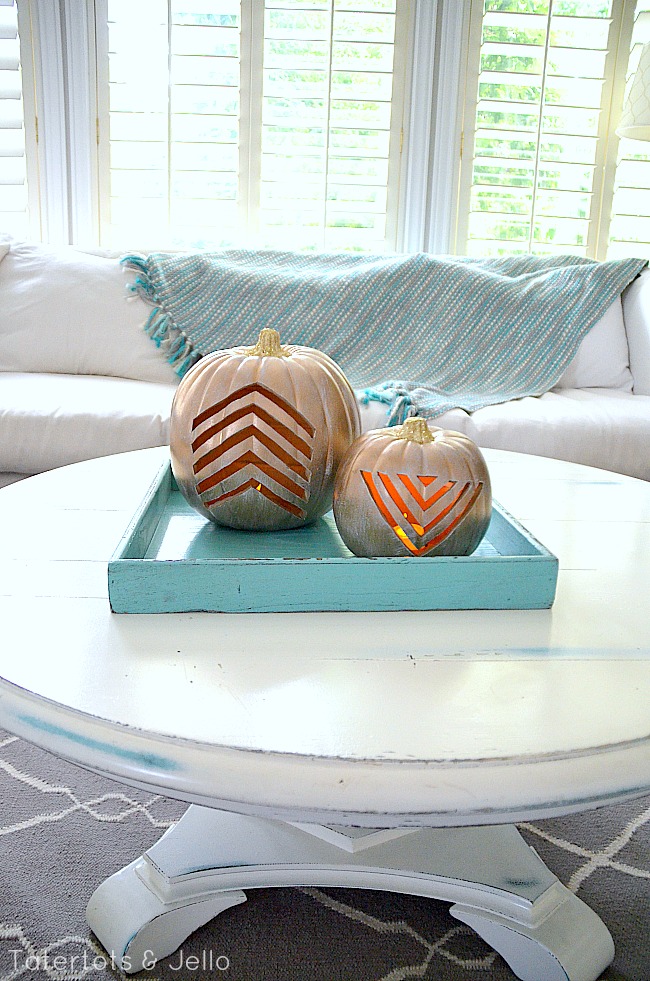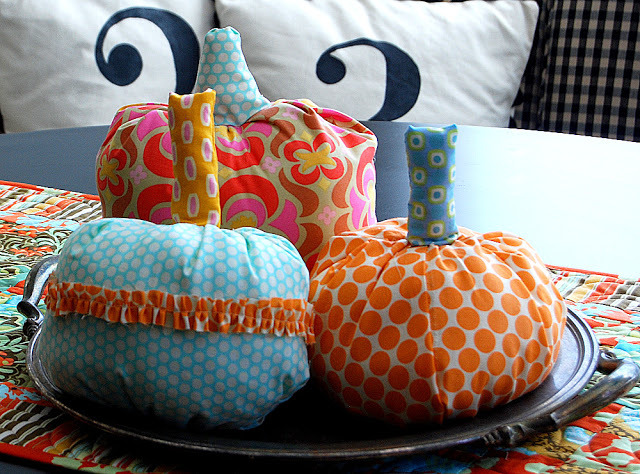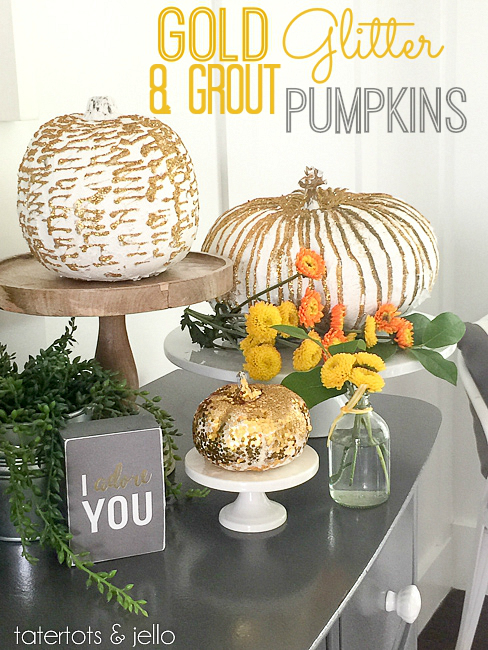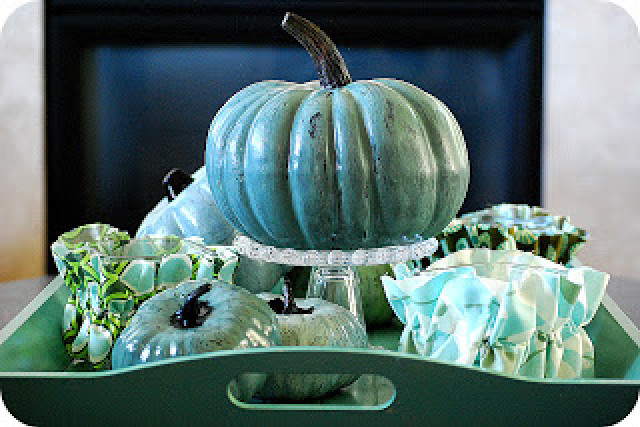 Dollar Store Crackled Pumpkins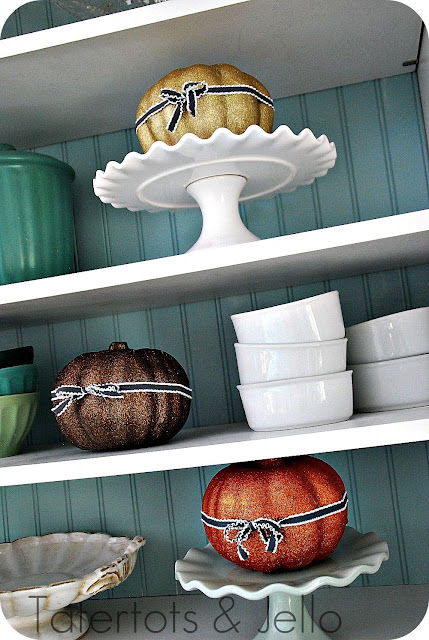 Glittered Dollar Store Pumpkins
Are YOU working on any projects for Fall?
Share YOUR ideas in the comments!!
love,