DIY Scrap Wood Fall Pumpkins. Turn pieces of leftover wood into adorable pumpkins for fall decor!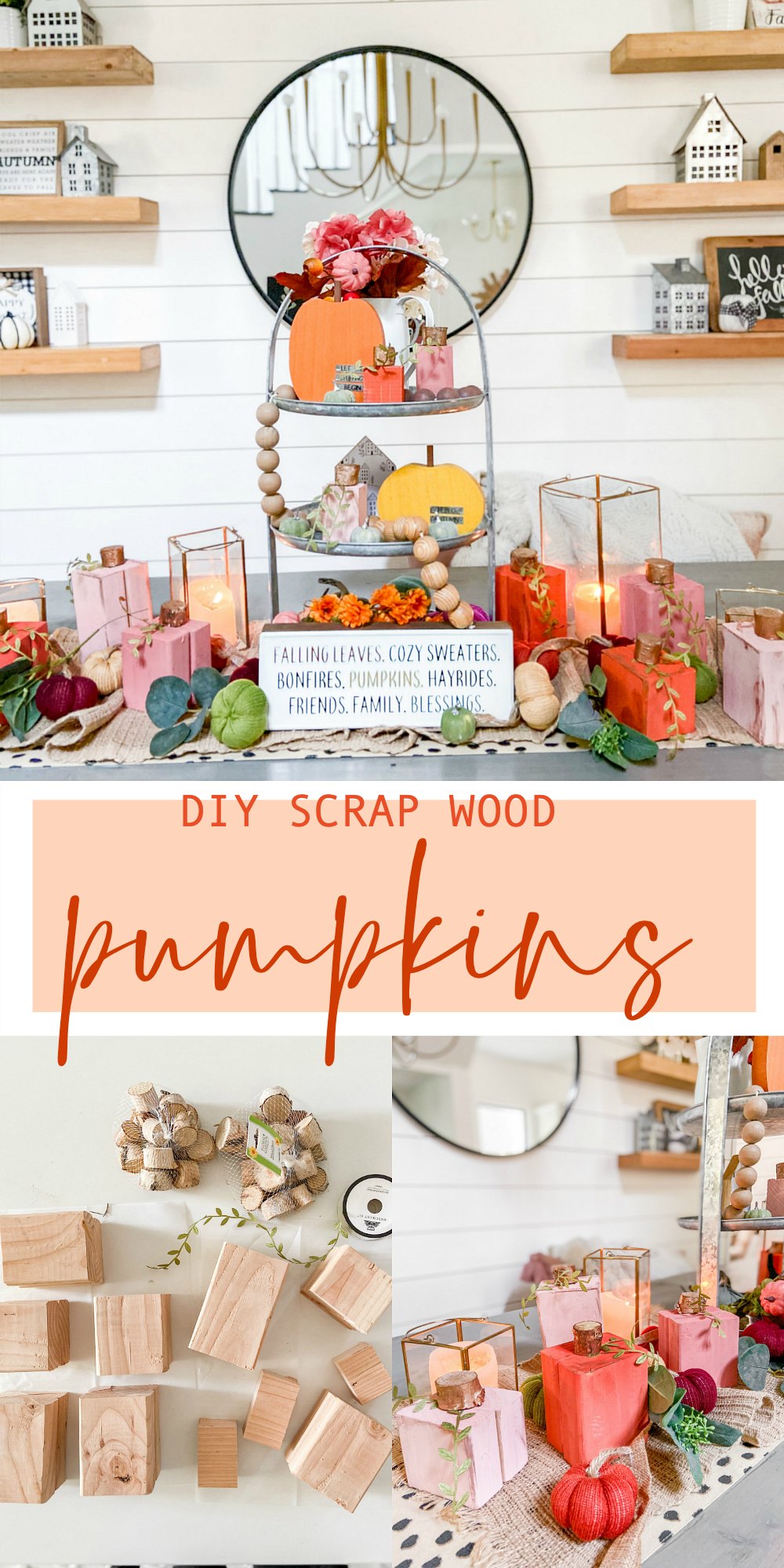 DIY Scrap Wood Fall Pumpkins
I love fall. It's such a fun time to decorate. Over the years I've created dozens of different kinds of pumpkins.
20+ DIY Fall Ideas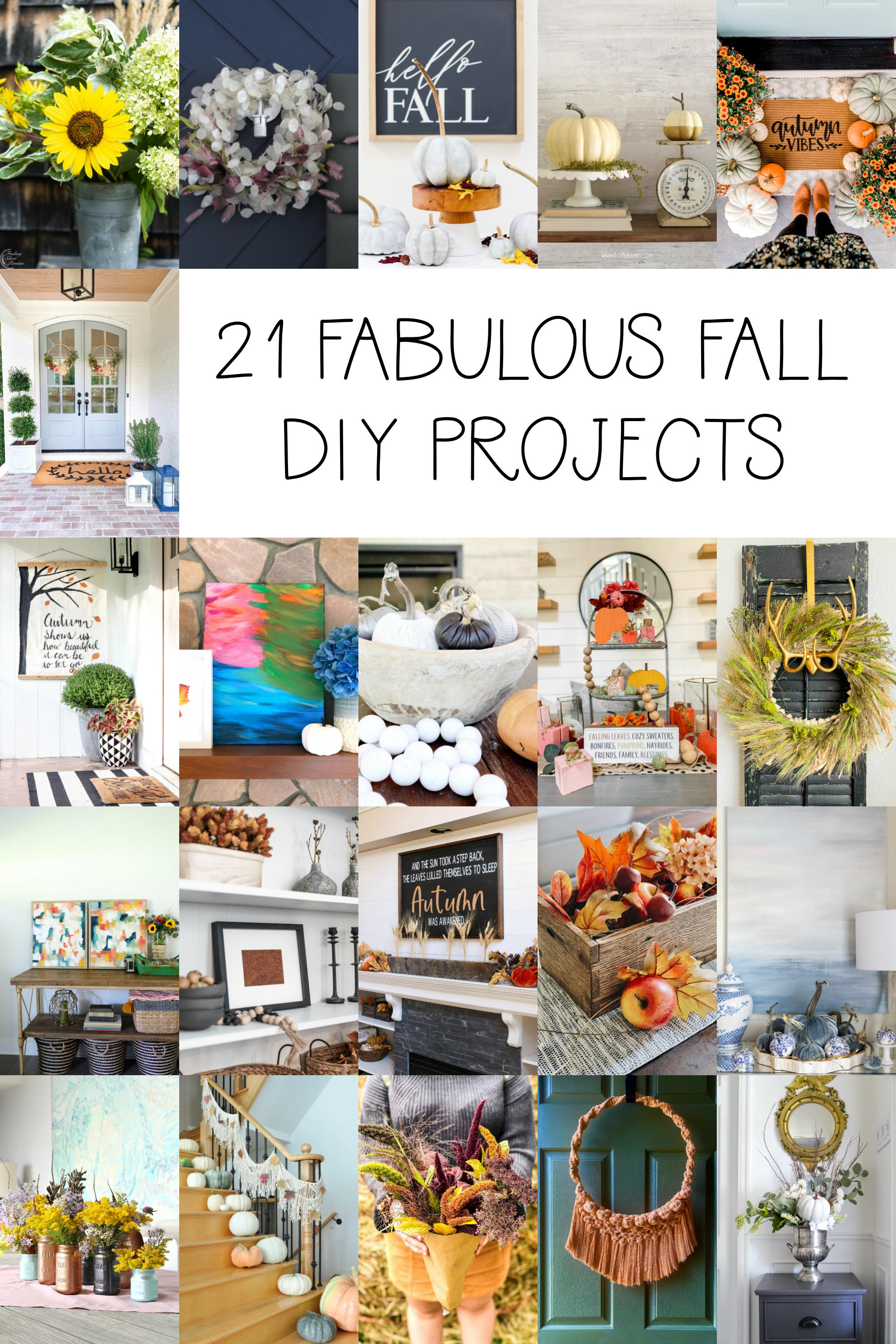 I am joining some friends who are all sharing DIY Fall ideas. Scroll down to the bottom of the post to go directly to all of the tutorials!
Turn Scrap Wood Into Fall Pumpkins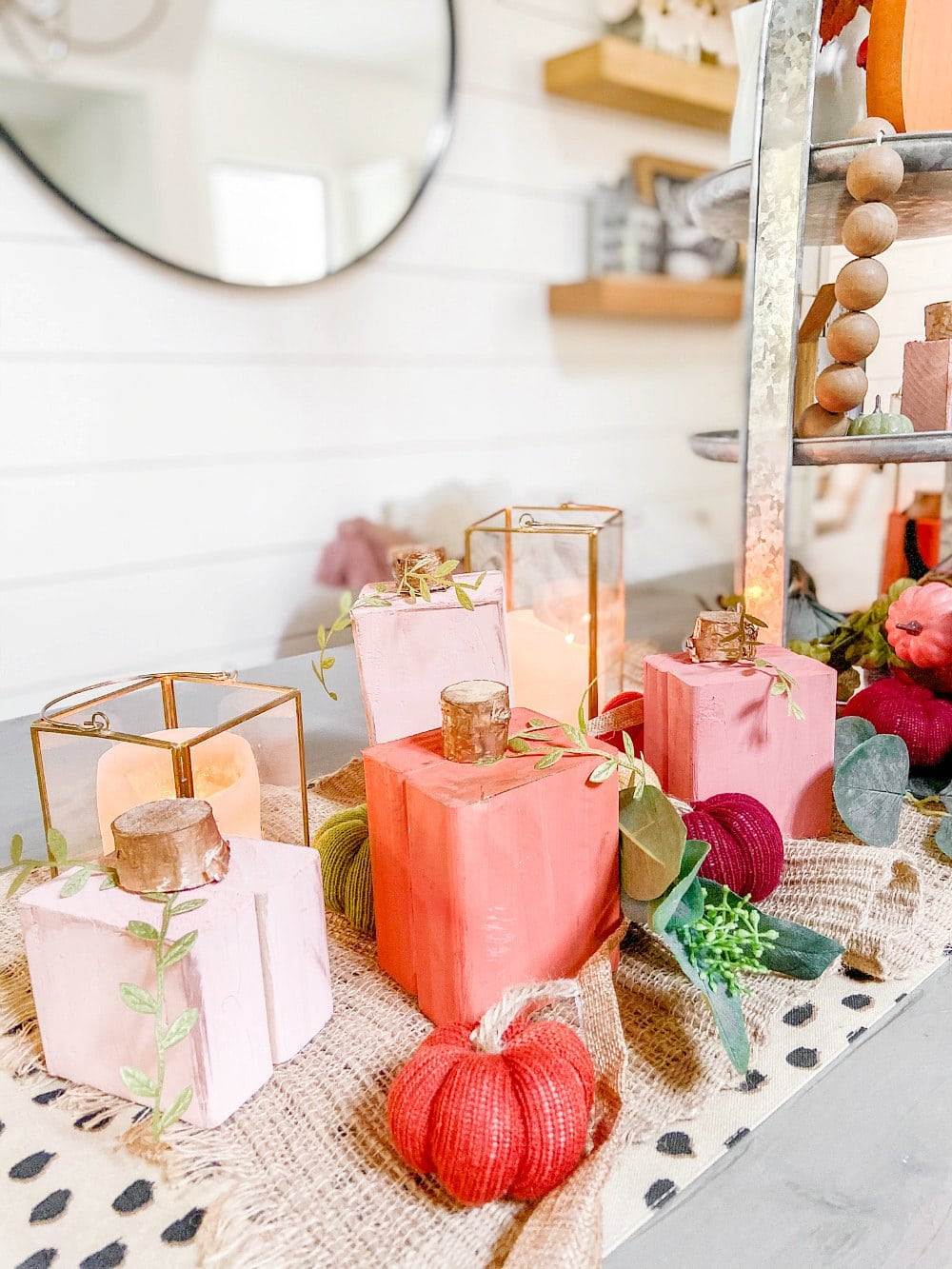 We are in the middle of restoring or 1891 home. As part of the renovations, we have all kinds of miscellaneous wood pieces from framing different rooms, building our dining room bench and building our new fireplace. SO I decided to take some of the leftover scrap wood and make some easy and inexpensive pumpkins for a fall centerpiece!
Cut Wood to Size You Want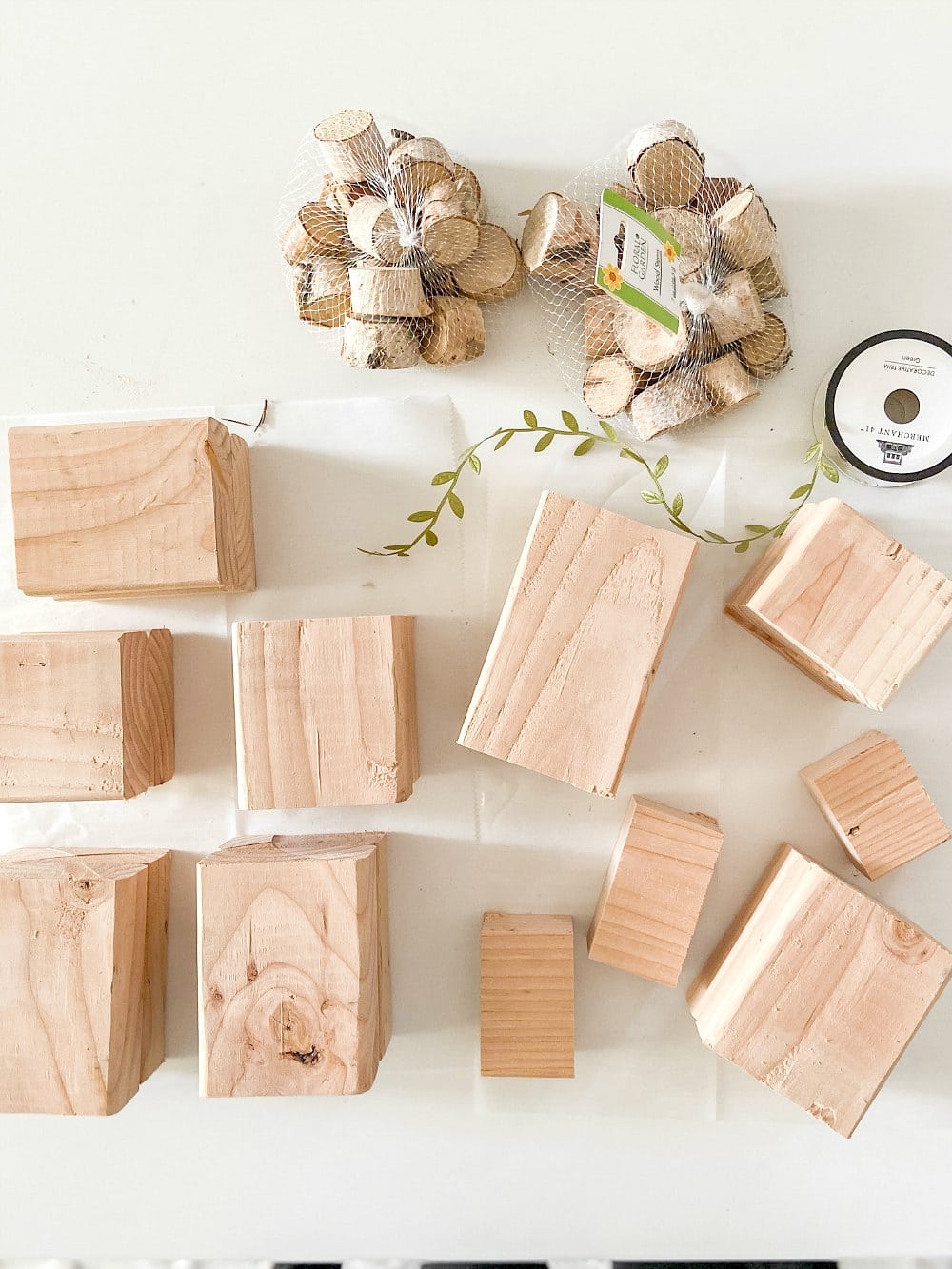 I used 2×4's and 1×2's to create my pumpkins. But you can use any size wood. Just cut it to the size you want. I glued my 2×4's together in long sections. Once the glue dried I cut the wood to different heights with my chop saw.
Dollar Store Wood Tops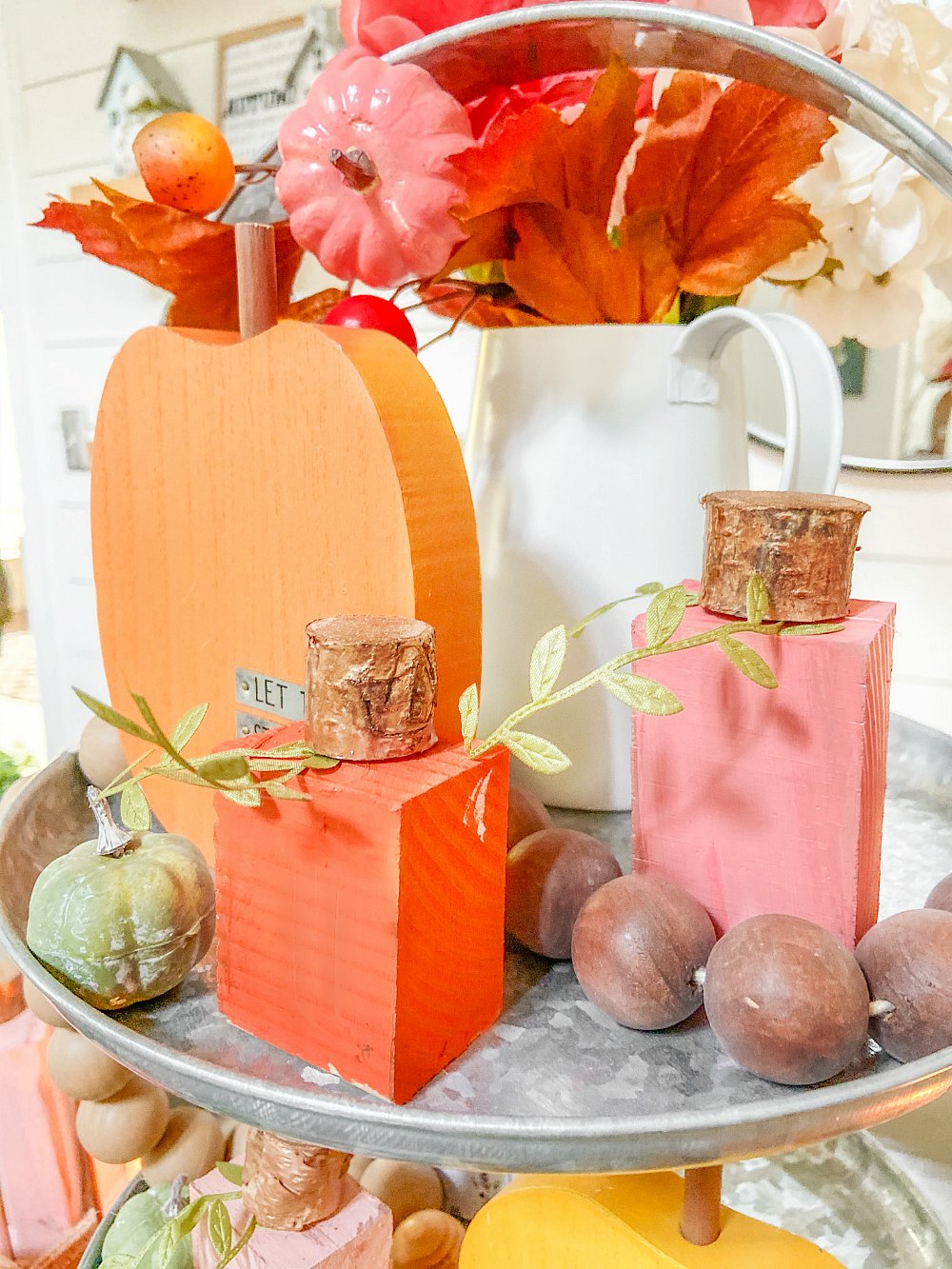 I found these wood slices in at my Dollar Tree. They are on the craft aisle and there are a few different sizes. I used wood slices from the medium sized bag. Such a great deal for one dollar!
Paint Scrap Wood Fall Pumpkins Any Color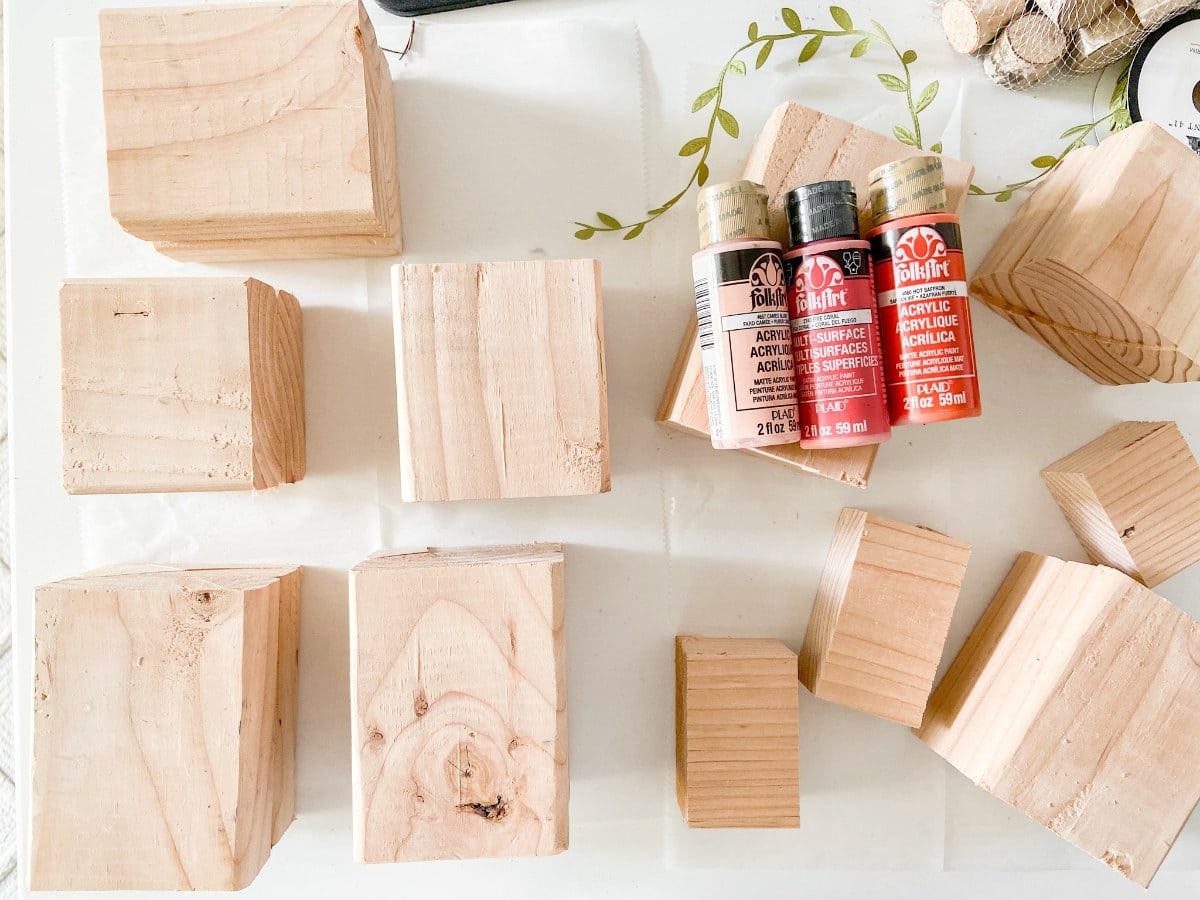 You can paint your scrap wood pumpkins whatever color goes with YOUR home decor! I used three different colors of orange and pinks for my pumpkins.
Gild the Scrap Wood Fall Pumpkin Tops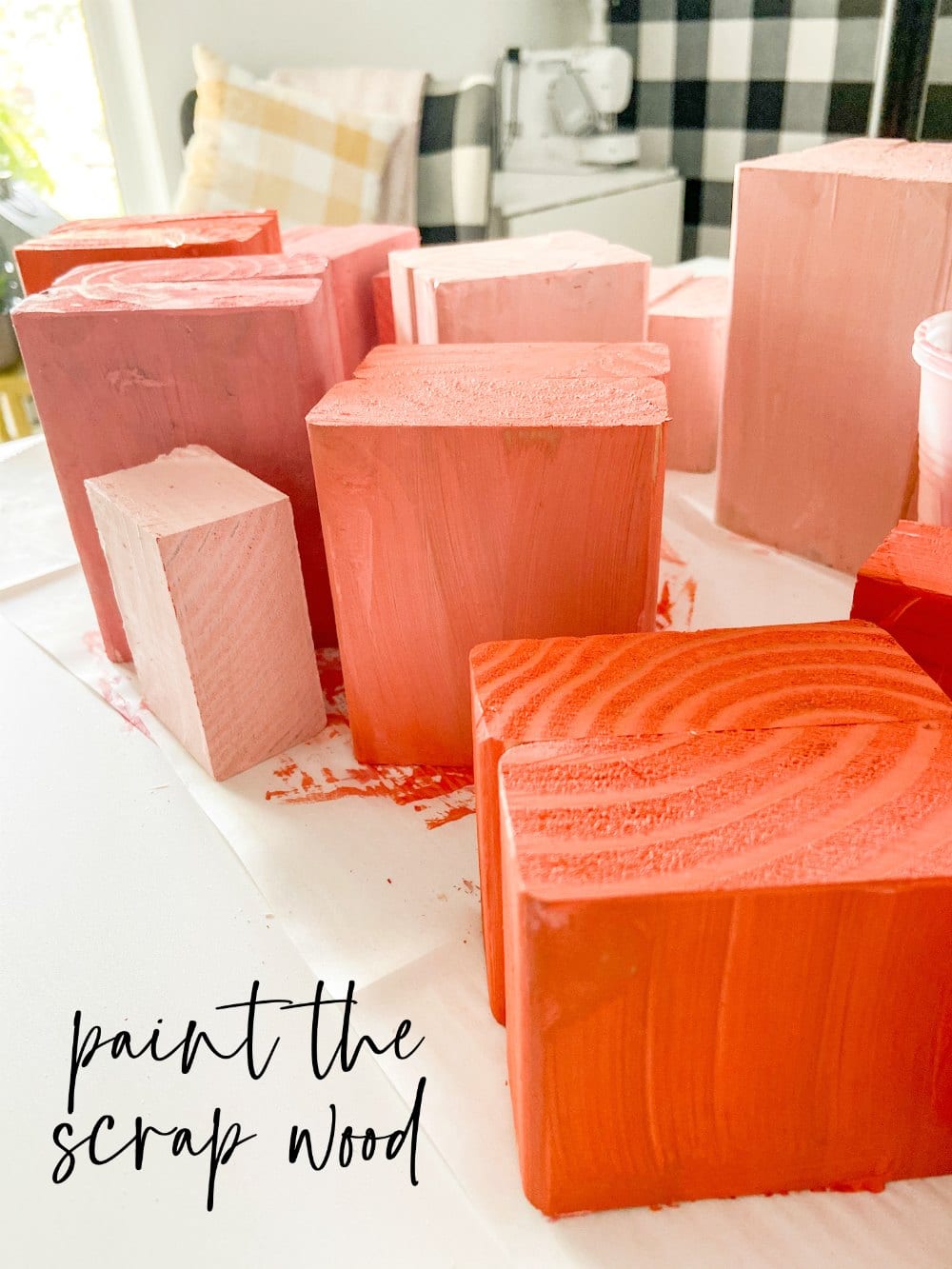 I gilded the wood slices I used for the pumpkin stems. I love the gold sheen that it gives my little pumpkins.
Add Leaves or Ribbon to the Top of the Pumpkins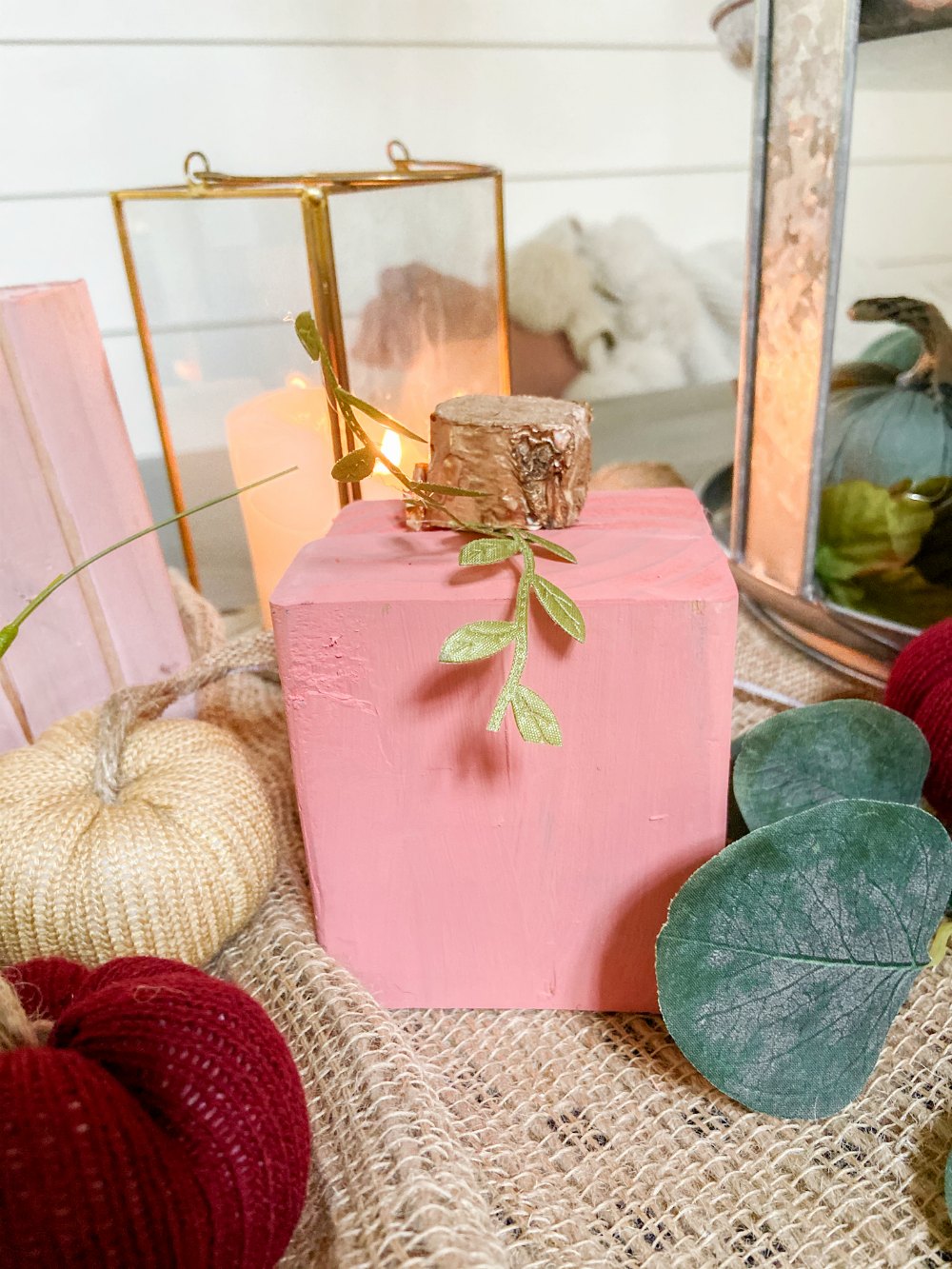 I added some leaf ribbon to the top of my pumpkins with hot glue. I added a dab of hot glue, folded the ribbon in half and put the crease of the ribbon on top of the hot glue. Then I added another dab of glue over the ribbon and put the wood slice on top to secure it.
Distress the Painted Pumpkins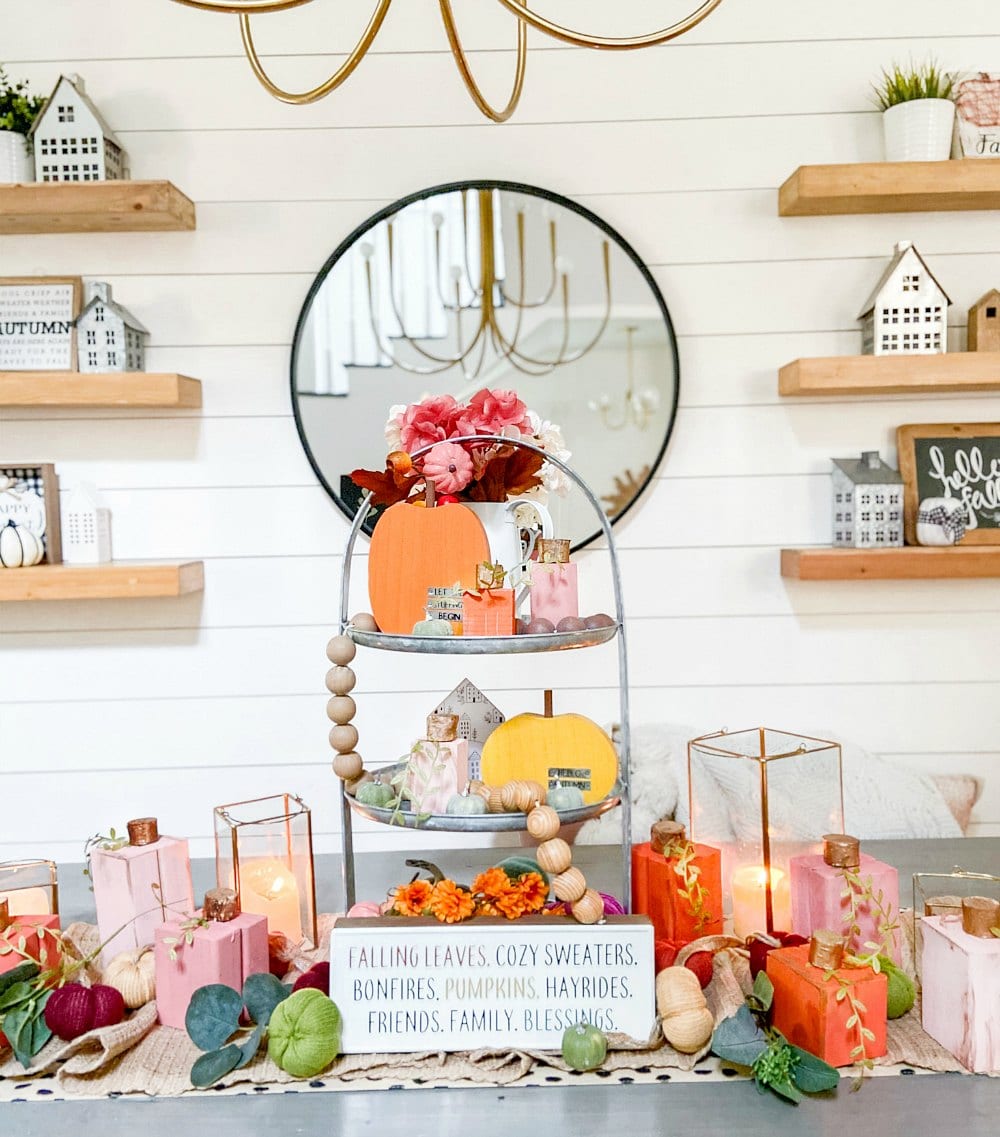 Once the stems are on, you can distress the pumpkins with sandpaper or paint. I added a little of the gold paint on the edges of the pumpkins and rubbed it in with a damp paper towel.
The Easiest Scrap Wood Pumpkins
That's it! Now you can use your wood pumpkins as a centerpiece like I did. Or on your mantel or a shelf. You can also use them on your porch for cute decor!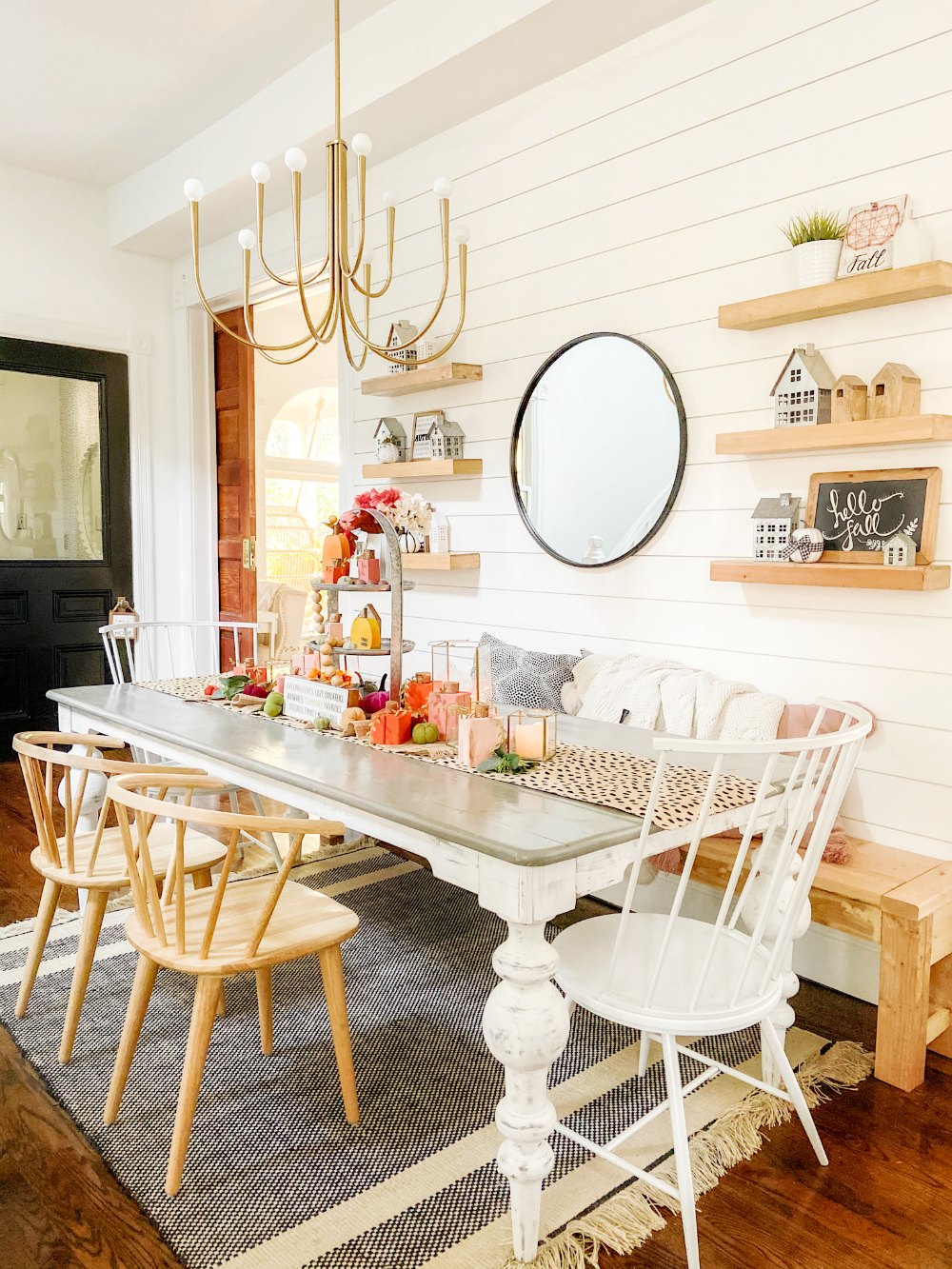 20+ DIY Fall Ideas








xoxo
Pin Scrap Wood Fall Pumpkins to Make Later!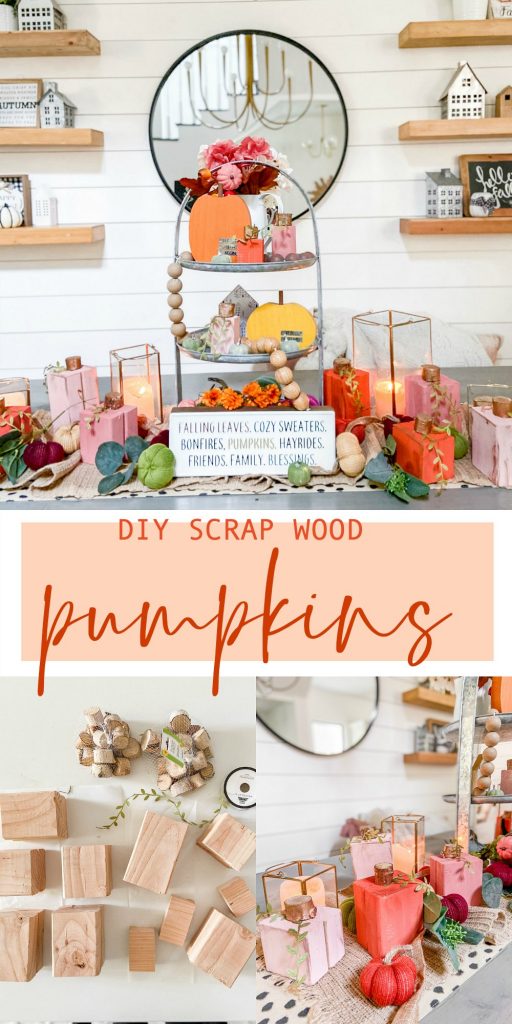 Have a Creative Day!