Coffee and Snack Bar Cart Upcycle. Create a beverage and snack station for guests by painting a vintage cart and giving it new life!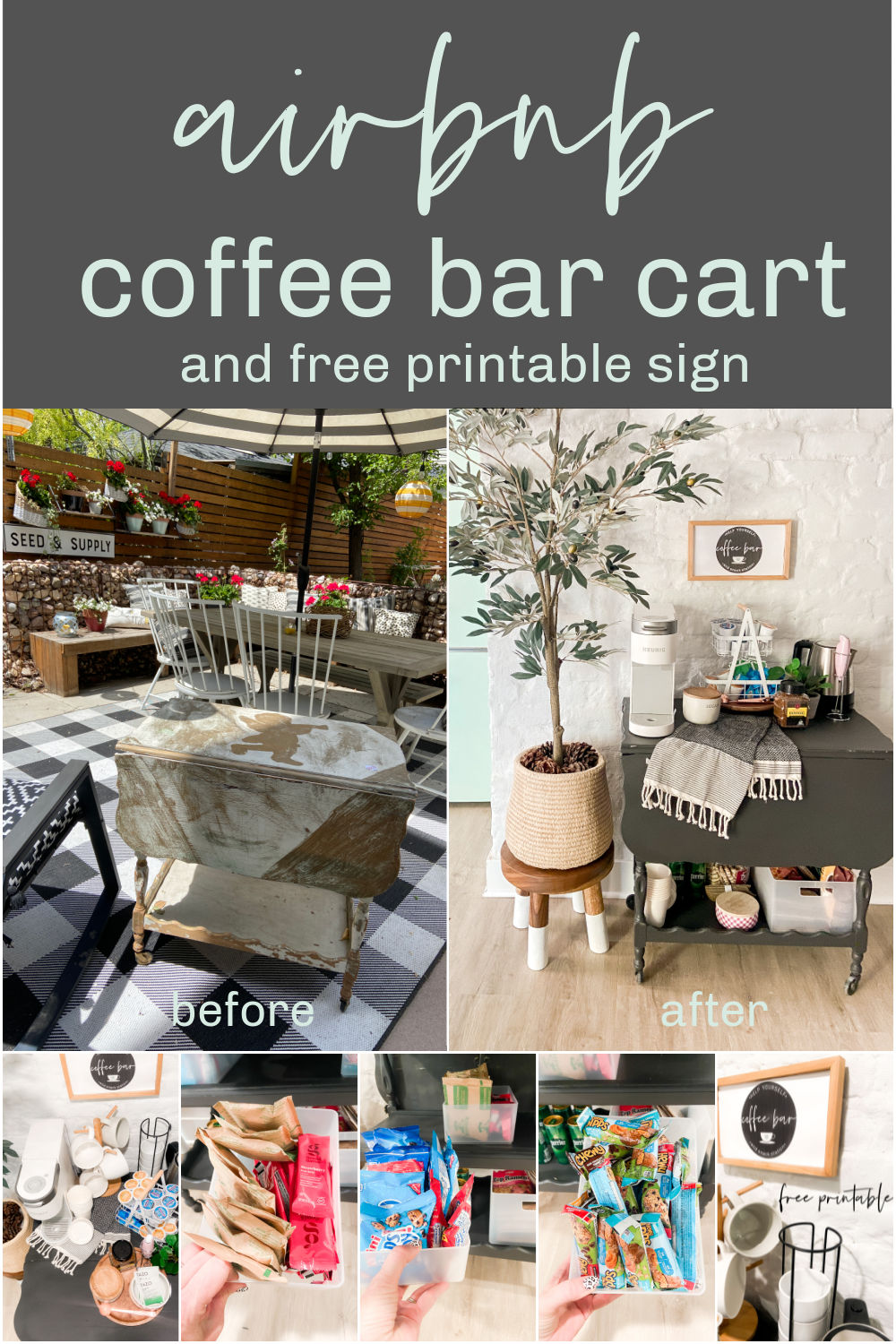 Coffee and Snack Bar Cart Upcycle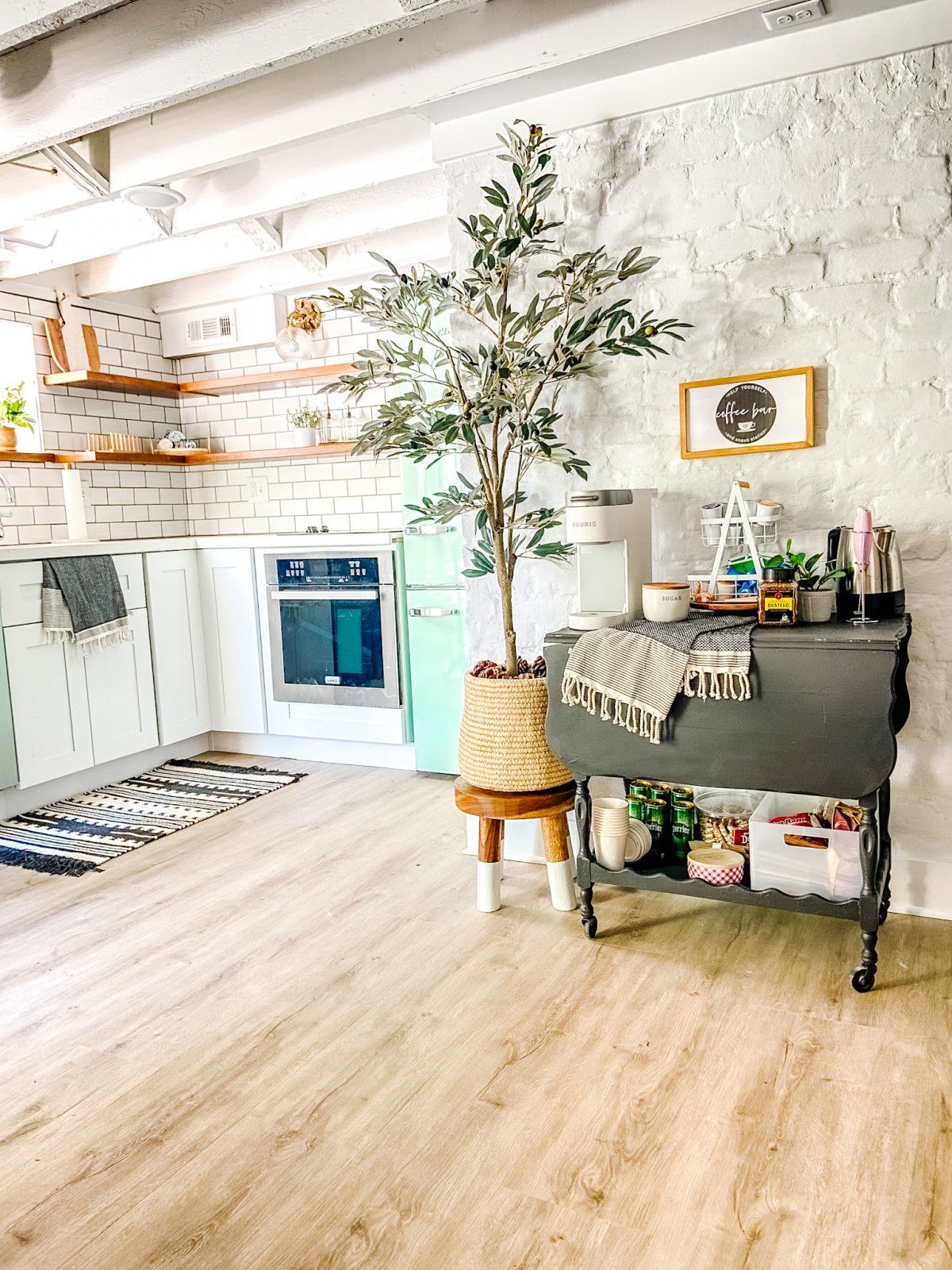 If you've been following me on instagram @tatertotsandjello you might have seen some behind-the-scenes stories about the Airbnb we are building on the bottom floor of our home! It's been quite the adventure since our home was built in 1891. But we are almost done with it and I am so excited!!
Airbnb Coffee Bar Cart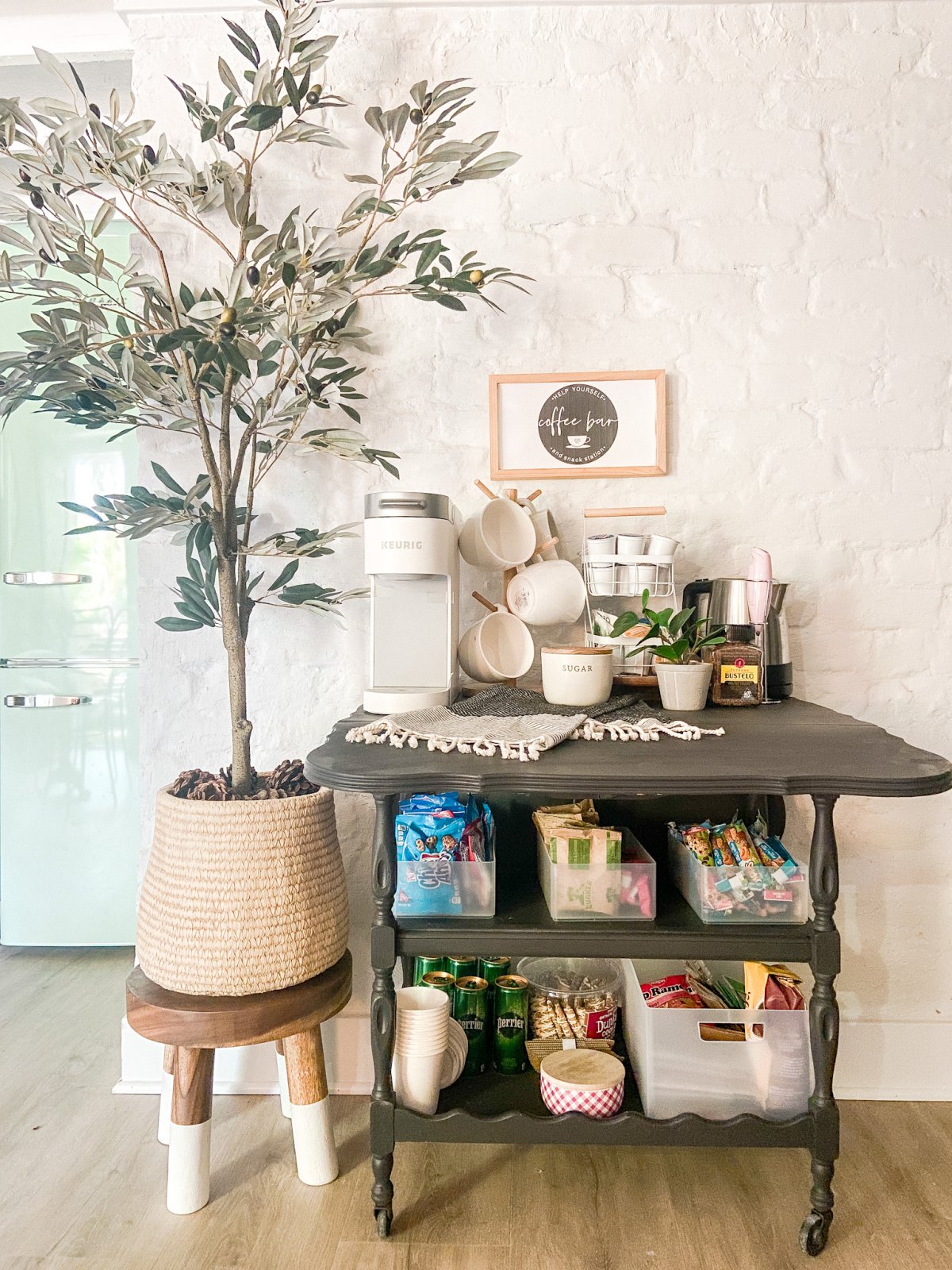 I knew I wanted to create a coffee and snack station for the new rental space. When we have stayed in Airbnb's we have loved it when they had drinks and snacks for us. So when my neighbor had an estate sale, I grabbed a vintage wood rolling cart with the idea of turning it into a coffee cart!
Upcycling Ideas
Be sure to scroll down to see these amazing upcycling ideas from my friends too!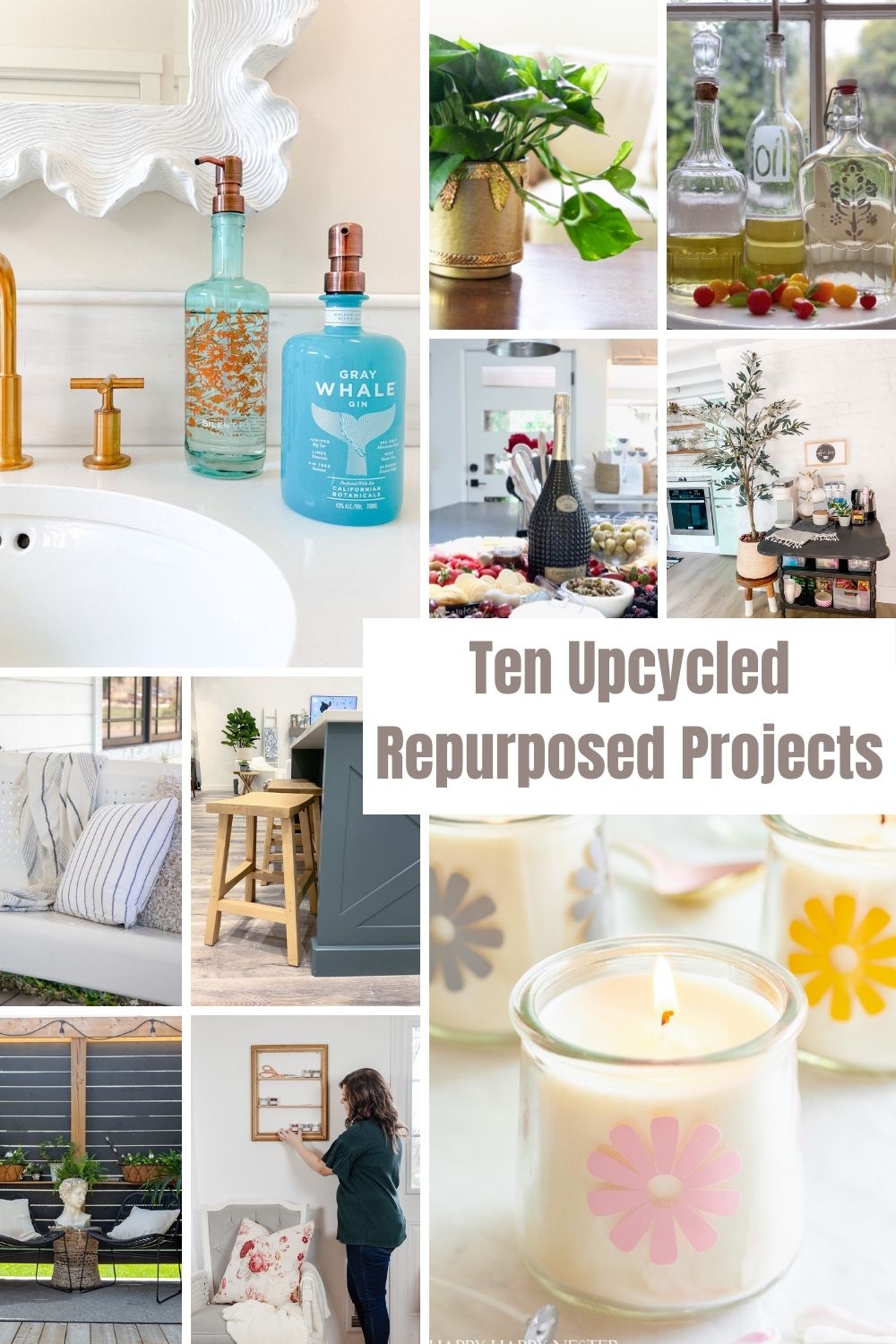 Refinishing an Older Wood Cart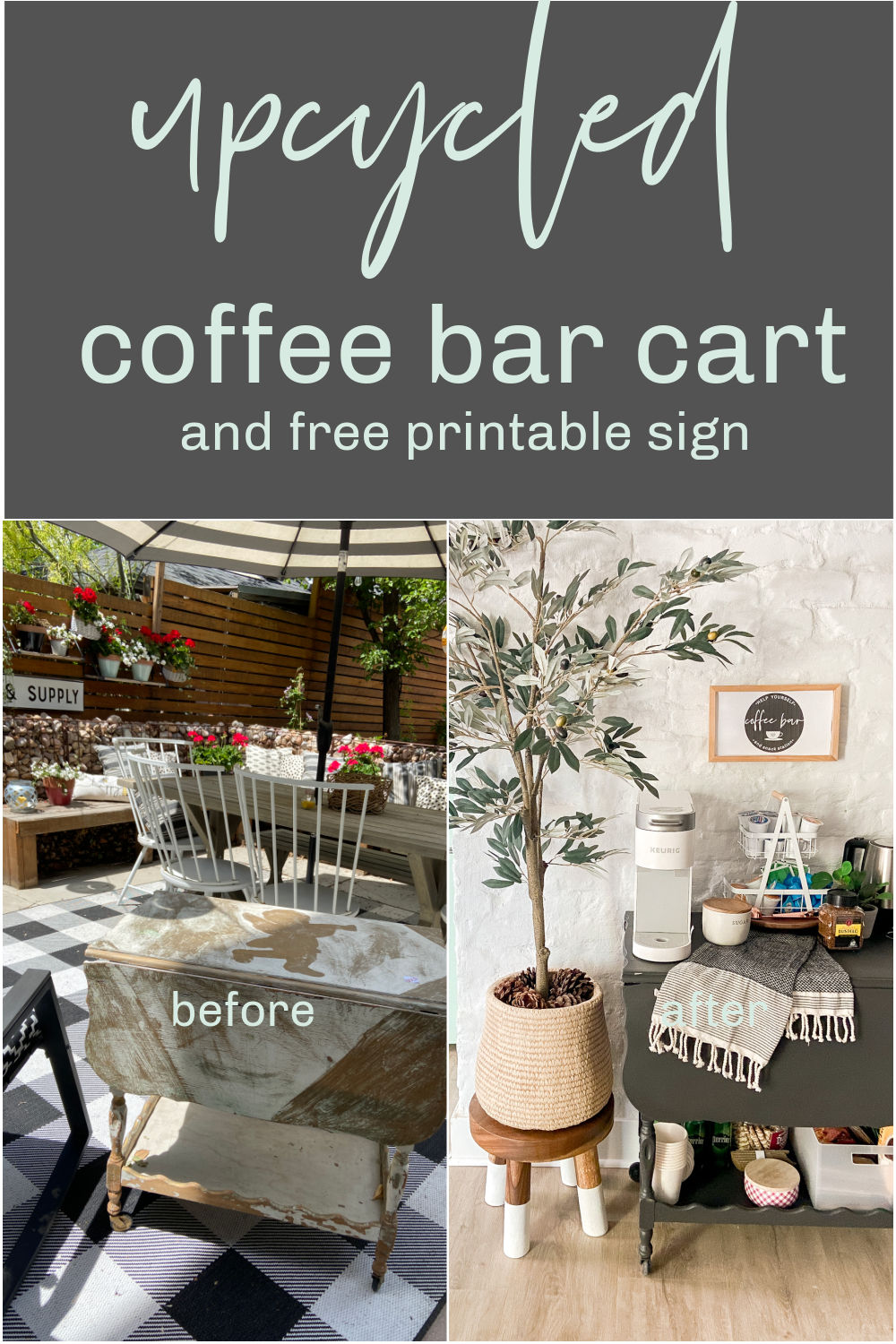 My neighbor's cart was in pretty bad shape. It looks like it had been left outside for quite awhile which isn't a good idea with wood. I knew it would take some work but I love the lines of the cart which are perfect for our 1891 home!
Clean Off the Cart
The first thing I did was cleaned the cart. I used a mixture of water with a little detergent to get the layers of dust off of the surface.
Sand the Cart
Then I used my Ryobi hand sander to sand the cart. The edges were a little tedious and I had a hard time getting everything off but I did the best I could.
Use a High Quality Primer
Rustoleum Everything primer is really high quality and can cover a lot of imperfections. I initially bought 1 can but I ended up using FOUR cans of the primer because the wood really sucked it up. I ended up putting about 6 layers of primer on the cart.
Use a Flat or Chalk Paint to Cover Imperfections
Since the cart still had a lot of imperfections, I used a chalk spray paint which covers well and the finish is soft so it blurs imperfections, whereas a semi-gloss or gloss paint would emphasize the imperfections. I also cut a new shelf for the slot where there used to be a shelf. So this gave me more storage surface.
What Items to Include in a Coffee Bar Cart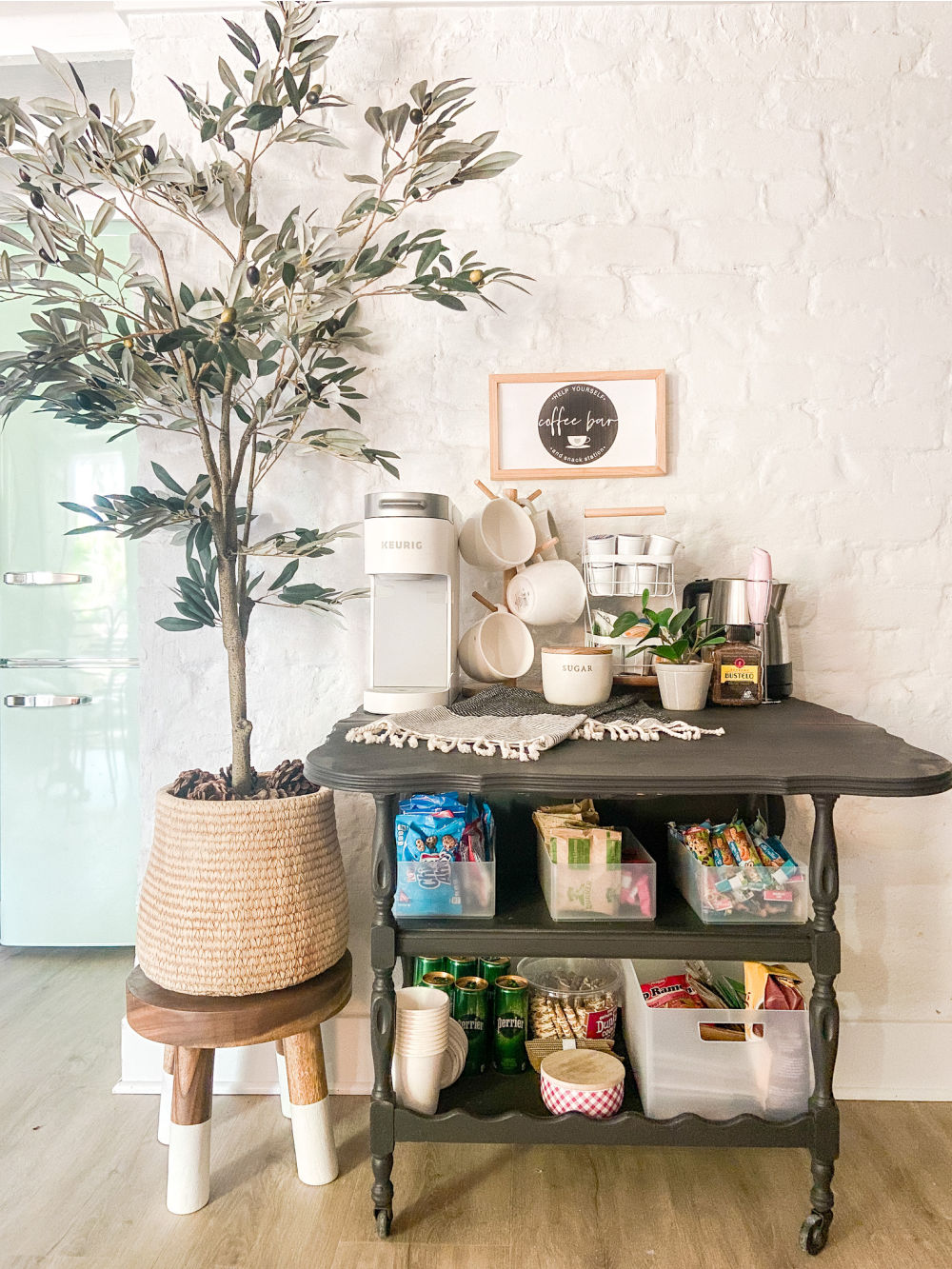 I really thought about the different people that might be staying in our space and what they might want to drink and snack on. There could be couples but there could also be children. And there are people who drink coffee, people who prefer tea and those who would like a cup of cocoa, especially after a long day of skiing. These are the things I included in our cart:
Coffee Machine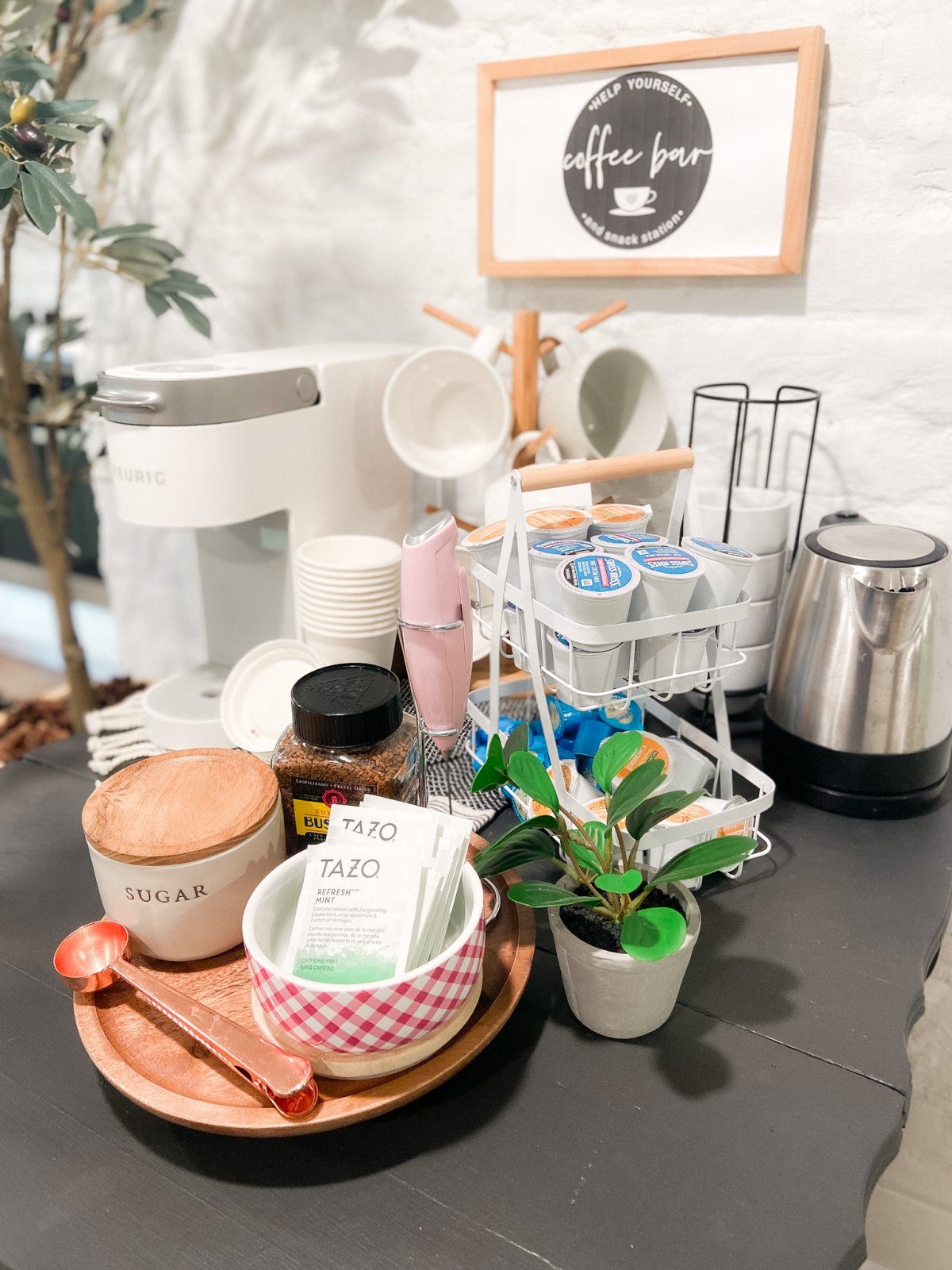 I decided to use a Keurig Single Cup machine. I like the smaller size and I also like that you fill up the water container after each drink which ensures that the water is always fresh. Plus I like the single cup Keurig inserts because you can find almost any flavor or type of drink.
Coffee Creamer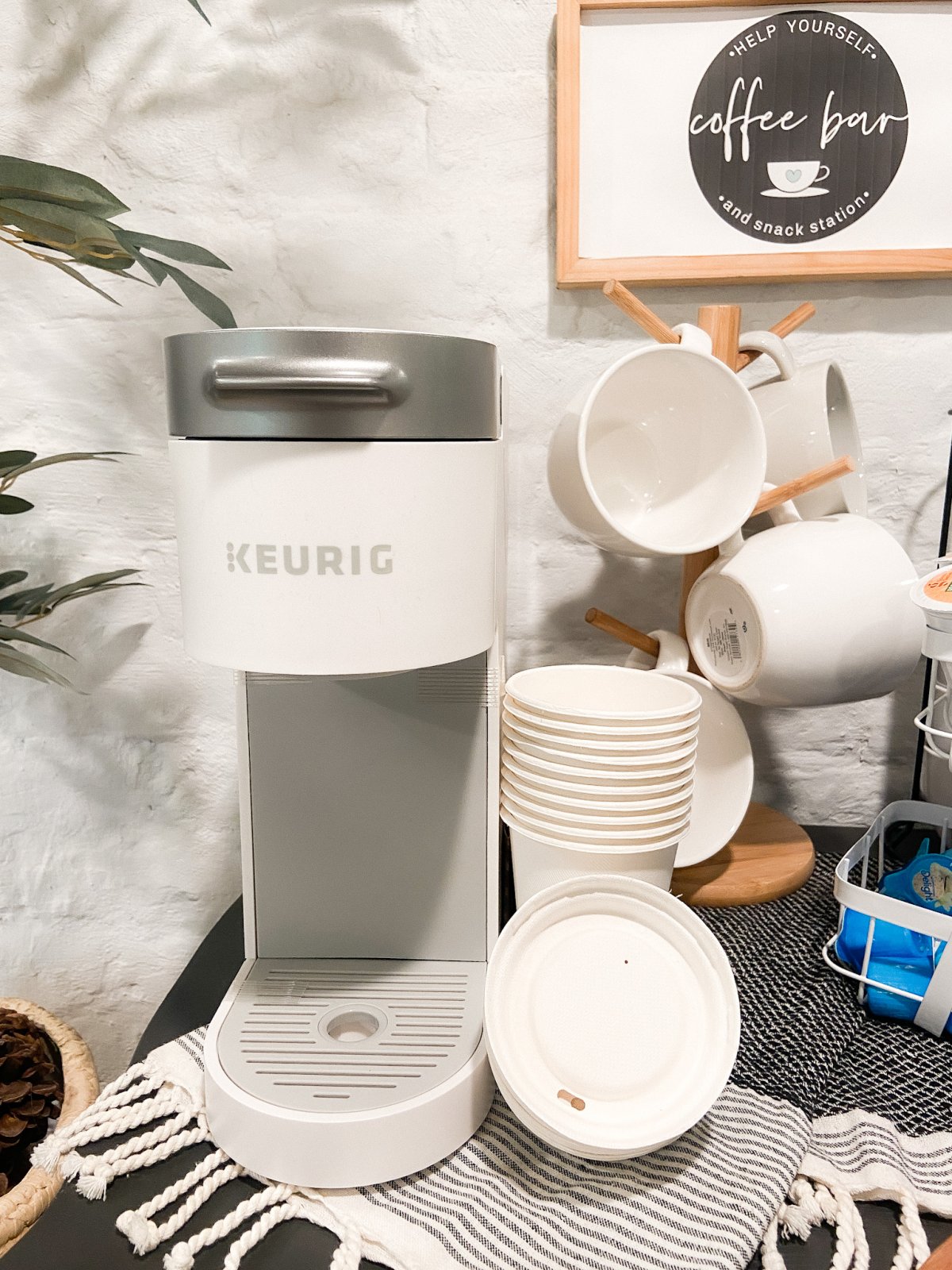 I added some coffee creamer cups which don't need to be refrigerated. I also have a container for sugar.
Electric Kettle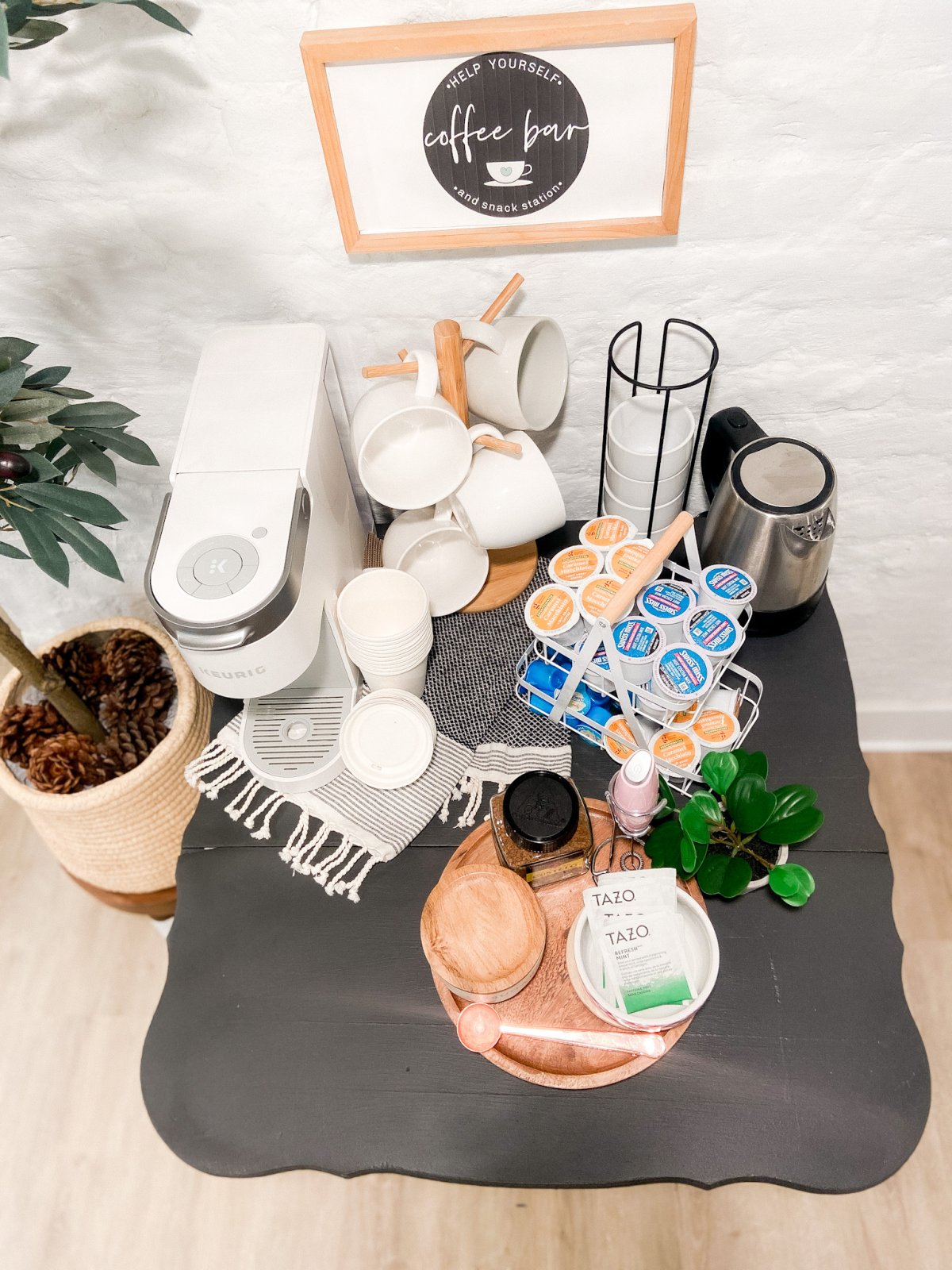 When we were on our girls' trip to England and Scotland, almost every Aribnb had an electric kettle. I found them so charming and easy to use. They are perfect for tea as well as instant coffee and I learned to love instant coffee on that trip. I included some high-quality instant coffee and tea bags on the cart to be used with the kettle.
Hot Beverage Cups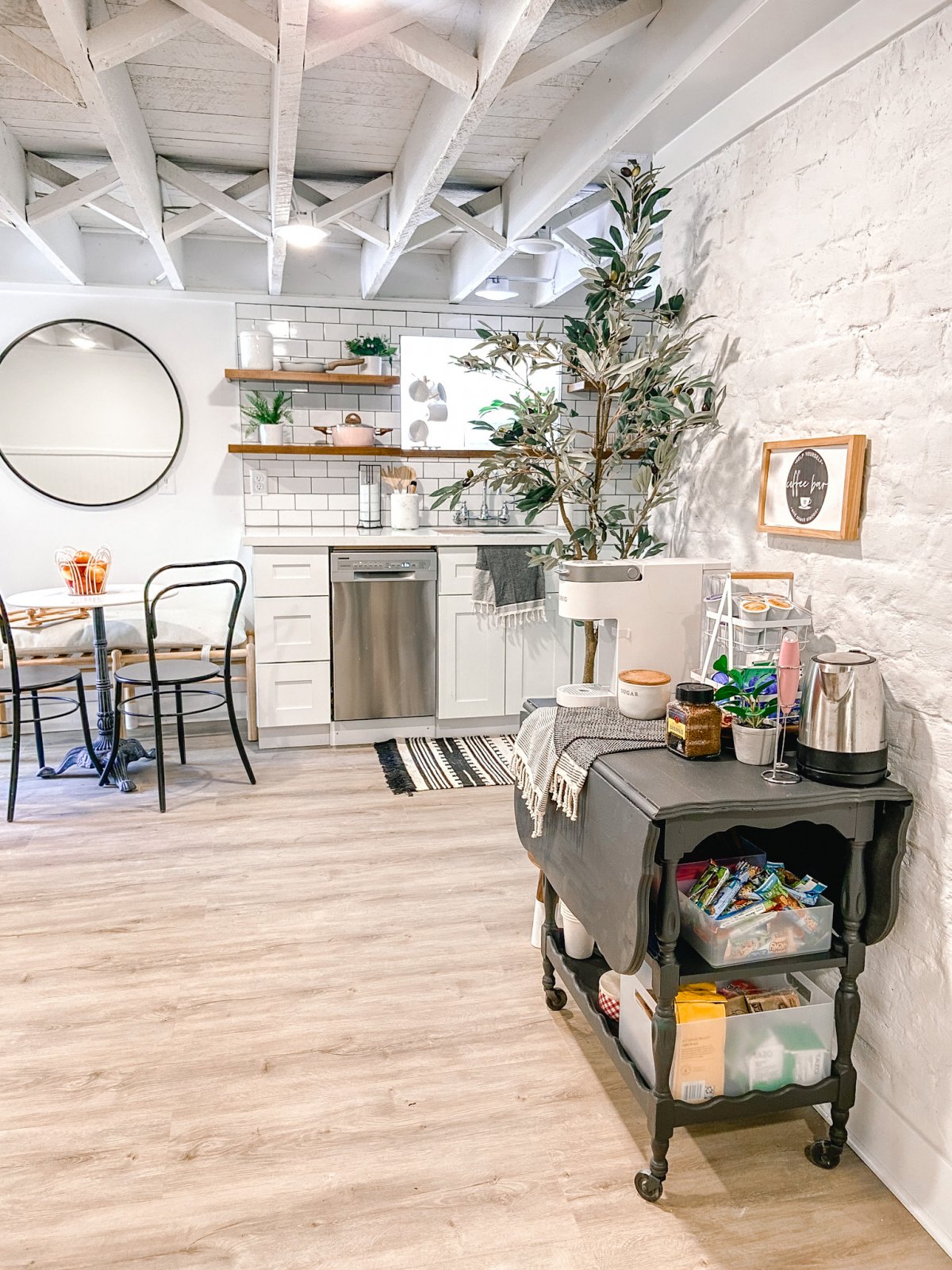 I have three types of coffee cups on the cart. The traditional large ceramic cups, smaller ceramic espresso cups and thermal cups for on-the-go!
Hot Drink Frother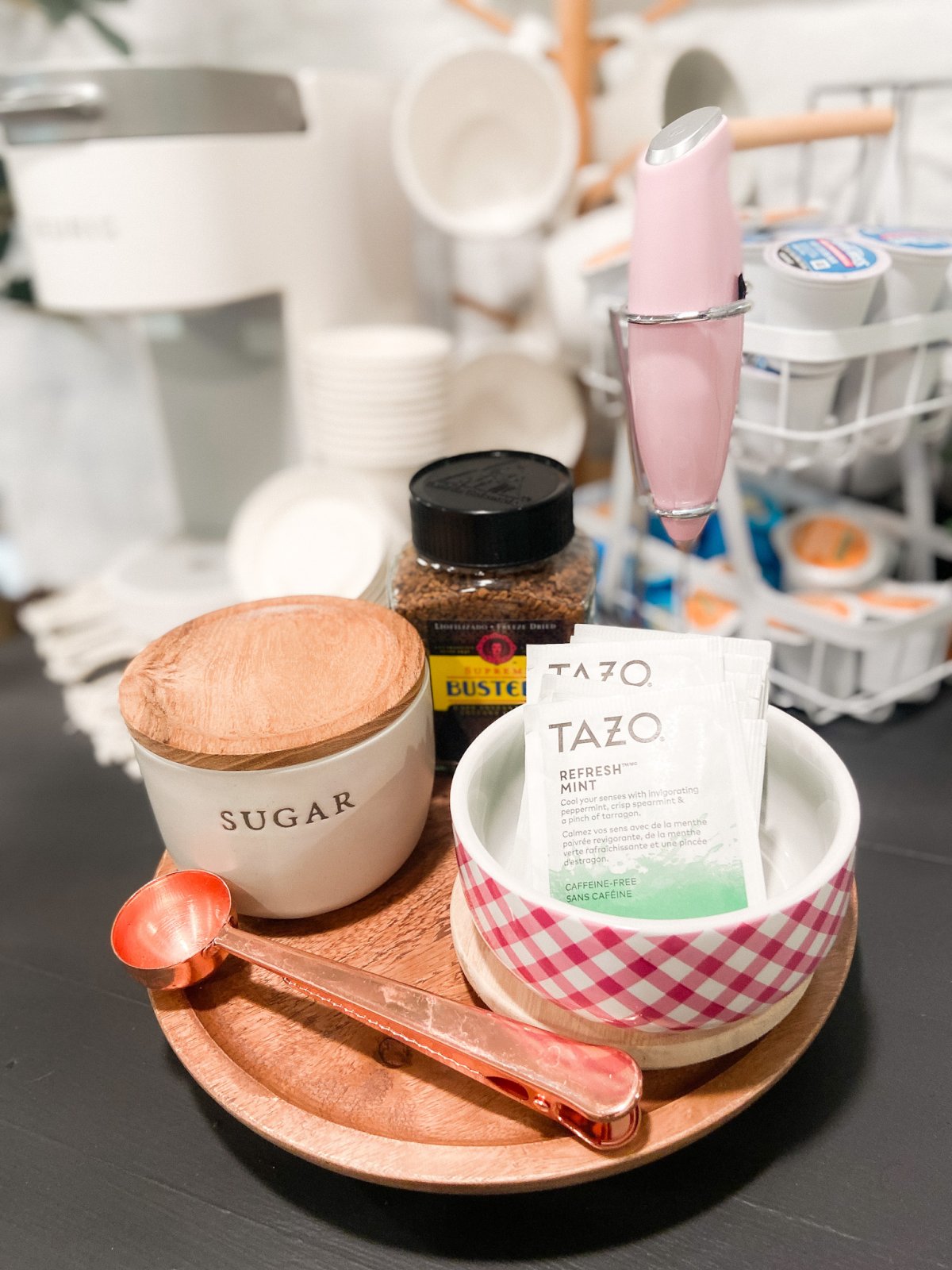 A frother is a great item to include on your coffee cart. My kids love these frothers for all kinds of drinks. You can froth milk for your hot chocolate or for your mocciotos.
What Kinds of Items Do You Include in a Snack Cart?
I decided to include a few non-perishable snack items for our guests. Here are the things I included:
Breakfast Items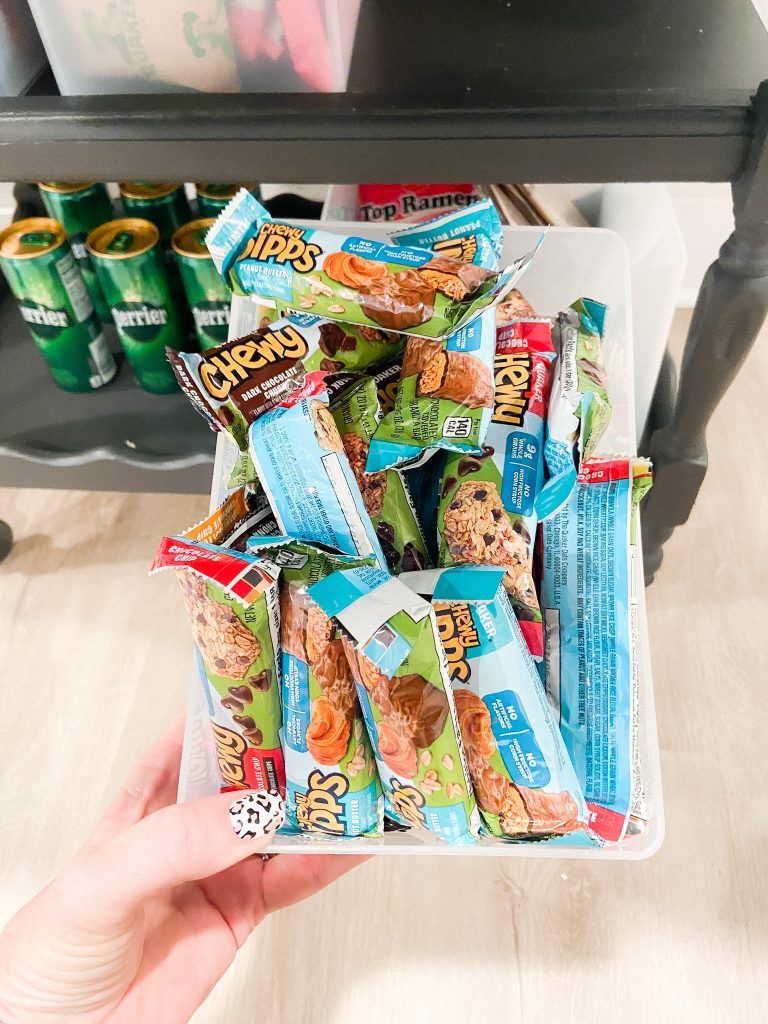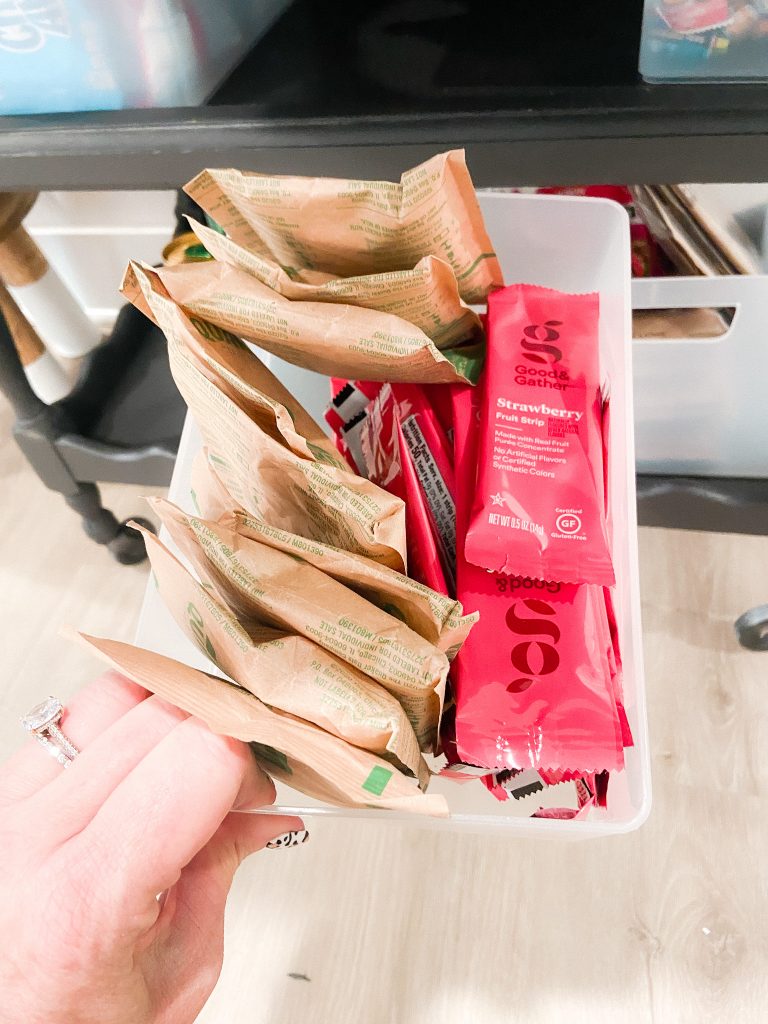 I think it might be nice for our guests to have a couple easy breakfast items to have in addition to their morning coffee or hot chocolate. I included a bin of granola bars and a bin of instant oatmeal and fruit roll ups.
Late Night Snack Items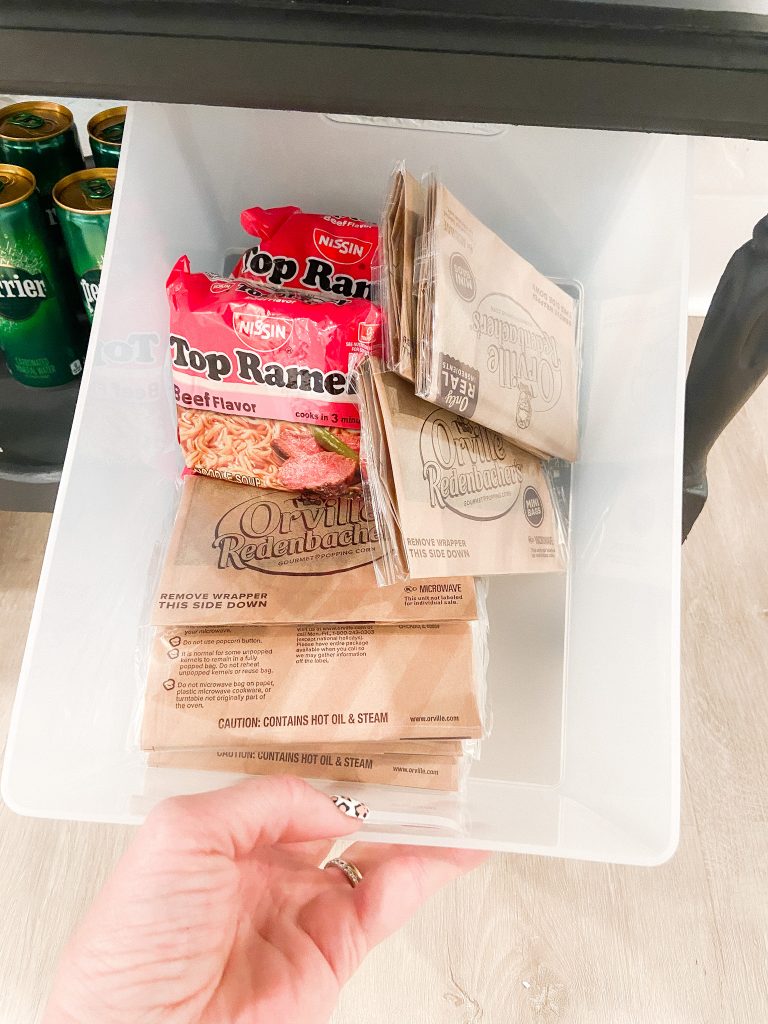 For guests that have been gone skiing or at conferences all day I thought it would be nice to have some items for late-night snacking. I included a variety of cookies, chips and popcorn to make for movie watching. I also included a few packs of ramen for the guests who come back to the Airbnb and who are too tired to venture out to find dinner some nights.
Sparkling Water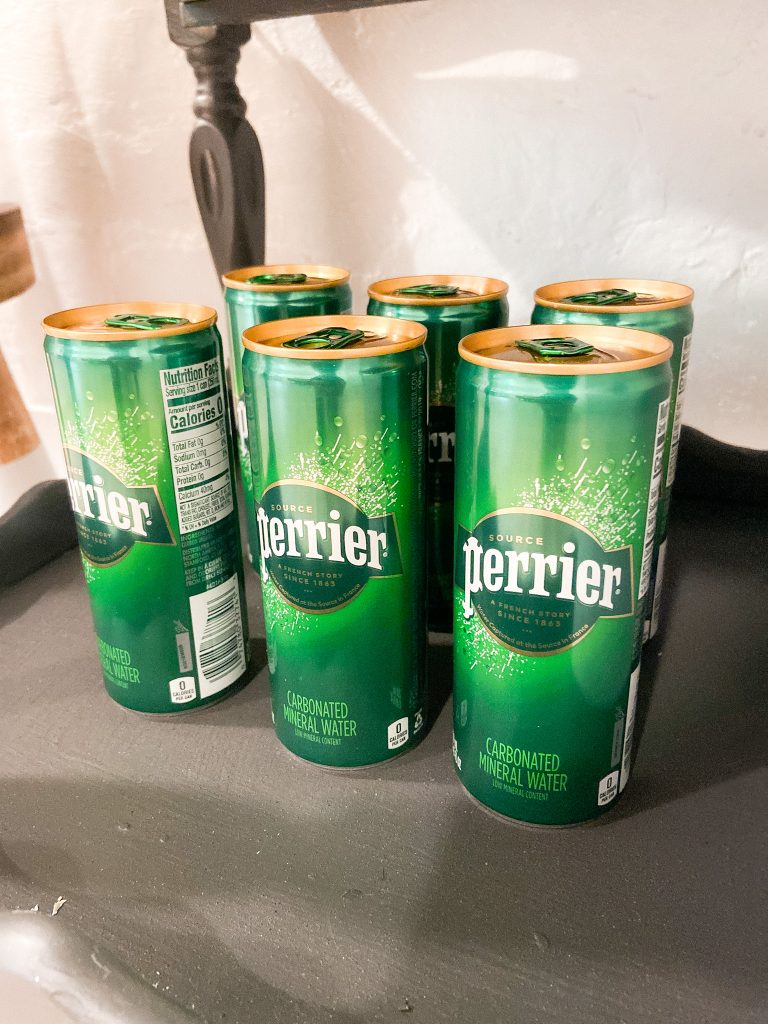 I also included some cans of sparkling water which might be nice for guests who prefer that to the tap water at the unit.
Free Coffee Bar Printable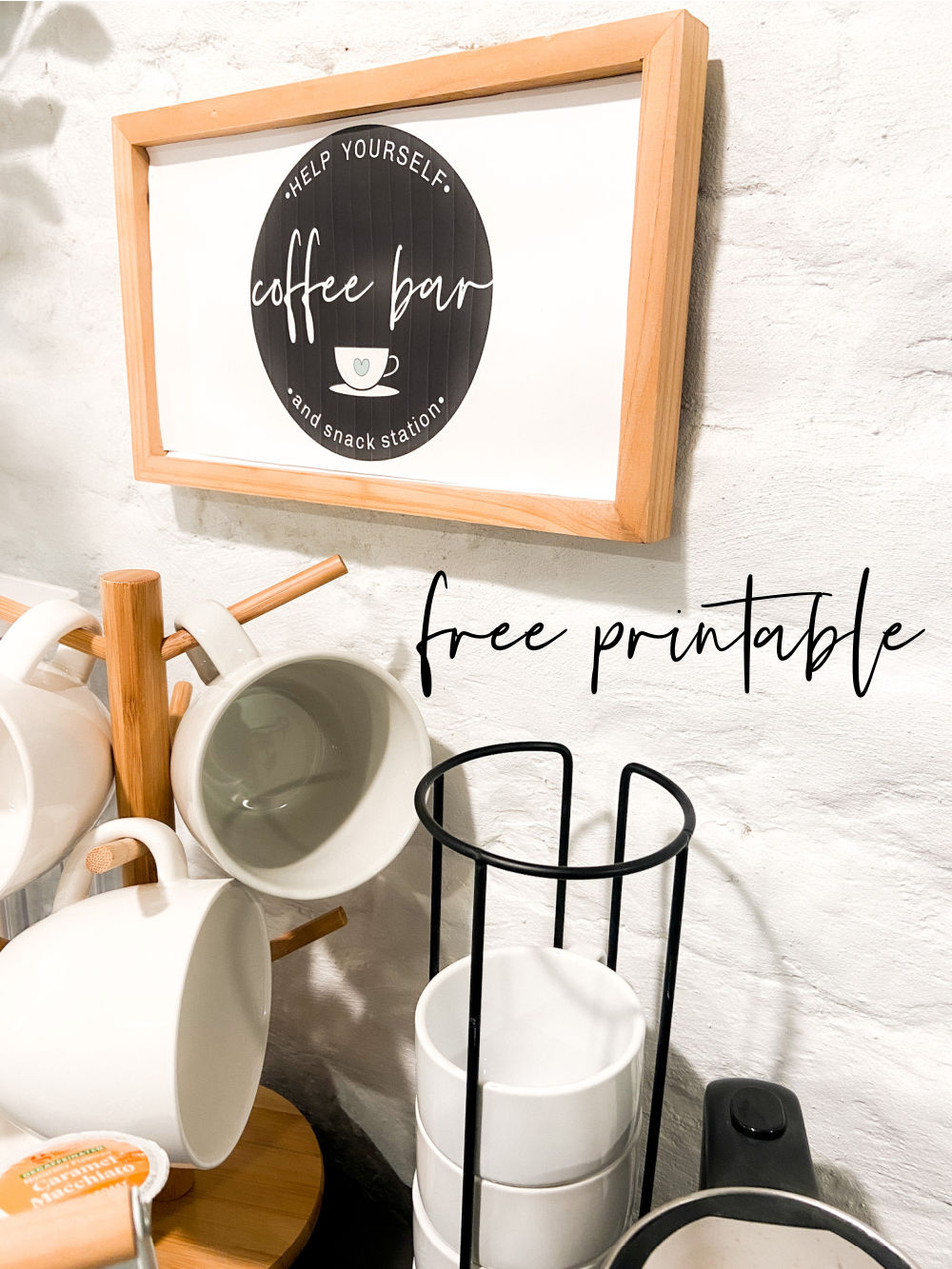 I created a little coffee bar sign that says — Help Yourself * Coffee Bar * And Snack Station. Feel free to print it out and frame one for your house!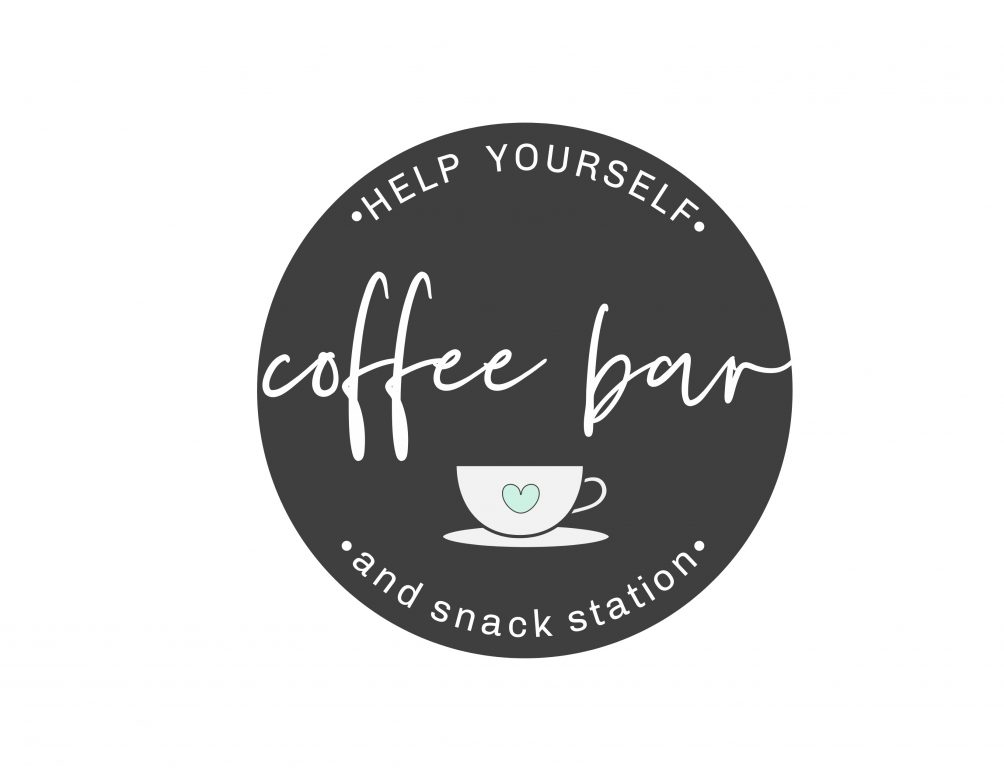 Coffee Bar For Home
Don't feel like you can only use a coffee cart if you have an airbnb like me. A coffee bar is perfect for regular use too! Especially if you have limited counter space! You can put all of your coffee appliances and items on the cart and free up your kitchen counters! I also love that the items are so accessible since most people drink coffee daily. I have also seen people put their microwaves on the bottom of the carts and that can also free up space in your kitchen.
Coffee Carts and the New Bar Carts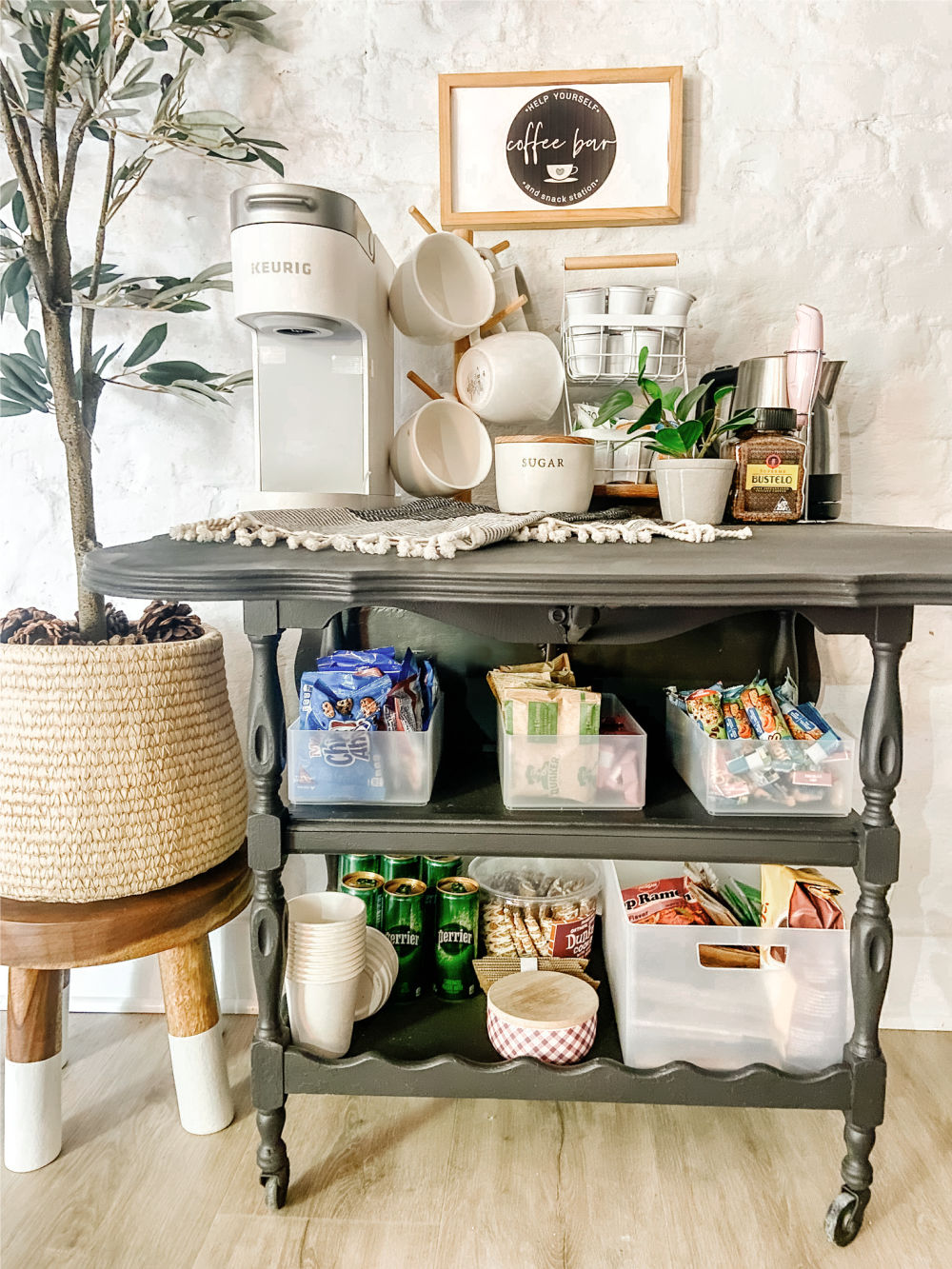 Coffee Carts are actually really popular right now and are taking over the bar cart market. I think because more people drink coffee on a regular basis that sere cocktails. I also love using a bar cart as a hot cocoa station for kids during the winter. You can switch it up and have a lemonade station for your kids this summer and they will love that!!
Take Your Bar Car Outside in the Summer
When the weather is nice, roll your cart outside under your porch and use it to serve drinks for BBQ season!
More Upcycle Ideas
Aren't those upcycling ideas so fun? Here are a few other upcycle ideas that I love:

How To Make The Best Olive Oil Dispenser // My 100 Year Old Home
Giant Charcuterie Board // My Sweet Savannah
Creative Upcycling Ideas // Modern Glam
Oui Yogurt Jar Crafts // Happy Happy Nester

Vintage Cart turned Airbnb Coffee Bar Cart // Tatertots & Jello
Small Backyard Sitting Area // Craftberry Bush
Vintage Metal Glider Turned Porch Swing // Twelve on Main

Old Stool Makeover with Furniture Paste Wax // The Happy Housie
How to Turn an Old Picture Frame into a Shelf // The DIY Mommy
Upcycling a Glass Vase into a Pot with Spray Paint // Zevy Joy
Upcycling Ideas
Here are a few other upcycled projects I have made: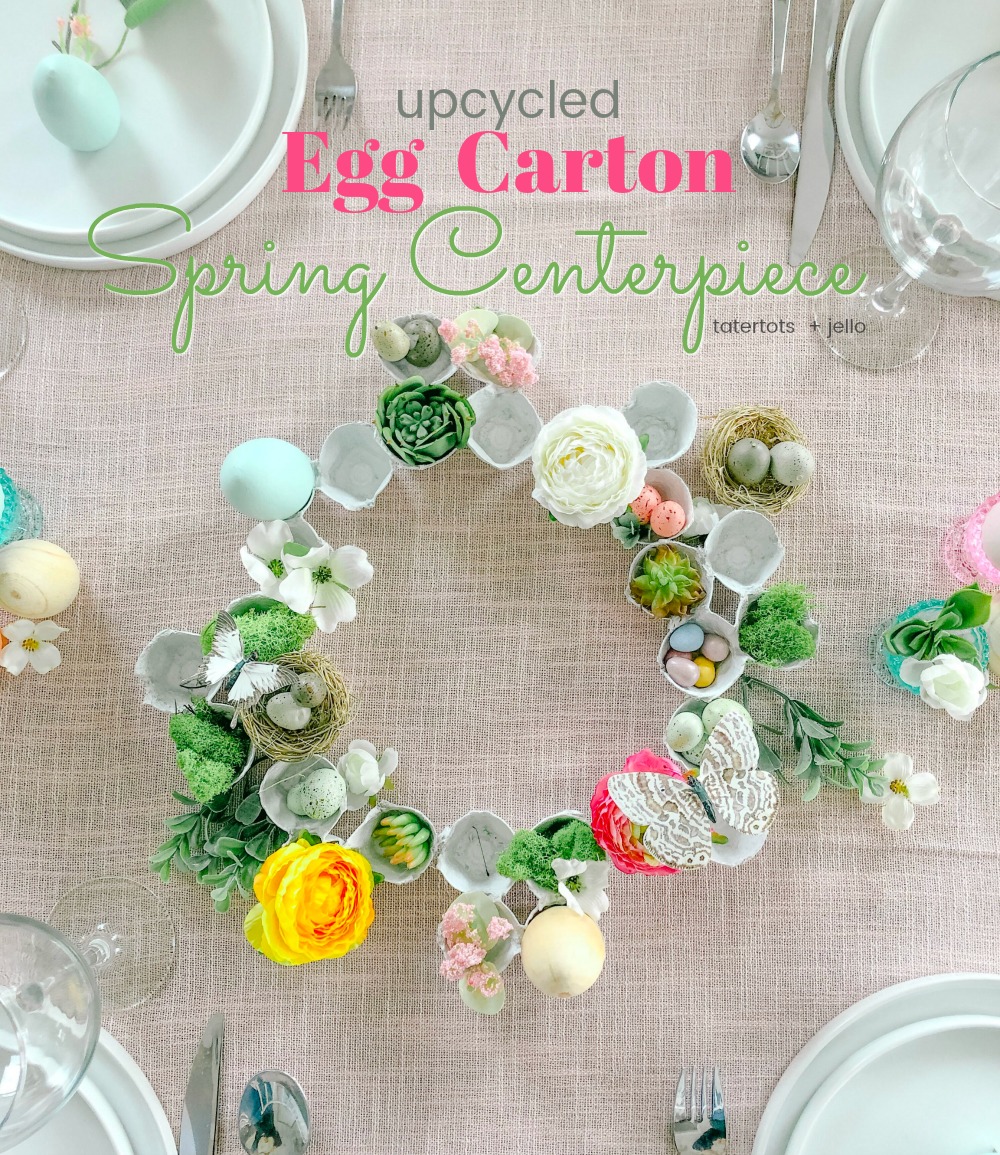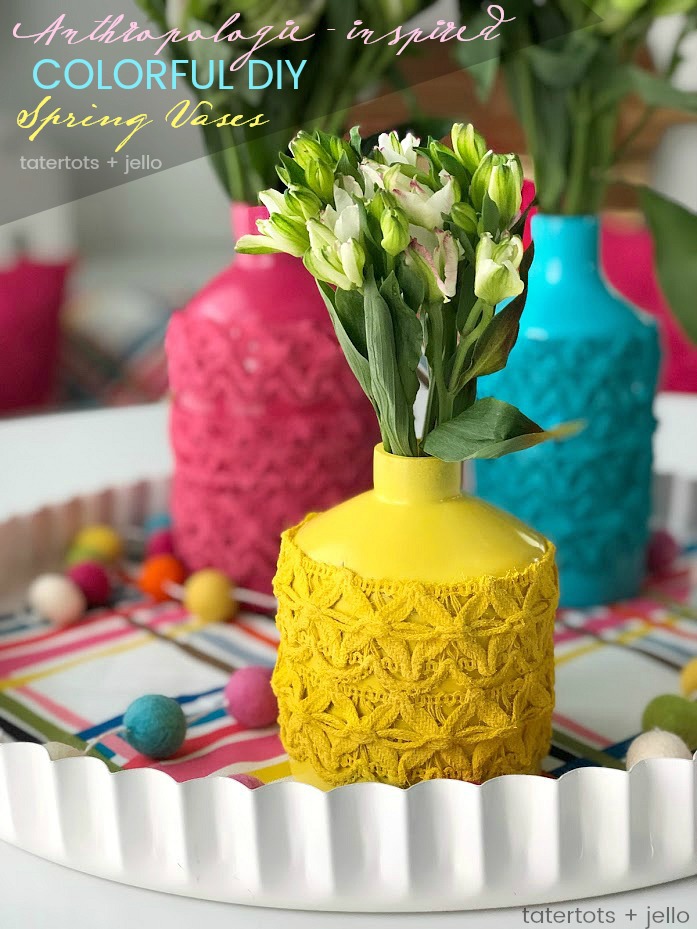 What projects are you working on right now?
xoxo