Anthropologie-Inspired Colorful Spring Vases DIY. Take simple jars, add spray paint and trim to create a beautiful centerpiece for a fraction of the cost!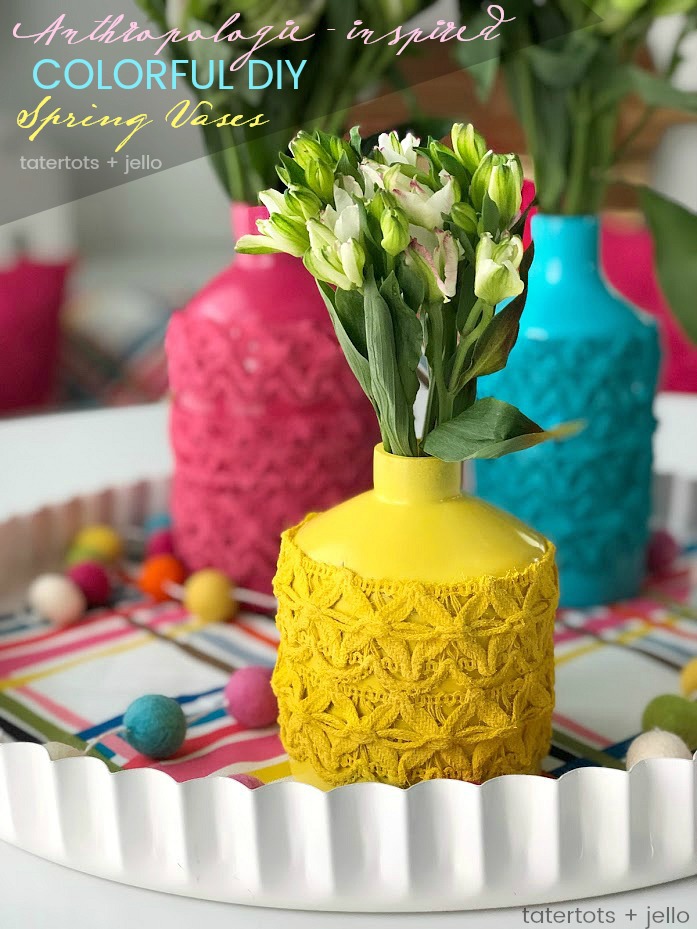 Anthropologie-Inspired Spring Vase Vignette
Rasie your hand if you're ready for Spring! I thought maybe if I created a little centerpiece for our kitchen nook that maybe it would take a little dreariness of winter away. When I was on Anthropologie's site, I spied some pretty, textured vases. Perfect for Spring.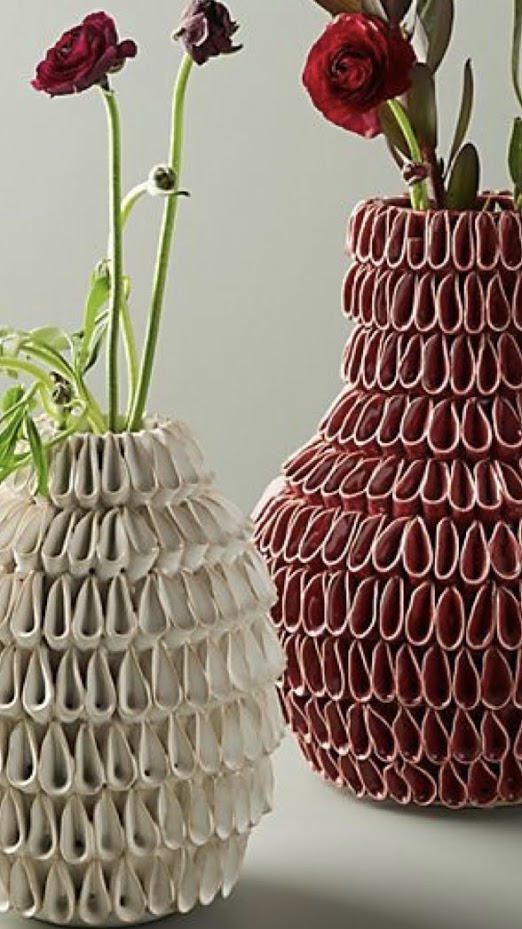 Three Ingredient Challenge — Fabric, Paint and Trim
I've been joining with some friends for a 3 Ingredient Challenge each month! Last month I shared easy Valentine's Day gifts with free typewriter printable sayings. It was so fun! This month the theme is fabric, trim and paint. I thought I could create a little centerpiece vignette creating some vases that echo the Anthropologie vases. I love a challenge!!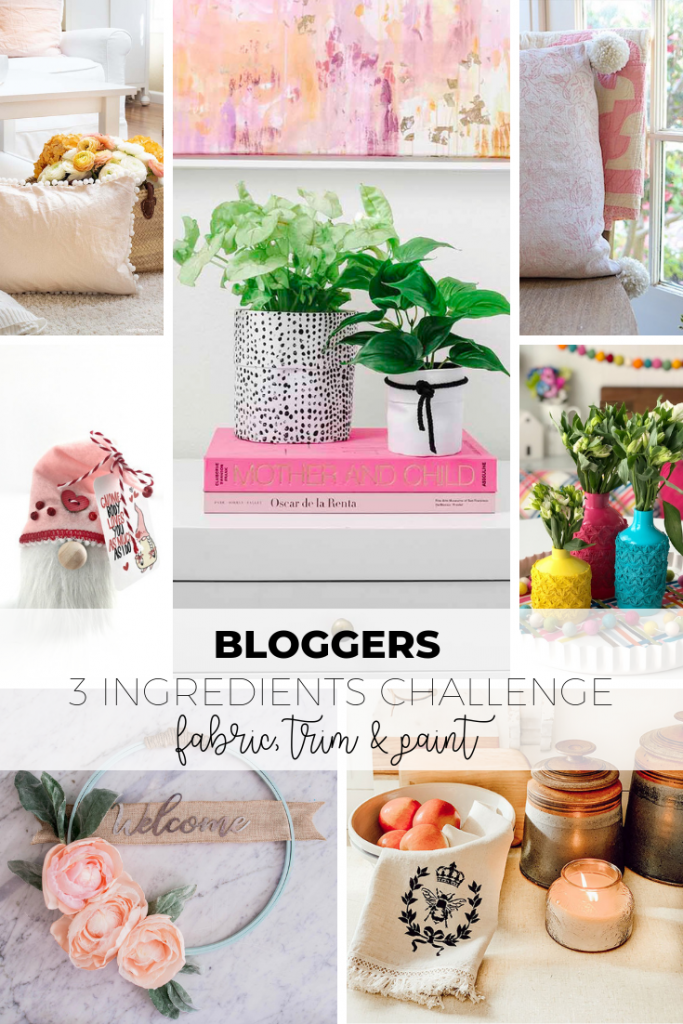 Be sure to check out ALL of the ideas my talented friends are sharing for this challenge. It's so inspiring!!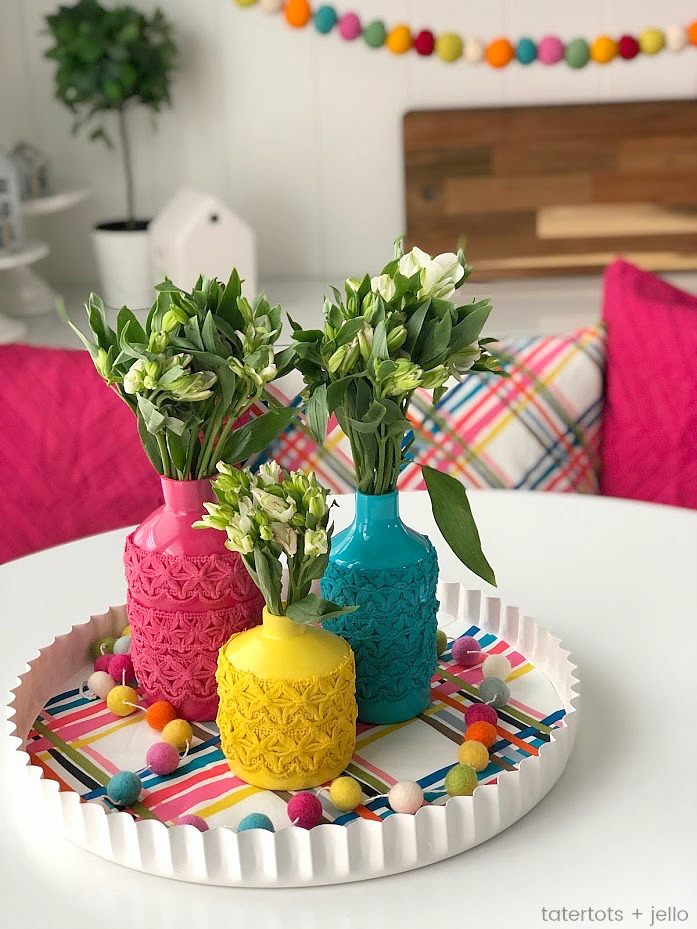 How to Make DIY Anthropologie-Inspired Vases
I found three similar little clear vases. The texture on the Anthro vases reminded me of trim so I headed to Hobby Lobby to check out their trims.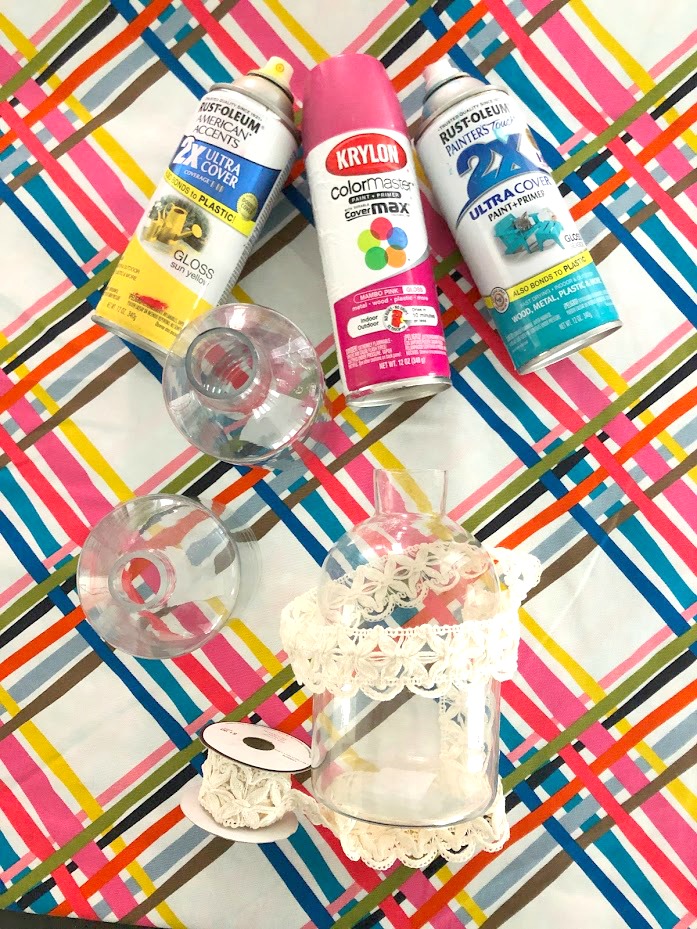 Select a Textured Trim
There were quite a few that were very textured and interesting. I chose a kind of bohemian-patterned trim. I liked how much texture it had. Then I headed over to the fabric section. I found some canvas material with a fun BRIGHT plaid pattern. Perfect! I thought it would be fun to make a runner and pillows with the fabric. I matched the spray paint colors to this fabric.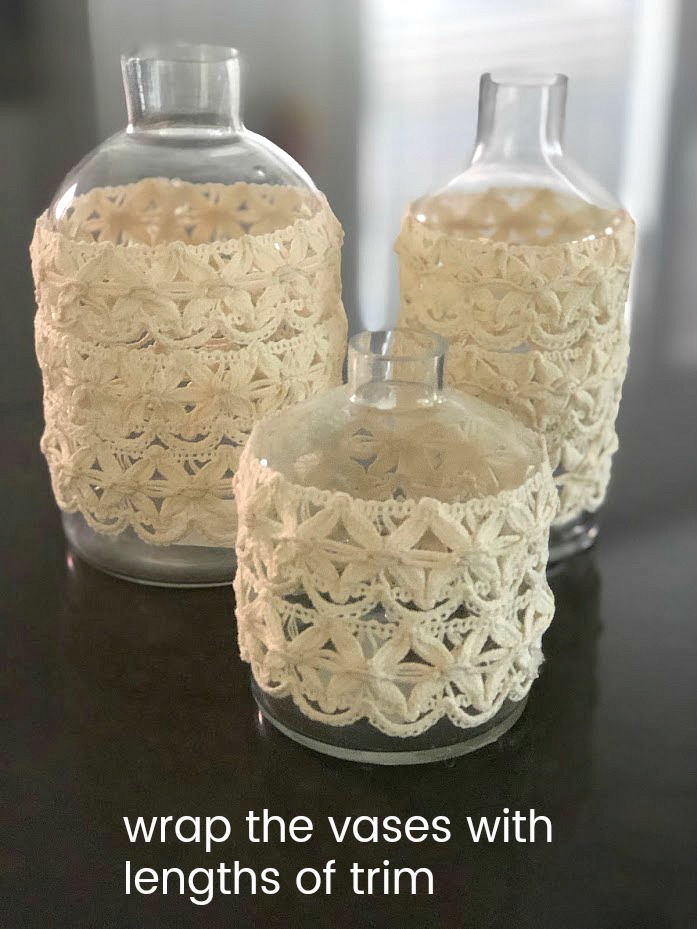 Attach the Trim to the Vases
Next, I wanted the pattern of the trim to be straight, so I measured the diameter of each vase and cut strips of trim to fit around the vases. I hot glued the trim to the vases. Each length of trim was attached in the same place so that the seam is straight. I did this on all three vases.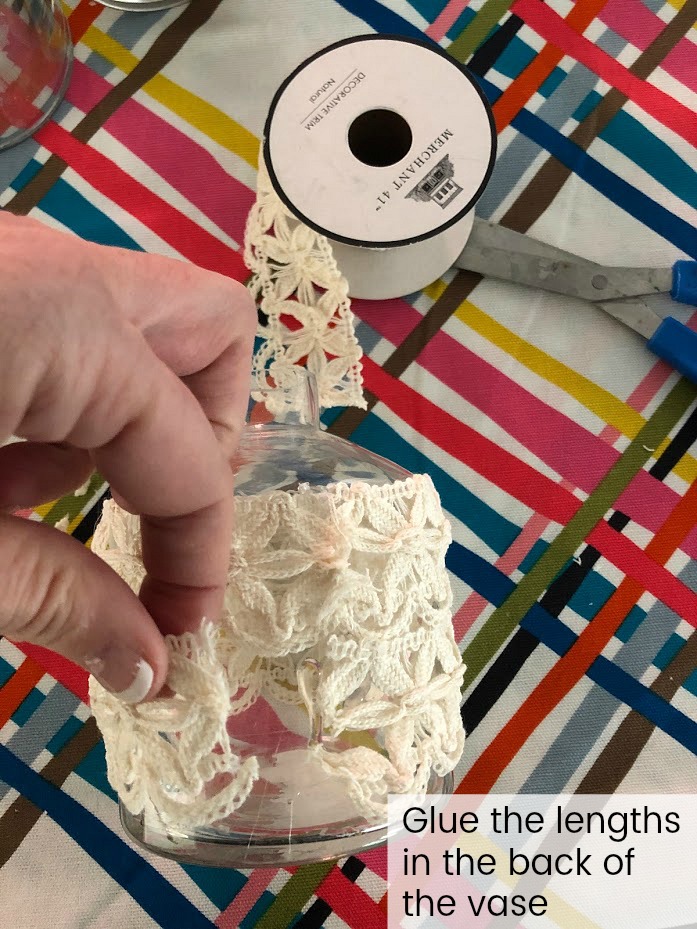 Paint the Vases
Then I used indoor/outdoor spray paint which holds up well with water. These vases will not be dishwasher proof but I can wash them by hand. The indoor/outdoor spray paint adheres the trim onto the vases too and gives the trim a waterproof coating.
Create a Colorful Kitchen Vignette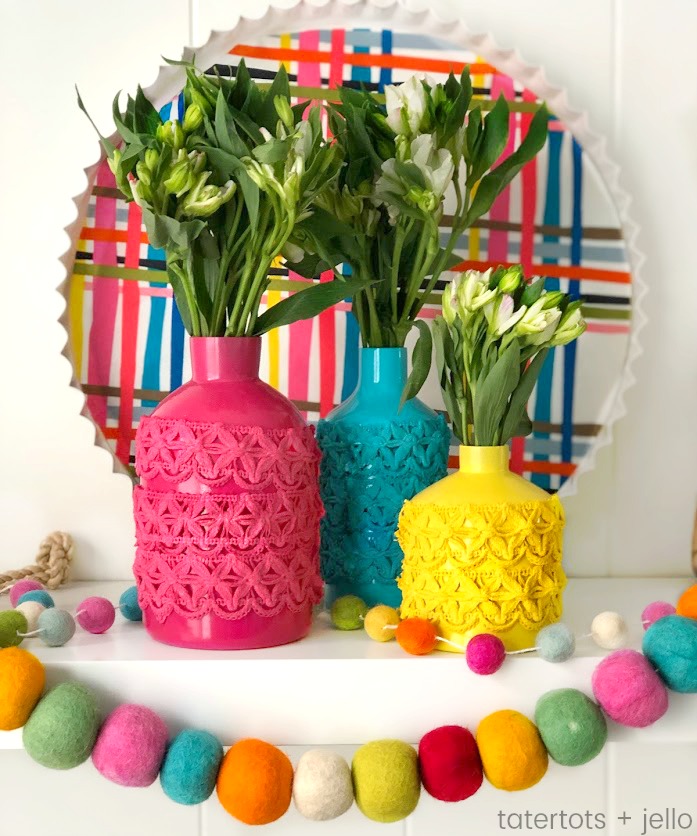 When I was planning this project, I also picked out fabric to make pillows for our little nook. Also, I wasn't sure if I would make a runner to go along with the pillows. So I decided to line a big white tray that I had with some of the fabric. I also made a long pillow for the bench in our kitchen nook.
Make Matching Pillows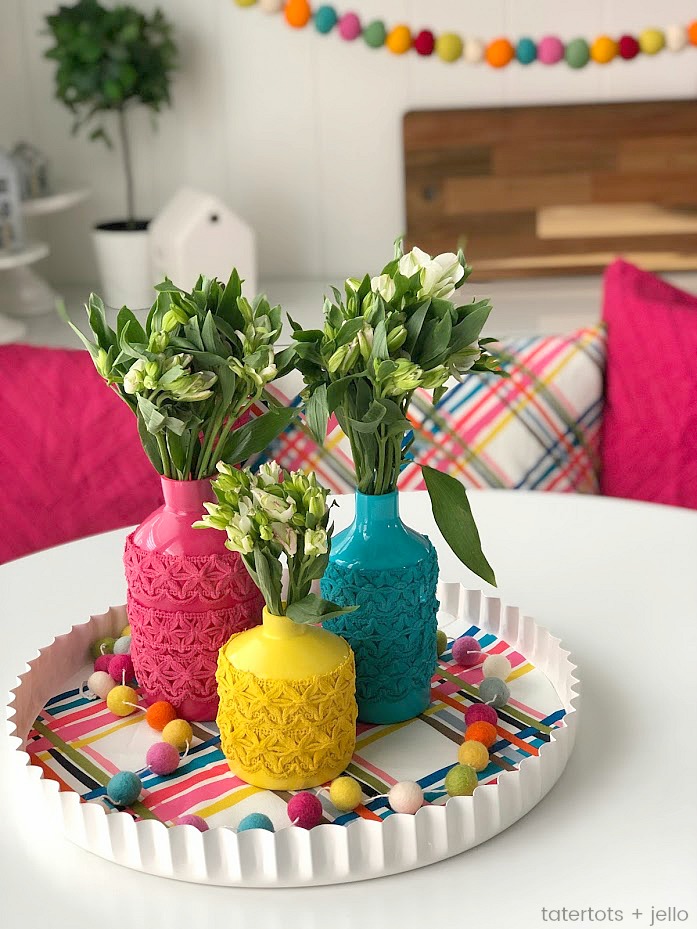 Pillow covers are SO easy to make. In 10 minutes I had a pillow cover for a long rectangular pillow form. I have a tutorial on how to make 10-minute pillow covers that will show you exactly how to do this.
I really love how bright and colorful the vases and vignette and the pillows look in our kitchen. It feels so happy and Spring-like!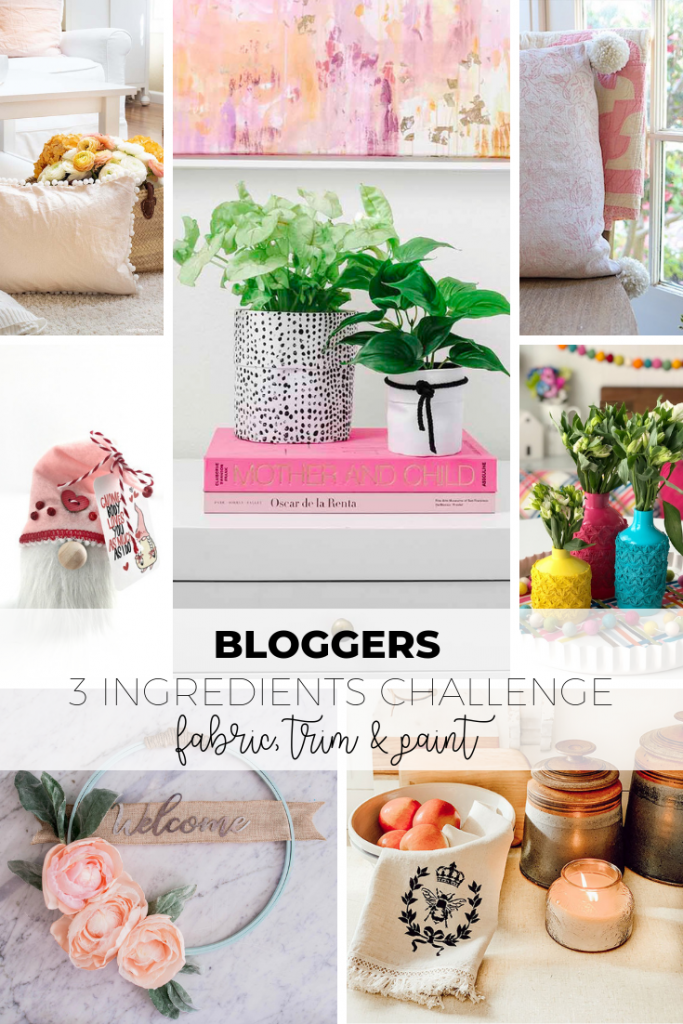 Be sure to hop over and see all of the other projects my talented friends made with fabric, paint and trim for the 3 Ingredient Challenge this month! So fun!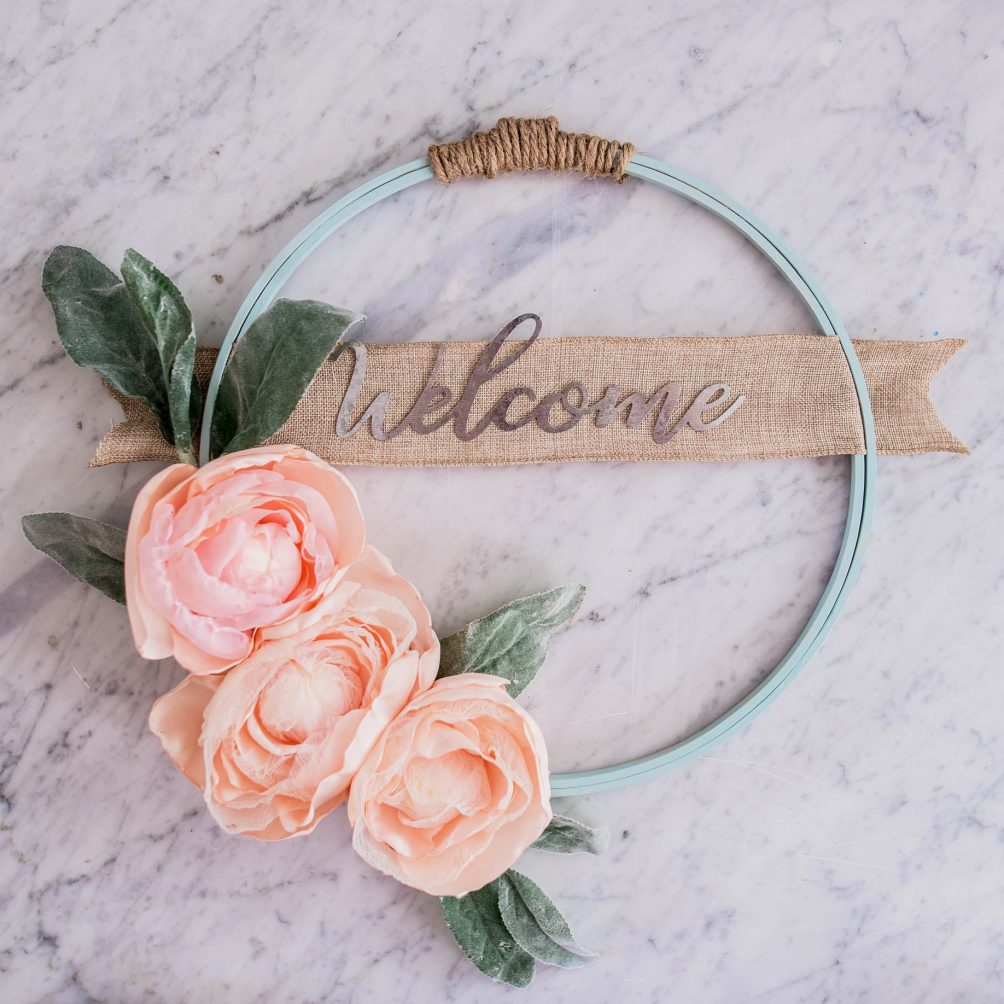 This wreath is perfect for Spring from @The DIY Mommy. I love the fabric flowers and the burlap welcome – so cute!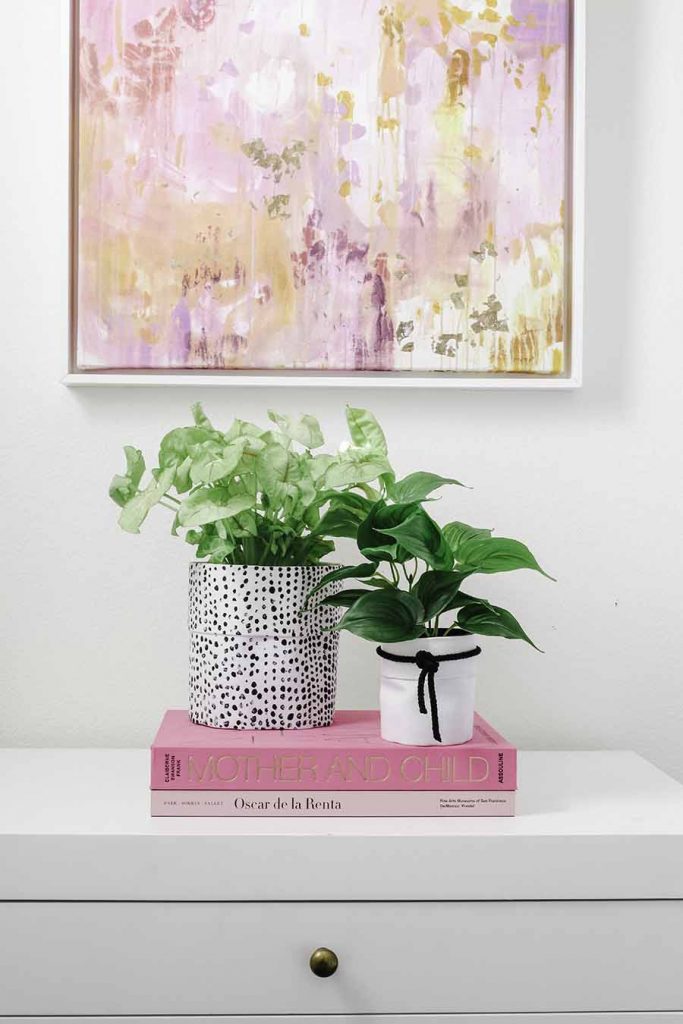 Ashley @Modern Glam made these painted canvas pot containers. And it's NO sew. I need to make one ASAP! So creative!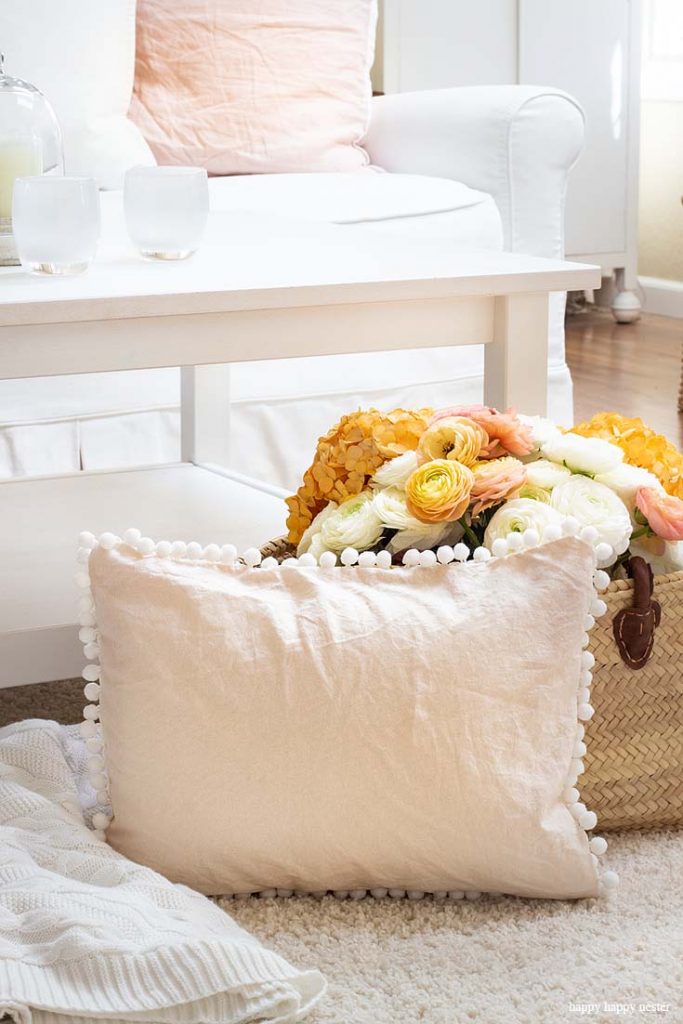 Did you know that you can use Avocado skins and pits to dye fabric?? So genius and such a gorgeous color — from Janine @Happy Happy Nester.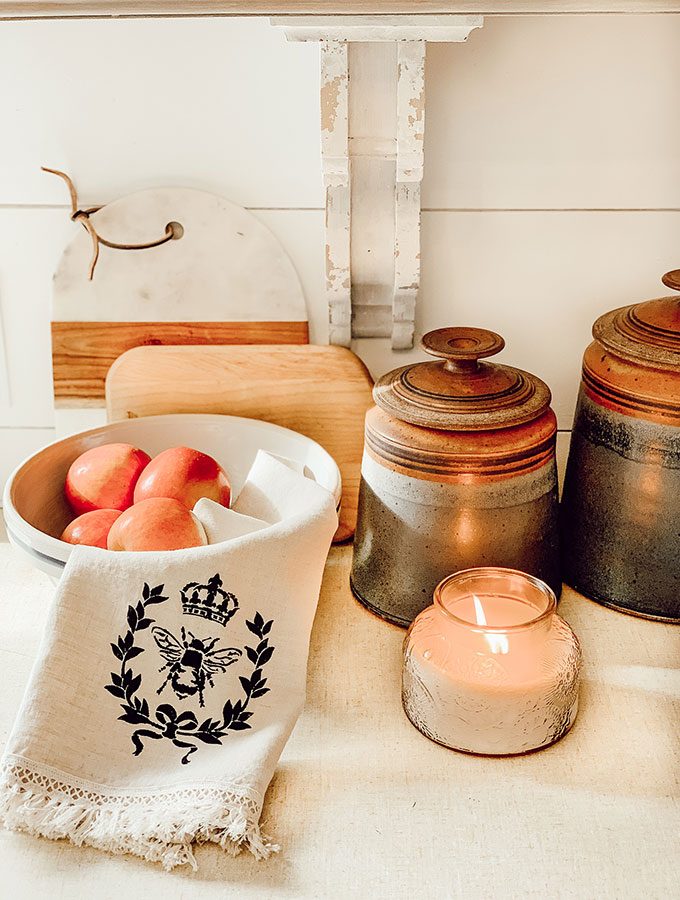 And how pretty is this tea towel from Rhonda @Hallstrom Home? She stenciled the design with chalk paint! How adorable would this look in any kitchen, and it's a wonderful handmade gift idea!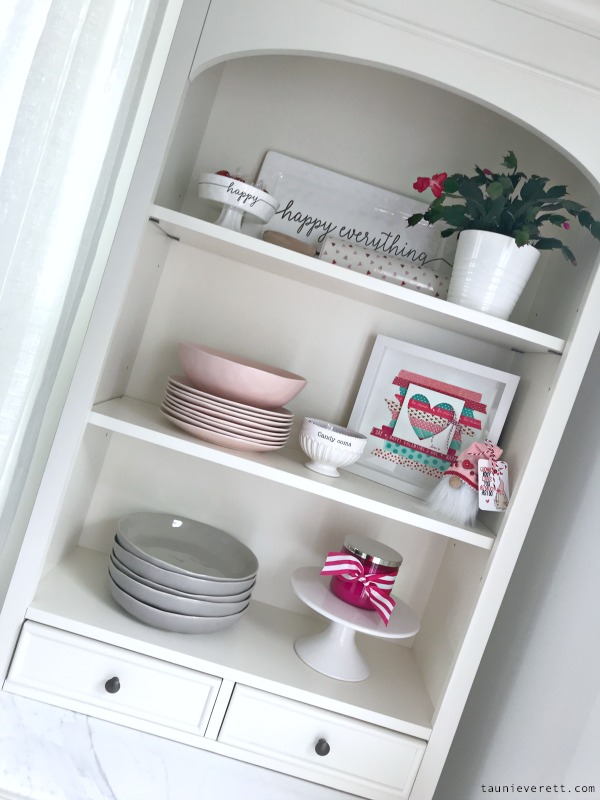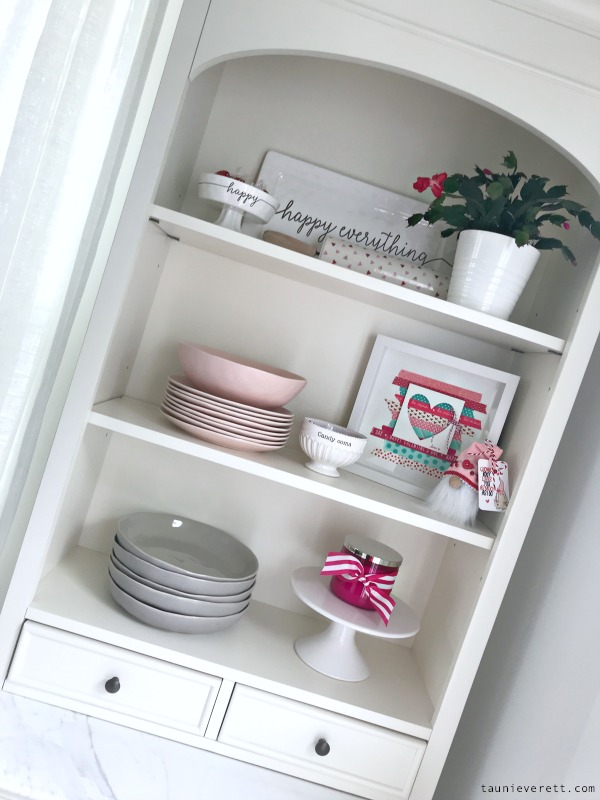 Tauni's gnome is so cute for Valentine's Day! And you can make it in under 30 minutes. You can grab the fun tutorial at @Tauni Everett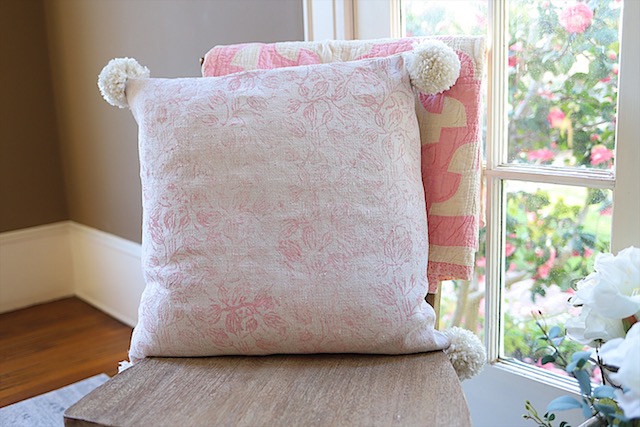 This pillow is painted! It's gorgeous and those pom poms are the cutest from @My 100 Year Old Home!
Pin This Idea!
Pin this idea to make later!

Have a CREATIVE day!
xoxo