Egg Carton Spring Succulent and Flower Wreath Centerpiece. Don't throw your old egg cartons out, upcycle them into a beautiful Spring wreath centerpiece!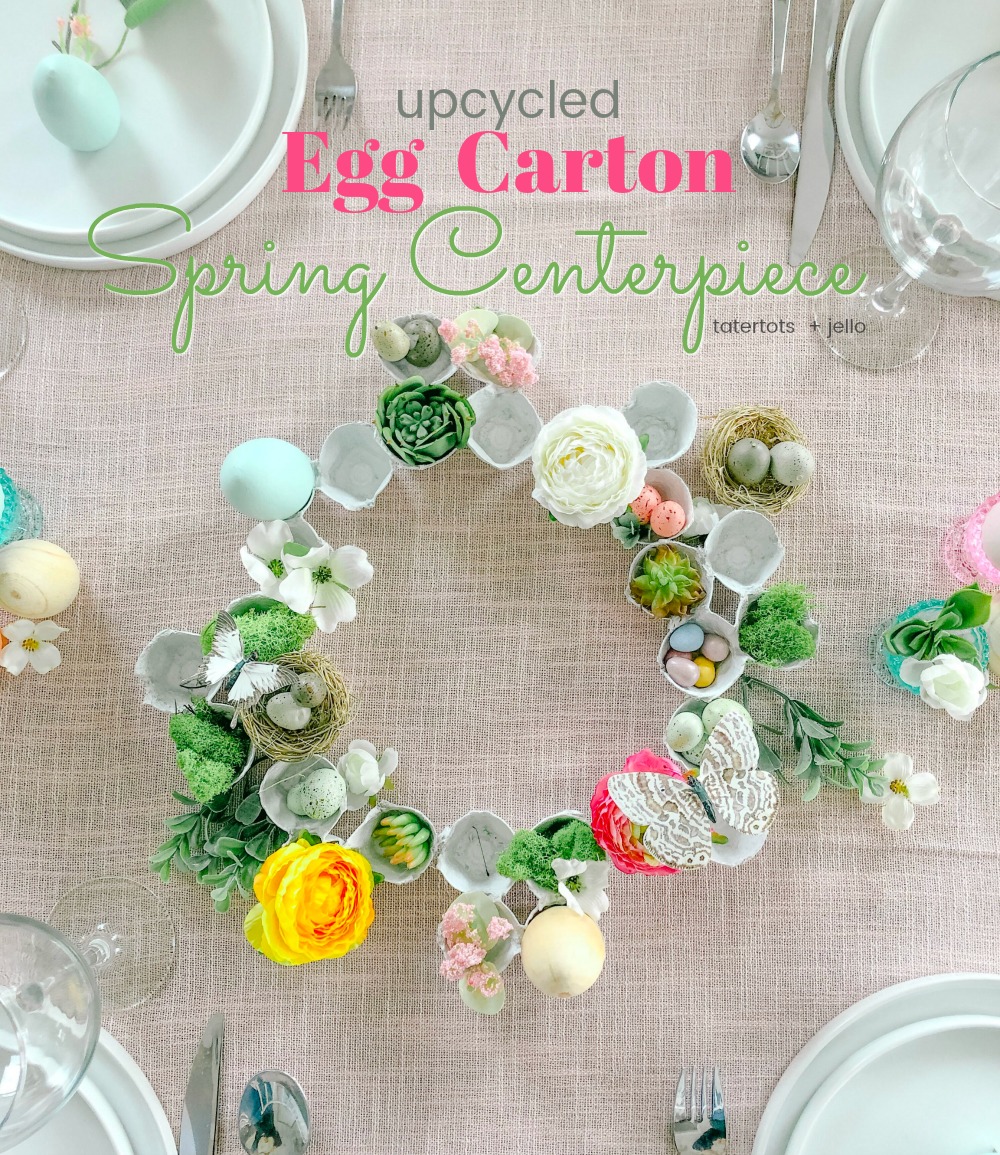 Egg Carton Spring Centerpiece
I love upcycling old tired items and giving them a new life. I've been doing it for years. I turned an old thrift-store picnic basket into a chic boho basket and old t-shirts into a t-shirt quilt last year. Since Spring and Easter are all about decorating with eggs, I thought it might be fun to create a centerpiece where we can showcase those pretty eggs. And what better idea than taking egg cartons and upcycling them into a gorgeous centerpiece?
8 AMAZING Egg Decorating Tutorials
I am excited to show you this fun tutorial. But first, I am thrilled to share that I have some friends who are all sharing awesome egg-decorating tutorials! Be sure to see them all at the bottom of the post and click over to see their tutorials. And pin their ideas so you can make them!!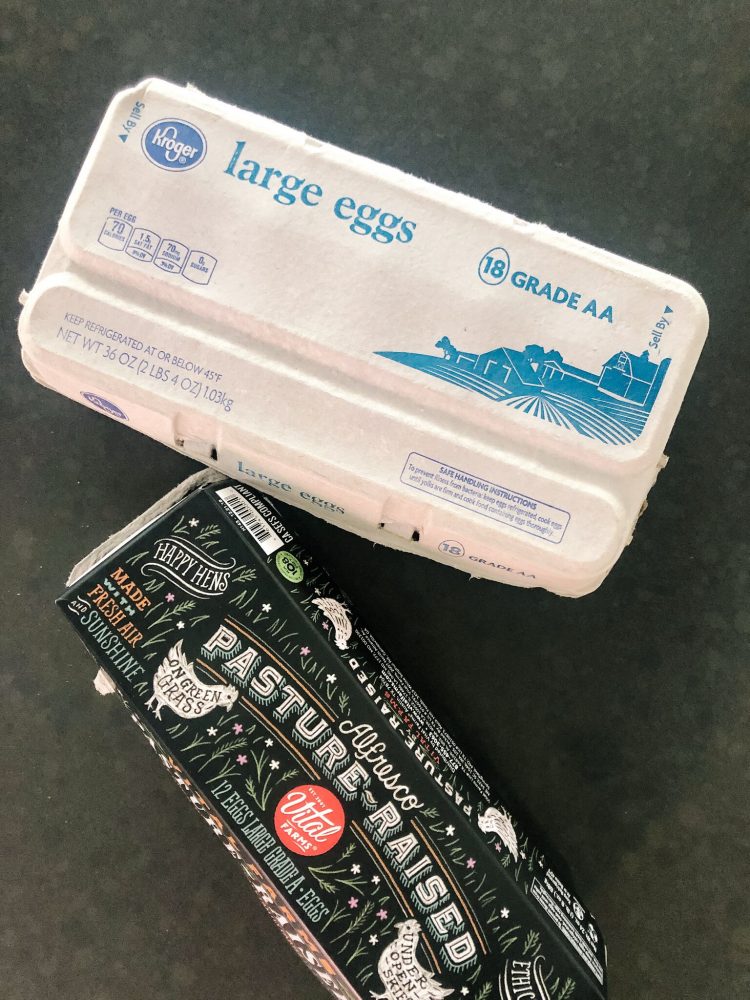 Save Your Old Egg Cartons
You can make the egg carton wreath any size you want. The one I made uses 28 egg cartons, cut into 4-egg and 3-egg sections. But you can make any shape you want. For example,, you could make a wreath using 2-egg pieces or any combination you want. This wreath has 4 4-egg sections and 4 3-egg sections.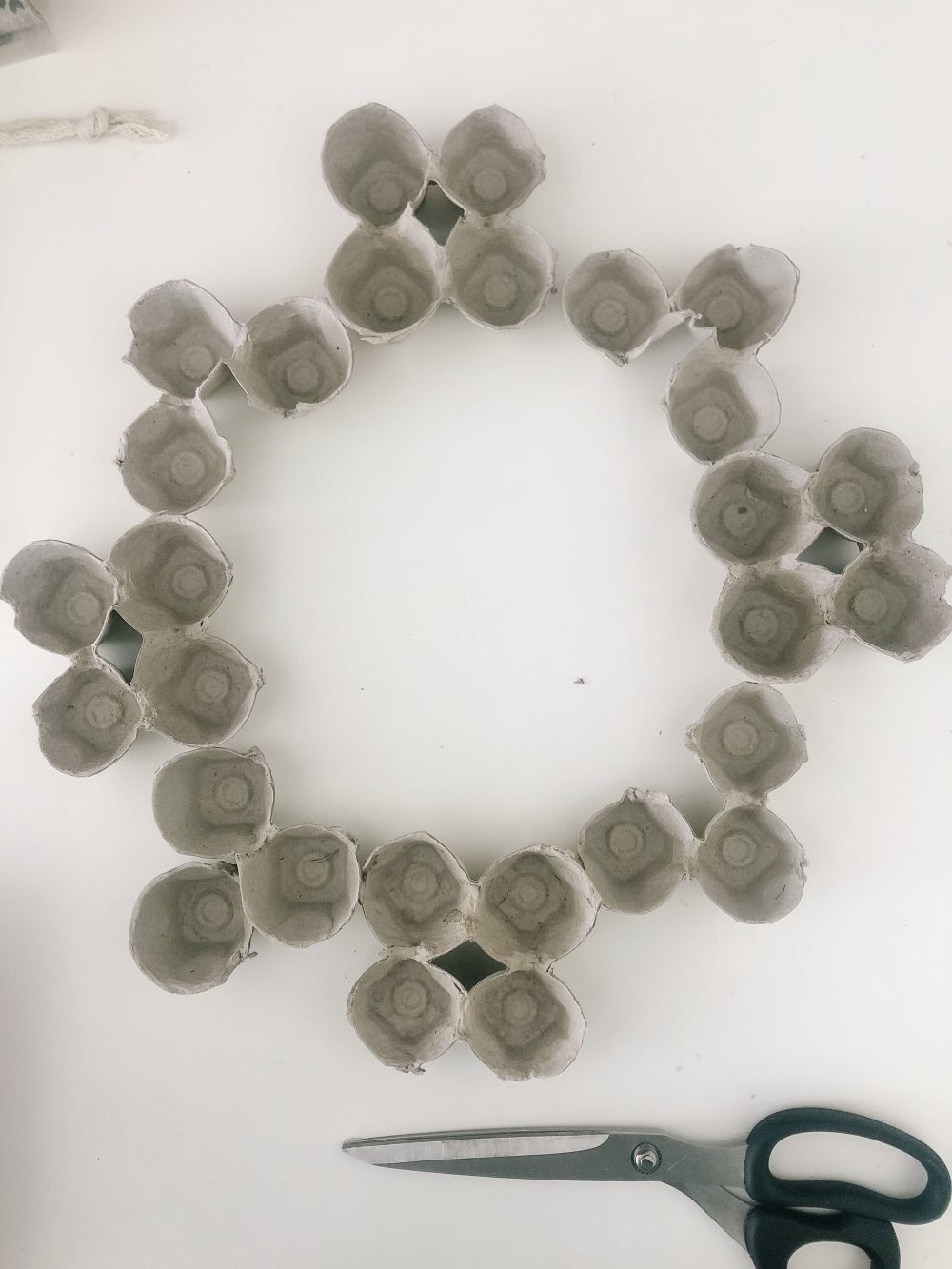 Trim the Edges
After you have cut out the sections for your wreath, cut around the outsides of the cartons to round them off. I also cut out the middle pieces so there are bigger holes in the middle.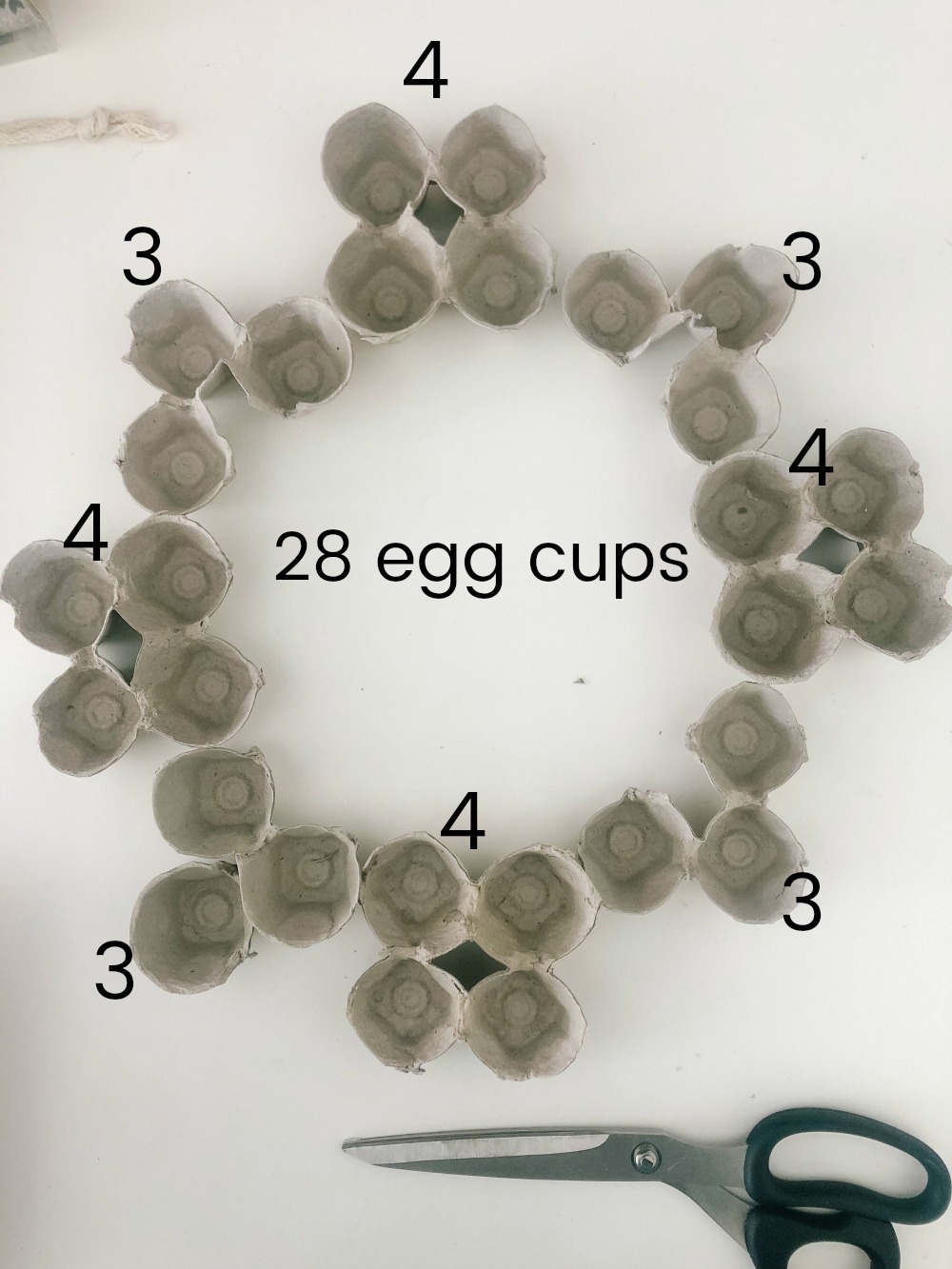 Hot Glue the Sections
Arrange your egg sections into a circle. Then hot glue the sections together. After I hot glued the sections and they cooled, I flipped the whole thing over and hot glue the sections from the back. This makes the whole wreath much stronger.
Add a Base Underneath
If you are using this arrangement as a centerpiece you don't have to reinforce the wreath. It's pretty fragile, but I transferred it from my craft table to my dining room table by lifting it gently up and then put it on a cookie sheet to transfer the wreath. If you want to hang this wreath up you should get a chipboard wreath form and glue the wreath onto that form so it can be hung up.
Spray Paint the Wreath
This is optional. If you want a more organic look you can leave the wreath brown. Or you can also use white egg cartons. My egg cartons were the basic brown color so I spray painted my egg cartons white. I spray painted the front, then flipped it over once it was dry and spray painted the whole thing from the bottom.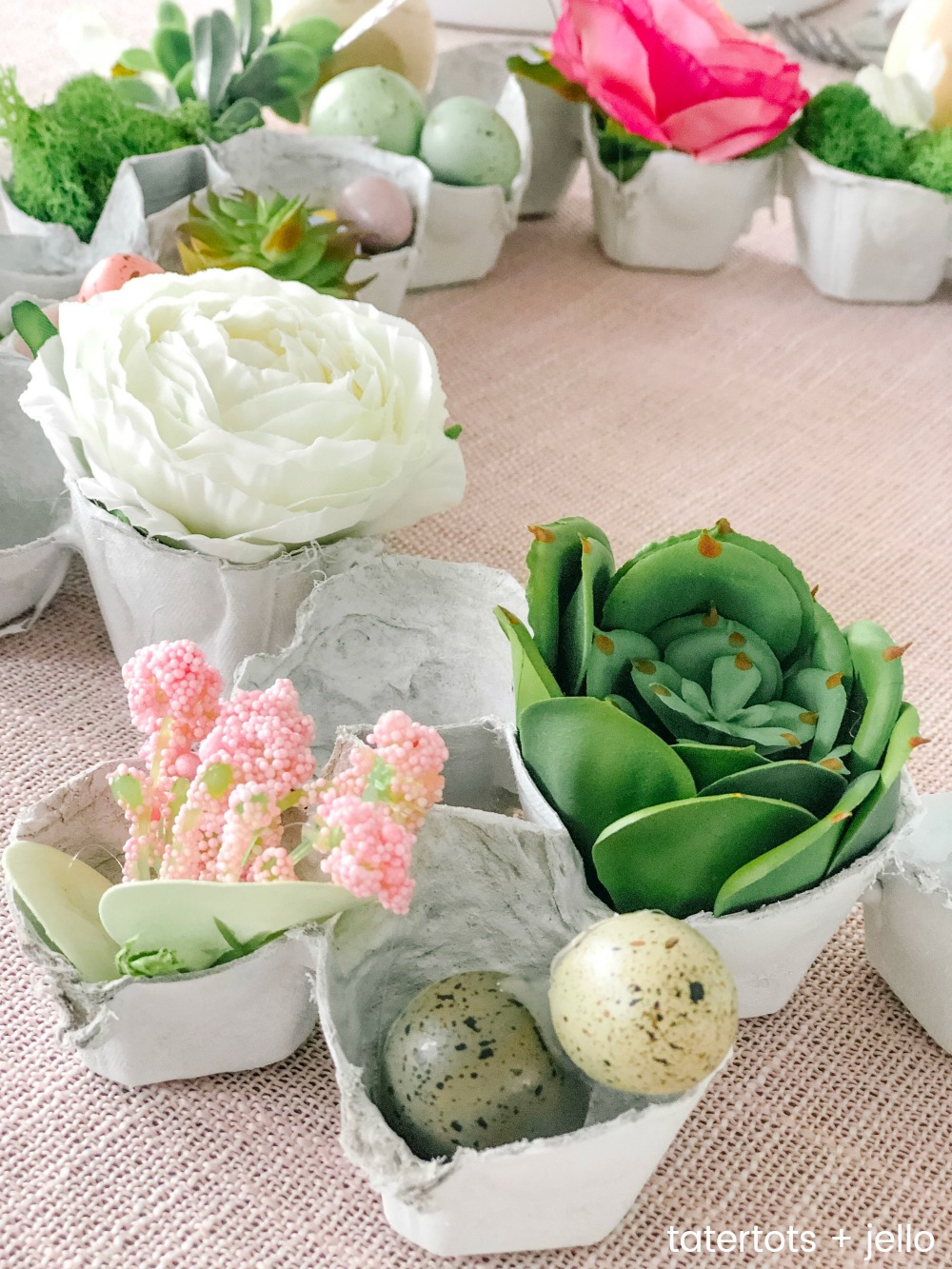 Add Decorative Elements
You can add whatever you want. I added some silk flowers, some faux succulents and I even added some paper butterflies.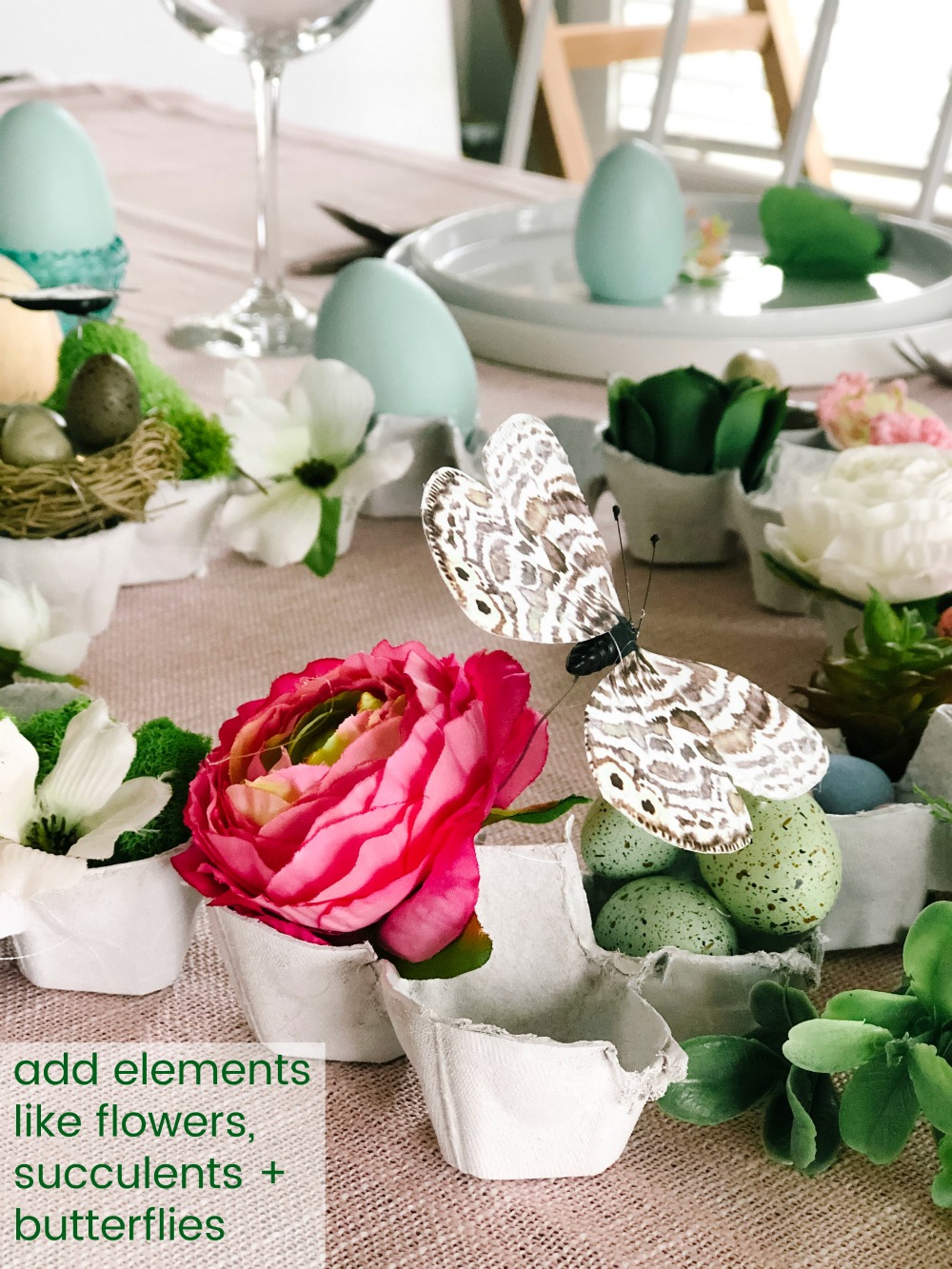 Add Eggs
Now you can add your eggs that you want to display.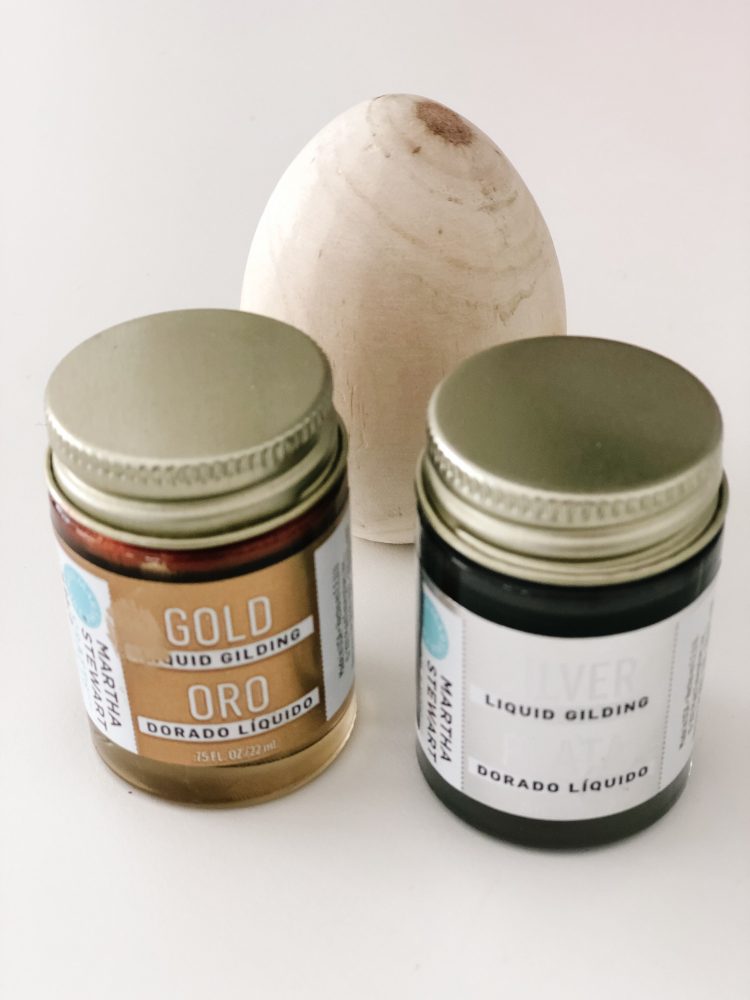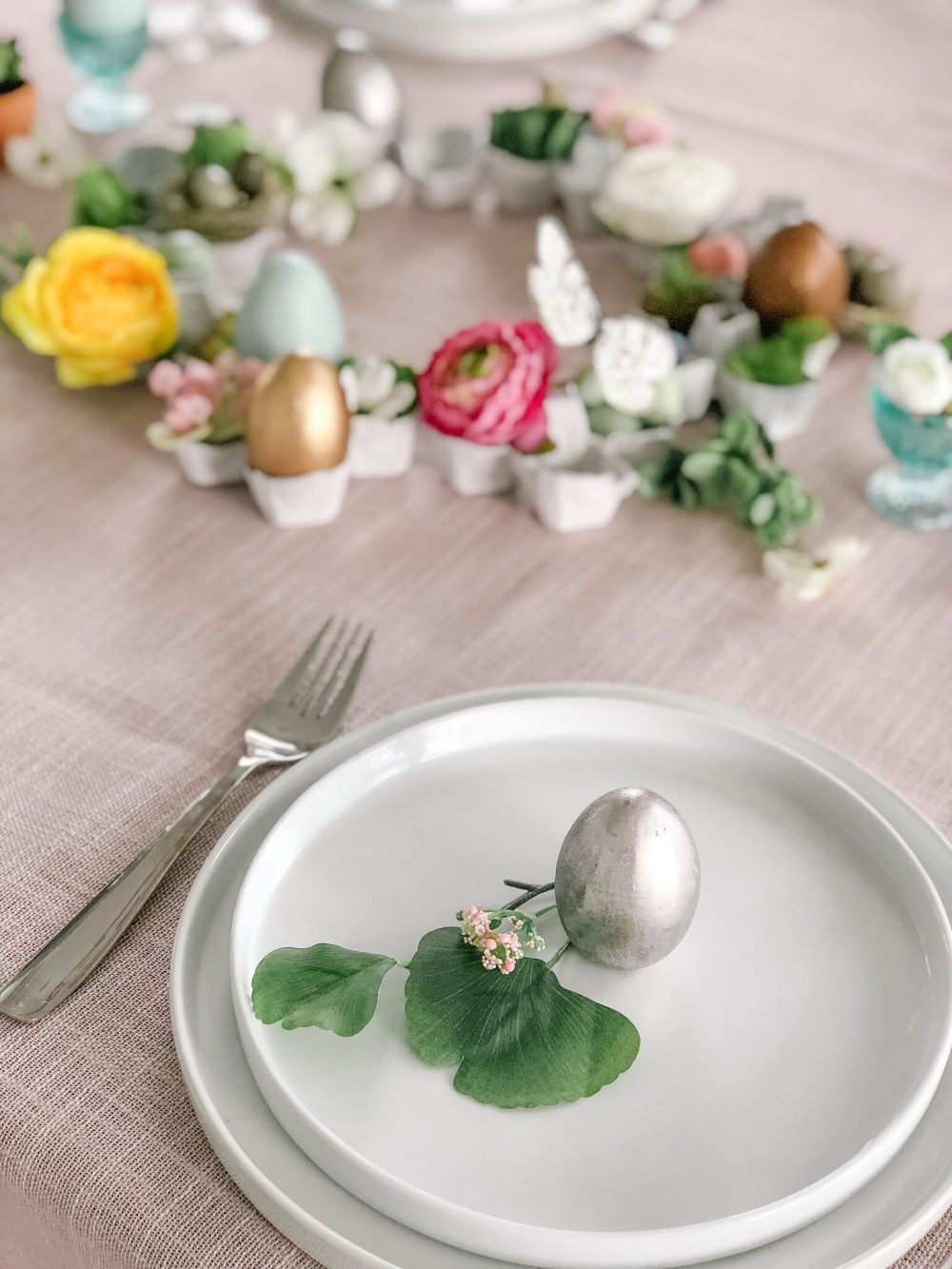 Gild Your Eggs
I gilded some of my eggs. It's so easy to do! I bought some Martha Stewart Gilding and brushed it onto the eggs. This is so much easier than using gold or silver leaf material and having to seal it. With this gilding paint all you have to do is paint the eggs and you are done! The paint is oil-based so use a cheap brush that you can throw away.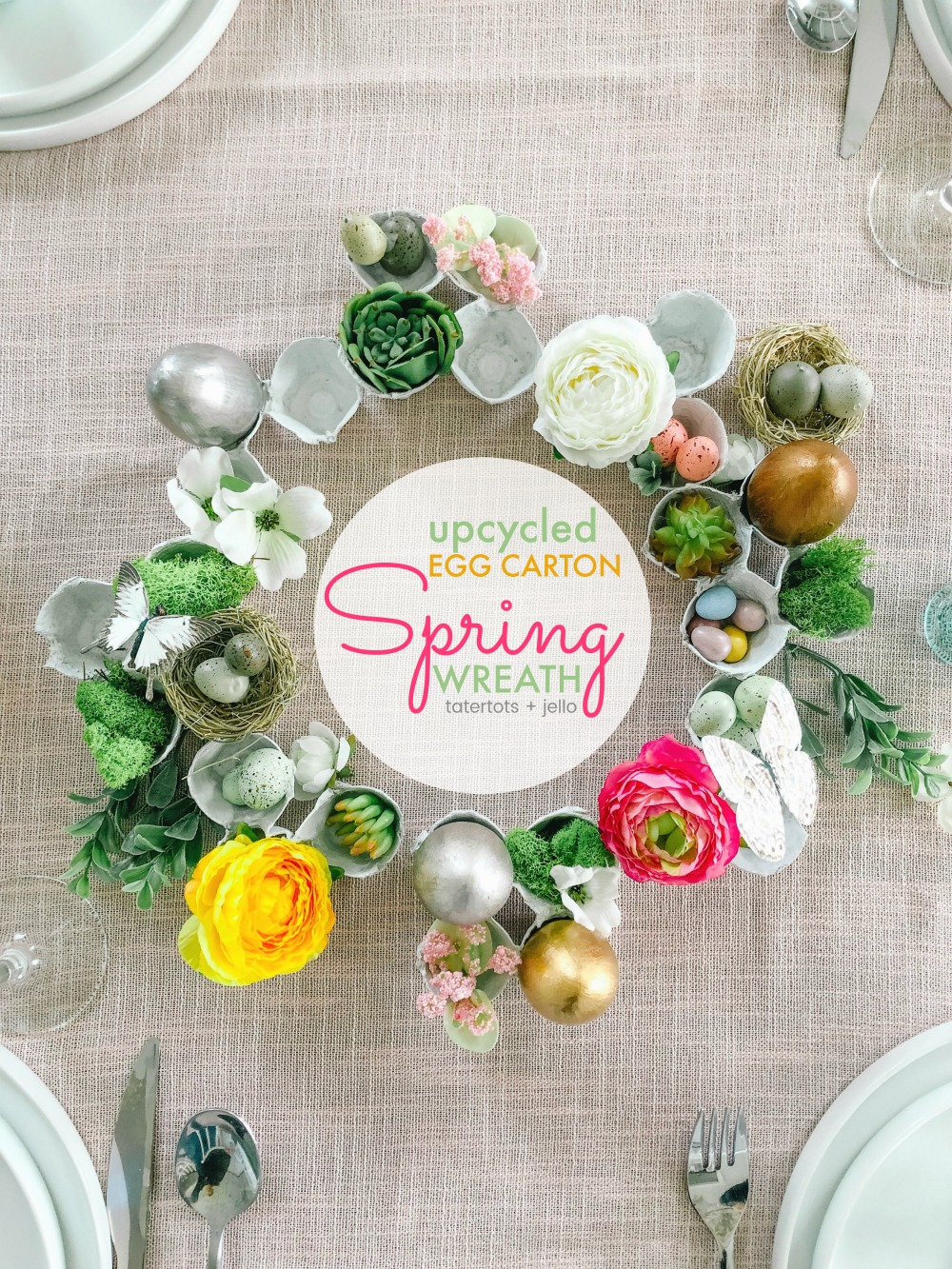 Hot Glue Your Elements
If you are going to hang your wreath up, now is the time to hot glue everything into the egg sections. But if you are using the wreath as a centerpiece you don't have to hot glue the elements. You can just place them inside the egg sections and that way you can change them out each time you use it!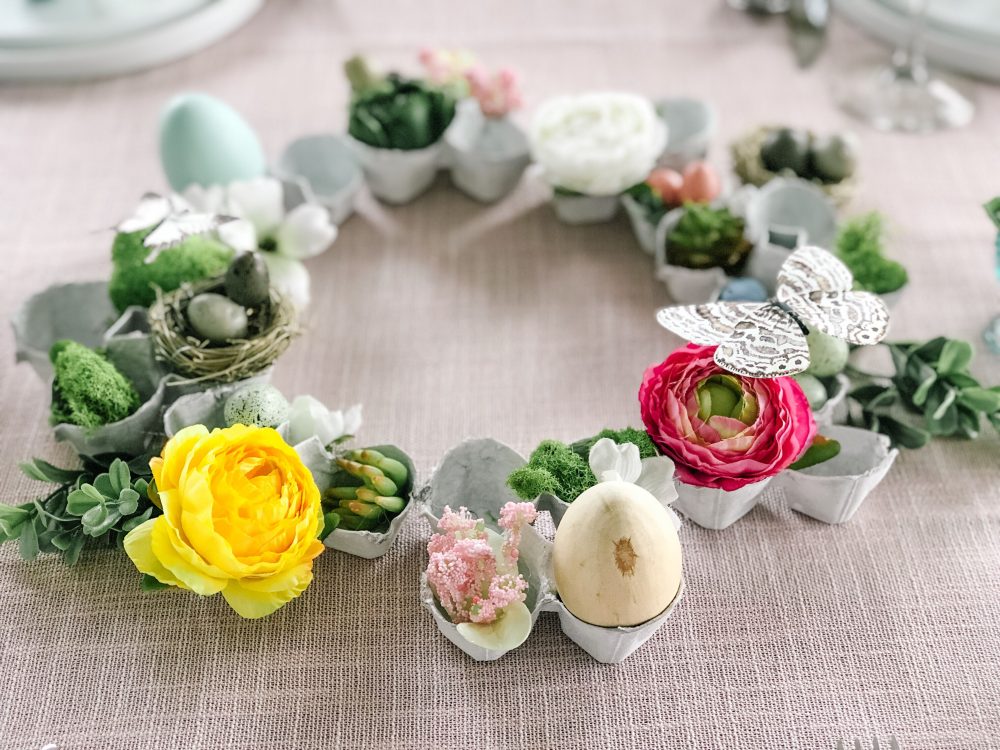 Add a Base and Hang it Up
I made another egg carton spring wreath and added a chipboard base. I hope glued the egg crates onto the chipboard base and then I hot glued the elements inside of the cart and hung it up!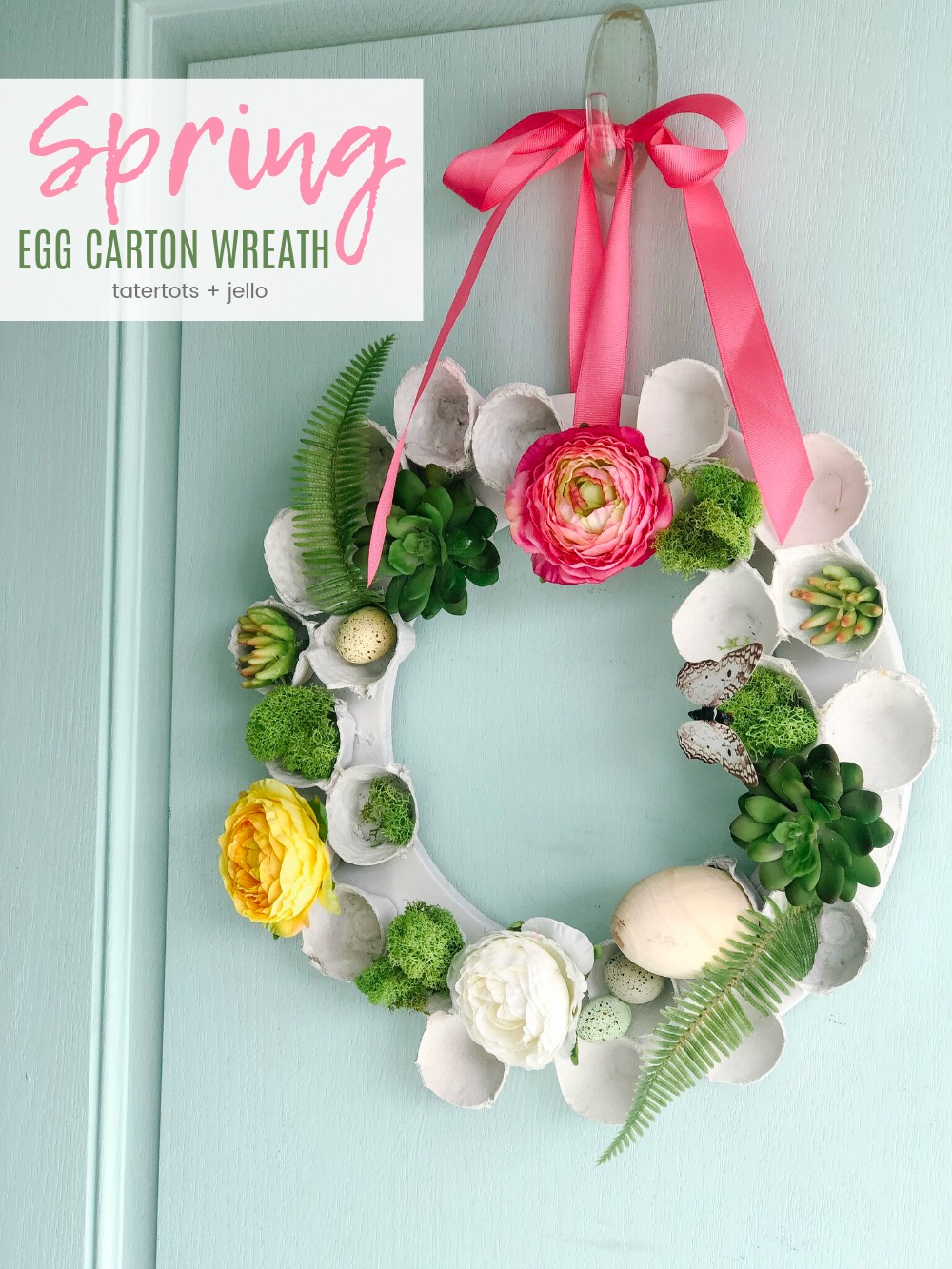 And here are 8 other BEAUTIFUL Egg-Decorating tutorials. Be sure to HOP over and see how to make these eggs! Just click on the link under each picture to go directly to each tutorial!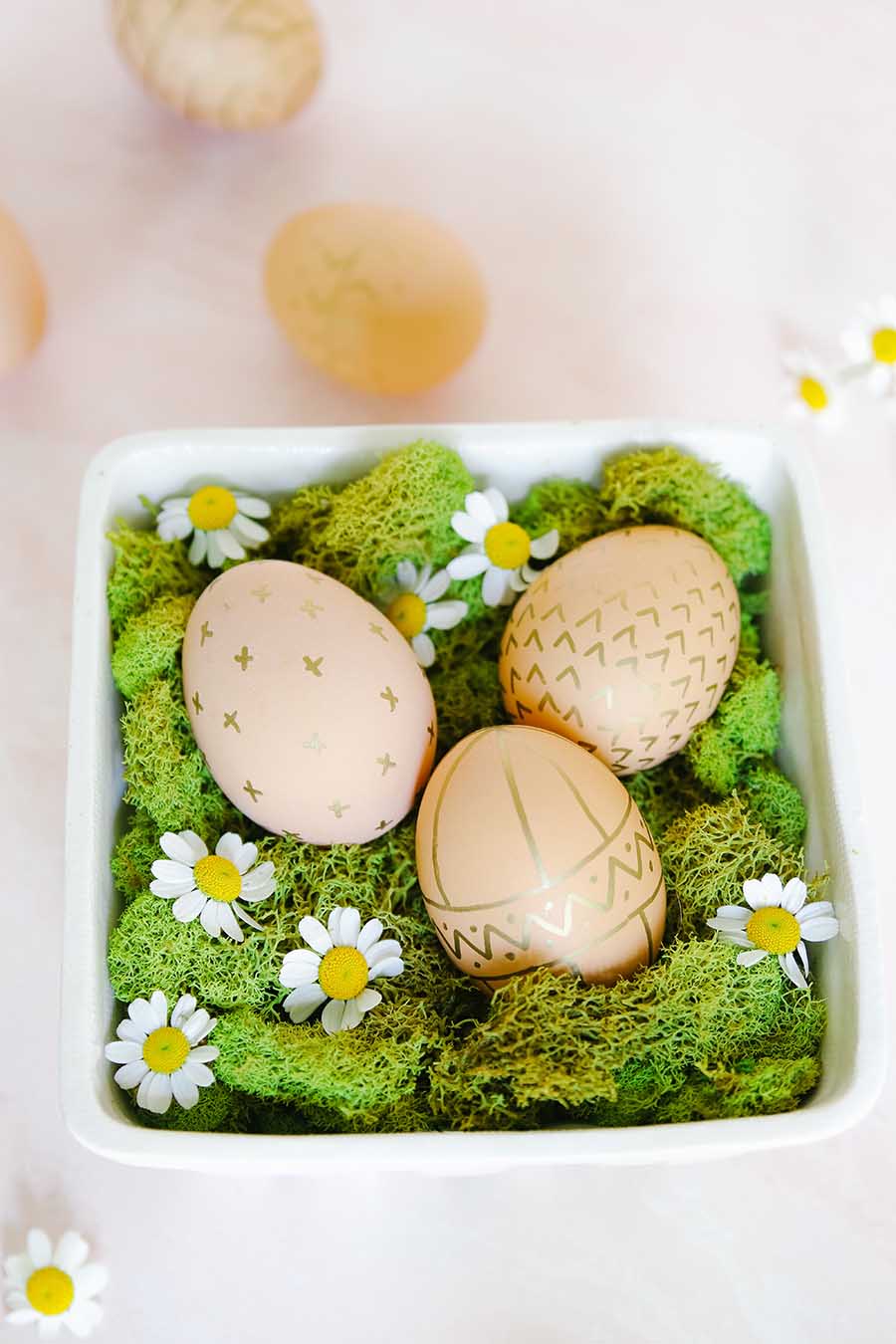 These patterned brown eggs are adorable that my sister Ashley created!
Decorating Brown Eggs for Easter @Modern Glam Home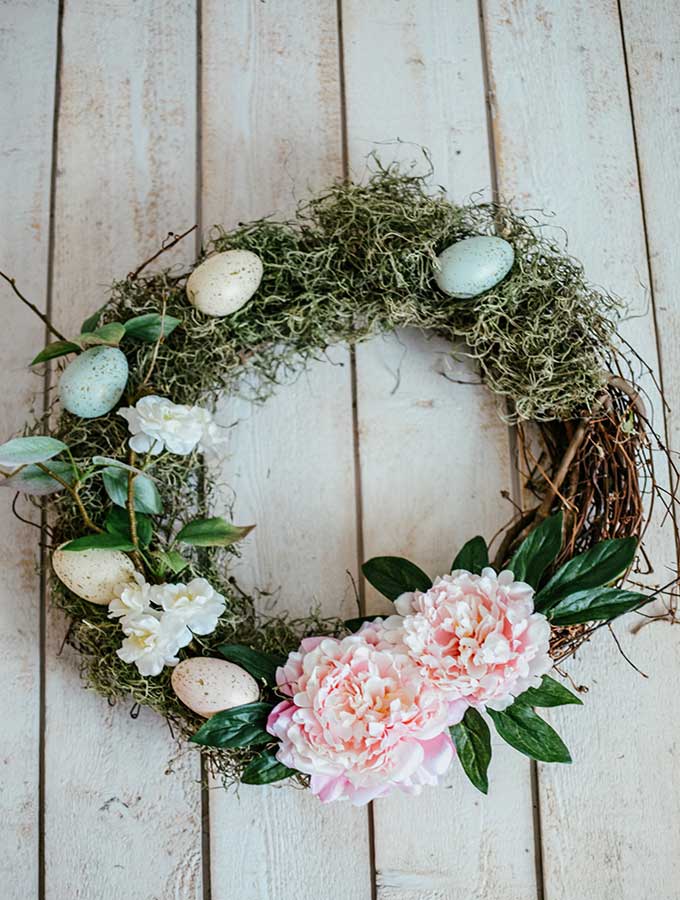 Isn't this Easter Egg Wreath so pretty that Rhonda is sharing?
Easter Egg Wreath @Hallstrom Home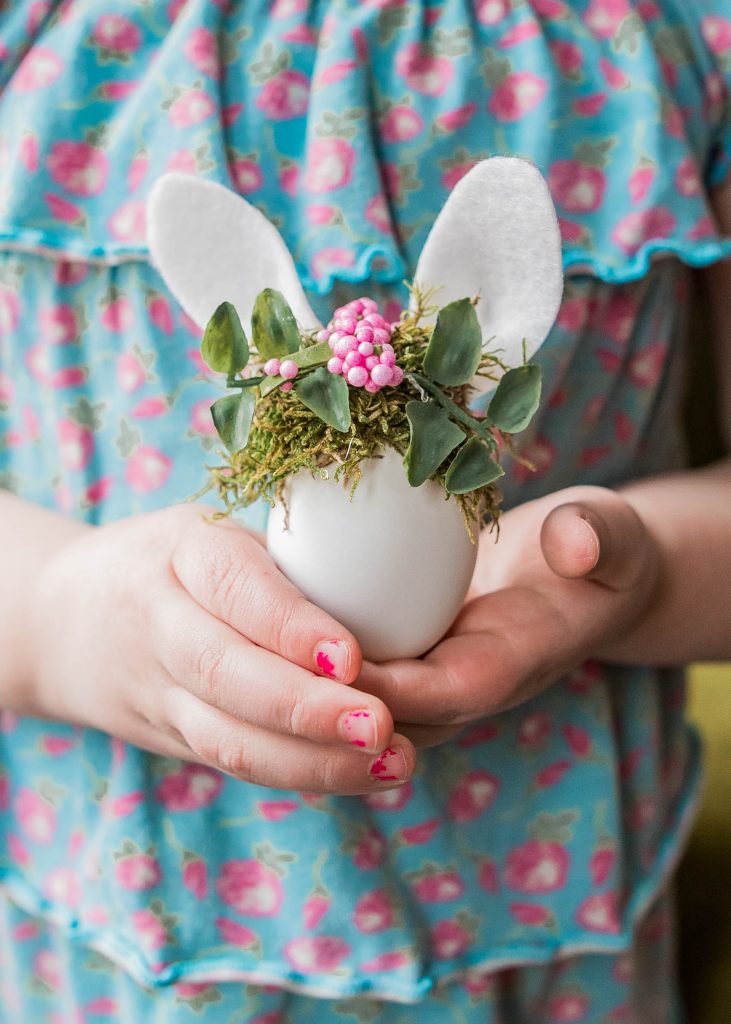 Christina created these adorable Bunny Easter Eggs with Crowns. They are so whimsical and cute!
Easter Bunny Eggs with Tiny Floral Crowns @The DIY Mommy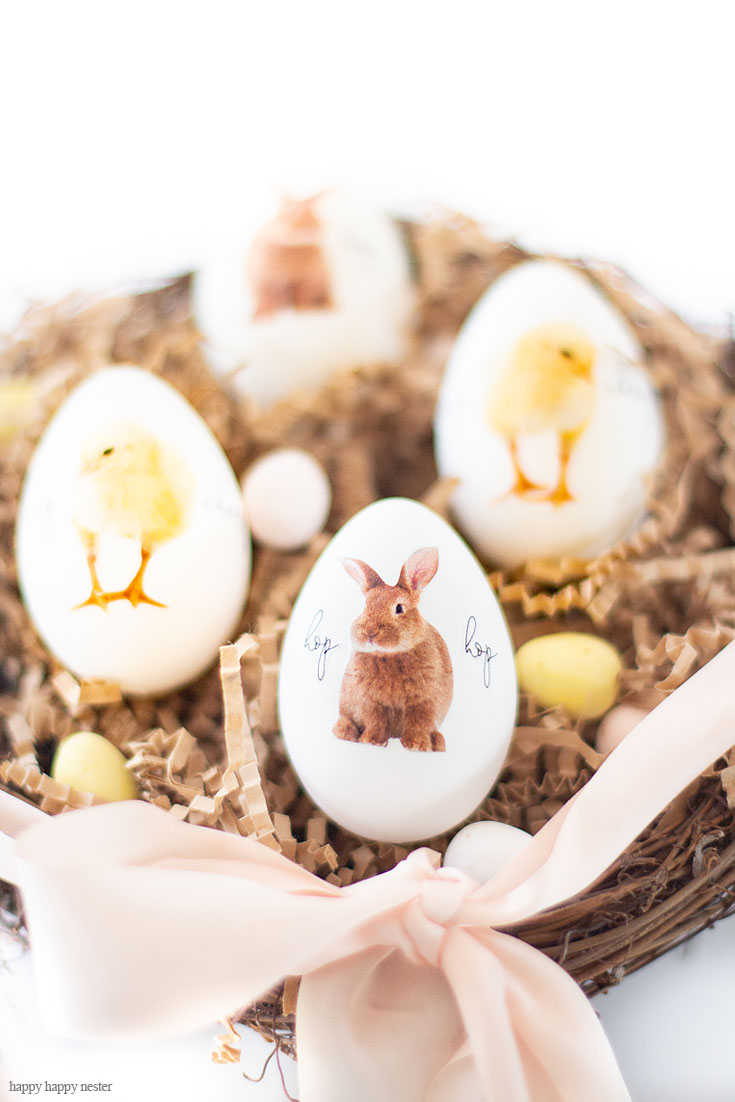 Aren't these Easter images sweet that Janine put on her eggs? She's sharing the images and the details on how to do it!
9 Unique Easter Egg Ideas @Happy Happy Nester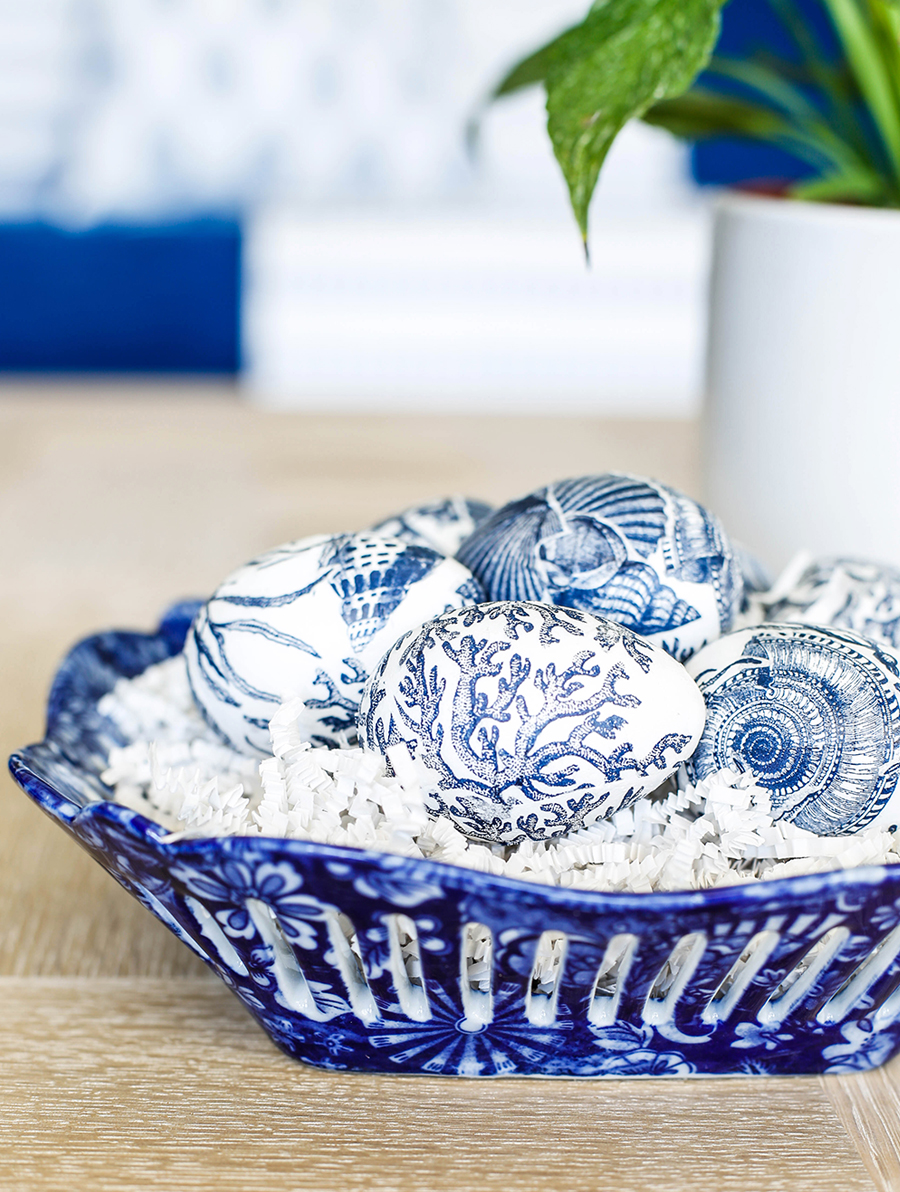 I love blue and white, especially for Easter! Tana is sharing how to decoupage these beautiful eggs!
How to Decoupage Blue and White Eggs @Your Marketing BFF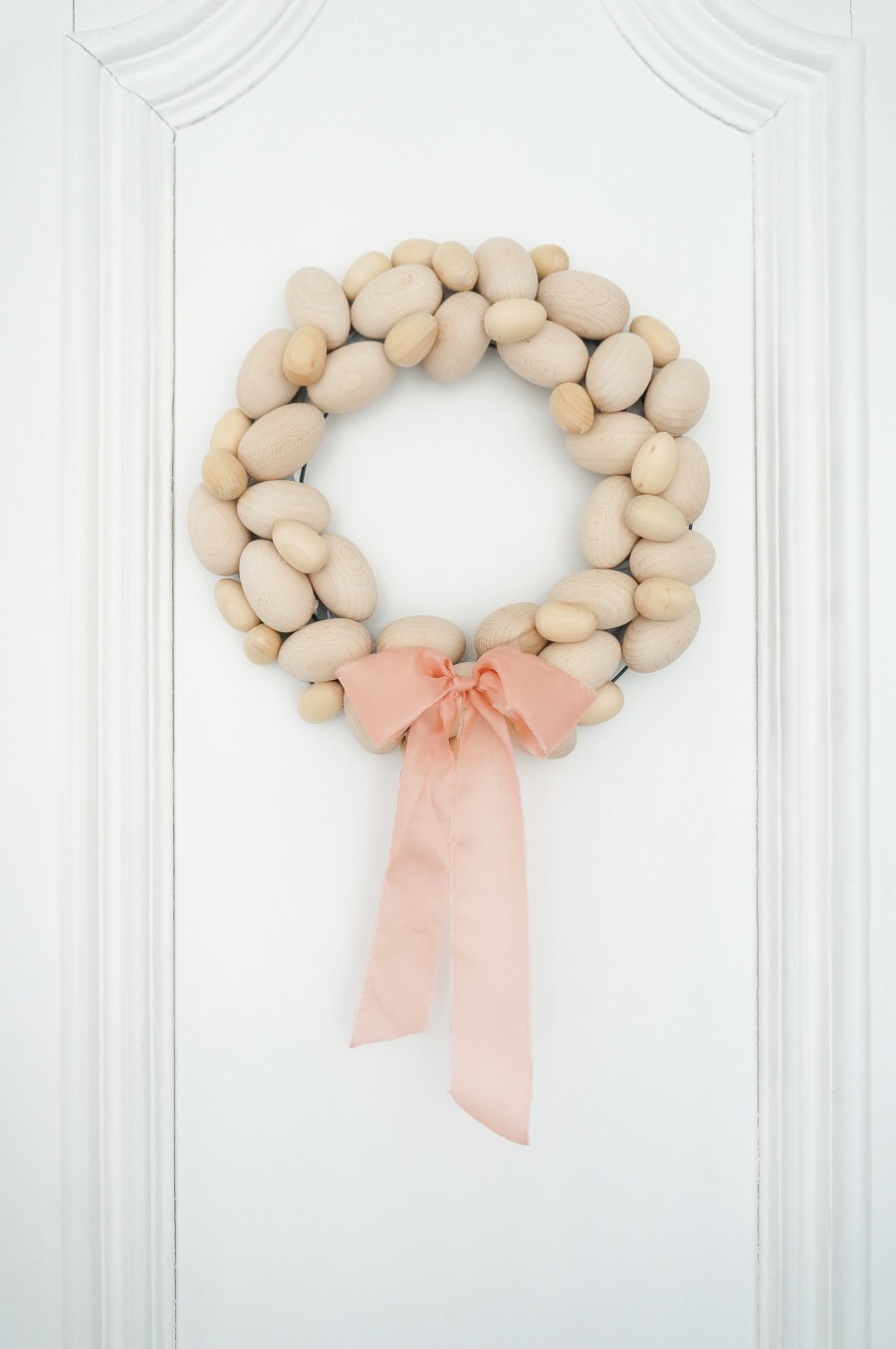 I love the look of natural eggs and Jackie is sharing this gorgeous wood egg wreath!
Natural Wood Egg Wreath @Finding Lovely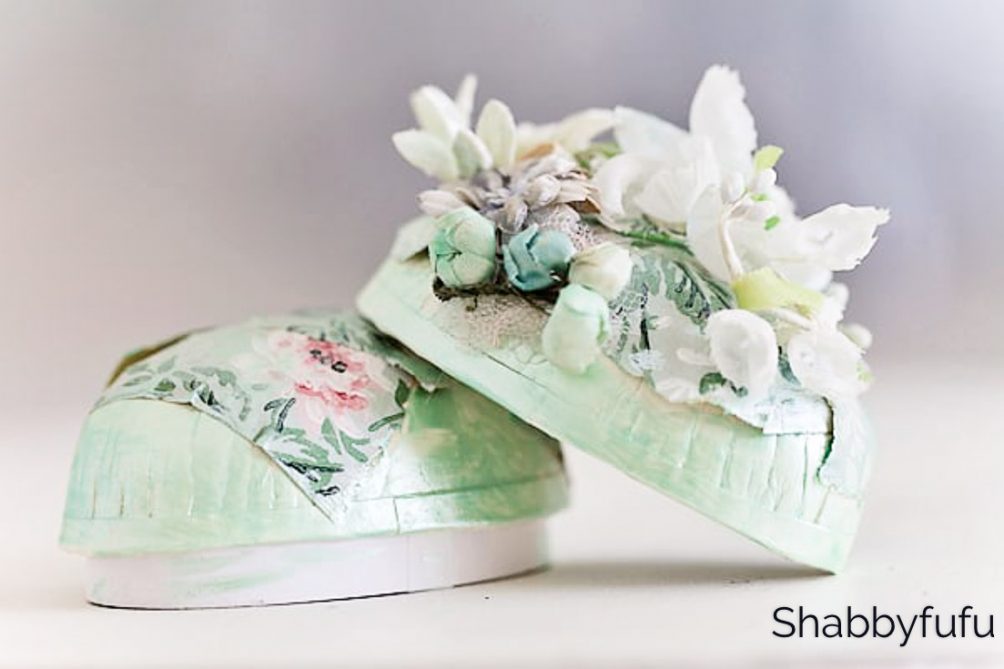 I love all of the pretty details of the vintage flowers on Janet's Millinery Egg Boxes!
Millinery Egg Boxes with Vintage Flowers @Shabby Fu Fu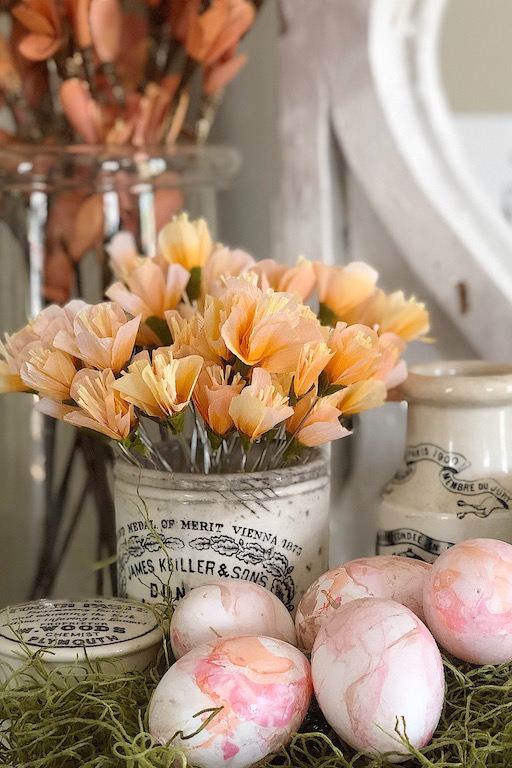 And aren't these marbled Easter Eggs so beautiful that Leslie is sharing?
How to Color Easert Eggs @My 100 Year Old Home
I am getting so excited for Easter!
Have a Creative Day!
xoxo