This is a sponsored conversation written by me on behalf of Savers. The opinions and text are all mine.
Thrifted BOHO Pom Pom Picnic Basket Makeover! Give a thrifted picnic basket new life and a boho spring makeover with spraypaint and yarn. I will show you how to make BOHO beaded embellishments that will make your new picnic basket shine!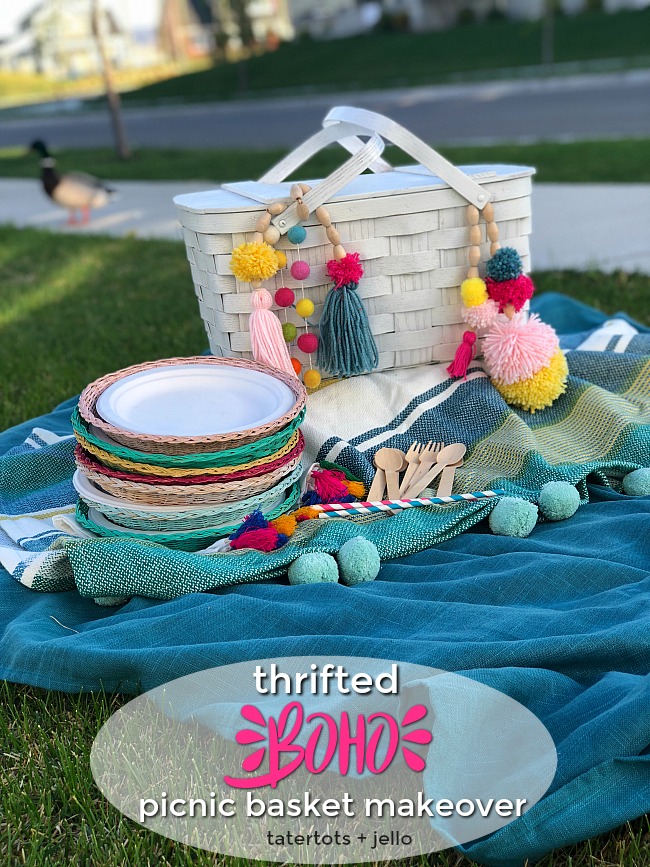 Thrifted BOHO Pom Pom Picnic Basket Makeover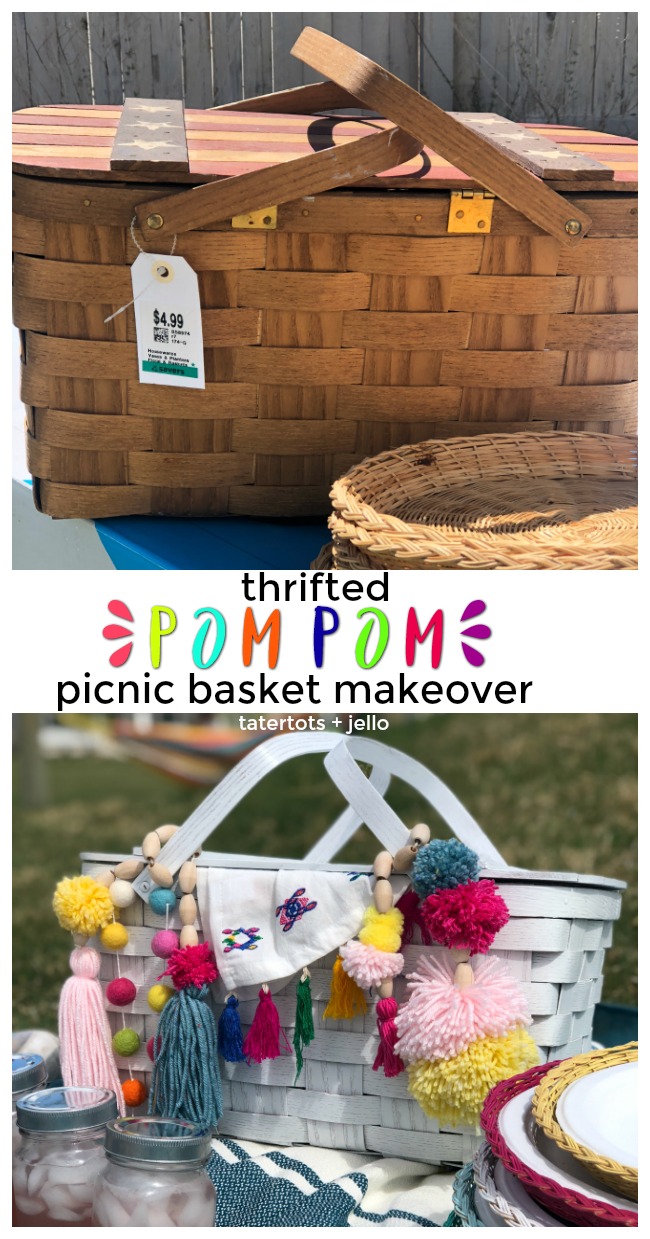 I am also giving away a $50 Savers Gift Card at the bottom of the post – be sure to scroll down and enter!!!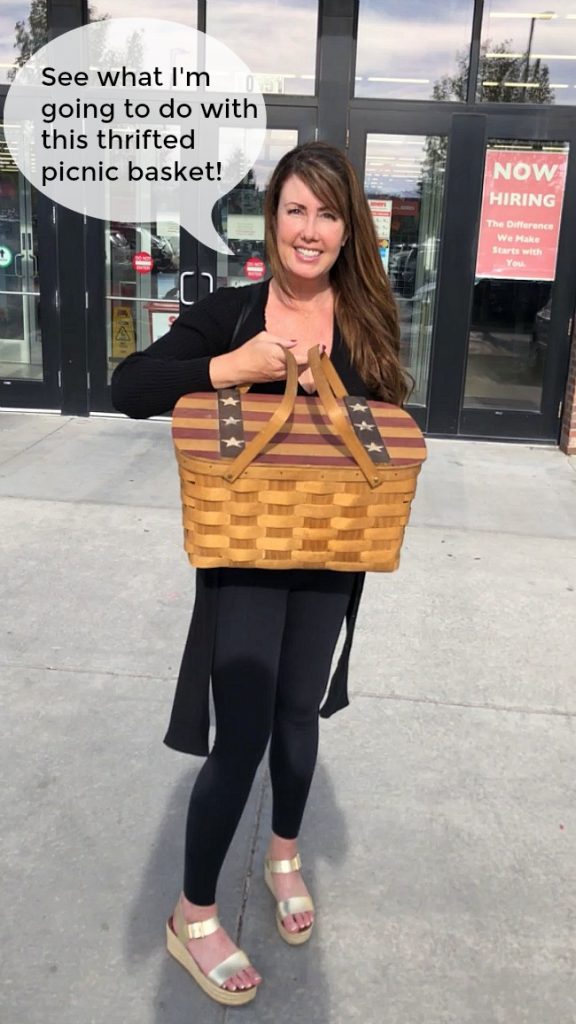 We love giving old things new life. That's why I am thrilled to be partnering with Savers to show you this fun picnic basket makeover. My girls' and I love finding treasures at Savers. We were there last week and I spied a beautiful older picnic basket. It was really well made, just waiting for a new chapter! One of our favorite part of living in our new neighborhood is going down to the lake for a walk and picnic. It's so fun to watch the sunset and play at the park!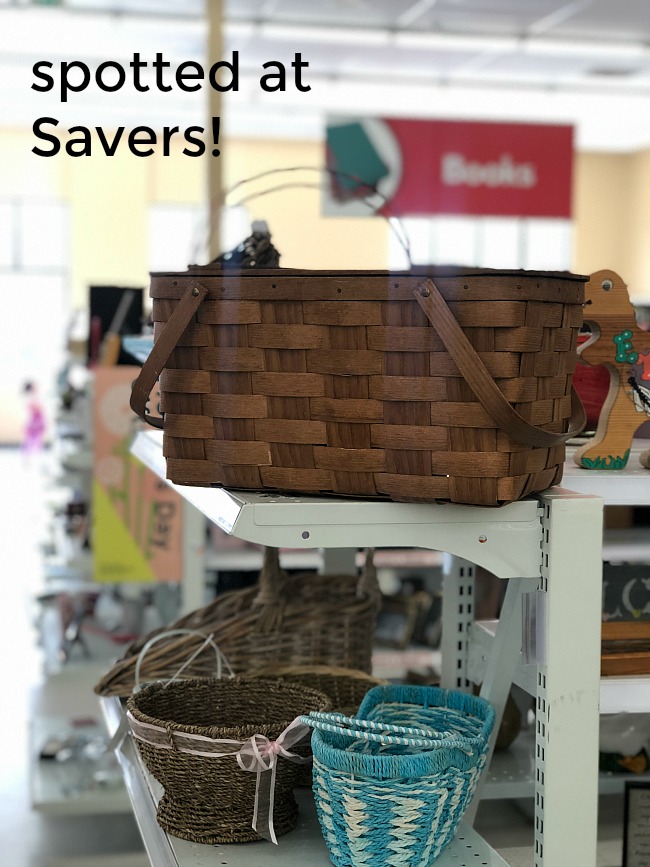 I thought it would be awesome to make this picnic basket over with a BOHO twist. While I was at Savers I looked around for a few other items to go along with our picnic basket. I found some matching mason jars with lids which I thought would make awesome beverage containers for our picnic set. I also found a teal tablecloth which I thought could make a soft picnic blanket. On the wall I found different colors of yarn all packaged up which I knew I could make into colorful pom poms and tassels!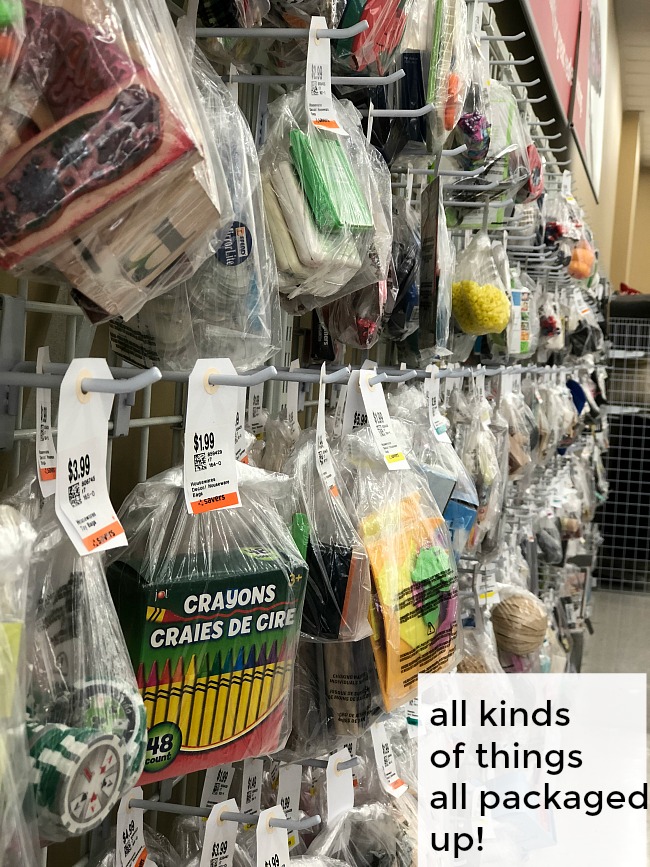 You can find pretty much ANYTHING at Savers – there are over 100,000 items with thousands of quality items arriving every single day. Along the wall they have smaller items that are packaged up in clear bags. I love looking for treasures there. It's the ULTIMATE treasure hunt!! I found some yarn along the wall and I thought it would be perfect to make pom poms and tassels for our BOHO picnic set.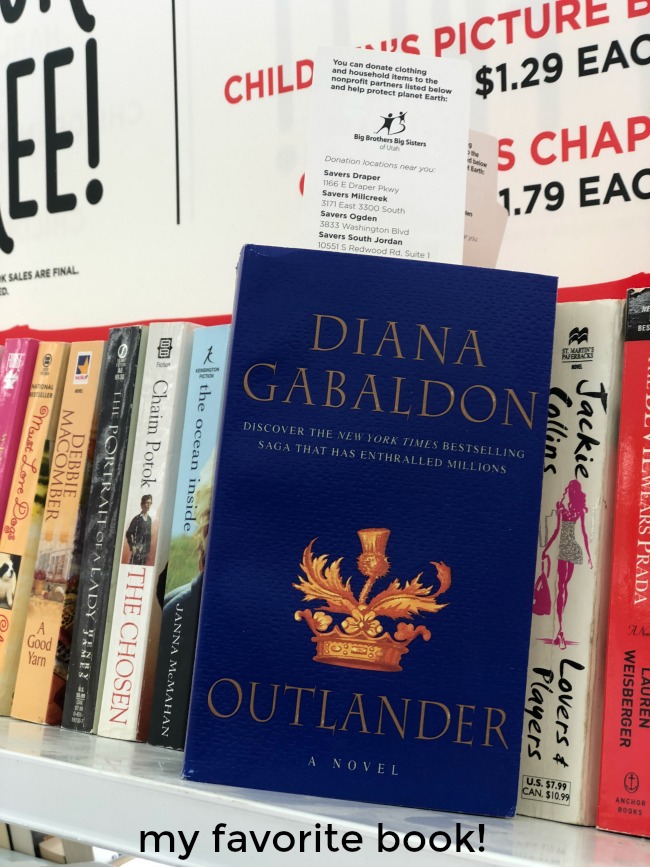 I even found my favorite book on the Saver's book aisle. It's a wonderful place to go for books too!
I also found some woven wicker plate holders that are so great for picnics. You put your paper plates inside of the wicker holders and it makes the plate more secure for picnics. I thought these woven wicker plate holders would be SO fun to spray paint different colors.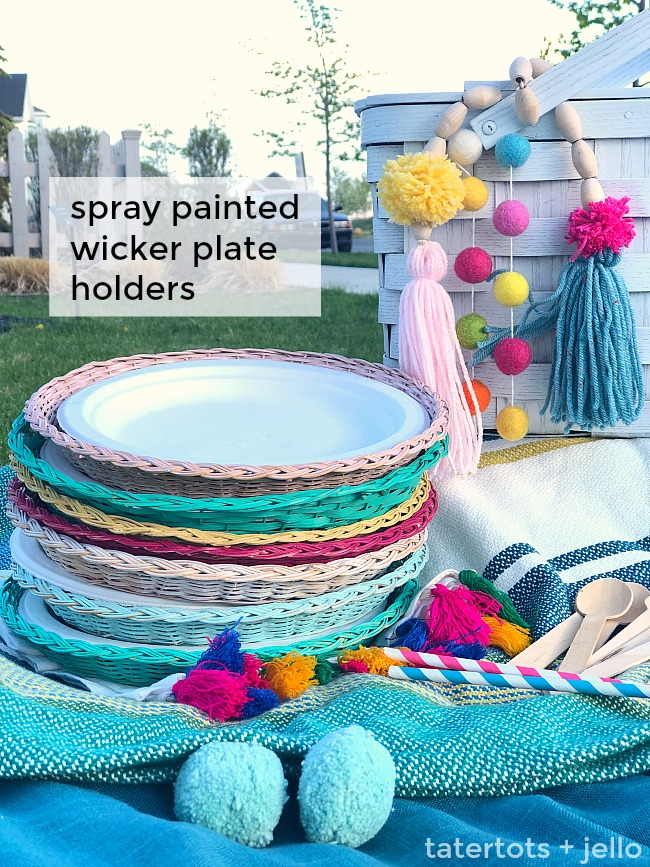 Thrifted BOHO Pom Pom Picnic Basket Makeover
Spray Picnic Basket White
When I got home I spray painted the picnic basket white.
Spray Plate Holders Different Colors
I also spray painted the wicker plate holders all kinds of different colors with spray paint I had in my garage.
Make Yarn Pom Poms and Tassels
Then the girls and I had a blast making all kinds of different pom poms and tassels with the Savers yarn. We actually made so many that we had some left over for another project. You don't need any other supplies to make pom poms and tassels. Just yarn and your fingers. You just wrap the yard around your fingers and then tie it in the middle and cut the ends. Then fluff it out and use your scissors to shape the yarn into pom poms. It's really fun to do with kids!

String Pom Poms, Tassels and Beads to make BOHO Strings.
Once we had the yard and tassels all done, we just strung them onto some twine with a needle with a REALLY big eye. You can actually find needles, beads and everything you need at Savers!! Just look on the wall where they have all of the smaller packaged items hanging up!
Add BOHO Strings to Picnic Basket Handles.
Once the picnic basket and plate holders were dry, we added the beaded tassels to the handles and loaded up our basket with food, the plate holders, plates, utensils and filled up our mason jars with ice and lemonade and hit the park!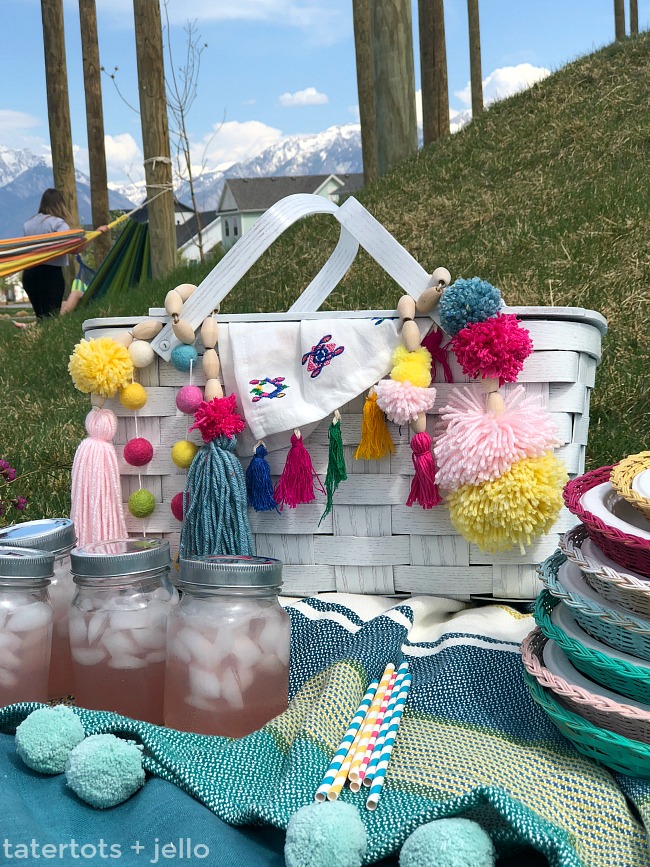 Have a FUN picnic!!
I am So excited to use our new BOHO picnic basket and picnic items all summer! We had SO many people compliment us on our CUTE picnic set!! I love that we were able to take something old and give it new life with a little paint and ingenuity!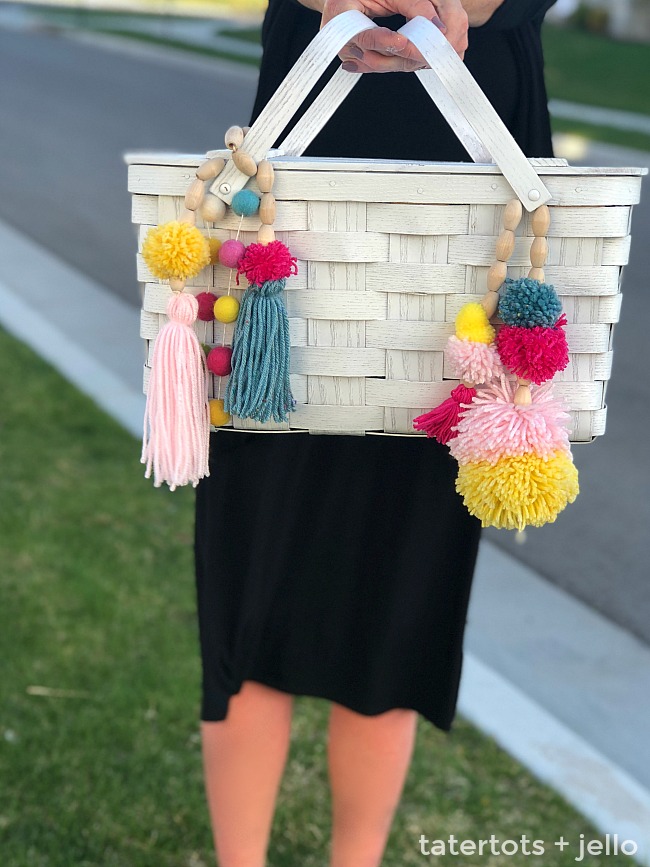 Be sure to head over to Savers for all kinds of treasures!! You can find awesome high-quality clothes for your family, but don't forget all of the other amazing things you can find at Savers like — household items, linens, arts and craft supplies, jewelry and more!
Savers $50 GIVEAWAY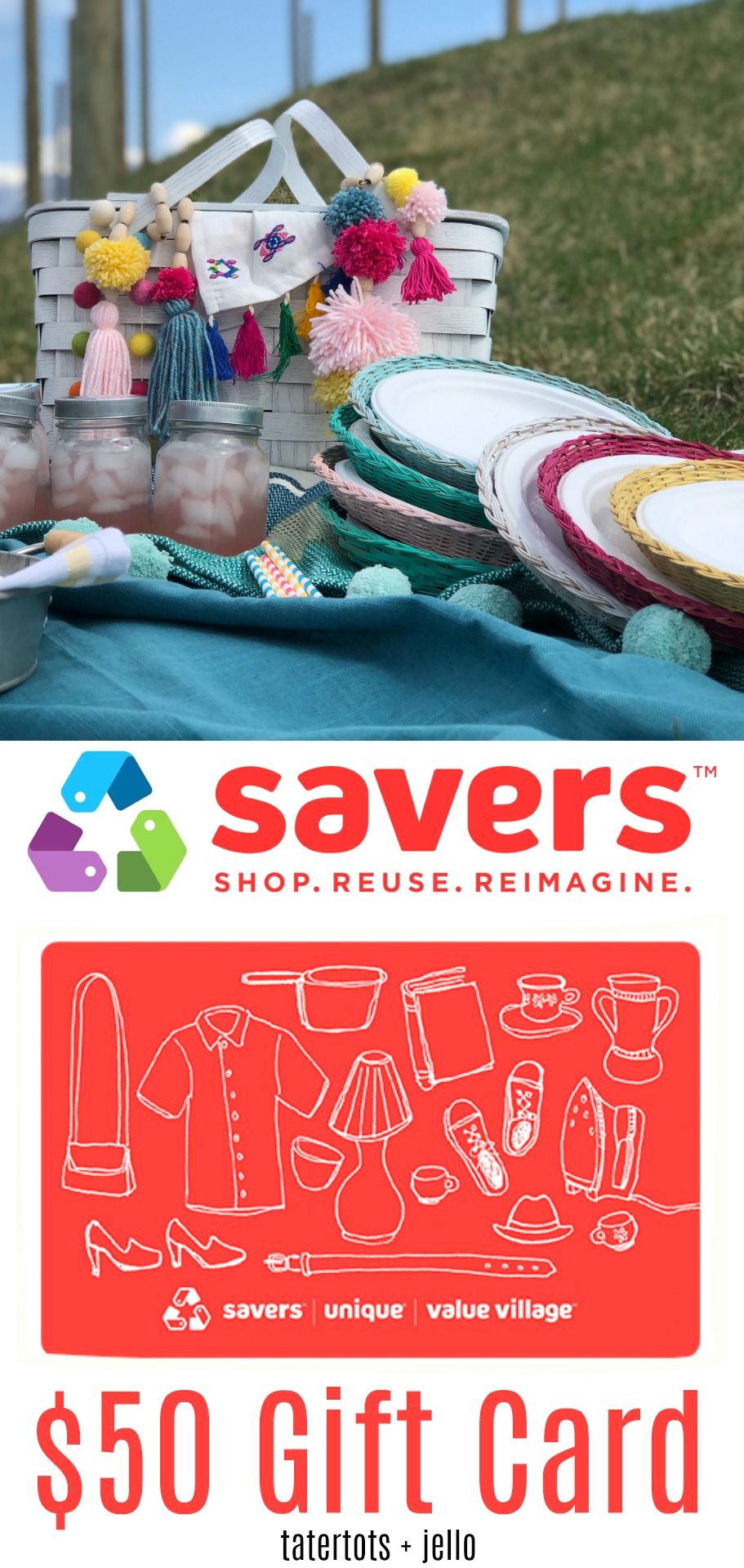 Be sure to enter the giveaway for a $50 gift card to YOUR Savers, Value Village or Unique Store.
To enter – just leave a comment on this post with what YOU would buy if you win this Savers gift card!
**And for extra entries – share this giveaway. Comment separately to let me know how you shared
(twitter, Instagram and/or Facebook)
Be sure to head over to your local Savers (or Value Village, Unique Store) in your area.
Follow along with Savers for all kinds of cute fashion ideas
Have a HAPPY day!
xoxo