How to make Instant Pot Lemon Parmesan Pasta. It's So easy! In 8 minutes you can have perfect Lemon Parmesan pasta for your family. Make it in your pressure cooker for a quick dinner idea!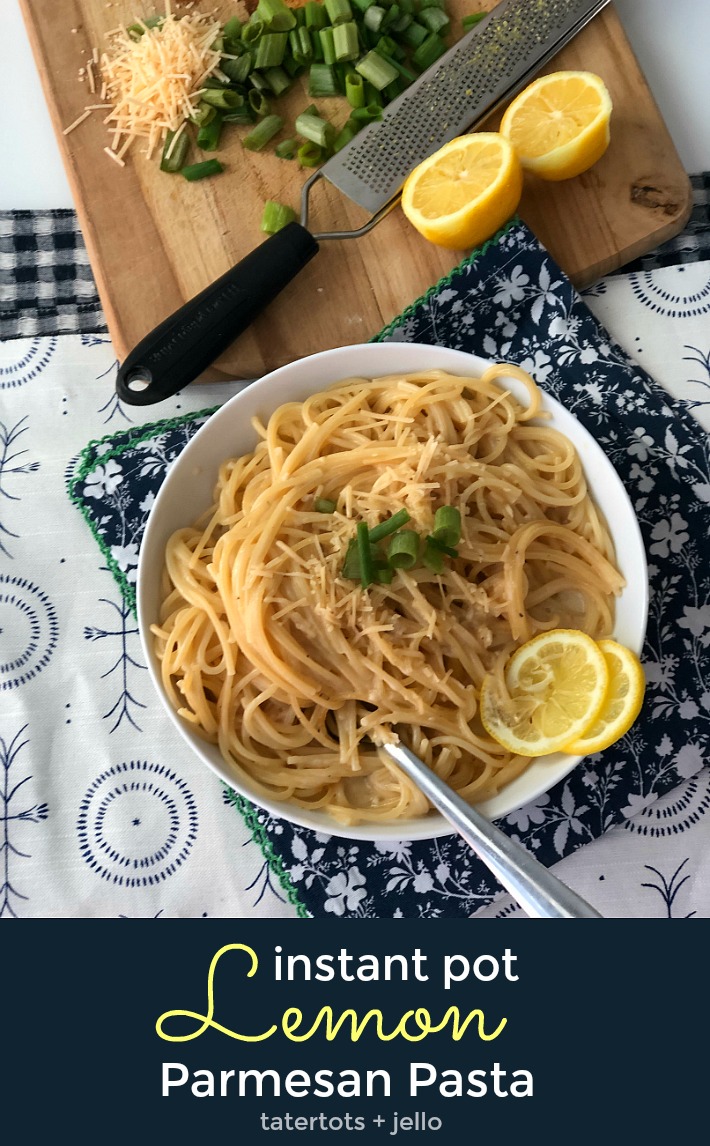 How to Make Instant Pot Parmesan Pasta
I really do use my pressure cooker almost EVERY single night. No lie. Ask my kids LOL! My pressure cooker makes making dinner so fast and easy! My latest thing I've been making is pasta. For some reason I have been afraid of making pasta. I think I thought the noodles would clump together or burn. I think the trick to making pasta in the pressure cooker is breaking the pasta into smaller sections and when you put it in the pot, kind of put it in all different directions, instead of all in a stack.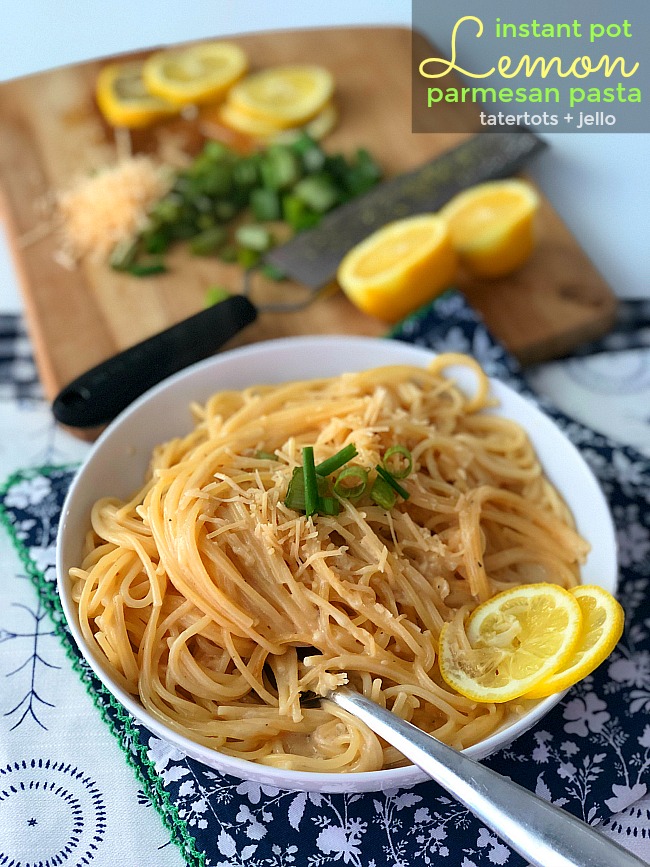 The pressure cooker is actually great for pasta because it keeps all of the moisture inside and the pasta gets really infused with water.
To give this dish more flavor I first used the "Saute" feature on the Instant Pot to saute the olive oil, garlic and lemon zest. This really makes the flavors POP. After I sauteed these ingredients for 2 minutes, I added the milk, chicken broth, lemon pepper, lemon juice, Parmesan cheese and the noodles. I gave it a quick stir and set the pressure to high for 8 minutes.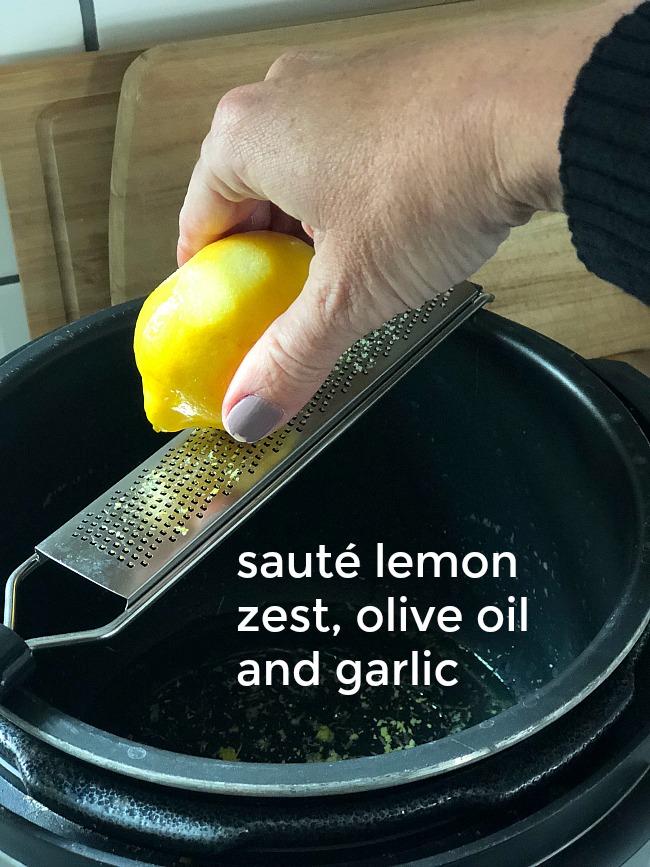 After the timer went off I did a pressure quick release and covered the vent with a heavy towel to keep the steam from spurting everywhere and took the lid off. The pasta was a little separated from the liquid, but all I had to do was stir it for a minute or so and it all came together. I added the rest of the parmesan cheese and served the pasta with a little more cheese on top and some sliced green onions. YUM!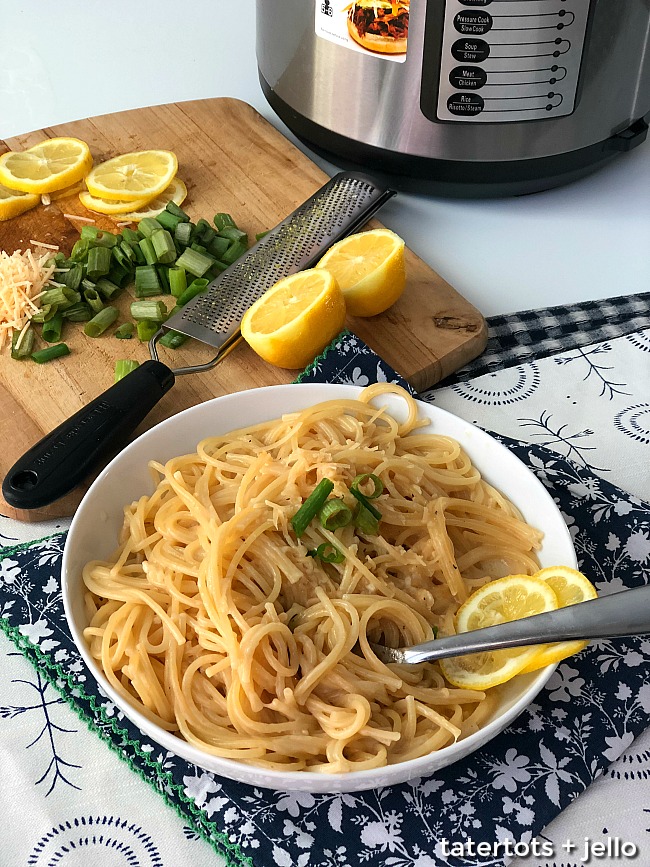 I am always trying to make dishes "lighter" so with this recipe I tried making it with milk instead of heavy cream and I think it turned out great. It cuts out a lot of the calories and fat to use lighter ingredients. This is a fast and easy recipe. You can use ingredients that you probably have in your fridge and pantry which is awesome! I hate having to run to the store at the last minute. And I know we all have those days when time gets away from us and we are wondering – "what can I made for dinner??" This is a recipe that you can make last-minute. In under 10 minutes you have a yummy dinner that most kids will love. Pair it with a salad and you have a meal!
Here's the recipe for Instant Pot Lemon Parmesan Pasta: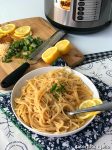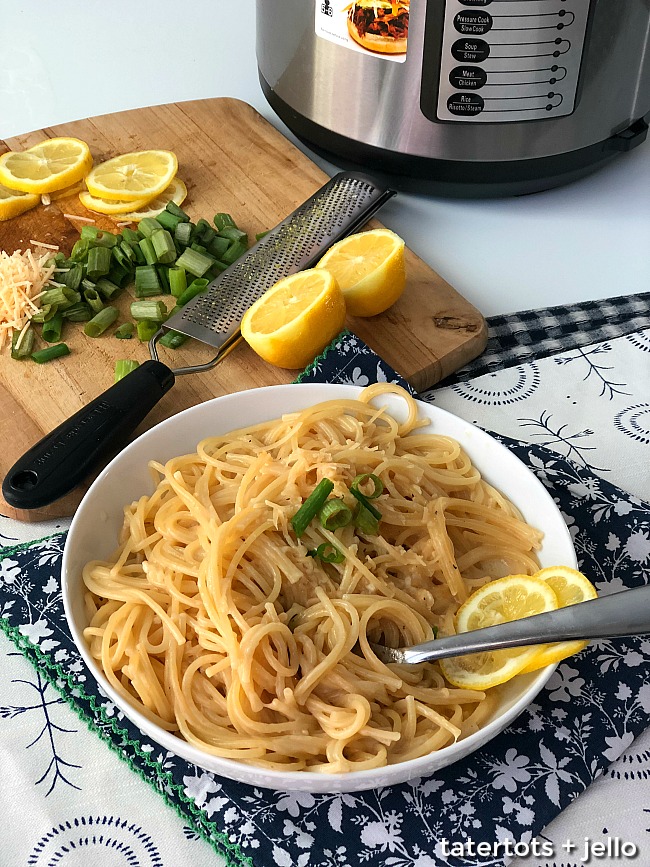 Instant Pot Lemon Parmesan Pasta
How to make Instant Pot Lemon Parmesan Pasta. It's So easy! In 8 minutes you can have perfect lemon parmesan pasta for your family. Make it in your pressure cooker for a quick dinner idea!
Prep Time 4 minutes
Cook Time 8 minutes
Total Time 12 minutes
Ingredients
8 ounces pasta (I used spaghetti) If you are using angel hair, cook for 6 minutes
2 Tbs. olive oil
2 whole lemons (zest 1 Tbs and juice 2 Tbs.)
3 cloves garlic
2 1/2 cups chicken broth
1 cup milk (either whole or 2 percent)
1/2 tsp. lemon pepper
1/2 cup shredded Parmesan cheese + 2 Tbs. for topping
1/4 cup green onions
Instructions
Break the pasta in half, set aside.

Turn Instant Pot to saute. Saute the olive oil, lemon zest and garlic for 2 minutes.

Turn saute off and add lemon juice, chicken broth, milk, lemon pepper, 1/4 cup parmesan cheese and pasta. Lay the pasta in the pot in a stack, rather than in rows. This will prevent clumping. Stir.

Put lid on the Instant Pot. Set pressure on high for 8 minutes.

After timer goes off, release the steam with a manual release. Put a heavy cloth over the steam spout and turn the handle to "pressure release".

Once steam is released, unlock the lid. Stir the pasta and liquid for a minute until it is well combined. Add remaining 1/4 cup Parmesan cheese and stir until cheese is melted.

Transfer pasta to serving bowl. Top with remaining 2 Tbs. Parmesan cheese and chopped green onions. Enjoy!
This has become a staple at our house. I hope you enjoy it!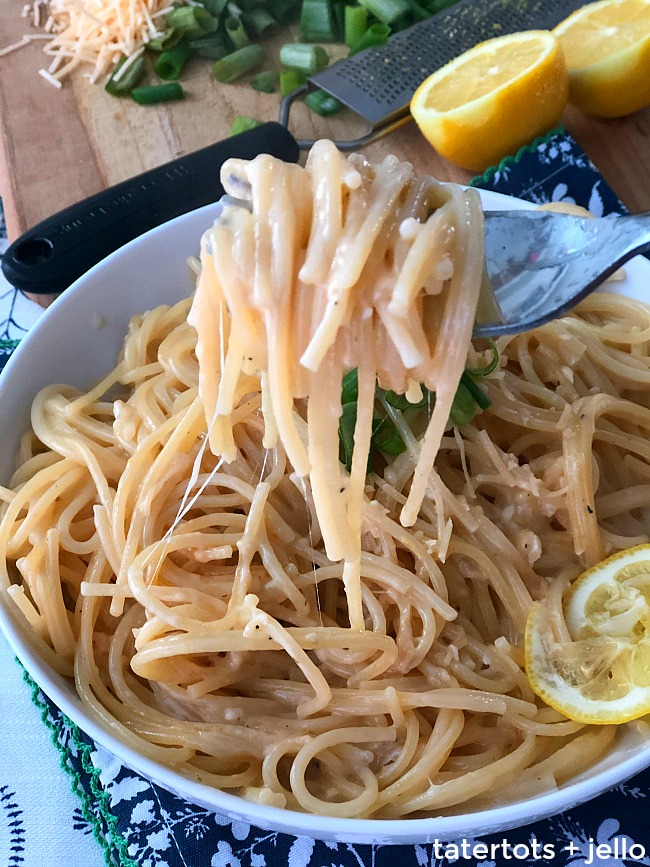 We have quite a few other Instant Pot recipes that we love. You can find them in our Instant Pot recipe archives!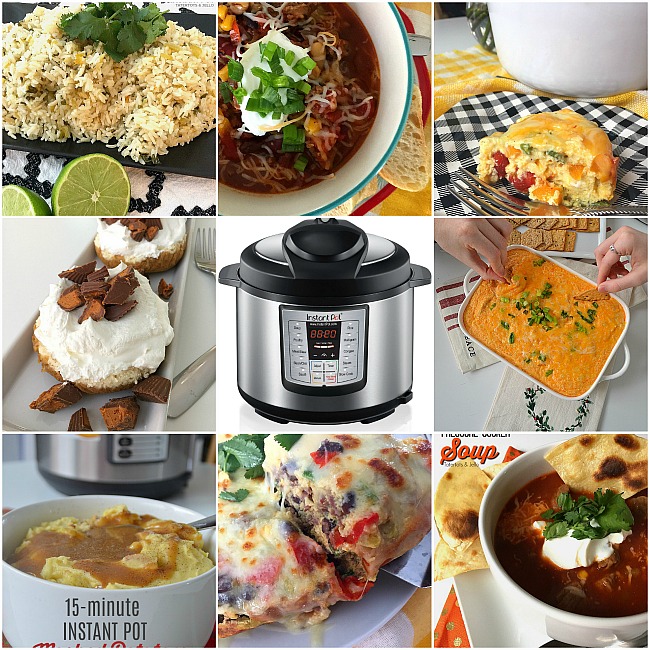 Have a Delicious Day!
xoxo