I partnered with Sam's Club to share how to throw an amazing Easter dinner without the stress.
How to host the perfect Easter dinner without the stress. Throw a gorgeous and delicious dinner and save time in the kitchen so you can spend it with your loved ones!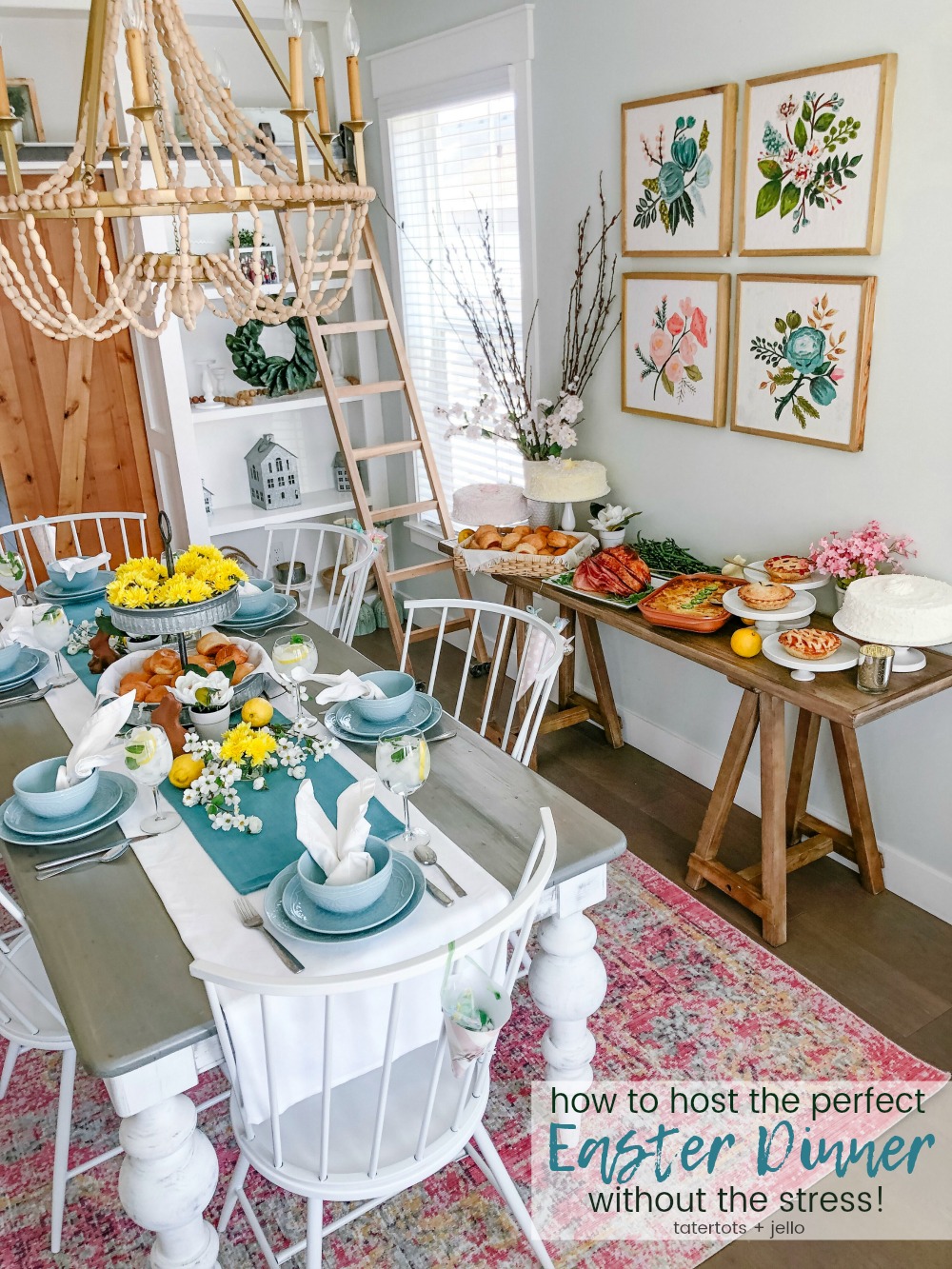 Easter is one of our favorite holidays! I love decorating and celebrating with a beautiful dinner filled with our favorite Easter foods — juicy ham, fluffy rolls, crunchy green beans, creamy mashed potatoes and delicious desserts!
Make Spring Entertaining Easy
So when I heard that Sam's Club has an Easter Meal Special I was excited! You can get all of your Easter dinner favorites! It's a complete meal that serves TEN for under $47. You pick up the items as you shop!
Sam's Club Member's Mark Bone-In Ham
Member's Mark 100% Yukon Gold Mashed Potatoes
Member's Mark Dinner Rolls (36 rolls)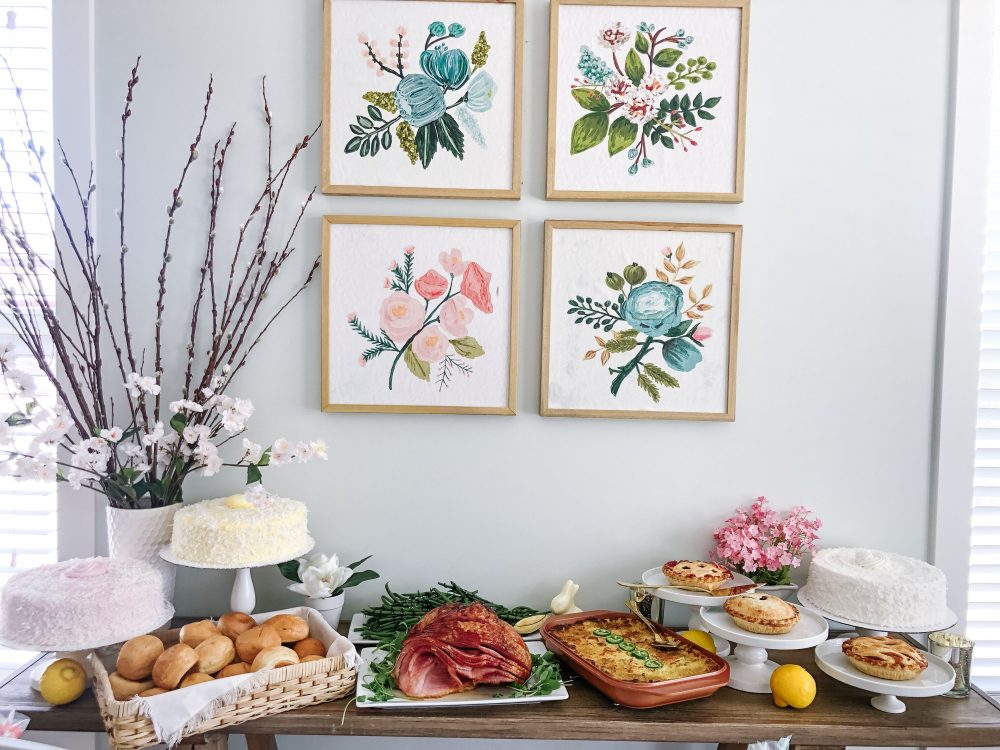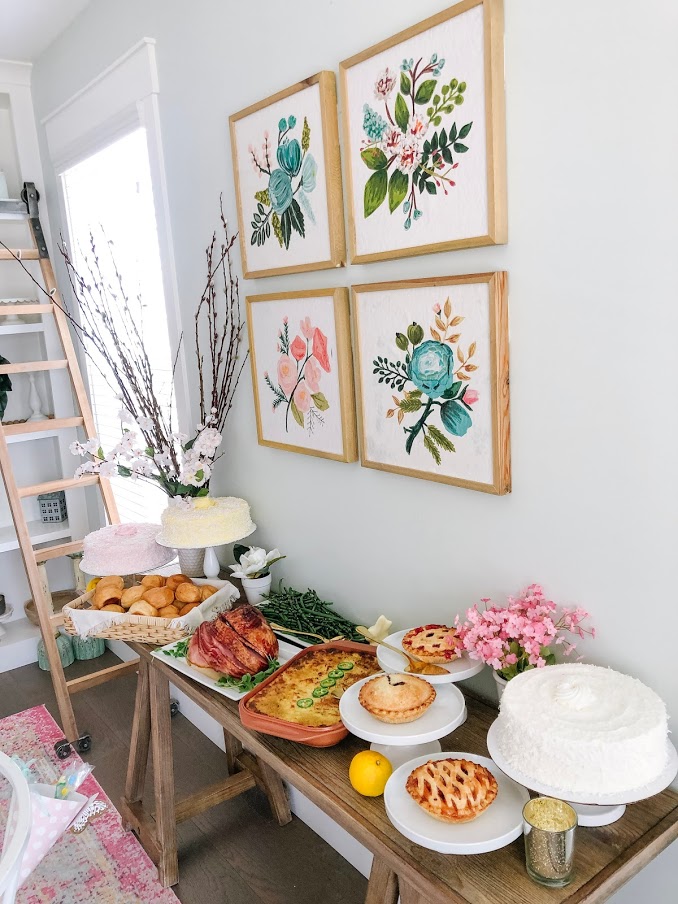 We decided to give our Easter Dinner a trial run with Sam's Club's Easter Meal and it was so fun!
Save Time
Since the main items were pre-cooked, I was able to get the whole meal together in so much less time!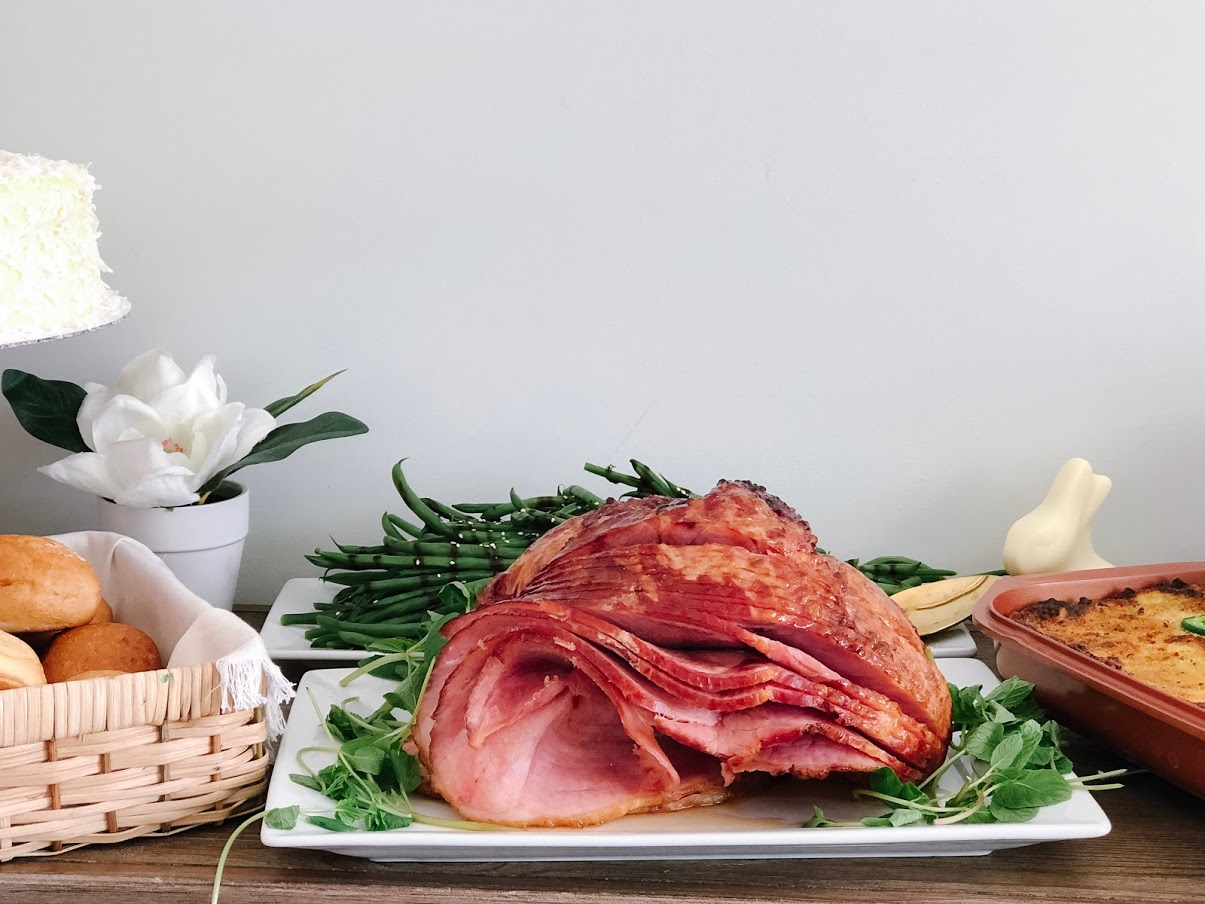 Member's Mark Bone-In Ham was super easy to warm up. I just popped it in my oven for a couple of hours while I made the centerpiece, set the table and got the other foods ready. I loved the glaze that comes with the ham. It's a brown sugar glaze and it is SO delicious. It really makes the meal very special.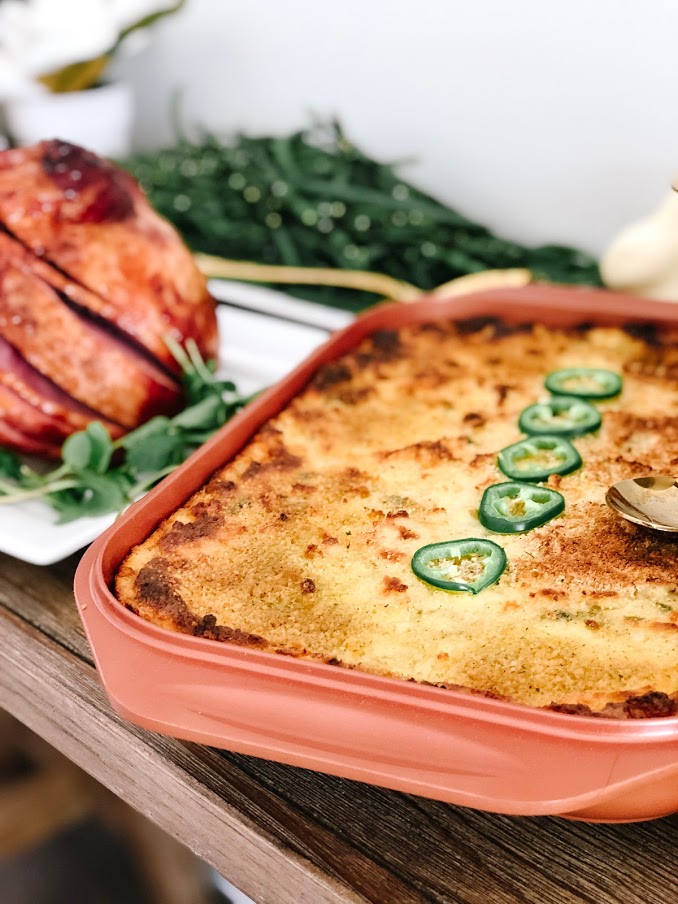 Jalapeno Popper Mashed Potato Casserole
We love the Member's Mark pre-made Yukon Mashed Potatoes. They are ready mashed and ready to go; all you need to do is warm them up. I thought it might be fun to create a special recipe with them for Easter dinner. I experimented and came up with Jalapeno Popper Casserole using the pre-made potatoes. It's so easy to prepare and I put it in the top oven while the ham cooked. It's also great to feed a crowd, it serves 12!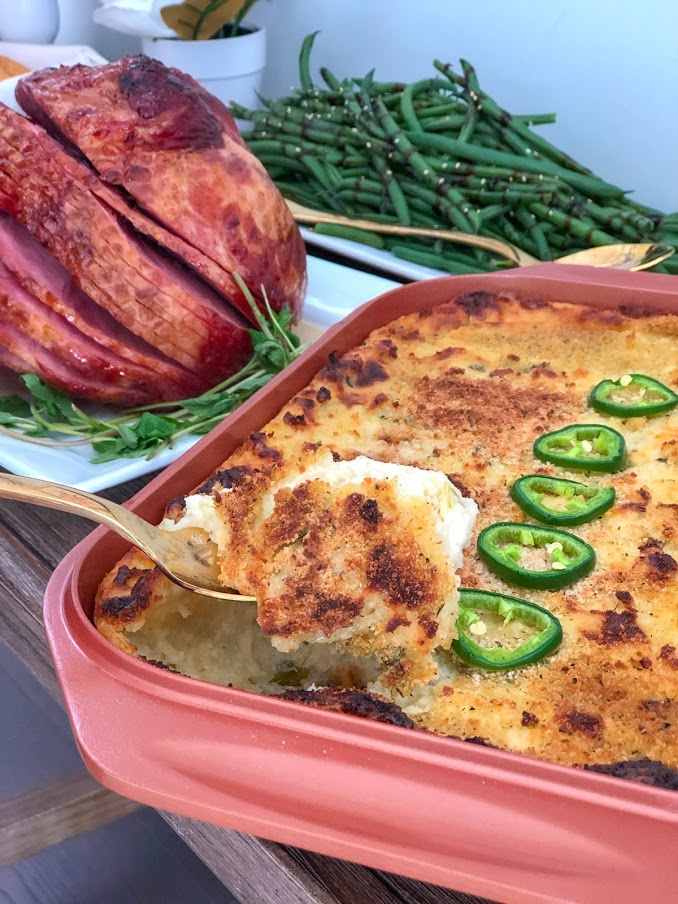 Using jalapenos in this casserole gives the mashed potatoes a slightly spicy kick, with a creamy blend of cream cheese and mozzarella. A coating of garlic bread crumbs on top gives it a delightful crunchy topping. My kids loved it!!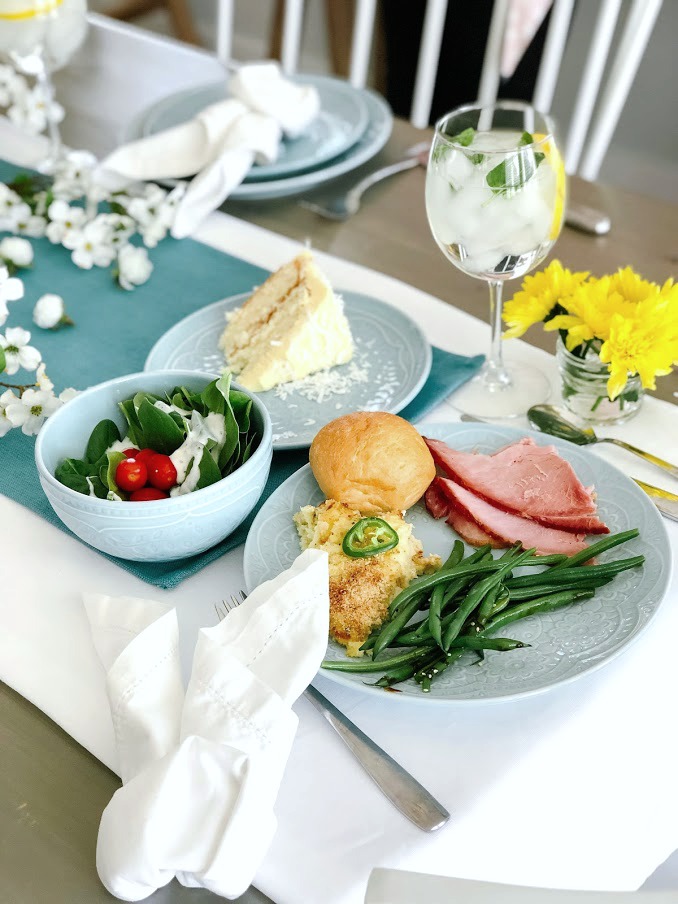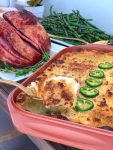 Jalapeno Popper Mashed Potato Casserole
Jalapeno Popper Casserole combines fluffy mashed potatoes, sauteed jalapenos and green onions, with a blend of cream cheese and mozzarella. A coating of garlic bread crumbs on top gives the casserole a delightful crunchy topping.
Prep Time 10 minutes
Cook Time 45 minutes
Total Time 55 minutes
Ingredients
4 pounds Mashed Potatoes(I used 2 packages of Sam's Club Member's Mark pre-made mashed potatoes)
1/2 cup butter
2 large jalapenos, de-seeded and minced
5 stalks green onions, chopped
4 cloves garlic, minced
1 8-ounce package cream cheese
1 cup sour cream
1 1/2 cups shredded mozzarella cheese
2 cups garlic bread crumbs (you can substitute regular bread crumbs)
salt and pepper to taste
Instructions
Preheat oven to 375-degrees

If you are using raw potatoes, cook the potatoes and mash them.

Melt butter in a skillet over medium heat; cook the jalapenos, green onions and garlic until soft and fragrant, about 3-4 minutes).

Pour butter jalapeno mixture into a large bowl and add the cream cheese. Mix until combined. Add sour cream and shredded cheese and mix. Add 1 cup bread crumbs and mix until everything is evenly combined.

Taste and add any salt and pepper.

Spread mixture into a shallow roasting pan or casserole dish.

Spread the other cup of bread crumbs over the top of the potato mixture.

Place in oven for 45 minutes. Or until edges are brown and mixture is bubbling.

Take casserole dish out, add sliced jalapenos in the center and place back in the oven on BROIL for 4-5 minutes, or until the top of the casserole becomes browned.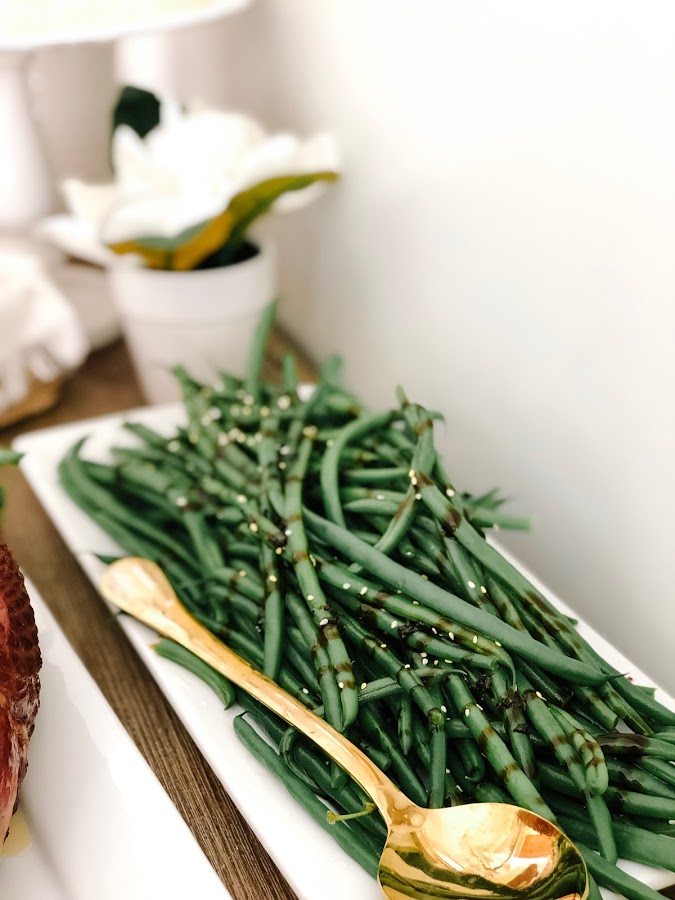 Fresh Green Beans
Green beans are our favorite and we love Sam's Club's green beans, they were fresh, delicious AND Organic. All I did was blanch the green beans by boiling them in salted water for about 5 minutes, then put them in ice water. I love the slightly crunchy texture that blanching gives the beans. Then I put a little vinaigrette of balsamic vinegar, olive oil and sesame seeds on top. We love natural flavor of the green beans to shine through. So good! I added a simple green salad to the meal. I love that Sam's Club's produce is so fresh. They source directly from the growers to get the best price.
Desserts that Stand Out
We love all of the fresh baked breads and desserts in our Sam's Club bakery.
Member's Mark Pie Trio
Sam's Club's Easter 10 for $45 offer includes the Member's Mark Pie Trio — three beautiful pies — apple, cherry and blueberry. And they are so good! We loved sampling them all. I also love that the pies are made fresh in each Sam's Club store.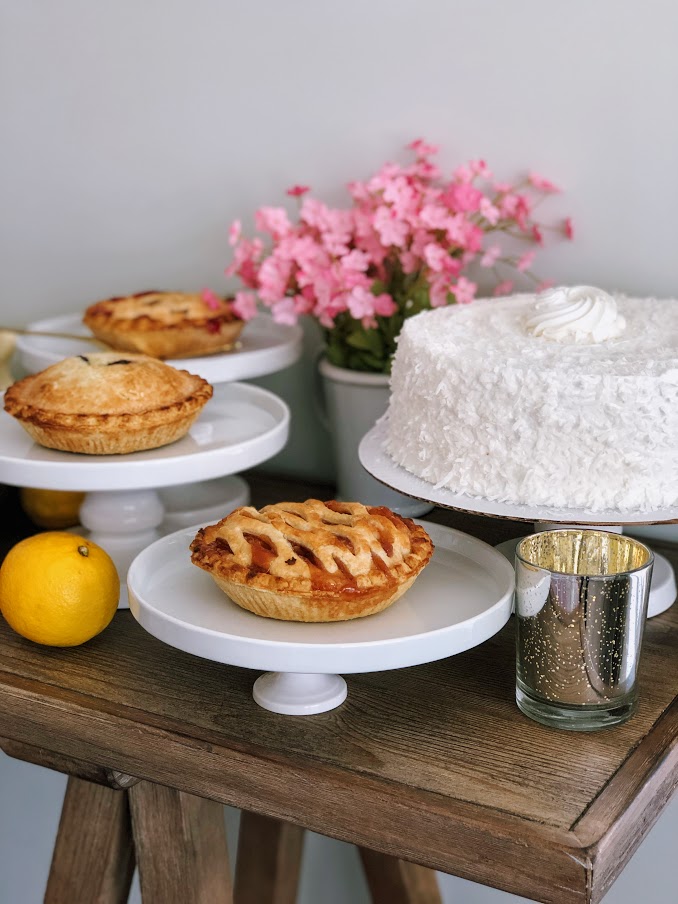 Members Mark Coconut Cake
Sam's Club makes the most amazing coconut cake. The kids will tell you that I am obsessed with this cake. I told them that this is the cake I want for my birthday!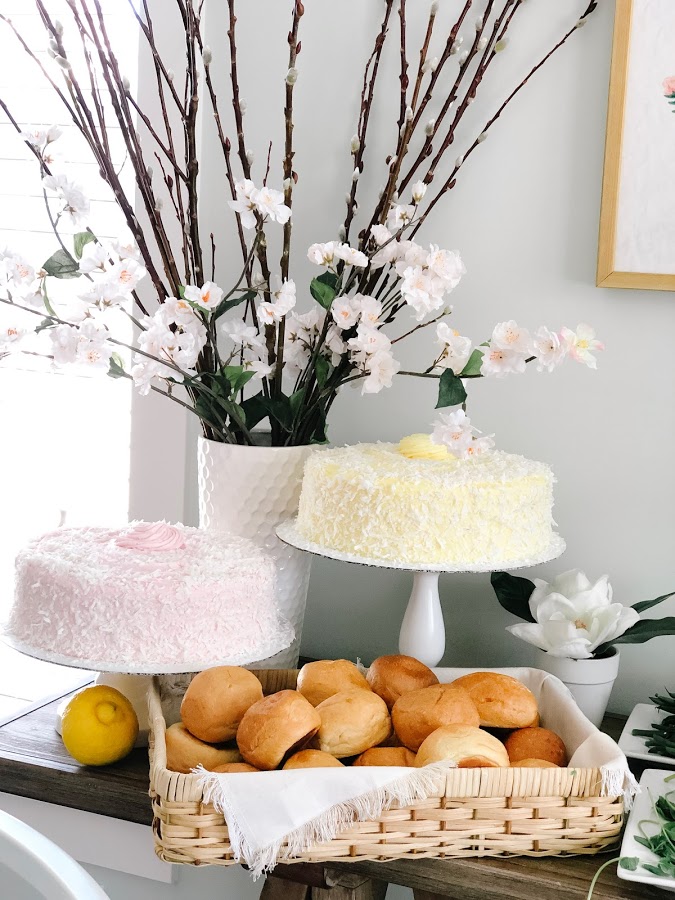 Coconut cake was my grandma's specialty and her favorite cake to bake. This coconut cake reminds me of my grandma's cake and takes me right back to my childhood.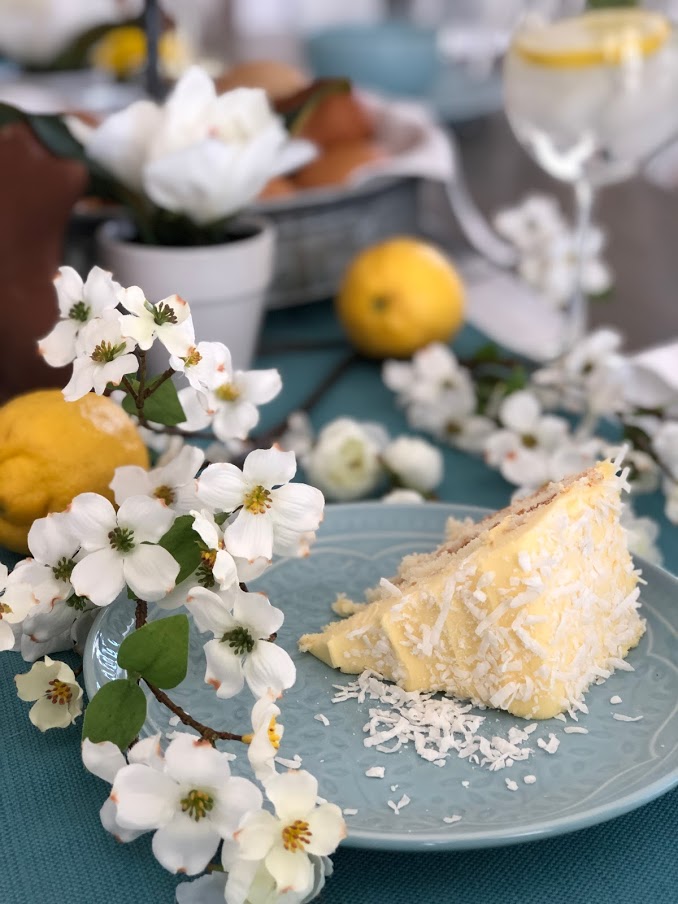 The coconut cake is so moist with a layer of coconut cream filling inside. It's light and oh so good. I also found out that this coconut cake is always available in white, but around Easter you can also get it in pink and yellow. And it's HUGE! It will feed more than 10 people for sure!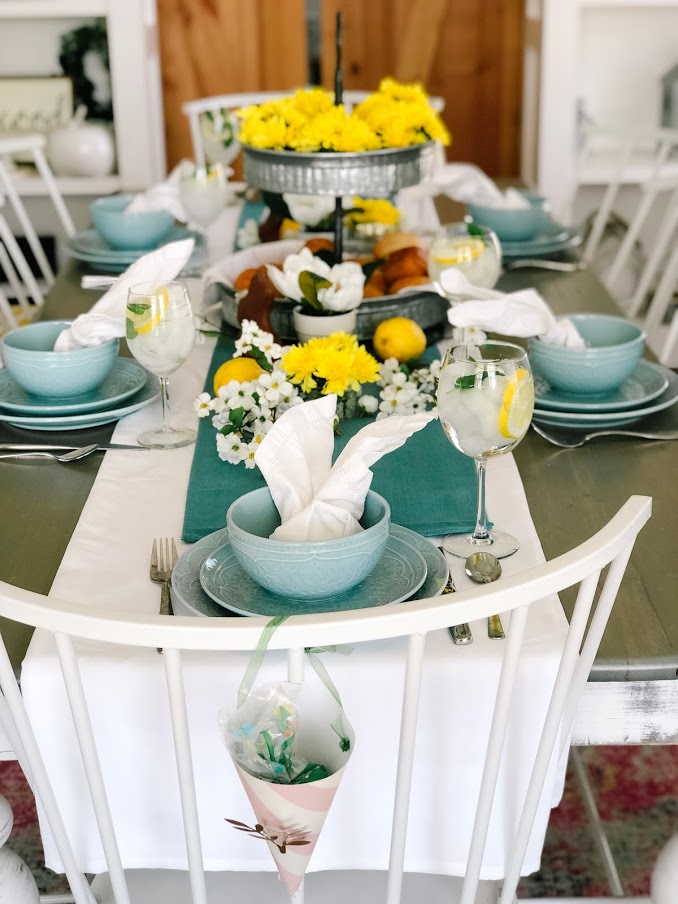 Set a Beautiful Easter Table
I picked up these gorgeous sky blue Gibson dishes at Sam's Club and a pretty runner while I was picking up my Easter 10 for $45 meal. I paired the blue with gorgeous chrysanthemums I found in the floral area. Blue and yellow are perfect colors for Easter and Spring.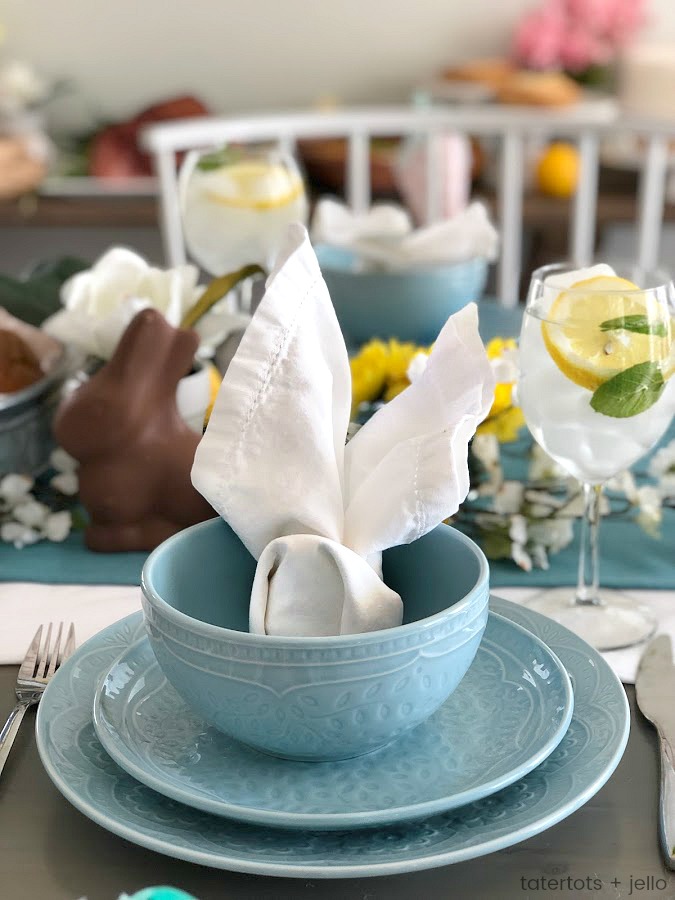 My daughter folded our napkins into bunny shapes and the bunnies fit perfectly inside of the pretty blue bowls.
Make an Easy Centerpiece
I found this galvanized tiered tray at Sam's Club and it makes a perfect centerpiece for so many different occasions. Just switch out the flowers and items you put in it. We usually keep it on our kitchen island, but I thought it would look so pretty as our Easter centerpiece.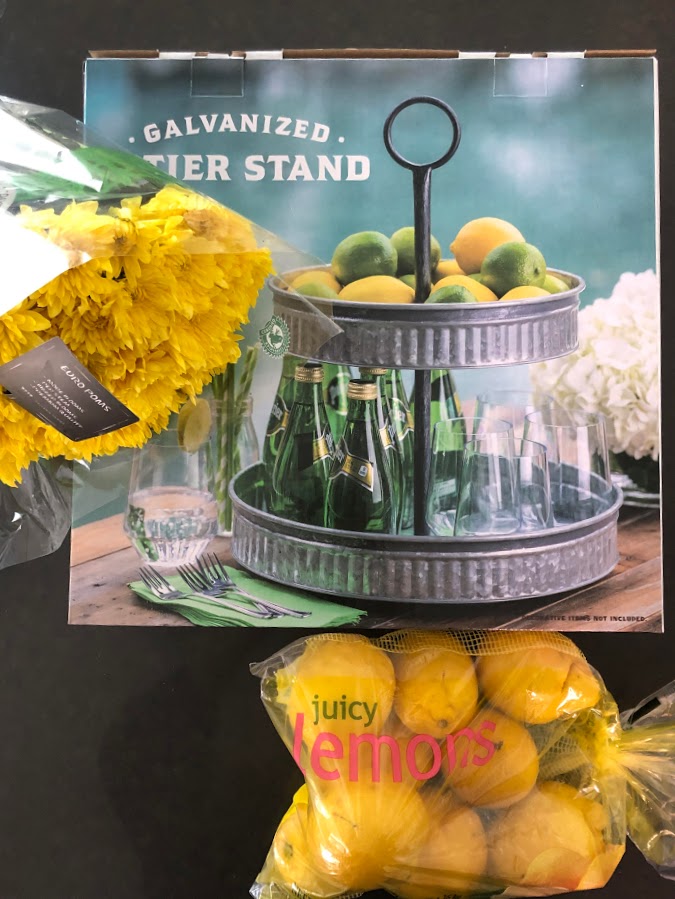 All I did was cut the chrysanthemums down and put them inside of some small mason jars on the top shelf of the tiered tray.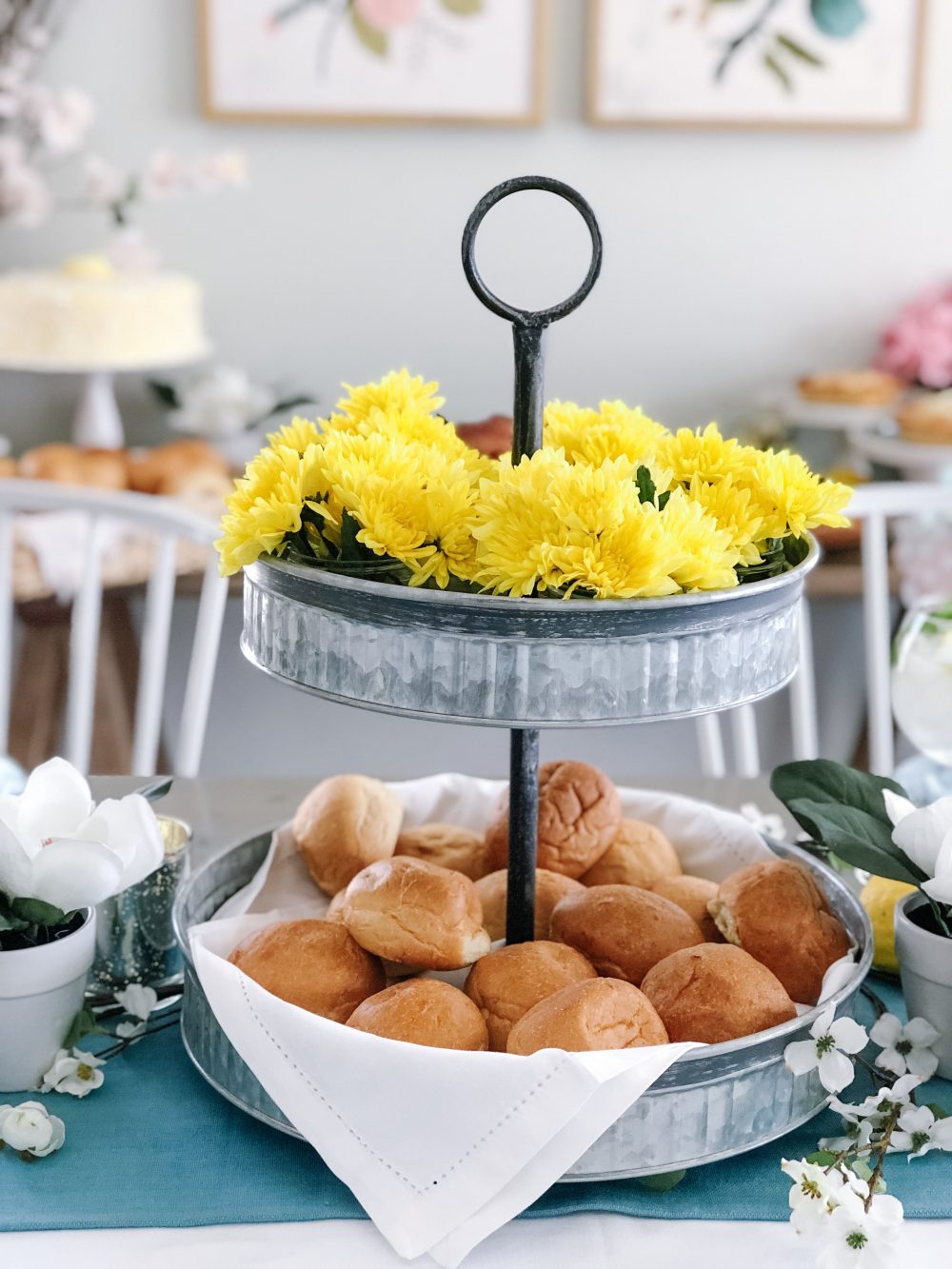 On the bottom shelf of the tray I put two white napkins and added some of the Member's Mark dinner rolls, which are also baked fresh in each Sam's Club store. I love that the centerpiece is functional and so pretty. I added some faux floral branches and a few chocolate bunny candies that I unwrapped.
Add Party Favor Cones
A simple party favor you can make for Easter or any occasion are paper party cones. Just print out the template below on card stock. Then cut the template out and use it to trace the shape onto colorful scrapbook paper. You bend the one side of the paper where the dotted lines are and then roll it up and tuck the other end of the cone inside of the folded flap and use clear tape to seal it together. Then punch holes in the sides, thread ribbon through and hang them on the backs of the chairs.

I found these candy cones at Sam's Club filled with different kinds of candy. Each package had six cones in it. Once I assembled the cones and hung them on the backs of the chairs, all I had to do was pop one of the candy cones inside and I had a cute little treat for my guests to take home! You can fill your cones with whatever treats you want, even small toys or a little present could be tucked into each one.
Download the Paper Cone Template
Make Check Out Easier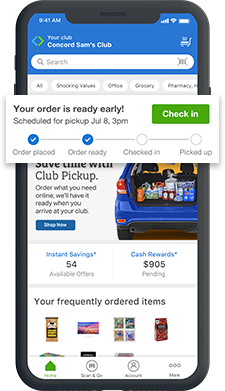 Once you have all of your Spring Entertaining food and decor, make check out easier. You can use Club Pickup – order ahead and Sam's Club associates will have your items ready when you arrive! Or you can skip the checkout lines with Scan & Go – scan items as you shop and pay from your phone with Scan & Go on the Sam's Club app. SO amazing!! I love saving time.
You can find out more about Sam's Club 10 for $45 Complete Heat-and-Eat Meal on the Sam's Club site.
And on their social channels:
Happy Spring!
xoxo

This post was sponsored by Sam's Club. All opinions are my own.