Strawberry Chocolate Keto Trail Mix. Make this 5-minute trail mix for an easy snack-on-the-go and it's perfect to take camping!
Strawberry Chocolate Keto Trail Mix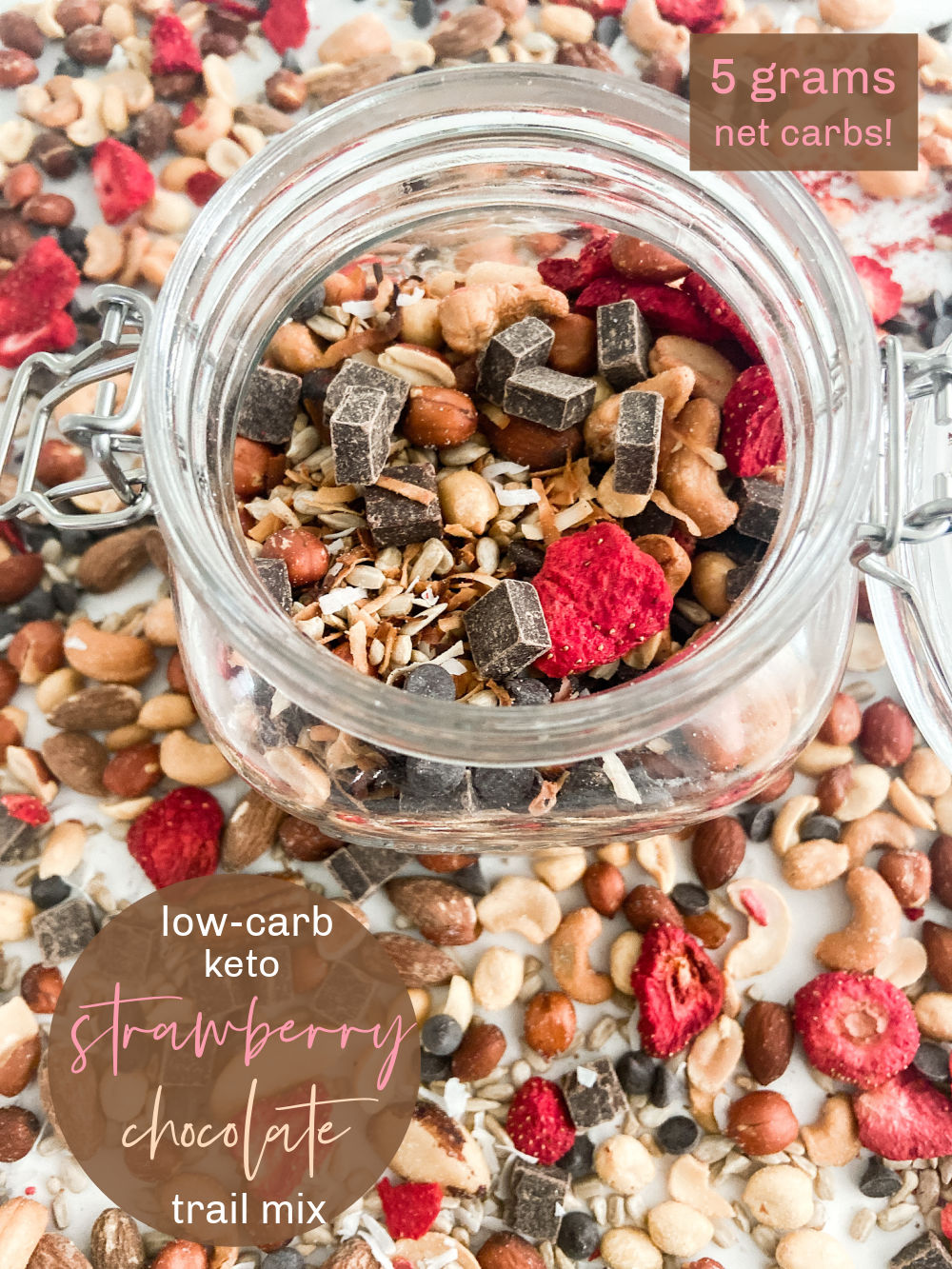 Do you like to camp? I'm not a huge camper but I love it if I am in a cabin or trailer haha! This month my friend Homemade Heather and I are sharing keto camping recipes! I love hiking and road trips too so I thought I would share my favorite keto trail mix! This one is so good because it has the goodness of nuts and seeds PLUS a sweet factor from the dried strawberries and sugar-free chocolate!
What is Keto?
If you aren't familiar with Keto – its basically eating very low-carb food and no refined sugar. I have been eating Keto for almost a year and I continue to do it because of the way it makes me feel. Cutting out refined sugars and wheat in particular has really healed my gut issues as well as given me so much energy! Of course I take a few cheat days but I always feel better when I start eating low-carb again.
You Can Eat Everything You Like and Still Follow a Ketogenic Lifestyle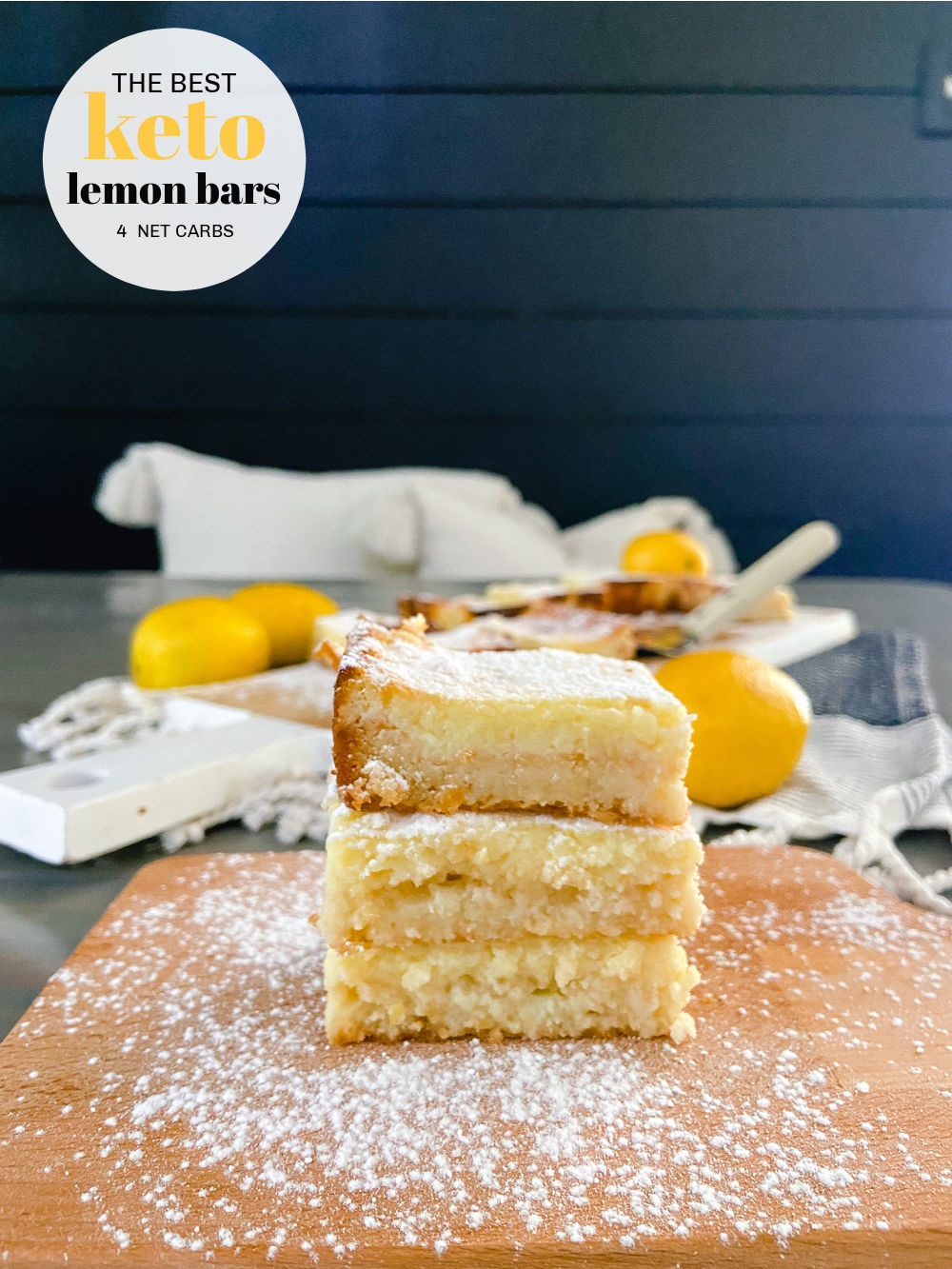 It's true! I was very skeptical when I started and I only planned on doing Keto for a short while. But as my journey continued, I learned that I can substitute ingredients out to make all of my favorite foods fit in with my new lifestyle. You want pizza? Make it just as good with a cauliflower crust! Lemon bars? I recreated my childhood favorite low-carb lemon bars by substituting flour for almond flour and refined sugar for monkfruit sweetener. Ice Cream? You can definitely still eat that. My favorite it Rebel Ice Cream. Chocolate? My favorite sugar-free chocolate brand is ChocZero.
5-Minute Keto Trail Mix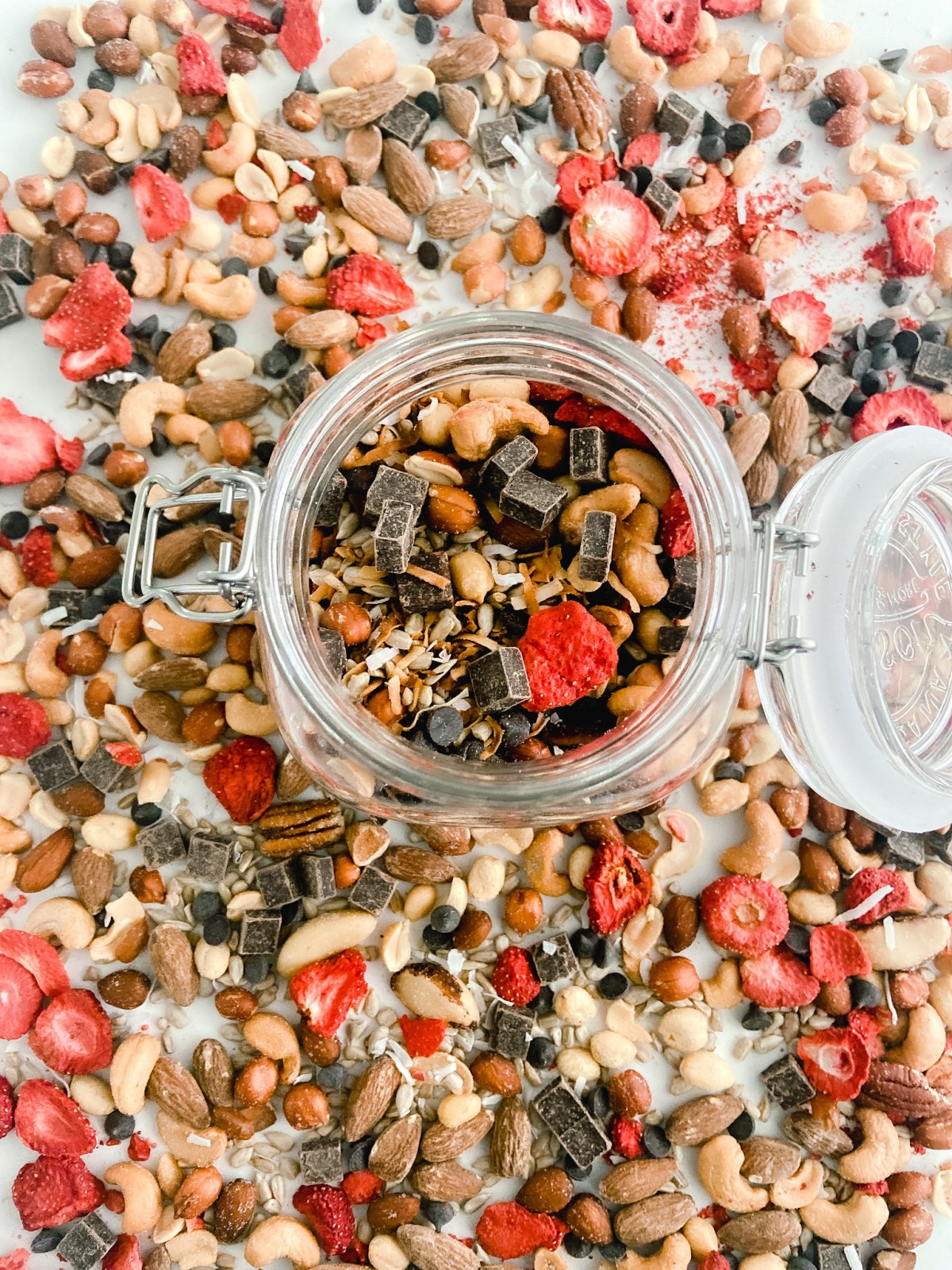 This trail mix seriously takes 5 minutes to make! The only thing you cook is the coconut for about 2 minutes. Then dump the rest of the ingredients in a jar with a lid and you have a snack that can last for a month. But I bet it doesn't last that long!
Top Your Ice Cream and Yogurt with This Trail Mix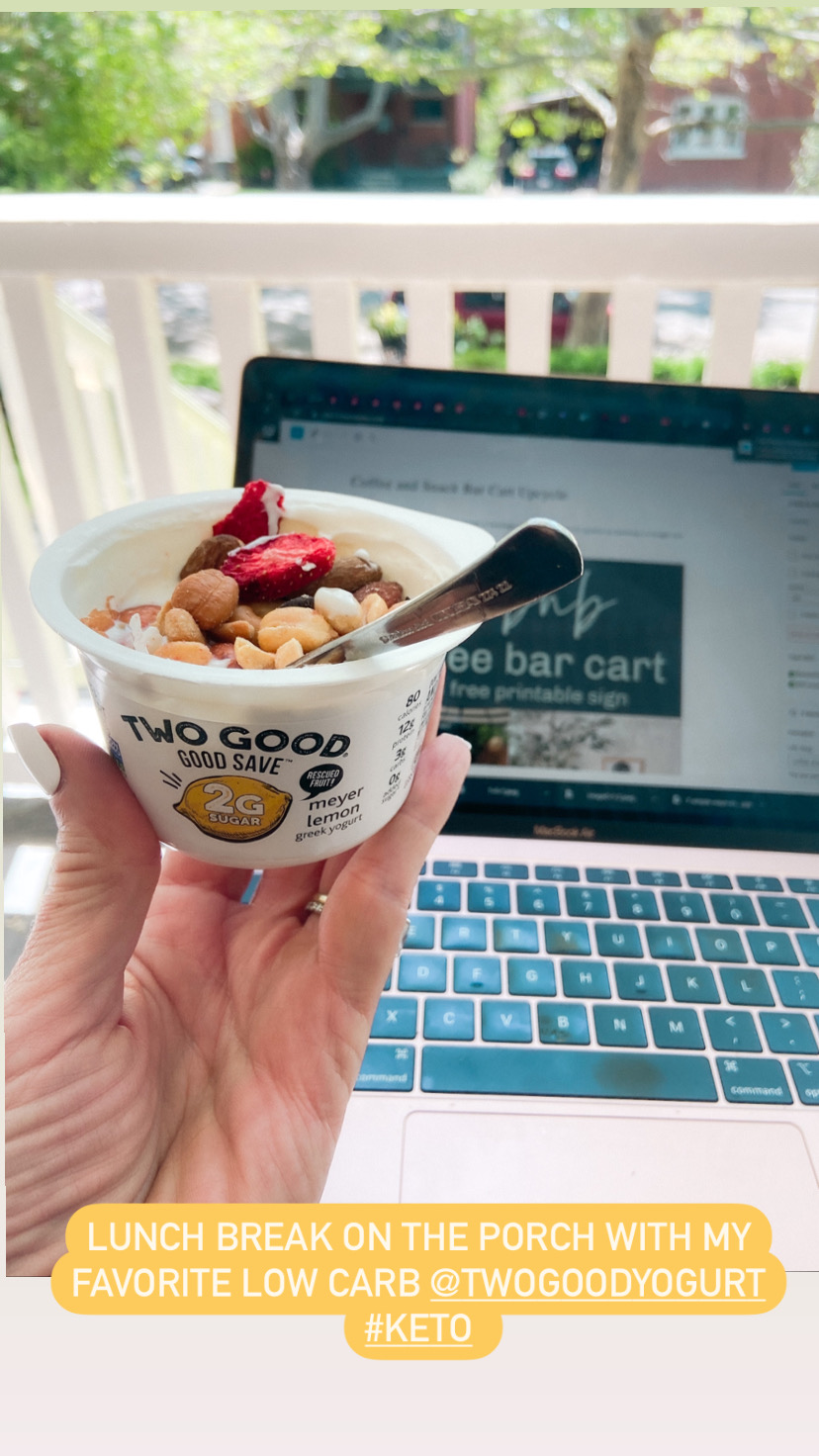 I love to take a scoop of this strawberry chocolate trail mix and put it in a zip lock to take with me when I am running errands. But I also love to use it as a topping!! My favorite is to put it on ice cream or my favorite yogurt. Two Good is my favorite brand of yogurt. I really enjoy eating yogurt for breakfast or as a snack at night when I am craving something sweet. It was so hard finding a brand that has a low enough carb count, Two Good yogurt has only 2 grams of sugar = 3 grams of carbs, 12g of protein, 80 calories and it's delicious!!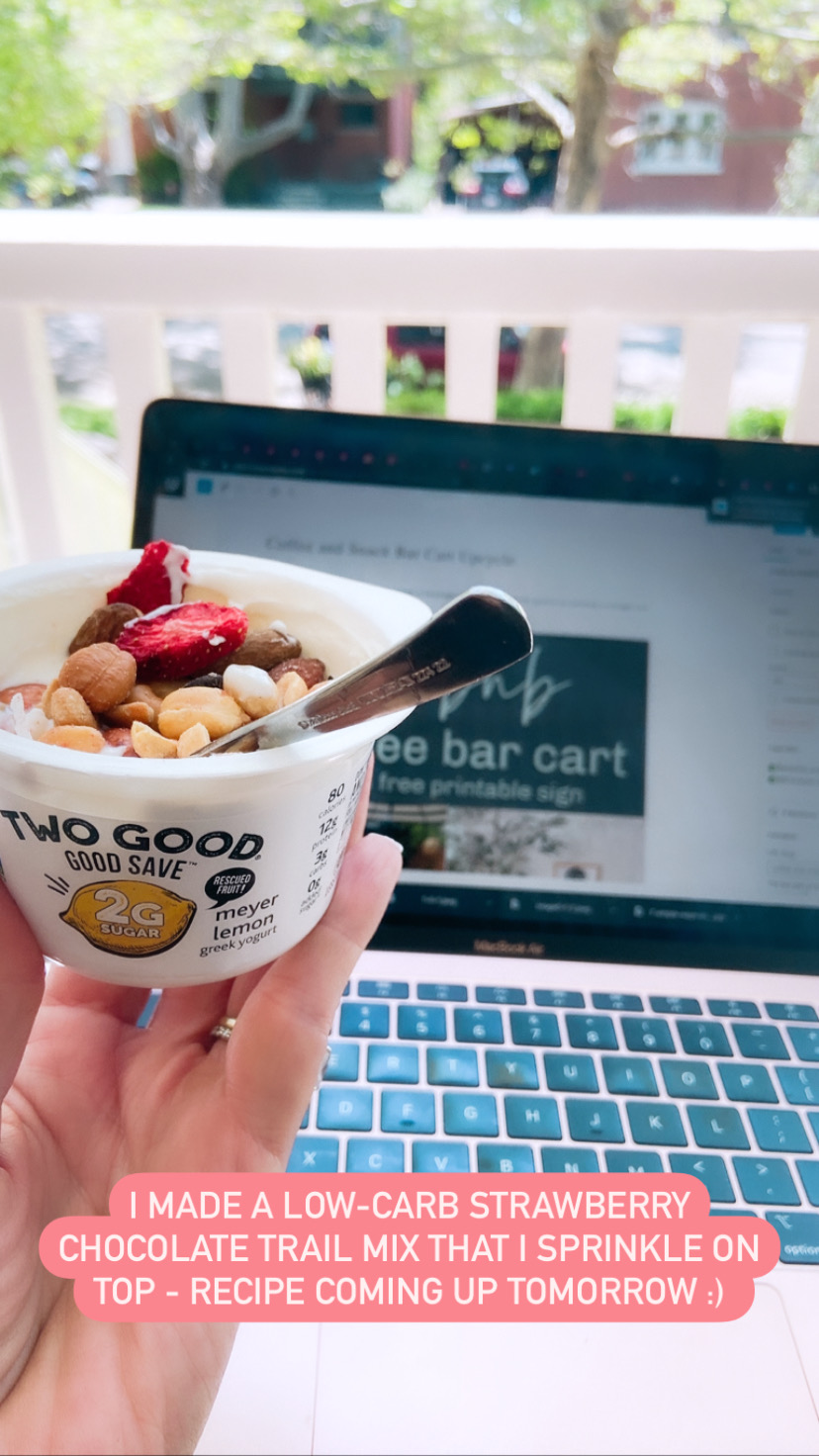 Loaded Cauliflower Camping Foil Packets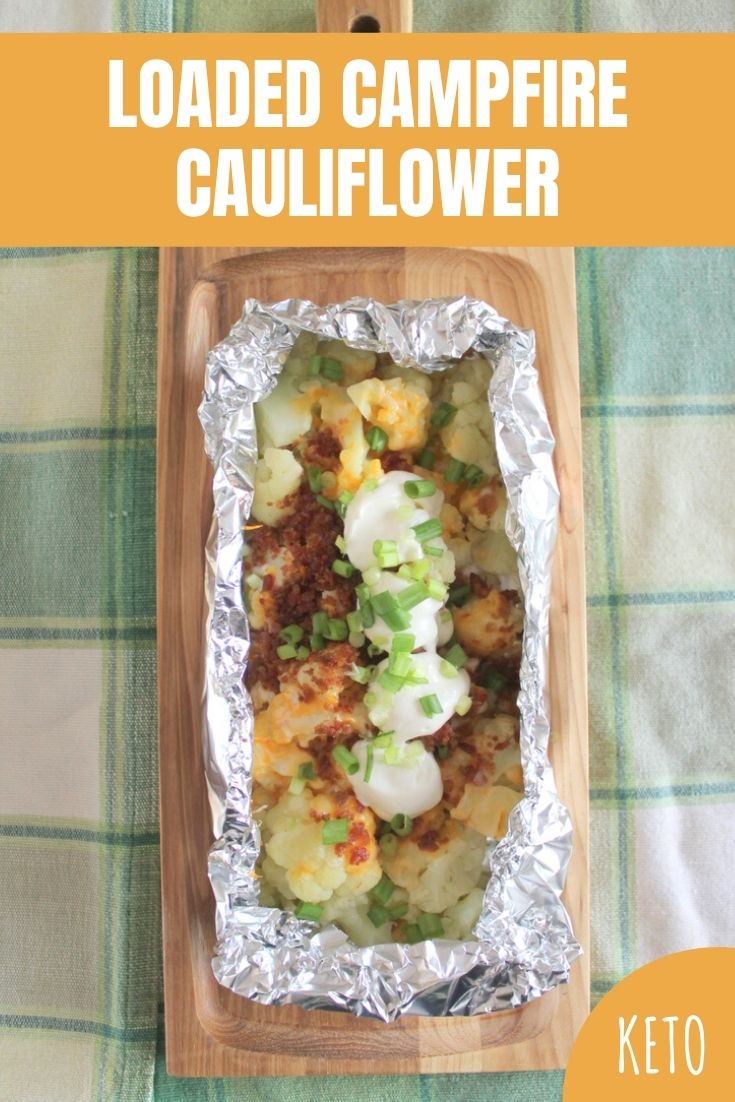 Heather is sharing the recipe for these scrumptious cauliflower foil packets. If you love potatoes like I do, you can substitute them for cauliflower and have the same texture and yummy taste as potatoes without the carbs! Be sure to head over and grab her recipe for your camping trips this summer, or make it on the grill at home!
How Many Carbs are in Strawberry Chocolate Trail Mix?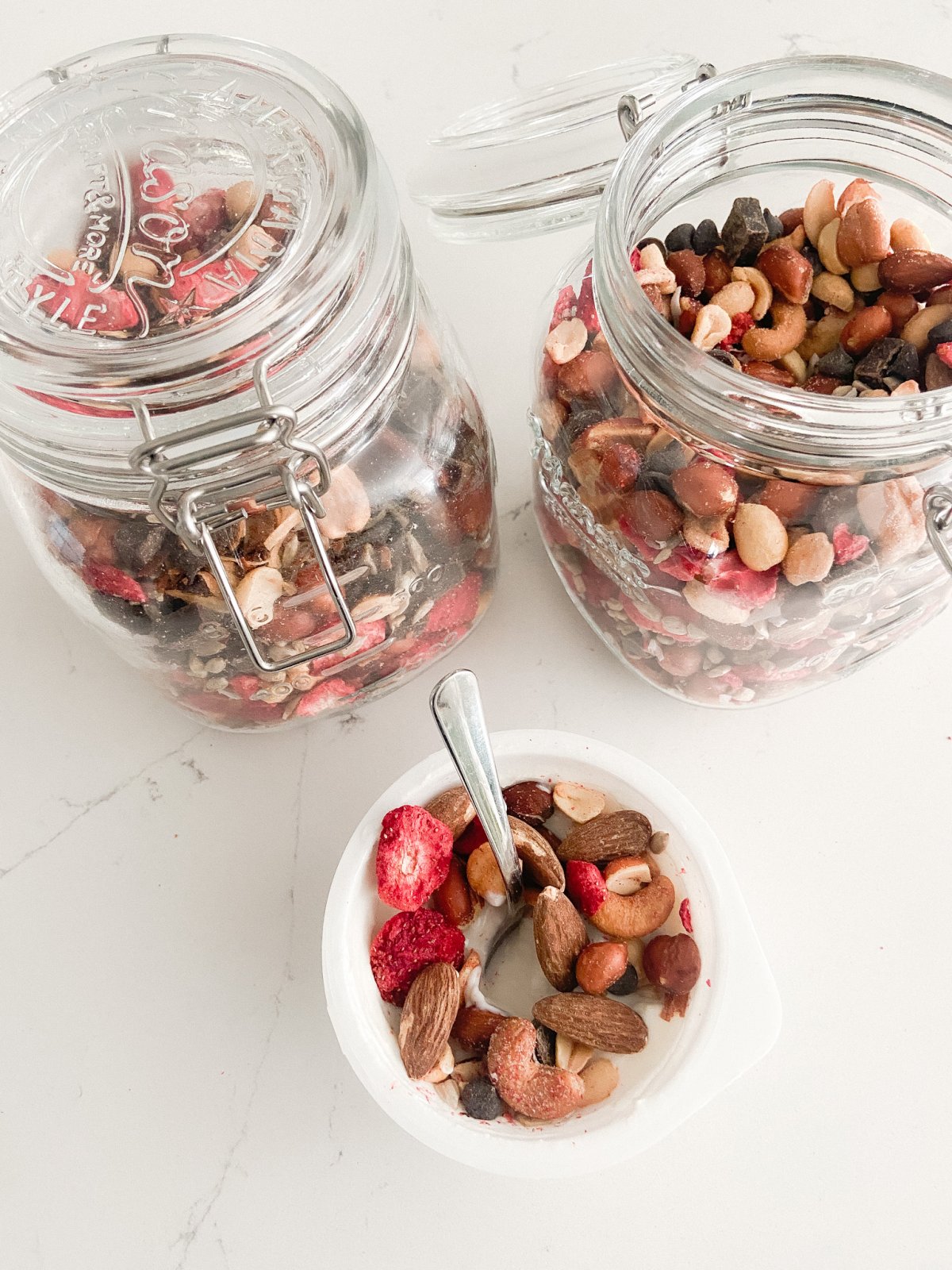 This recipe has 5 grams of NET carbs per 1/3 cups of trail mix. It's recommended that you eat under 50 grams of carbs per day. I try to stay at about 40 grams. To put that in perspective, the yoplait yogurt I used to eat each morning had 27 grams in just the yogurt. I think people don't realize how many grams of sugar and carbs are in regular food. I top my Two Good yogurt with a couple tablespoons of this trail mix which bring the yogurt and topping to about 4 grams of carbs total.
Personalize Strawberry Chocolate Trail Mix to Your Taste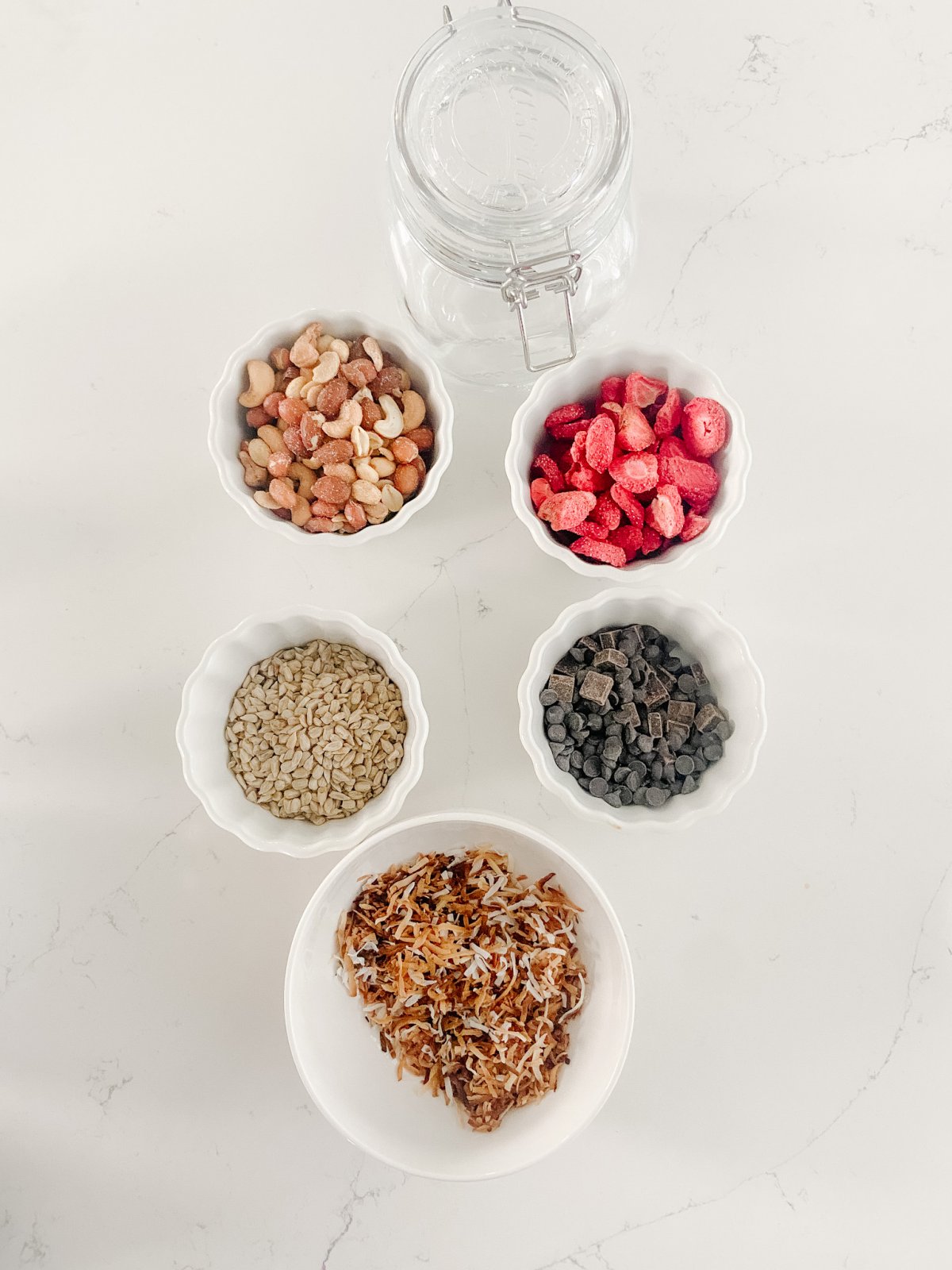 Another thing I love about this easy trail mix recipe is you can personalize it to what YOU like. There are a lot of nuts that I don't care for. I can substitute them for ones that I love, like almonds! If you don't like strawberries or are allergic, substitute the dried strawberries for raspberries of blueberries! If you don't like coconut, skip that ingredient. The chocolate chips are from ChocZero.
Strawberry Chocolate Keto Low-Carb Trail Mix Recipe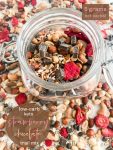 Keto Strawberry Chocolate Trail Mix
A low-carb sweet and salty trail mix that has 5 grams of net carbs per 1/3 cup serving.
Prep Time 3 minutes
Cook Time 2 minutes
Ingredients
1 cup freeze dried strawberries strawberries can be substituted for raspberries or blueberries
1/2 cup unsweetened coconut flakes
2 cups assorted nuts
1 cup assorted seeds (I used sunflower seeds)
3/4 cup sugar-free chocolate chips I used ChocZero brand for the chocolate chips. The chocolate chunks are from Thrive Market and have a higher carb count. Note at bottom.
Instructions
In a medium pan, cook coconut flakes under low heat for about 2 minutes until they start to brown.

Take coconut flakes off stove and let cool.

In a lidded plastic or glass container, layer the ingredients — sunflower seeds, strawberries, nuts, chocolate and then add the cooled coconut flakes.

Put lid on the container and shake to combine the mix.
Recipe Notes
ChocZero – https://www.choczero.com/collections/all/products/keto-chocolate-chips-variety-pack
Note — I added a few of the Thrive Organic Chocolate Chunks to this mix. If you add the chocolate chunks it takes the net carbs from 5 net carbs to 6 net carbs per serving.
Pour Ingredients and Shake to Mix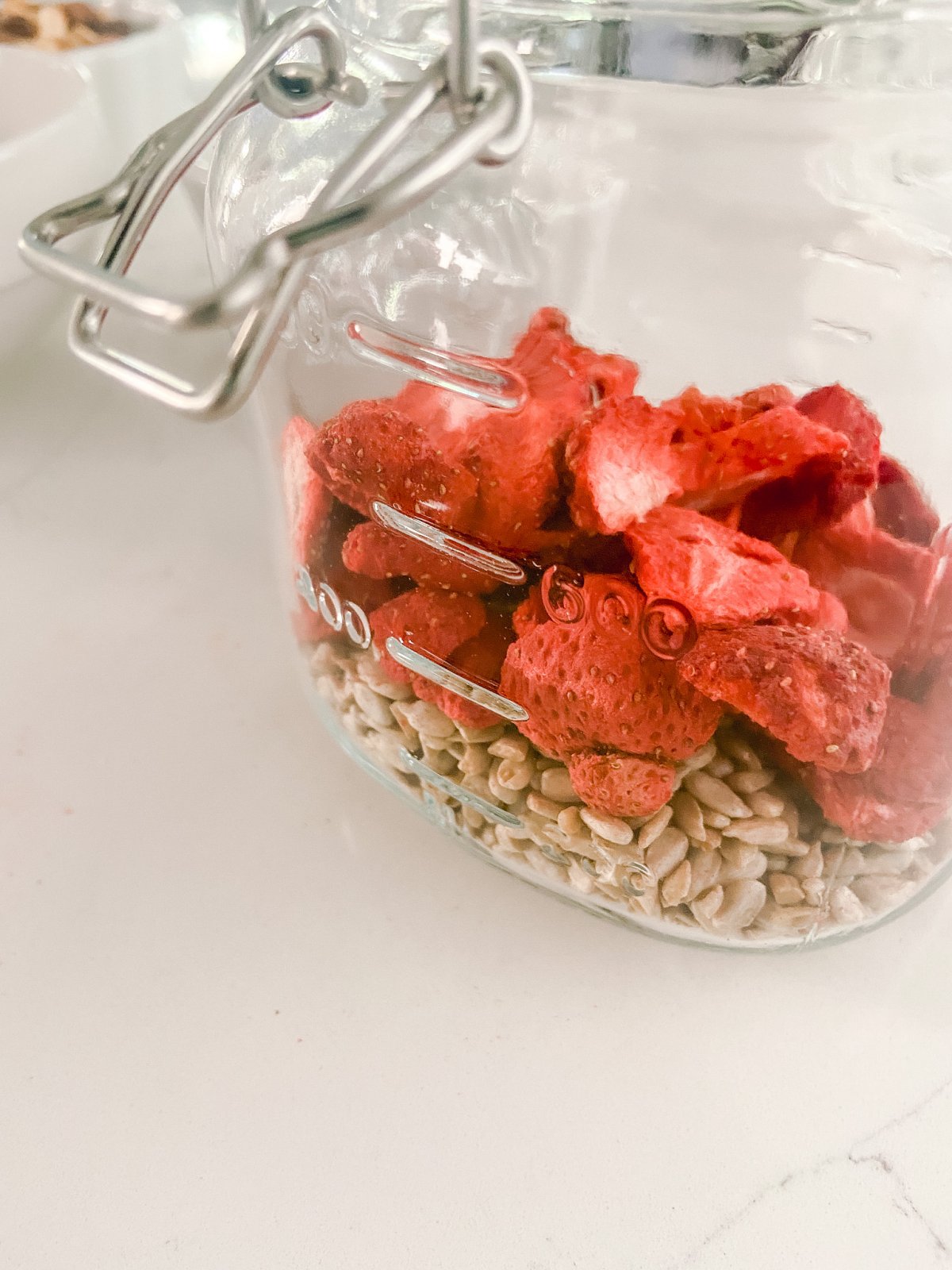 Just brown the coconut flakes, then layer the ingredients in your container and shake to mix everything up! So fast and simple!
More Keto and Low-Carb Recipes
Here are a few more of my favorite keto recipes!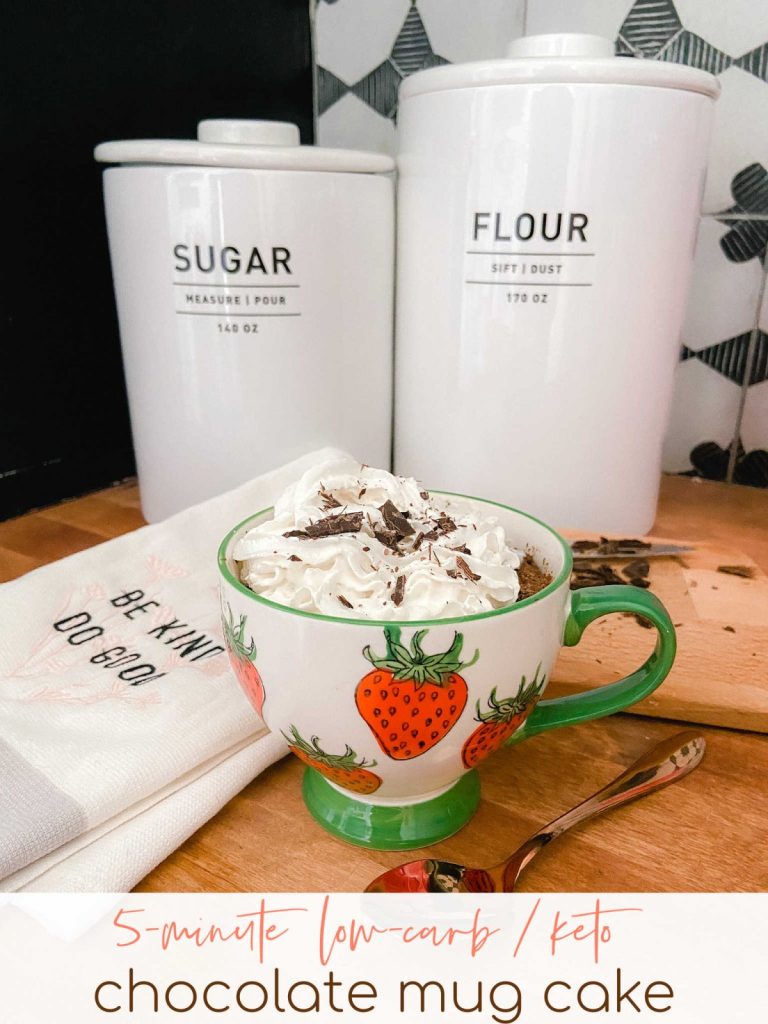 When you're craving something sweet, make this 5-minute mug cake! I make one when we have a birthday or special dessert so I can join in the celebrating too!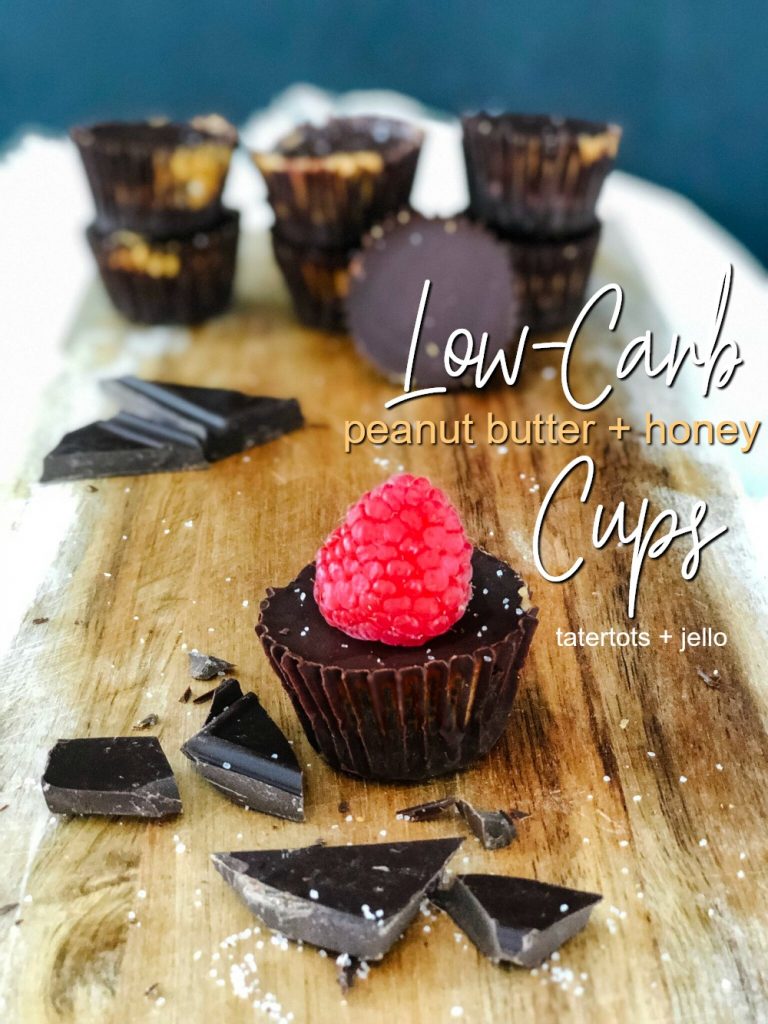 This is one of my favorite snacks. I love having one at night if I am craving something sweet. I keep them in a plastic container in my freezer and they are a delicious cold treat!
What is YOUR favorite camping recipe?
xoxo