The Easiest 5-Minute Low-Carb Keto Chocolate Mug Cake! Need a sweet treat but want to stay on track? Make this easy cake for one!
The Easiest 5-Minute Low-Carb Keto Chocolate Mug Cake!
Sometimes I need a quick treat or my family is eating foods that don't align with my low-carb lifestyle. I found the answer! This decadent 5-minute mug cake is so easy to make and hits the spot.
How Can a Chocolate Cake be Low-Carb?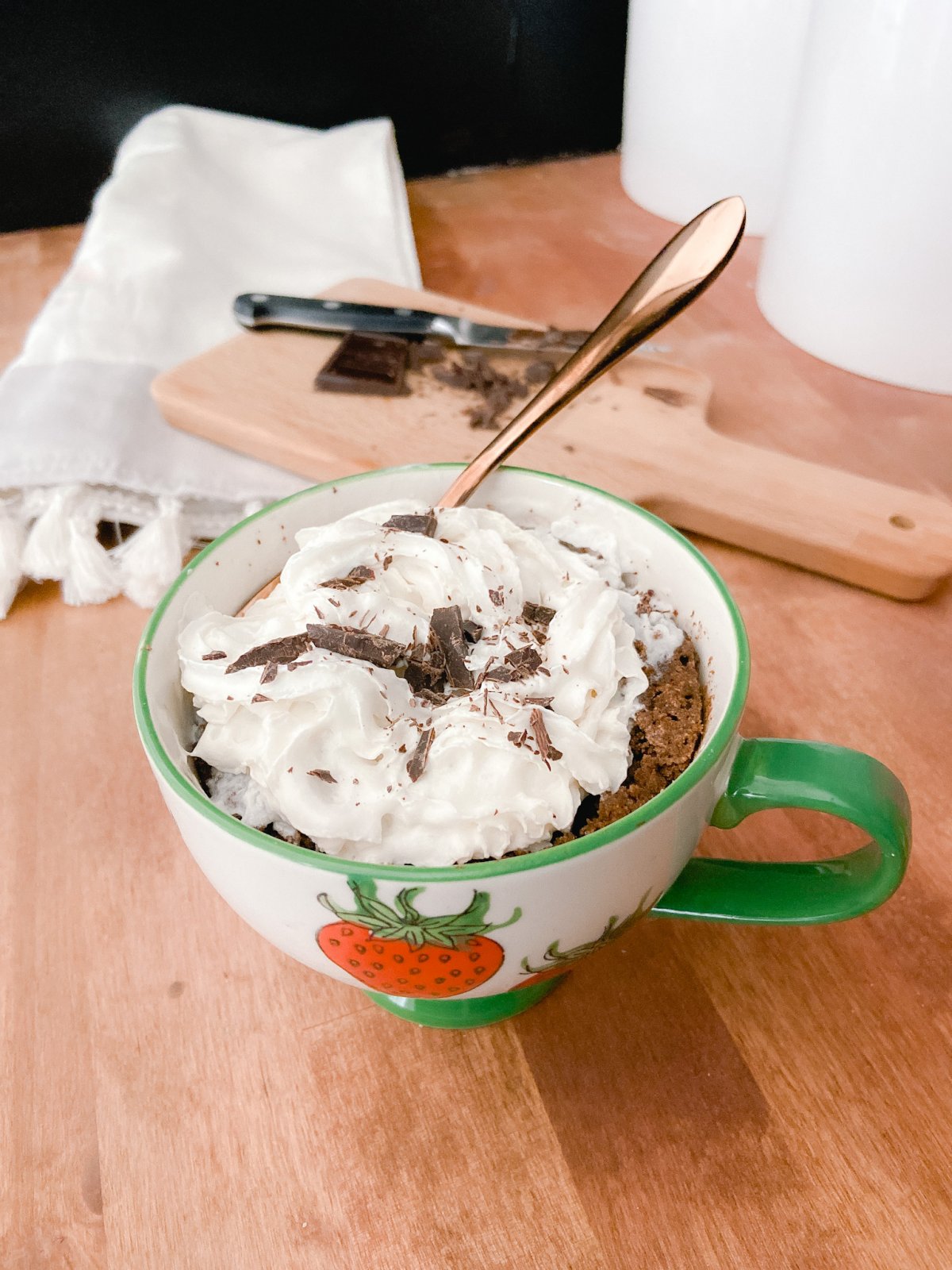 It might seem baffling that you can eat chocolate cake and still keep your carbs low, but it can be done. The reason this recipe is low-carb and keto friendly is that the high-carb flour is replaced by almond flour and coconut flour which are low-carb! The other reason is that regular sugar is replaced with a non-sugar sweetener.
Chocolate Mug Cake that is Gluten-Free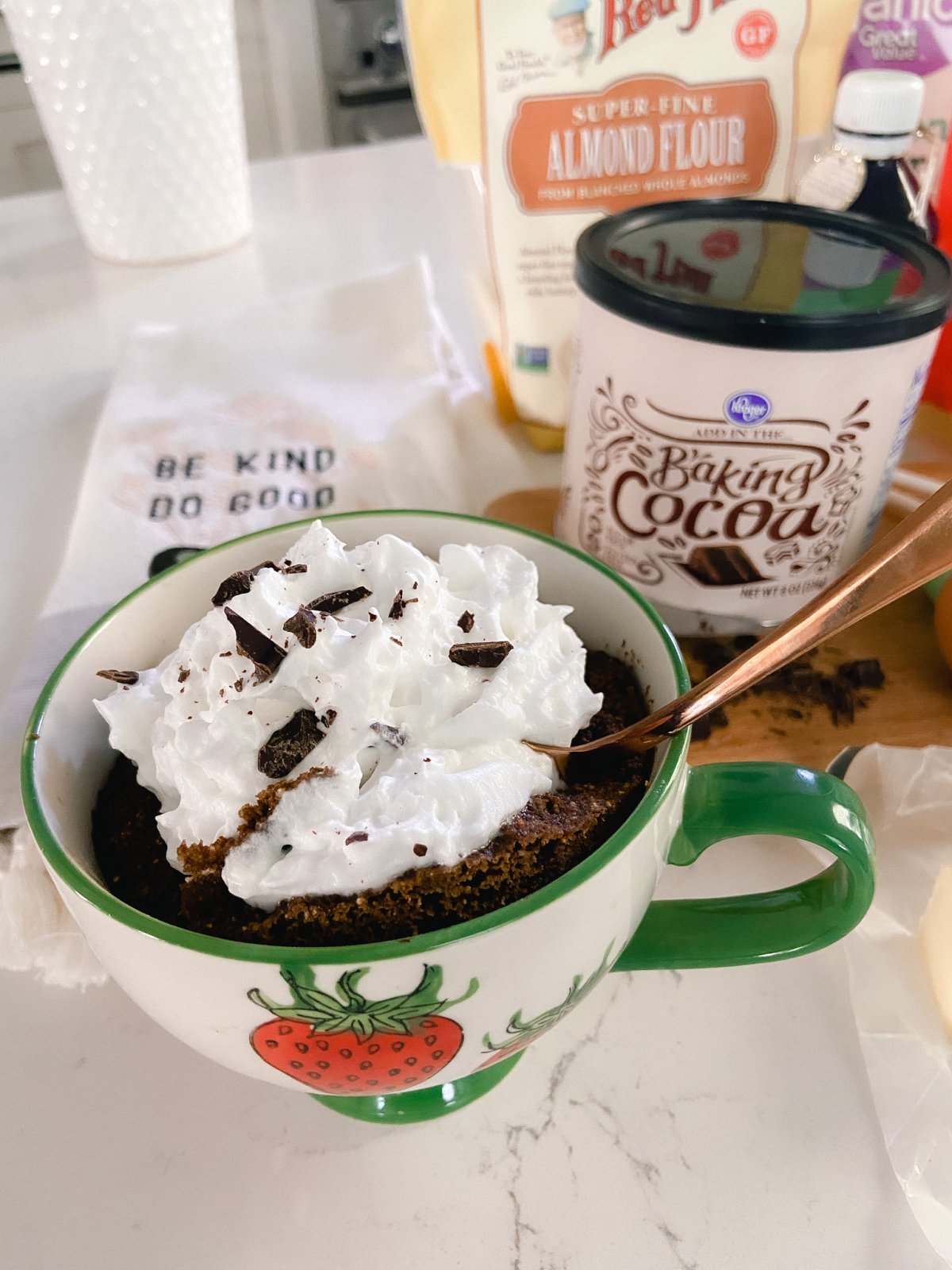 Even if you aren't specifically trying to eat less carbs, you might be trying to reduce your gluten. By switching regular wheat flour to almond and coconut flour, this recipe is a great dessert for people with gluten allergies.
This Chocolate Mug Cake is Sugar-Free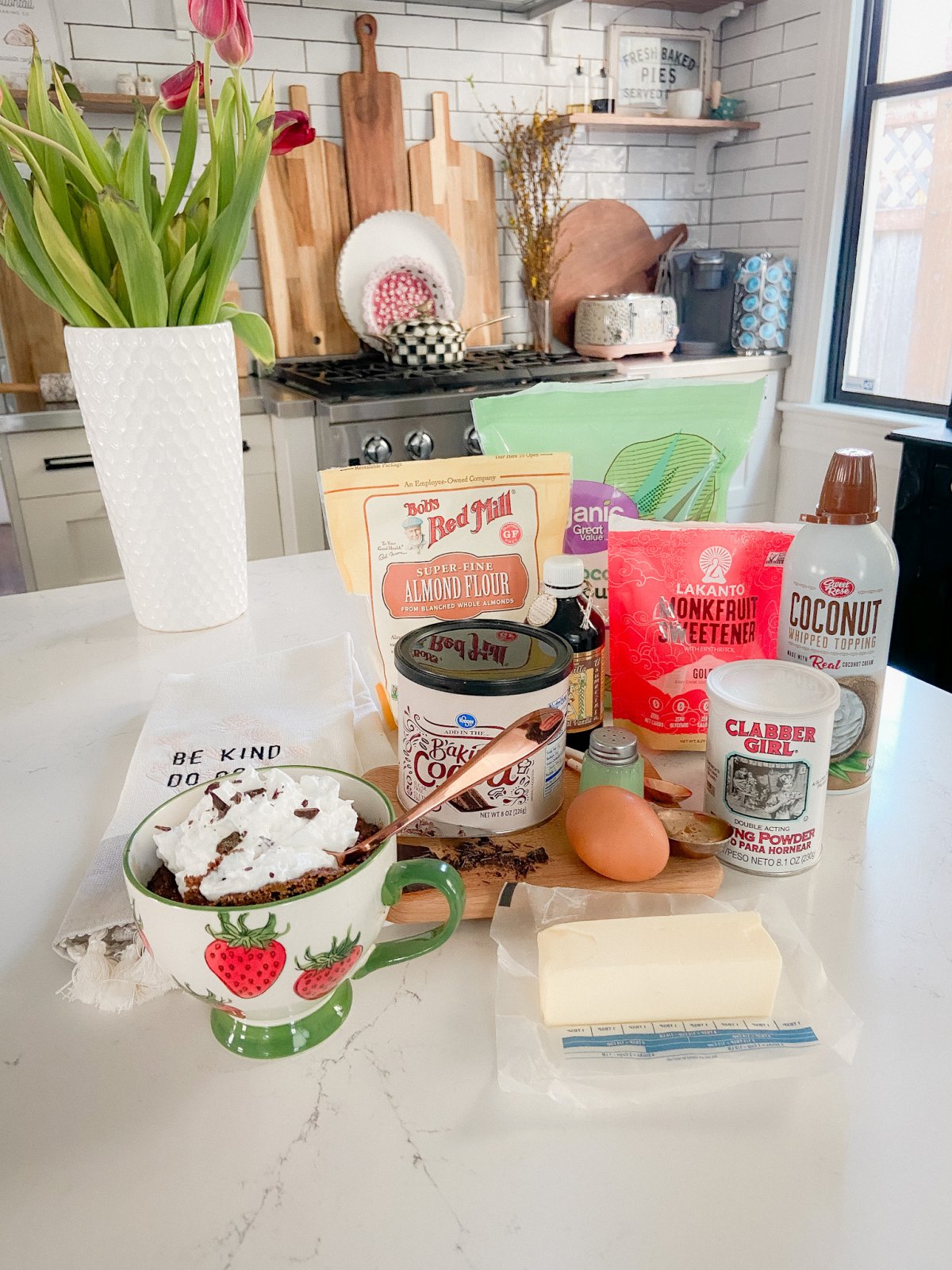 Another reason you might want to try this recipe is if you are trying to reduce sugar in your diet. This recipe is sugar-free because the granulated sugar found in most cakes is replaced by monk fruit sweetener.
What is Monk Fruit Sweetener?
My favorite sweetener is monk fruit. You might not know that monk fruit has been used for hundreds of years to sweeten foods. Monk fruit, also known as lo han guo or Swingle fruit (Siraitia grosvenorii), is a small round fruit native to southern China. It has been used for centuries in Eastern medicine as a cold and digestive aid, and now it is also being used to sweeten foods and beverages. Monk fruit sweeteners are created by removing the seeds and skin of the fruit, crushing the fruit, and collecting the juice. The fruit extract, or juice, contains zero calories per serving. I like using monk fruit in my recipes because it's natural and I don't notice an aftertaste.
Chocolate Mug Cake is the Perfect Dessert for One Person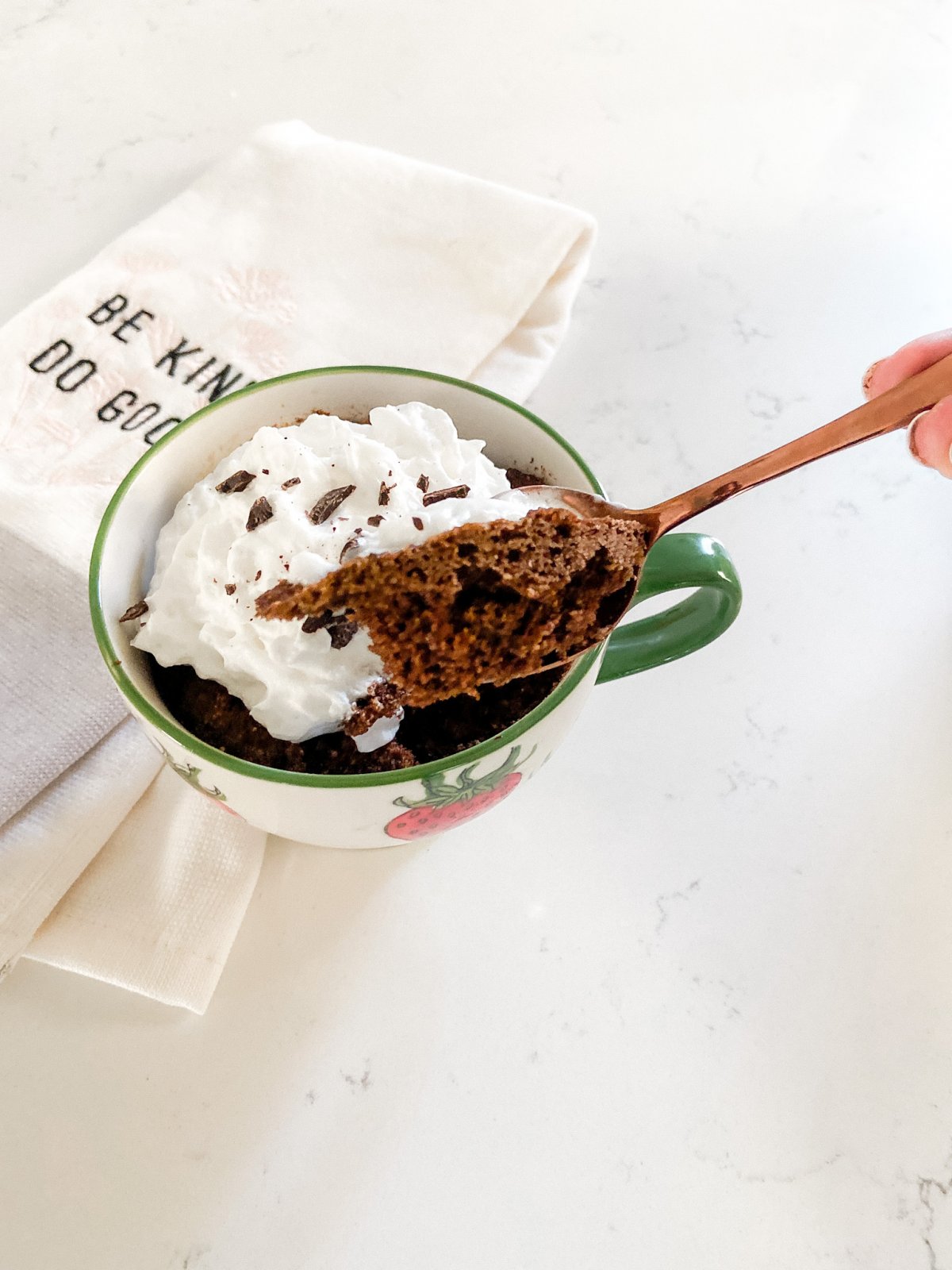 This recipe is measured to make a mug cake with one large mug. It might seem like a small amount but I think it is big enough that you can share some if you want. But if you want to make more than one mug cake, just multiply the ingredients by however many more servings you want to make!
Can Chocolate Mug Cake Be Refrigerated?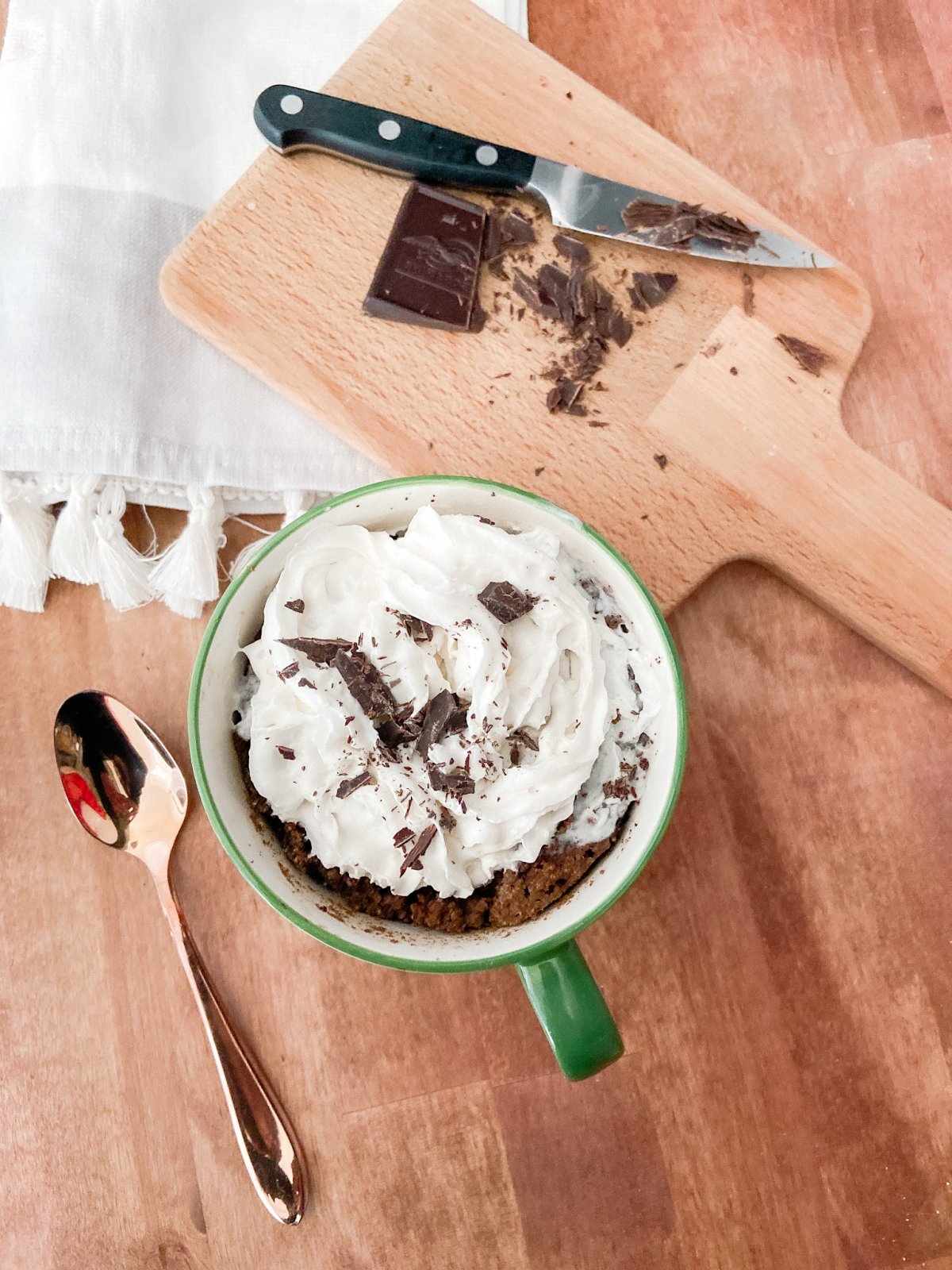 Yes you can refrigerate this cake. The center will fall a bit once it cools. I top this cake with whipped cream so even if you make it ahead and then pull it out of the fridge later you can add the whipped cream and it still looks and tastes great.
Chocolate Mug Cake Toppings
You can eat this cake all by itself. The fudgy, warm cake is so good! I love to top it with almond milk whipped cream and a little sugar-free chocolate on top. SO yummy!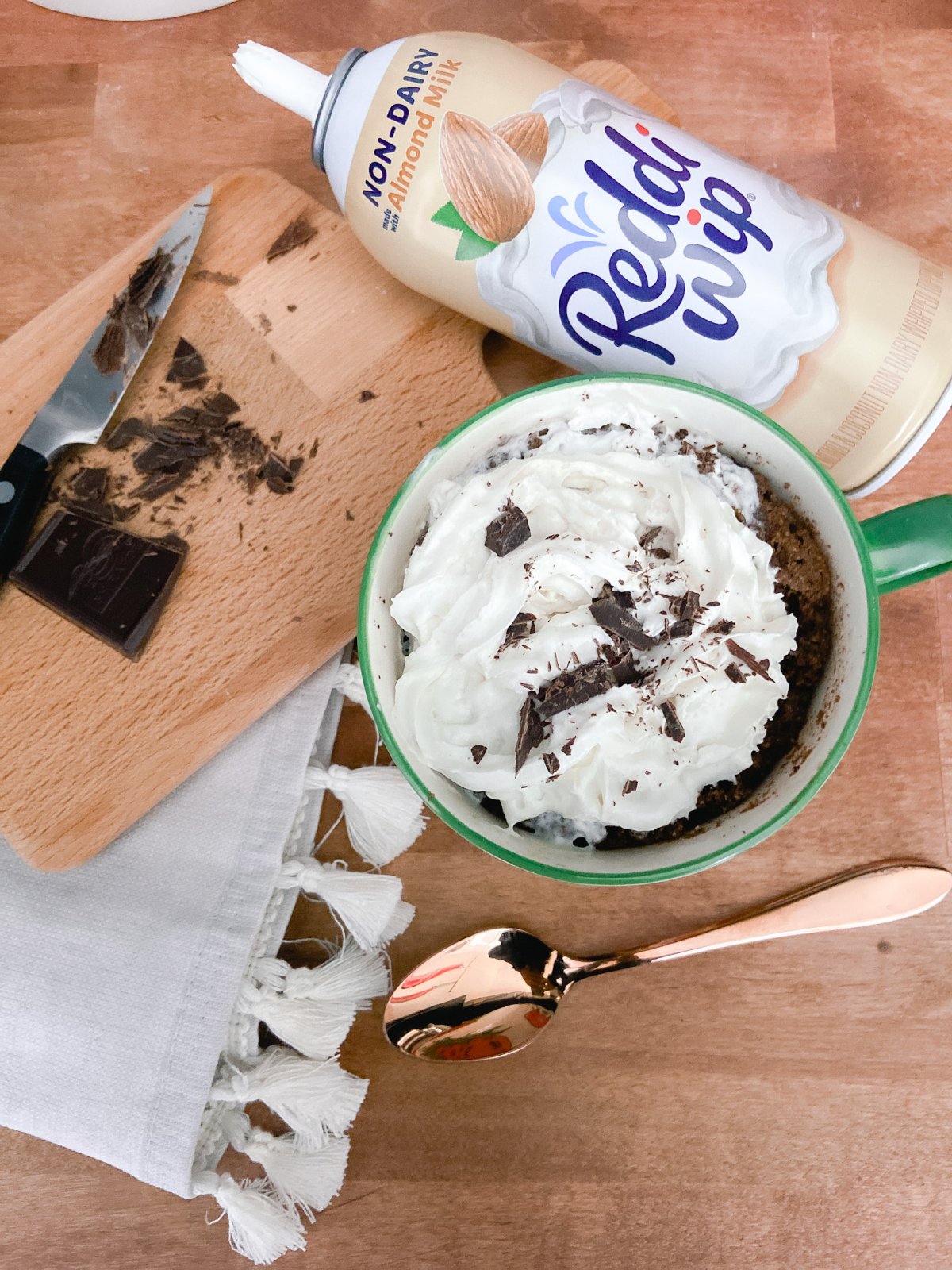 The Easiest 5-Minute Low-Carb Keto Chocolate Mug Cake Printable Recipe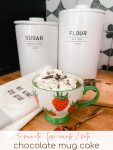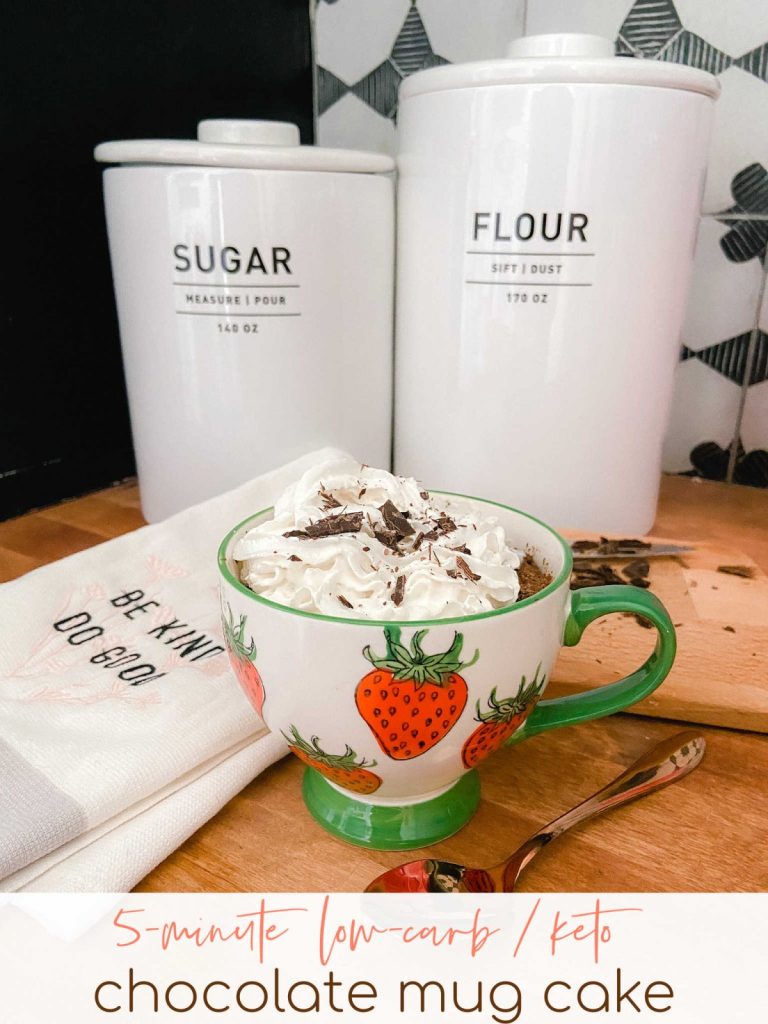 The Easiest 5-Minute Low-Carb Keto Chocolate Mug Cake
The Easiest 5-Minute Low-Carb Keto Chocolate Mug Cake! Need a sweet treat but want to stay on track? Make this easy cake for one!
Prep Time 3 minutes
Cook Time 2 minutes
Servings 1
Calories 320 kcal
Ingredients
1 T. butter
2 T. almond flour
1 T. coconut flour
2 T. monk fruit sweetener
1 T. unsweetened cocoa powder
1/2 t. baking powder
1/8 t. salt
1 large egg
1 T. water
1/2 t. vanilla
Instructions
Add butter to mug and microwave 30 second until melted.

To mug add — almond flour, coconut flour, monk fruit, cocoa powder, baking powder and salt. Stir.

Add egg, vanilla and water. Stir and pat down into a flat top with a spatula.

Microwave one minute and check. If center is still liquid, microwave additional 15 seconds until the center looks cooked. It will be firm.

Take mug out and add whipped cream if you want to eat it immediately. If you want to eat it later you can cover it and put it in the fridge. Then take it out and add whipped cream and serve.
Recipe Notes
4 grams NET carbs (8 grams total carbs, 4 grams fiber)
Keto Chocolate Cheesecake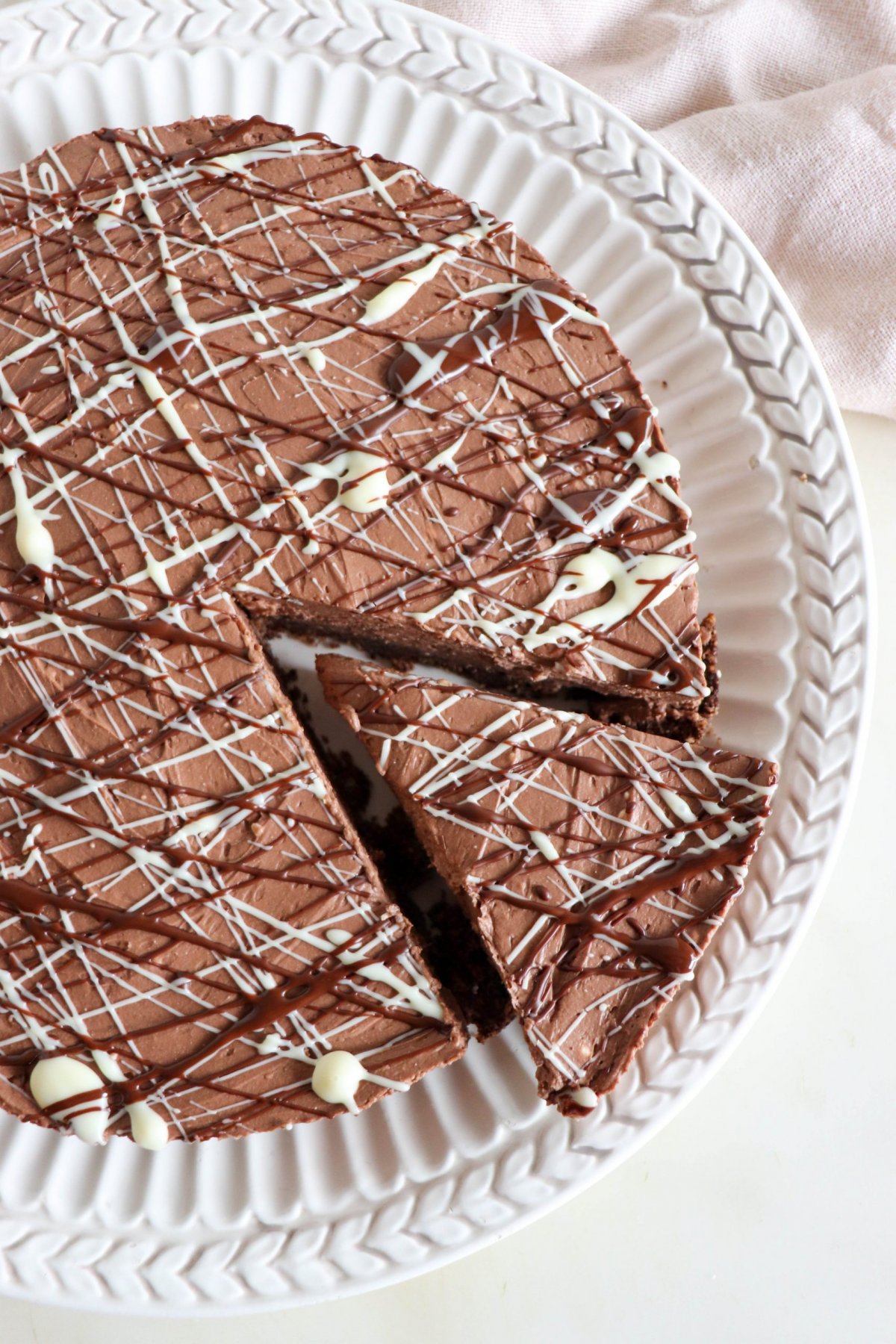 If you are looking for another delicious low-carb and keto dessert to make, check out my friend Heather @HomemadeHeather's Chocolate Keto Cheesecake. It looks so good and I can't wait to make it! Every month Heather and I are collaborating and sharing low-carb and keto recipes! This month it's desserts. She also shared the yummiest Tuscan Keto Soup. So good! Be sure to follow her on Instagram for amazing keto recipes as well as other great ideas!
More Delicious Keto Low-Carb Desserts
Here are a few other low-carb recipes I love making!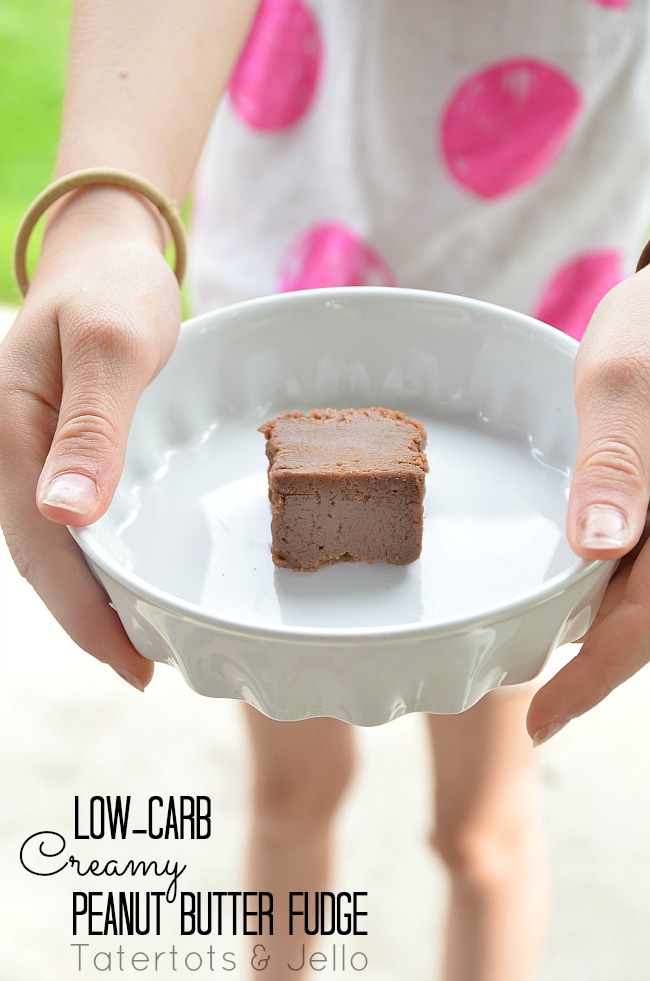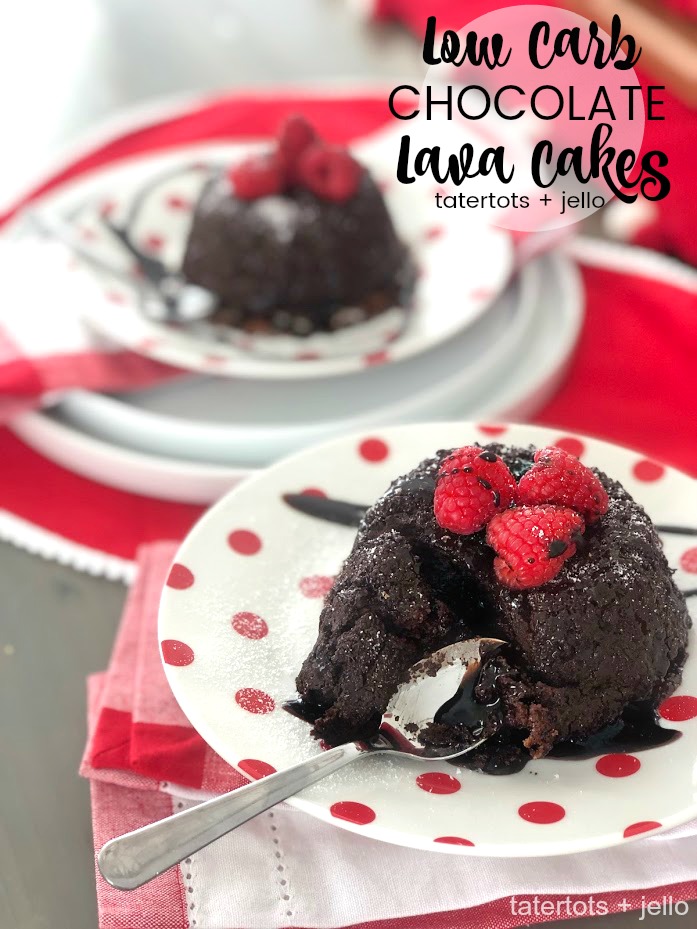 What's your favorite recipe right now?
xoxo