Triple Layer Pumpkin Cheesecake Bars. Creamy layers of cheesecake and pumpkin cheesecake with a ginger cinnamon crust for a low-carb treat perfect for Fall!
Triple Layer Pumpkin Cheesecake Bars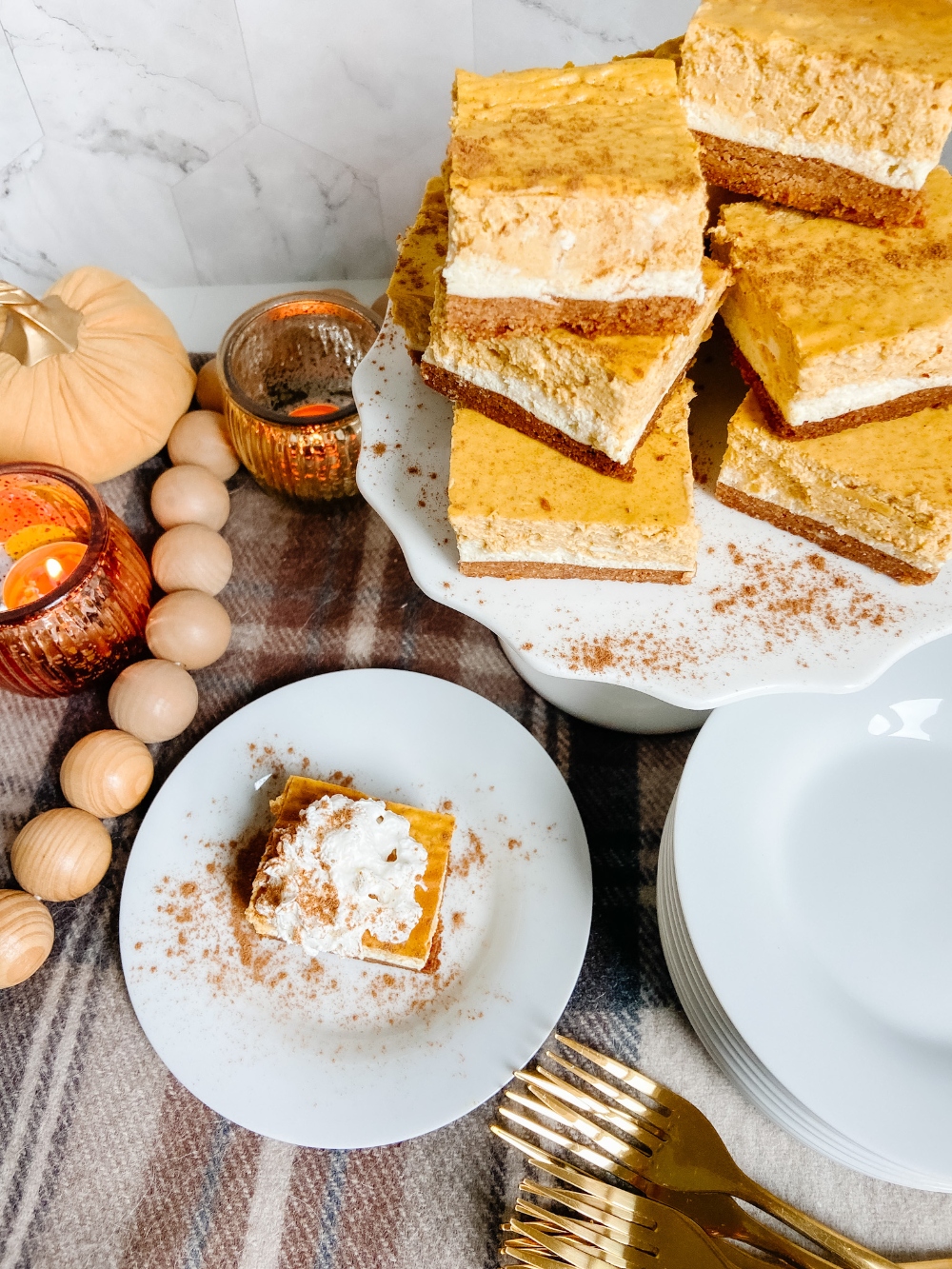 There's something so special about pumpkin treats in the fall. This week we were challenged to share a "healthy" Thanksgiving recipe. I experimented with a few different variations of these bars and came up with these triple layer pumpkin cheesecake bars. The top layers are dreamily creamy and the crust like a gingersnap cookie! Yum!
Healthy Thanksgiving Recipes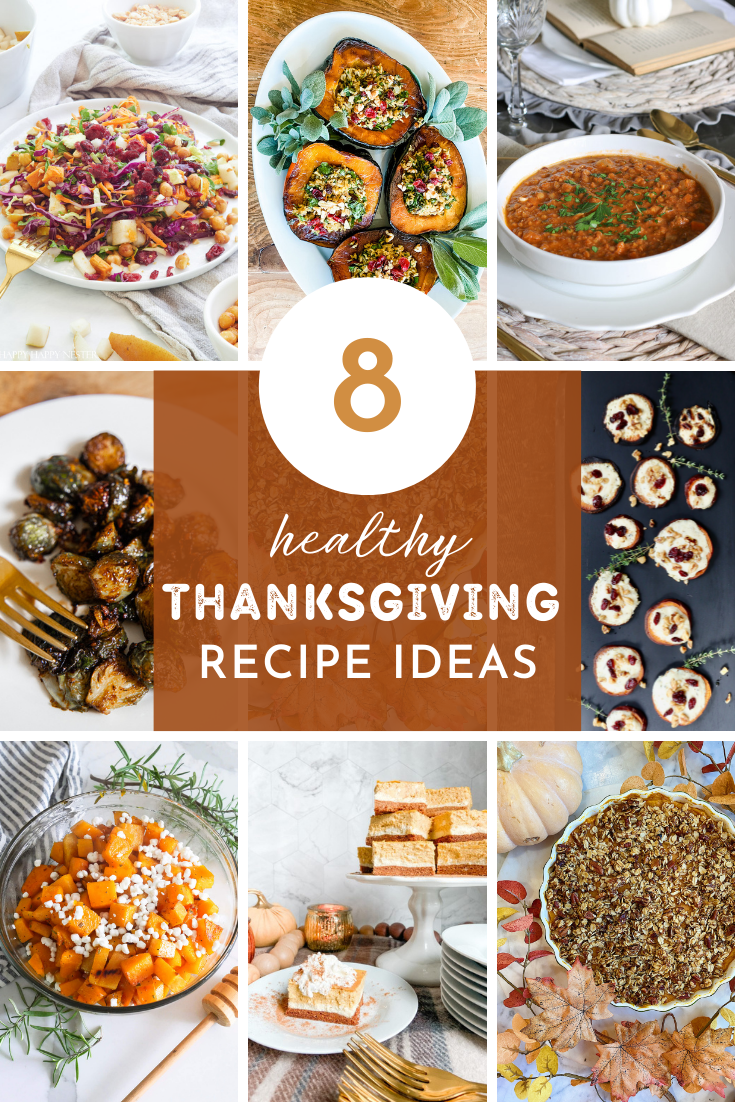 I'm joining friends who are also sharing healthy THanksgiving recipe ideas!! Scroll to the bottom and pop over and grab their recipes!!
A Sugar-Free Dessert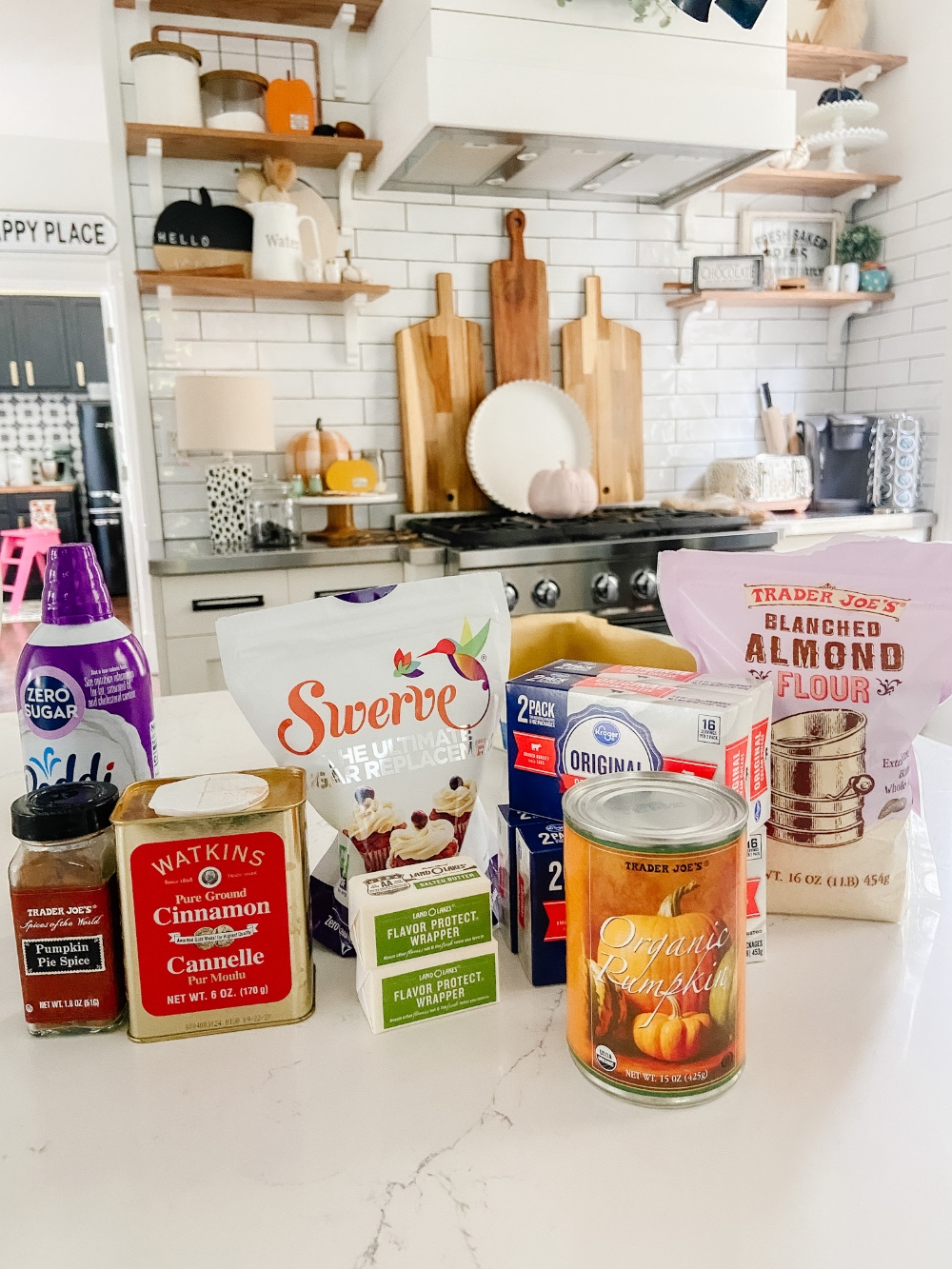 By switching out the sugar for Swerve I cut out all of the sugar in this dessert. The best part is yo CAN'T tell they are sugar free! I served them to my kids and they had no idea they were sugar free. Swerve doesn't have an aftertaste and after a few tries, I reduced the amount of swerve so that the pumpkin flavor and cinnamon really comes through. They are not overpoweringly sweet. Of course if you love a really sweet treat you can add more sweetener!
Low-Carb Pumpkin Bars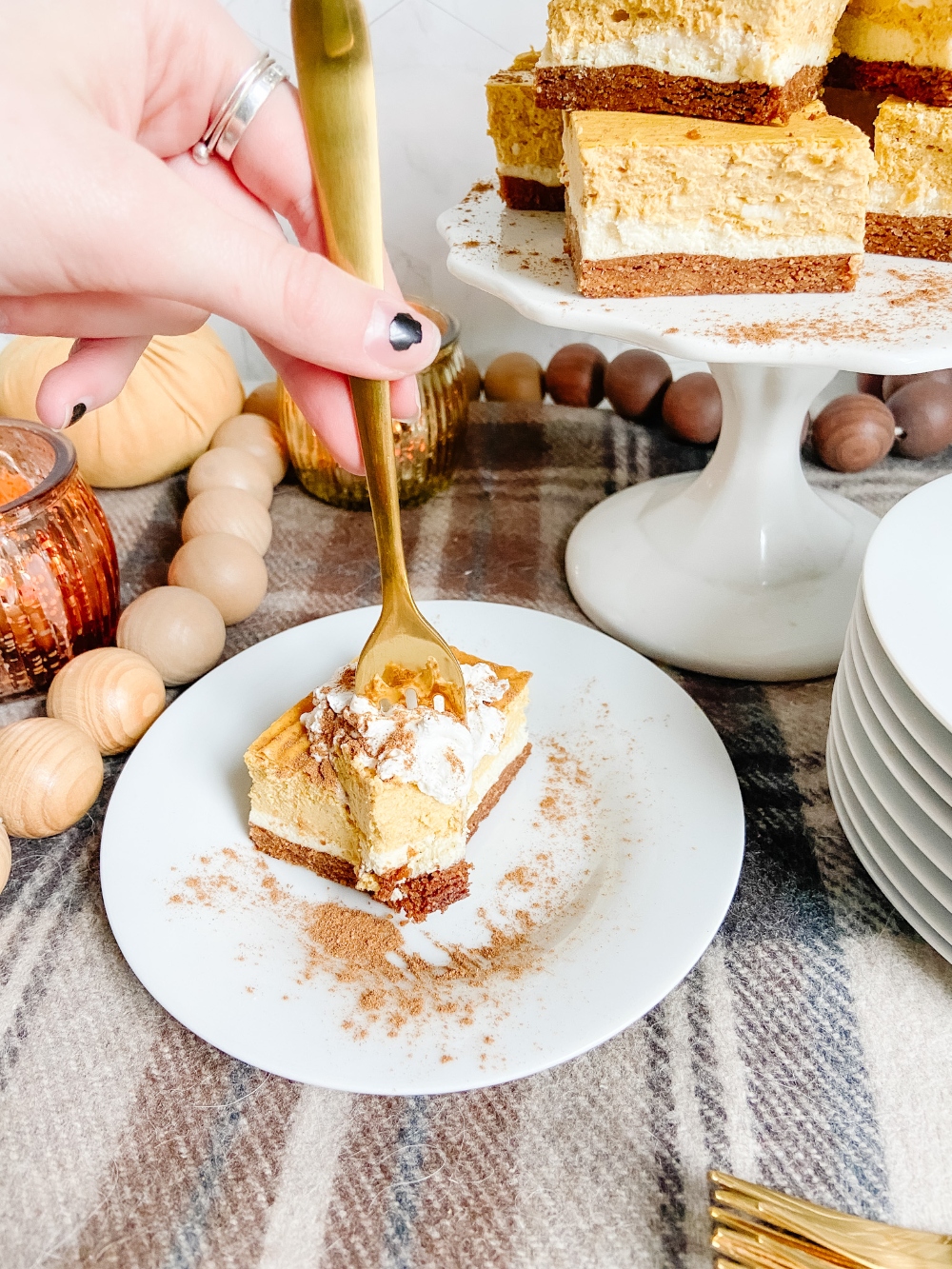 Taking out the wheat flour and sugar also makes these bars low carb which is perfect for many different lifestyles like diabetics and aso people following a Paleo diet.
Keto-Friendly Fall Treat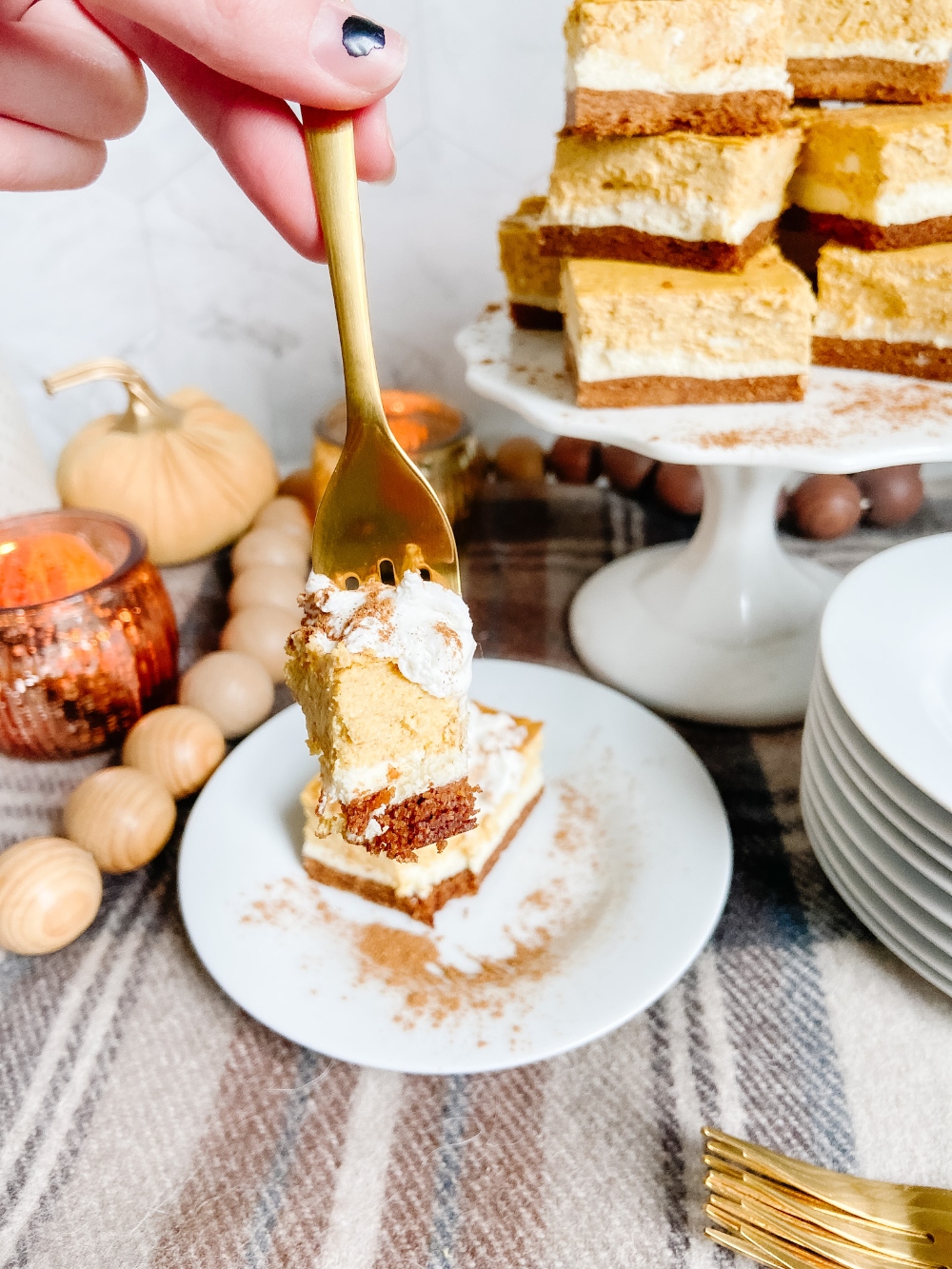 I am currently take a break from Keto and following a mostly low-carb diet through the holidays. I plan to go back on Keto in the new year. But in the meantime I can eat these and also have them when I go back to Keto! I plan on having some stuffing and potatoes on Thanksgiving so I thought cutting some carbs in the dessert would offset the other carbs. Haha!
Comparing Pumpkin Bars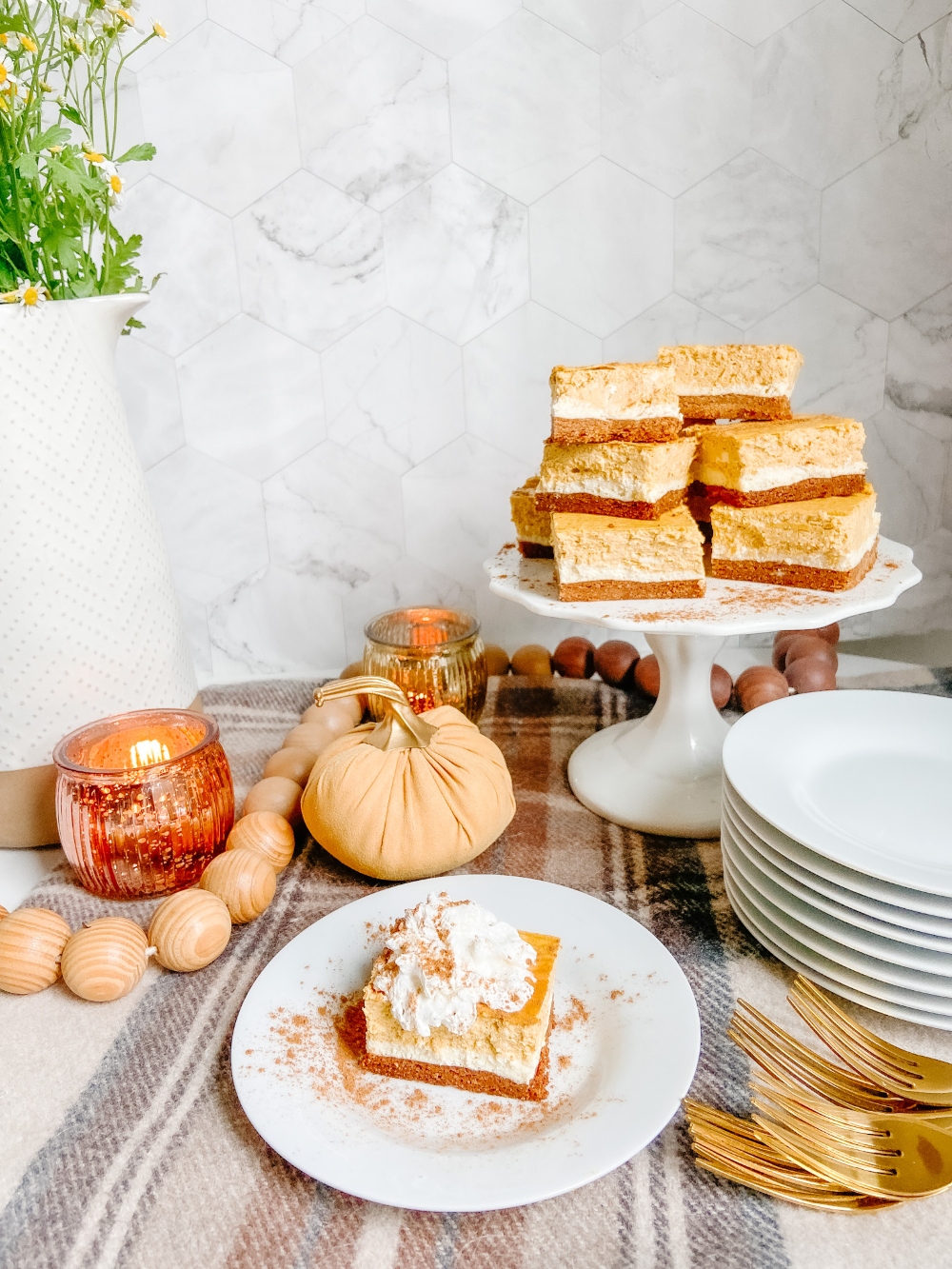 In case you are wondering, here is how these low-carb cheesecake pumpkin bars stack up next to traditional layered cheesecake pumpkin bars:
Calories: 230 versus 220
Saturated Fat: 10g versus 7g
Net Carbs: 3g versus 24 g
Sugars: net 0g versus 19g
Protein: 6g versus 4g
What Type of Almond Flour to Use
I used Trader Joe's brand almond flour for this recipe. You can also use blanched almond flour if you want a crust that is a lighter brown flour. I added ginger and cinnamon to the crust to give it a gingersnap flavor and that adds a darker color to the crust. I love the addition of those spices and the way they contrast with the pumpkin.
What Kind of Sweetener to Use
I used swerve powdered sweetener. I like the way it responds in baking. But you can also use powdered monkfruit or Erythritol. I found that it's easiest to find Swerve. Almost any grocery store carries it in the baking section!
How to Determine Net Carbs
If you aren't familiar with keto or low-carb recipes, there is an equation to determine NET carbs. You take the total carbs, subtract fiber and sugar alcohols and that gives you the NET carbs. This recipe is divided into 24 servings and each bar has THREE net carbs.
Steps to Making Layered Pumpkin Cheesecake Bars
There are three steps to making these creamy pumpkin cheesecake bars.
Make the Crust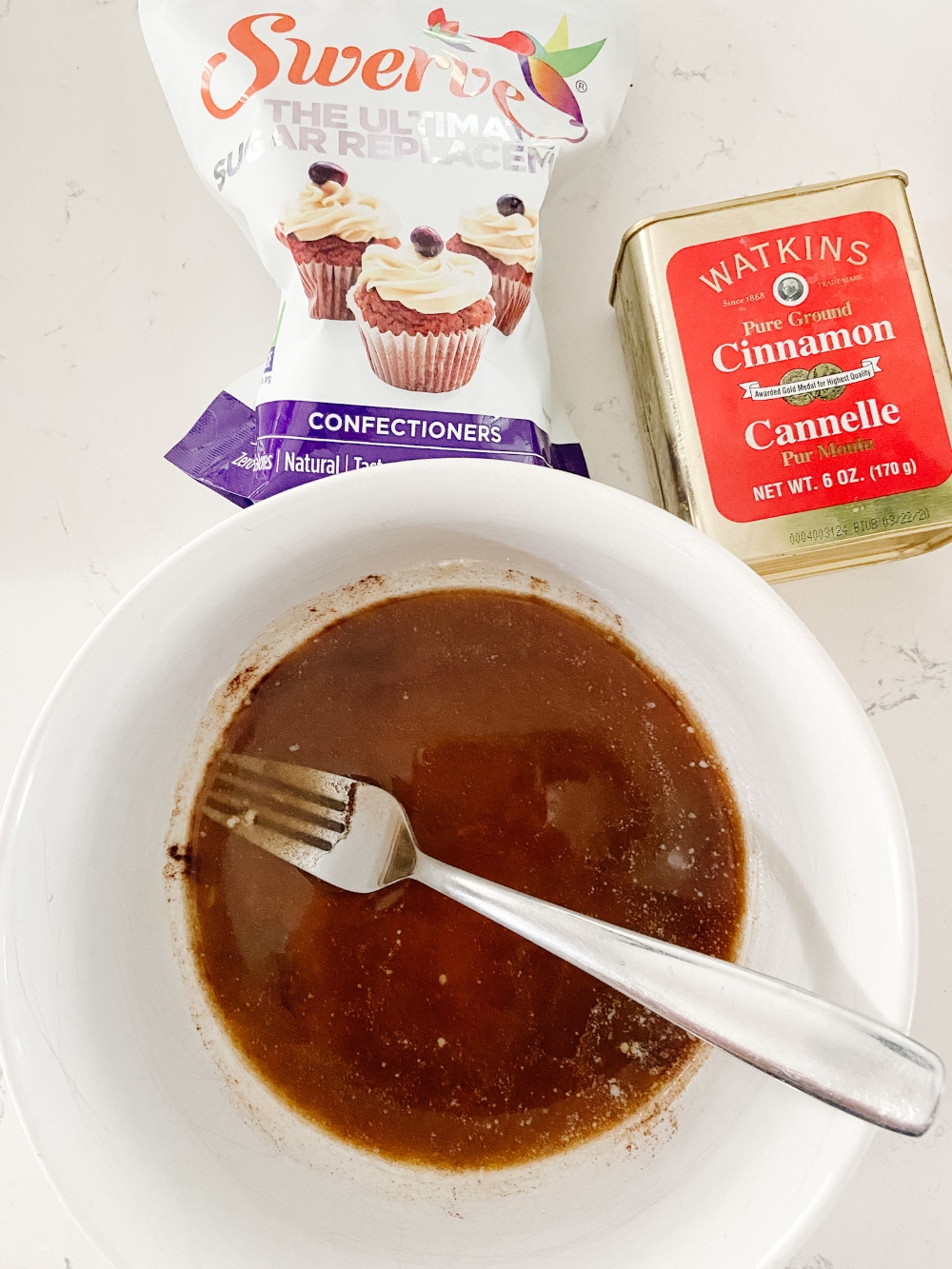 Combine the almond flour, melted salted butter, sweetener (Swerve), cinnamon and ginger. Press the mixture into a 13×8 pan that has been lined with parchment paper. Press flat with a spatula or flat baking cup. Let it cook at 350-degrees for 15 minutes. After 15 minutes take the crust out and let it cool off while you make the cheesecake filling.
Make Cheesecake Filling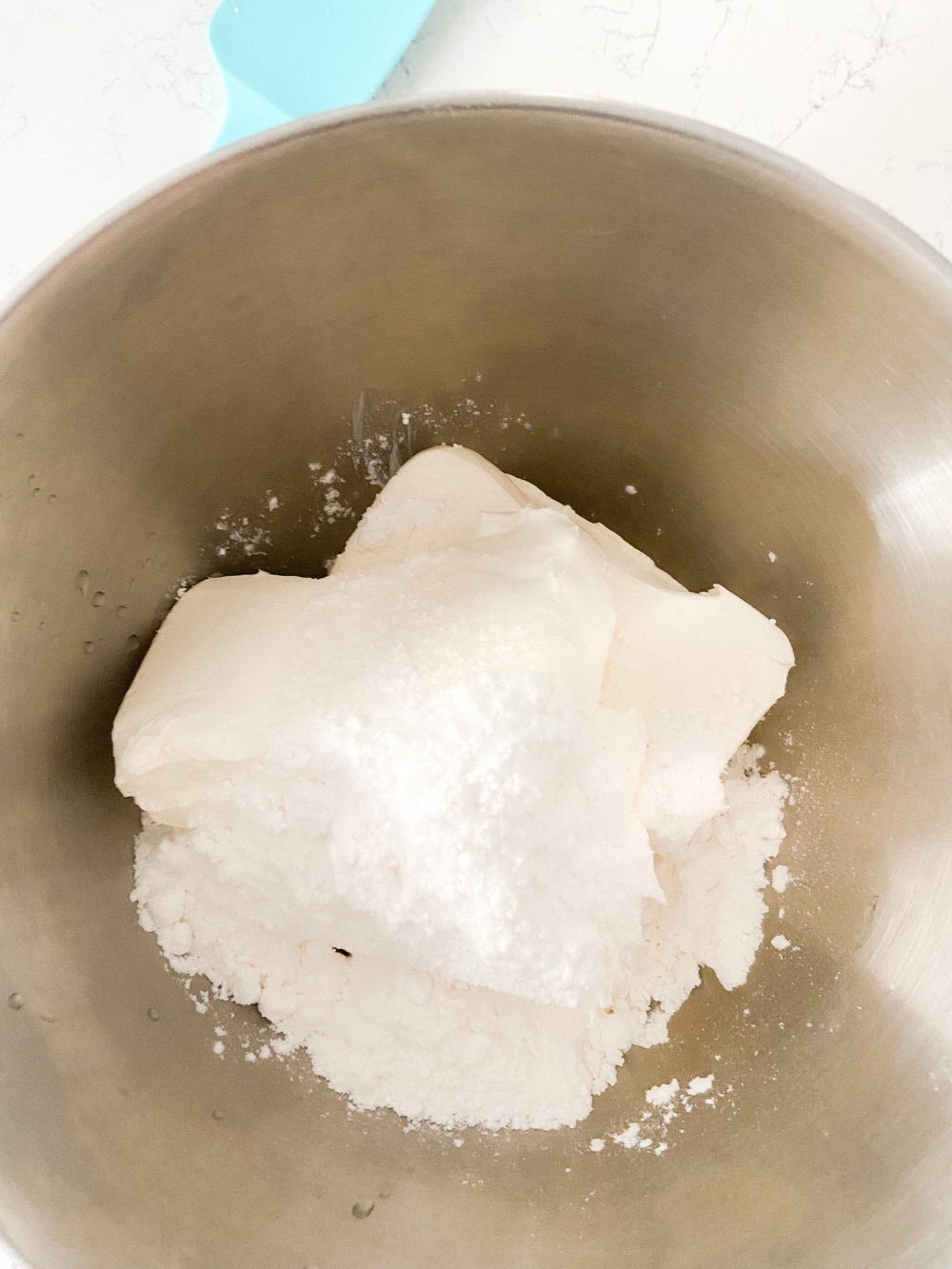 Combine 4 blocks of cream cheese and sweetener (Swerve). Beat with a ixer until combined Then add eggs and beat on low until smooth. Transfer half to the baking sheet and spread evenly.
Make Third Layer
Now add pumpkin puree, pumpkin pie spice and beat on low until combined. Gently spread pumpkin layer over the plain cheesecake layer until it is spread across the whole pan.
Bake Cheesecake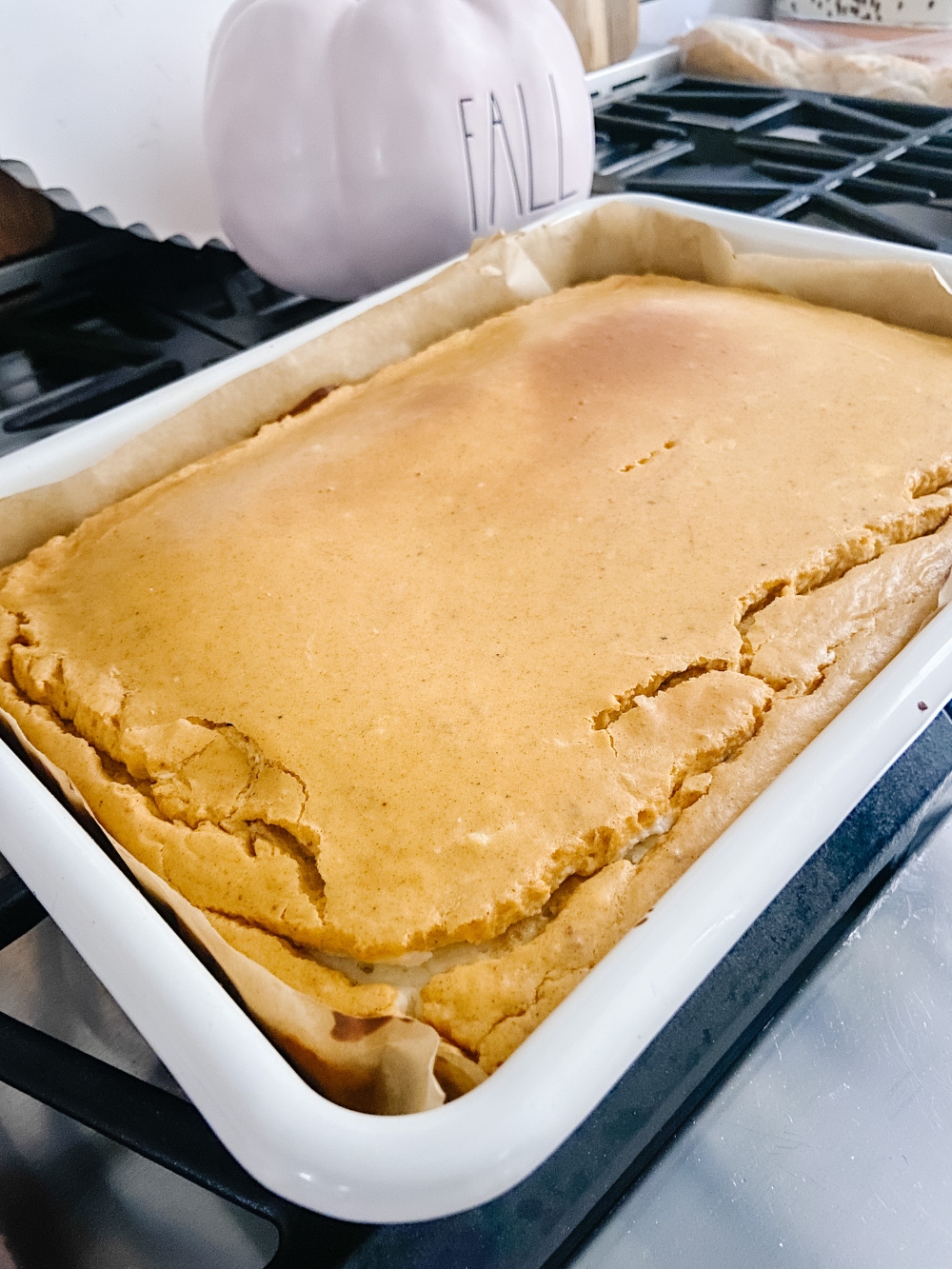 Bake at 350-degrees until cheesecake is baked. This timing will depend on your oven and altitude. I checked mine after 45 minutes and it was done.
Cool the Cheesecake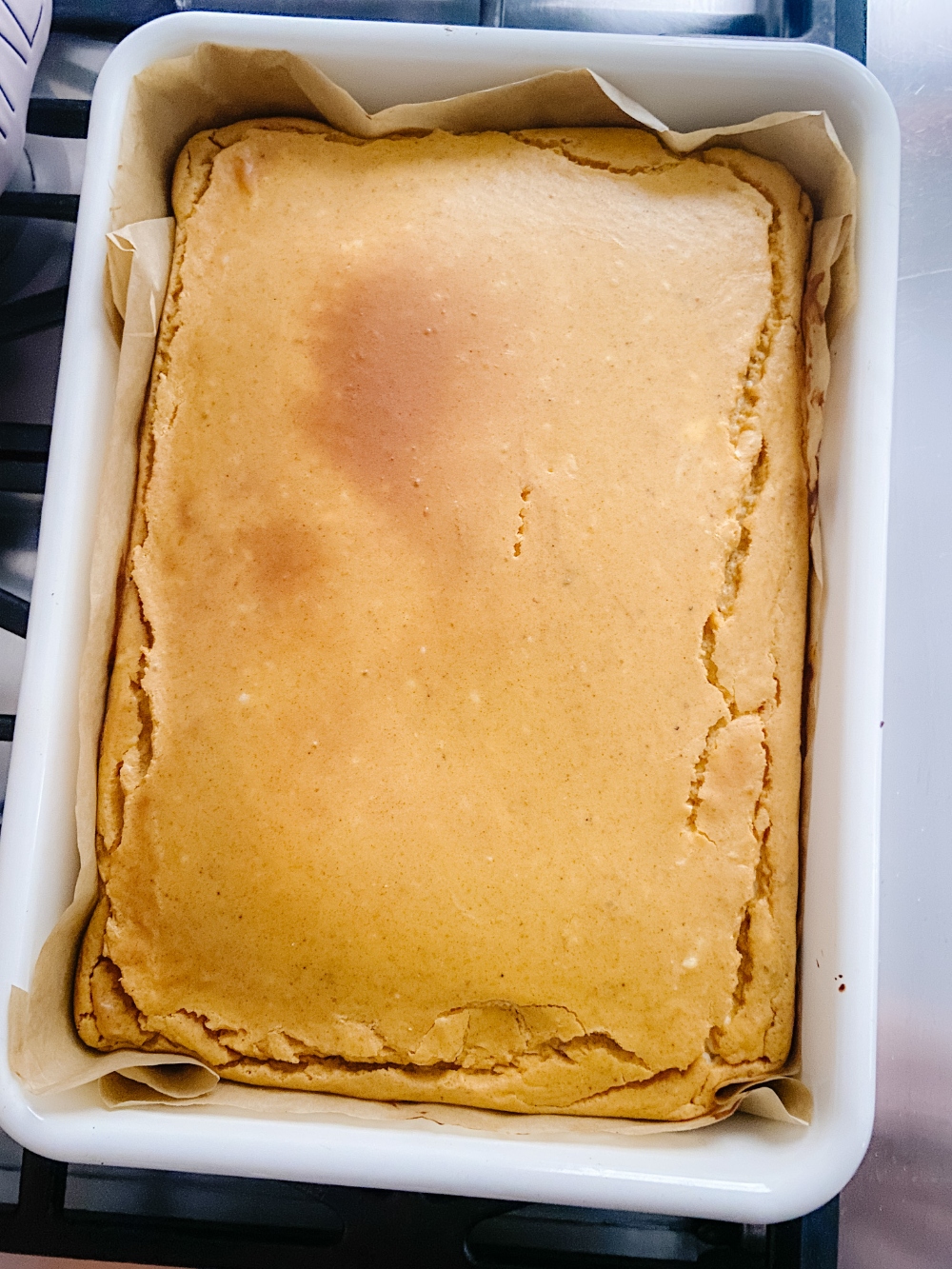 For the cheesecake to be cut into squares it needs to be very cool. I recommend letting it set in the refrigerator overnight. Then cut it into 24 pieces and add whipped cream and sprinkle with cinnamon or pumpkin pie spice!
Printable Triple Layer Pumpkin Cheesecake Bar Recipe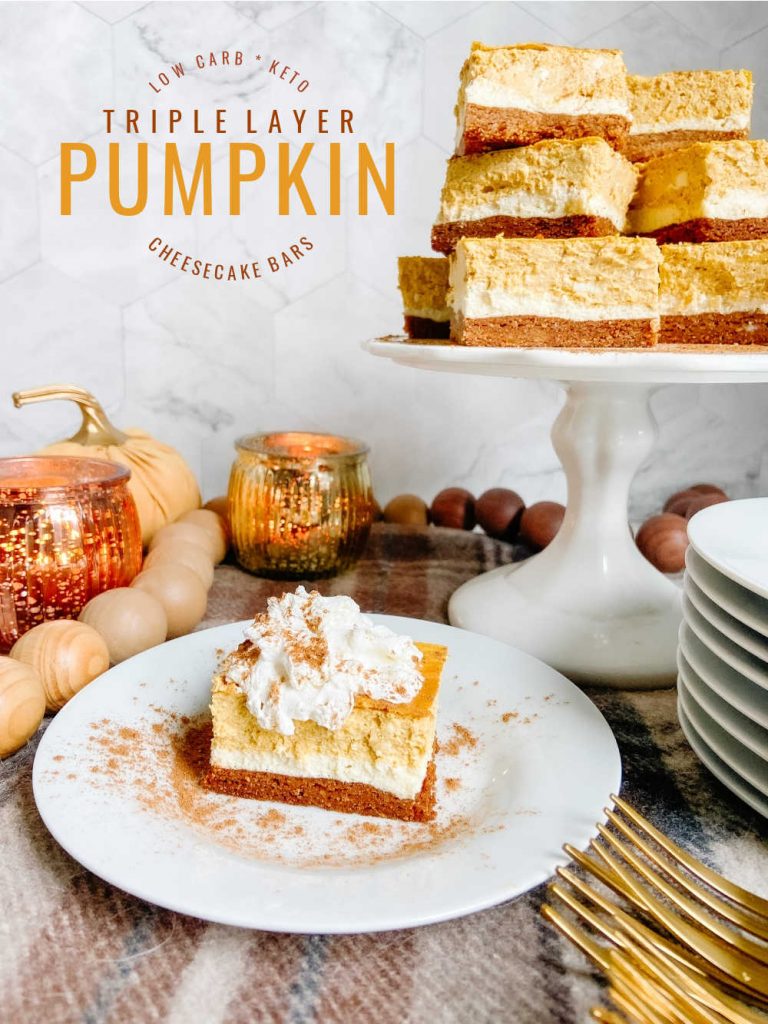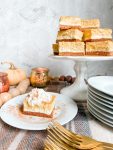 Triple Layer Pumpkin Cheesecake Bars (Low-Carb, Keto)
Triple Layer Pumpkin Cheesecake Bars. Creamy layers of cheesecake and pumpkin cheesecake with a ginger cinnamon crust for a low-carb treat perfect for Fall!
Prep Time 10 minutes
Cook Time 1 hour
Total Time 1 day 1 hour
Ingredients
4 cups almond flour
10 T. salted butter
1/2 t. cinnamon
1/4 t. ginger
Cheesecake Filling
4 8-ounce bricks of cream cheese
1 cup Swerve sweetener
5 large eggs
Pumpkin Filling
1/2 of the remaining cheesecake mixture
8 ounces pumpkin puree
1.5 t. pumpkin pie spice
Instructions
Make Cheesecake Crust
Line bottom of a 9×13 pan with parchment paper. Preheat oven to 350-degrees.

Melt butter in medium bowl add Swerve, cinnamon and ginger. Mix to combine. Stir in almond flour one cup at a time until crust is crumbly but will stick together. Use between 3-4 cups of almond flour until you get the right consistency.

Bake crust for 12-15 minutes until the top of the crust starts to brown. Take out of oven and let cool.
Make Cheesecake Filling
Beat cream cheese and sweetener with a stand mixer until combined. Add eggs and slowly beat until the mixture is not lumpy.
Pour Cheesecake Layer
Pour half of the cheesecake mixture evenly over the crust until the crust is covered. Use a spatula to spread the layer evenly.
Make Pumpkin Layer
To the remaining cheesecake mixture add pumpkin puree and pumpkin pie spice. Stir until combined
Pour Pumpkin Cheesecake Layer
Gently pour remaining pumpkin cheesecake layer over the plain cheesecake layer. Use spatula to spread the layer evenly.
Bake the Cheesecake
Put the cheesecake in the oven at 350-degrees for 45-55 minutes. At 45 minutes insert a fork into the center and see if it comes out cleanly. That means it is ready to take out.
Cool Cheesecake in Fridge
Take cheesecake out of oven and let cool on countertop. Once cool, cover with plastic wrap and let cool in refrigerator overnight.
Serve and Enjoy
Take cooled cheesecake out of oven, cut into small squares. Optional — top with whipped cream and cinnamon or pumpkin pie spice. Enjoy!!
h3>8 Delicious and Healthy Thanksgiving Recipes

Healthy Sweet Potato Soufflé // My 100 Year Old Home
Triple Layer Pumpkin Cheesecake Bars // Tatertots & Jello
Roasted Butternut Squash with Goat Cheese // Grace In My Space
Vegan Wild Rice Stuffed Squash // Most Lovely Things
Thanksgiving Salad Recipe With Cranberries // Happy Happy Nester
Air Fryer Roasted Maple And Balsamic Brussel Sprouts // Twelve On Main
How to Cook Lentils for Simple Healthy Thanksgiving Leftover Meal // The Design Twins

Sweet Potato Rounds // My Sweet Savannah
More Thanksgiving Recipes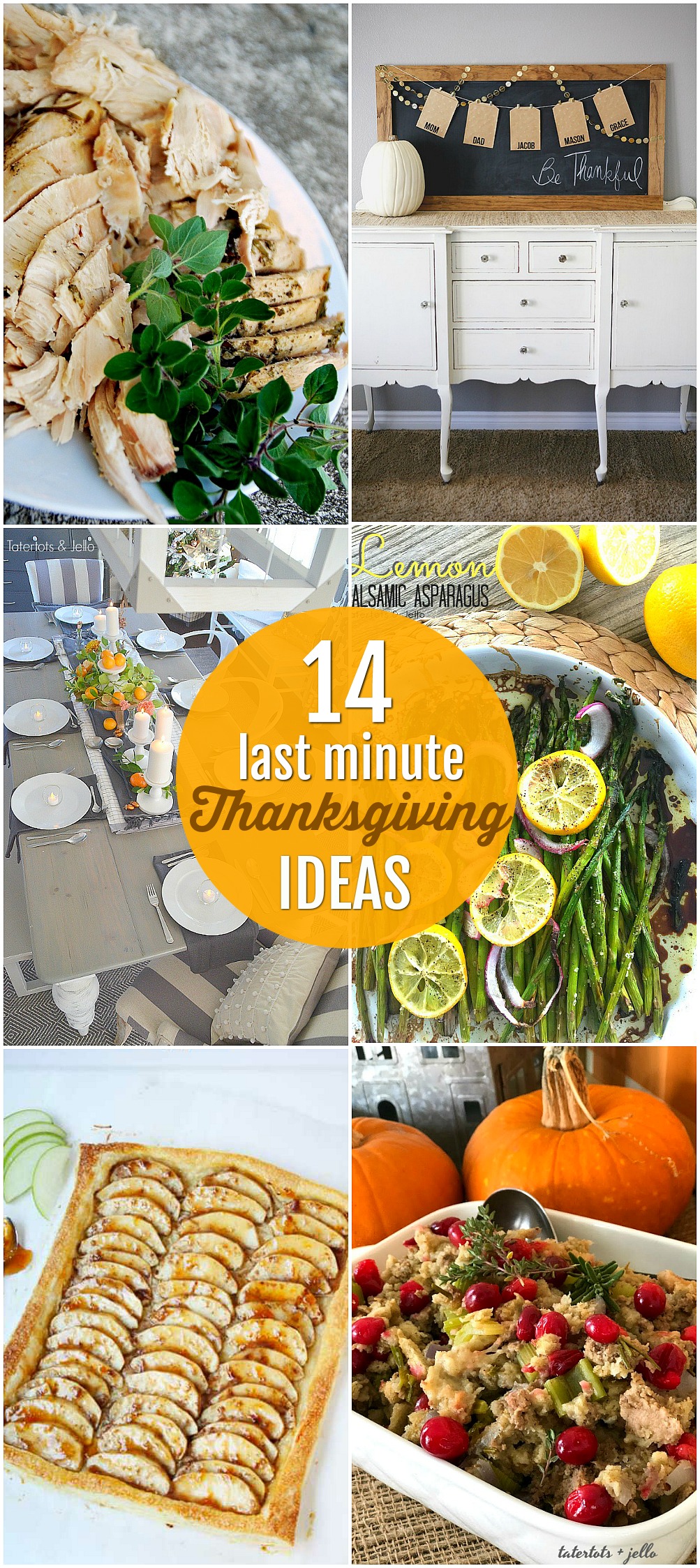 No need to stress, Thanksgiving is easy with these 14 fast and simple ideas!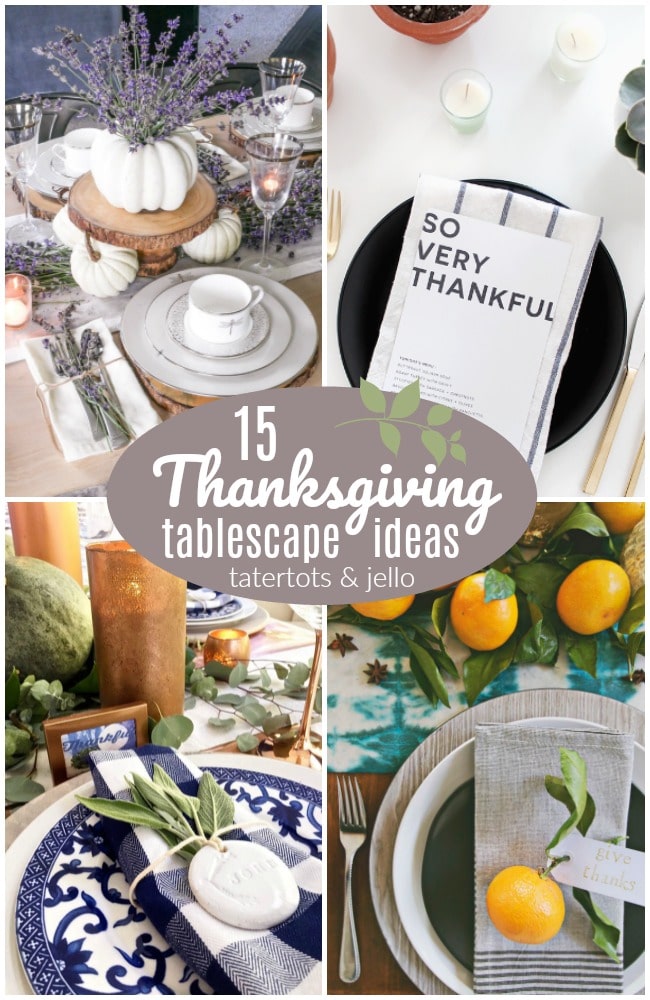 So many ways to set a beautiful Thanksgiving table!
Which Thanksgiving Recipe do you want to try first?
xoxo