Beauty and the Beast Molten Chocolate Souffles with Strawberry Roses
Disney's Beauty and the Beast is one of our favorite stories. We are counting down the days to see the new live-action Beauty and the Beast movie! And here's something you may not know — there is also a wonderful NEW Beauty and the Beast spin-off novel from Disney Books: Lost in a Book . We are reading it now and were thrilled to be asked by Disney Press to create an idea based on this new book. Find out more about Lost in a Book below!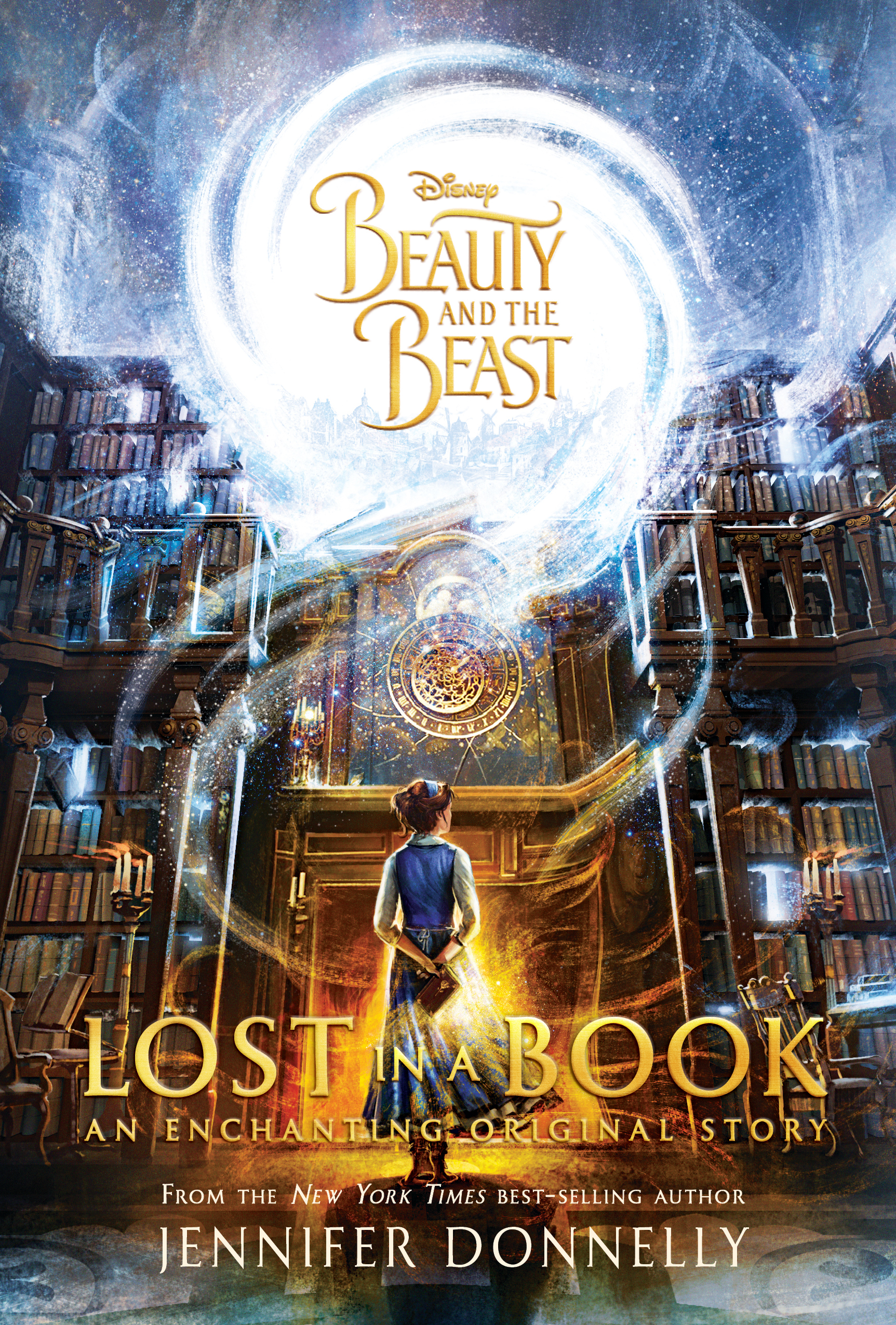 One of the most iconic images from Beauty and the Beast is the red rose. We loved the idea of creating a recipe with roses which remind us of the Beauty and the Beast story.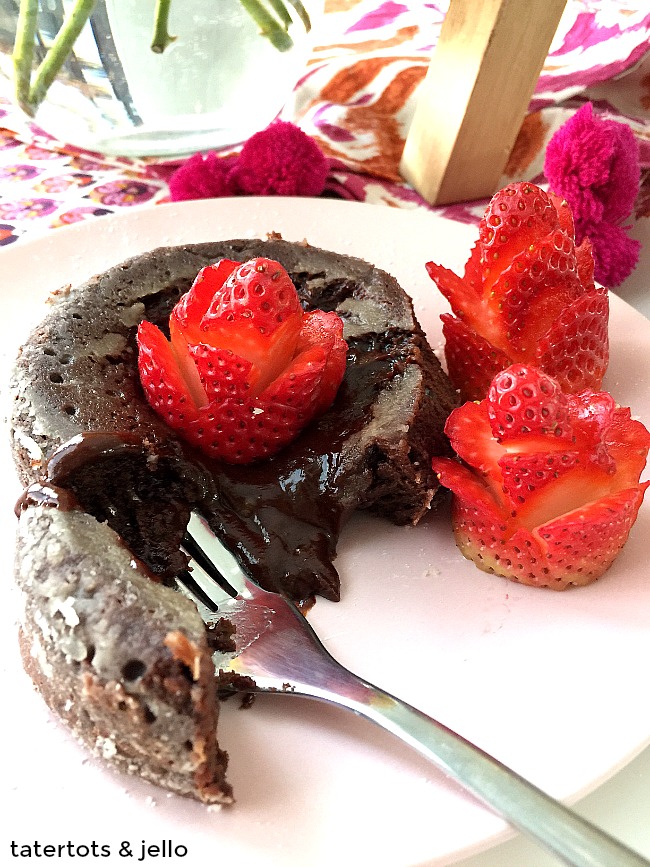 We made french-inspired Molten Chocolate soufflés with Beauty and the Beast Strawberry Roses. These desserts are something that Mrs. Potts would have whipped up at the castle for a fancy dinner!! And the amazing thing is that they are very easy to make (your guests will never know) LOL!! These desserts are technically what are typically called lava cakes.
You can serve these chocolate soufflés either in ramekins or you can pop them upside down onto plates. If you want to serve them this way, just be sure to butter and flour them well beforehand. Another tip is you can cut a circle of parchment paper and put that on the bottom of the ramekin and that helps the top from sticking to the dish (because the top is actually cooked on the bottom).
Here's the recipe for Molten Chocolate Soufflés
Beauty and the Beast Molten Chocolate Souffles and Strawberry Roses
Recipe Type: dessert
Cuisine: french
Author:
Prep time:
Cook time:
Total time:
Serves: 6
Celebrate any special occasion with Molten Chocolate Soufflés and Strawberry Roses. Inspired by the movie Beauty and the Beast, your guests will love the warm, liquid chocolate centers, surrounded by decadent chocolate cake.
Ingredients
6 Tablespoons butter
8 ounces bittersweet chocolate
4 large eggs
1 teaspoon salt
1/4 white sugar
3 Tablespoons flour
also – 2 tablespoons melted butter and flour to butter and flour the ramekins
Instructions
Heat oven to 450-degrees.
Put the chocolate and butter in a microwave safe bowl and heat on low setting until melted. I cooked mine for 3 minutes on 50% heat and stirred it every minute until it was melted. Set aside to cool down.
Mix the flour, sugar and eggs together until they are a light yellow color. About 5 minutes stirring.
Fold the melted chocolate into the egg mixture until combined.
You can refrigerate the mixture for up to a day and use it. If you do refrigerate it, be sure to let it come to room temperature before you bake.
Pour the mixture into your buttered and floured ramekins. I used four large ramekins but the recipe gives you enough batter for 6 small ramekins.
Put ramekins in the oven and cook until they start to rise on the edges. You still want the centers to be liquid. I cooked mine 10 minutes but I used large ramekins. You will have to see how your soufflés look. They will not rise as high as typical soufflés because you want them to have liquid centers.
Take them out of the oven and garnish them with strawberry roses or whipped cream, then serve immediately if serving in ramekins. If you are inverting your soufflés, Let them cool for about 5 minutes, then run a knife around the edge of each dish and invert onto a plate. Garnish and serve.
A note – you can refrigerate the batter overnight and up to 24 hours. So this is a dessert that is great to make ahead of time, then just let the batter come to room temperature before baking. It only takes 10 minutes to bake!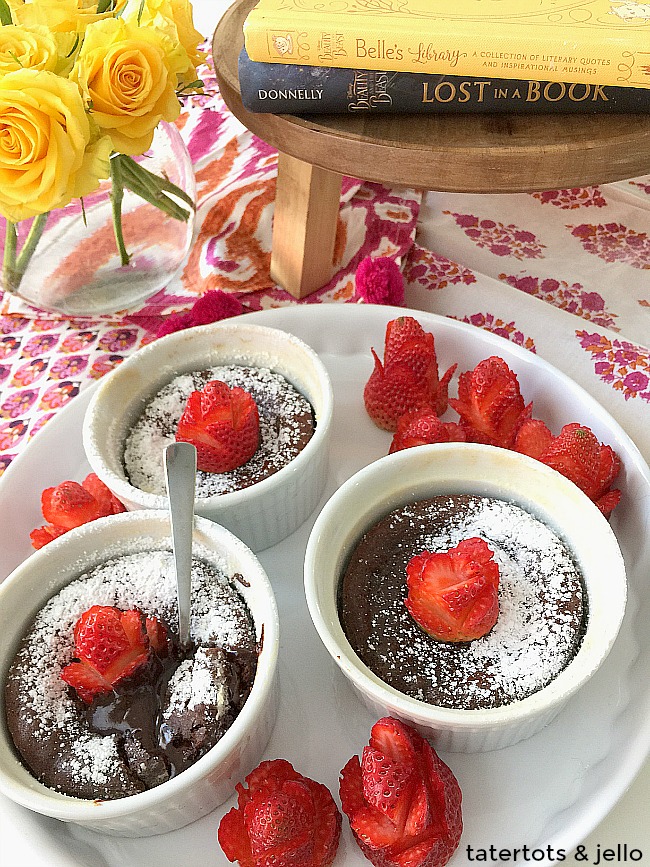 Beauty and the Beast Molten Chocolate Souffles with Strawberry Roses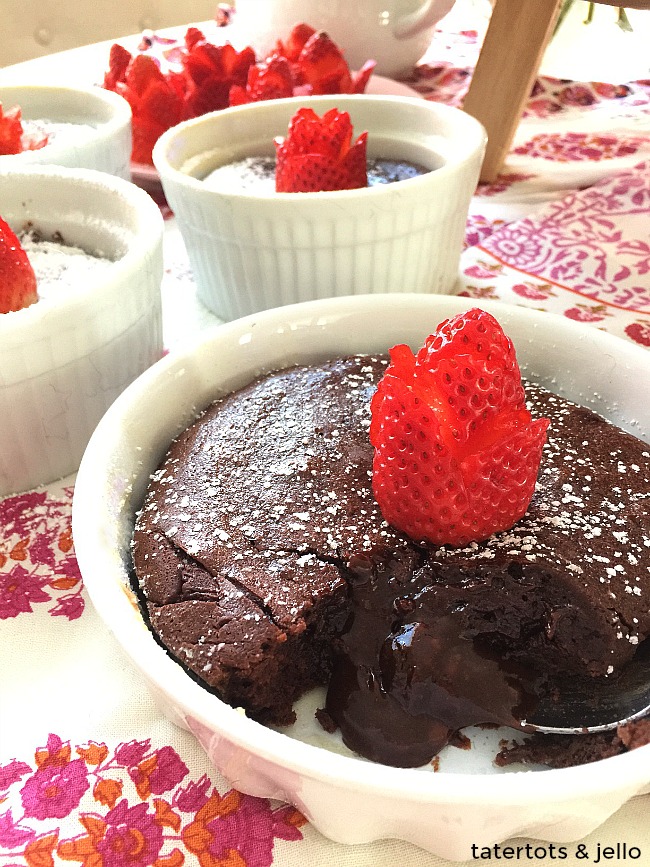 My kids love to read and Belle does too!
Here is a little bit about BEAUTY AND THE BEAST: LOST IN A BOOK
Smart, bookish Belle, a captive in the Beast's castle, has become accustomed to her new home and has befriended its inhabitants. When she comes upon Nevermore, an enchanted book unlike anything else she has seen in the castle, Belle finds herself pulled into its pages and transported to a world of glamour and intrigue. The adventures Belle has always imagined, the dreams she was forced to give up when she became a prisoner, seem within reach again.
The charming and mysterious characters Belle meets within the pages of Nevermore offer her glamorous conversation, a life of dazzling Parisian luxury, and even a reunion she never thought possible. Here Belle can have everything she ever wished for. But what about her friends in the Beast's castle? Can Belle trust her new companions inside the pages of Nevermore? Is Nevermore's world even real? Belle must uncover the truth about the book, before she loses herself in it forever.
The author, Jennifer Donnelly, has written other amazing, award-winning books for young adults and adults, including the Waterfire Saga: Deep Blue, Rogue Wave, Dark Tide, and Sea Spell. Her other young adult novels include These Shallow Graves, Revolution, and A Northern Light, winner of Britain's prestigious Carnegie Medal, the Los Angeles Times Book Prize for Young Adult Literature, and a Michael L. Printz Honor. She has also written Humble Pie, a picture book, and the adult novels The Tea Rose, The Winter Rose, and The Wild Rose. She lives in New York's Hudson Valley. You can visit her at www.jenniferdonnelly.com, or on Facebook, Twitter, and Instagram @jenwritesbooks.
You can find out more about BEAUTY AND THE BEAST: LOST IN A BOOK: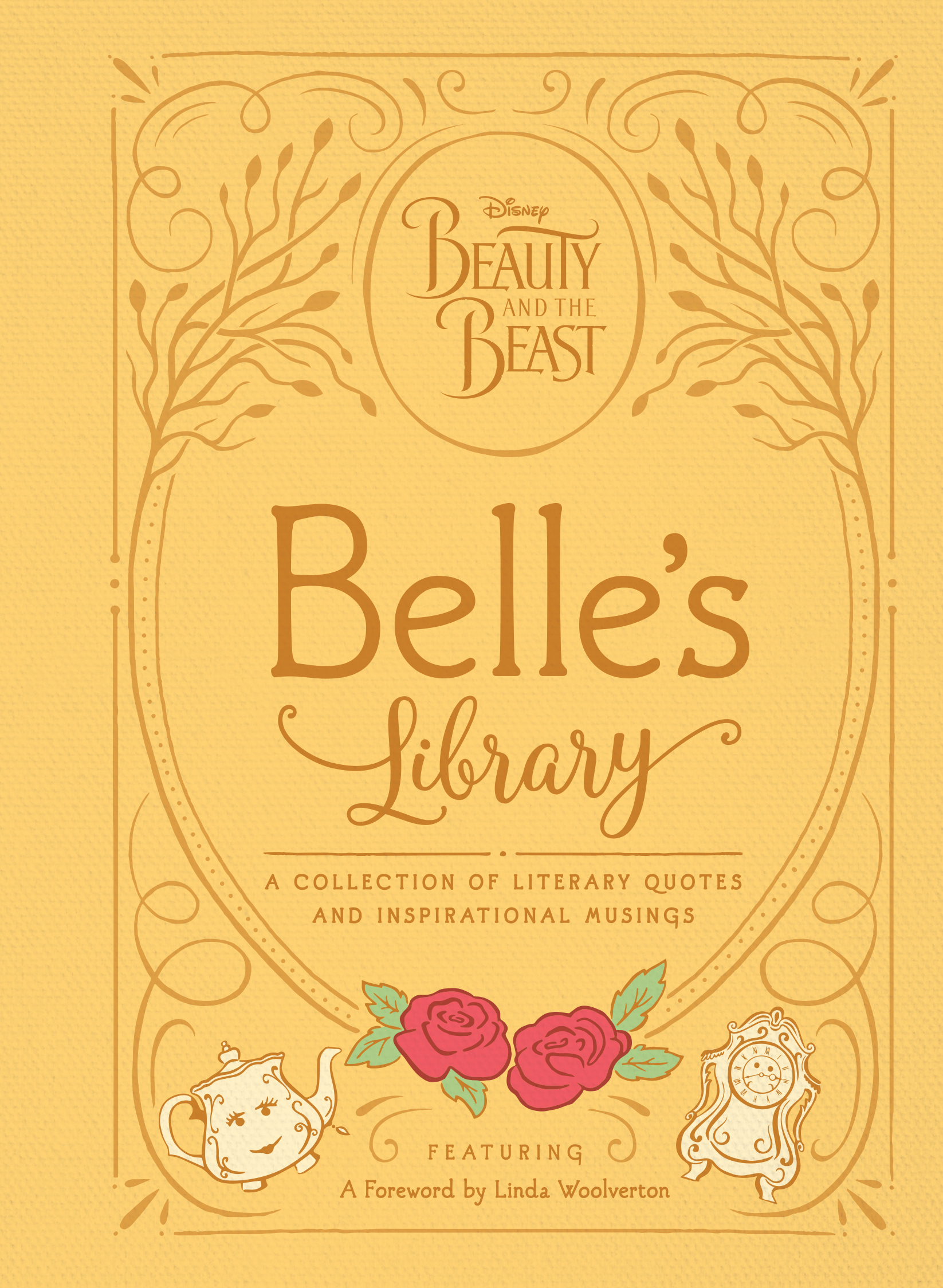 And there is another book – Belle's Library, which has inspiring quotes from some of Belle's favorite books, as well as her insightful notes and colorful drawings. Includes a forward by noted Disney screenwriter Linda Woolverton.
In store January 31, 2017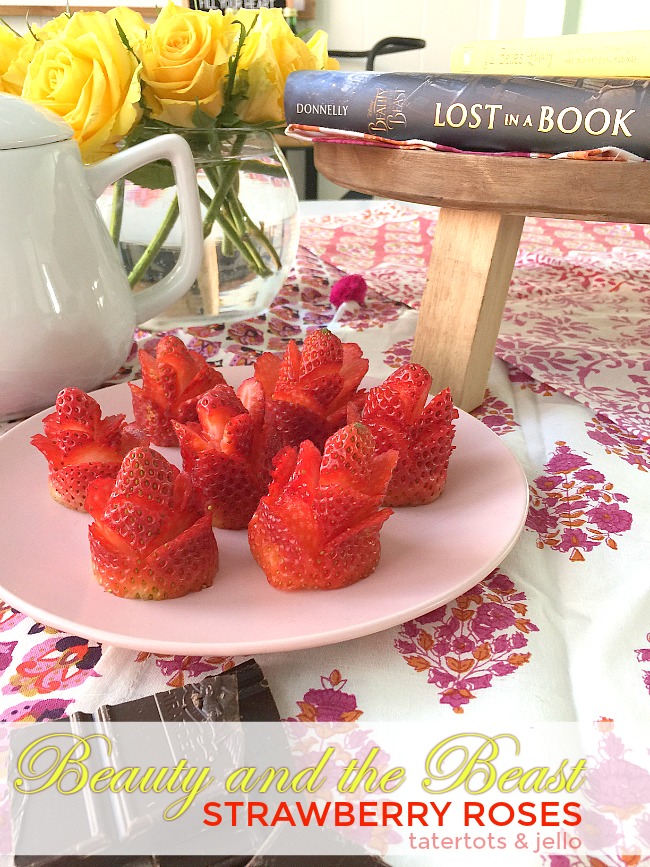 It's also SO easy to make the strawberry roses. You can make one in less than a minute. Here's how:

Make a small cut at the base of the strawberry to make a "leaf".
Use you knife to gently pry the leaf open.
Do this four times around the bottom of the strawberry.
Then do the same thing at the top of the strawberry, making smaller cuts above the bottom "leaves".
Cut the bottom of the strawberry flat so it can stay upright.
Be sure to pick up a copy of Lost in a Book for your kids.
They will love reading about Belle's new adventures!!
Have a Beautiful Day!
xoxo

Thanks Disney Press for inspiring this delicious dessert and giving us a wonderful new book to read! We are also excited to see the new Beauty and the Beast movie. All opinions are our own.