Whimsical Holiday Cottage Home Tour. Add some whimsical character to your holiday home with these easy ideas!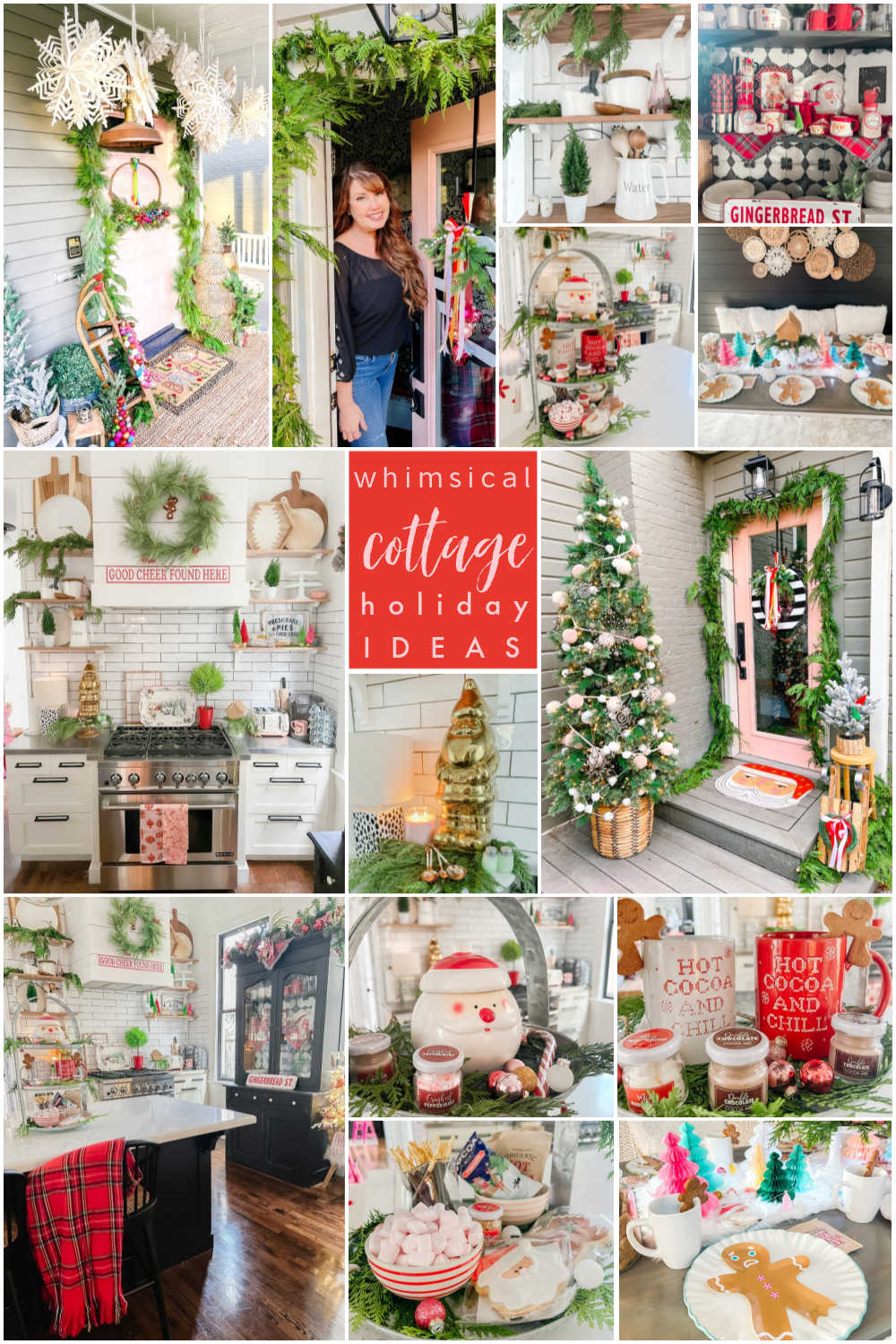 Hello! It's my favorite time of year – the week of Jennifer Rizzo's Holiday Housewalk! And every year I feel so humbled to be included with such amazing designers! If you're new, be sure to start the housewalk tours at the beginning by jumping over to Jennifer's House where she starts this year's tour!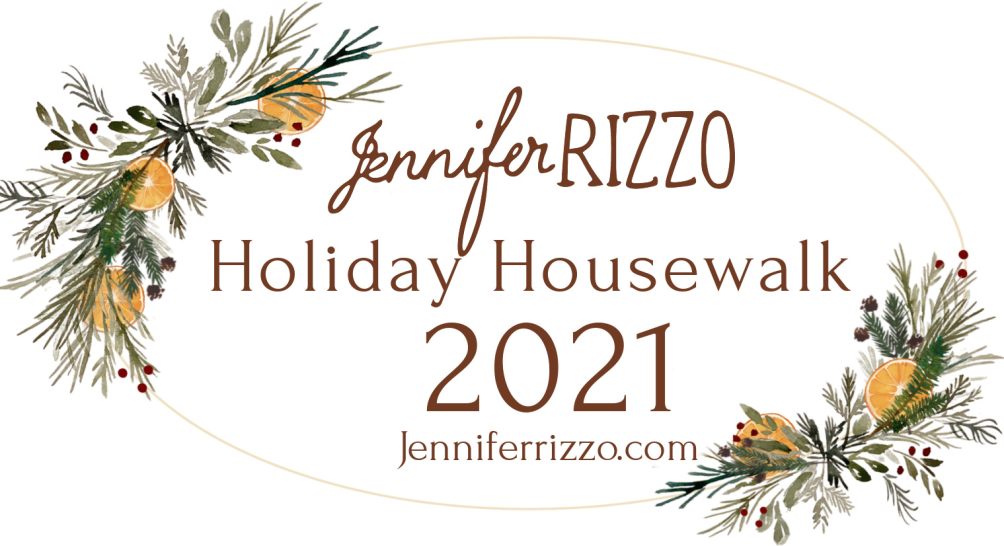 And if you are coming by from Diane In My Own Style, welcome!! Isn't Diane's home so gorgeous??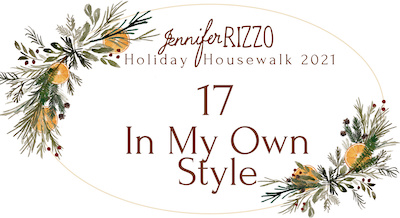 Whimsical Holiday Cottage Home Tour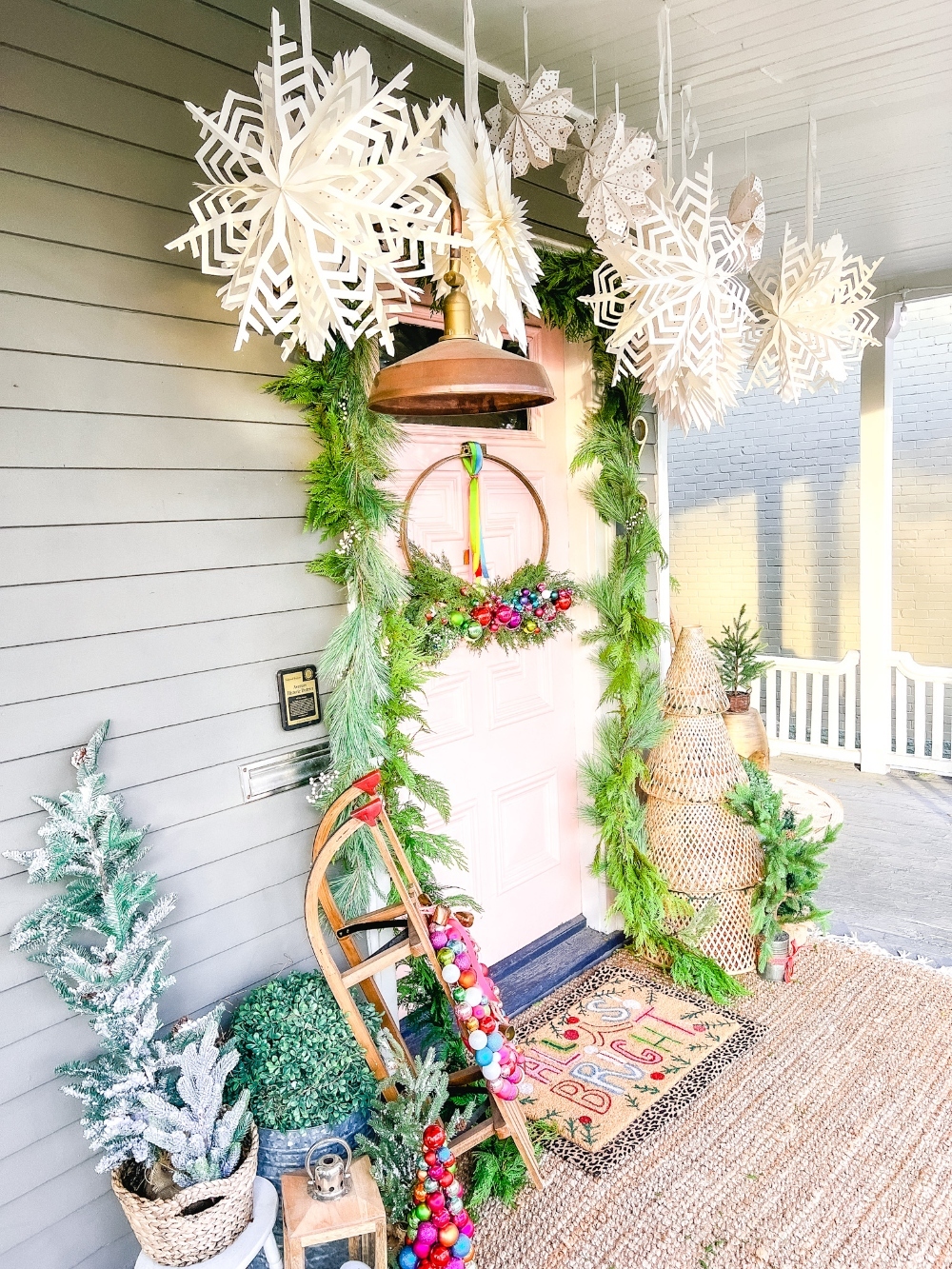 We have lived in our 1891 fixxer-upper for about 2 years. We just finished with most of the remodeling this year, but have many many projects still to do. One of the things I love most about our home is how quirky it is. Old homes have such interesting stories. Ours was apartments from the 1960's – 1990 so taking down walls and floors was really interesting! We even found three secret rooms and a staircase hidden behind a wall! I love that we still have a few original elements of our home and I think adding a little whimsical detail lightens up our cottage!
Whimsical Holiday Cottage – Front Porch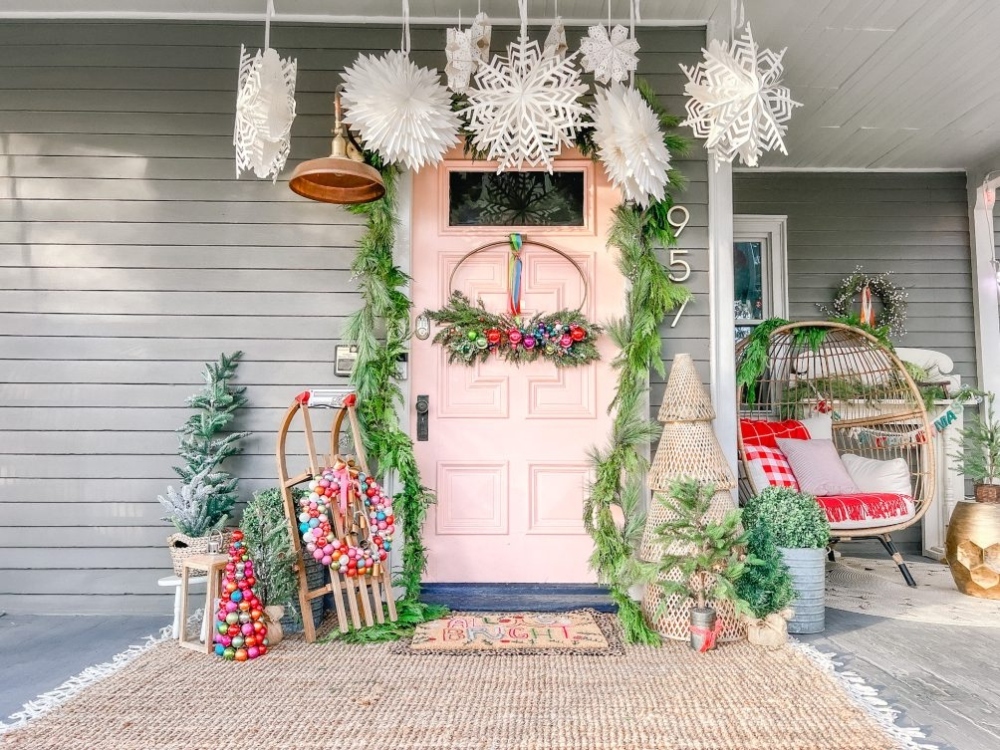 Welcome to our home! Come up to our front porch and sit for a spell. I added some giant snowflakes over the front door. They have remote-controlled puck lights so I can remotely turn them on in the evenings! I will do an Instagram video showing you what they look like at night soon!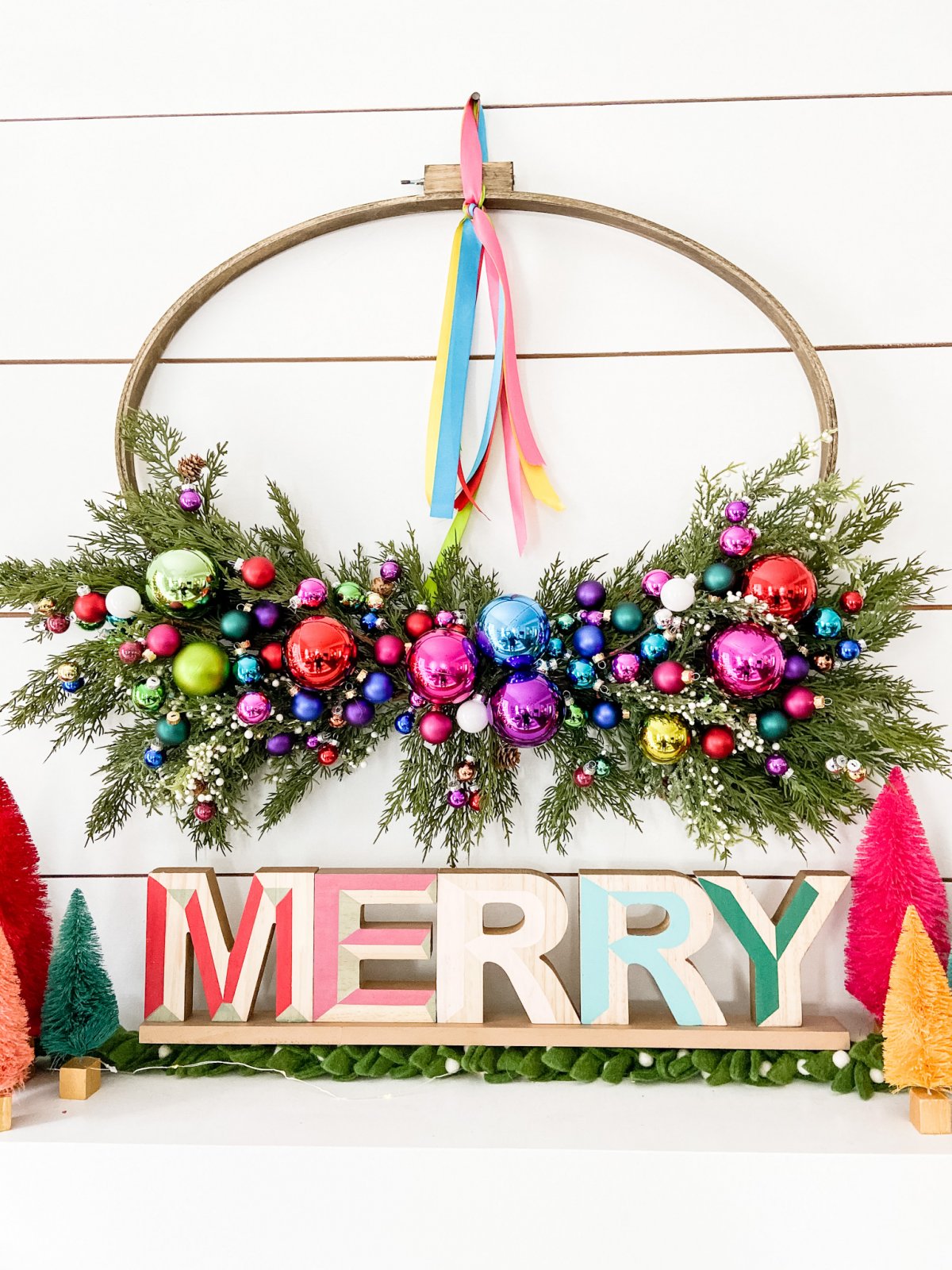 I added this bright and colorful embroidery hoop ornament wreath that I made last year – here's the tutorial if you want to make one too — DIY Embroidery Hoop Ornament Wreath. Another handmade element is the painted Anthropolgie-inspired doormat!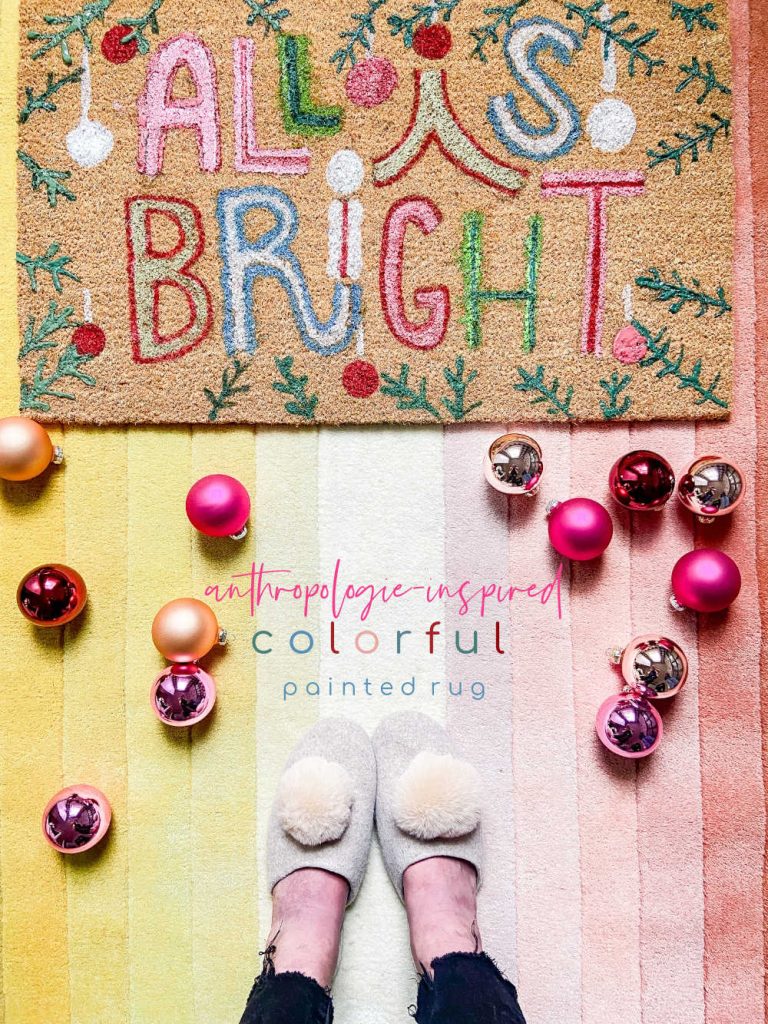 Whimsical Side Porches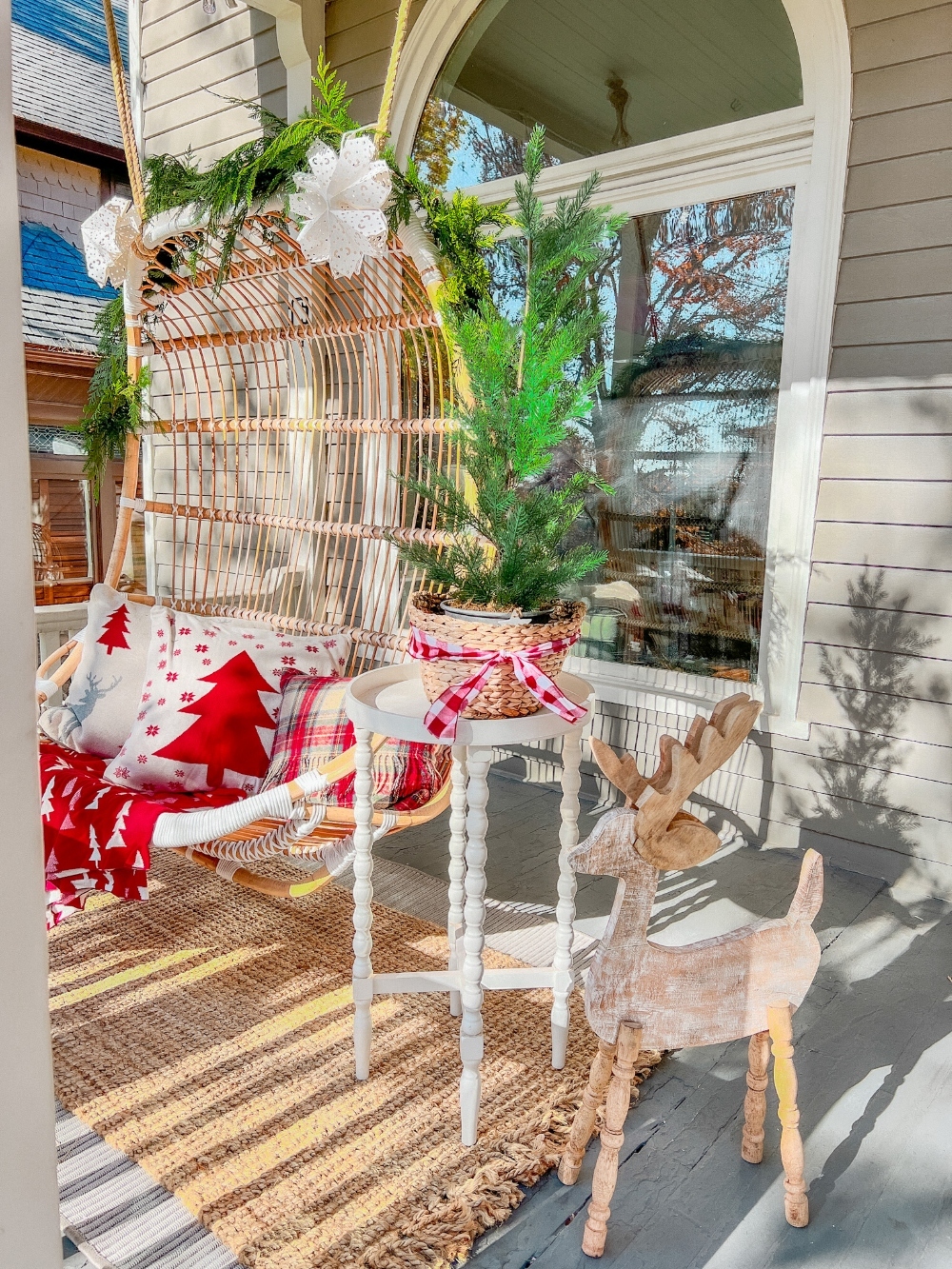 On one side we have our double swing which is our favorite place to sit and watch our festive neighborhood.
On the other side of the porch is my egg chair and a faux fireplace! I decorated the fireplace with a bright and happy felt banner and some greenery.
Whimsical Holiday Cottage – Side Porch Makeover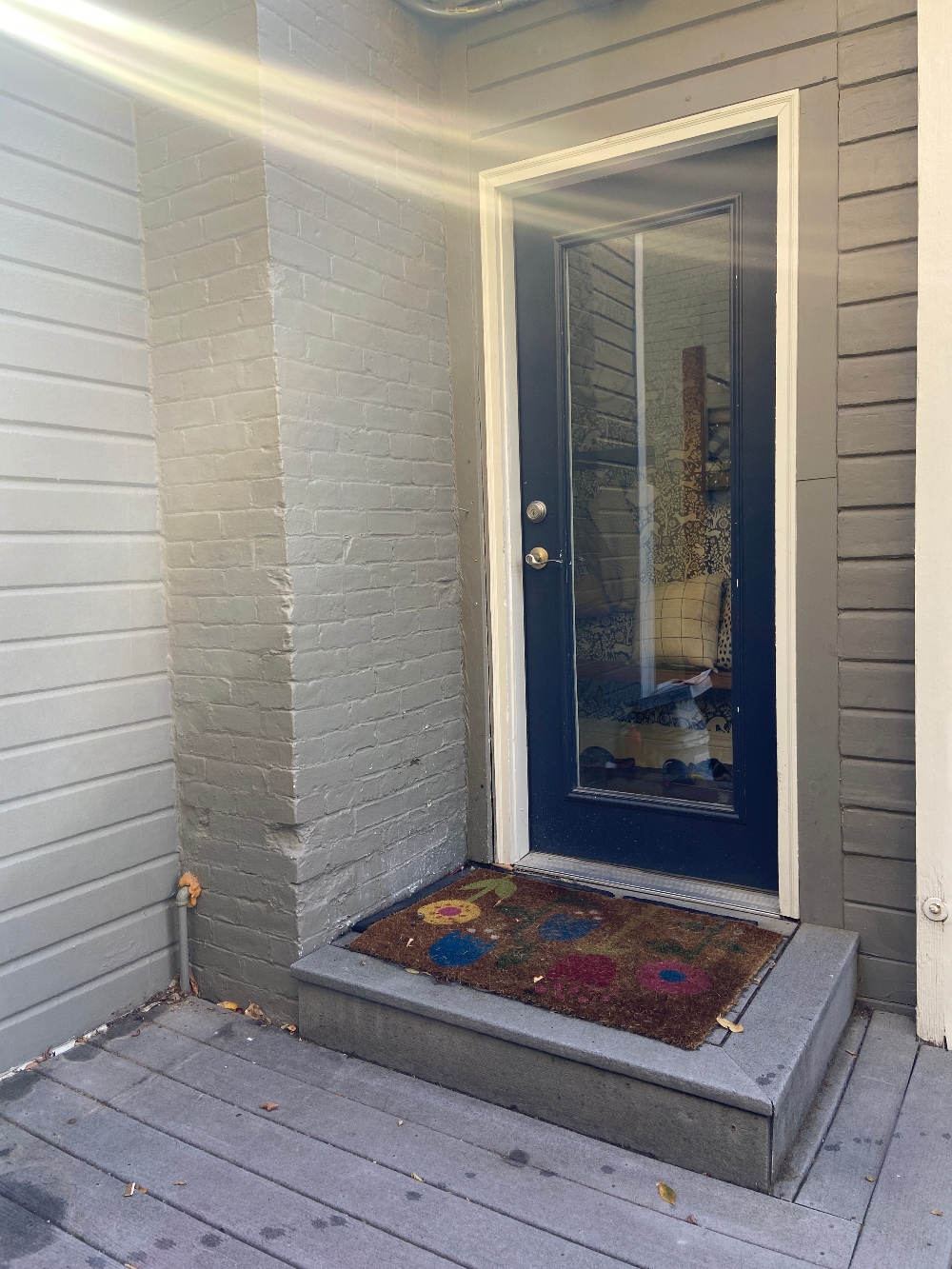 We have a side porch which is where we come in from our back alley. I've never shared it because it was a bit sad looking. I decided to fix it up and I love the way it looks now!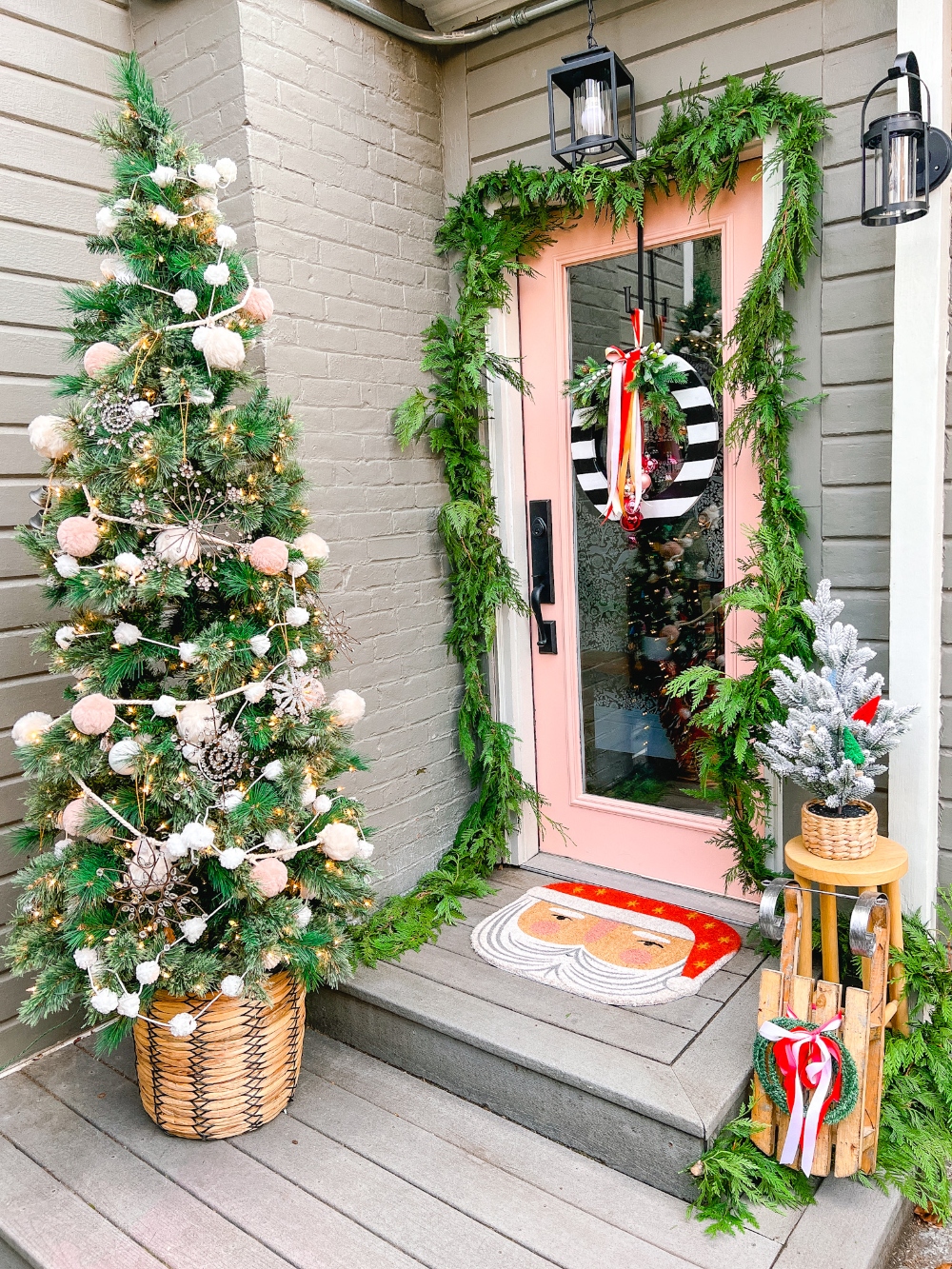 We used to have a harsh motion-sensor light hanging above the door. I replaced it with this pretty black hanging light and a solar-powered side light and now it seems so welcoming!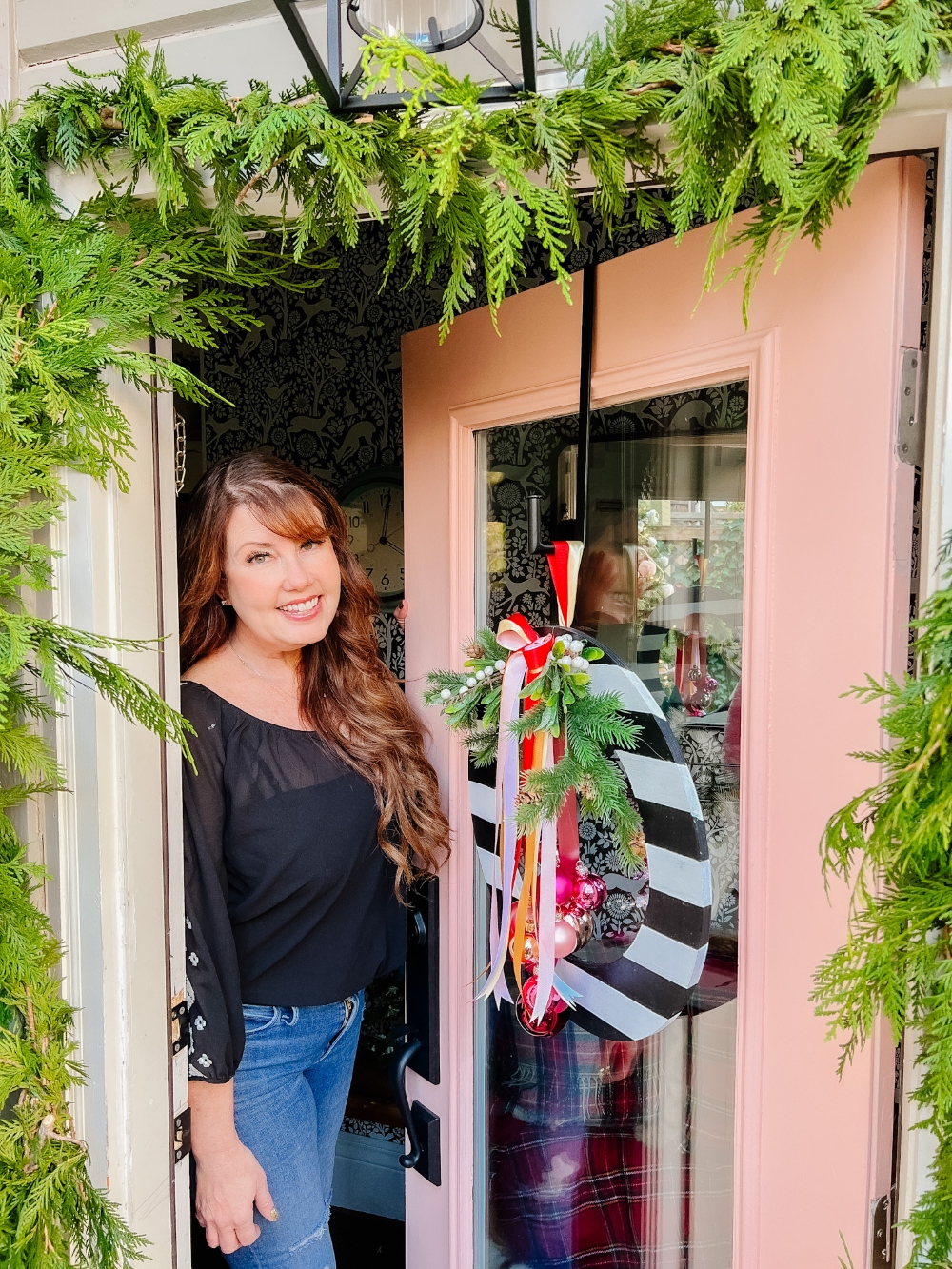 I will be sharing more about this side porch along with a Delaney Hardware and Ryobi $1,000 giveaway on December 9th on my @tatertotsandjello Instagram page!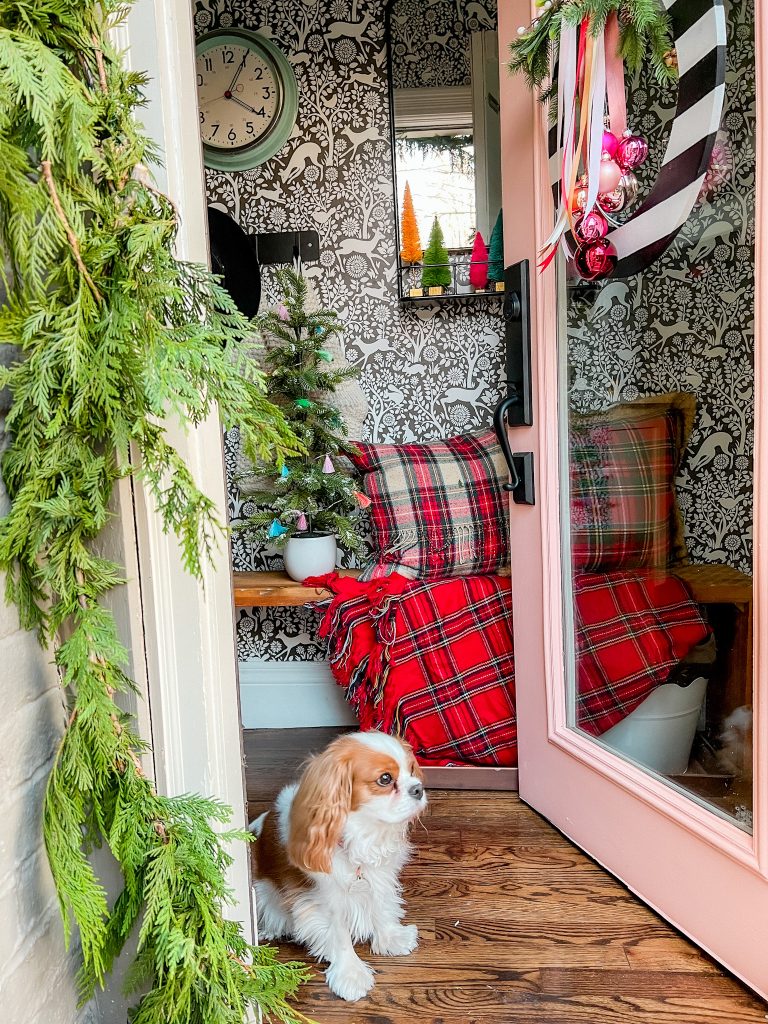 Whimsical Holiday Cottage – Dining Room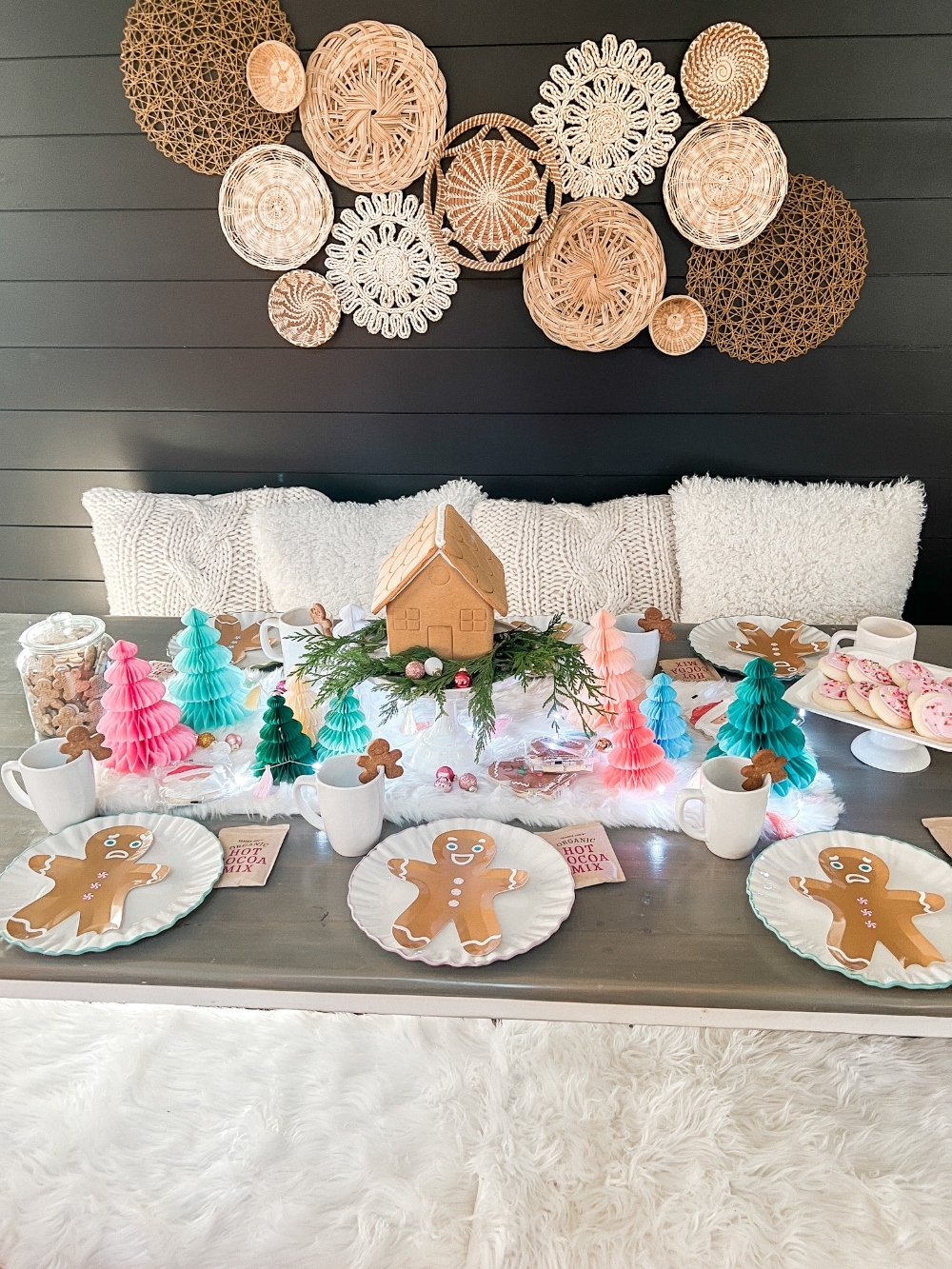 Welcome to our dining room and one of my favorite traditions — our annual gingerbread house-making party! I love having the kids and their friends over for dinner and then we all decorate gingerbread houses. I set it up a little early this year to show you! It's a fun tradition to do with kids or with friends!
Gingerbread Party Plates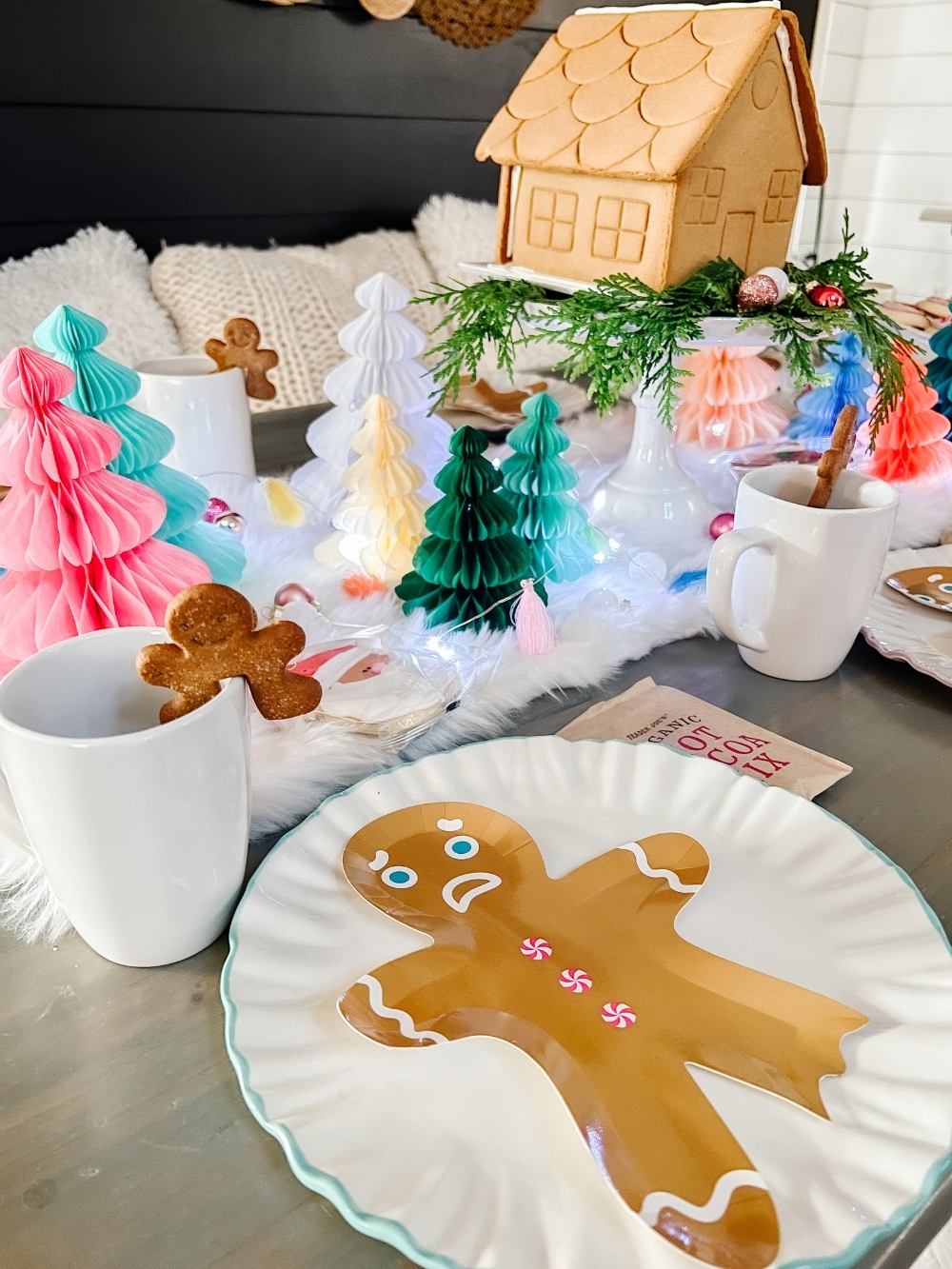 Instead of spending a lot on nice theme plates, I use basic plates all year long and top them with cute shaped paper plates. These gingerbread men plates are so cute and funny!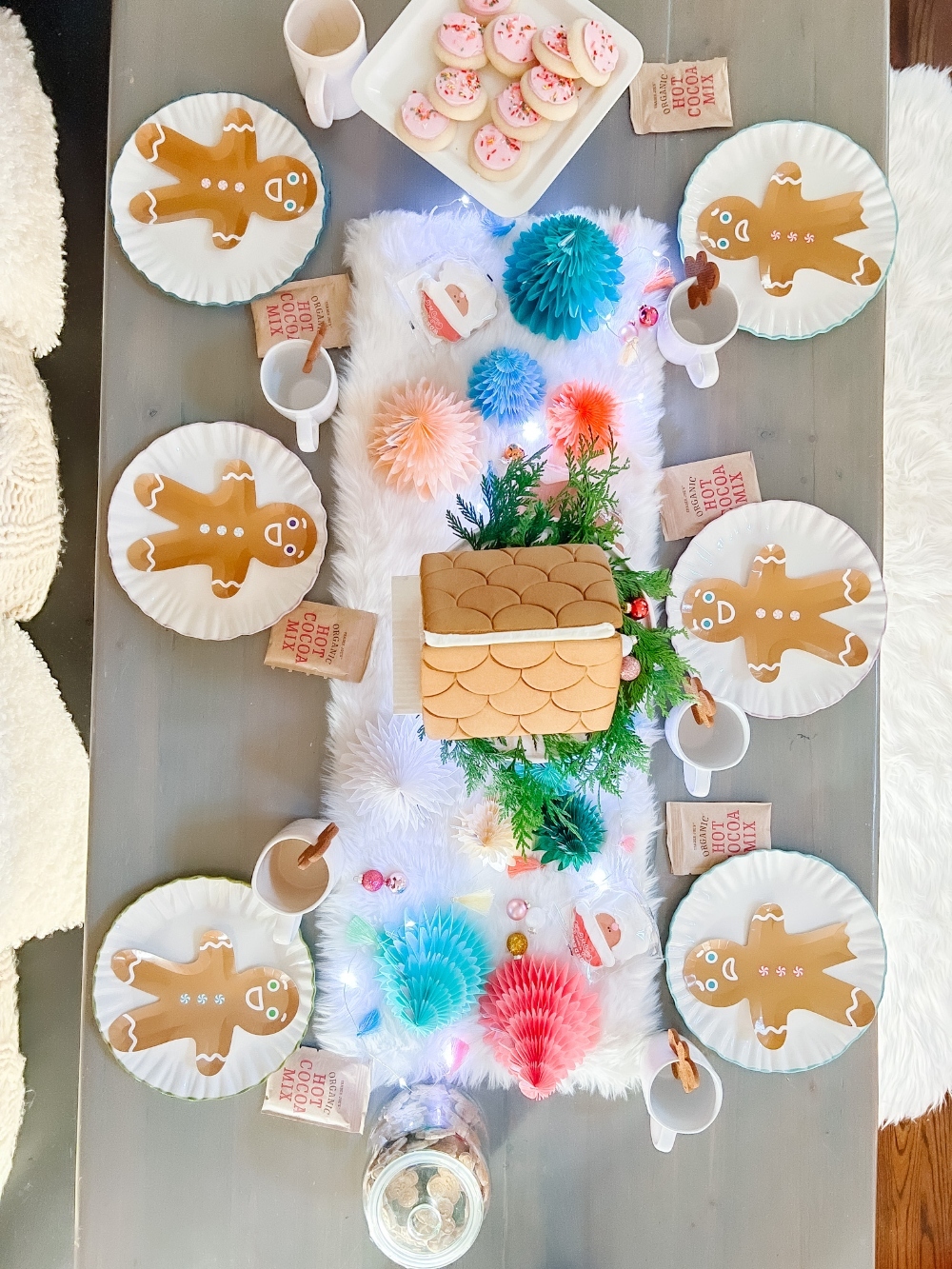 Colorful Paper Tree Centerpiece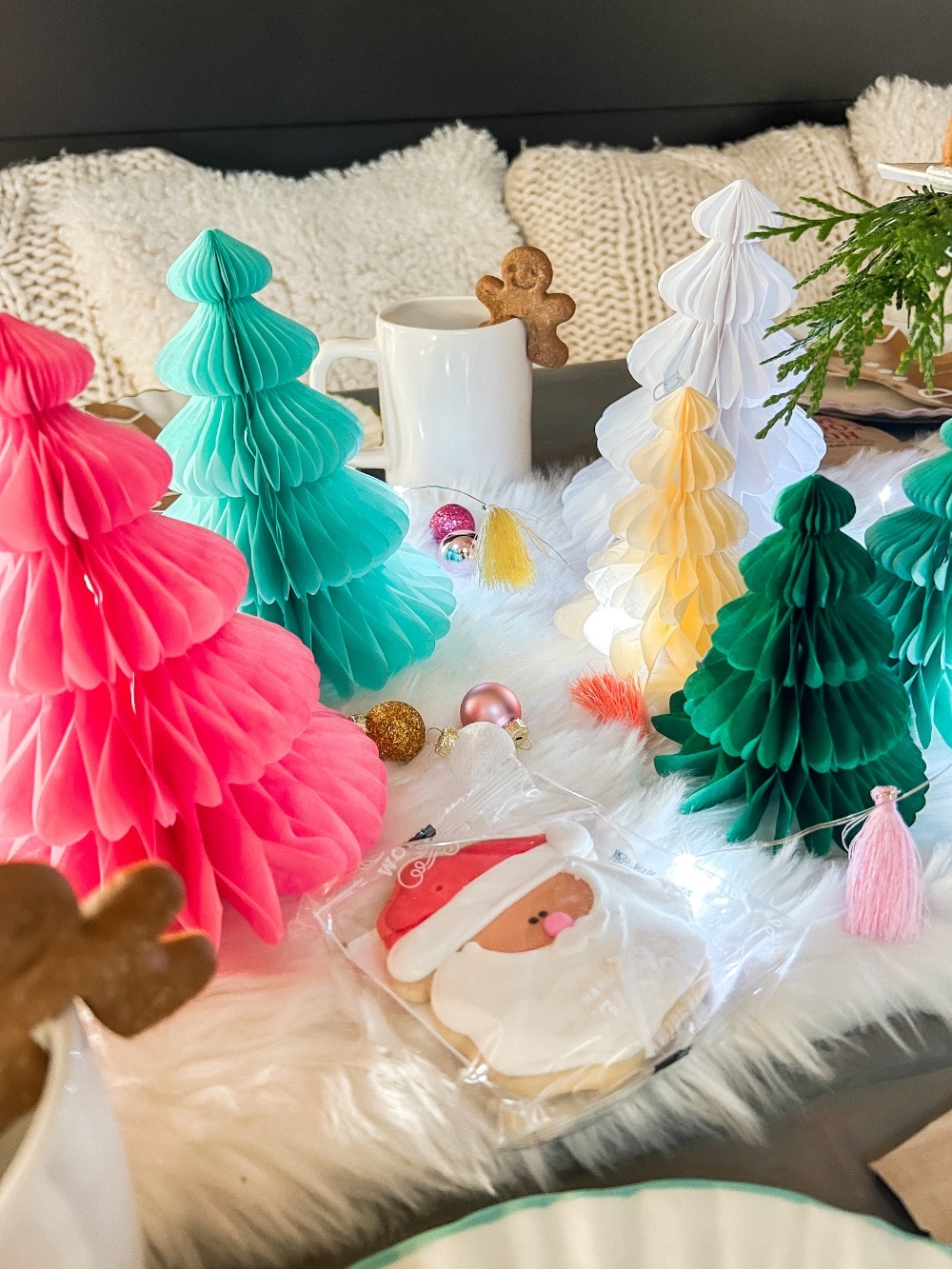 I put a big gingerbread house on a pedestal and surrounded it with the sweetest paper honeycomb trees! The trees just fold out and when I am done I can take the paper clip off and they will flatten for easy storage. We don't have a garage at this house so I have to conserve space as much as I can!
Whimsical Holiday Cottage – Hot Cocoa Station Tray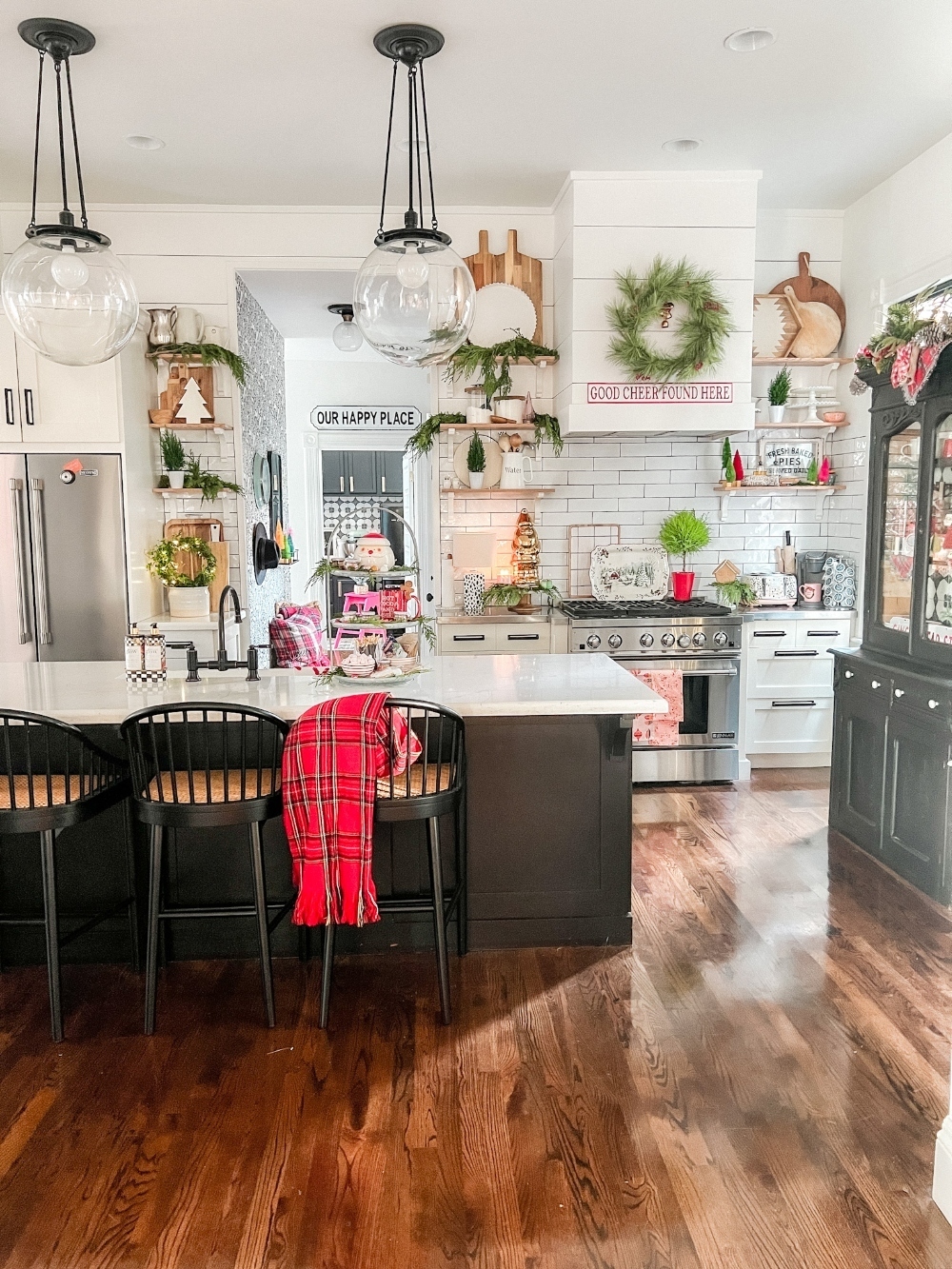 I have this tiered tray that I use every year for a hot cocoa station. I put cookies inside the santa cookie jar and then in bowls I have some peppermint marshmallows, chocolate stir sticks and hot cocoa mixes, along with all kinds of toppings. Aren't these Hot Cocoa and Chill mugs the cutest?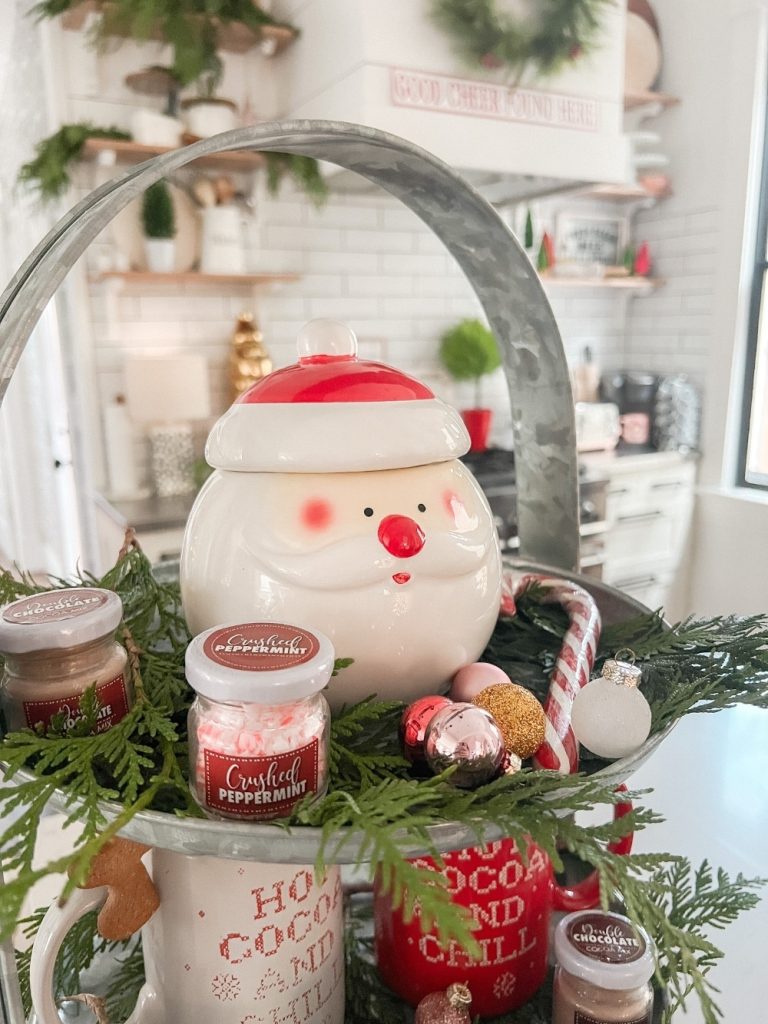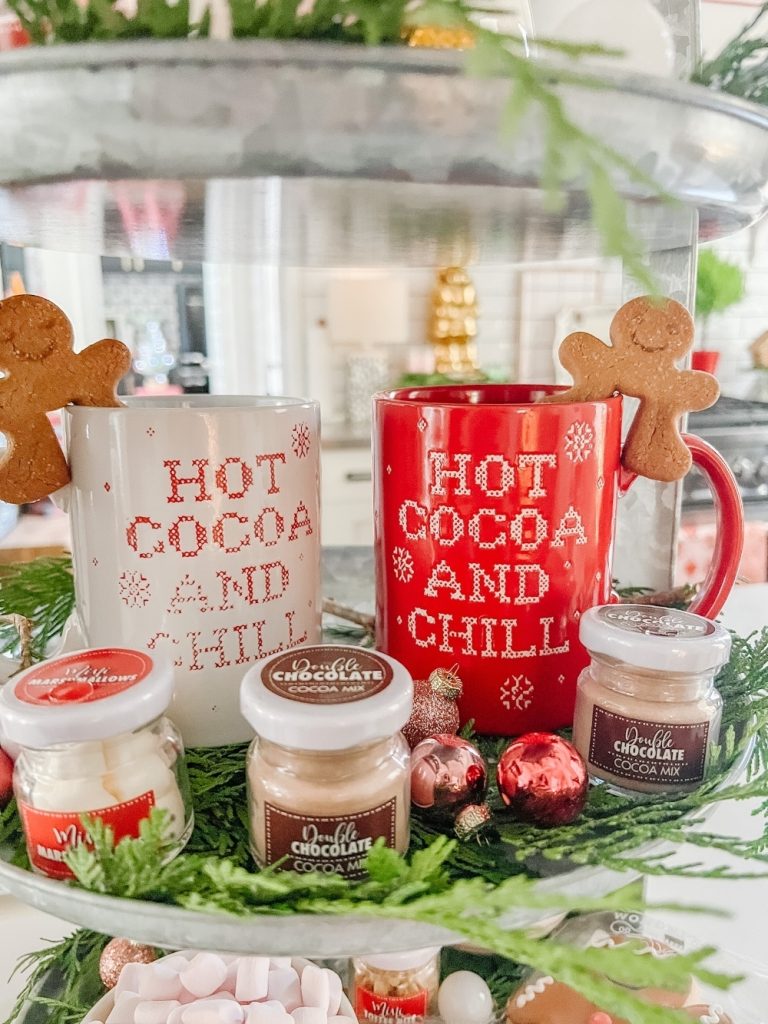 Santa Kitchen Cupboard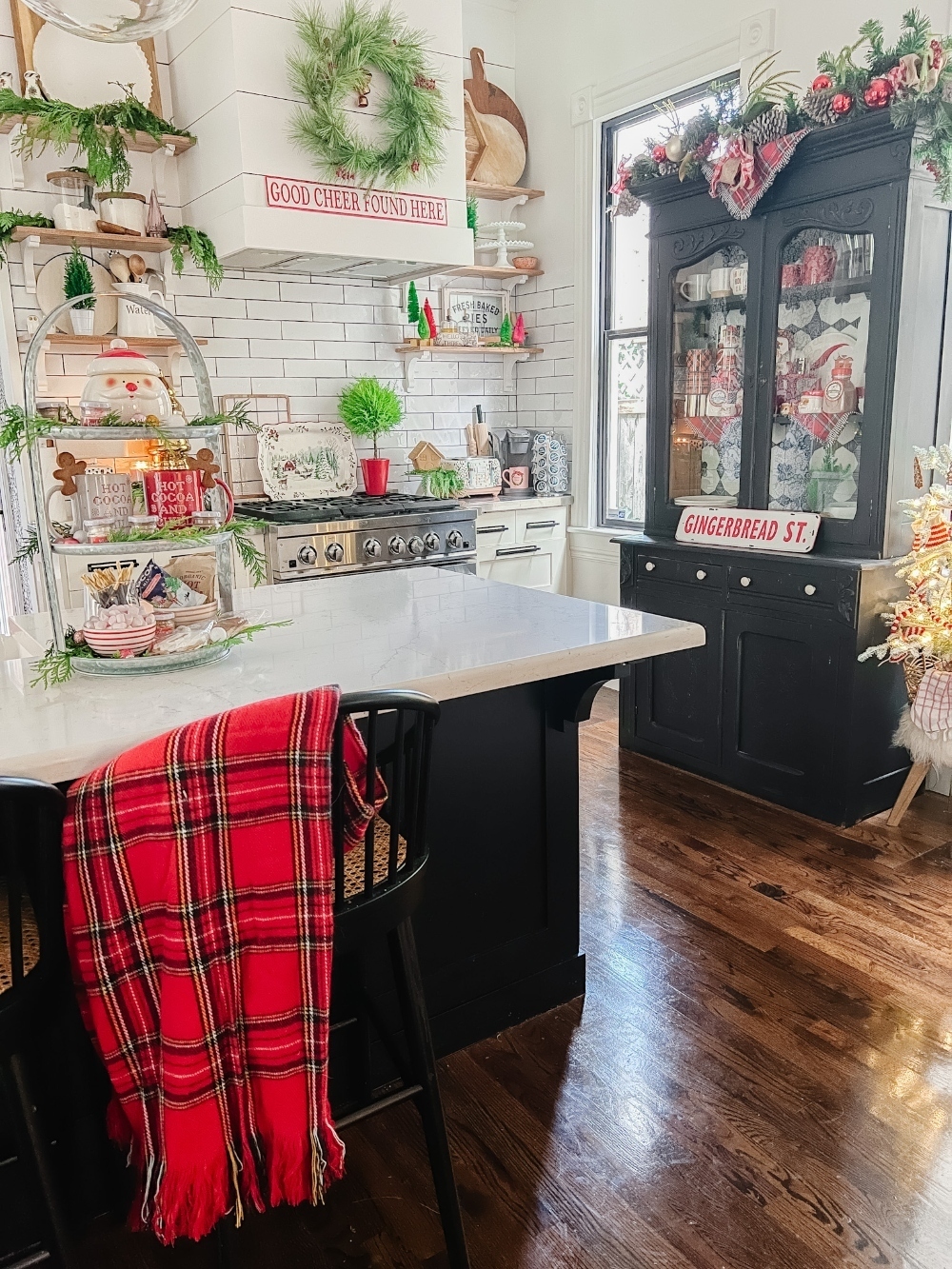 We keep all of our dishes in this vintage gun cabinet. At Christmas I love displaying our Santa mugs and dishes. It feels so festive with holiday napkins too!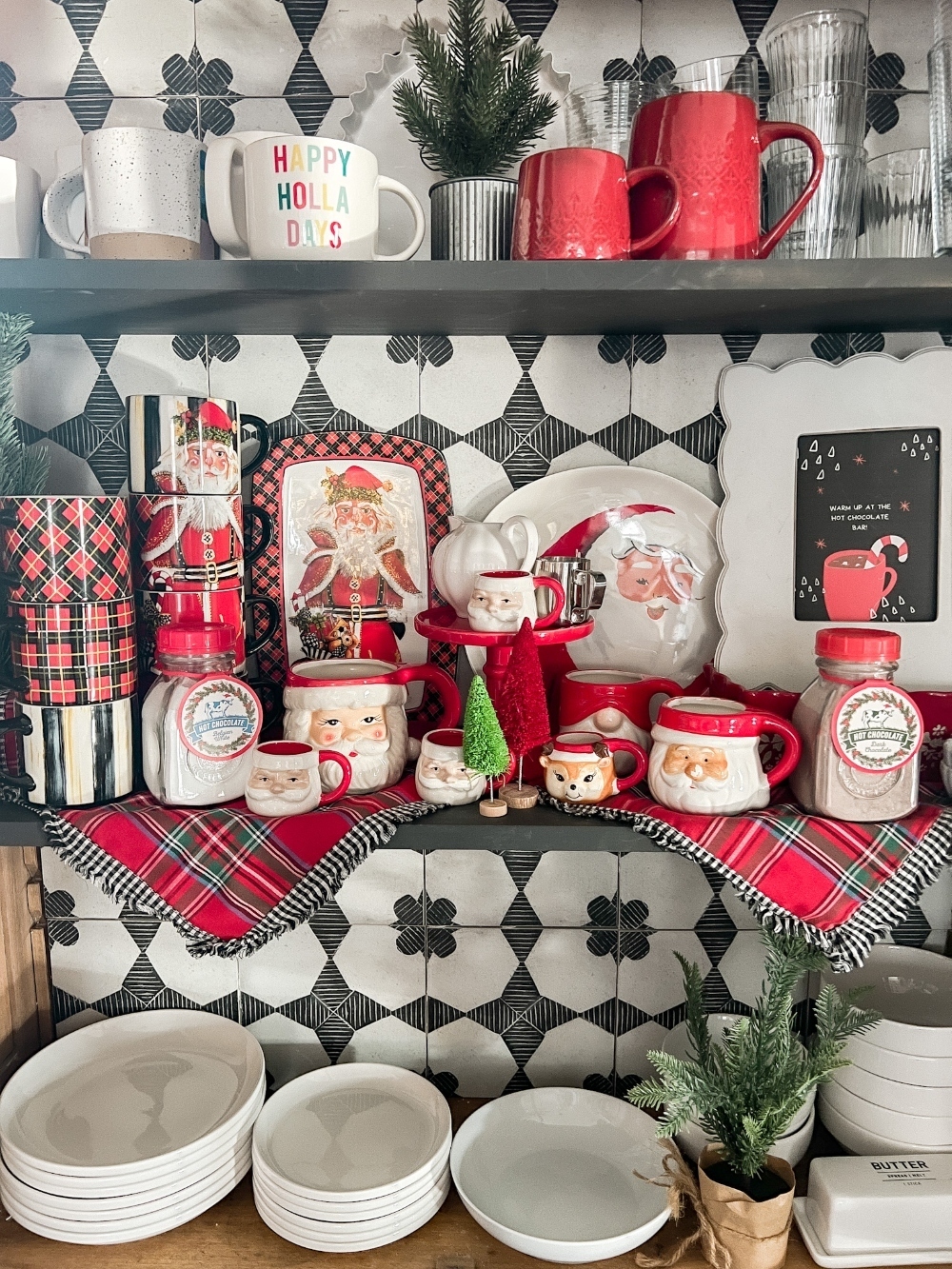 Gingerbread Men Kitchen Tree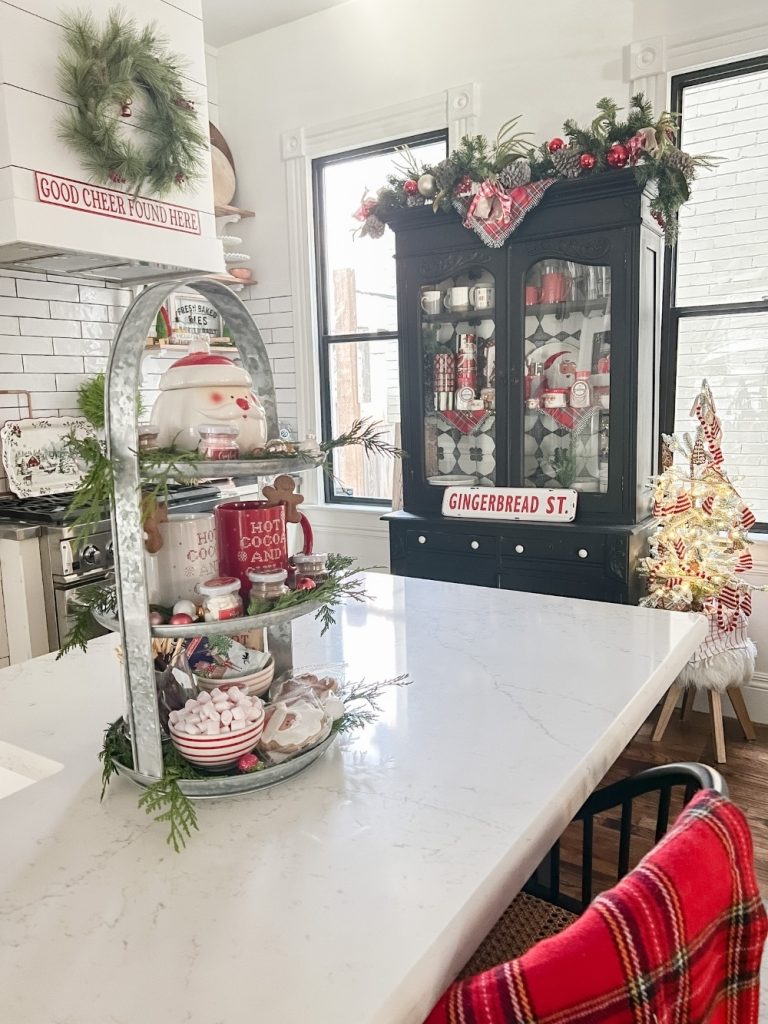 Alongside the cabinet is a gingerbread tree which is perfect for our gingerbread house party! I have some hacks on making gingerbread ornaments if you want to make some!
Other ways to Bring Whimsical Feeling to Your Kitchen
Here are a few other ways I brought whimsical holiday spirit into our kitchen!
Add Colorful Kitchen Towels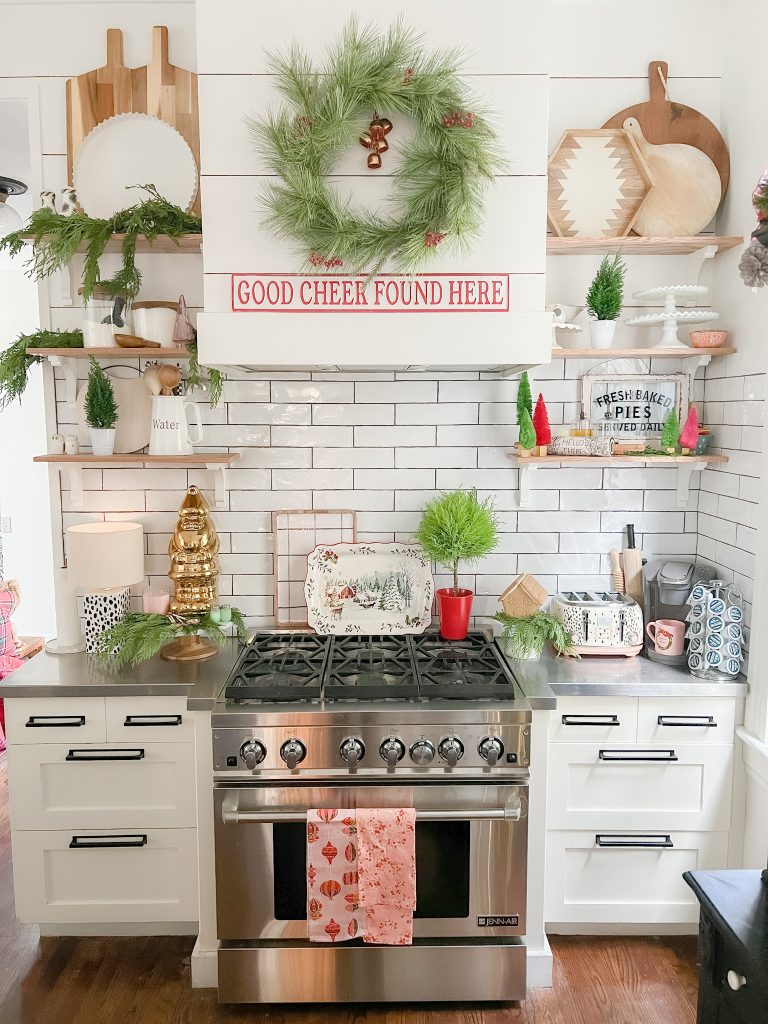 Aren't these kitchen towels so pretty? I love that pink/orange color. It matches our front door and it is the same color as the wallpaper I put in my office which I am remodeling right now!
Elevate Whimsical Elements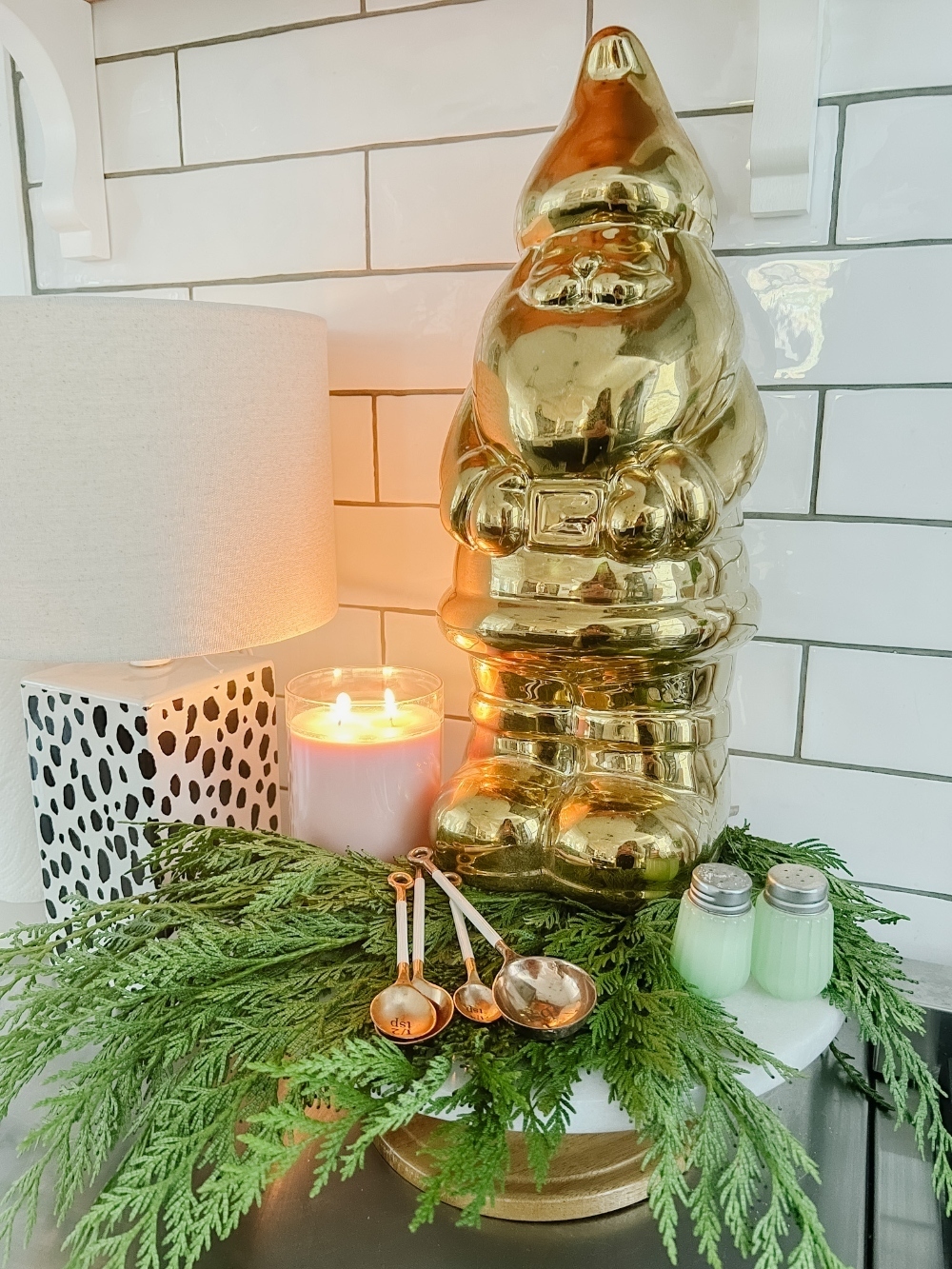 My gold santa elf might be my favorite Christmas item! I love that he adds a whimsical element to our traditional-ish kitchen. I put him on a elevated cake plate along with a yummy candle and things I use while cooking like salt and pepper shakers and measuring spoons!
Next Home on the Holiday Housewalk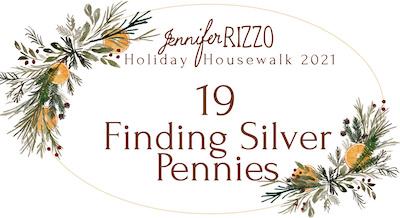 Now hop over to Danielle at Finding Silver Pennies and see her gorgeous traditional coastal holiday home!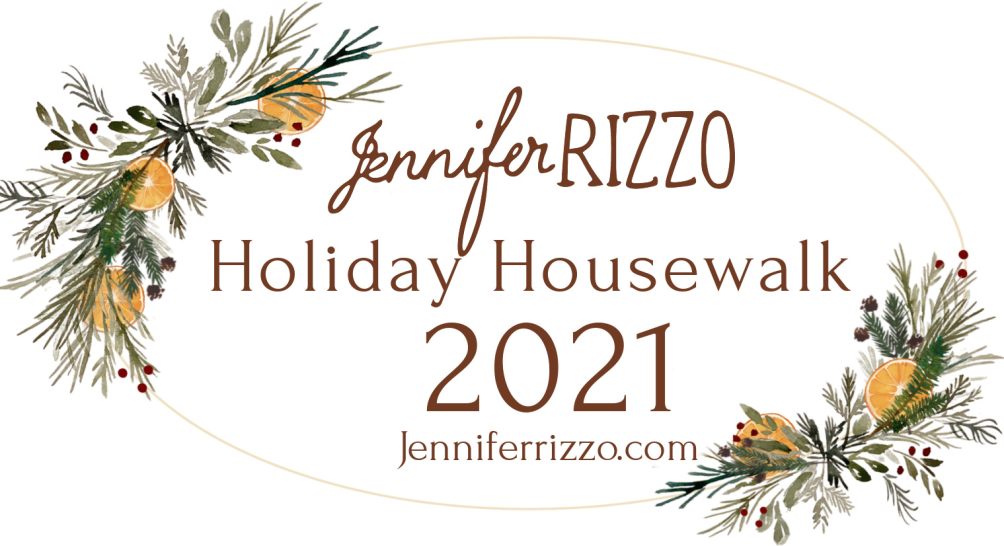 And you can see the complete list of homes by popping over to our host, Jennifer Rizzo's site where the Holiday Housewalk starts!! Be sure to pin the ideas so you can find them as you decorate!
Have a Festive Day!
xoxo