Colorful Holiday Embroidery Hoop Ornament Wreath. Create a stunning holiday wreath with inexpensive ornaments, faux greens and a simple embroidery hoop.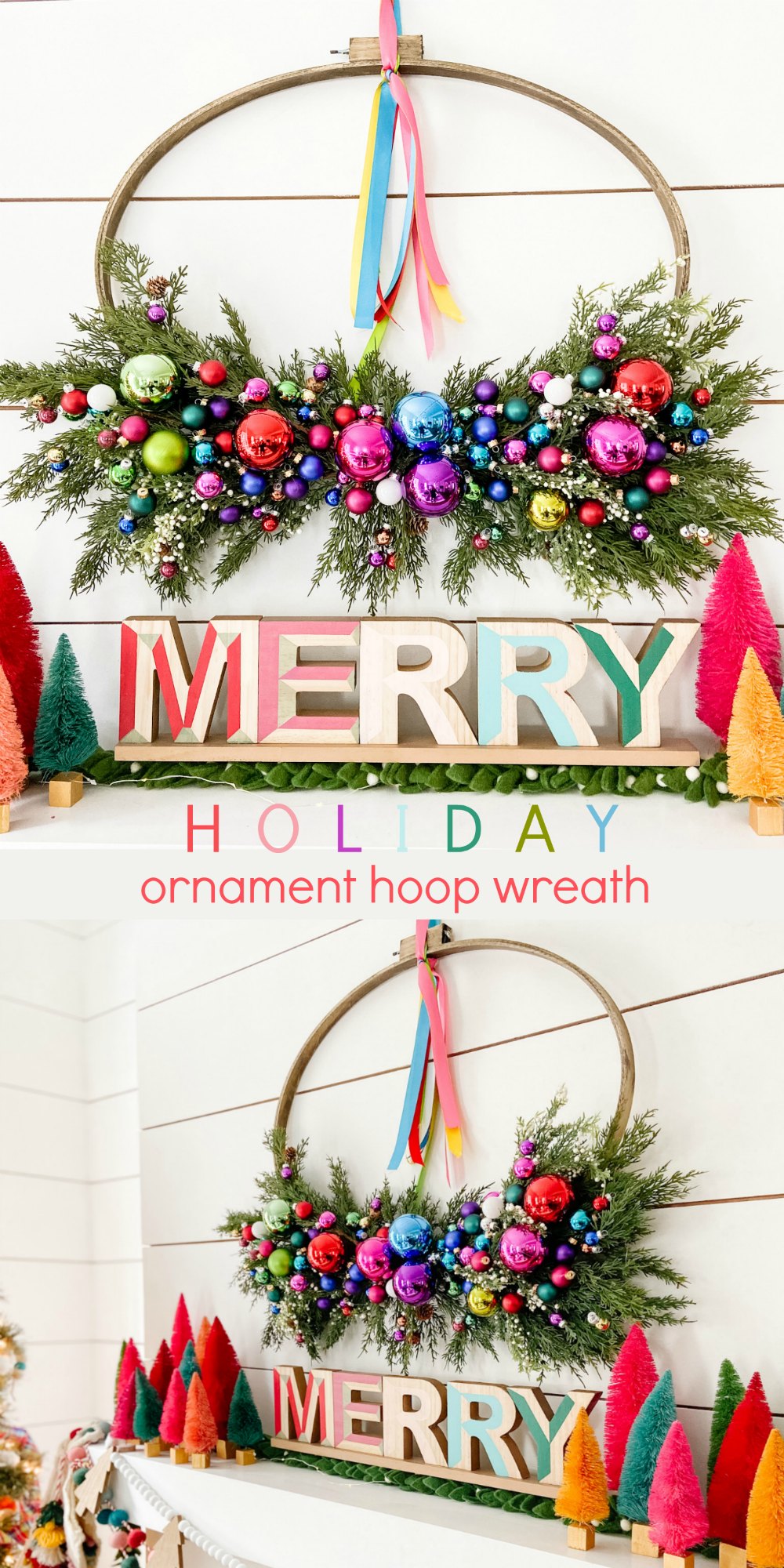 Colorful Holiday Embroidery Hoop Ornament Wreath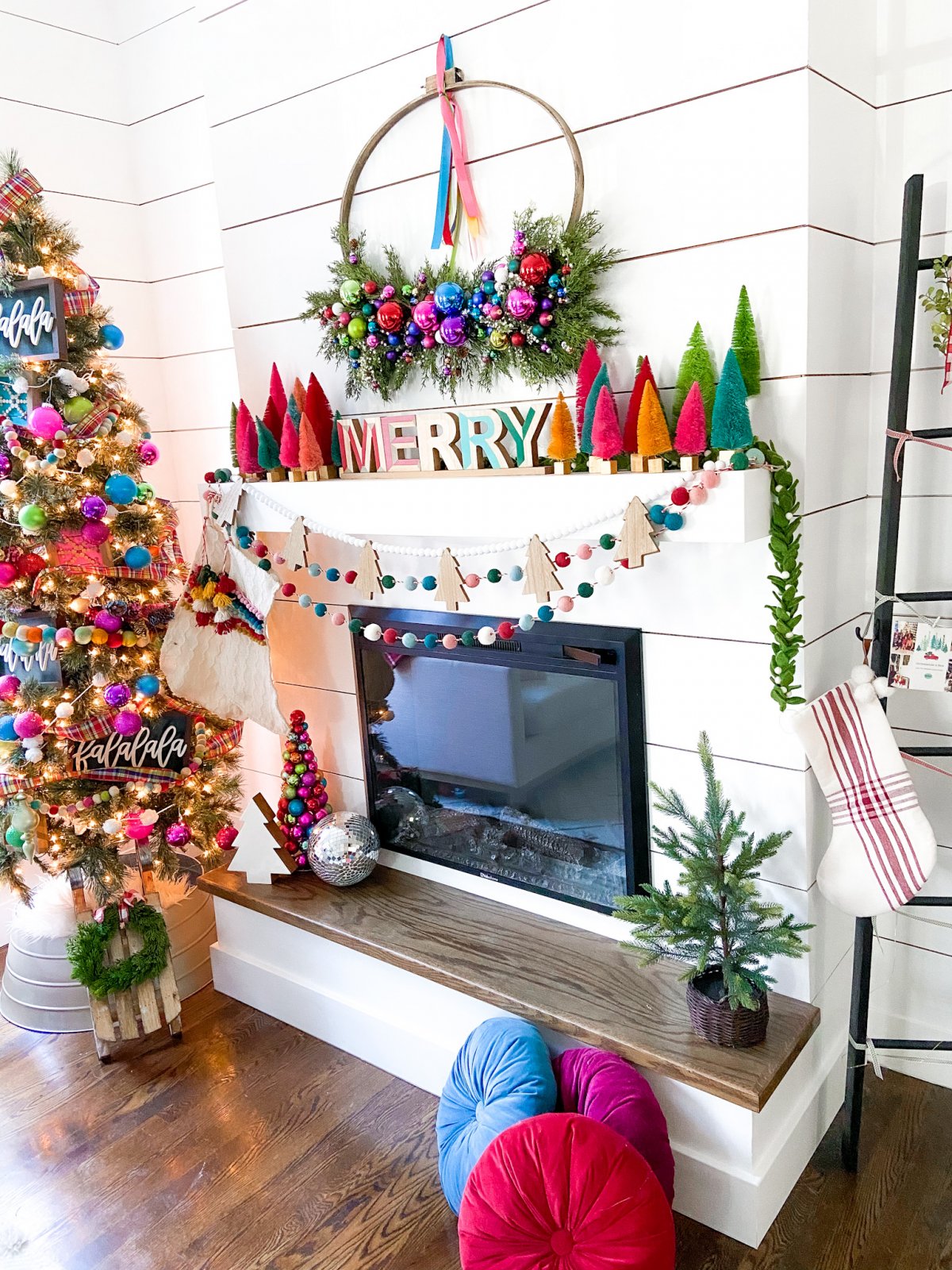 Take those extra ornaments and create a spectacular wreath. The shine of the ornaments is so pretty against the evergreens!
15 DIY Christmas Wreaths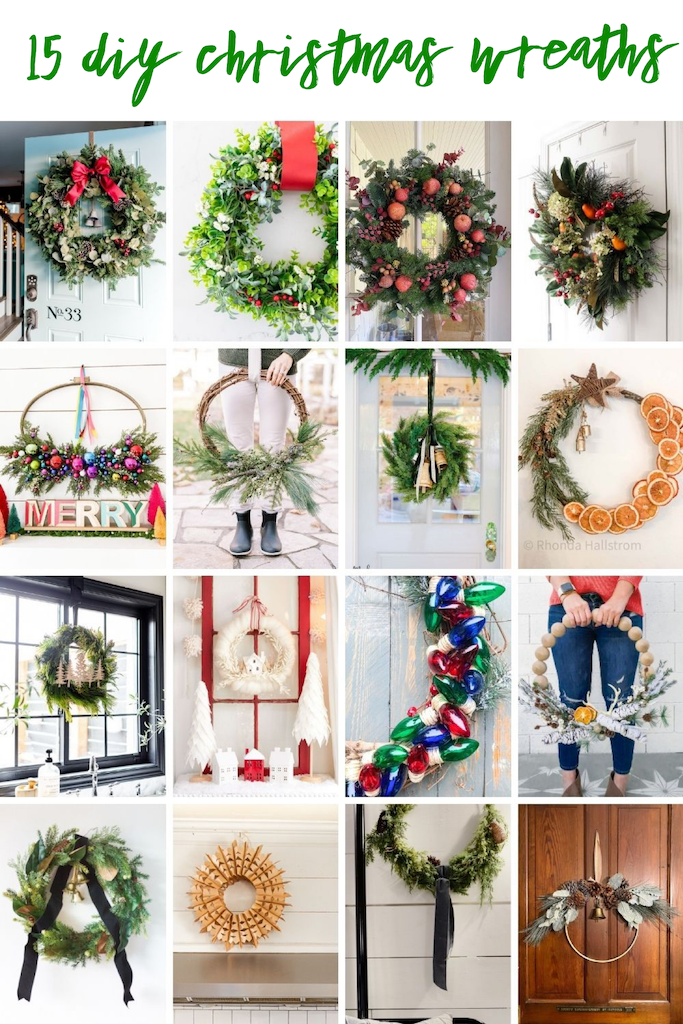 I hope you had a wonderful Thanksgiving! My friends are also sharing festive Christmas wreaths. Just scroll down to go over and see the tutorials.
Match Your Tree Decor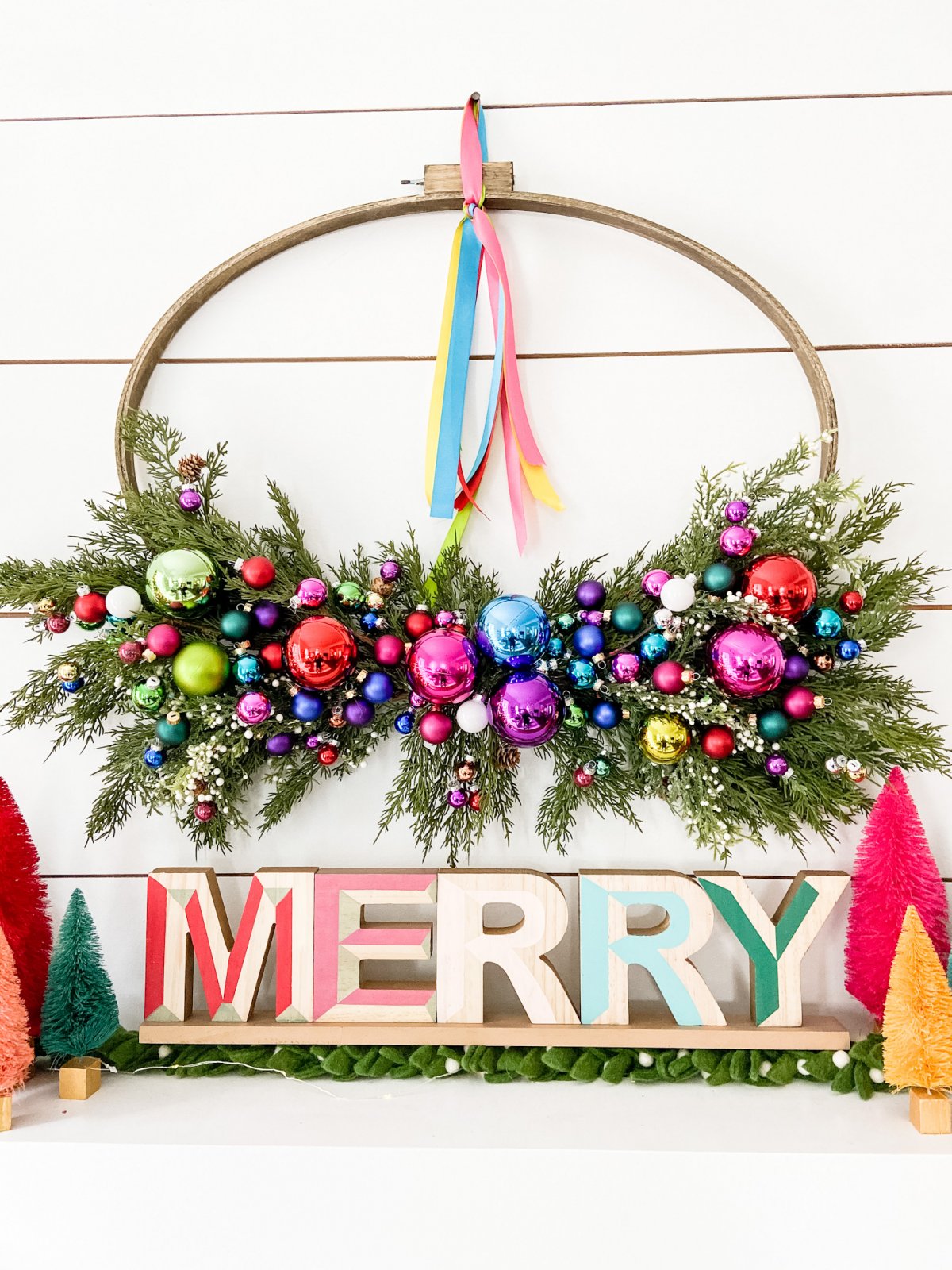 Use the same color ornaments in your wreath that you have in your Christmas tree for a wreath that will compliment your overall color theme. Or match ornaments to the color of your front door for a beautiful statement.
Embroidery Hoops Make a Wonderful Wreath Base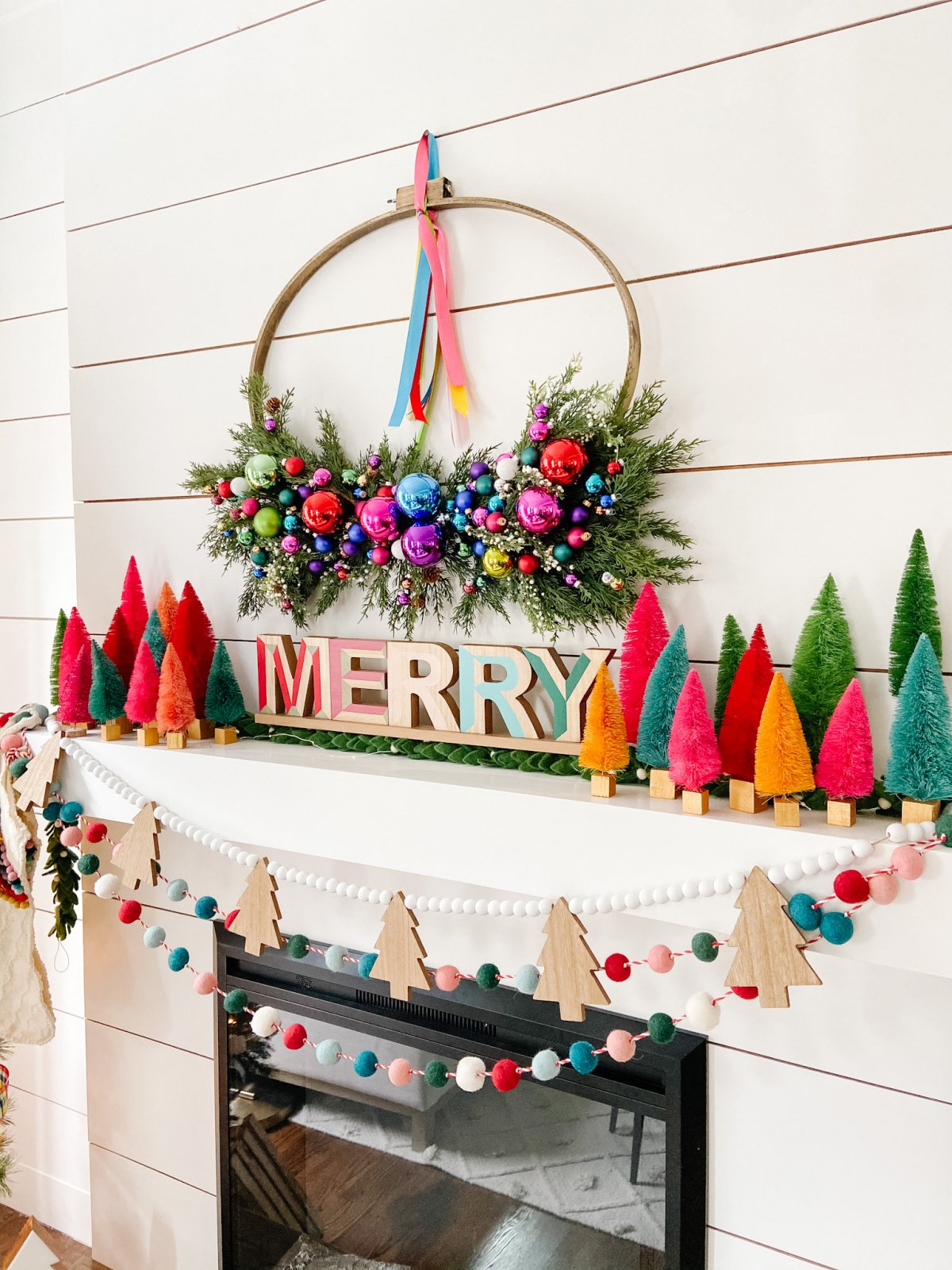 I love the wood look of embroidery hoops for wreaths. The wood is so pretty and works well with a cottage or farmhouse look.
Supplies to Make a Embroidery Hoop Ornaments Wreath
Embroidery Hoop (I used a large oval one but you can use any shape or size hoop that you want)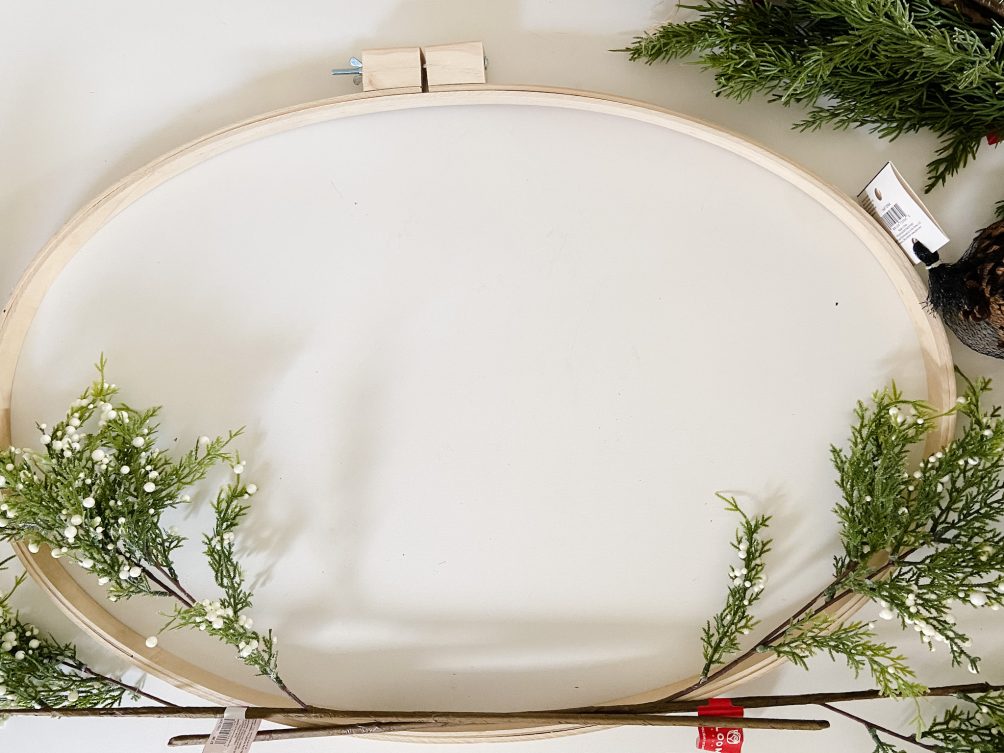 Ornaments — a combination of large and small ornaments. Use whatever color you want. I had a bag of leftover ornaments that matched my tree. I used 7 large ornaments, 2 medium ornaments, 35 small ornaments and 35 tiny ornament.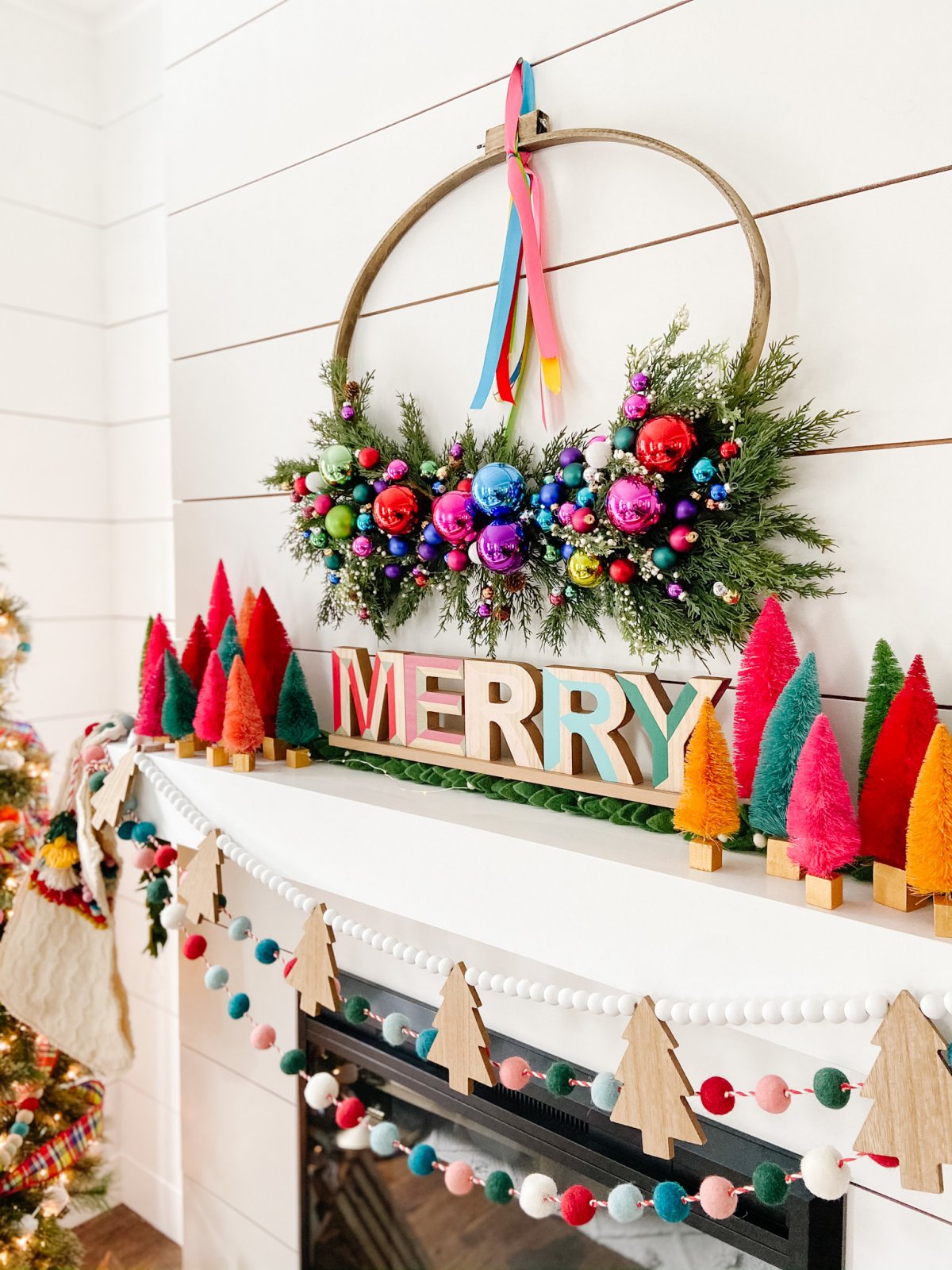 Greens — I used two ever green boughs and two greenery boughs with white flowers.
Ribbon – I used 5 different colors of ribbon to tie at the top.
Hot Glue and Wire — Use hot glue and wire to attach greens. Hot glue to secure ornaments.
Steps to Make an Embroidery Hoop Ornament Wreath
Stain the embroidery Hoop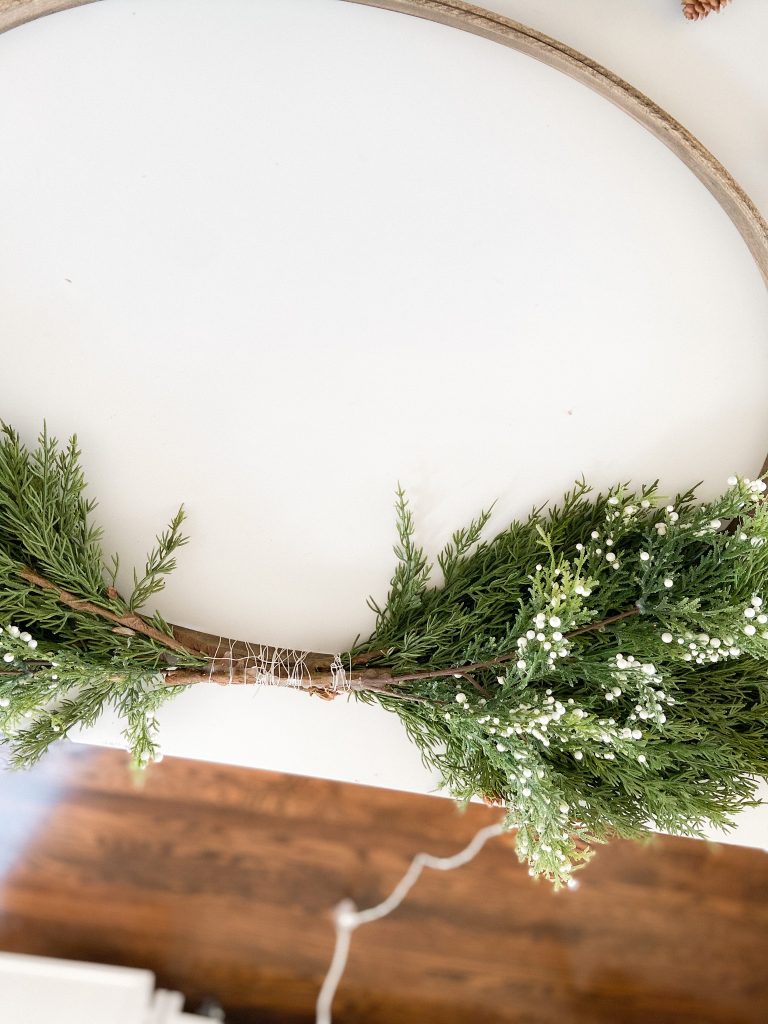 This is optional. I used a walnut stain and painted it on the embroidery hoop. I used a wet paper towel to wipe the excess stain off the embroidery hoop.
Attach the Greenery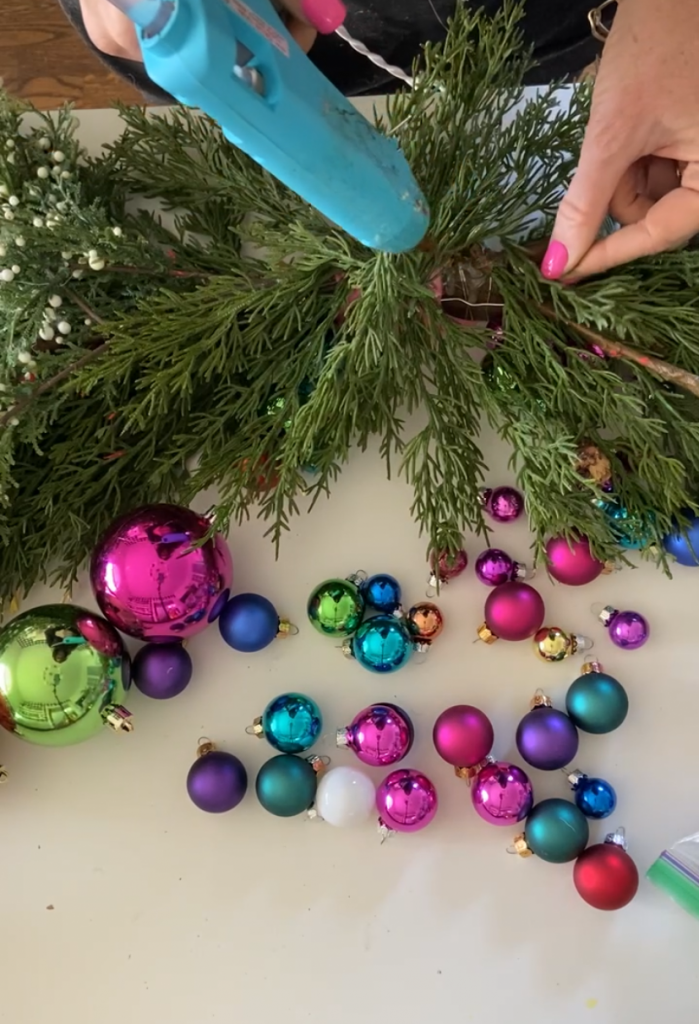 I criss-crossed the two evergreen boughs. Then I used wire the evergreen boughs to the middle of the embroidery hoop. Then I hot glued the boughs over the wire to make sure it was secure. I did the same thing with the greenery with the white flowers.
Fill in the Middle of the Wreath
I used some extra branches to fill in the middle of the hoop over the wire that secured the branches.
Add Larger Ornaments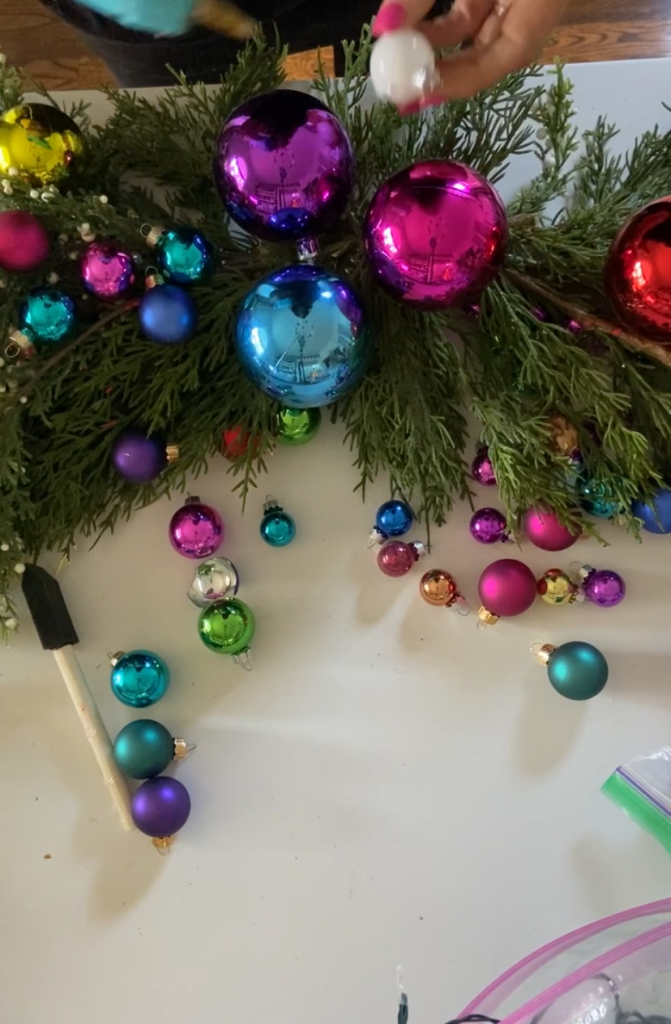 I hot glued three of the ornaments over the extra branches in the middle of the embroidery hoop. Then I hot glued the other four large ornaments on the sides of the branches.
Glue the Medium Ornaments to the Wreath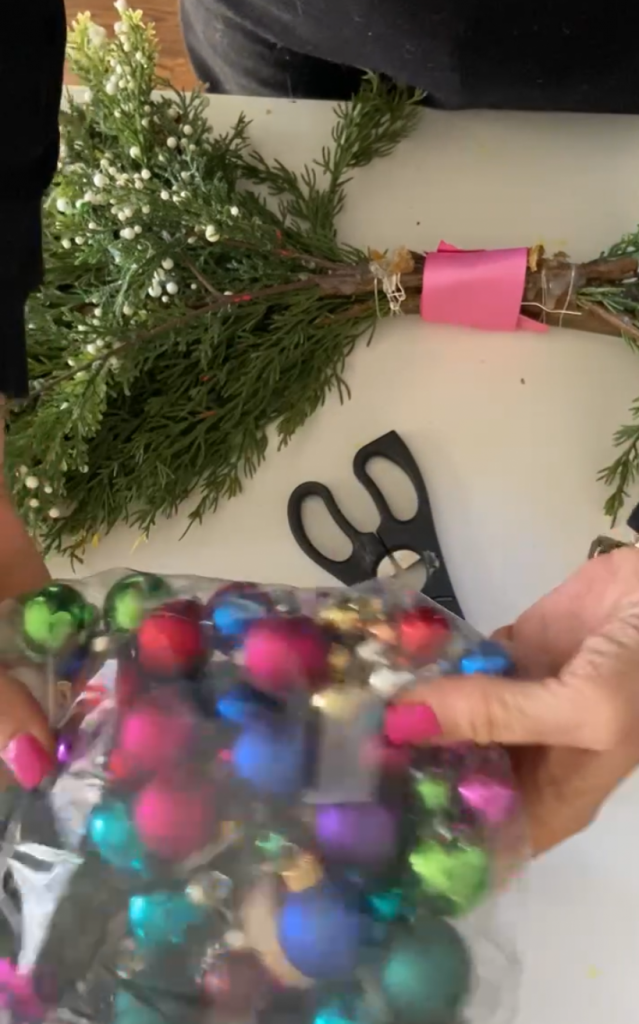 Then I glued the medium balls to the two sides of the wreath.
Add the smaller Ornaments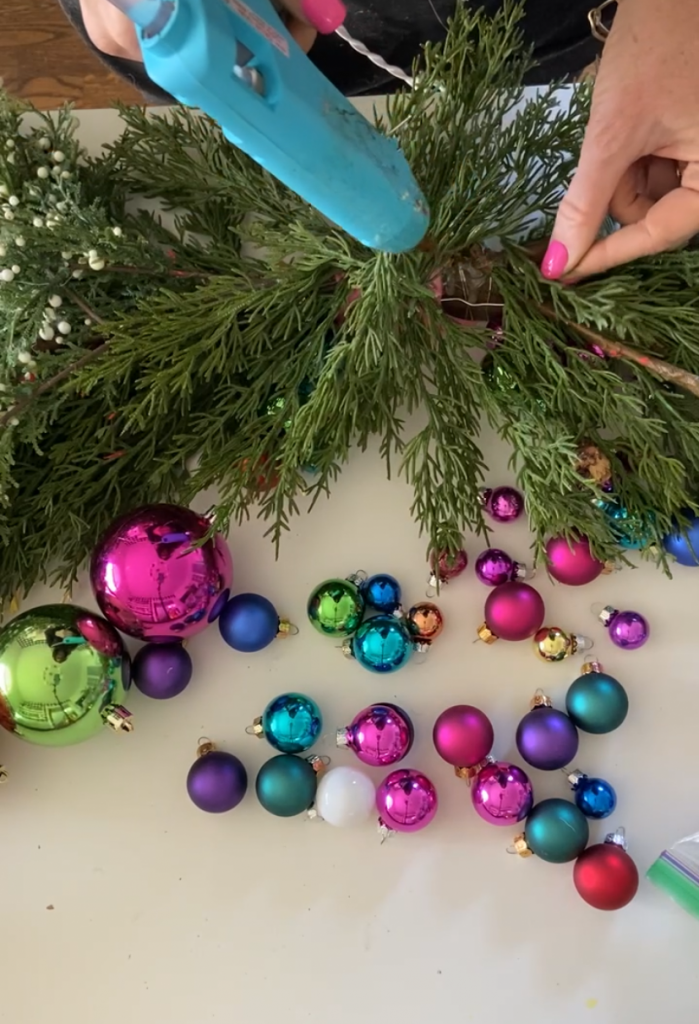 Fill in the rest of the wreath with the small and tiny ornaments.
Tie Ribbon at the Top of The Embroidery Hoop
I tied the ribbon strips at the top of the wreath.
15 Unique DIY Christmas Wreaths









More Colorful Holiday Ideas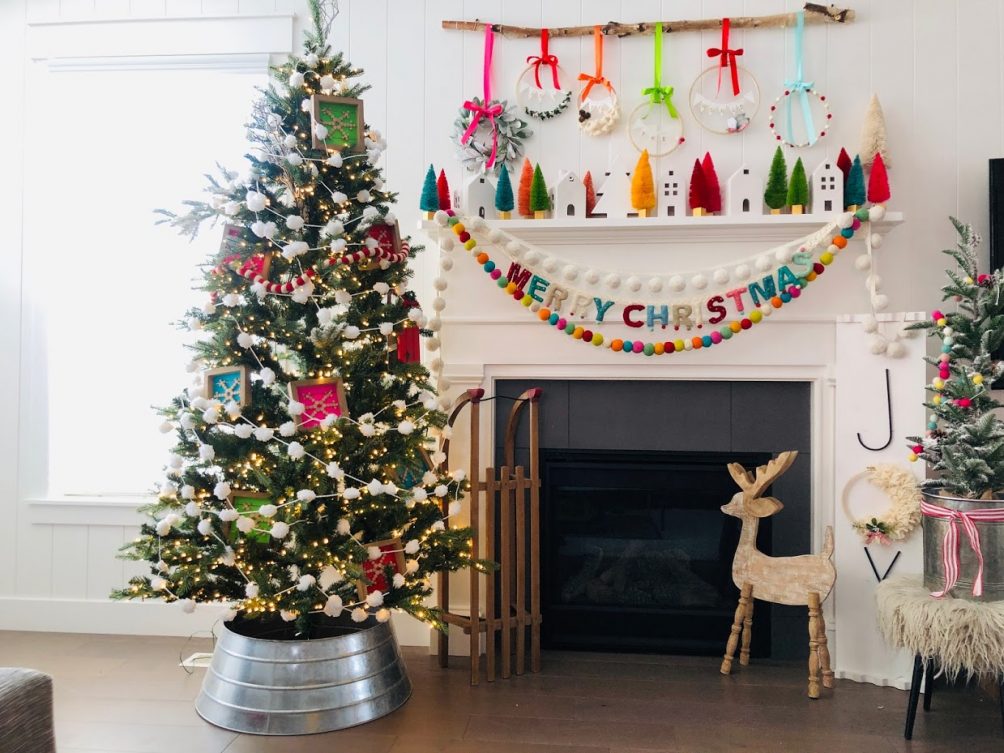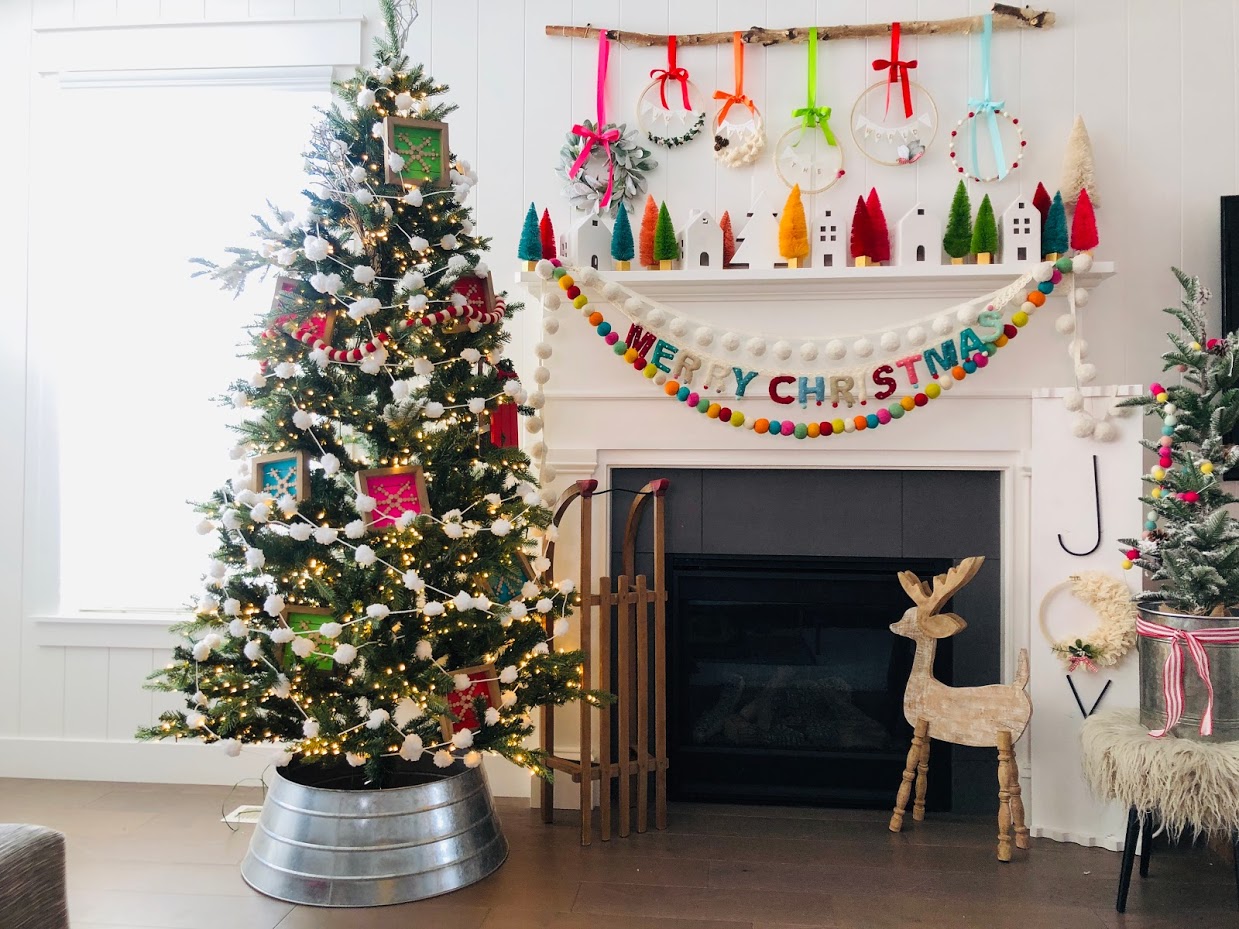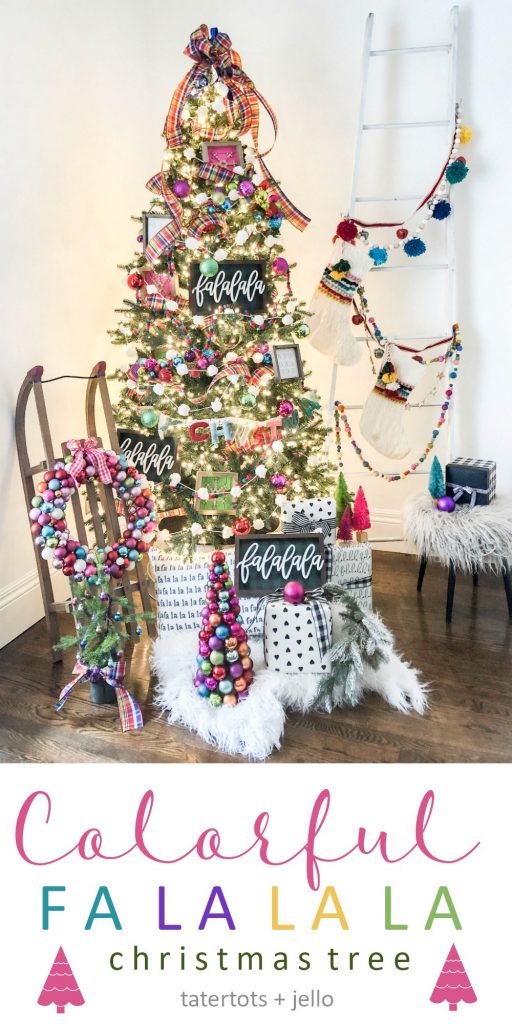 Have a Beautiful Day!
XOXO