FALALA Colorful Christmas Tree! Create a vibrant, playful Christmas tree with ALL the colors this holiday season!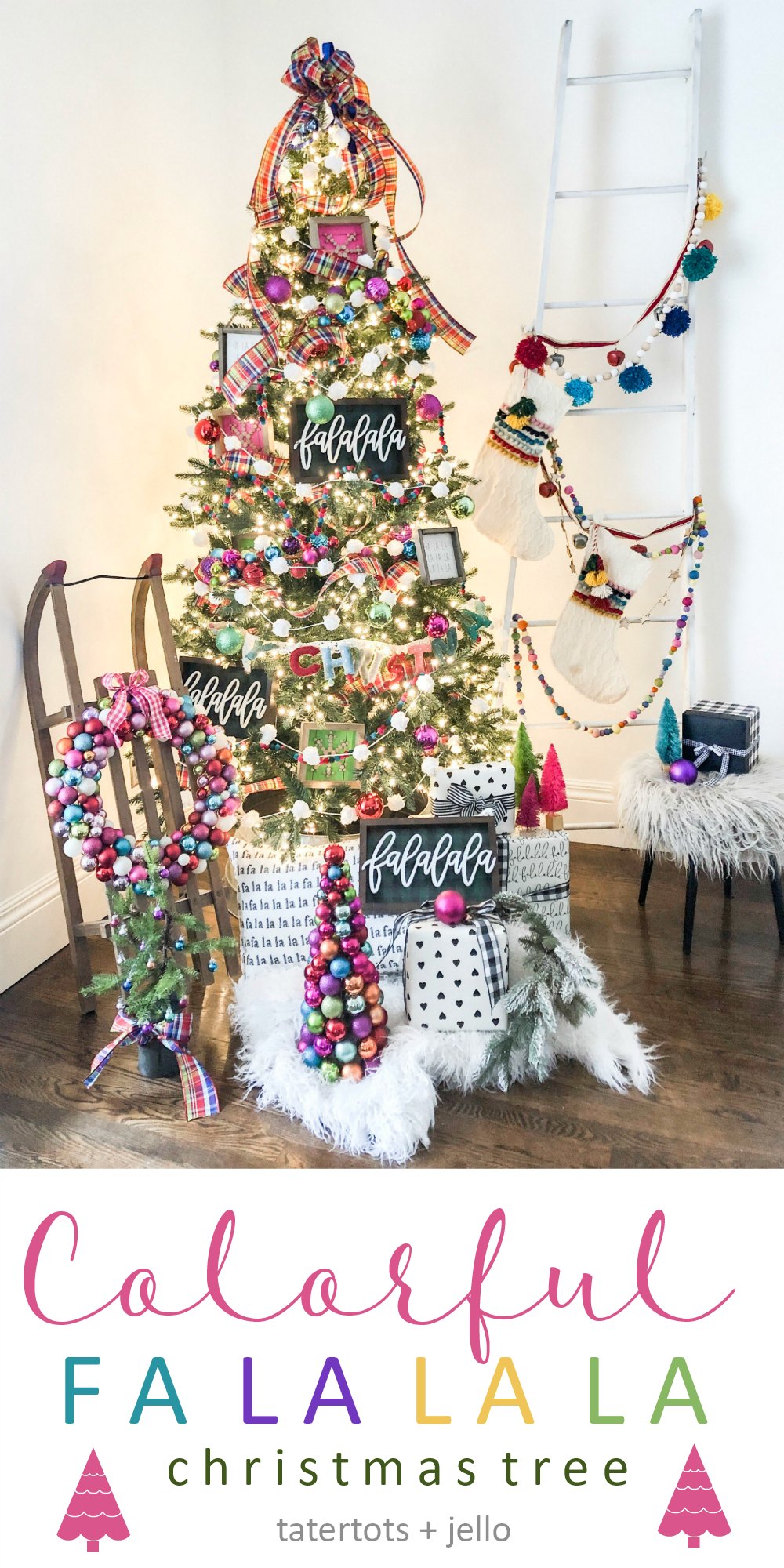 How to Create a Colorful Christmas Tree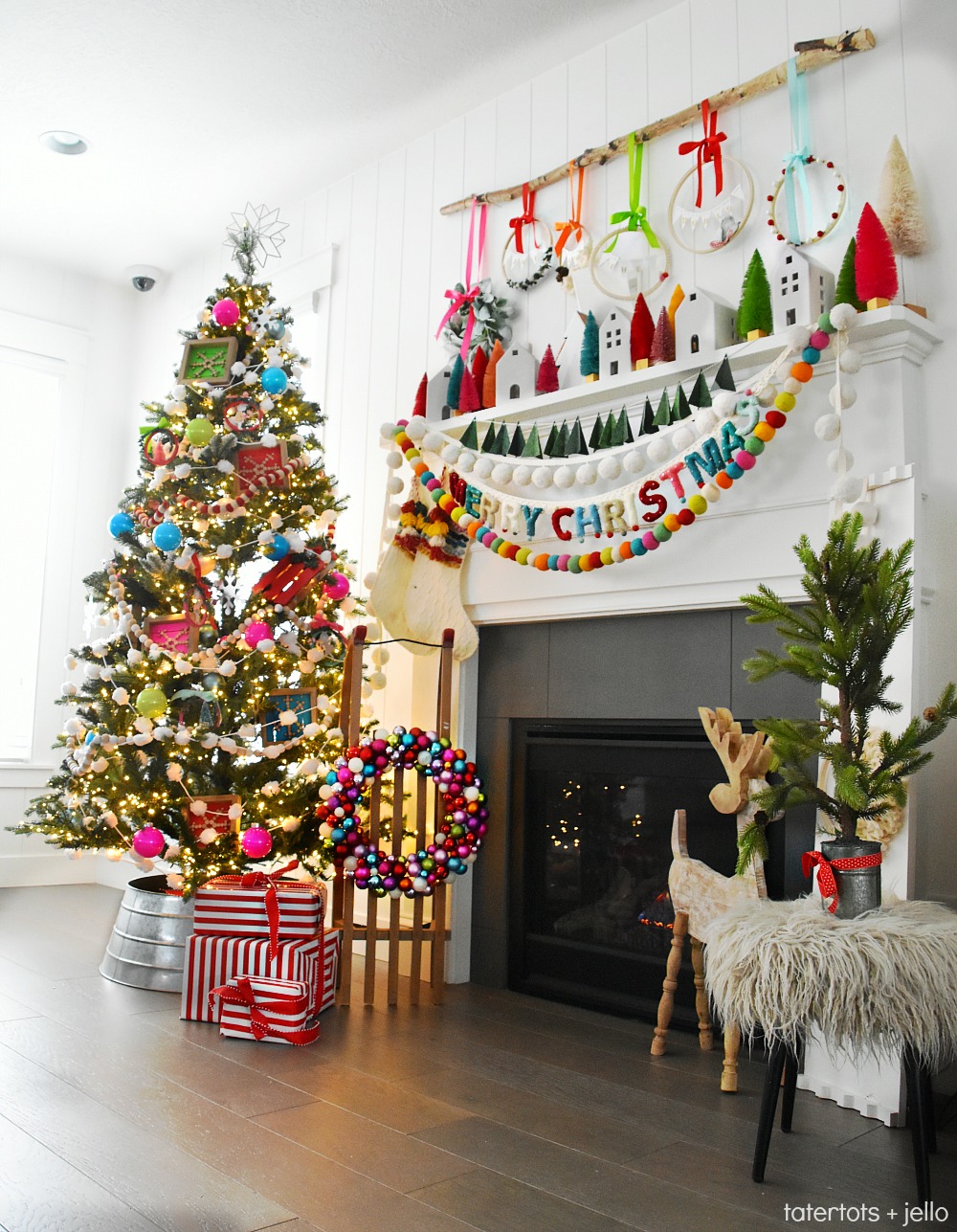 I love color. Last year I created a colorful holiday mantel and it was one of my favorite mantels of all time. It is even featured in the Pioneer Woman's magazine this month.
Use Non-Traditional Colors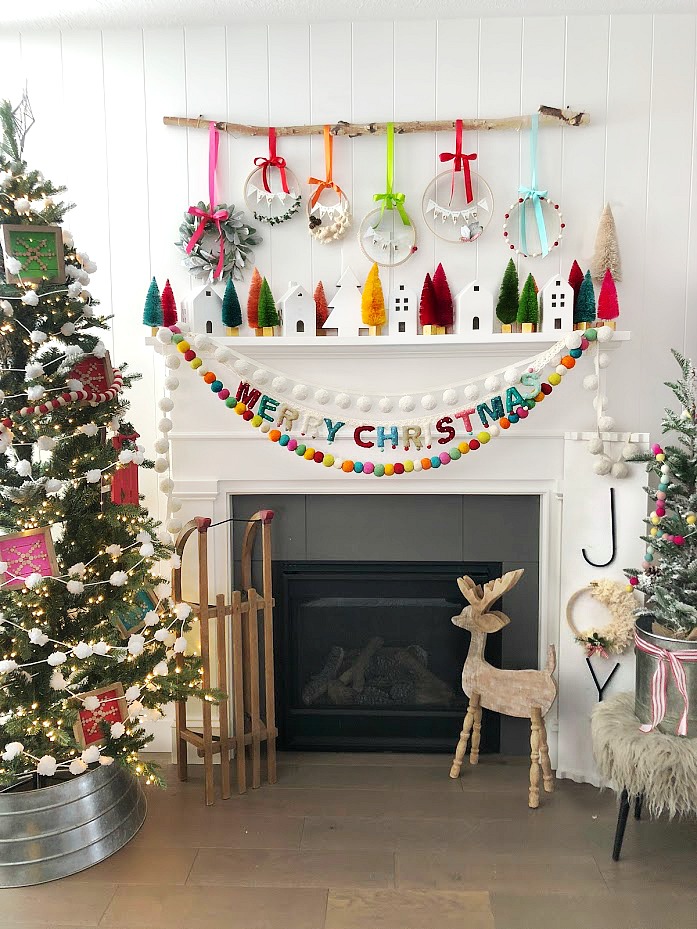 Instead of choosing traditional colors, I used a rainbow of colors for the mantel. And this year I wanted to create a tree with the same colors.
FAALA Theme Christmas Tree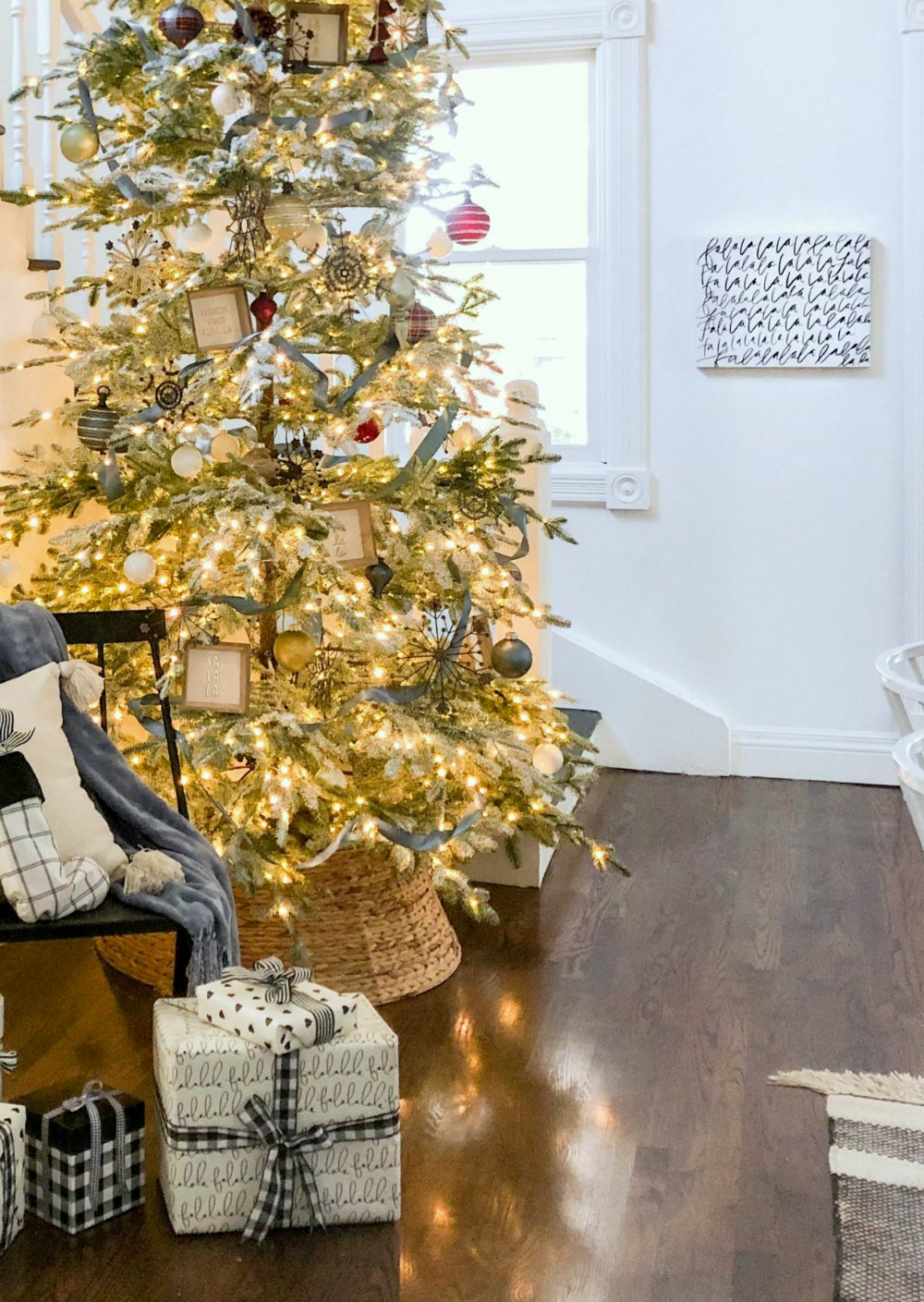 Every year I choose a new theme. This year I decided to go with the theme of "falala" from "Deck The Halls". My sister Ashley from @ModernGlamHome gave me the most adorable Christmas Falala art last year and it really inspired me to do a whole Christmas theme around that art. I created a cottage-style Christmas tree with the same Falala them too!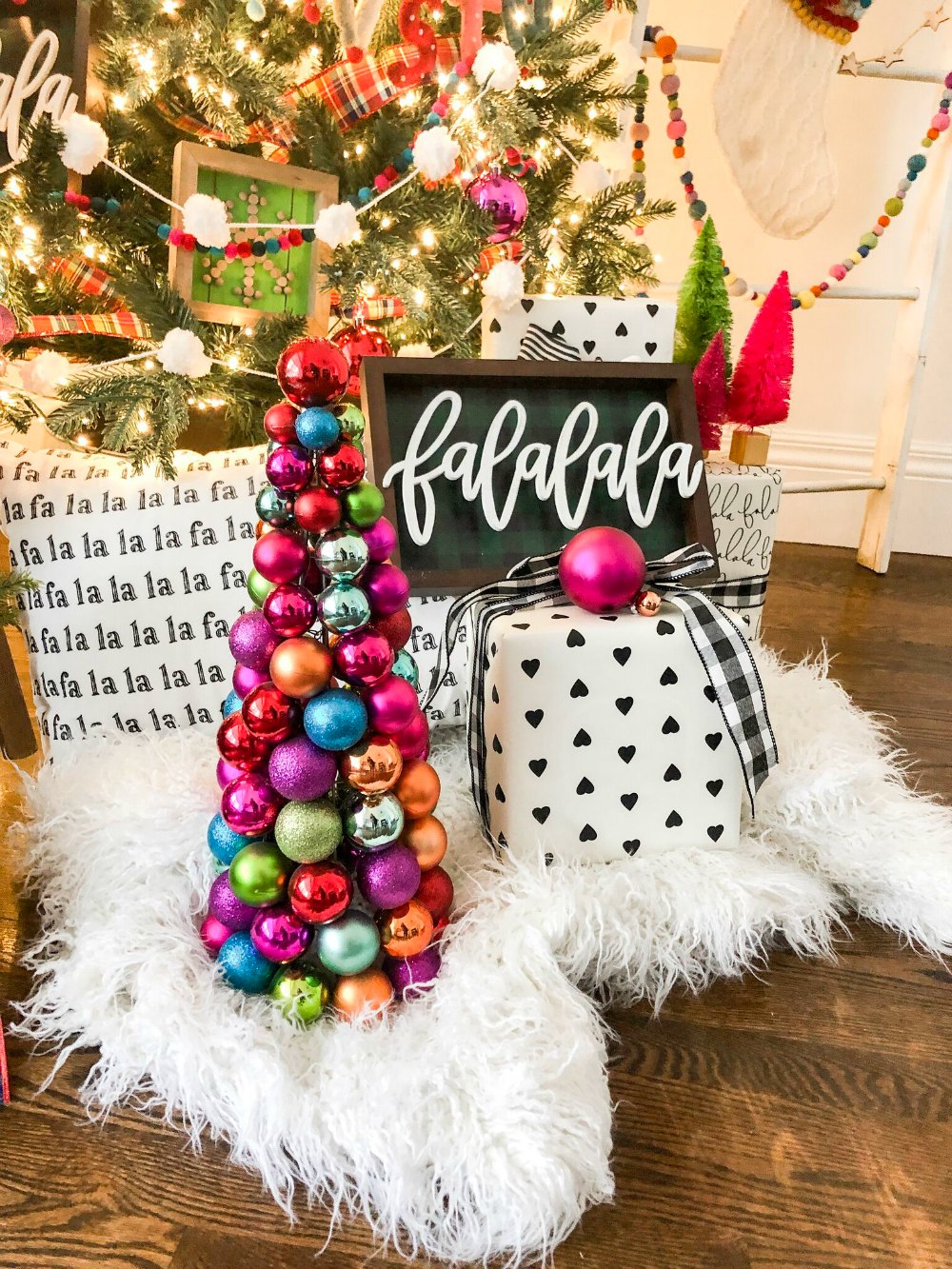 Wrapping paper with the falala theme which was perfect for the tree. I wrapped up a few packages and placed them under the tree.
Tie Your Colors Together with Ribbon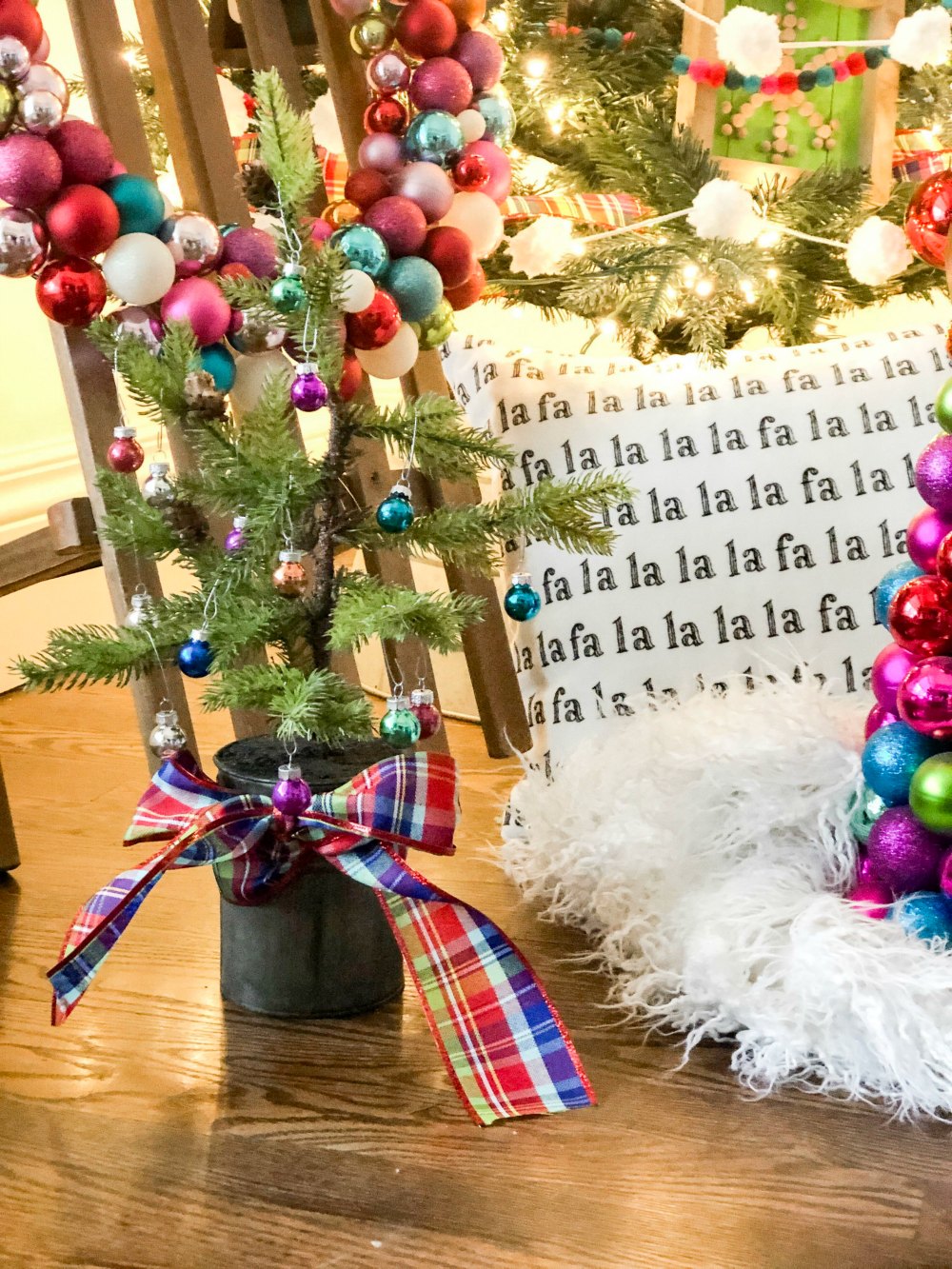 I found a beautiful plaid ribbon and based the colors of the tree off of that ribbon. I love the plaid and the main colors of green, pink, purple and teal were perfect for the colorful tree I was envisioning.
Felted Ball Garlands are Festive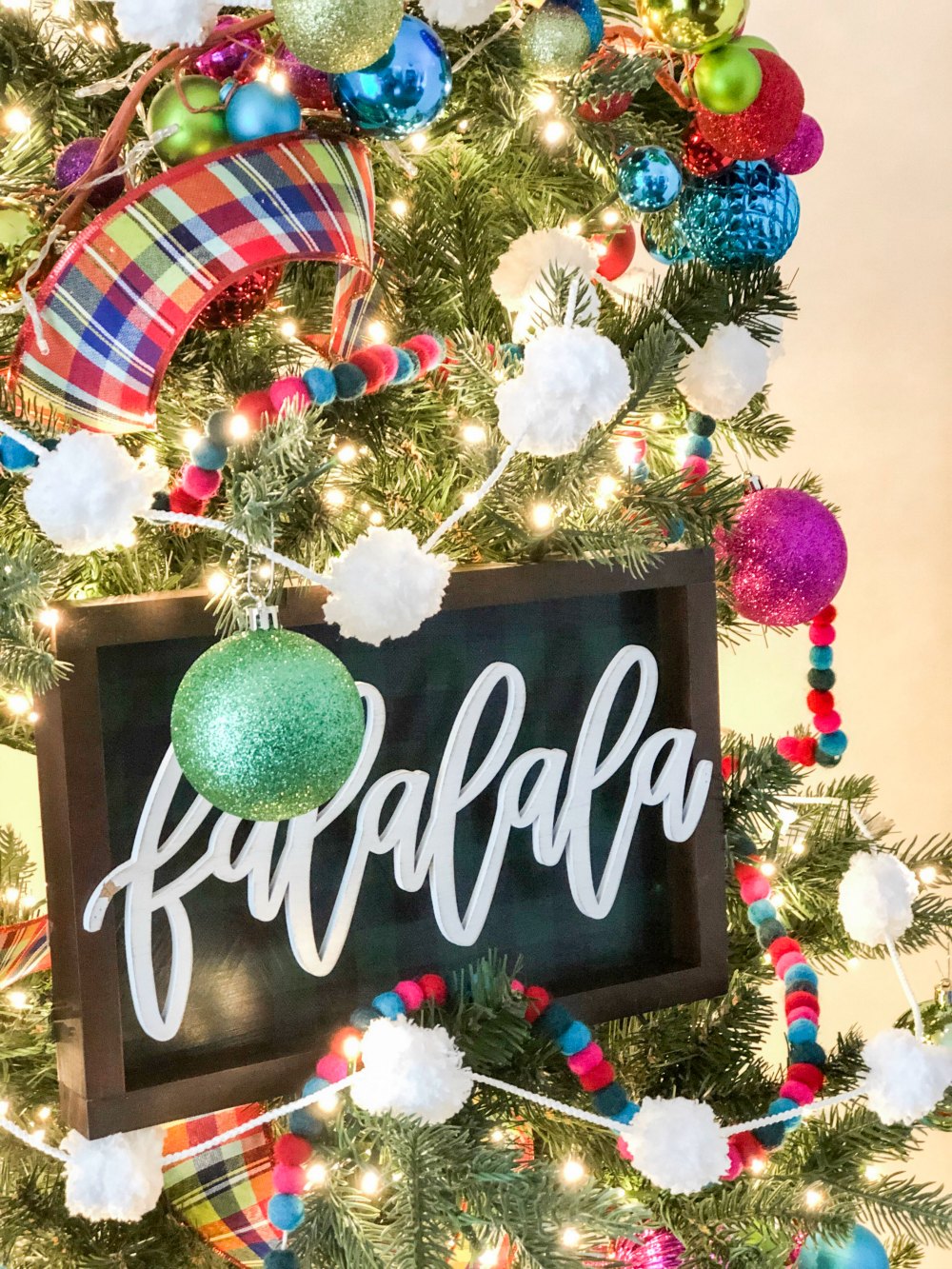 I love felted ball garlands. There are so many different colored ball garlands that you can find. One that I love is $7.99 at World Market. The one I used is from Michaels. I love the smaller shapes of the balls.
White Pom Pom Yarn Makes a Beautiful Garland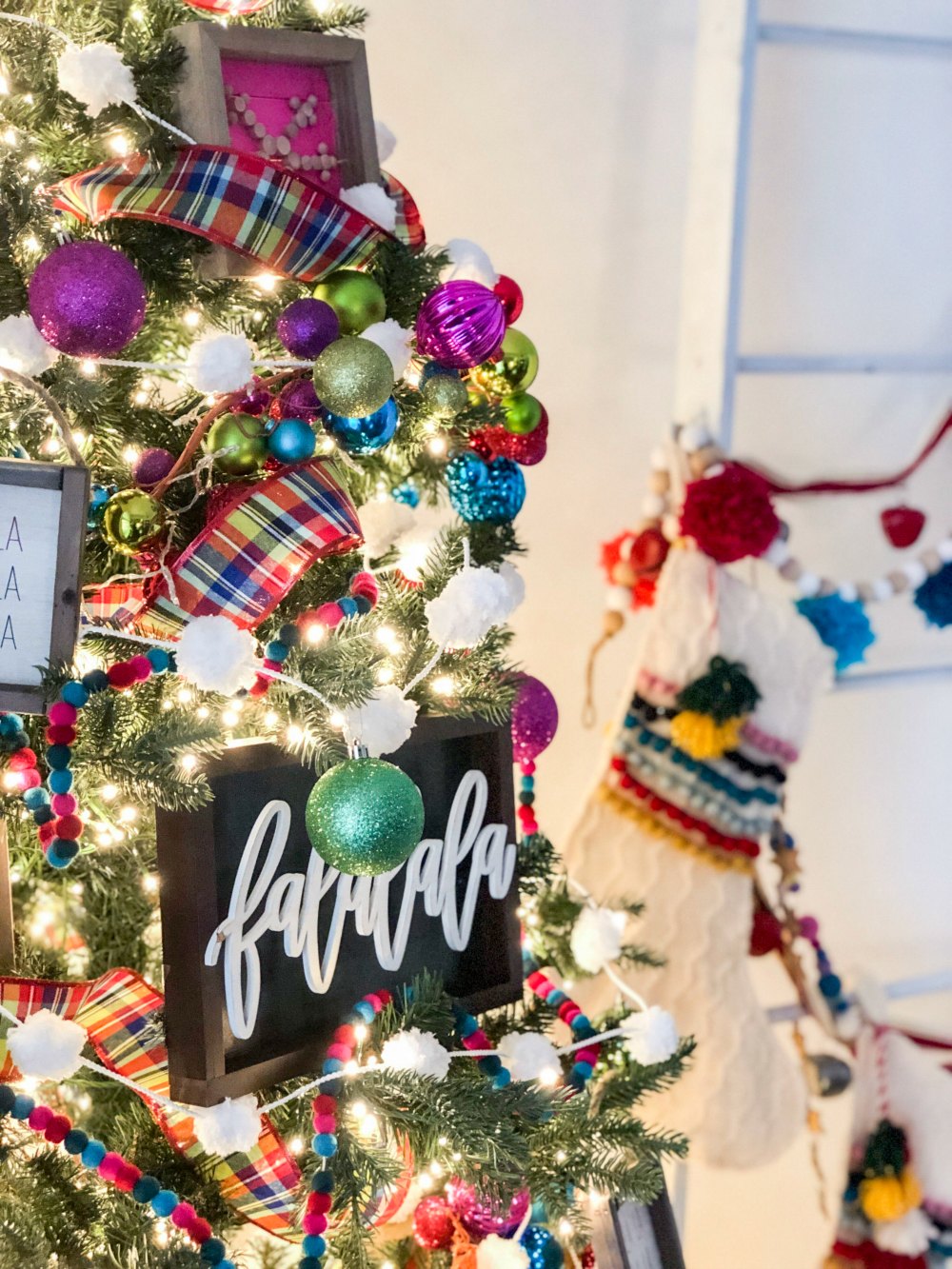 I also used white pom pom yarn that you can find at Hobby Lobby. I unwound the yarn and it looks perfect as a garland and is a great deal too!
Tuck Large Signs in the Tree
You can really enhance your theme with signs. I've made my own in the past with my craft cutting machine on wood. This year I found falala signs at Kirklands that were the perfect size and the font matched the fonts in my falala wall art and wrapping paper. Perfect!
Colorful Ornaments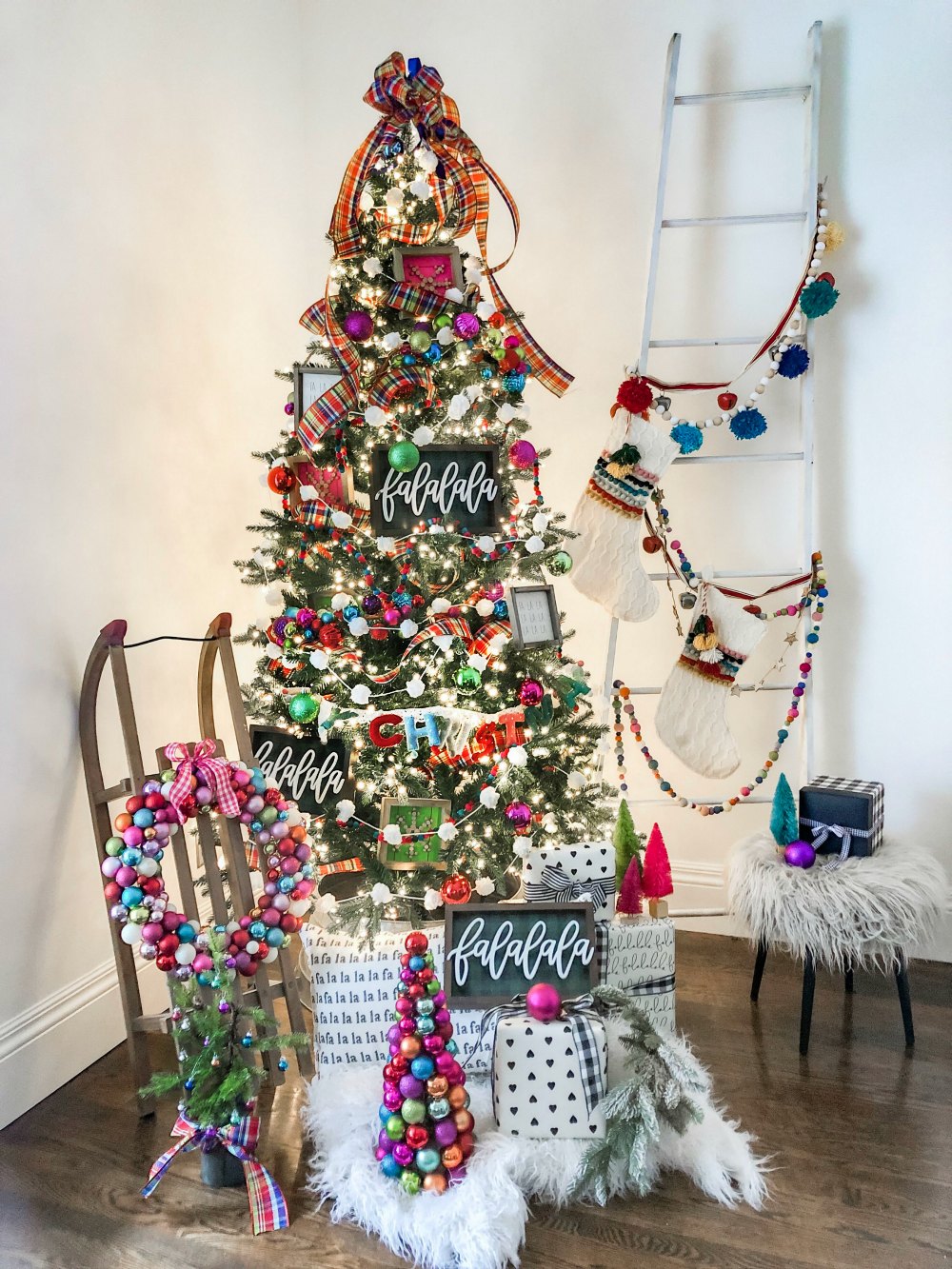 Add colorful ornaments to your tree. You can find packs of ornaments that are inexpensive and have all of the colors you need. Just add hooks and your colorful tree will come to life. I also had some ornament garlands with all of the colors from a few Christmases ago that look perfect with the tree.
Colorful Sign Ornaments
I created some bright Scandinavian wood ornaments last year that have all of the colors of my colorful tree so I added those in between the falala wood signs.
Add Finishing Touches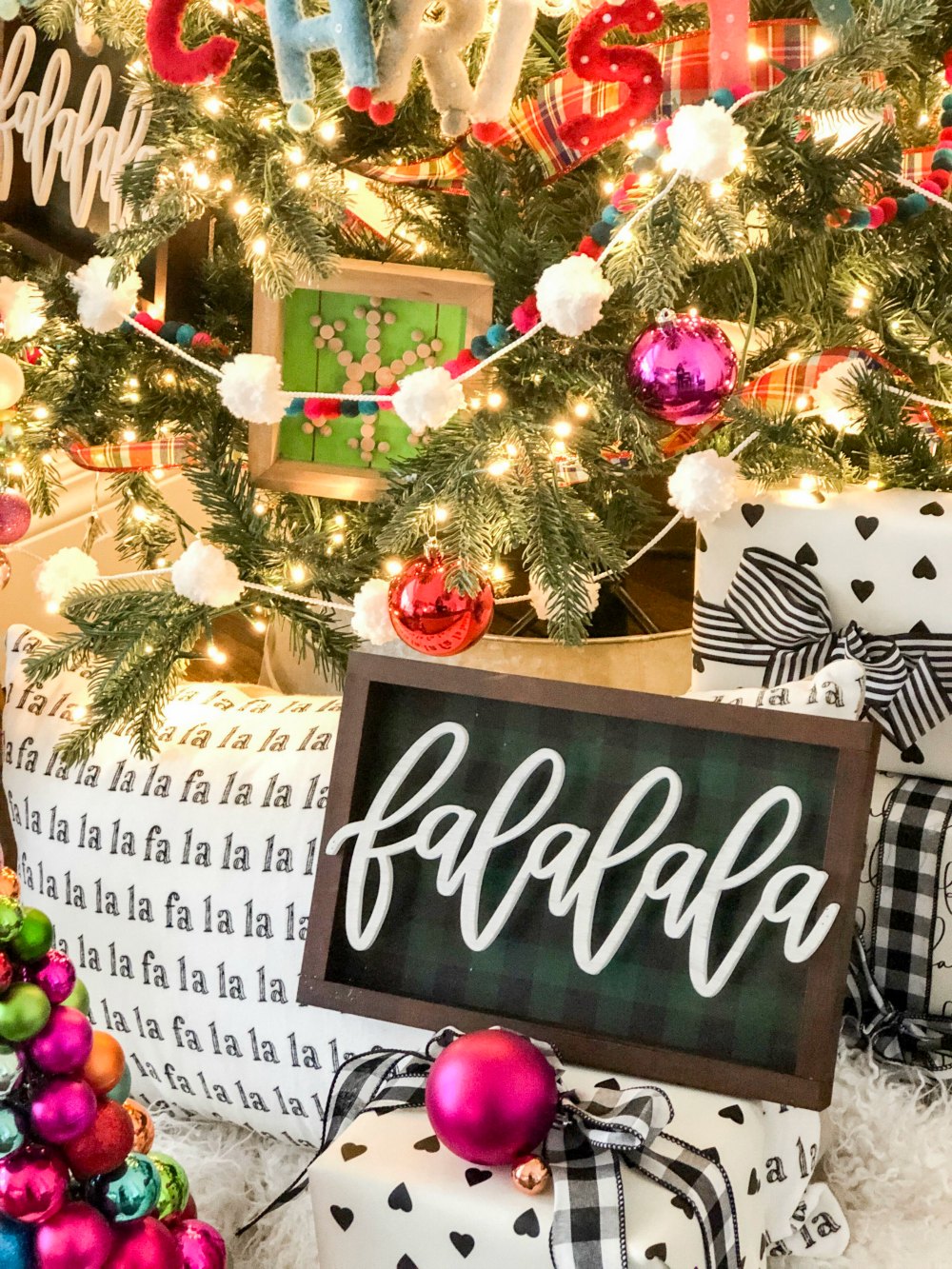 A red sled with a colorful wreath adds a whimsical and colorful element that adds to the FALALALA theme. I found a FALALALA pillow and added it to the bottom of the tree as well as a sign and wrapped packages on a furry throw.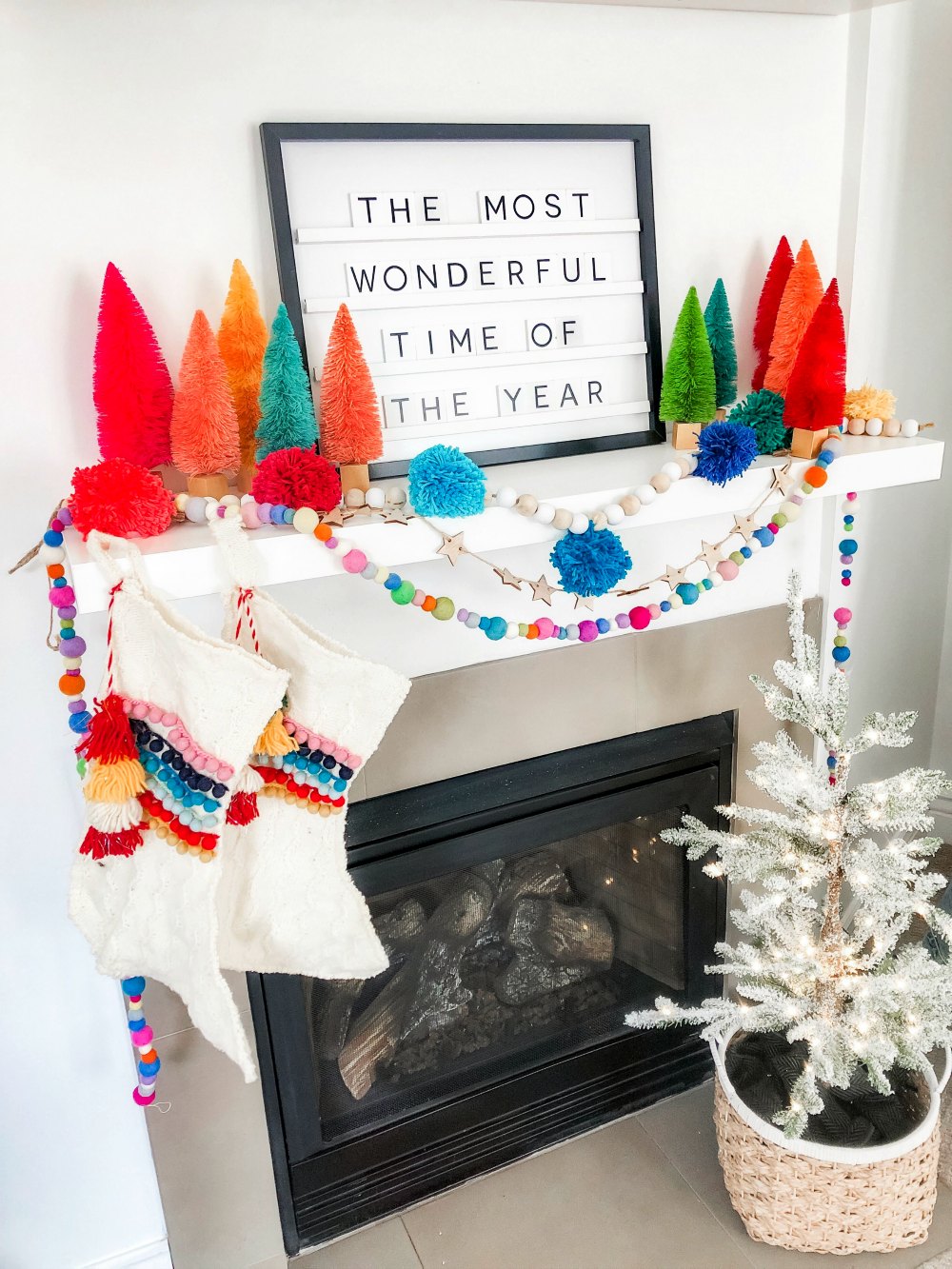 Enjoy Your Colorful Christmas Tree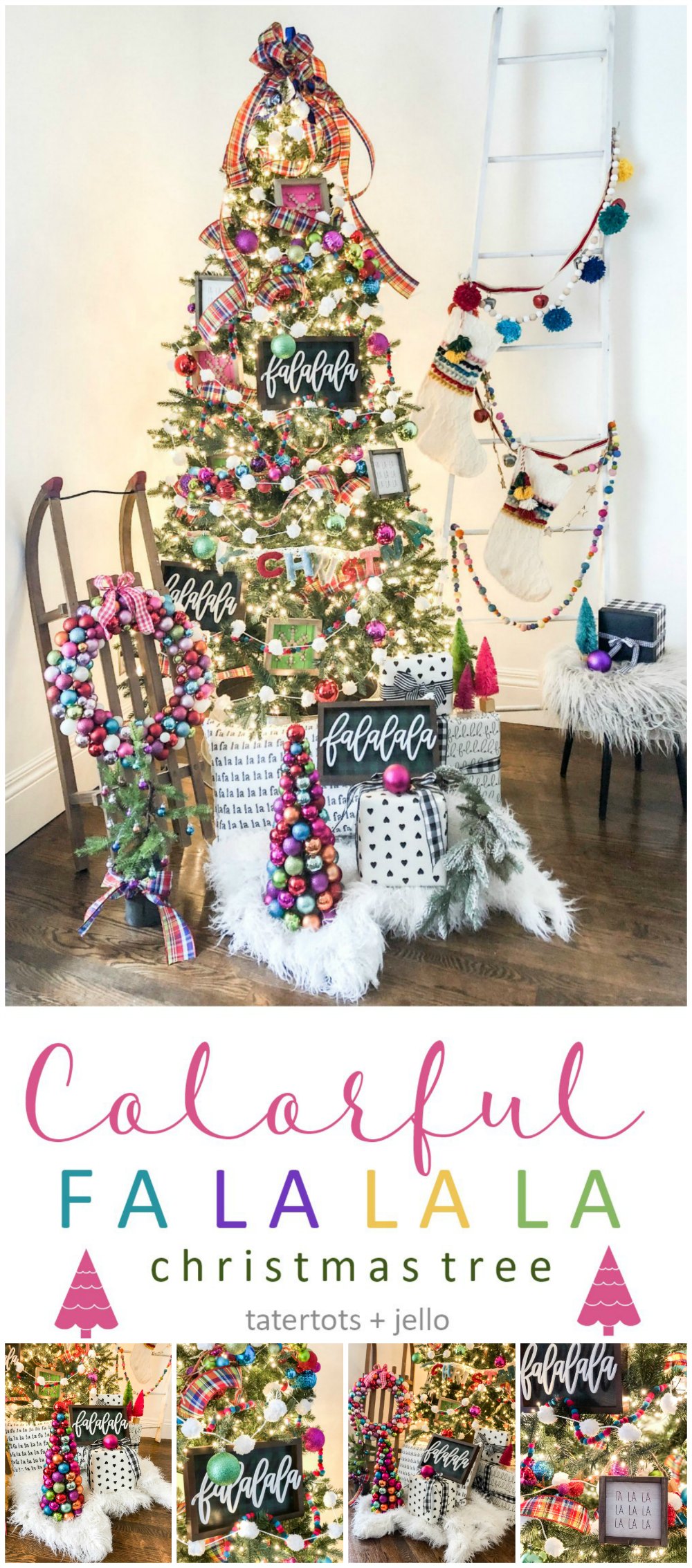 Sit back and bask in the bright and happy glow of your new tree! Everyone will love how festive your home looks for the holidays!
Have a Beautiful Day!
xoxo