How I store and organize ALL of my craft supplies! I've been blogging at tatertotsandjello.com for 11 years and sharing a new creative tutorial each day.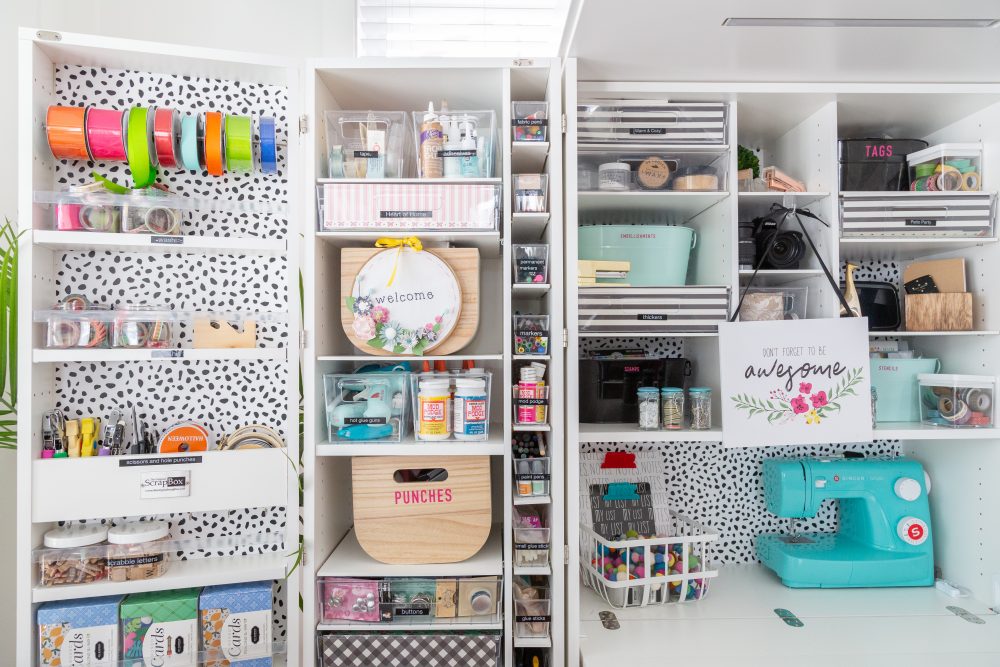 Here's a look into my living room turned office and crafting space!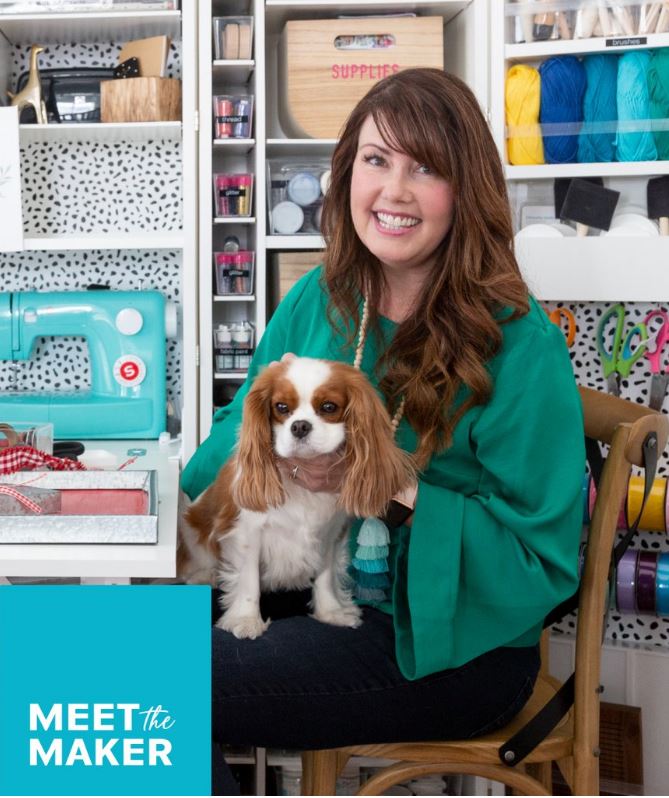 Any Room Can Be a Craft Room
I love being creative, but being creative can also be chaotic and messy! I'm Jen a mom of 5 and I've been blogging for 11 years. Every single day I get up and get to do something that I adore. Each day I make at least one creative thing and it's wonderful! Over the years I have had all kinds of different work spaces – from dedicated craft rooms, to bedrooms that I've converted into craft rooms, to dining rooms that I turned into my work space. I've had so many comments and inquiries about my DreamBox cabinet that I decided to write up why I chose it, love it and use it every day.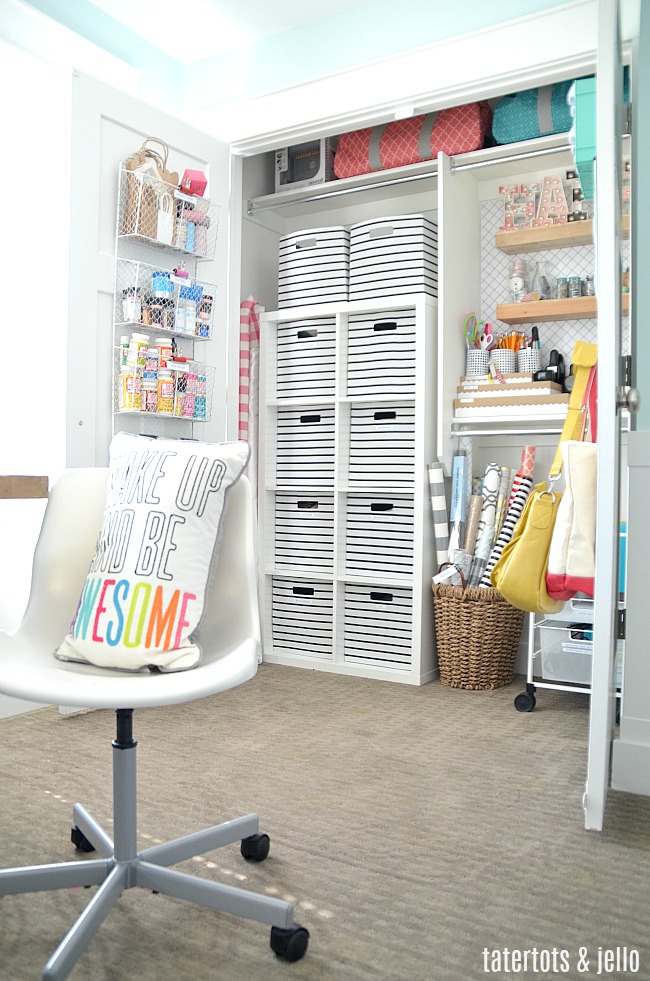 A Craft Space that is Mobile
As I get older and my kids go from being small kids and tweens, to teens and young adults, our family home has needed to serve different purposes. When we first moved into our home almost three years ago I created a really cute office/craft room out of one of our upstairs bedrooms. And it was awesome! But then my son moved back home in between apartments. He moved out and then my oldest daughter moved back home after college. I packed all of my creative supplies up into bins and stored them in our basement.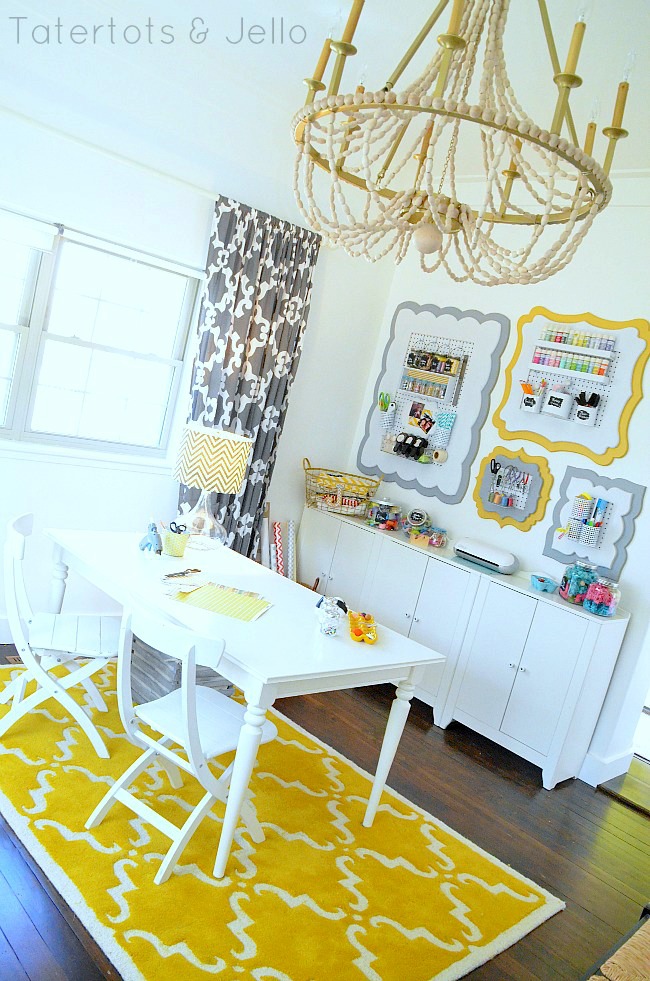 Mobile Craft Room Solution
Having everything in bins made it hard to find anything. And it turned being creative into something hard, instead of spontaneous. So when I found about about The Original Scrapbox's new DreamBox, I thought it would be the perfect thing for me! I had turned our formal living room into my office. It's where I blog everyday. But I still didn't have a workspace to sew and be creative. I would bring the bins upstairs and spread everything out onto our kitchen island and be creative there. But it wasn't ideal.
The DreamBox
The day my DreamBox arrived was amazing! I ordered it semi-assembled. So there wasn't as much assembling needed. It came in two big sections and I had some friends help me bring it into the house.
Customizing My DreamBox
Within a few minutes it was ready to go! It came with pegs, shelves, bins and all kinds of accessories. I love that it is so customizable! I bought a few bins to make it feel more like ME and tucked those in with the shelves and bins that it came with. It even came with dowels to keep my ribbon.

Dividing Craft Supplies into Sections
I divided my supplies into sections. I have a section of the DreamBox where I keep my paint, paint brushes and supplies. I have another section where I keep all of my card making supplies – cards, paper, embellishments, adhesives, stamps and pads. And another section where I keep my sewing supplies.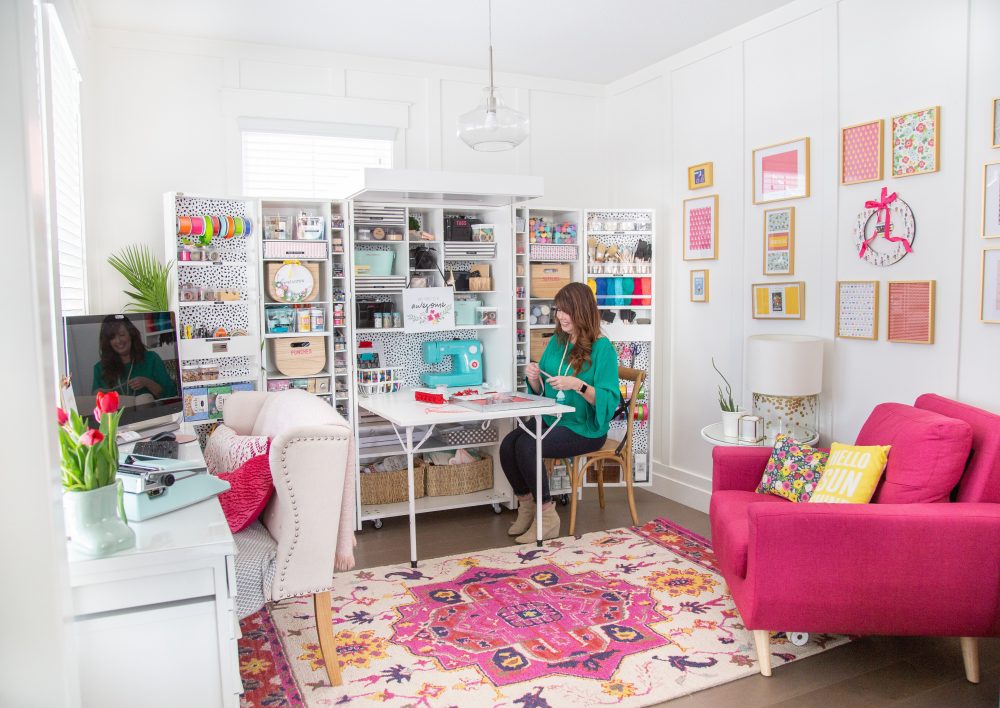 Fold Out Work Surface
The DreamBox has a work surface that folds out. I love that I can adjust the table to THREE different heights. When I am sew I like to be sitting down, but when I am working on a DIY like painting a board or hot gluing a banner I like to work standing up. I love that I can adjust the table.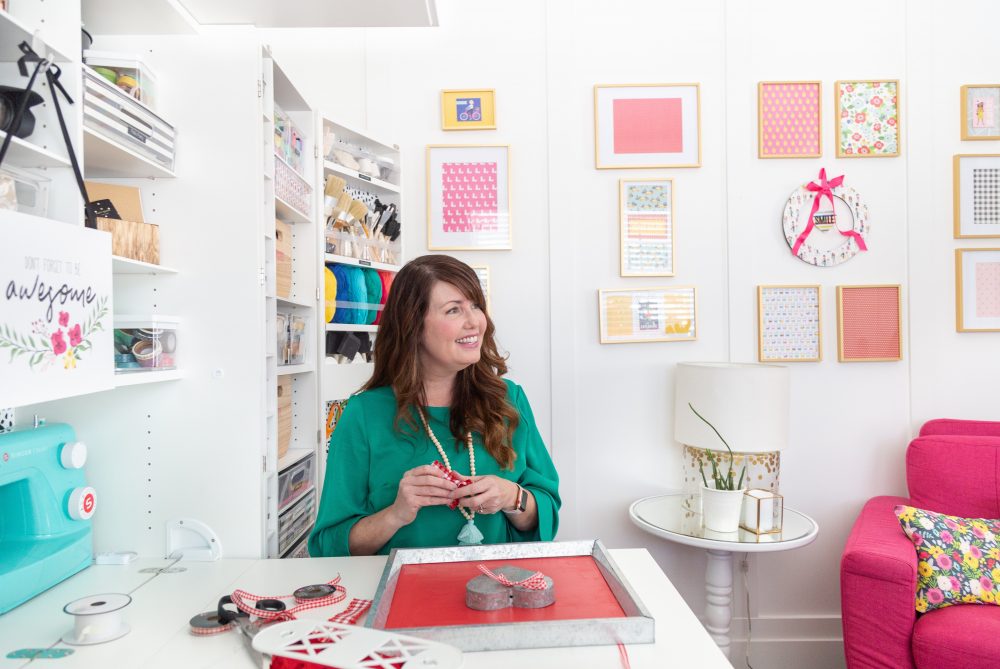 Places to Store Machines and Tools
Under the table is a space where I keep my machines – my craft cutting machine, my minc and my paper cutters. At the bottom of the cabinet I have two big bins. In one bin I keep fabric and extra ribbon and in the other I keep tools like my Paper Banner Punchboard.
Sewing Storage
There is a space right in front of the table that is the perfect size for my sewing machine and right behind that space is a hole that I put my power cord through to power my machines and hot glue guns.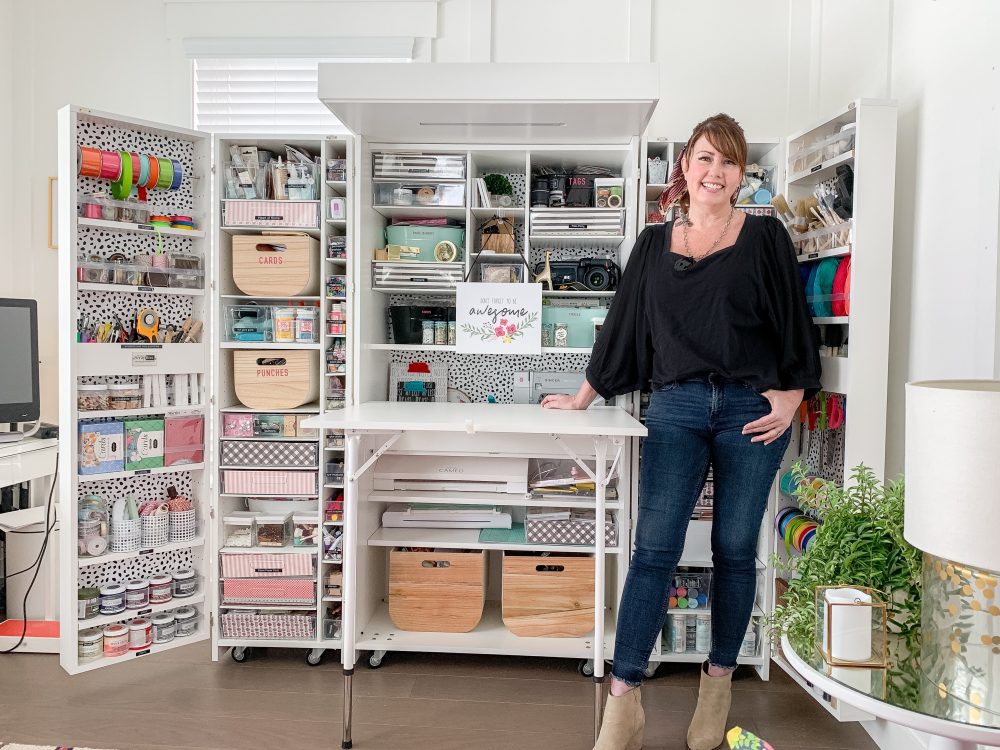 Making Craft Storage Pretty
I love the shelves above the table. They are different sizes and they remind me of furniture. I styled them like I would style a shelving unit for my office. I have some that are filled with paper, but then I also have spaces that are open and I keep washi tape in pretty containers as well as pretty staplers, tape dispenser and even a little giraffe statue. I love having my cabinet semi open with the shelves exposed because I think it's so pretty! The sides fold out so I can grab any craft supplies I need while I am working, but then they fold in with the plain white sides showing which looks nice in the room.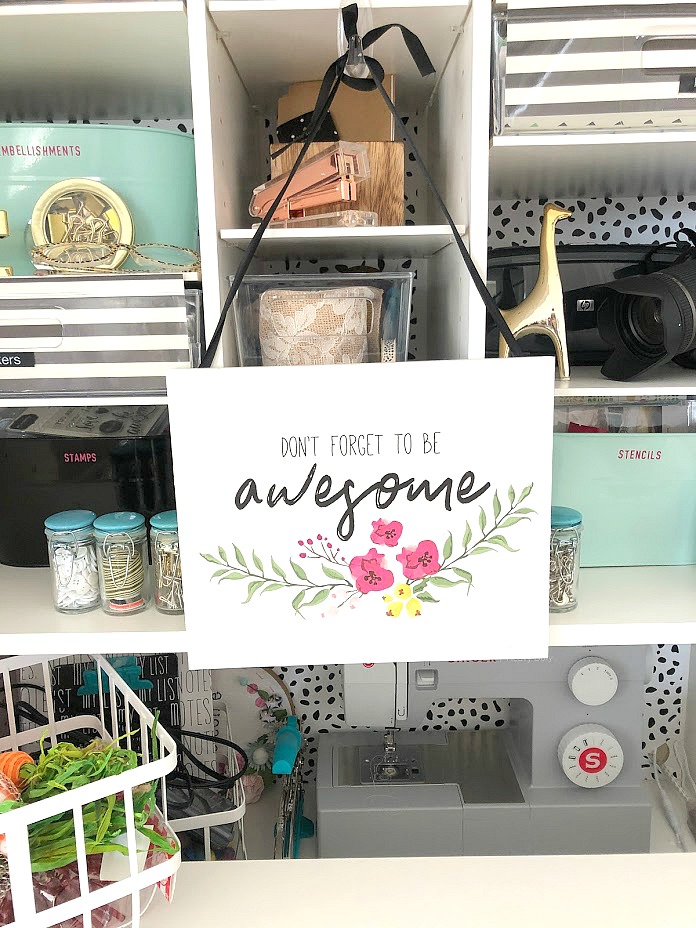 Decorating Craft Storage with Removable Wallpaper
One of my VERY favorite things that I did with my DreamBox is I used removable wallpaper to decorate the backs of all of the cabinets. It's so pretty and it makes my DreamBox feel so special and unique to me. I love using removable wallpaper because I can change out the pattern so easily and it won't damage my DreamBox.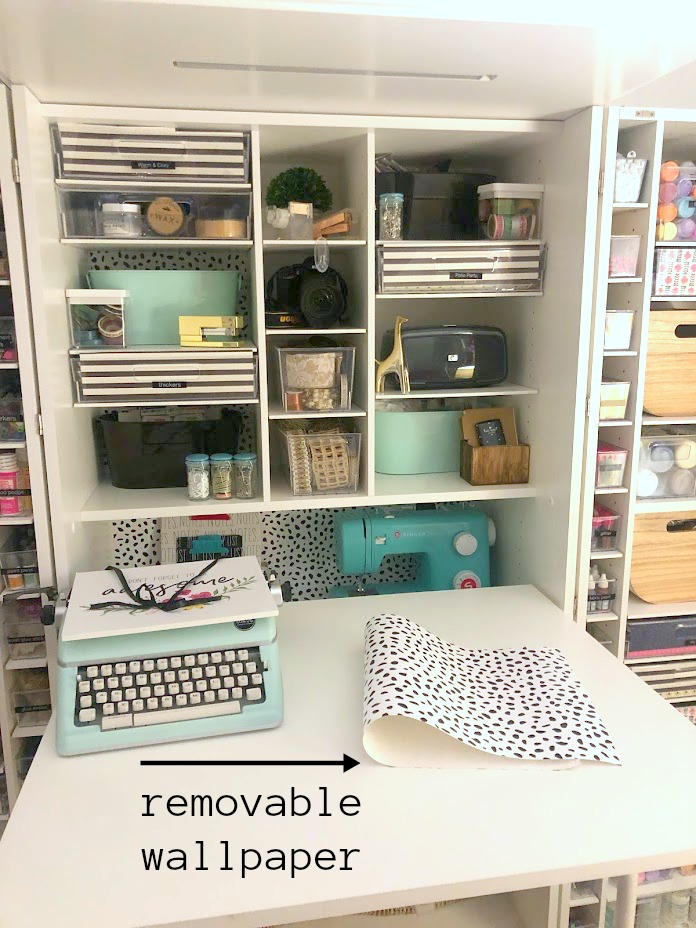 Another thing I love about the DreamBox is that it has an awesome overhead light. My daughter is in the design program at her college and last semester she had to make these intricate buildings out of chipboard. She used my DreamBox desk almost every night because the light was so good. It;'s great for crafting at night because the light is very clear and bright.
Craft Storage that Looks Like Fine Furniture
The whole cabinet folds together and looks like a piece of furniture. And it's on WHEELS!! So I can wheel it into the corner and my office looks nice and tidy. That's so important because it's the first room you see when you come in the front door to our home!!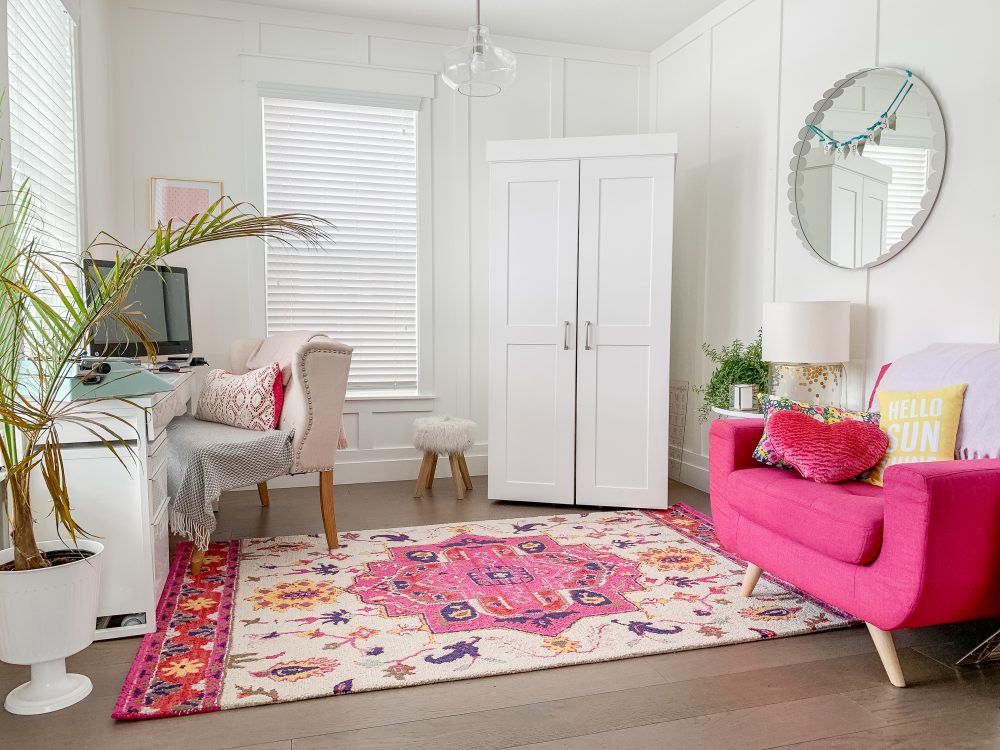 All of My Craft/Office Supplies in ONE Place
Now instead of having a basement full of jumbled bins of supplies, I have everything in ONE place. It's all accessible and easy to reach. It's a room within a room. It's like having a craft room on wheels. The DreamBox is wonderful in a craft room, but it's an amazing idea if you don't have a dedicated craft room. You can put it in a guest room, a family room, a basement or any other space and you have everything you need to be creative anytime!
Original Scrapbox Discount Code
It's really a dream come true for me. And I loved it so much that I asked The Original Scrapbox if they would give us a special code!!
If you want to see my crafting space in action, I do a live tutorial each FRIDAY on Instagram. It's really fun! Come join in at 1 pm MST — @tatertotsandjello! And you can find out more about how I got started blogging over at The Original Scrapbox in my interview!!
And leave my ANY questions you have about my work space or blogging in general!
Have a Creative Day!
xoxo

I received product in exchange for sharing my opinion about the DreamBox. All opinons are my own. I only work with brands I love. I am an affiliate with The Original Scrapbox.