15 Last-Minute Thanksgiving Crafts for Kids. Grab one or even a few of these idea to entertain the kids this Thanksgiving!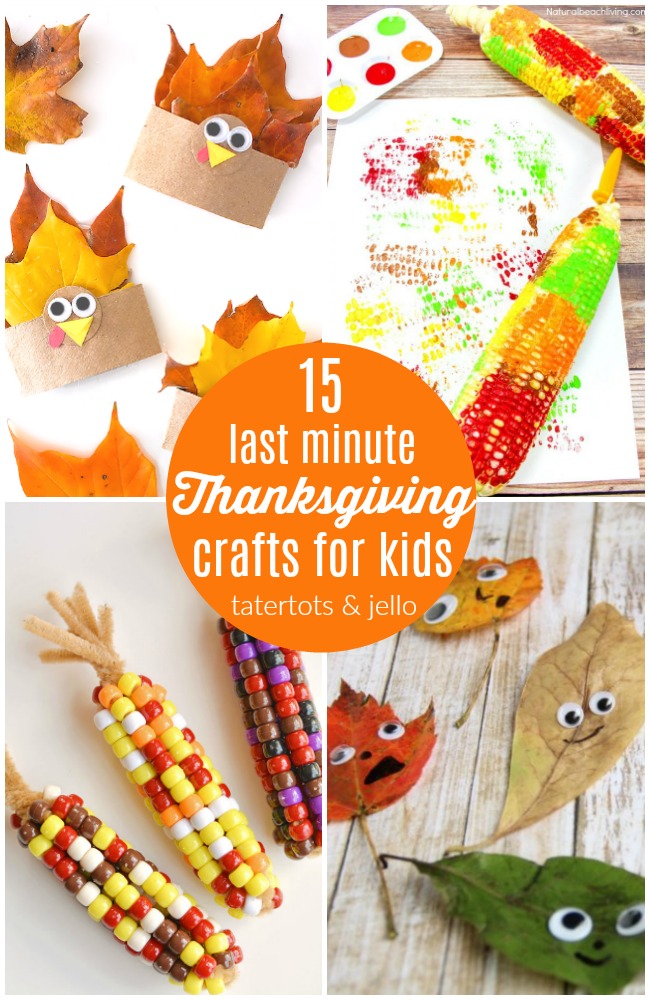 It's hard to believe that Thanksgiving is just a few days away! Here are
15 Last Minute Thanksgiving Crafts perfect for kids!
15 Last Minute Thanksgiving Crafts for Kids!
***
Such an easy craft. Kids will love making these turkeys!
This is a craft that you can frame and hang up after!
Aren't these leaf lanterns fun? You can put them on the table after the kids are done for Thanksgiving decor!
Turkey windsocks are a fun decoration that you can save and get out each year to decorate with!
Have the kids make place card holders for everyone this year!
Kids will love turning leftover egg cartons into adorable turkeys!
here's a craft that kids can eat too! It is a favorite.
We are having "Pie Night" the night before Thanksgiving and this is the perfect craft for the kids to make that night!
I love this idea of creating a thankful book and having everyone write in it!
Kids of all ages will love creating a special fall wreath.
Print out these cute placemats for the kids' table this year. They will keep the kids entertained!
Googly eyes make these leaves so cute and it's an easy craft!
See what your kids can create with this fall leaf activity.
These clay leaves can be place cards or even holiday ornaments. Kids will love stamping their names of favorite word on the leaves.
Hoe cute are these pipe cleaner beaded corn ears. Love this!
***
Here are some more Thanksgiving ideas!
This is a fun craft and it's also edible which is a favorite!
One of my favorite craft ideas – this DIY Be Thankful Board!
***
What are some of your favorite Thanksgiving sweets?
Share them with us!
xoxo