Bright Organized Craft Room Office. Bright peel-and-stick wallpaper, an organized desk and Dream Box with storage galore make working so much more fun and efficient!
Bright Organized Craft Room Office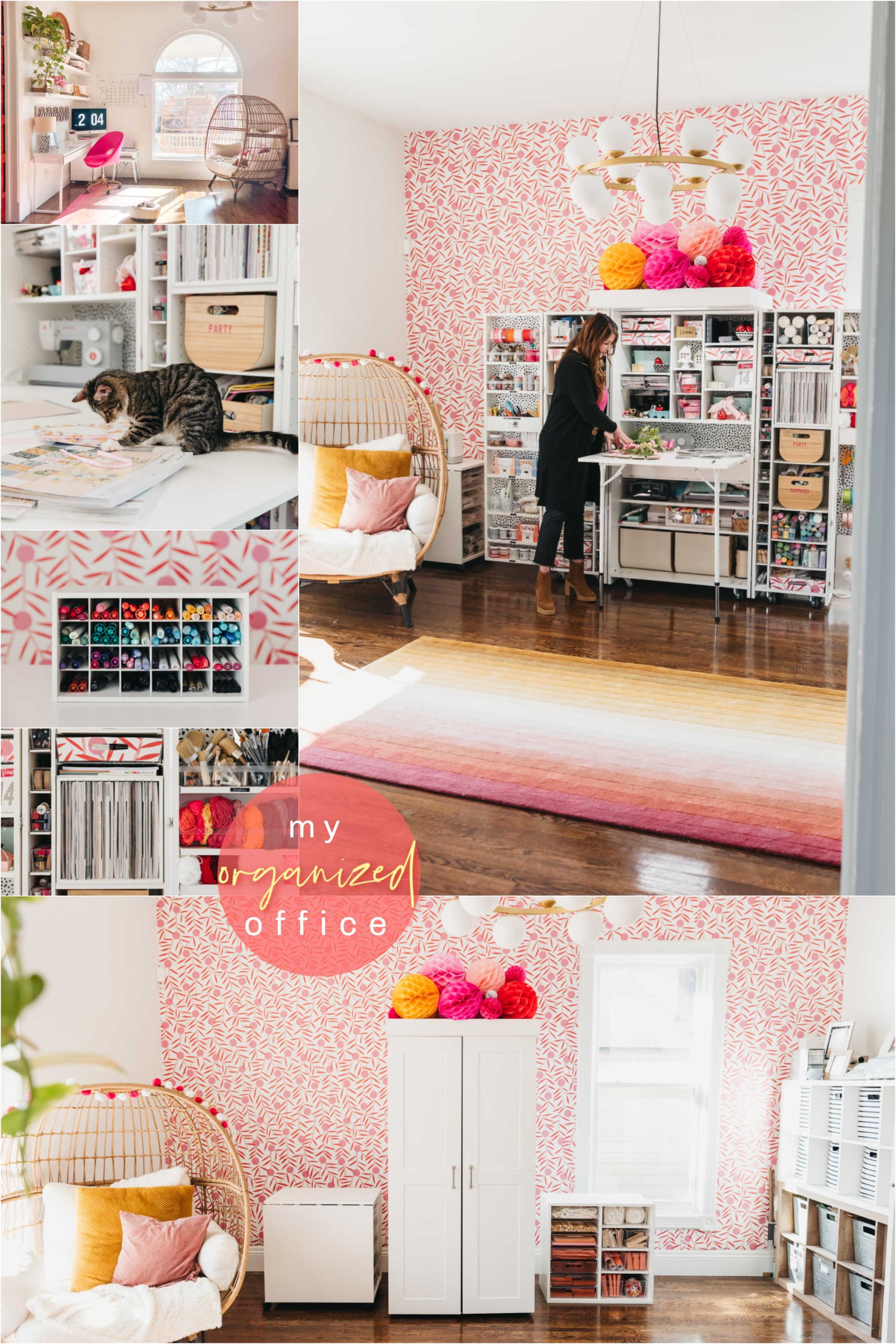 I am embracing color and being organized with my new office refresh!! I've been blogging full-time as my career for over 10 years (14 in total)! And over that time I have shared over 4,000 tutorials and projects!! That many crafts, DIYs and ideas requires lots of craft supplies!! One of the questions I am asked is how I organized all of my craft and office supplies. So I thought I would share how and give you a preview of my new office space!
Turn a Little-Used Room into an Office
Over the years I have carved out office space from several different rooms; like my dining room, two living rooms and a bedroom over the years. In our current 1891 home, I turned the formal living room into my office. Since it is the first room people see when they walk in, I needed a space that could be cleaned up easily and look nice.
Peel-and-Stick Wallpaper Adds Instant Color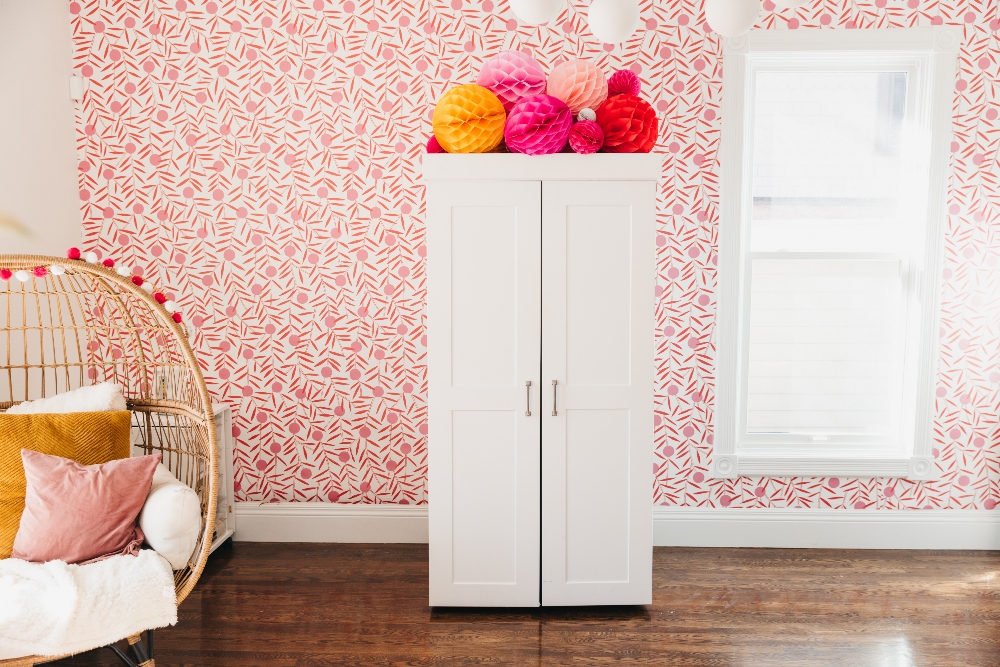 I am in love with peel-and-stick wallpaper!! It's so easy to apply and easy to take down too! It's a great way to bring color into a room without the big commitment of regular wallpaper or paint! It's also a great idea if you are renting because you can take it off without any damage to the walls. I partnered with Hygge and West for this room. I chose their BLOOM wallpaper in the pink POPPY color! I am in love with the pattern and color! I am working on a separate post with all of the details on how to apply peel-and-stick wallpaper with tips and tricks so stay tuned for that!!
Maximize Storage
There are a few ways that I maximized storage in this room. We moved into an 1891 home that we are renovating. We don't have a garage and we turned the basement of our home into an airbnb, so I really have to get the most storage out of our home that I can!!
Add Storage Vertically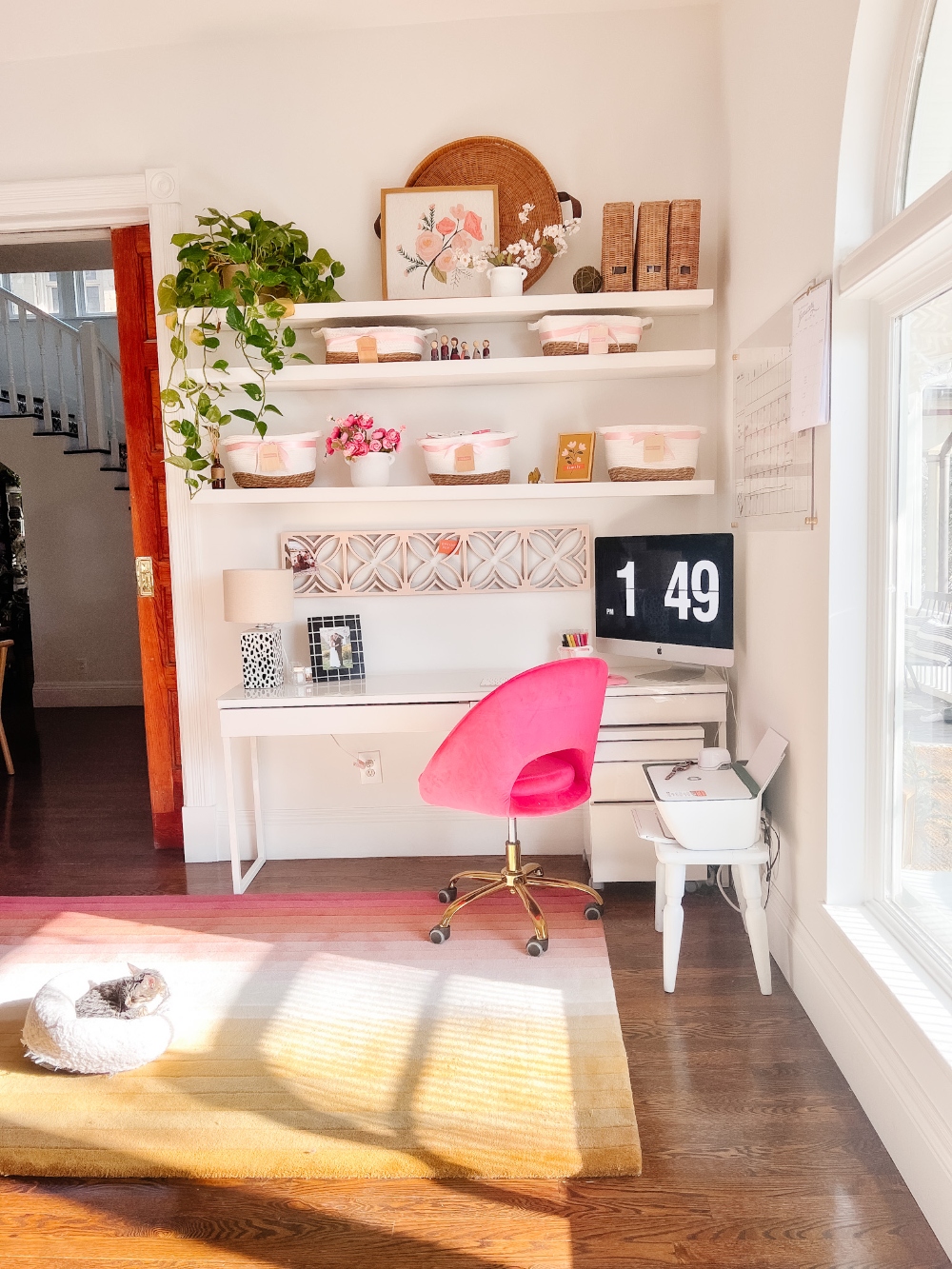 One way that I maximized the space in my office is by adding storage vertically! We have super high ceilings in this beautiful old home so I added shelves above my desk and organized the shelves with baskets! You ca read more about how I did this on this post — New Year Office Organizing!
My Dream Box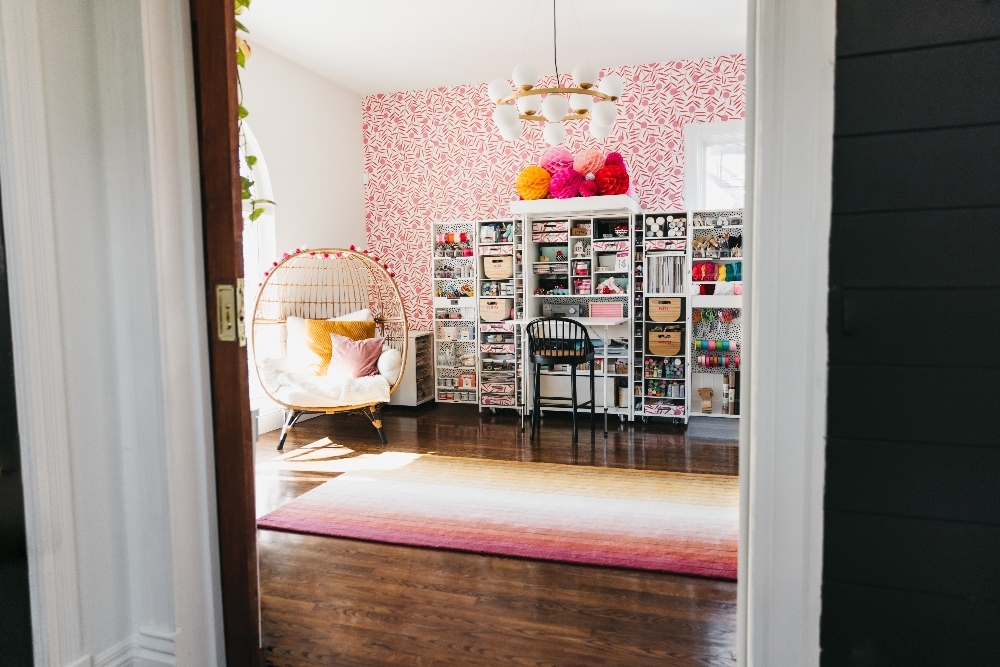 My favorite item in my office is my Create Room Dream Box!! Seriously, this is where all of my craft and office supplies are stored! Before I had my Dream Box, I had boxes of craft and office supplies all over the house! It was SO hard to find anything!! I was buying duplicate supplies because I was never sure where things were and I didn't have time to search for them! My Dream Box has transformed my life and saved me so much time!
Keep All Office and Craft Supplies in One Place
When the Dream Box is closed it looks like a beautiful cabinet. But when it opens up there is so much storage. I customized mine to hold the supplies I needed. You can move the shelves around to accommodate whatever supplies you need to access.
A Desk and Moves to Different Heights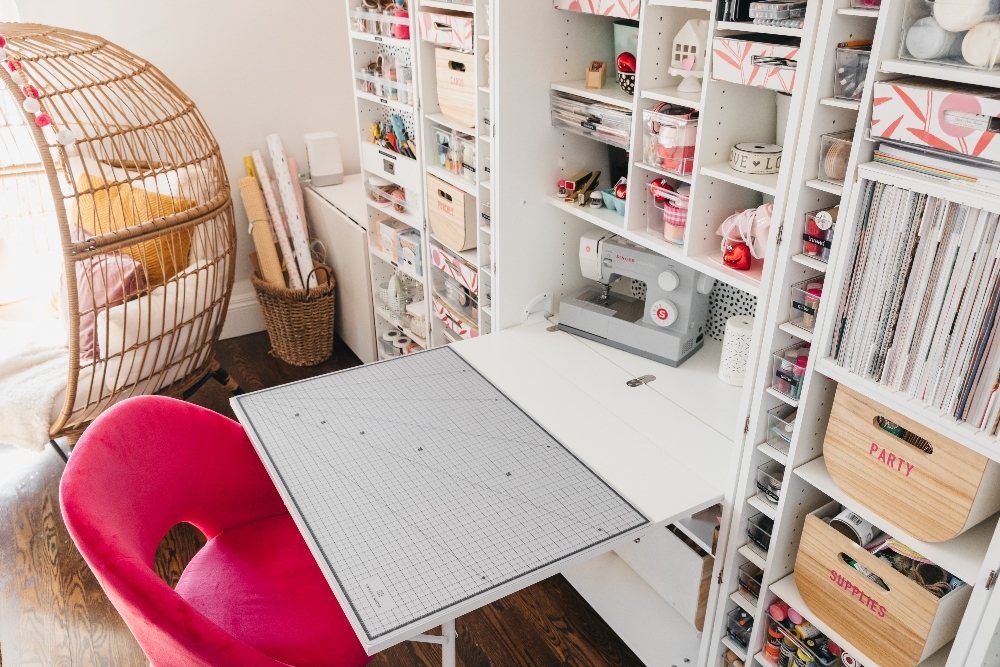 The desk pulls out and can be three different heights. The lowest setting is perfect for sitting at a normal chair height. I do a lot of sewing so this height is perfect for that. The tallest setting is counter height. I like to stand up when I am crafting or painting, so I use this height the most.
A power Strip inside the Dream Box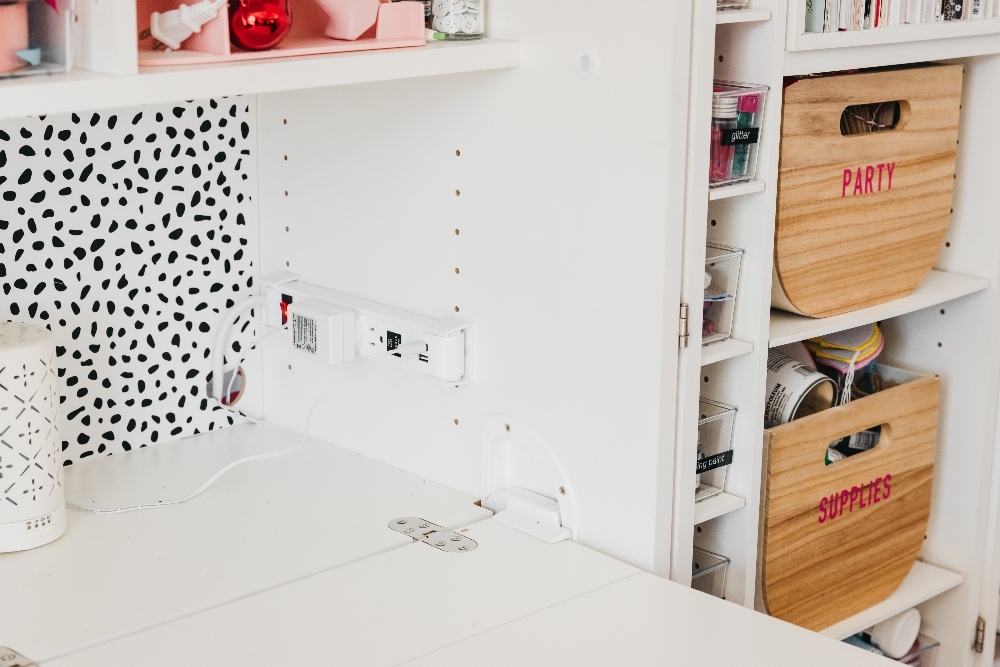 There is a power strip that you can install inside the Dream Box. This makes organizing my machines so easy. I plug in my tools to the outlet. When I am using my other tools like glue guns and my sewing machine, I can use multiple tools at once!
Storage That Can Move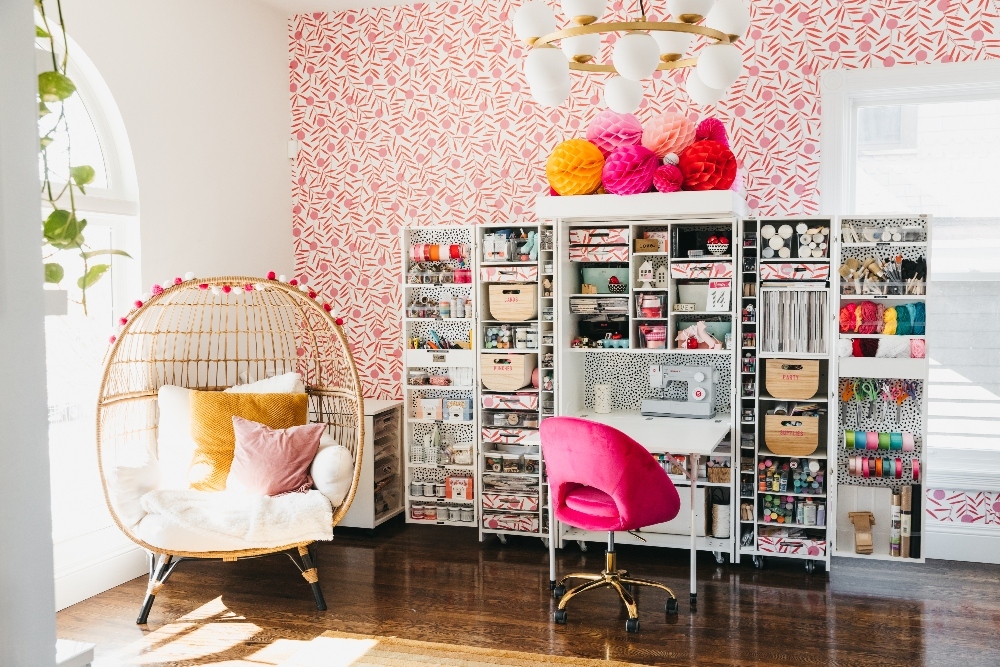 Another thing I love about my Dream Box is it's on wheels! I can move it around without having to unload everything. So if you don't have a dedicated office or craft space, you can put the Dream Box in a room and have it be closed to save space. When you want to use the cabinet, just roll it out and open up and you have an INSTANT OFFICE!
Dream Box Sale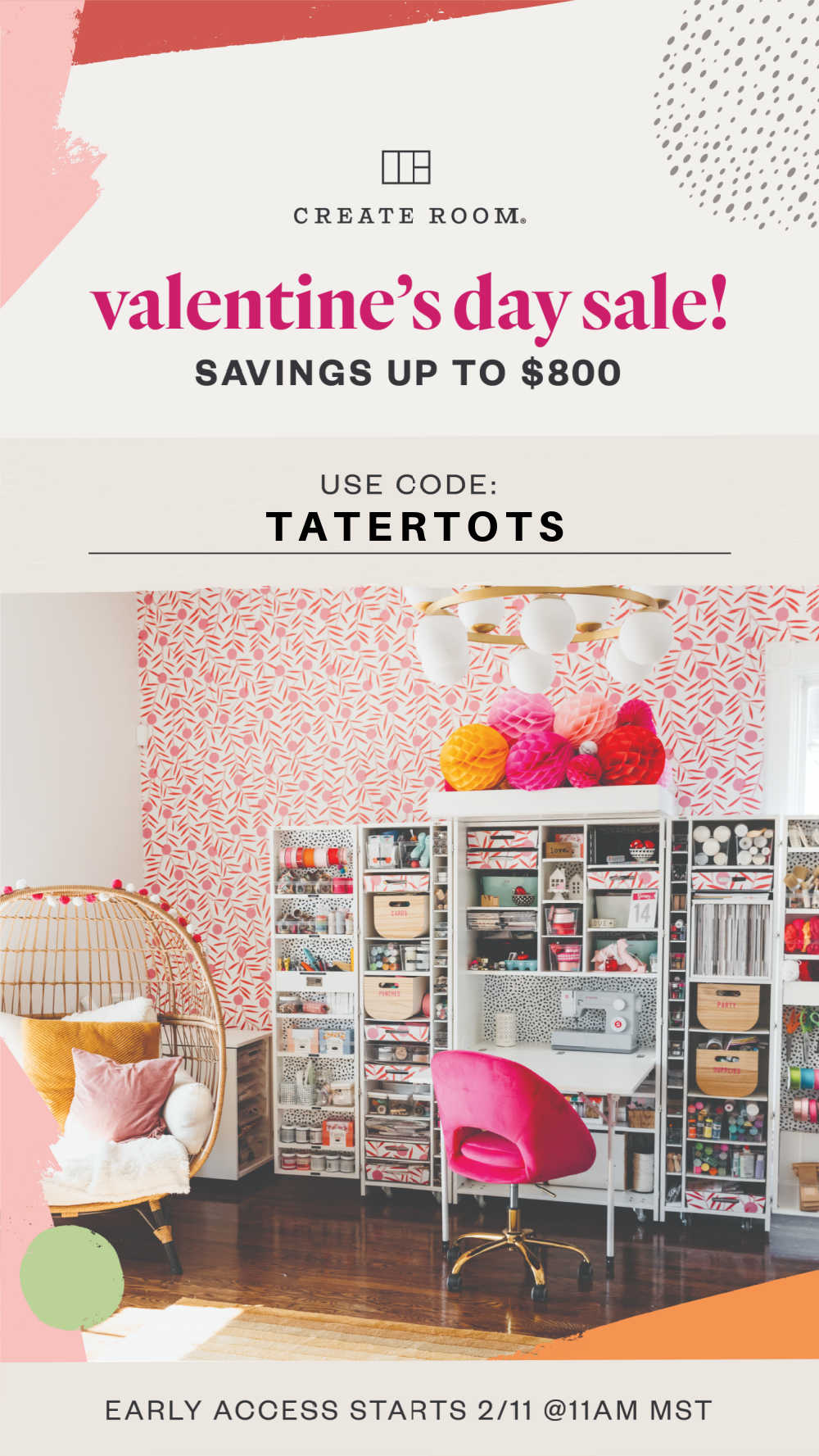 Right now Create Room has the Dream Box on sale for Valentine's Day!! If you are thinking about ordering one, hop on it NOW! I just heard that the price will be going up after this sale, so this is the LAST CHANCE to order one at the discounted price. And you can break the price up into monthly payments starting at $60/month instead of paying for it all at once! use the code TATERTOTS to save up to $800 right now! The sale ends soon!!
Add a Chair For a Cozy Space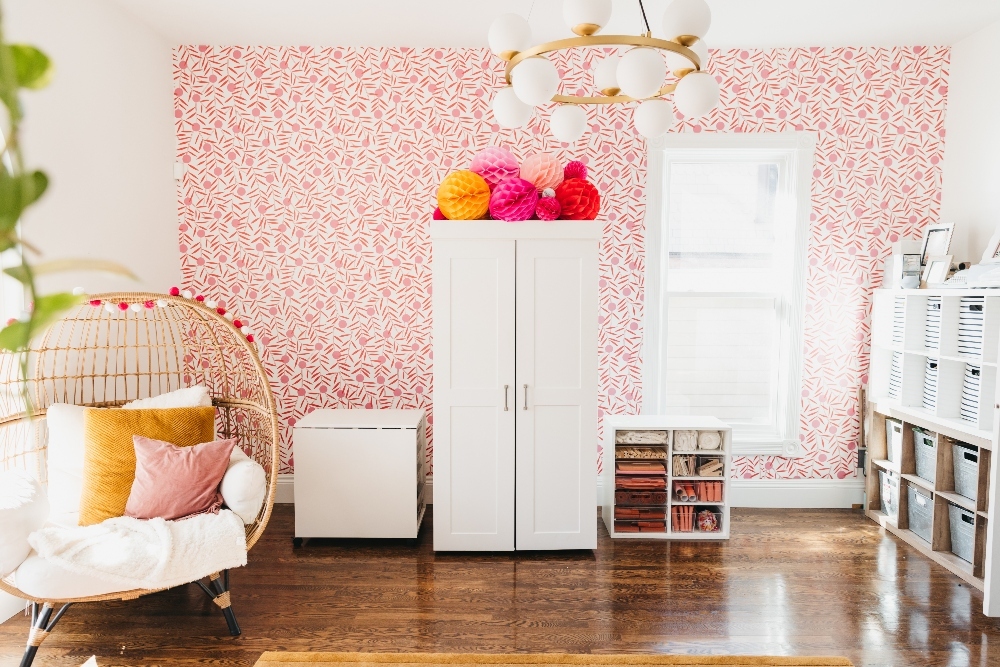 I put my egg chair by the window and it's a favorite nap spot for our dog and kitten. And my kids love sitting in it and talking to me while I work! My craft room is my own personal SHE SHED. It's so happy and cozy. It fits my needs and having the Dream Box helps the room always look clean and pretty!
My Bright Organized Craft Room Office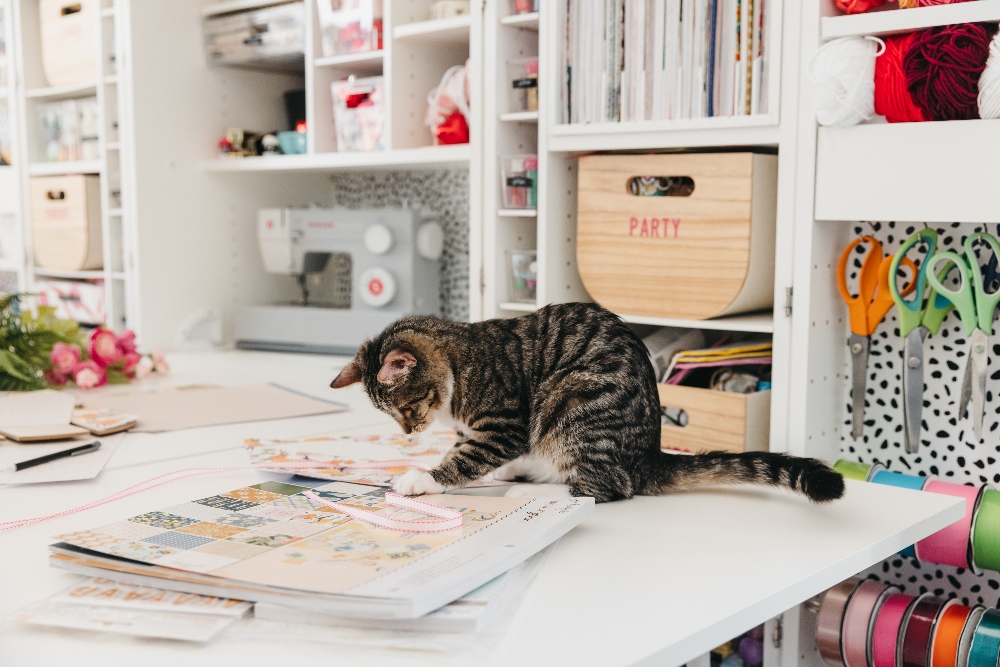 I hope you liked my happy space!
Let me know if you have any questions or want to get more information!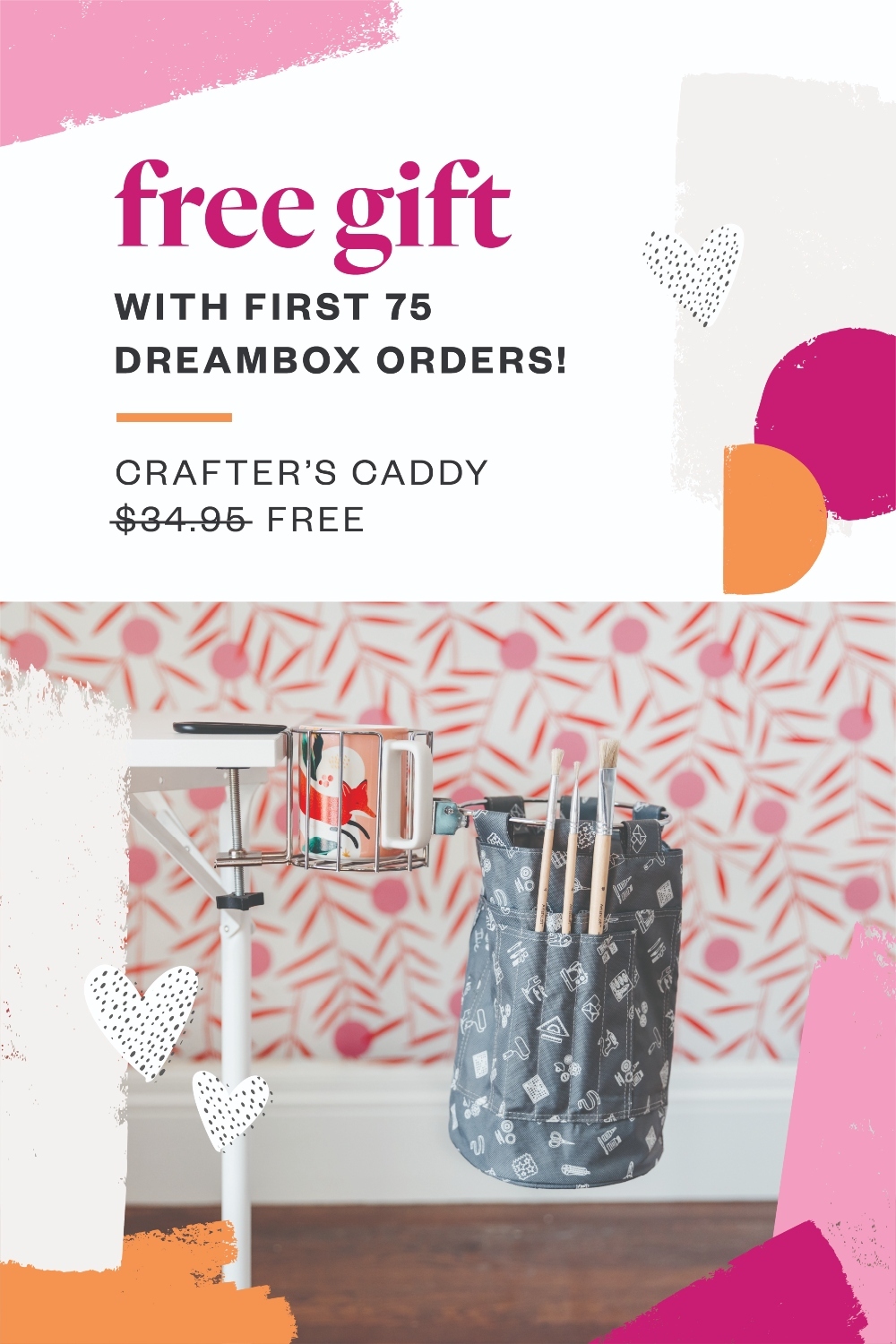 XOXO