Galantine's Ice Cream Cone Centerpiece! Use grocery store flowers and ice cream cones to create the perfect Valentine or Galentine centerpiece!
Galantine Ice Cream Cone Centerpiece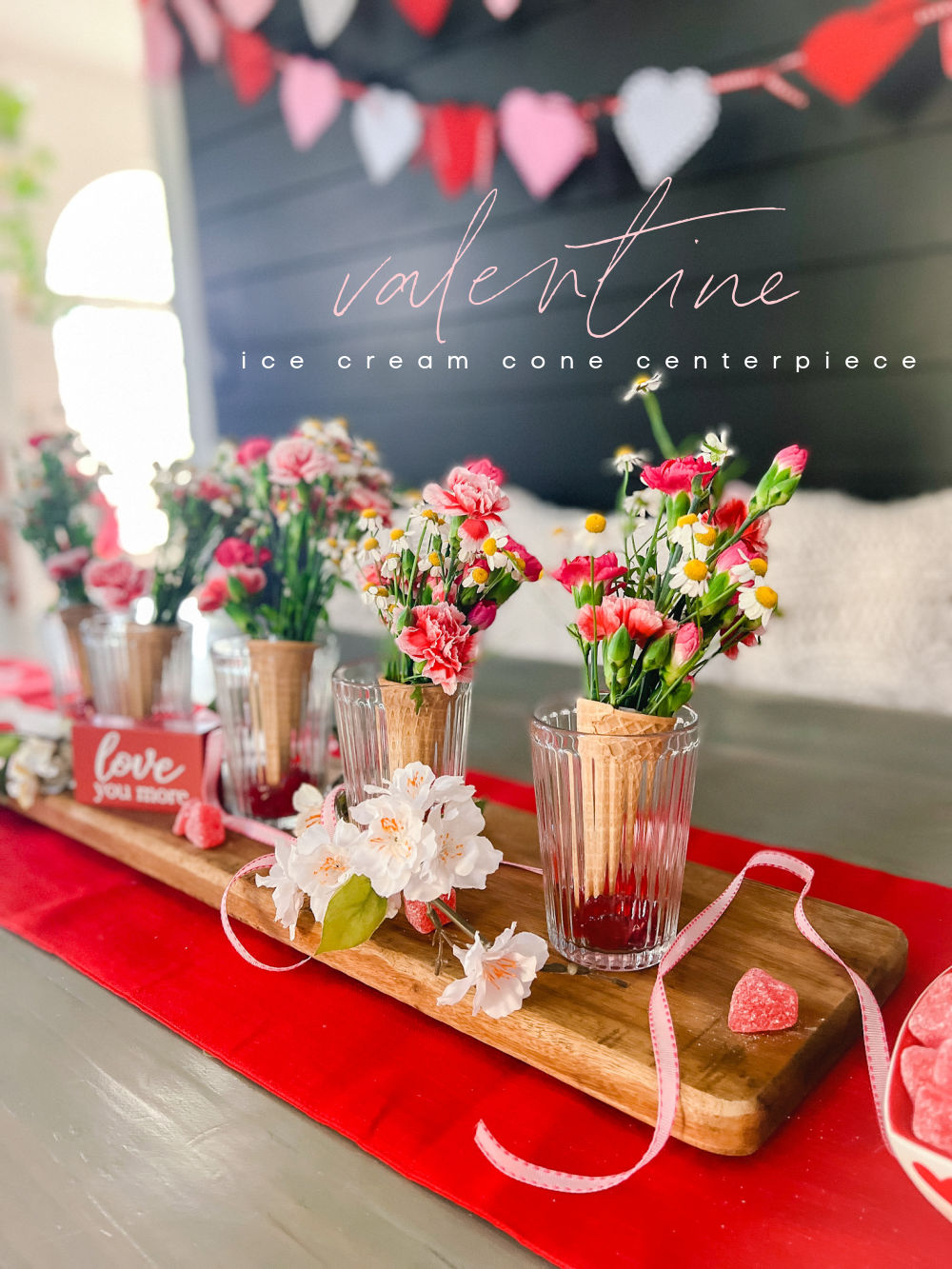 This is the easiest centerpiece idea. I put it together for Valentine's Day this year but I have also used it or a fun Galantine get-together too! Either way it's SO easy to create. You can use real flowers or keep the centerpiece on your table for as long as you like!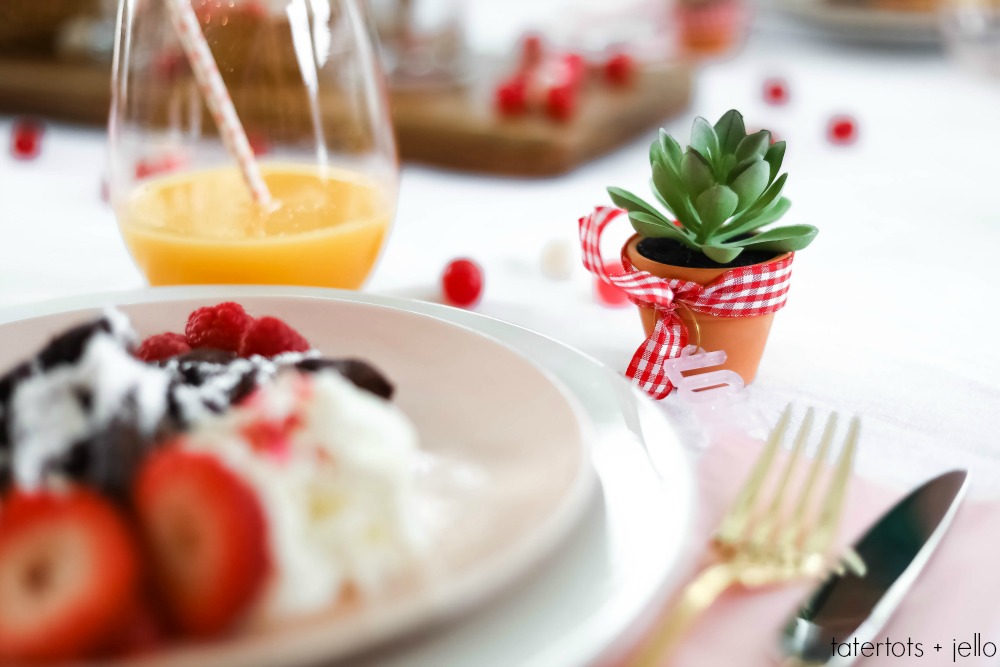 14 Valentine Flower Ideas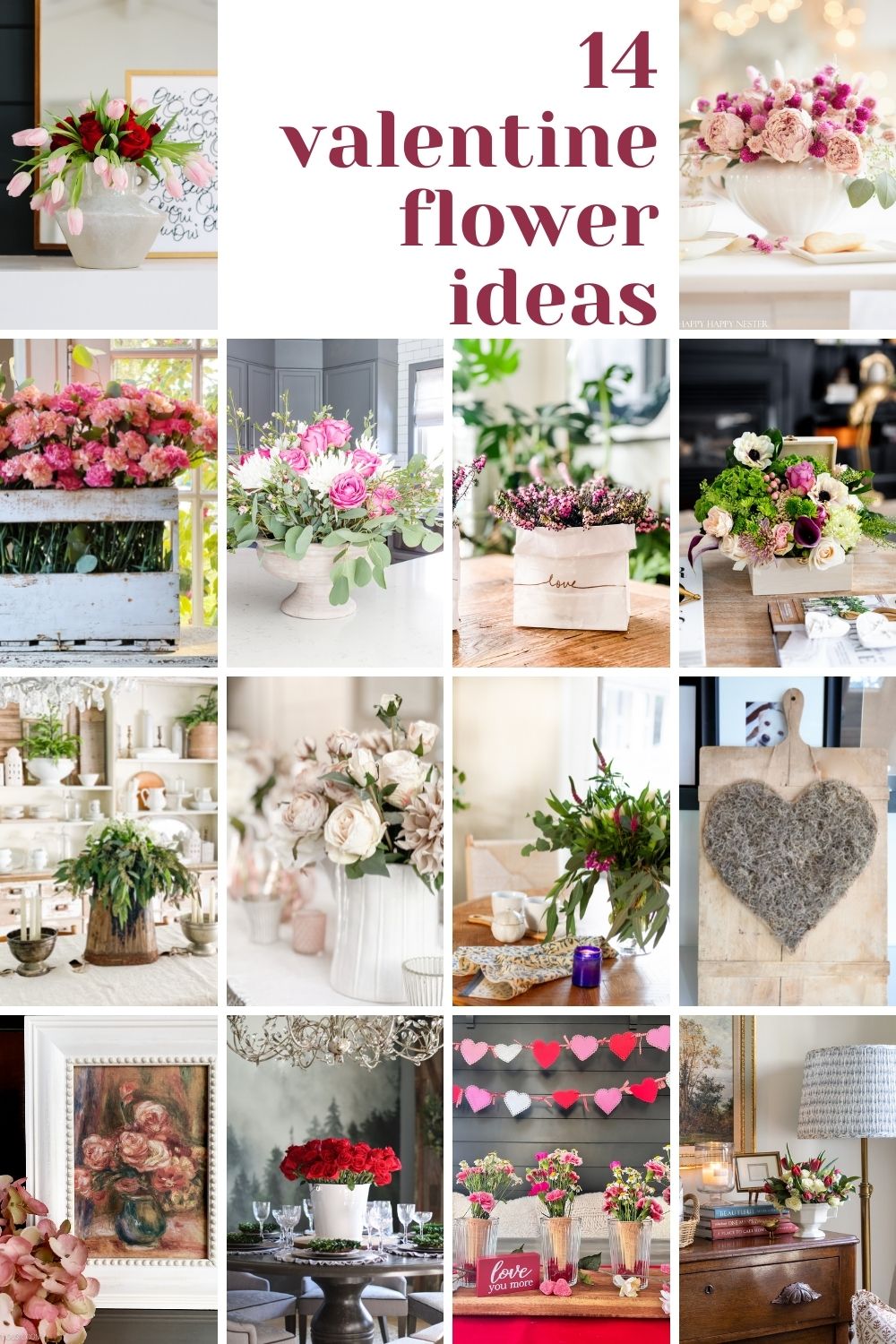 I am joining friends who are sharing the prettiest flower ideas! Scroll down to see them and find ideas for YOUR home!
Spring Waffle Cone Centerpiece Galantines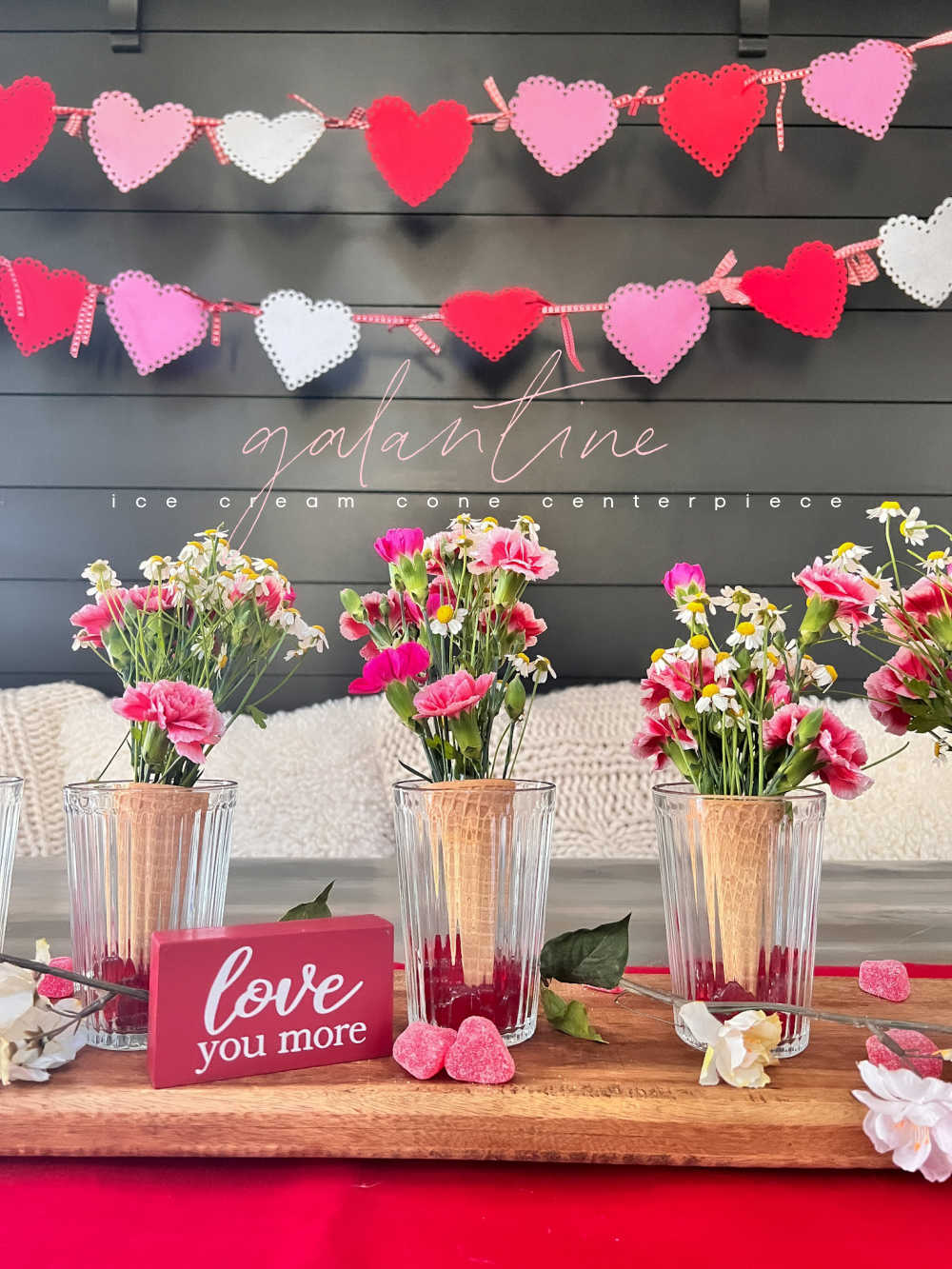 Have you ever celebrated Galantine's? We did a couple of years ago and it was SO fun! If you are thinking of throwing a galantine party, I have some tips and ideas at the bottom of this post!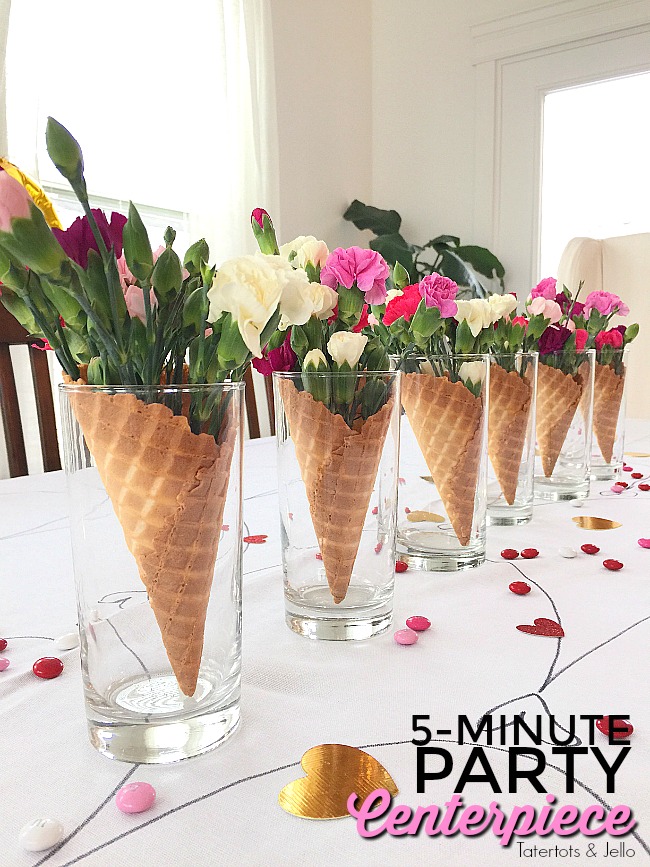 We had such a fun time putting together the centerpiece last year that I knew I wanted to try something with a twist this year. Of course it had to involve WAFFLES. And flowers. Last year I bought the biggest size waffle cones I could find and I used grocery store flowers.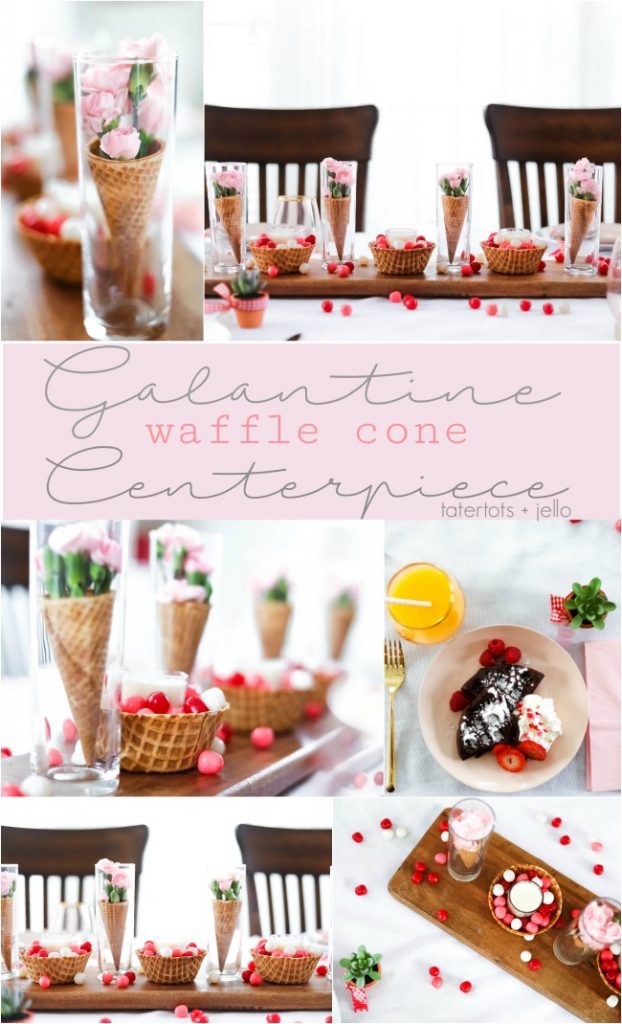 The year we threw the Galantine party used grocery store flowers, but all one color – PINK. This year I mixed pink and red flowers!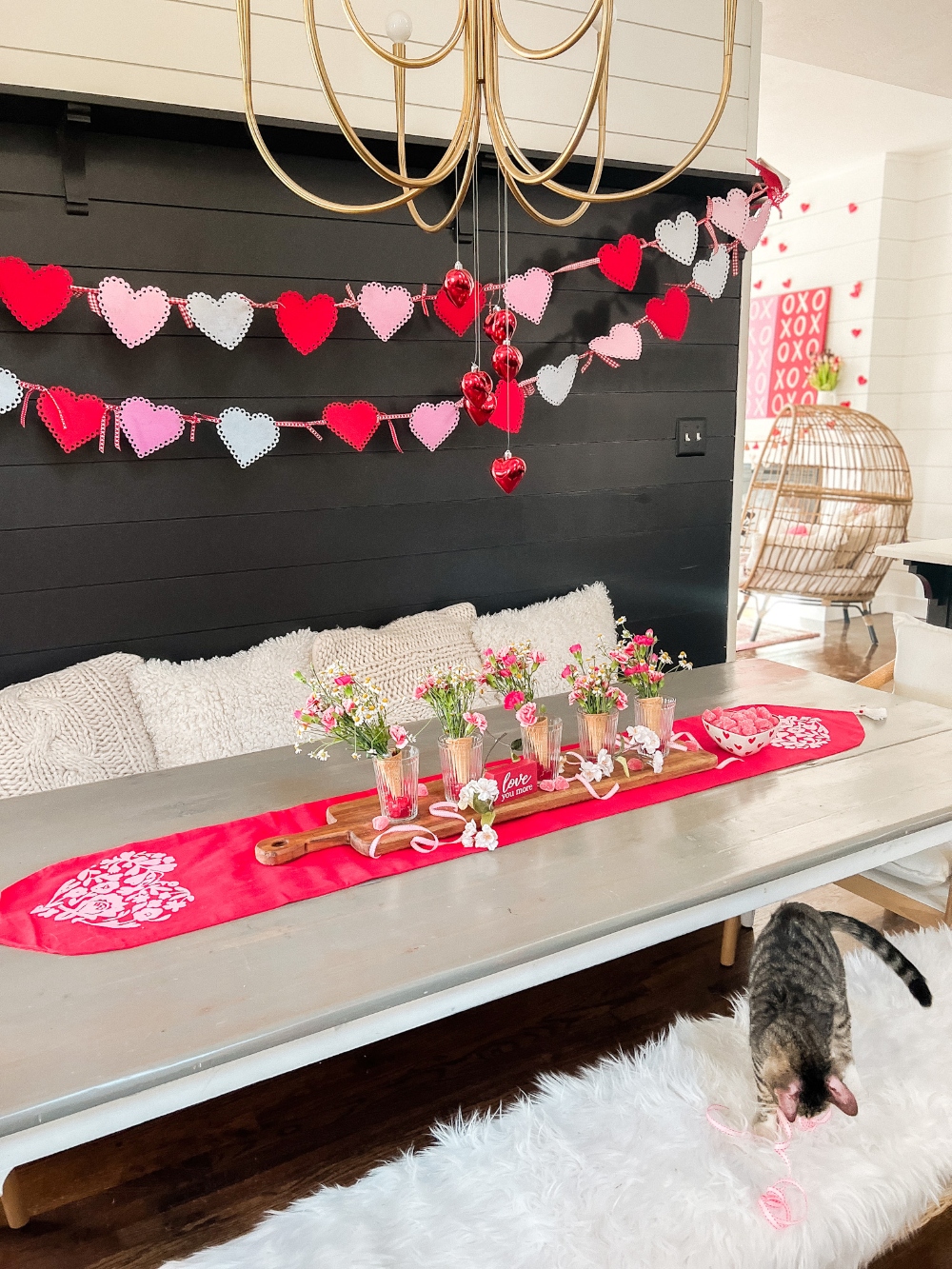 I do love the look of all pink flowers though!! So soft and pretty!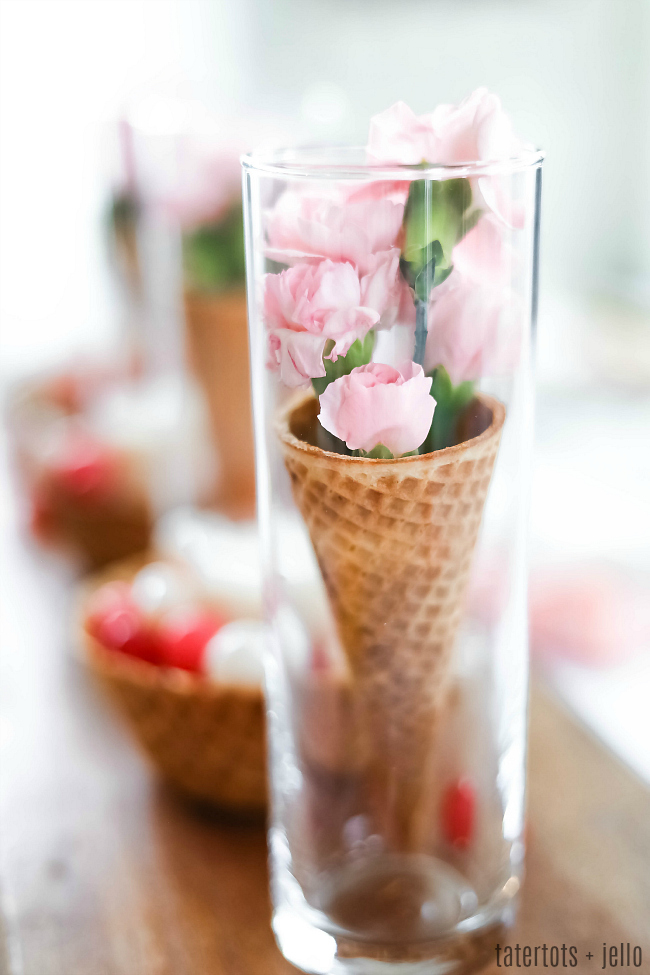 I used smaller glasses and tiny little waffle cones.I also found waffle bowls – aren't they cute??
I put a candle in each the filled them with pretty red, pink and white candies. Then I put them on a long bread board and scattered candies all around.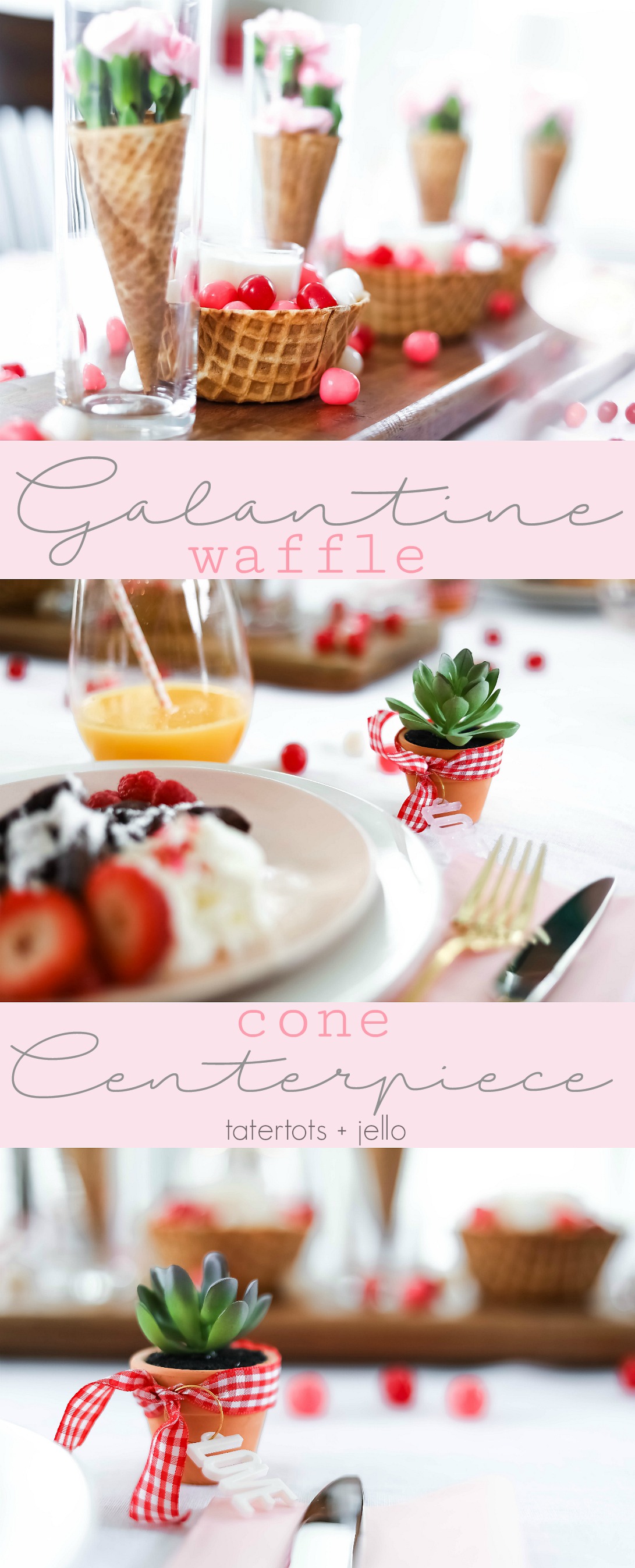 How to Keep the Flowers Alive
The trick to keeping your flowers alive longer is to put a zip-lock baggie with a little bit of water inside each of the cones. Then put the stems inside the top of the baggie so the flowers still get water inside of the waffle cones. That way your GAL-antine or Spring centerpiece will stay alive longer!
Mine is still sitting on my dining room table – several days later – and it still looks just as cute!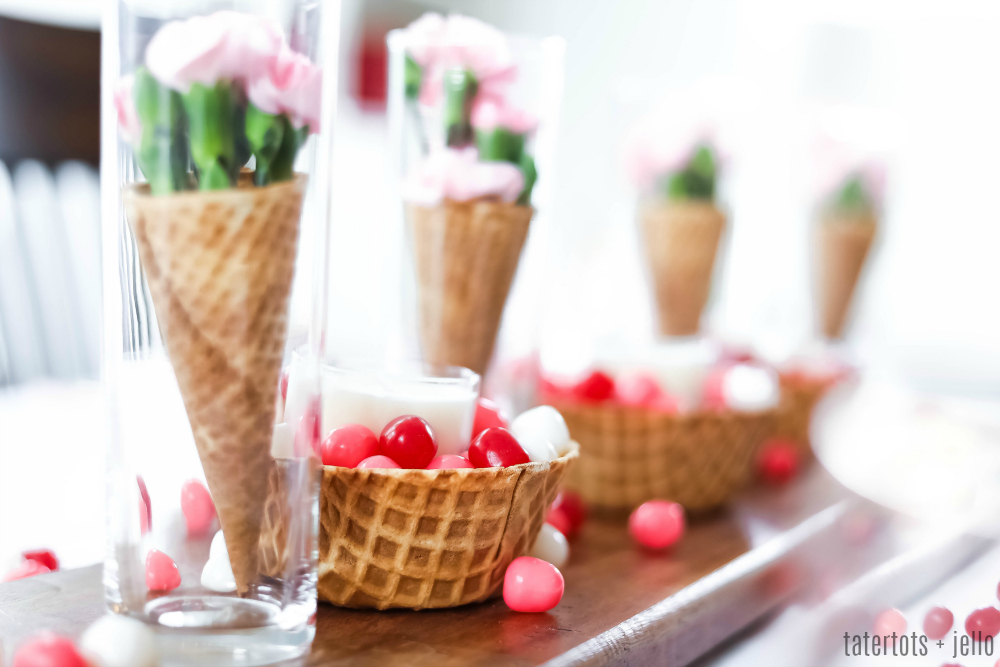 This centerpiece would also be SO cute for a birthday party with an ice cream bar. A wedding with an ice cream bar OR a summer-theme party!!
14 Valentine's Day Flower Arrangements You Will Love

Dried Flower Arrangements // Happy Happy Nester
How To Make A Paper Bag Planter // Most Lovely Things
The Best Pink Carnations Valentine Gift // My 100 Year Old Home
Flower Box Arrangement Using Grocery Store Flowers // Craftberry Bush

Trader Joe's Flower Arrangement // Modern Glam
Sweet Valentine's Day Arrangement Using Grocery Store Flowers // Sincerely, Marie
Valentines Day Red Roses// The Design Twins
Galantine Ice Cream Cone Flower Centerpiece // Tatertots & Jello

Easy Valentine's Day Tulip Floral Arrangement // Zevy Joy
Flowers in a Vase Vintage Painting Prints // The Happy Housie
How To Make Modern Flower Arrangements // Inspiration For Moms

How to Make Unique Flower Arrangements with Vintage Vessels // Robyn's French Nest
Mossy Heart Wall Hanging // My Sweet Savannah
Three Ways to Have Pretty Valentine's Day Flowers in your Home // Pasha Is Home
And in case you want to throw a GAL-antine party for YOUR girlfriends, be sure to check out these other projects!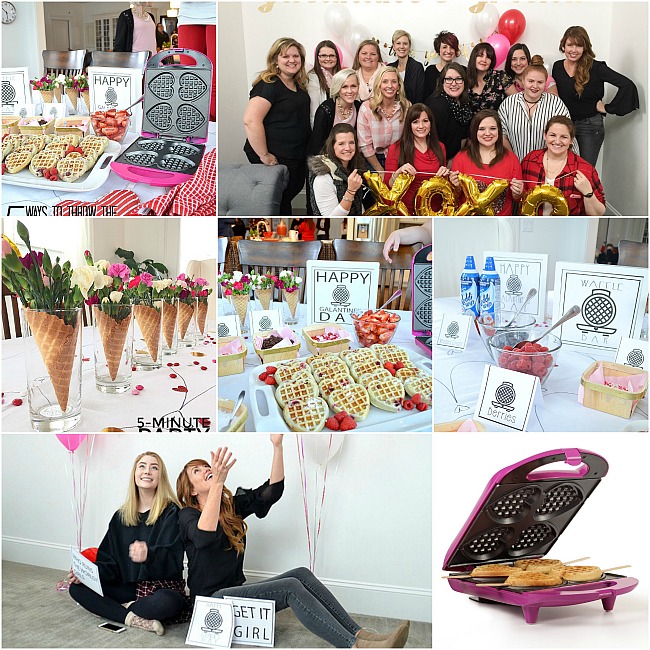 How to Throw the ULTIMATE Galantine Party
Galantine recipe ideas, free printables and everything you need to throw the ultimate and easiest GALantine party!!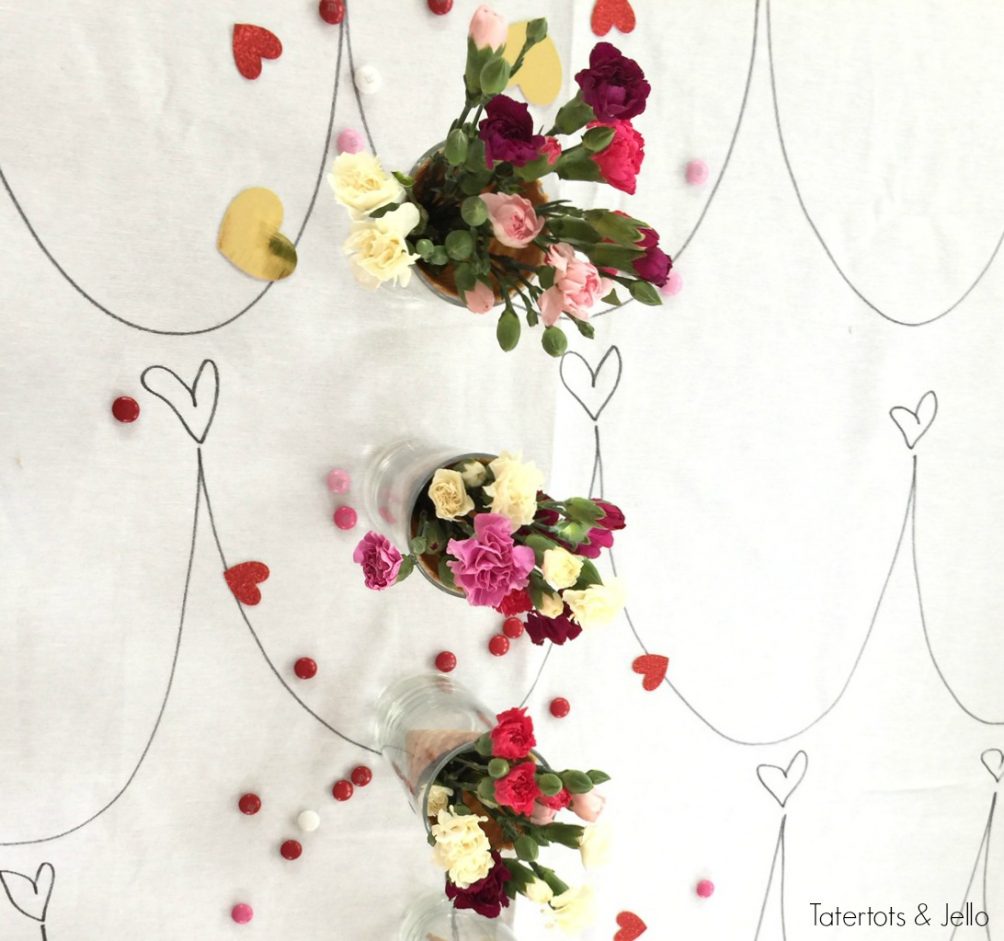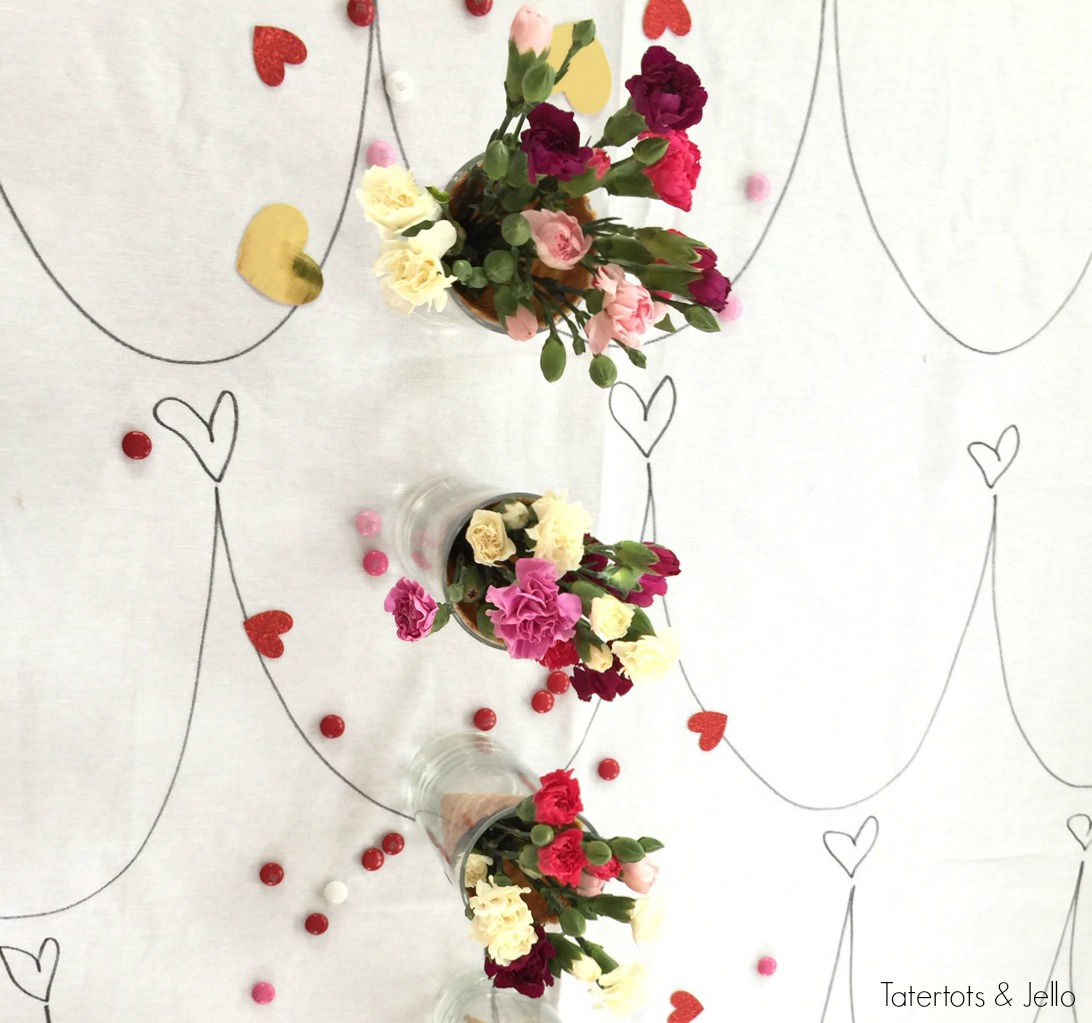 Make a Valentine Sharpie tablecloth! It only takes about 5 minutes and your guests will love this whimsical tablecloth!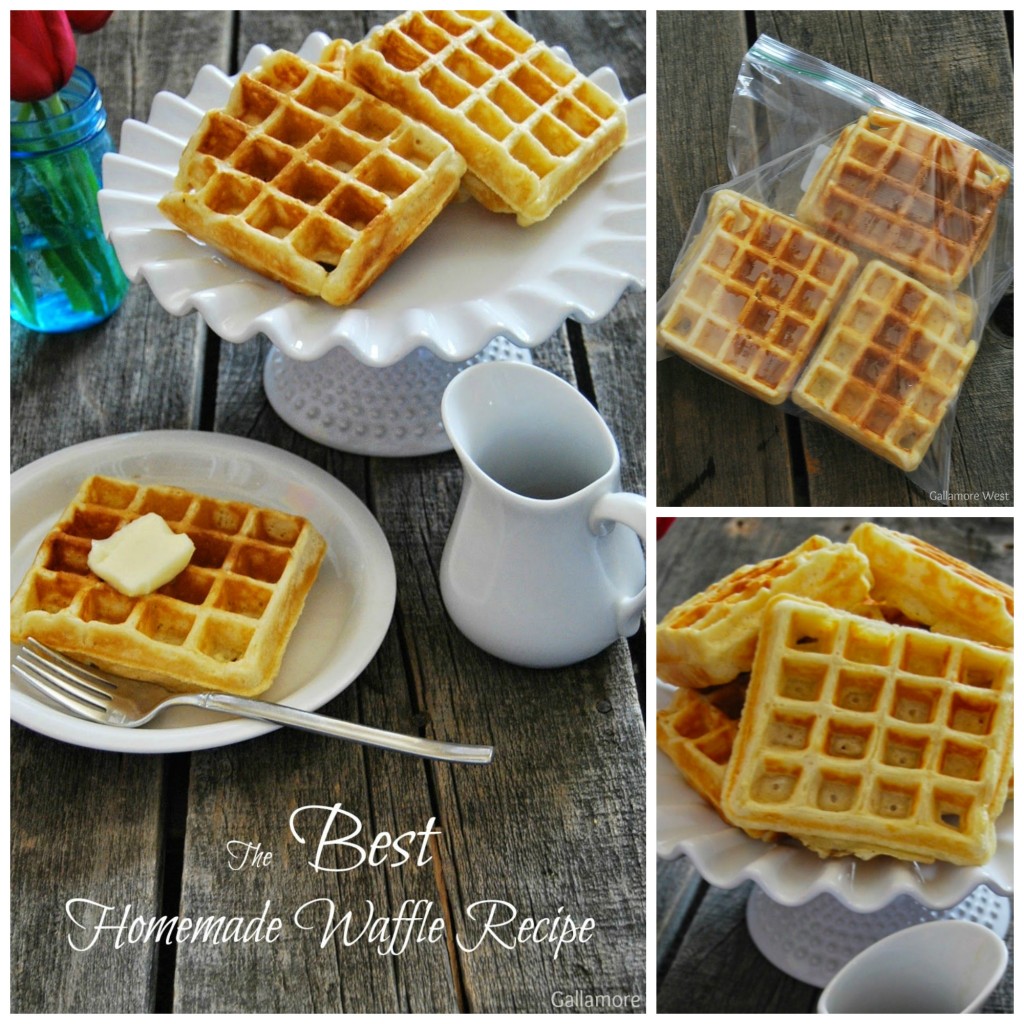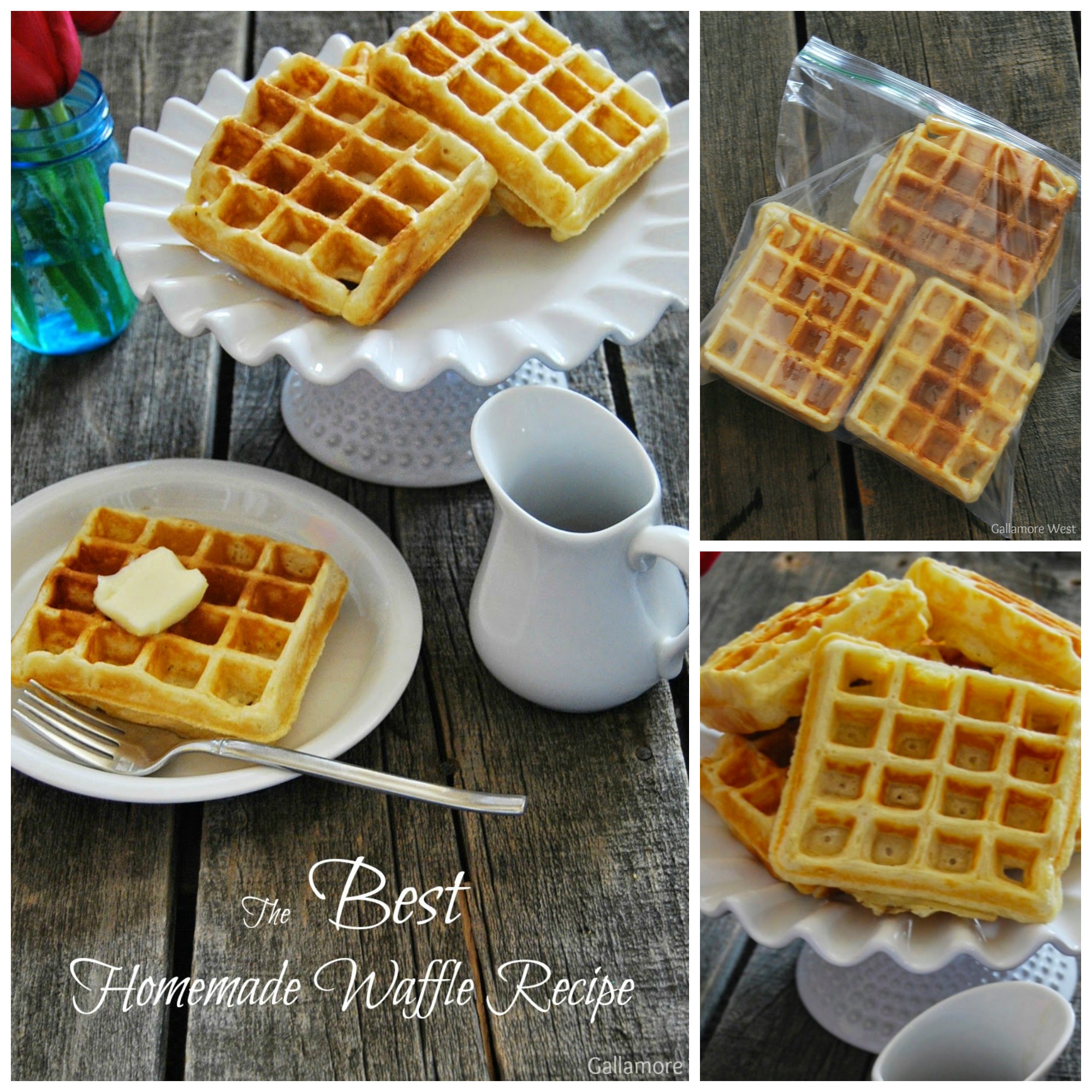 Looking for the ULTIMATE waffle recipe? This one has been our favorite for over 10 years. It is SO good!!
Have a Beautiful Day!
xoxo

PS – the photos are from Cara @CatcherintheRyePhotography on Instagram! Isn't she fabulous and she's my neighbor!!