Easy 10-Minute Valentine's Day Wall Art. Make some easy art for Valentine's Day with a free template, scrapbook paper and rolled paper flowers!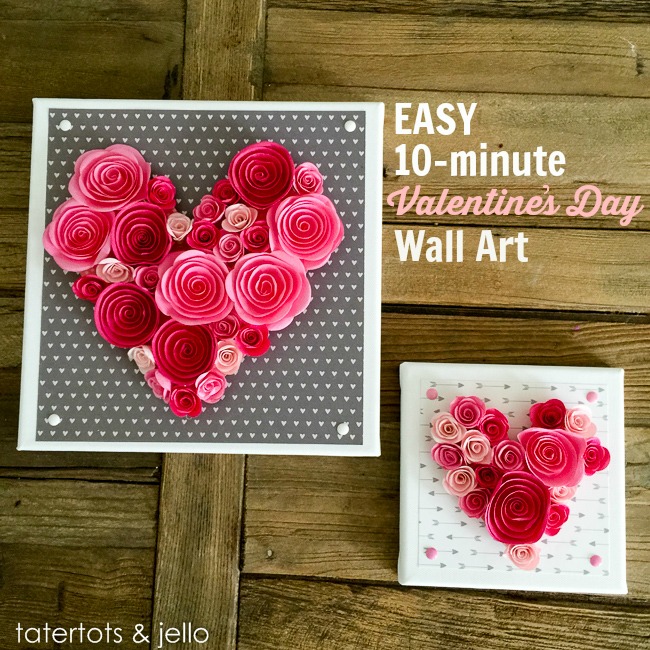 Easy 10-Minute Valentine's Day Wall Art
Here's an easy way to decorate for Valentine's Day or it would even be a beautiful handmade wedding gift.
And the best part is that it only takes about 10 minutes to create!
How to Make 10-Minute Easy valentine's Day Heart Art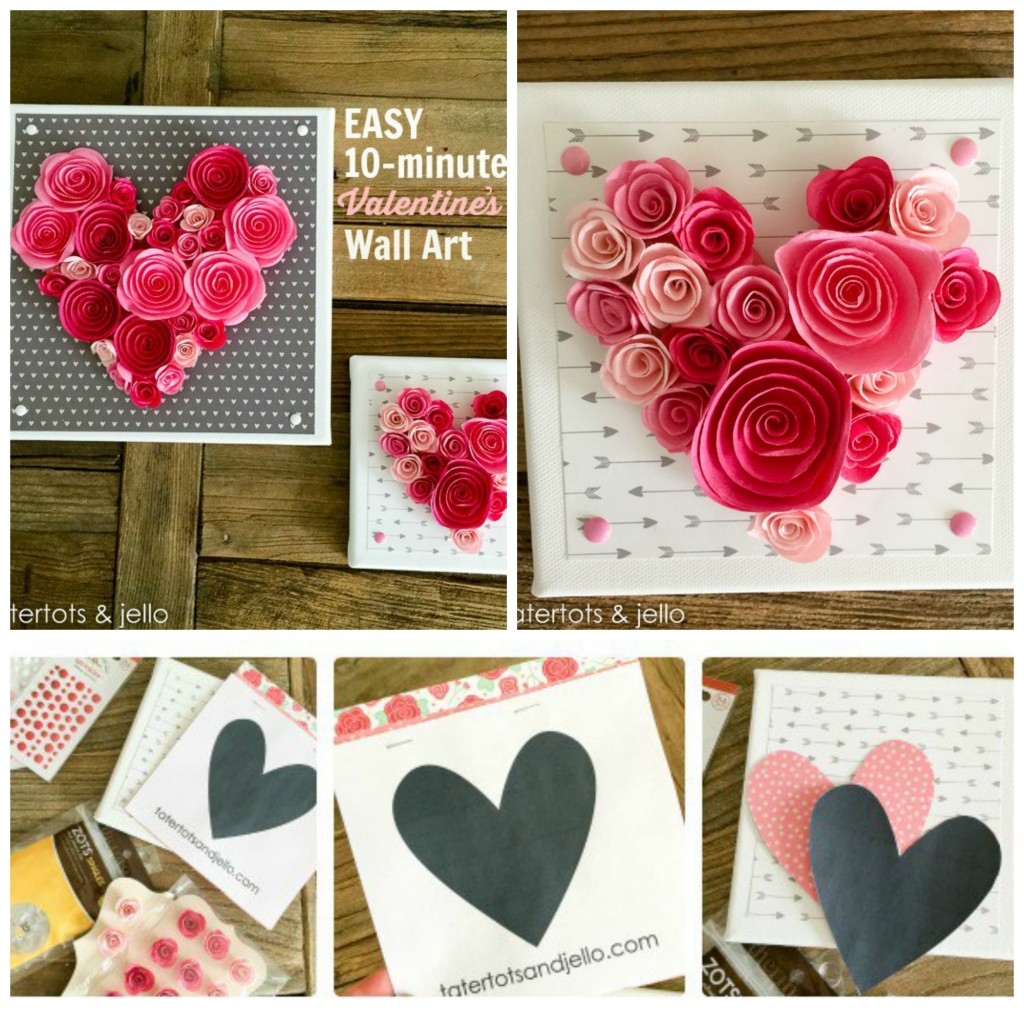 Here are the instructions to make this easy heart art!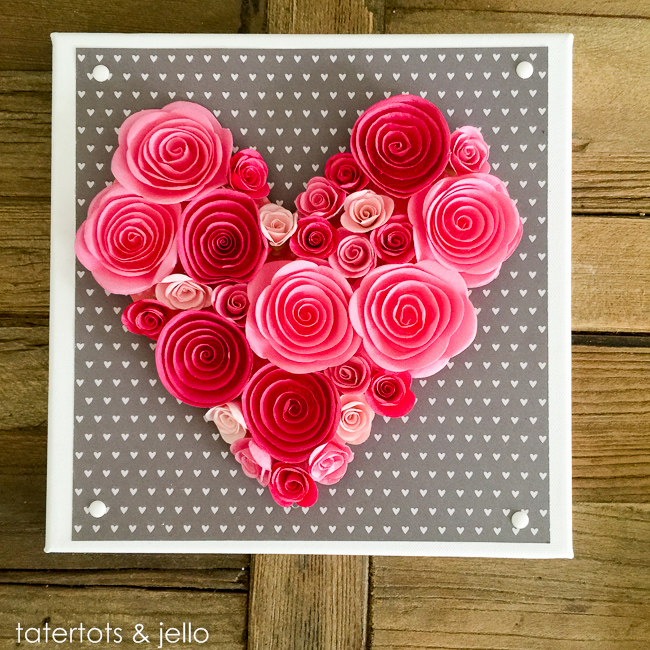 Heart Art Supplies
Square canvas (either a 10 inch canvas or a 6 inch canvas, or both!)
paper flowers – you can use or make paper flowers, but also small silk flowers would be pretty too. Get creative!
2 Squares of scrapbook paper (9.5 square for the 10 inch canvas 0r 5 inches square for the 6 inch canvas)
Glue dots
Print out of heart template (below)
brads – for the canvas corners (optional)

Directions to Make Heart Art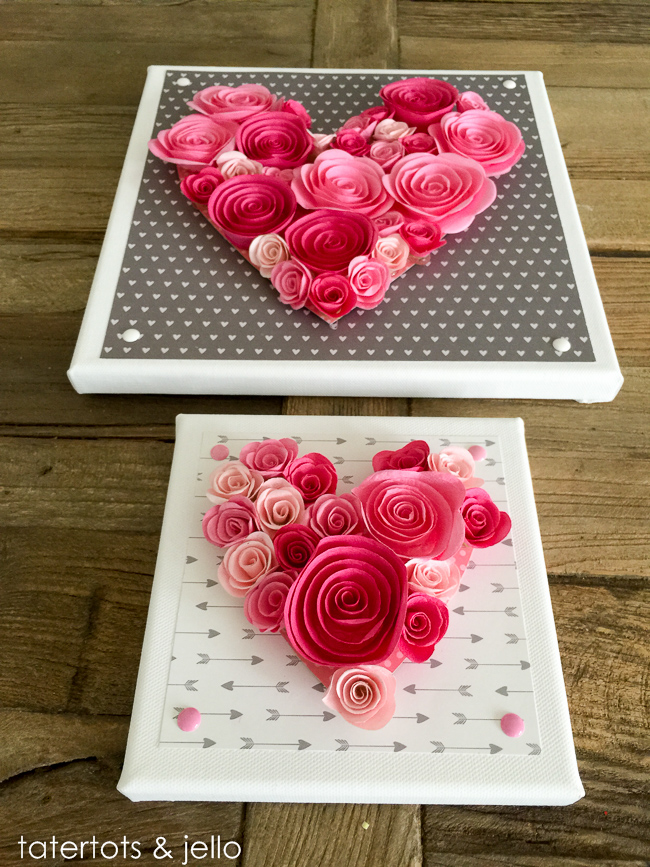 Cut out a square of scrapbook paper
Print off the heart template and then staple it on top of one of the scrapbook paper squares
Cut out the paper heart using the template
Attach the other scrapbook paper to the canvas. You can Mod Podge it or if you have a Xyron sticker machine you can run the scrapbook paper through and then attach it to the canvas that way.
Then attach the heart to the canvas with glue dots.
Take the paper flowers and place them on the heart, attaching them with glue dots.
For a final finishing touch you can add sticky dot embellishments to the corners of the canvas to look like decorative nails.
Then hang them up or arrange them on a shelf and you have instant Valentine art.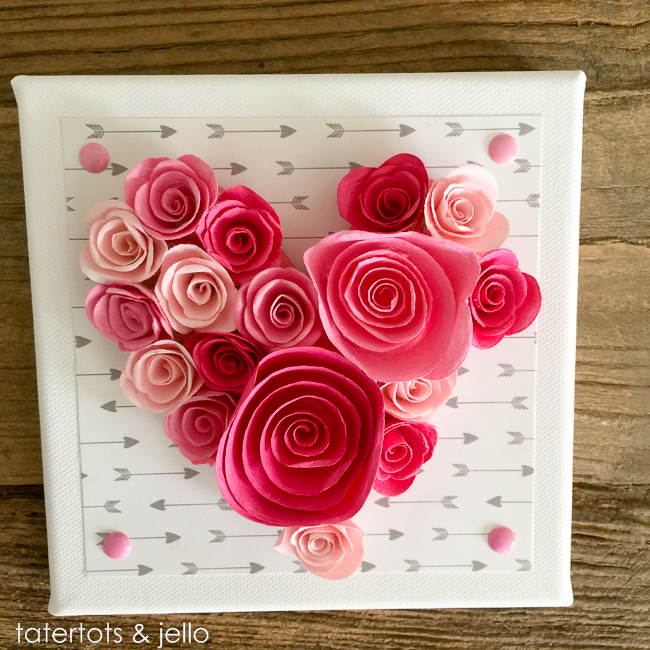 And here's the template to make the hearts on the easy 10-minute Valentine's Day wall art!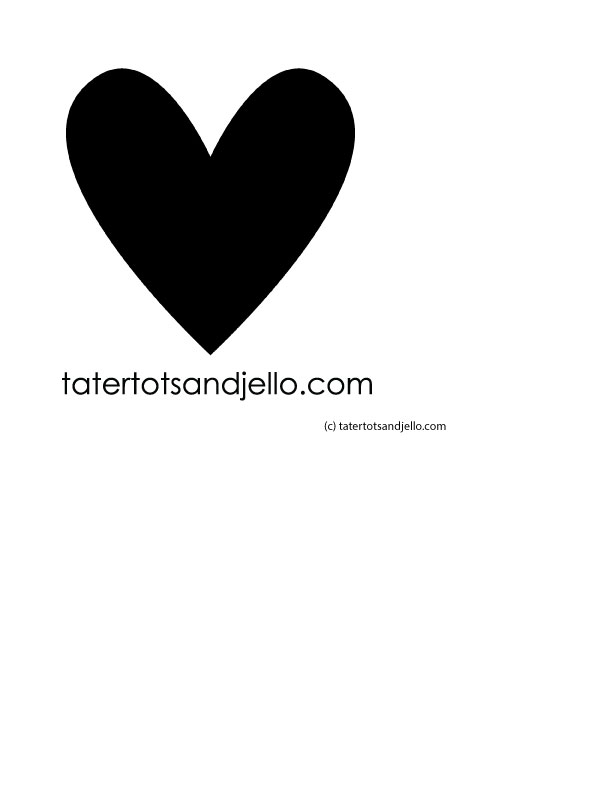 How to Download Heart Template
Right-click this link and choose "save link as" or the image below to download the small template …
… or right-click this link and choose "save link as" or the image below to download the large template!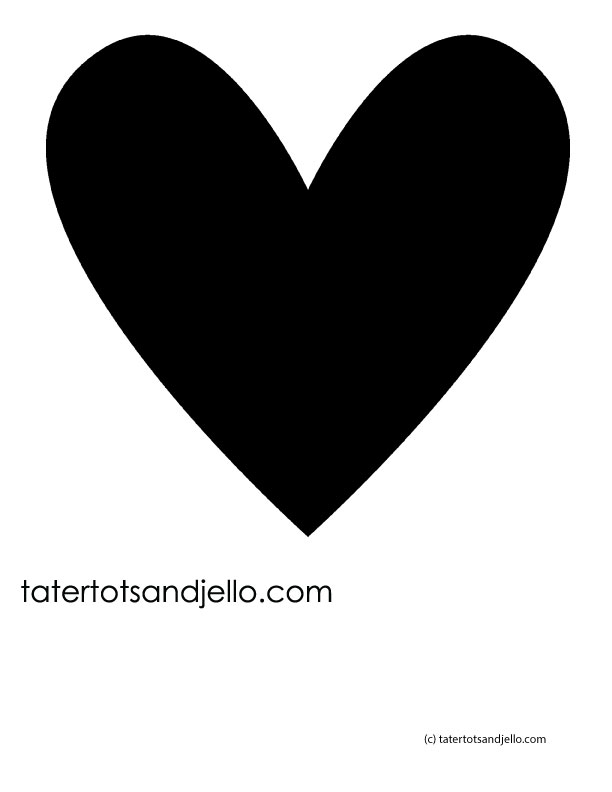 As always, these are for personal use only.
I love how they turned out – and how they pop off the canvases!
More DIY Valentine's Day Projects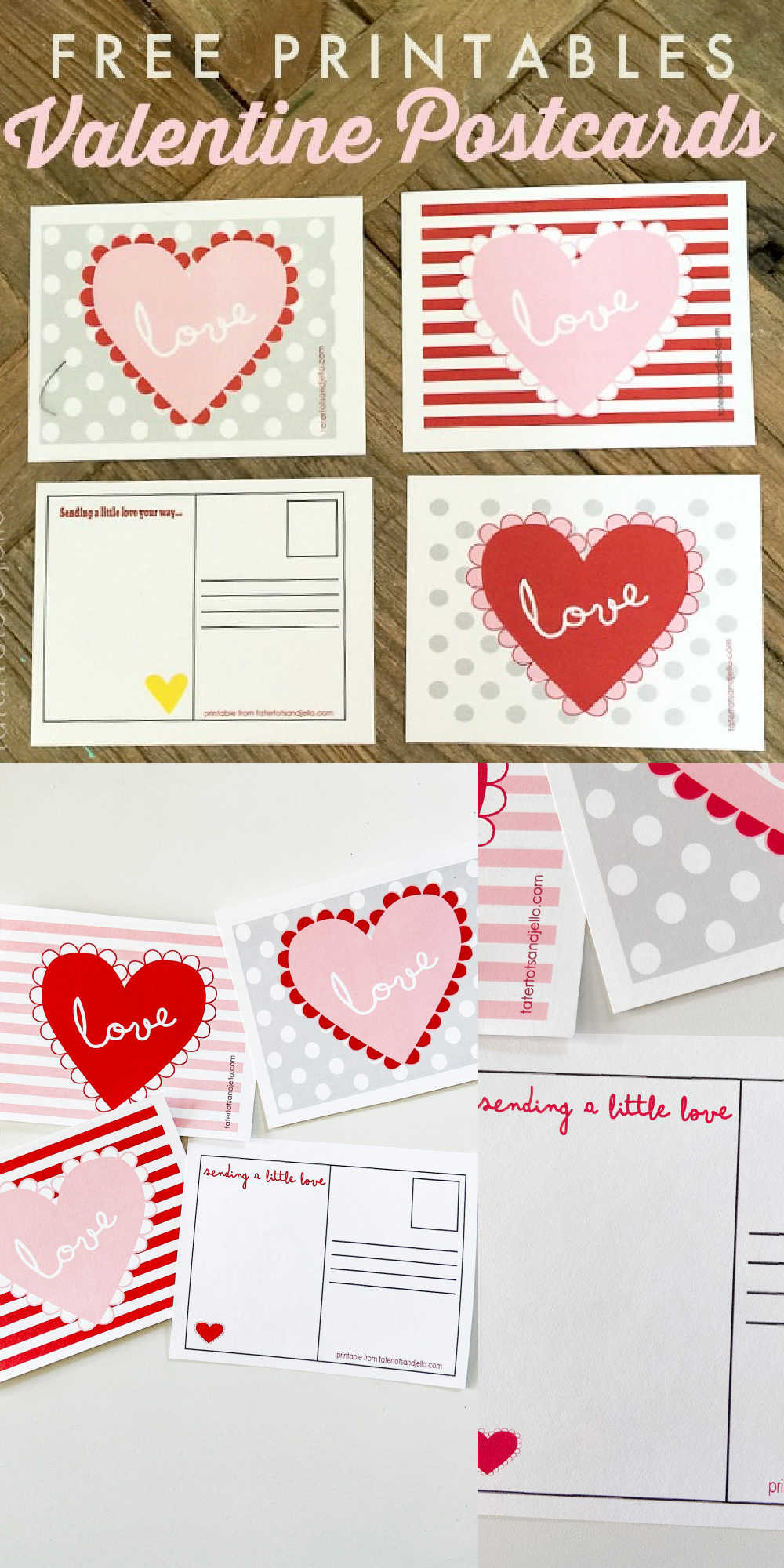 Adorable Valentine Postcards – Free Printables! Brighten up someone's day with a sweet postcard sharing why they are important to you!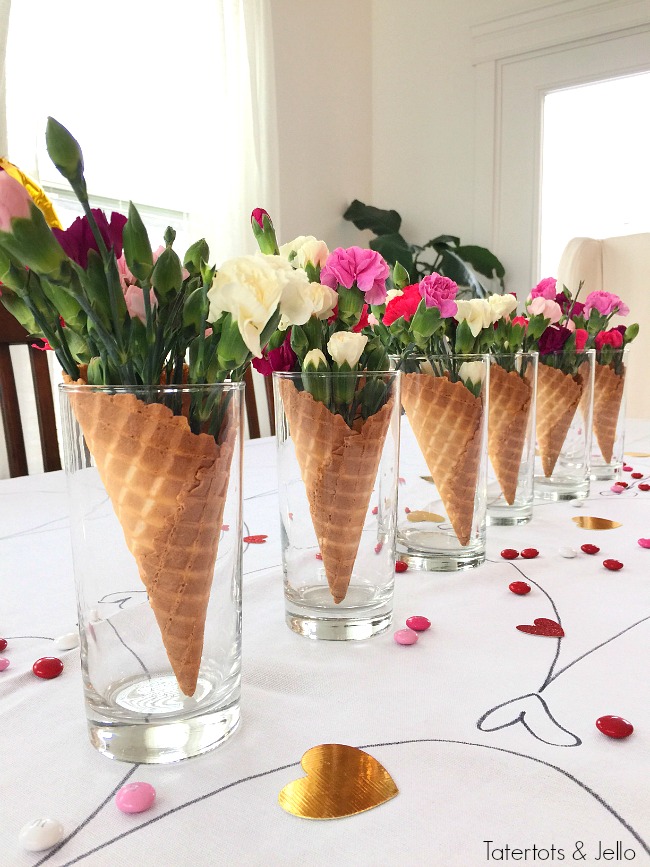 Celebrate Valentine's Day or throw a Galentine's brunch with a waffle bar and incorporate this adorable waffle cone flower centerpiece.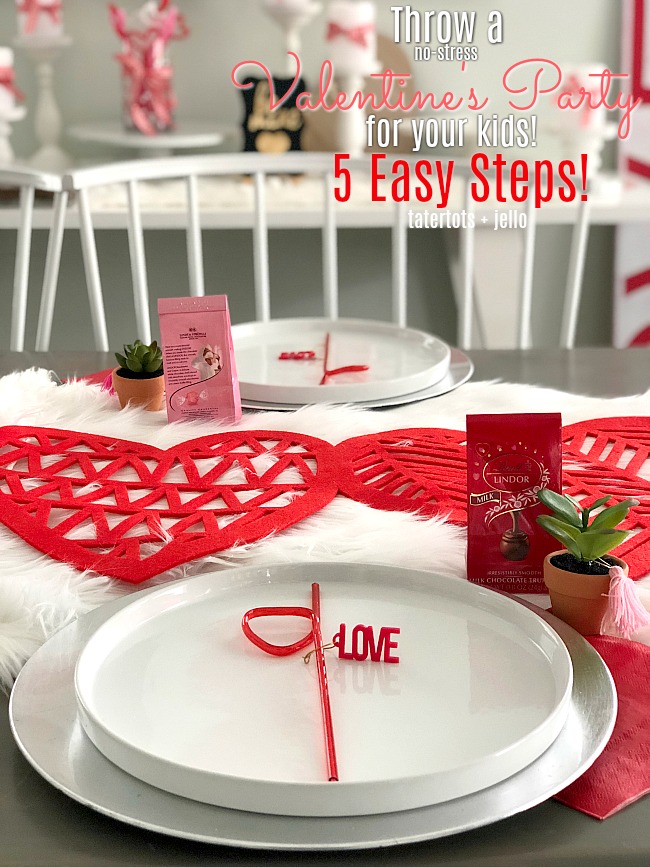 Five easy ways to throw a festive, no-stress Valentine's dinner for your family!
I used the template above to trace a heart onto a plain pillow cover and added pretty felt balls for a really adorable pillow cover in under 10 minutes! I have all of the steps and directions on my @tatertotsandjello Instagram page!
What's your favorite Valentine's Day project this year?
xoxo