Dazzling DIY: Disco Ball-themed Christmas Mantel Tutorial. Add more sparkle to your holiday with this dazzling sparkly mantel!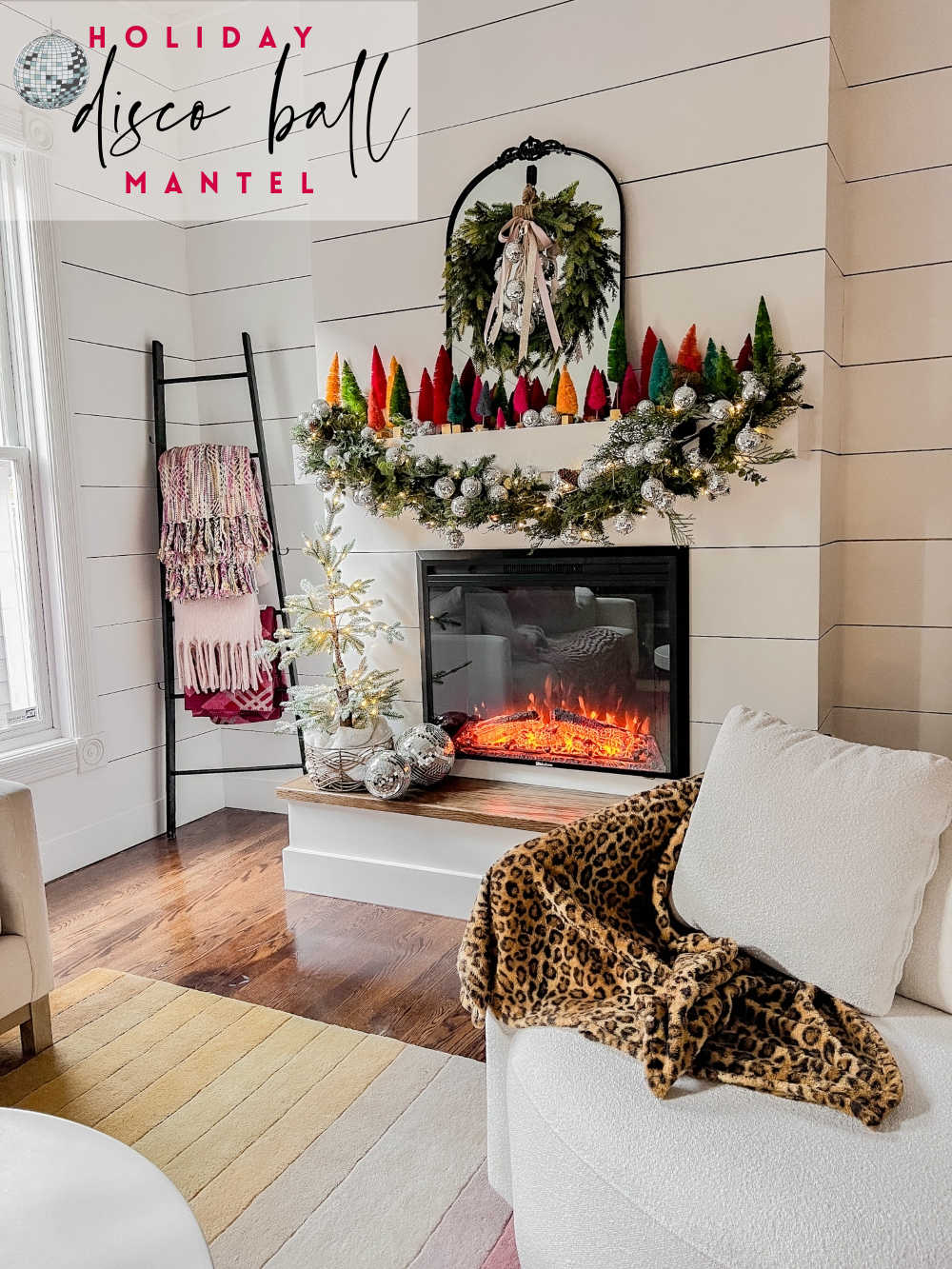 Dazzling DIY: Disco Ball-themed Christmas Mantel Tutorial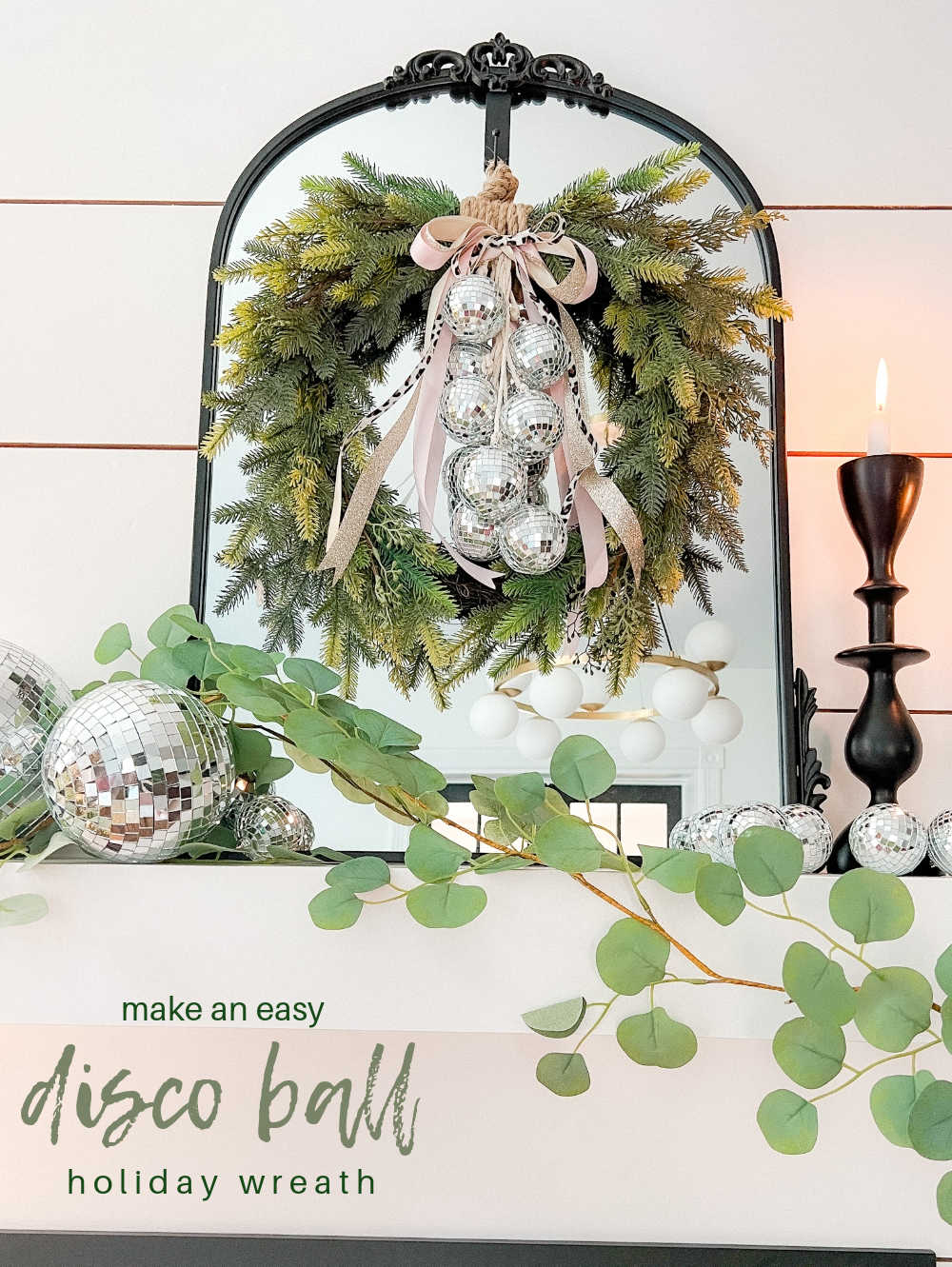 The holiday season is upon us, and what better way to spread some festive cheer than by turning your mantel into a dazzling disco ball wonderland? Last year, my DIY journey began with a show-stopping Disco Ball Wreath, and this year, I'm taking it a step further with a complete Disco Ball-themed Christmas Mantel. In this tutorial, I'll guide you through creating a stunning mantel that combines the timeless charm of Christmas with the glitz and glamour of disco balls.
Materials Needed:
Pine and Eucalyptus Garland
Pine and Pinecone Garland
Small Nails
Bright Bottle Brush Trees
Twinkle Lights (Battery-operated with remotes)
Disco Ball Collection
Ornament Holders
Scroll Mirror
Black Command Strip Metal Hook
Step 1: Create a Lush Base with Layered Garlands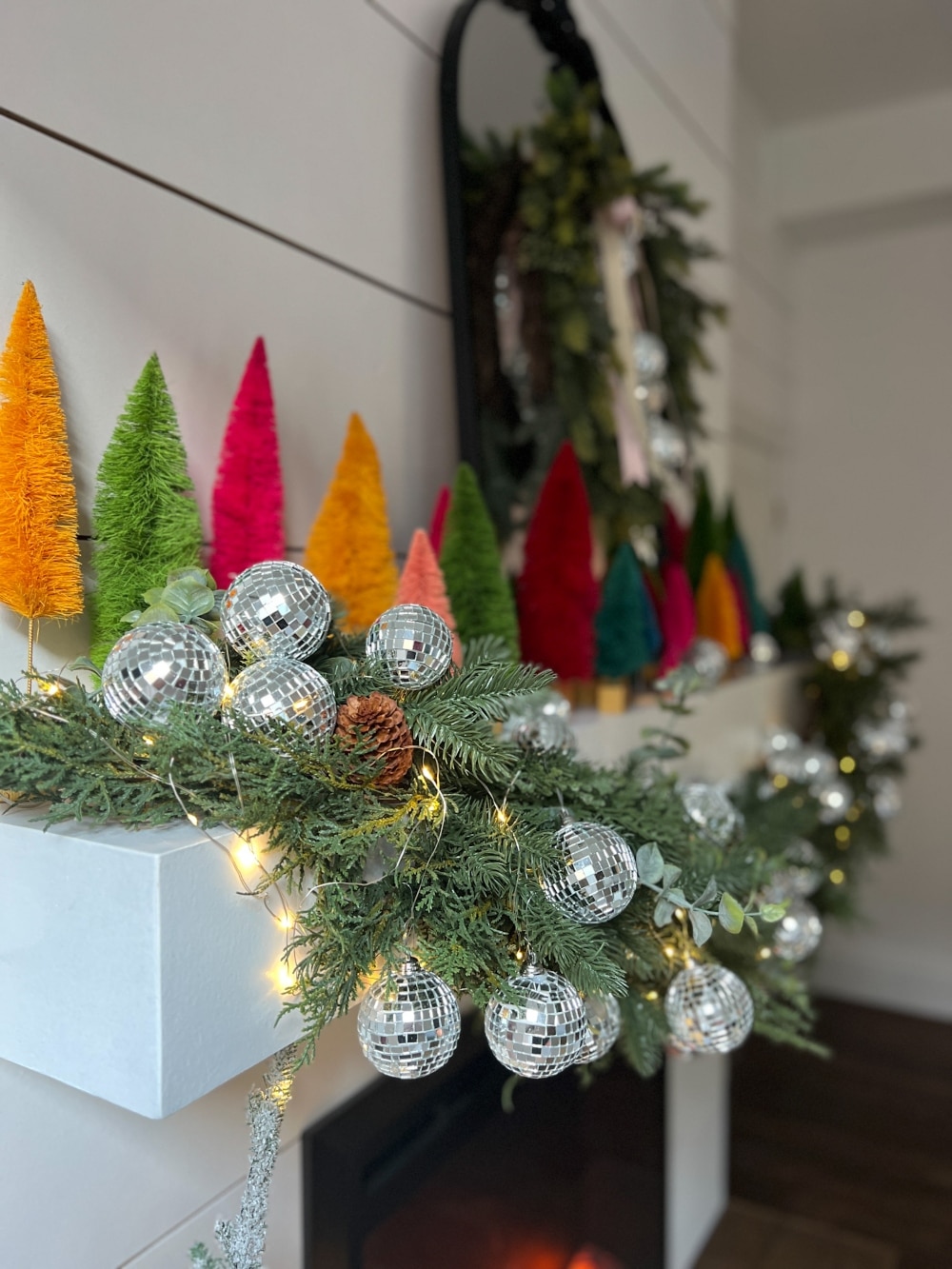 Start by laying the foundation for your mantel. Take the Pine and Eucalyptus Garland and layer it across the mantel top. The eucalyptus adds a touch of freshness and elegance to the overall look. Next, lay the Pine and Pinecone Garland over the eucalyptus garland. This combination creates a fuller and more textured appearance, resembling a winter wonderland.
Secure the ends of the garlands with small nails at either end of the mantel. This not only keeps everything in place but also allows for easy adjustments.
Step 2: Add Some Greenery with Bottle Brush Trees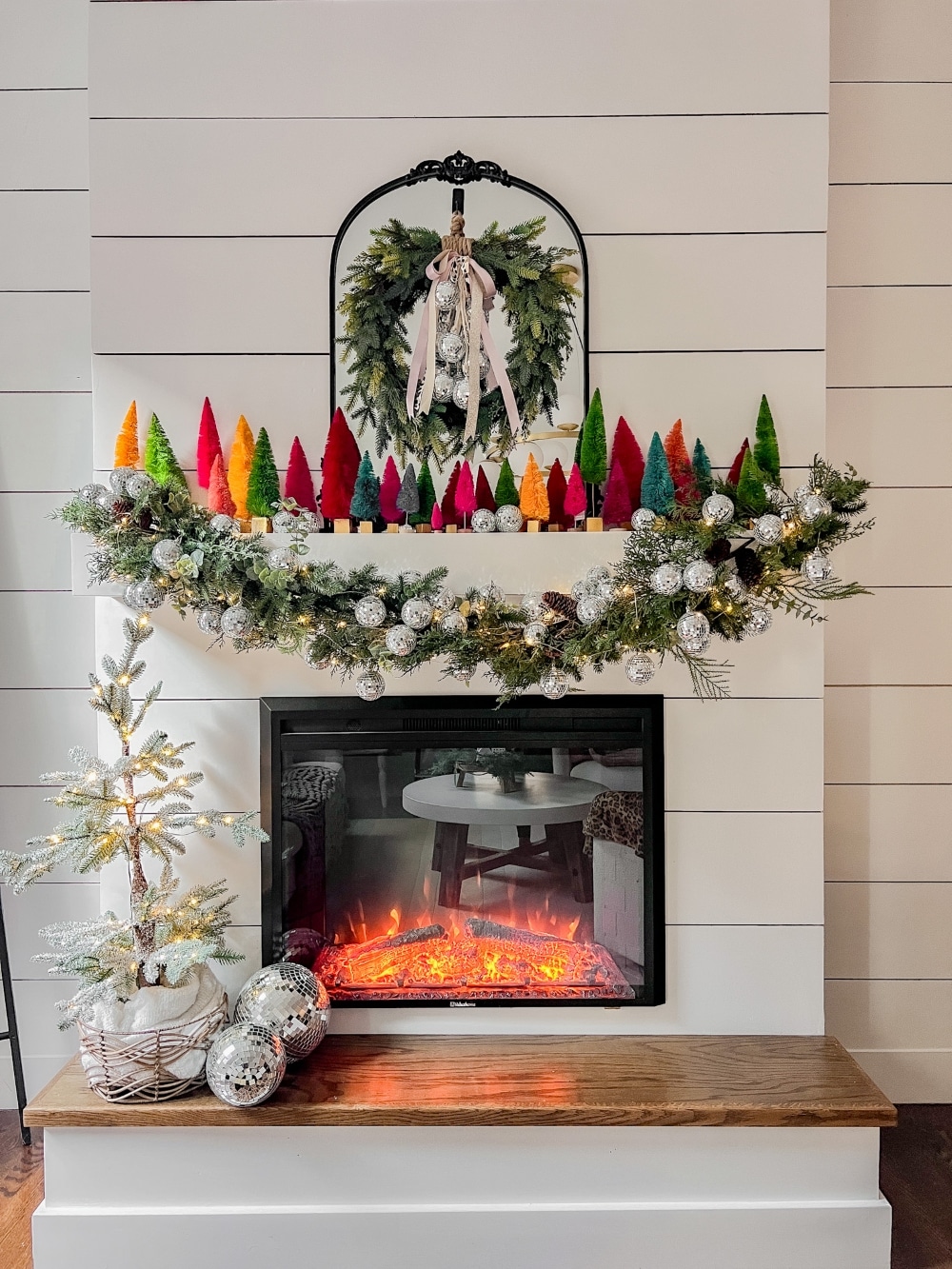 Sprinkle some holiday magic by strategically placing bright bottle brush trees along the entire length of the mantel. Vary the sizes and colors to create visual interest and depth. These miniature trees will complement the garlands, adding a touch of nature to your disco ball-themed display.
Step 3: Illuminate the Night with Twinkle Lights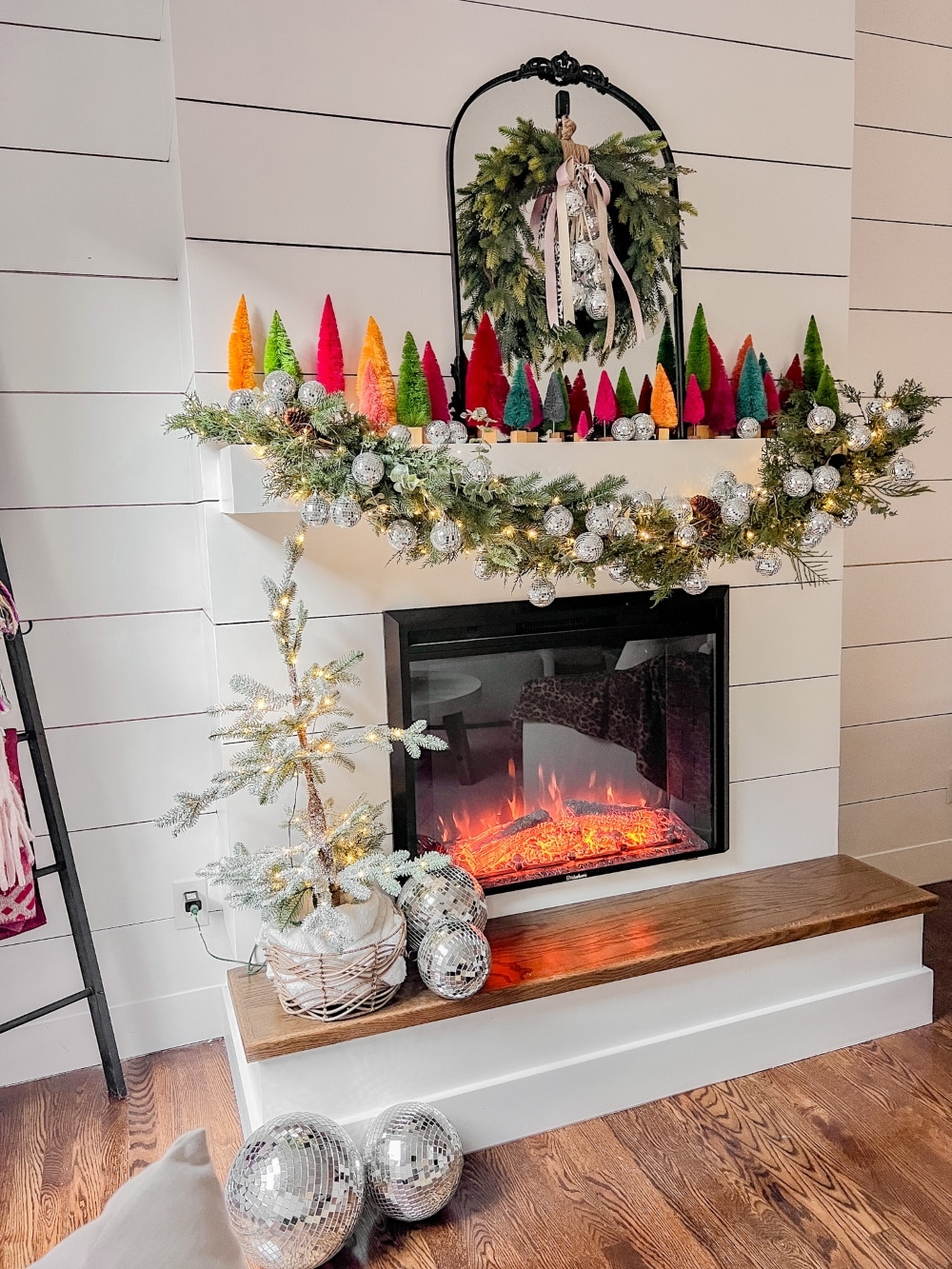 Transform your mantel into a sparkling masterpiece by weaving battery-operated twinkle lights through the garlands. Choose lights with a remote control, providing you with eight different settings to set the perfect ambiance. Conceal the battery packs at either end of the mantel, tucking them under the branches to maintain a seamless and enchanting look.
Step 4: Disco Fever – Introduce the Disco Ball Collection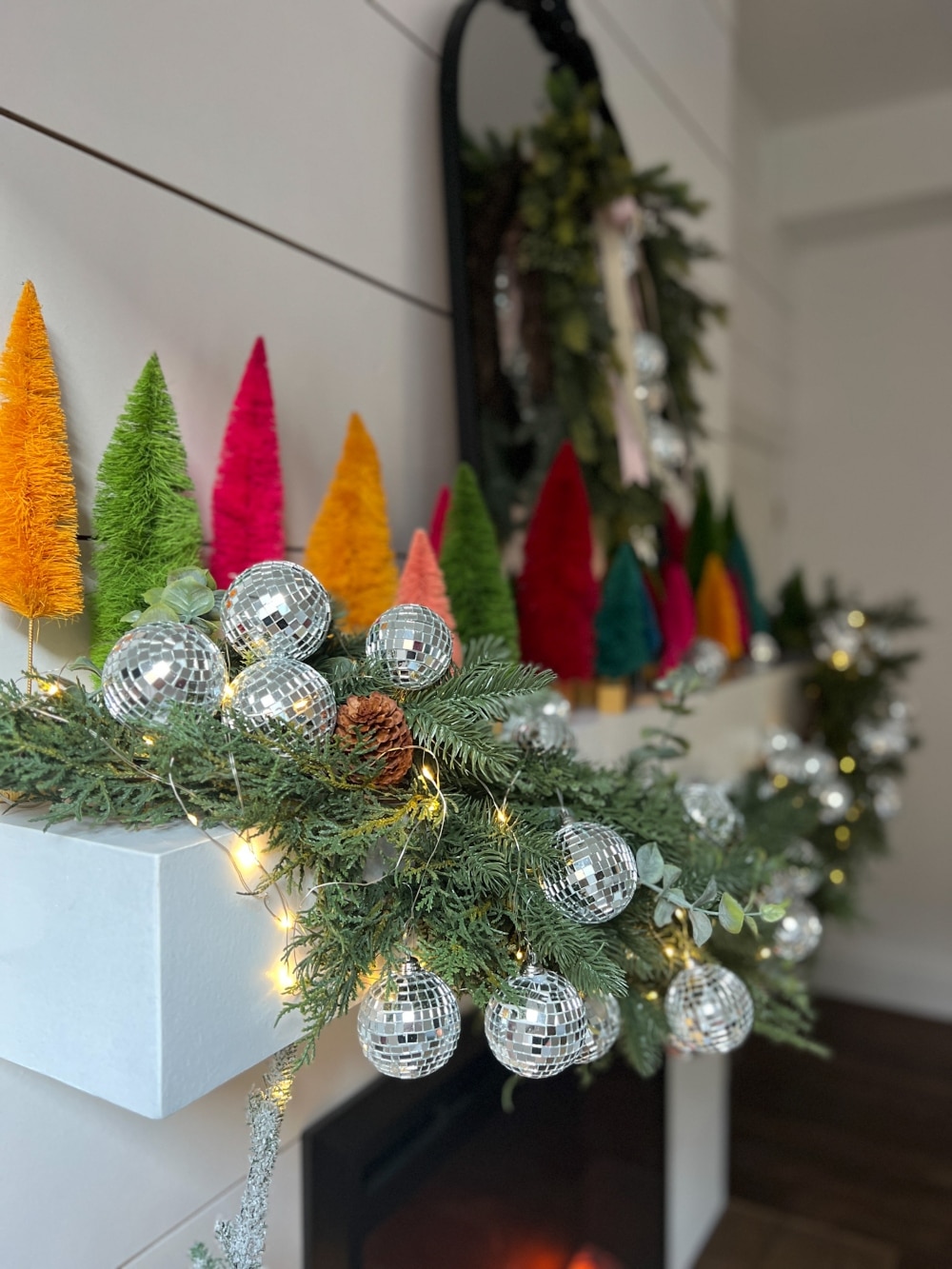 Now, for the pièce de résistance – the disco balls! Enhance the festive vibe by hanging disco balls from the garlands using ornament holders. Space them out evenly, ensuring a balanced and harmonious appearance. The reflective surfaces of the disco balls will catch the twinkling lights, creating a dazzling display that's sure to captivate everyone.
Step 5: Reflect Beauty with a Scroll Mirror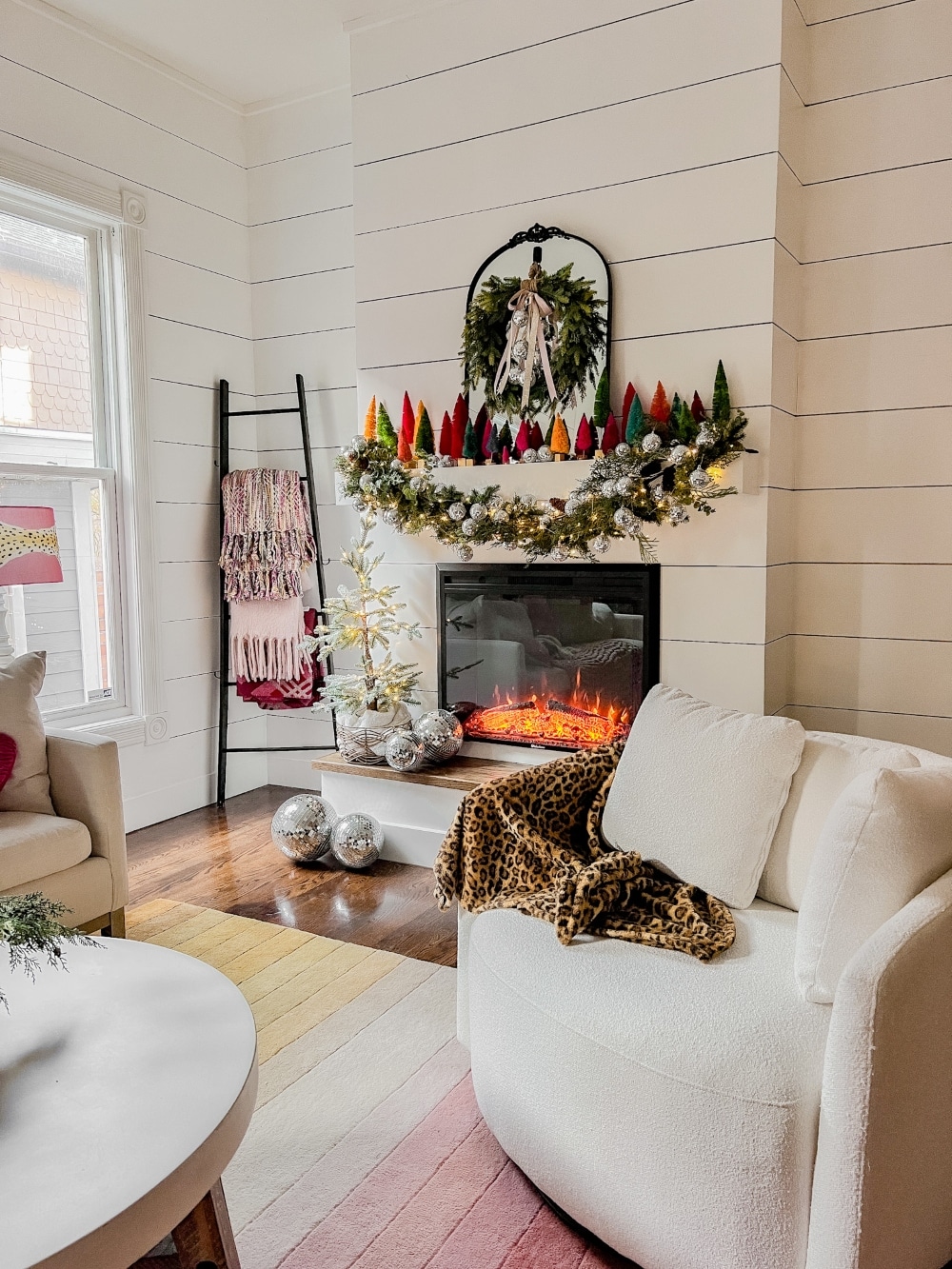 Above the mantel, add a touch of sophistication with a beautiful scroll mirror. This not only amplifies the light in the room but also reflects the festive decor, creating a sense of depth and grandeur. The mirror acts as a stunning backdrop for the disco ball collection, elevating the overall aesthetic of your mantel.
Step 6: Hang the Disco Ball Wreath with Style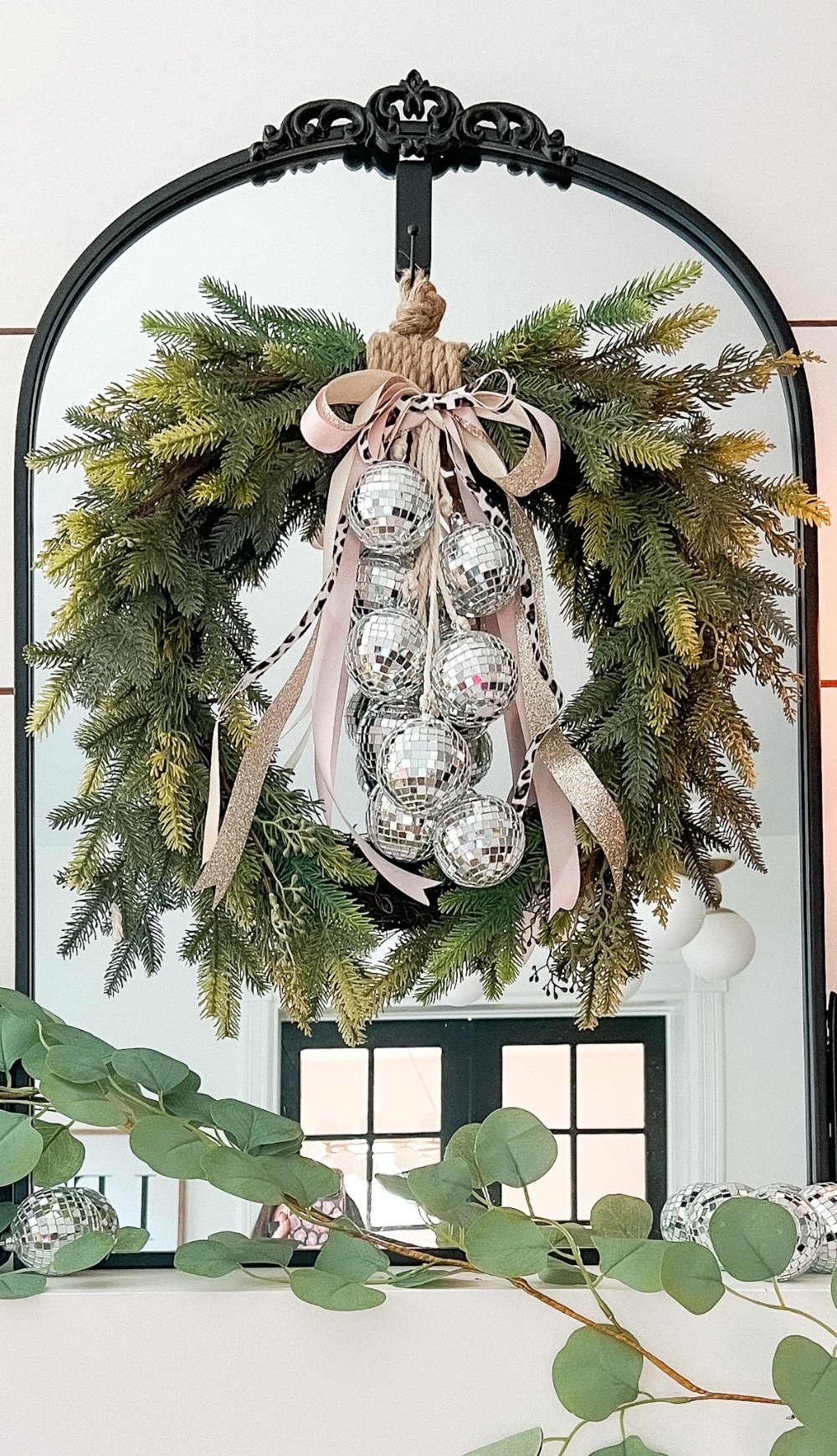 Remember that stunning Disco Ball Wreath from last year? It's time to bring it back into the spotlight. Using a sleek black Command Strip Metal Hook, hang the wreath on the scroll mirror. The contrast of the black hook against the mirror adds a touch of modern elegance, showcasing your DIY wreath as a focal point of the mantel.
Congratulations, you've just transformed your mantel into a disco ball-themed Christmas masterpiece! The combination of natural elements, twinkling lights, and reflective disco balls creates a festive and glamorous ambiance that will leave your guests in awe.
Christmas Disco Ball Wreath Tutorial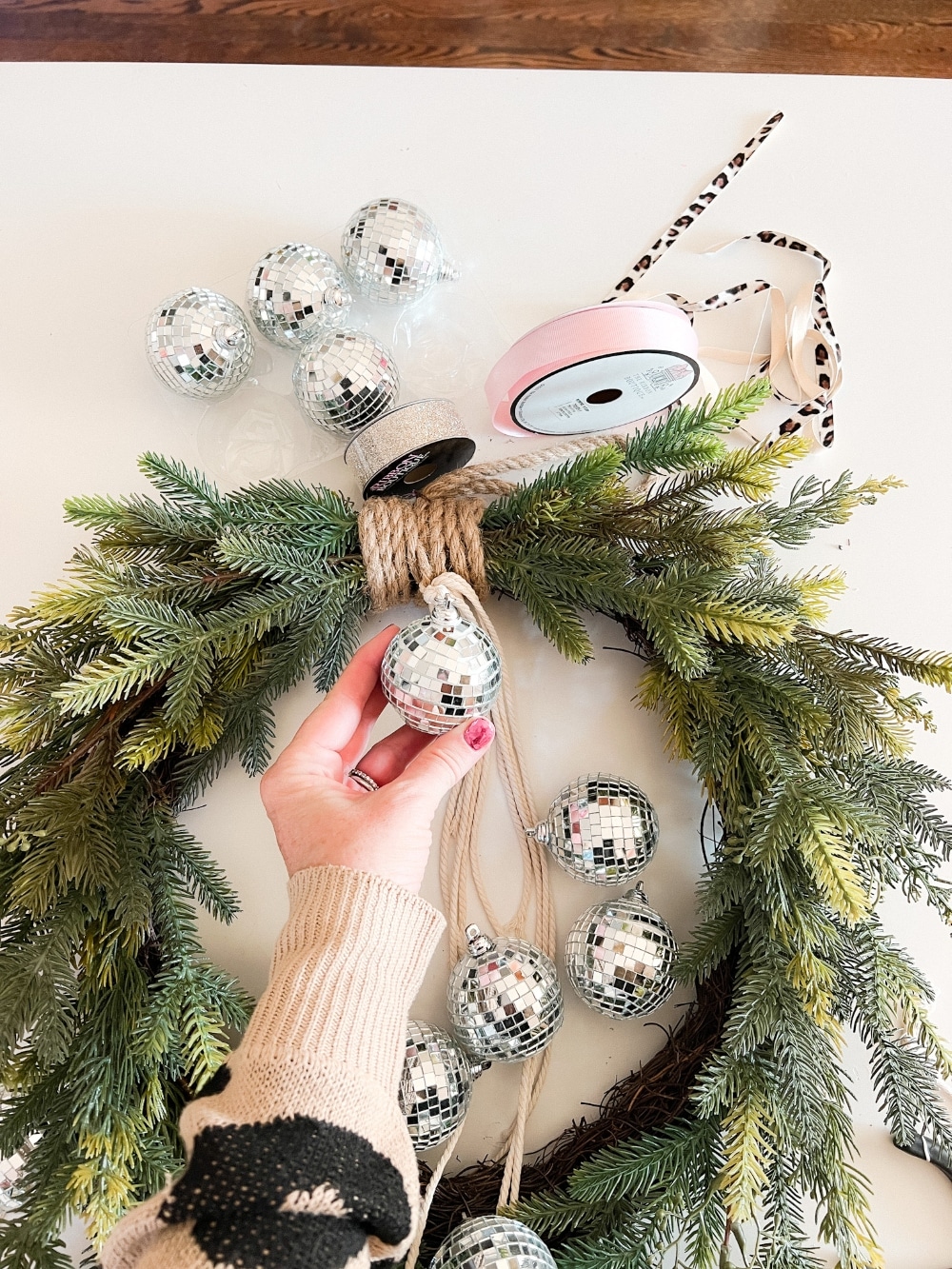 Feel free to customize this tutorial with your own creative flair and color palette. And if you missed last year's tutorial on creating a Disco Ball Wreath, be sure to check it out here – DIY Evergreen Disco Ball Wreath. Wishing you a Merry Christmas filled with disco ball delight and holiday cheer!
Step 7: Elevate the Base with a Festive Touch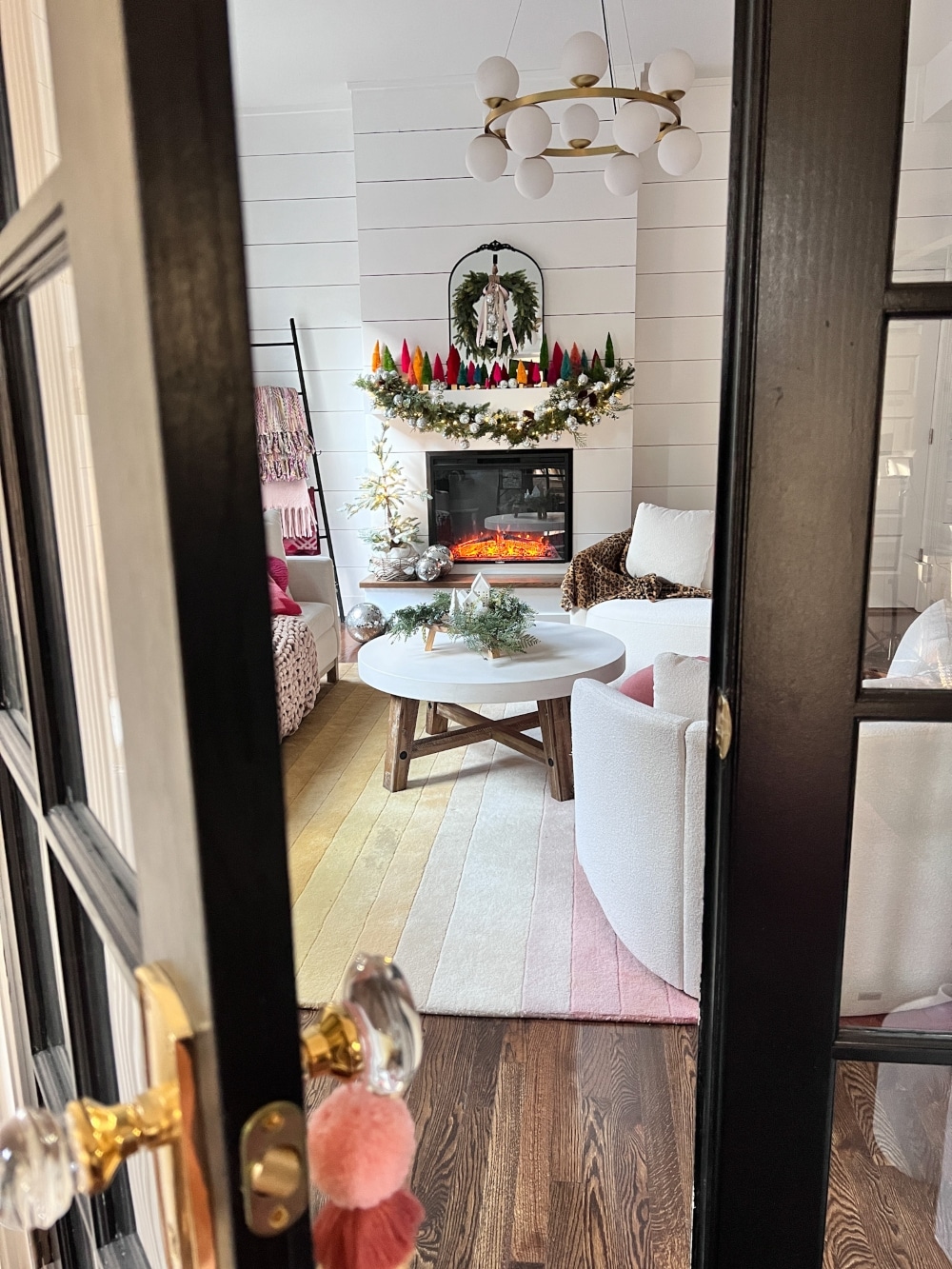 Don't forget about the base of your mantel! Enhance the overall charm by placing a small tree at the center. Wrap a cozy white blanket around the base, giving it a winter-ready look, and nestle it within a stylish basket. To tie it all together, strategically position larger disco balls around the basket. This not only adds a finishing touch to the mantel but also creates a cohesive and well-balanced display.
Supplies and Where to Purchase:
You can find all of the supplies at my Like to Know It page. Follow me there for supplies, great deals and cute finds!
Pine Garland
Eucalyptus Garland:
Pine and Pinecone Garland
Bright Bottle Brush Trees:
Twinkle Lights (Battery-operated with remotes)
Disco Ball Ornaments
Ornament Holders
Scroll Mirror
Black Command Strip Metal Hook
Small Tree
White Blanket
Basket
Crafting a disco ball-themed Christmas mantel is an exciting and festive DIY project. Get creative with your choices and personalize the design to suit your style. Happy decorating, and may your holidays shine bright with disco ball glamour!
Have a sparkly day!
xoxo