Valentine's Day Yarn-Wrap Cardboard Hearts + Centerpiece. Yarn-wrapped cardboard hearts are so simple to make and can be used for all kinds of Valentine's Day crafts. Add them to clear jars for a pretty centerpiece idea!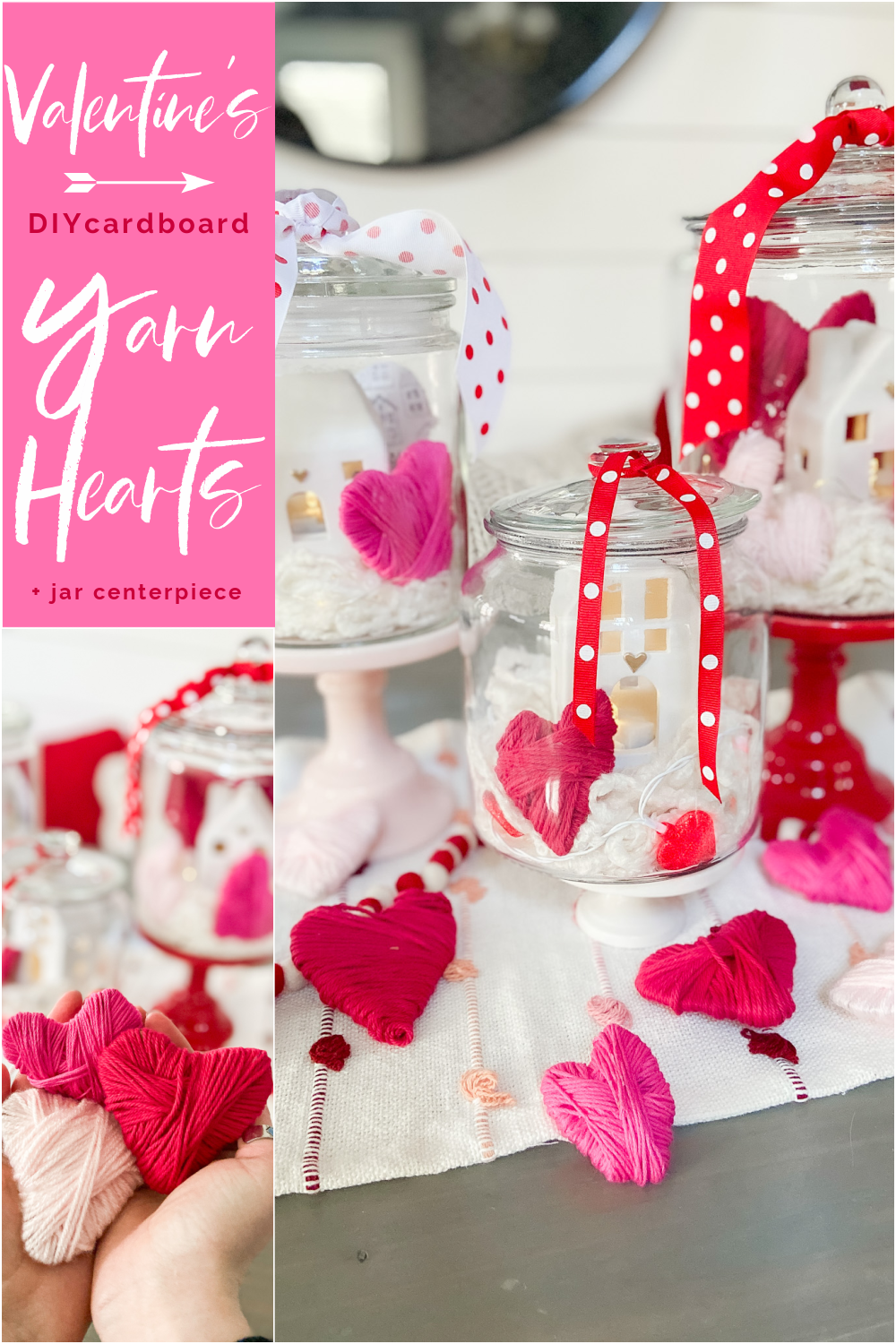 Valentine's Day Yarn-Wrap Cardboard Hearts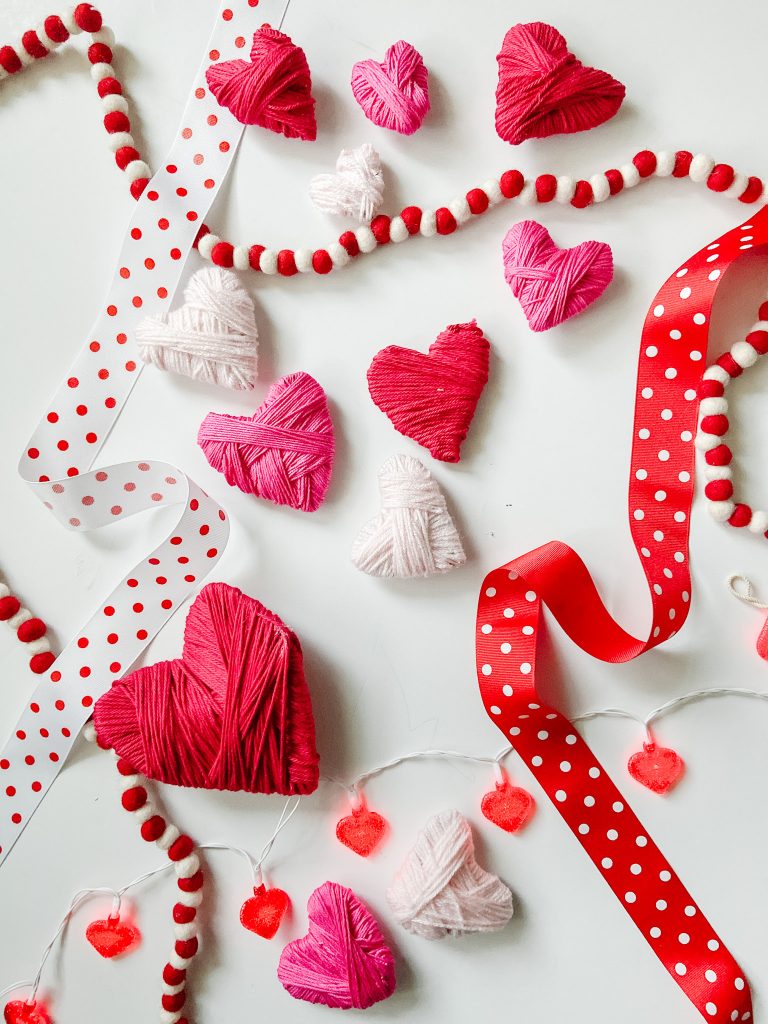 Do you decorate for Valentine's Day? I've found that it's not so empty to take down my holiday decor if I replace it with some simple and happy Valentine's Day things!
Yarn-Wrap CardBoard Hearts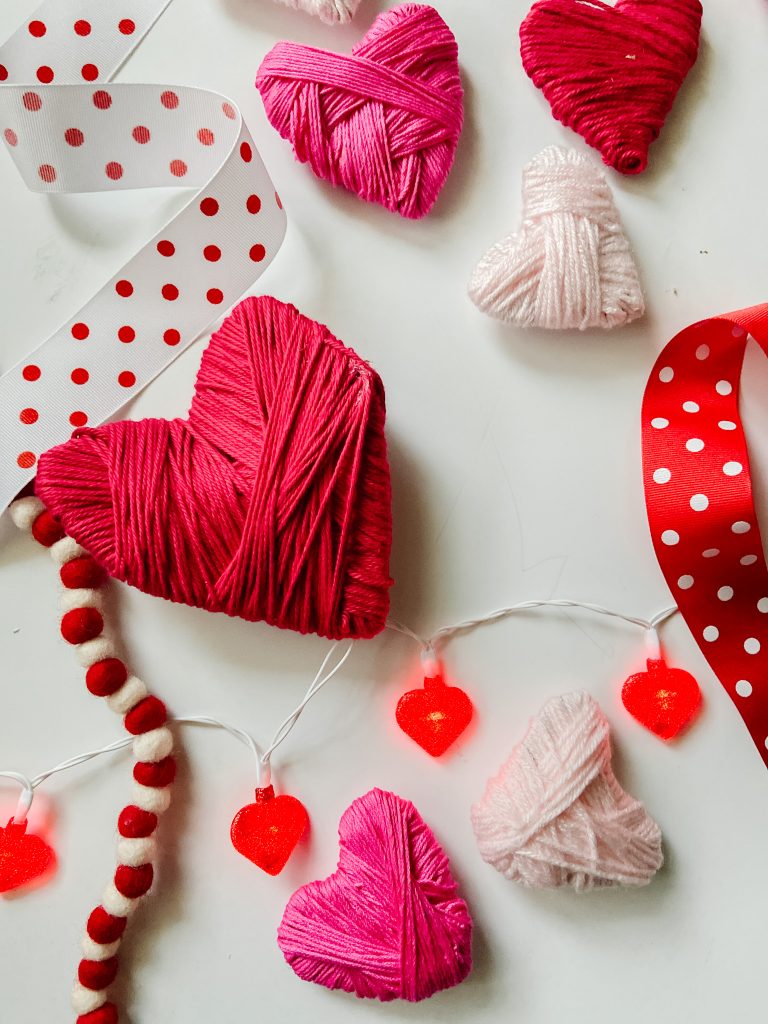 The best part about this craft if you probably already have all of the items needed to make these cute hearts! Just cardboard, yarn and a hot glue gun and you can make these festive yarn-wrapped hearts!
30-Minute Valentine's Day Craft
The best part of this easy craft is it's so fast! In 30 minutes you can have several heart-wrap cardboard hearts to use! And your kids will love making them too. I used a glue gun to keep the yarn on the curved edges of the hearts but you can use a glue stick too if your kids want to make some!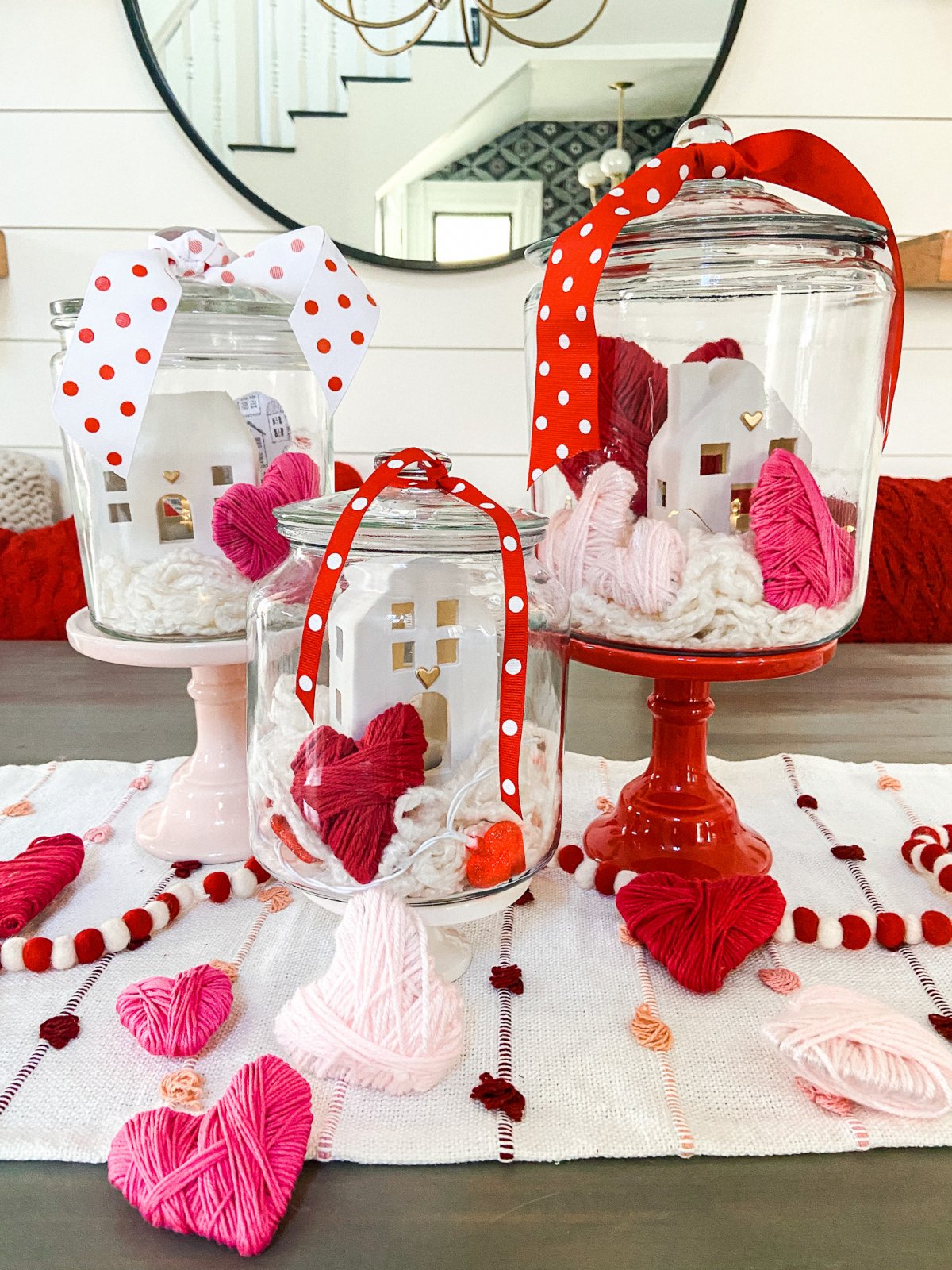 Yarn-Wrap Cardboard Hearts Can Be Used For Valentine's Day Projects
Once you have a few hearts made, either use them by themselves on a table like I did. Or you can glue them onto ribbon to create a Valentine's Garland. Sprinkle them throughout your home on shelves or add them to a wreath!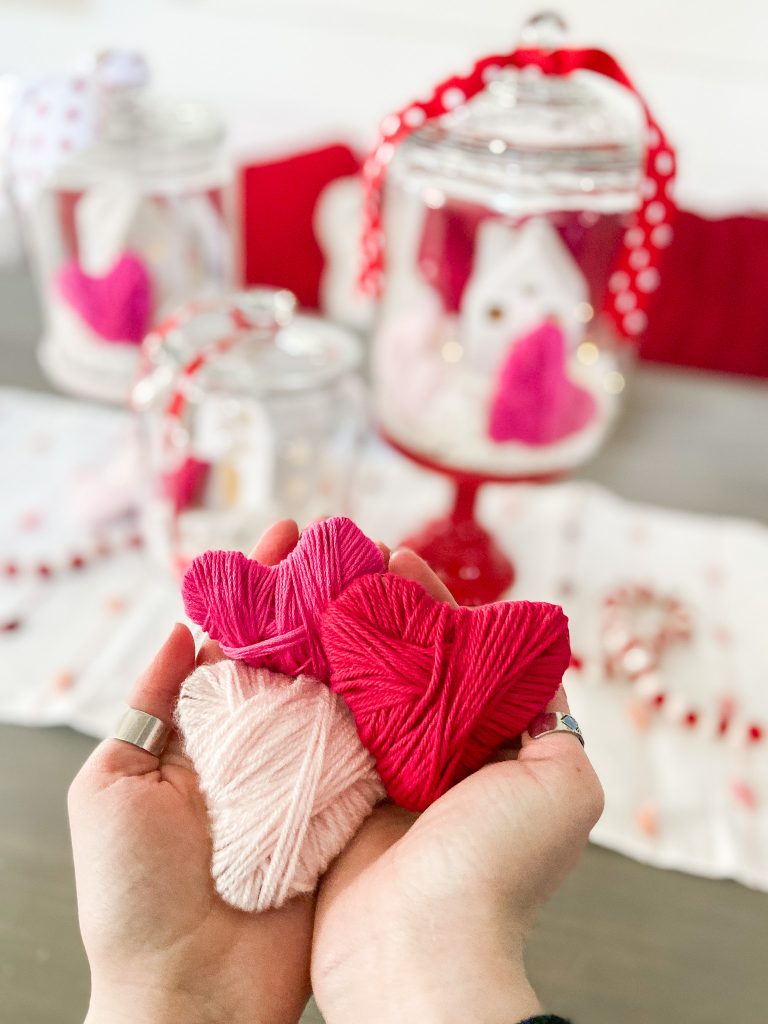 30 Minute DIY Crafts
Here are a few Valentine's Day crafts you can make in 30 minutes or less!!
My 100 Year Old Home | Pink Apples Valentine's Day Craft
This DIY Valentine's Day Craft is so easy. This is a fun way to add pink foil leaf to any faux fruit in less than thirty minutes.
Thistlewood Farms | DIY Valentines Heart Pillow
Make this simple pillow to brighten up your February! All you need is an hour and extra fabric!
The DIY Mommy | DIY No-Sew Fabric Heart Banner for Valentine's Day
This DIY no-sew heart banner is a sweet decor accent for Valentine's Day. The best part? It only takes 30 minutes to make and it doesn't require any sewing at all.
This easy DIY Valentine's Day decor wreath can be made in 30 minutes or less. Make mini bouquets of pink Bunny Tail grass and glue them to a wreath form. This soft pink wreath is perfect for styling a mantel, wall, or shelf.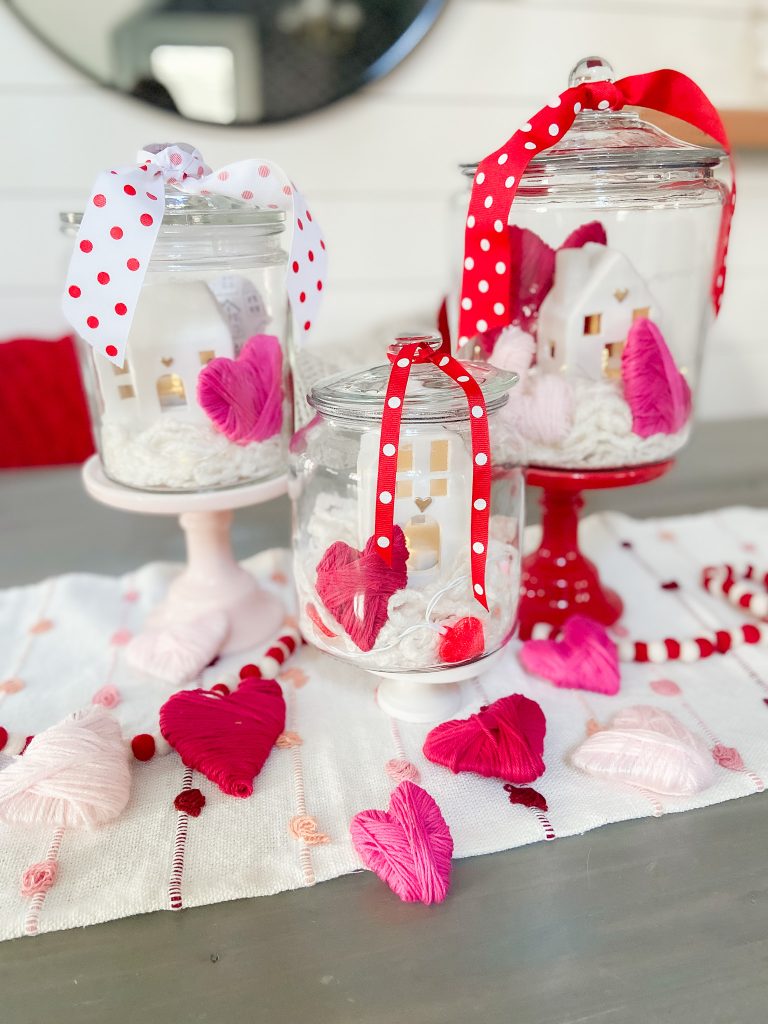 How to Make a Yarn-Wrap Heart Valentine's Day Centerpiece
I used the yarn-wrapped cardboard hearts to create a sweet little Valentine's Day centerpiece on our dining room table. This is how I created this easy centerpiece idea:
I added some pretty yarn to the bottom of the jars.
Then I added fairy lights.
I put a heart from my Pebbles Avenues Line on little houses and put a house in each jar.
Then I added a couple of the yarn-wrapped hearts to each jar.
The last thing I did was tie some red and white ribbon on each jar and put them on cake stands in the middle of our table.
I sprinkled more of the yarn-wrapped hearts around the jars on the table!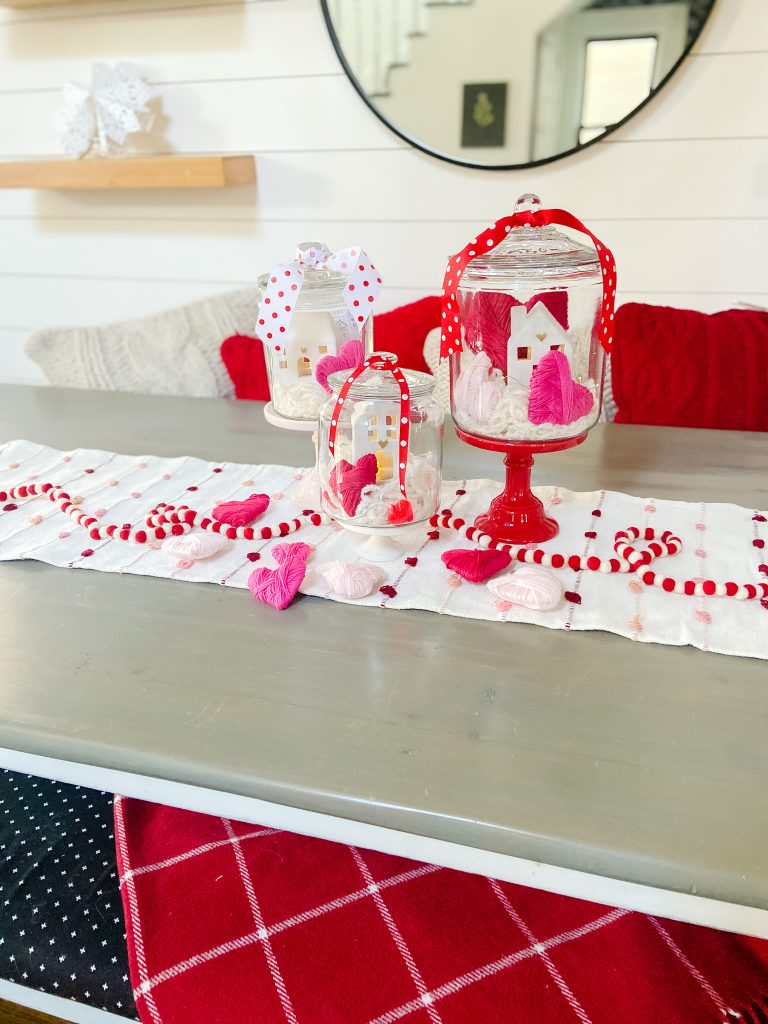 Yarn-Wrap Valentine's Day Heart Tips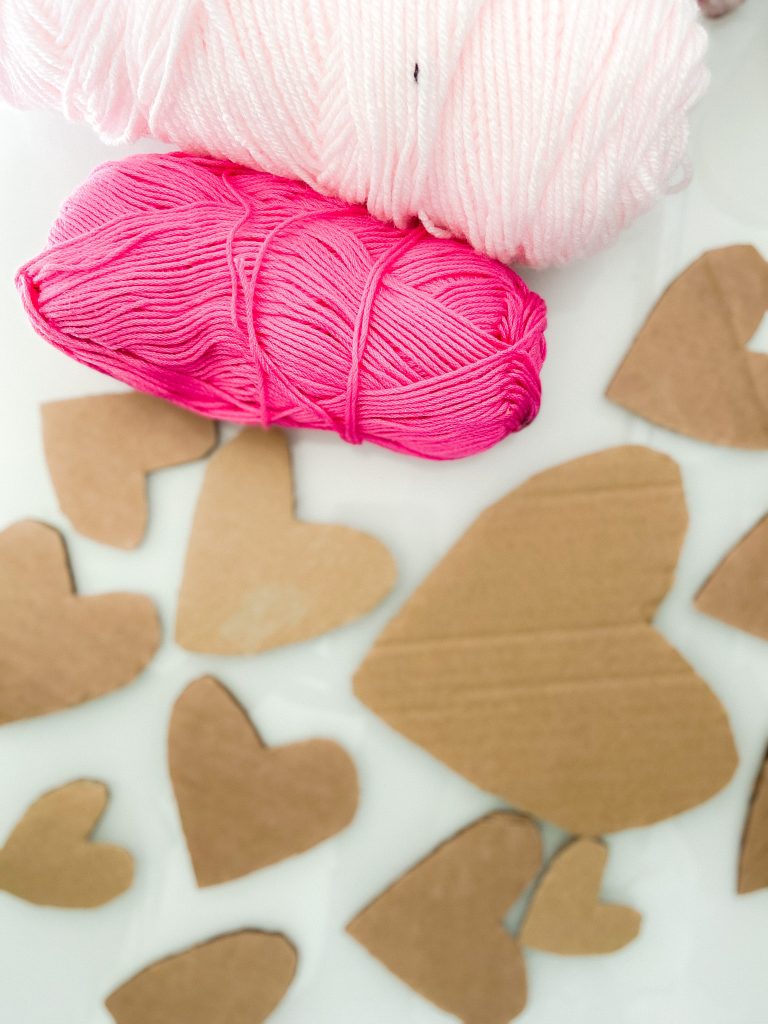 Here are a few tips I found while making these hearts.
Start Each Yarn-Wrap Heart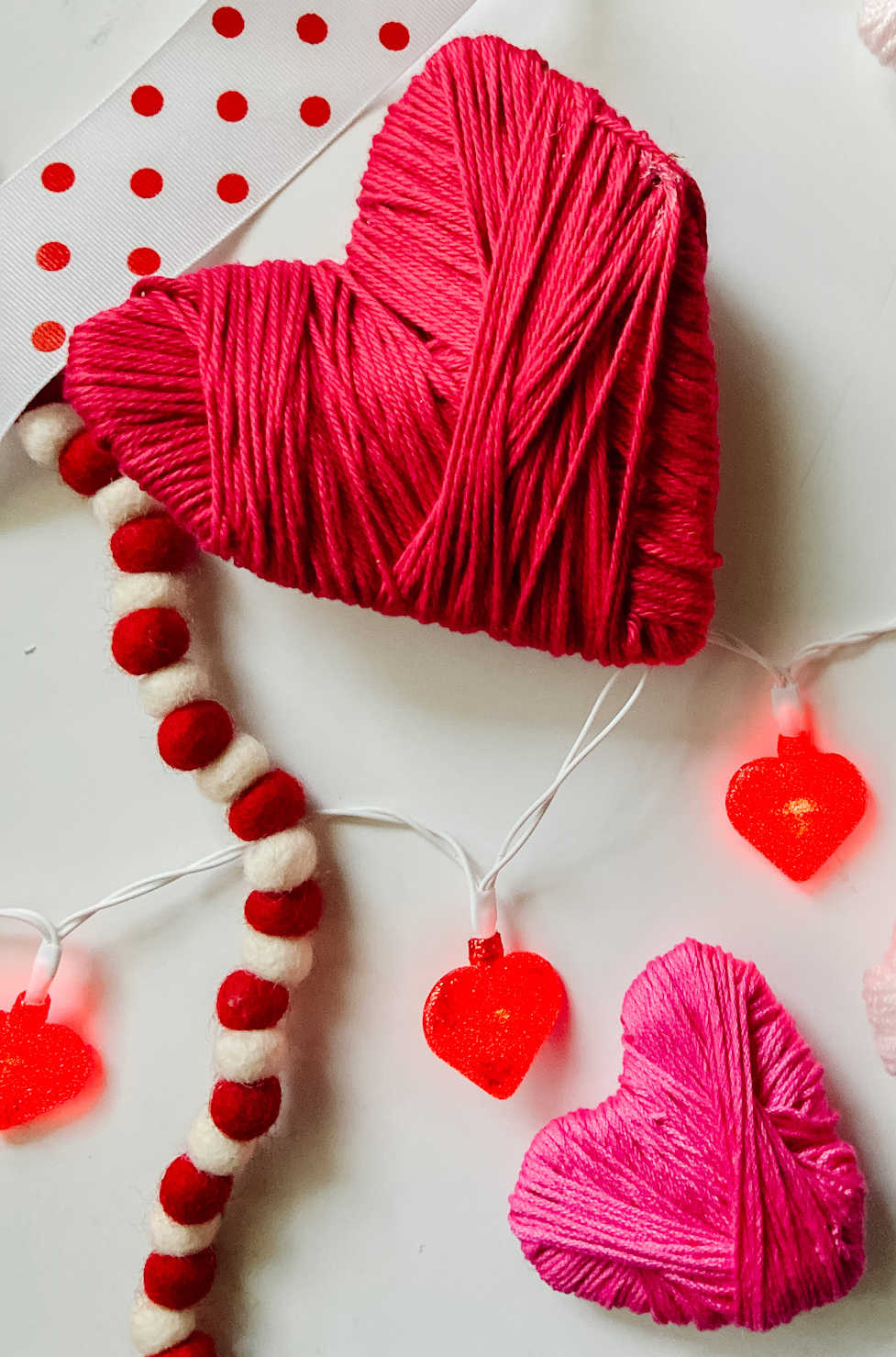 Add a dab of glue to the center of each heart and start wrapping the heart by wrapping the yarn tightly and closely together in one direction.
Turn Heart and Start Wrapping in Different Direction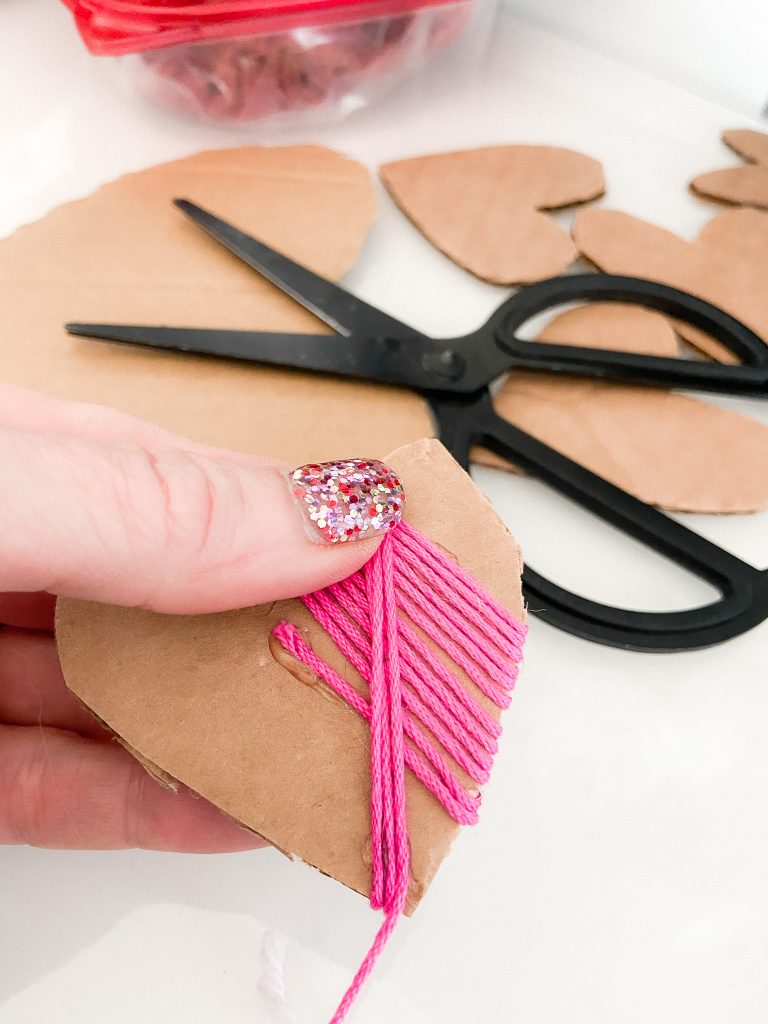 Once one section is covered, turn the heart and put a dab of glue at both ends of the heart and start wrapping in that direction. The hot glue (or glue from glue stick) will hold the yarn in that new direction.
Keep Turning the Cardboard Heart Until Covered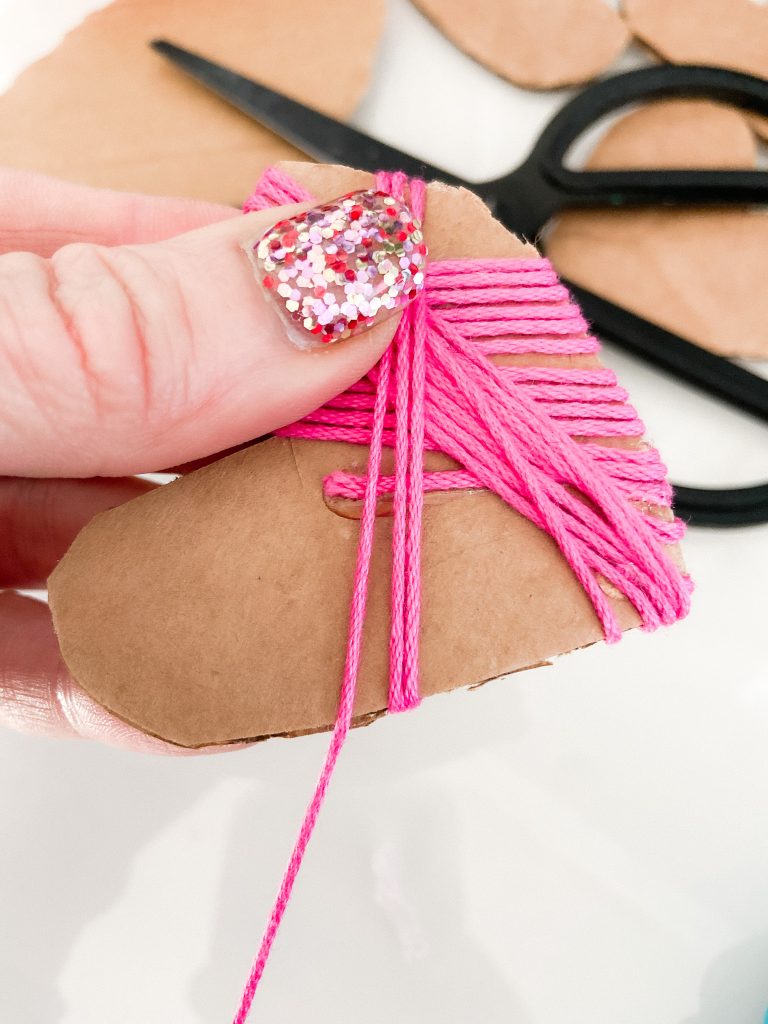 Keep turning the heart and adding glue as you turn until the heart is covered with yarn.
Add More Yarn to Sparse Sections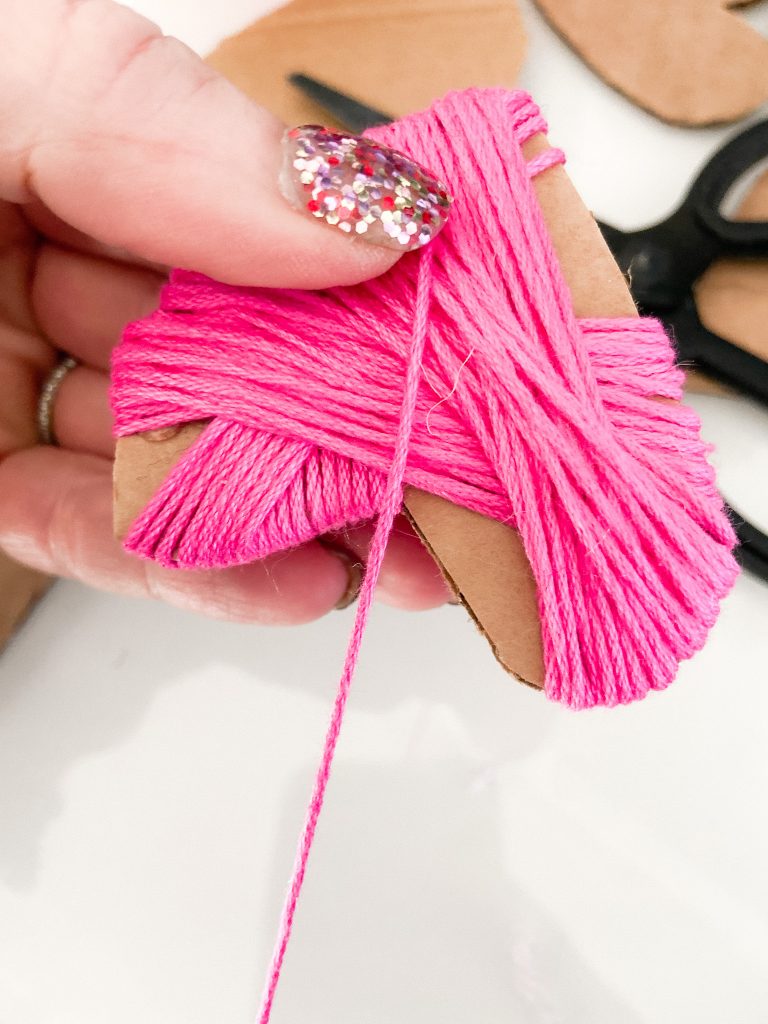 After the heart is covered, see if there are sections that need a little more yarn so that none of the cardboard is showing through. Add more yarn to places that need more coverage.
Add Glue and Cut Yarn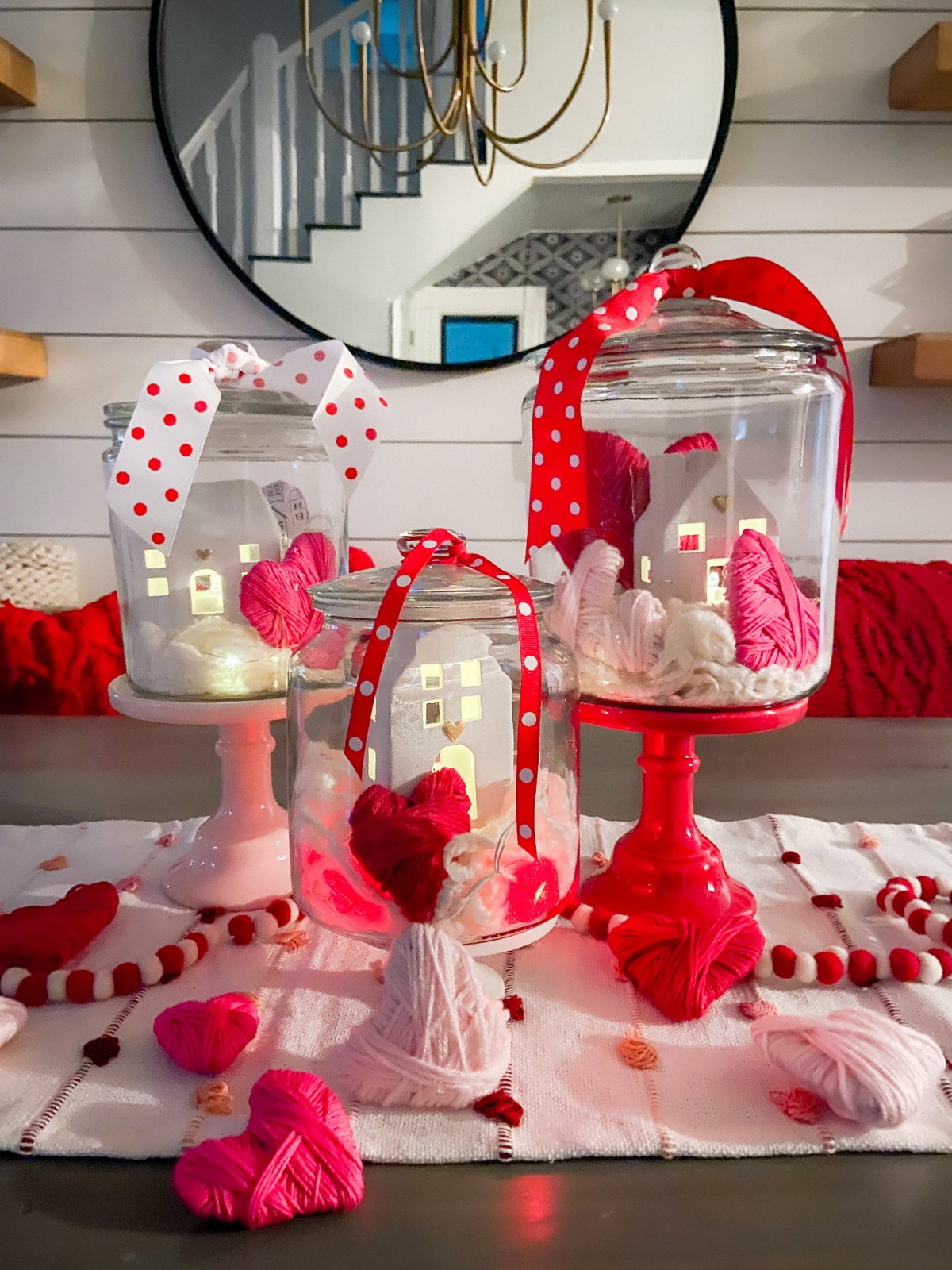 Once the heart is covered, add a dab of glue under the yarn strand and cut it right next to the glue you added to neatly finish off each yarn-wrapped heart.

More Valentine's Day Ideas
Here are a few more Valentine's Day projects that I love: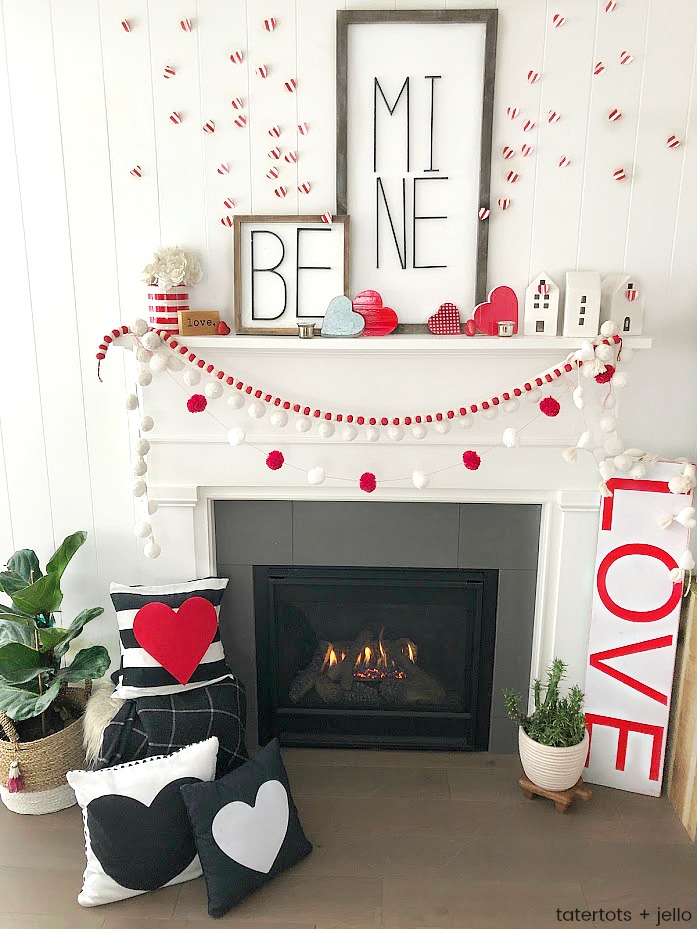 This was one of my favorite Valentine's Day mantels. The signs are upcycled signs that I added metal letters to. The LOVE sign is a typographical sign that's easy to make!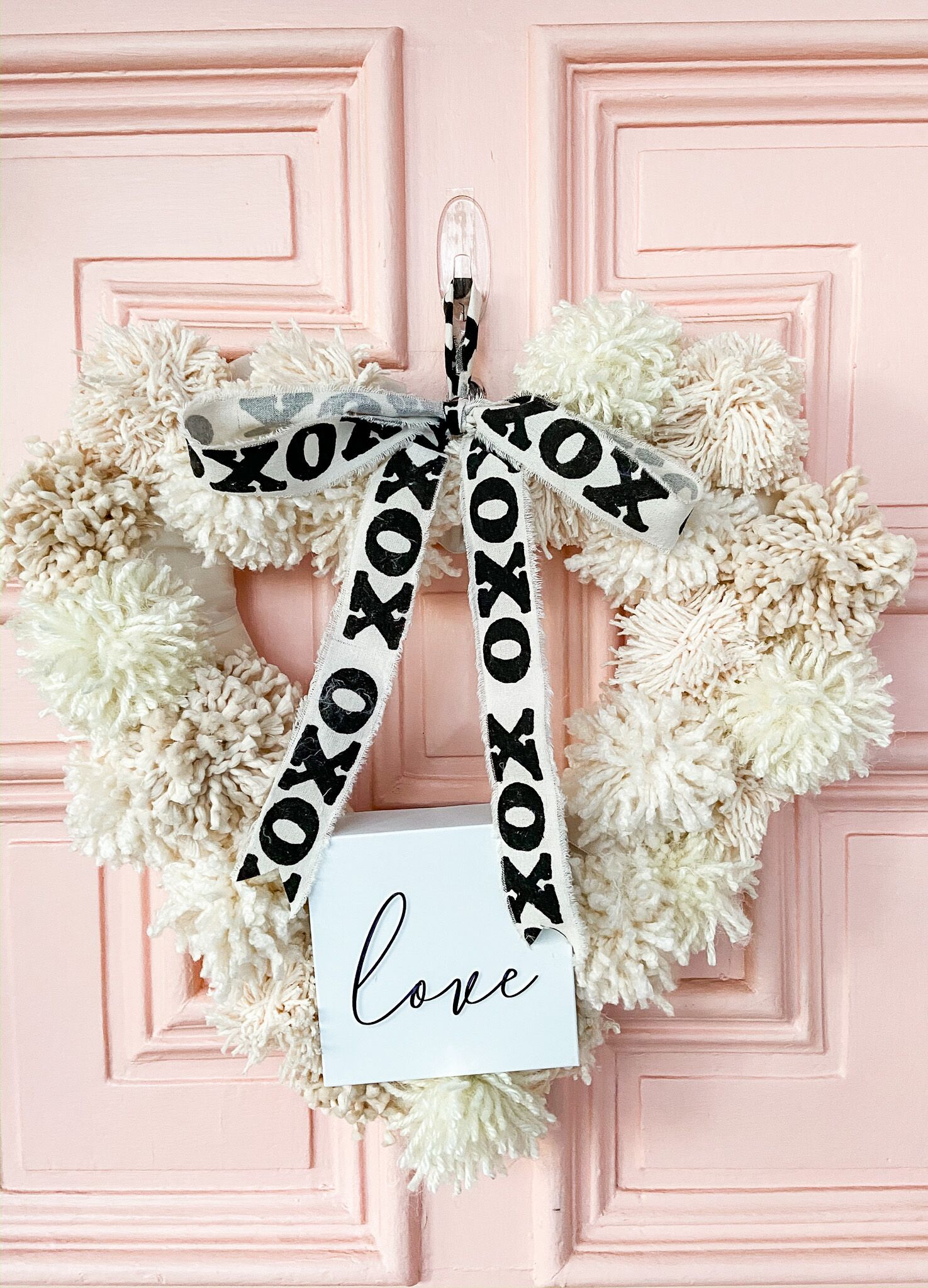 Making DIY pom poms is so much fun! In just a few minutes you can make a wreath that is full of beautiful yarn textures!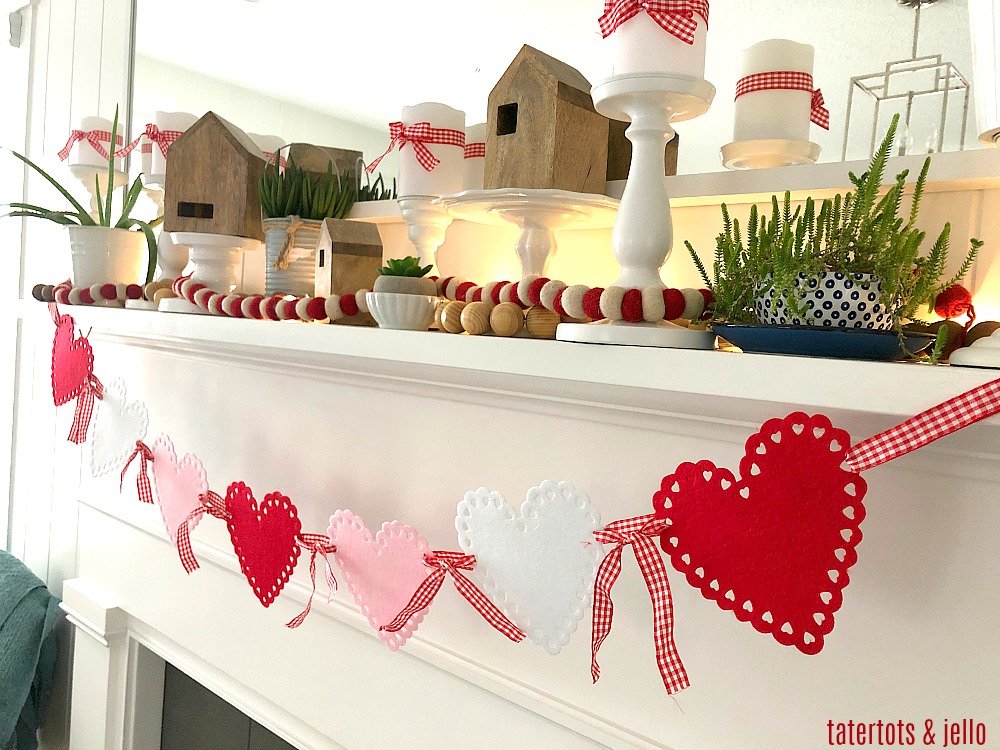 This is one of my all-time favorites! A package of Dollar Store felt hearts and ribbon = the cutest Valentine's garland for your mantel or over your front door to celebrate the season!
Have a Beautiful Day!
xoxo