Christmas Garland to Valentine Wreath! Upcycle a Christmas garland and turn it into a fun and festive Valentine decoration!
Christmas Garland to Valentine Wreath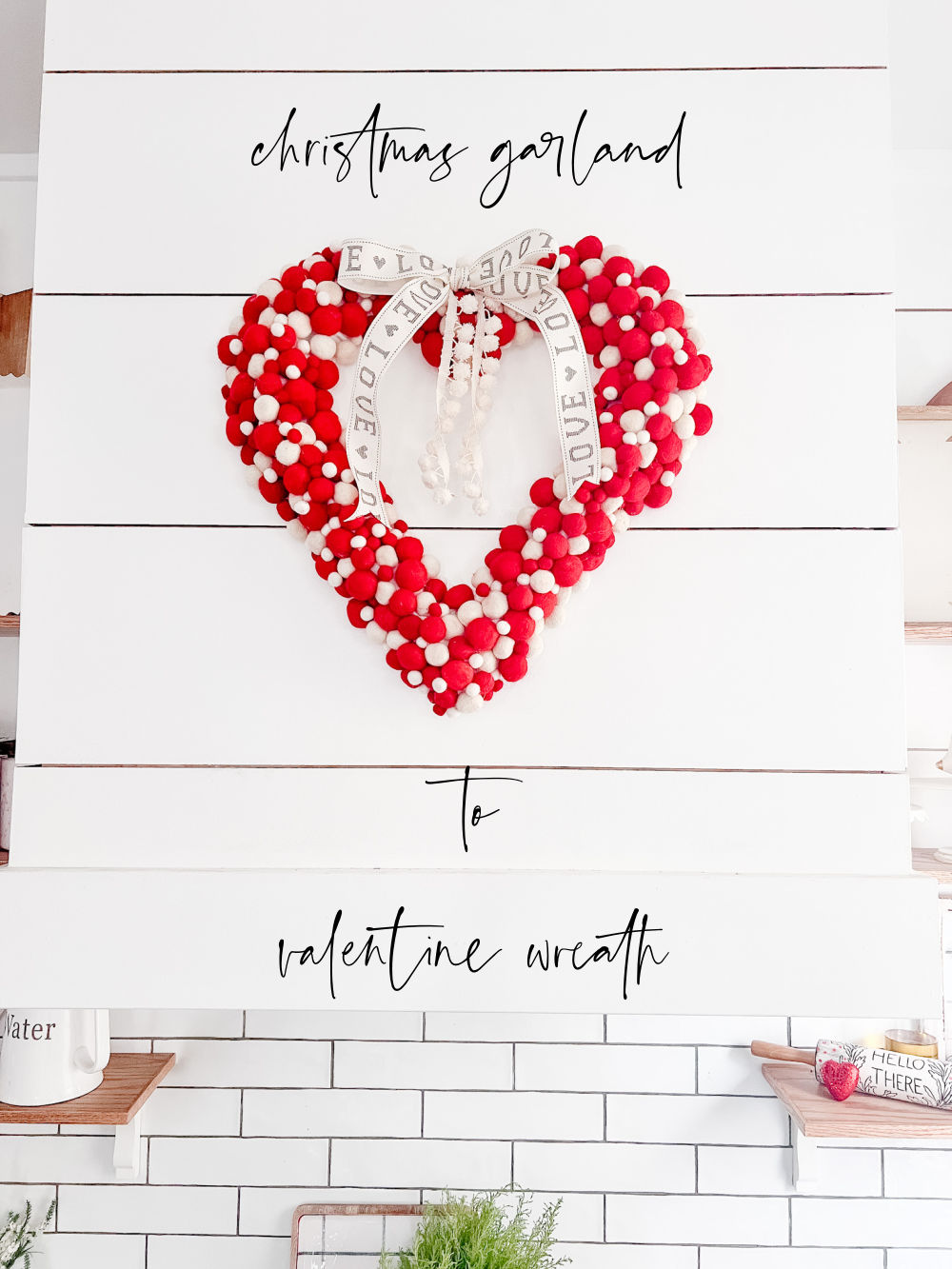 Do you decorate for Vaentine's Day? I love bringing happy red and pink color into our home to brighten up the winter blahs! Here's an idea that costs almost nothing! Upcycle a Christmas garland into a pretty Valentine wreath!
Upcycle Old Holiday Decor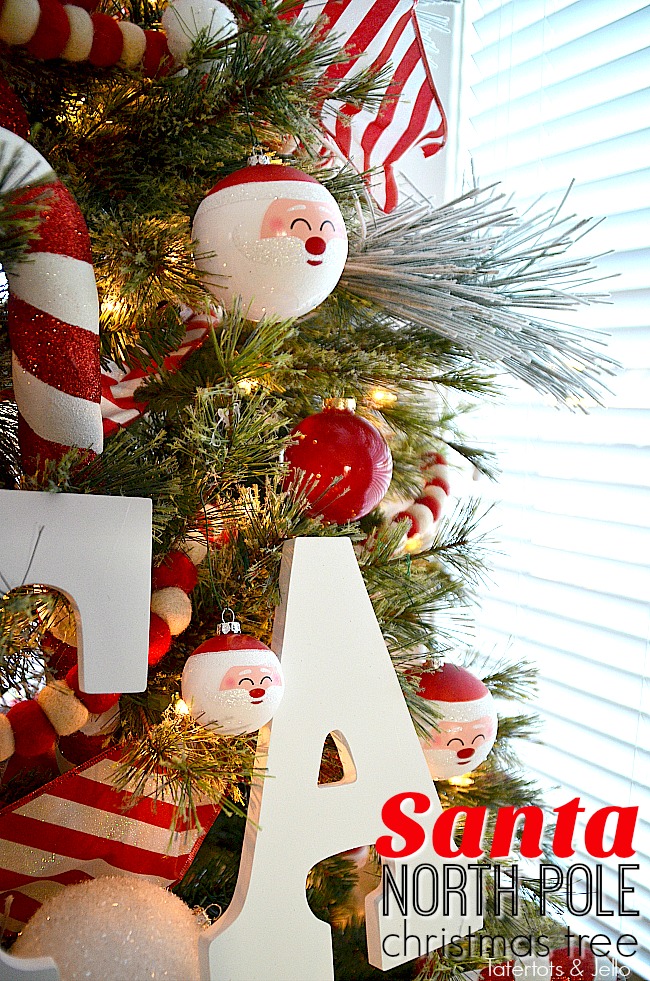 Over the past few years my holiday decor has evolved from traditional red and white to COLORFUL Christmas. So as I was thinking about Valentine decor ideas I turned to the bin of red and white decor that was waiting to be donated. I had three strands of red and white felt ball garlands that I really still love because of the texture but they didn't fit into the COLORFUL Christmas theme that I use. So I thought "why not turn these felted ball garlands into a pretty heart wreath that I can use for years to come?"
DIY Valentine Ideas
I am sharing this felted ball heart wreath and my friends are also sharing DIY Valentine ideas that you can make! Scroll down to the bottom of the post and HOP over to see how to make these easy ideas!
How to Turn a Christmas garland into a Valentine Wreath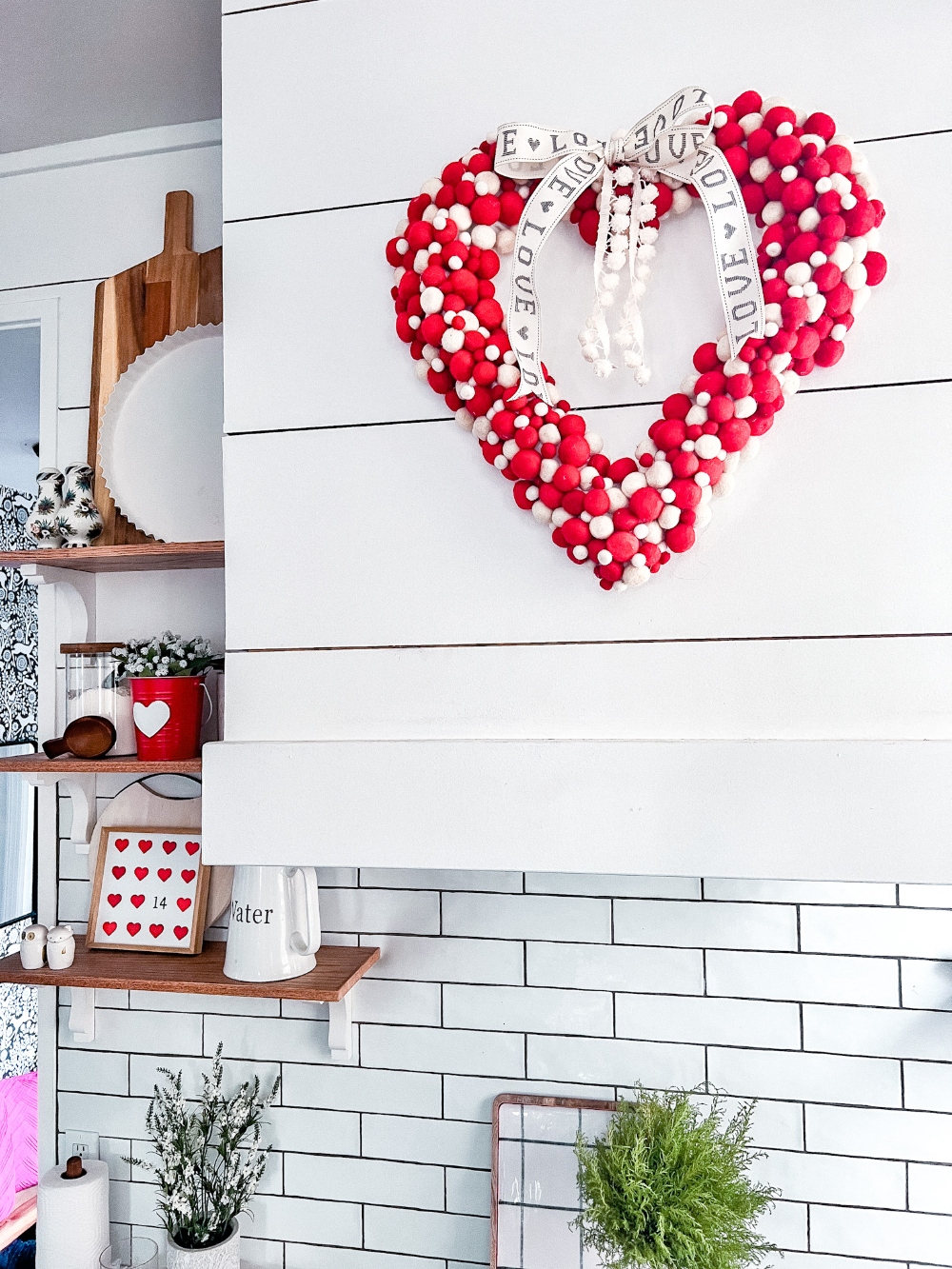 Now you can use pretty much any type of holiday garland for this idea. You will want to cut the garland pieces apart to see how they will look on your wreath form.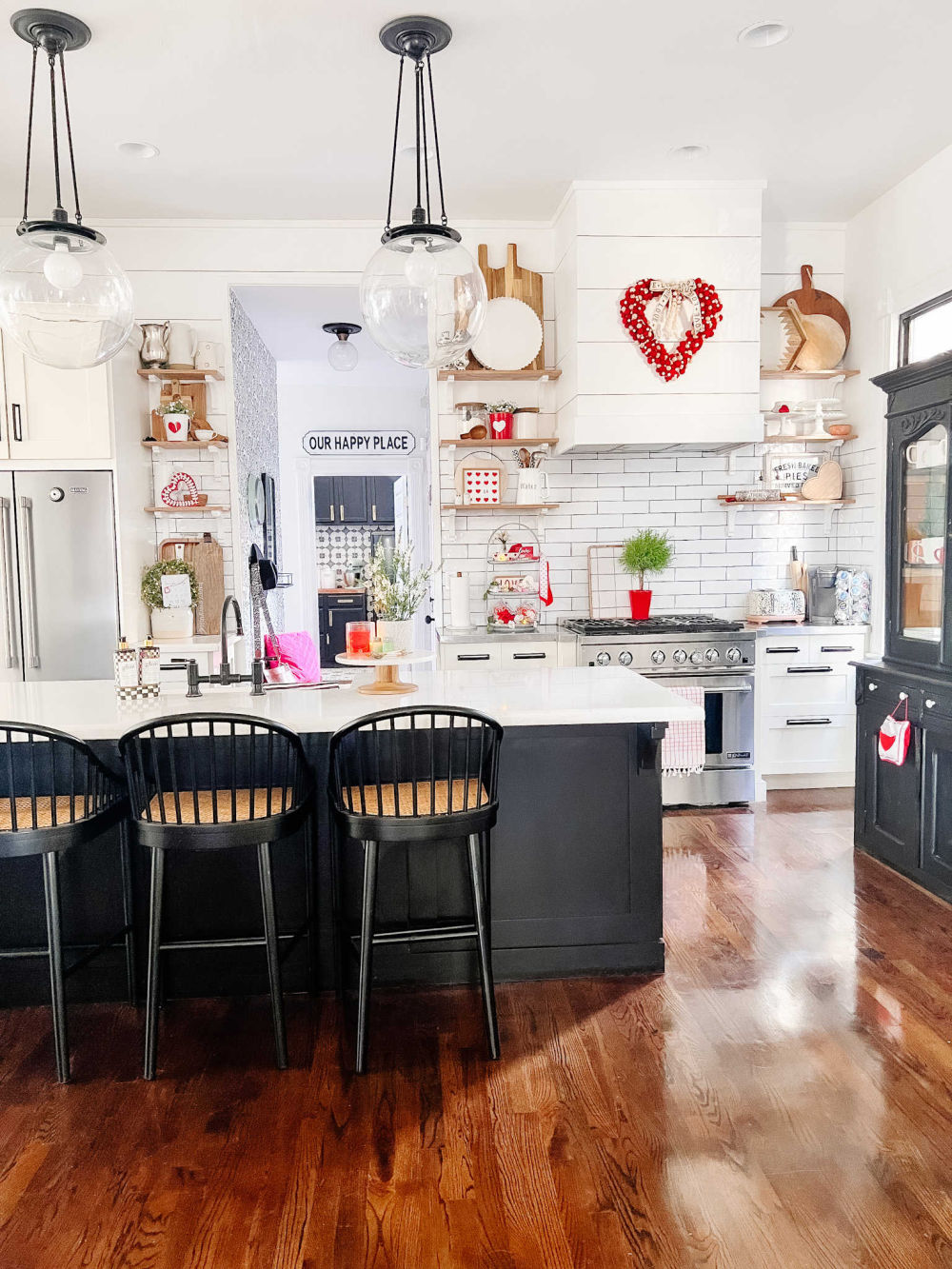 Gather Your Valentine Heart Wreath Supplies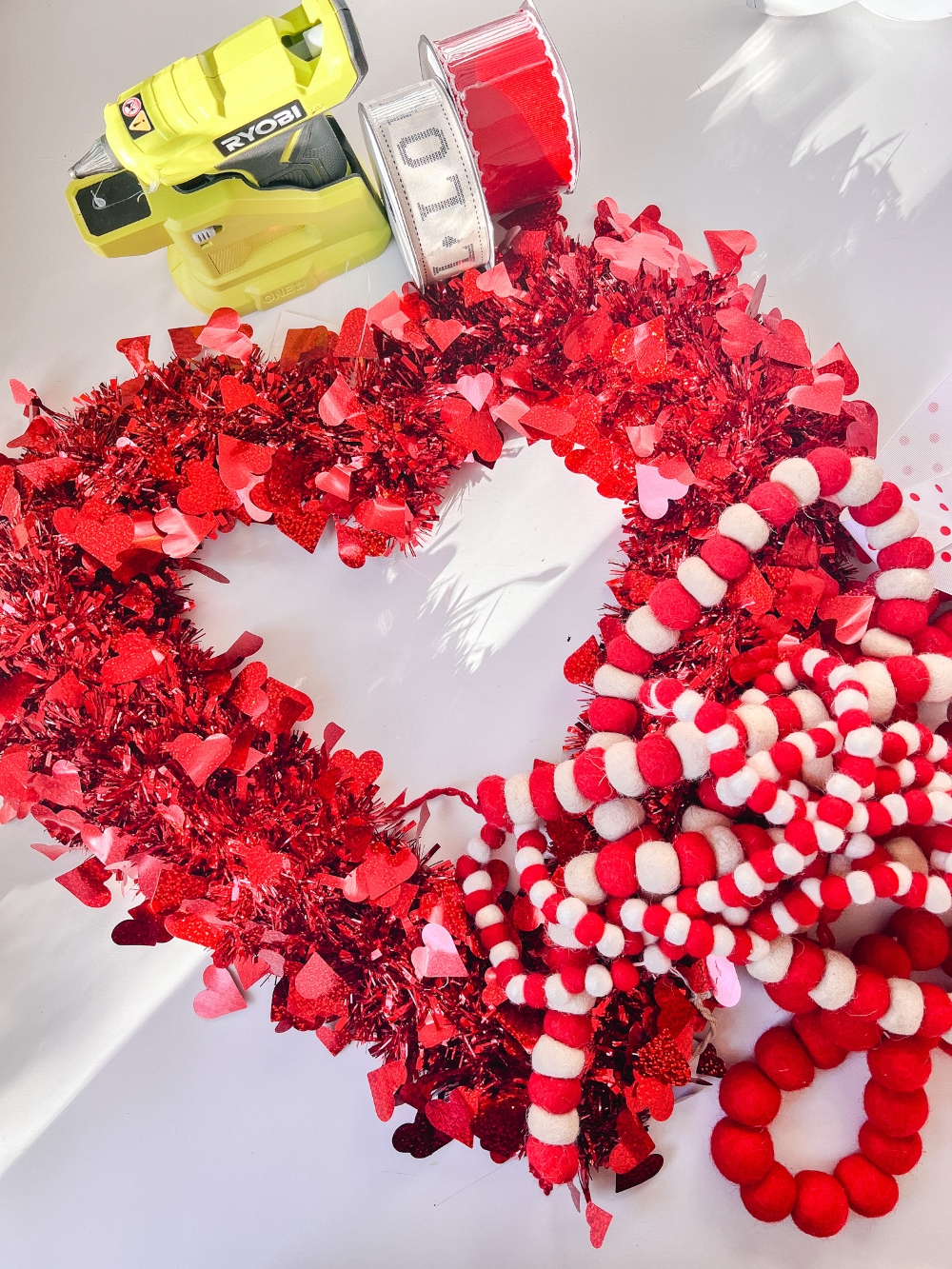 Here are the supplies I used to create this heart Valentine wreath:
Christmas Garland
Wreath Form: I used a large heart wreath from Hobby Lobby.
Ribbon or fabric to wrap around the wreath form. I cut up an old sheet and cut it into 4′ wide pieces.
Ribbon: I used ribbon from Hobby Lobby
Glue Gun and Sticks: This is my cordless Ryobi glue gun. I love it!!
How to Turn a Christmas Garland into a Valentine Wreath
Prepare Your Wreath Form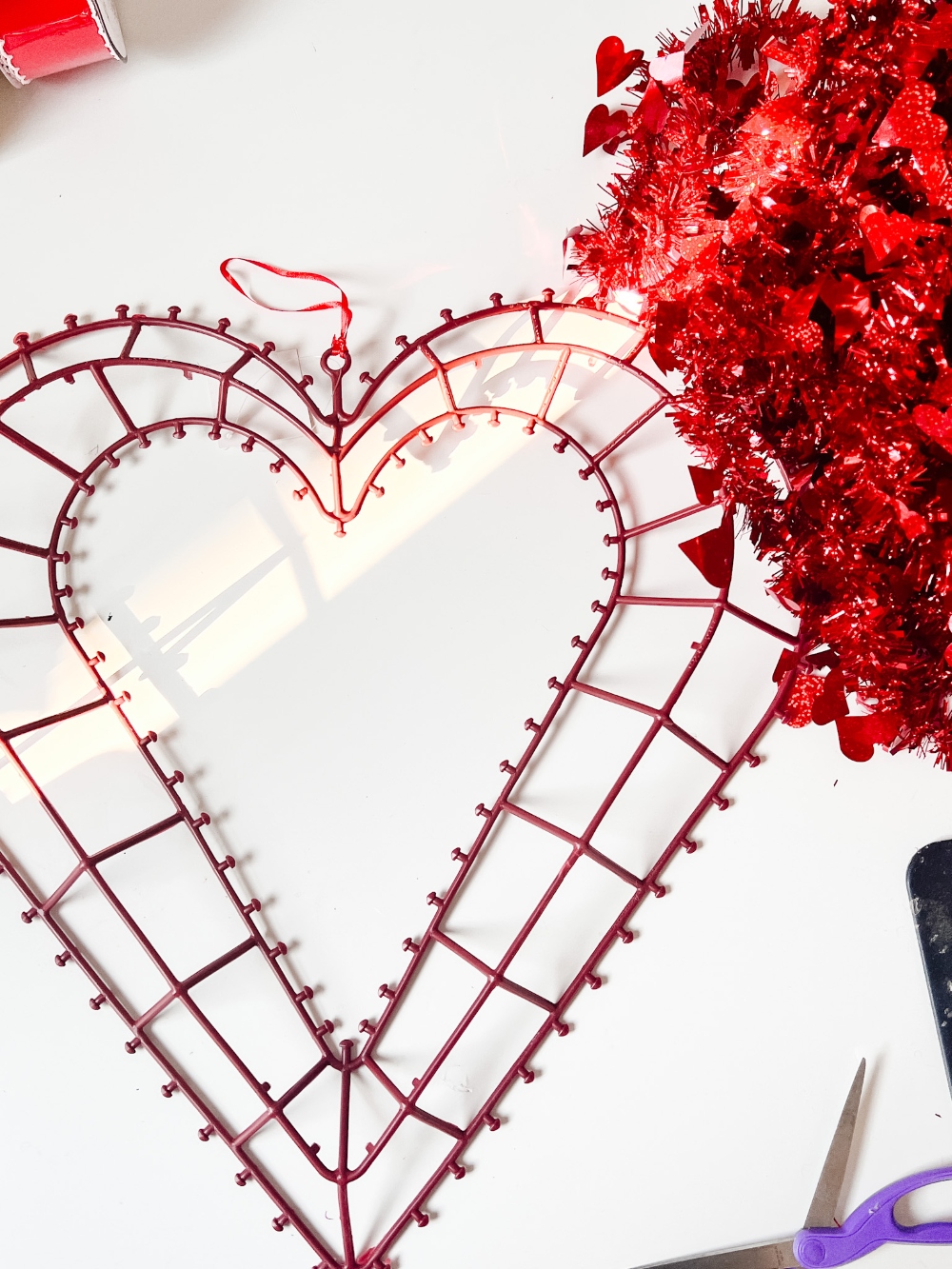 My wreath was covered in sparkly hearts so I had to remove those and then cut off the spokes that held the plastic hearts onto the form.
Wrap Wreath Form in Ribbon or Fabric
I used an old sheet and cut it up into 4-inch wide strips.
Cut Garland Items Apart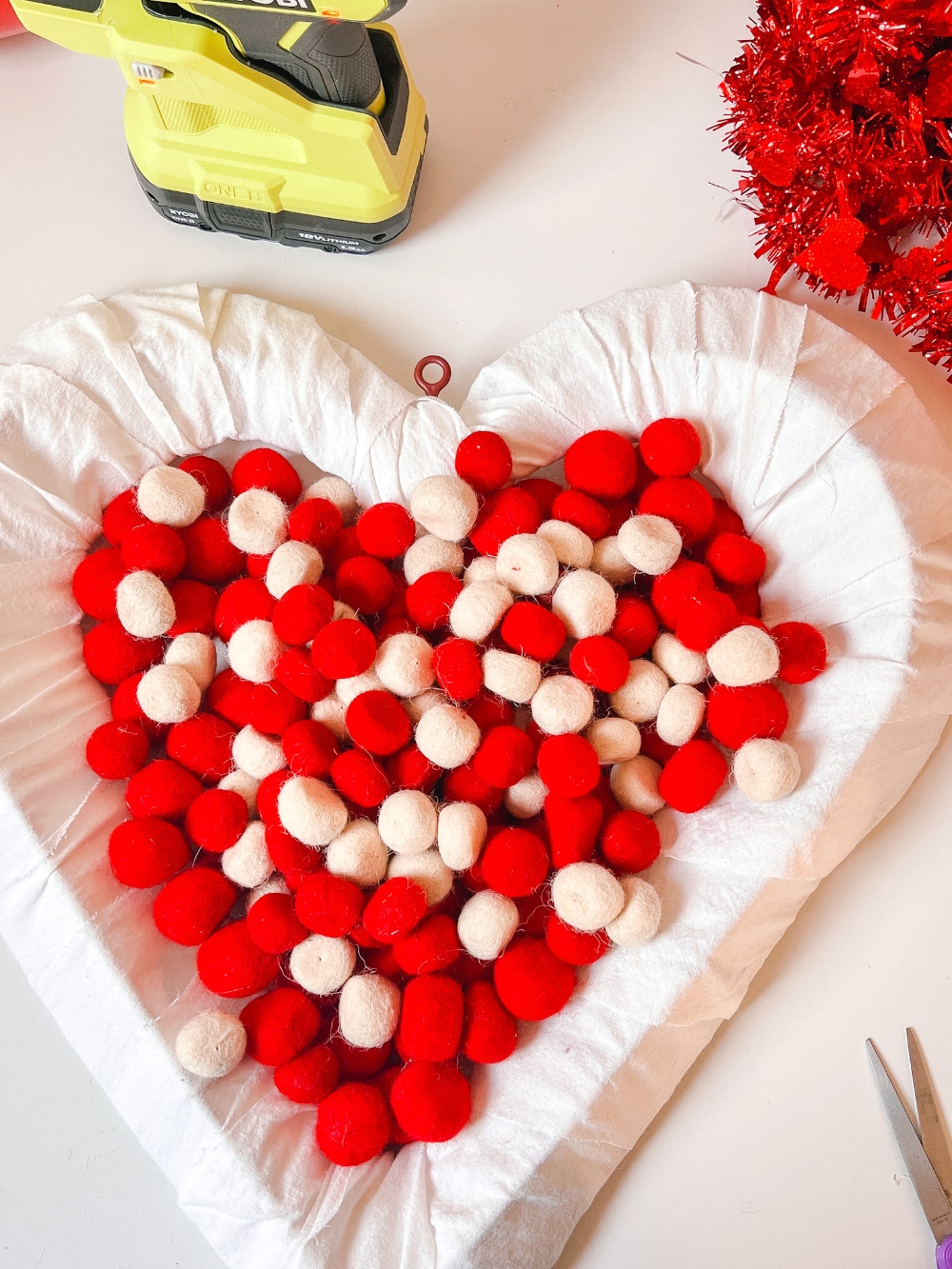 I used felted ball garlands. I cut the cord and then put all of the felted balls together. If you are using a different kind of garland, like a red ball garland, do the same thing.
Arrange Largest Items on Wreath Form
I like to arrange things before I commit to gluing them on. That way I can visualize how it will look before I glue. For my project I had garlands with three sizes of felt balls. One garland was all big red felt balls. One was medium red and white balls and the last garland was very small white and red balls. I arranged the big red balls around the wrath form, in a pattern. I think the eye just likes a pattern best and it looks uniform.
Glue Largest Items on Wreath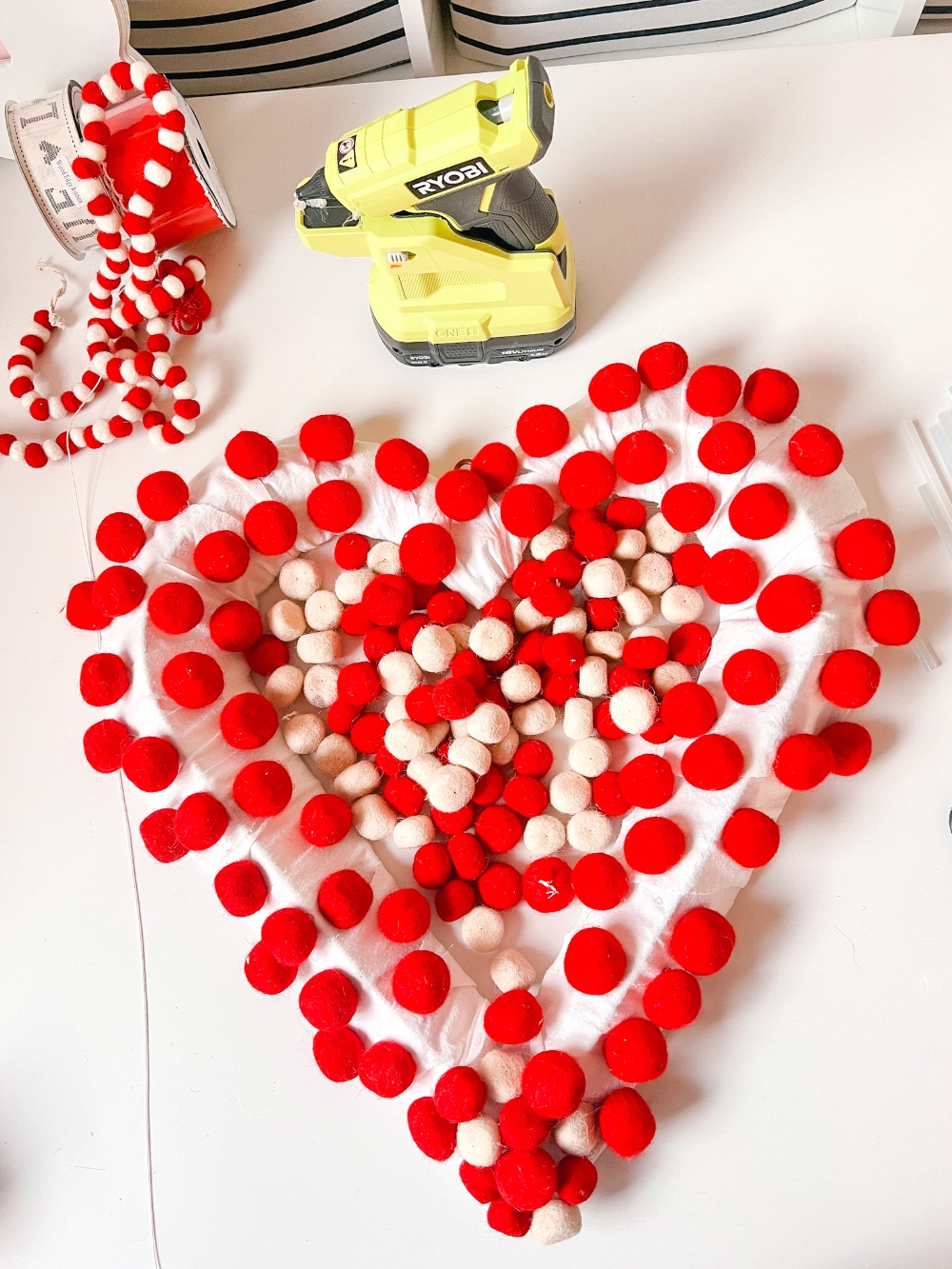 Once I had it all laid out visually, I glued the balls on the wreath form.
Arrange Smaller Items on Wreath Form
Then I took the medium red and white ball garland and laid the balls out in a pattern. By doing this you can see how it will look and also make sure the whole wreath form is covered evenly.
Glue Smaller Items on Wreath Form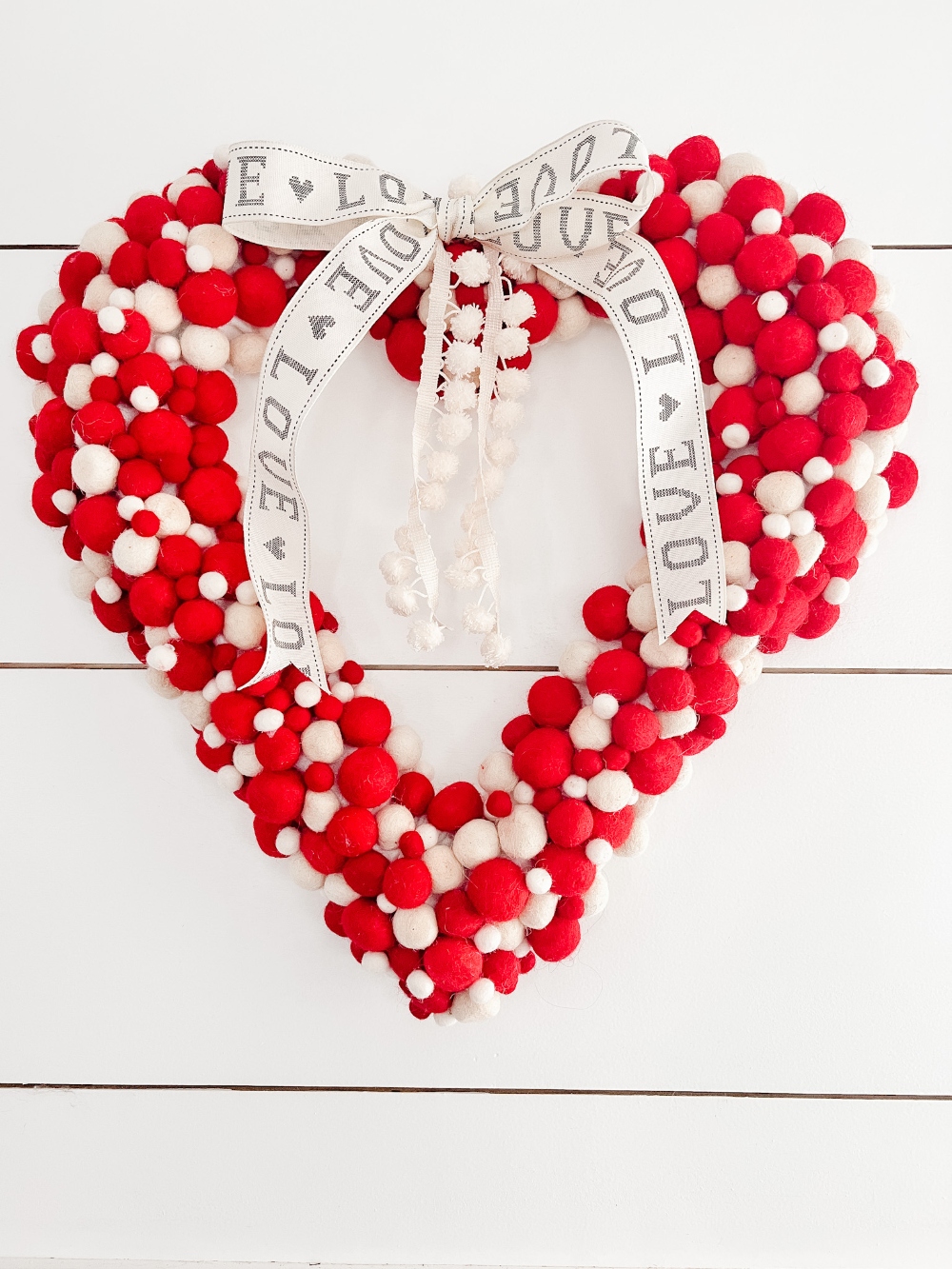 Then I glued the medium size balls on the form.
Use Small Items to Fill in Holes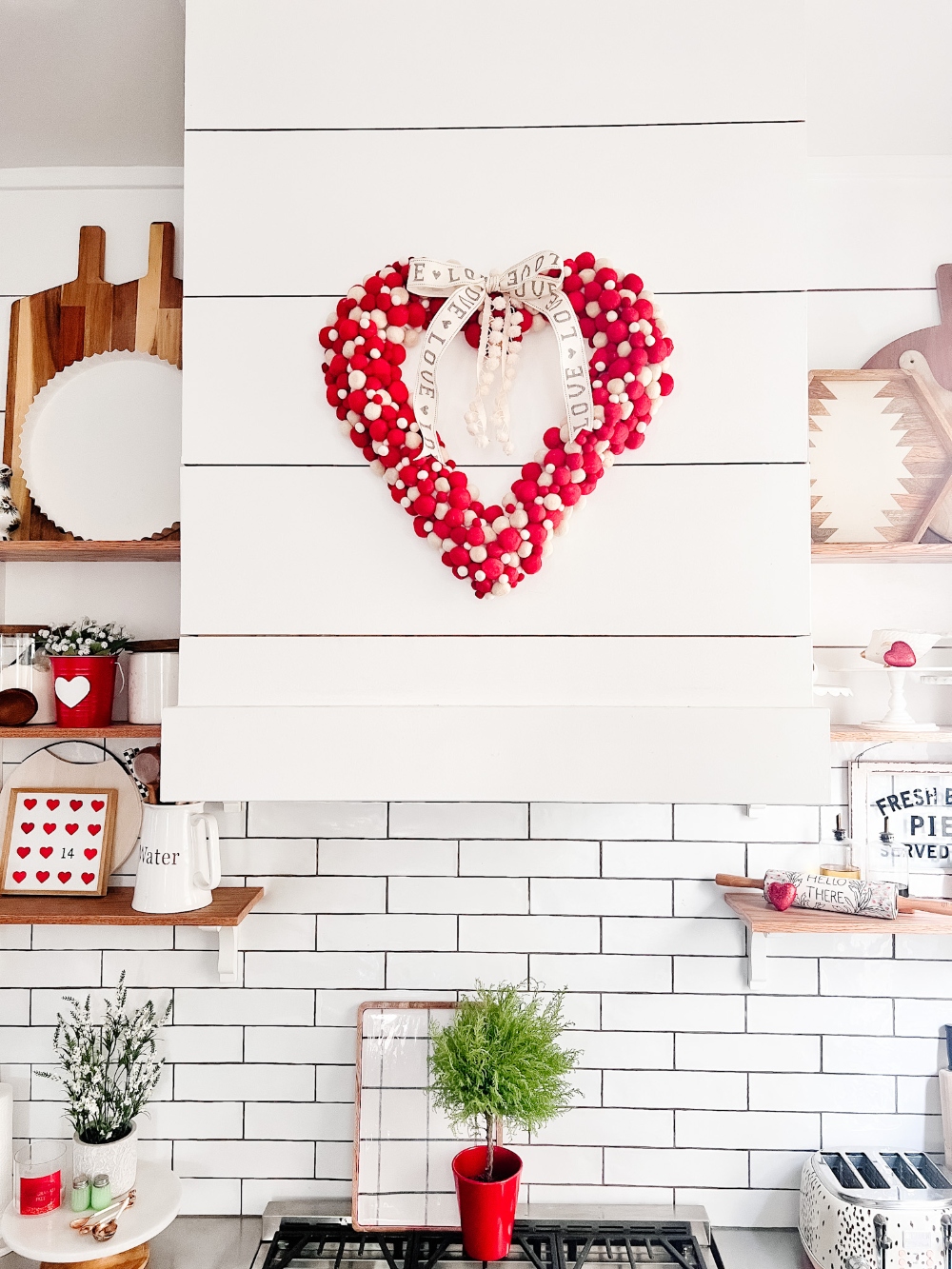 I used the smallest ball garland to fill in holes. If you are only using big garland items, you might need to purchase something to fill in the holes. Small balls are a good way to do that.
Add Ribbon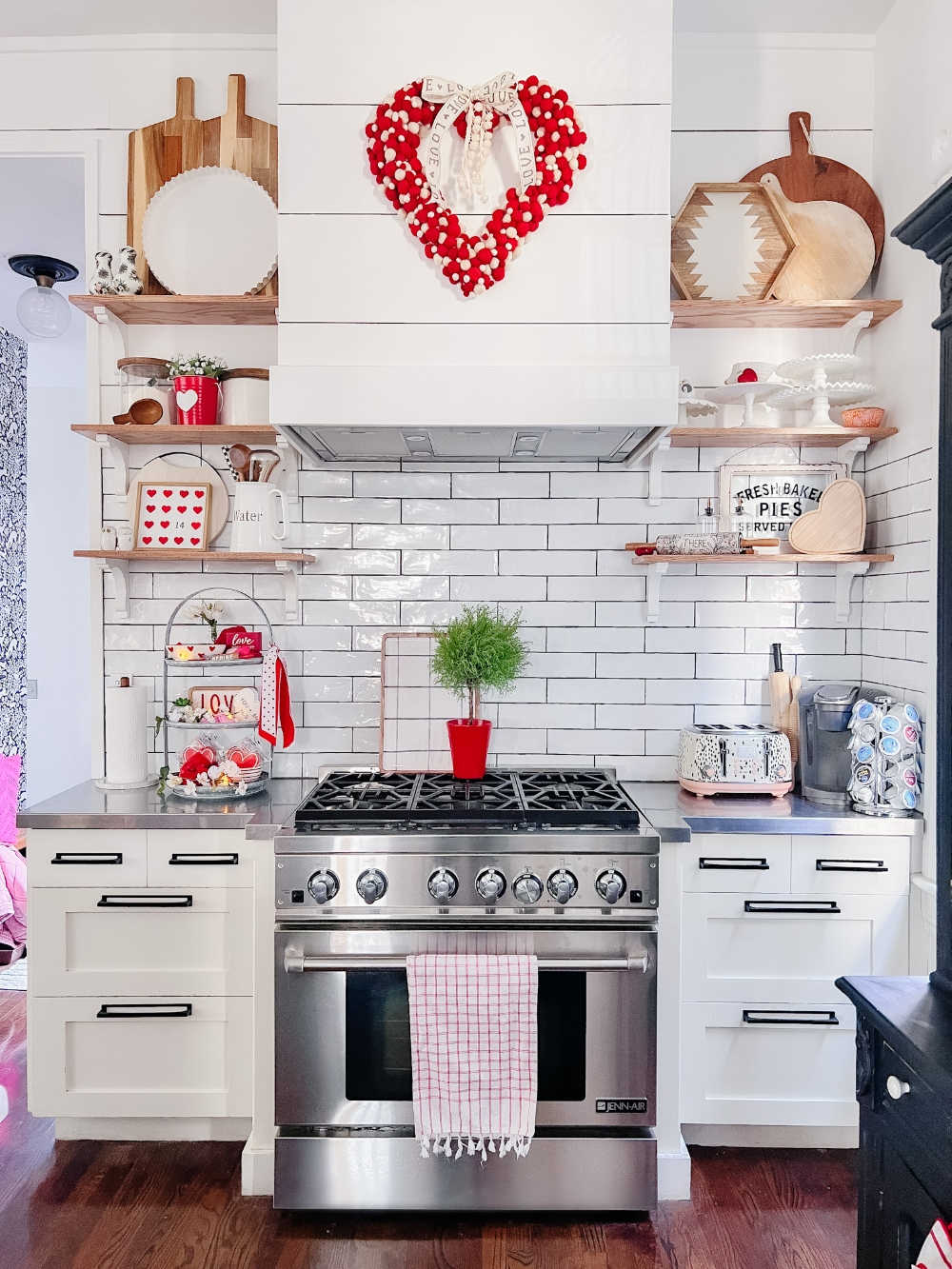 I used a black and white LOVE garland and an off white pom pom garland at the top of the wreath.
Hang Your Wreath Up!
I hung my wreath over our kitchen hood but it would also look great on a front door. However, if your door is exposed to the elements I would not hang a felted ball wreath on the front door. This wreath would look lovely almost anywhere in your home!

Pottery Barn Heart Shaped Pillow Knock-off // Craftberry Bush
DIY Wood Heart Garland // The Happy Housie
Rustic Twig Party Favors // Most Lovely Things
DIY Twine Wrapped Heart Filler // Zevy Joy

Breakable Chocolate Heart Tutorial // Happy Happy Housie
Air Dry Clay Heart Keychains // Modern Glam
Simple Hanging Paper Heart Tree // Sincerely, Marie
DIY Stucco Heart Wall Art // The DIY Mommy

Valentine Paper Placemats (or Platemats?) // My 100 Year Old Home
Fingerprint Heart Mug // My Sweet Savannah
Easy & Affordable Valentine's Day Wreath // The Design Twins
Christmas Garland to Valentine Wreath // Tatertots & Jello
More Valentine Ideas
Here are some other fun Valentine DIY ideas to make!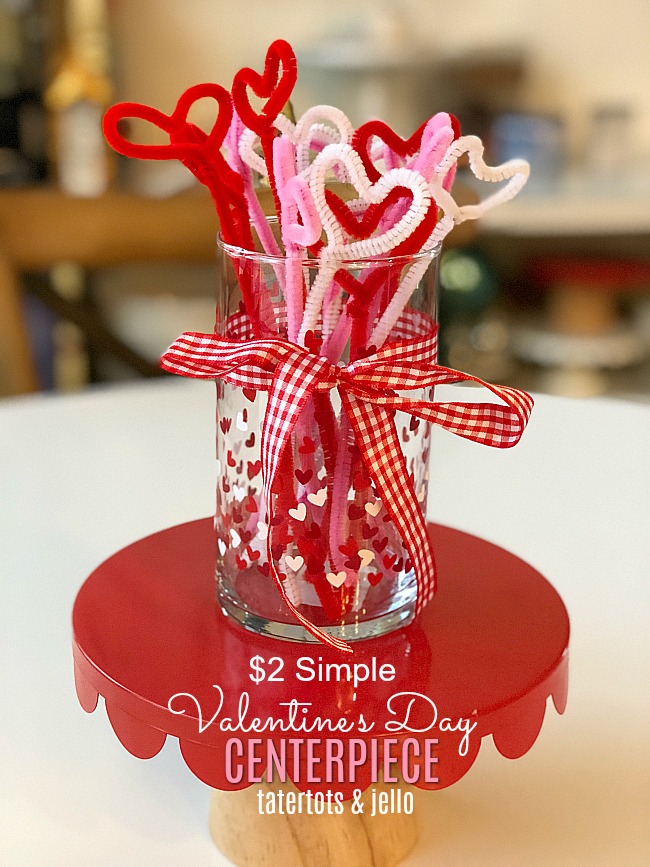 You can make this cute centerpiece for only $2!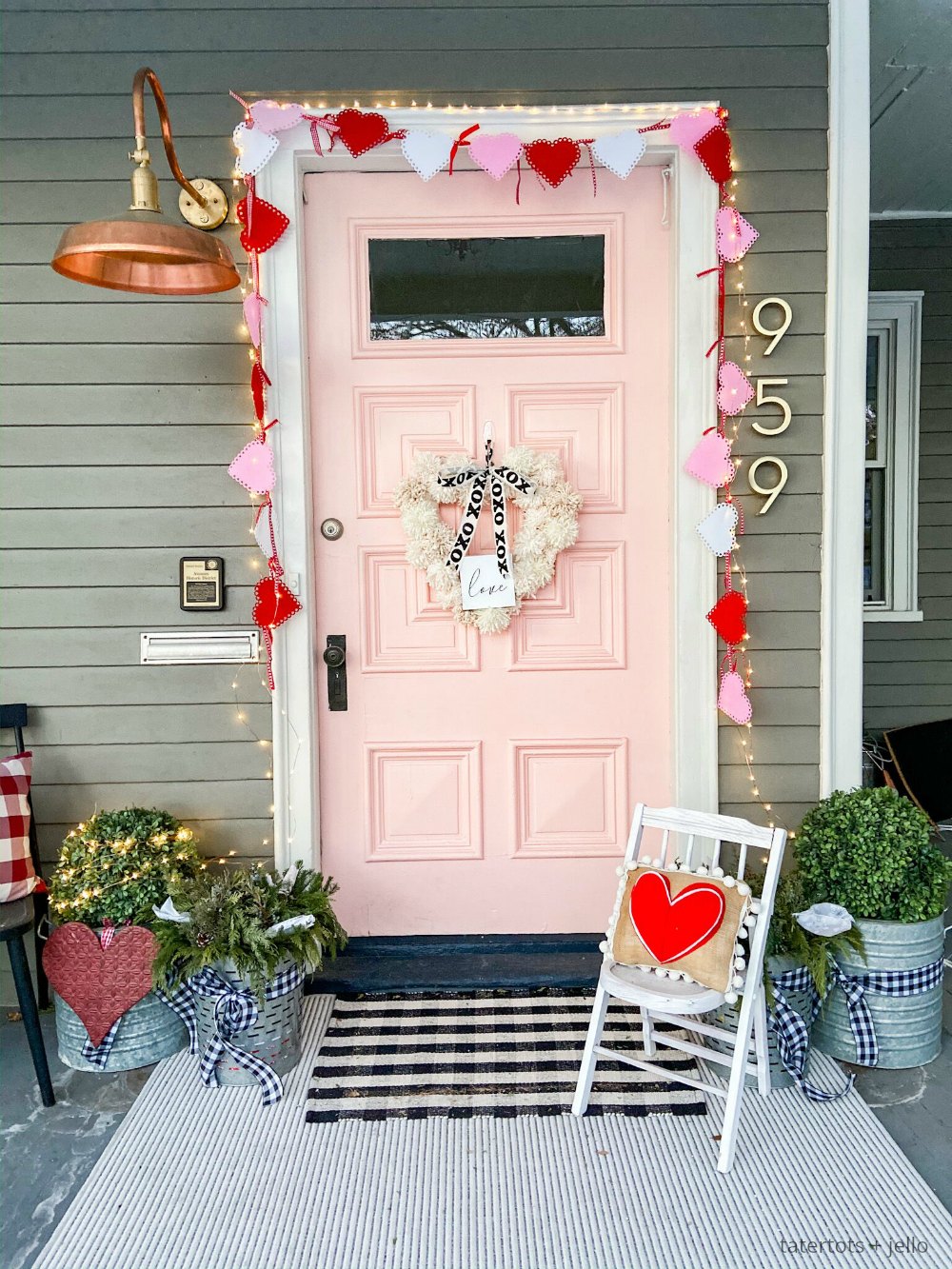 I used the same wreath form to make this large heart pom pom wreath! It's so cute!
Which idea do you want to make first?
xoxo