Dollar Store Valentine Heart Wreath. Grab a dollar store heart wreath form and turn it into an adorable wreath for Valentine's Day!
Dollar Store Valentine Heart Wreath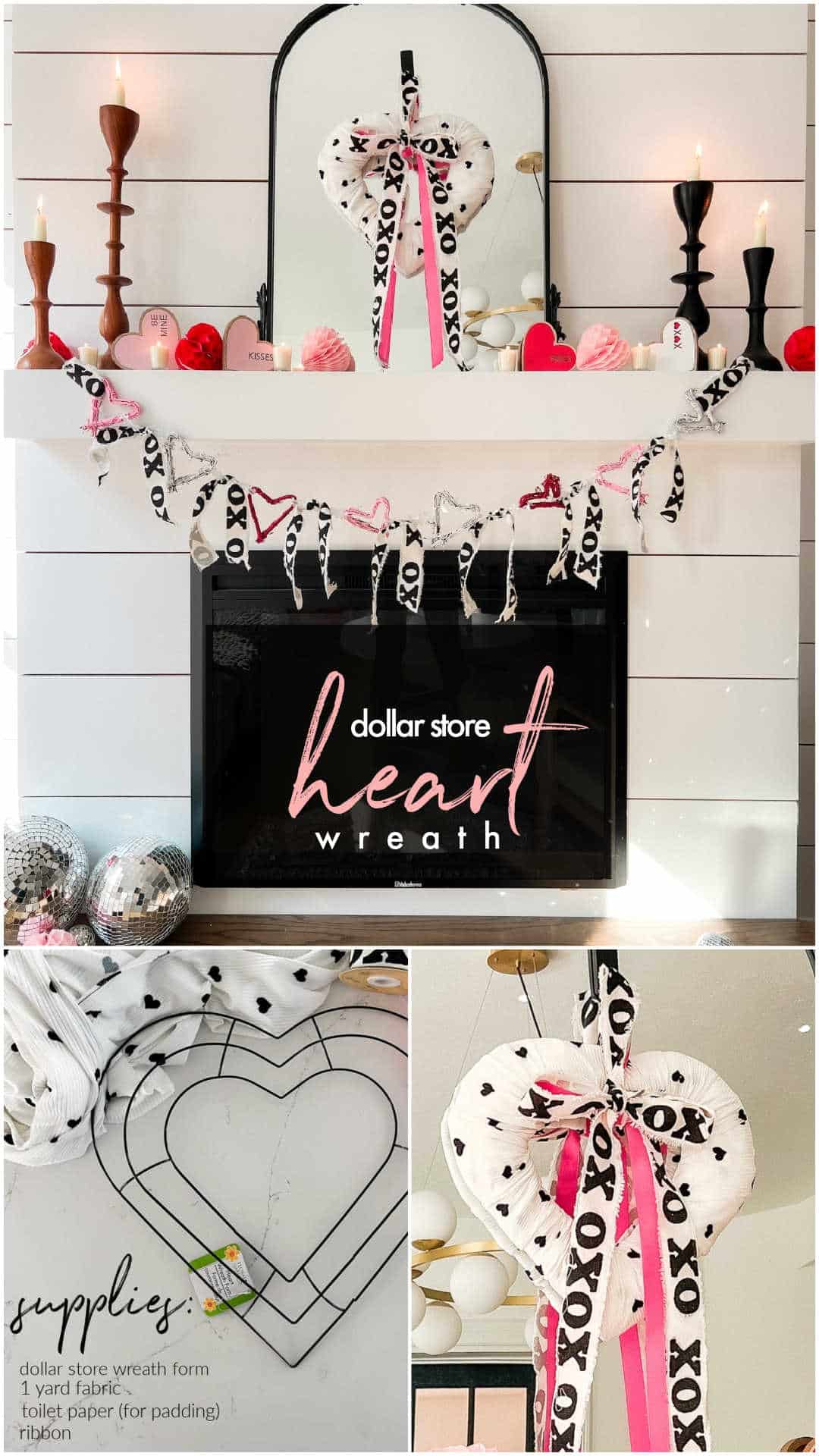 Hi friends! It's officially February and the perfect time to make an easy Valentine's Day project for your home! I am sharing how I made this sweet black and white valentine heart wreath. It's perfect to hang over a mantel, shelf or on your front door!
Valentine's Day Decorating Ideas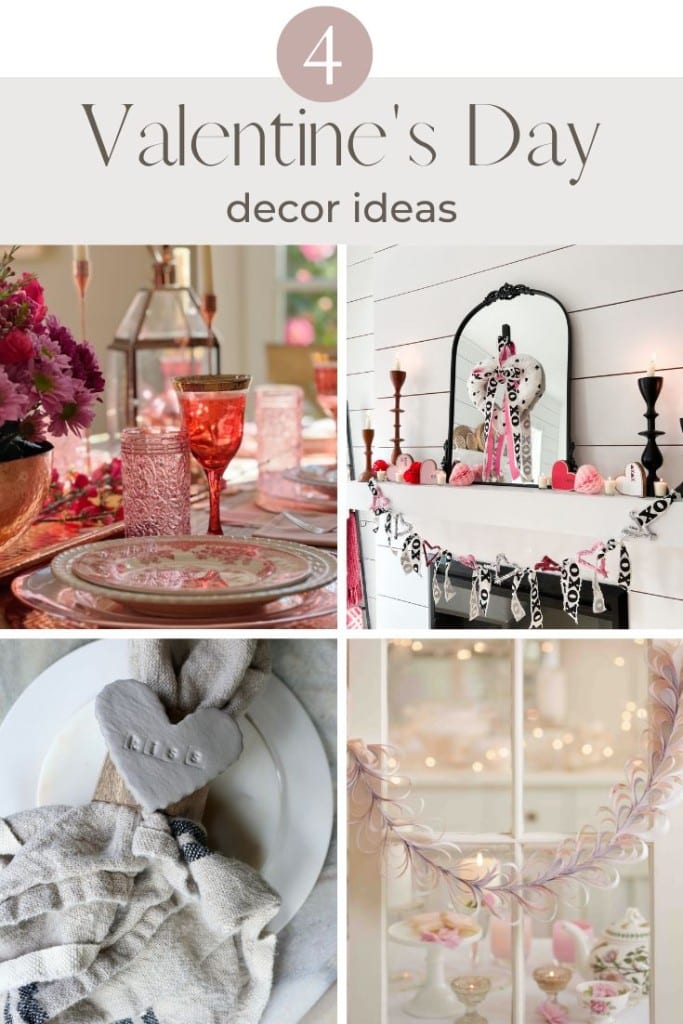 I am joining some of my favorite blogging friends who are also sharing easy Valentine's Day ideas! Be sure to scroll down to the bottom and click on the links to hop over and see the beautiful Valentine's Day tutorials!
Dollar Store Wreath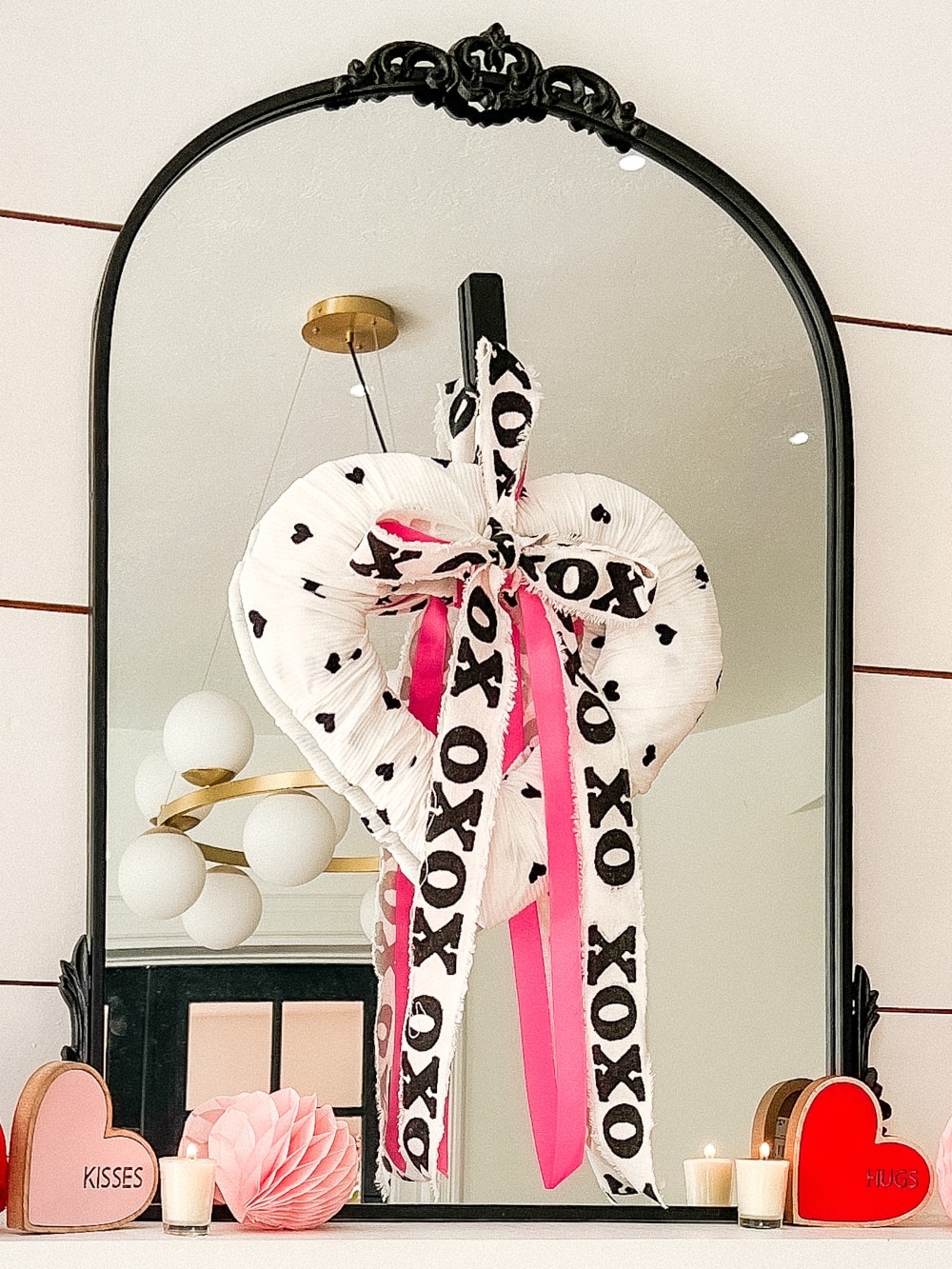 I love the dollar store for inexpensive ways to decorate for the holidays! It's a wonderful resource for wreath forms. This heart wreath form is so inexpensive and it allows for endless crafting possibilities. A couple of years ago I used three of these same wreath forms to create a Triple Heart Wreath for our front door. I've also linked this tutorial at the end of the post. I knew this wreath form would be the perfect size to hang on our pretty mirror above our fireplace.
Only a Few Materials Needed to Make a Valentine Heart Wreath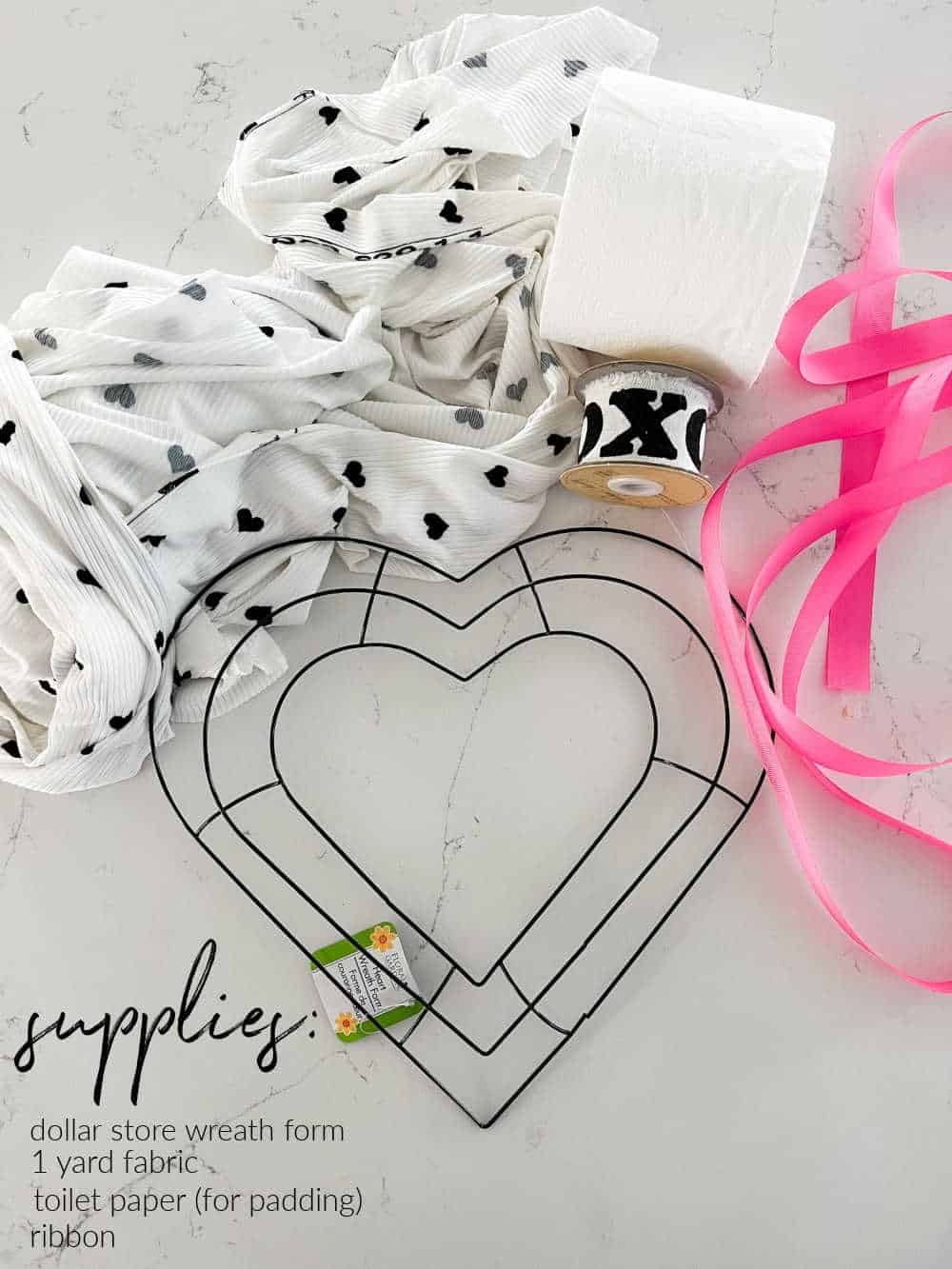 One of the things I love about this project is it only takes FOUR supplies to make! And it is so inexpensive. I used this black and white material I found at Hobby Lobby, but you can use ANY material you want. You can also use old sweaters and make it into a cozy sweater wreath which would be so cute! Here's how to make it!
Dollar Store Valentine Heart Wreath Directions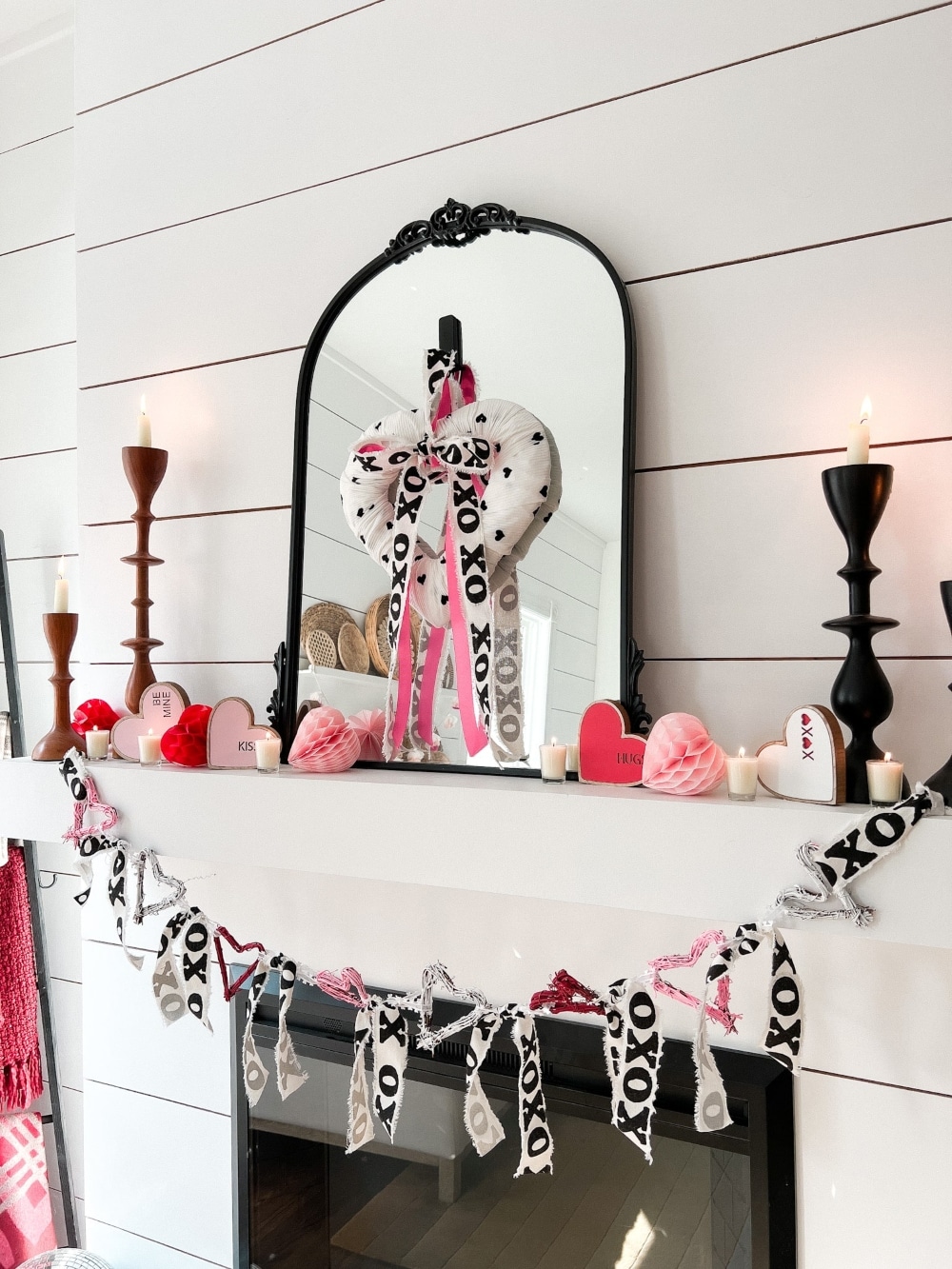 First, gather your supplies:
Dollar Store Heart Wreath Form (I found my wreath form at the Dollar Store, but if you can't access one or want to order a wreath form online that comes to your home – here are some similar ones: Metal Heart Wreath Form.
Toilet Paper
Ribbon (I used XOXO ribbon I found at Hobby Lobby, here is some similar ribbon – XOXO Ribbon)
Fabric (I used black and white heart fabric – here is some similar fabric – Heart Fabric)
Steps to Make a Valentine Heart Wreath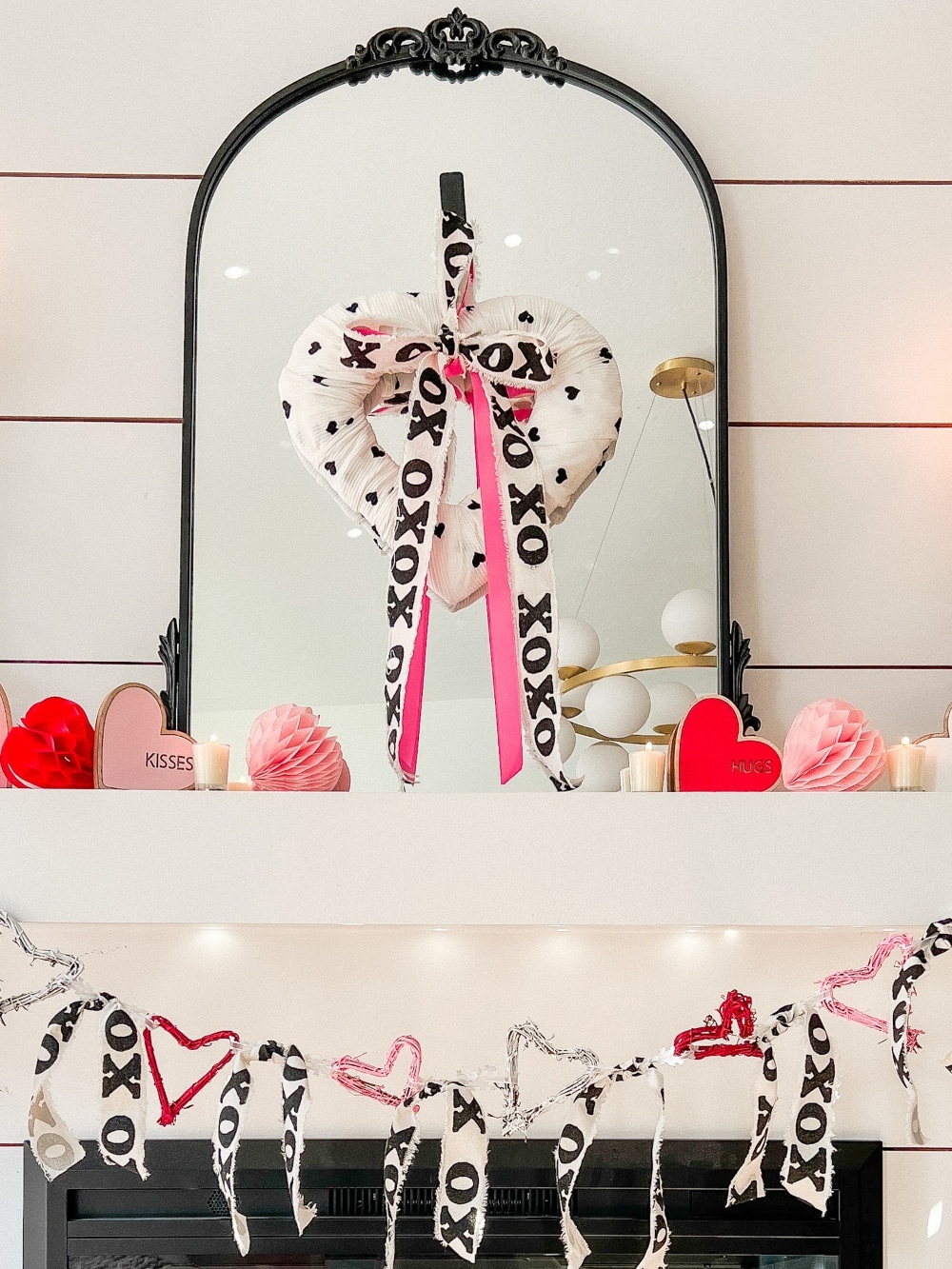 Wrap Wreath Form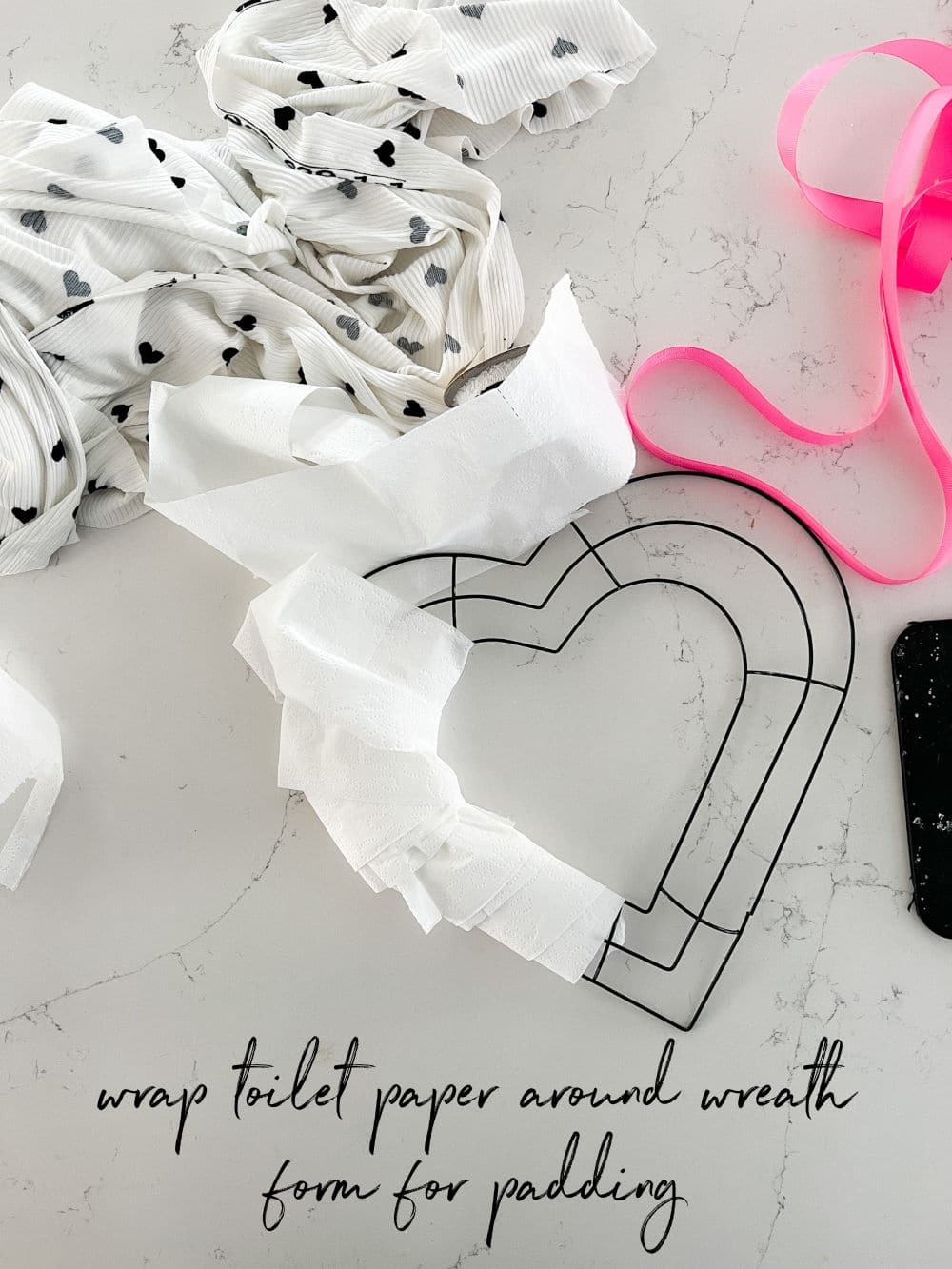 The metal wreath form has hard edges which will show through fabric. It looks better if you soften those edges. A few materials you can use to soften the edges are: an old towel, fabric, cheesecloth, batting. The cheapest and most accessible material is toilet paper. Wrap the form with whatever material you want. If you are using toilet paper, wrap the toilet paper around the wreath form several times because it is so thin.
Cut Fabric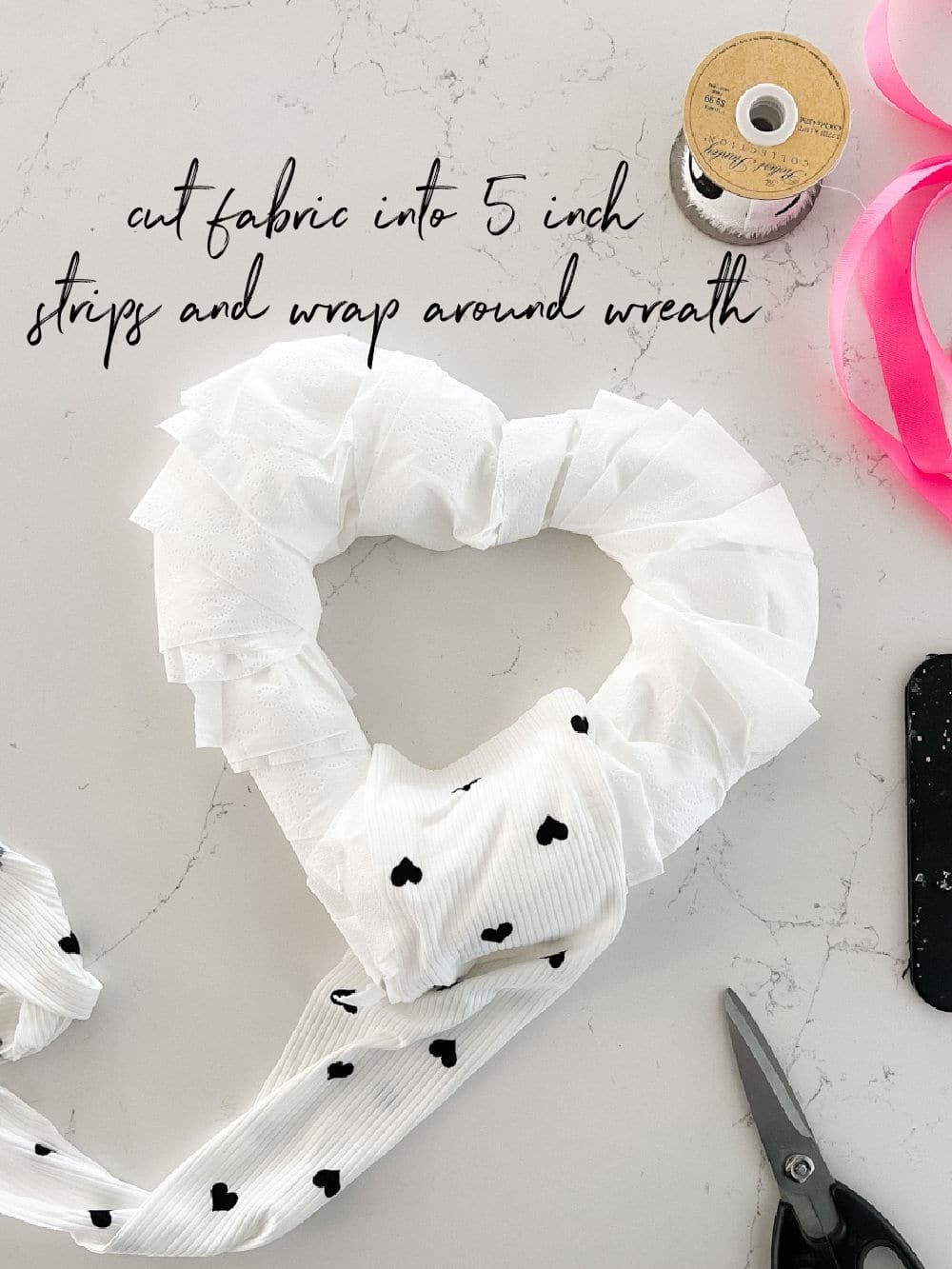 Now cut your fabric into 4-5 inch wide strips. Unless you are using a very long piece of material, you will use several strips of fabric to cover the wreath form. You don't want the edges of the cut material to show. The way that I do this is start on the back of the wreath form with the first piece of fabric. Then I wrap that around as long as the strip is. If the end of the first strip ends on the front of the wreath form, cut the fabric so that it ends on the back and all of the cut edges are on the back.
How to Wrap Fabric Strips Around Wreath Form
You can use a glue gun to attach the fabric to the toilet paper (or whatever material you are using) but I usually just wrap it up and don't need to use hot glue. Take the second piece of fabric and start that piece where the last piece ended and continue to wrap the wreath form, overlapping the fabric by 1 inch. The overlapping will hold the fabric together so you don't need to use hot glue. Continue wrapping until the whole wreath form is covered. End the last piece at the back of the wreath form and tuck the end under one of the overlaps to hold it in place.
Add Ribbon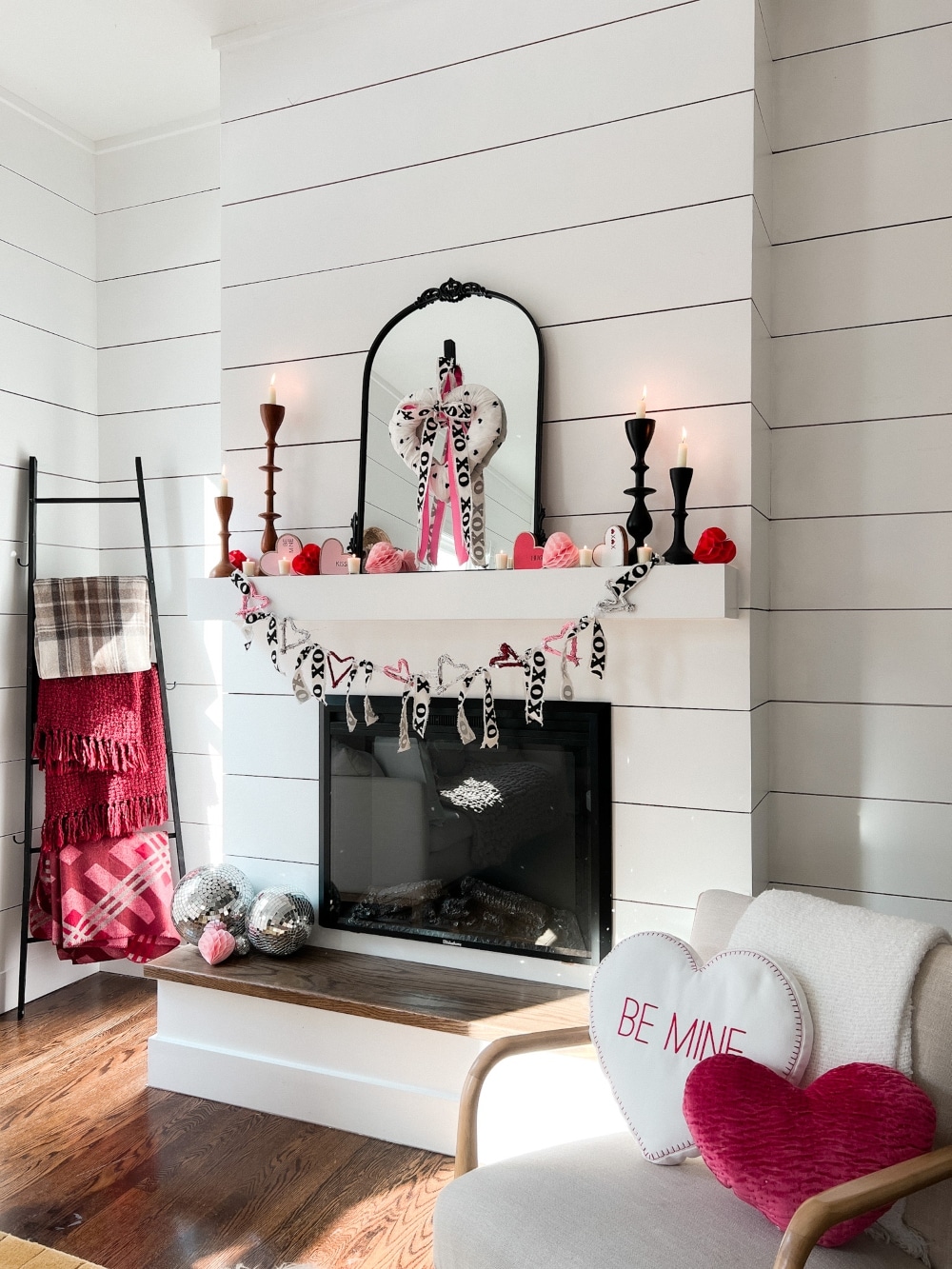 Now you can add ribbon to the top of the wreath for decoration but also as a way to hang the wreath up. Hang up your wreath and enjoy it!! So easy, right??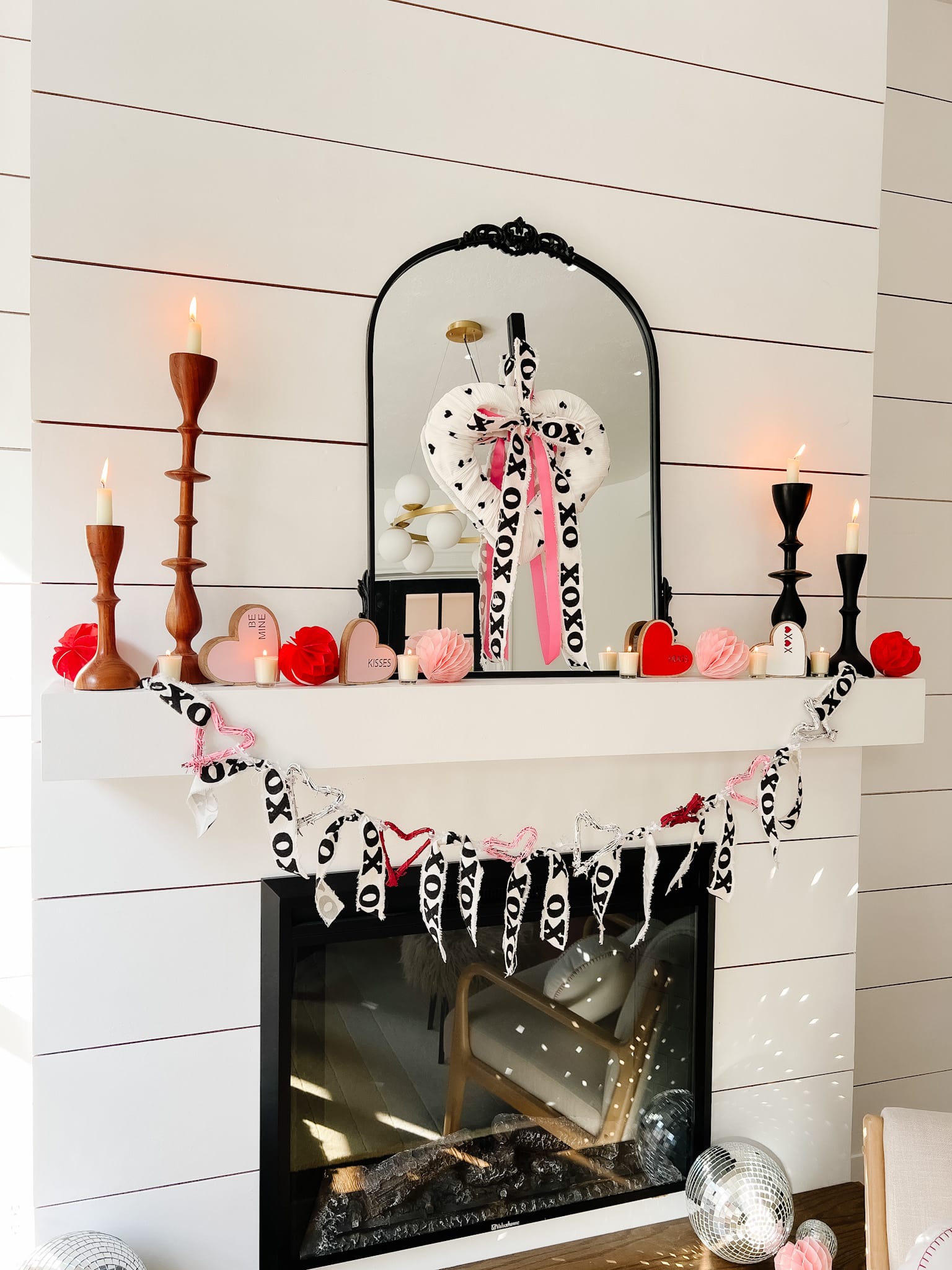 4 Valentine's Day Decor Ideas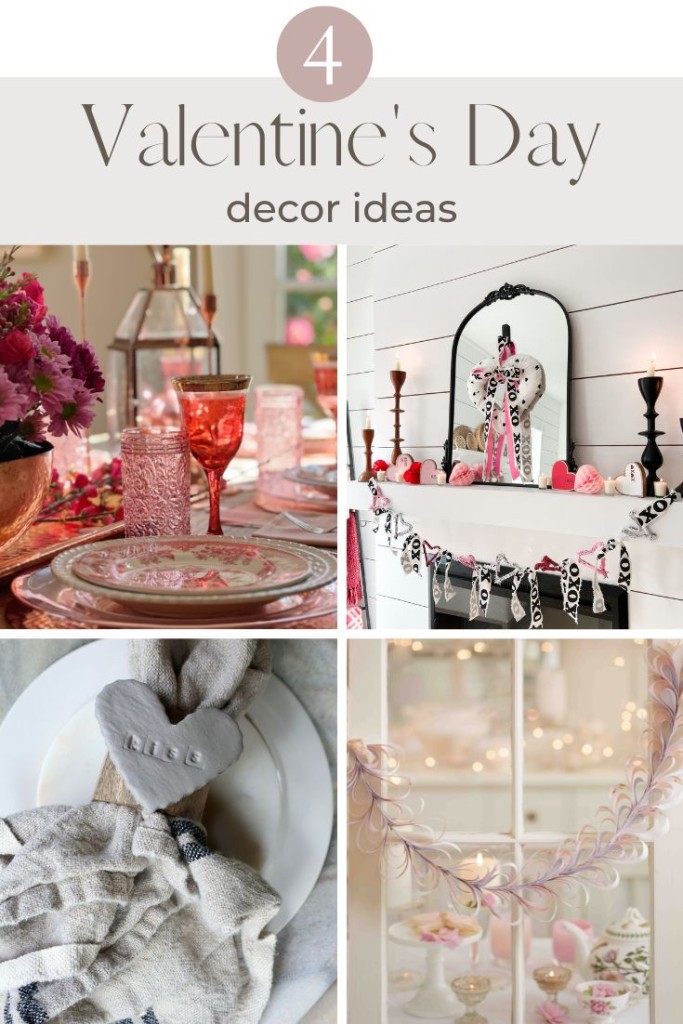 Blogger's Best Valentine's Day Decor
More Valentine Decor Ideas
Here are a few other easy Valentine DIY ideas for inspiration: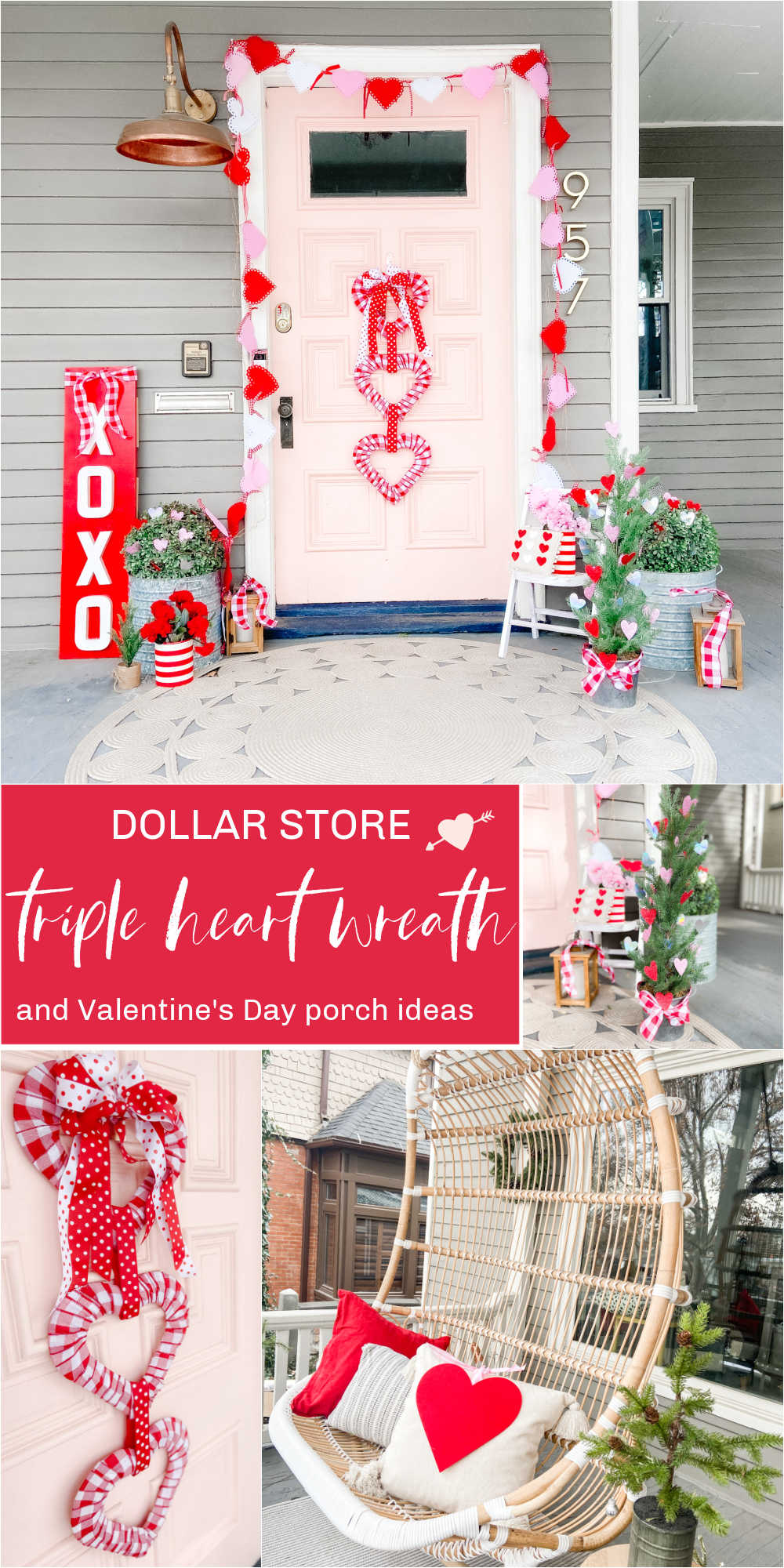 Dollar Store Triple Heart Valentine's Day Wreath. Brighten up February with an inexpensive triple dollar store heart wreath.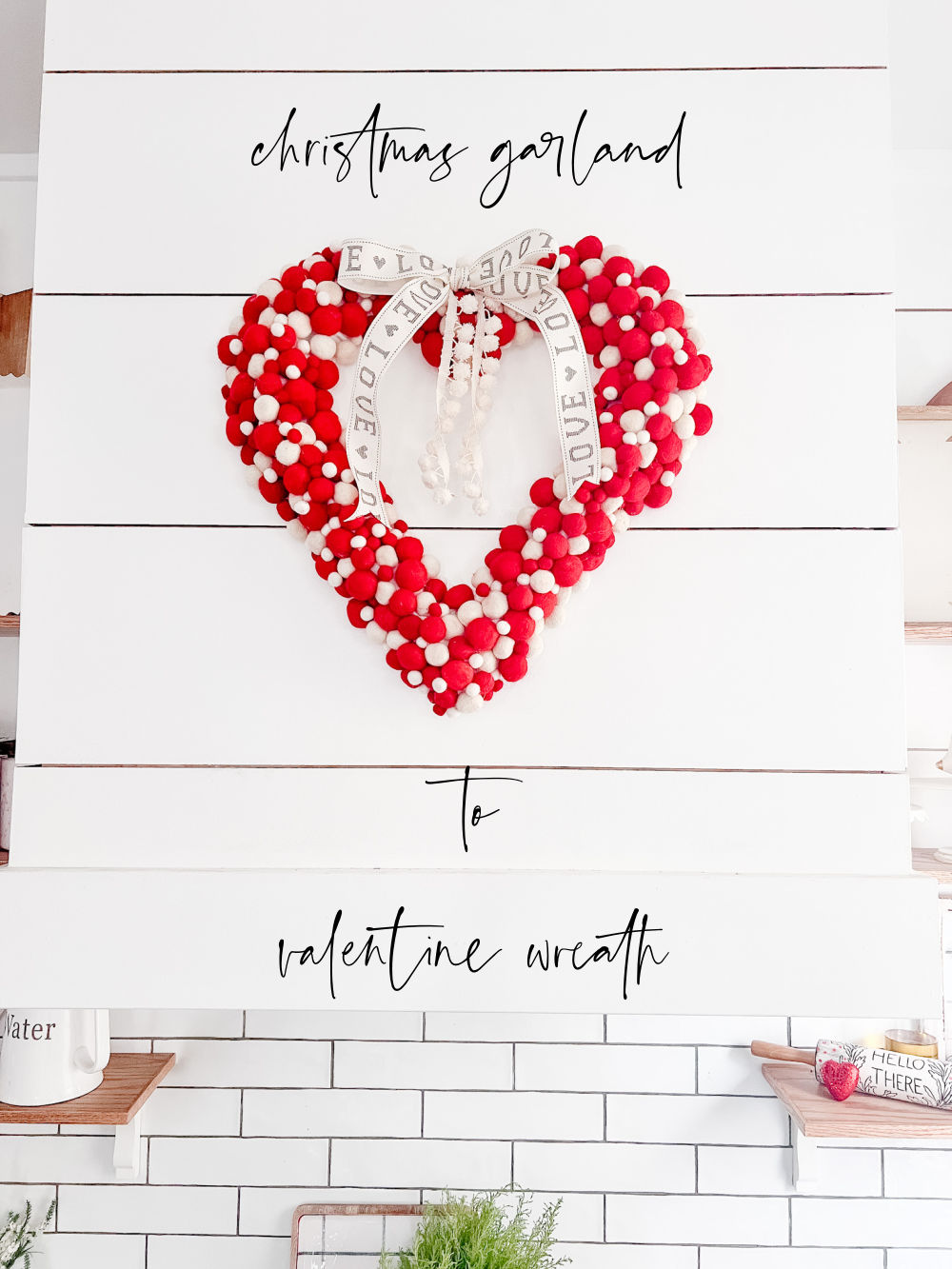 Christmas Garland to Valentine Wreath! Upcycle a Christmas garland and turn it into a fun and festive Valentine decoration!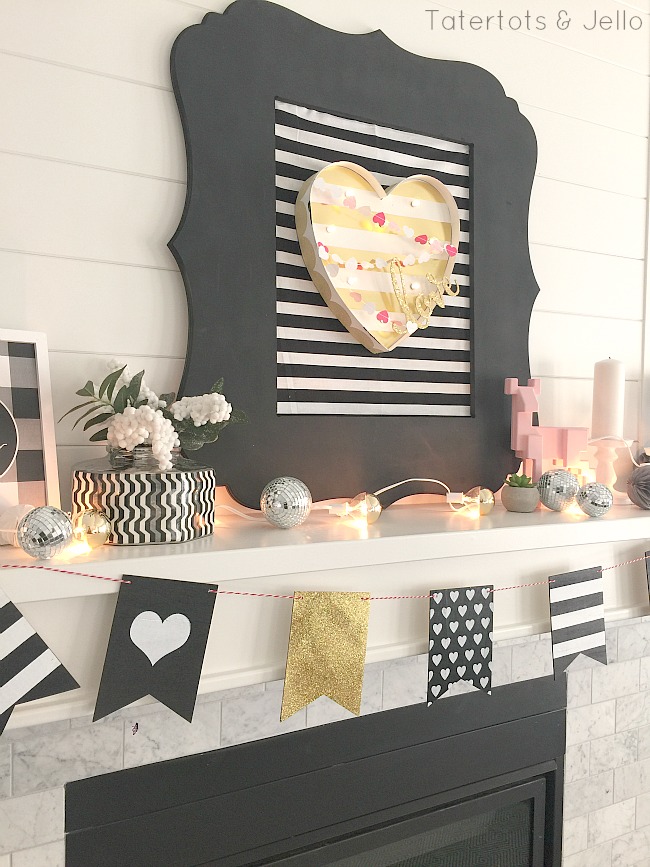 I love the simplicity of black and white with a touch of gold. This was one of my favorite Valentine mantels at my 1905 cottage.
Have a Creative Day!
xoxo