How to make a GIANT farmhouse HOME sign for just a few dollars! Create a focal point for your front door or mantel in just minutes with this easy tutorial!
How to Make a GIANT Farmhouse Home Sign
If you've been following my blog for long you might know that I love making GIANT signs! It's my favorite way to decorate for different seasons and holidays!
Use an Inexpensive Pine Shelf to Make a GIANT Farmhouse HOME Sign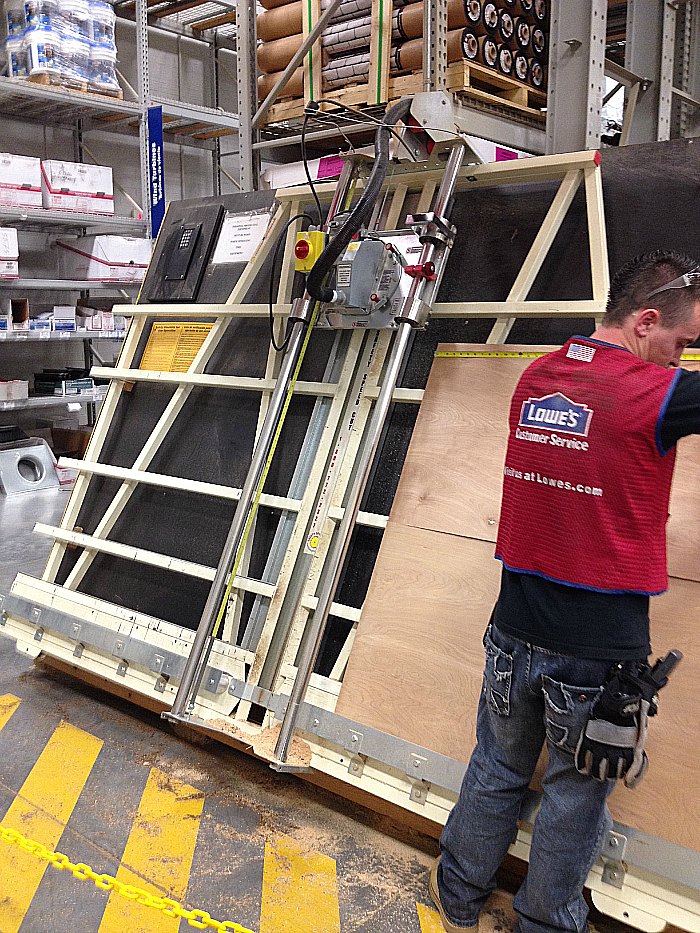 The trick to this easy and inexpensive idea is to use unfinished pine shelves. You can get a 8 foot pine shelf for under $10.
The Hardware Store Can Cut the Board to Length
My hardware store cuts my boards for FREE! And I can usually get two big signs out of ONE board. So for just a few dollars I have a GIANT piece of wood to make a sign!
There are Many Different Ways to Make GIANT Signs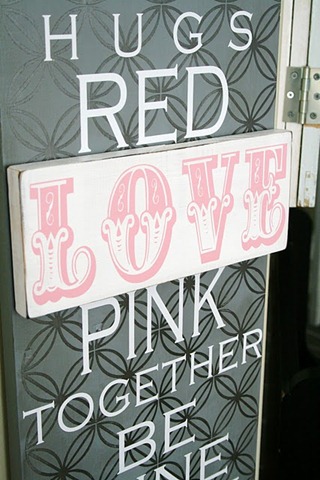 Once you have your board cut there are many different ways to personalize your board. You can cut out vinyl for one word like I did with this GIANT Valentine Subway Art Sign. I used three different types of vinyl on this sign. The pattern in the background, the white viyl and then the pink vinly on the LOVE overlay.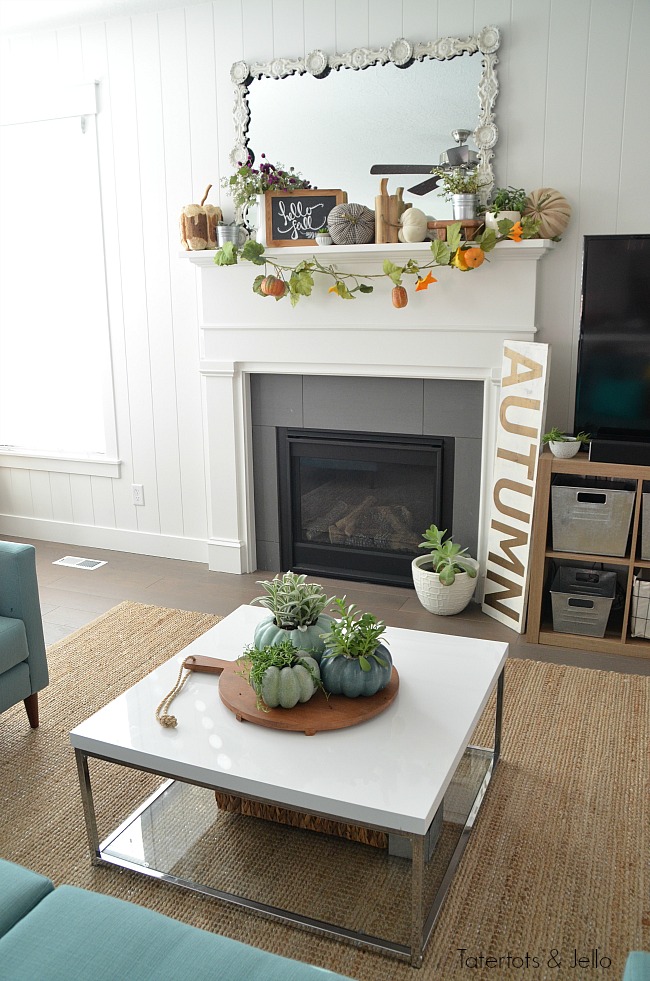 Another idea is using vinyl to create a stencil like I did with this GIANT Autumn sign. This was one of my first giant signs and I still use it every year on my porch!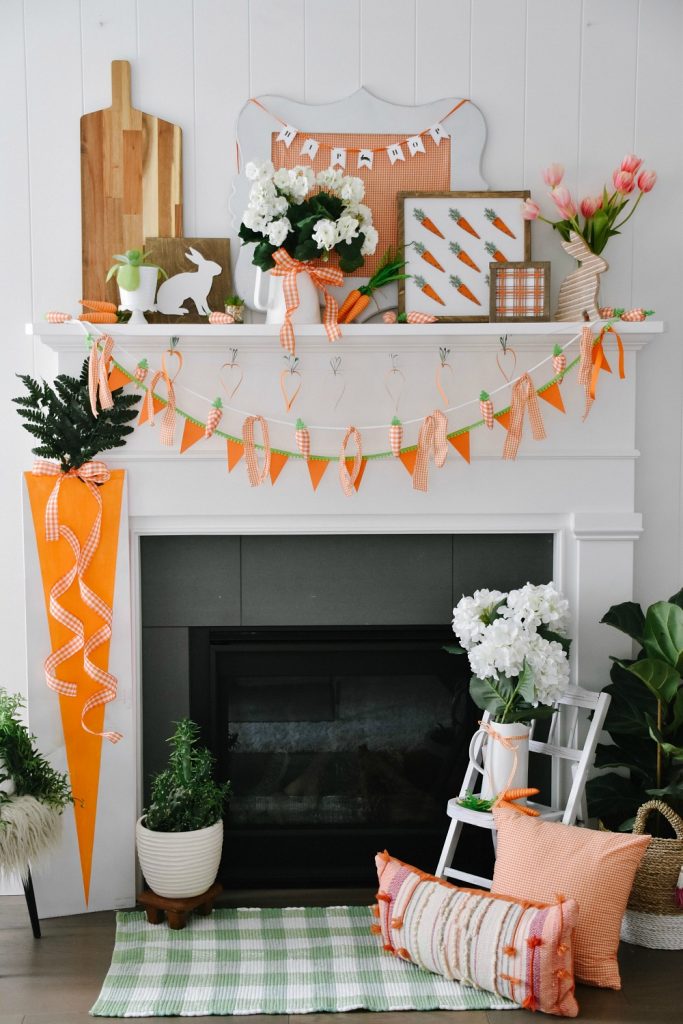 You can also use paint to create a shape on the board like I did with this GIANT carrot sign! This sign was so easy to make. All I did was tape off the shape and paint the orange in. Then I aded some faux leaves behind and tied a bow around them!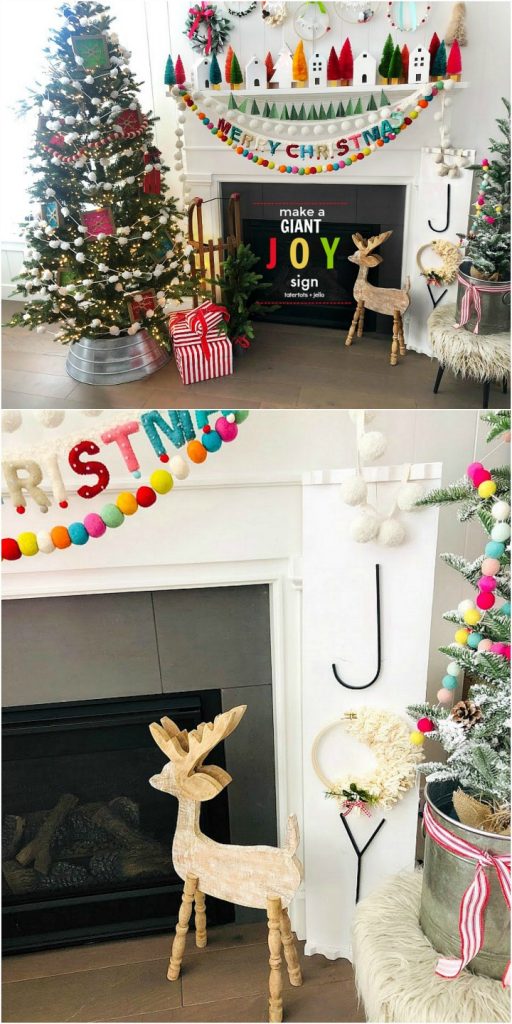 I also use BIG letters on the boards to create sayings. I used big cardboard letters to create this HOME sign. I also used big letters when I created my Joy to the World Signs over the holidays! I added molding to the top and bottom of this sign. I used an embroidery hoop for the O in joy!
Use a Wreath to Create a Letter O for Your GIANT Farmhouse Sign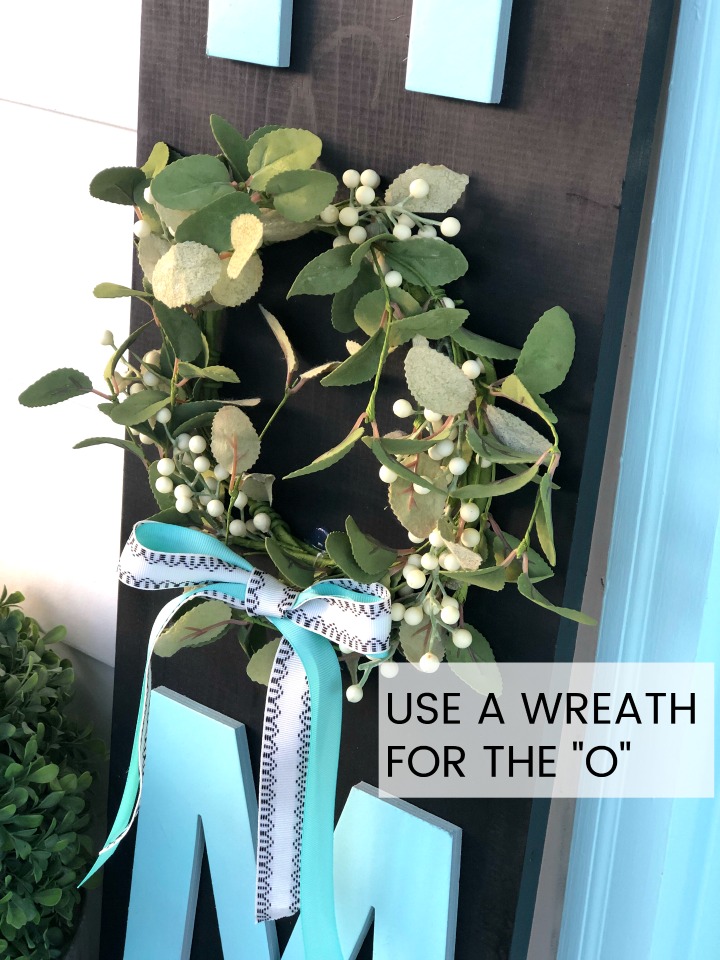 Instead of using all letters. I substituted a cute wreath for the O in HOME. I did the same thing with my Joy to the World Signs. I think the wreath really adds a homey and farmhouse element to the sign! You can get a similar wreath from Amazon (affiliate) Small Green Wreath.
Spray Paint Your GIANT Sign in Just Minutes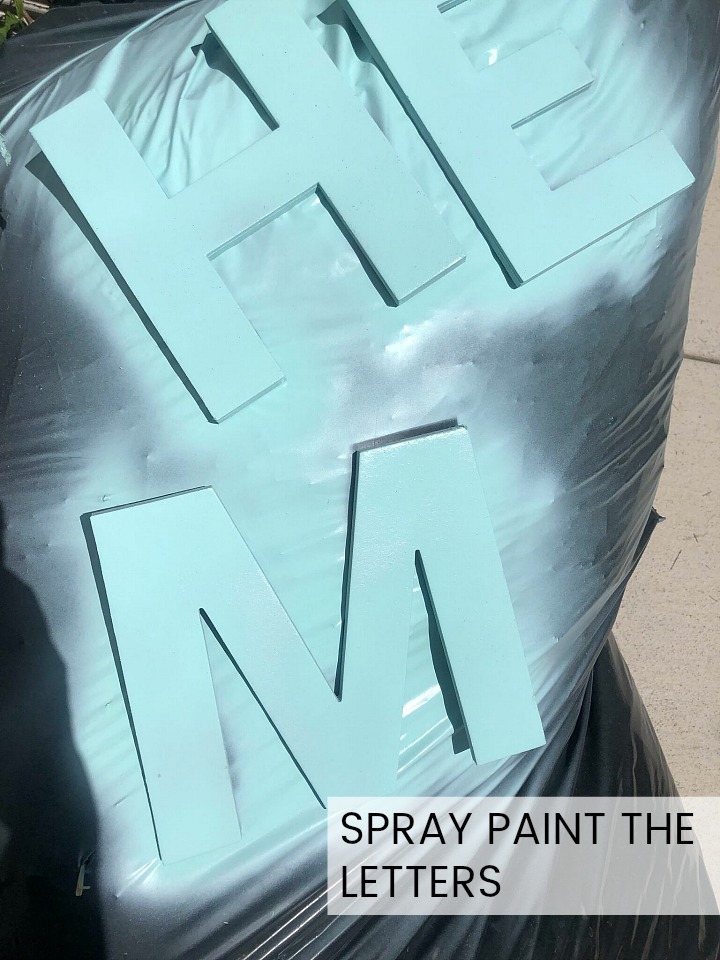 I love spray paint! It's so much easier and faster than painting the board by hand. In just minutes I had spray painted my board black. I also used spray paint to paint the letters for my sign.
Hot Glue The Letters and Wreath Onto Your GIANT Farmhouse HOME Sign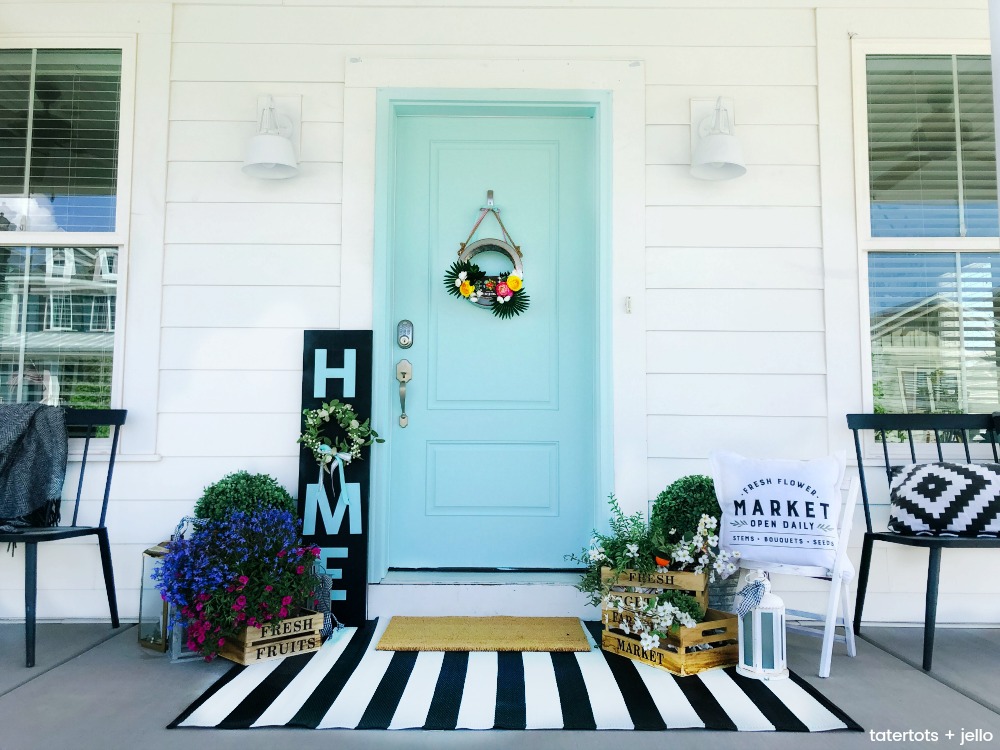 I hot glued the letters and wreath to my board. But you can also use regular glue if you want.
Add Ribbon to Your GIANT Sign
I added a couple different ribbons to the board. One is a pretty scallop black and white ribbon and the other is aqua and matches the spray paint I used on the letters.
Make Any Saying You Want!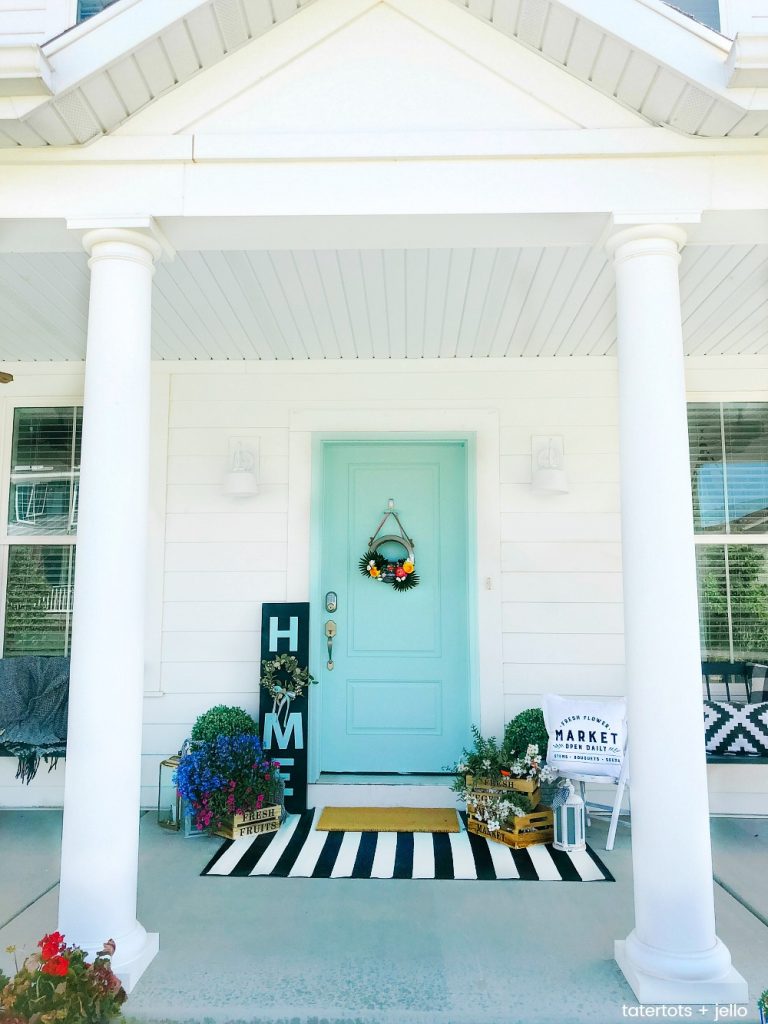 You can spell HOME like I did, but you can spell anything that you want! Your last name would be great. You can also spell WELCOME or HELLO!
GIANT Signs are an Inexpensive Way to Decorate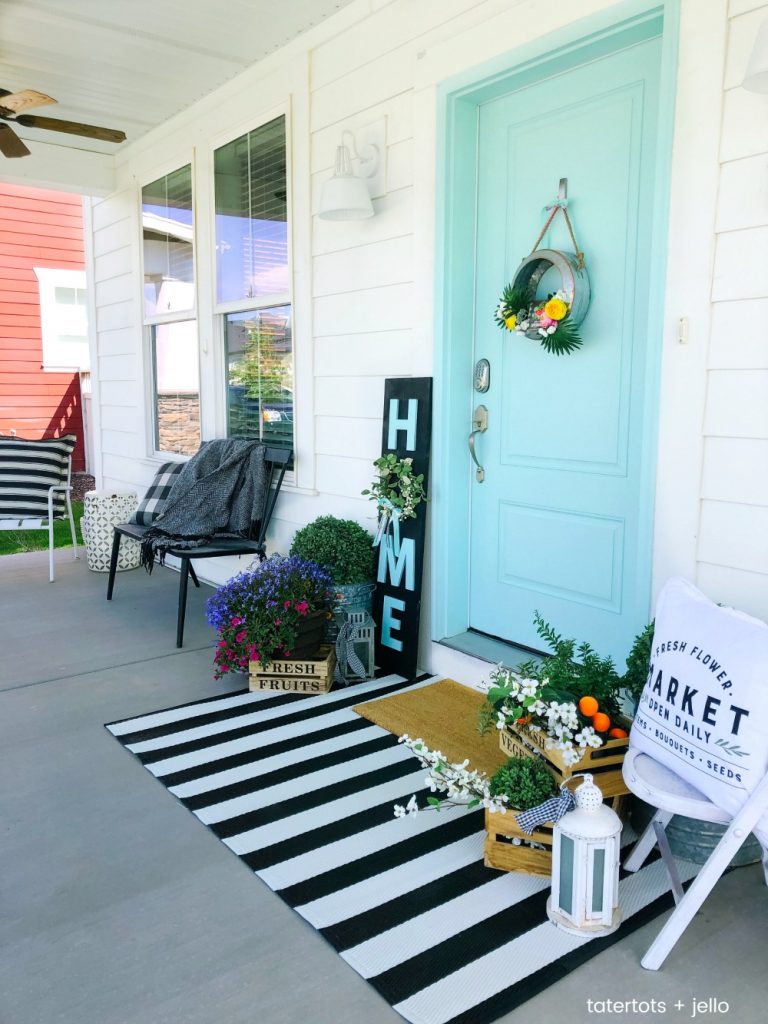 For only a few dollars I have a sign that will welcome people to our home all Summer. And this sign is so neutral that you can leave it up all year round!
Here are more GIANT Signs that I have made over the years!
What are YOU working on for Summer at your house?
xoxo