Light Up Pumpkin Farmhouse Wreath. Carve the middle of foam pumpkins, add light-up votives and add them to a wreath for a pretty wreath that also lights up at night!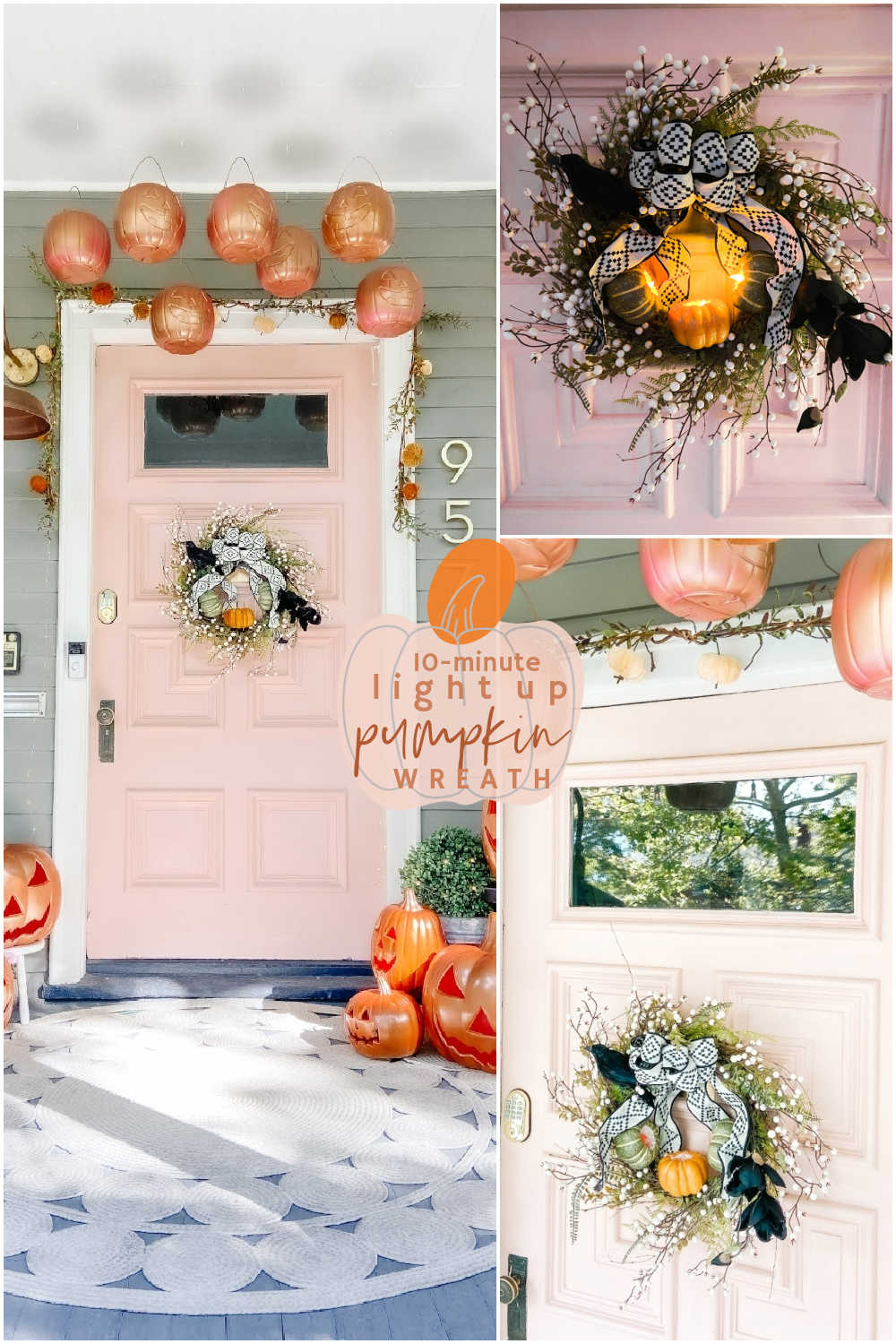 Light Up Pumpkin Farmhouse Wreath
Did you see my The Great Pumpkin porch I just created, based on my childhood favorite "Charlie Brown The Great Pumpkin" Halloween classic? I am LOVING all of the pumpkins!! So I knew I wanted to create a pumpkin-themed wreath for the front door! I experimented with a few different pumpkin wreath ideas and landed on this easy DIY!
More Pumpkin DIY Projects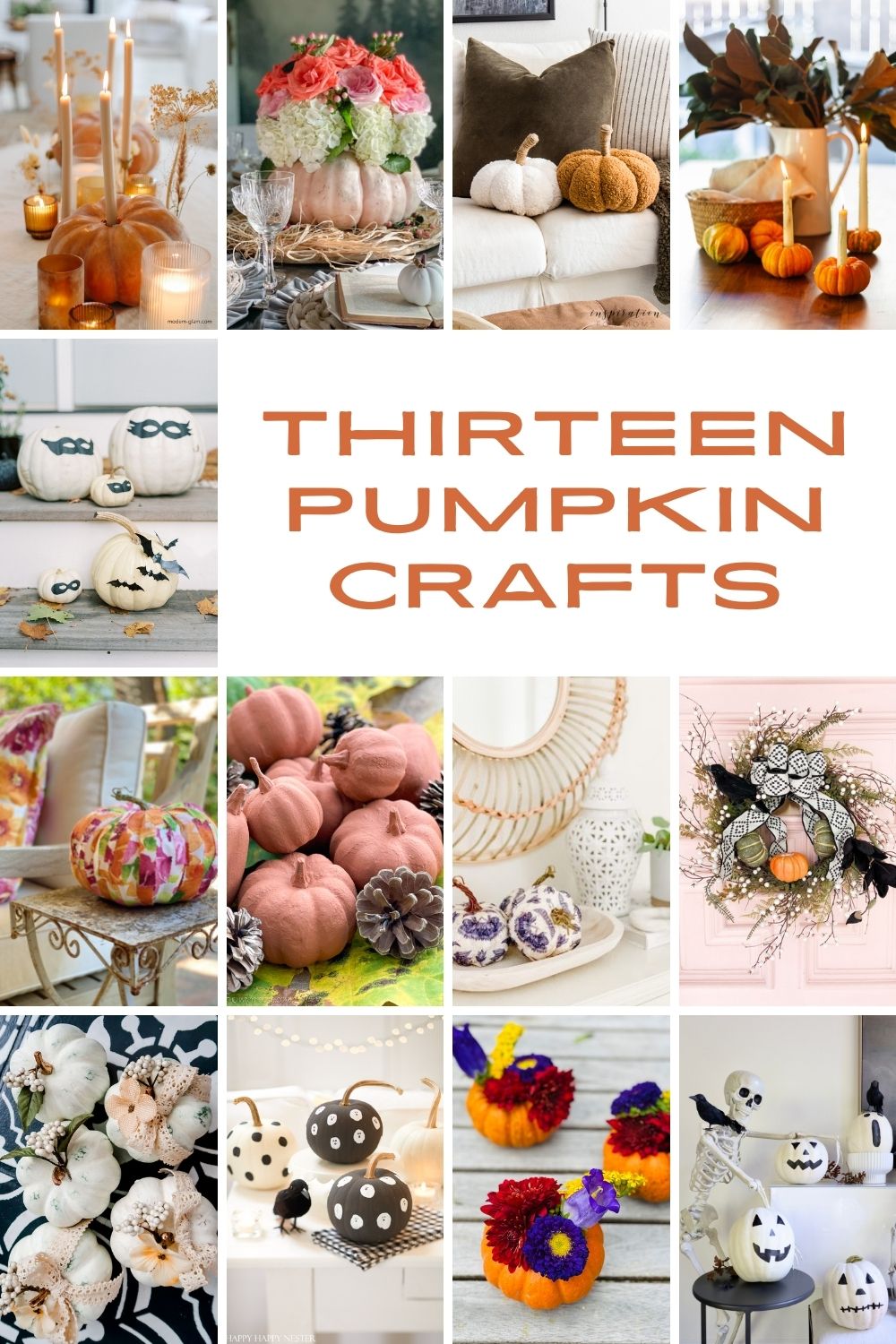 I am joining some friends who are all sharing easy DIY pumpkin ideas! Be sure to scroll down to see all of the festive pumpkin ideas!! I love pumpkin spice weather!
10-Minute Farmhouse Halloween Wreath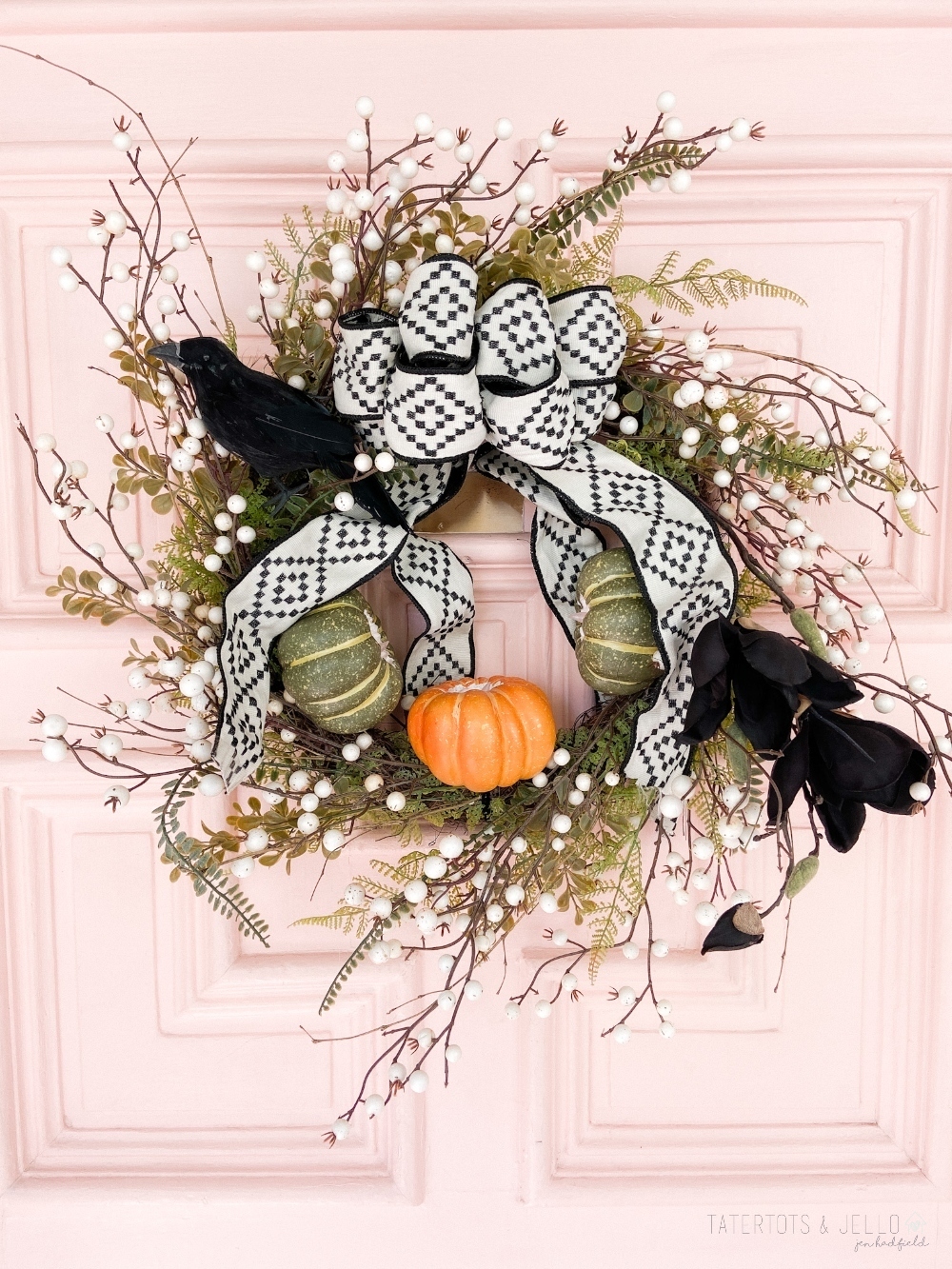 The BEST part about this project is it is FAST! In 10 minutes you will have a pretty wreath that lights up! I love the glow of the pumpkin lights at night!
Making a Pumpkin Wreath: Decide What Kind of Votive Lights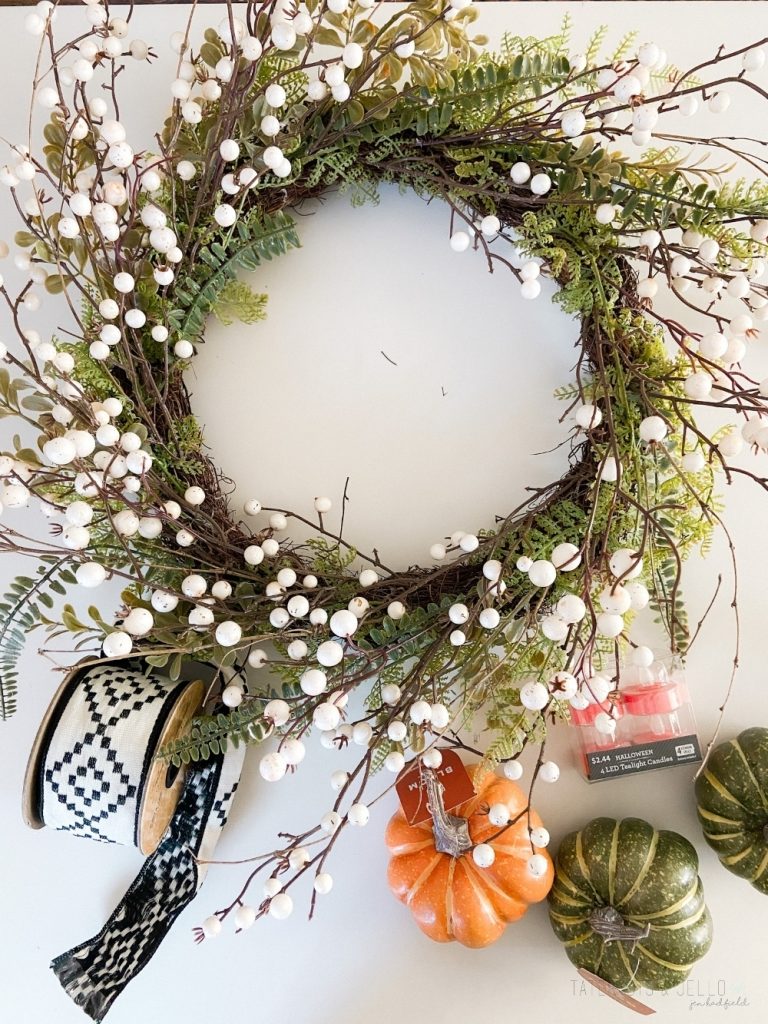 There are a few different kinds of lights you can use. These are $3 lights so they are very inexpensive and use batteries to work. You can also buy LED votive lights at your dollar store. There are also LED lights that are rechargeable. And there are lights that are on timers which is nice too!
Make a Pumpkin Wreath: Carve Out The Centers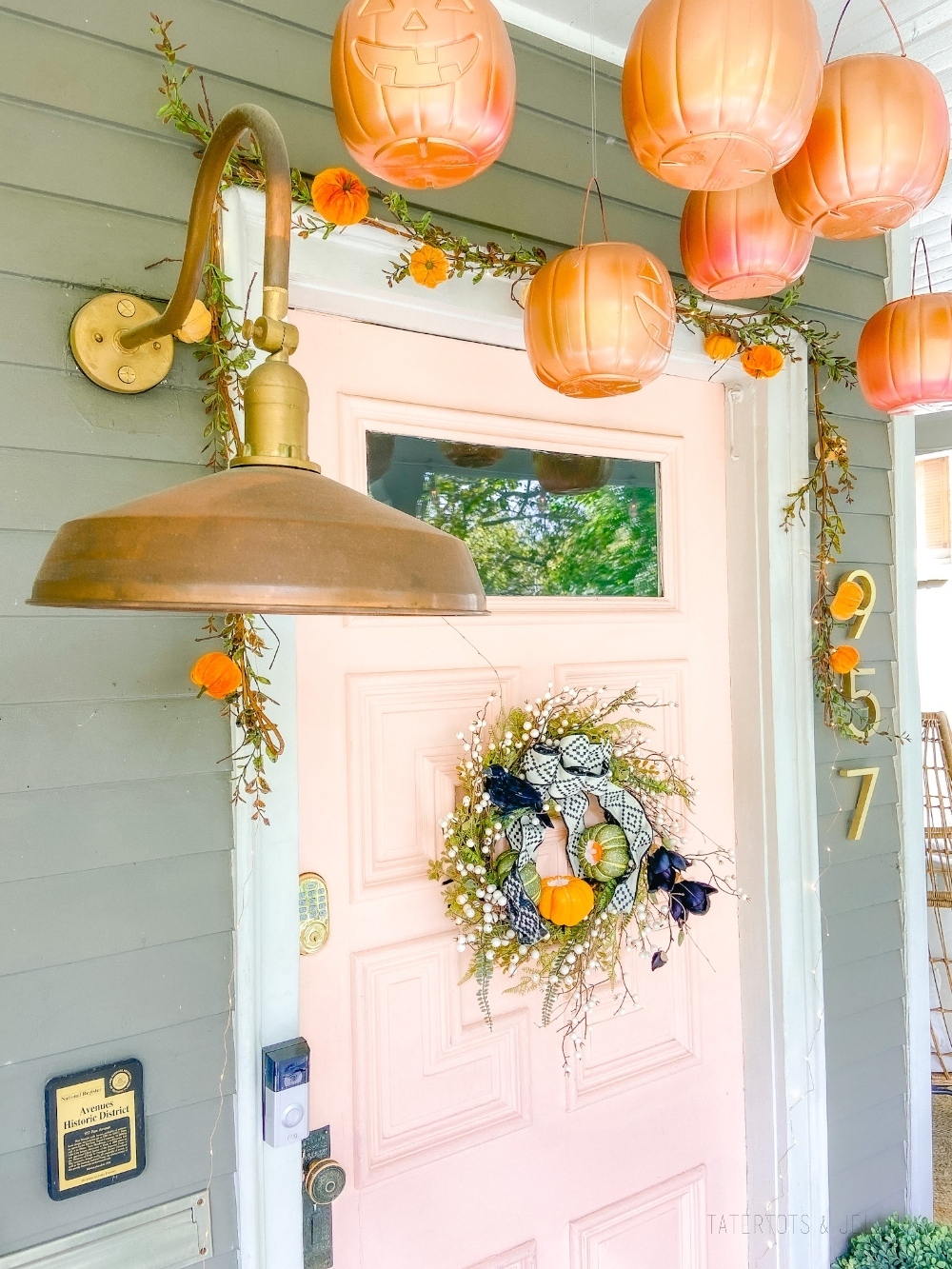 To insert the votives in the pumpkin you need to carve out the center of the foam pumpkins. You can use an xacto knife or even a pair of scissors. Cut a hole in the center of the pumpkin and then use the scissors or a spoon to scoop out enough filling so you can fit the votive candle inside.
Make a Pumpkin Wreath: Attach Pumpkins to Wreath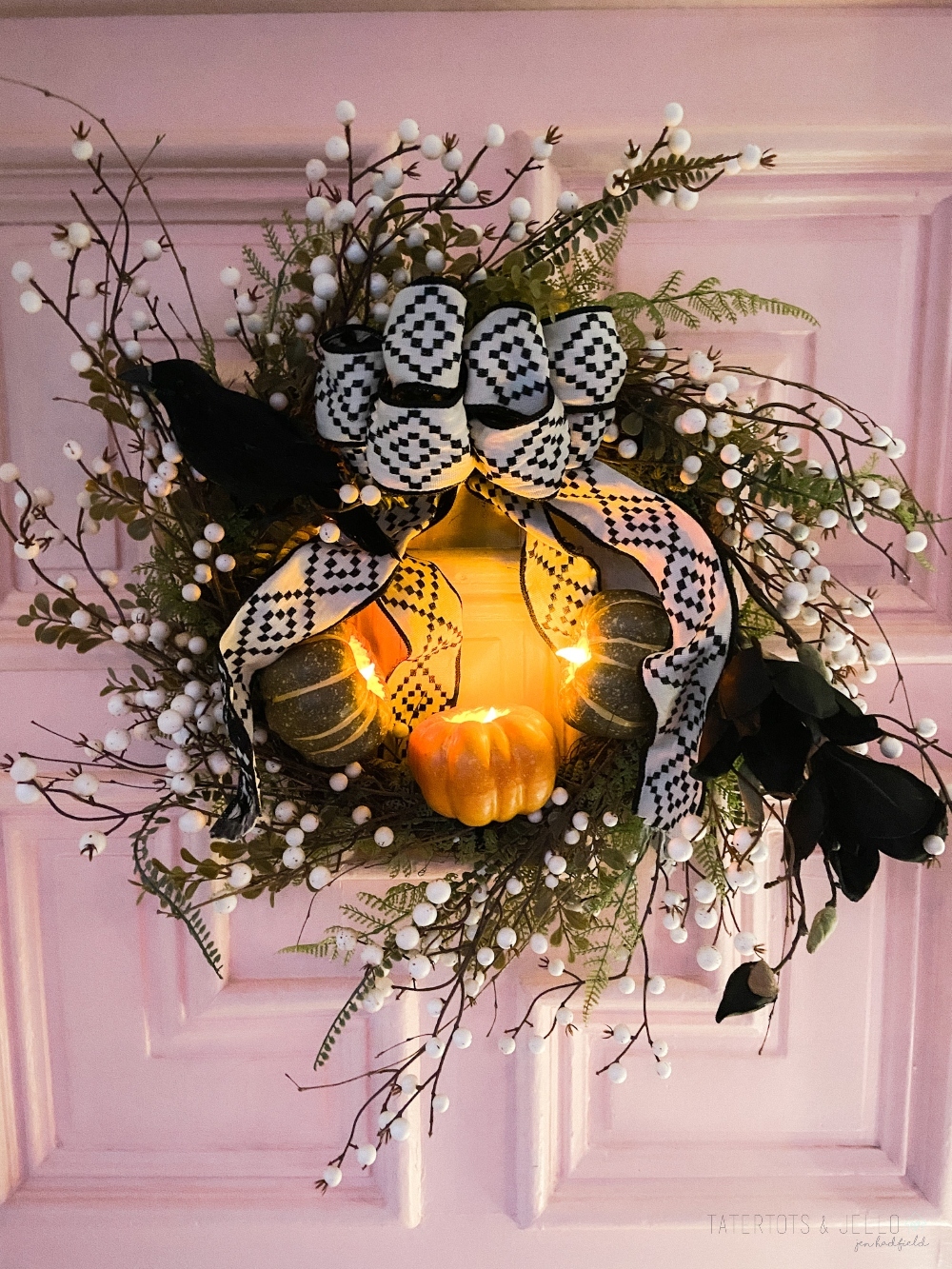 Instead of hot glueing the pumpkins directly on the wreath, take a pipe cleaner and hot glue it onto the back of the pumpkin, then wrap the pipe cleaners around the wreath and twist them to secure. That way you can reuse the wreath later.
Make a Pumpkin Wreath: Spookify Your Wreath for Halloween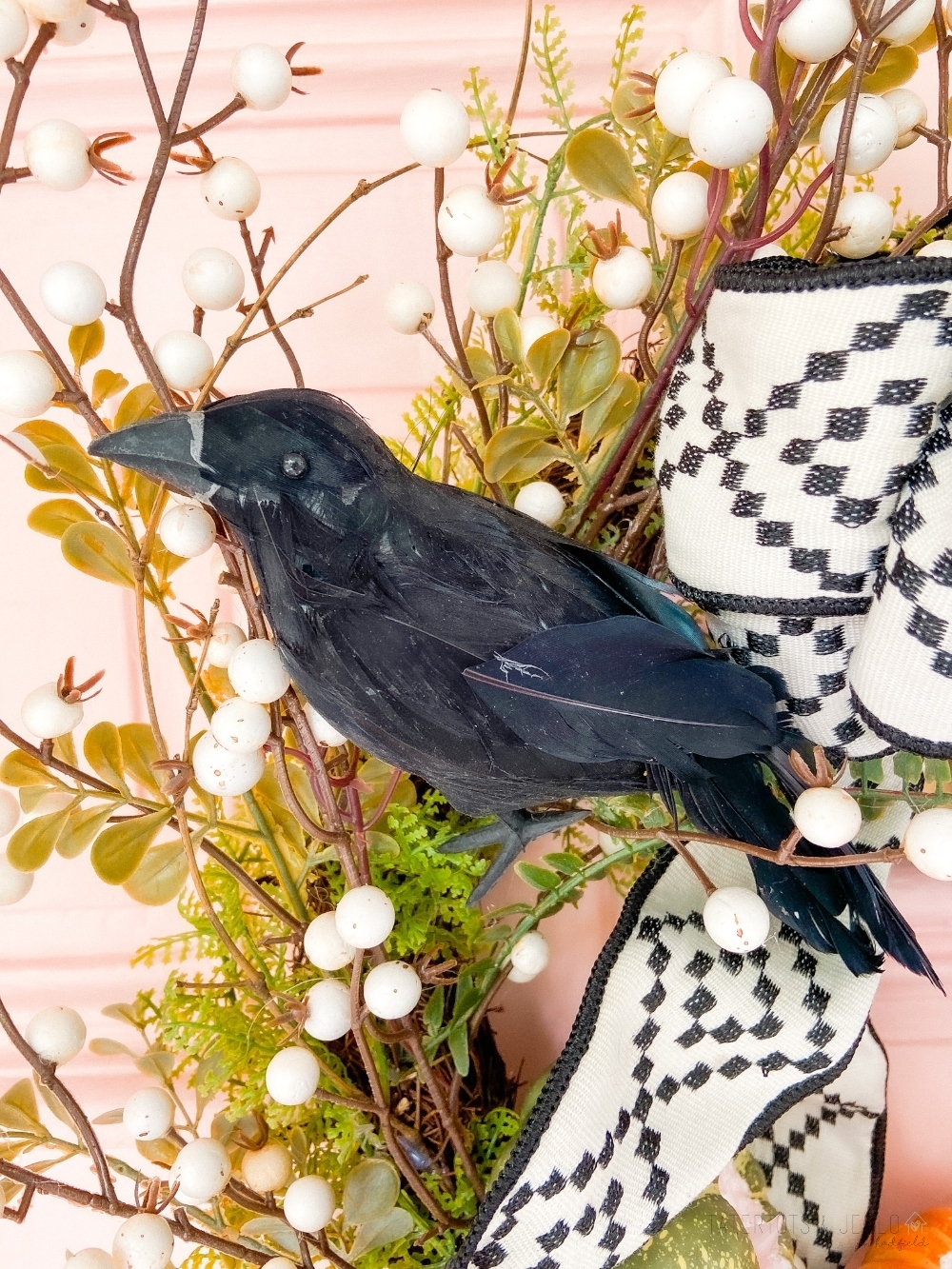 I added a crow to the top of the wreath and black flowers at the bottom to add a Halloween element to the wreath.
Make a Pumpkin Wreath: Add a Bow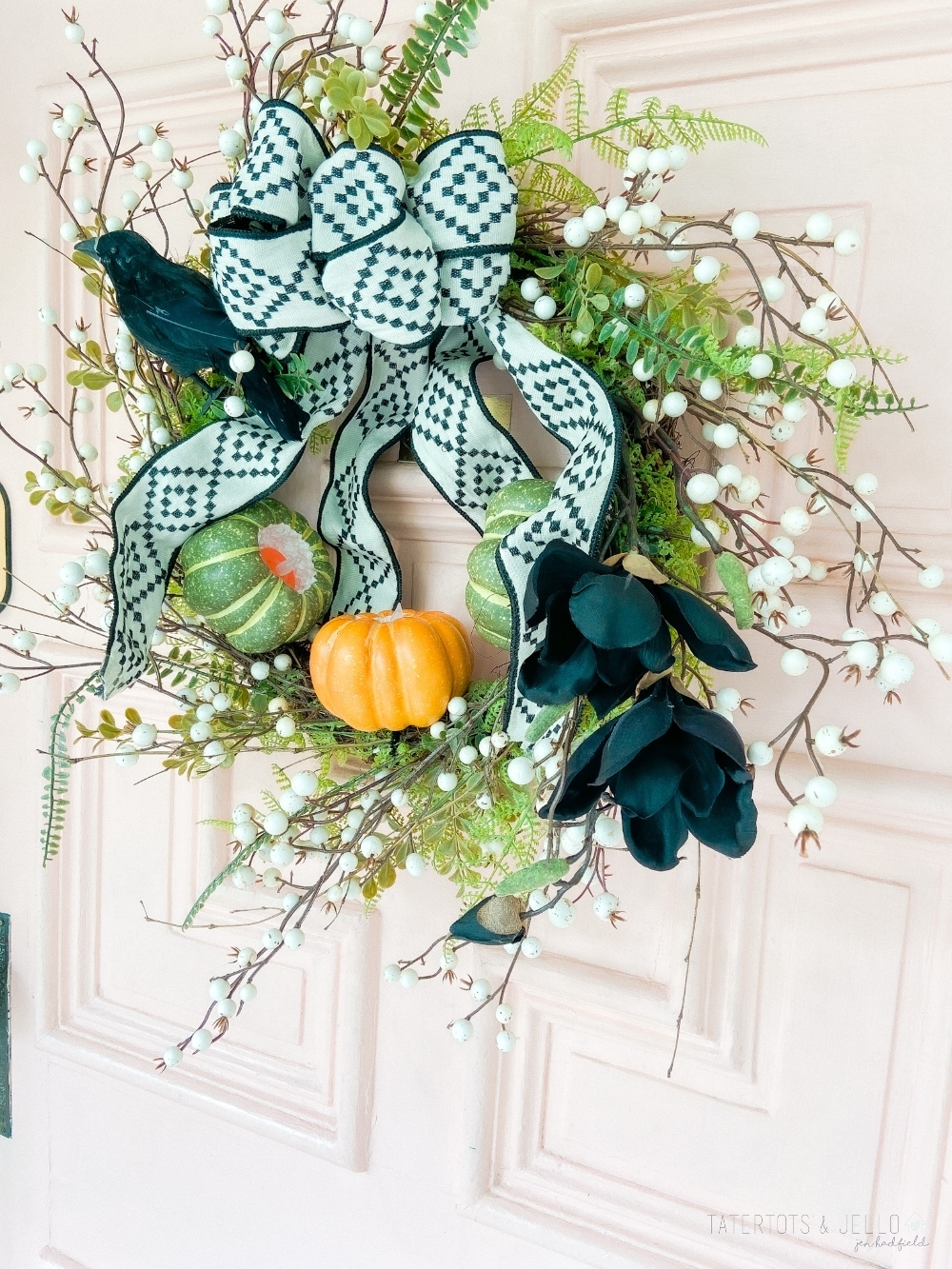 I love a pretty bow! I added this gorgeous black and white bow and created an 8 loop top. It has four tails which look really pretty!
Make a Pumpkin Wreath: Hang Up Your Wreath and Enjoy!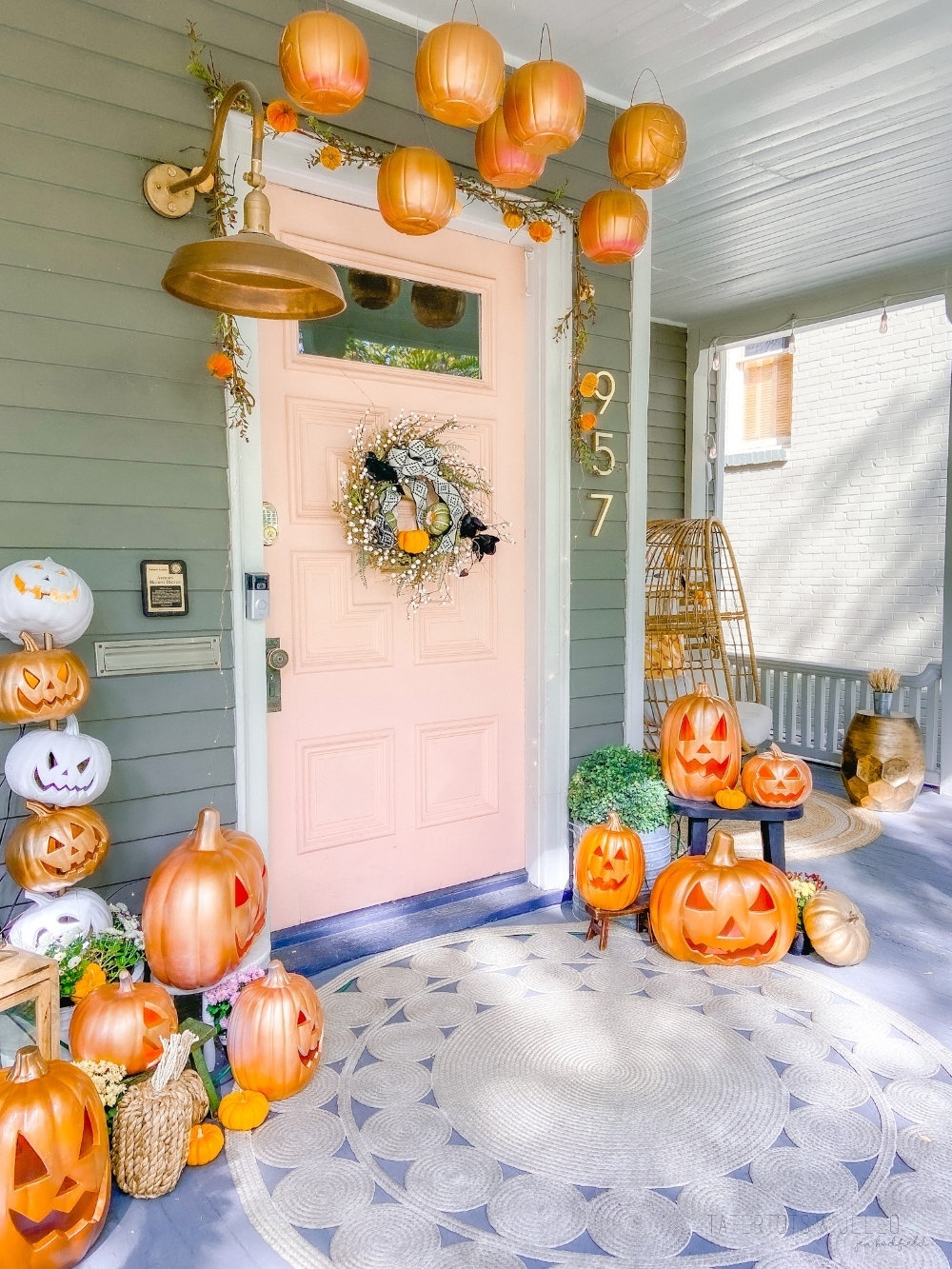 Hang up your wreath and bask in a beautiful fall entryway!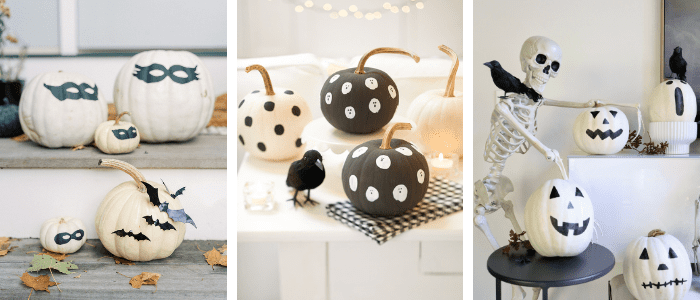 Painted Mask Pumpkins || Finding Lovely
Ghost Painted Pumpkins For Kids || Happy Happy Nester
No-Carve Pumpkin Ideas || My Sweet Savannah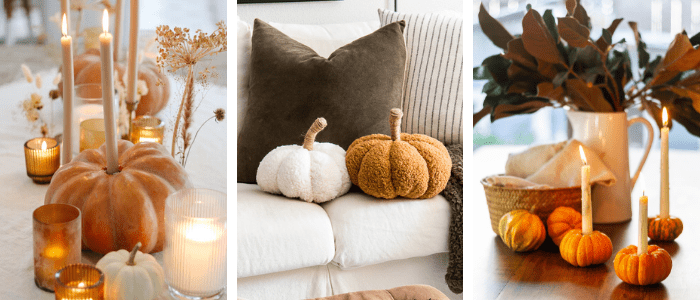 Heirloom Pumpkin Candle Holders || Modern Glam
Cozy Pumpkin Pillows || Inspiration For Moms
DIY Pumpkin Candle Holders || Zevy Joy

How to Make Easy DIY Floral Pumpkin Vase || The Design Twins
DIY Boho Chic Pumpkin Decor from Dollar Store Pumpkins || The DIY Mommy
Light Up Pumpkin Farmhouse Wreath || Tatertots & Jello
DIY Faux Clay Pumpkins || The Happy Housie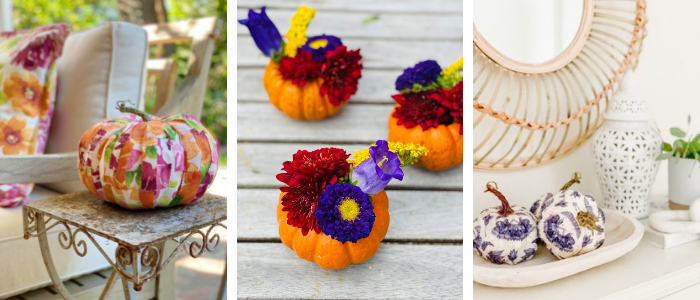 Easy Fall Cinderella Pumpkin Crafts // My 100 Year Old Home
How To Make Pumpkin Planters || Most Lovely Things
Blue and White DIY Pumpkins || Life Is Better At Home
More Pumpkin Ideas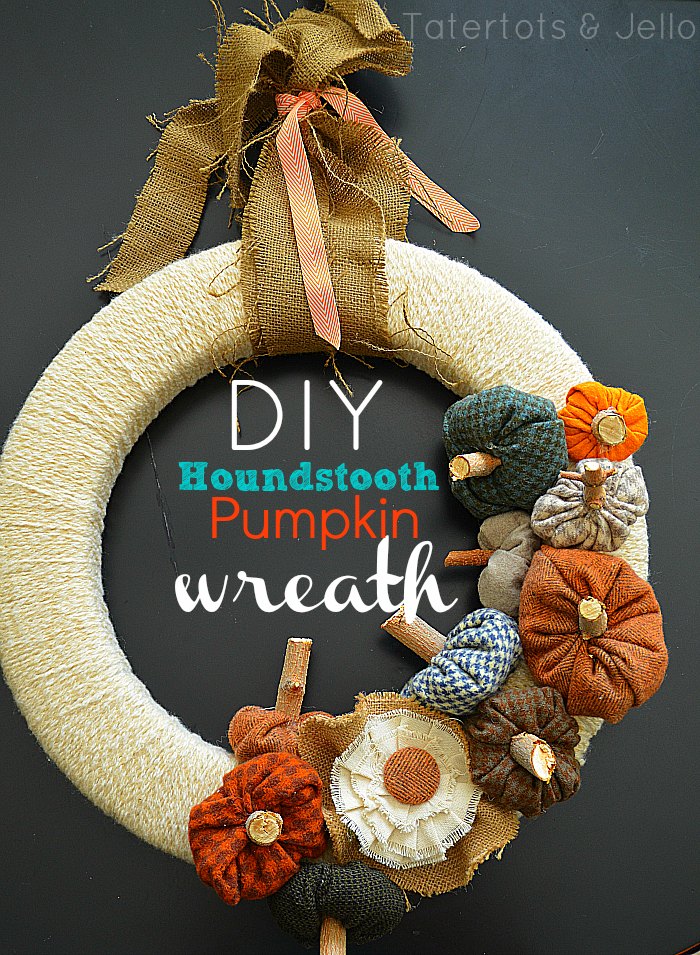 This was one of my favorite wreaths to make. I love the colors and textures for fall!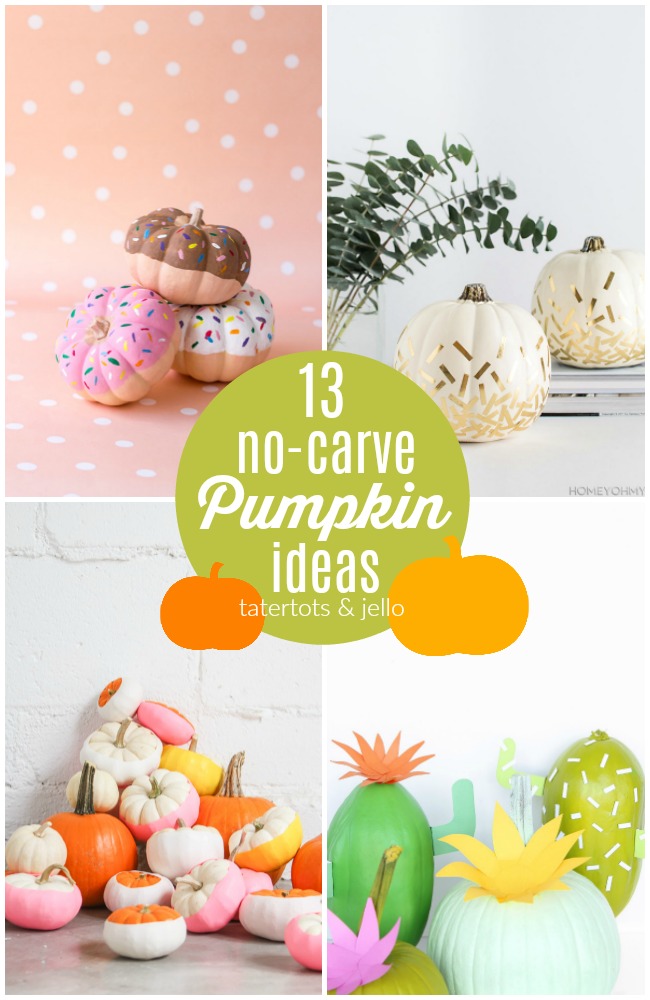 So many cute pumpkin ideas here! Be sure to check them all out!
Which Pumpkin Idea is YOUR Favorite?
xoxo