Easy Halloween Ghost Porch. Create tomato cage ghost luminaries, floating ghost luminaries and a ghost doormat for spooky fun!
Easy Halloween Ghost Porch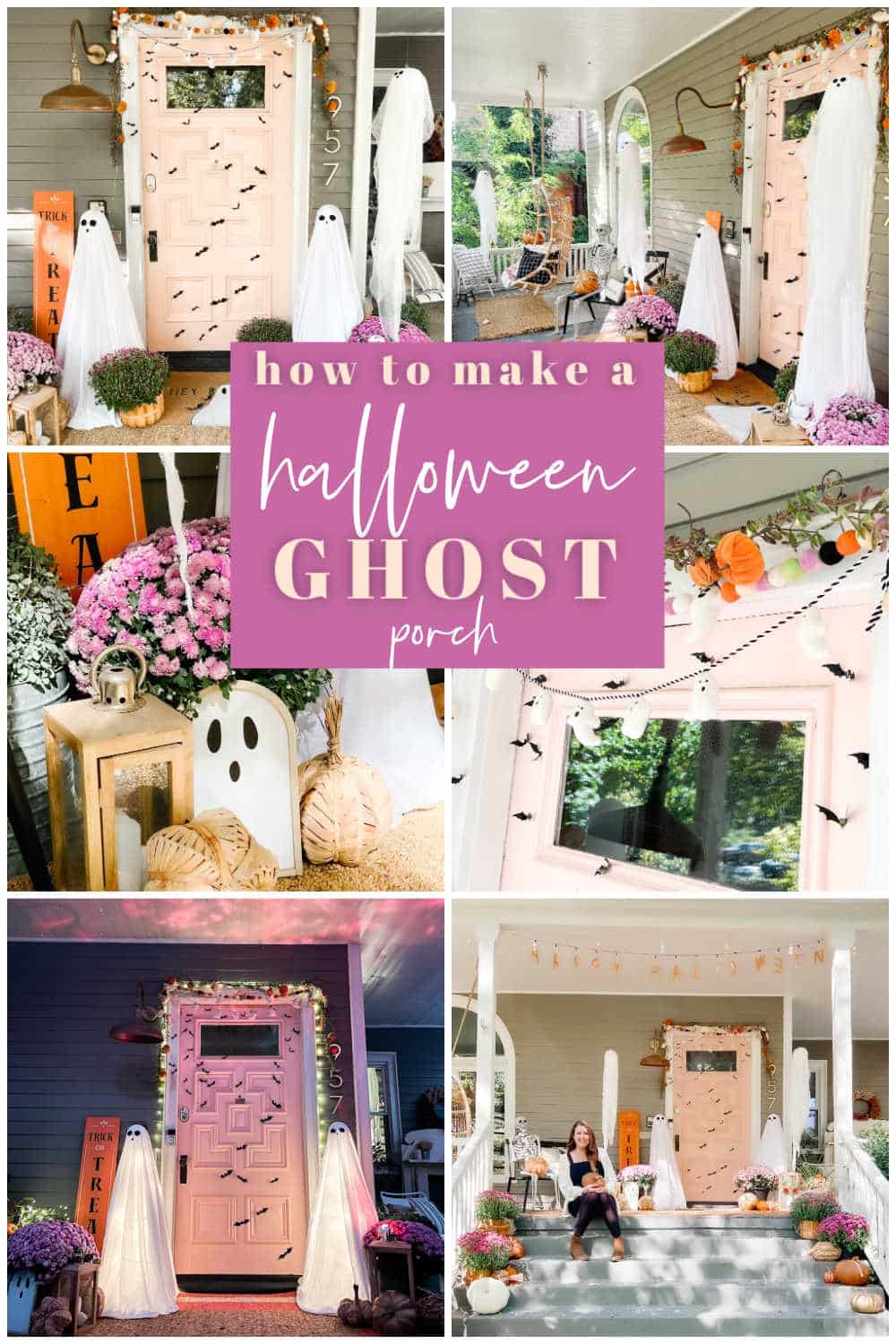 Hi friends!! I love Halloween! Each year I look forward to creating a theme for our porch. This year I went with a ghost theme! And whether you LOVE Halloween or you think it's ok, your neighborhood kids will love seeing your spooky fun Halloween ghost porch!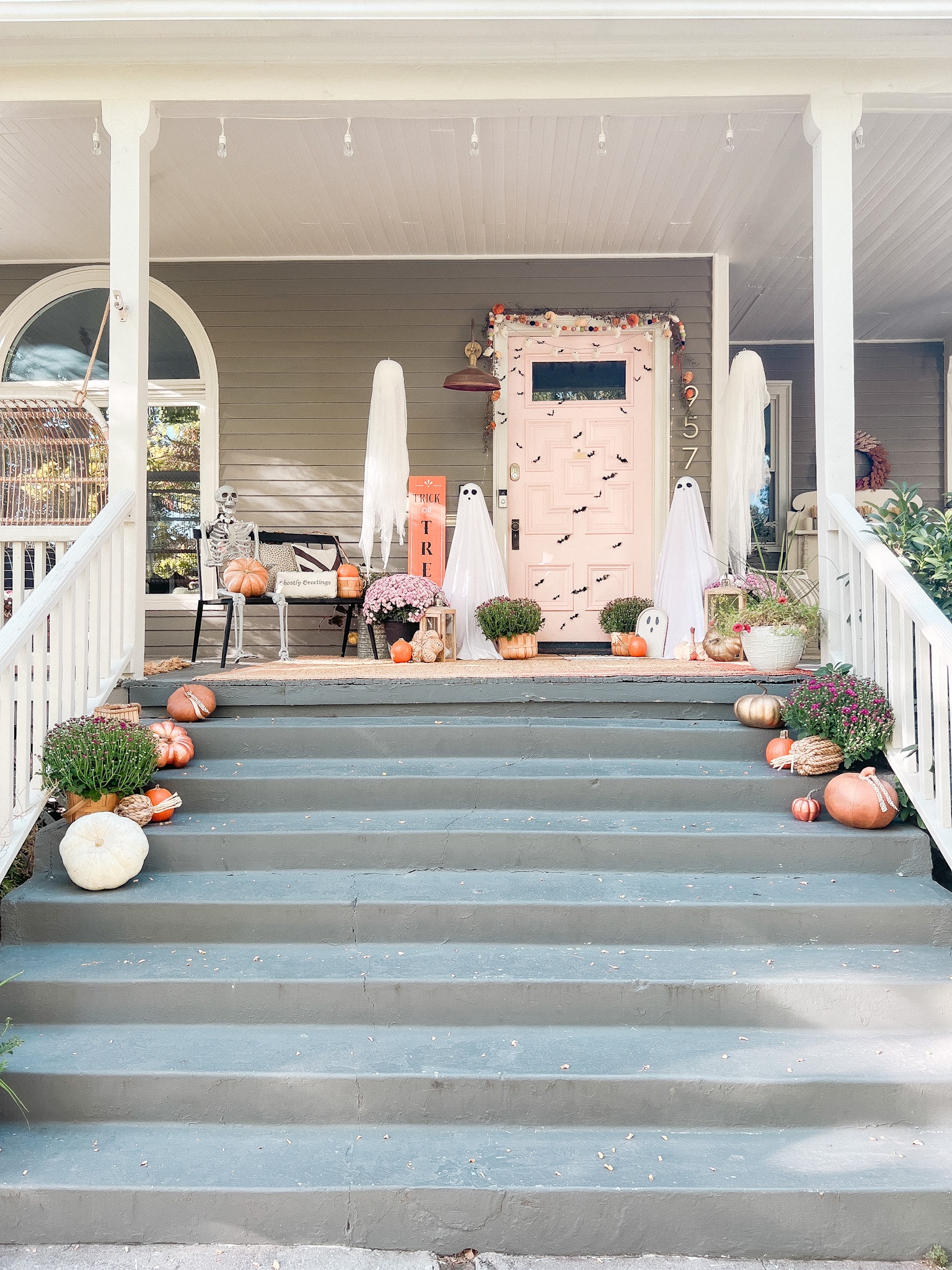 Create a Halloween Theme Porch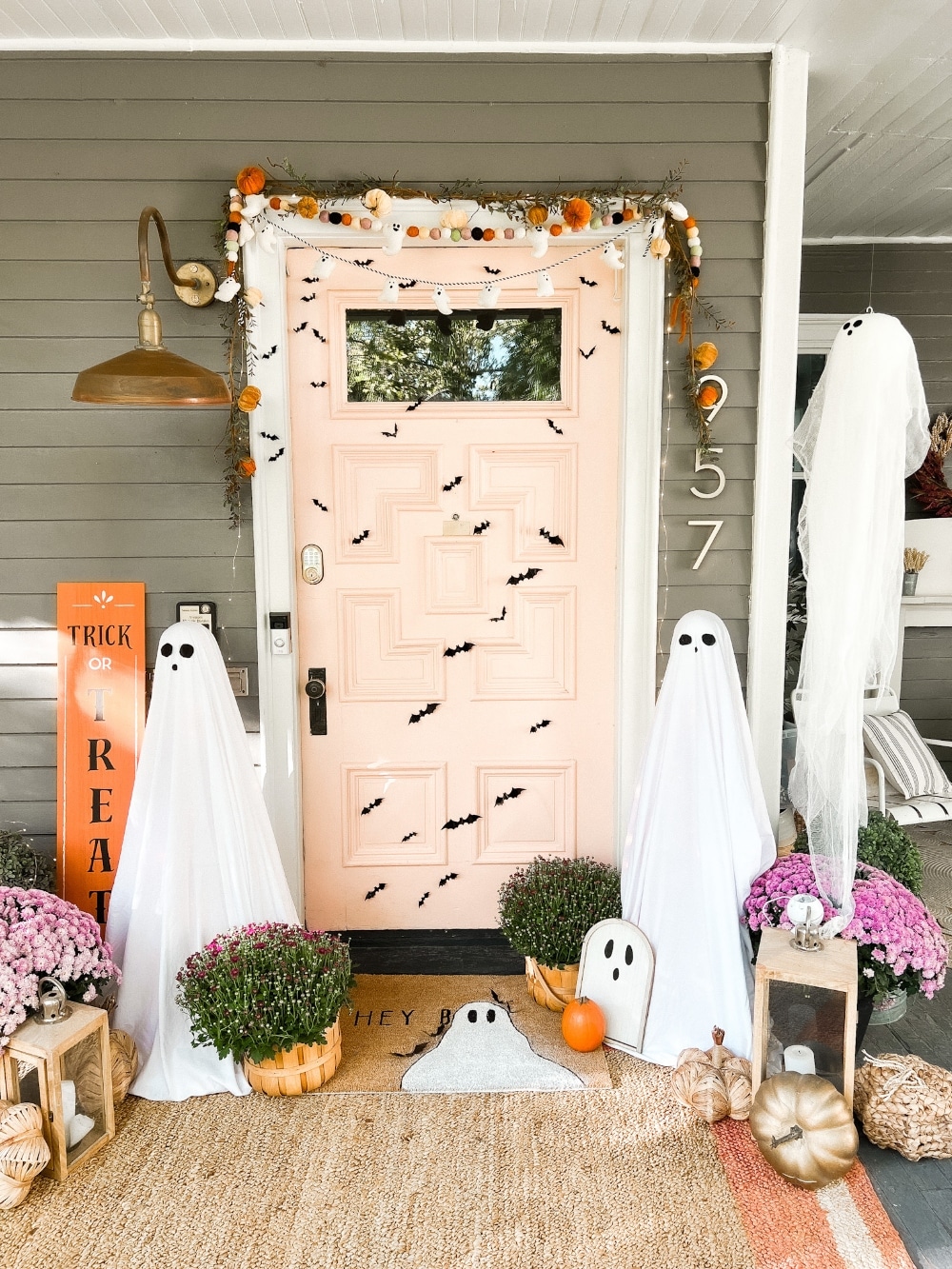 It's not hard to put together a themed Halloween Porch! All you need are a few things to create one!
Create a Front Door Focal Point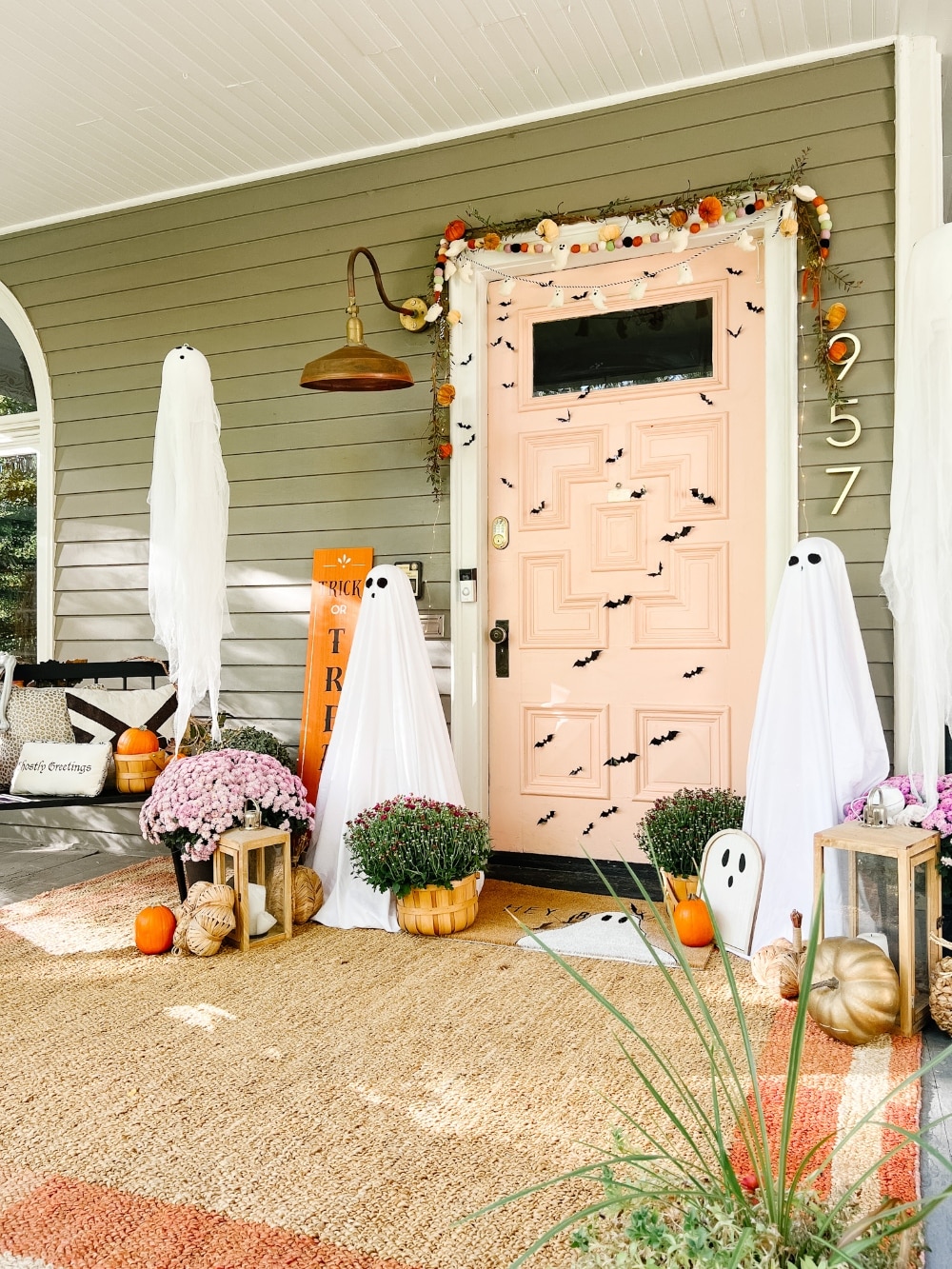 For our front door I created tomato cage ghost and they are so easy to make!
How to Create Tomato Cage Ghost Luminaries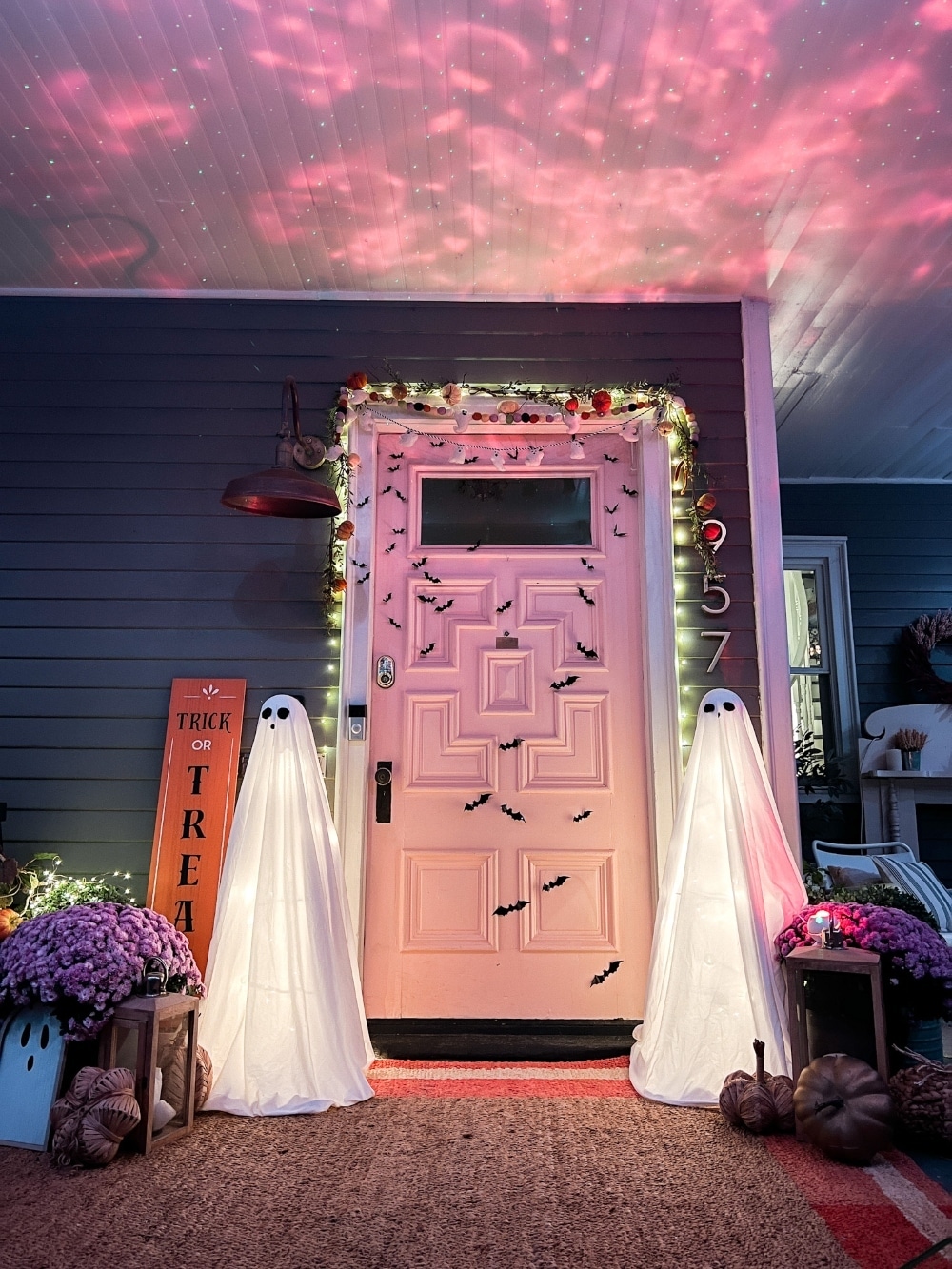 You only need a few supplies to make tomato cage ghost luminaries!
How to Make Tomato Cage Ghost Luminaries
Flip your tomato cage over so the spikes are facing up.
Place the foam head on the spikes and push down so they go into the head and hold it in place.
Wrap the string lights around the base of the tomato cage. (If you don't have access to power, you can use battery-operated string lights and some come with a timer so that they automatically shut off after a few hours)
Drape the sheet over the ghost.
Cut out three circles out of black material or felt and place them on the ghost with double-stick tape, glue dots or hot glue.
I put rocks on top of the tomato cage base to keep my ghosts from falling over in the wind.
Create Matching Hanging Ghost Luminaries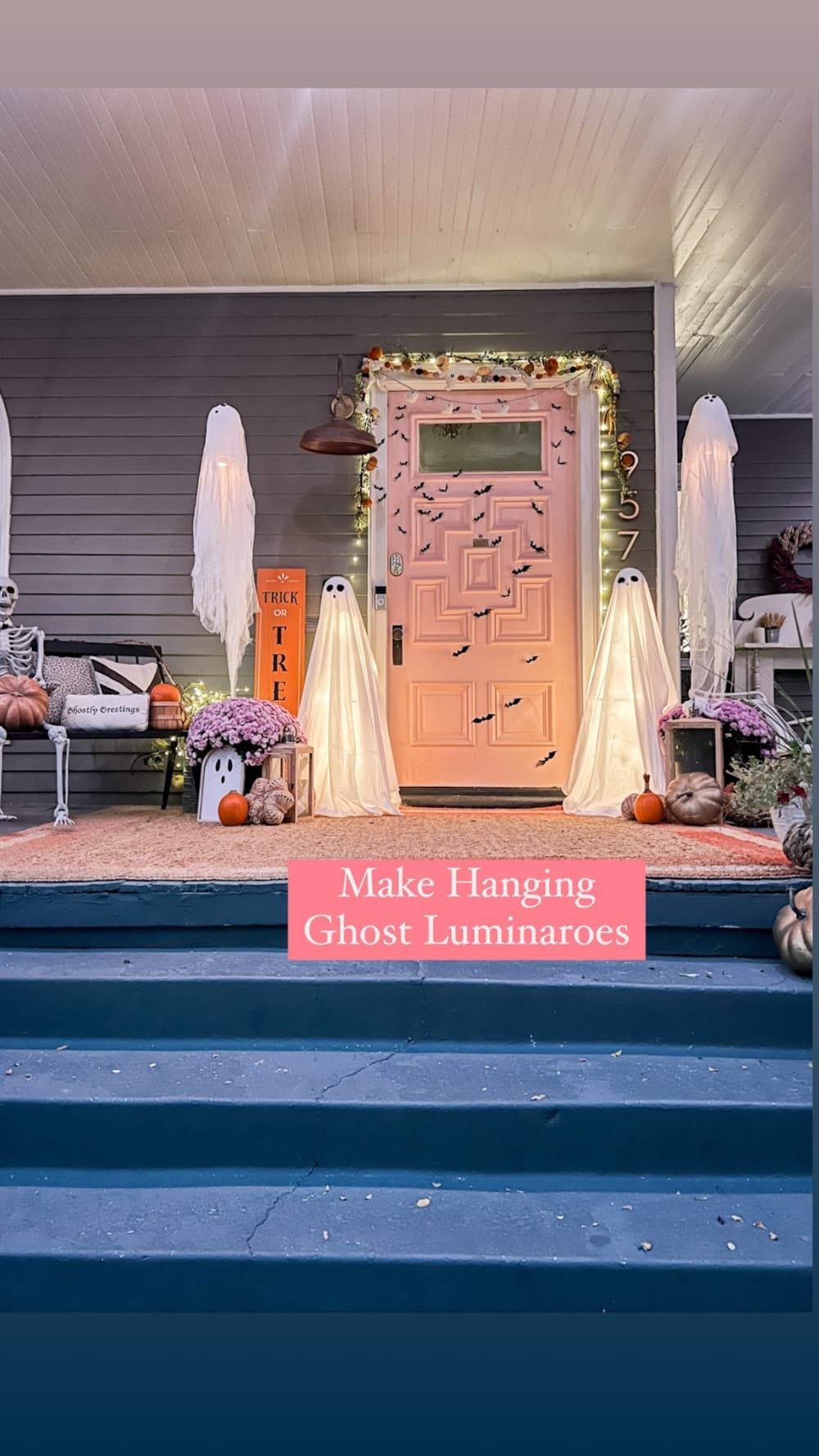 I wanted to carry the ghost theme throughout my whole porch so I created some smaller matching hanging ghost luminaries.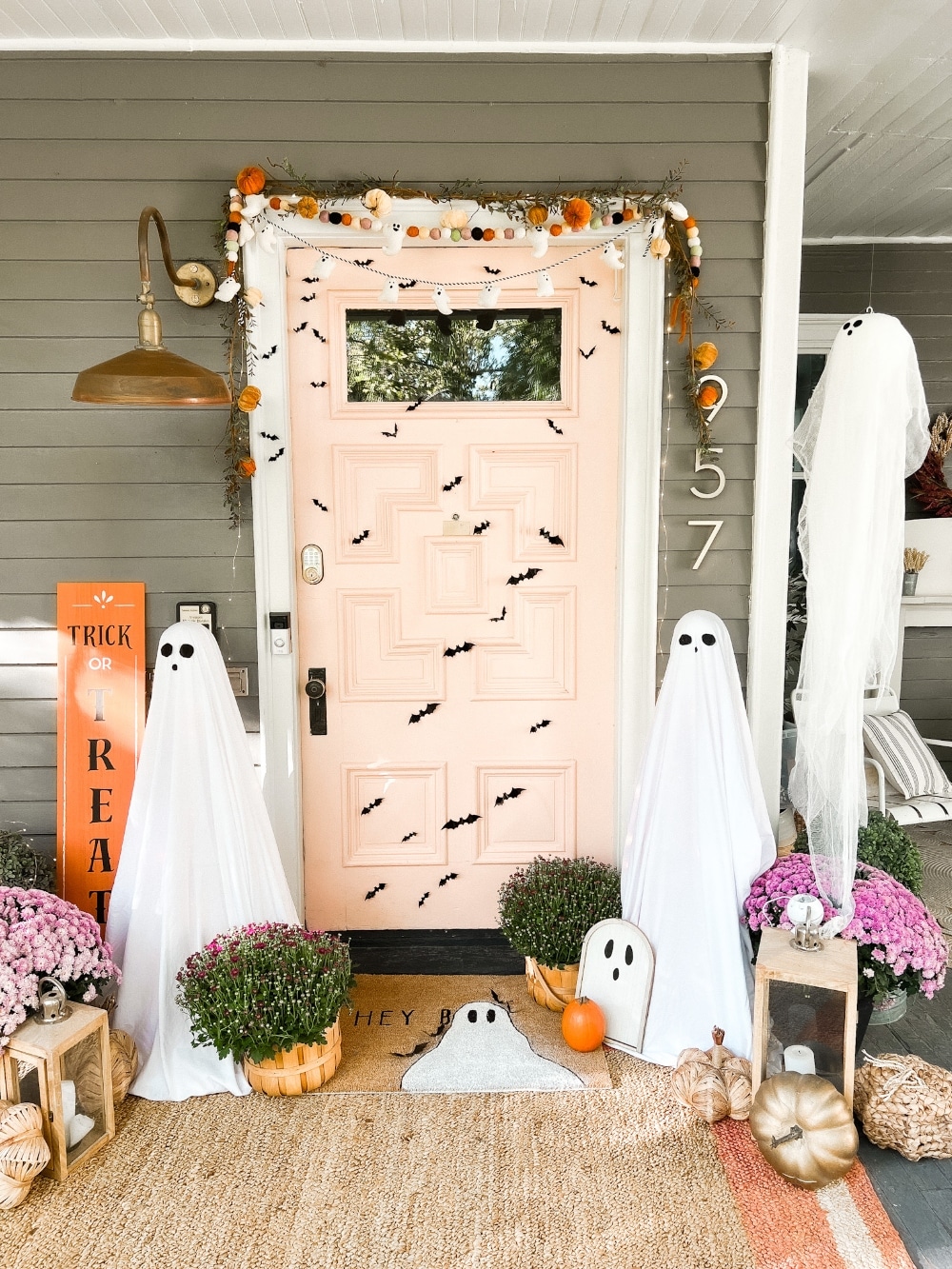 Supplies to Make Hanging Ghost Luminaries
How to Make Hanging Ghost Luminaries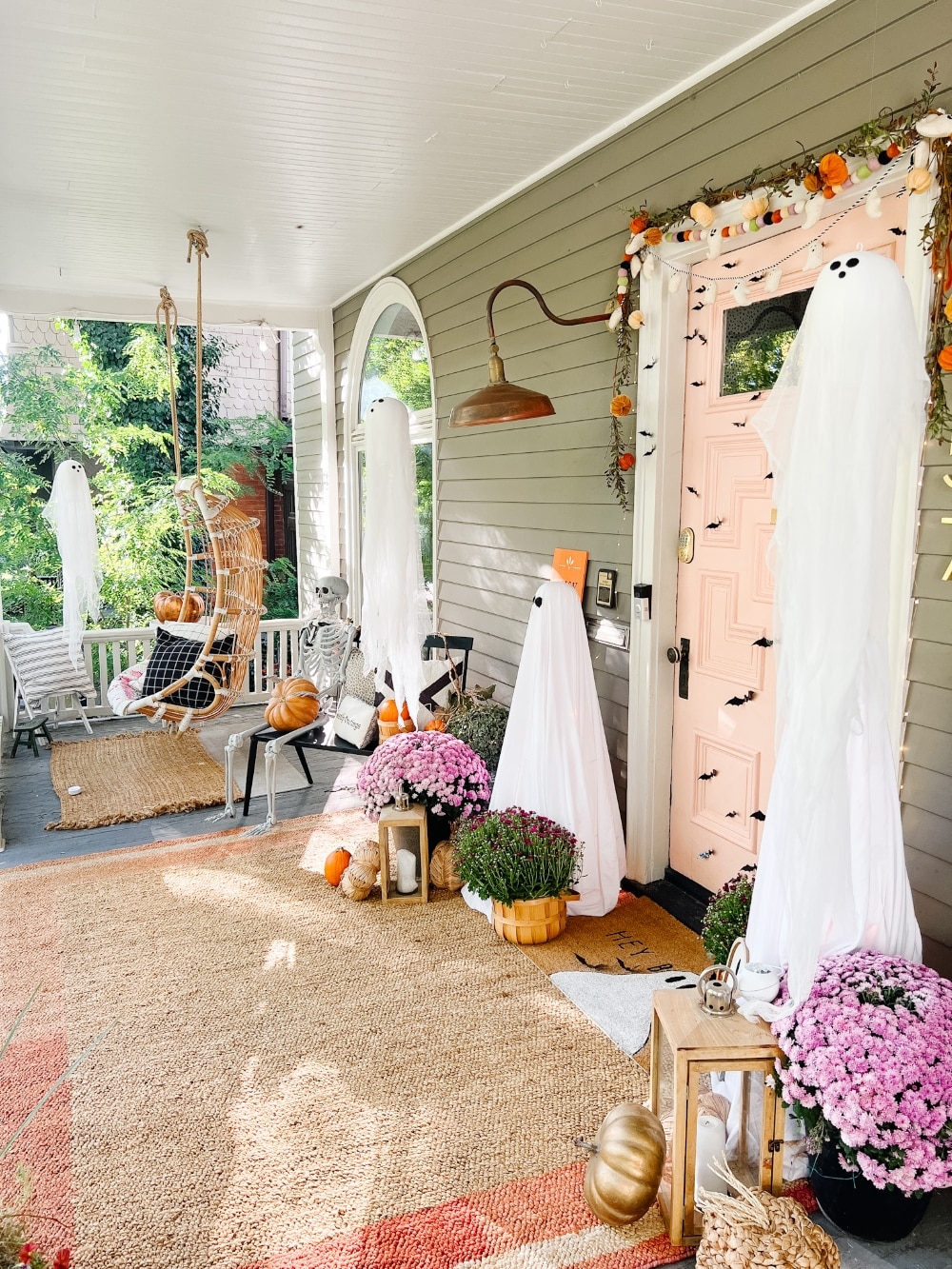 Cut cheesecloth to 60 inch lengths. You will need THREE lengths of cheesecloth per ghost.
Open each length of cheesecloth and drape the foam head with three pieces of cheesecloth.
Add a dab of hot glue to the top of the head and push the hook into the head. This will hold the hook in the foam head or styrofoam ball and attach all of the cheesecloth pieces to the head.
Hot glue three circles of black fabric or felt to the front of the ghost. I added them to the top of the head to make my ghost look smaller so it looks like it has a body, not just a head.
Attach a hook to the bottom of the ghost. The pucks come with 3M strips but you can also hot glue the puck to the bottom of the ghost.
Take a ladder and decide where you want to hang the ghost luminary.
Screw a hook into the porch ceiling.
Decide how long you want the ghost luminary to hang down. Once you measure that, cut the fishing wire and tie the fishing wire to the ghost's hook and then tie the other end to the hook in your porch ceiling. You can also use command hooks if you dont' want to put holes in your porch ceiling.
Enjoy your hanging luminaries. You can change the light colors and turn them on and off with the remote!
Add Some Ghost Charm By Painting a Doormat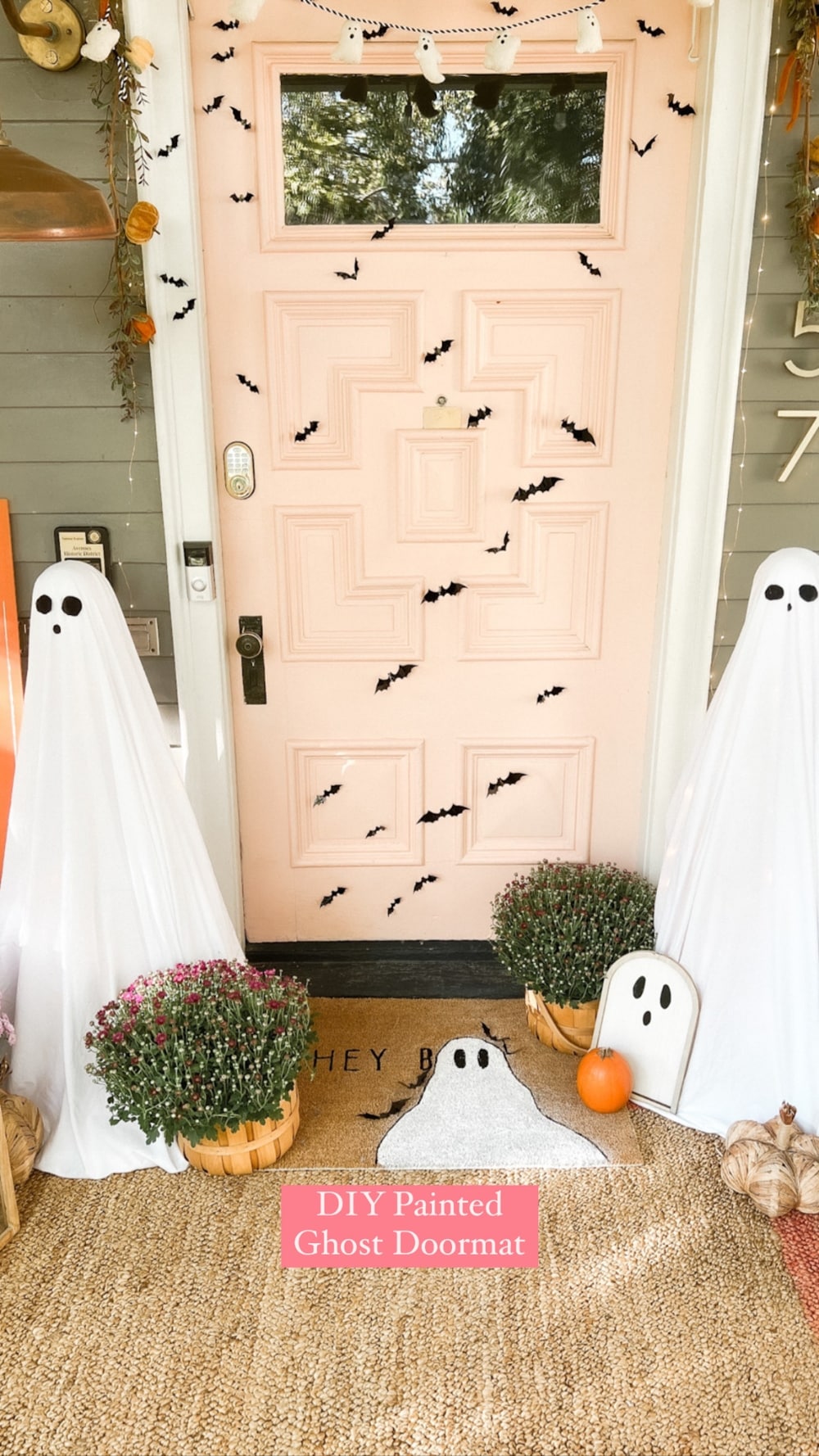 Have you ever painted a doormat? I love doing it! I've painted a few for different holidays and I have a whole post with tips and tricks for painting coir material — How to paint a coir doormat. I also have an Instagram reel that shows me painting this one if you want to check it out! Here's how I made this ghost one.
Ghost Doormat Supplies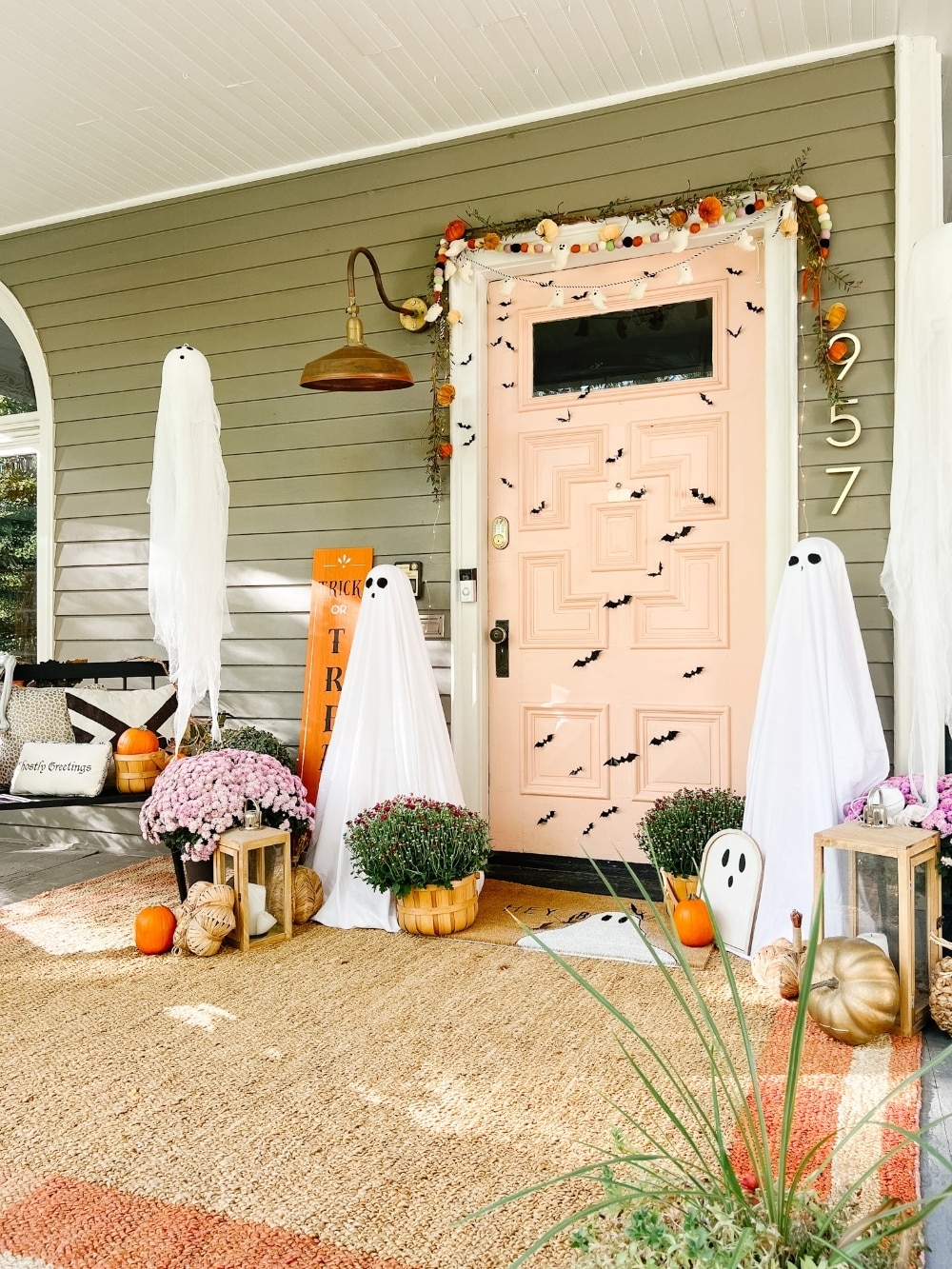 Add Pumpkins and Mums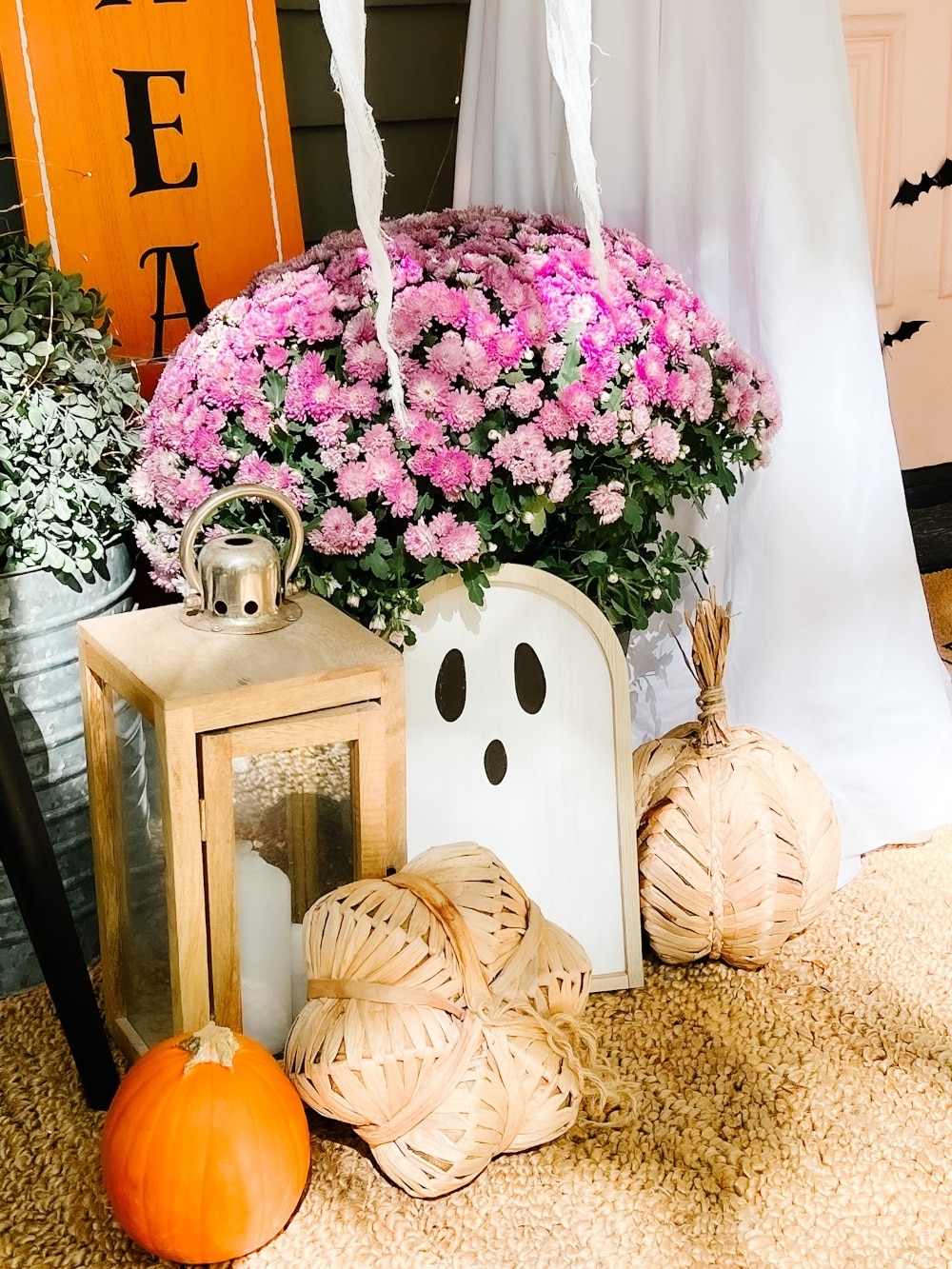 I added pumpkins and Mums around my door and on our front stairs for color.
Bats and Skeletons for Spookiness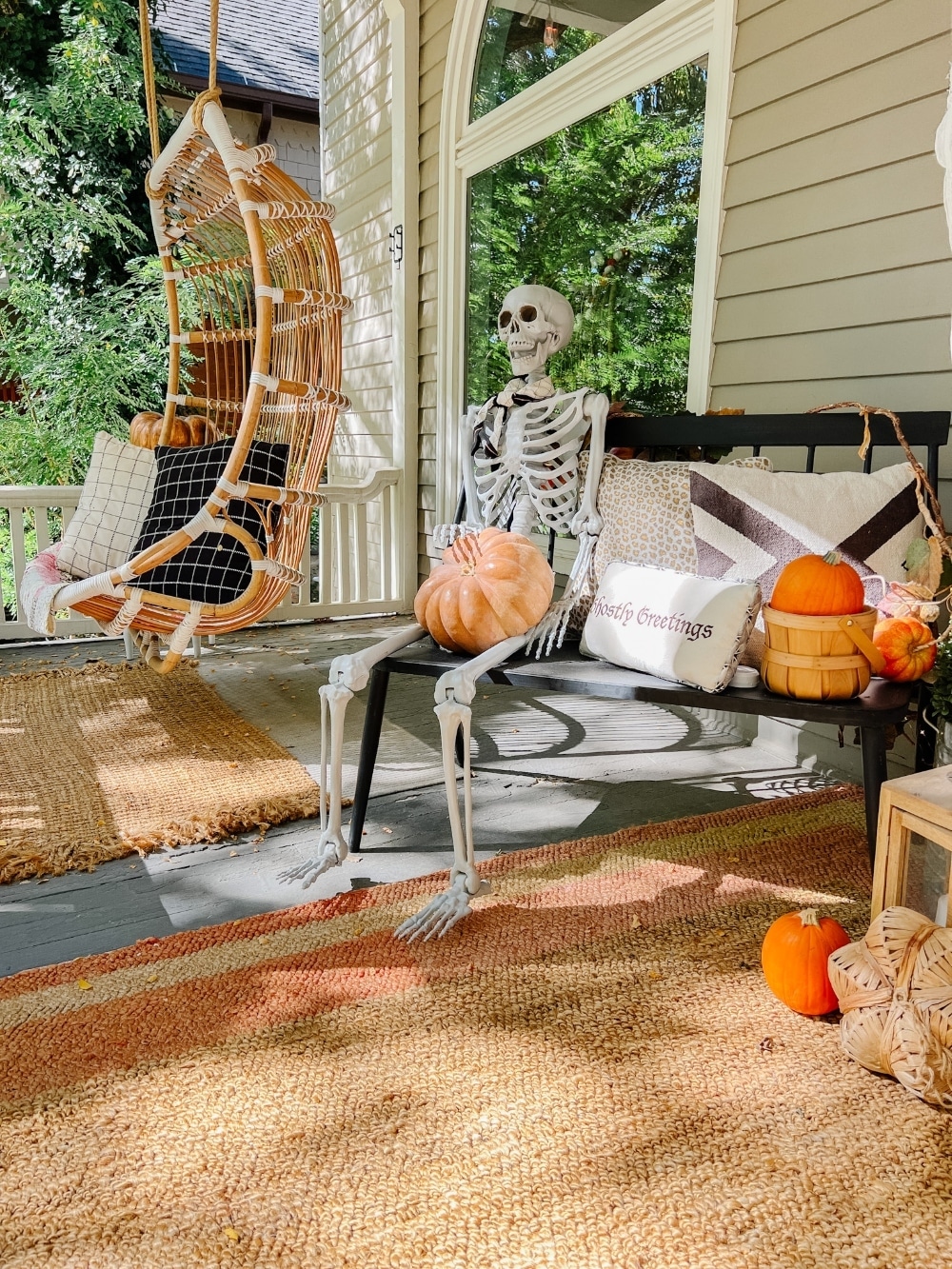 I added some bats around our front door and added Matilda our Halloween Skeleton to our porch swing.
Enjoy Your Spooky Cute Ghost Themed Porch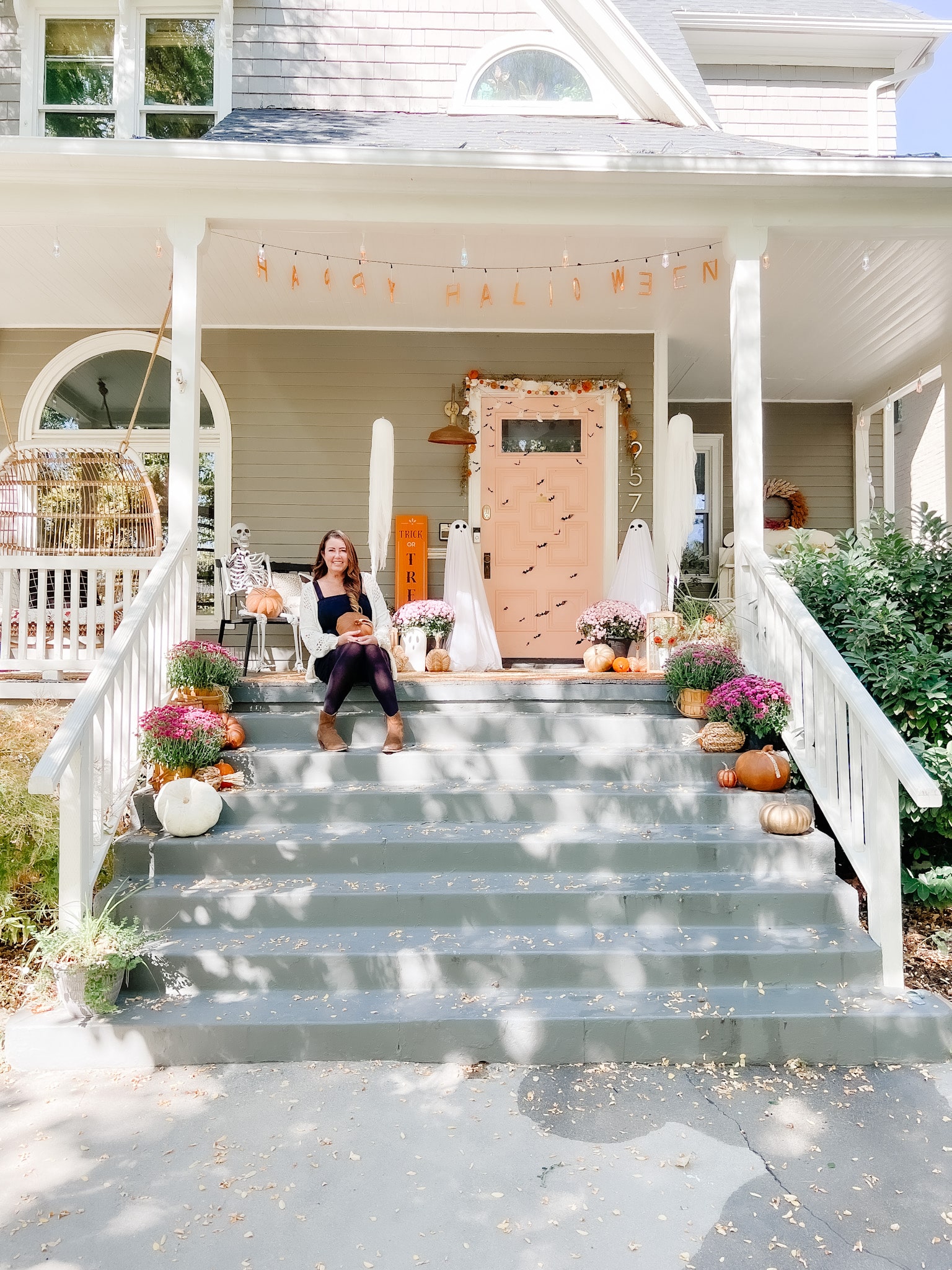 I love seeing our porch all lit up at night and our neighborhood kids love stopping by to see our spooky cute porch. I even made a ghost for our neighbors across the street and I love seeing it on their porch! If you end up make a tomato cage ghost or a hanging ghost luminary, tag me on Instagram at @tatertotsandjello. I would LOVE to share your porch!!
More Themed Halloween Ideas
Here are a few other themed Halloween porches that I have created over the years!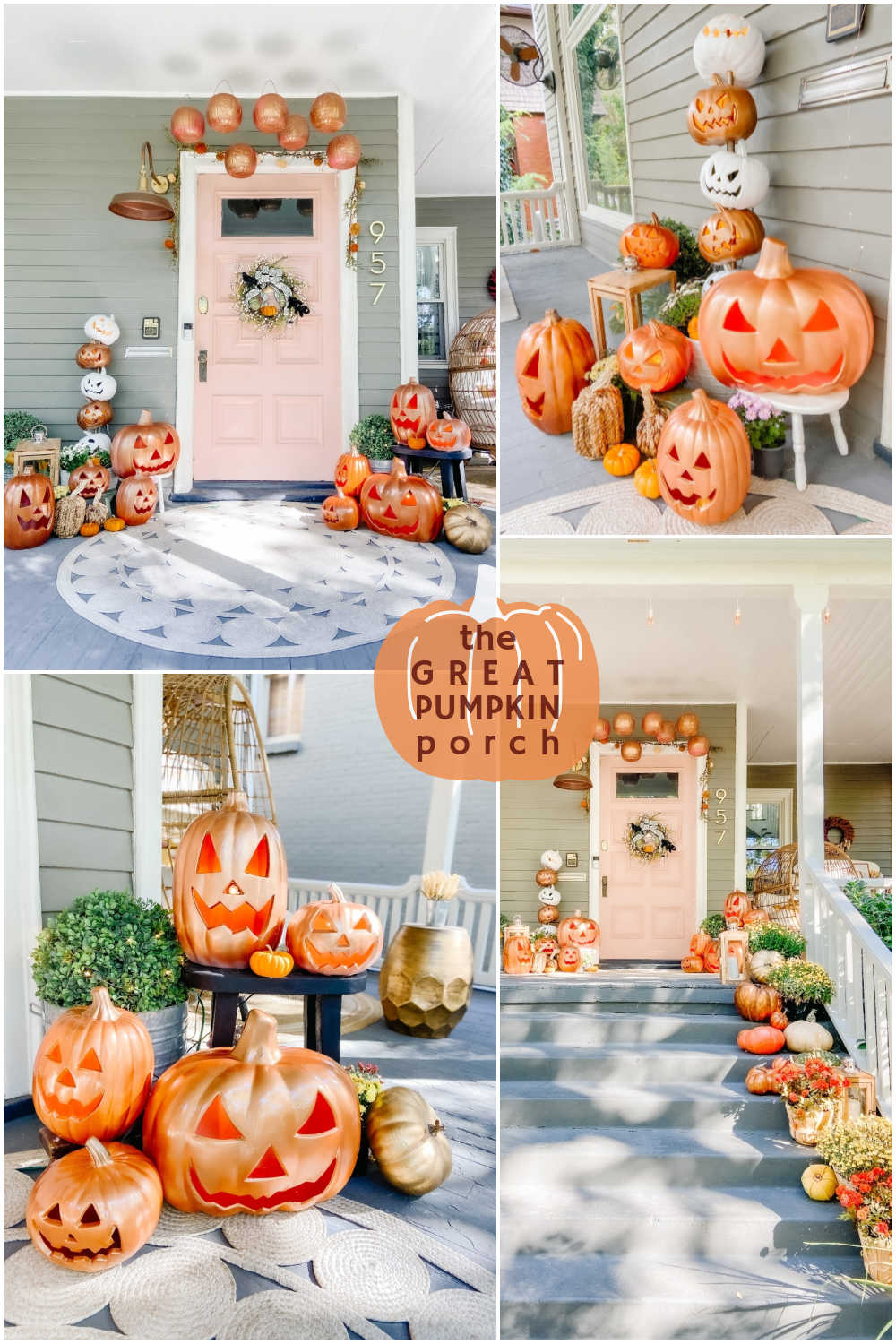 This one was so fun to do! I spray painted our pumpkins are metallic copper color and added some $1 hanging pumpkins which I hung over our door and added tea lights with a remote. It was so pretty all lit up at night!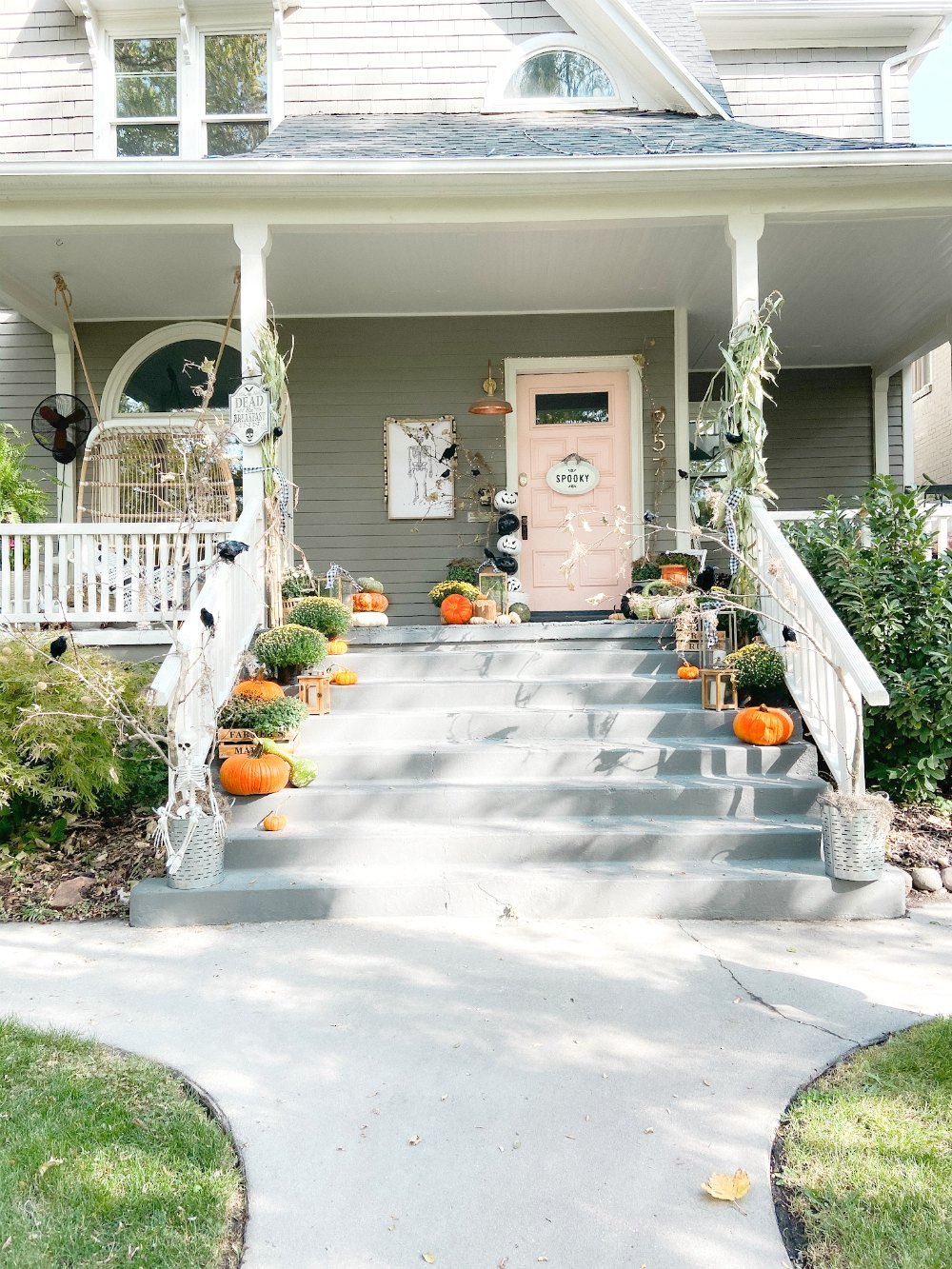 We had a HUGE windstorm a couple of weeks before I decorated this porch. So I went around and gathered up some branches. I added branches to our porch railing with zip ties and added more in pots by the front door. Then I added cornstalks, lots of crows and spider webs and it was such a cool porch!

I had never created a skeleton porch before. Some pretty elements make this porch more cute than creepy. I love all of the mums and pumpkins along with the skeletons. This was the first year we lived in our #1891AvenuesCottage, before I painted our door pink and the first year that Matilda came to our house.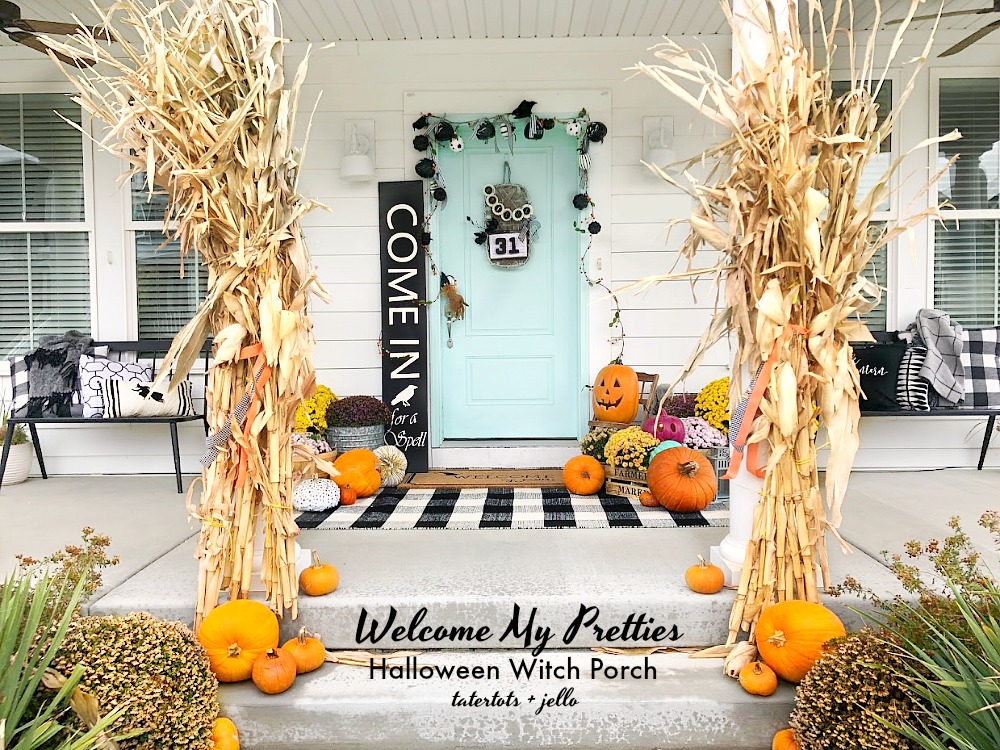 I love a witch theme. For this one I added a hand painted Welcome My Pretties Doormat and the black and white theme was so pretty with our teal door.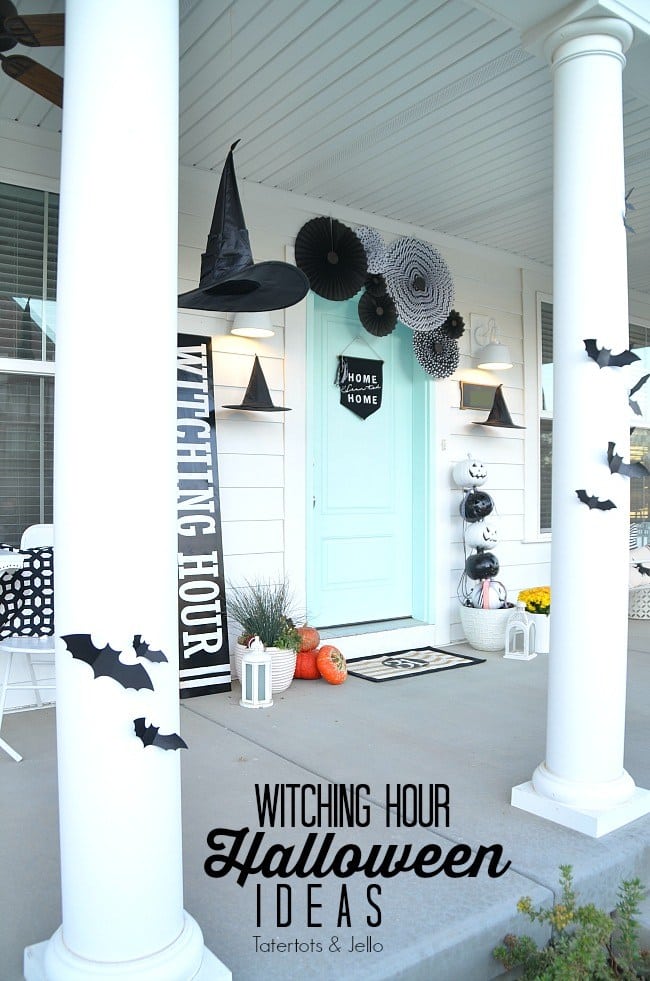 Another fun witch theme. I created a huge Witching Hour sign, added some witch hats, my stacked pumpkin topiary and painted a "31" doormat.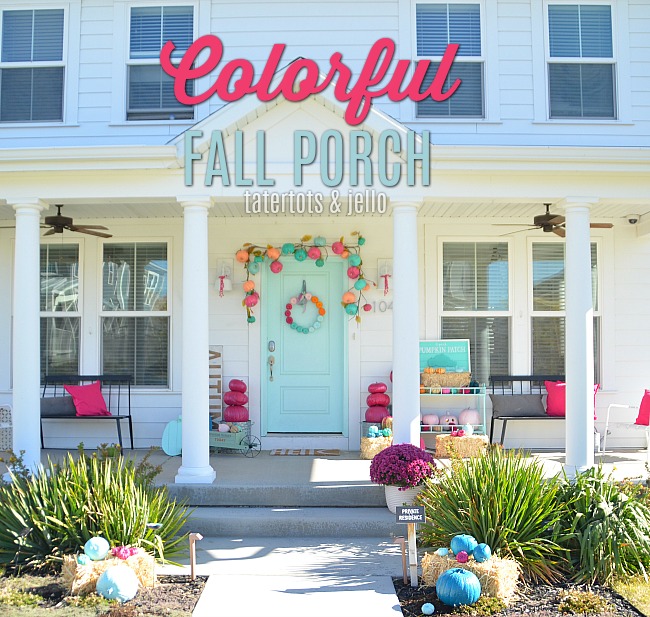 This was one of my favorite Halloween porches! I loved all of the color. I created a rainbow pumpkin wreath, a rainbow door garland and spray painted so many pumpkins. It was a fun one!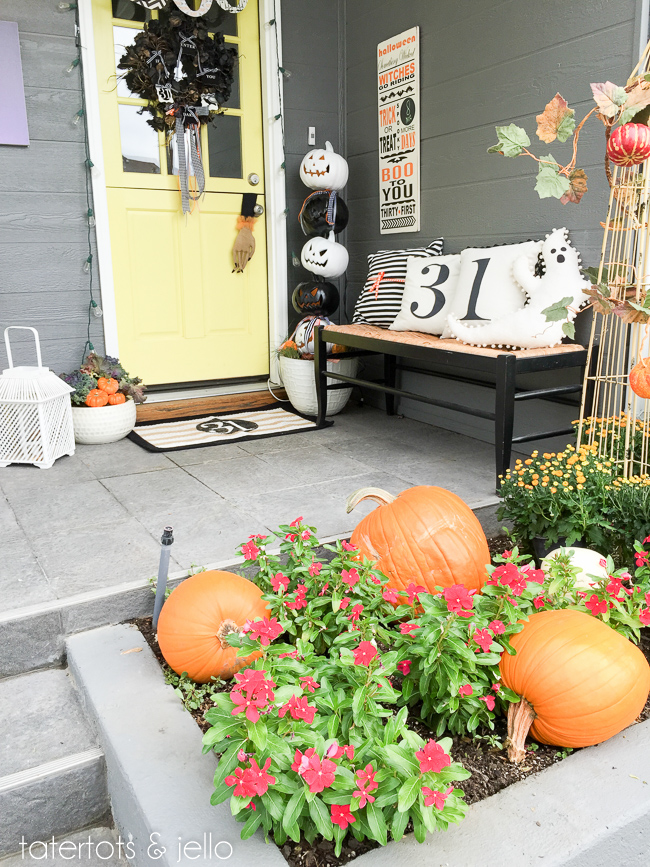 This was the porch I had when I created my Stacked Pumpkin Topiary and I love the more traditional orange and black theme. I added some "31" pillows I sewed, a handmade Halloween Subway Art Sign and put fresh pumpkins in the little planter in front of the porch. It was such a sweet Halloween porch!
Which one is YOUR favorite?
Let me know in the comments!
xoxo