12 Creative Fall and Halloween Ideas! Welcome guests to your home with these festive fall wreath and porch ideas. Easy, inexpensive DIY Projects to dress your home up for Fall and Halloween!

I just celebrated my 10th year blogging! Over the years I have met so many wonderful people and had some amazing experiences!! My favorite thing to do is still creating projects! And fall if probably my VERY Favorite time to create! I love Fall and Halloween.
12 Creative Fall and Halloween Ideas
I was looking back over some of my Fall and Halloween projects and I thought I would share some of my favorites with you! I love creating easy to make, inexpensive ways to bring holiday cheer into my home. I hope you enjoy these fall and Halloween ideas!
5 Simple Ways to Make a Pretty Fall Porch
This was my porch a couple of years ago. I shared 5 Simple Ways to make a Pretty Fall Porch. I created the wreath by wrapping a wreath form with ribbon and then I made a fabric pumpkin and attached it. So easy! I added a big navy and white rug which I thought was so pretty with the orange colors.
Mason Jar Washi Tape Wreath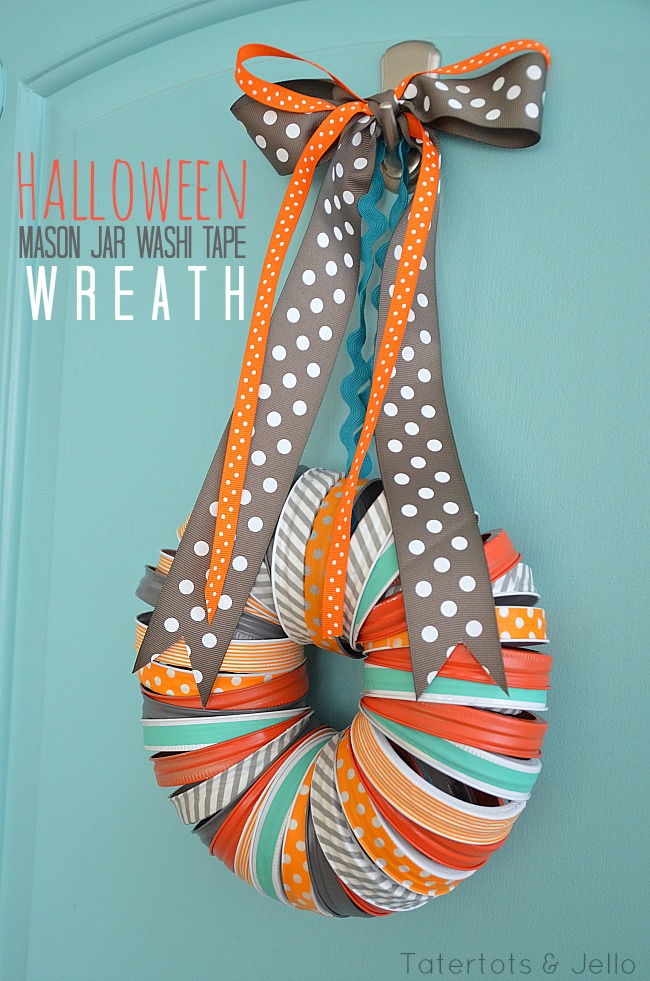 One of my favorite fall projects was this Washi Tape Mason Jar Wreath. So easy! All you have to do is spray paint the mason jar lids, add washi tape to the middle and string it on a ribbon!
Colorful Halloween Porch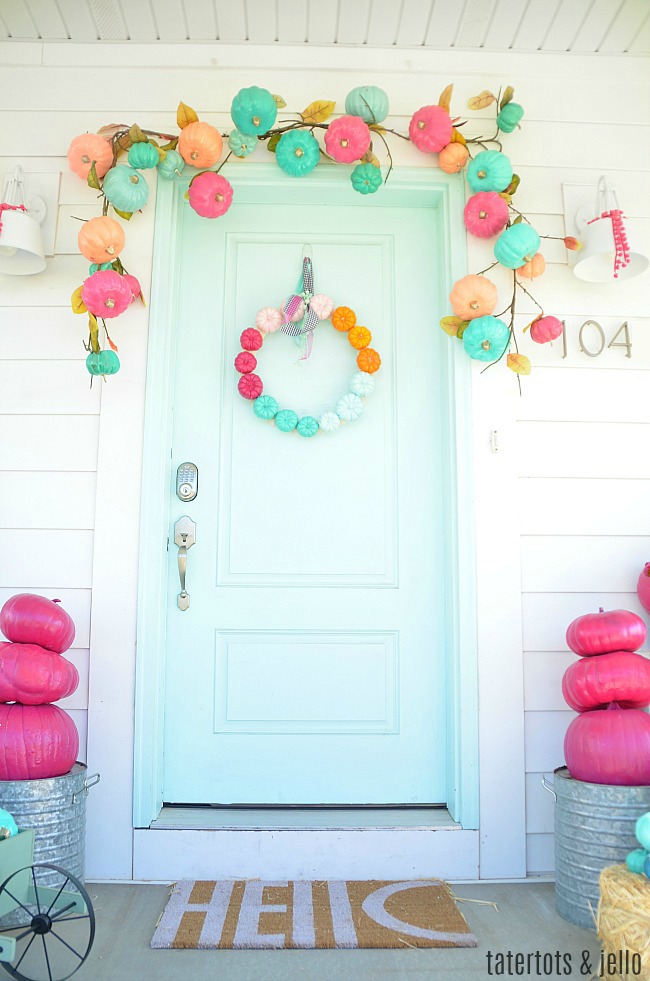 Last year I rediscovered my love of color and created the brightest, happiest COLORFUL Halloween Porch. It was so fun!! I spray painted millions of pumpkins, stacked some to create topiaries, glued mini pumpkins to create a rainbow wreath and painted dollar store pumpkins and made a super bright garland to go above the door.
Witching Hour Black and White Porch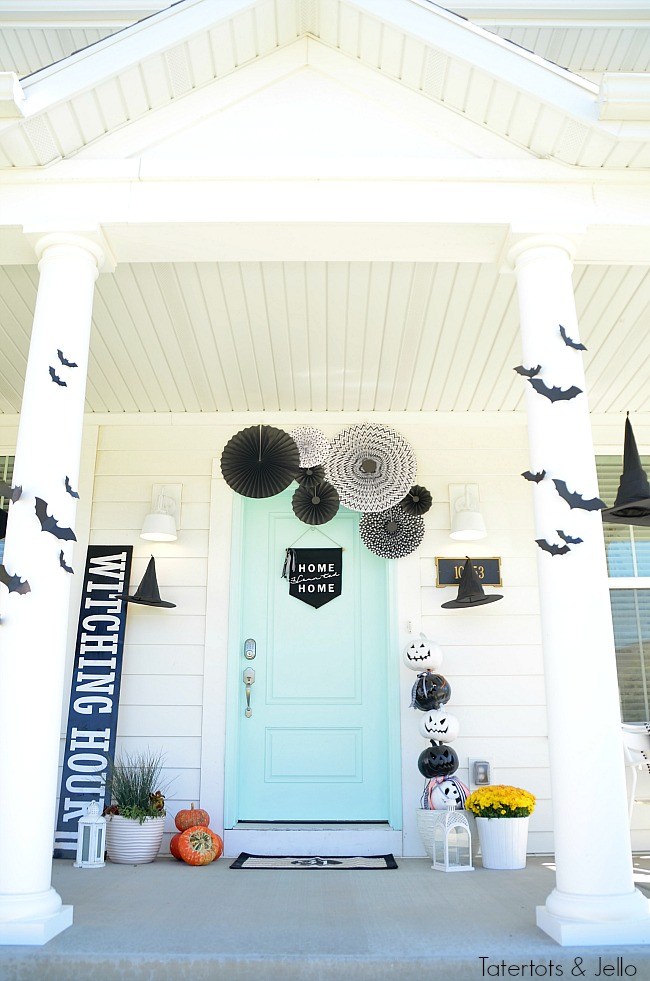 Two years ago I created a Witching Hour Black and White Porch. I loved the contrast of the black and white. I hung witches hat with fishing wire, hung paper bats everywhere, created a big sign and paper medallions above the door!
Orange and Black BAT Wreath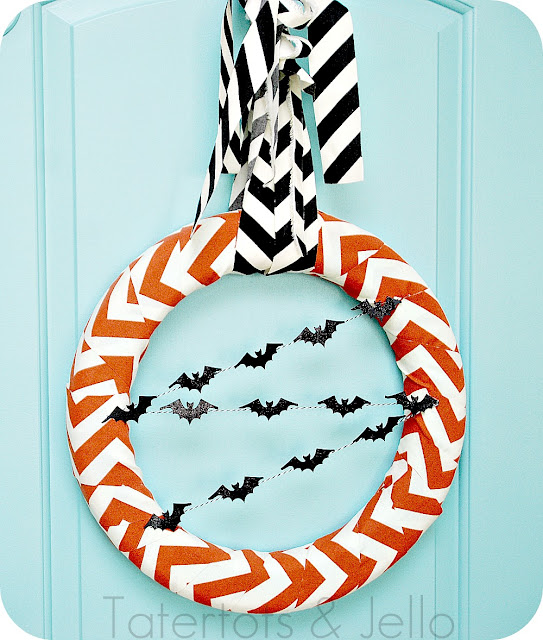 One of the most popular Halloween projects I did was this Orange and Black Modern Bat Wreath. It was even in a magazine! Kind of exciting. Super easy to make. Just wrap a wreath form in strips of fabric, cut out bats with your craft cutting machine and add them to bakers twine!
Stacked Pumpkin Halloween Topiary

Another really popular project was this Stacked Pumpkin Topiary. It was so easy to make and I love that the pumpkins light up at night!
Halloween Bat Porch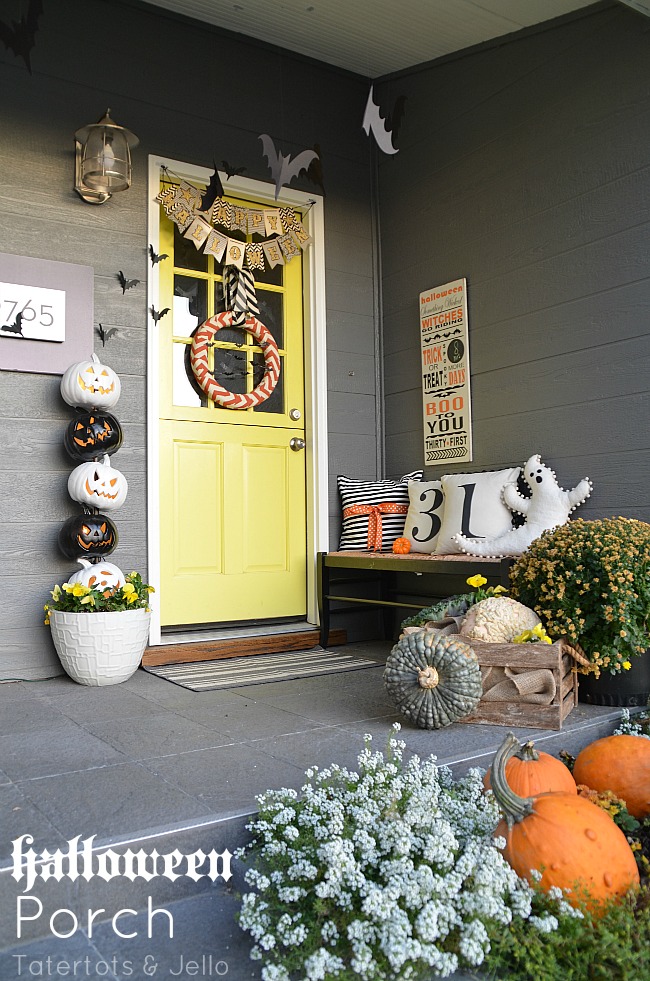 My Halloween Bat Porch at the 1905 Cottage is full of projects. Like the stacked pumpkin topiary, the black and orange bat wreath, Halloween countdown subway art, and the knock-off Pottery Barn 31 Pillows. I love being able to re-use items each year in different ways. This year I plan on spray painting the black and white pumpkin topiary bright colors and re-using it!
How to Make Simple Pillow Covers

I also have a great tutorial on how to Sew Halloween Pillow Covers in 4 easy steps. I make all of my pillow covers with an envelope back because it's so much easier to make, and easier to put the inserts inside and take off. I almost always make pillow covers instead of buying pillows that don't have covers. It is easier to store all of the pillow covers flat than having a million giant pillows taking up space all year.
Plaid Pumpkin Ruffle Wreath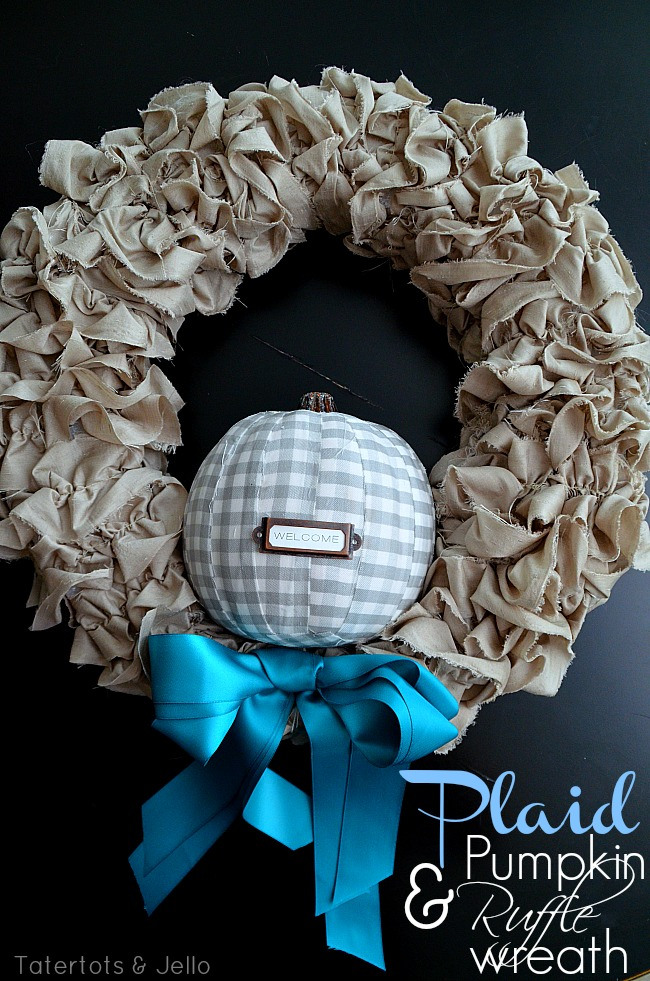 I still love this Plaid Pumpkin Ruffle Wreath SO much!! I cut a foam pumpkin in half so it would hang flat and used mod podge to attach the grey plaid fabric. Then I sewed a gazillion strips of grey silk and ruffled the fabric to wrap around the wreath. I love everything about this wreath. Sadly, it died during my last move but maybe I will make another one. I still love it so much!
Colorful Fall Porch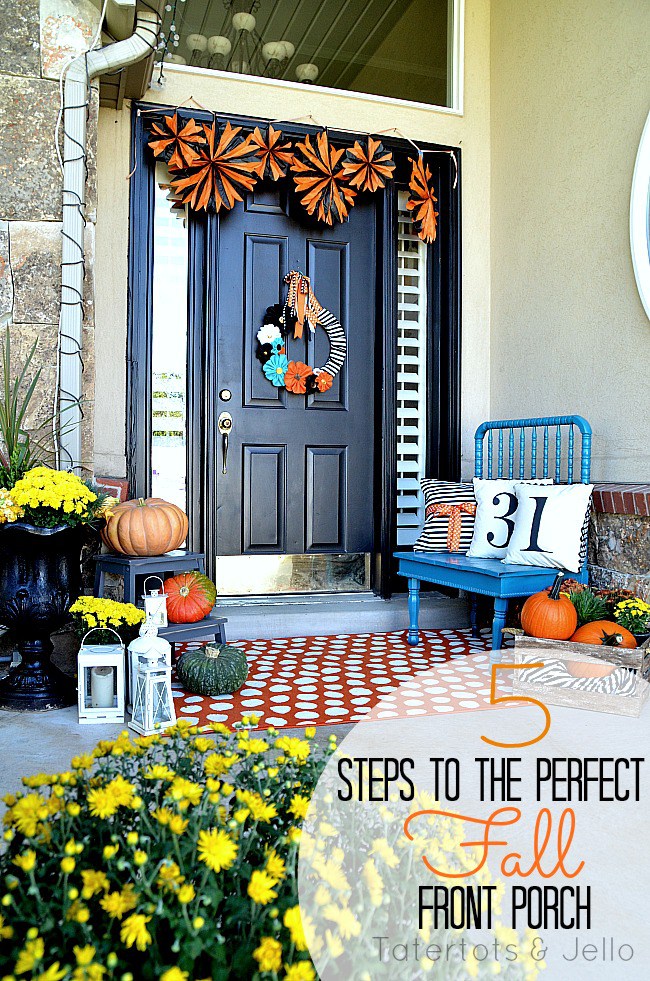 This Colorful Fall Porch remains one of my favorites. It's also full of projects. I used the Potter Barn Knock-off 31 pillows again, the bench is a project that I made out of a crib headboard I got off the side of the road, the felt flower wreath is one of my favorites too! The step stool is still being used in my kitchen!
Halloween Felt Ghost Wreath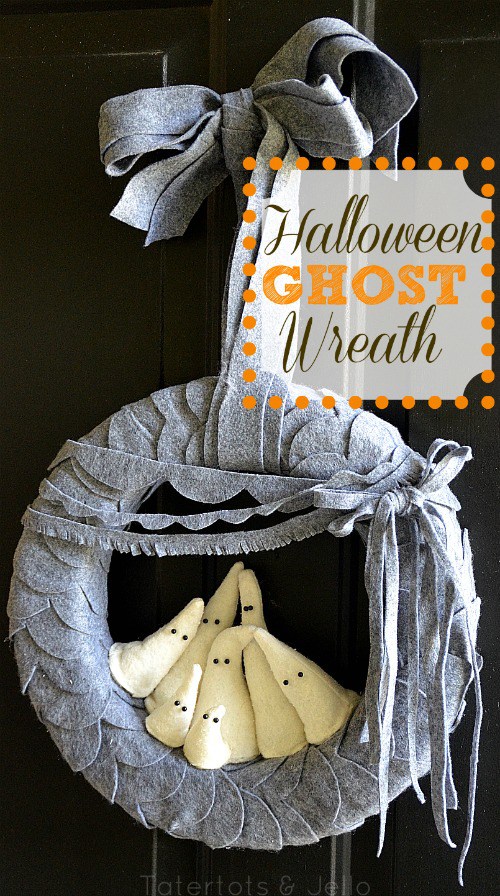 This Halloween Felt Ghost Wreath was fun to make. I used felt which is easy to cut and cut strips of scallops and wrapped it around a wreath form. I created the ghosts from felt too and for the eyes I used sewing pins with black heads. I got the idea from a picture of a cake that had marshmallow ghosts on top. I gave this wreath to my daughter last year and I love that she hung it on her door!
Metal Farmhouse Gather Wreath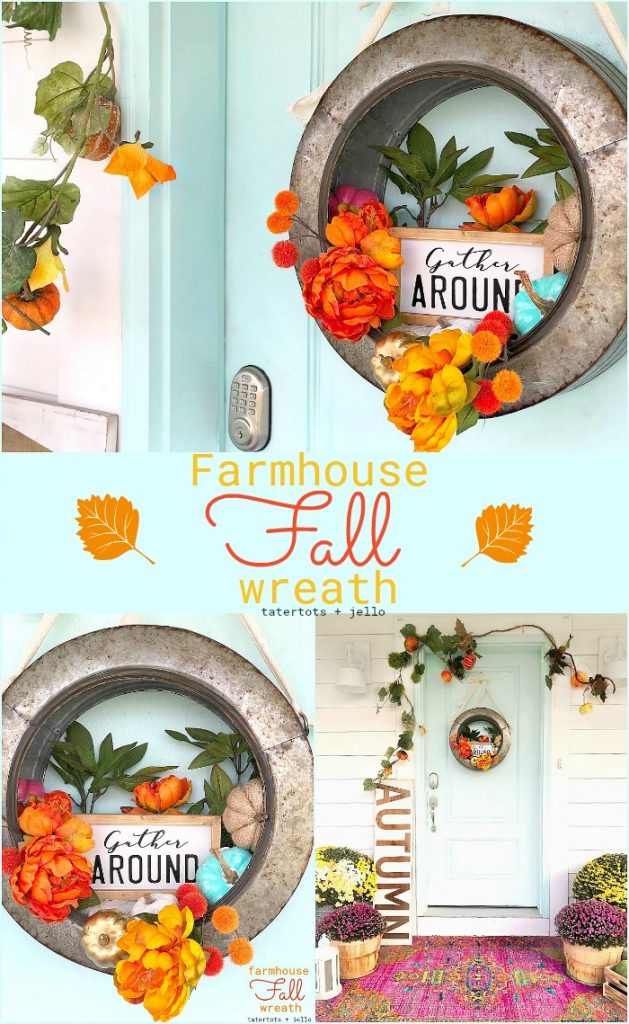 This Metal Farmhouse Gather Wreath is the wreath that is hanging on my door this year. I added hot pink to my fall colors and I am LOVING it!
Those are just a few of my favorites!! I still LOVE blogging so much! I love coming up with new ideas and doing different versions of the same idea. It's so fun. And thank YOU for reading my blog. If you have followed me since the beginning you know that blogging really has saved my life and I am so grateful to do something that I love so much!!
Have a Beautiful Day!!
And if you are working on a fun fall or Halloween project – let me know!
I would love to hop over and see what YOU are working on!!
xoxo