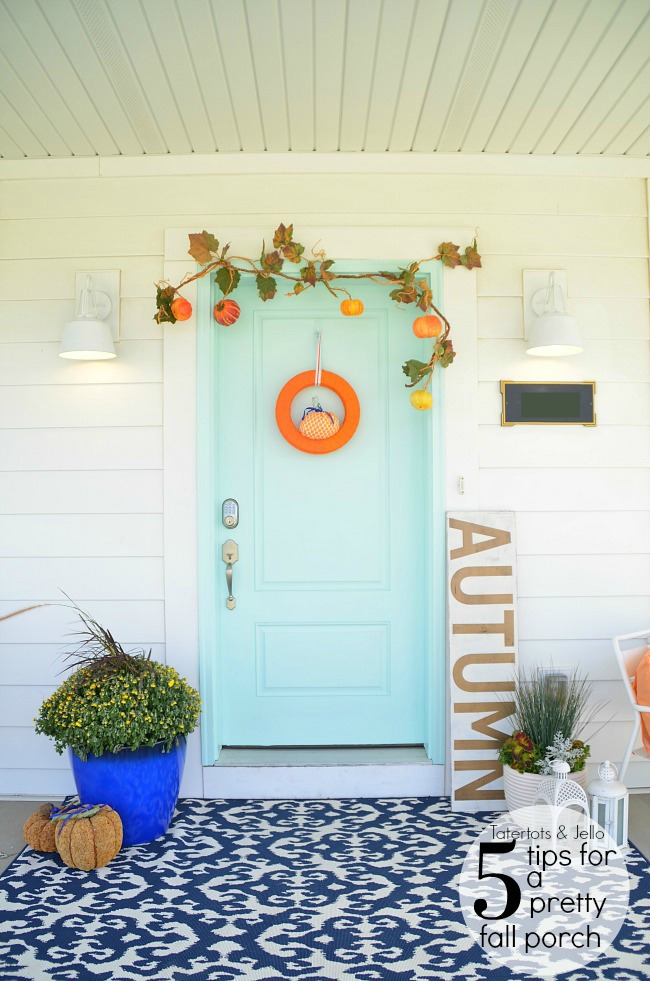 ---
5 Ways to Create a Pretty Fall Porch
---
I love decorating for fall. There's something about this time of year that is so exciting – maybe it's the leaves changing or the promise of the upcoming holidays. One of the things we love about our new neighborhood is the fact that everyone has a front porch. We love walking around the community and seeing all of the ways that everyone decorates their porches – especially for fall! So when BHG Live Better from Walmart asked me to create an easy way to change a small space I thought it would be exciting to create a colorful fall space on our porch!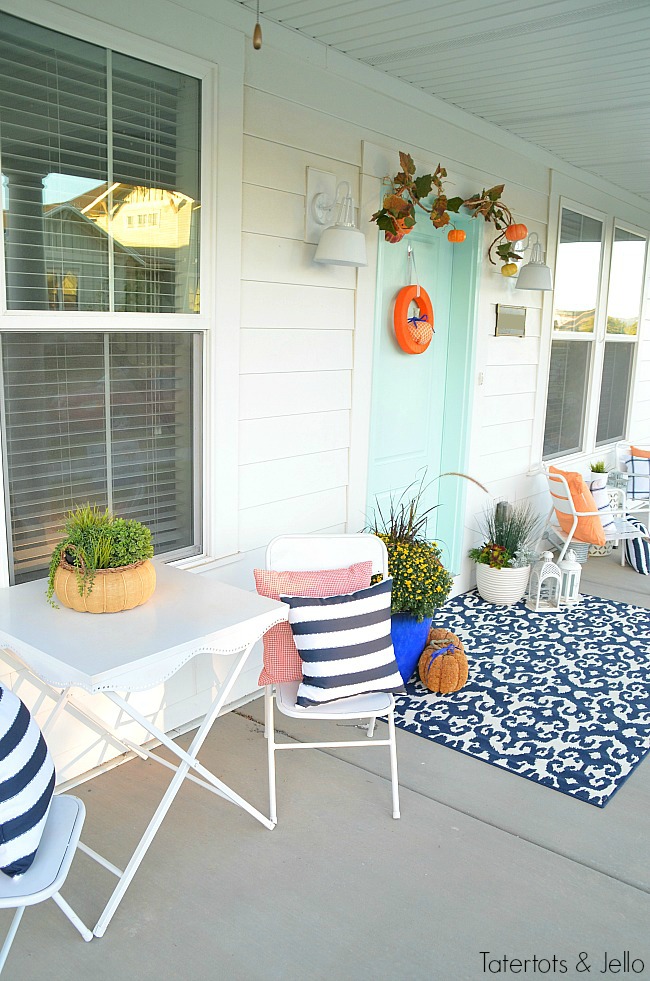 Create a color scheme. There are so many colors that look beautiful for fall. This year I thought navy and orange would be a pretty combination. I also added a royal blue which is a variation on the navy color. I think the cobalt pop of color is unexpected and looks so pretty with the navy and orange.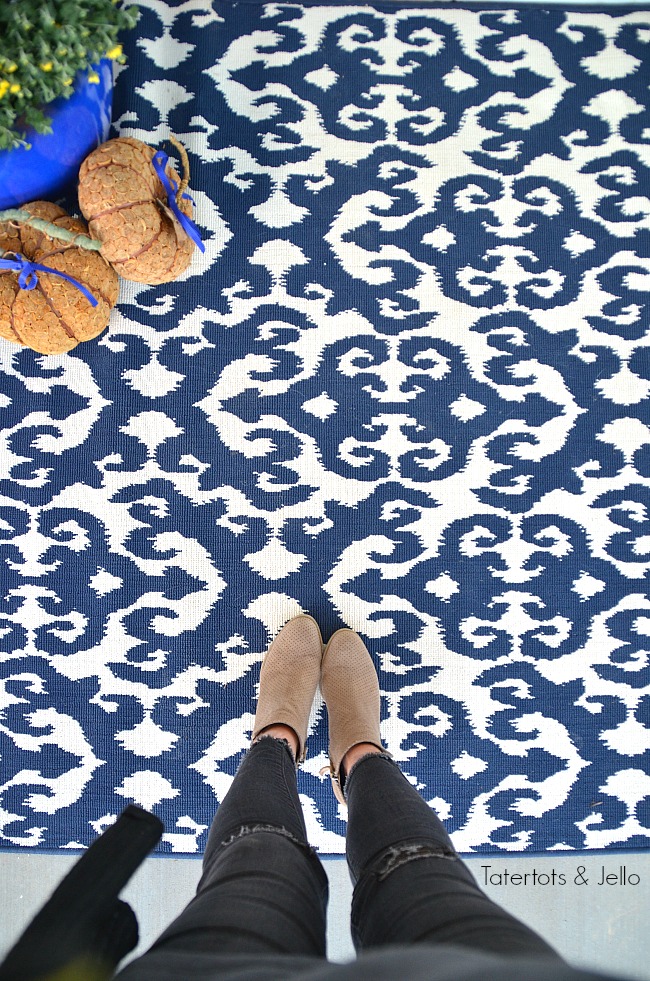 Add a colorful rug and/or pillows. Rugs bring color or texture to your front door. They are also practical because they keep dirt out of your home. I fell in love with this Damask Indoor/Outdoor navy and white Better Homes and Gardens rug and it seemed to be the perfect size for our front porch. The fact that it is made out of weather-resistant material makes it perfect to use outdoors. I ordered the Better Homes and Gardens pillows on Walmart.com.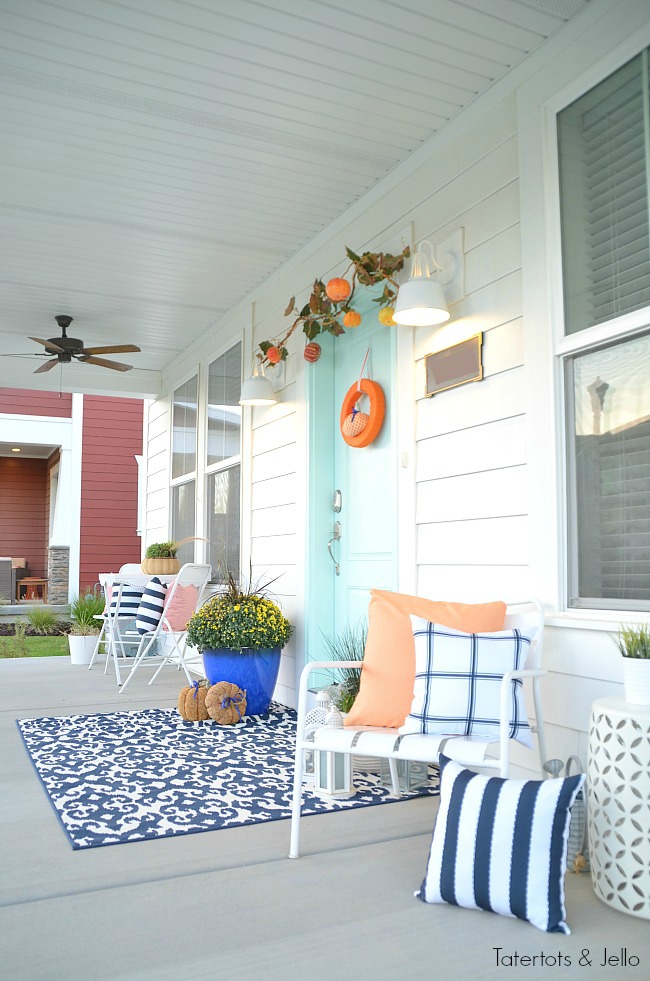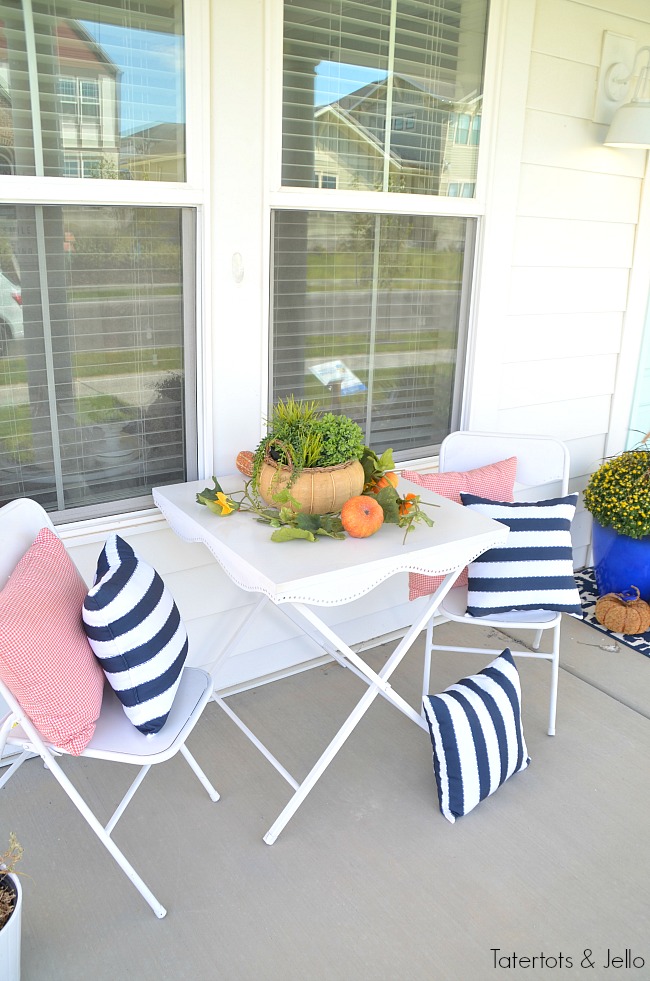 ---
5 Ways to Create a Pretty Fall Porch
---
Add plants or flowers. Plants or flowers also bring color and texture to your front door or porch. This beautiful cobalt blue pot is also from the Better Homes and Gardens line at Walmart. The fact that it is a bright pop of cobalt blue adds a little unexpected element to the porch. Another reason I love this pot is because it is resin, so it is lightweight, won't crack and it's durable throughout the winter months.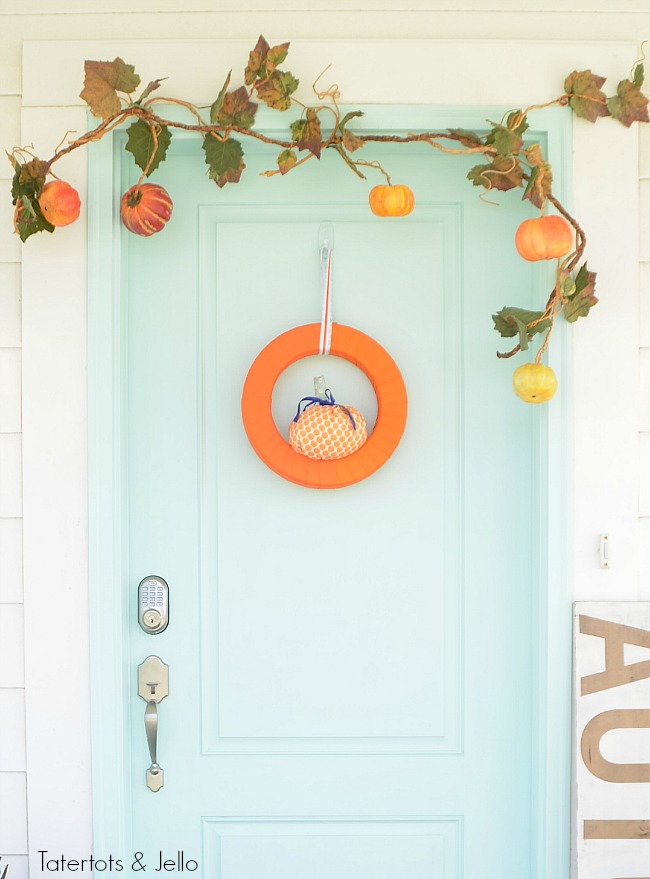 Add a wreath, sign or door hanging. There is probably no better way to personalize your home and create a first impression than by creating a wreath or door hanging. I love thinking of new ways to make wreaths.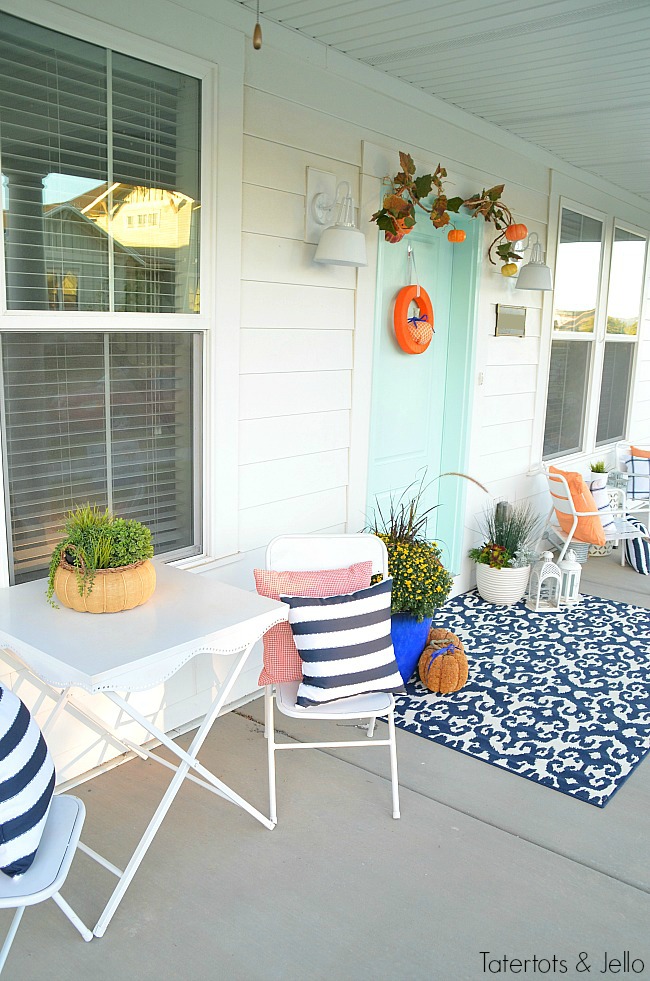 Add light. Changing up your light fixture can really make a difference in how your front door or porch looks. I had some sconces that I was going to use in my bedroom at the #1905Cottage and I ended up going with a more modern fixture for that room. So when I moved I brought the sconces along, hoping to use them in our new home. I spray painted them white and hung them on our front porch and I love them. Another way to add light is to add some lanterns or led lights around your front door. They will illuminate your door at night, creating a more welcoming entrance, plus make it easier to see your door for guests when they come to visit! The white lantern is also from the Better Homes and Gardens line!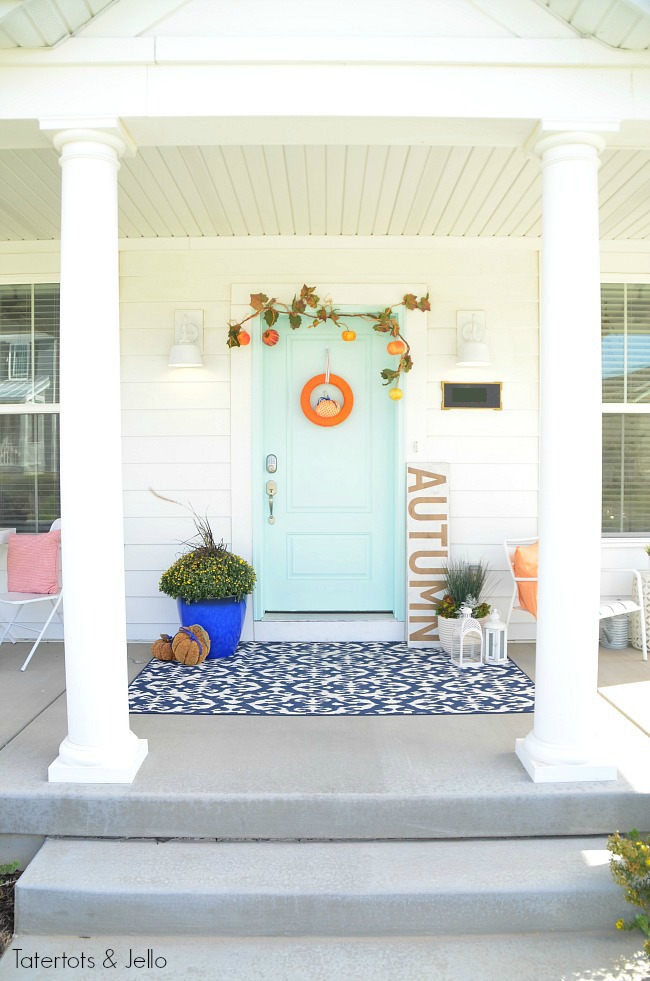 Those are a few ways that I have found to create a pretty fall porch.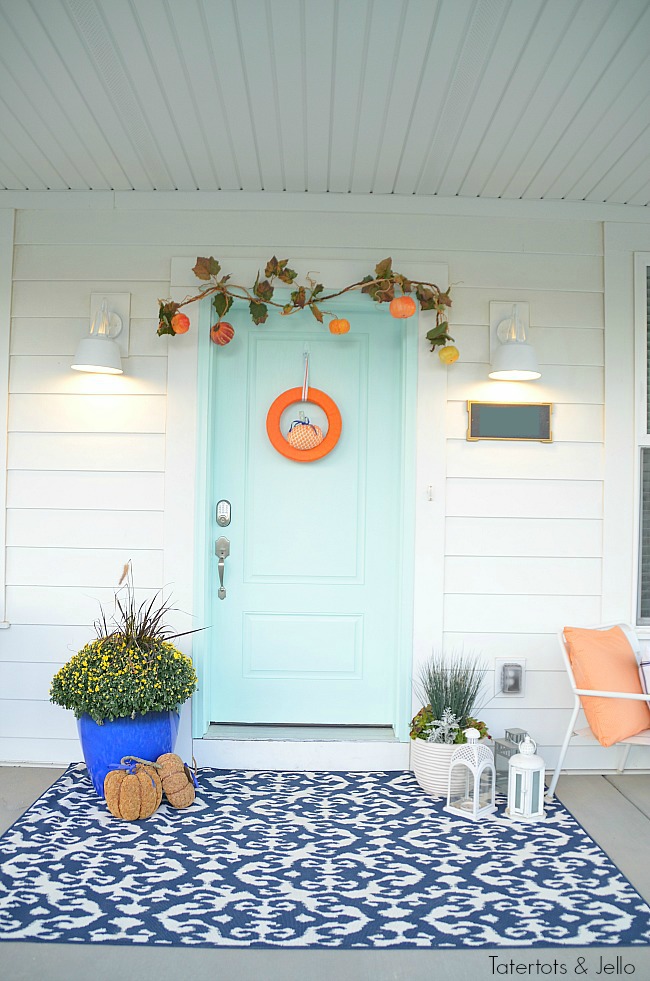 What do you love most about decorating for fall?
Let us know in the comments – we would love to hear YOUR ideas!
Have a beautiful day!
xoxo

This post is sponsored by Better Homes and Gardens products at Walmart. All ideas are mine. You can follow BHG Live Better on Facebook, Pinterest, Twitter and Instagram.