Easy DIY Valentine's Day Porch. Create a lovely Valentine porch with a homemade garland, painted signs, pillows and an easy DIY wreath.
Easy DIY Valentine Porch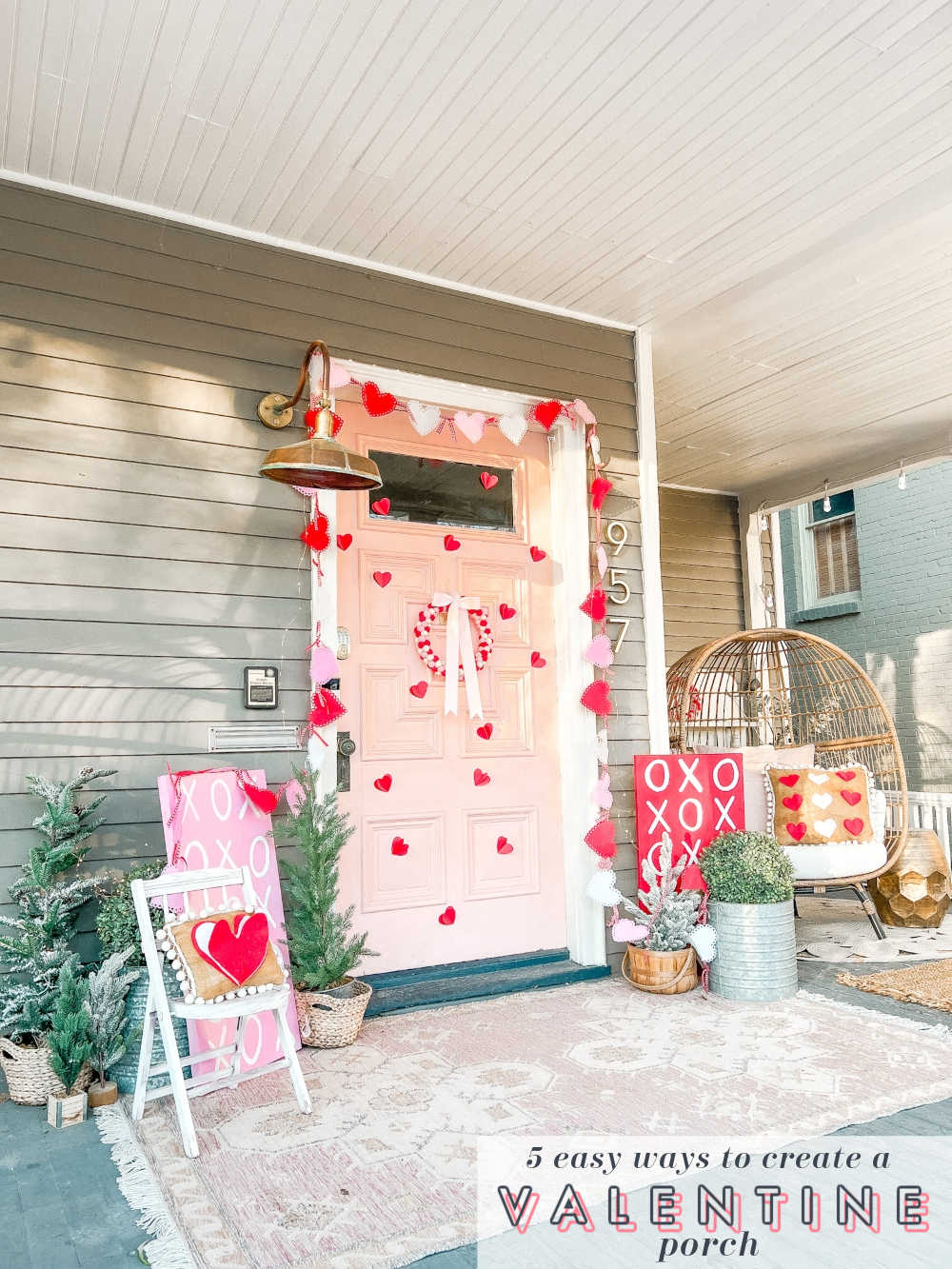 Hi friends!! Do you decorate for Valentine's Day? It's one of my favorite holidays. I love adding happy pink and red colors to our home. It really brightens up the winter days. One of the spaces I always decorate for is our front porch. This year I kept it pretty simple with a felt heart garland, some DIY painted signs, my favorite handmade Valentine's Day Pillows and a sweet felted ball wreath. I am going to show you how to make these easy projects!
9 DIY Valentine's Day Projects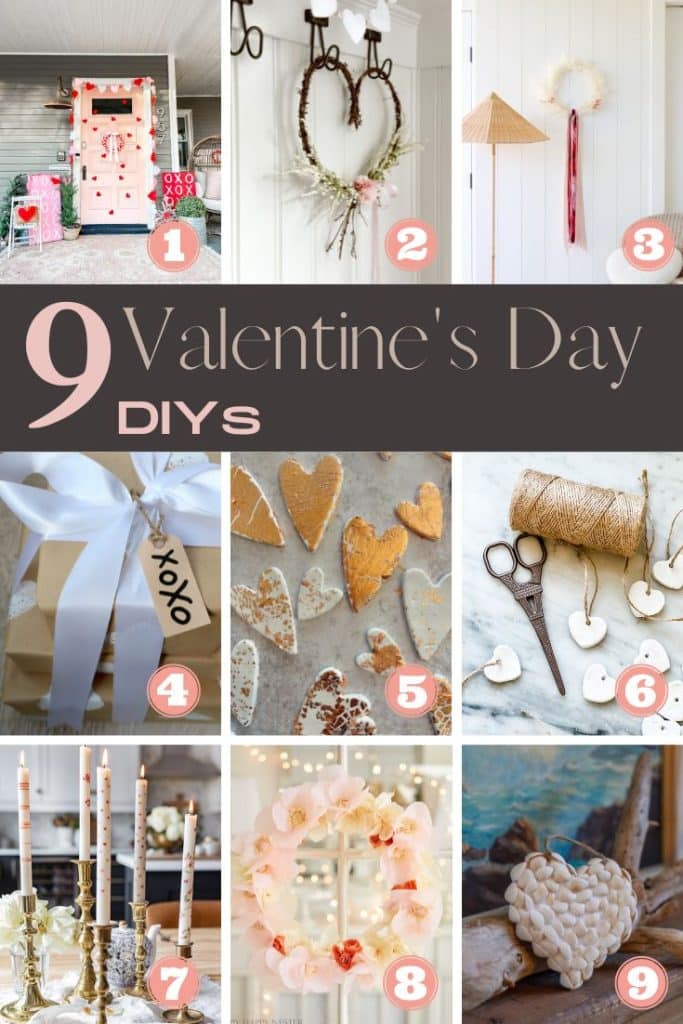 I'm sharing my Valentine's Day porch and I am joining 8 friends who are sharing the most creative DIY Valentine's Day projects you can make! Be sure to scroll down and click over to see their creative tutorials!
Five Easy Ways to Create the Prettiest Valentine's Day Porch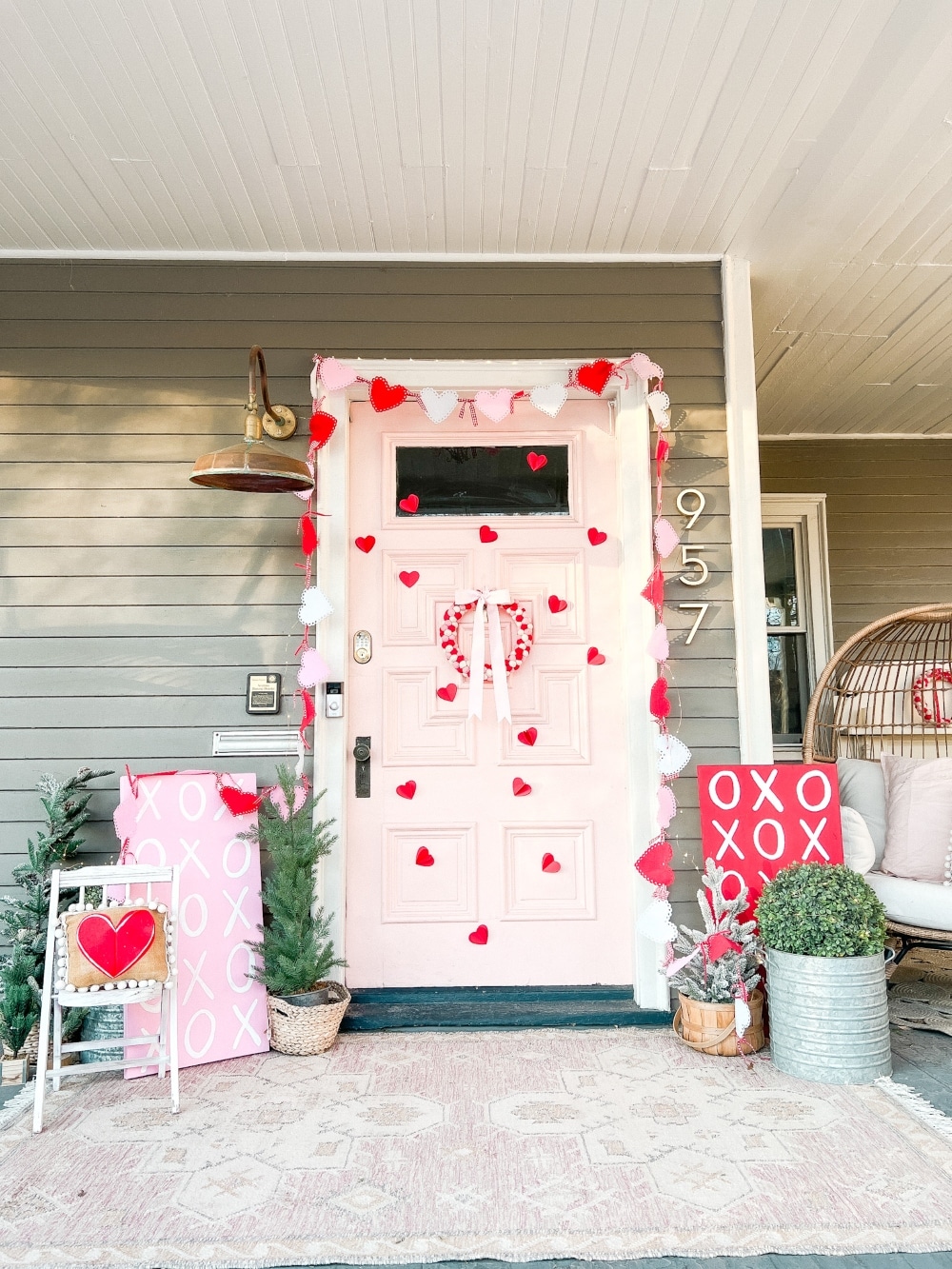 Here are 5 ways I create a beautiful Valentine's Day porch!
Valentine Garland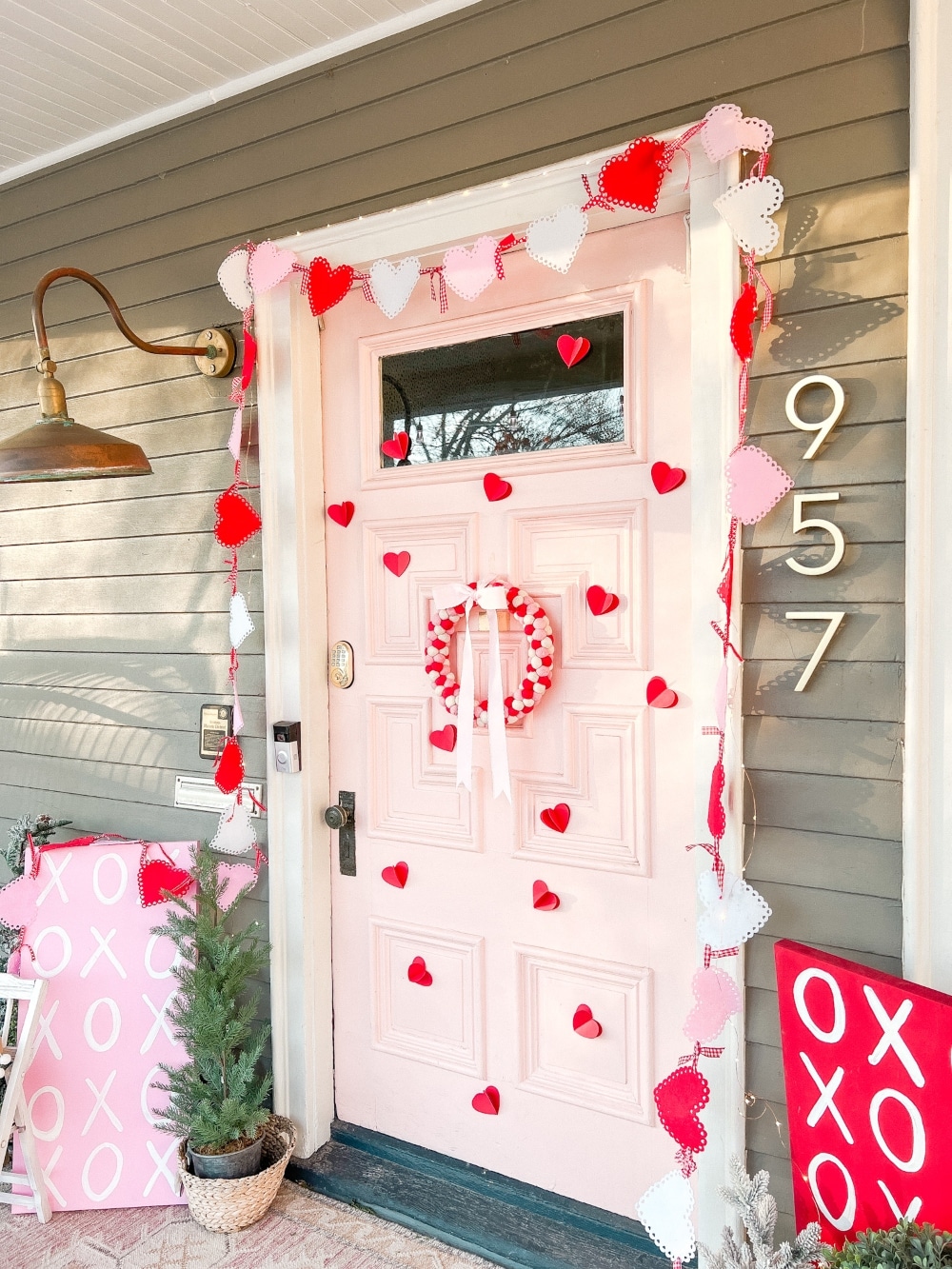 I love draping a pretty garland over our door. This felted garland is my favorite. I bought the felted hearts from Dollar Tree but I haven't been able to find them this year. I did find some similar ones on amazon – Pack of 30 Dark Red, Red and Pink Hearts. Use colorful ribbon to string the hearts together and hang over your door. This is also cute to use on a mantel. See the picture below!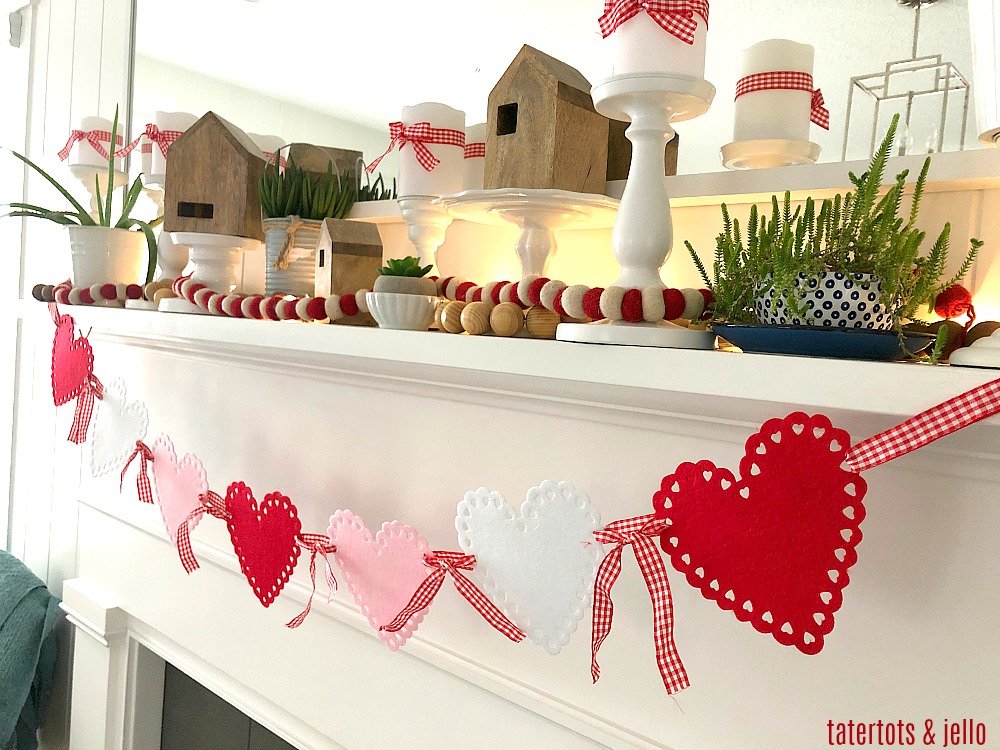 Hang Up A Valentine's Day Wreath
Over the years I have made dozens of Valentine's Day wreaths! This one is a round wreath form and then I added felt balls and tied it with a bow! You can buy a felted ball wreath already done, like this one – Felted Ball Wreath, or make your own! Here are a few other Valentine's Day Wreaths I have made with links to their tutorials: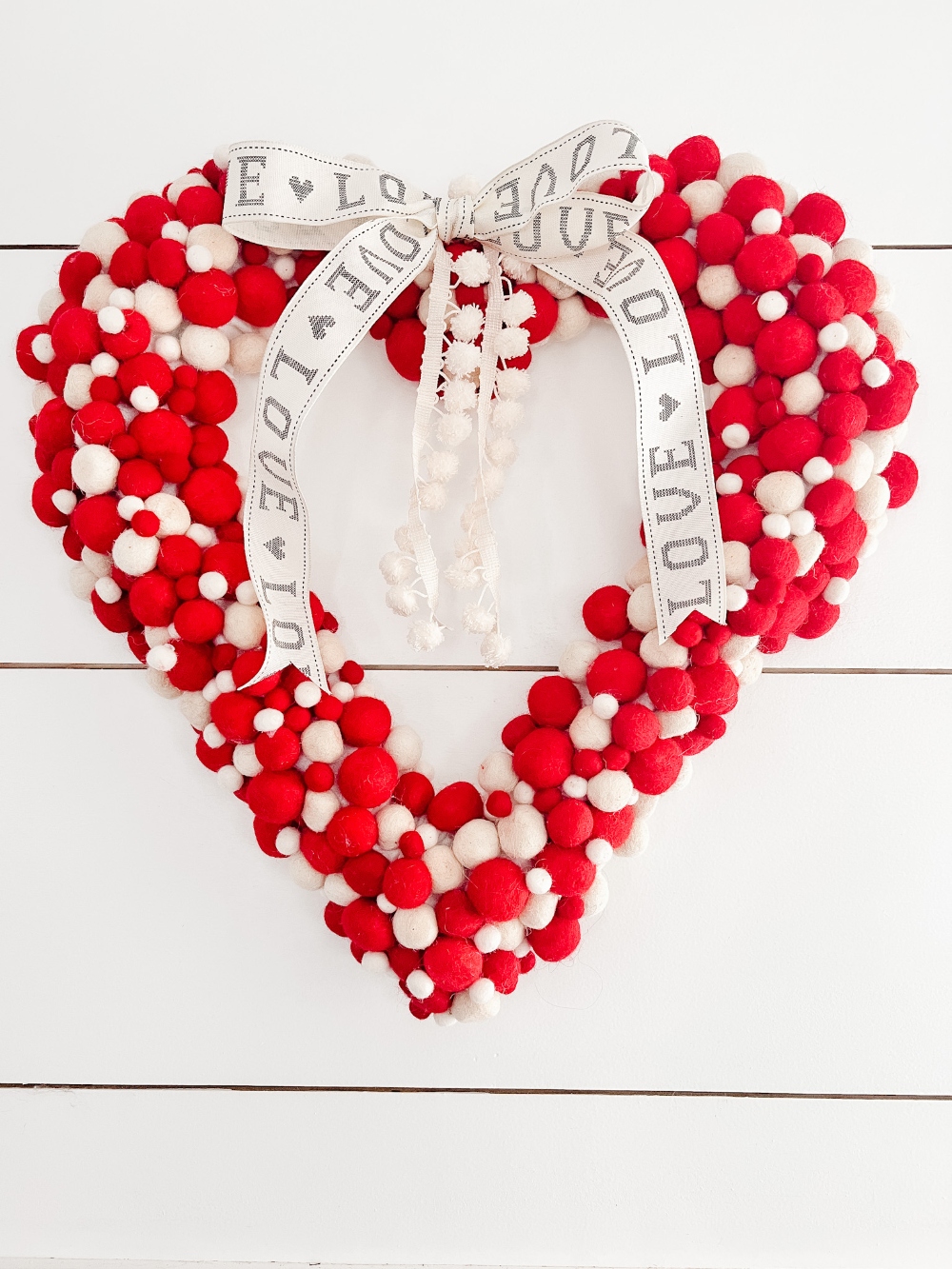 Christmas Garland to Valentine Wreath! Upcycle a Christmas garland and turn it into a fun and festive Valentine decoration!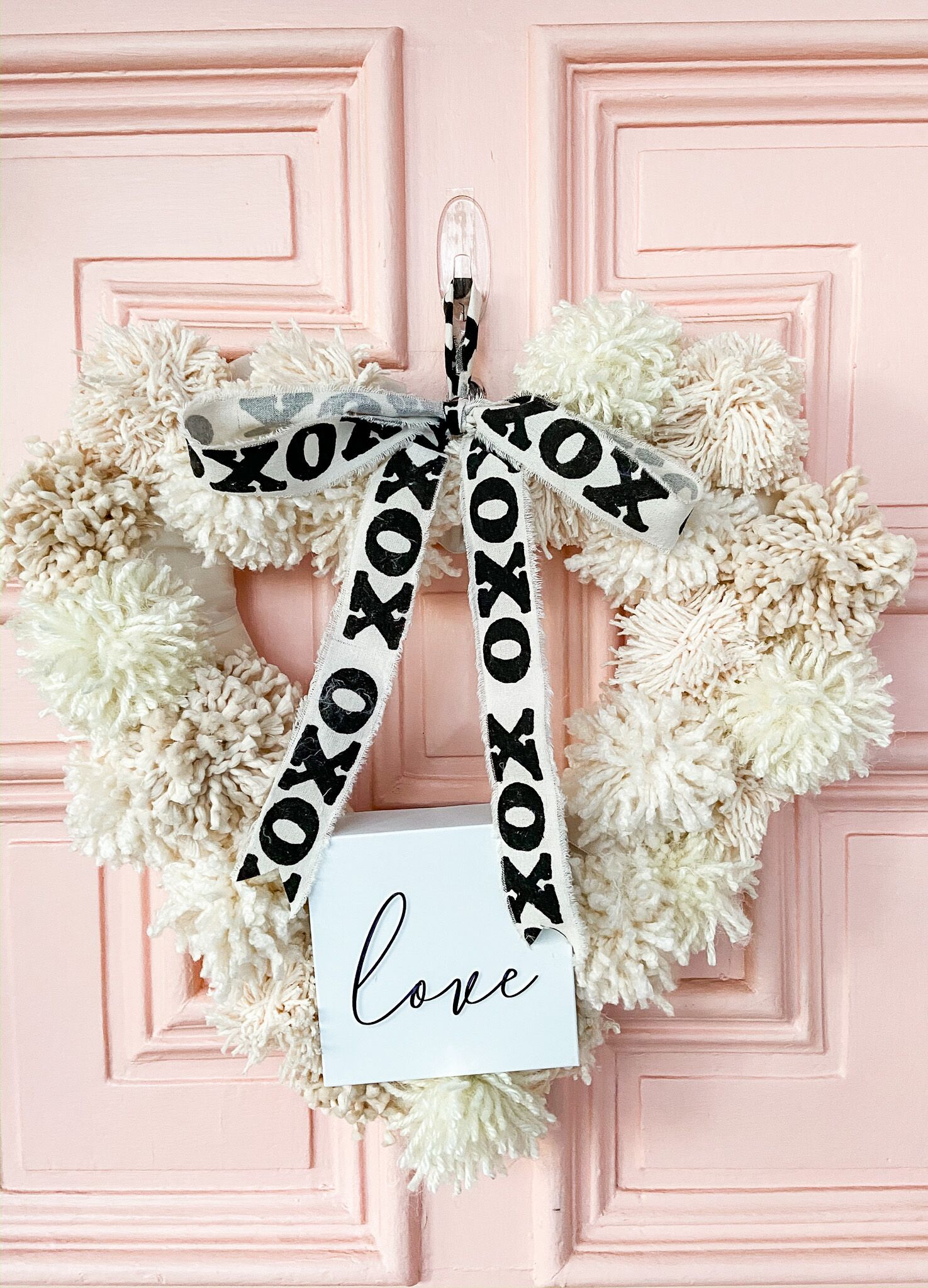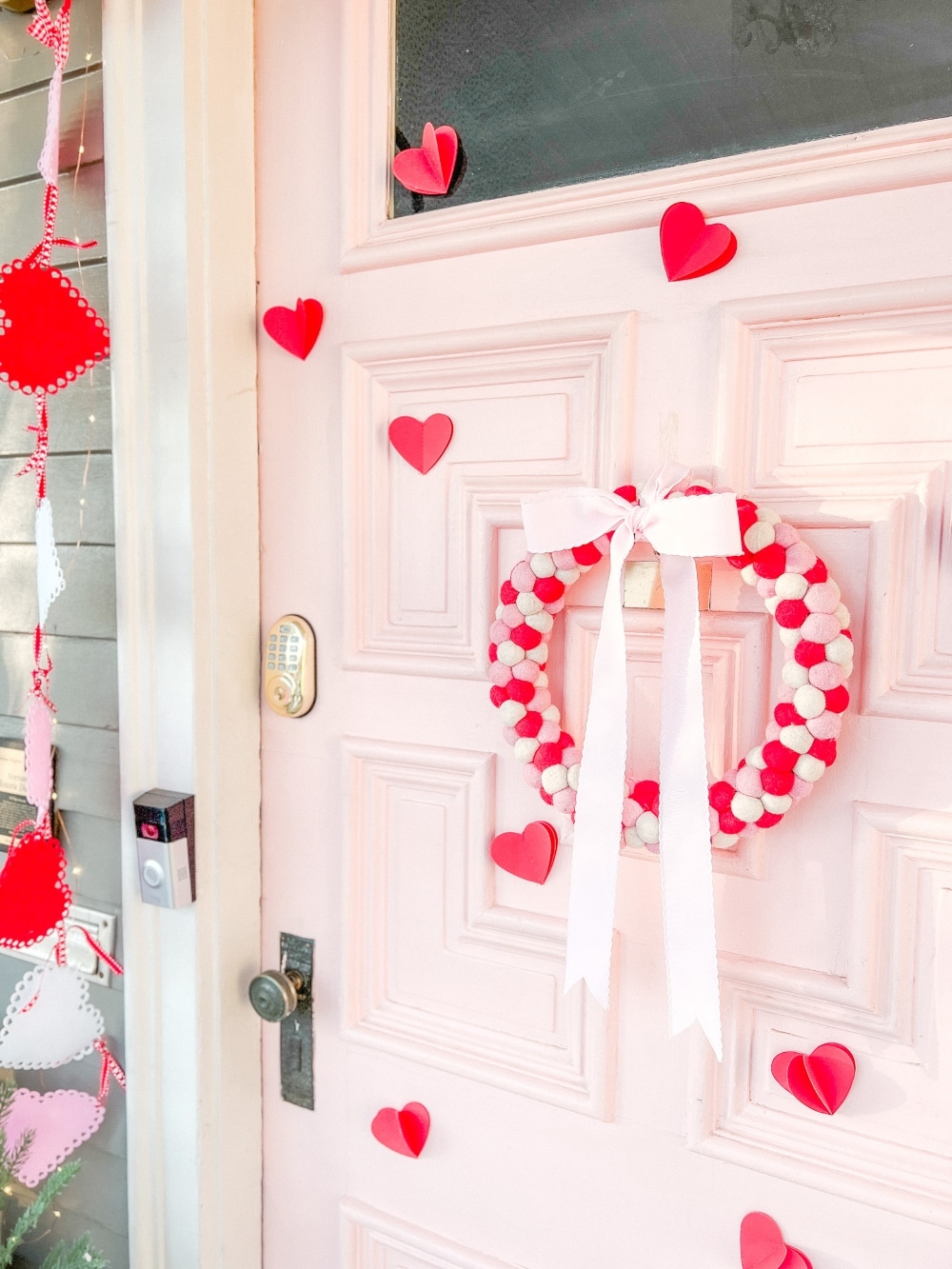 How to Make a Valentine Heart Pom Pom Yarn Wreath. Brighten up your door this winter with a textured pom pom wreath for valentine's Day!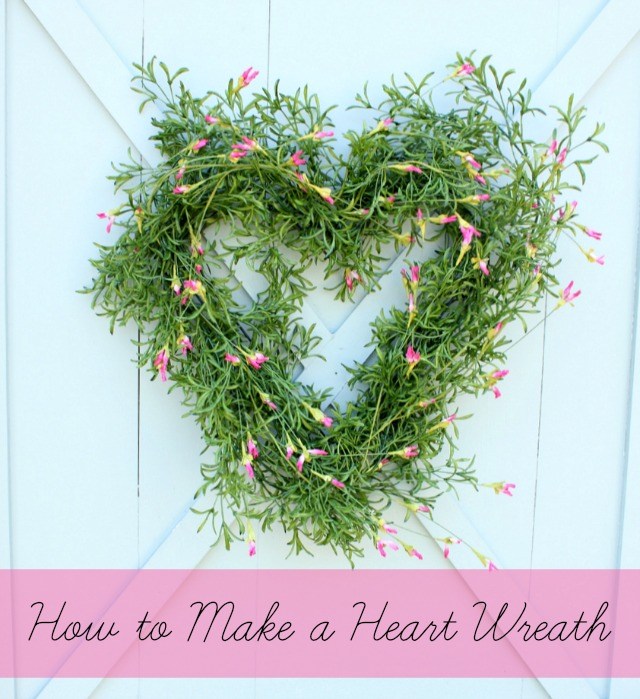 How to Make a Greenery Heart Wreath. Start the year off fresh with a gorgeous faux greenery heart wreath!
Valentine Signs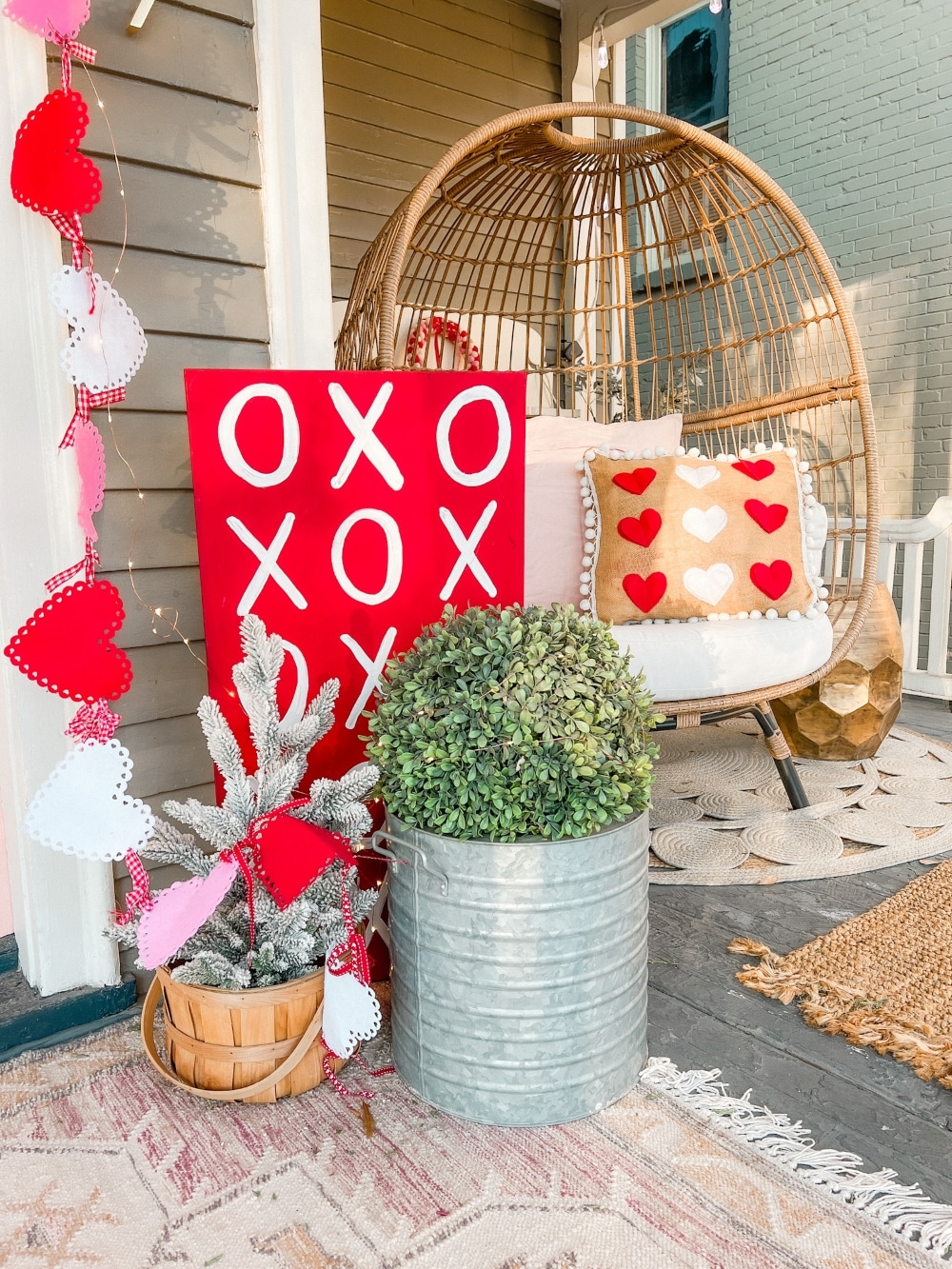 Signs are also a great way to decorate a Valentine's Day porch. I made these DIY Valentine's Day signs last year. I found some signs on clearance for a few dollars and I painted over them and added V's and O's. Super simple! Here are a few Valentine's Day signs I've made: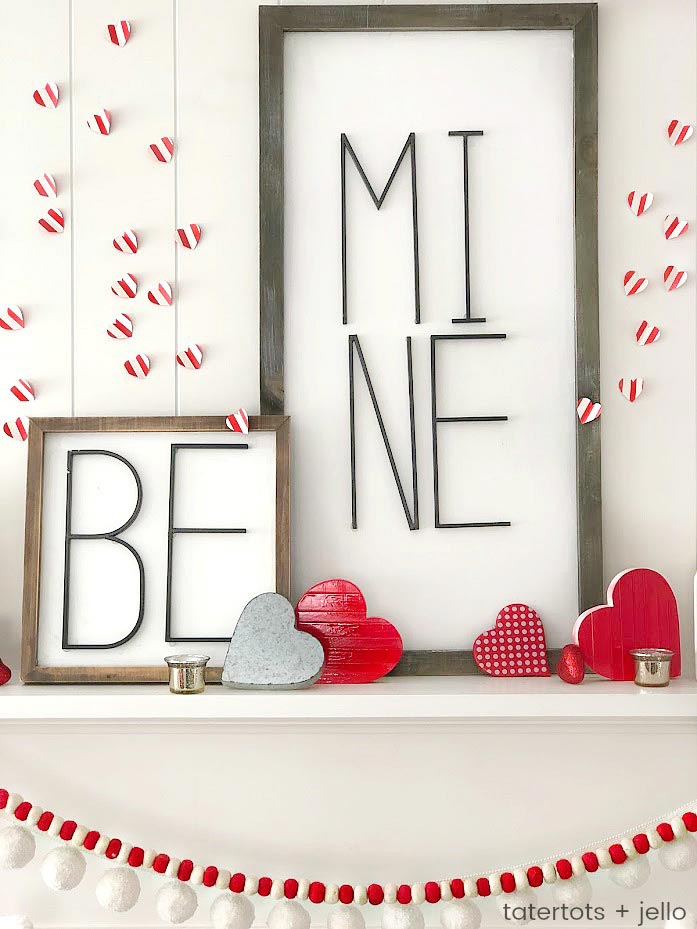 I also used clearance signs to create BE MINE signs. I found the metal letters at Hobby Lobby and added them to the whited out signs. Which is also a simple idea.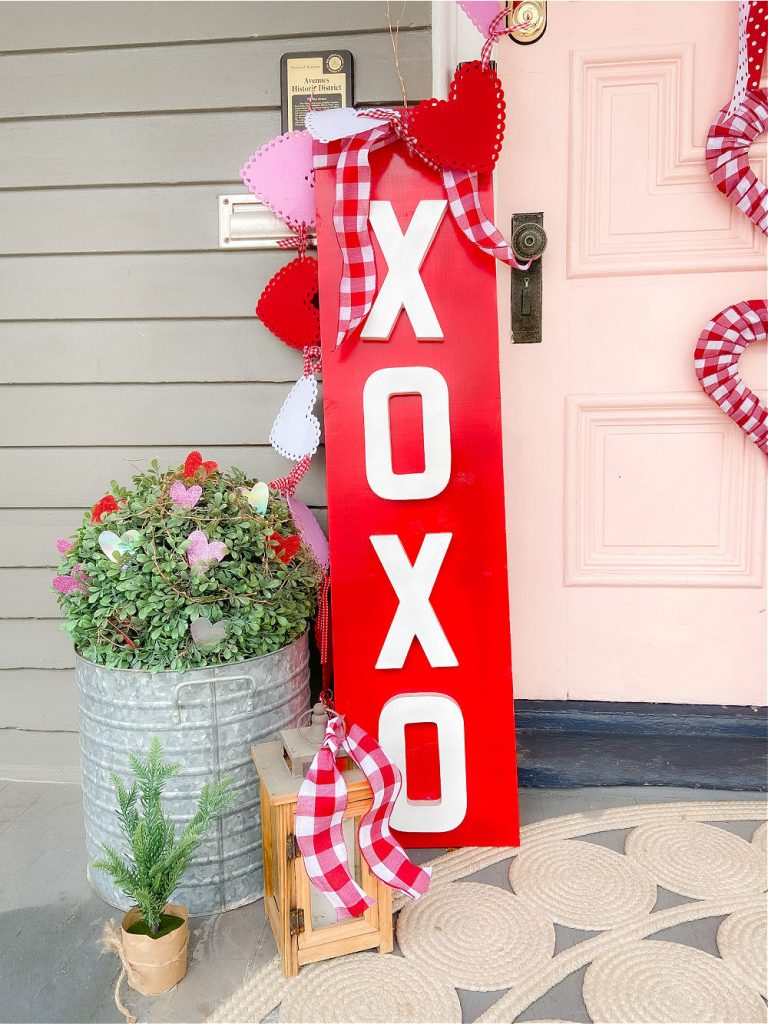 Paper mache letters are inexpensive and are large to make a statement. One side says "MERRY" and the other side can be flipped and says "XOXO".
Add Valentine Pillows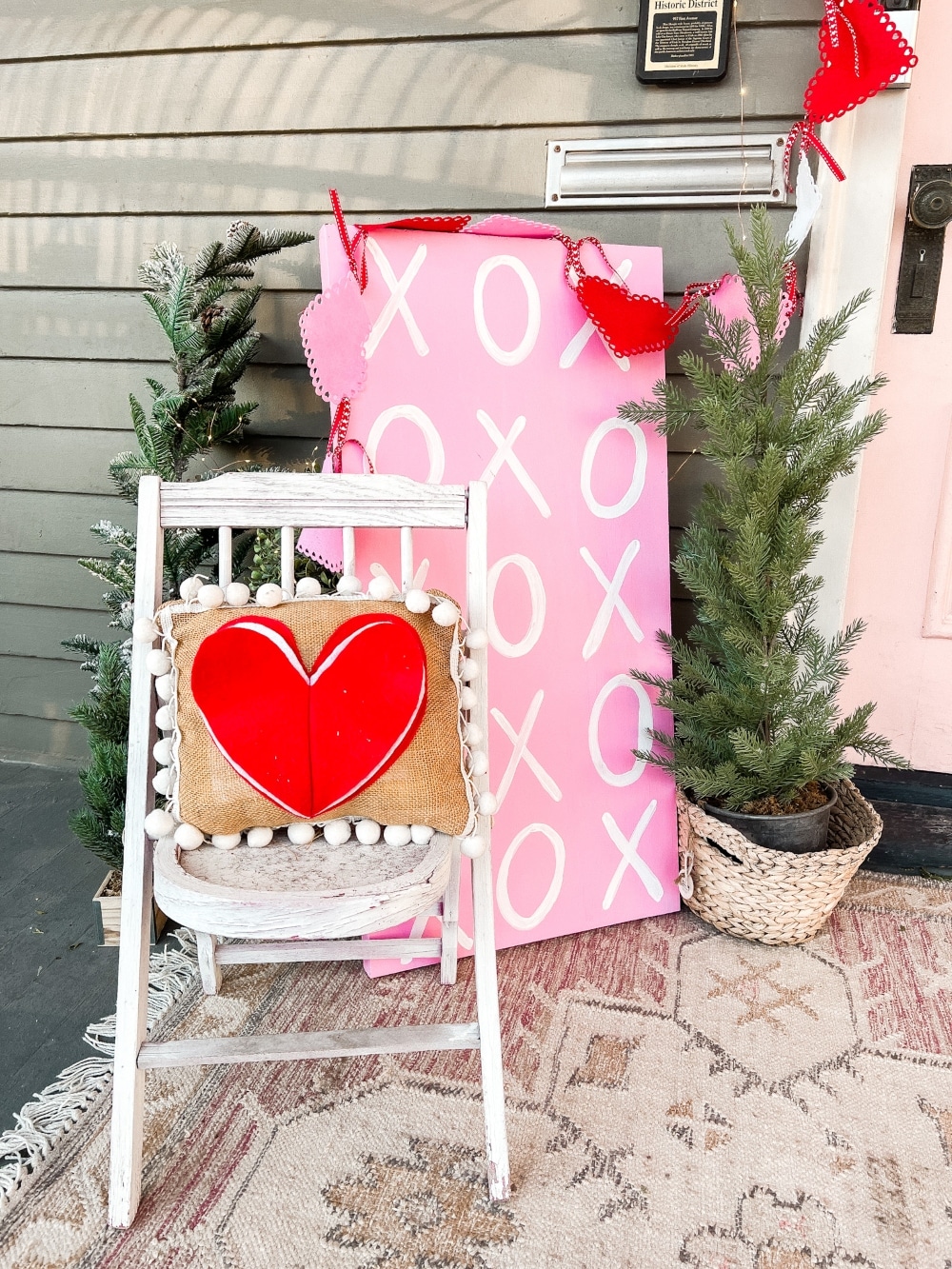 I also love making pillow covers! But you can buy them too. For the porch this year I added my favorite heart pillows. They're 3 dimensional. I made them 10 years ago and still love them and use them in some way evry year!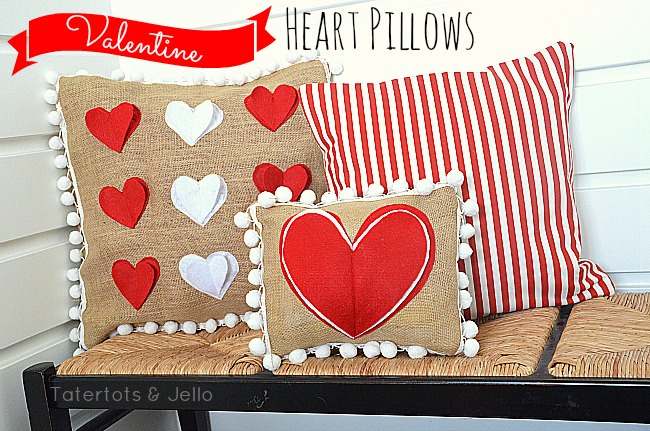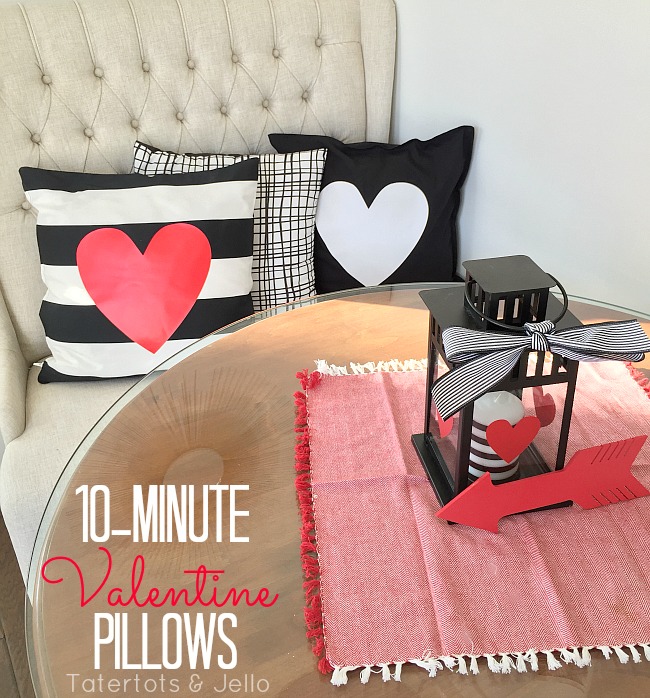 Sprinkle In Some Hearts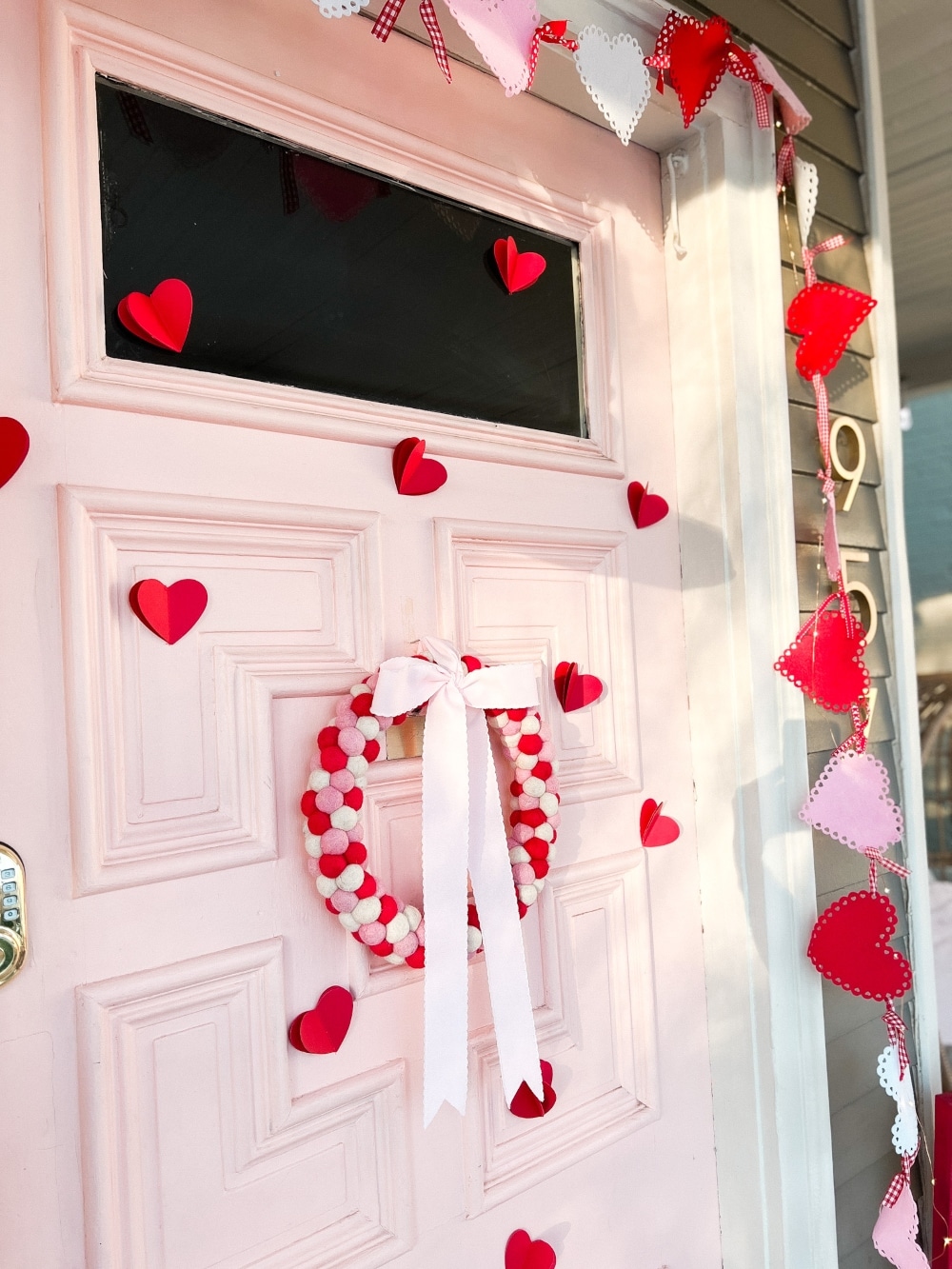 This year I added these paper hearts to the door and attached them with glue dots. The hearts were originally part of a garland that I've used before on my Valentine mantel. I repurposed them by cutting the string and attaching them individually to the door. I think they look so festive!
Other Valentine Porch Items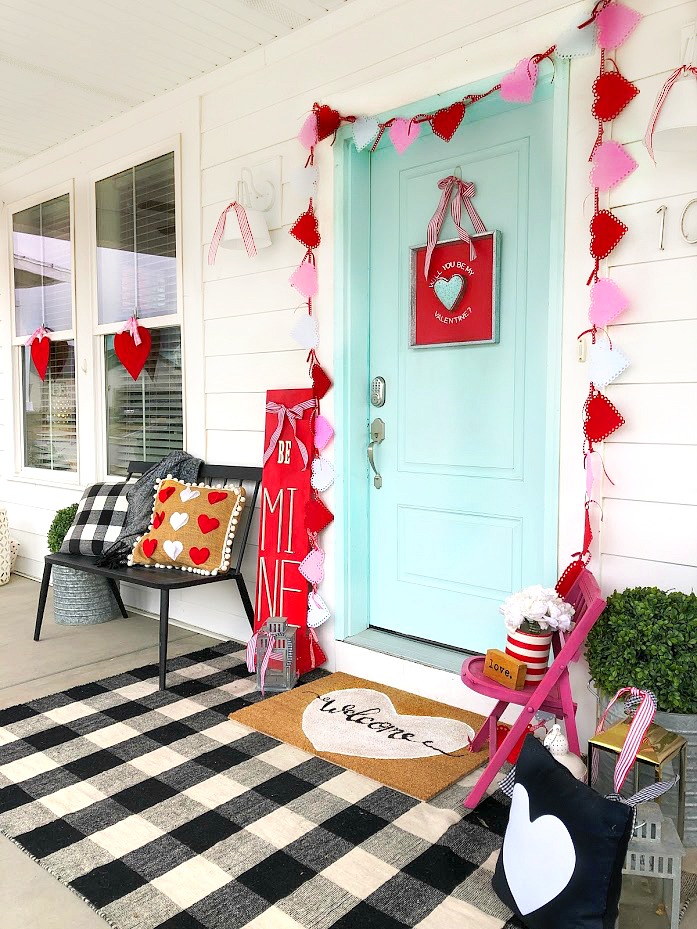 Those are the main items, but another item that I bring in is a Valentine doormat like the one above!
9 DIY Valentine's Day Tutorials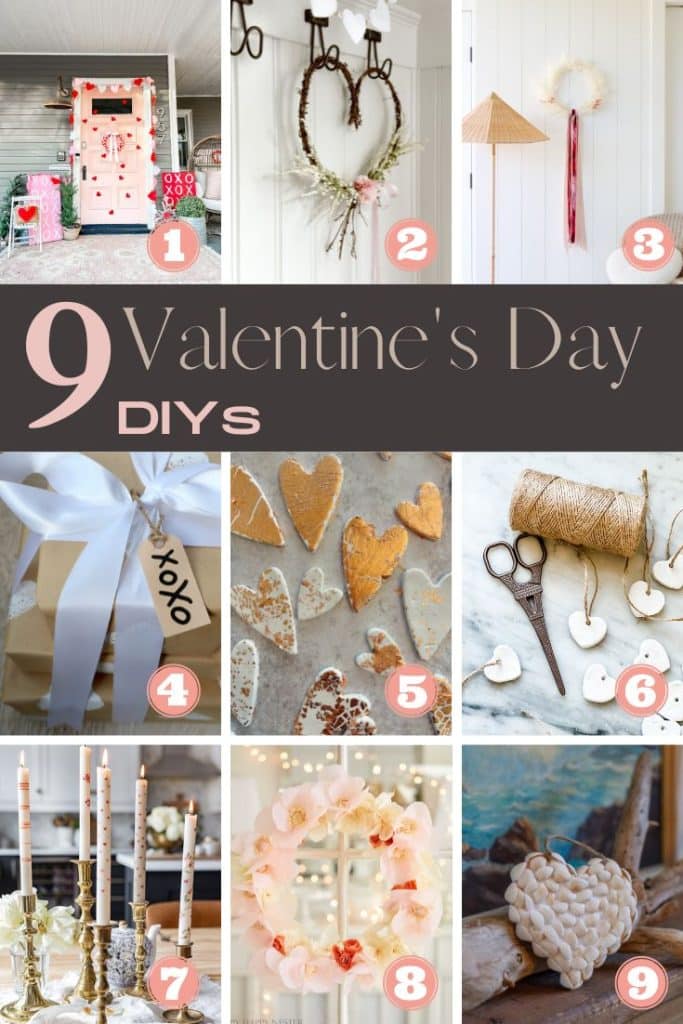 Blogger's Best Valentine's Day DIYs
Have a Creative Day!
xoxo