6 Ways to Create a Colorful Be Mine Valentine's Day Porch! Easy and inexpensive ways to create a bright and colorful Valentine's Day front door!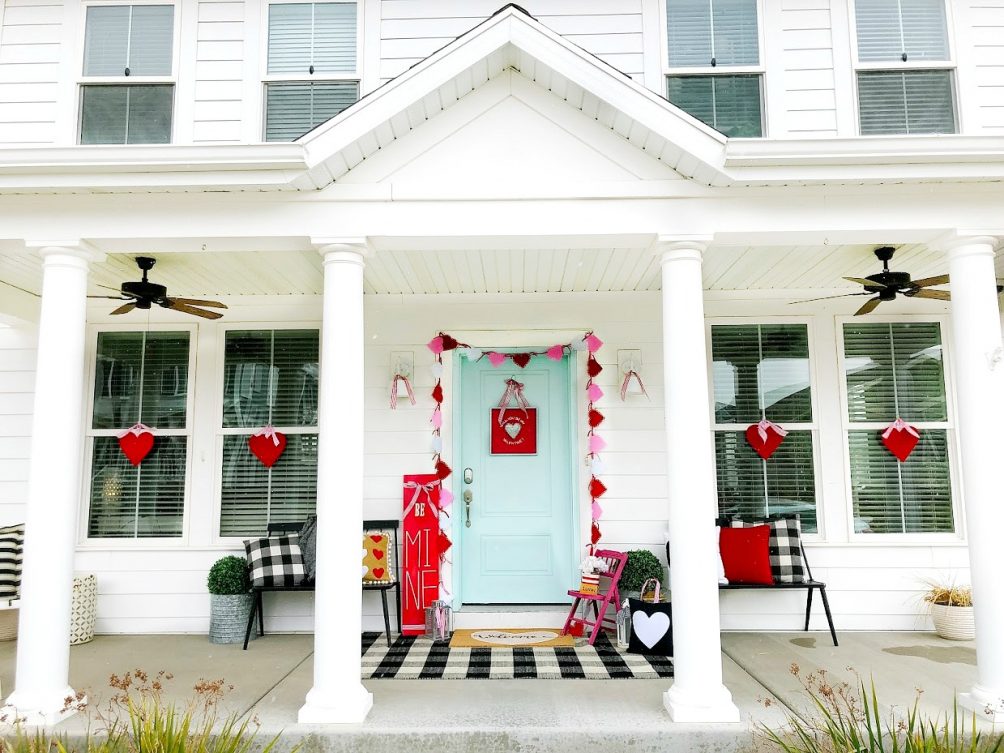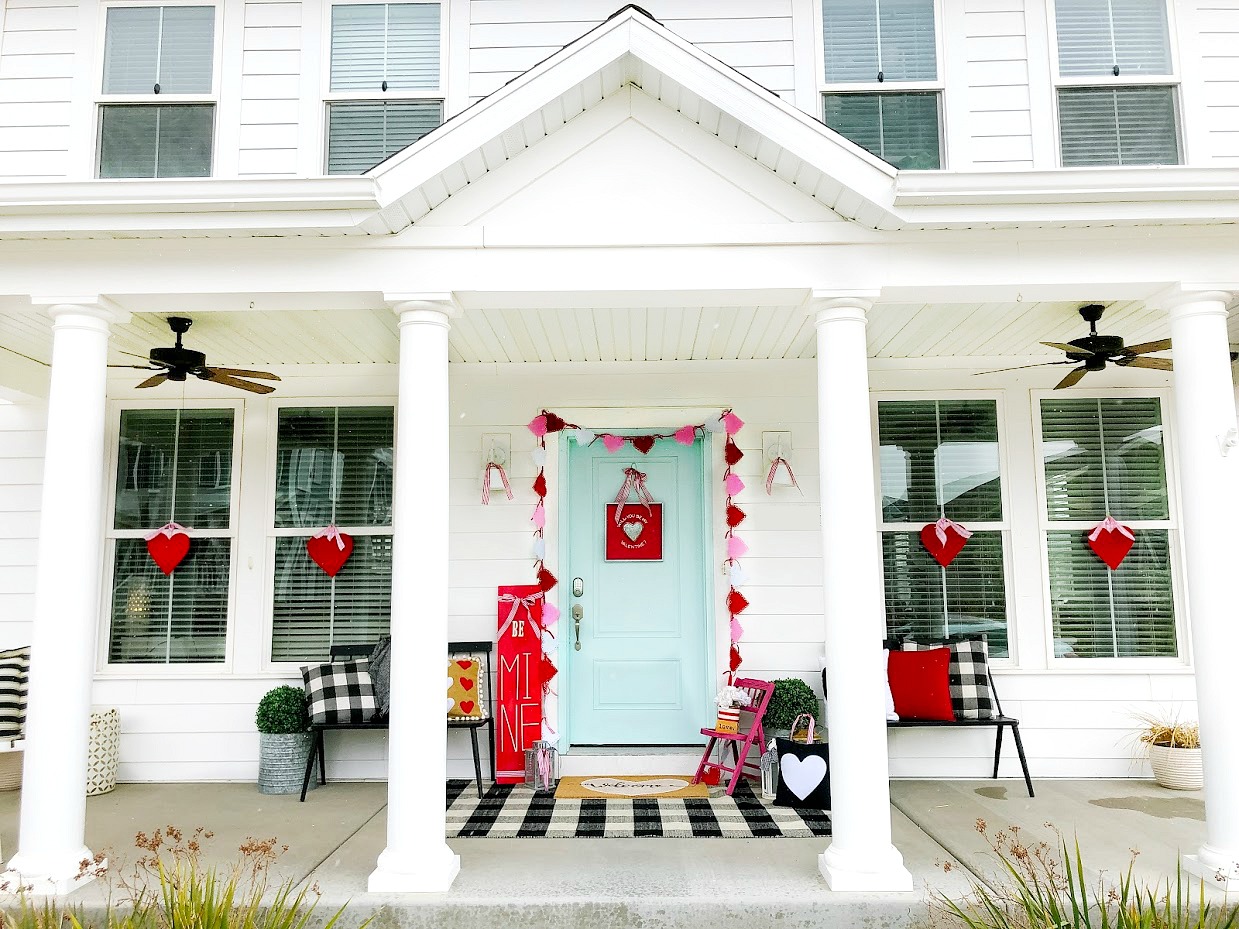 Create a Festive Be Mine Front Porch
I love breaking up the dreary days after the holidays with bright and colorful Valentines Day projects. These are easy and inexpensive ways to decorate your front door and/or porch. Do one or all 6 for a festive way to greet guests for Valentine's Day!

Be Mine Valentine's Day Theme
This year I decided to theme our Valentine's Day decor with a Be Mine theme. I created a Be Mine mantel with a couple big signs that I made and lots of banners on our mantel. I decided to do the same theme on our front porch too!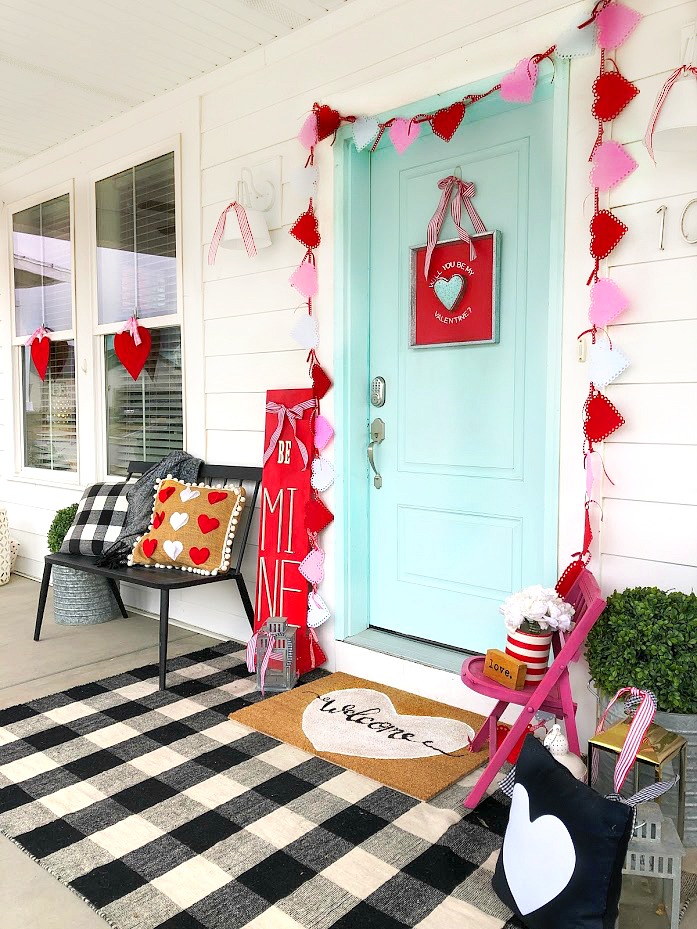 6 Easy and Inexpensive Ways to Create a Festive Be Mine Front Porch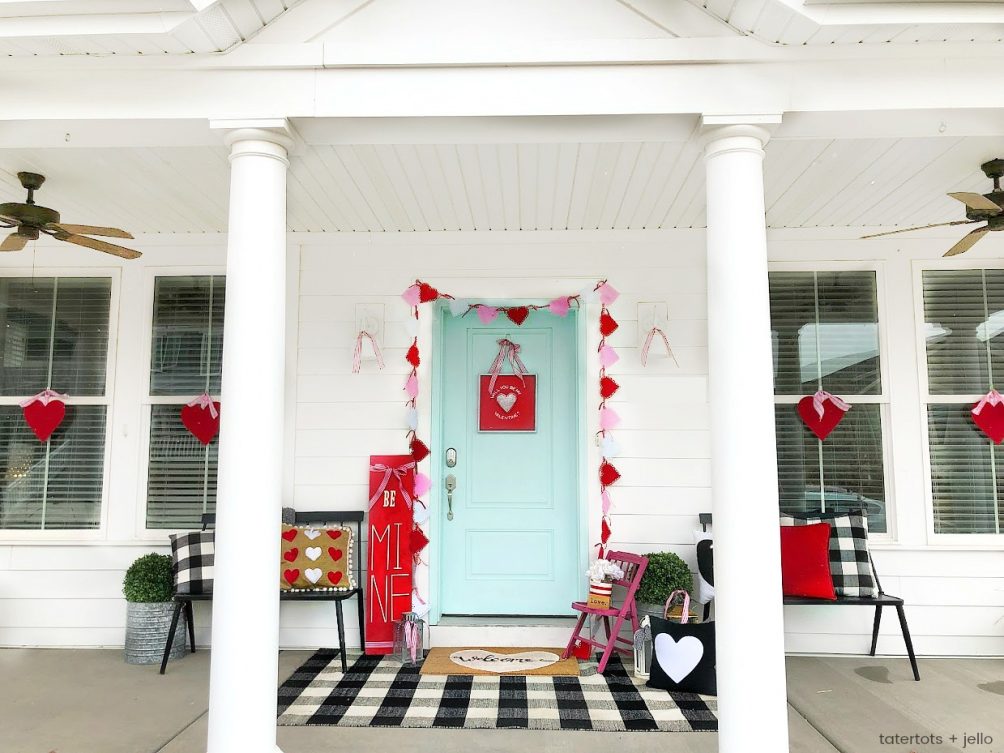 Create a Colorful Wreath
This year I made a galvanized Be Mine Valentine Frame that I hung in place of a wreath. You can get the full tutorial on how to make this easy wreath — Modern Farmhouse Valentine's Day Wall Hanging. Here are a few other colorful Valentine's Day wreaths I created over the years that are fun to make: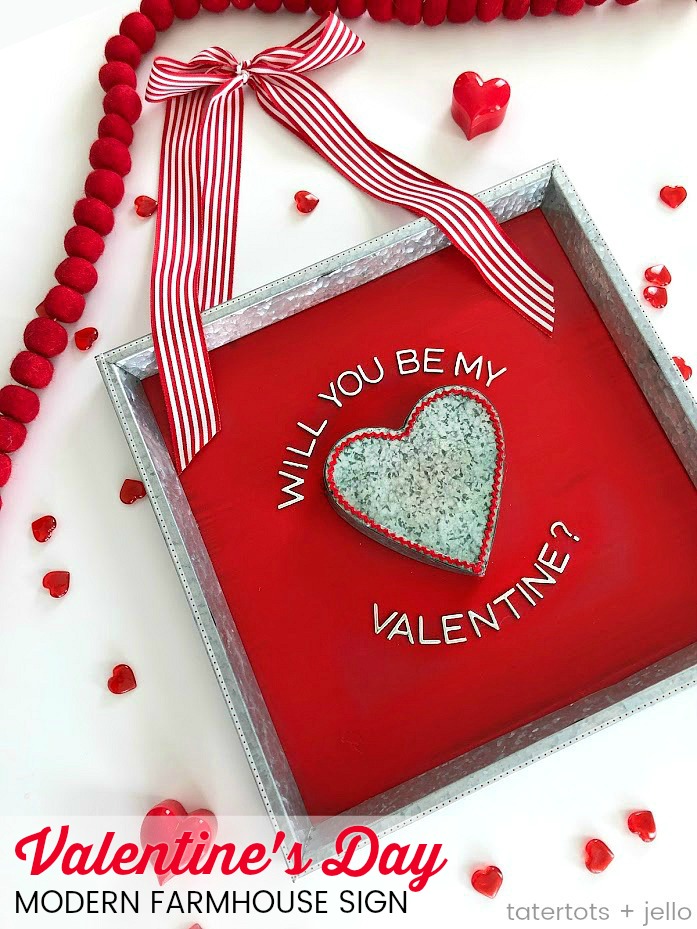 Paint a Valentine's Day Rug
I love to paint rugs. This rug was super easy. I just created a template by cutting a heart out of poster board and then traced the heart and filled the heart in with white paint. Then I painted the word WELCOME on top of the heart once the white paint had dried. I will write up the tutorial. If you don't want to paint a rug, you can also buy one. I love layering rugs. I have this buffalo check rug underneath and then I just switch out the rug over the top!
Create a Giant Valentine's Day Sign
I love creating giant signs. I use a plain pine shelf that I get from the hardware store. Then I spray paint it and add letters. These metal tubing letters are from Hobby Lobby and I spray painted them white. The nice thing about making giant signs is they make a statement since they are so big! And I also paint on both side, so you can use the signs over and over. Just flip it over. On the back side of this sign is the JINGLE sign I made for our porch last Christmas!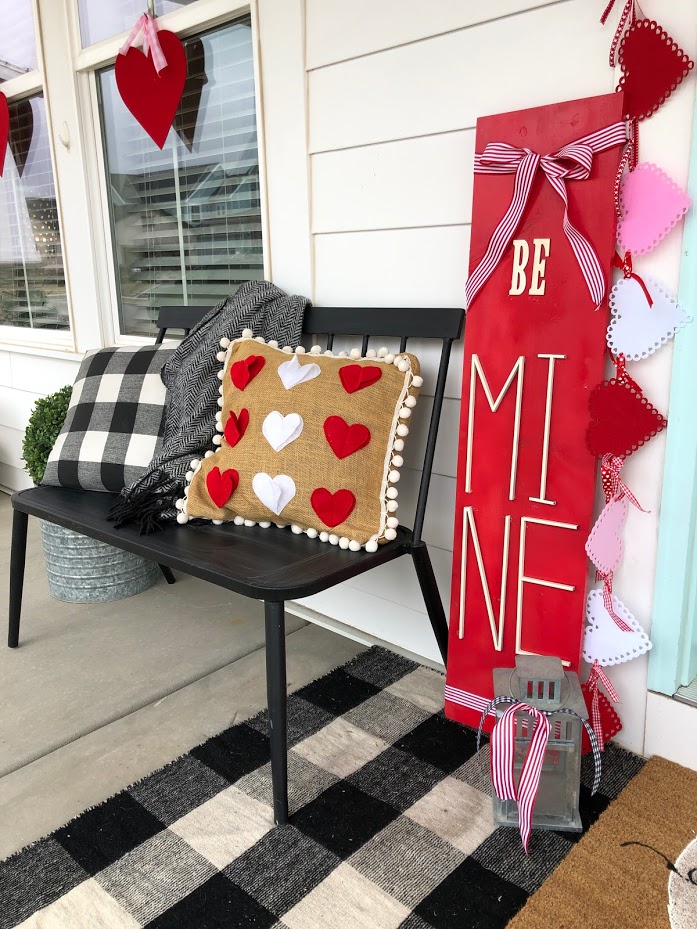 Make a Valentine's Day Banner
I made a three color heart banner to go over the door. I bought three packs of felt hearts from the Dollar Tree store and then attached them together with pretty ribbon. I made this banner for my mantel last year – you can grab the easy tutorial — $2 Felt Heart Valentine's Day Dollar Store Banner.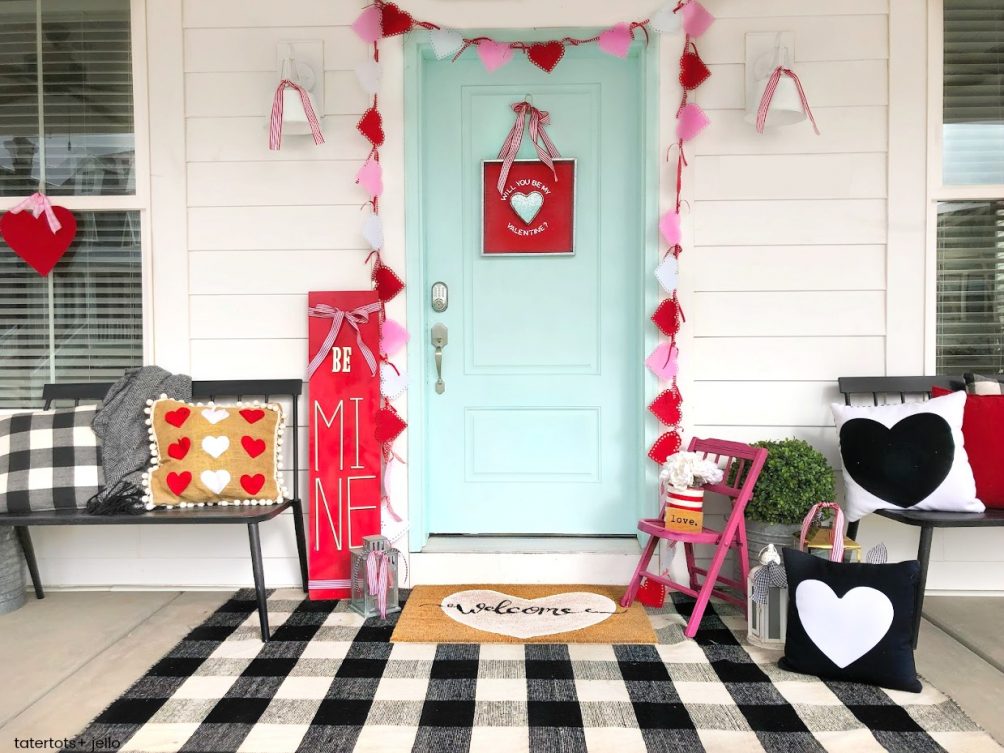 Add Hearts to Your Windows
I found felt hearts at Hobby Lobby – two hearts for $3. I added ribbon loops to the top and tied them to command strips on the front of my windows.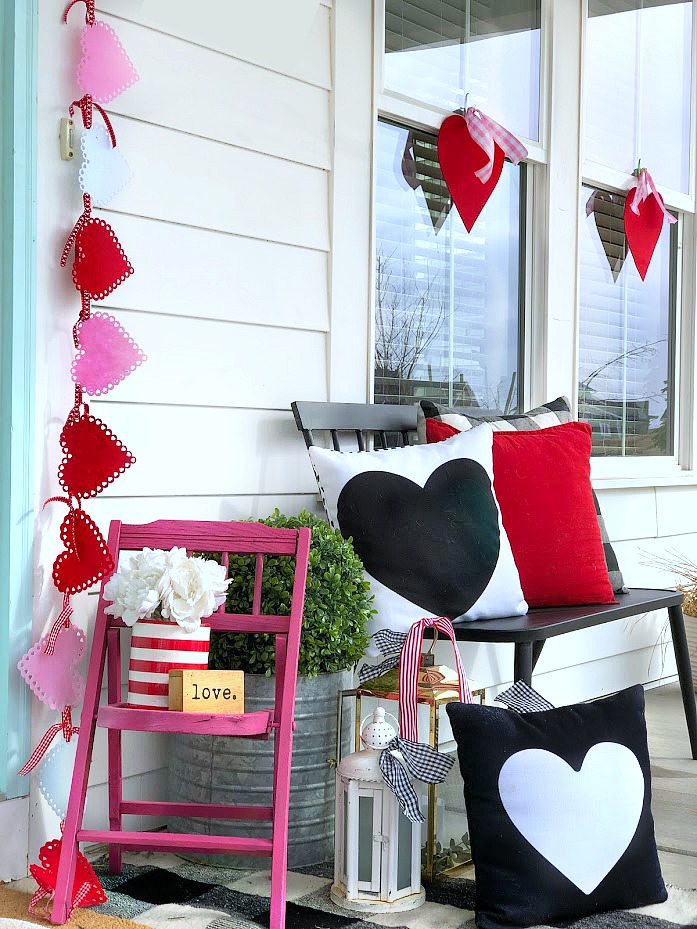 Valentine's Day Pillows
If you have a chair or bench on your porch you can add a couple cute pillows. Ikea has pillow covers for $4. The burlap and heart pillow on my bench is a a project I made a few years ago and I still love it! You can grab the tutorial — Valentine's Day Burlap and Heart Pillows.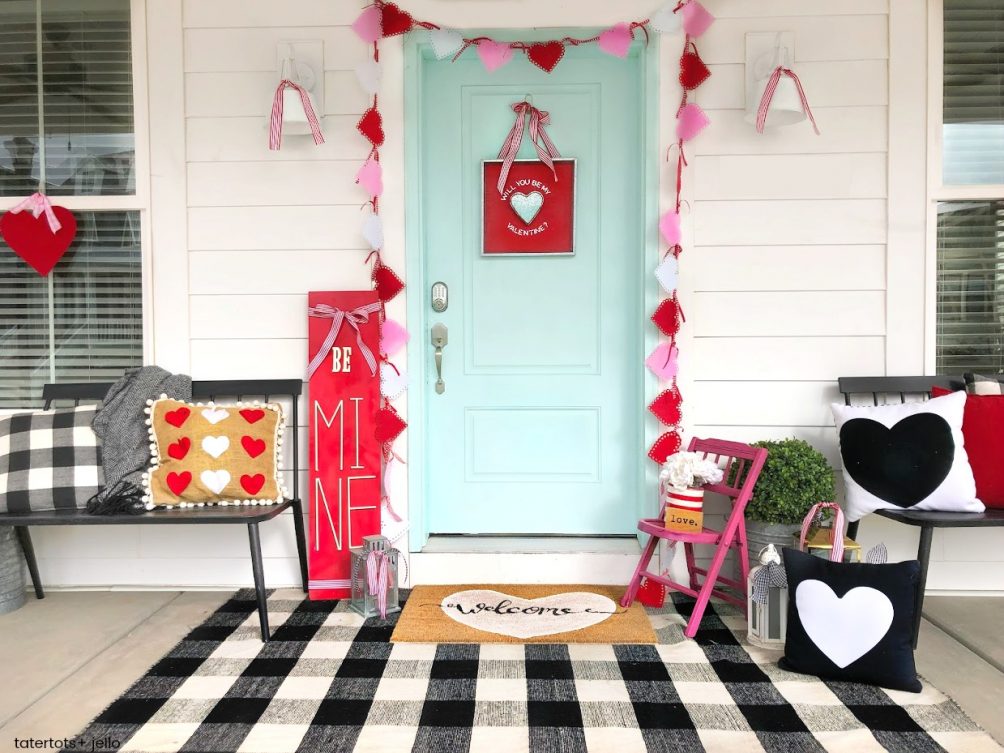 So there you go! Grab a couple of these easy ideas and add some Valentine's Day cheer to your home!
Have a Lovely Day!
xoxo