Valentine's Day Modern Farmhouse Heart Sign. Create an easy wall hanging or alternative to a front-door wreath with this easy sign to celebrate the holiday!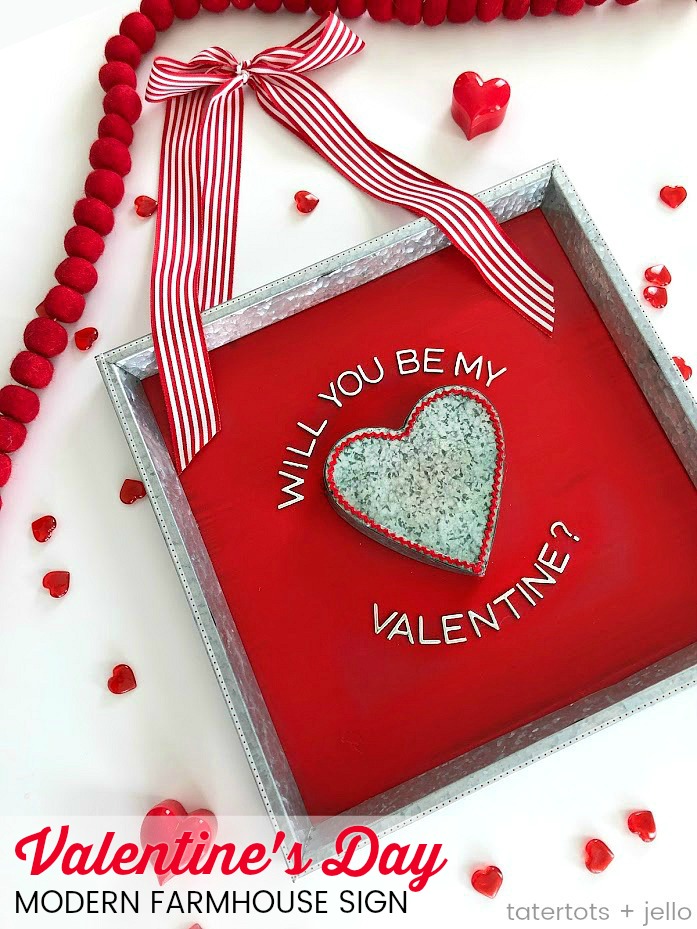 Make an Wall Hanging for Valentine's Day. I love making wreaths. I also love making wall hangings that can be an alternative to a traditional wreath! This year I made an easy sign to hang on our door to celebrate Valentine's Day! It goes along with the Valentine's theme that I picked out for this year — Be Mine!

Valentine's Day Be Mine Mantel
I shared our Valentine's Day Be Mine Mantel a couple of weeks ago. I create two signs that rest on our fireplace. I am also creating a Be Mine Porch with this farmhouse sign on our door. I can't wait to show you the full porch!
Valentine's Day Modern Farmhouse Sign
This sign was so easy to make. You don't even need a craft cutting machine. All you need is a frame or square piece of wood, paint, a heart and some "thicker" letters. Thicker letters are usually used in scrapbooking, you can find them in that section of the craft store. I wanted to use thickers in this project instead of cutting out vinyl letters because thickers are 3-dimensional which looks cooler and you don't need a craft cutting machine to make this project. But you can cut your letters out of vinyl if you want!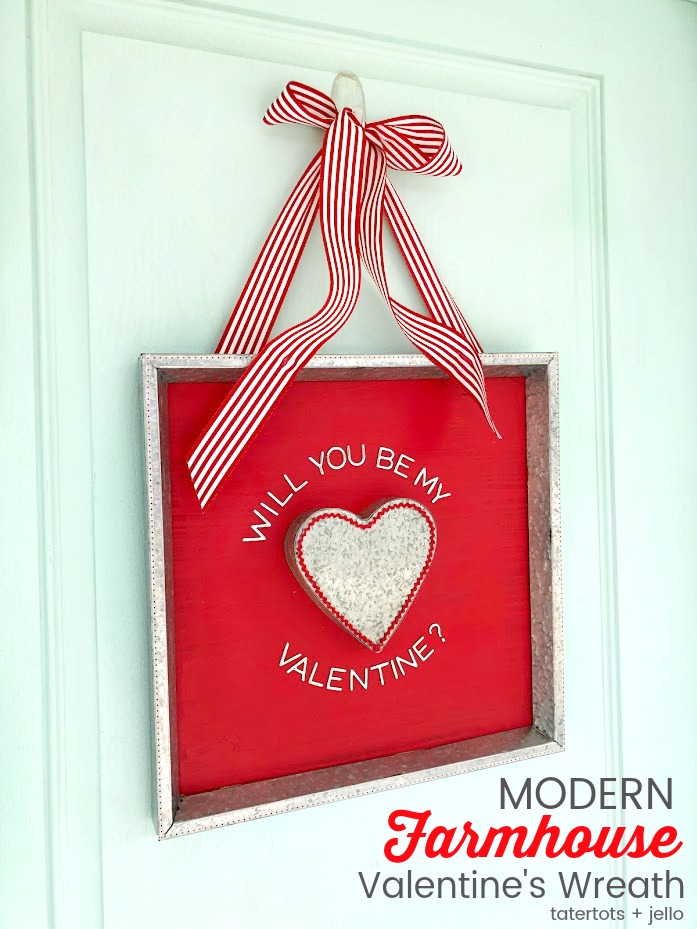 Valentine's Day Modern Farmhouse Wreath
I found this galvanized frame at Hobby Lobby. I love the square shape. The back of the frame was wood and all I had to do was paint the back. Then I added a galvanized heart that I also found at Hobby Lobby. So easy. You can also use a regular picture frame for this project. You would need to cut a thin piece of chipboard or plywood to put in the back of the frame. Another idea is to use a square piece of wood.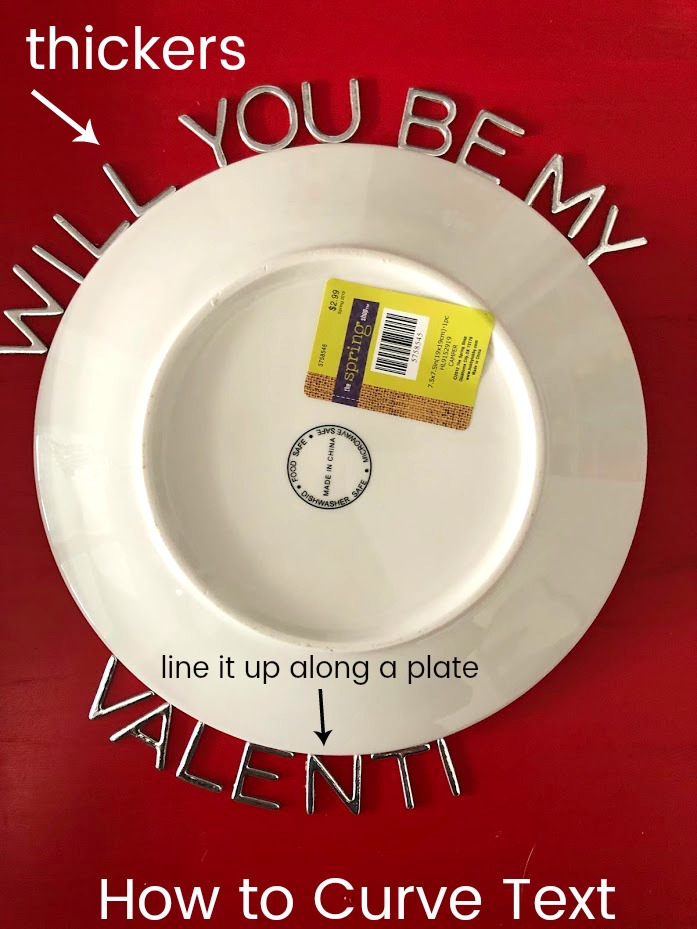 How to Curve Text
I thought it would be fun to have the saying curve on the top and bottom around the heart. I thought I could draw a circle with pencil and then place the thickers in a circle around the heart. But this is an easier idea – find a place that is bigger than the heart you are using. Before you glue your heart in the middle, place the plate in the middle of your painted board and then place the thickers up against the plate, this will create a perfect curve and it's so easy! Thickers have adhesive on the back, but to make sure they stick long-term I also added a bit of hot glue or a small glue dot to the back of the thickers to make sure they would stay in place when they are on my door.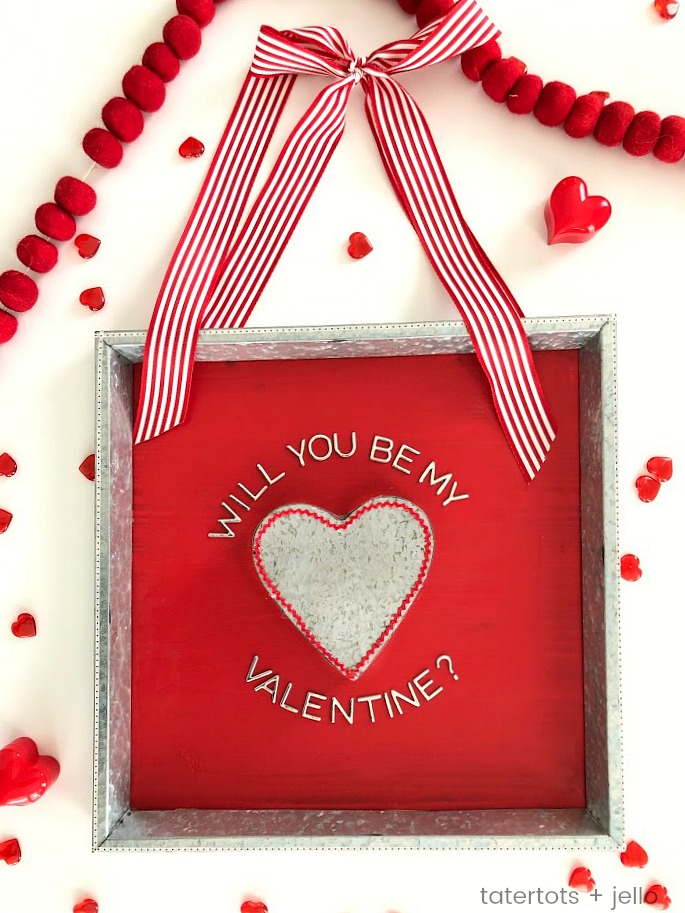 How to Make a Valentine's Day Modern Farmhouse Sign
Here are the complete list of supplies and instructions to make this sign.
Supplies:
Square Board or Frame
Paint
One set of "Thickers" (Scrabook Adhesive Letters)
Ribbon
Hot Glue and Gun
Heart or Embellishment for the Middle of the Frame
Ric Rack or similar trim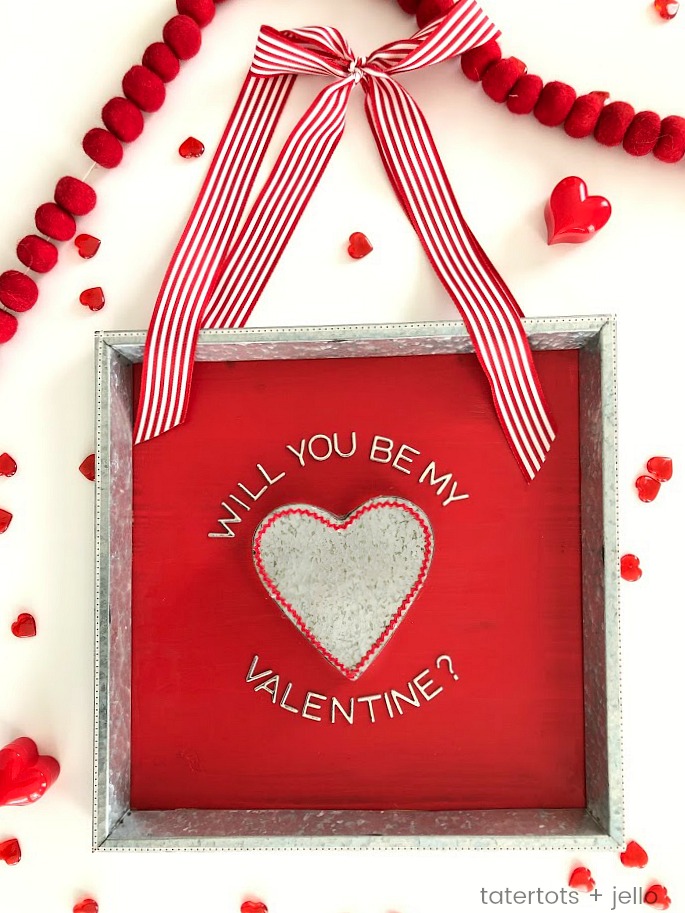 Directions:
Paint the back of your frame or board.
Curve the text – find a plate that is bigger than your middle embellishment (heart) and lay your thickers out to spell out your Valentine's Day saying. Use the adhesive on the back of the Thickers to adhere them to the board and/or use a dot of hot glue on the back of each letter to hold them on better.
Hot glue the heart (or other embellishment) onto the middle of your board.
Hot glue two lengths of ribbon onto the top back of each side of the board and tie it in the middle to hang the sign.
Hot glue trim to the heart (optional)
Now you have a cute Modern Farmhouse Valentine's Day Sign to hang on your door or on your wall!
Here are a few other Valentine's Day projects that are easy to make!

Simple Valentine's Day Gift Ideas and Free Typewriter Sayings Printables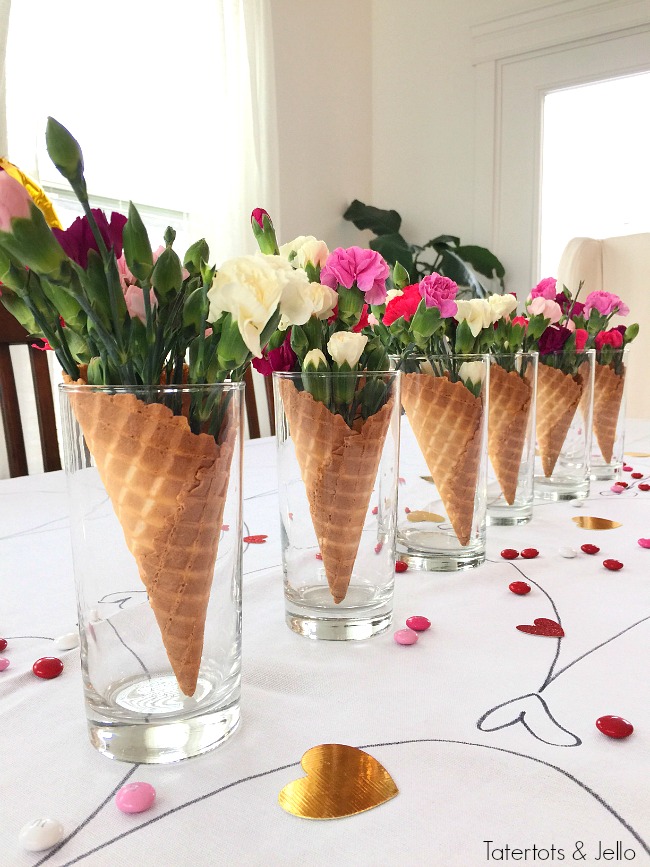 5-Minute Valentine's Day Table Centerpiece
Have a CREATIVE day!
xoxo