This is a sponsored post written by me on behalf of Hobby Lobby. All opinions are 100% mine.
Organizing a Closet Using Bins With DIY Fabric Liners. Organize your closets and make them pretty with fabric faux bin liners.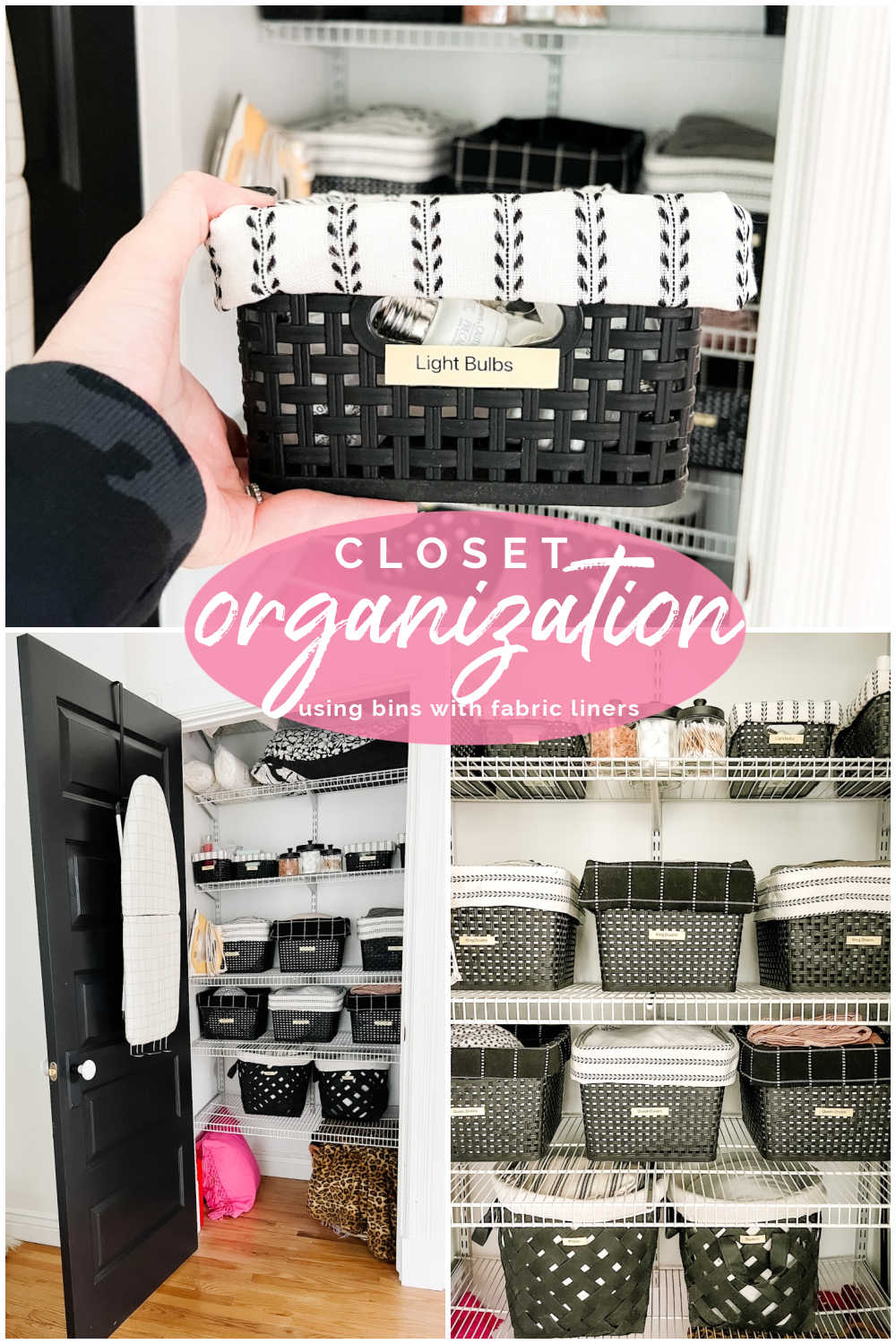 Organizing a Closet Using Bins With Fabric Faux Liners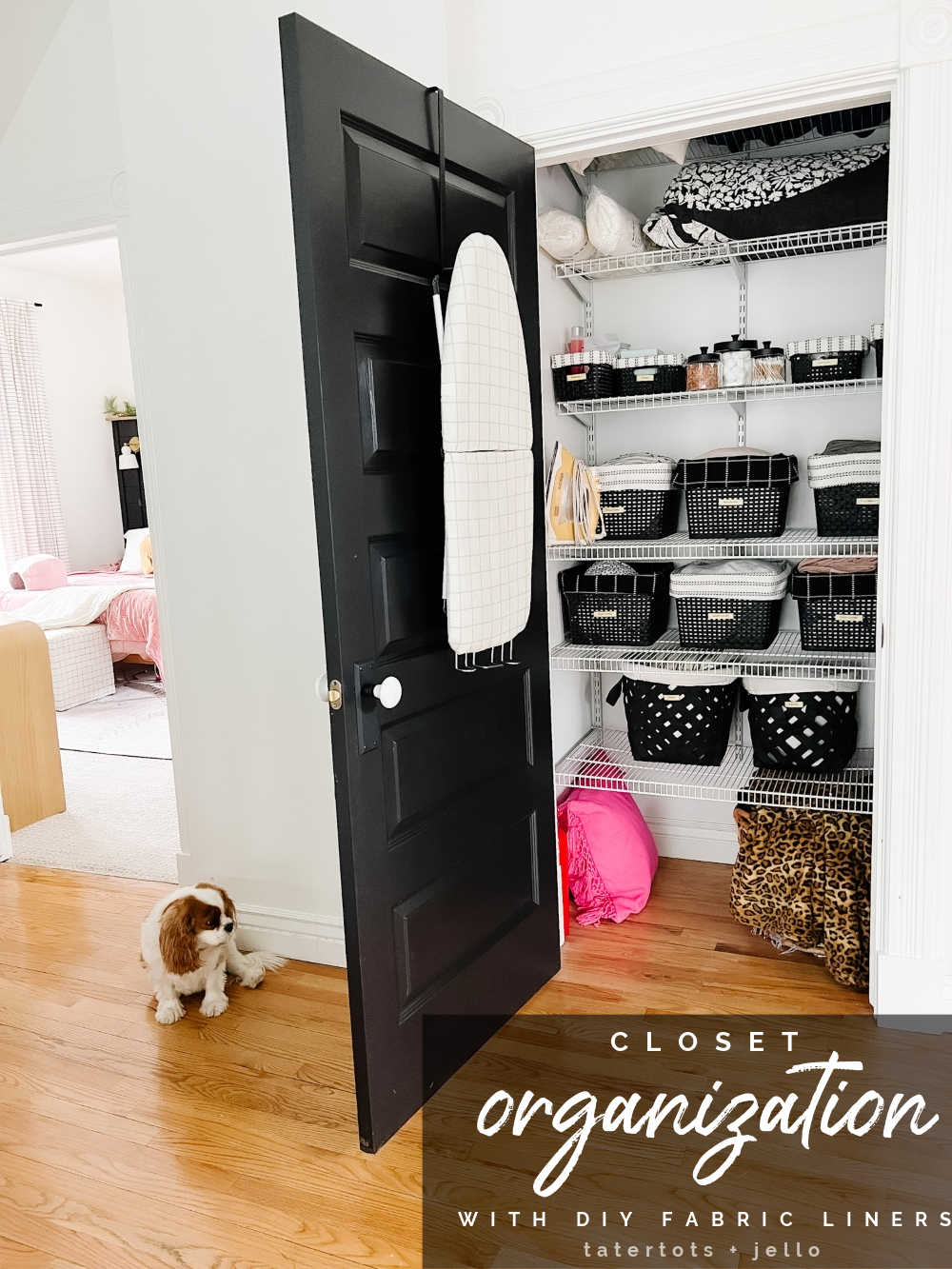 I love January because it's my declutter challenge!! It's so nice to get every single space clean and tidy for the new year. One of my areas that really needed some organization was our main linen closet. It's a place that's so easy for everyone to stash everything that they don't know what to do with. I teamed up with one of my favorite companies – Hobby Lobby to give this space a chic and organized refresh!
Shopping for Affordable Containers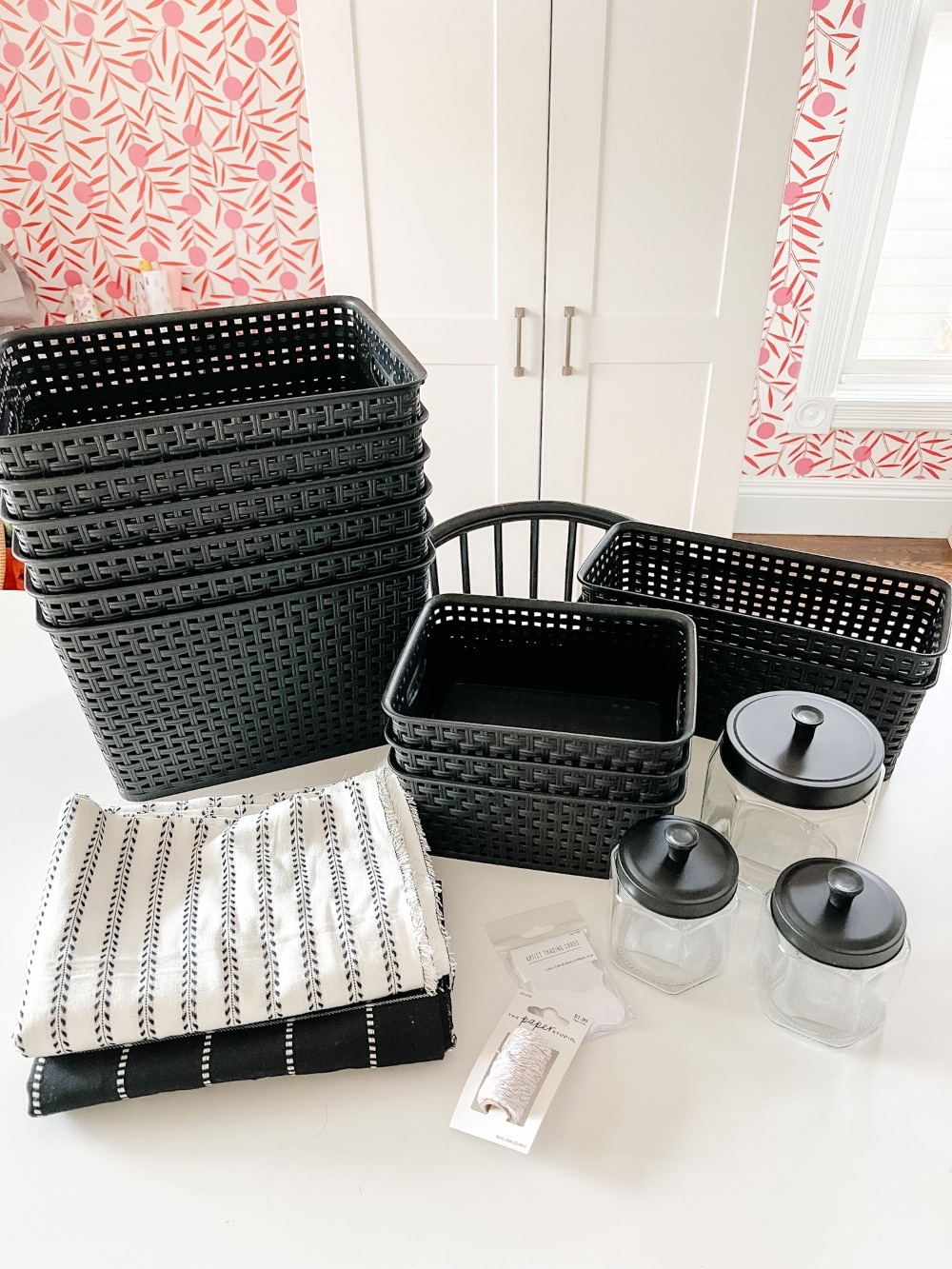 Hobby Lobby is a great resource for Home Decor and organizing! I had such a great time seeing all of the different containers that in my local Hobby Lobby store. Here are a few of my favorites. Since I needed quite a few containers in different sizes, I decided to go with these nice woven containers. They come in a few different colors. I chose black since I have been wanting to paint my upstairs doors black for awhile.
Use Matching Containers Streamlines Your Closet
As I said, the Hobby Lobby woven containers come in a few different sizes which I love! I chose the largest size to hold sheets and duvets. Then I chose a smaller size to hold tissues and lightbulbs and a long, thin size to hold extra shampoos and bath bombs.
First Clean Out Your Closet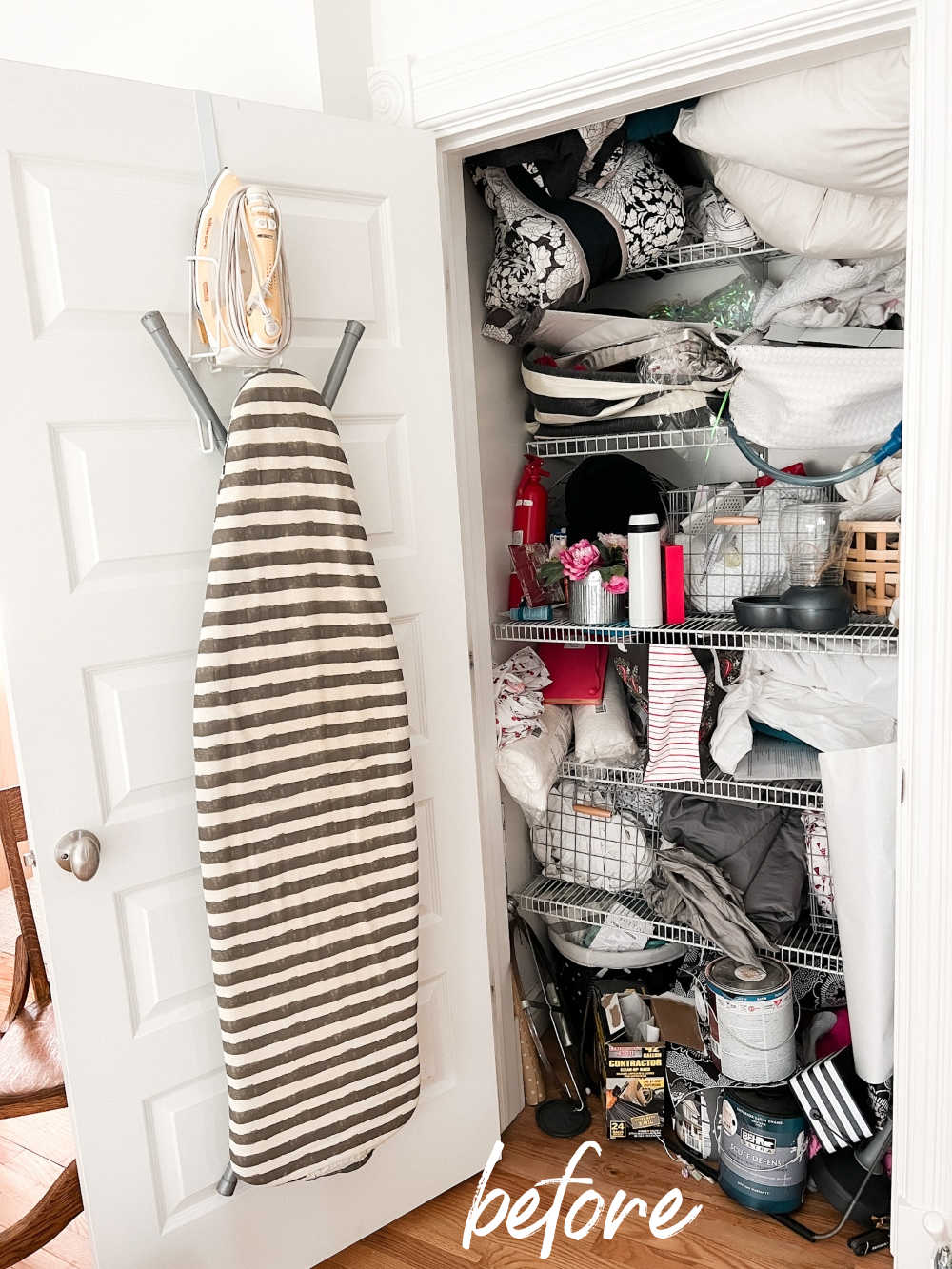 I pulled everything out of the closet so I could see what I wanted to keep. I went through all of the items and made three piles. One pile to keep. One pile to donate. And one pile was trash. Once I determined which items to keep, I separated out items into which bins each item would go into.
Decide Placement of Bins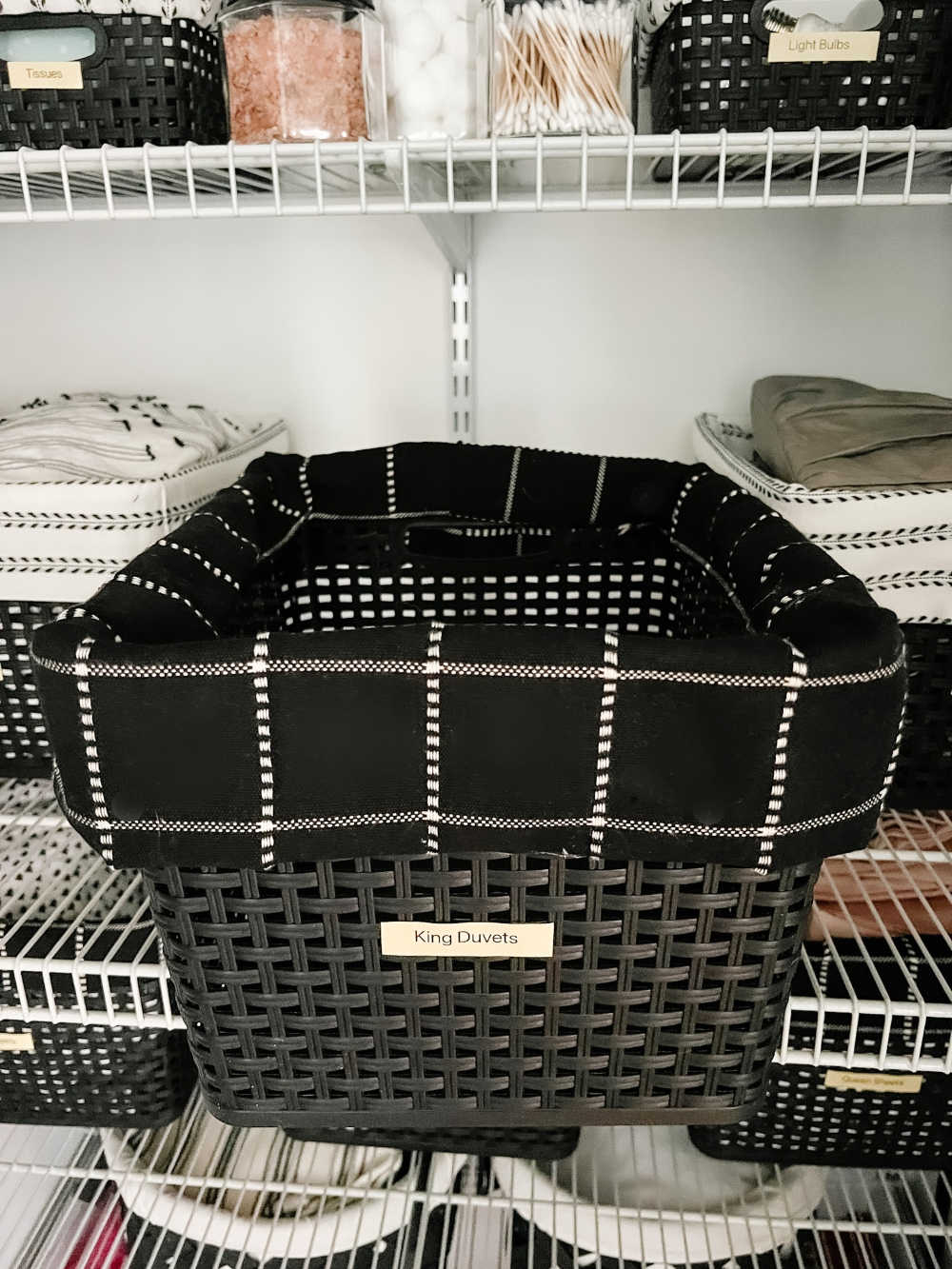 With the closet completely bare, I placed the bins in the closet to see where each one should be placed. I put extra quilts and pillows on the upper shelves. Those are things that we rarely need to access. Then I put the smallest baskets on the next shelf. Under that shelf were the larger baskets for sheet sets and duvets on the next wo shelves. Under those I used two large black round woven baskets for blankets and pillows. And on the bottom I put a beautiful round rattan basket that contrasts with the black woven baskets.
Make Fabric Faux Bin Liners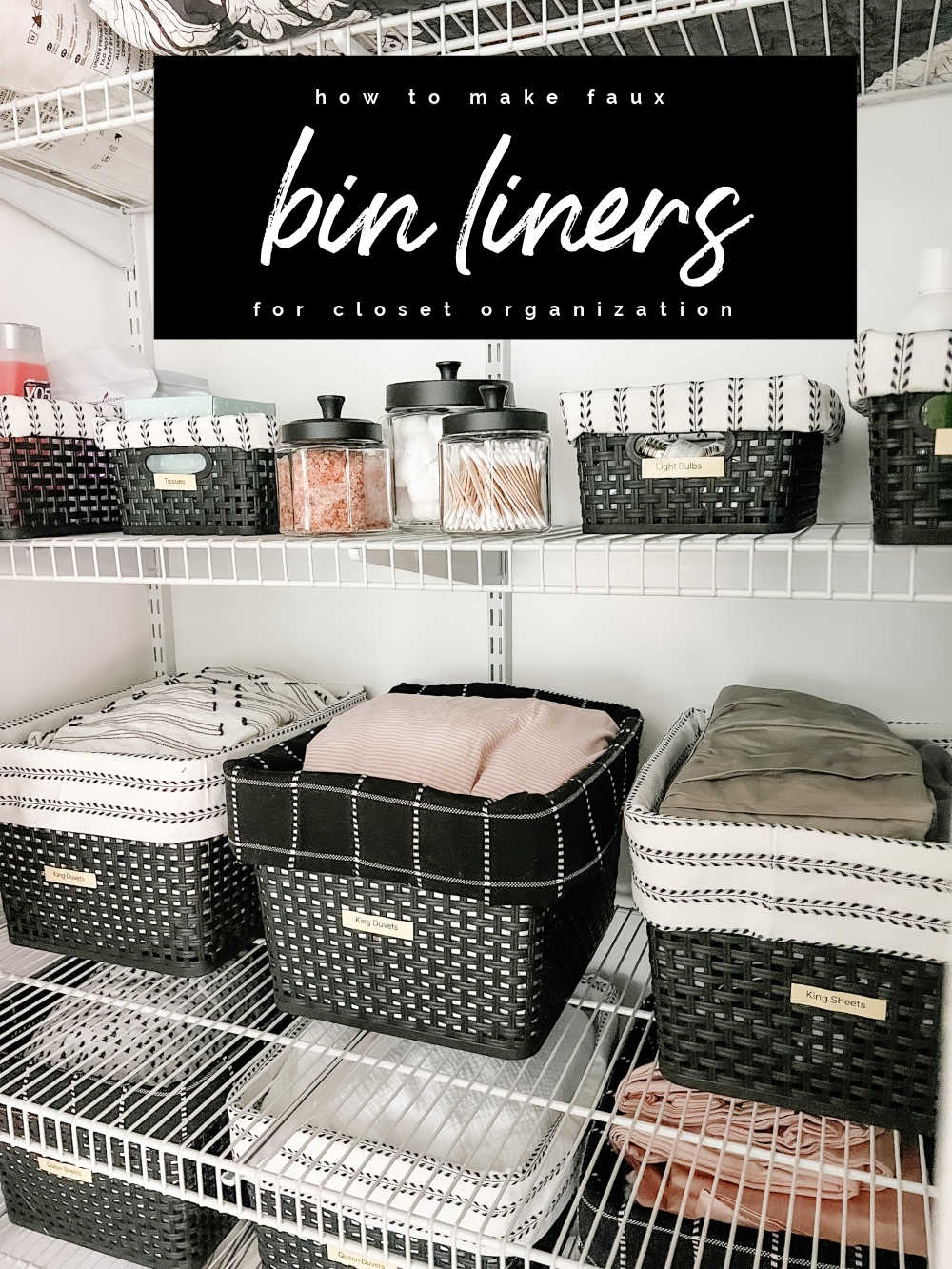 I love the look of bin liners! They add a nice fabric texture plus they can bring color and pattern to your closet too. Of course fabric liner require a lot of fabric to create. Sometimes having a fabric liner is essential, such as using bins with fabric liners in a kitchen with produce and the liners might get stained and need to be washed. In this case, my fabric bin liners are purely decorative. So I decided to make some faux fabric liners to save on using fabric and cost. They give the LOOK of bin liners but they're only on top!
How to Make Fabric Faux Liners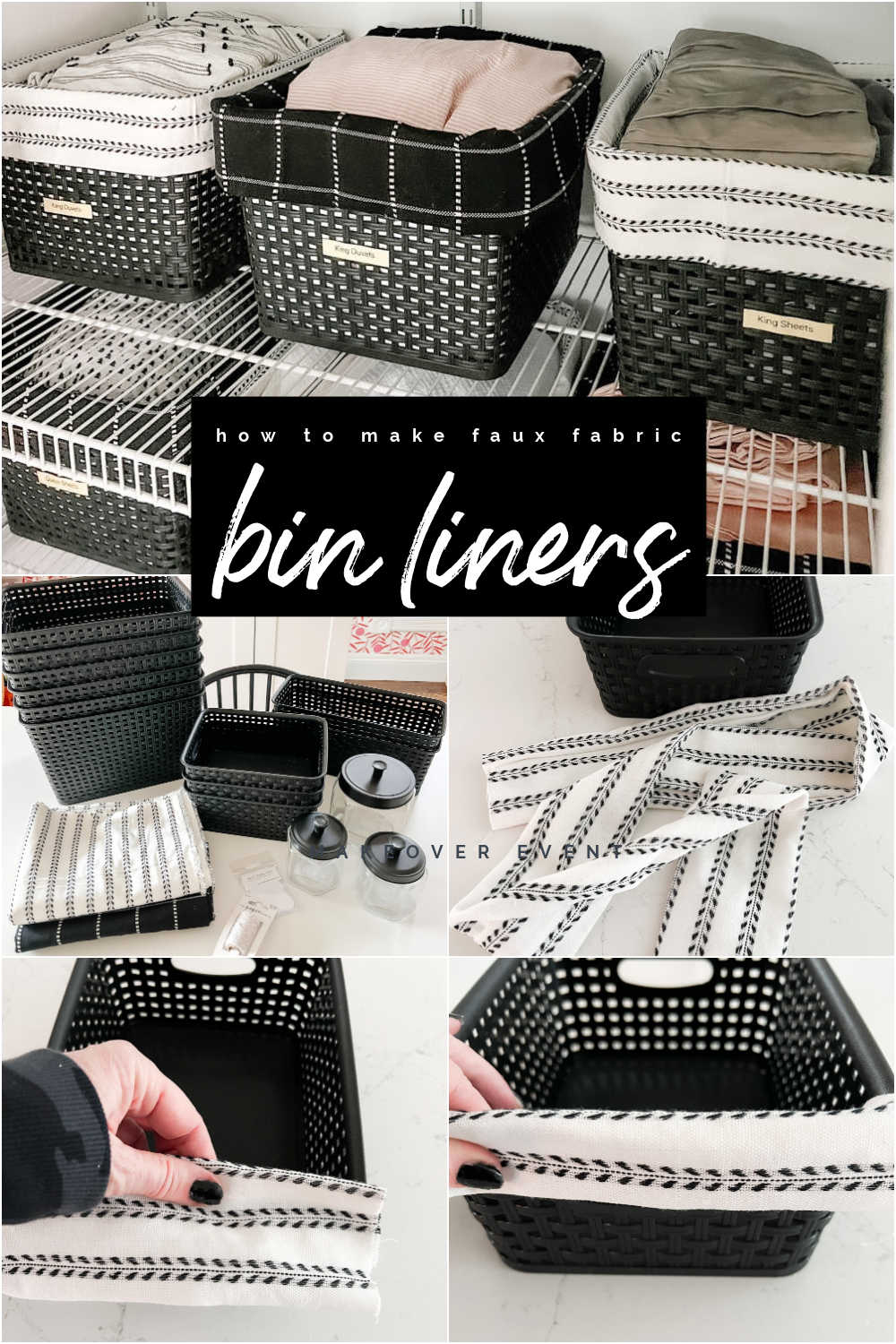 Here's how you can create the look of fabric liners for a fraction of the fabric and price!
Pick Out Fabric for Faux Bin Liners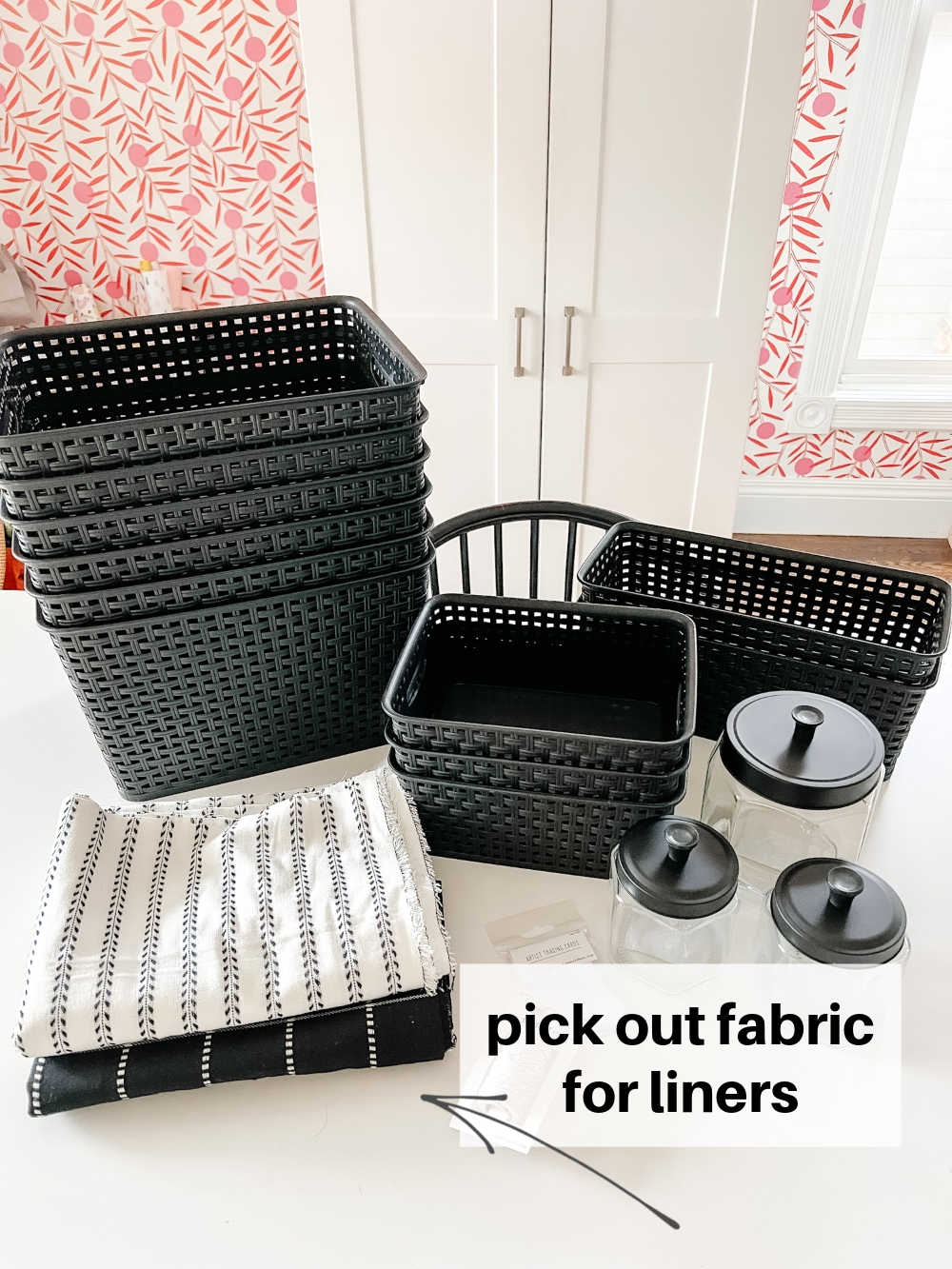 I love Hobby Lobby's fabric selection – there are literally HUNDREDS of different prints and colors to choose from! The fabrics I used are Striped Dobby Fabric and Graph Check Duck Cloth.
Measure Your Bin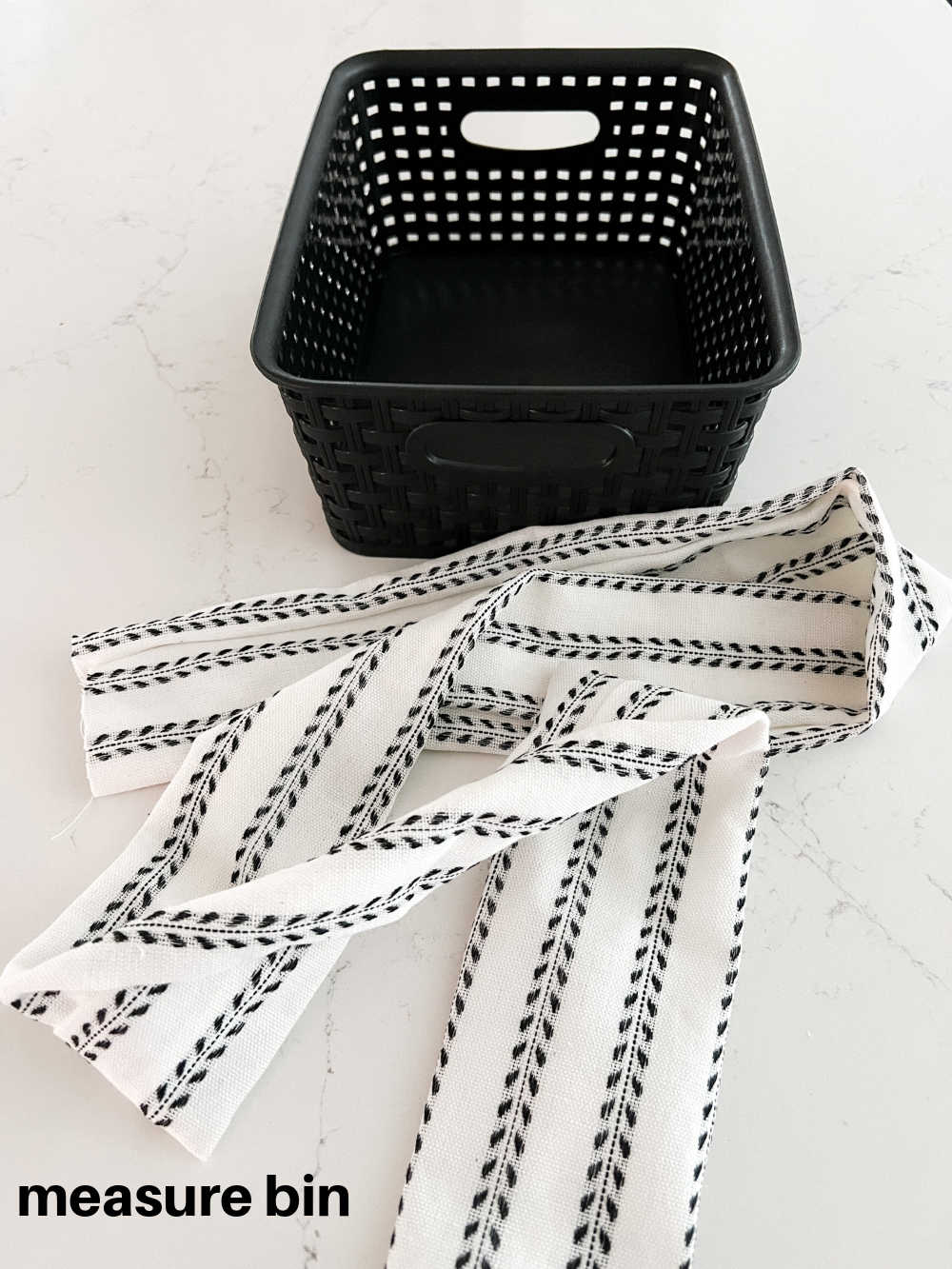 Measure the circumference of your bin. Add 2 inches for seam allowance. Then measure how wide you want your bin liner to be. Half of the width of the bin liner will be inside the bin and the other half will be on the inside. Add an inch for seam allowance.
Cut Your Fabric
Cut your fabric to the length and width that you want your bin liner to be, taking into account seam allowances.
Glue or Sew the Fabric
I used hot glue to create my faux bin liners since I don't plan on washing them. But you can sew them if you want. Lay the fabric out, fold it over with the wrong side out. Then run a line of hot glue down the edge of the fabric and lay the folded piece of fabric over the top with the edges lining up. Press down to adhere glue to both sides of fabric. If you're sewing, sew the two edges together.
Turn Fabric Right-Side Out
Now pull the end of the fabric tube through the center to turn the fabric right-side-out.
Lay the Fabric Liner on the edge of the Basket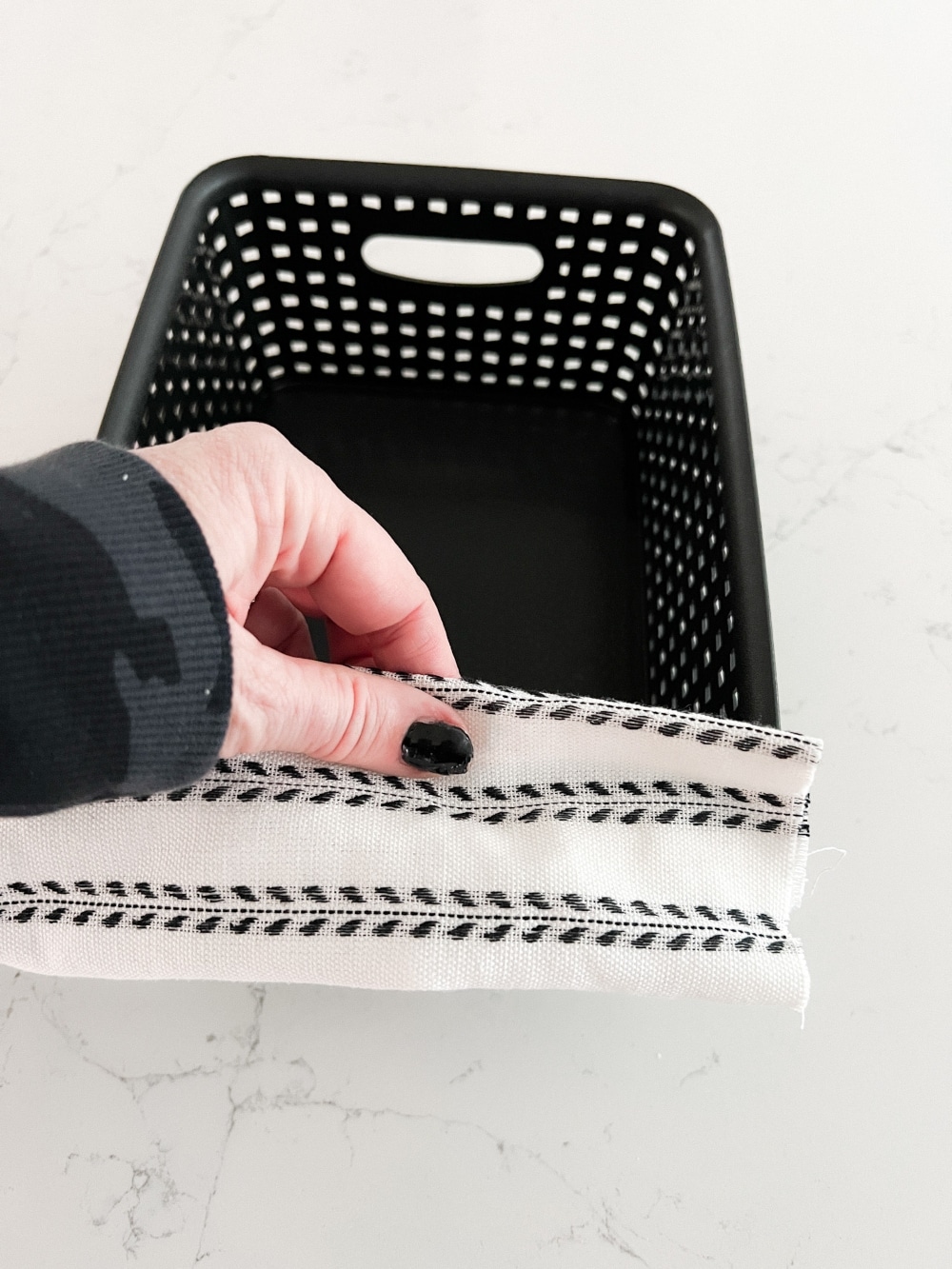 Now take the end of the bin liner and lay it on top of the basket with the edge of the liner in the corner, run the fabric liner around the whole basket until you meet the other end. Flip the liner inside out and sew or glue the two inside edges of the ends together. Then flip it over and lay the liner on top of the basket again.
Hot Glue the Liner to the Basket
Once the liner is lined up evenly around the basket, I used a dab of hot glue at the corners to hold the liner down and also a dab on each of the inside sides. If you plan to wash the liner, you can use glue dots to hold the liner to the basket.
Fill Your Baskets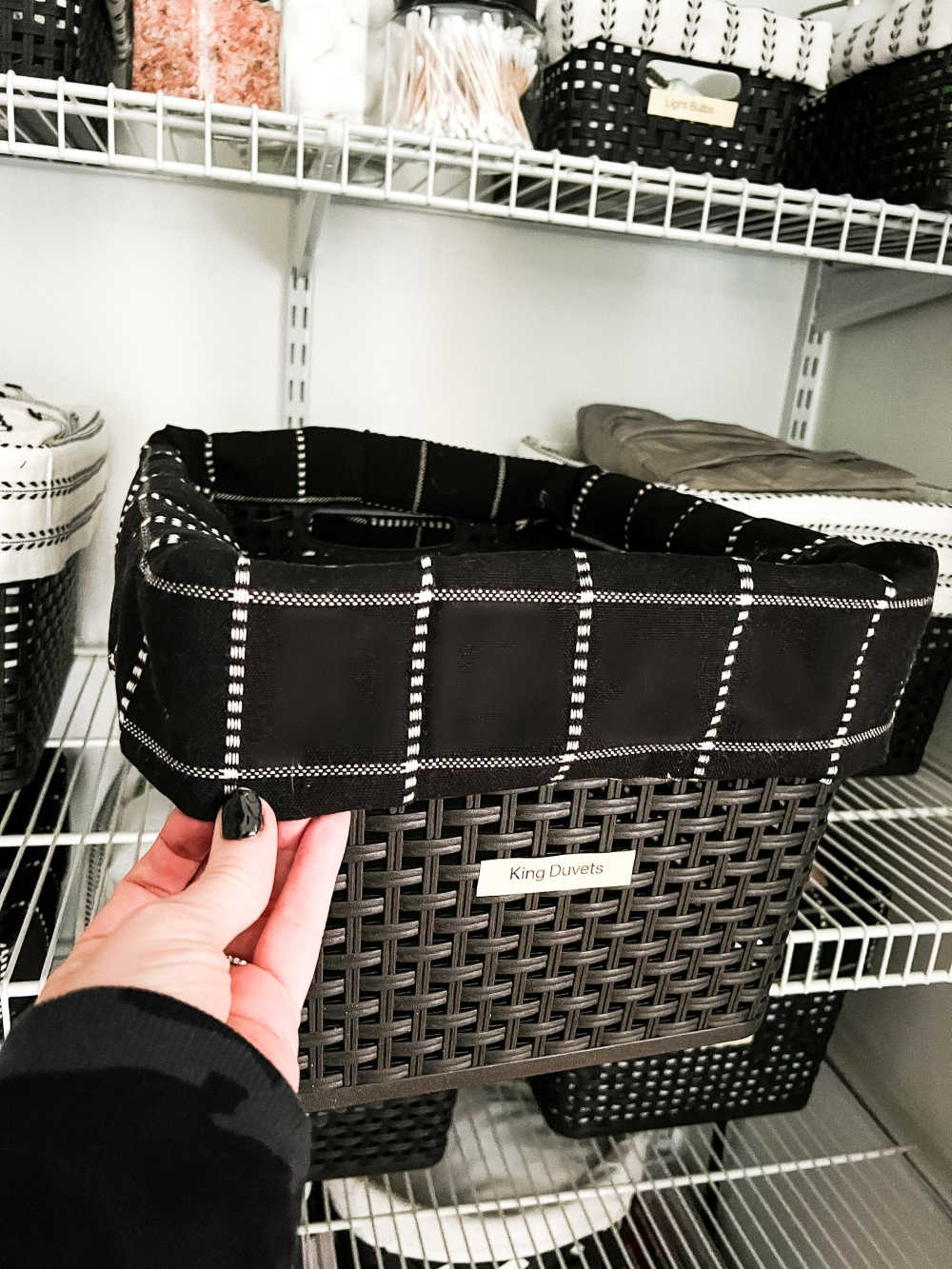 Now you can add whatever items you want to store in your baskets.
Label Your Baskets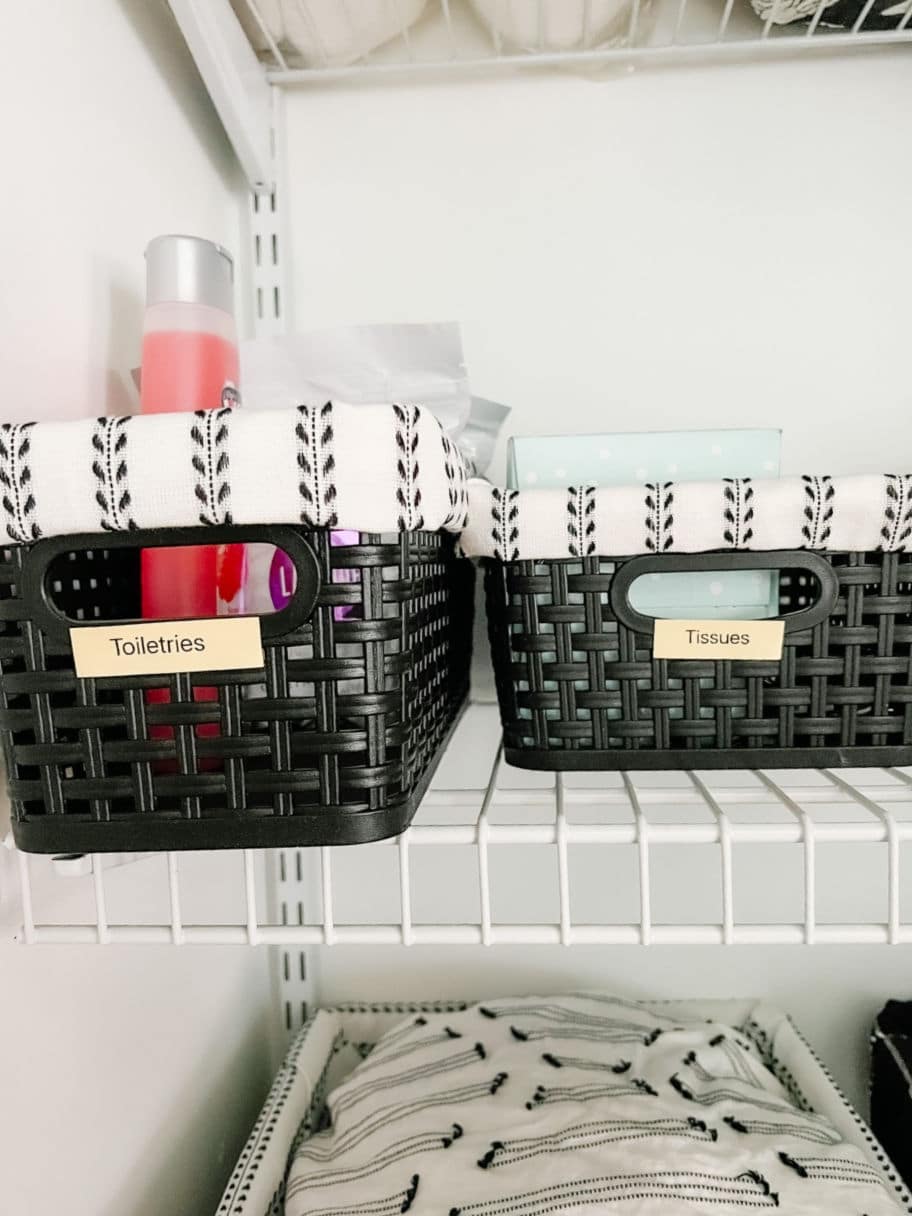 I like to label the baskets so it's easy to find everything. I used a label maker but you can also use blank labels like these Hobby Lobby tags below and write the contents of the bins on the labels with a pen.
Add Clear Containers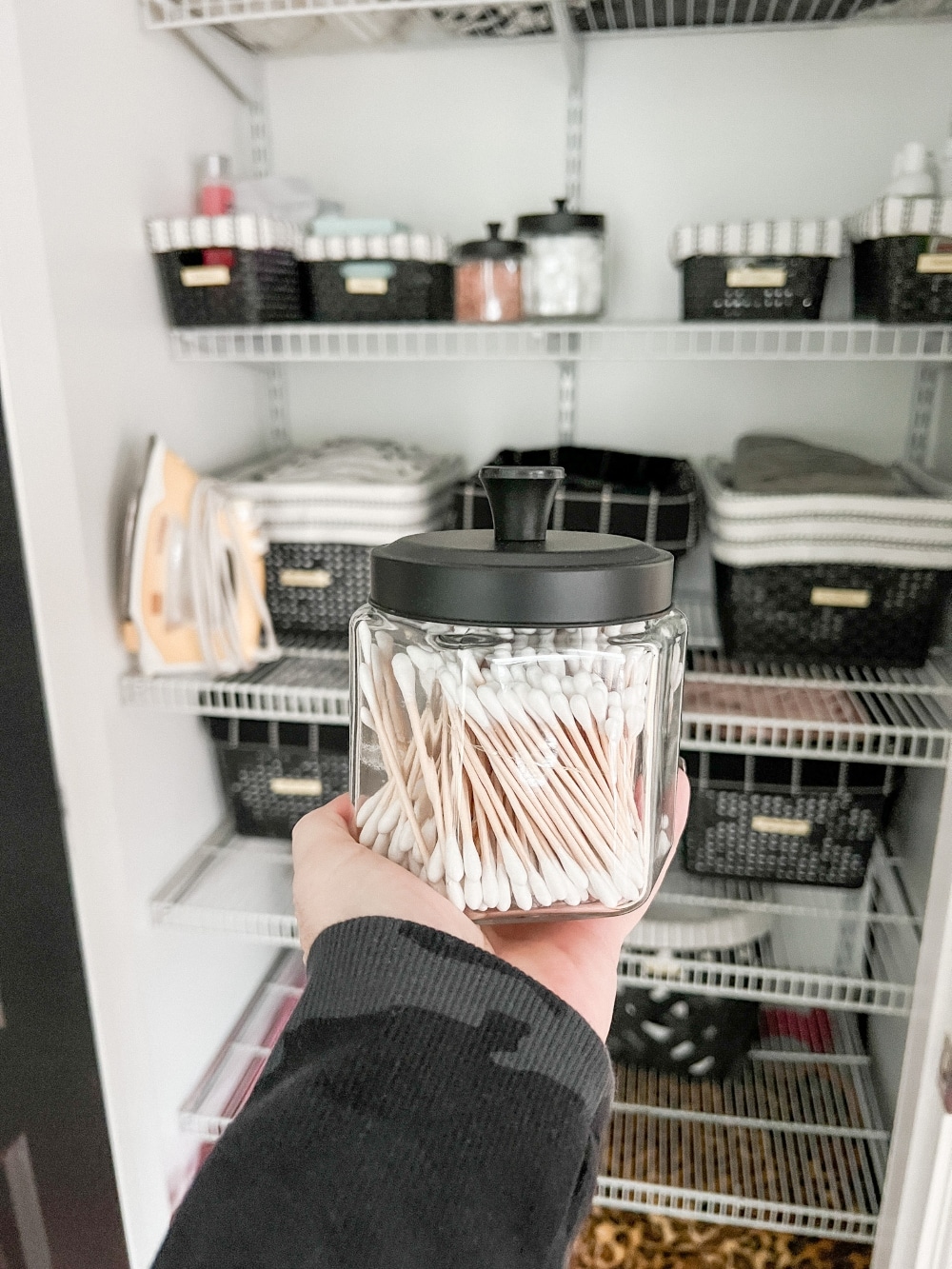 Then I added these adorable Montana clear glass lidded containers to the top shelf. They come in different sizes. The larger one – Montana 96 ounce and a smaller size – Montana 64 ounce. I filled these with q-tips, cotton balls and bath salts. But they are great for organizing all sorts of small items.
Paint Your Door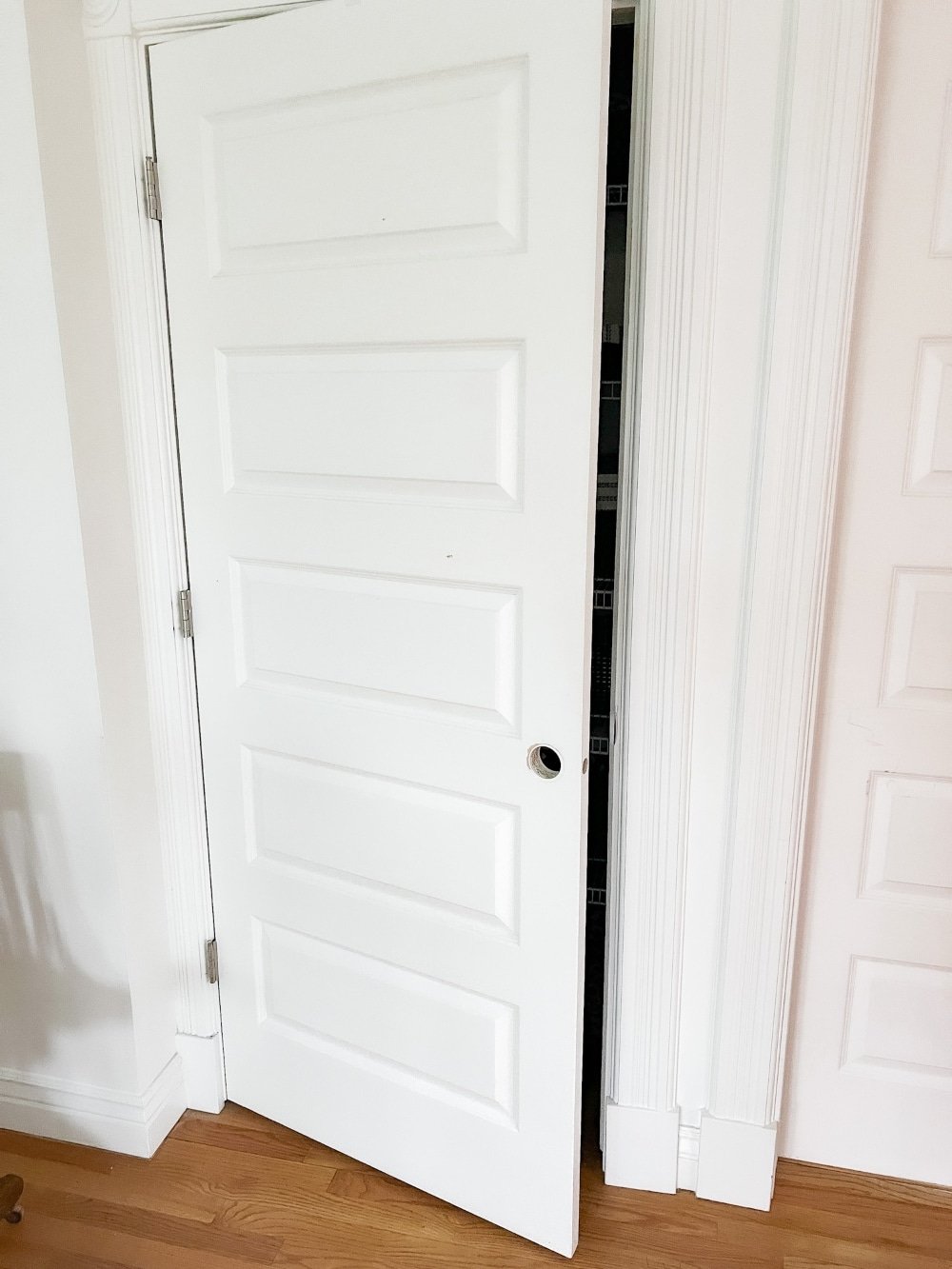 The last thing I did was paint my door black. Of course you don't need to do this but I thought a black door would be so pretty with the fabrics I used! I hung a smaller sized ironing board on the door and I was done! I love my new ORGANIZED and pretty linen closet!!
Head Over to Hobby Lobby and Organize Your Home
A big thank you to Hobby Lobby for partnering with me to organize my linen closet. Hobby Lobby is an excellent resource for all kind of organizing items, from bins and baskets, shelves, hooks and more! Here are a few of my favorite Hobby Lobby organizing containers!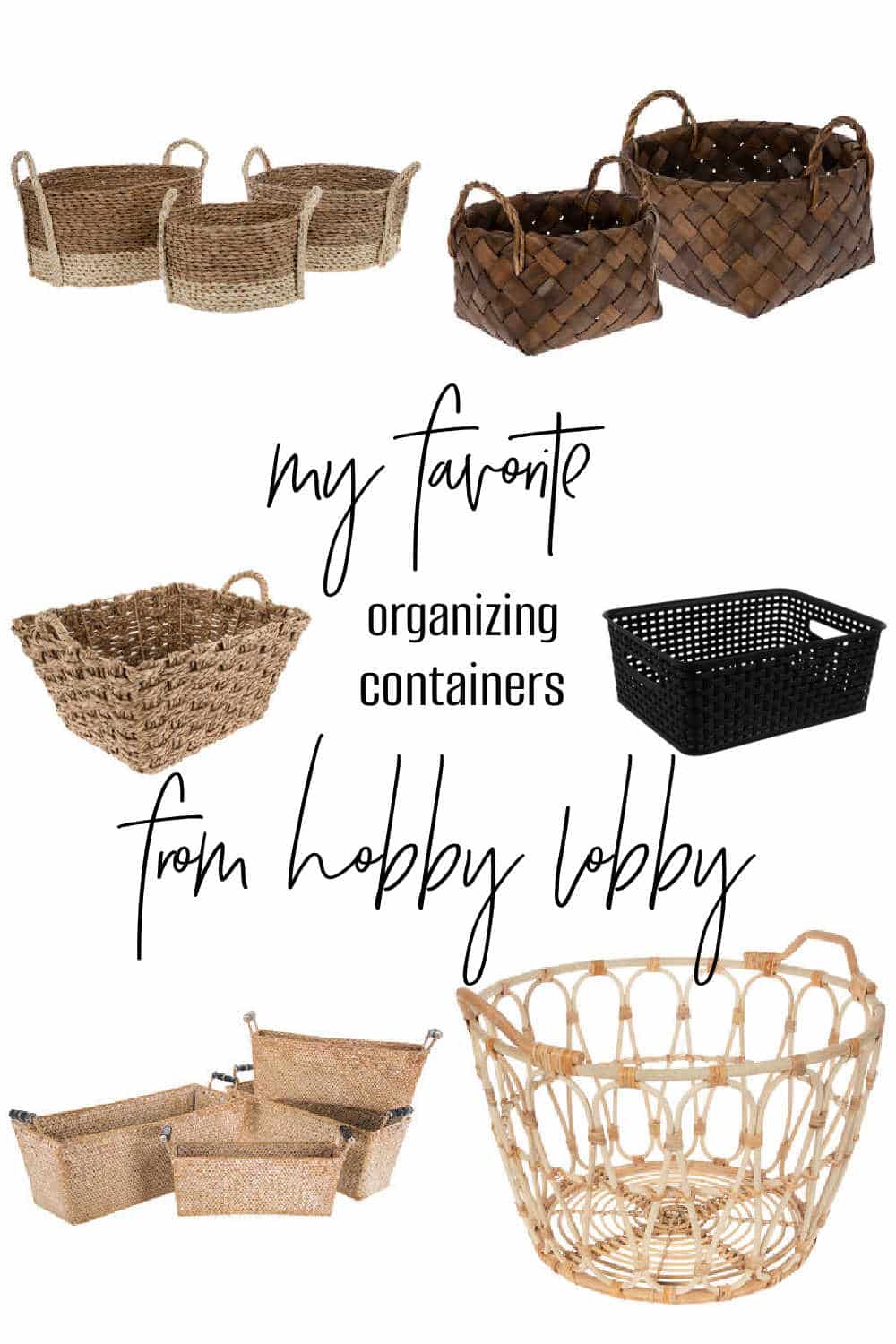 black woven containers (come in many different colors and sizes) | Rush Basket | White Wash Baskets | Brown Willow Baskets | Brown Woven Baskets | Round Rattan Basket
Organizing My Office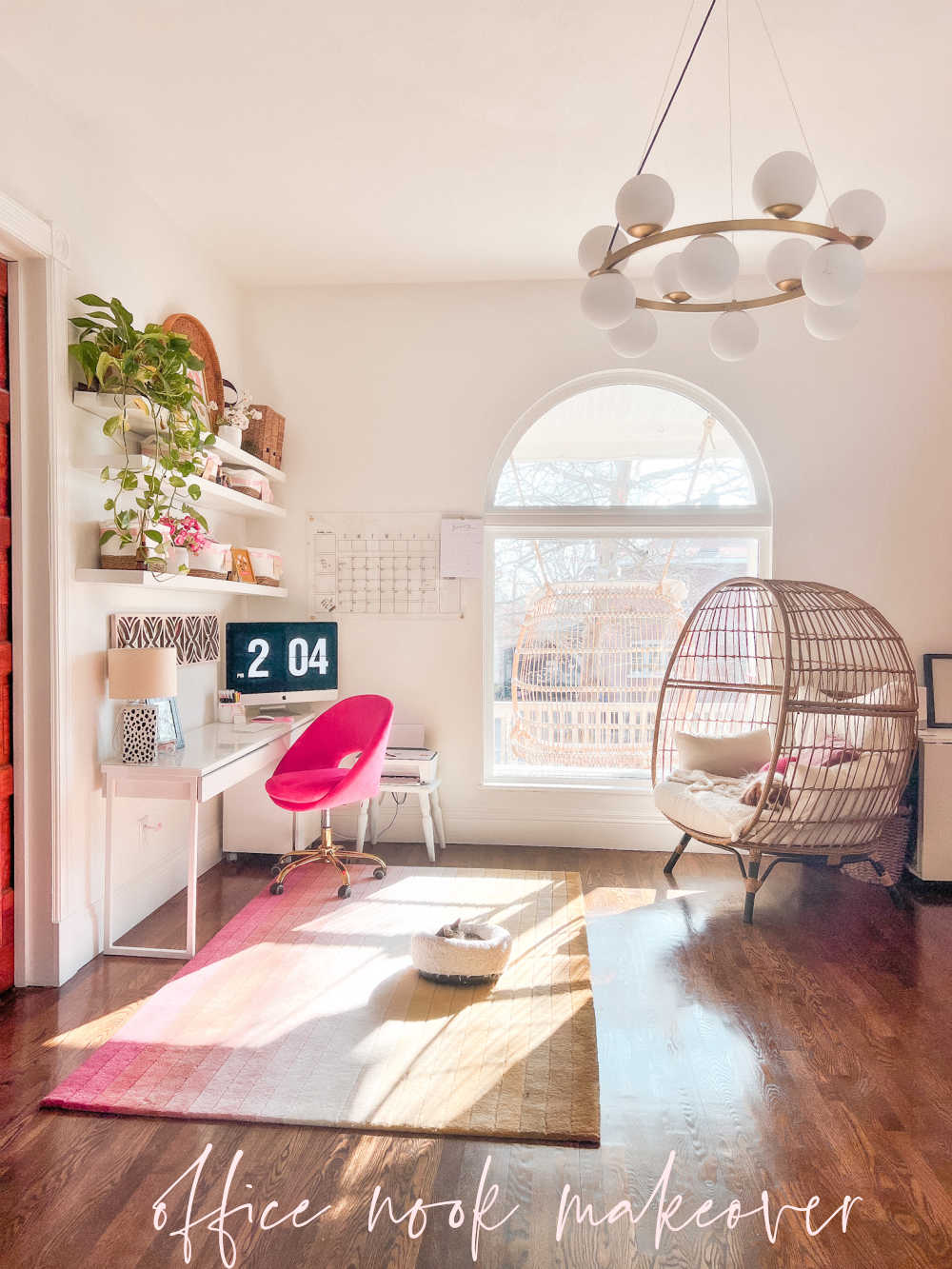 In case you missed it, here's how I organized my office with Hobby Lobby last year!
Be sure to follow Hobby Lobby on their social media channels to see more organizing, craft ideas and more ways to be creative!
Have a Creative Day!
xoxo