Sweet and Salty Valentine Snack Mix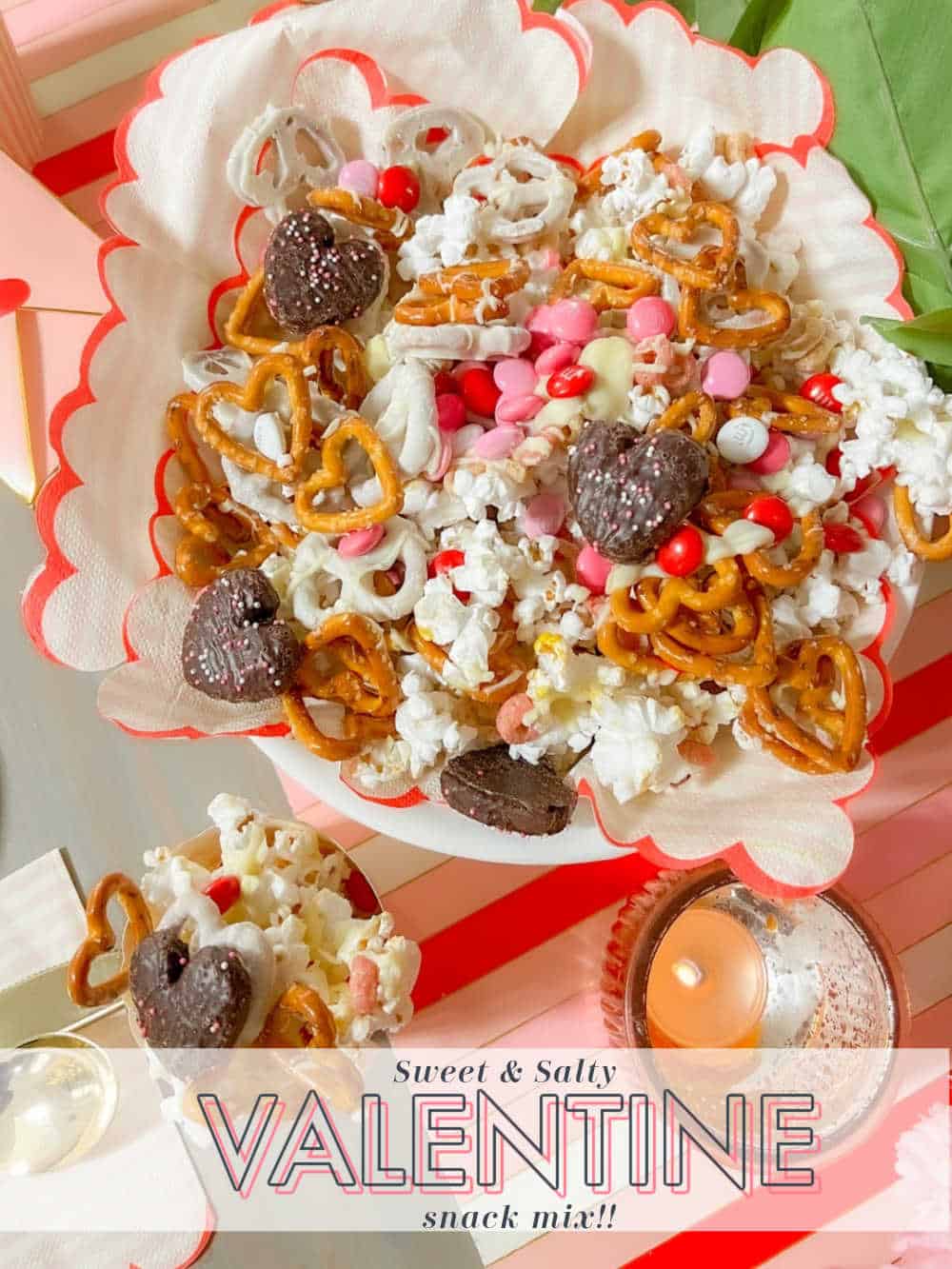 What do YOU do to celebrate Valentine's Day? After waiting in 2-hour long lines a couple of years ago, we have decided that we prefer to stay in to celebrate. Our favorite date night is take-out sushi, a romantic movie and snacks! And what better snack for movie night than sweet and salty Valentine snack mix?? It's the perfect movie treat AND dessert!
12 Delicious Valentine's Day Desserts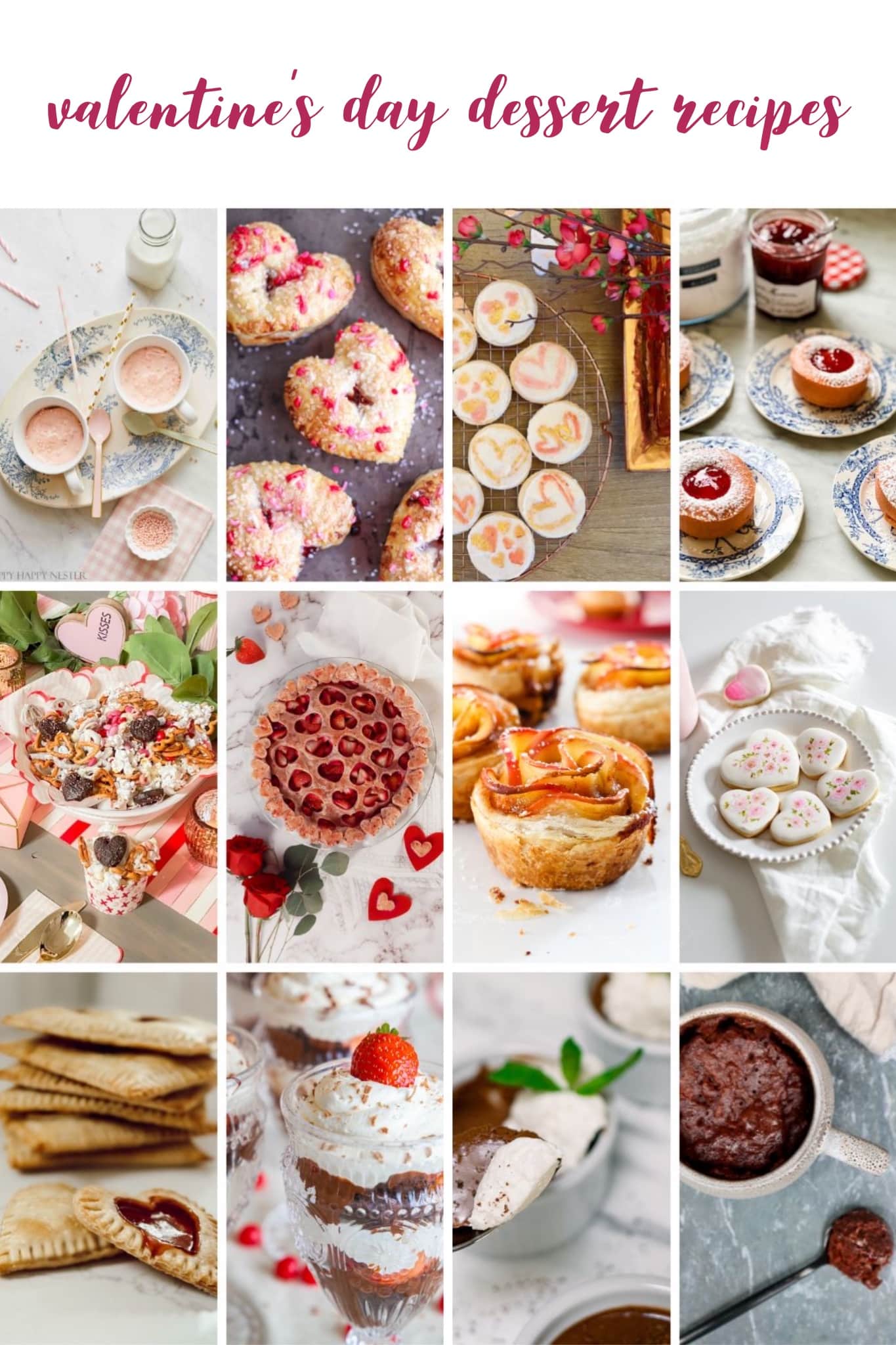 Today I am sharing my EASY Valentine snack mix, along with some blogging pals who are sharing their favorite romantic desserts. Scroll down to the bottom of the post and be sure to HOP over and grab their recipes!!
Sweet and Salty Valentine Dessert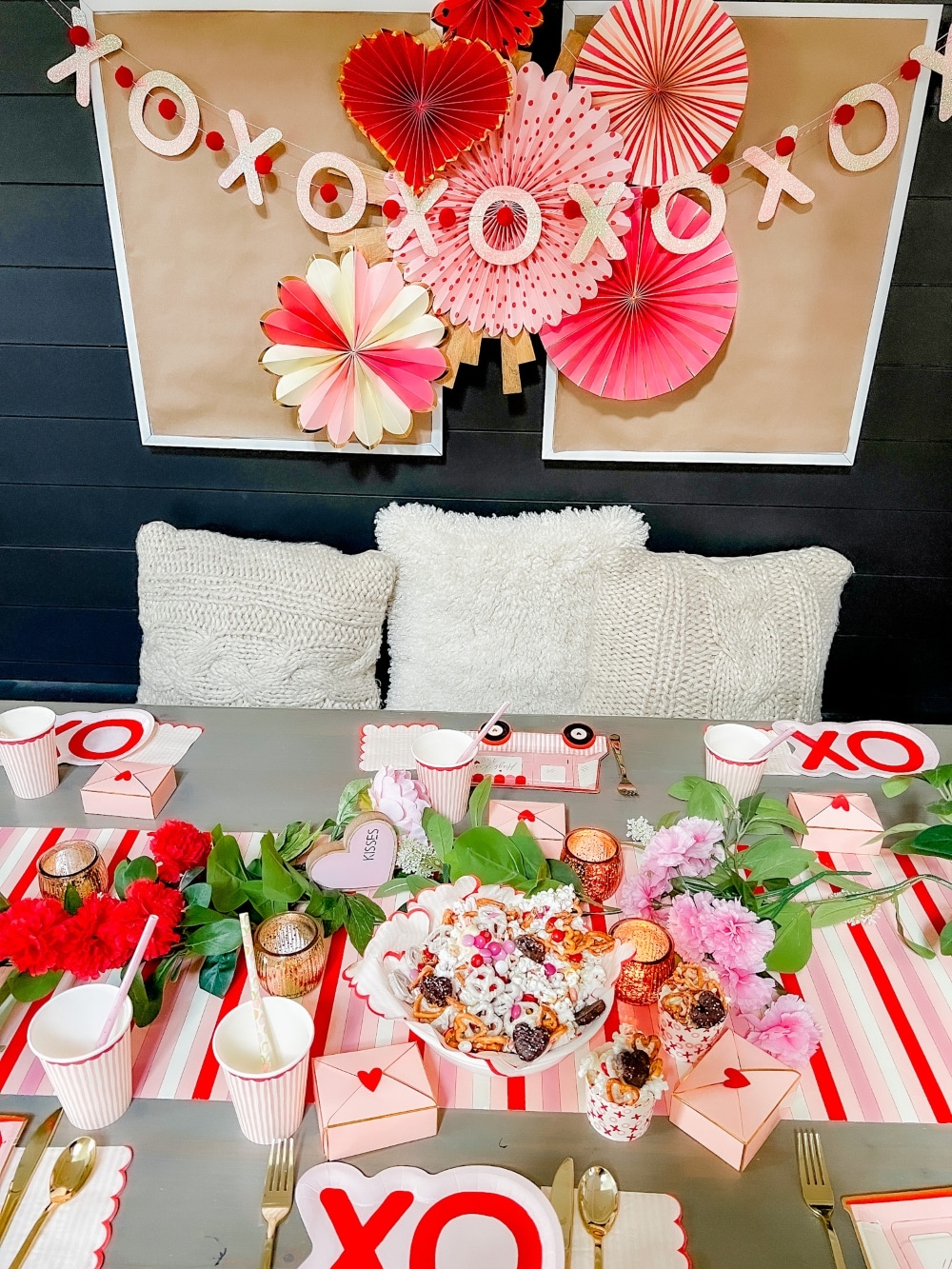 There are so many things I love about this easy dessert idea. It's easy to make and it keeps well.
Make Ahead Dessert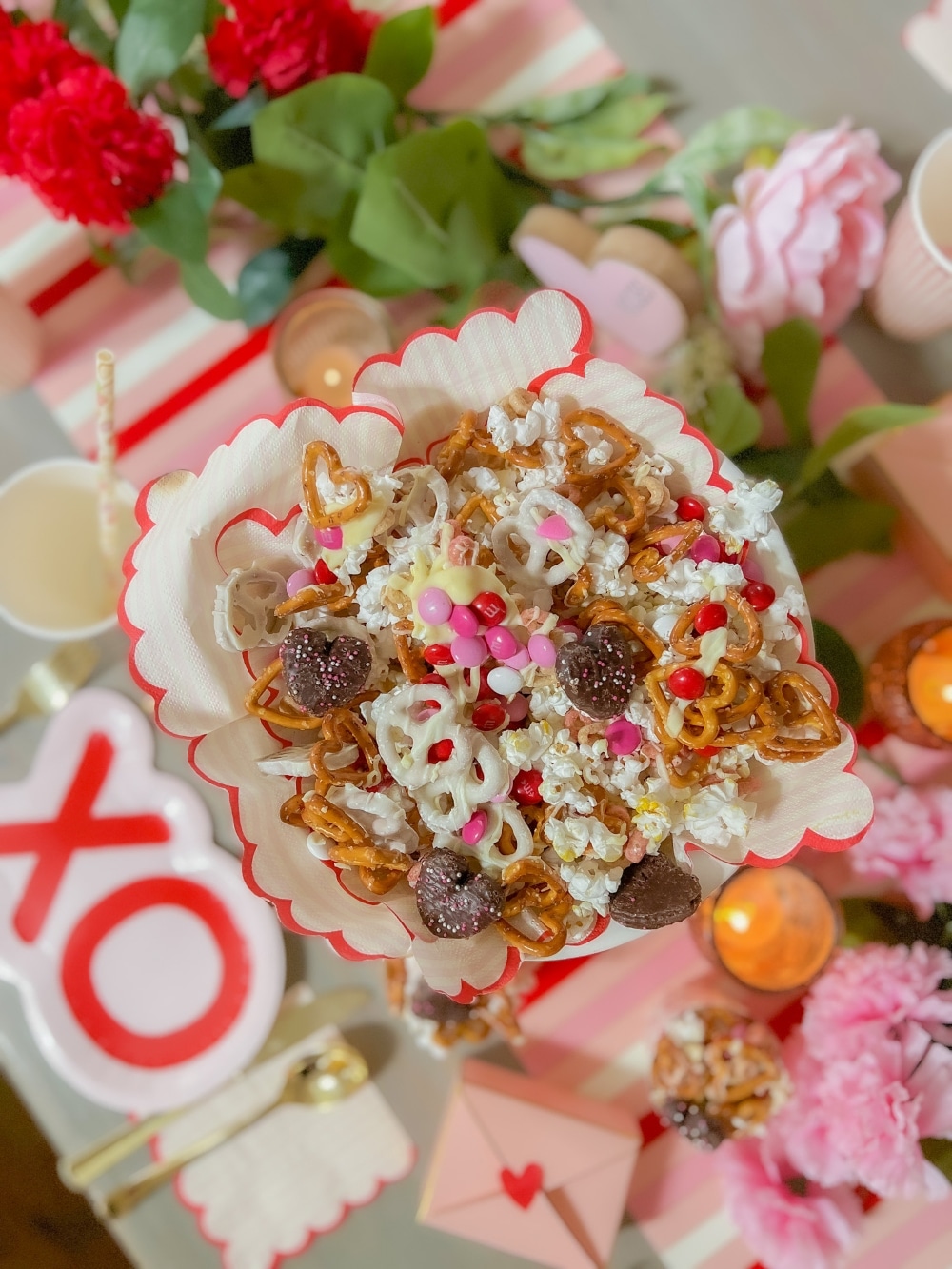 If you are looking for an easy dessert that's still festive, this snack mix is the one to make. You can make it ahead of time. Just store it in a lidded container and it is good for 10 days!
A Fast Valentine Dessert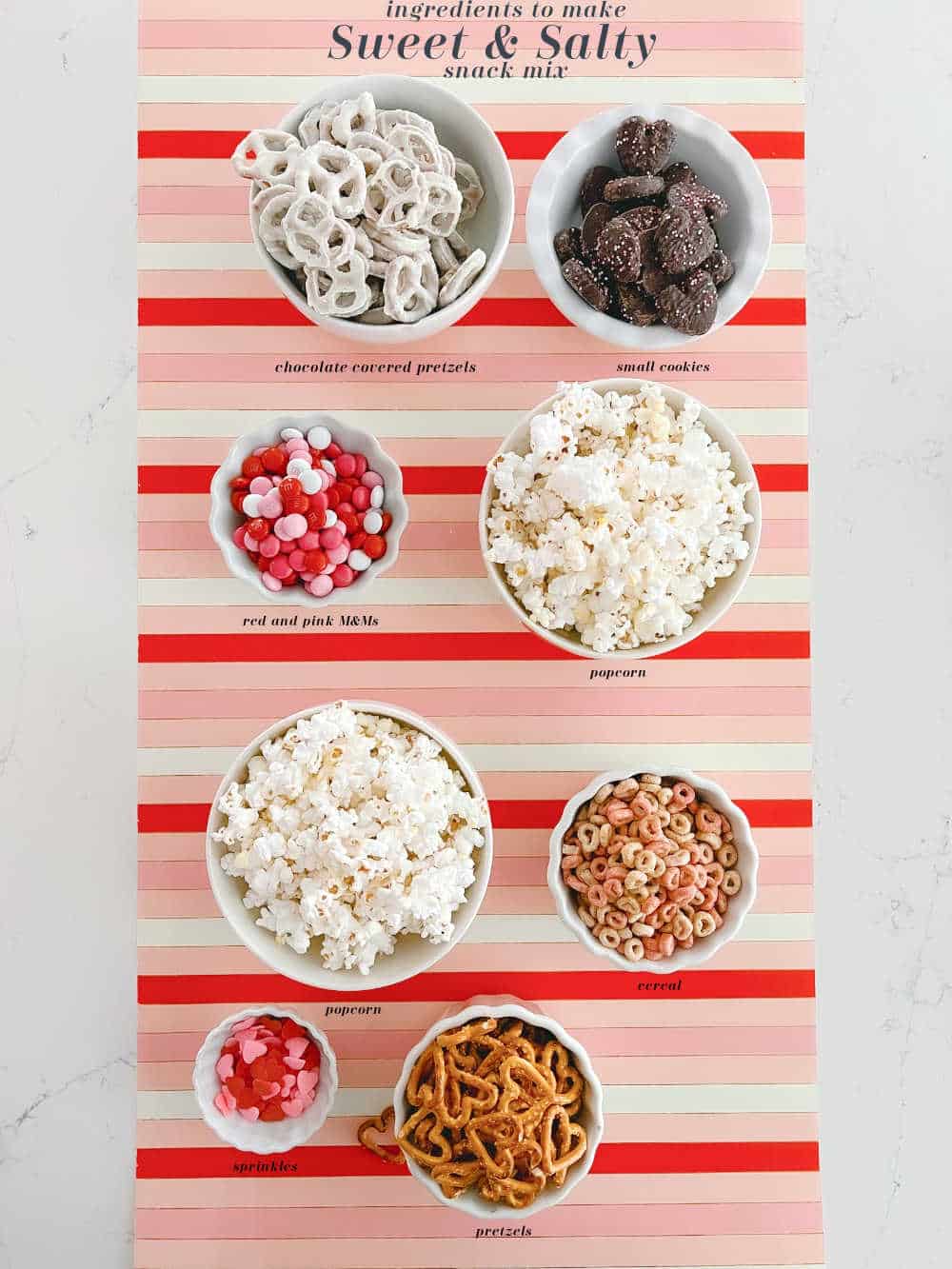 Sweet and Salty Valentine Snack Mix is fast to put together. The only thing you really need to do is microwave the white chocolate chips and our the chocolate over the pretzels, cereal and popcorn. Then let the chocolate harden. Here's a tip – if you need to the chocolate to set up faster, transfer the parchment paper or tin foil with the pretzels, cereal and popcorn to a baking sheet and set it outside in cooler temperatures. The best part about the recipe, is you can add whatever ingredients you want. Here are some ideas:
cookies
goldfish crackers
cereal
pretzels
nuts
white and/or dark chocolate to drizzle
sprinkles of any sort
small chocolate candies
Sweet and Salty Valentine Snack Mix Make a Great Gift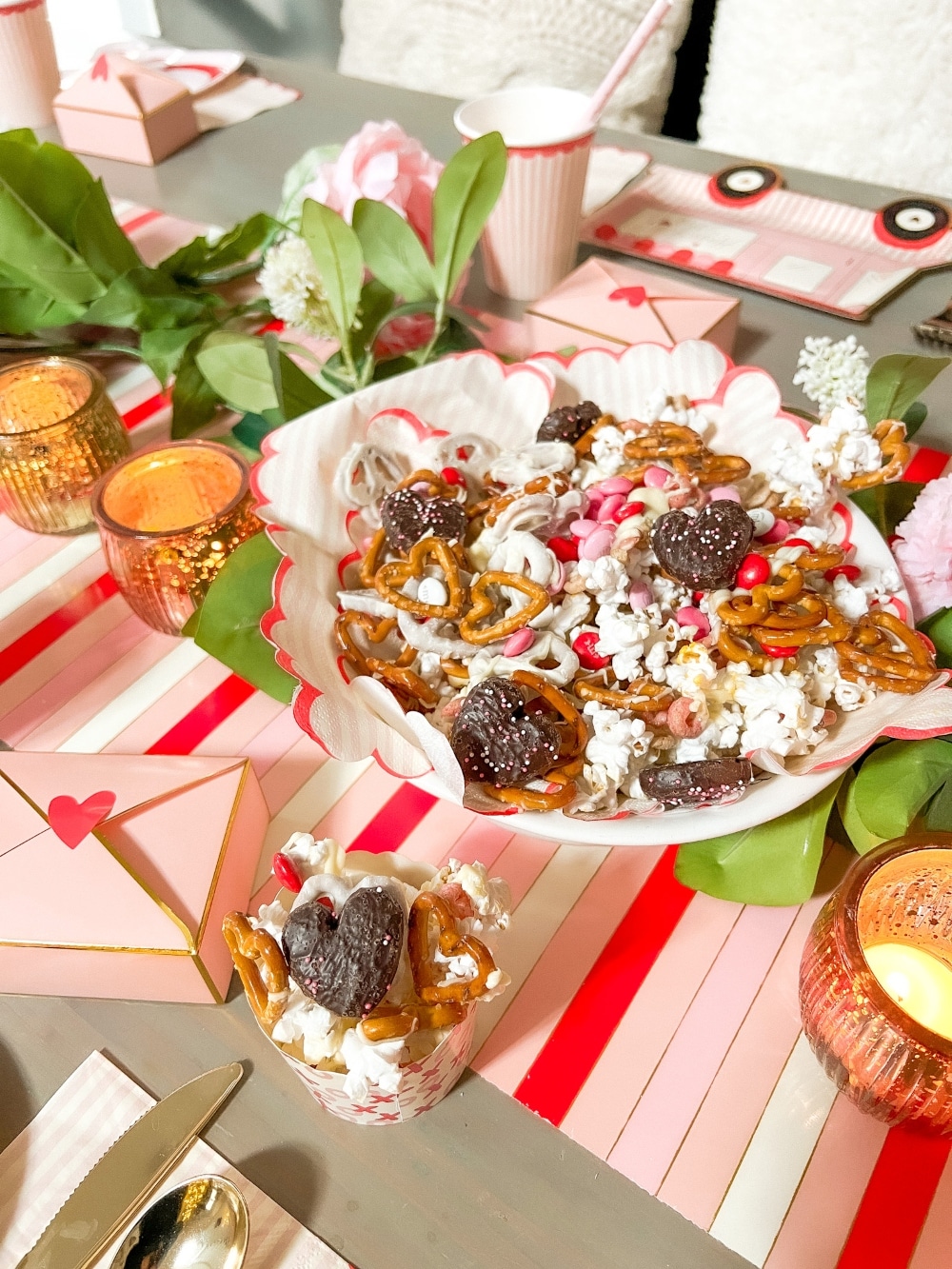 Are you looking for a sweet treat for a friend, neighbor or teacher? This snack mix is perfect to give as a sweet treat. Simply follow the directions and place the mix into a little pail or box with a tag. I've included some free tags at the bottom of this post!
The Perfect Movie Night Snack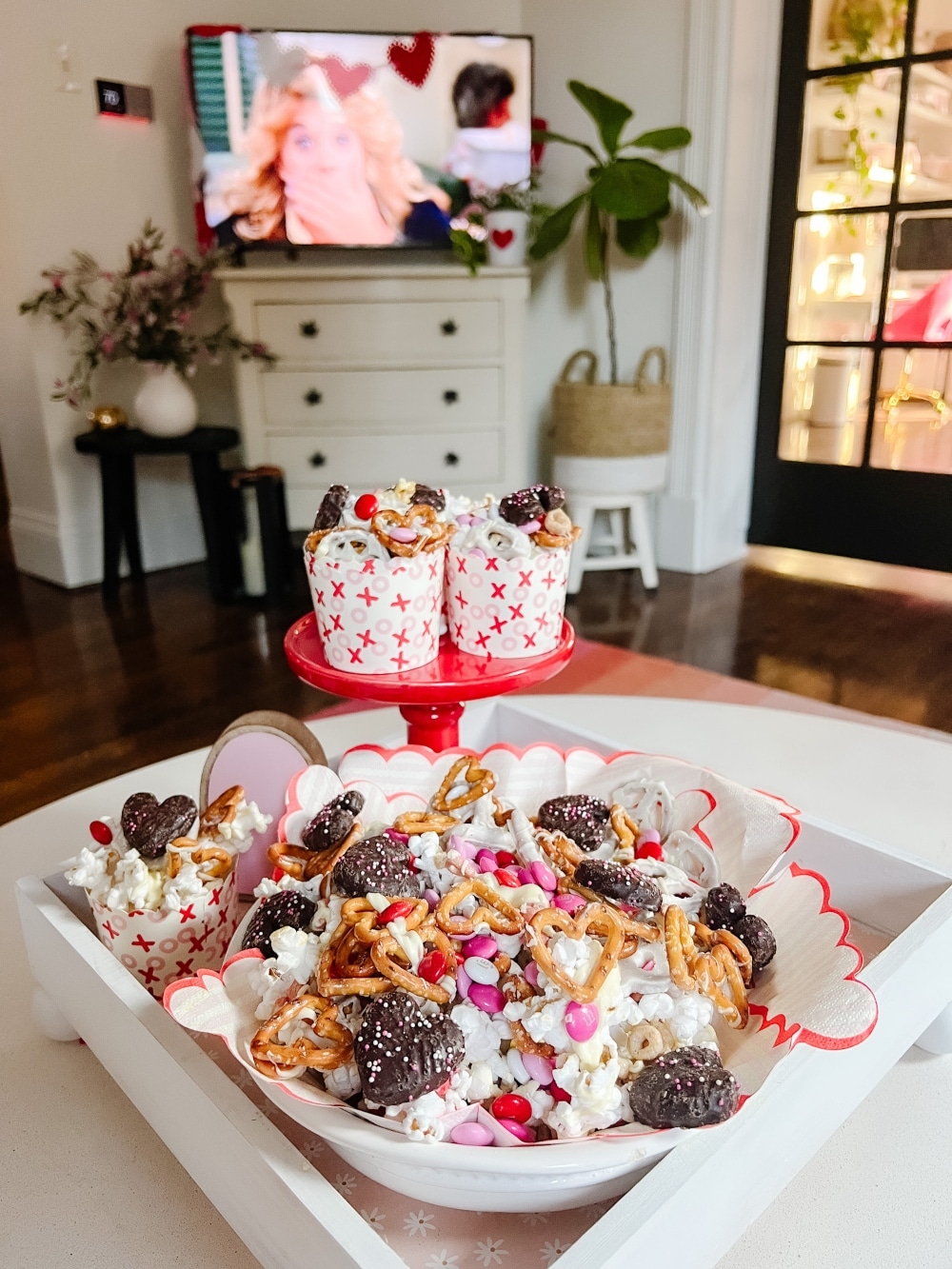 This is the perfect snack for movie night!!Plus, let me know if you recognize my favorite rom com for Valentine's Day! I'm watching it in the image below!
Kids Valentine Craft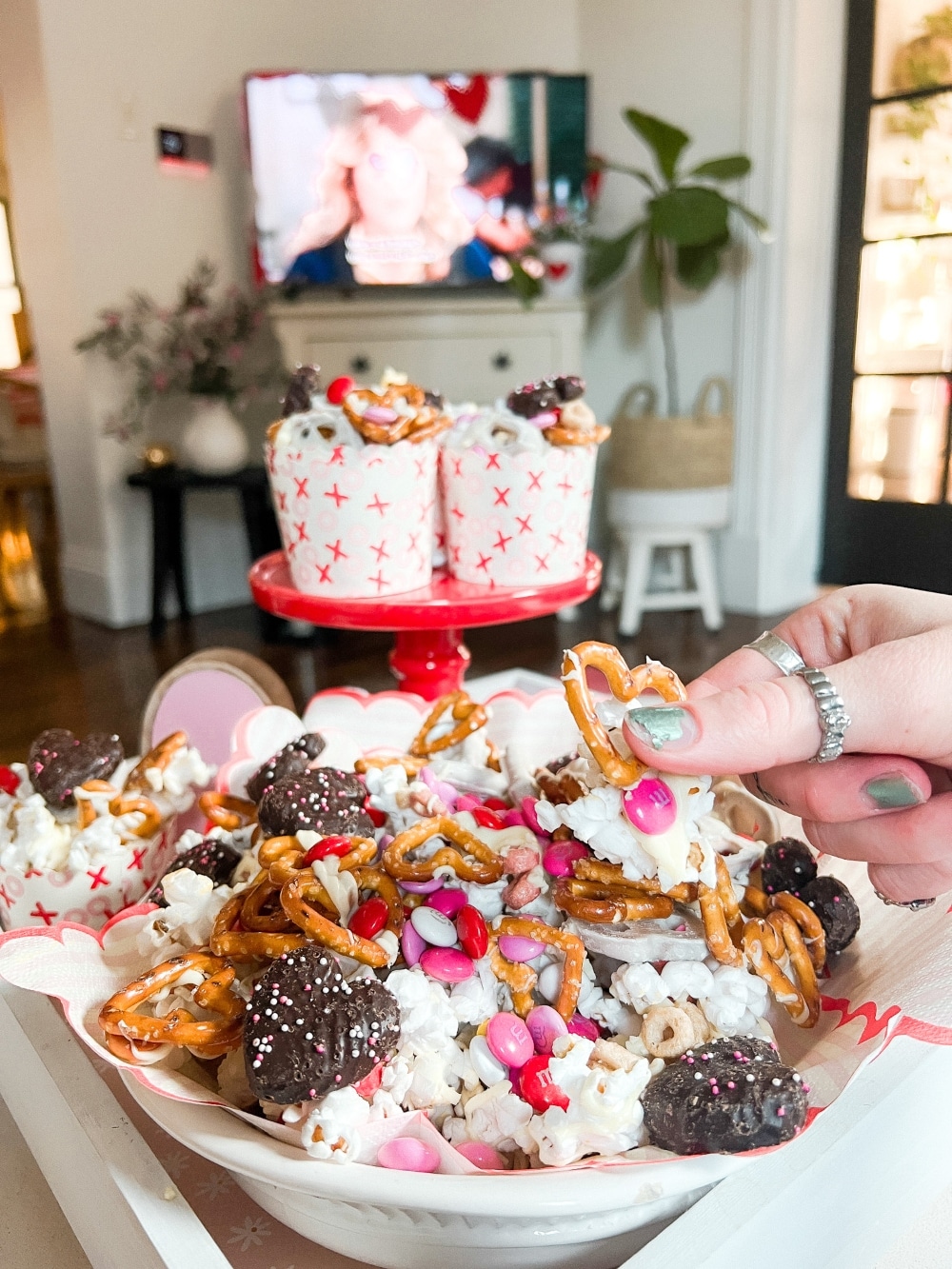 Make sweet and salty valentine snack mix with your kids. They will LOVE covering the ingredients with chocolate and mixing it all up. not to mention sampling the mix. It's a fun way to celebrate Valentines Day with your kids and make some memories together!!
Sweet and Salty Valentine Snack Mix Recipe
Here's the printable recipe. I hope you enjoy making it as much as I did!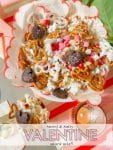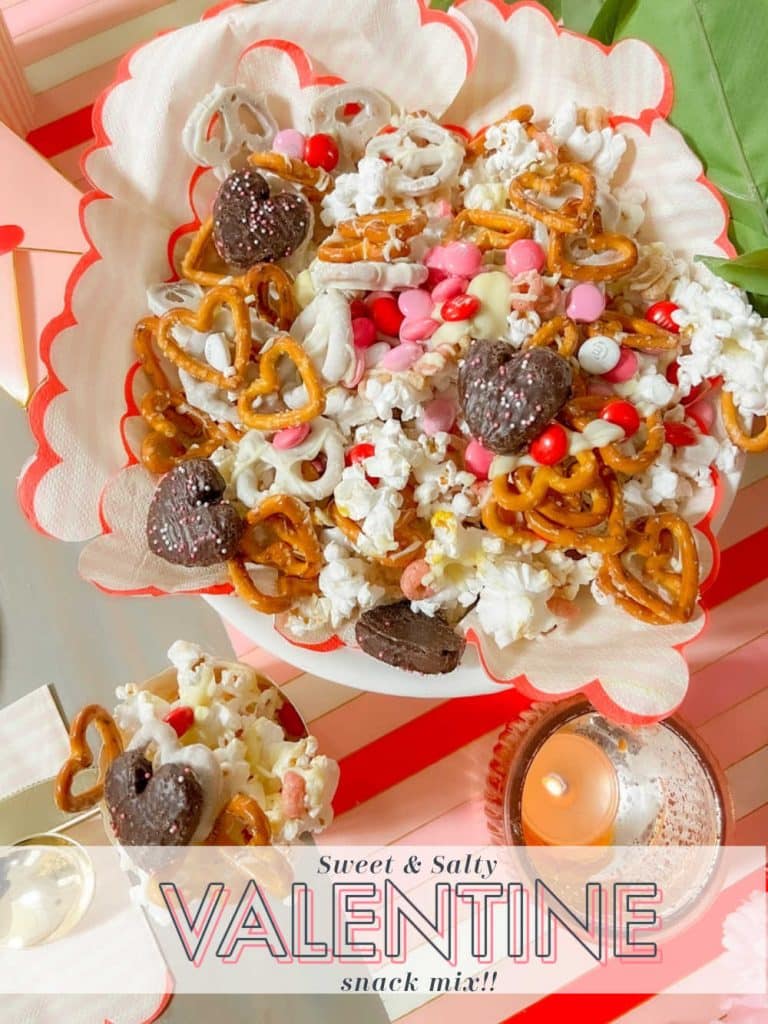 Sweet and Salty Valentine Snack Mix
Sweet and Salty Valentine Snack Mix. Celebrate Valentine's Day this month with this yummy mix of pretzels, white chocolate, popcorn and candy. It's perfect for movie night, neighbor gifts or a lunch time snack!
Ingredients
7 cups popcorn I popped a bag of microwave popcorn
1 cup small cookies
1 cup M&Ms
1 cup cereal I found heart-shaped Cherrios
1 cup pretzels
sprinkles
1 cup white chocolate baking chips, melted
Instructions
Lay popcorn, cereal and pretzels on parchment paper or tin foil.

melt chocolate baking chips, use a fork and dip it in chocolate mixture. Drizzle chocolate over the popcorn, cereal and pretzels.

Sprinkle M&Ms and sprinkles over the drizzled popcorn, cereal and pretzels.

Let chocolate cool and get hard for 1 hour.

Break up the cooled drizzled popcorn, cereal and pretzels. Add the pieces to a large bowl, add cookies and mix.
Twelve Valentine Recipes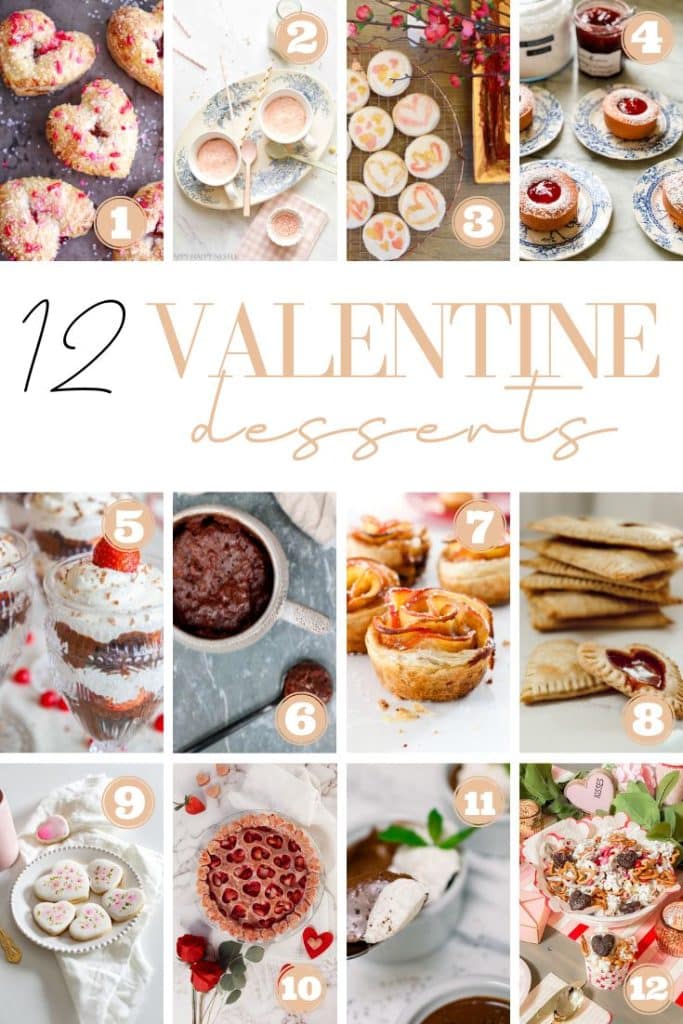 Blogger's Best Valentine's Day Dessert
More Dessert Ideas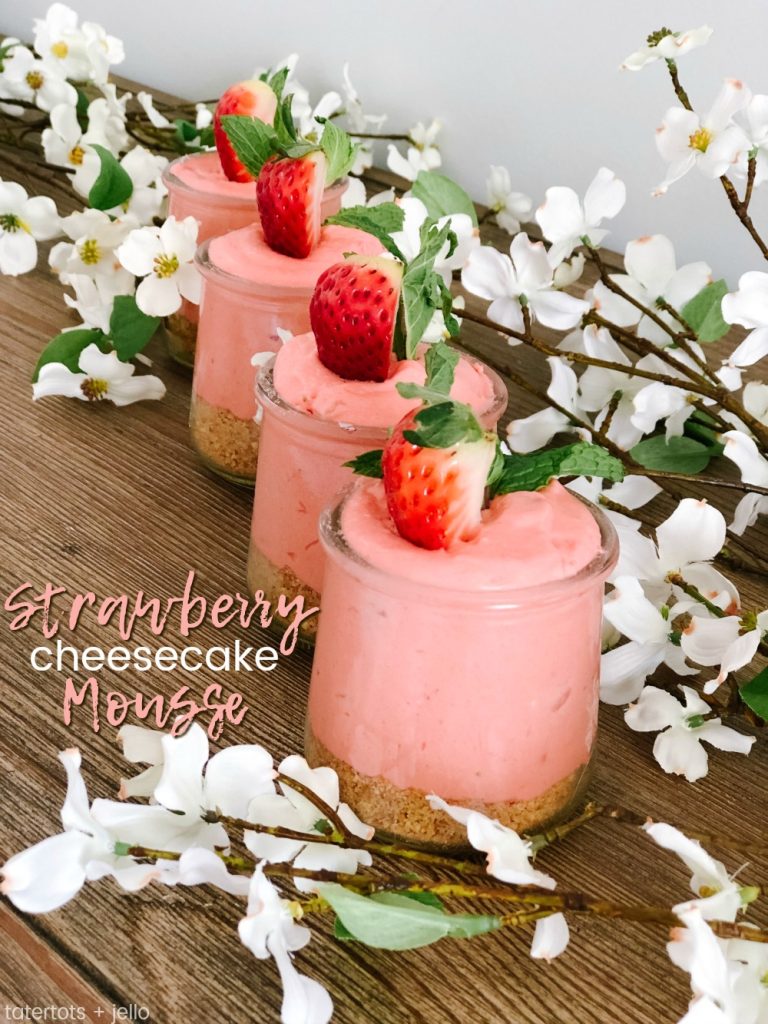 Fluffy Strawberry Cheesecake Mousse Trifles! Kick Spring off by making this easy and delicious, light and creamy mousse. It's a great dessert to make ahead of time and wow your dinner guests!
The easiest way to make no-fail chocolate lava cakes. Perfect for Valentine's Day!
Have a Delicious Day!
XOXO